12 Alternatives to Rose Petals To Shower On The Newly Wedded Couple As They Walk Out!
BY The WMG Bride | 23 Aug, 2015 | 20117 views | 4 min read
It's a moment that can be framed on your bedside forever. the moment when you walk out with your boy and all your loved ones gather around to give you their blessings.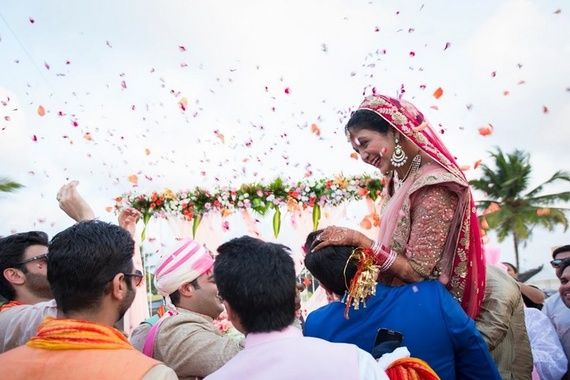 Pragati & Saurabh's wedding in Goa 
In India, it's done traditionally, rose petals are thrown on the couple. South Indian weddings have it harder - turmeric and rice mixed together thrown over the couples. It's a blessing after all, but should it be so boring? As you walk out with the love of your life, maybe you need something that will look great in pictures and give you a better alternative to boring old petals. We got you 12 brilliant ideas that can make your final wedding walk, a thrilling ride!
Glitter / Sequins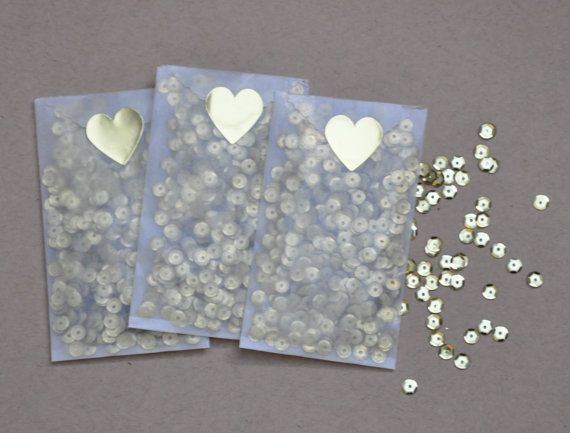 Picture courtesy: www.confettidaydreams.com
These are probably the most common and the most glamorous alternative of all. Just put in bigger sequins and better ( not staining + easily removable) glitter in tiny packets and serve them up to your guests. They give a more sophisticated approach to the wedding and look great in pictures!
Also read: Grown-up ways you can use glitter!
Confetti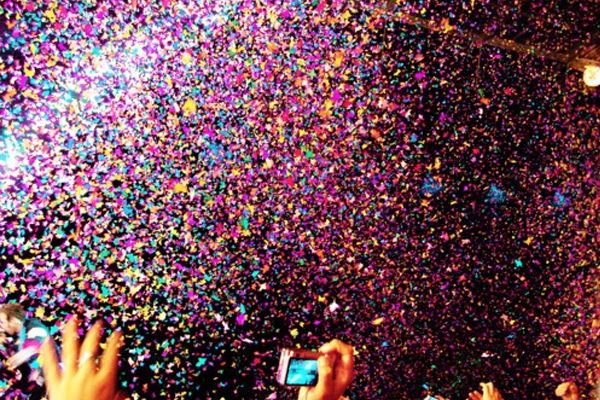 Picture courtesy: Lucy Says I Do 
It's been there in our bridal arsenal from the end of time, but it's time to use in inventively. Confetti is full of colourful paper in different shapes that you can throw on couples. We also recommend slipping in a few thermocol balls, a few striped streamers and loads of glitter paper. It's fuss-free and fun!
Lavender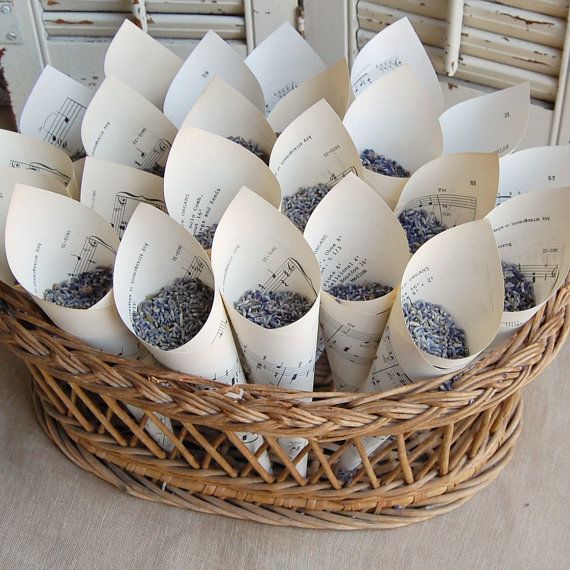 Picture courtesy: Pinterest
#NewAwesomeThingAlert sweet-smelling dried lavender is the best thing to happen to couples as they walk down the aisle. The attractive pastel hue and the nice smell can really be an intoxicating change.
Pom Poms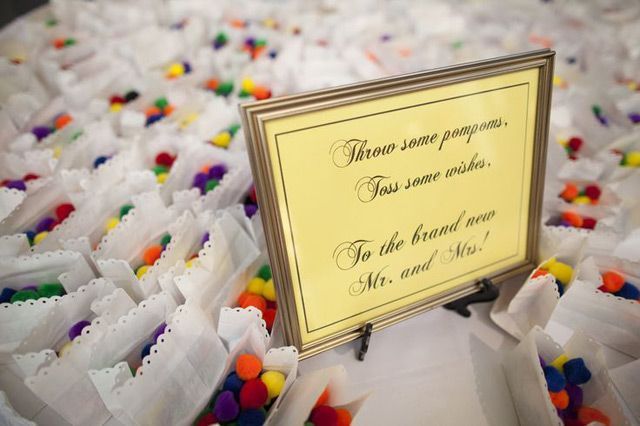 Picture courtesy: Moncheri bridals on pinterest 
Tiny pom-poms in myriad colours  are great to throw on couples wishing them a super new life and loads of happiness. Make sure you get them made in-house with wool and makes sure they are tiny and easily carried! Plus, they can make an Instagram-worthy shot.
Fake Snow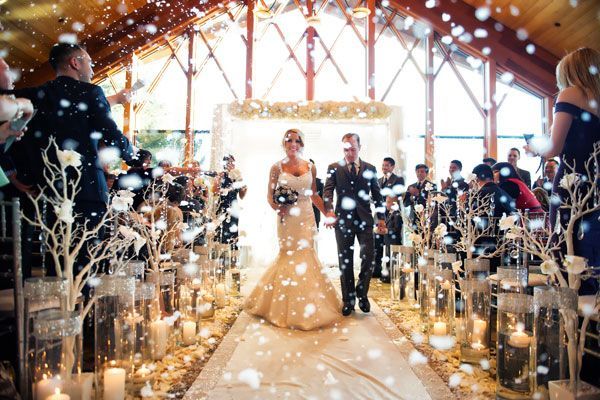 Picture courtesy: bridalguide.com 
Yeah, we all love snow and the lightness that only white can give a wedding. So hire a fake snow blowing machine and create a dream wedding scenario.
Paper Planes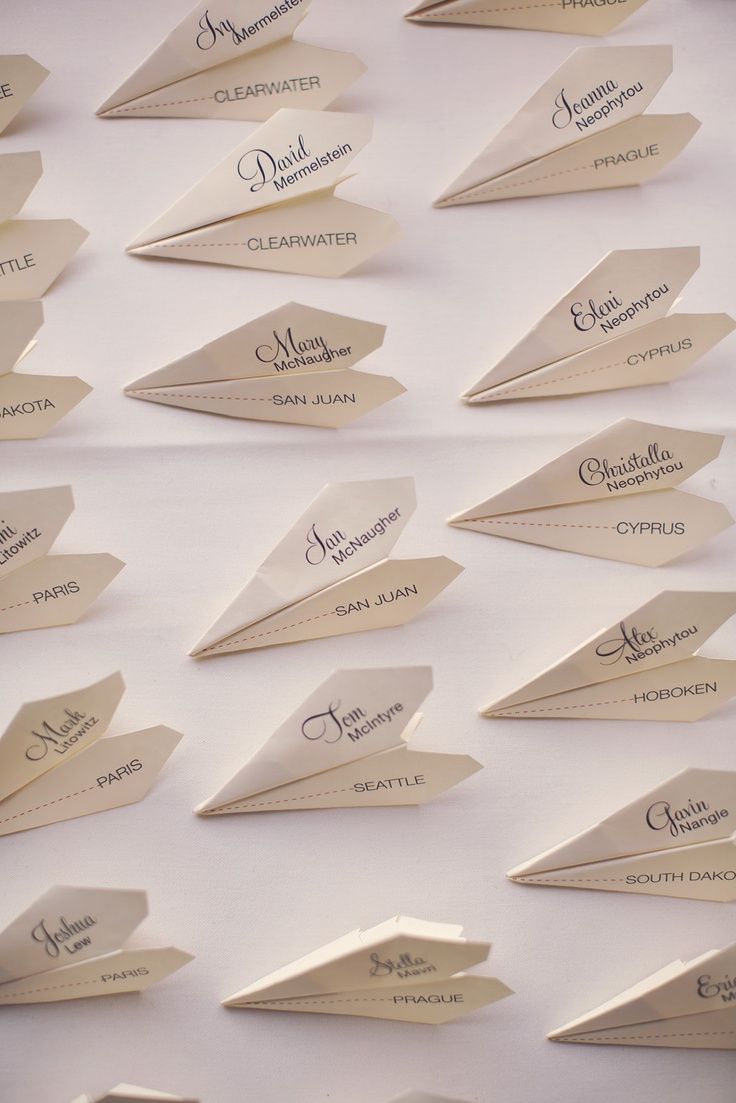 Picture courtesy: ohmyweddingplanners.blogspot.com
It's a DIY project that can take over your whole prep but it's totally worth all the effort. Get your girl gang or decorator to get a  few paper planes made with neon colour paper and pass a few to your guests to play with and let them swoop in on you guys as you walk out of your wedding!
Streamers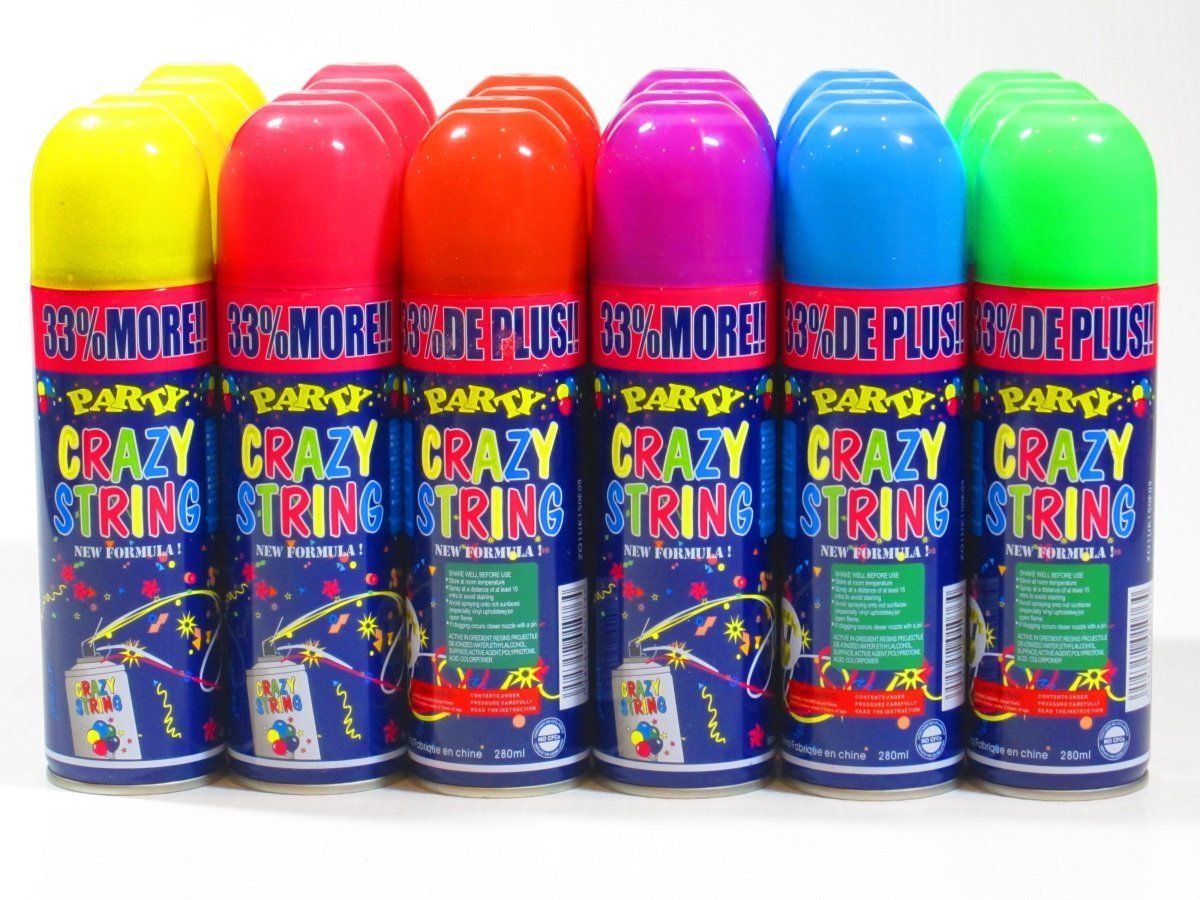 Picture courtesy: Amazon.com 
Yes, colourful streamers can make any wedding beautiful. Just look for silly string spray streamers. They come in cans and fill the space with beautiful colours and long strings. Nice stuff! And you can buy them at any party shop.
Heart-Shaped Colour Paper 
Picture courtesy: viervandaag.blogspot.nl
Or any other colour paper cut into shapes you like. At WMG, we are really partial to heart-shaped colourful paper confetti that can fill the air with an amazing vibe and look. Some usually cut the paper into tiny polka dots, flowers, four-leaf clovers and more. Think think!
Tiny Flowers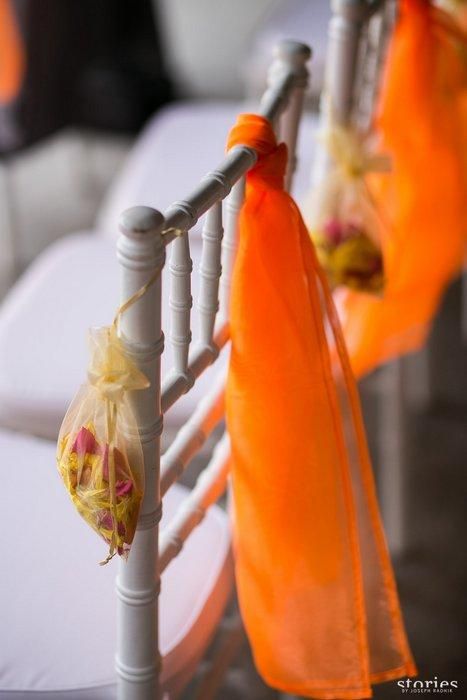 Wedding decor by Devika Narain; Photography by Joseph Radhik 
Instead of roses, you can think of tiny flowers. You can try out ones like the lily-of-the-valley; other kind of blooms that also come in miniature versions, such as daffodils, roses, and irises; or florets cut from larger flowers, such as hyacinth. Look for fragrant seasonal blooms + jasmine or jasmine flowers ( because we live in India and we want to give an ethnic touch).
Read: How To Use Flowers Innovatively at Weddings
Coloured Rice or Coloured Oats...Even Puffed Rice or Poha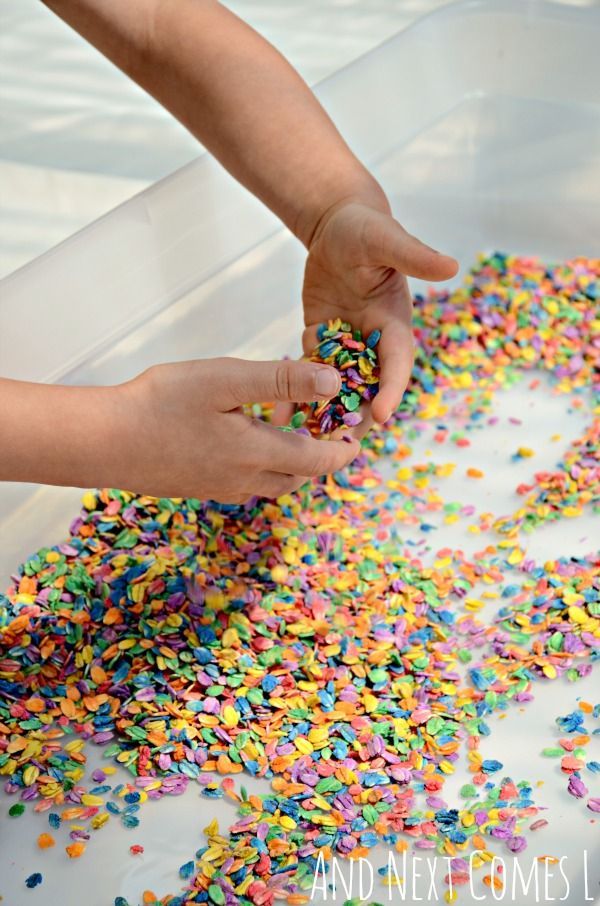 Picture courtesy:andnextcomesl.com
Instead of just turmeric rice, you could try to use food colouring or just interesting colour to rice to give it the colour hue of your wedding. Oats are lighter so you can try them too. The rainbow is at your disposal so go crazy - go ombre or add glitter, but make your rice/oats shine!
Bubbles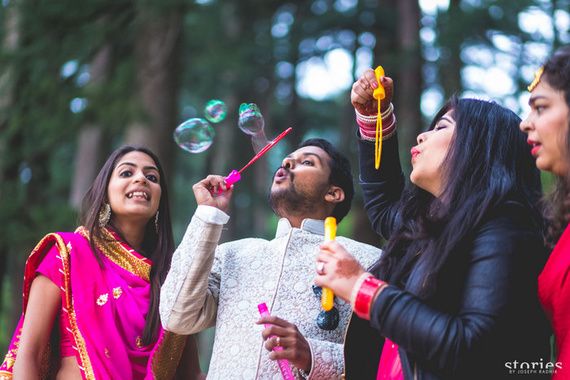 Photography by Joseph Radhik 
Instead of throwing something, maybe you could get a few bubble bottles, give them to your family and friends and ask them to blow over you as you walk out. Look for not-so-soapy options so they don't spoil your dress and get ready for a bubble burst.
Potpourri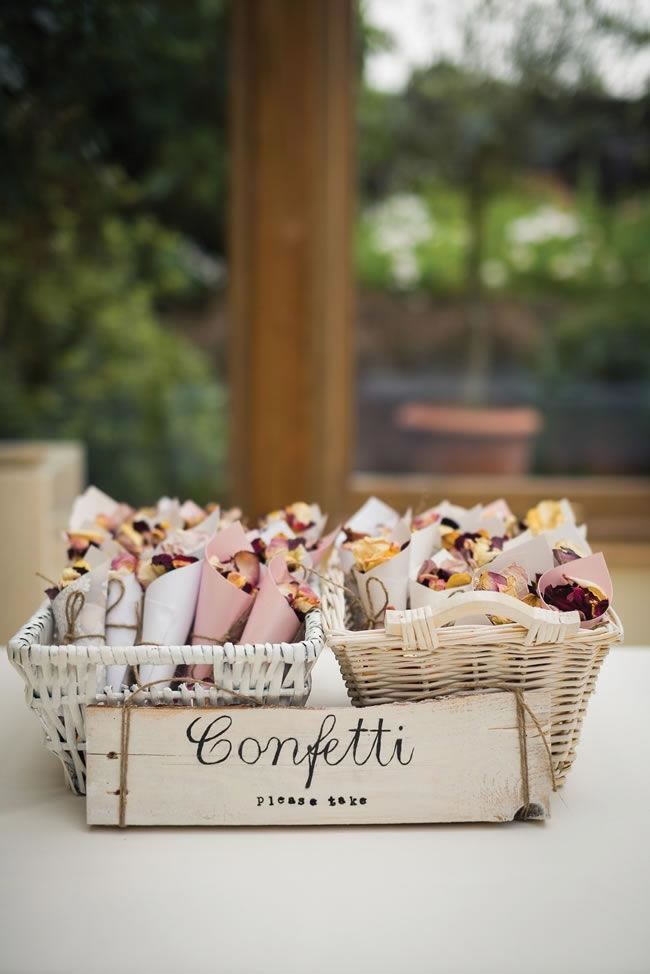 Picture courtesy: weddingideasmag.com
Nicely scented dried flowers and scented strips of wood are great to throw on the couple. Choose from smells like spicy wood, gentle lavender and floral bloom.
Have a unique idea you think might just work for the couple? Tell us in the comments section!