10 Ways You Can Decorate Your Home Yourself For Your Mehendi!
BY Apoorva | 07 Jan, 2019 | 49301 views | 3 min read
At home functions are the ones which are the most chilled out ones. But they are also the ones which have a slightly low budget so why not DIY the mehendi décor yourself? We found 10 quick and simple ways to decorate your home for a small, intimate mehendi event.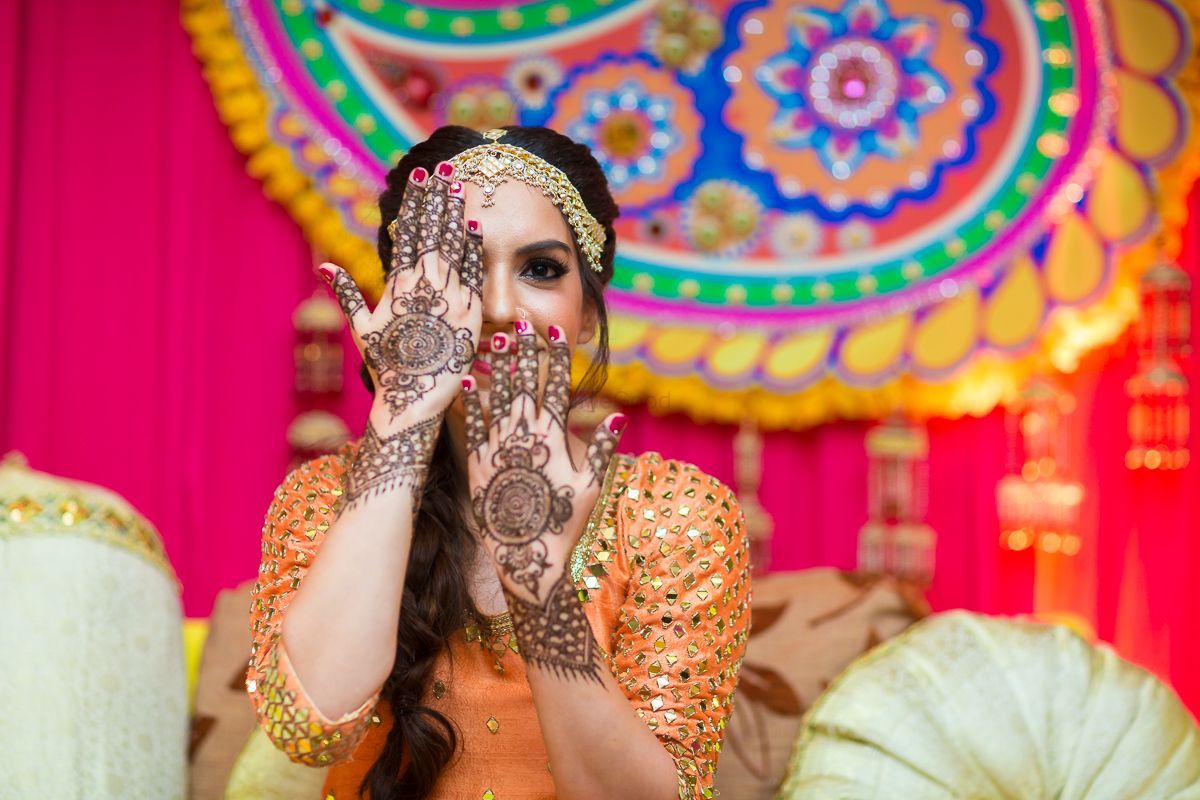 Image via Sid Wedding Photos★ 5
Giant Gendaphool Wreath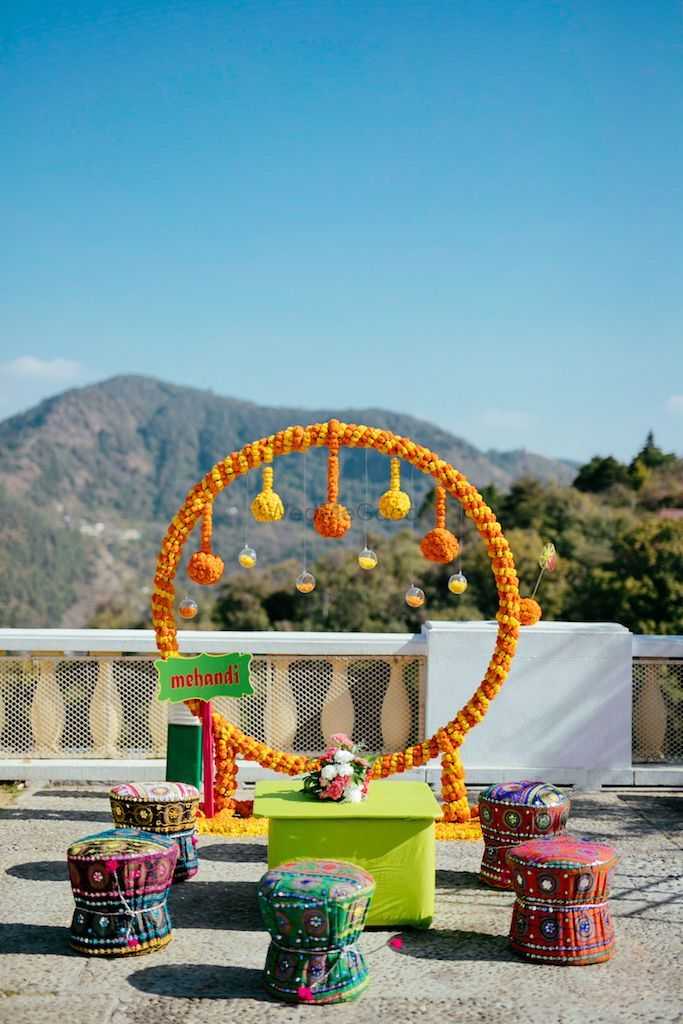 Image via Anvisha & Ajay Real Wedding 
This one's pretty simple. Get a giant wooden circle made from any carpenter or you can even pick it off a wood work shop and wrap gendaphool garlands all over it. Place it just behind where the bride is sitting for a bright poppy background!
Bright Leheriya Dupattas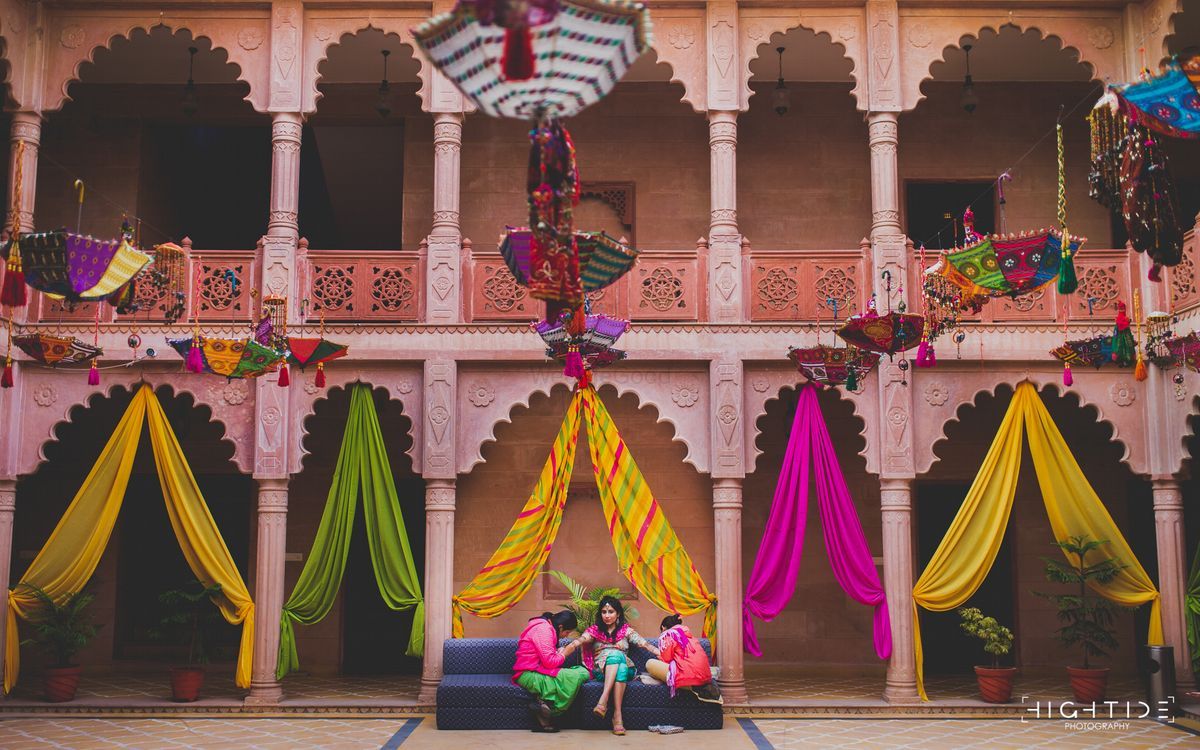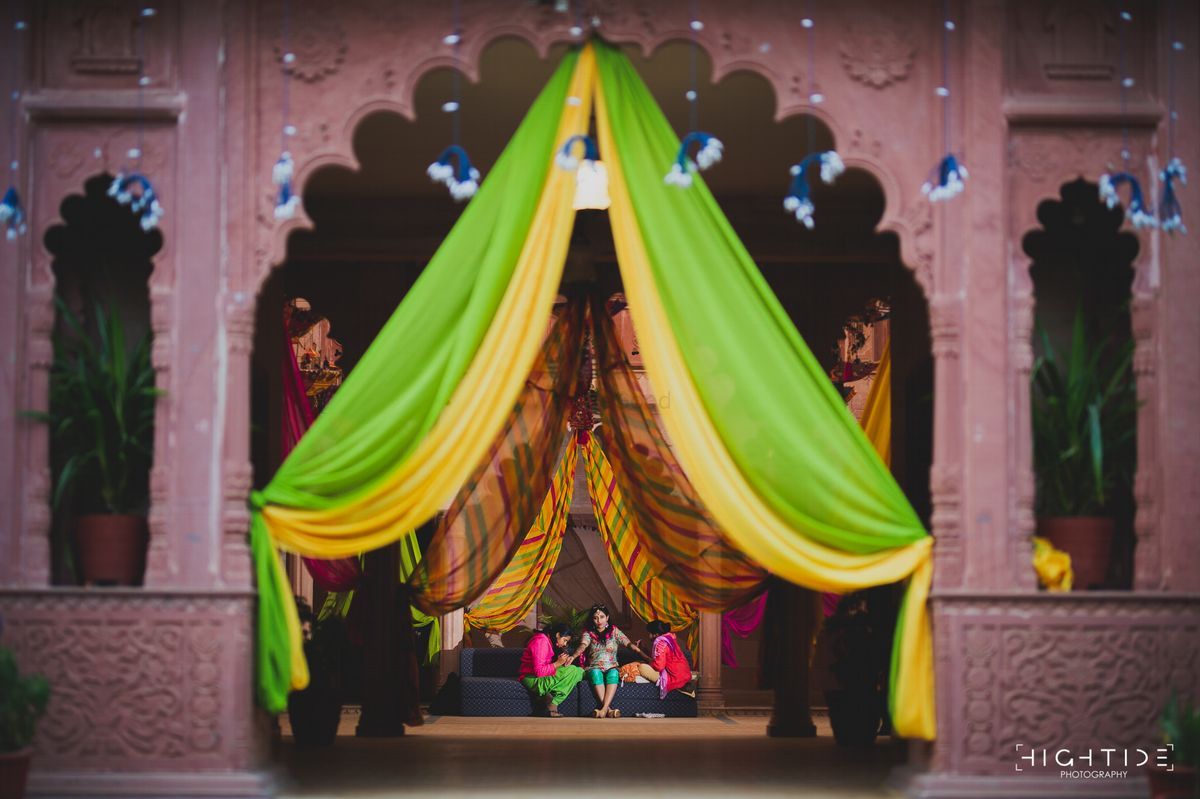 Image via High Tide Photography★ 4.8
This one is perfect if you are doing a mehendi at a terrace or have a big home. Juts borrow leheriya dupattas in poppy colours and drape on!
Light Box Love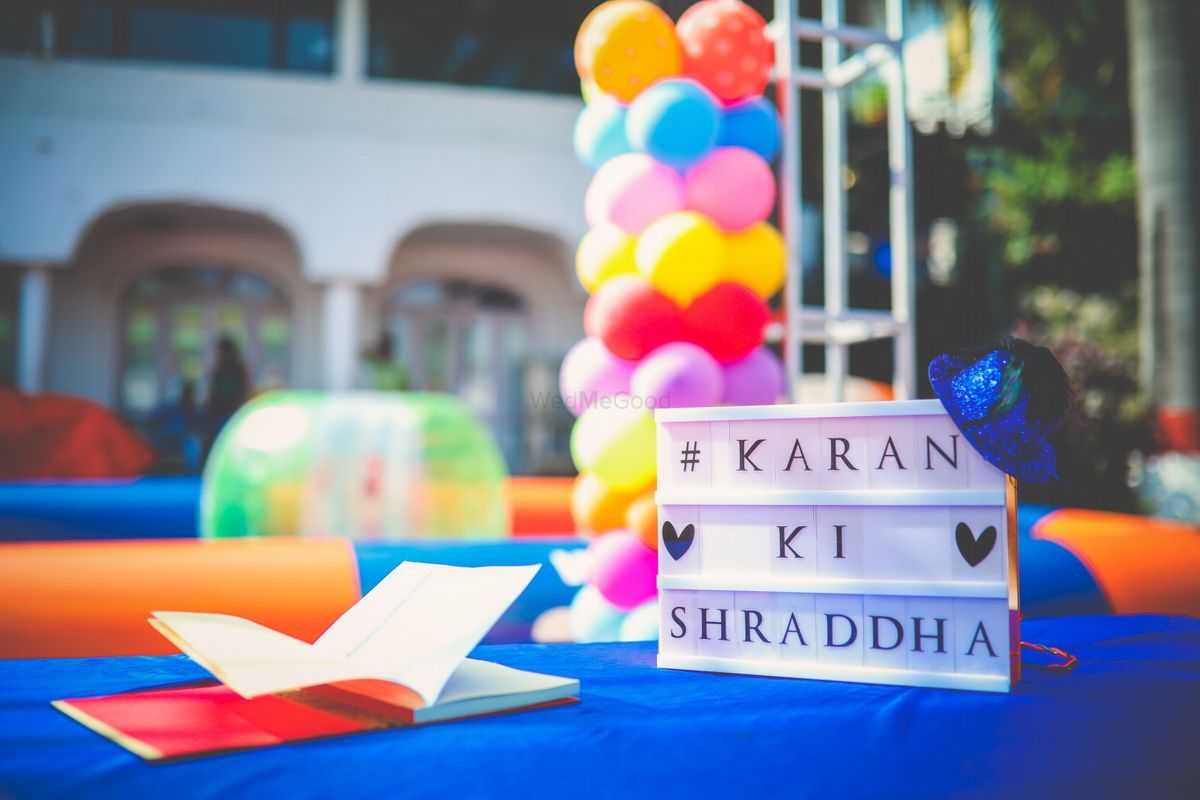 Image viaKaran Shah Photography★ 4.8
These are easily available at e-commerce stores and you can place them across your home with cute wedding quotes or even hashtags
Simple Designs On Your Chairs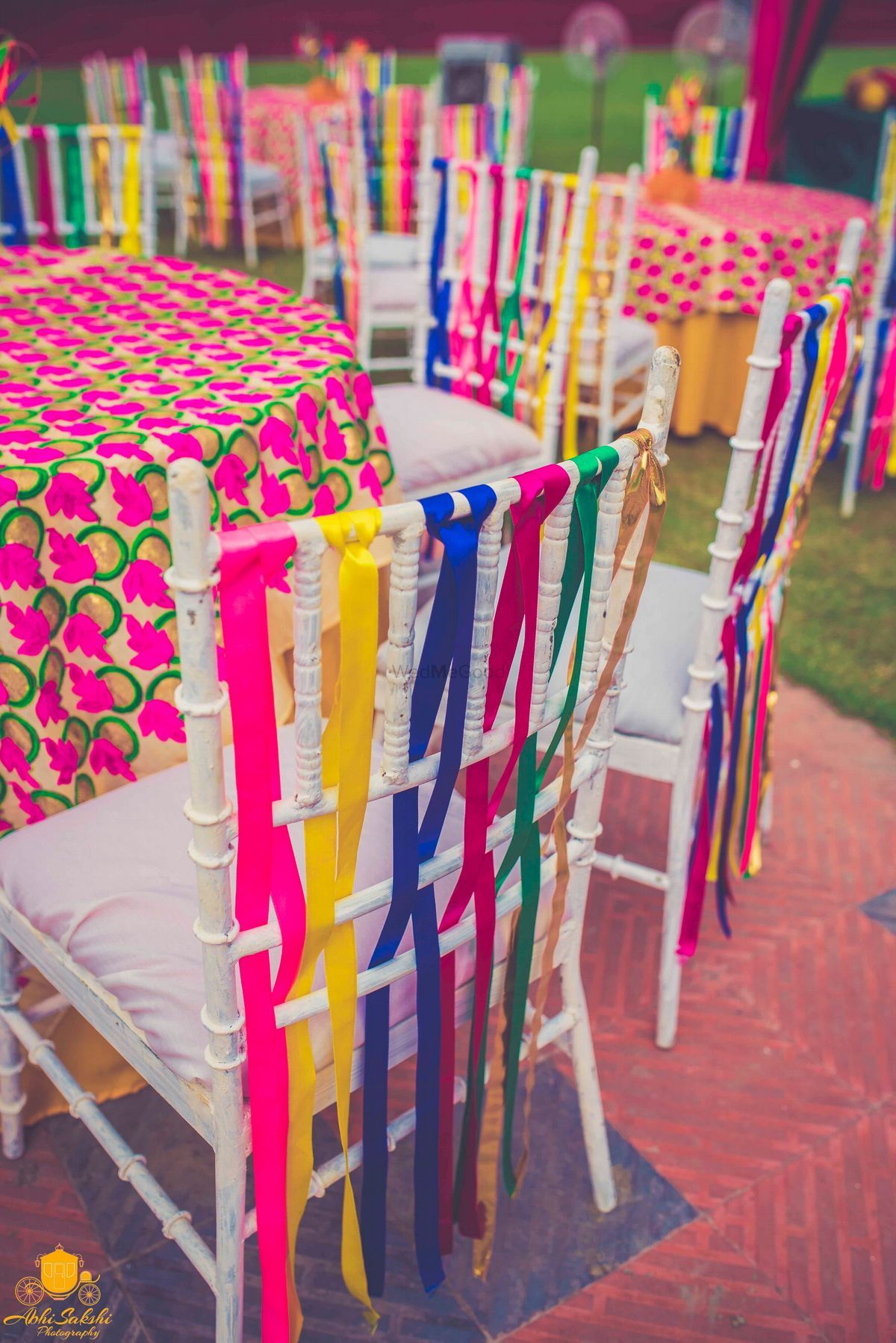 Image via Abhisakshi Photography★ 4.5
Don't forget the chairs. Drape your chairs with streamers or simple colourful ribbons. You can also buy colourful fabrics and make table cloth out of them.
Ombre Floral Strings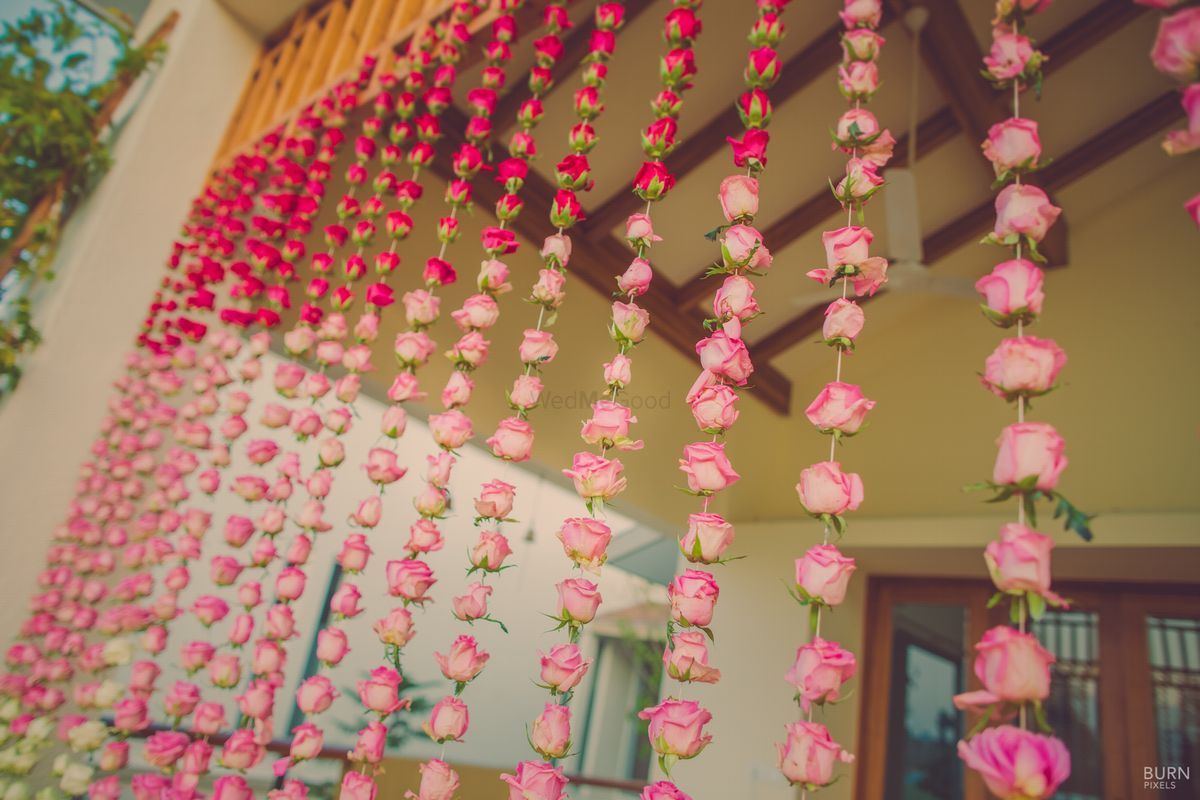 Image via Burn Pixels Photography★ 4.7
This one is perfect for any home. Buy real of artificial flowers in ombré colours and string them in light to dark. You can hang them up on any wall or even the entrance to your home.
Bright Kites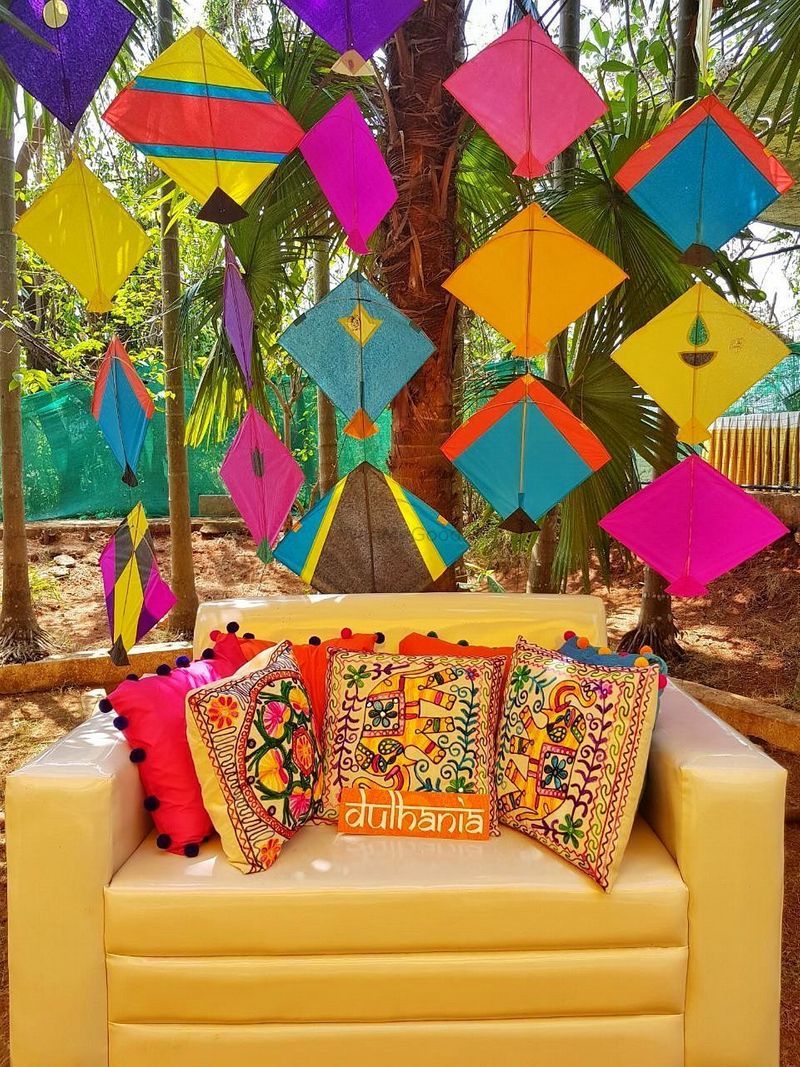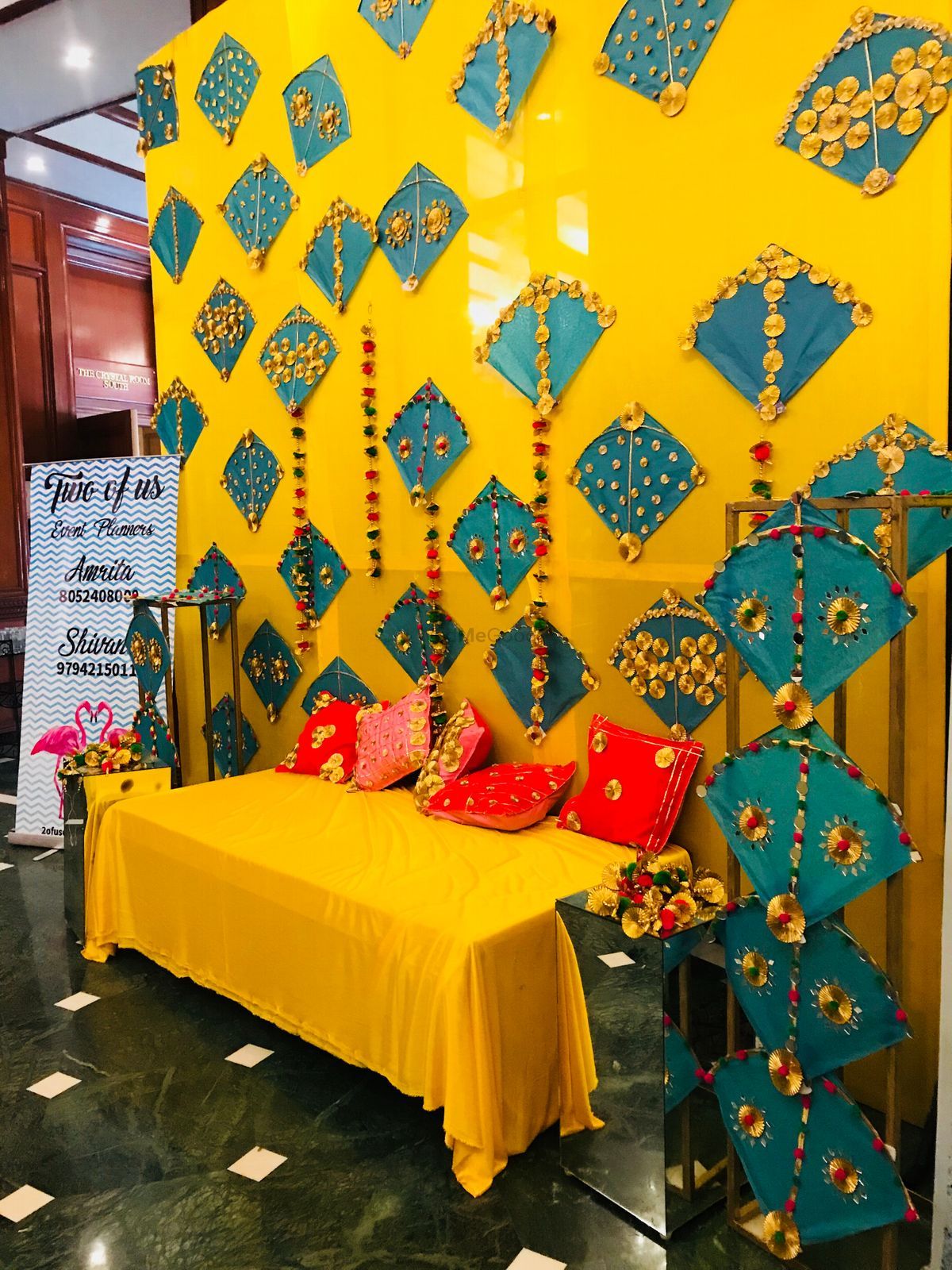 Image via Pink Kurta Weddings★ 4.8 and TwoOfUs★ 5
This one is simple and easy to do! All you need is a solid backdrop and colourful kites. Try not to go multicolour in the backdrop so that the kites really stand out.
Hanging Bangles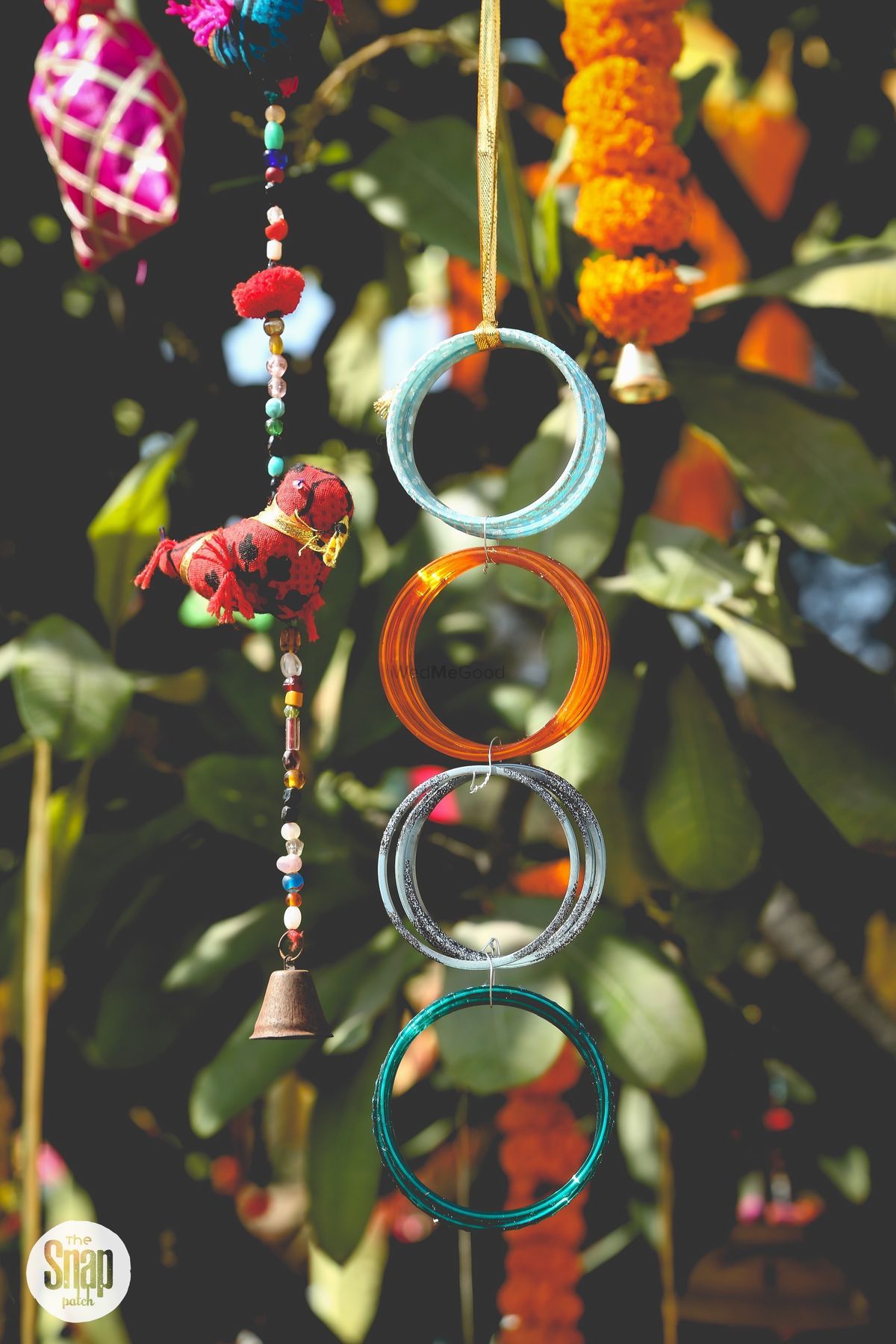 Image via The Snap Patch★ 4.9
These one require some DIY but look really beautiful. All you need to do is stack them together and glue them. Try and use metallic ones so that even if they fall they won't break and hurt anyone.
Origami Bird Decor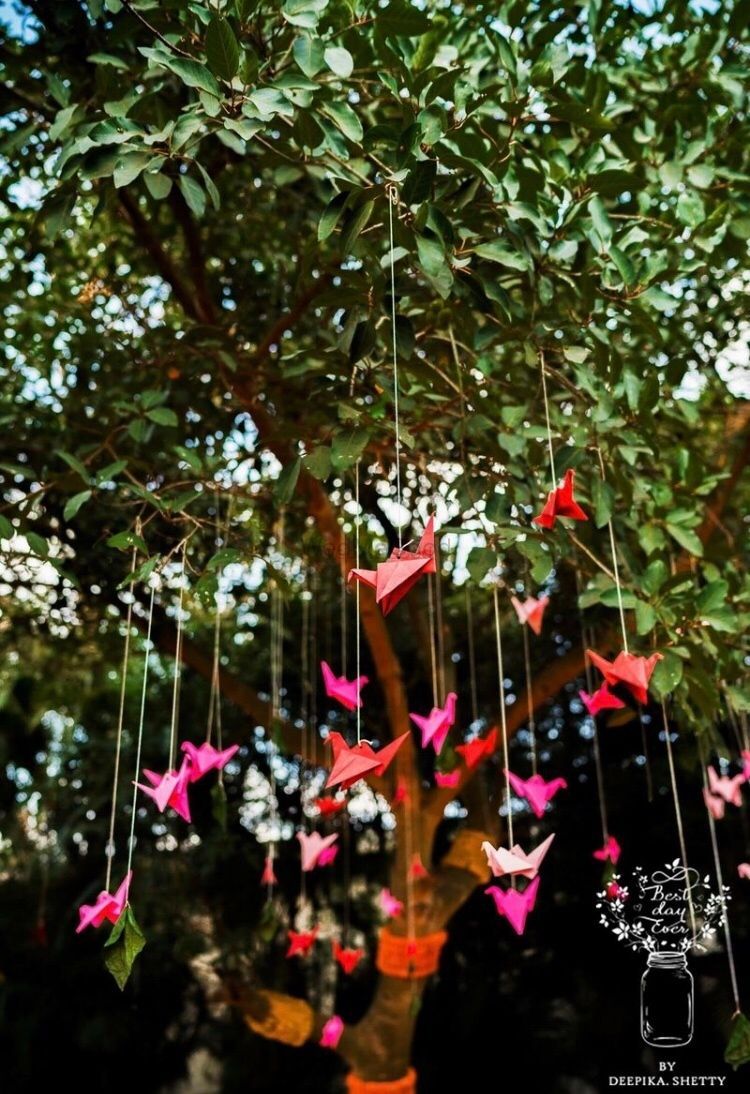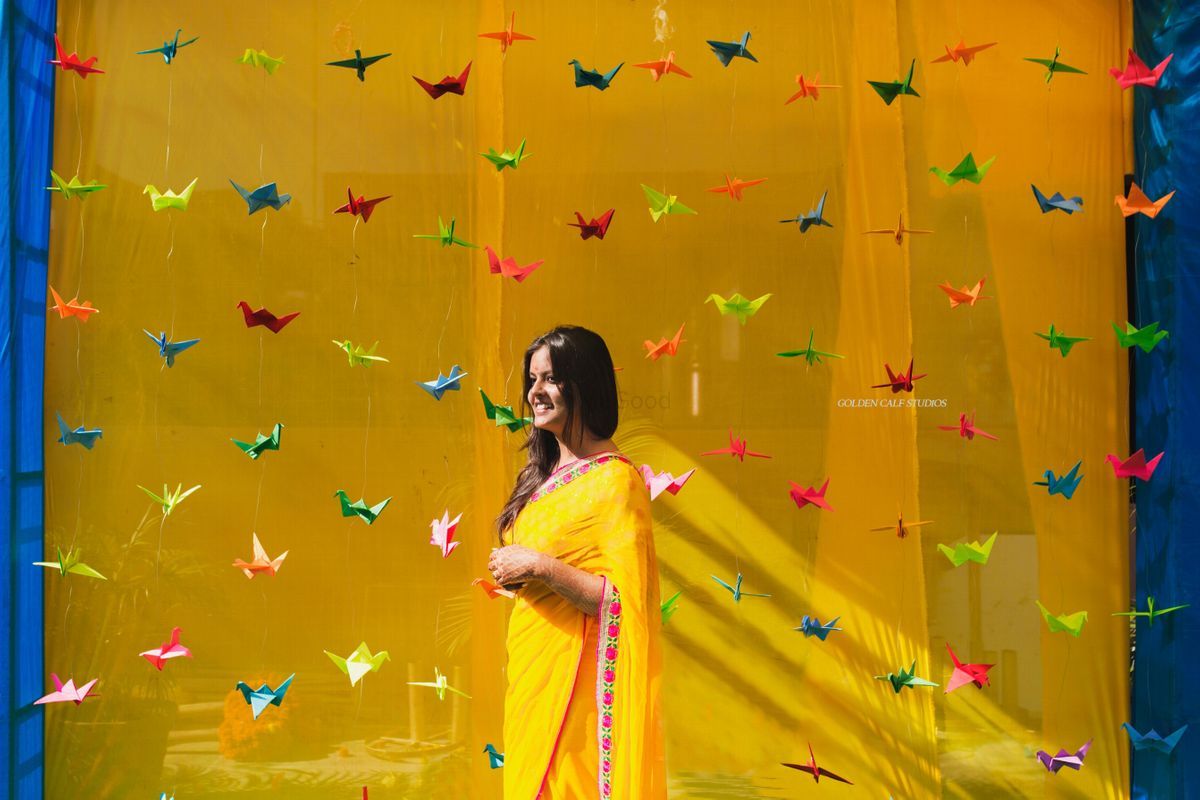 Image via Best Day Ever by Deepika Shetty★ 4.8 and Golden Calf Studios★ 5
Cute and absolutely trending. These origami birds are easy to make or you can even buy them at a local store. If you are having the mehendi at an open space where there are trees, you can hang them off the trees, while the rest you can use as backdrop.
Colourful Pin Wheels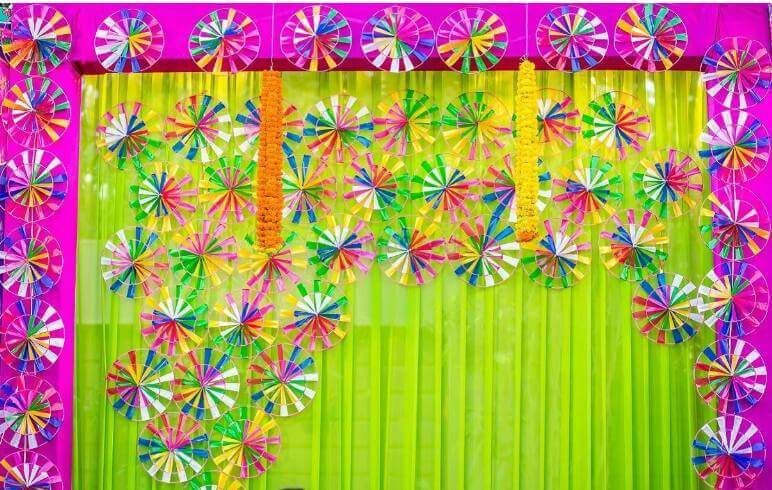 Image via Aegis Eamc
Remember those colourful pinwheels we used to get at fairs? Use them for your home décor now. Buy them in bulk and use them as centerpieces or even as a backdrop where the bride is sitting. The colours really pop and if you have an open air venue, they keep cutely spinning.
Bright Rosette Wall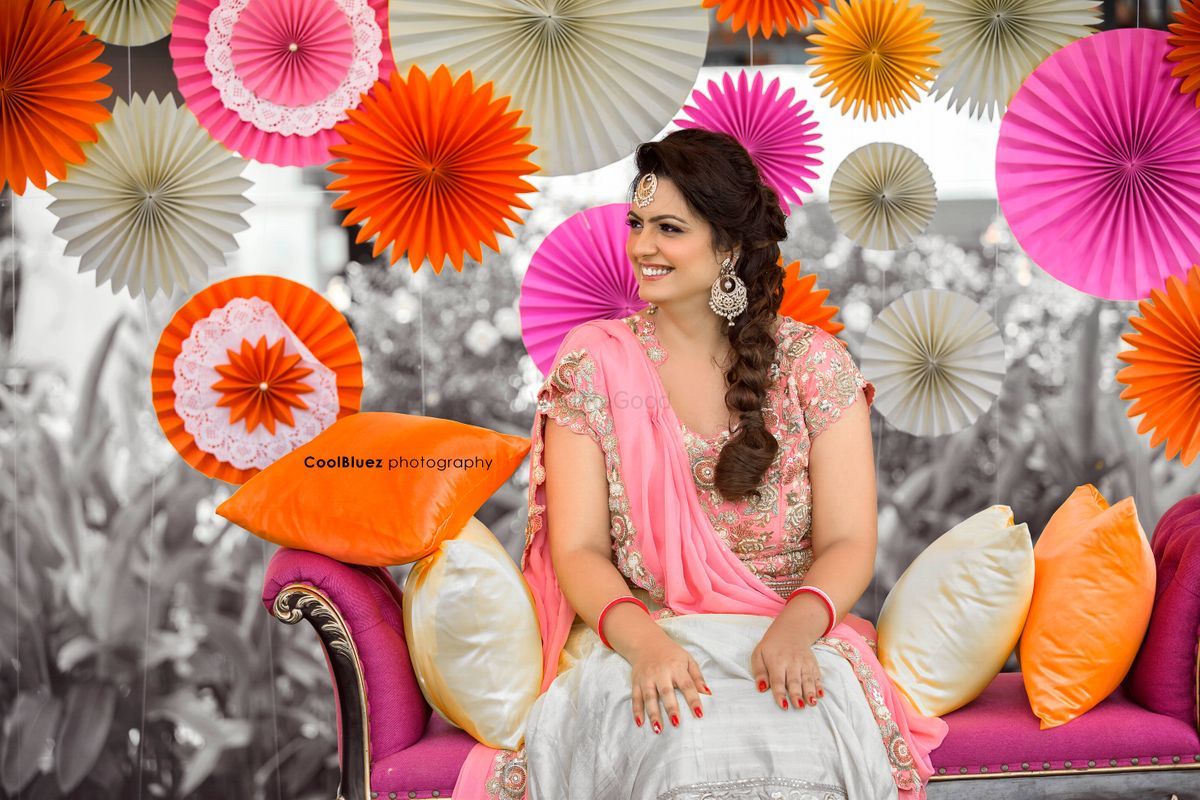 Image via CoolBluez Photography★ 4.8
Rosettes are easy to make and super affordable too. Have a fully rosette covered wall just where the bride is going to sit and your décor is set!