11 Yummy New Things To Give With Your 2018 Wedding Invite!
BY Sakshi | 14 Feb, 2018 | 2369 views | 4 min read
Why give a mithai box when there are so many cooler and way more exciting things you can gift with your wedding card! Yup, and we aren't talking about super expensive things either- edible goodies that are yummy and don't burn a hole in the pocket as well- and trust us, some of them way cheaper than a mithai box!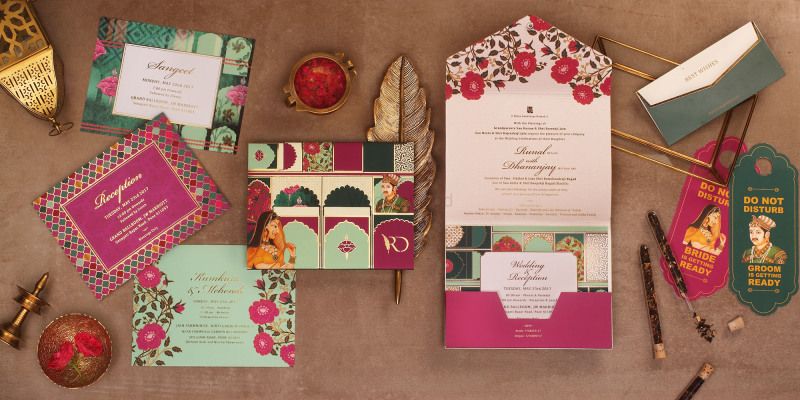 Image via ArtsyDesignCo
Here are 11 new ones which will make your mouth water by just looking at 'em!
Blueberry Flavoured Almonds from Little Farm Co.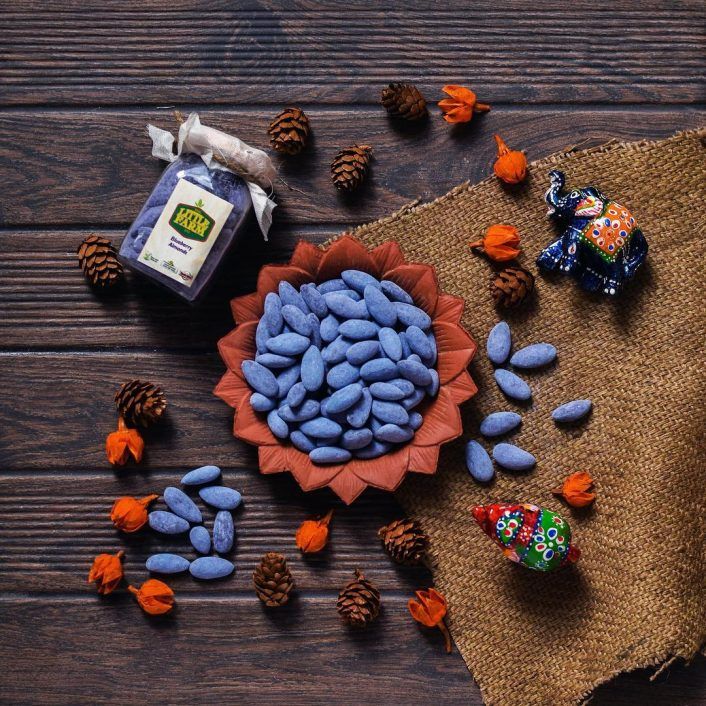 From rose petal to even paan flavoured almonds, this company does some super cool new favours that is sure to impress your guests! We love how exciting it all looks! They deliver all over India! 
Price: Rs 1000 for a gift box (set of 4 x 100 gms)
Find out more and shop online here.
Flavoured Sugars and Salts from Artisan Palate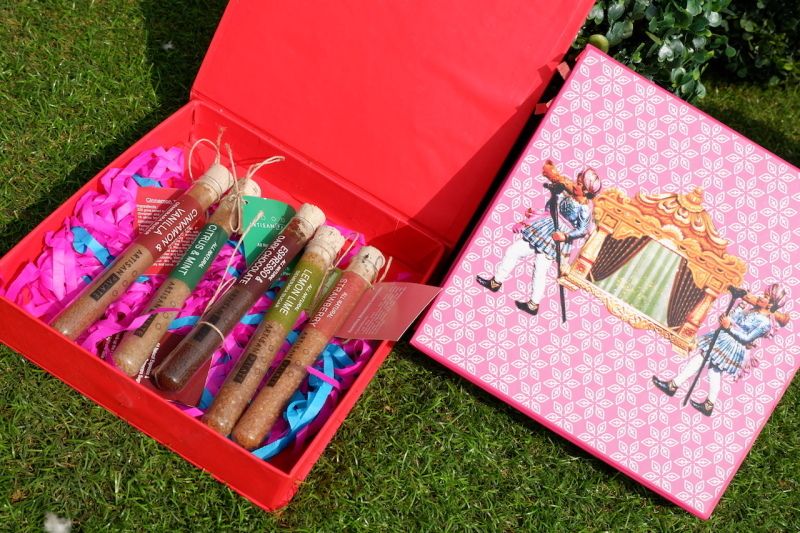 Image via Nirali and Ribhu's Wedding
Super cute and tastes yummy! Flavoured sugars and salts are our new fave things to give with invites or as any wedding favour! Add it to your coffee or desserts to make them extra delicious!
Price: Rs 200 for one big jar. Rest As per customisation. 
Find out more here.
Artisanal Coffee from Blue Tokai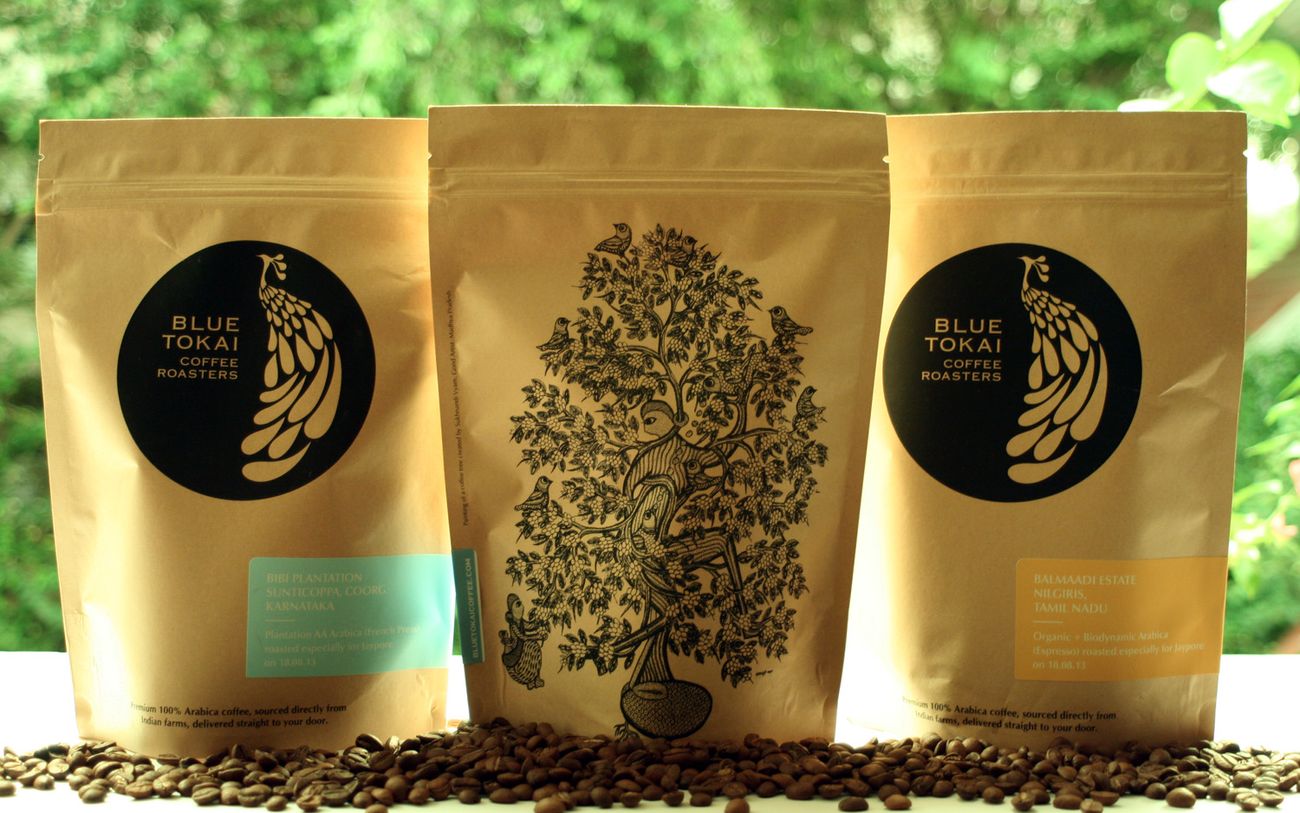 They have some insane flavours from all over the country which are so unique for coffee! Plus, they give you a very clear description of the flavour you can expect which is great and comes in neat packs! Their coffee was even part of the coveted hamper on hit television show, 'Koffee with Karan.'
Price: Rs 400 for 250 g.
Find out more and order online here.
Earth Loaf Chocolate in Mysore Pak Flavour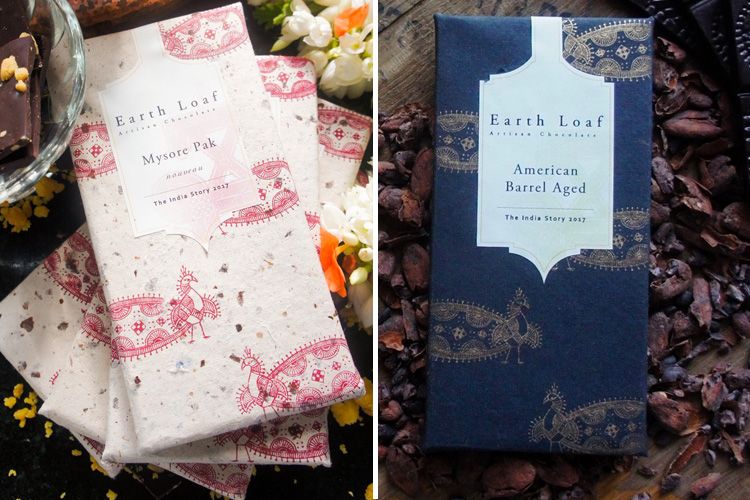 Fancy tasting chocolate inspired by the famous Mysore Pak? Earthloaf specialise in raw chocolate that highlights its rugged beauty that is rarely seen amidst the sweeteners and artificial flavourings of supermarket brands and are branded as 'adult chocolates'. With some unique flavours, this is something that's gonna intrigue everyone!
Price: Rs Rs 270 for a 72 g bar.
Find out more here.
Gourmet Butter from That Food Co.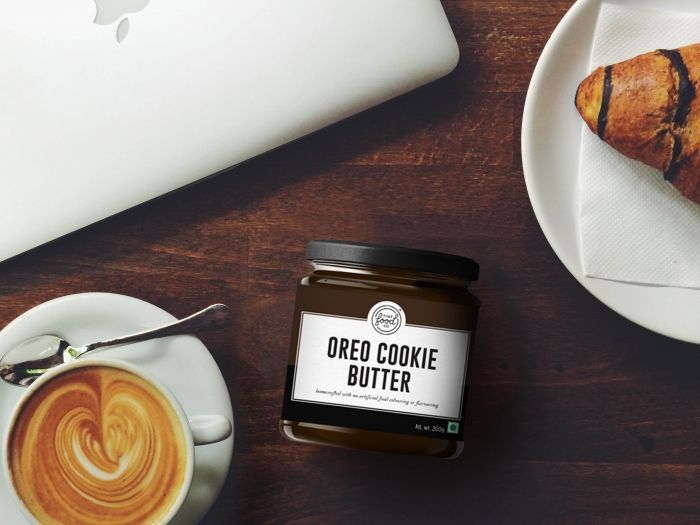 Oreo Cookie Butter anyone? Sounds delish right? From cookie butters to flavoured butters like peri peri butter- these guys do some crazy flavours, the names of which are gonna make your mouth water!
Price: Rs 229 for a 200 g jar.
Find out more here. Shop on www.placeoforigin.in
Handcrafted Gluten-free Granola from Sustenance Food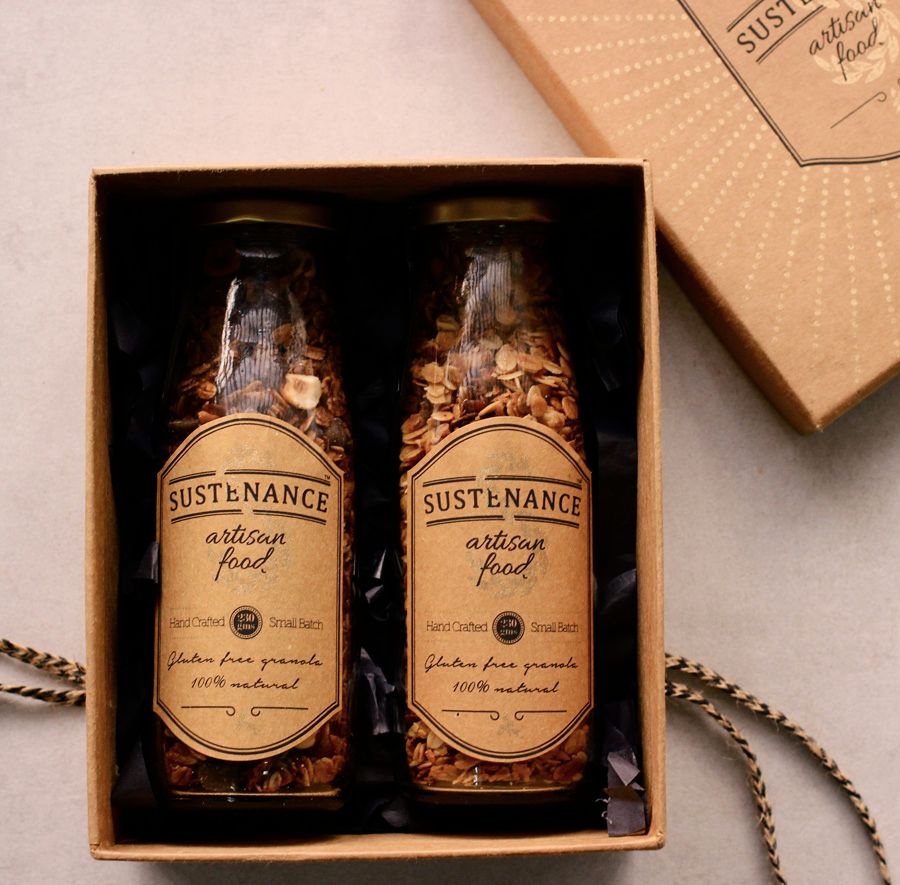 Healthy and yummy! Handcrafted granola in some cool flavours that is great for breakfast or just to munch on!
Price: Rs 1100 for a petite granola box (featured image).
Find out more and shop here.
Gourmet Popcorn from 4700 BC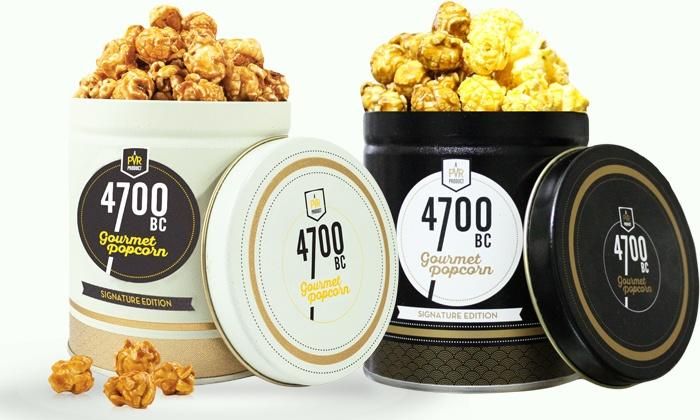 They have over 18 flavours to boast of- right from your regular butter and caramel to interesting new stuff like peanut butter chocolate, Himalayan salt caramel and black grape vanilla! You can choose to order them in packs or tins!
Price: Starting at Rs 200 for a 125 g tin.
Find out more and shop here.
Custom-printed Goodies from Amazeology India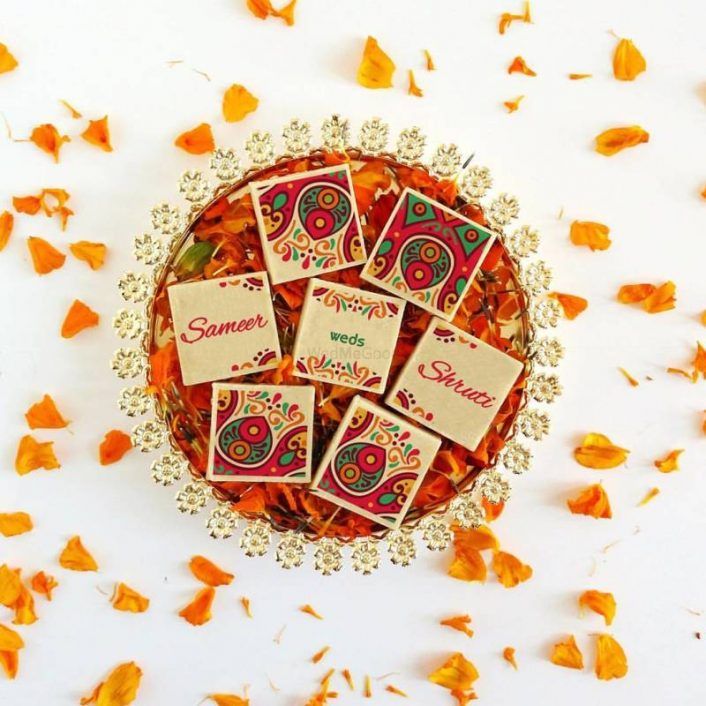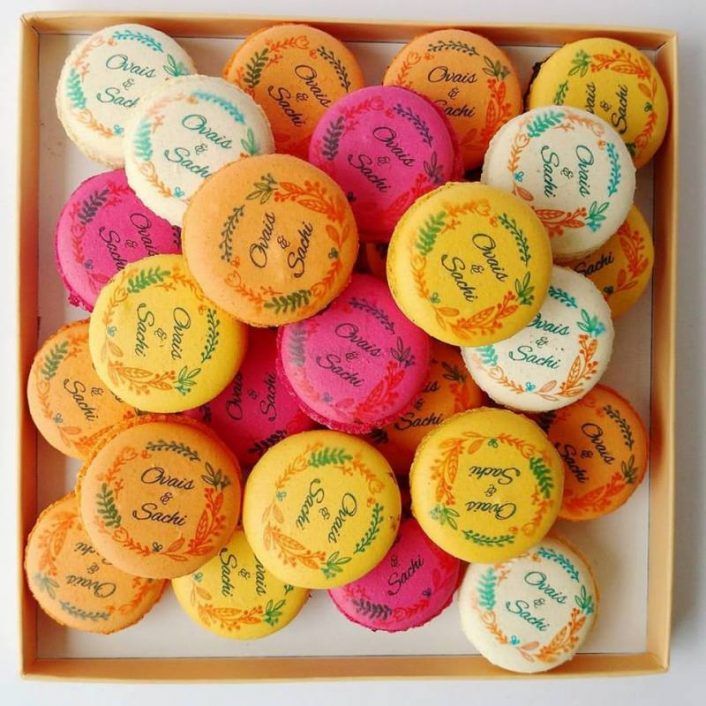 Whether its mithai, cookies or printed macarons, these guys do some cute little things that are not just yummy, but personalised as well- passing on the message well!
Price: Rs 50-2000 per piece, depending on the order. 
Find out more here.
Personalised mini champagne or wine bottles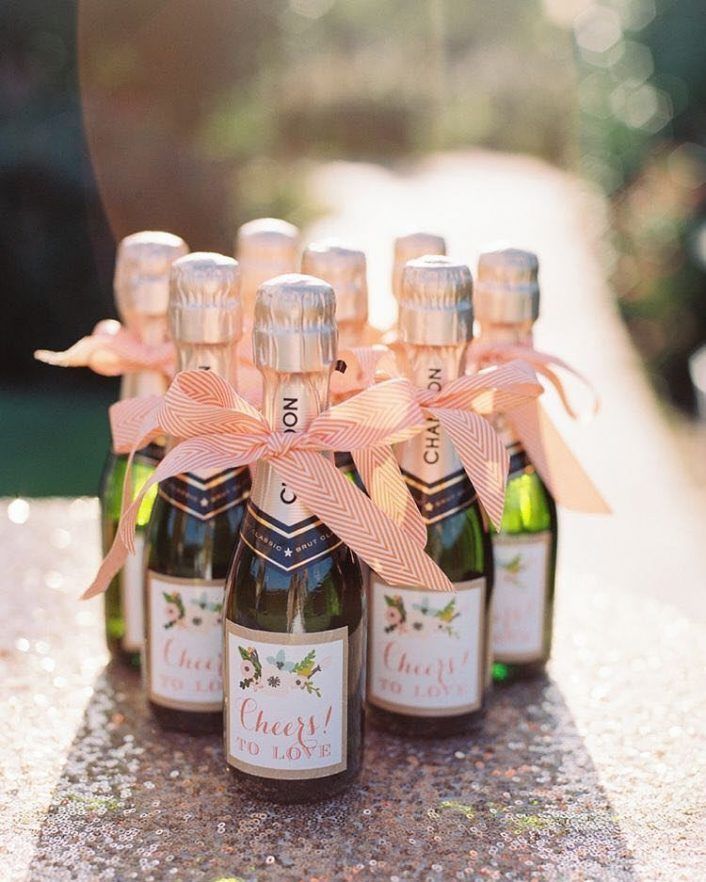 Nothing spells celebration like champagne, and when its in packaging like this one, then how cute does it become? This one makes for an exciting favour to gift with your wedding invite!
Order them from wedding_lounge on Instagram.
Spice Book from Home of Spices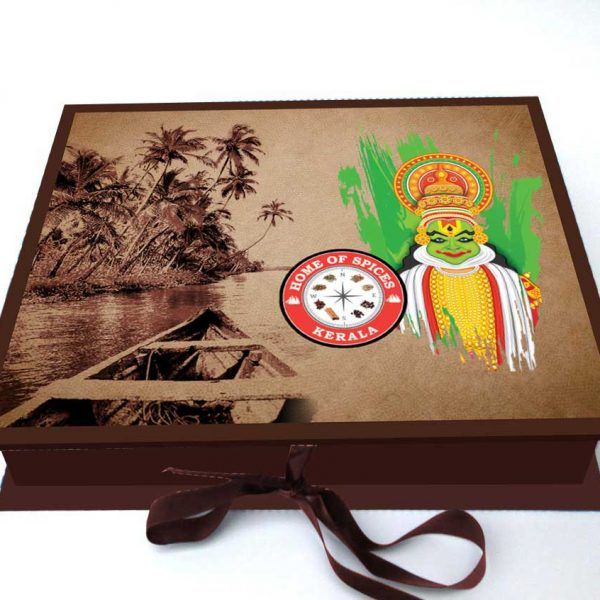 Authentic and pure spices like cardamom, cinnamon and turmeric grown in Kerala packed in a book style box to gift along with the invite- something we are sure will be used by every household!
Price: Rs 900 for assorted spices in 100 g packs packed in a basket.
Find out more here. Shop on Amazon. 
Amla Ginger Mukhwas from Pickl'ed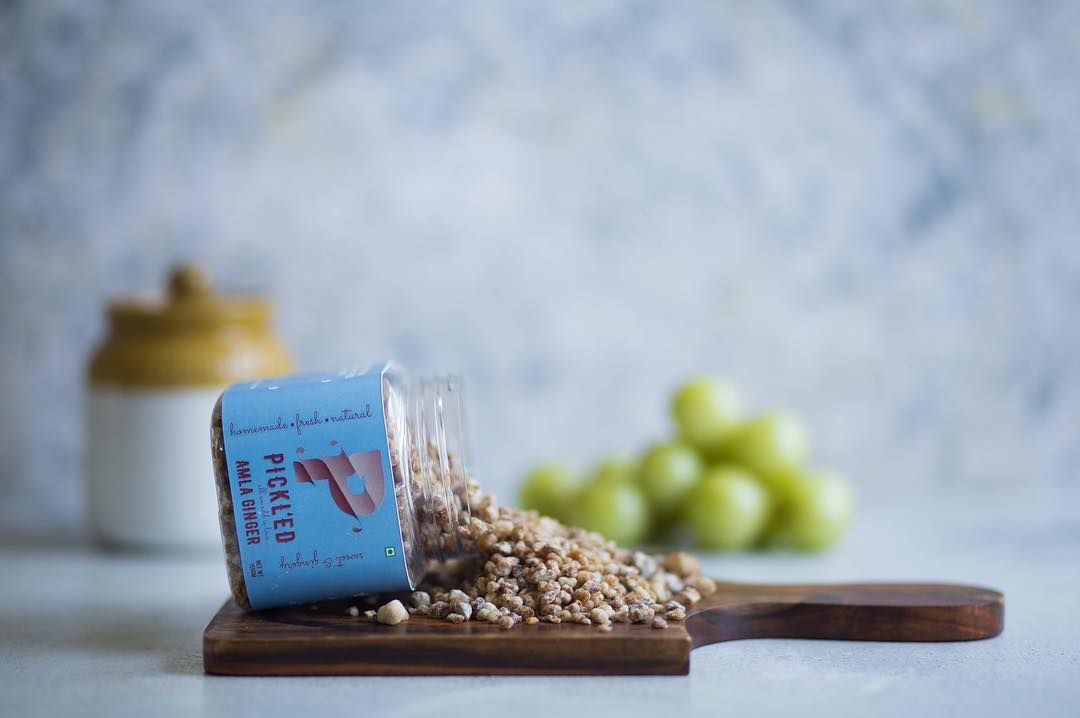 Mukhwas or mouth freshers have been around for ages in our country, and these interesting flavoured ones from Pickl'ed India are yummy to the core!
Price: Rs 310 for a 250 g box.
Find out more and buy online here.
ALSO READ: NEW Unique Food Favours To Distribute With Your Wedding Card!