12 Things To Do 12 Hours Before Your Wedding Day!
BY Sakshi | 27 Jan, 2018 | 4112 views | 4 min read
So much to do and such little time, right? Well, that's something you should let go off the night before your wedding and instead just focus on yourself for a while! Pamper yourself with some tender loving care in the last 12 hours before the wedding, and trust us when we tell you YOU NEED IT! Here are some cool new ways to love yourself in the run up to the wedding!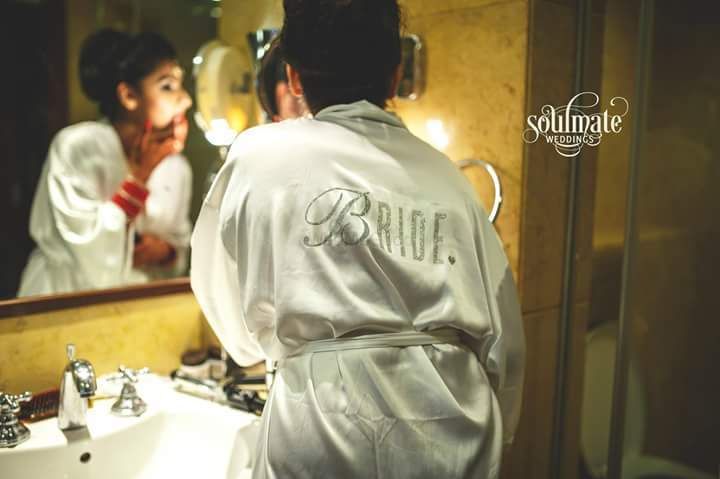 Image via Soulmate Weddings by Shalini Rao
1. Get a relaxing massage done!
You might be at the hotel or wedding venue the night before, so make use of the spa! Get a nice relaxing massage done to really calm yourself down! WMG recommends an Aromatherapy or Swedish massage which is calming and pampering!
2. Take a nice warm bath with some calming products!
Do this like a princess! Put on some soothing music, sip some champagne or wine and use anti-stress products that smell just divine! WMG loves the Aveda Stress Fix Soaking Salts and the Kiehl's Lavender Foaming Relaxing Bath with Sea Salts and Aloe which are heavenly! 
3. Put a sheet mask for some extra TLC!
Sheet masks are so fuss free and easy to use- just 15 mins and done! You can even use this while you soak in the tub! WMG loves the Cremorlab Herb Tea Pure Calming Mask and Tony Moly Clear Skin Brightening Mask ( yes, they are available in India) which do the job without any hassle!
4. Cleanse your hair, but don't over condition it
Clean your hair because most likely your MUA would've asked you not to wash it on the wedding morning, but don't go in for a deep conditioning mask, which can make the hair greasy on day 2. Instead, we've heard a lot about the DevaCurl Buildup Buster Micellar Water Cleansing Serum- it's like micellar water for hair, which does the job without stripping it of oils- now how cool is that?
5. Light a candle or a diffuser and just soak in the aroma!
You can do this right before you sleep so that you can calm down your mind and body and be ready for the hectic day ahead! We recommend candles from Jo Malone London and The Maeva Store, which smell like a little bit of heaven!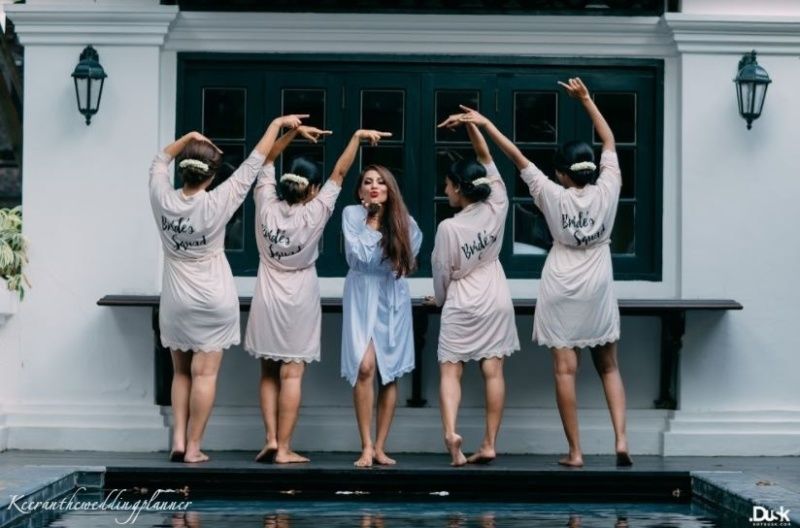 Pic via Keeran The Wedding Planner
6. Apply a beauty oil on your face and body for some extra glow!
Because why not? Especially in case of winter weddings, this one can really make skin supple and nourished! WMG absolutely adores the Tatcha Gold Camellia Beauty Oil, which has real gold in it! You could even try its dupe, the Indulgeo Rose Gold Oil.
7. Use a cryoroller for your undereyes!
Sounds scary, but it isn't! Its basically a fancy ice bag in a machine form that takes care of your undereye puffiness and lines- relaxing them and making them look brighter! Find out more about it here. You can even use an ice bag that'll do it, but in a messier way!
8. Get your glow inside out- Intravenous vitamins anyone?
Yes, the latest trend which has all the celebrities going gaga over it is getting IV vitamin shots! Yes, the same drip and syringe thing, but a lot of women are swearing by it! Might sound over the top, but the glow is said to last a while and is pretty noticeable! Dr Kiran Lohia provides this in India, so if you're interested, find out more!
9. Or just pop some Vitamin C
Vitamin C is excellent for your skin, and now is as good as time to pop it! Make sure to include it in your regime beforehand, but don't forget to include it the night before for some extra glow! We'd recommend the GNC and Amway ones, but check with your doc before starting them!
10. Do a review of your basic grooming
Are there any stray eyebrow or upper lip hair? Or maybe some chipped nail paint on the fingers or toes? Or is a grey hair popping up somewhere near the forehead? Just do a basic review to avoid any last minute issues! WMG loves the Tweezerman Expertweeze Lighted Slant Tweezer that makes it so easy to pluck out hair! Pamper your nails with some nail treatment- we really like the Orly Argan Oil Cuticle Drops!
11. Get a good night's sleep on a silk pillowcase!
It's good for your hair and your skin! They avoid friction while you toss and turn at night, leading to softer hair and facial skin! We love the ones from Dame Essentials- so soft and luxurious!
12. Send a message to your groom-to-be!
Tell him how you can't wait to be married to the love of your life :)
ALSO READ: 10 Things Every Bride Must Do The Night Before The Wedding!