15+ Incredible Entry Walkways Into Your Wedding!
BY Soha | 01 Aug, 2018 | 42233 views | 3 min read
A nicely designed entry walkway sets the mood for the evening, and lends the perfect start to your wedding celebrations. Oh, and think about the perfect backdrop for those countless wedding pictures that will adorn your bedside table. So we decided to give you a look at our favourites this season!
CAUTION - Looking at these decor inspirations might make you want to marry soon (or marry again, for the ones who have already walked down the aisle!)
This Ceiling Of Bougainvillea Floral Strings Is Perfect For A Day Wedding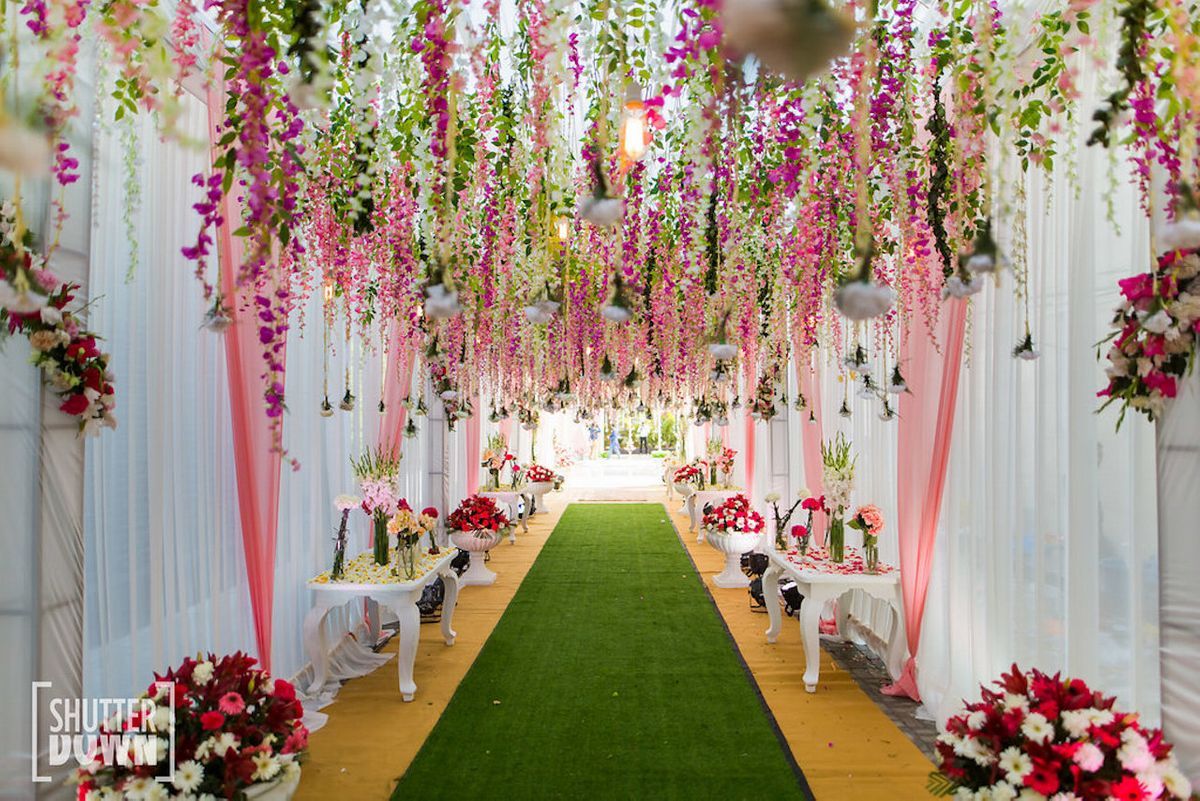 Wedding planned by Heavenly Marriages Inc.★ 5  ; Shot by Shutterdown - Lakshya Chawla★ 4.9
This one with the fresh Bougainvillea is literally #DecorGoals!
Or This Garden of White & Green With The Classic Yellow Lights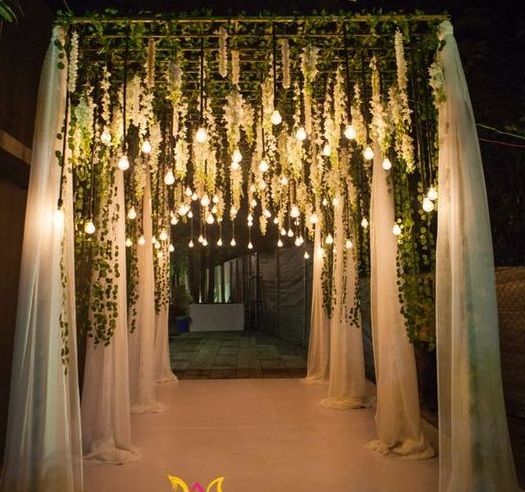 Image via Pinterest
We love how the colours of all the different elements are in perfect synchronization! Dreamy, we say!
This Heavily Tasseled Entryway With Silver Strings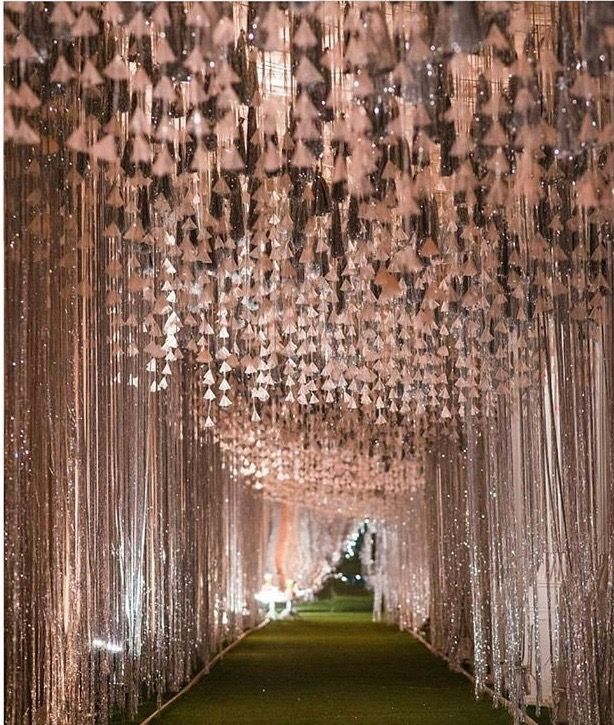 Image via Pinterest
Nobody minds a little glitter, do they!
A Dreamy Passage With White Flowers & Beads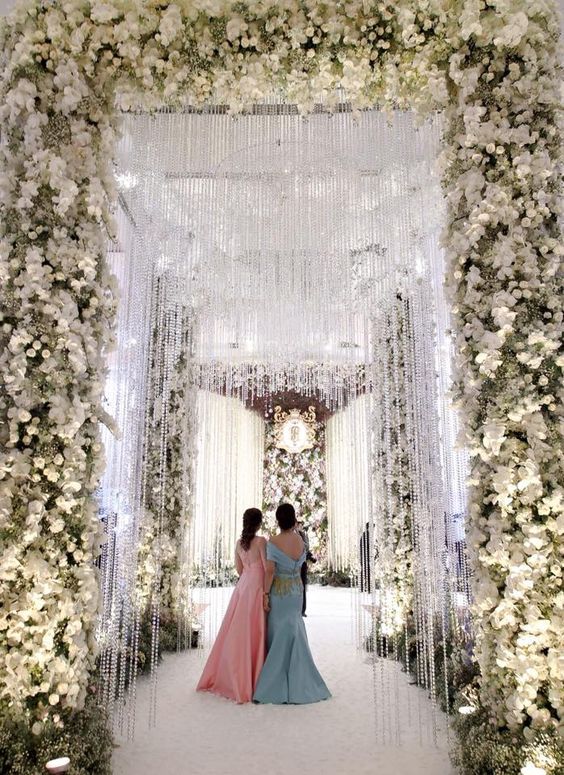 Image via Pinterest
Gateway to heaven, doesn't it look like that?
A Simple Entry Decorated With Fairy Lights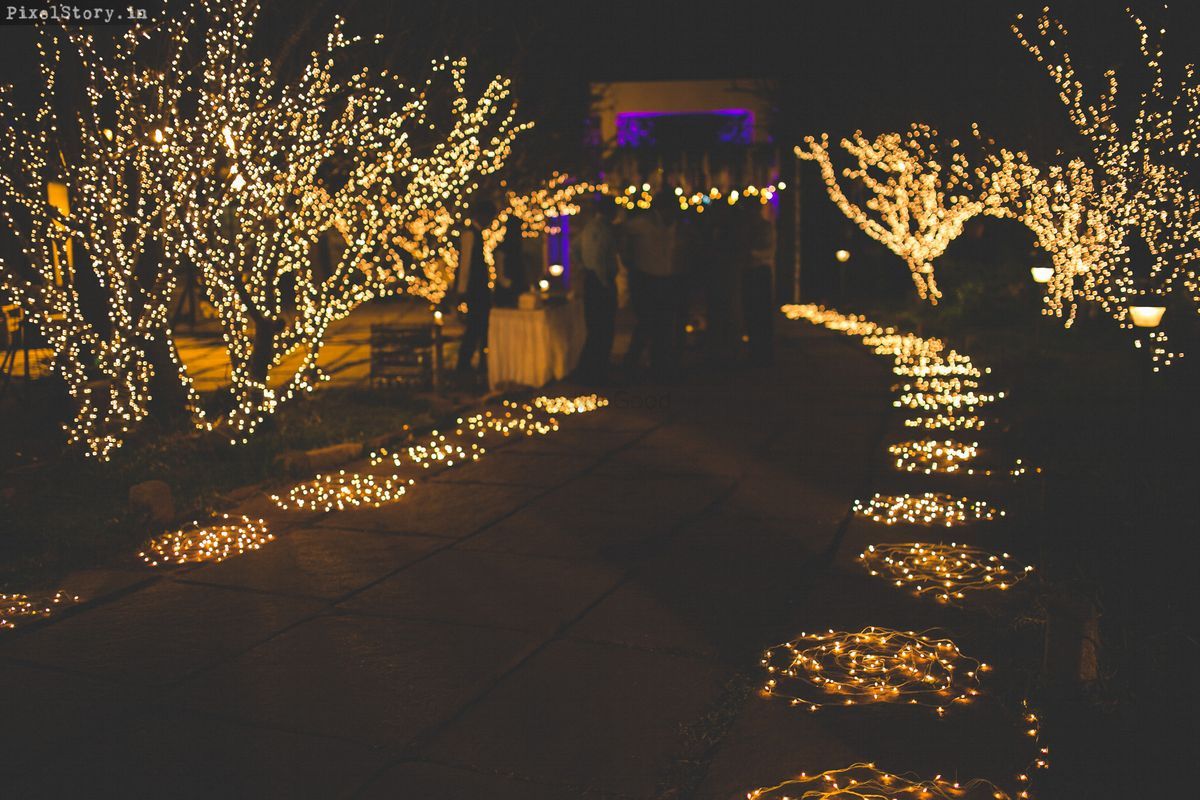 Picture by Pixelstory.in★ 5
This one would look so pretty after the sun finally sets! And think of all the pretty pictures you would be able to click with those fairy lights in the background!
This Minimalist Stand-Alone Floral Wreath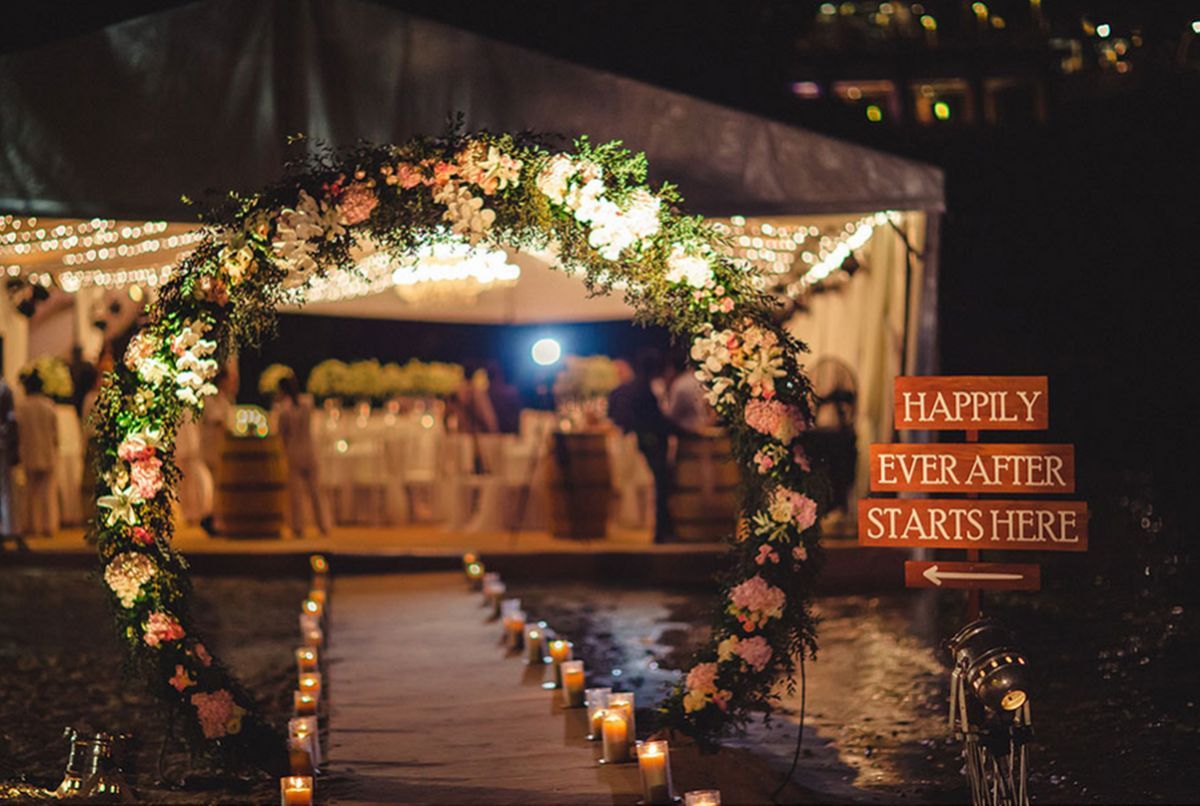 Wedding planned by Wizkim Wedding★ 5
Floral wreaths are a hot trend this wedding season. So why not get one for your entry!
Or A Range Of Minimalist Wreaths With Leaves And Flowers In A Single Hue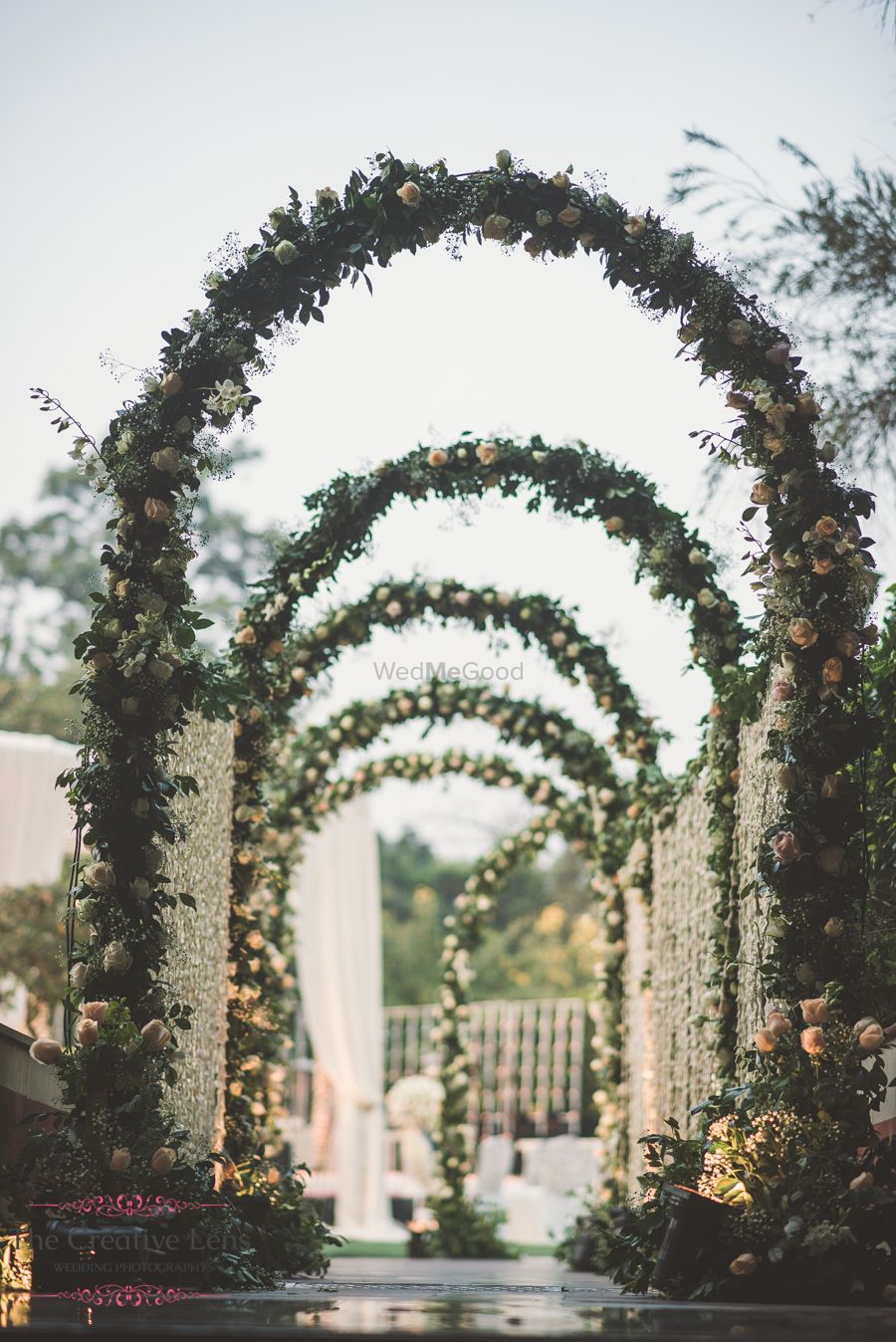 Decor by Luxury Weddings by Abhishek★ 4.5
If your idea of a wedding entrance is not very elaborate, you can choose this wreath inspired decor to line your passage. Simple and classy!
Light Your Entryway With Mogra Strings & Glass Candles Or Diyas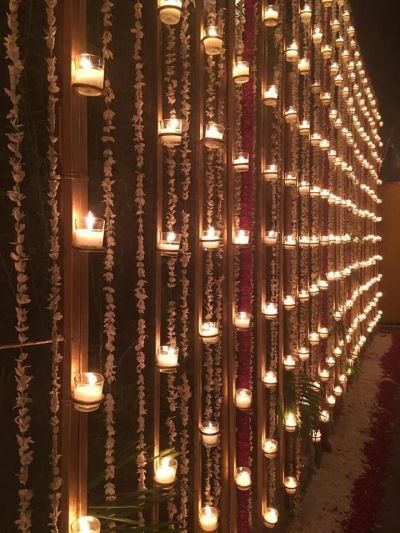 Image via Pinterest
Simple. Stunning. And very Indian. 
Light & Breezy Curtains In Refreshing Colours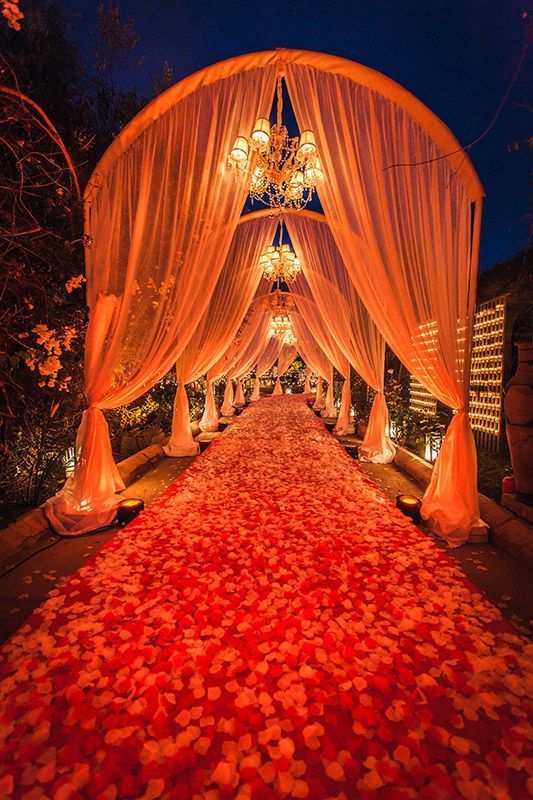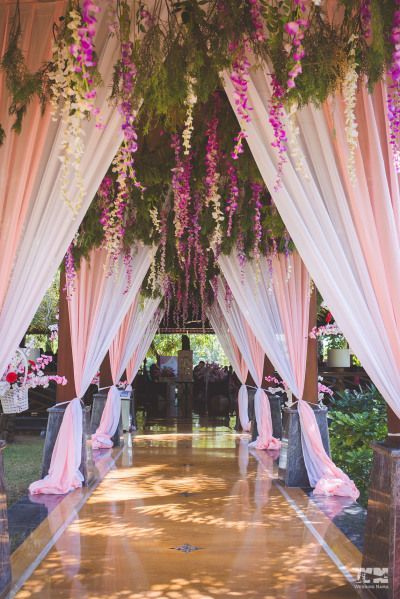 Image via Pinterest
Curtains lend a welcoming and breazy vibe to the wedding and we love that! You can also accentuate this decor design by adding flowers, chandeliers, candles or what not!
And Entry Decorated With Big-Sized Props For The Classy Couples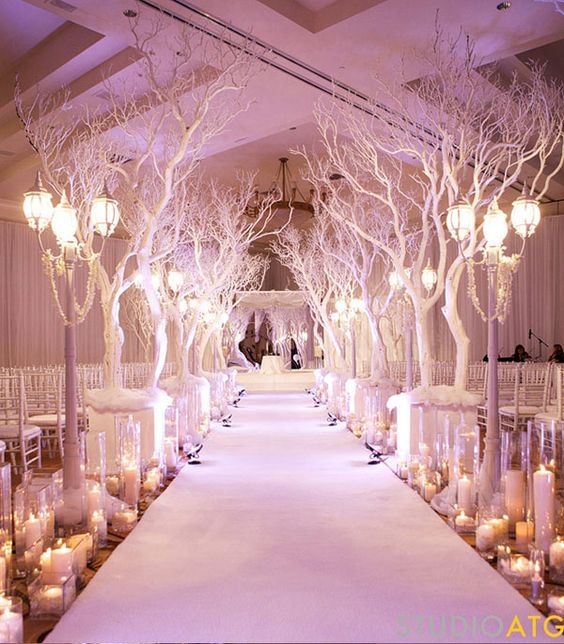 Image via Pinterest
This one is simple to execute and super stunning! And the candles seem to be complimenting the artificial trees just perfectly! WMG hint - pick scented candles in a relaxing fragrance for the night!
Or Unique Props Like Hanging Potlis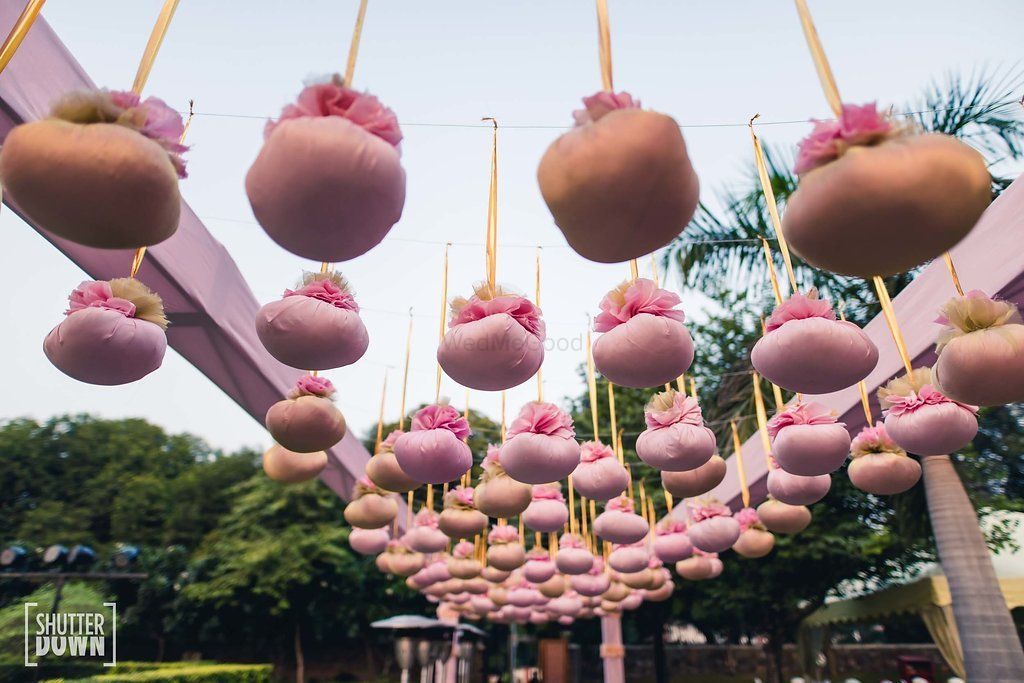 Shot by Shutterdown - Lakshya Chawla★ 4.9
Now who would have thought hanging potlis would look that good!
An Illuminated Floral Jal Made With White Flowers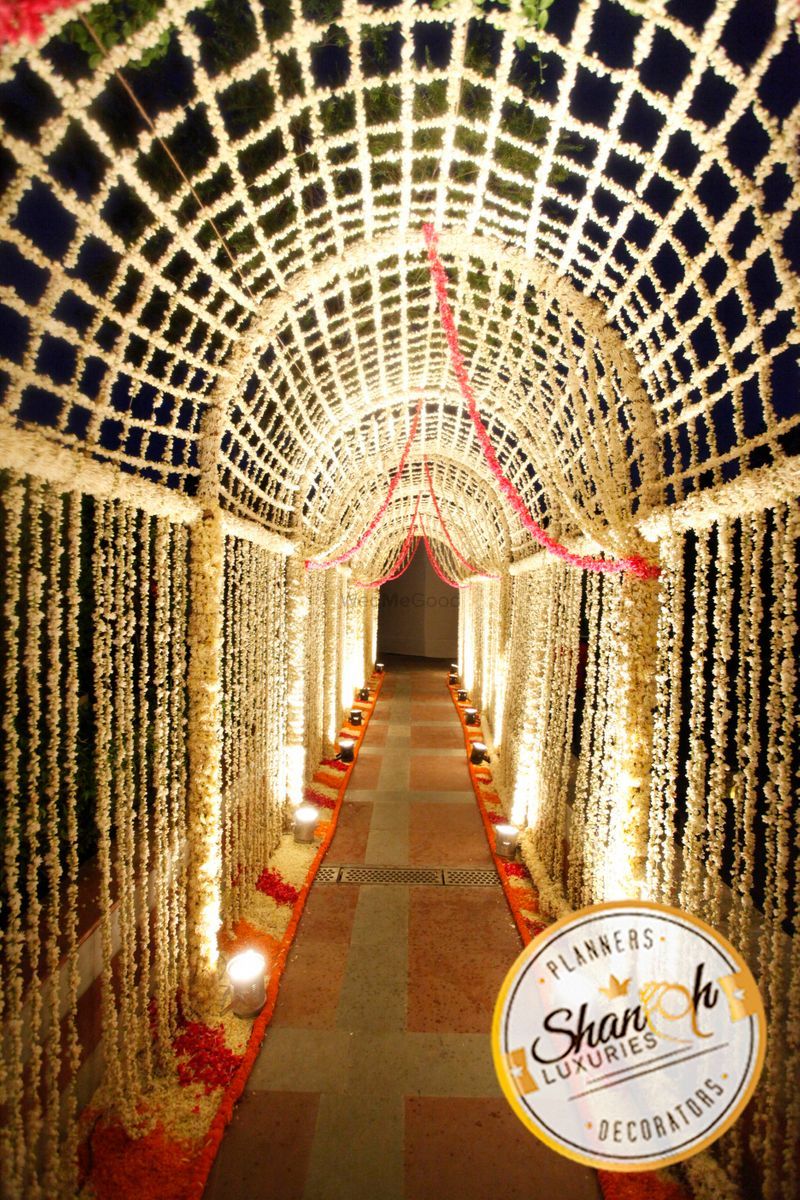 Wedding planned by Shanqh Luxury Event Planners and Decorators★ 4.8
Timeless! You can experiment with the shape of the jaal and also add strings of flowers in your or your partner's favourite colour!
Or This One With Abstract Frames And Flowers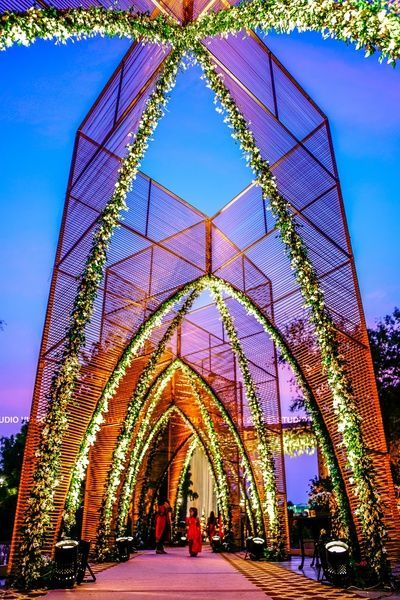 Image via Pinterest
This one with the mesh in abtract shapes is such a refreshing change from all other decor ideas we see at weddings usually!
A Rose Ceiling Which Is Oh-So-Gorgeous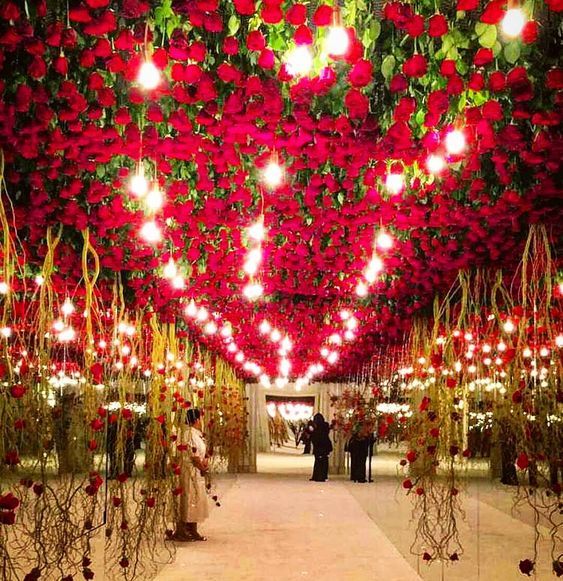 Image via Pinterest
Red being the colour of love would set the perfect mood for your functions! Oh, and how can we miss the pleasing smell of roses that would fill the air through the night!
This Under-The-Stars Kind Of Entryway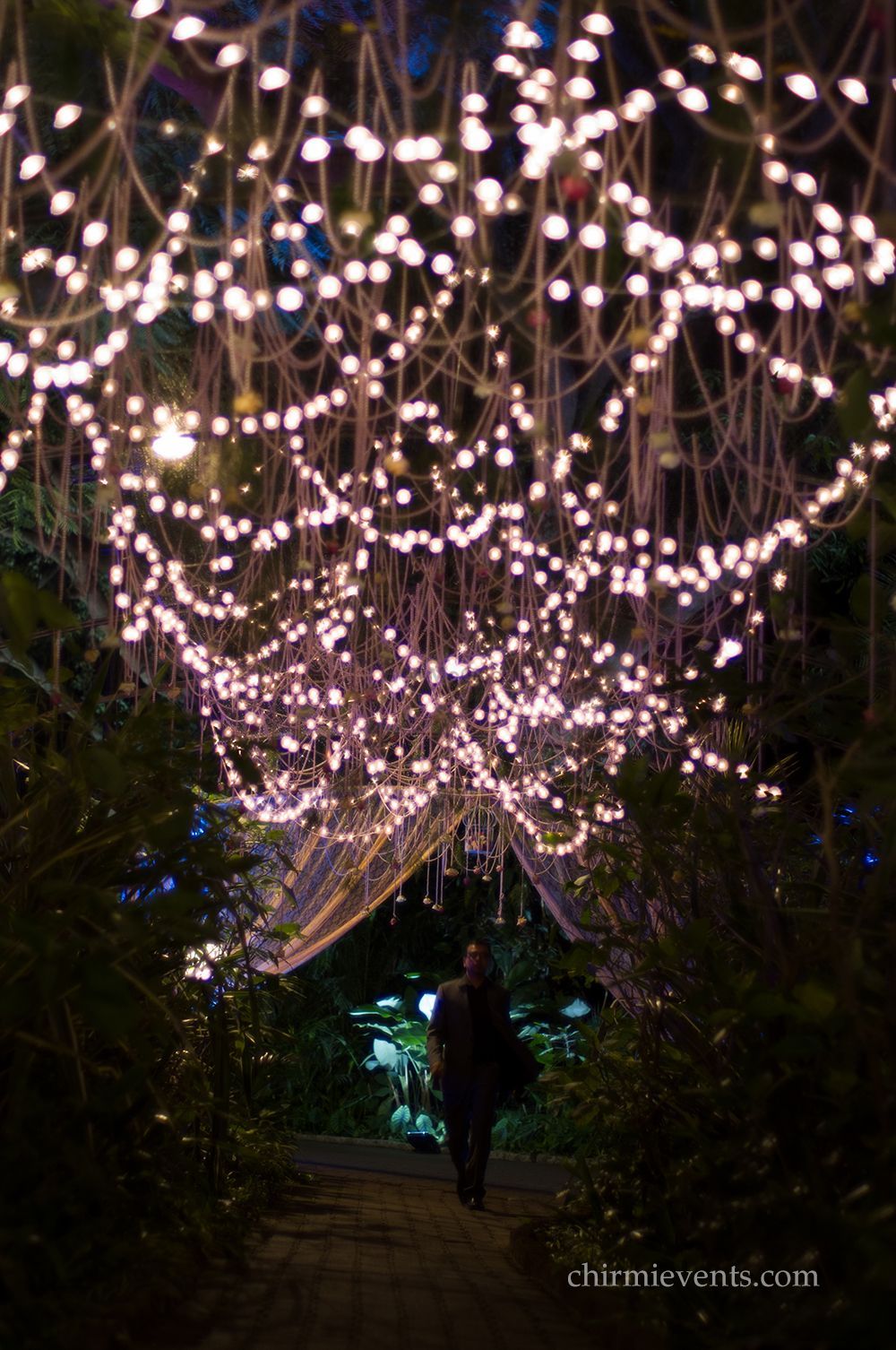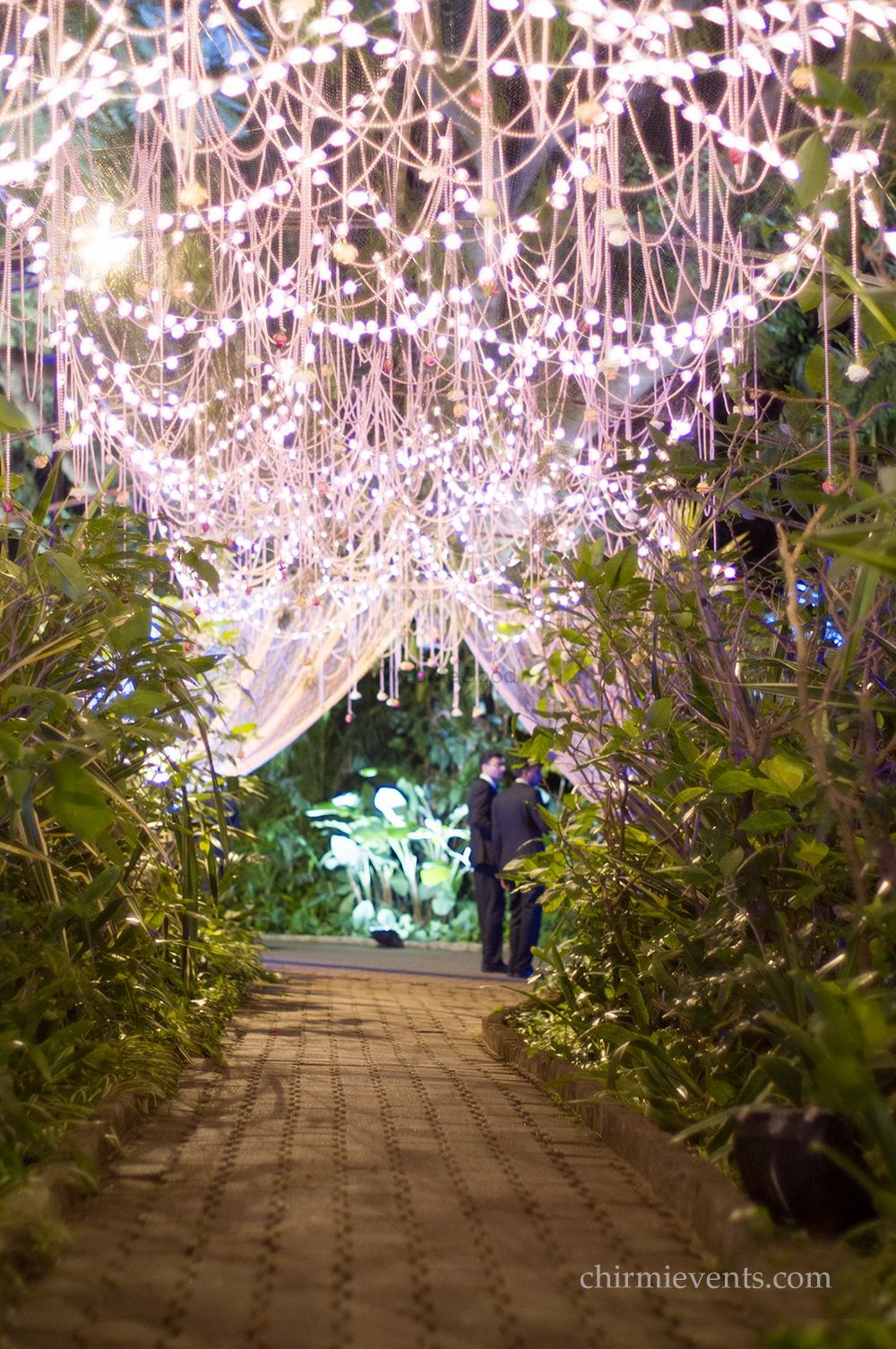 Decor by Chirmi Events★ 4.7
Fairy lights never go wrong! This one is so simple yet gorgeous!
Or This One That Is Just Magical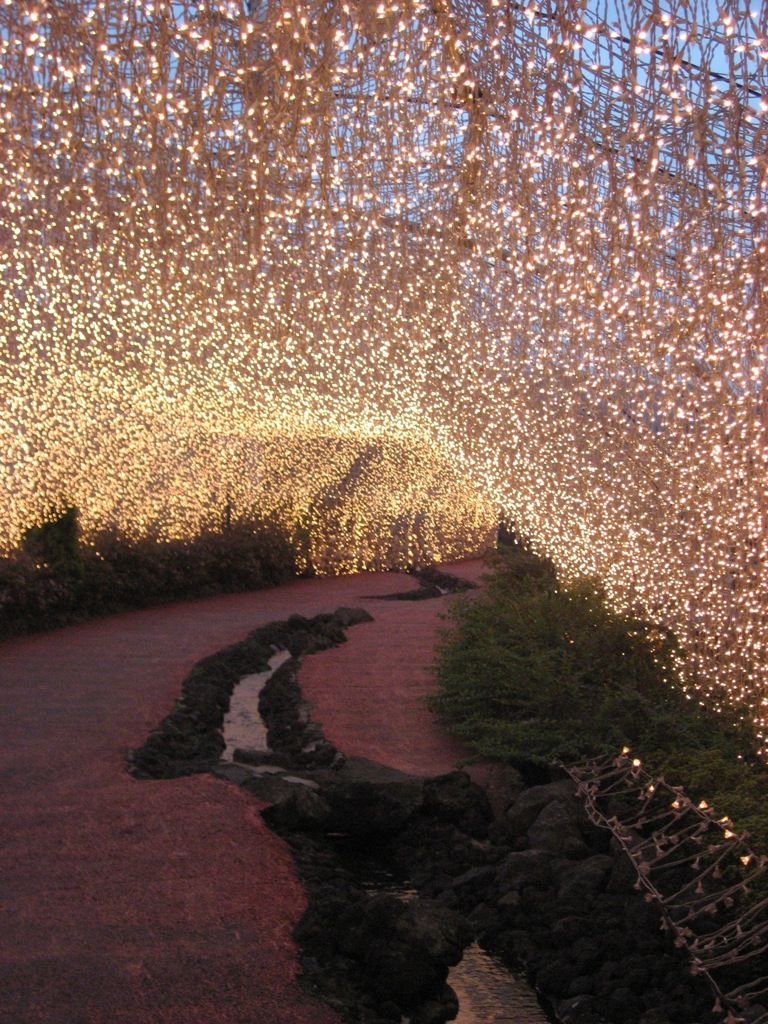 Image via Elegant Wedding Invites
It's like walking under a night sky with millions of stars!
This Tented Entry Which Is Ulta-Modern & Chic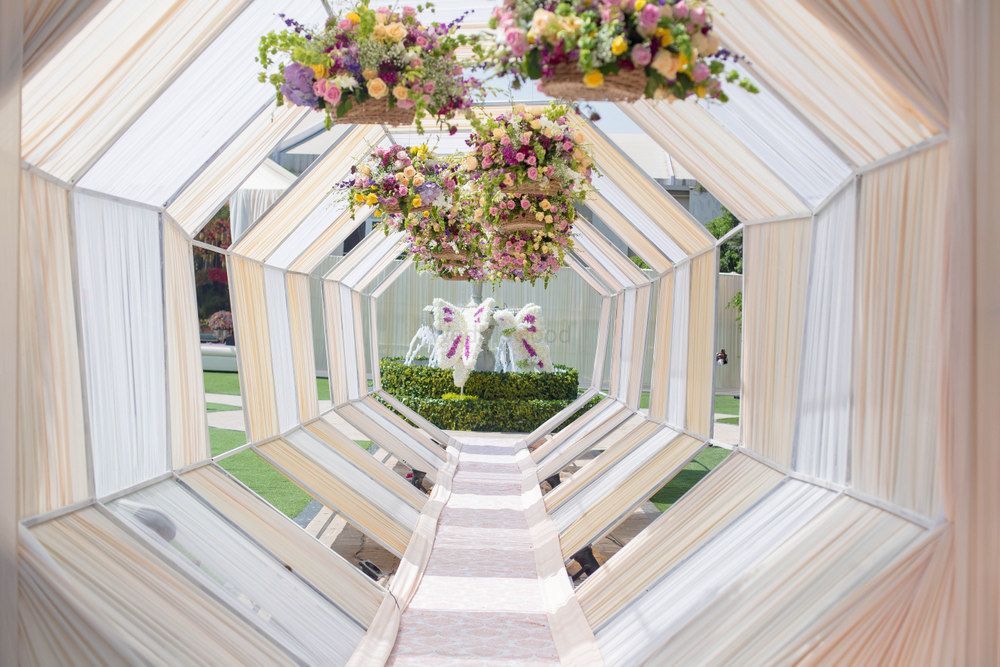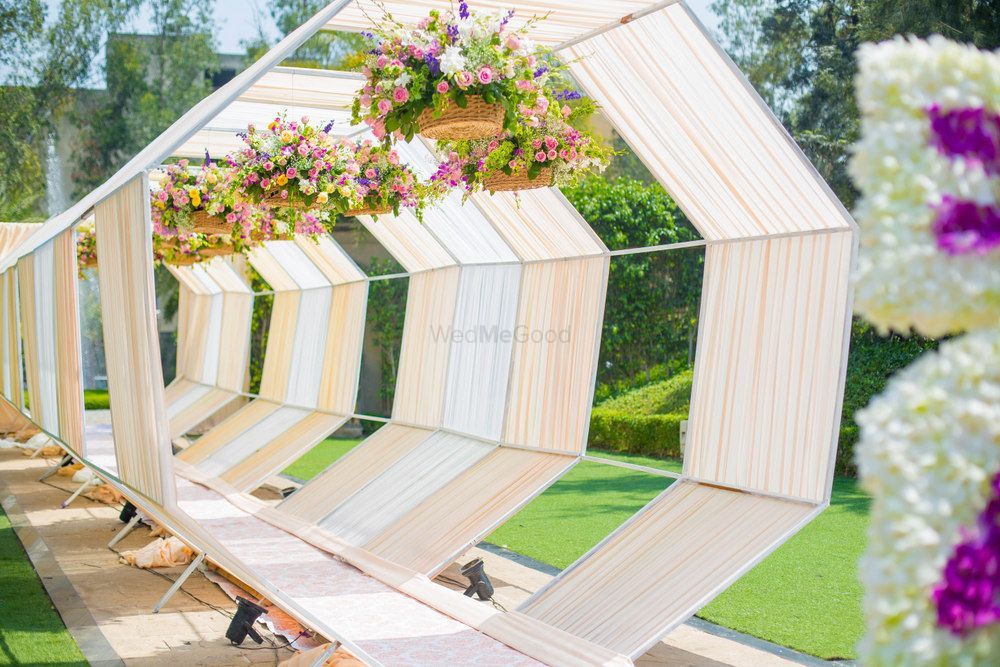 Decor by Comme Sogno Vero by Ankiit Malhotra★ 5  ; Shot by Colorblind Production★ 5
You can experiment with the shape and the tent colors. If yours is a night function, you can accentuate it's beauty with lights!
So which one out of these has your heart?