20 Ways To Have a Kickass Bachelorette Party On a Budget!
BY The WMG Bride | 17 Nov, 2015 | 11225 views | 7 min read
Before you begin to fall into the bridezilla zone, you need a chiller party to get you in the mood. And who better to organise it than your BFFs who know you inside and out. But first, let's be honest about a few things - Bachelorette parties need not mean expensive gifts and crazy costly vacations. They also don't entail the bride paying for it fully or the bridesmaids pitching in entirely - it all depends on the plan and the situation. But whoever is planning it needs to know a few things and get hold of a few resources to get this super event going in the right direction without emptying the wallet. So here are our 20 ideas.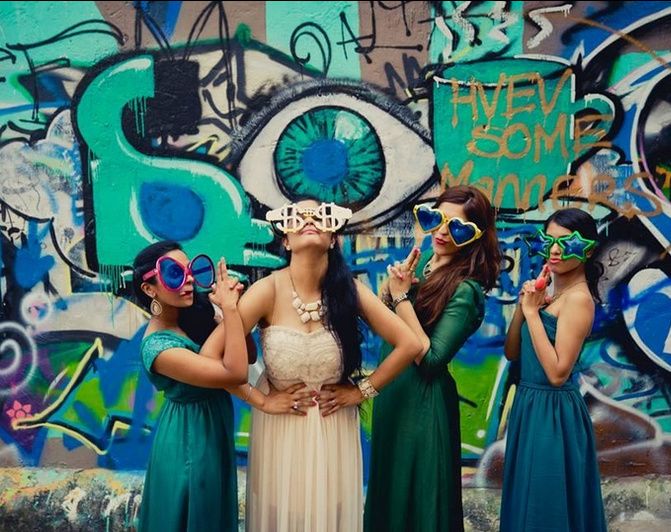 Photo via Mahima Bhatia Photography★ 4.8
You want an exotic location for the bachelorette party? Who not download the app, Skyscanner. You can put in the location you live at, your budget bracket and put it a time frame -  a year or 6 months etc. Trust us, the app will give you reccos for a destination that has cheap tickets in your budget whenever they come down in your time frame. And what's even better? You don't need to rack your brains thinking of a location - it's wherever you get cheap tickets to. Also, booking tickets early can cut down on prices too so you can splurge on a good hotel.
Trim the guest list. It's about choosing the right people and trimming it down to basics. The guest list can only contain people who the bride is okay to be around - to you know, ahem....let loose. So the less people you keep the party to, the better you can make the party for the ones in it. The age old debate of quality Vs quantity.
When you are booking hotels to an exotic location - also look at this sweet website called Agoda. It's every traveller's super secret because you can get hotel accommodation as cheap as Rs 3500, that too at exotic boutiques and even 5 star hotels. Airbnb is another option - book a cute villa for peanuts.
Carry your own booze. Well, the big thing about bachelorette parties is the money you spend on cosmopolitans and apple martinis. The trick is to get your own booze to your villa and hire a bartender instead so he can make you anything you need. Paying for a bartender is cheaper than buying glass after glass of sugary drinks. Flaming Trio supplies bartenders for events - so take a look.
Intimate Vs Crazy Big. When it comes to bachelorette parties, don't go cliched for the sake of it. If your friend loves vineyards or picnics - try to plan it around it instead of just the usual - bar, drinks, boys and cupcakes. Glamping is a great option for outdoorsy girls - try Big Red Tent that organises cool glamping trips.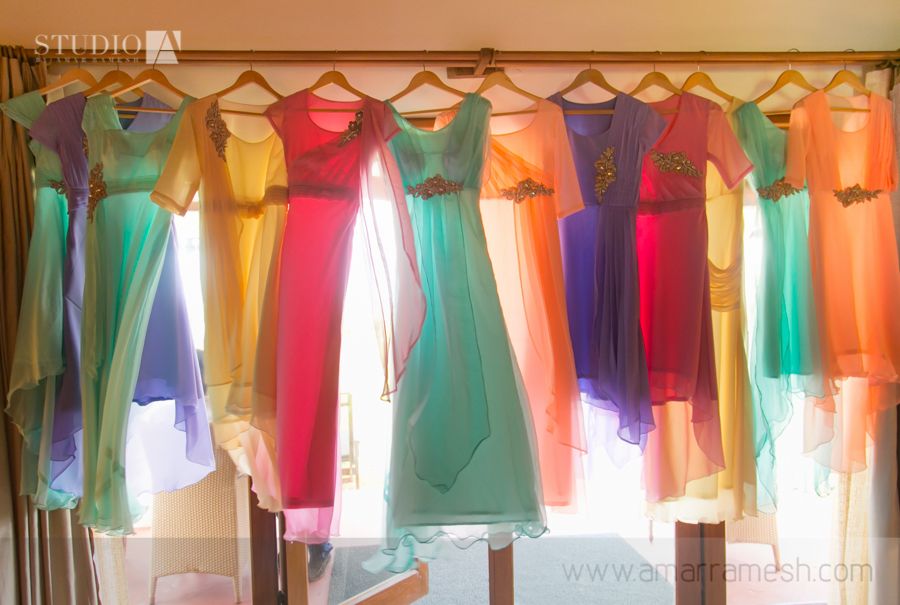 Photo by Studio A★ 4.6
Opt for DIY decor instead of splurging on a decorator / planner. Go to this really cool party planning website called Charmed Celebrations, they are actually a step aside from the tacky decor you get everywhere. Personalise things too - they make bespoke napkins and banners etc. And they also divide merch according to the theme so you don't have to think too much.
If you don't want to spend too much on an overseas trip with your BFFs, all you need to do is to plan a staycation. Staycations are all about staying with your friends - sharing a 5-star room + room service + spa + brunch for a weekend at a decent 3-5 star hotel. That way, you don't need to spend on plane tickets and accommodation. We heard St.Regis has some awesome offers for a staycation.
Ladies Night Out is a good day to host your bachelorette. Pick your favourite pub - go to their ladies night out, get a few drinks free and then head home for a DIY party night. Always a good idea.
Vineyards are so cool for bachelorettes - you get to try out wine, eat some yumm goodies and pick a bottle you like to take to the room. Simple, fun and effortless! Sula VineYards are great for this kind of activity.
A drive out day that costs less than a room at a  five-star. Plan a road trip and leave a mark. Get your BFFs and go out of town - only an hour away so you can plan stopovers on the way. Food courts, a nice pub, a picnic, a hike - all rolled into one!
Find that one big thing and let everything else just be a prop. We mean, find one activity that will have a lasting impact. We recently did a shoot with Art Foto Studios that had the bride and her bridesmaids in a beautiful shoot. Everything else is about getting a drink and having a home party. So pick one activity and put your monies on it.
Play fun games- they are free: Make a list of "To-do"'s that every girl in the bachelorette has to do. Eg: Get a free drink, kiss a random boy, click a selfie with someone. The girl who completes the max number of items gets something special !
Storage bin for bachelorette parties? Once a party happens, put every decoration item + games + ideas in a bin - keep it open for each time we plan a girls-only party. That way you can save up small and use things effectively.
Organise a spa-rty at home - call the good people at My Glamm and create a full day package - make cupcakes, chips & dips and some easy fried things and you're done!
Make a bridal party kit in less - a cute miniature booze bottle, makeup wipes, advil or partysmart, water bottle, wine stirrer and a packet of sweets. That will cost you less than 200 bucks. Pack it smart with stickers and ribbons and you are invincible.
Print fun Bachelorette party games here. These are fun games and you can print as many as possible. FREE!!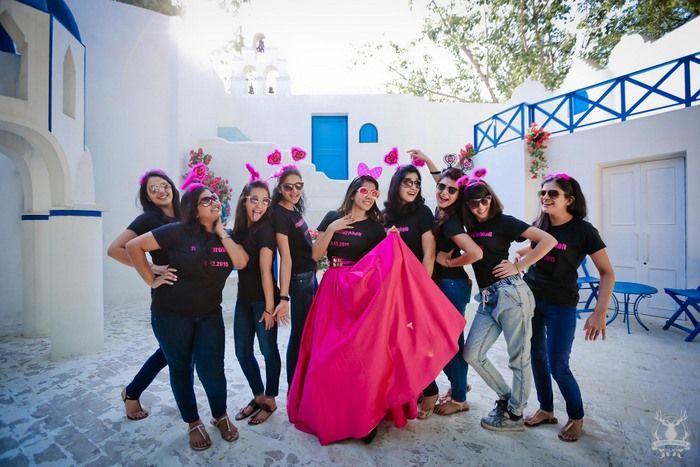 Pre-wedding shoot photography by Morvi Images Photography★ 5
You can also print cute stationery for the bridal shower from my favourite design blogger Eat Drink Chic. She makes such sophisticated and cool stuff - just see the stuff!
Food has to be cheap but cool. Here are a few cute ideas: Watermelon Jello shots, store-bought plain cupcakes covered in cream and decorated with sprinkles, easy dips and fun cookies can really amp up any party. You can also add food colouring to plain popcorn and keep it with the theme!
Organise a Bridal Treasure Hunt - through the evening, put in clues about the bride and have friends crawl all over your locality finding fun things to do. End up at your favourite pub or restaurant and celebrate the victory over drinks.
Pick a bar that only opens in the evening. Ask them if they can lend you the space for less in the afternoon - costs will get cheaper and you can have the place all to yourself.
Take normal things and up their style quotient. That's how you do less. For example, instead of a custom cake - go for a generic one but add your own icing and sprinkles and cake toppers. Add icing on oreos or crackers. Mix up juice + alcohol + add cute umbrellas. Instead of a store-bought customised tee, stick rhinestones and make one for yourself. And lastly, don't forget to ask discounts wherever you go - a mention of bridal shower and people will throw in freebies!
Think you know a smarter way to cut down costs at a bachelorette party? Tell us!
Also read: Bridesmaid Shreya's awesome DIY Bachelorette