3 Pretty New Mehendi Decor Themes to DIY in Under 20K!
BY Sakshi | 01 Mar, 2017 | 13163 views | 7 min read
What's more fun than a Mehendi done right? Ermm, not much and we totally get that you are having a small, homely affair and don;t want fancy decor and expenses. We know you loved the last time we posted 3 DIY themes for the Mehendi on a budget, and here are 3 more we've been loving off late!
Theme: Rustic Backyard
This is like the most in theme these days! And it looks just adorable! An intimate Mehendi in the backyard with some cute decor and props- what could be more fun! You could even make it like a backyard picnic which is also a great idea to spend some memorable time with close fam and friends.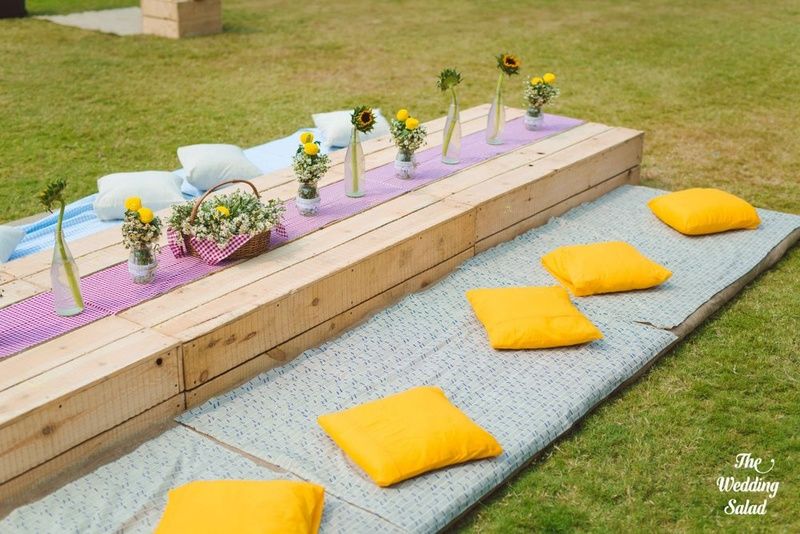 Image via The Wedding Salad★ 4.9
What you need:
1 big wooden backdrop – Your local carpenter can make this with ply for about Rs 1500
Giant Jenga available online - Rs 2000
A big bucket of black paint and brush- Approx Rs 500
A box of coloured chalks- Rs 50
Wooden frames- You can find really cheap ones at roadside wooden shops for Rs 200- 500 each
10 Cute cushion covers in different colours- About Rs 200 each online, so Rs 2000 (Beg and borrow cushions)
Pastel coloured dupattas or cheap chiffon material (Pick multi coloured ones from Kapda Bazaar for 50-70 Rs a metre/ or just borrow them!)
Pastel paper lanterns (Rs 50 each- about 10 of them- Rs 500)
Picnic/ cane baskets and wooden crates (borrow, or buy approx 5-10 of them for Rs 3000)
A wooden frame and curtains or fabric for the entrance (Rs 1000)
Mason jars and bottles wrapped with twine (mason jars- Rs 100 each, twine- Rs 20 per roll- Approx Rs 500)
Baby's breath and pastel roses/ oranges for the centerpiece (Rs 1000/500)
A dresser and a mirror (get it from home)
Framed photographs of you guys or hang them from strings
Some carpets/rugs or gaddas (rent or borrow)
Do it yourself:
Ask the carpenter to paint the wooden backdrop black, so you can write some happy stuff over it for a DIY chalkboard photobooth.
Arrange the cut wooden blocks as they are to form a giant jenga!
Use the wooden frame and put curtains with floral tiebacks at the entrance so that guests feel welcome :)
Drape the pastel coloured dupattas behind the seating area for Mehendi (where the guests will sit)
Put the carpets over the grass and place the cushions on it for comfy floor seating (which is very in these days)
Use the cane baskets or the picnic baskets to serve snacks/ use as props.
Place the dresser and the mirror right after the entrance for a cute corner display.
Stick some photos to the strings/put the frames on the dresser to show off all the cute photos over the years!
Take the pastel paper lanterns and hang them over trees.
Use the twine to cover the mason jars or bottles, fill them with baby's breath and roses and voila! You have a cute centerpiece! Alternatively, you could even slice up some oranges and fill them up with some juice.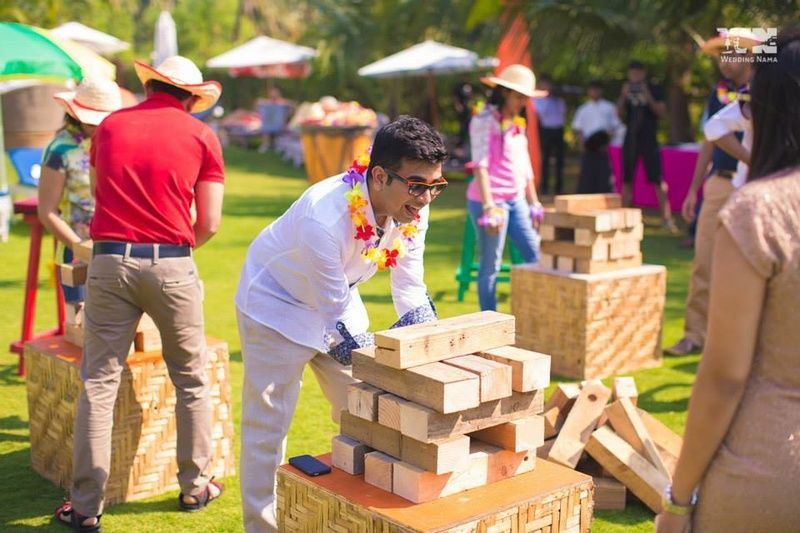 Image via The Wedding Co★ 4.9
Extras:
Serve some iced lemon tea in glasses with mint garnishing. You can pour this out of glass jugs which has lemon slices in them!
Make sure the food is easy to eat finger food that you'd take along on a picnic.
You can even put some garden umbrellas if it's super sunny!
Theme: Boho
A Boho theme is also awesome for a modern Mehendi, and it's so colourful and dreamy with some eye-catching props! Here are the decor ideas you can pull off for this theme with a decor budget of Rs 20K.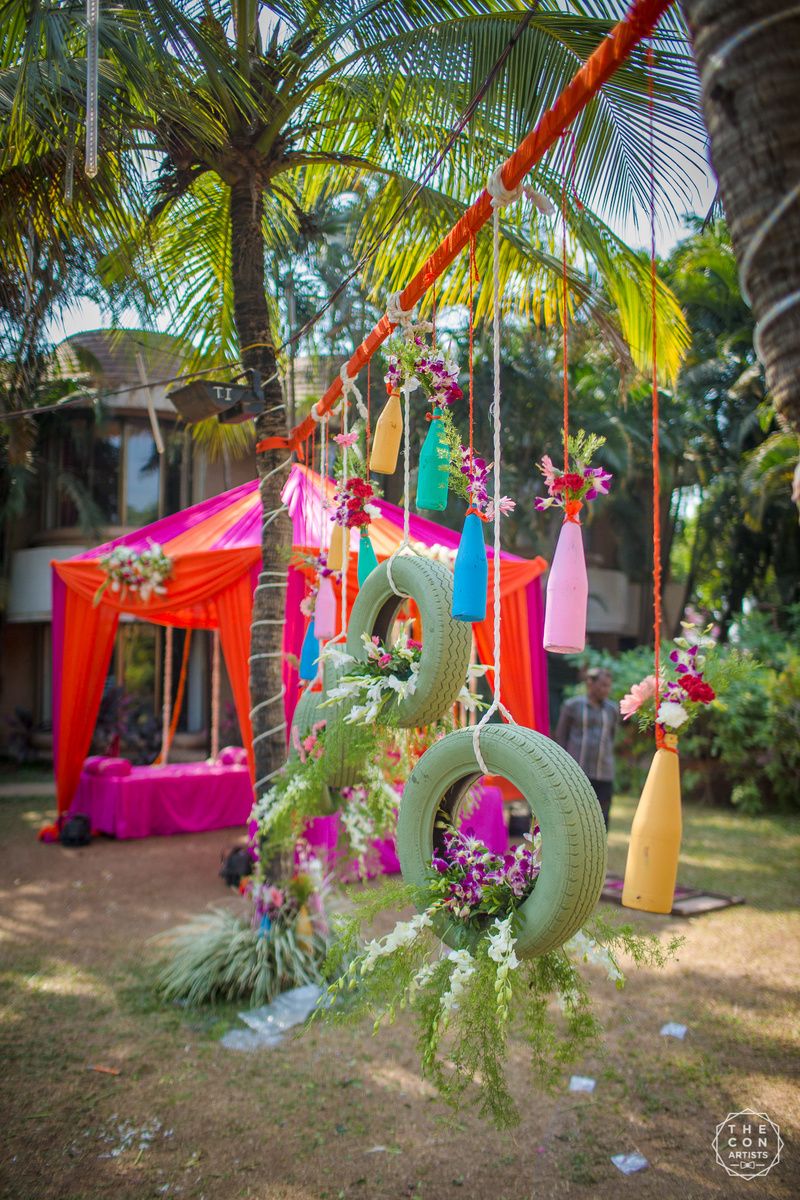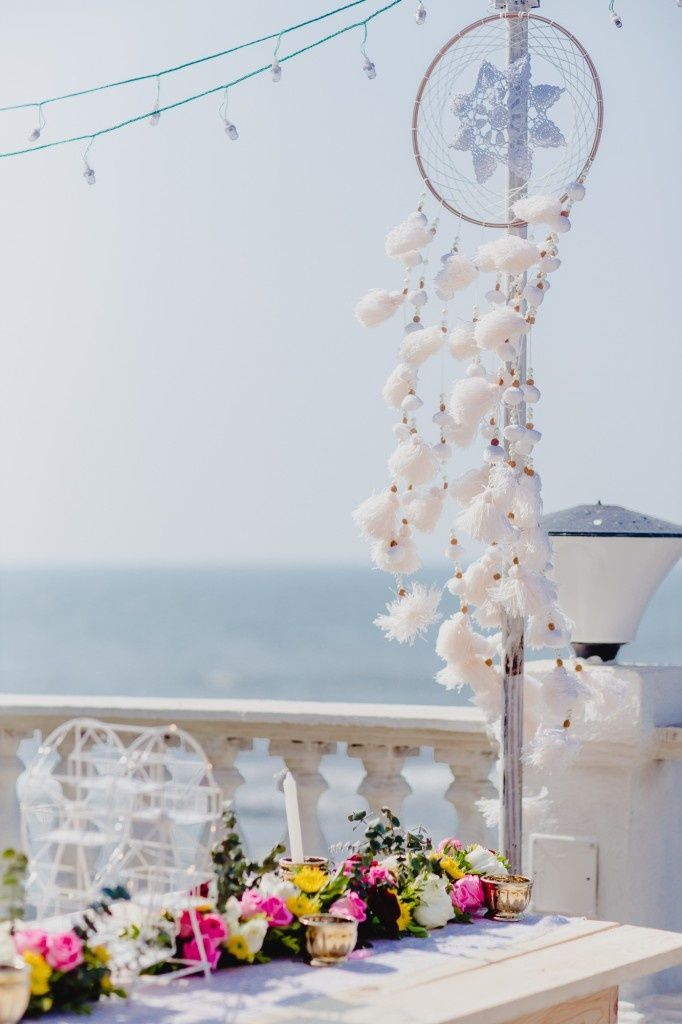 Image via The Con Artists★ 4.6 and Art Leaves A Mark★ 5
What you need:
Feathers, yarn and wooden rings from an arts and crafts store (Rs 500)
Big sequins in silver and gold (Rs 50) and some fabric glue (Rs 20)
Pompoms (Rs 100)
Colourful cushion covers and borrowed cushions (Rs 1000)
Gaddas and rugs (rent them out)
Some readymade pinwheels or paper for origami (Rs 100)
Glass bottles (you can get alcohol ones for free), matte/glossy paint and brush (Rs 500)
Discarded tyres (they're useless, so you might get them for free)
Pretty floral print/ bright fabric or tablecloths (Rs 2000)
Artificial flower balls and wires in different colours (readymade for Rs 200 each- so approx Rs 2000 for 10)
Buntings (Rs 50 per string- so Rs 500)
Do it yourself:
Make dreamcatchers using the ring, feathers and yarn and hang them around for a dreamy look!
Stick the sequins on the cushions using fabric glue so they really stand out!
You can also stick some big sequins and pompoms to strings or yarn and suspend them for a sequin or pompom curtain.
Paint the bottles and stick one pinwheel or paper flowers in each for a cool centerpiece.
Paint the tyres and suspend them from trees with the glass bottles for a cool corner photobooth!
Hang the buntings around the food table- you can even write stuff on them!
Hang the flower balls with wires at the entrance for a cool and colourful entrance decor idea!
Put the gaddas on the ground over the rugs for floor seating- cheap and cool!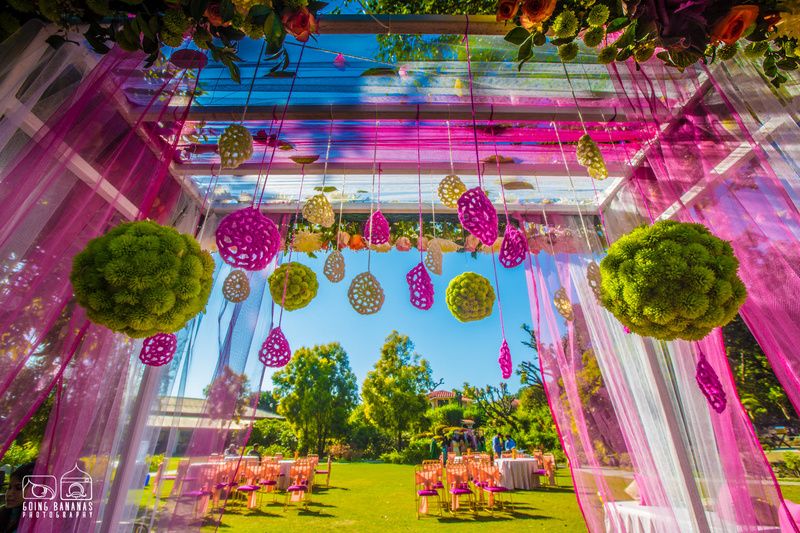 Image via Going Bananas Photography★ 5  decor via The Wedding Planning Company★ 5 co
Extras
Make your own dreamcatchers- tutorial here
You can serve mocktails or cocktails in coconut shells out of a thela!
Serve popsickles from a golawala- it's an awesome and colourful idea!
Theme: Rajasthani with a twist
Rajasthani done in a fusion way is also an extremely cool theme to pull off at your Mehendi! It's a great idea, especially if you still wanna stick to traditional, but with a twist!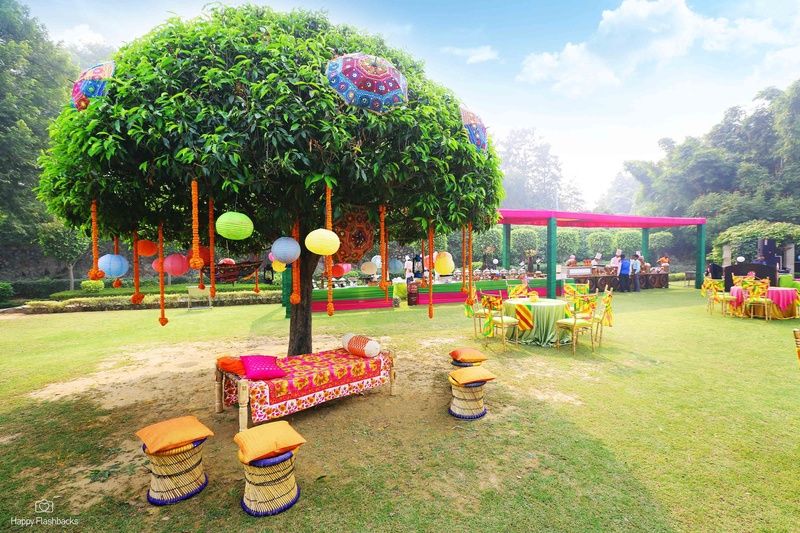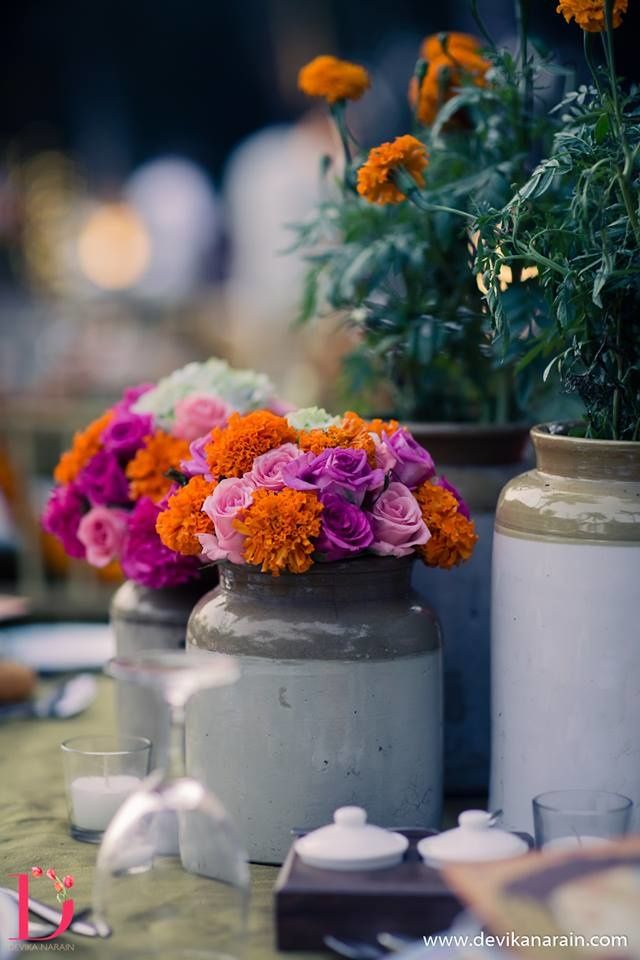 Image via Devika Narain and Company★ 4.5 and Happy Flashbacks★ 5
What you need:
A few traditional looking umbrellas made from fabric (Rs 500 each- so approx Rs 2500) cheaper alternative- kites!
Pickle jars or barnis in different sizes (Rs 100- 500, so for about 5- Rs 2000)
A rickshaw or an auto (pay the guy about Rs 1000 to rent it for the day)
One large wooden frame (Rs 500-1000)
Lots of genda phool (It's cheap, so about Rs 5 per string- Rs 2000-3000)
Some moodas (borrow them, they're very common)
Cushions (to make the moodas comfy), bolsters with ethnic tablecloth and gaddas (rent)
Gota strings and kaleere (Rs 2000)
Glass bangles (Rs 50 per dozen- So for approx Rs 1000)
Bandhini dupattas (borrow, or buy fabric for about Rs 50 per metre)
Do it Yourself:
Hang the umbrellas or kites around or from trees for some cool suspended props.
Put some flowers in the pickle jars for some awesome fusion centerpieces that look really different!
Decorate the rickshaw with the genda phool for an awesome photobooth!
Wrap the genda phool around the wooden frame and hang it near the rickshaw as an additional photobooth.
Keep the moodas around for seating options, you can even put some gaddas for low seating. Place the bolsters for an ethnic look.
Hang some genda phool strings and tie them back for a cool entrance decor idea.
Hang the gota strings and the kaleere around the venue for a ethnic yet awesome look.
Hang the dupattas around to make a canopy or tent.
Attach bangles together and wrap them with wire for a cool bangle chandelier!
You can also keep some floating genda phool in utensils for a traditional feel.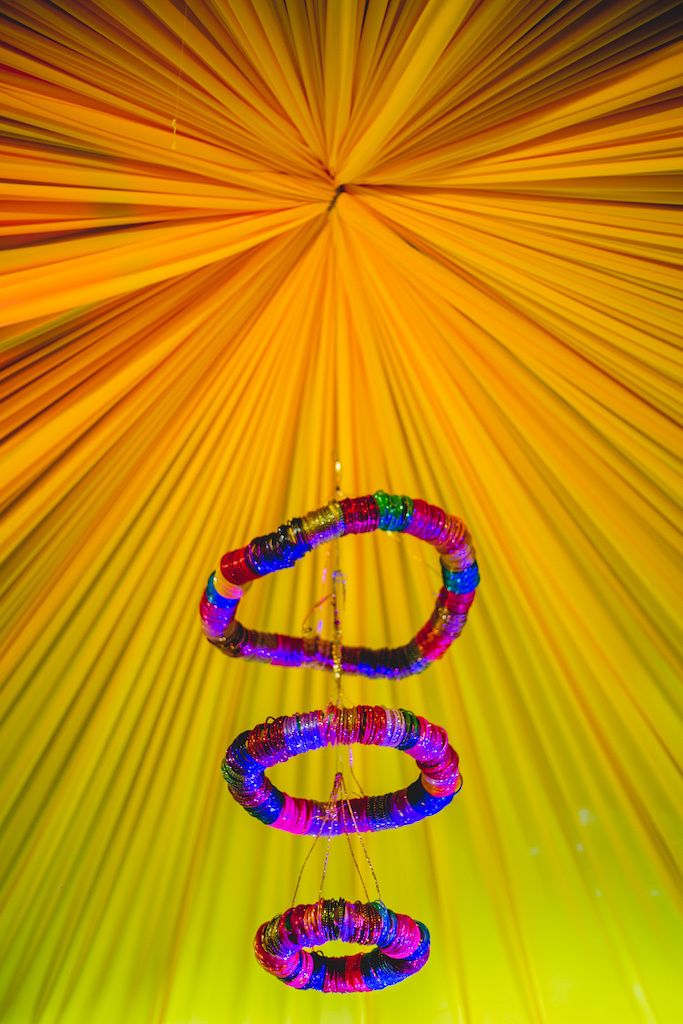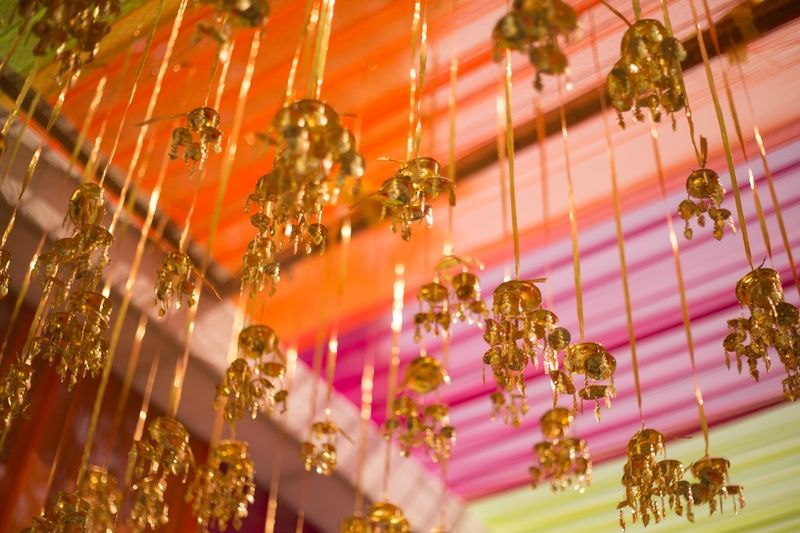 Image via Dreams To Themes★ 5 and Animage Productions★ 4.7
Extras:
Get a chai guy to make and sell some masala chai- cheap and awesome!
A traditional kulfiwala is also a superb idea for a Rajasthani themed Mehendi!
Giveaways like bandhini dupattas and bangles (from a bangle maker) is something you can consider!
Have you bookmarked the mehndi designs for your special day? We have tons for ideas and inspiration to choose from!