30+ Awesome DIY Mehendi Decor Ideas You Can Try Yourself !
BY Sakshi | 27 Oct, 2017 | 29101 views | 5 min read
Having a small cute and intimate Mehendi in your house? Then it's a great idea to DIY a few decor elements- adds a personal touch and can save you some big bucks too! So here are some cool DIY decor ideas for your upcoming Mehendi with are easy, peasy, breezy and pretty!
#1. Decor Centrepiece Ideas
Roses in teacups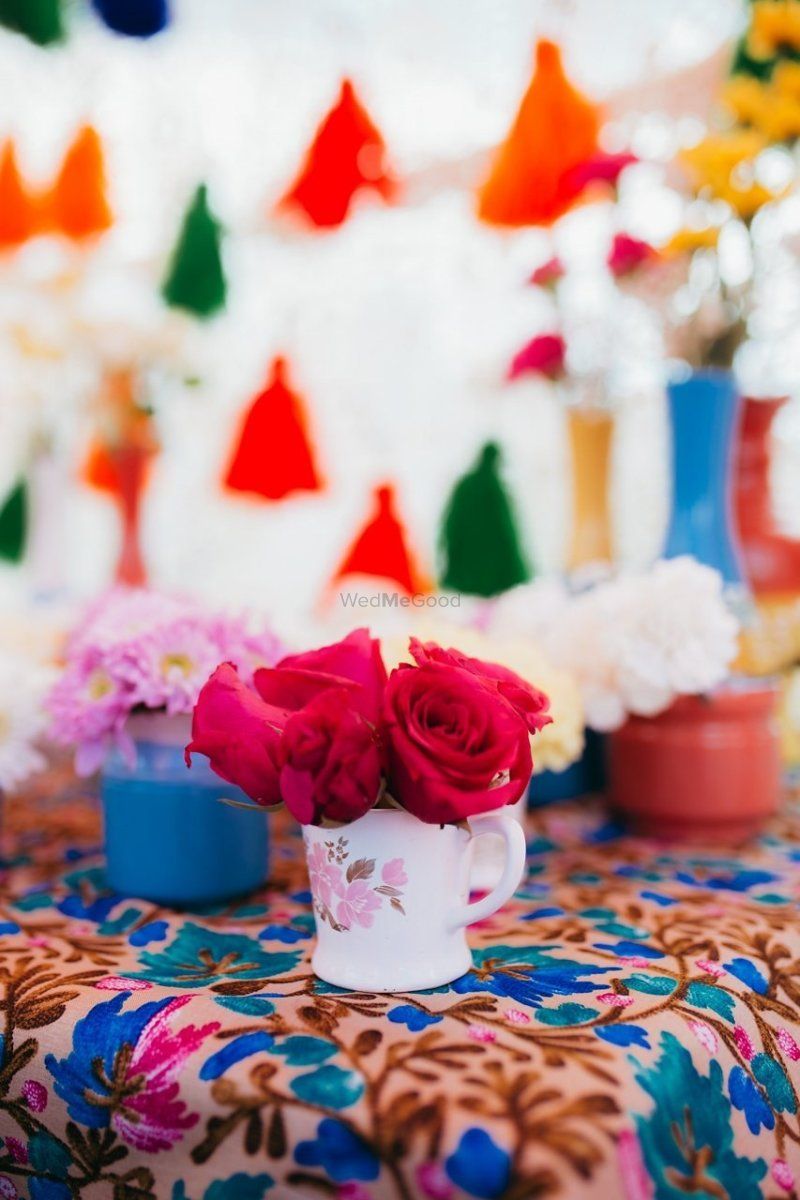 Image via PhotozAapki
These cute red roses in small teacups with art printed on the cup is just so cute for a DIY mehendi decor! You can also try it in mason jars, the ones with a lid and a straw.
Flowers in ice cream cones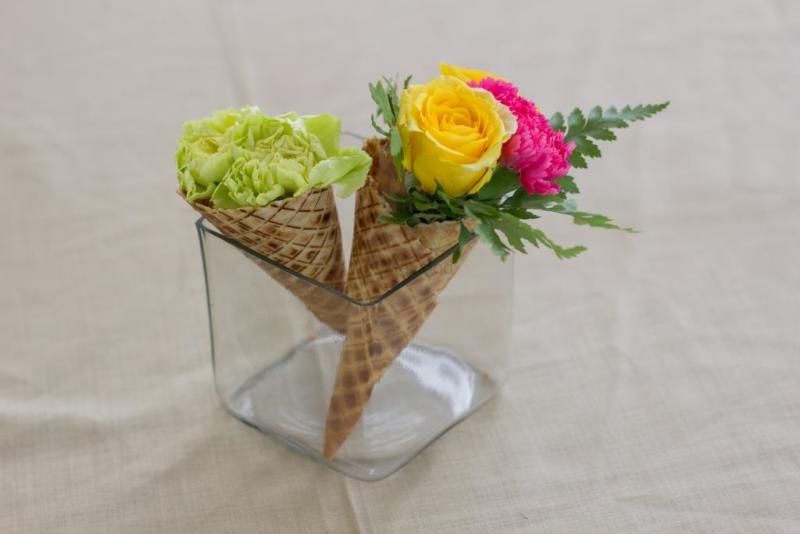 Image via Kisses By Candlelight
Okay! So this one is quite unique ! You can ditch the old school flower vase and go for this one for the table decor !!
Marigolds and roses in a ceramic pickle jar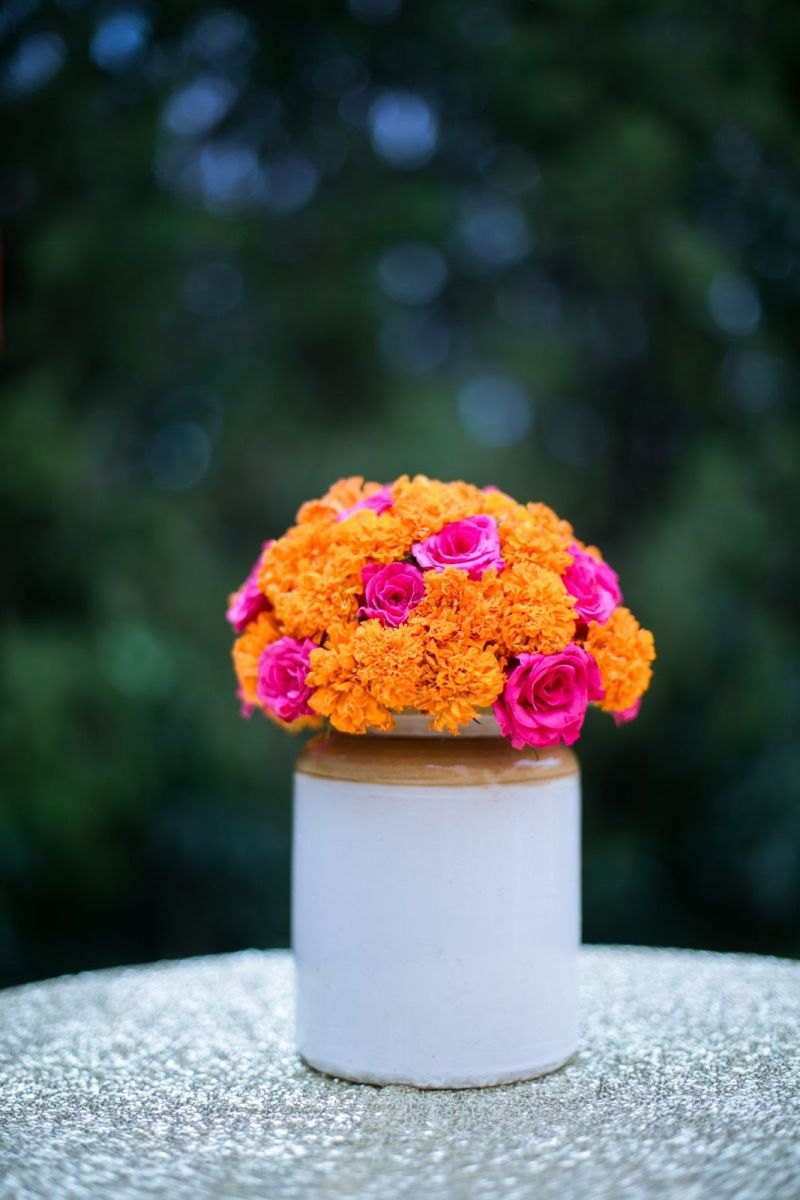 Image via Wedding Tales
Marigold and roses ! You can call them as an essential part of your wedding just as the bride and groom ! You can't get married without them. Be it any culture you get married in. The pickle jar in this is adding a traditional vibe to it.
Flowers in a tin can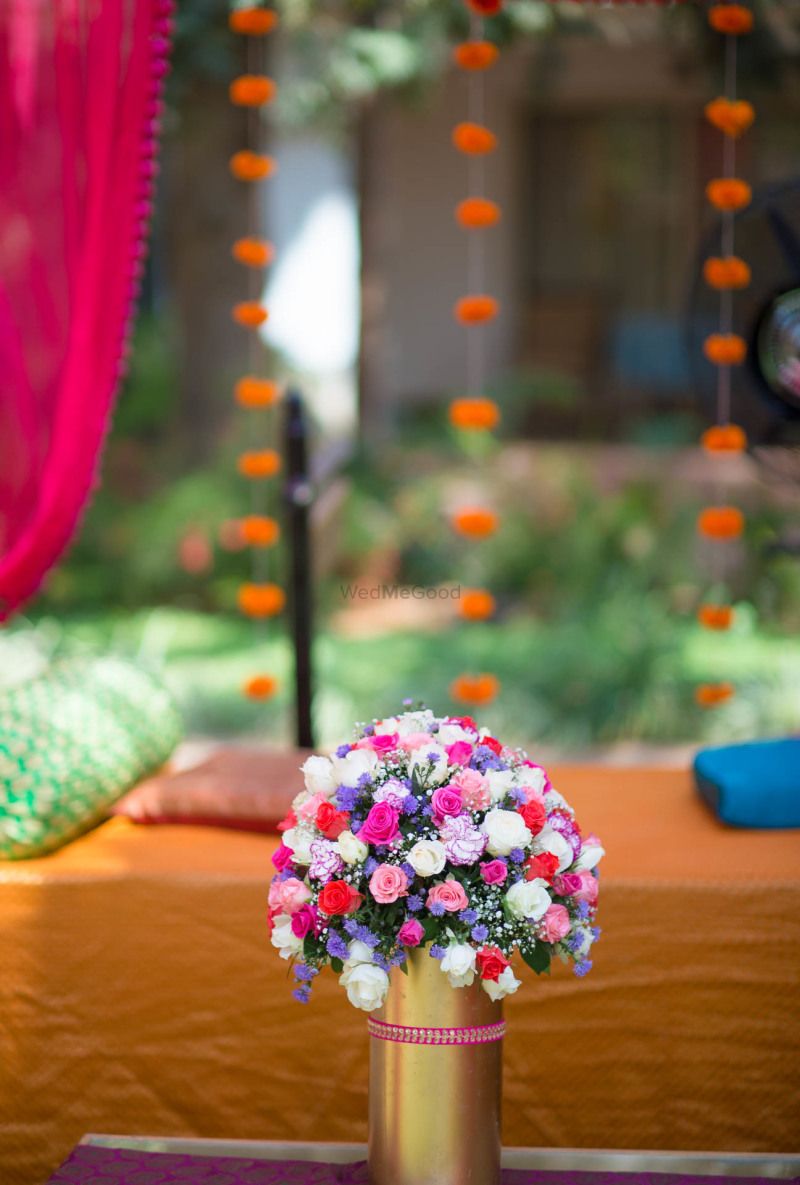 Image via Amit - Fine Art Photographer & Filmmaker
This one is also quite unique, the golden painted tin can, could be such a beautiful replacement for flower vase.
Petals in cutting chai glasses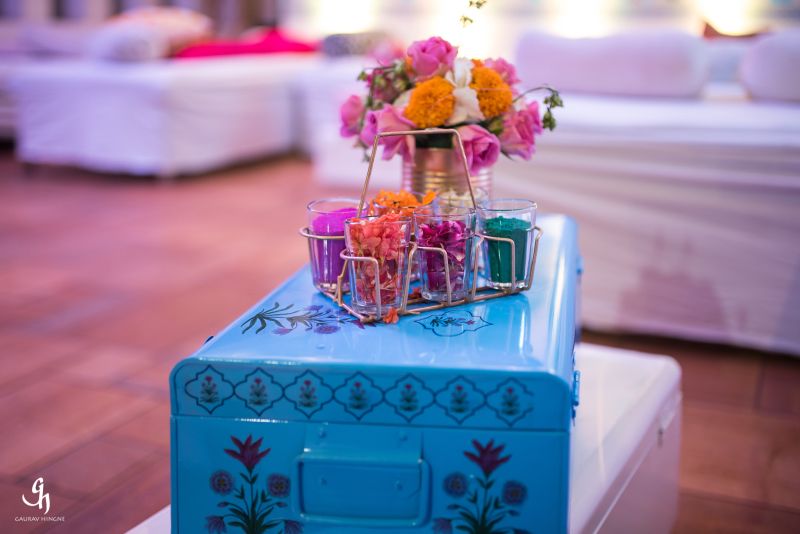 Image via Atisuto and Gaurav Hingne
We love chai. And what could be better than this DIY mehendi decor with flower petals in the chai glasses with the authentic way of serving it in the cutting chai stand. Such a stunner !
Matte painted bottles with flowers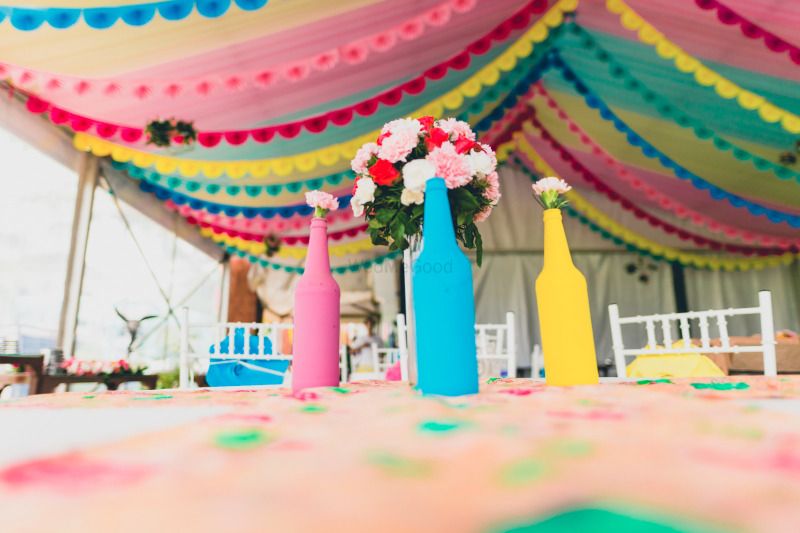 Image via VLW
This Matte Painted beer bottle looks so pretty and unique !!
---
#2 . Suspended Decor Ideas
Mehendi cones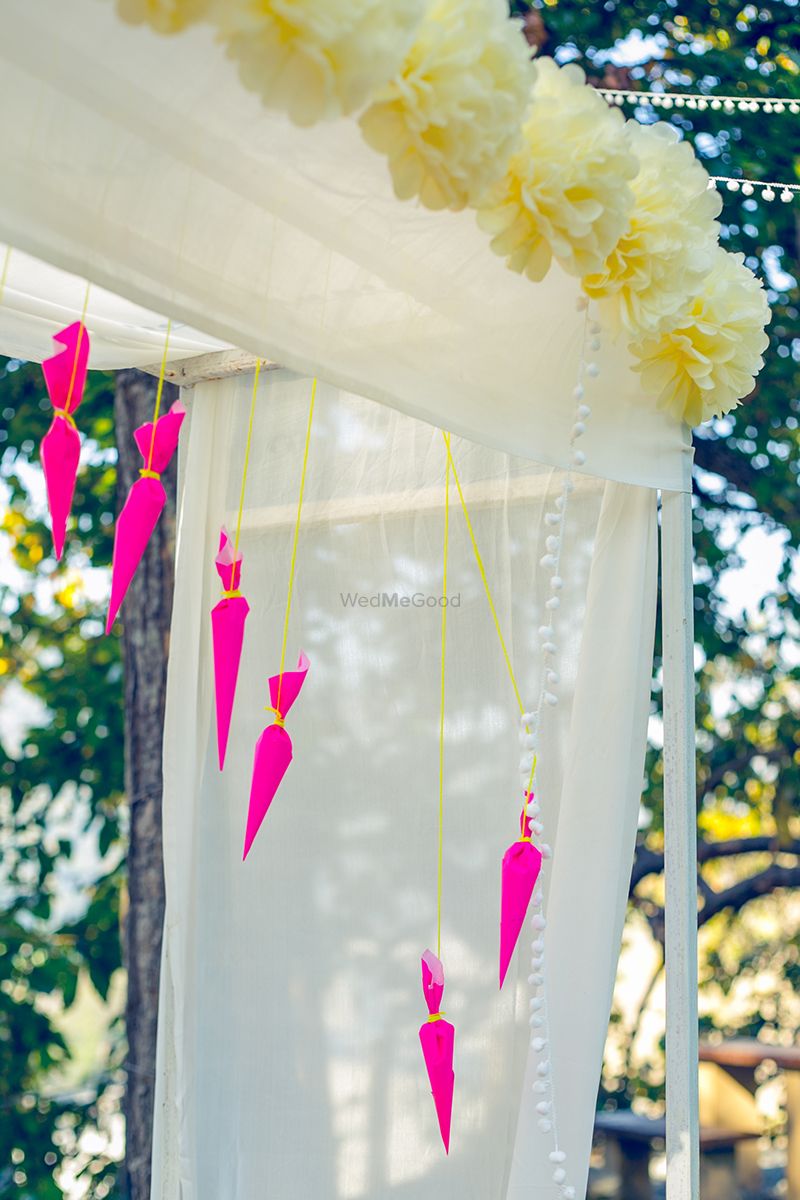 Image via Indian weddings by Katia
Such unique Mehendi decor element for a day mehendi !
Coloured bulbs suspended with a rope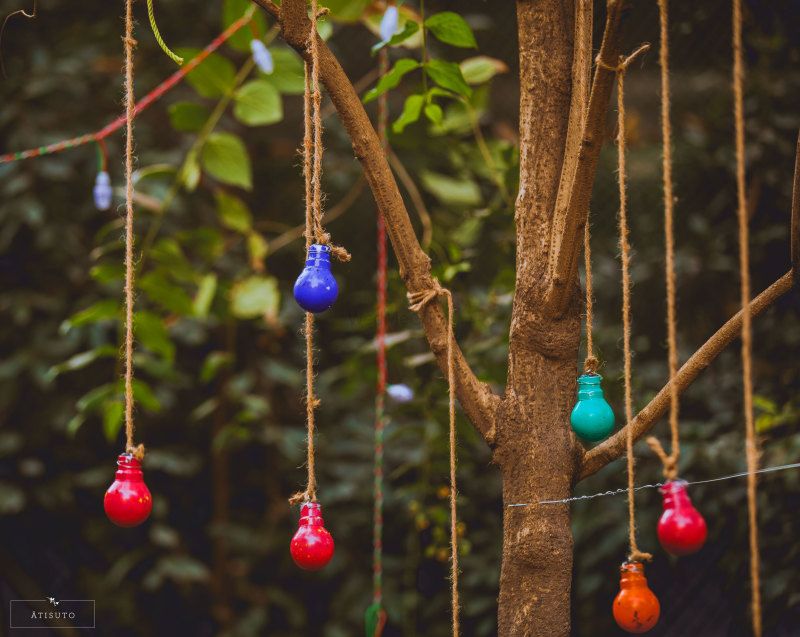 Image via Atisuto
This is so cute and gives out such a good vibe ! Colorful & Pleasing !!
Painted mason jars with baby's breath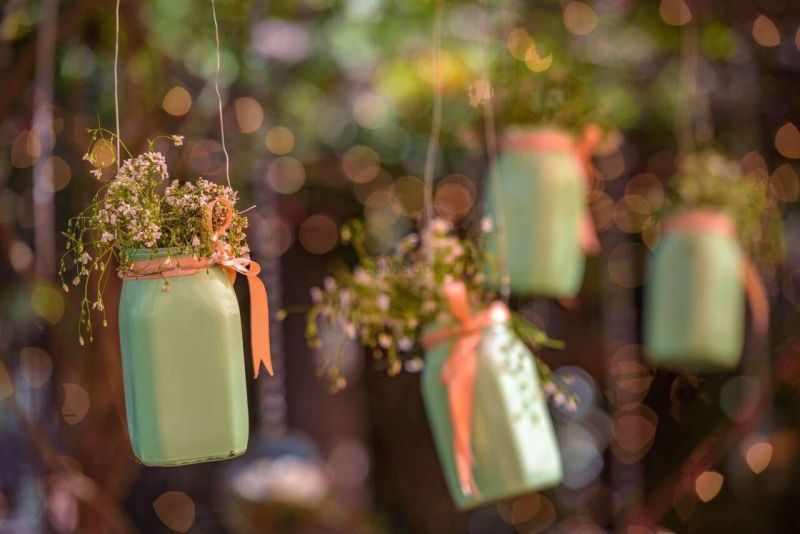 Image via Exquisite Events
These coral green mason jars are a YES! For the night mehendi functions they are a real stunner !! The baby breath flowers are an iconic symbol of long lasting love because it's commonly used to round out wedding bouquets majorly.
Embroidery hoops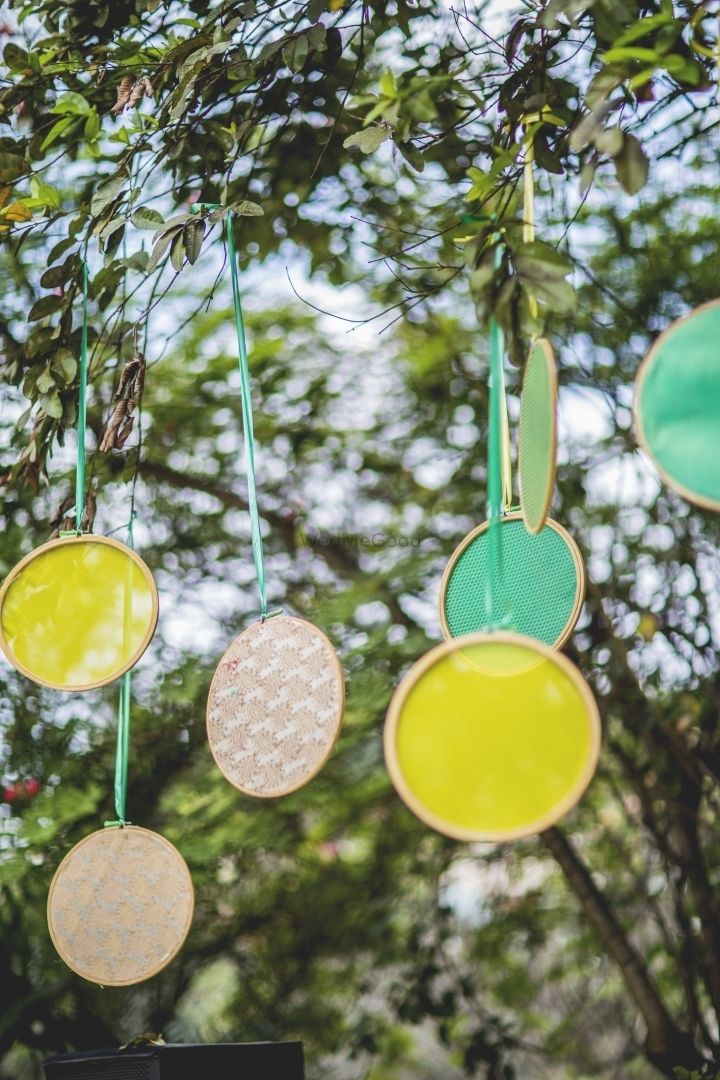 Image via Pratha Weddings and Events
This one can be such a great idea for anyone who loves creative quilling. SIMPLE, SOBER AND Decorative.
Colourful kettles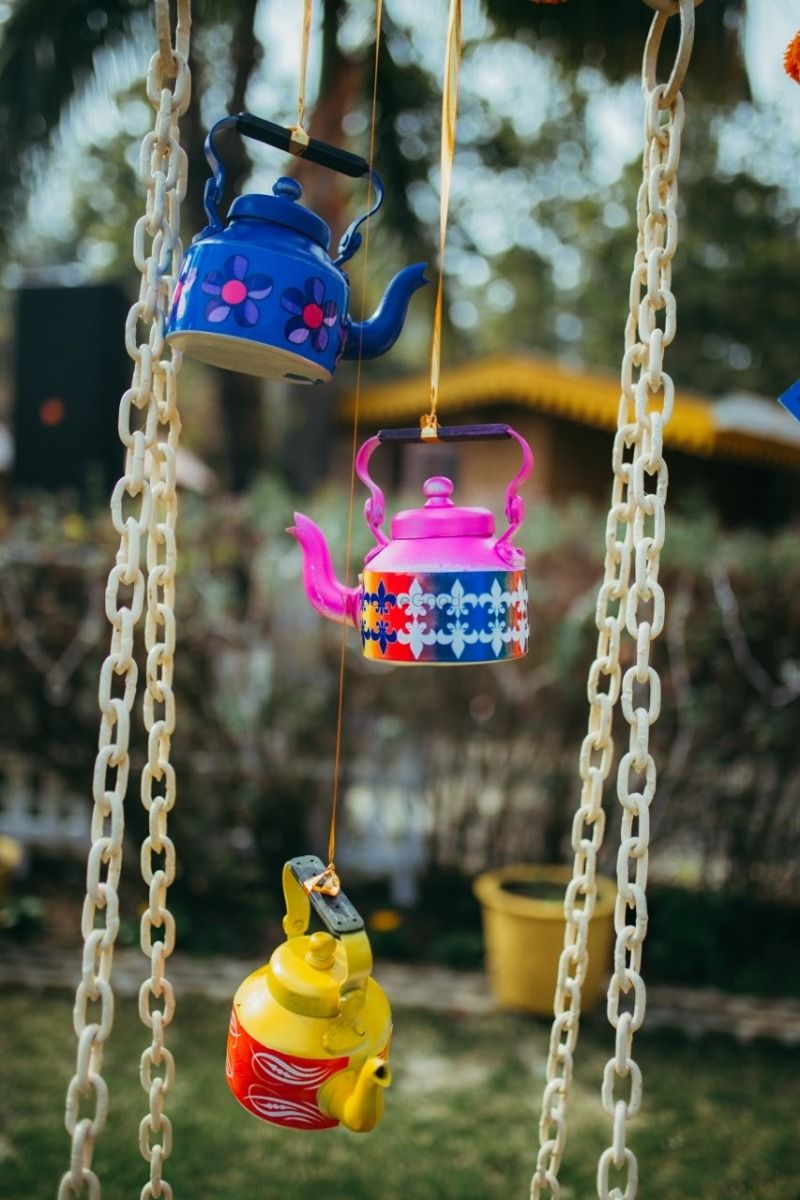 Image via Filmy Shaadi★ 4.7
This one is just so artistic and pleasant.
Painted tiffin carriers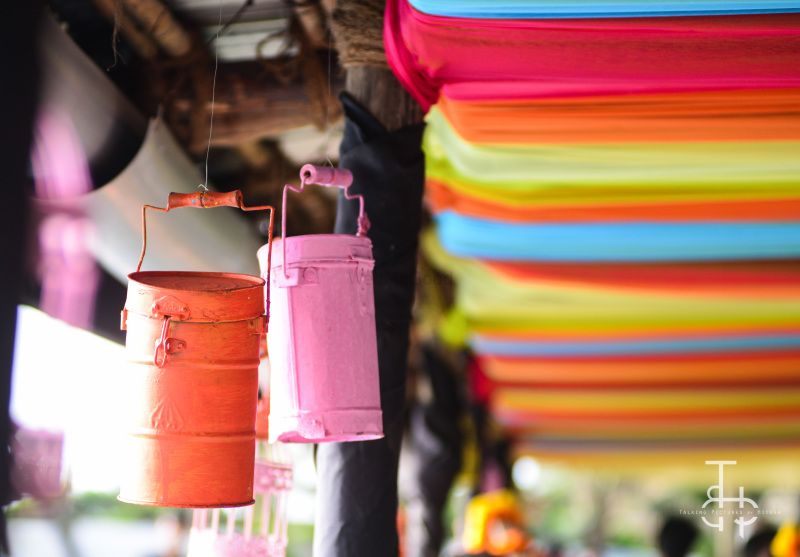 Image via Talking Pictures by Hitesh
These Colorful Hanging Tiffin(DABBA) carriers are so pleasing.
Lanterns and Paper Cranes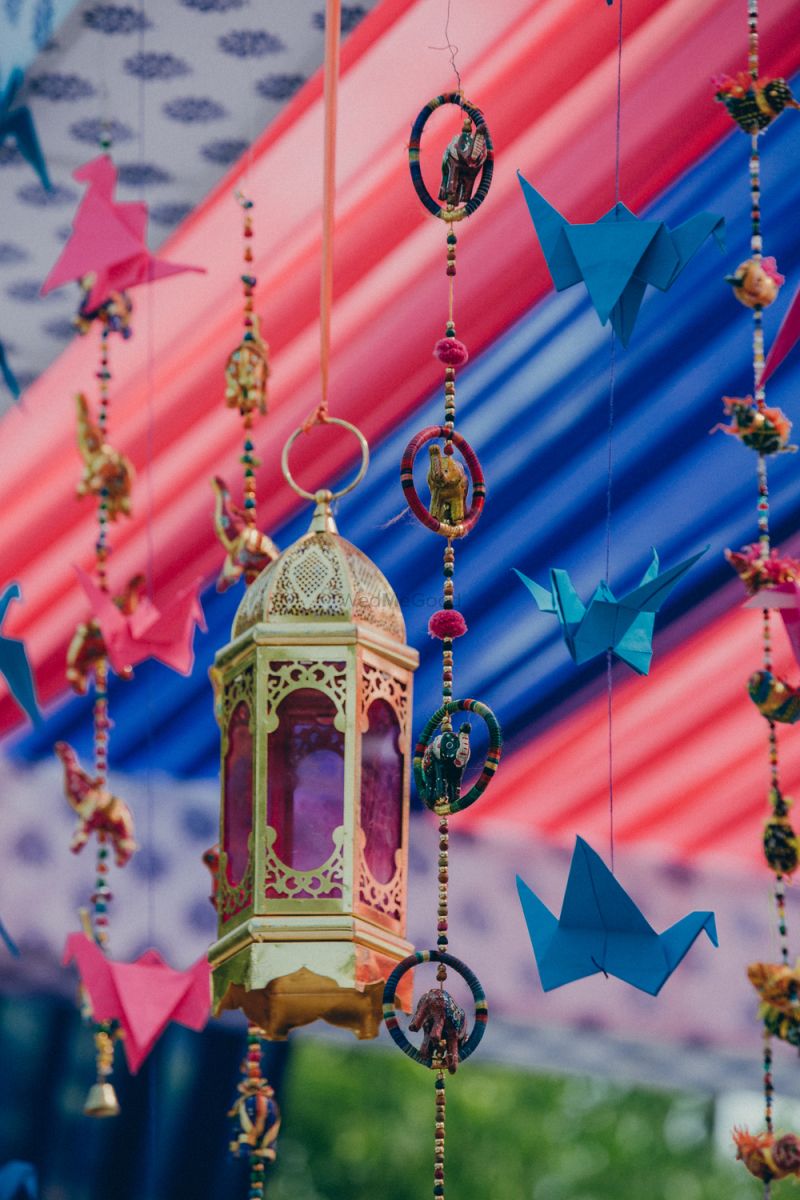 Image via George Seemon Photography
If you have a royal wedding theme, this one is really upto the mark, it adds so much to what a royal wedding decor demands. From antique lanterns to elephant sealing hanging, give the mehendi decor a royal vibe.
Dreamcatchers Mehendi Decor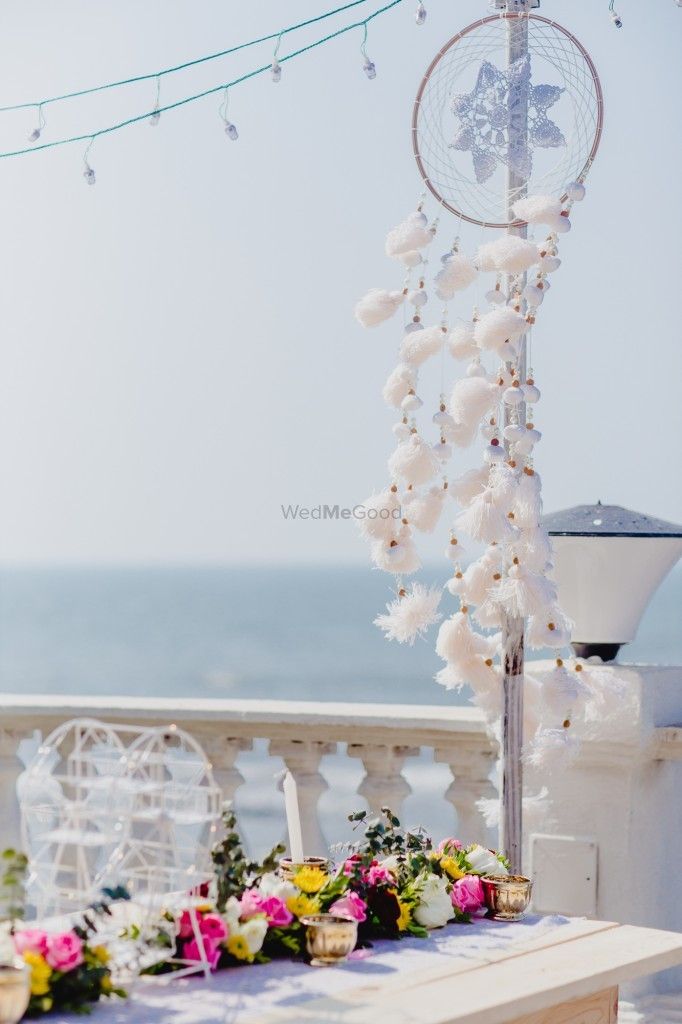 Image via Altair
For the bohemian chic bride who loves dreamcatchers and the bohemian vibe. This dreamcatcher theme decor  would rock the day mehendi vibe !
---
#3. Other decor elements
Pom Pom sticks Mehendi Decor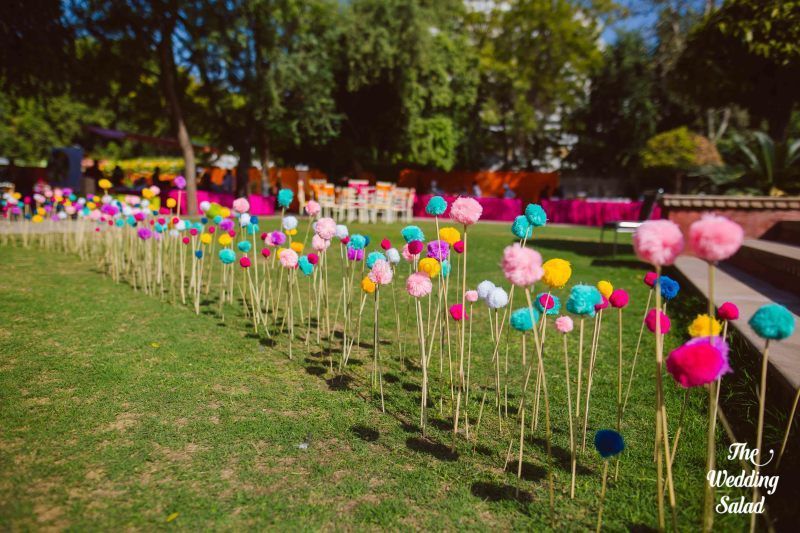 Image via Vintage Nutters
This bright and lively pom pom decor would just add so much to the happy vibe of the Mehendi Function.
Inverted bulbs with bits and bobbles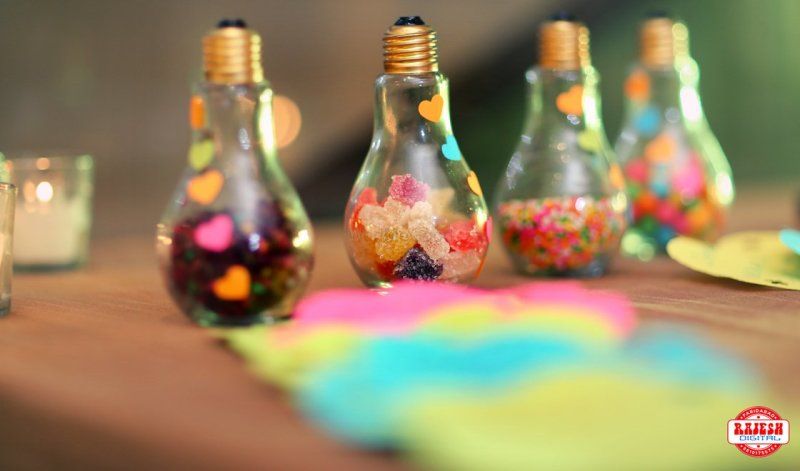 Image via Rajesh Digital
These Light Bulbs filled with colorful gummy candies would be so much lovely as an element for a Night Mehendi.
Painted tyres as a table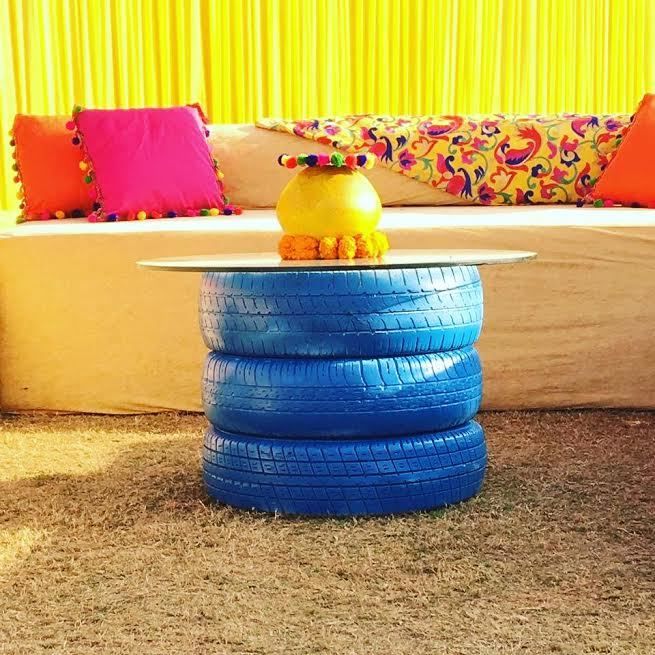 Image via The Event Yarn
If you are looking for a fun and peppy DIY Mehendi Decor then this is it !!
Genda phool in earthen pots
Image via Rani Pink★ 4.8
Genda Phool or Marigold is counted as an important element in the wedding functions. So you can ditch the expensive glass bowl and instead for earthen pots for adding scented floating candles as a decor element in your Mehendi function.
---
Personalised decor elements
Polaroid photos in paper planes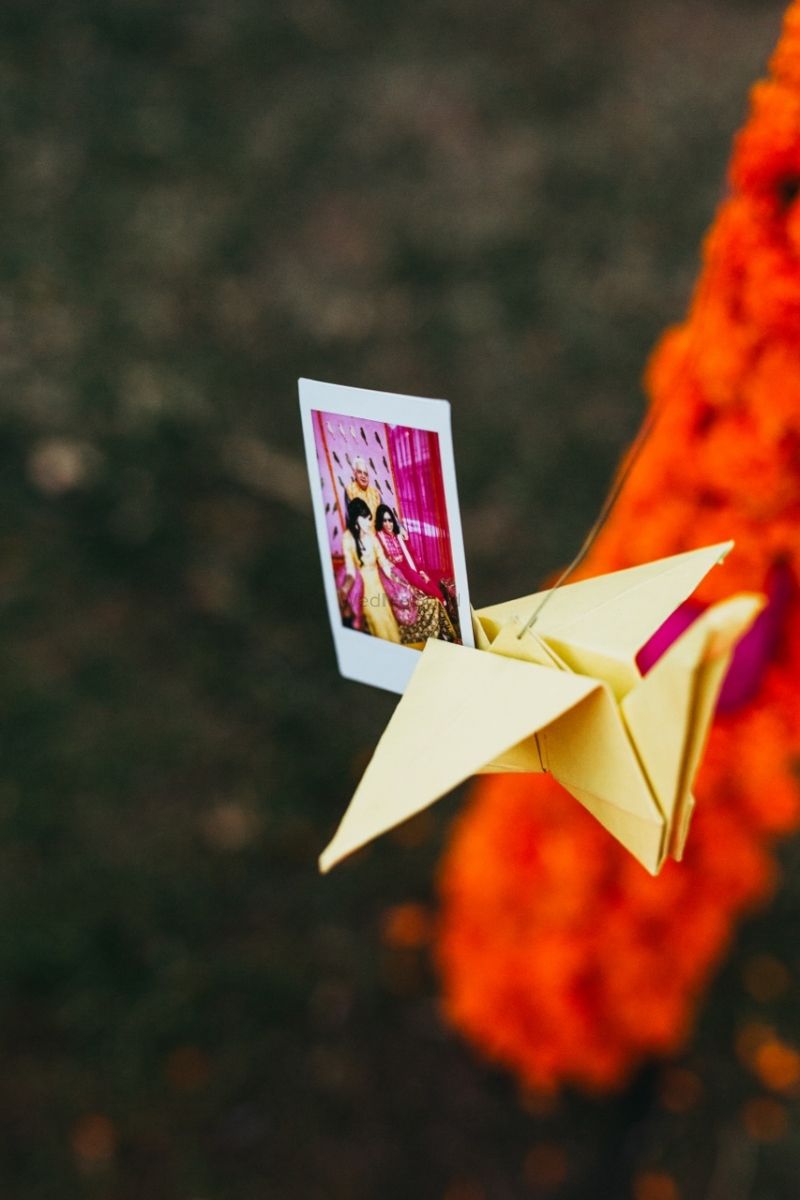 Image via PhotozAapki
What could be better than this one, polaroid pictures themselves give out a chill vibe ! What would be better than hanging paper planes with polaroids in them! How nostalgic would it be for the bride on her mehendi function!
Love story timeline on chalkboard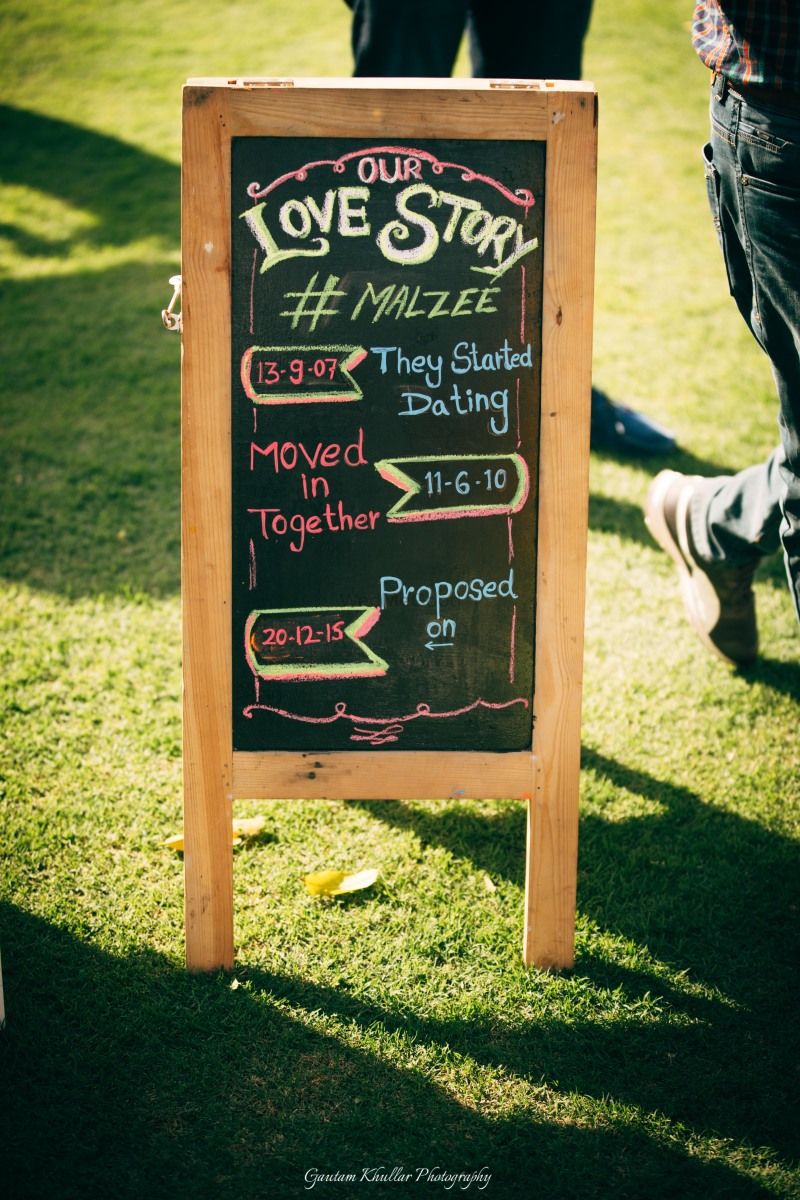 Image via Gautam Khullar Photography
A love story timeline for your mehendi decor can be so cute ! Letting everyone know how you reached this milestone can be so beautiful! It a big yes!
Strings interspersed with flowers and photos
Image via North Water Star★ 4.9
Making memories is what we live for ! And pictures play an essential role in this ! Pictures are just moments we click and keep with us forever, Like Ed sherran said, 
"We keep this love in a photograph
We made these memories for ourselves
Where our eyes are never closing
Hearts are never broken
And time's forever frozen still"
What could be more beautiful than this DIY Mehendi Decor !
Centrepiece with wooden sticks and photos in a mason jar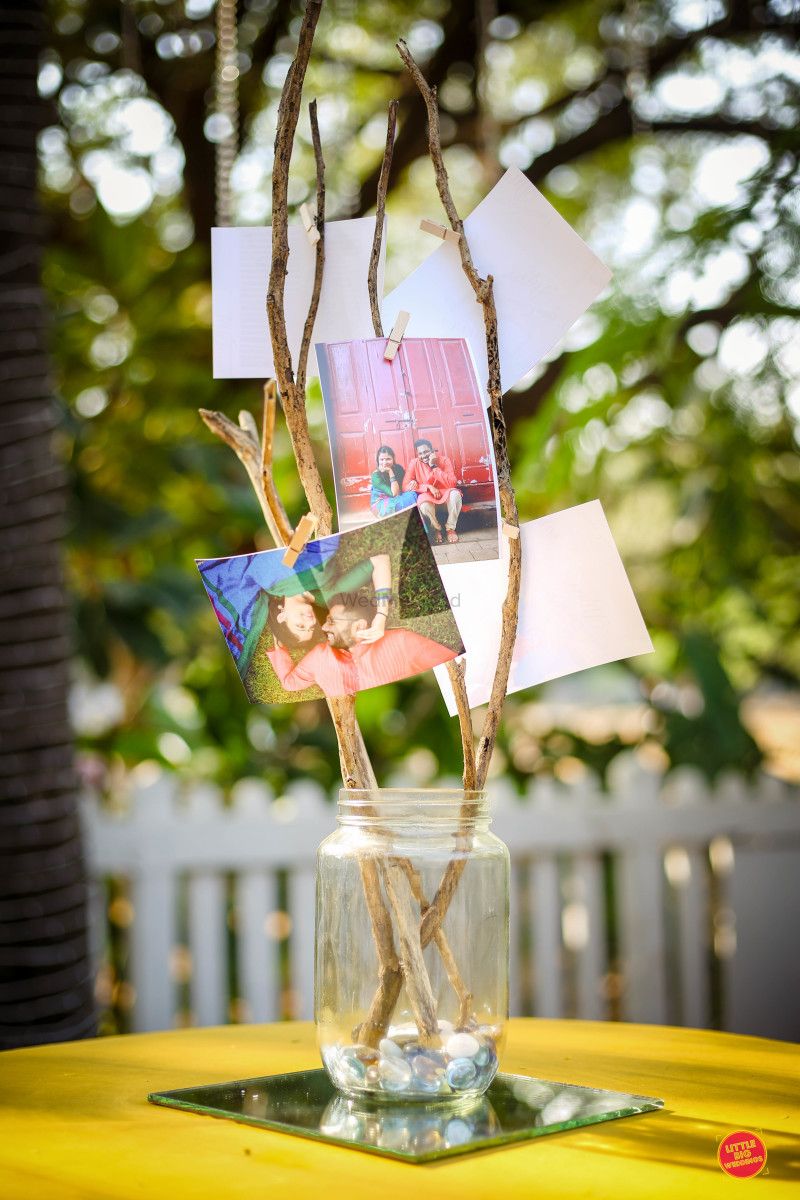 Image via Little Big Weddings
This centerpiece mason jar with wooden sticks mounted on them that has pictures clipped on them with the bride and groom's pre wedding shoot would look so beautiful for the Mehendi decor. Easy,peasy,simple and breezy DIY.
Bunting with hanging photos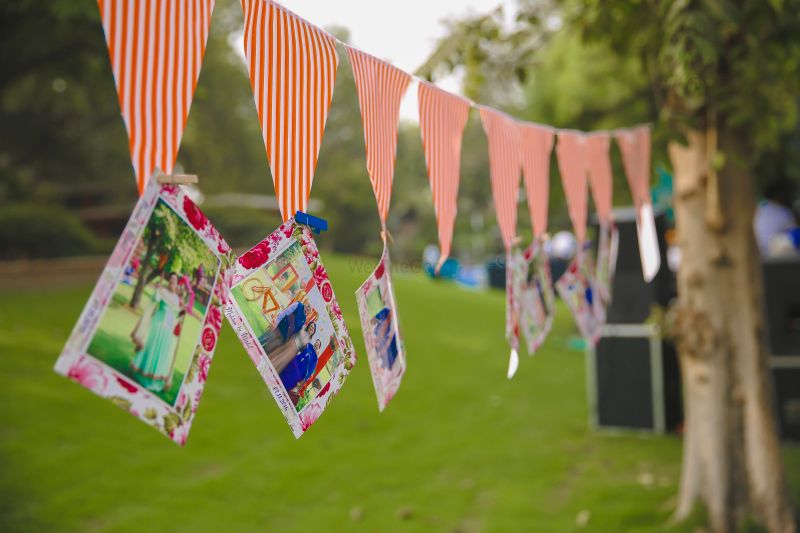 Image via Happyframes
Colorful buntings with pictures clipped onto them with colorful clips-This could be another awesome DIY Mehendi Decor Ideas you can try yourself !
---
#4. Photobooths
A frame with florals and a chair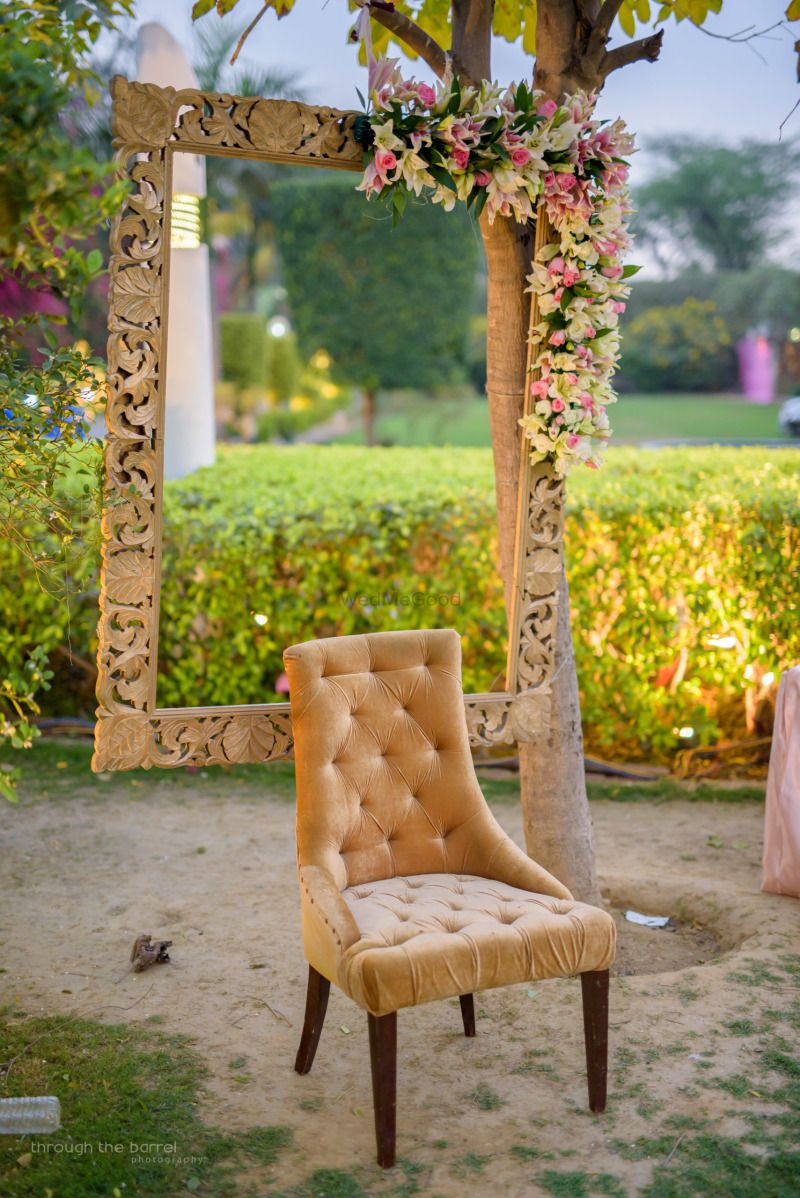 Image via Through the Barrel
If you're having a sundowner mehendi function- this would add up so much to the mehendi decor !
Genda phool wrapped frames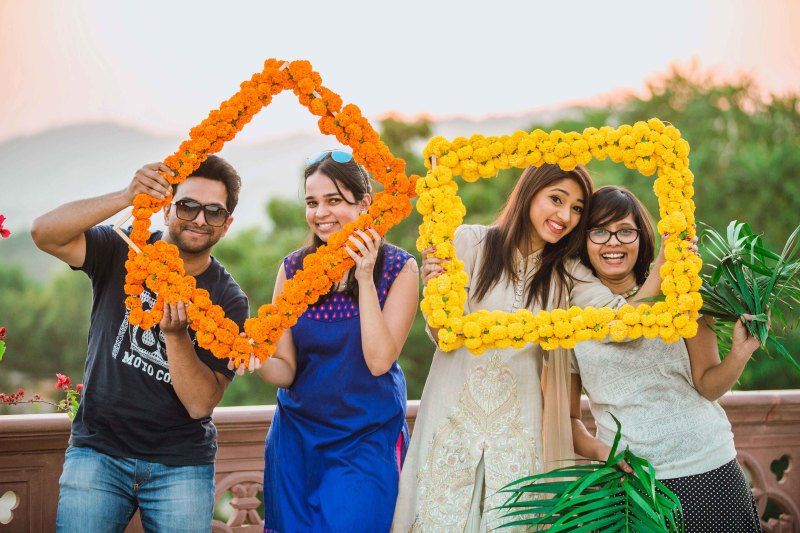 Image via ZeroIn Wedding Factory
Get your 'BFF's framed in this genda phool frame' - Fun and quirky !
Full of kites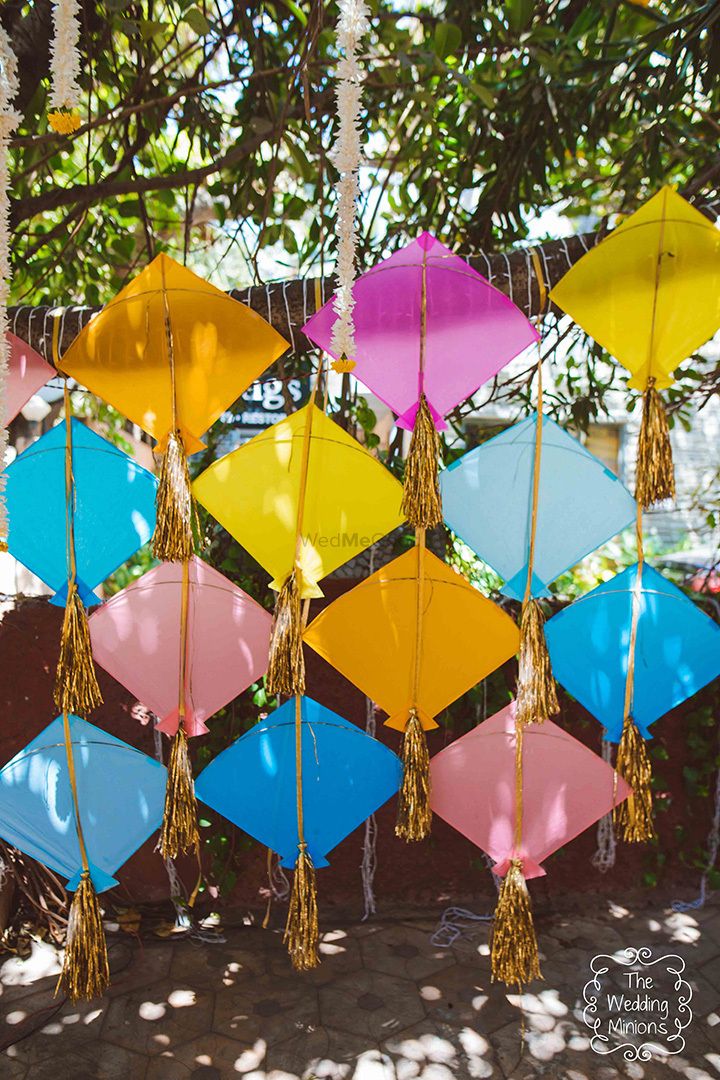 Image via The Wedding Minions
How cool would a picture look like if clicked her ! 100+ likes for sure !
Paper umbrellas and ribbons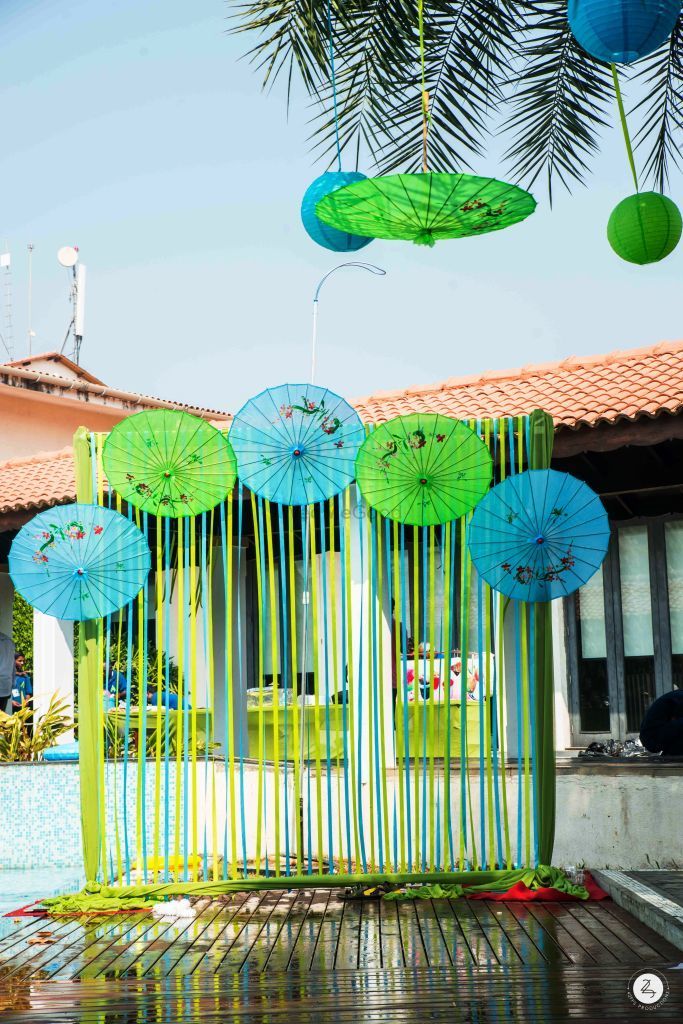 Image via Regale - The Event Company
This can be the easiest DIY Decor you can do for a photobooth at your Day Mehendi !
Window frame with florals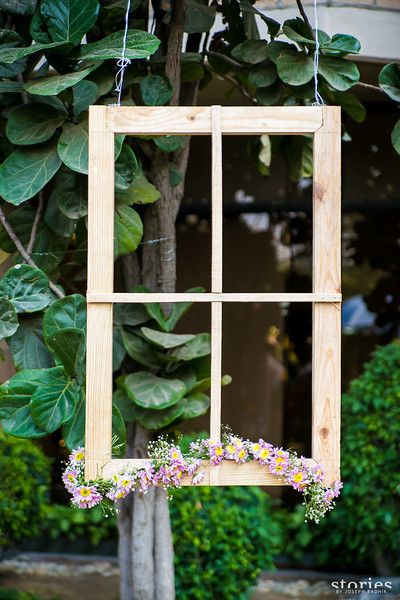 Image via SM Weddings
How cute photobooth this one would make ! One can be very creative with this. Definitely gonna rock your Day Mehendi function !!
Tin cans and ribbons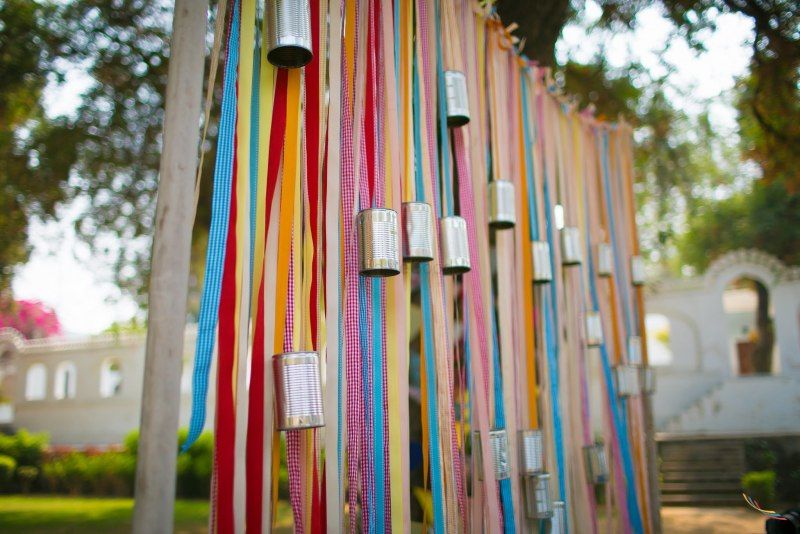 Image via Vintage Nutters
This tin can & Ribbon theme for a photobooth at your day mehendi function would be the most unique idea ever !
Find vendors to plan your wedding on the go, Download the WedMeGood app now.