40+ Front Hand Mehndi Designs For Every Bride
BY Garvita | 12 Aug, 2022 | 293282 views | 9 min read
Bridal henna trends never fail to amaze us! Even when the brides had to move towards a smaller celebration due to the pandemic, they ensured to put enough thought behind their unique bridal mehndi designs. We were wowed by both picturesque storytelling and classic, traditional designs! So, instead of simply gazing at the sheer gorgeousness of these patterns, we rounded up 40+ easy and beautiful designs for the front hand that'll make you fall in love.
1. We bet you wouldn't scroll past this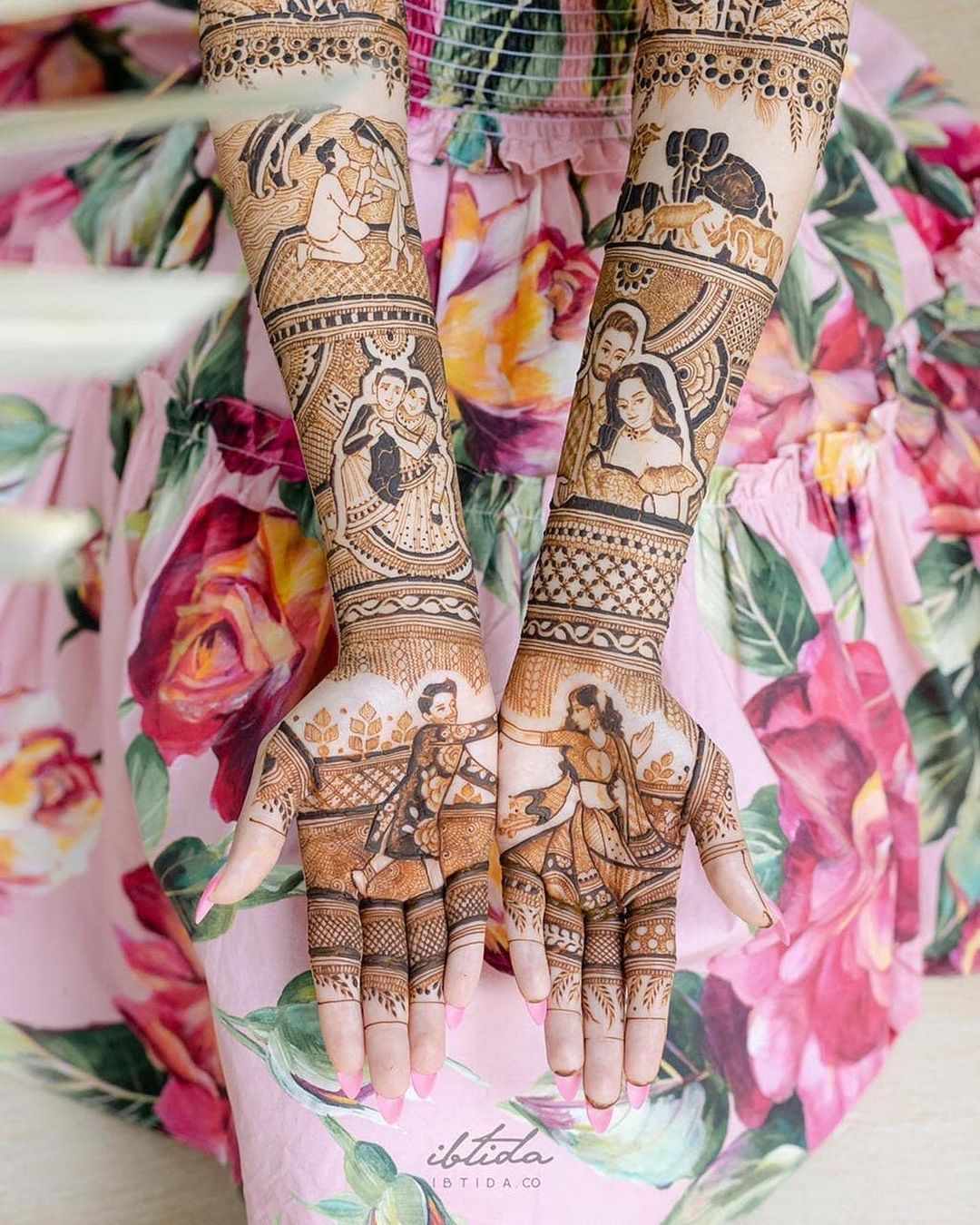 Image via fashioneiress
2. Isn't this front hand mehndi design absolutely stunning?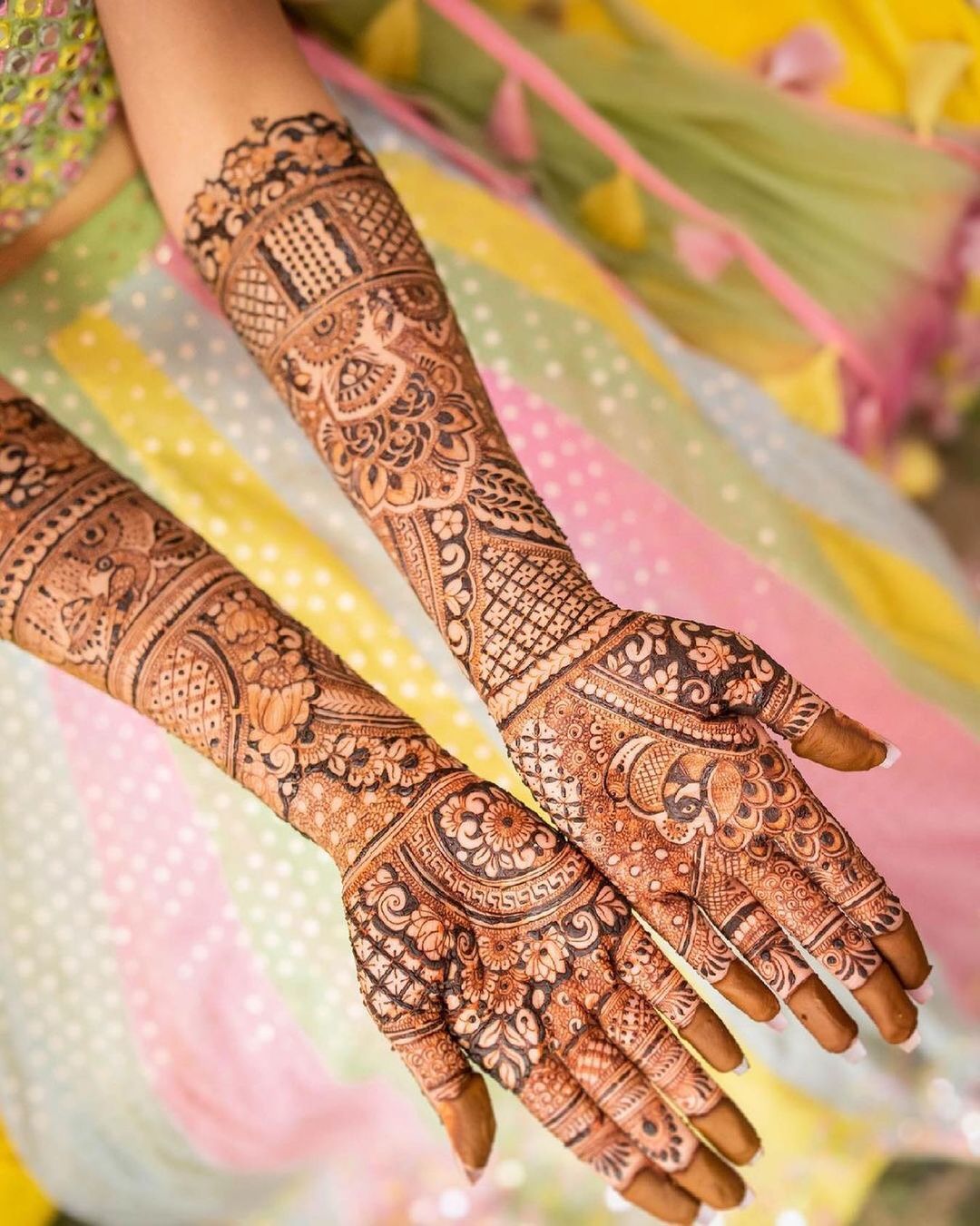 Image via @harneet.kaur23
To make the search easy and quick, we have divided the front side mehandi designs into the following categories. What's better than saving time amidst the wedding planning hustle!
Simple Front Hand Designs
Traditional Front Hand Mehndi Designs
Personalized Mehndi Front Hand Designs
Arabic Front Hand Mehndi Designs
Dulha Dulhan Front Hand Mehndi Designs
Simple Front Hand Designs
With intimate weddings, we saw a lot of nouveau brides going ahead witH easy and beautiful designs for the front hand! Ever since the pandemic, weddings have been all about keeping it dainty & SMALL, and that's why such mehndi patterns beautifully blended into the celebrations.
Here's a glimpse of easy front hand mehendi, that you should save!
3. Obsessed is an understatement
Image via Photo Tantra★ 5
Oh my God, this mehendi design has our heart! Despite being so intricate, one can easily DIY this one. If you're a bride who prefers simple with a touch of freshness, you should bookmark it.
4. Parrots galore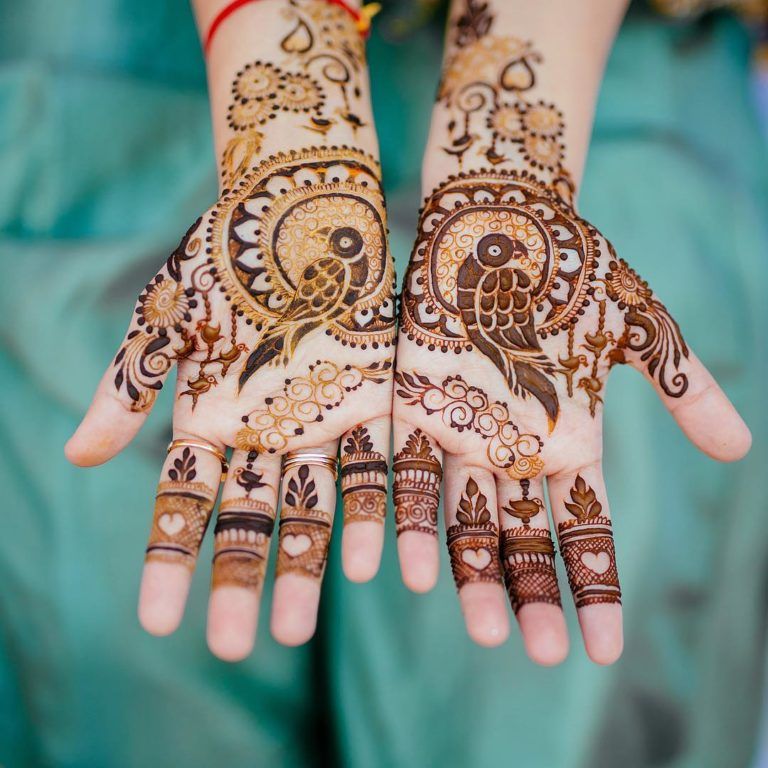 Image via Beginnings For You★ 5
We'd lie if we say we didn't save this front mehandi design for the cutesy parrots! If you're planning a coronial wedding with all things offbeat and pretty this is how your mehndi should look like.
5. For the love of Roses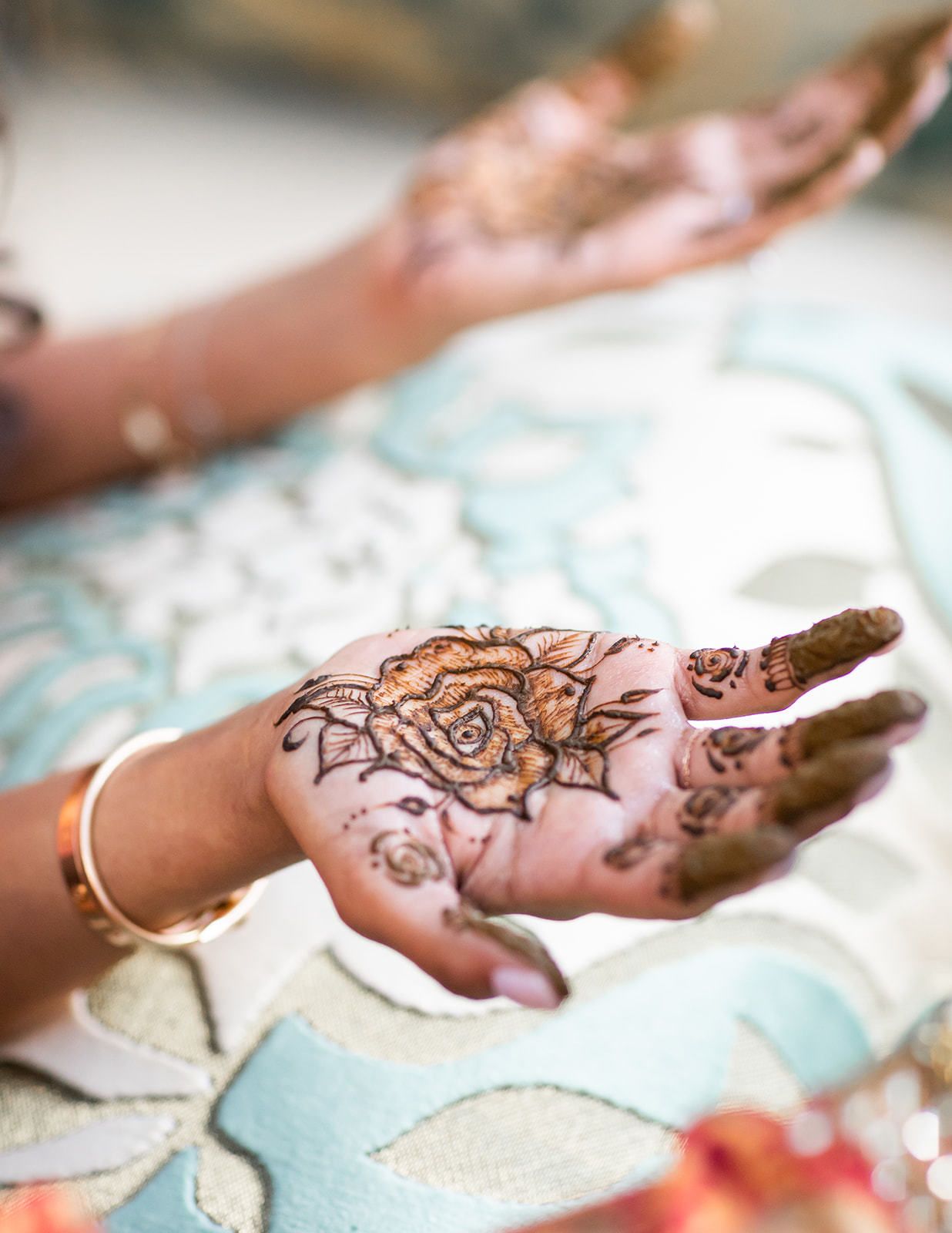 Image via Seema & Sanjam
This mehndi design can be easily applied by anyone who knows the basics of henna art! While you can experiment by adding more around the wrist (in case you hire a professional), we're totally in awe of this one. Add it to your 'Mehendi Pinterest Board' now.
6. Swooning over the aesthetics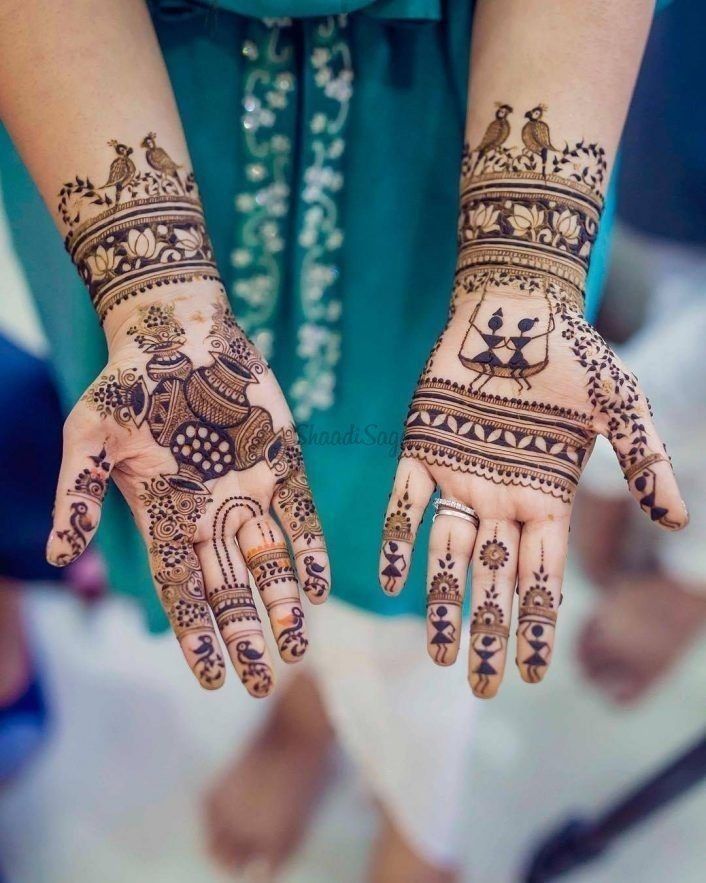 Image via Priya Mehandi Artist
Right from the little figurines to the matkas and mix of lines and dots, this unique mehndi design caught our attention for obvious reasons. It spells magic and we think no bride can say 'NO' to this one. Pin it to your 'front hand mehndi designs for engagement' mood board already?
7. Nail it with Mandala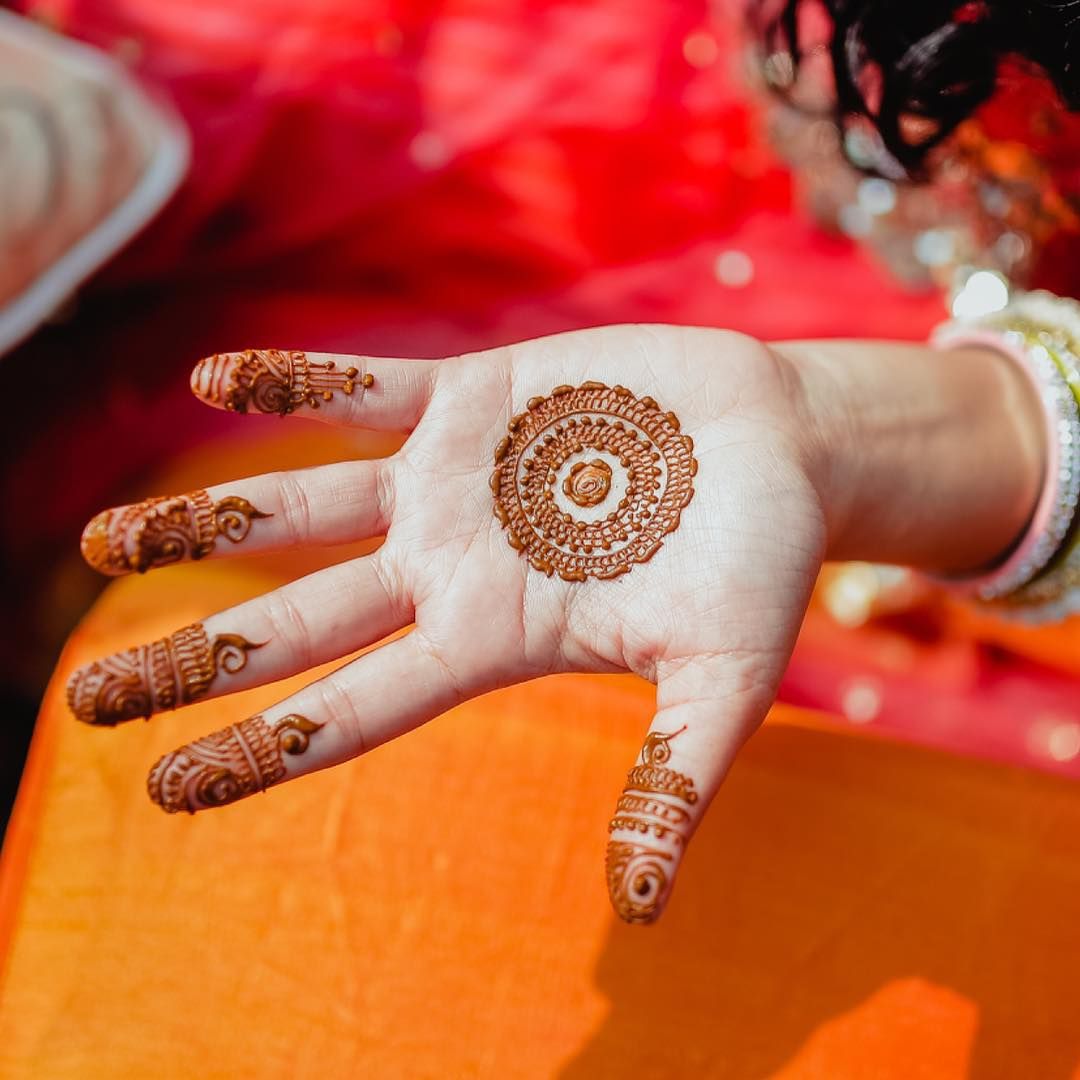 Image via Colorblind Production
A mandala front side mehndi design looks absolutely classy and elegant! And it is the easiest of them all. If, as a bride, you don't wish to go extra with the henna application, save this.
8. Not every day do you spot a beautiful front hand mehndi design serving major inspo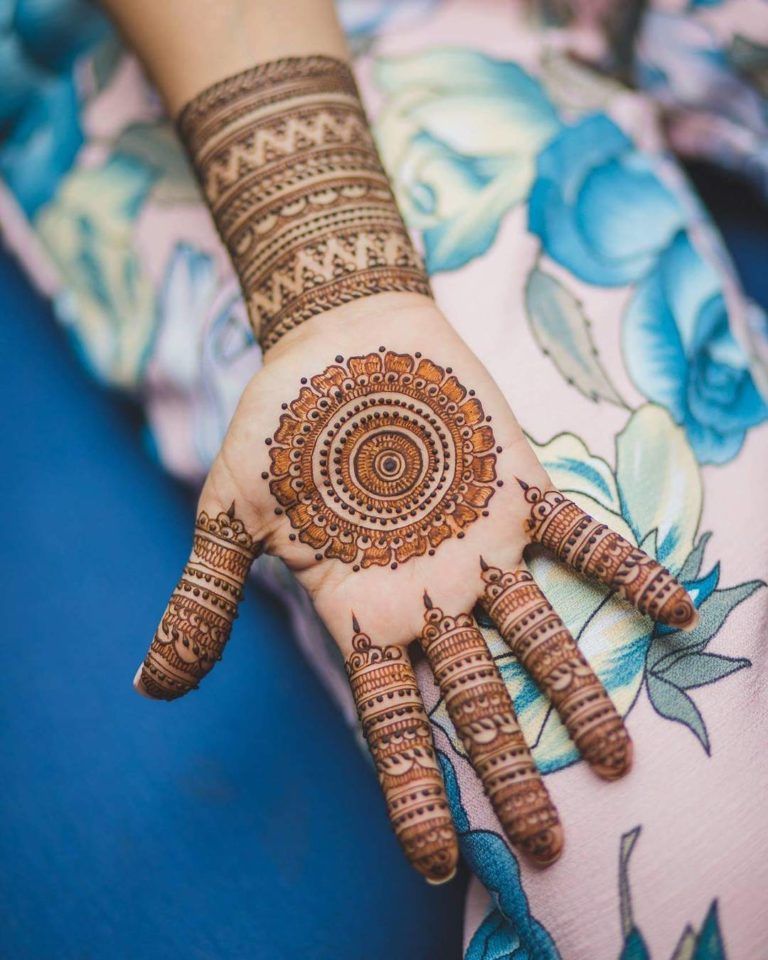 Image via The Lightsmiths
This easy mehndi design for the front hand is slightly more elaborated than the one above, for the bride who wants a mix of simplicity with a dash of extra.
9. Adding uniqueness to your modern mehndi mood board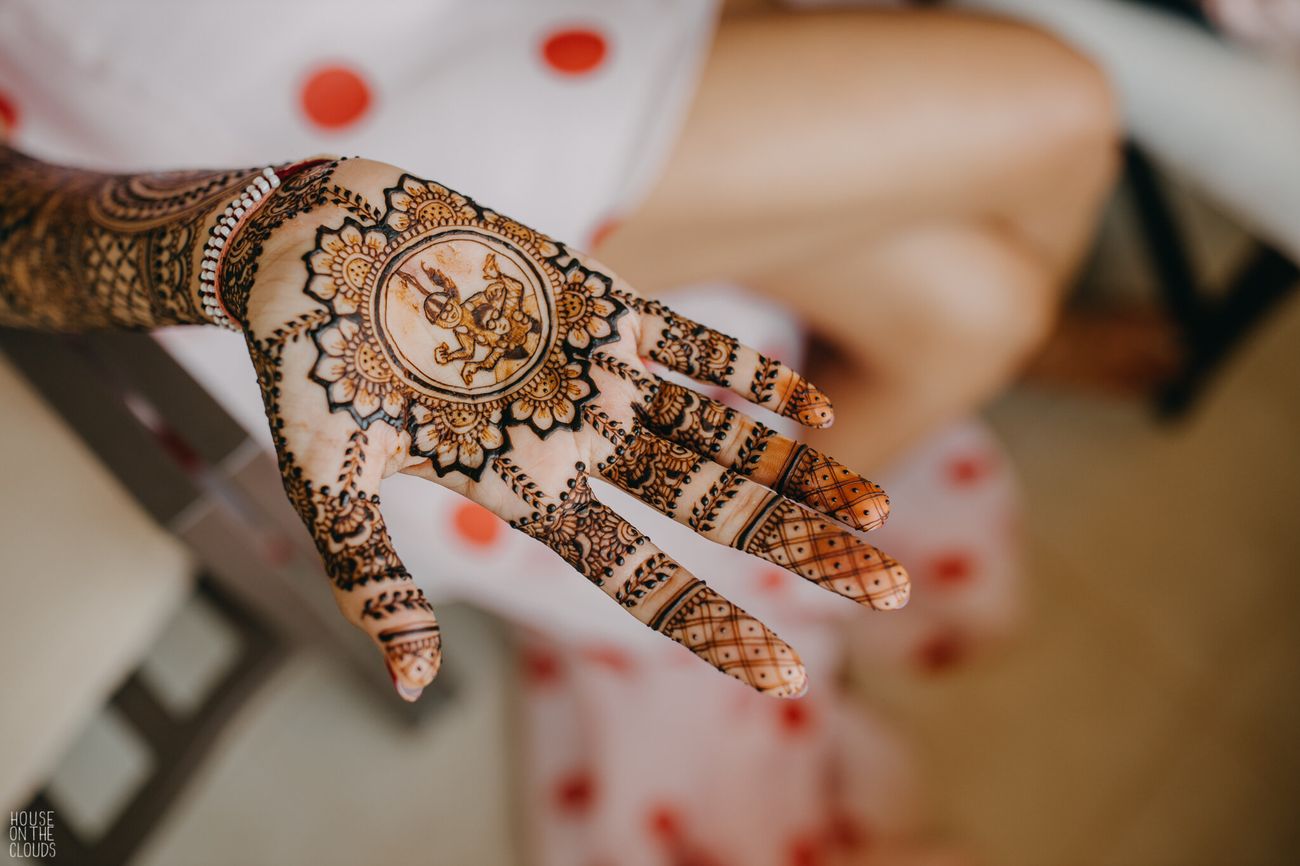 Image via Trisha & Suvraj
Who said personalised mehndi cannot be easy to design?
10. Keepin' it minimal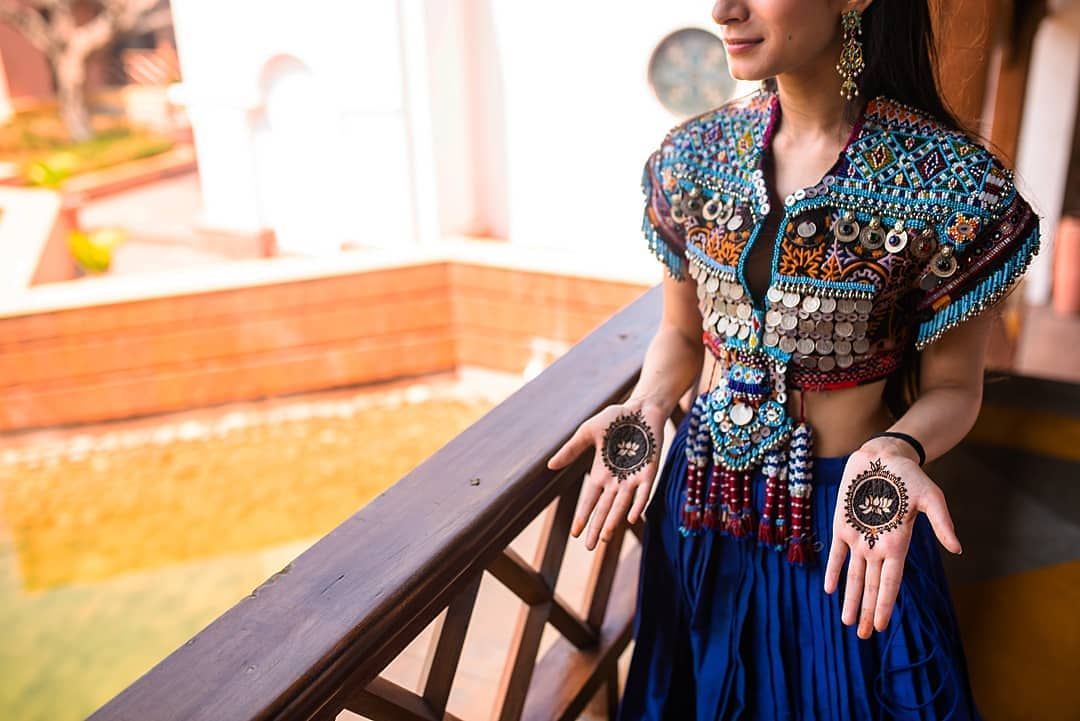 Image via The Creative Lens★ 4.9
Oh, you thought we were done with it? Just before we were to about wrap this up, we spotted this easy front hand mehendi with lotus details. So, had to share it!
Traditional Front Hand Mehndi Designs
Who doesn't love a traditional mehndi front hand design? The vibe can never go out of the wedding trends and the timelessness is bound to tug at your heartstrings. Scroll down to check out our favorites!
11. A fresh front mehndi design like this?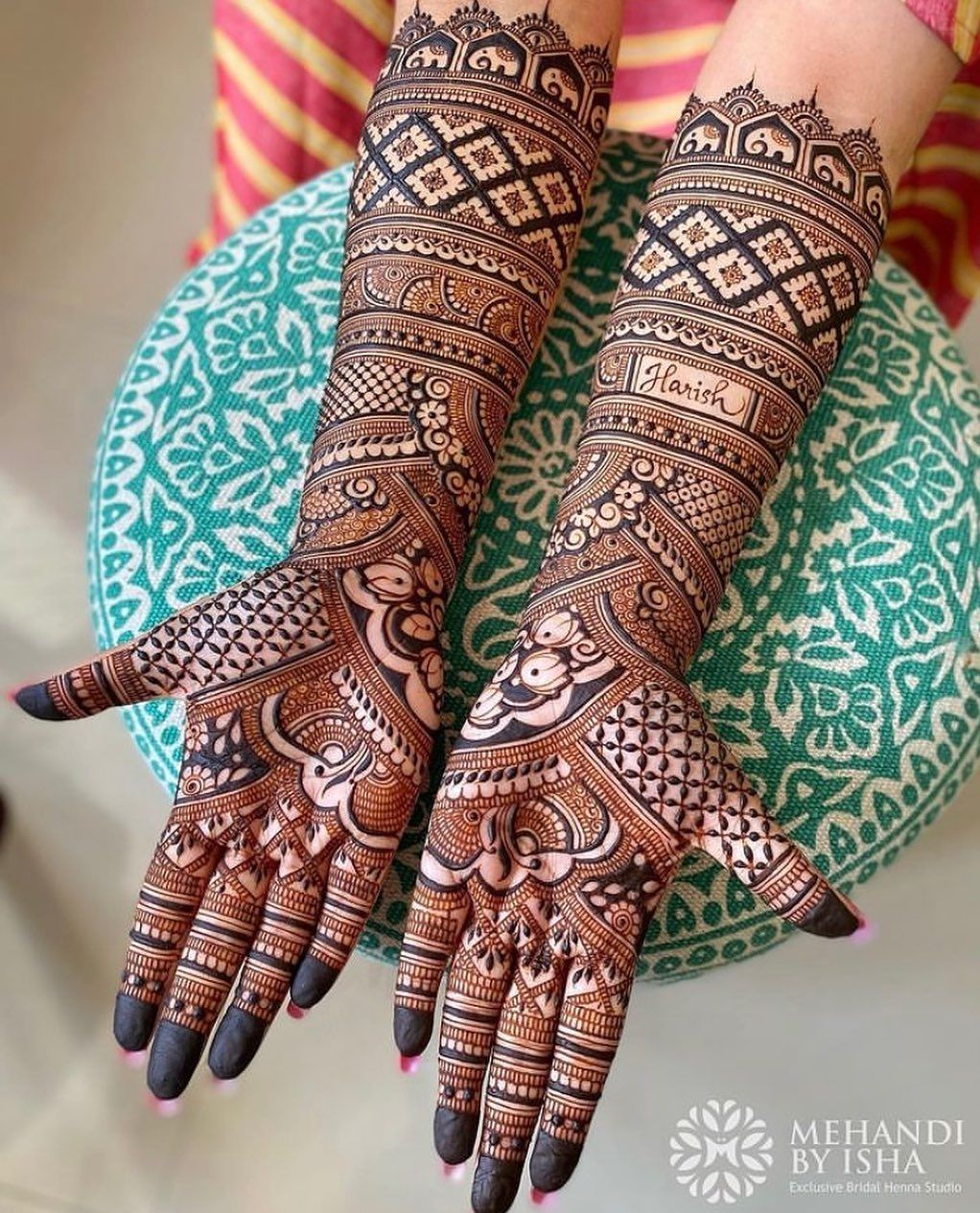 Image via Mehandi by Isha
What do you love more - the royal essence of this design or the intricacy?
12. Can't find enough words to describe this one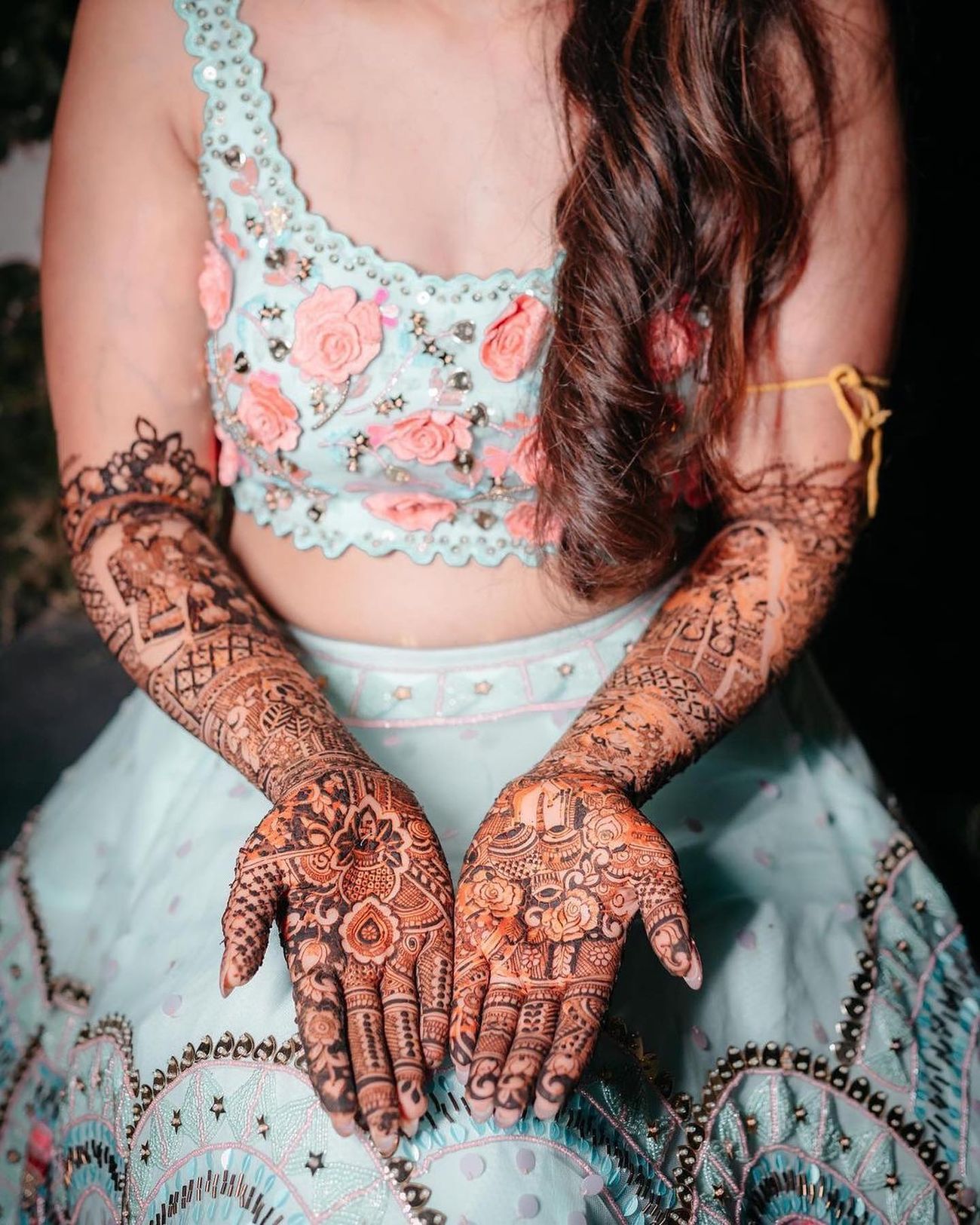 Image via @divyaashetty 
We can't get over the intricacy of this royal front hand mehndi design. What about you?
13. Oh boy, the jaal beauty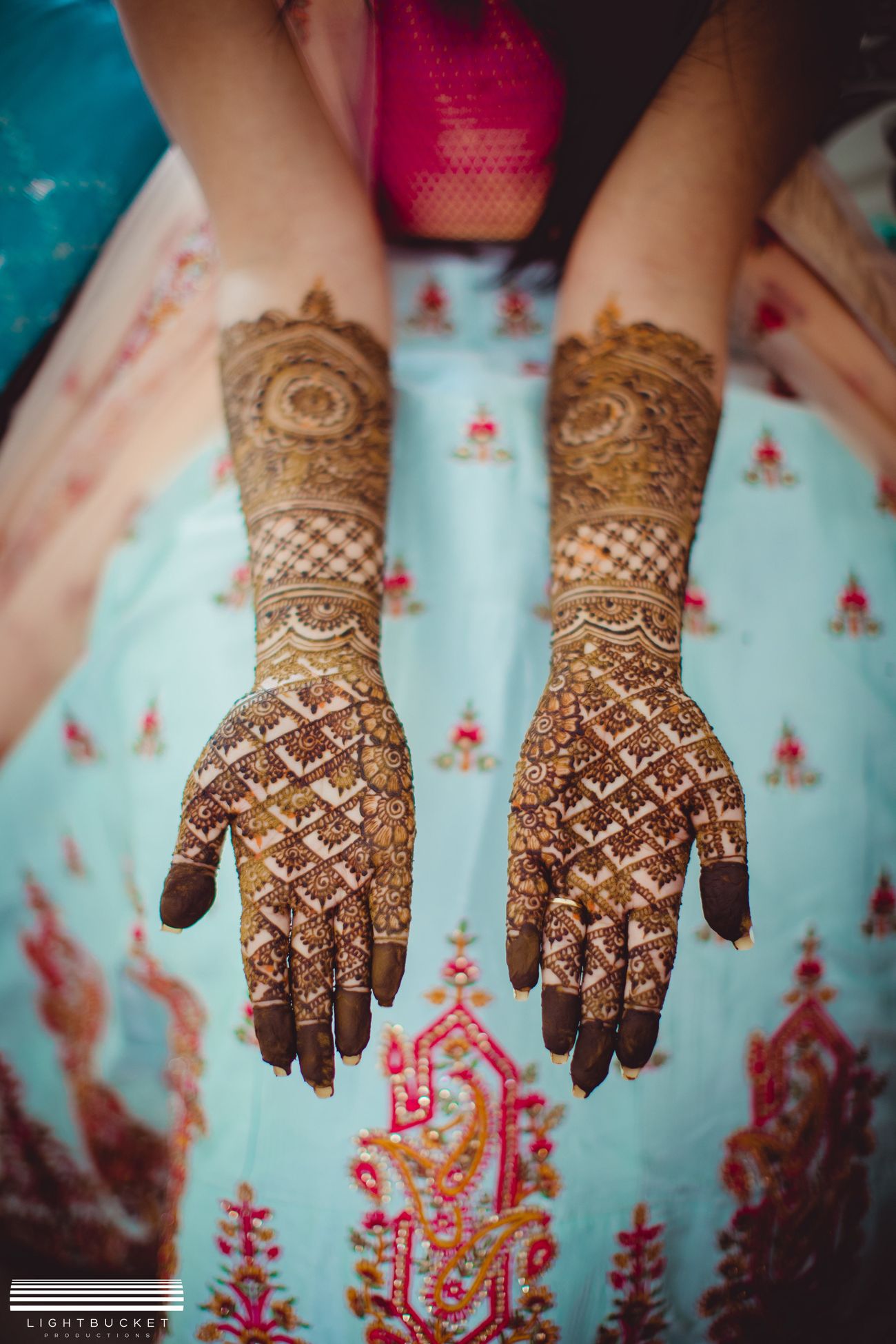 Image via LightBucket Productions
We've all grown up witnessing net henna designs but the charm of this one totally left us floored! Like or love?
14. Gazing at the intricacy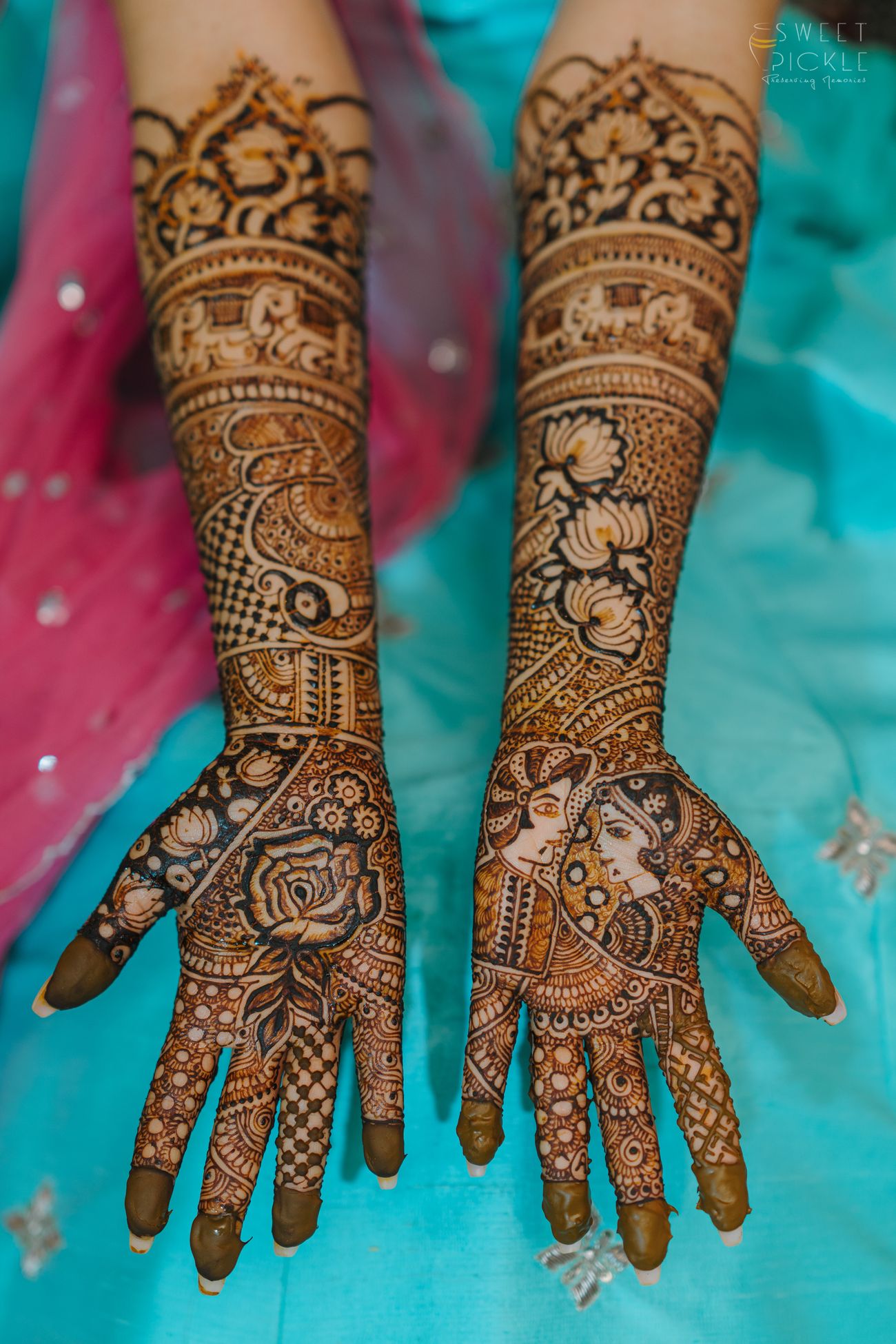 Image via Sweet Pickle Pictures
A traditional front mehndi design that is both easy and beautiful! We've literally lost the count of elements that we managed to spot in this one. 10? Are we right?
15. Extra points for the neatness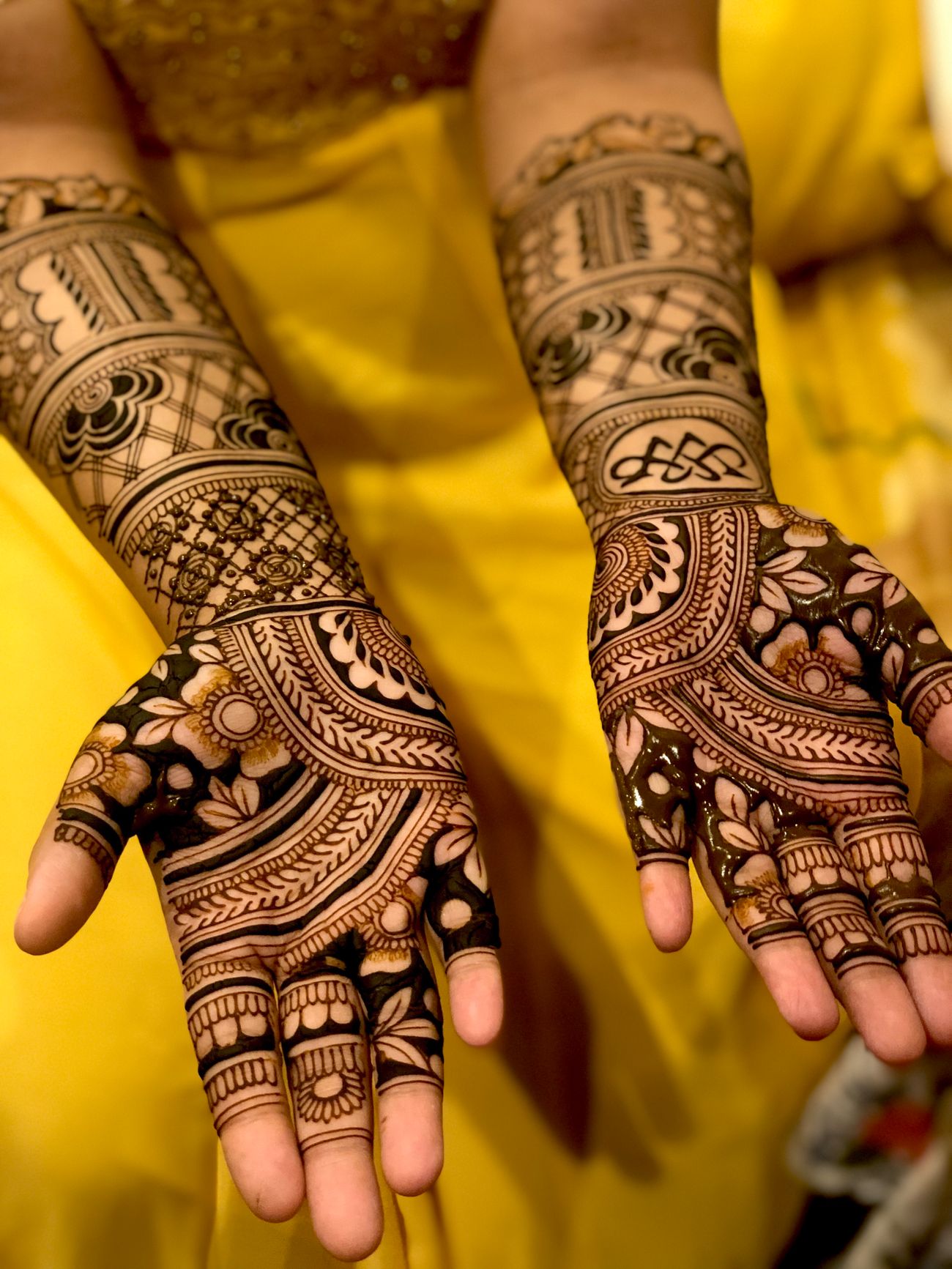 Image via Brownhue Mehendi
Honestly, this 'traditional meets Arabic' henna design made us stop and stare. If you want your traditional front side mehndi design to be simple and spaced out, you won't be able to ignore this.
16. SMITTEN!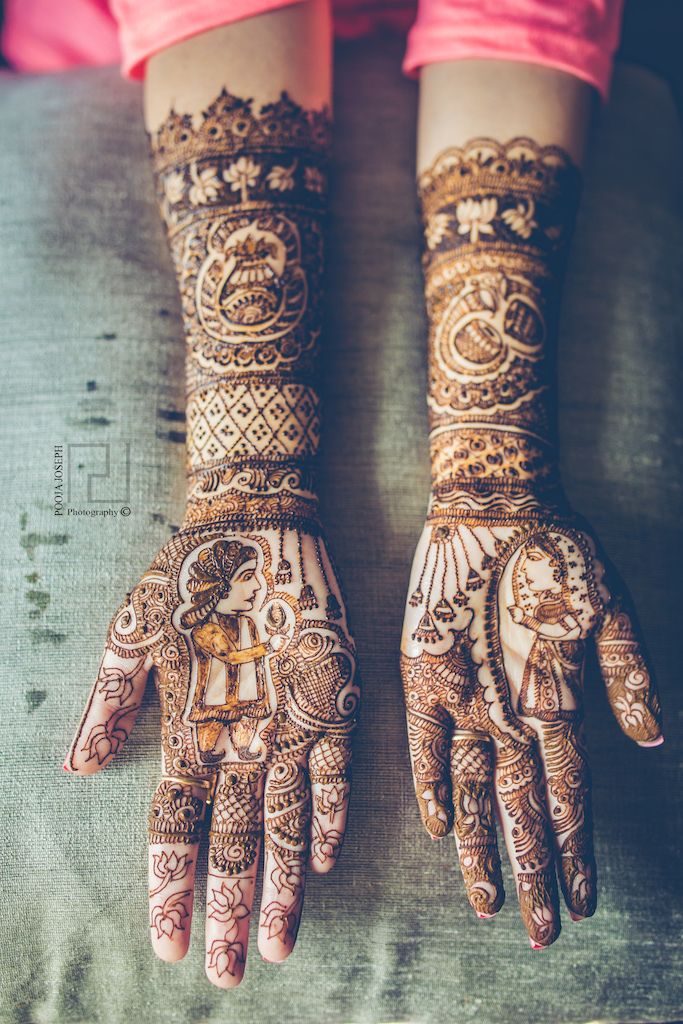 Image via Gauri & Anshuman
What's not to love about this design? The intricacy has just left us speechless!
17. Can't get enough of this one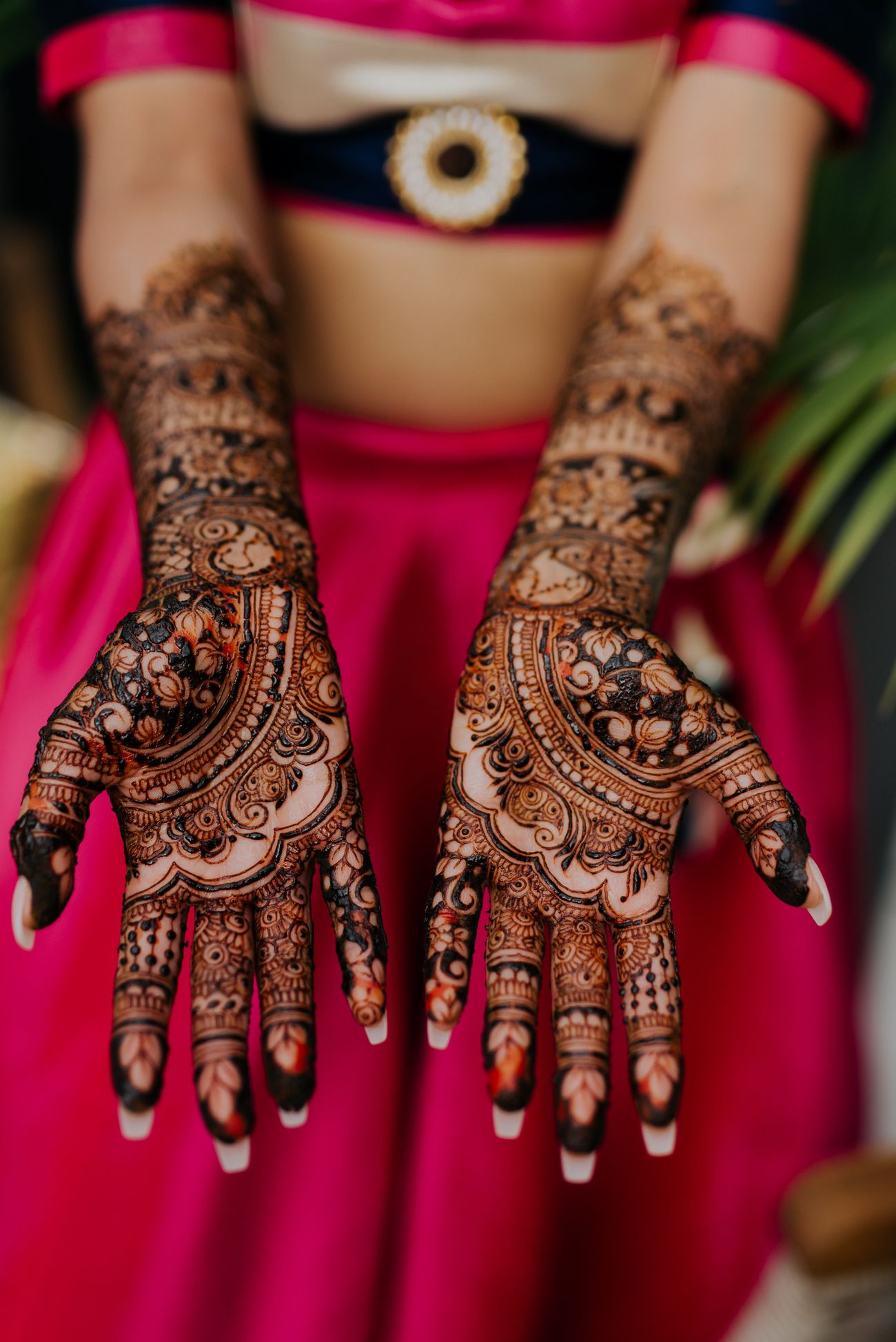 Image via Mani & Harkomal
Imagine this front hand mehandi design with a bright red choora? WHOA, surreal!
18. This one's next level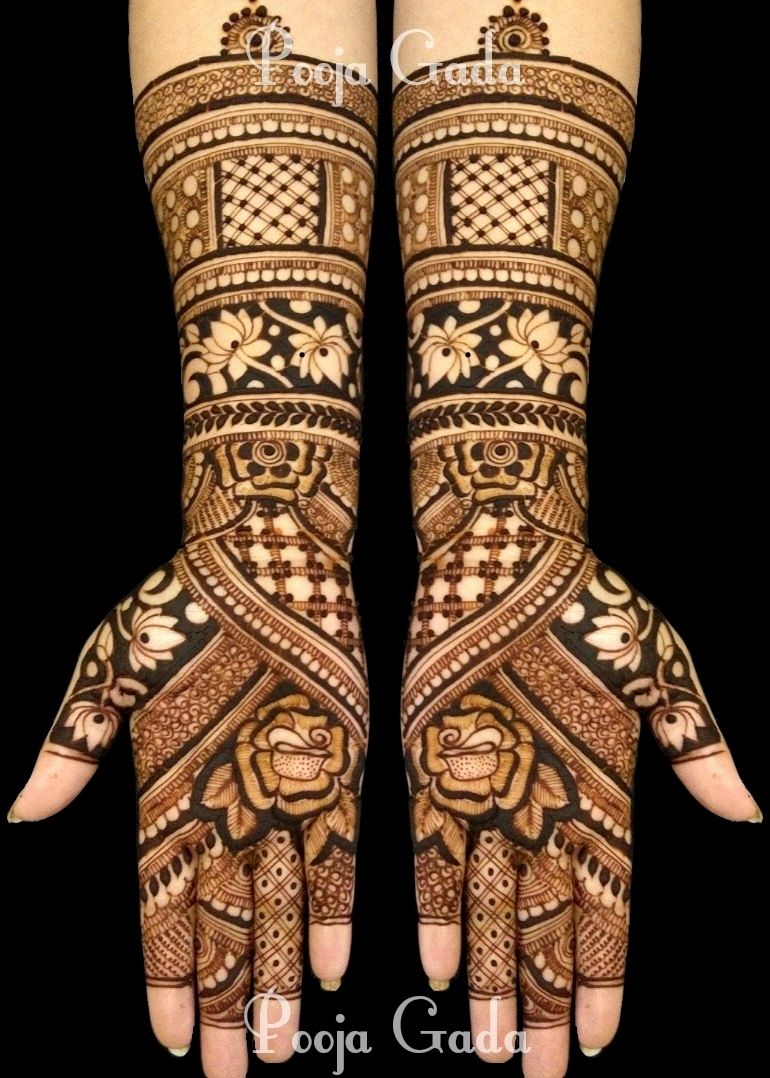 Image via Pooja Gada
Sometimes all a traditional henna design needs are attention to detail!
Personalized Mehndi Front Hand Designs
The essence of adding a personal touch to your mehendi is so special! Be it your wedding hashtag, your initials, or your proposal story (yes, brides are getting this recreated, too), it instantly makes your bridal henna stand out. Dive in to witness a few personalized front side mehndi designs that left us awestruck.
19. In awe of this bespoke bridal henna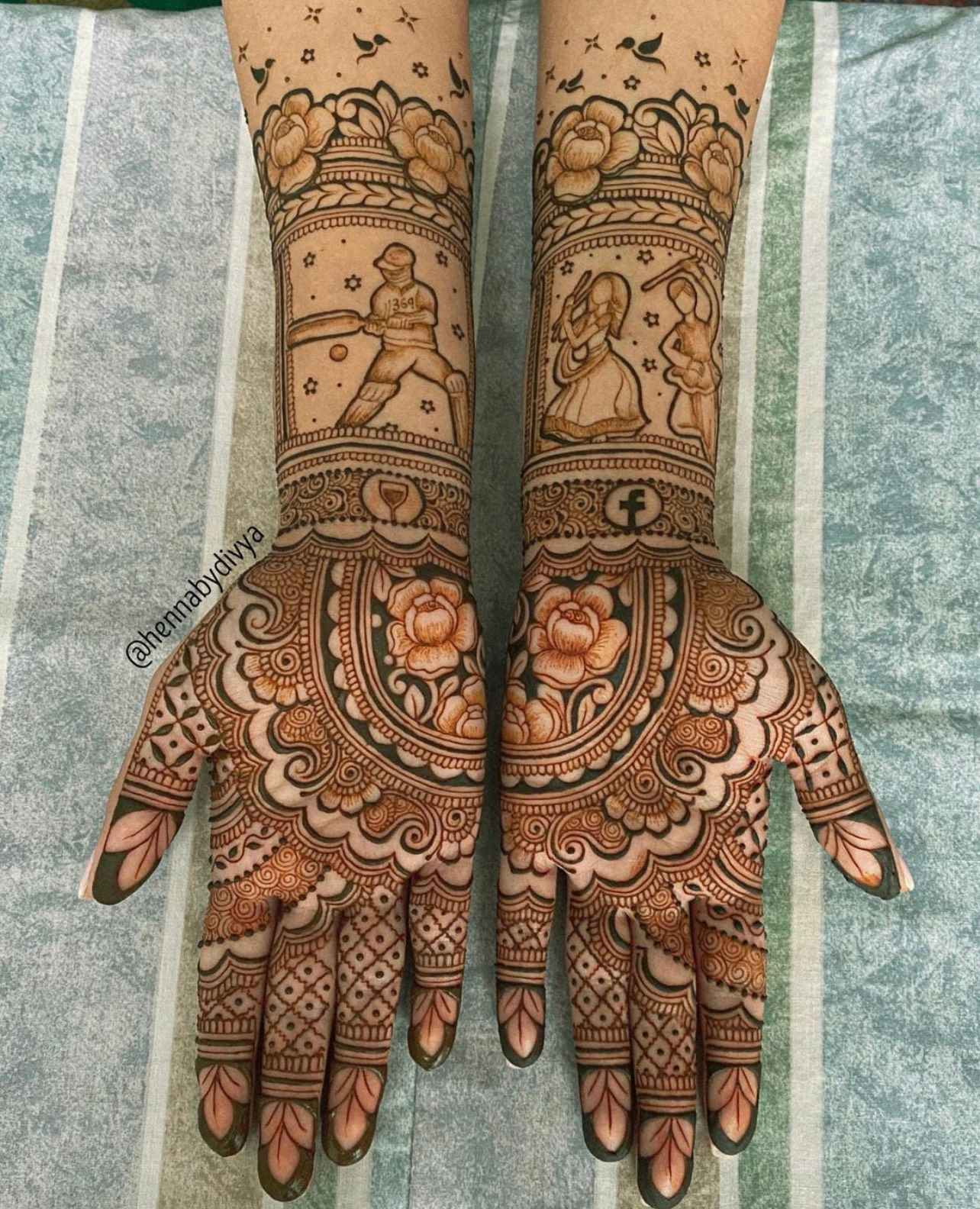 Image via Henna by Divya
This bride wanted her love for dance (Garba/Raas Dandiya) and her fiancé's love for cricket to be incorporated into her mehndi design. And oh boy, look how it came out!
20. Swooning over this front hand mehndi design with unique elements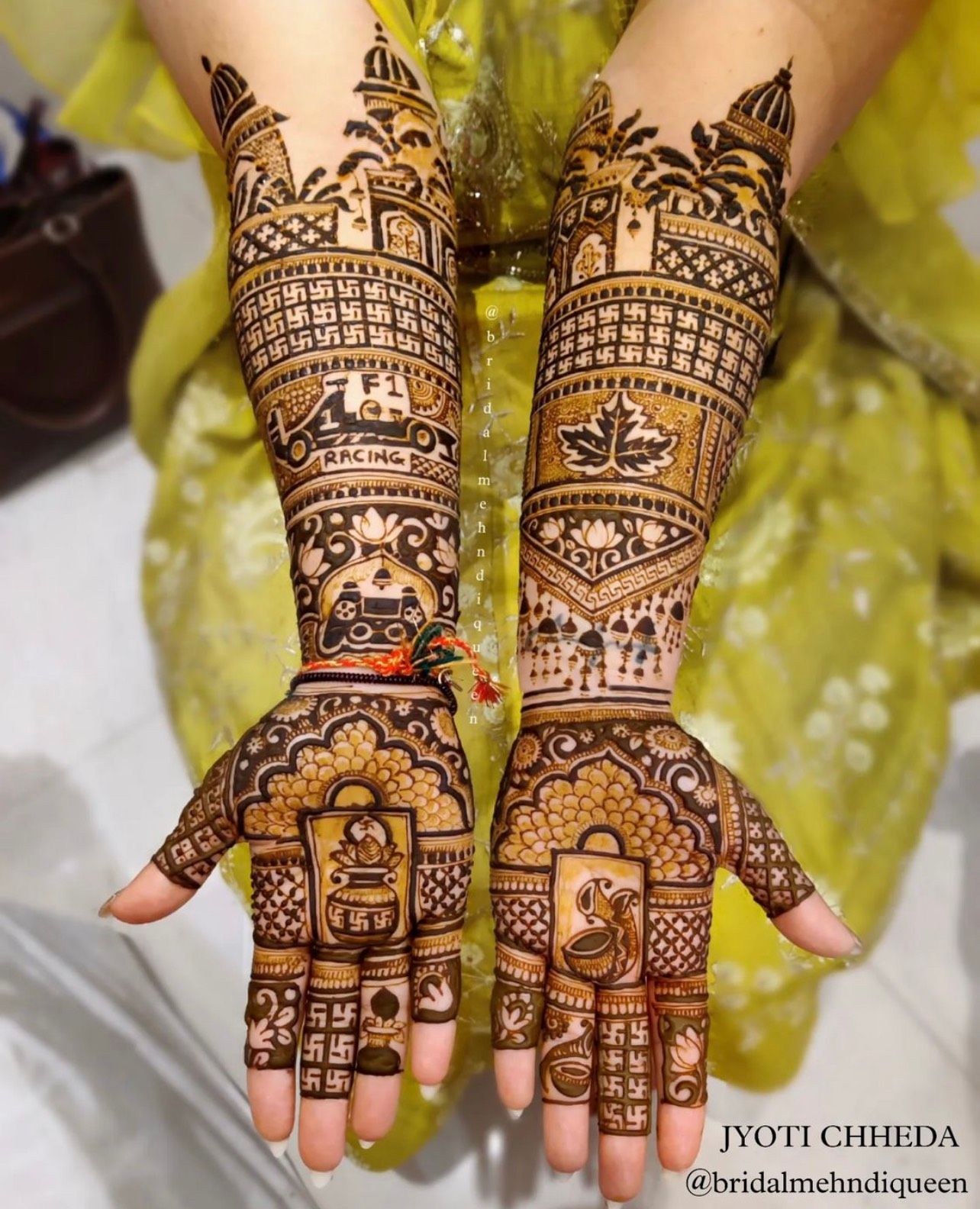 Image via @bridalmehndiqueen 
And our list of beautiful designs for the front hand grows! From wedding bells, a PlayStation console, and a racing car, to a maple leaf, this bride wanted elements of her choice designed on her hands and it turned out to be perfect.
21. One with the portraits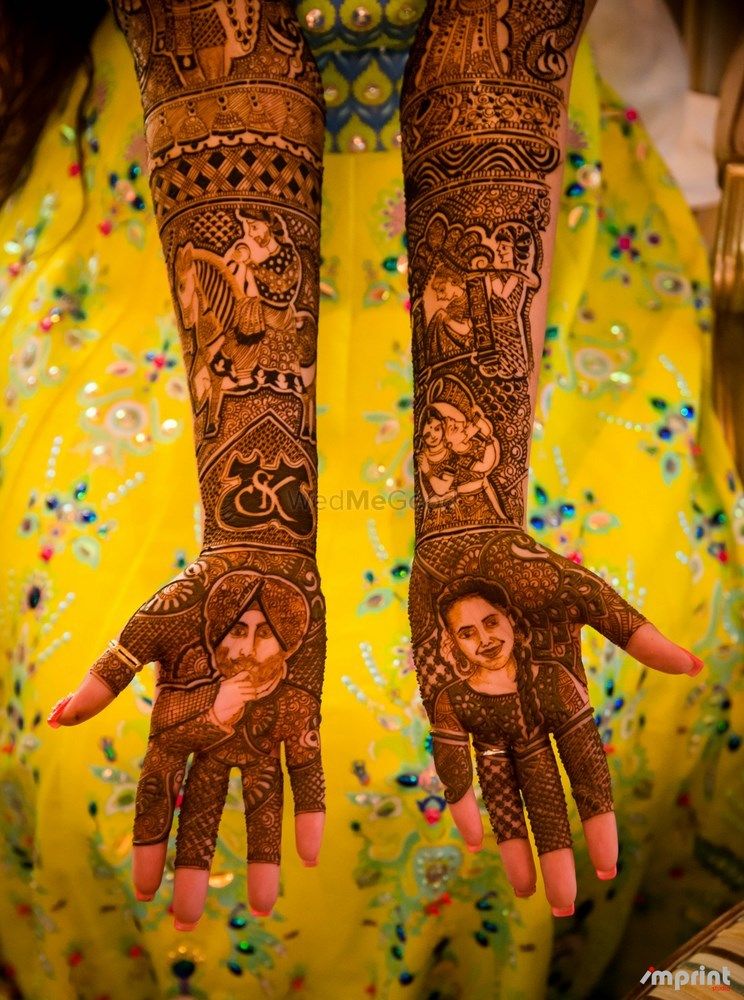 Image via Sabah and Khushdeep
Wow! This bride got the portraits of her & the groom designed in her bridal mehendi and we love it. Only someone with exceptional skills can actually give you such good results.
22. Worth the love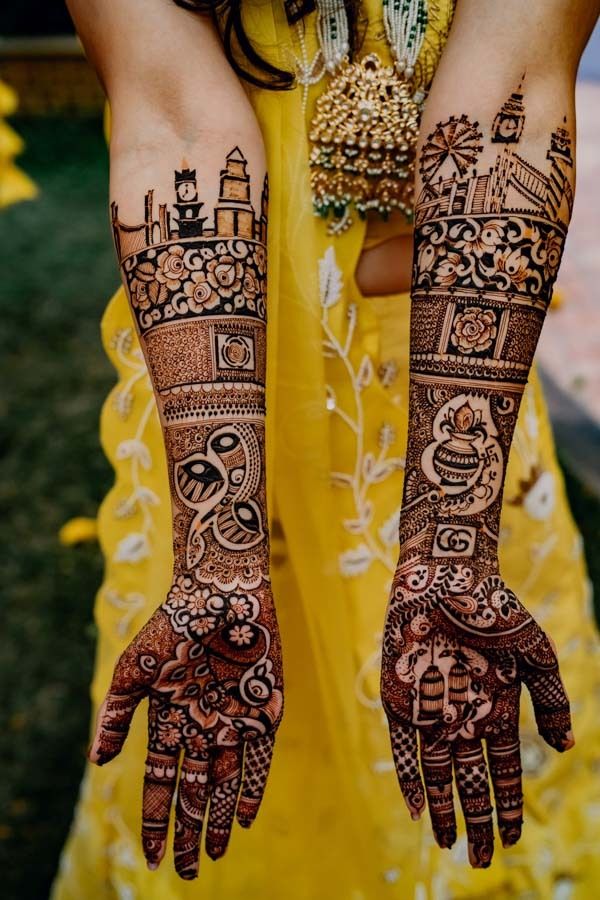 Image via Infinite Memories
This bridal henna depicting the couple's long-distance relationship made us shed a tear or two!
23. This one's for the details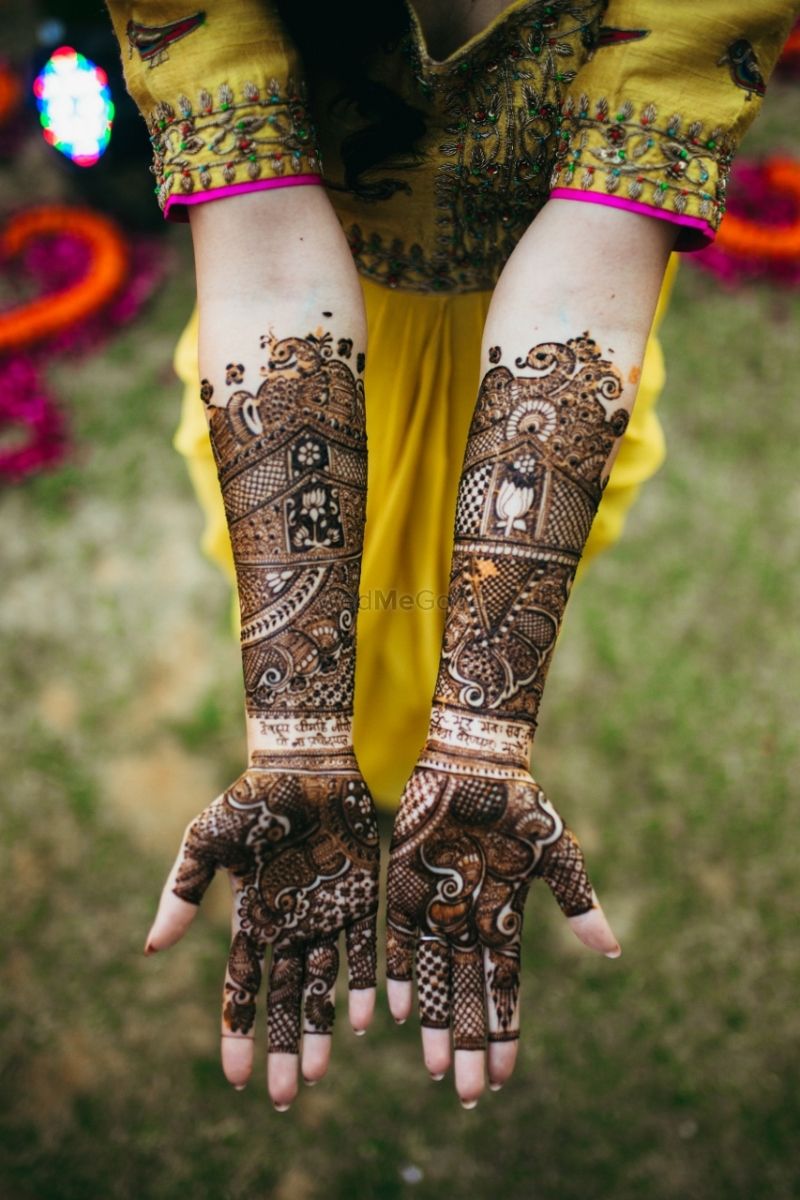 Image via Beginnings For You
This bride added a chant close to her heart in her front hand mehendi, and what better and auspicious way to enter into wedlock!
24. 'You're the Chandler, to my Monica'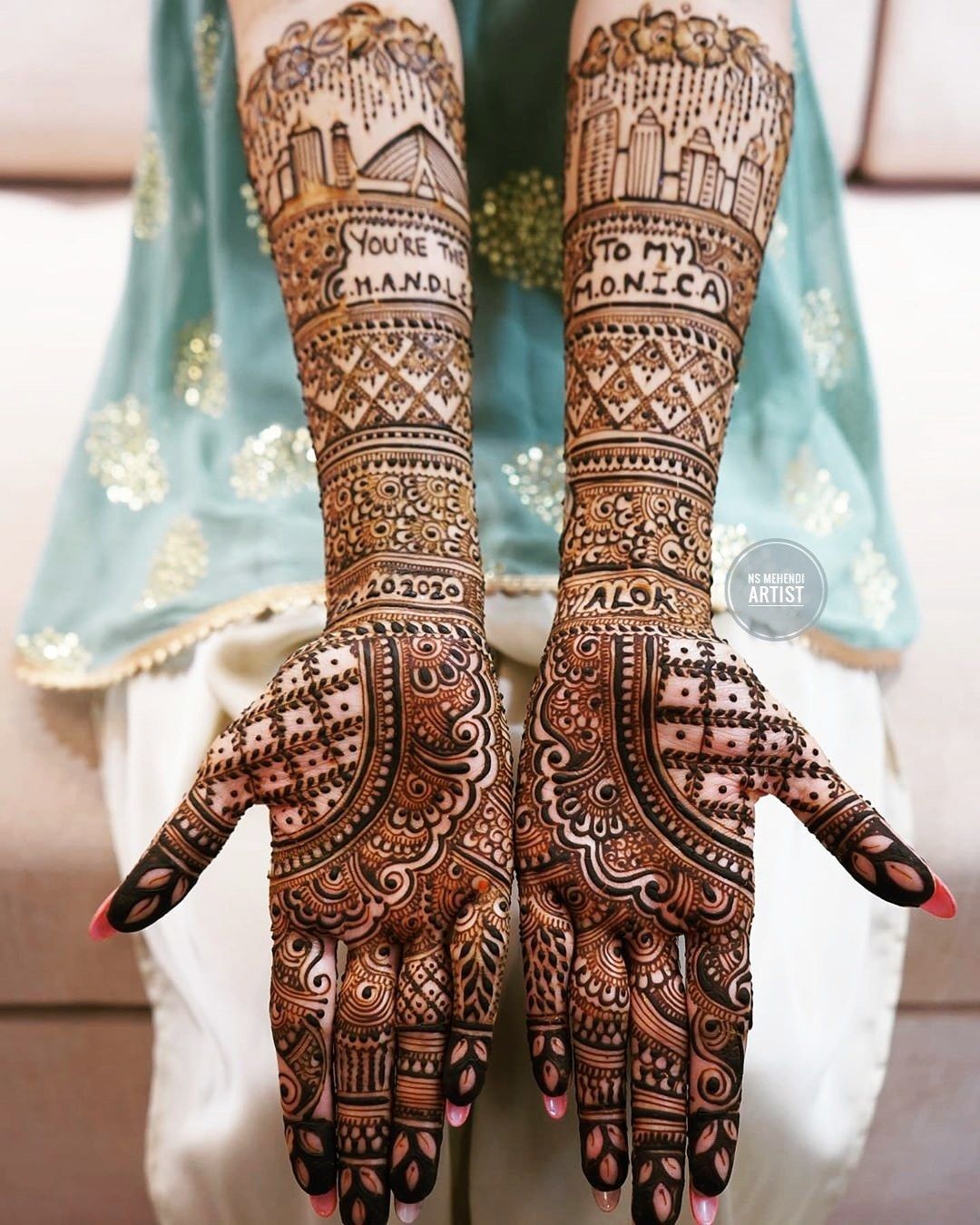 Image via NS Mehendi Artist
If you and your partner are F.R.I.E.N.D.S addicts, you wouldn't think twice before saving this front mehandi design. BTW, this one trended a lot on Instagram.
25. Those long phone calls!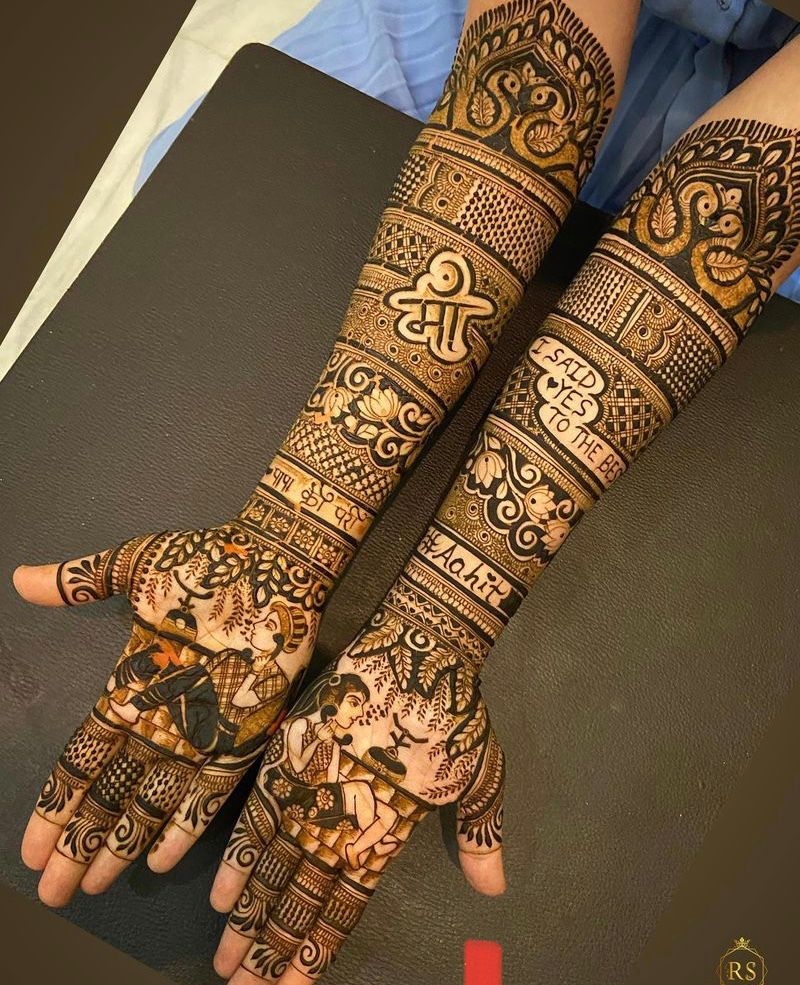 Image via Jeet Mehendi Arts
We love how this bride included her parents, the wedding hashtag, and so many adorable bits in her bridal henna.
26. A medical love story, with medical details!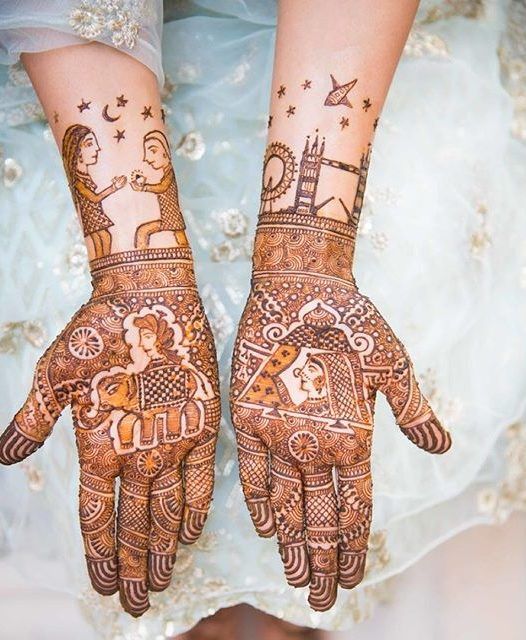 Image via The Wedding Crasher
This personalised, royal front-hand mehndi design is self-explanatory. We're just curious to know more about their starry-night proposal.
Arabic Mehndi Front Hand Design
If you're looking for a sign to ditch the traditional mehndi designs for a whisk of fresh air, this is it! Arabic bridal mehndi designs are synonymous with modernity, and the blend of floral artwork with geometrical shapes results in one-of-a-kind designs. It's time for some ARABIC inspiration, brides-to-be.
27. We're here for the details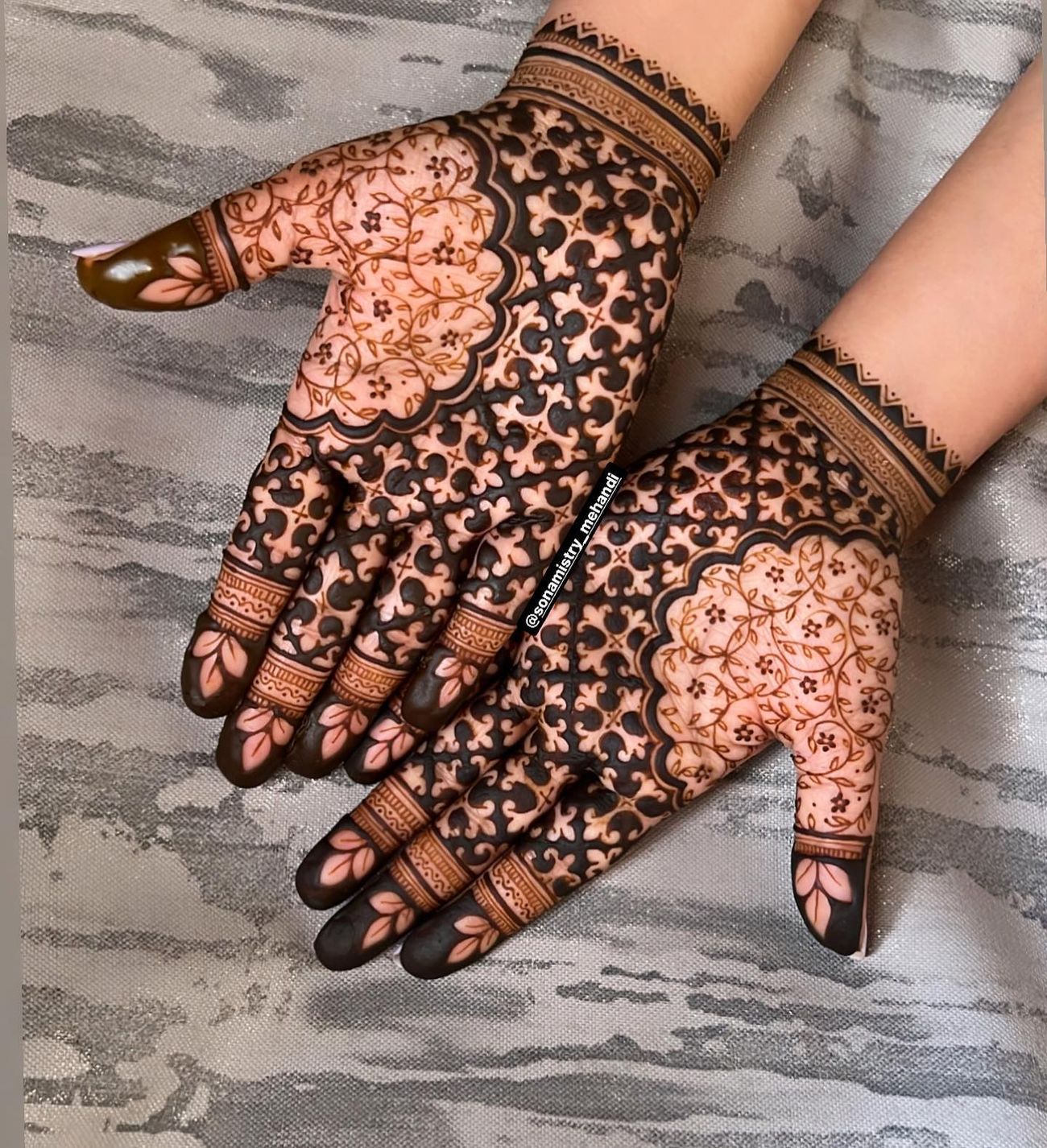 Image via Sona Mistry's Mehendi
We bet the stain of this one is going to be awesome!
28. Nothing says surreal like this Arabic mehndi design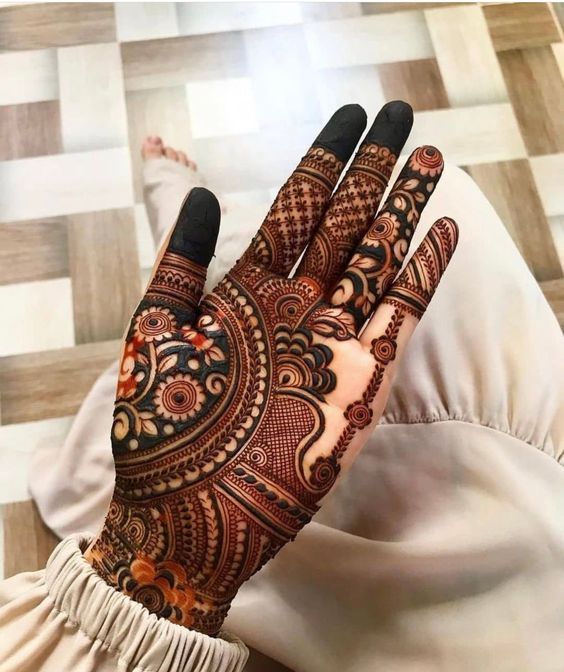 Image via Pinterest 
If the Arabic aesthetic suits your taste, then it looks like we just found the perfect front-hand mehndi design for a bride.
29. Blown away by this one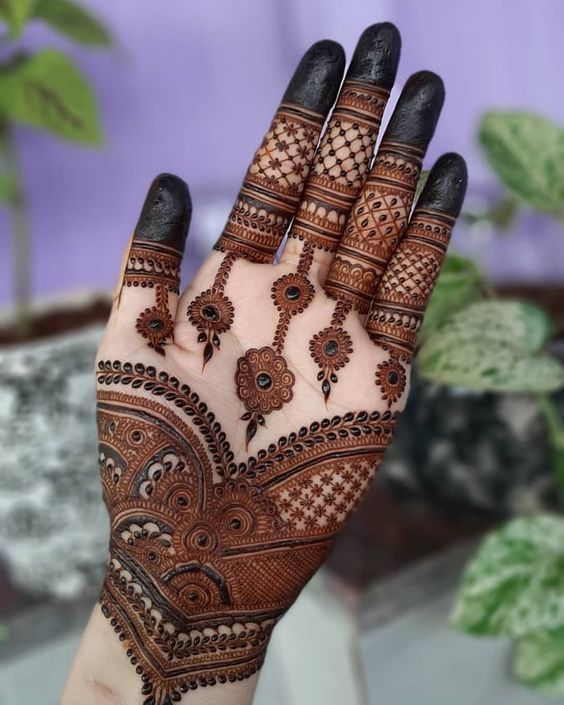 We've never seen an Arabic mehndi design with such intricacy! This one's bound to fetch you compliments.
30. Just as stunning as this!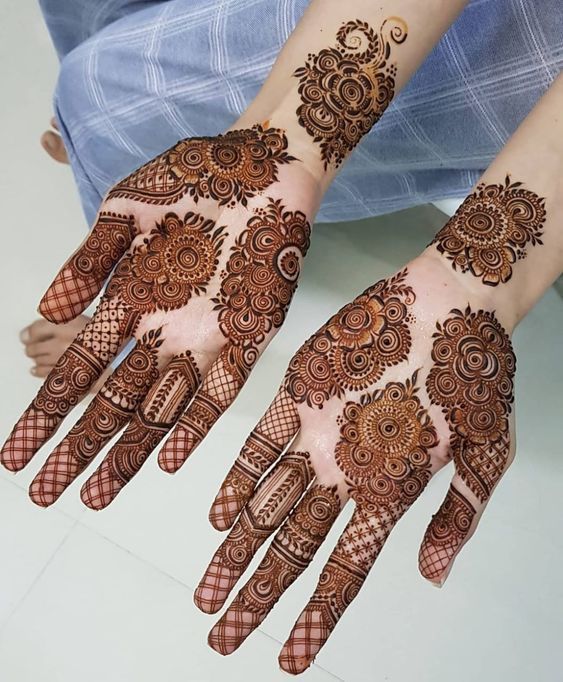 This mix of jaal, flowers, and edgy strokes will easily amp up your intimate wedding look! Also, no more sitting for 5-7 hours to get your bridal henna done.
31. One with a peacock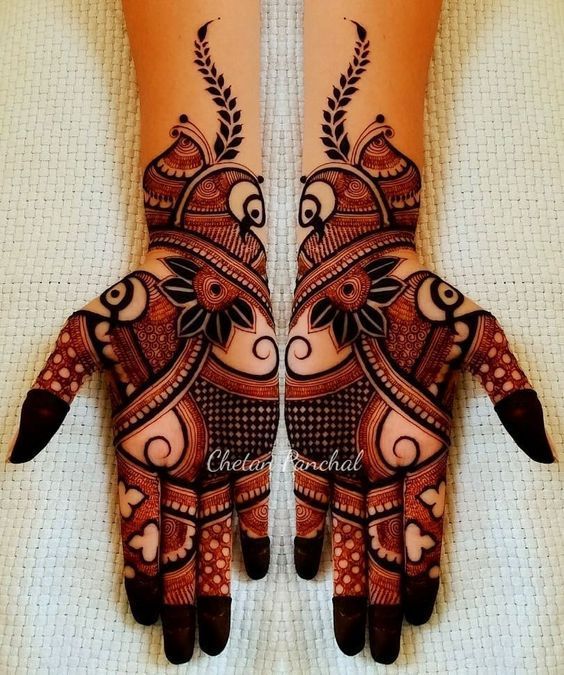 Those bold peacock motifs look absolutely exquisite and prove to be a stellar example of the prettiest Arabic mehndi design.
32. Eyeing those shaded flowers & leaves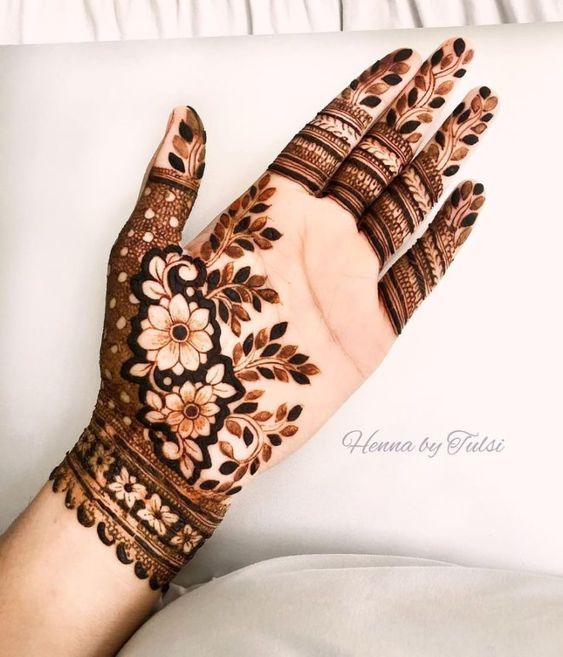 This is what our Arabic henna dreams are made of. Unique, to say the least!
33. That stain though ..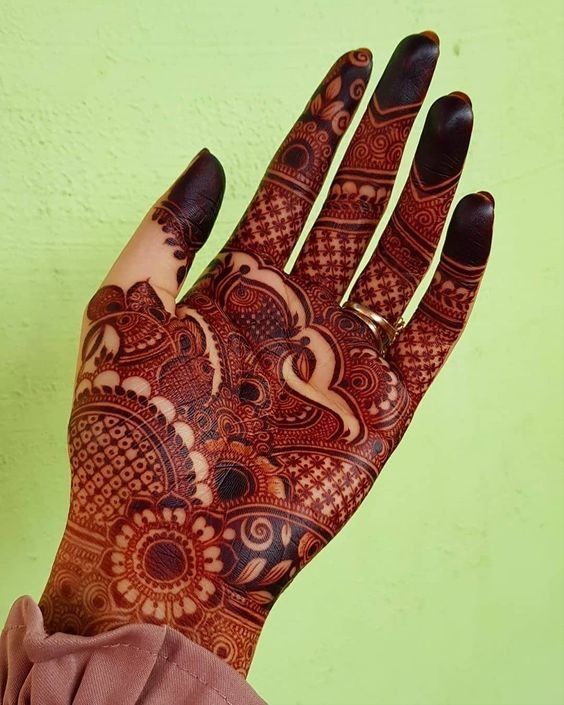 If you thought the Arabic henna pattern could not be intricate, think again. The choice is yours, to go with a 'bel' or an entire hand artwork.
34. How can we miss the 'bel'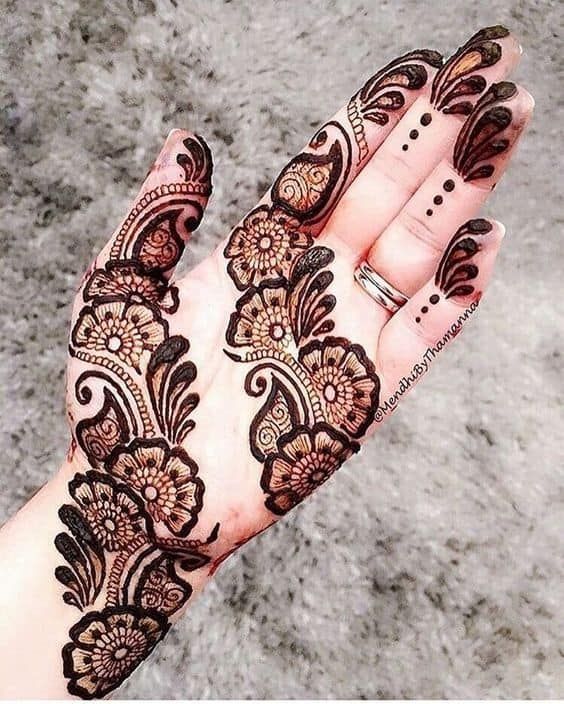 This pattern is an integral part of the front Arabic mehandi design. If you think it is too simple for a wedding, we're totally cheering for this one on a Roka!
All images via Pinterest
Dulha Dulhan Front Hand Mehndi Designs
Looking for a way to add a royal touch to your bridal henna? Nothing beats the charm of a wedding celebration being included in your mehndi design. From doli motifs or baraat procession to varmala sequence or simply, the bride and groom figurines; the magnificence is unmatched! Before your scroll further, we'd remind you that these royal front-hand mehndi designs take about 5-6 hours to apply but it's worth the wait!
35. Thoughts on this royal front bridal mehndi?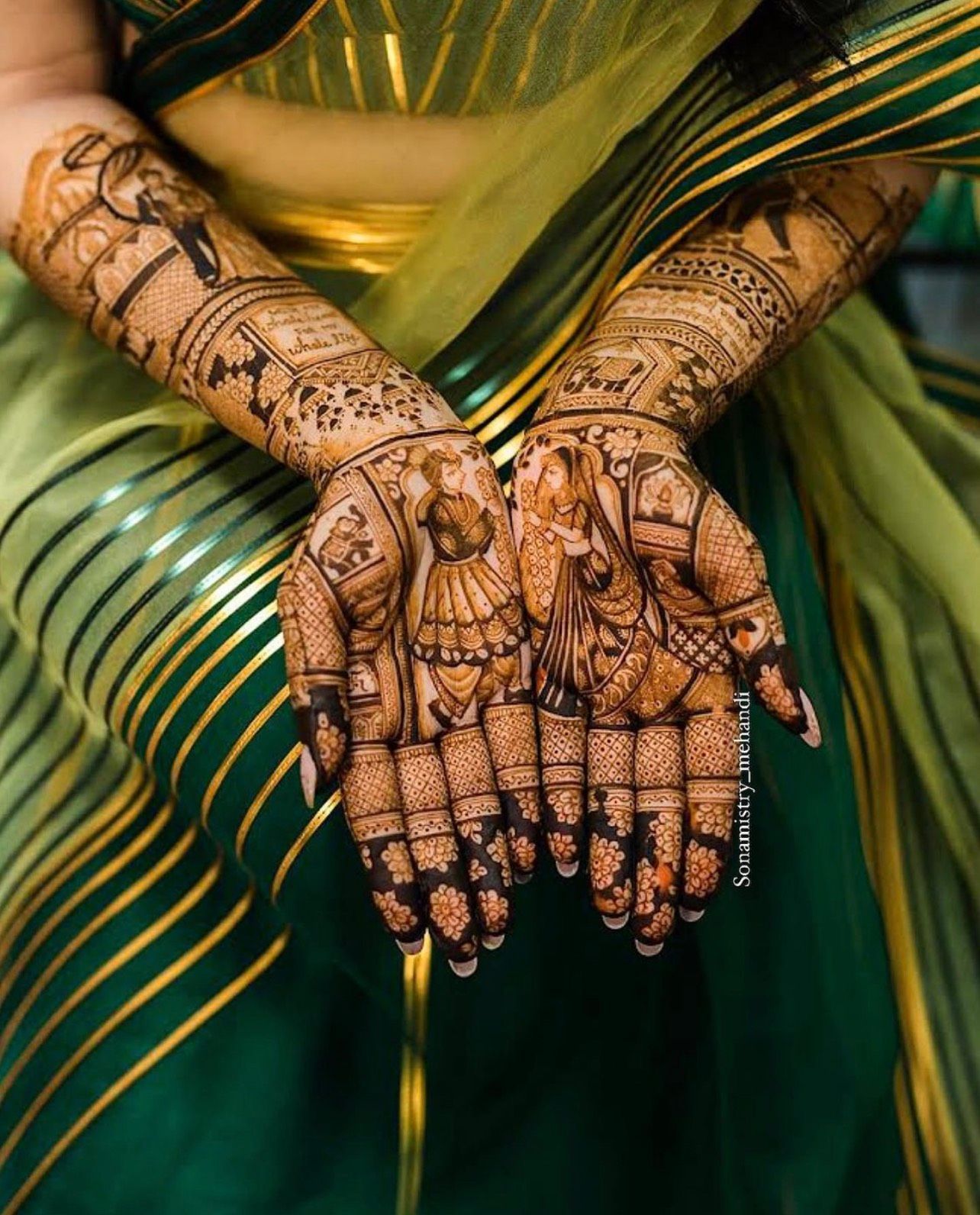 Image via Sona Mistry's Mehendi
Love how this front-hand mehndi design depicts dulha-dulhan figurines right from the engagement to the wedding day, weaving a beautiful story eventually.
36. This queenly mehndi for the front hands is a must-save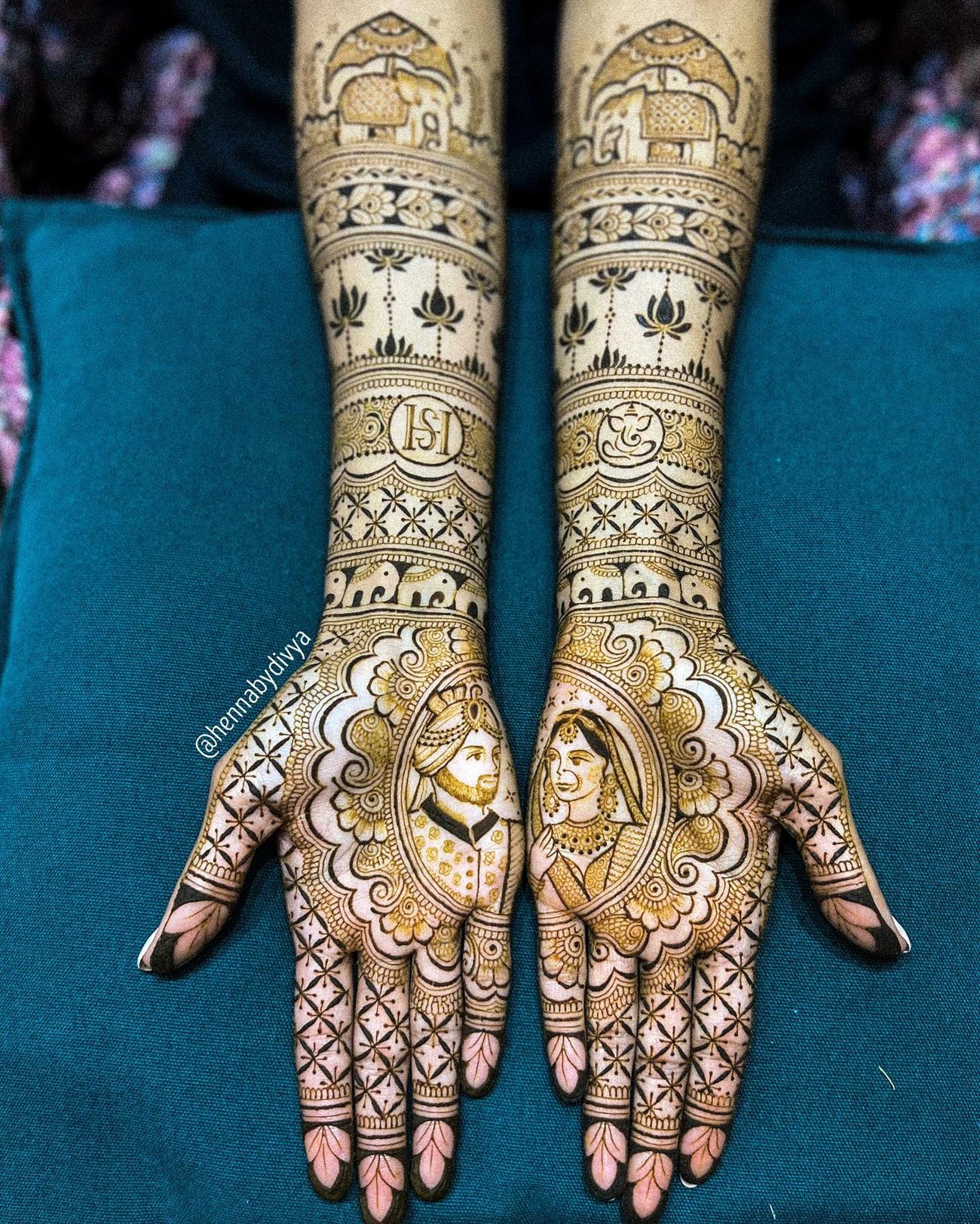 Image via Henna by Divya
One of the prettiest and simple front-hand mehndi designs with bride & groom art!
37. Bride & groom figurines for the win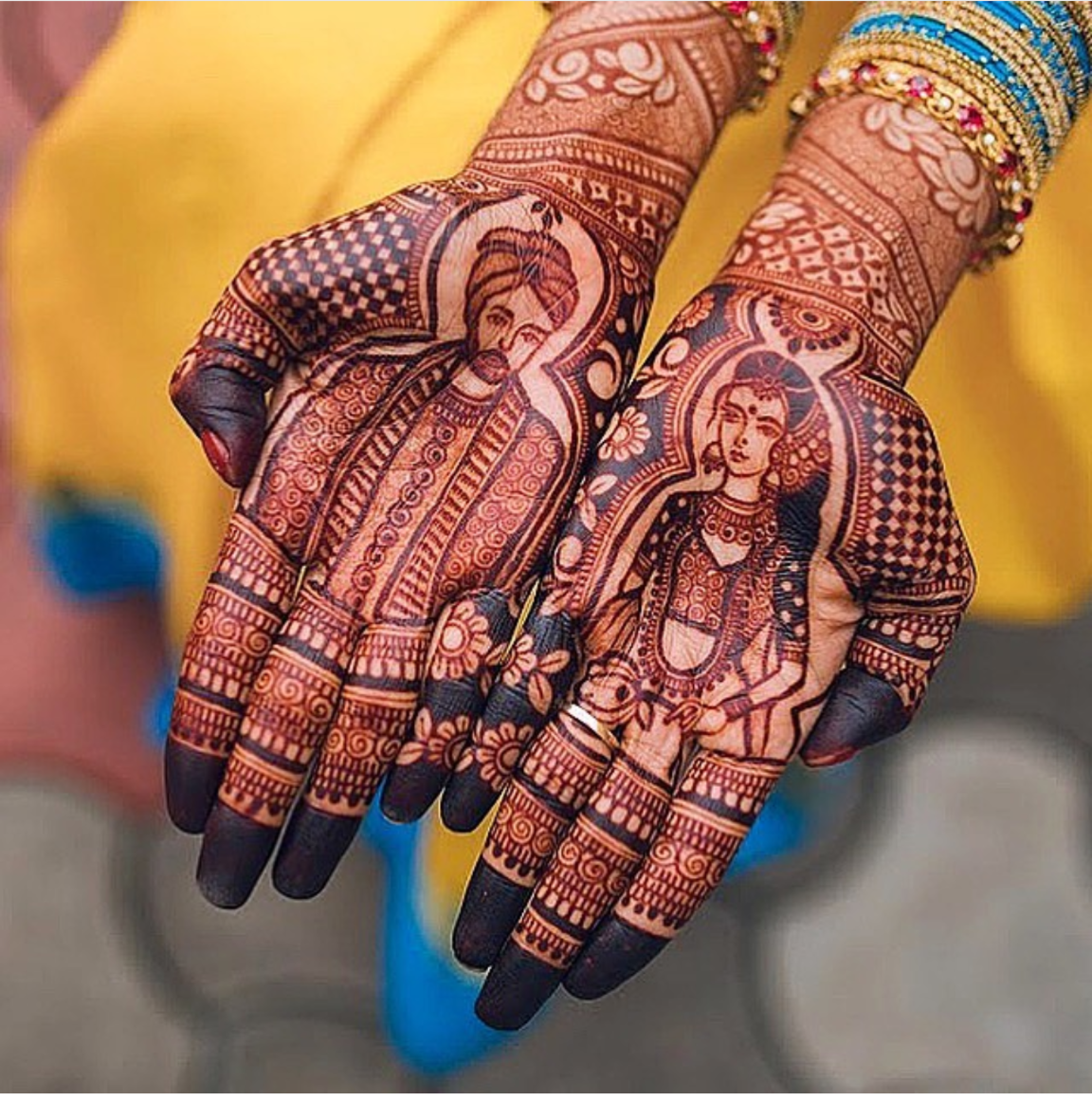 Image via Sunil Mehandi Artist
Your mehndi design can be this extra for a small wedding or a big fat one!
38. Oh, so divine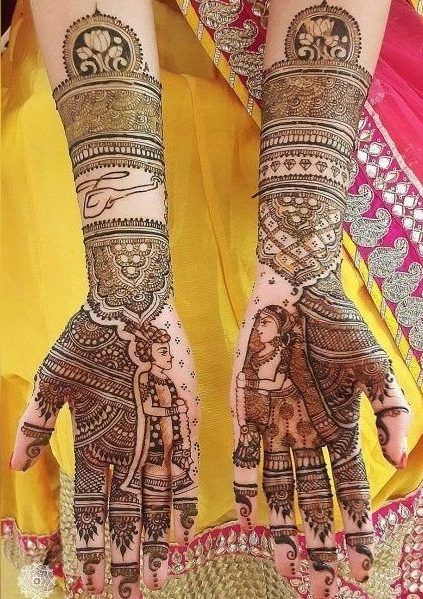 Image via Pinterest
We don't know why, but bridal henna with a 'jaimala exchange' depiction makes us go weak in the knees.
39. Hard to miss the opulence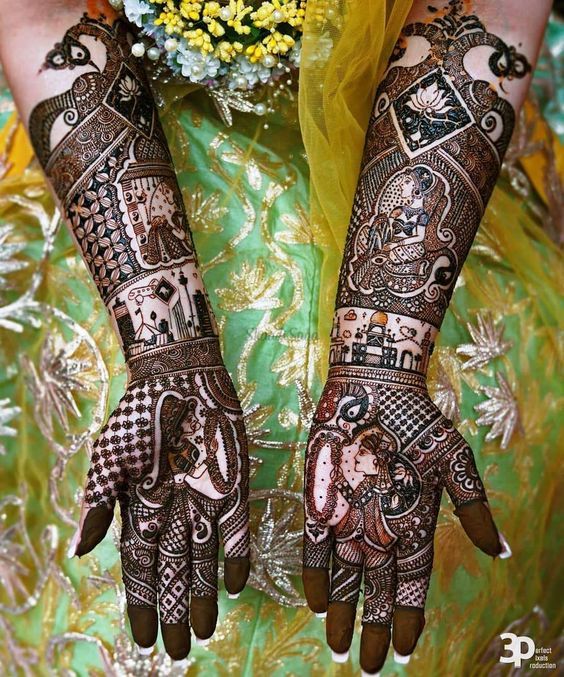 Image via Pinterest
Right from the bridal entry to jaimala and then the vidaai, this royal mehndi front hand design got everything covered. Look no further, screenshot this one now.
40. To grab 'em eyeballs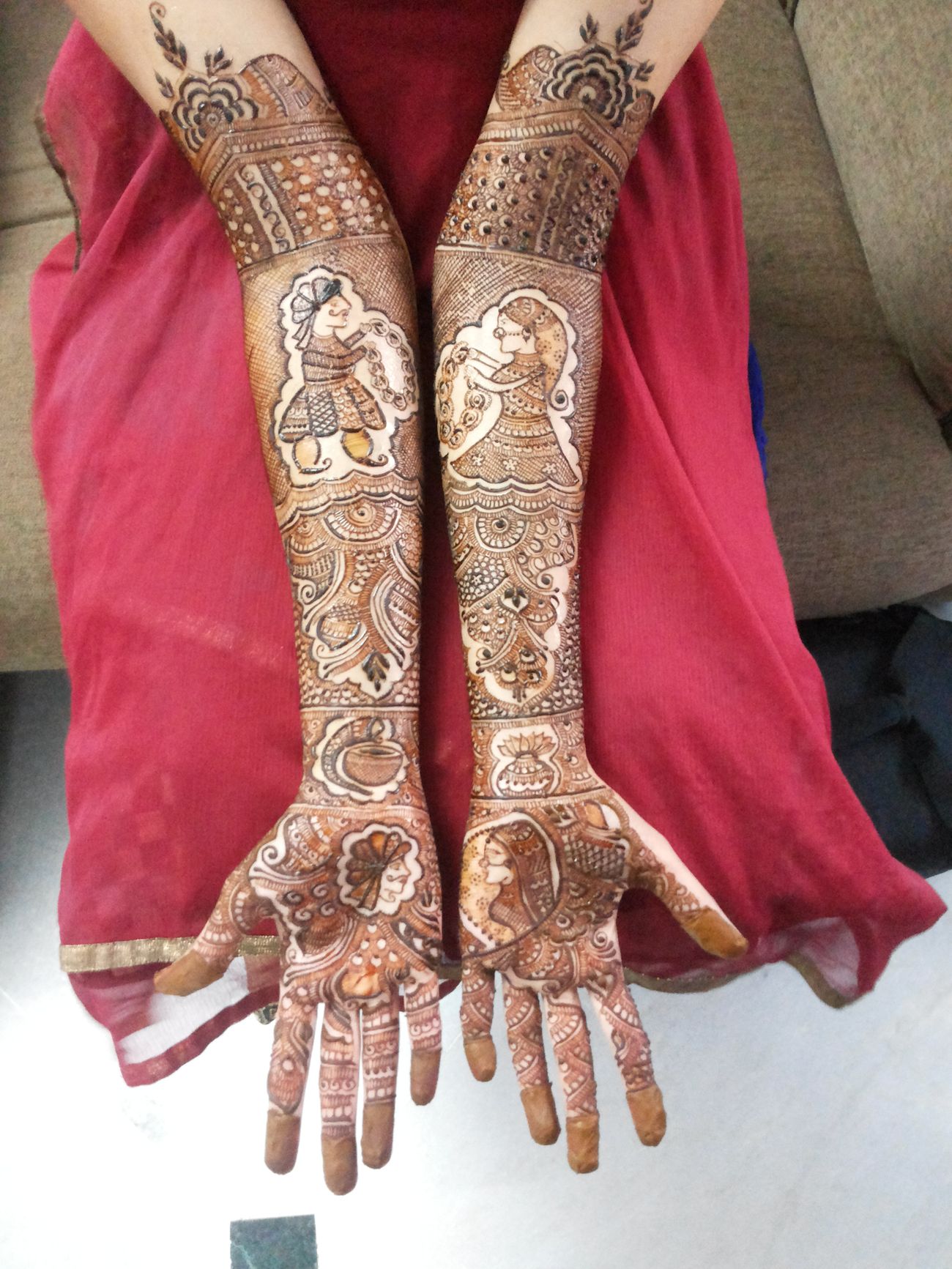 Image via Nirali Mehndi Artist 
Oh my, this full hand mehndi design is custom-made for a queen. And well every bride is a czarina on her special day, so why not!
41. Zoom in a little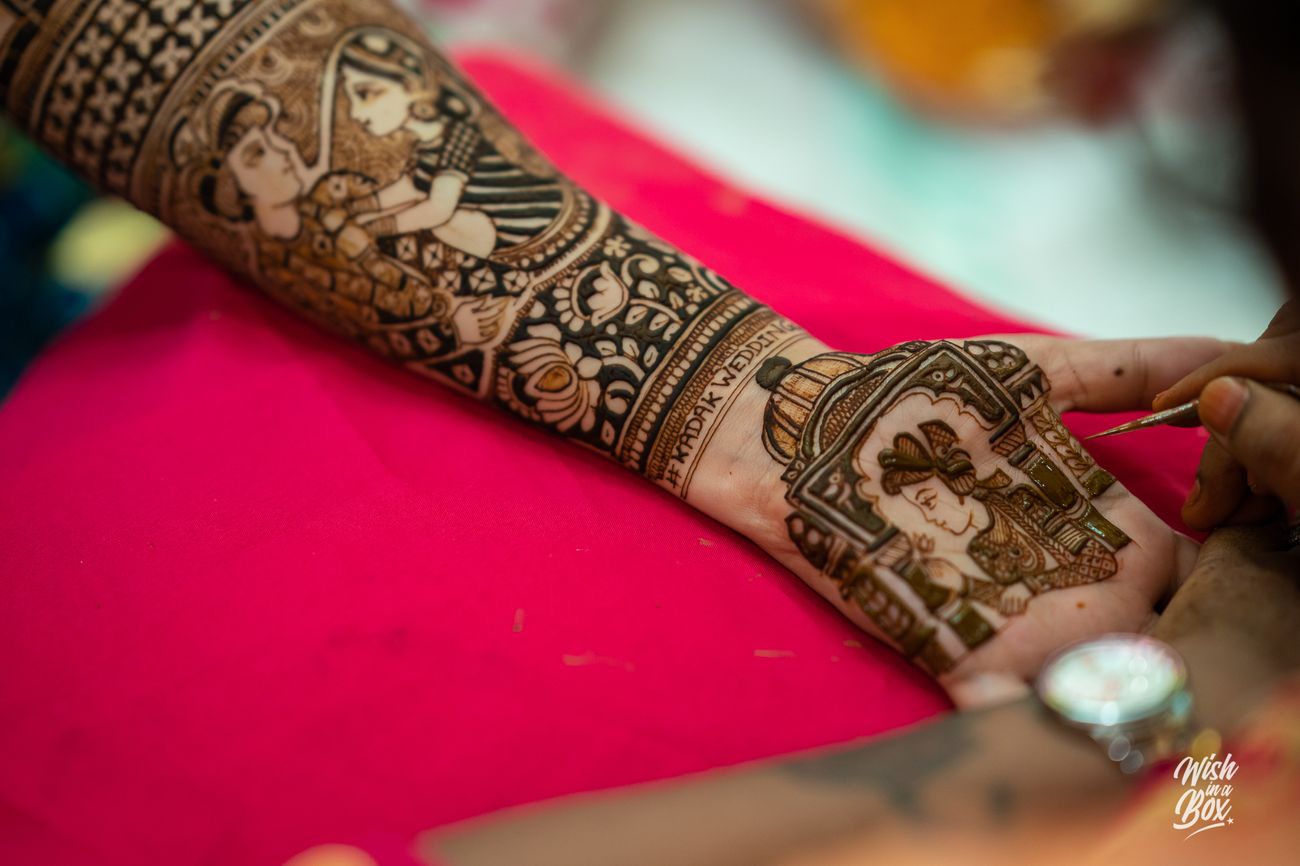 Image via Wish In A Box Studio
By now you must have fallen in love with this mehndi idea, just don't forget to BOOKMARK this one!
42. This one screams regalia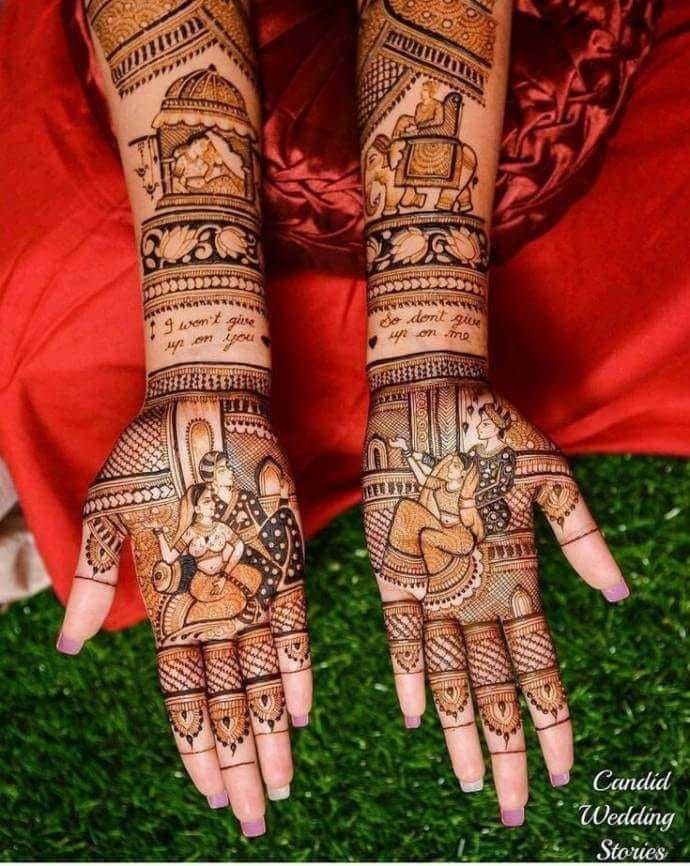 Image via Muskaan Mehendi Artist
Like we always do, saving the best mehndi design for the last!
Aren't these front-hand mehandi designs totally gorgeous to look at?
ALSO READ - 15+ Unique Finger Mehndi Designs That You'll Absolutely Love