30+ Wedding Invitation Gifts To Give Away With Your Card!
BY Sakshi | 12 Jun, 2018 | 42887 views | 4 min read
So the Ambani wedding invite got us thinking- what more can we give away with the wedding card. They gave away a Ganesha idol in a box along with the wedding card, and here are other things you could consider as wedding invitation gifts to give along with the wedding card- things edible and inedible which can be given individually or combining two of these or more!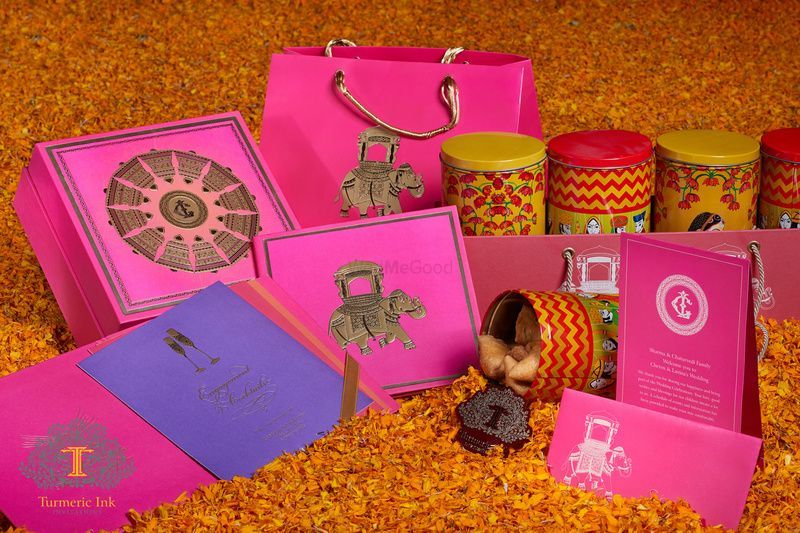 Image via Turmeric Ink Invitations and Stationery★ 4.6
Here are some inedible favours which you can consider!
Inedible
Ganesha idol
This was the Ambani wedding invite, which came along with a pretty box and a Ganesha idol in it!
Curio box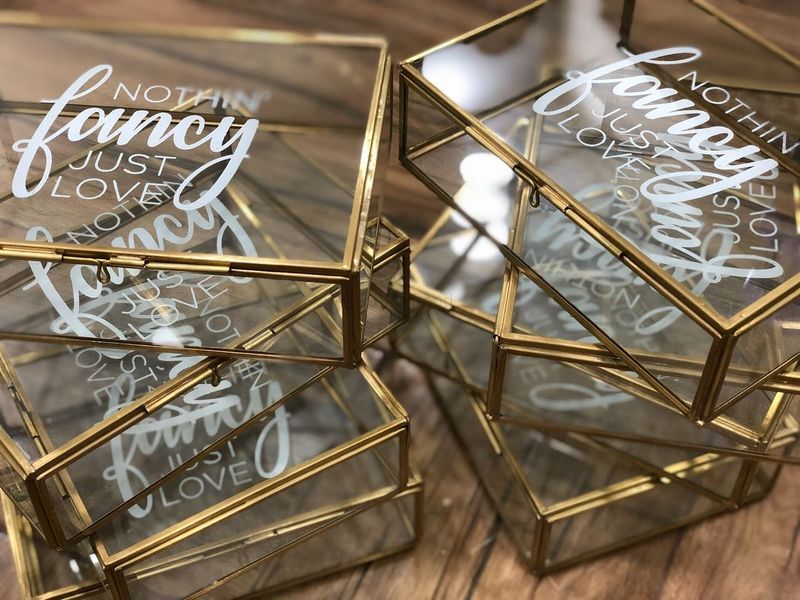 Image via Studio Works Co.★ 5
These pretty curio boxes are so pretty, and can be reused later as well!
Birdcages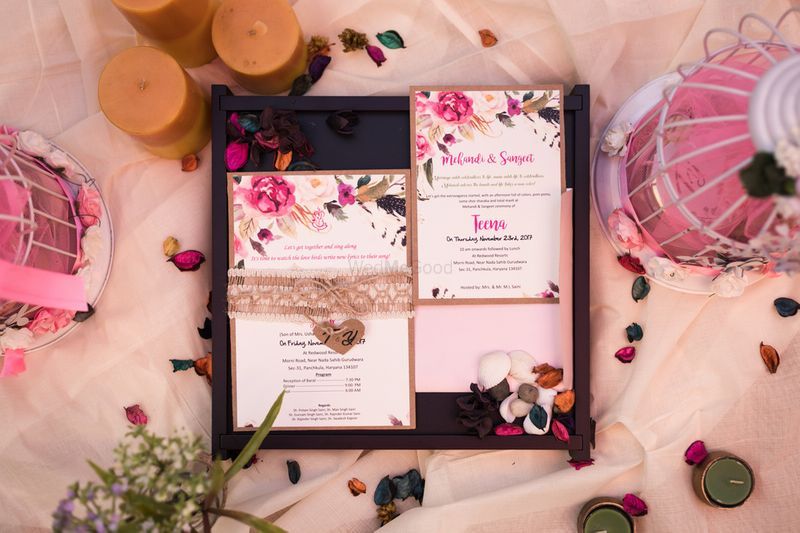 Image via Teena & Yuvraj (Chandigarh)
Cute edible favours in birdcages are also a nice little addition with the wedding invite!
Decoration item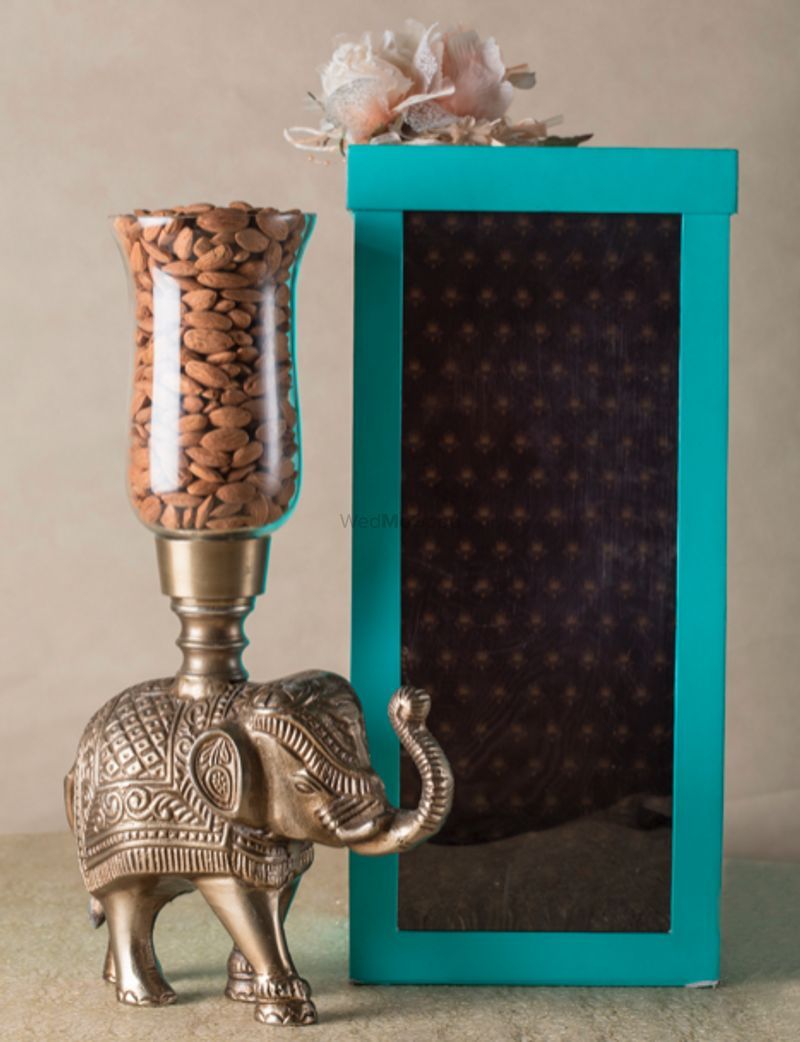 Image via Core Designs
A cute little artefact along with the card- useful and memorable!
Plant or sapling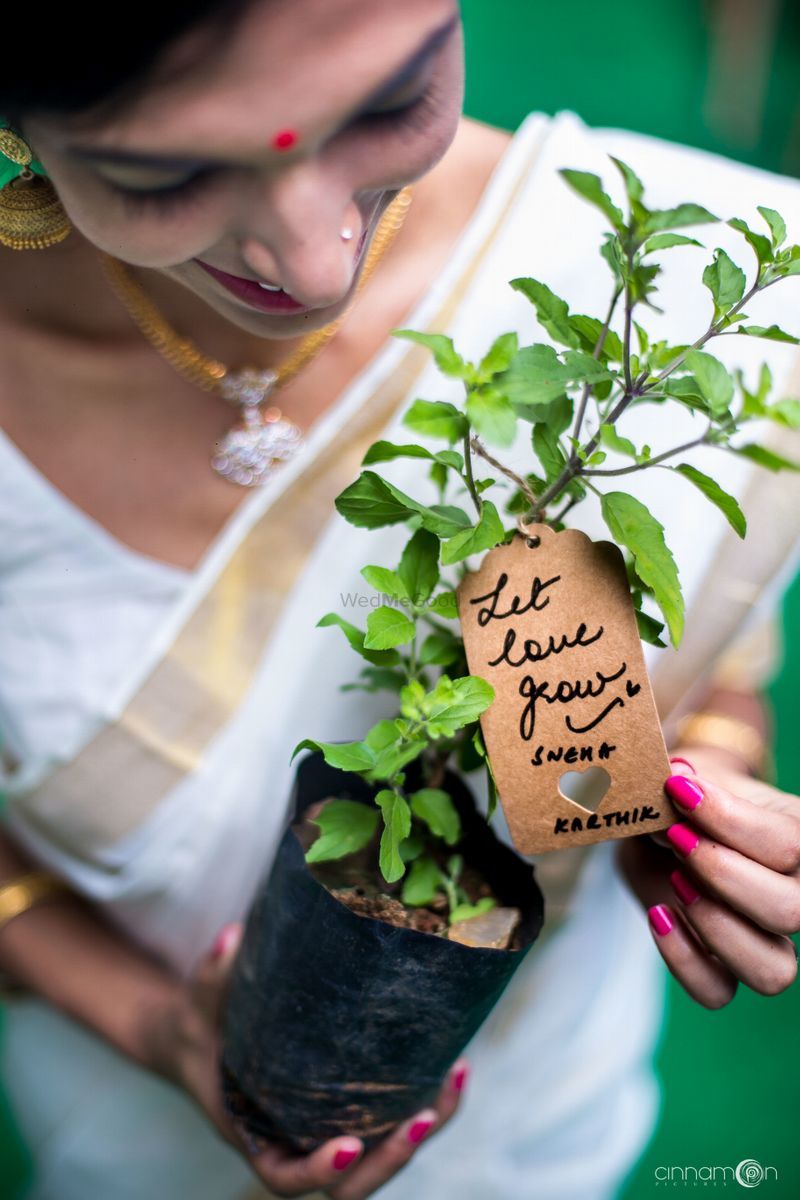 Image via Cinnamon Pictures★ 5
A cute little gesture this is- and who can say no to this!
Or seeds that can be planted!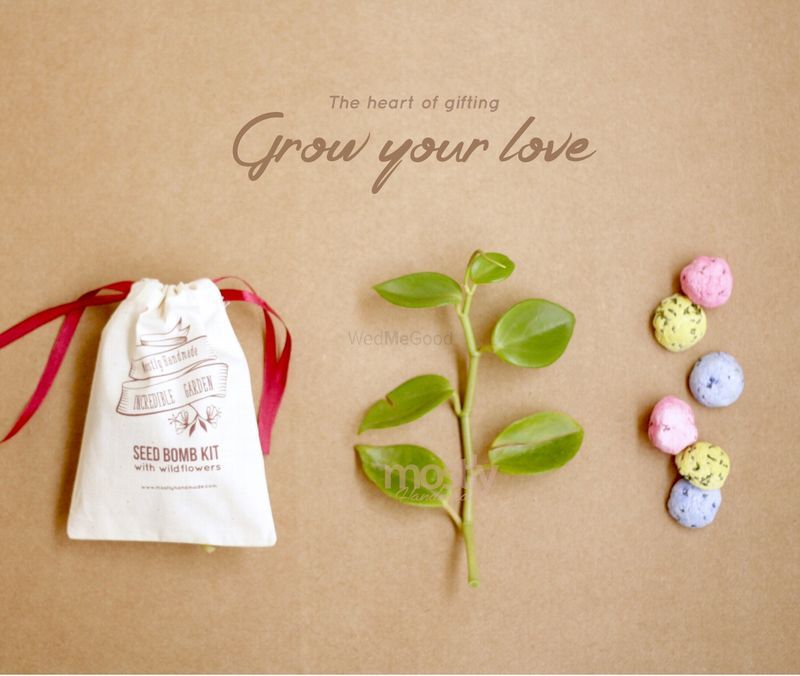 Image via Mostly Handmade★ 5
Seeds are an amazing gift too! So easy to carry, especially when you have to send them long distance!
Coaster set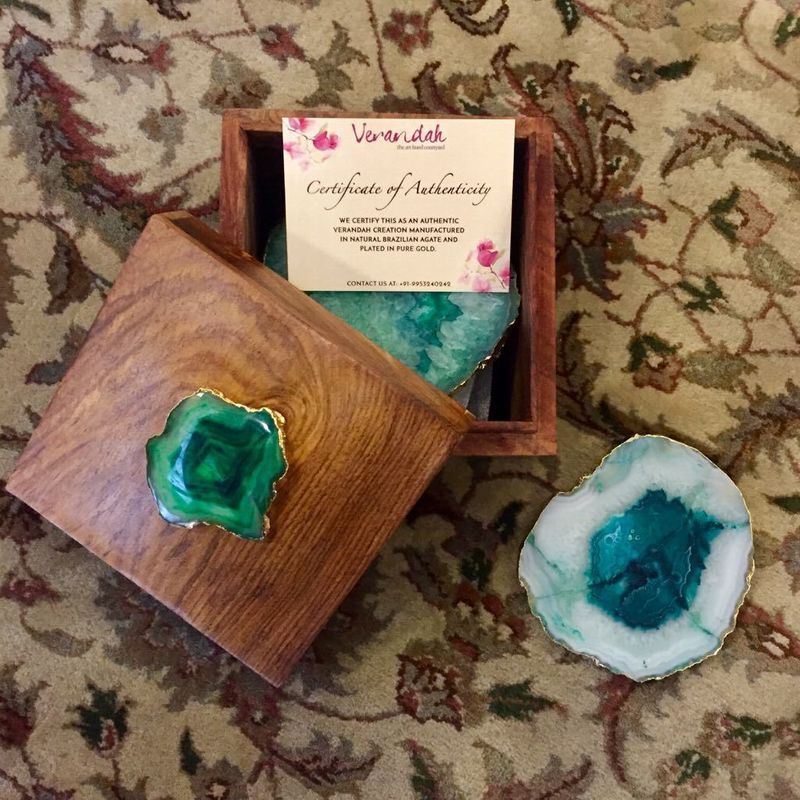 Image via Verandah The Art Hued Courtyard★ 5
So pretty, and super useful!
Customised coasters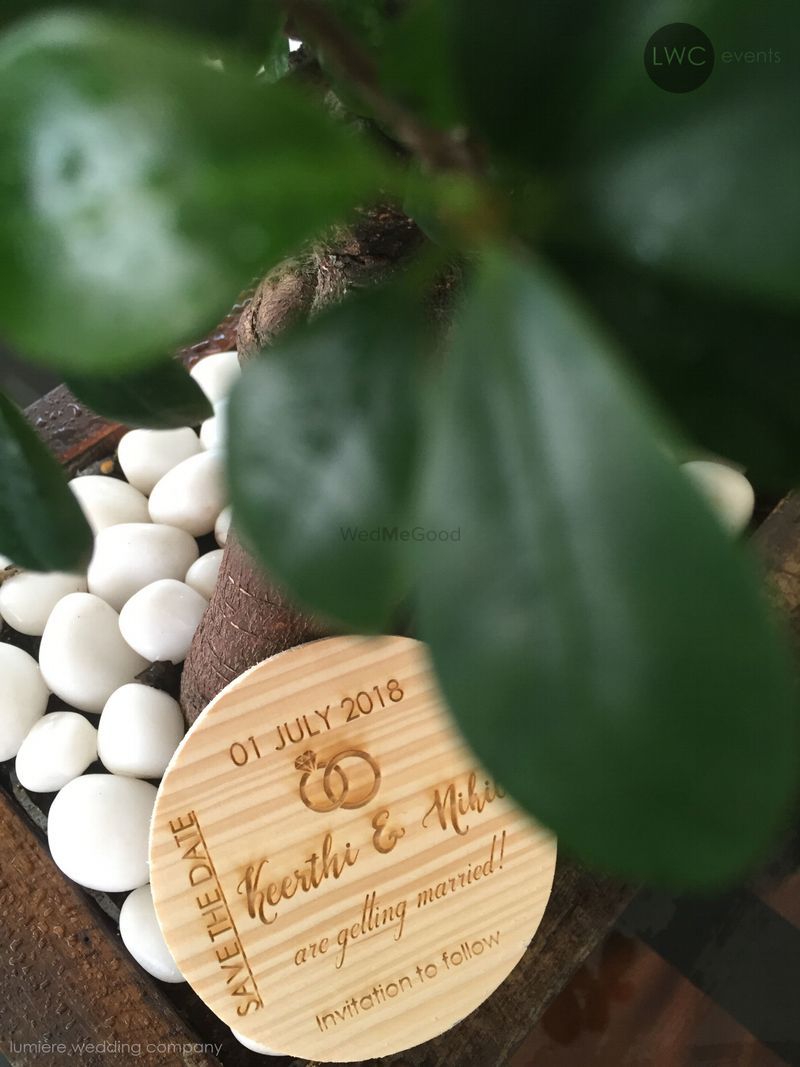 Image via LWC Events
Coasters are always useful and handy, and giving them away, whether plain or customised is a great idea for a giveaway with your wedding card!
Candles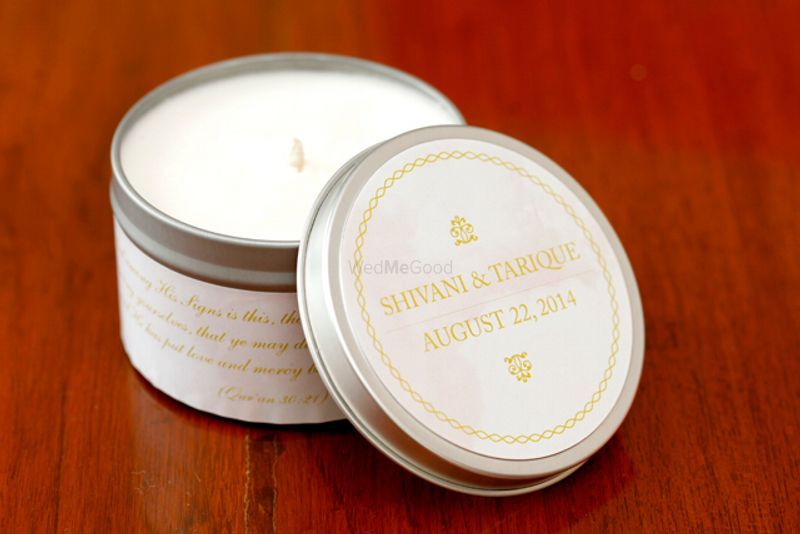 Image via Niana★ 5
Candles are also nice as wedding giveaways, and so practical too!
Cup sets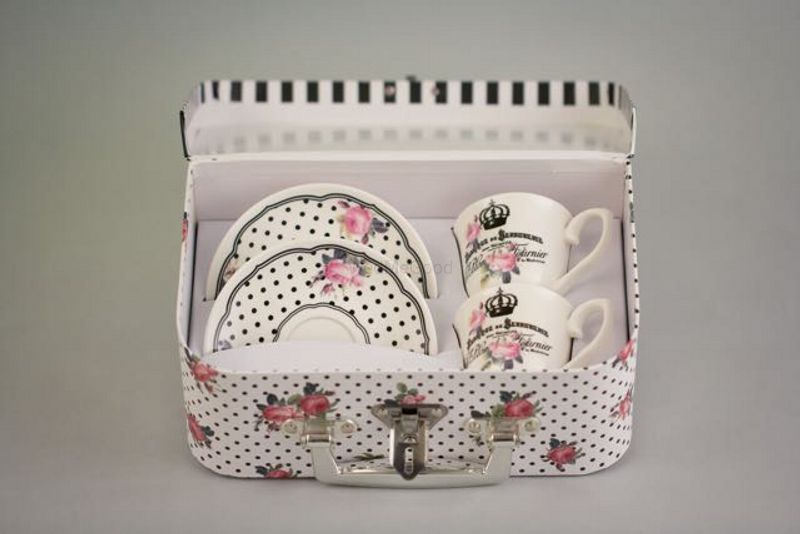 Image via The Parisian Affaire
Cute couple cups that are packed so well!
Salt and Pepper shakers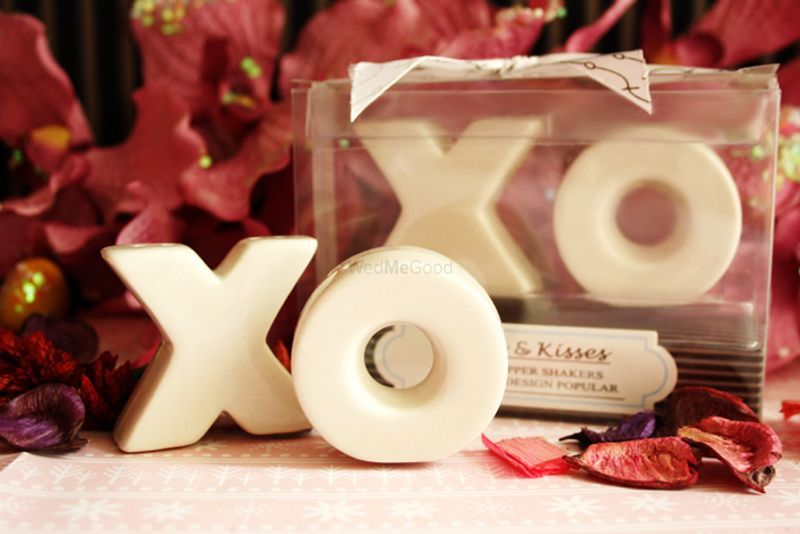 Image via Confettish Innovations★ 4.9
Cute salt and pepper shakers- and shaped like that? Super cute!
Handpainted boxes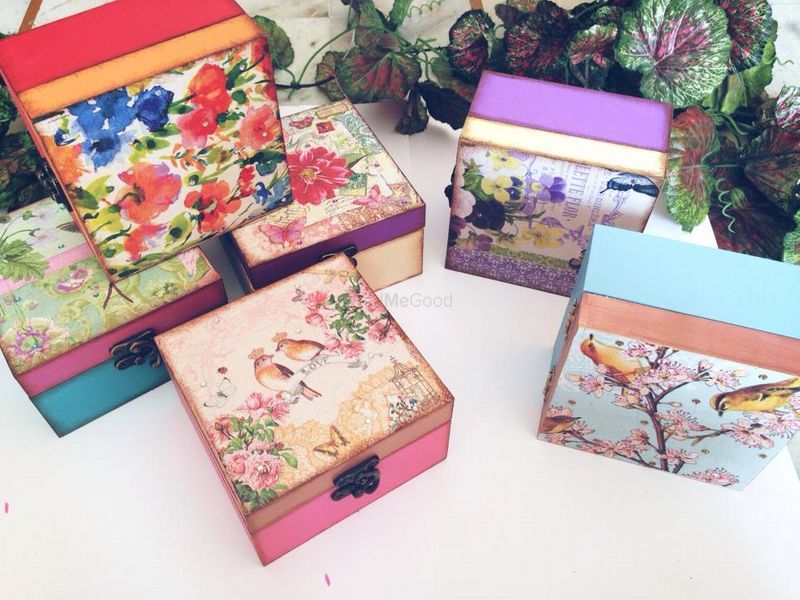 Image via The Art Box★ 5
How pretty are these boxes- and can be reused later for jewellery or just about anything!
Trays and platters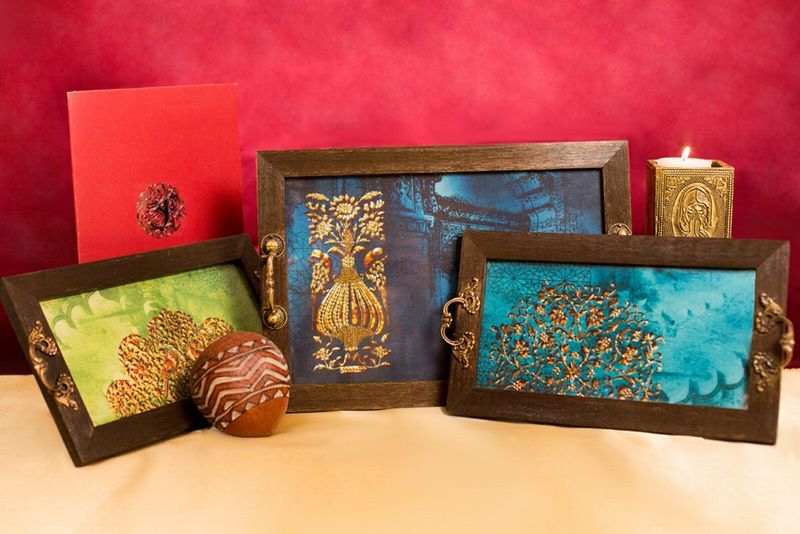 Image via The Art Box★ 5
Always useful around the house!
Luggage tags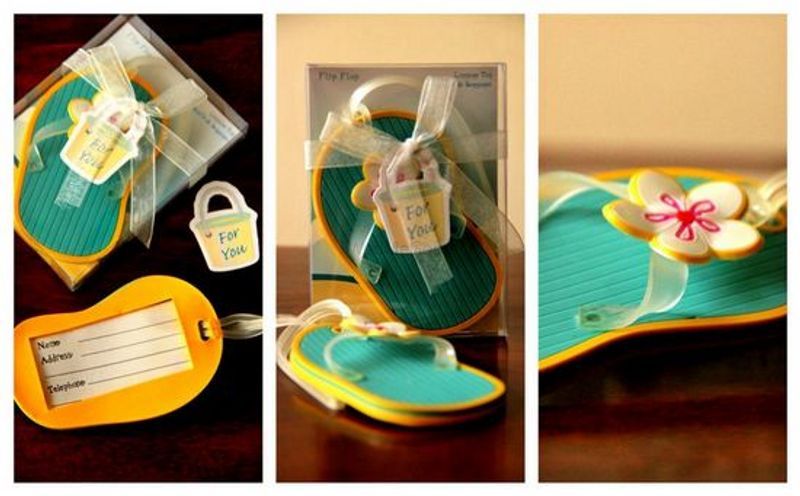 Image via Confettish Innovations★ 4.9
Luggage tags for a destination wedding- we love the idea!
Edibles
Flavoured sugars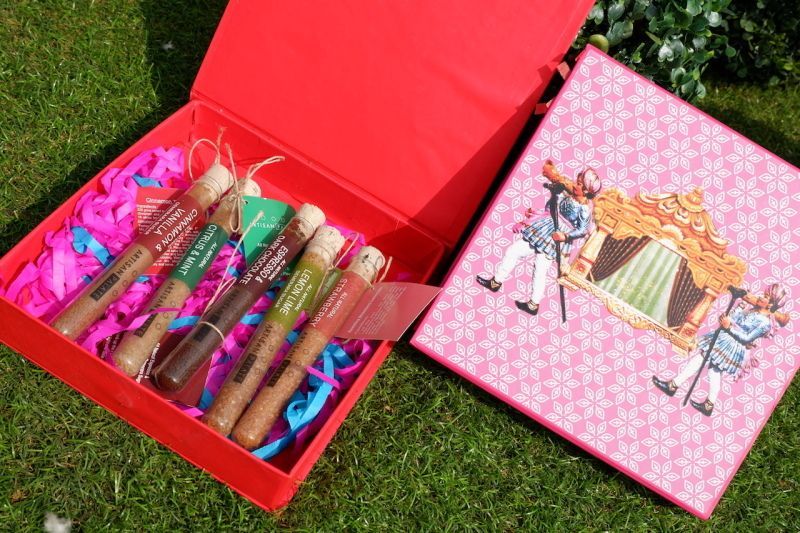 Image via Nirali and Ribhu's Wedding
A new idea which we love- looks and tastes nice!
Flavoured almonds
Image via Little Farm Co.
Ever seen almonds like that? You get them in a variety of cool flavours now!
Gourmet Butter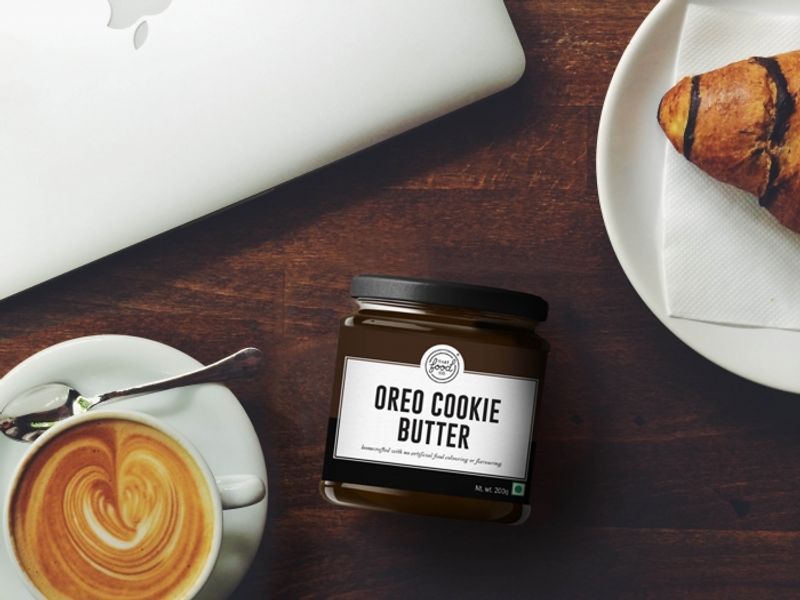 Image via www.placeoforigin.in
When you don't wanna be boring! Get miniatures in different flavours! So yum!
Handcrafted Granola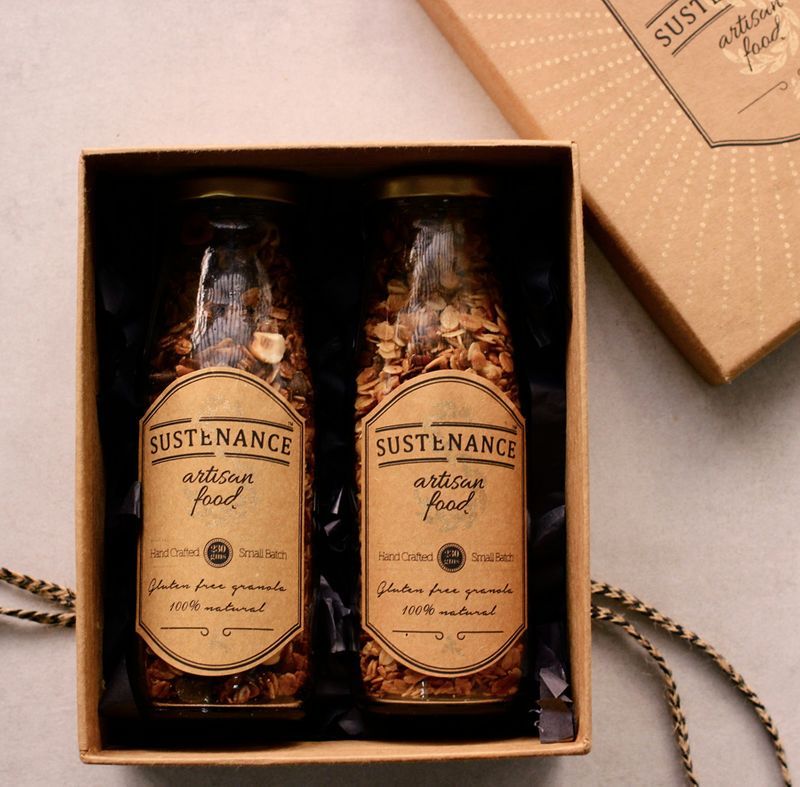 Image via Sustenance Food
For the health conscious people today!
Gourmet Popcorn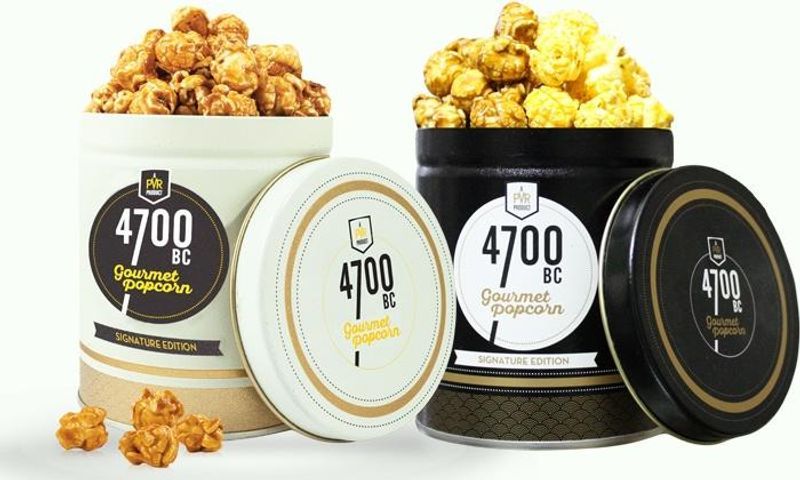 Image via 4700 BC
'Cz who doesn't love popcorn?
Custom-printed goodies
Image via Amazeology India
From custom-printed macarons to mithai, anything is possible these days, and looks so cool!
Marmalades or jams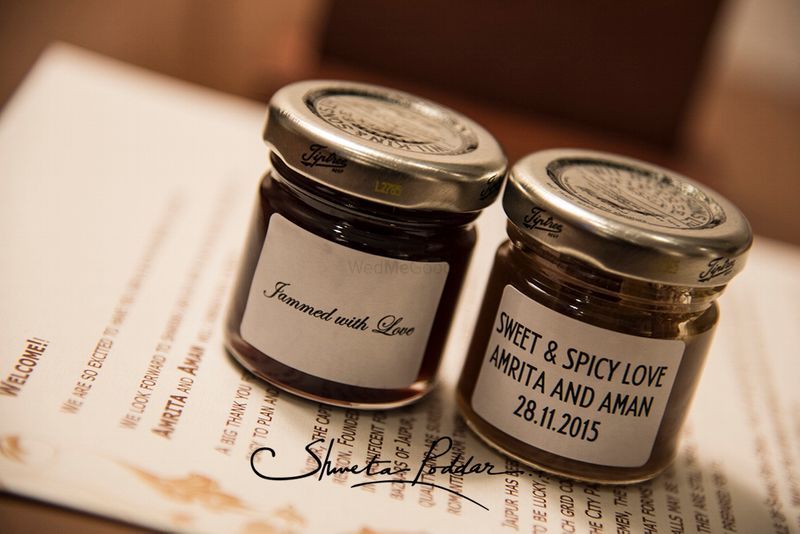 Image via Shweta Poddar Weddings★ 4.9
How cute is that caption? Jams and marmalades are a fave, and nice to give with your wedding invite too!
Spice boxes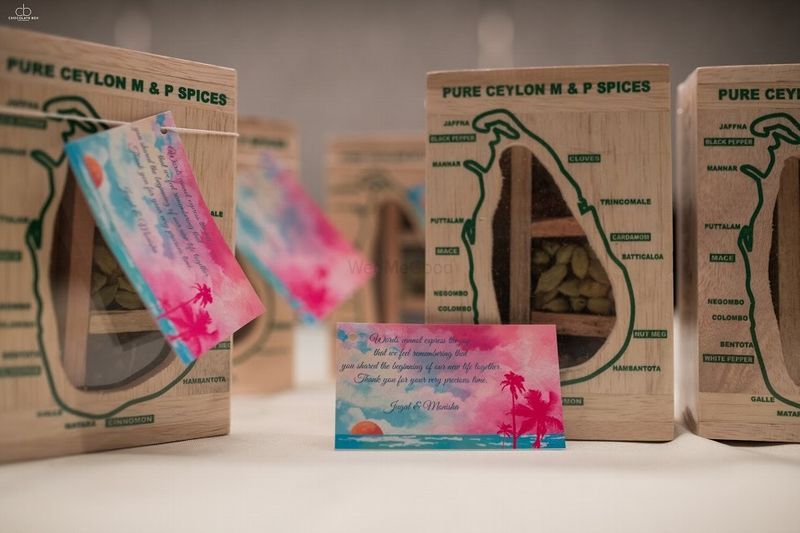 Image via Anyonya★ 4.6
Spice boxes from Kerala or Sri Lanka
Wedding theme sugar cookies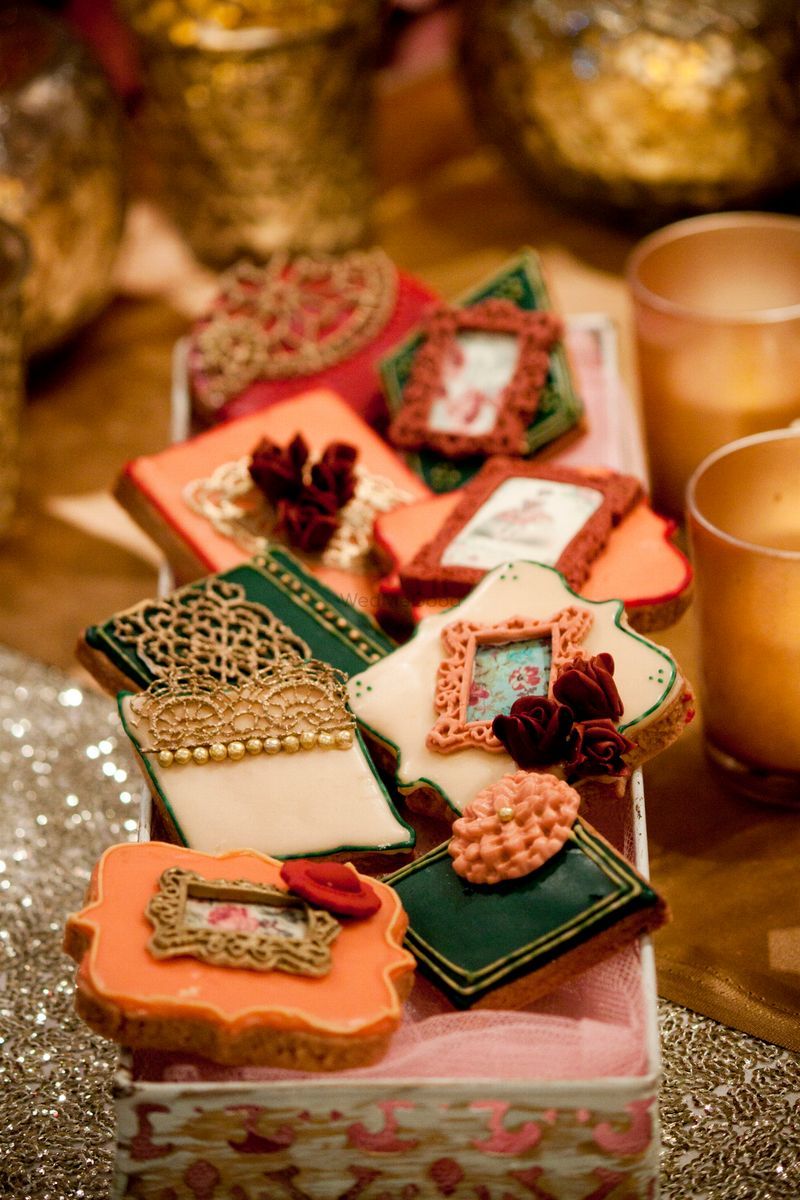 Image via Vintage Nutters★ 5
How pretty are they? Sugar cookies are customisable and pretty!
Cookies in a jar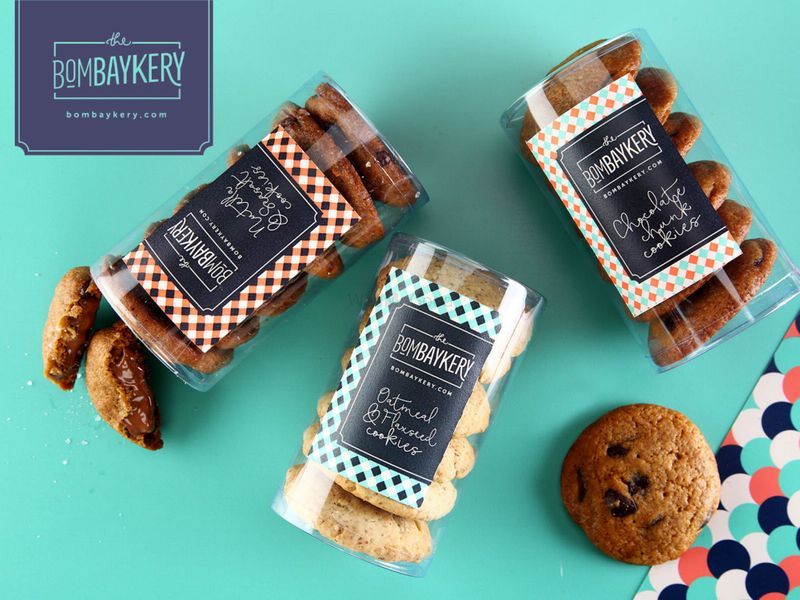 Image via The Bombaykery★ 5
Or you could go old-fashioned and give cookies, but packed with a twist!
Handmade Boutique Mithai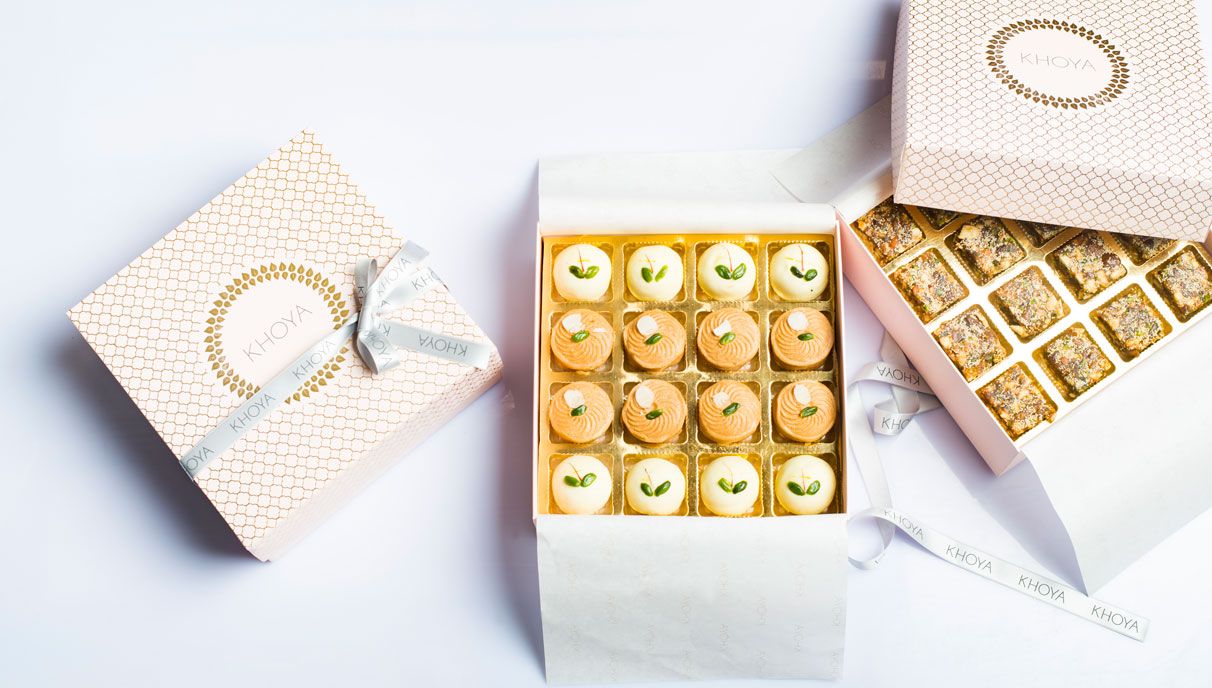 Image via Khoyamithai.com
'Cz normal mithai is super boring now!
Chocolates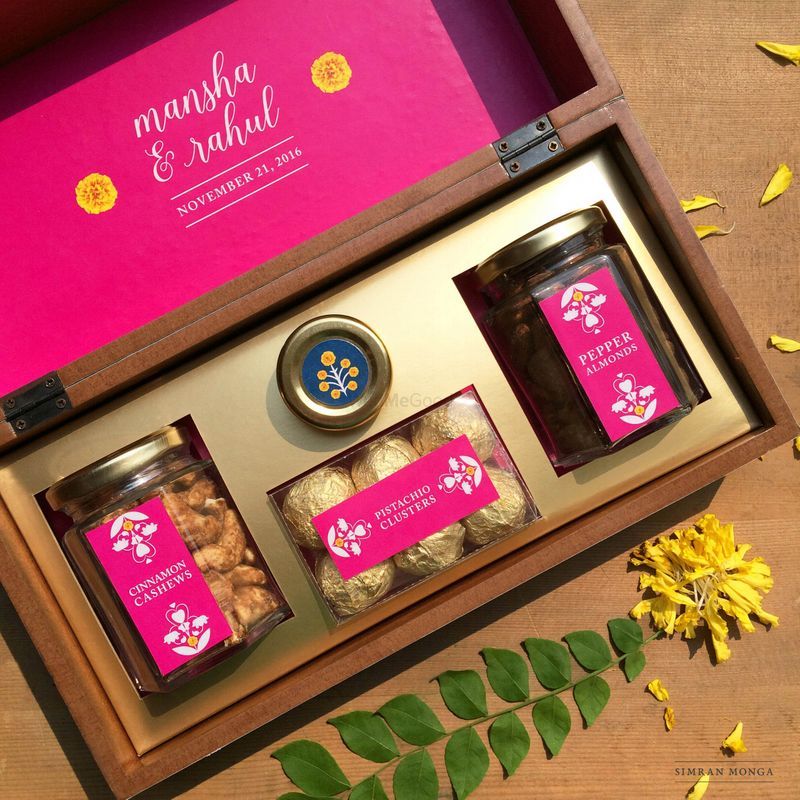 Image via Designs by Simran Monga
Chocolates are always a favourite!
Artisanal Coffee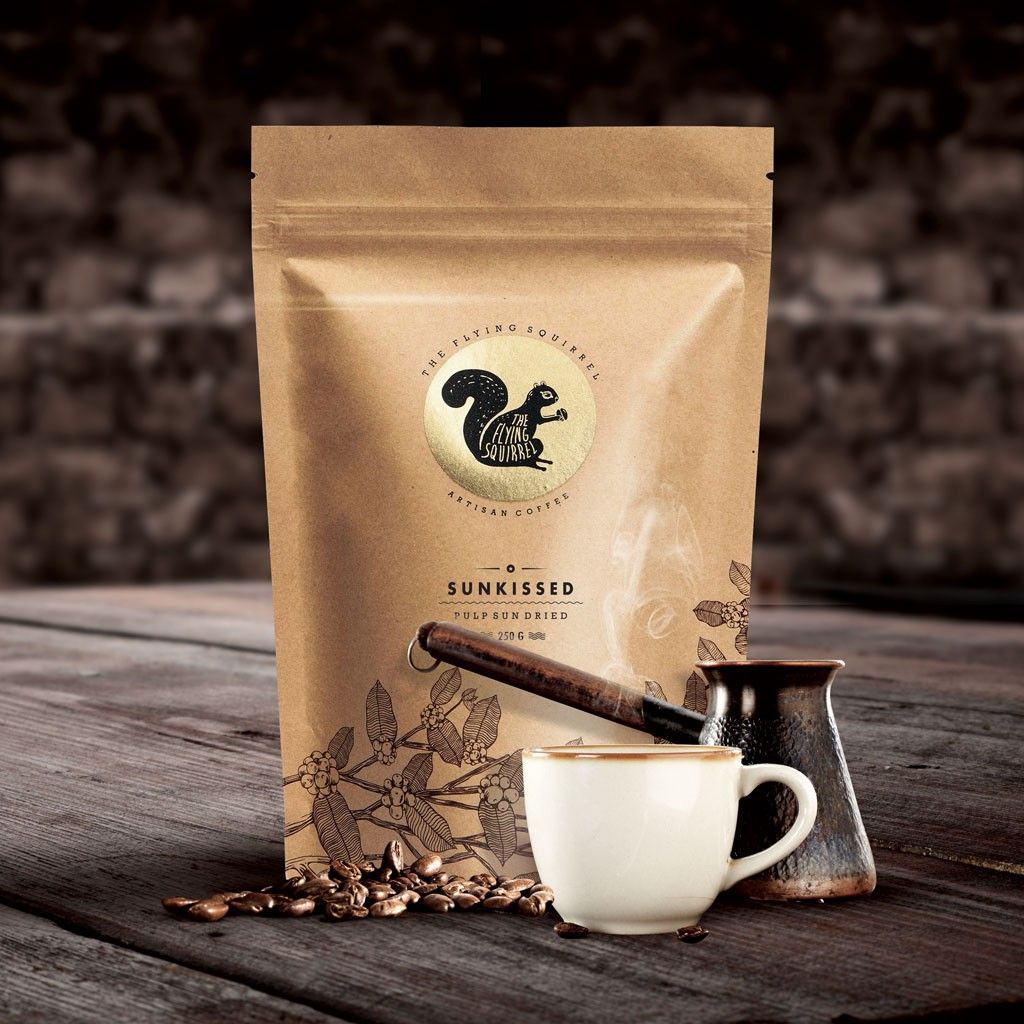 Image via The Flying Squirrel
Let them try something new and interesting!
Handmade artisanal chocolates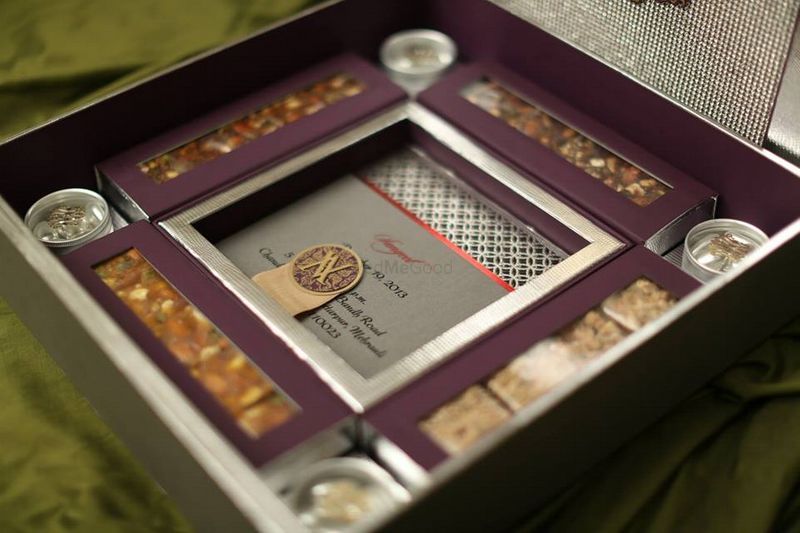 Image via Bruijn
When normal chocolates get too boring, give artisanal handmade ones a shot!
Chocolate soil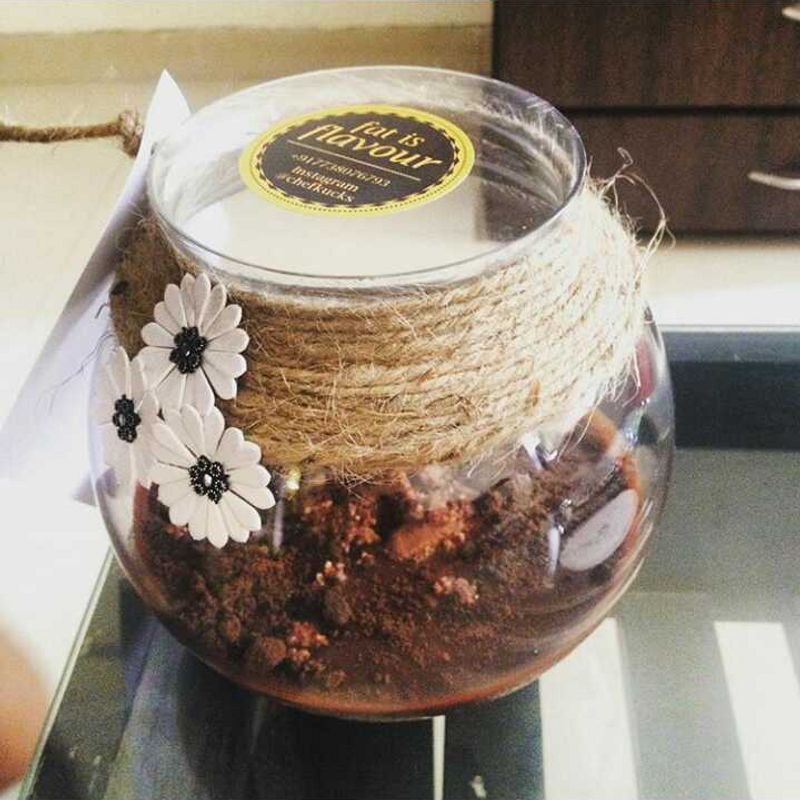 Image via Fat is Flavour★ 5
When it's packaged like that, yes please!
Exotic tea sets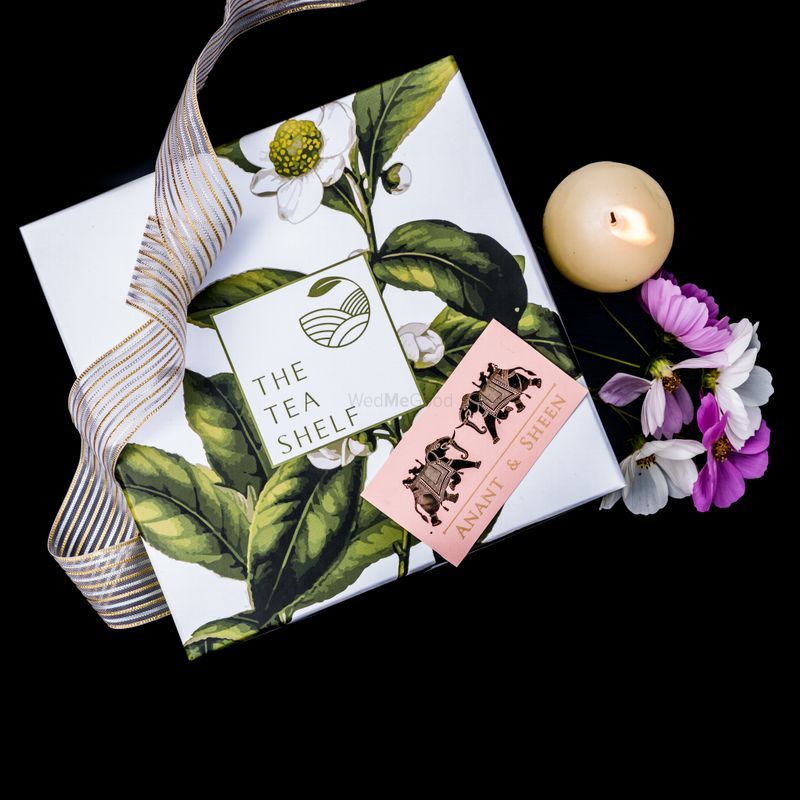 Image via The Tea Shelf★ 3.9
Exotic teas packed beautifully!
Seed Mixes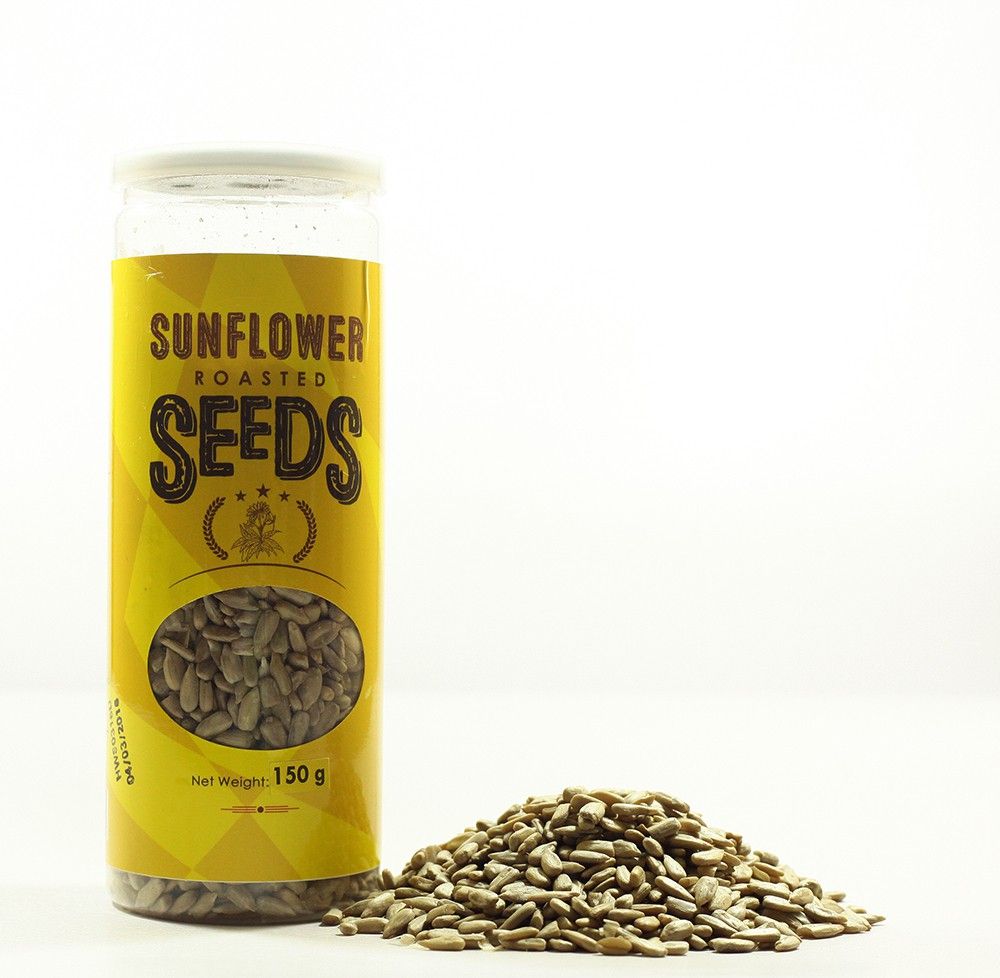 Image via True Elements
Yes, healthy and wholesome!
Organic Honey Sachets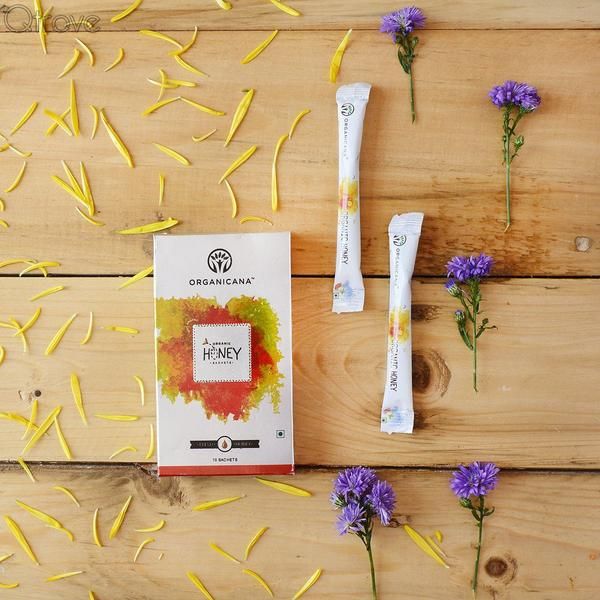 Image via Organicana Honey
So cute and so handy! Flavoured organic honey sachets are cute and easy!
Preserves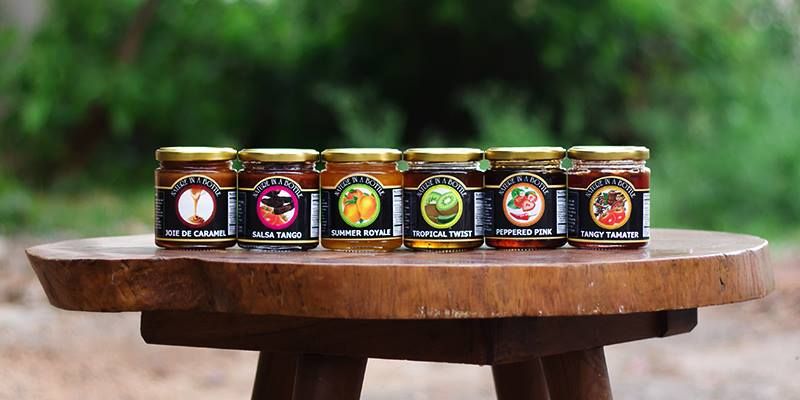 Image via Nature in a Bottle
Whether its pickles or preserves, they are a good choice too!
Personalised candy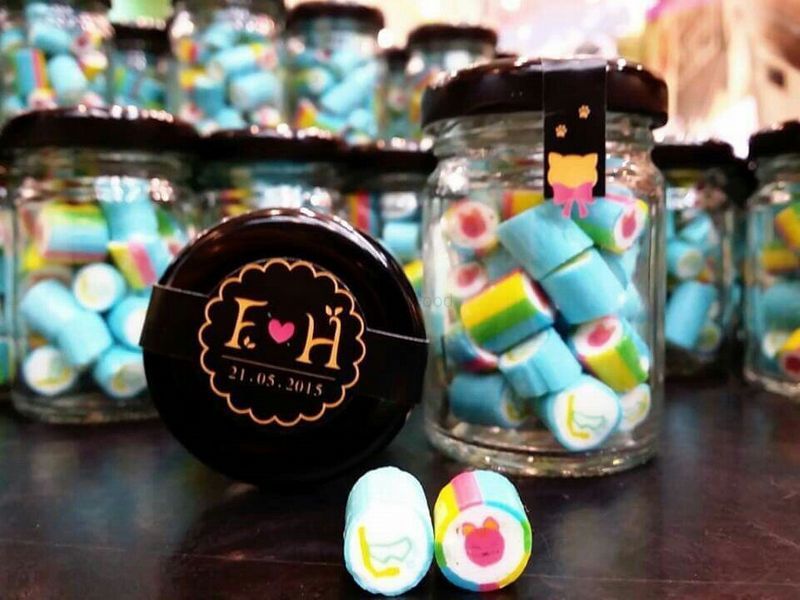 Image via Made in Candy
Candy with your initials- so super cute!
Personalised cupcakes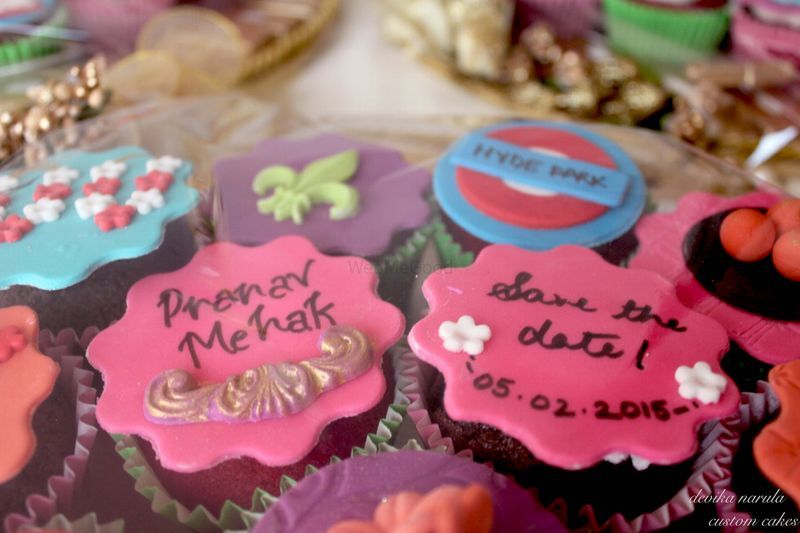 Image via Devika Narula Custom Cakes Favors
Personalised cupcakes with your names and your wedding date!
Coffee and muffins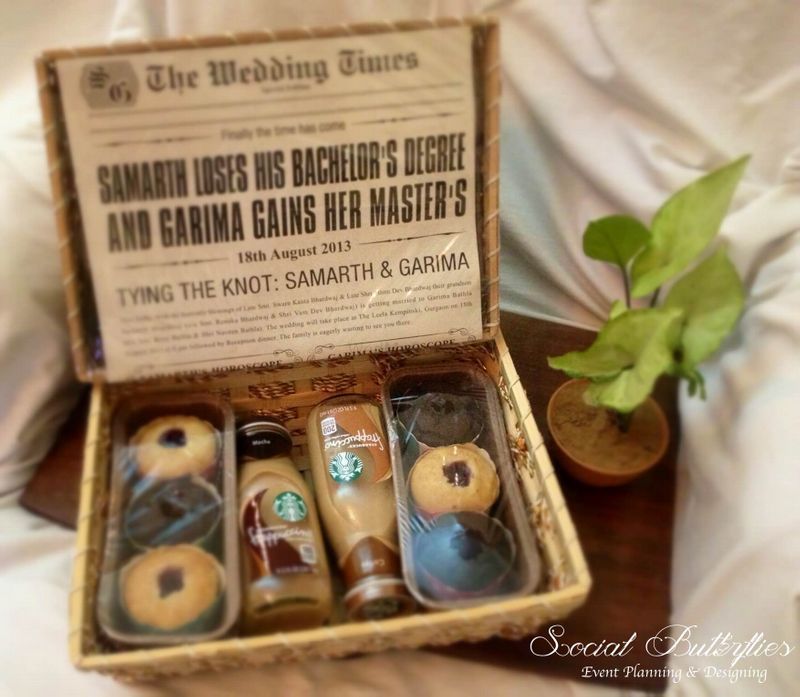 Image via Social Butterflies★ 5
A combination they just won't be able to resist!
Dry fruits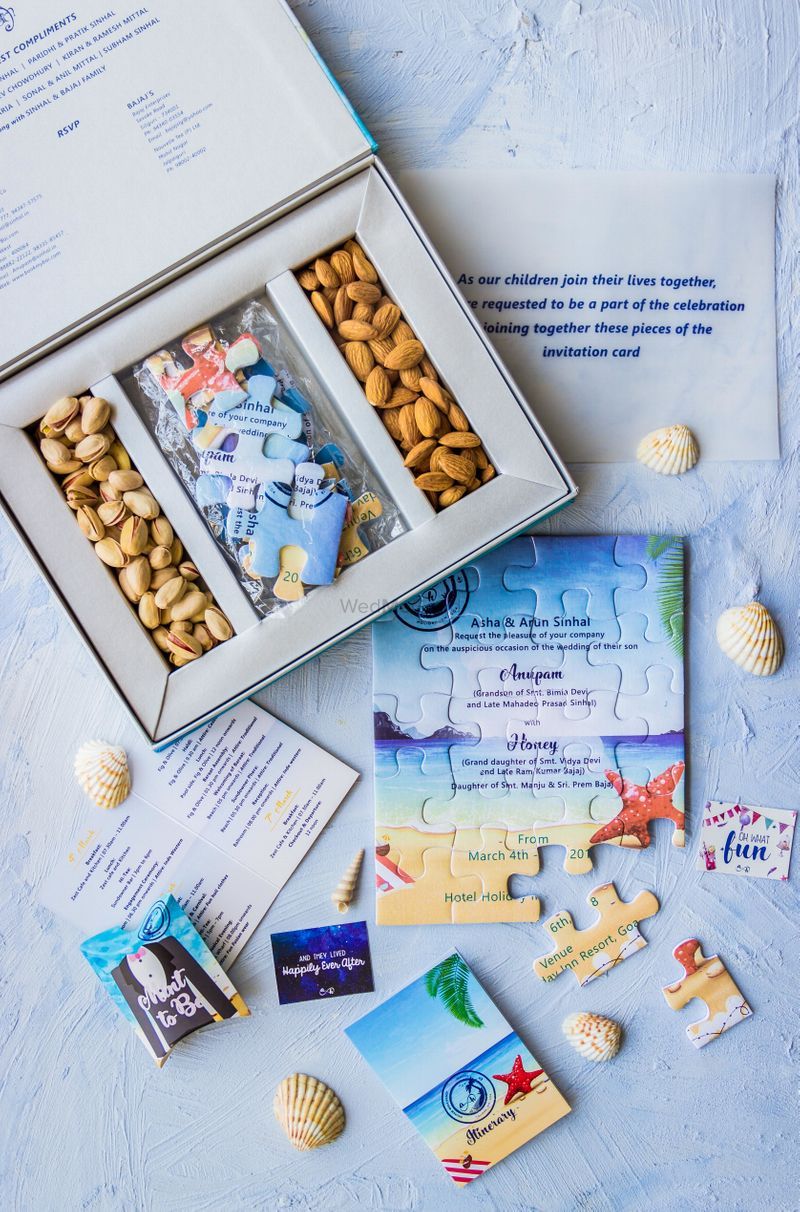 Image via Flying Elephant Designs
'Cz they're an evergreen favourite!
ALSO READ: 11 Yummy New Things To Give With Your 2018 Wedding Invite!
Invitation Card Makers Reveal: One Trend Or Colour Palette That Will Be The Next Big Thing!