4 Uber Fun Decor Ideas for Your Mehendi !
BY The WMG Bride | 14 Apr, 2014 | 9261 views | 3 min read
Incase you didn't notice, we just went live with four of our favourite wedding decorators in Delhi - which you can check out here :
WMG Dream Team Decor Members
. While browsing through their work,  we just COULD NOT wait to give you these super fun decor ideas we spotted. Casual, Laid Back and super fun -Mehendi events are definitely the kickstart to your wedding celebrations !  These 5 decor ideas, all of which have been executed by some fabulous Delhi Decorators will ensure that the mehendi is not just about those squiggly lines on your hand!
#1 The "Vehicle Trend" on your Mehendi Event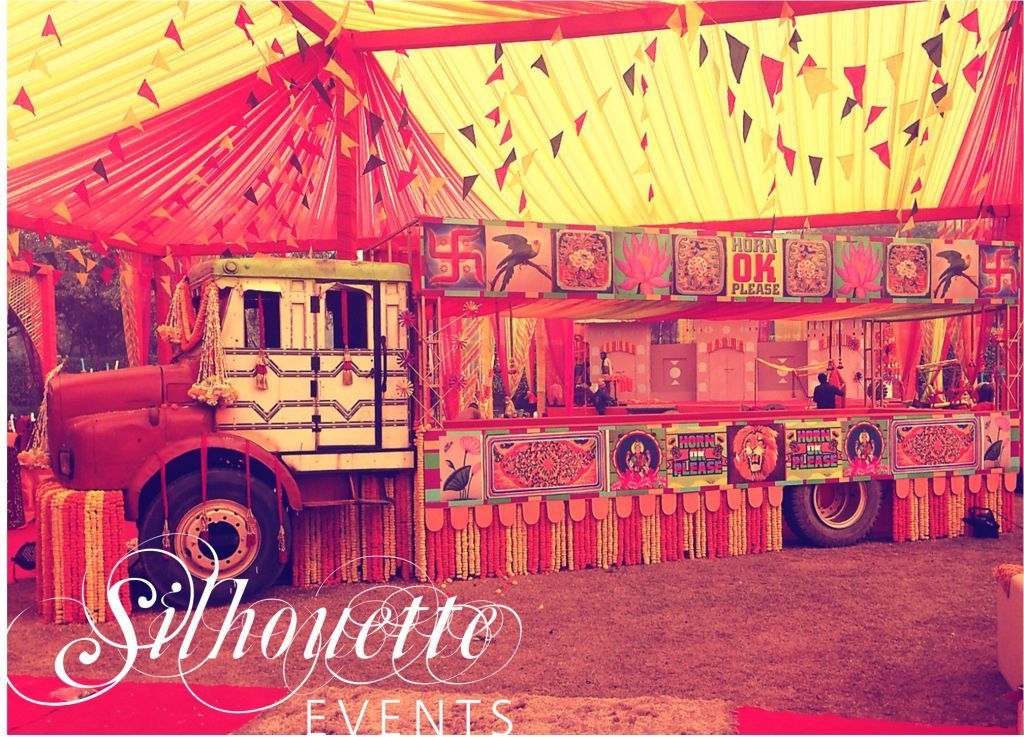 Probably our most favourite mehendi decor trend is having a truck for your bar !!! SO SUPER fun, the truck adds that perfect amount of kitsch and pizazz to your wedding and its something that will be talked about.
Executed by
: This was done by a decorator on our dream team-
Silhouette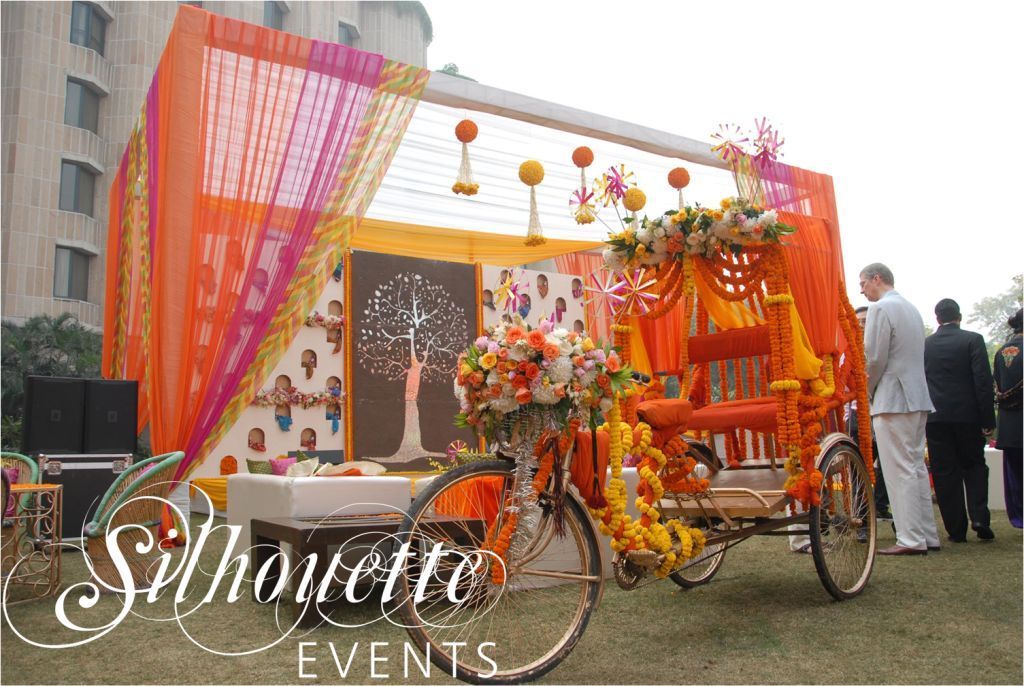 The Rickshaw is another popular vehicle doing the rounds of mehendi events !! Dress it up in yellow and orange and circle your venue with your husband!! Makes a great photo op as well!!!
Executed by:
This too has been done by
SIlhouette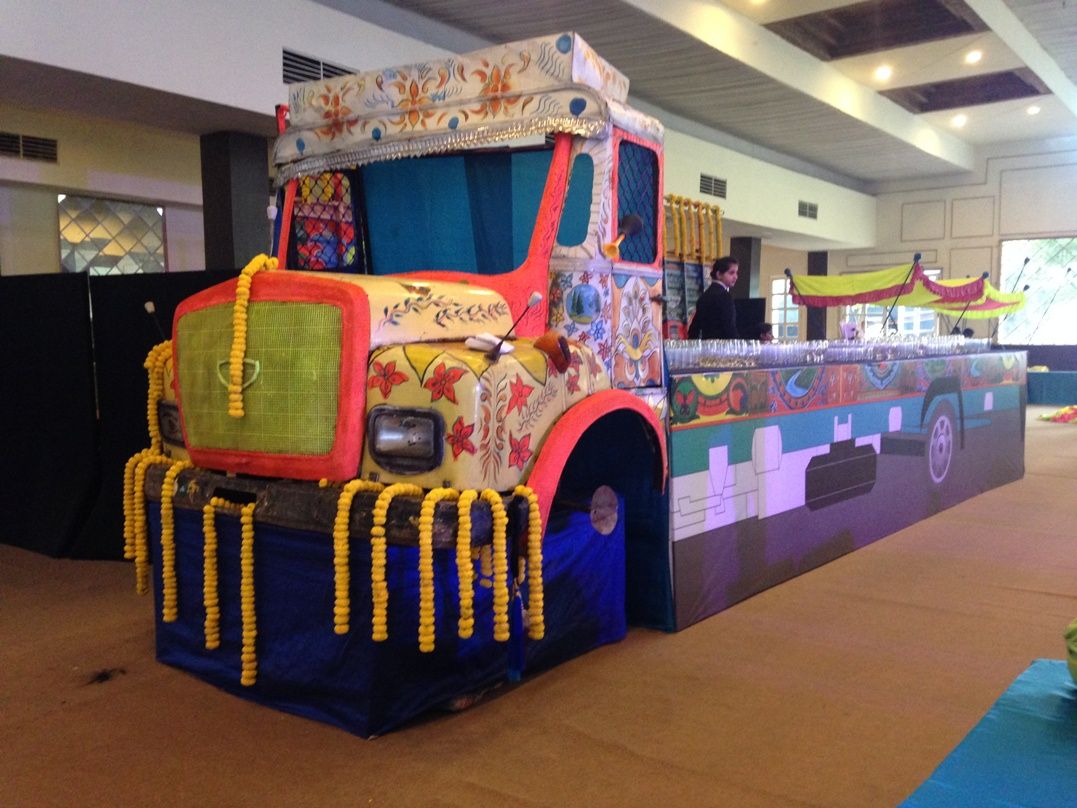 Another truck we spotted.
Decor Executed
by: Another one of our favourite decorators on our dream team
- Wedding Commitments
#2 The "Pamper Me" Cushions Decor Trend
Seriously, this  decor idea is a MUST do for every self obsessed bride (which basically means every Indian bride  ever born).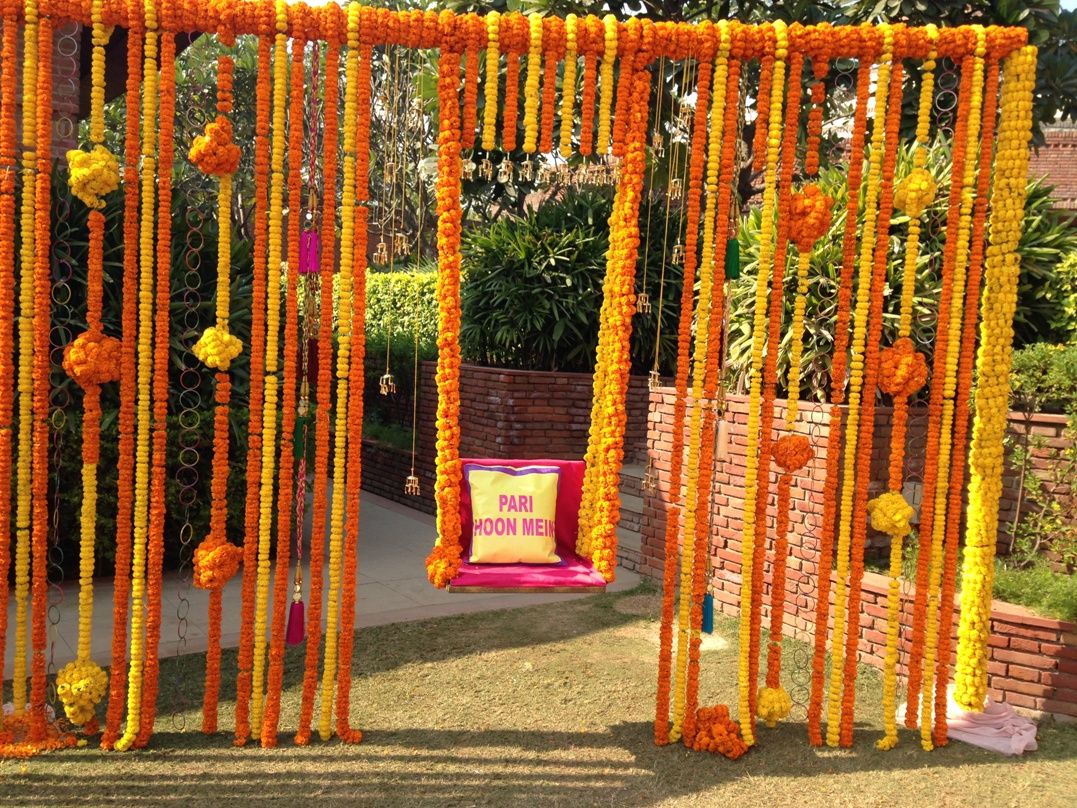 The "Pari Hoon Mein" cushion - just incase anyone had a doubt you know?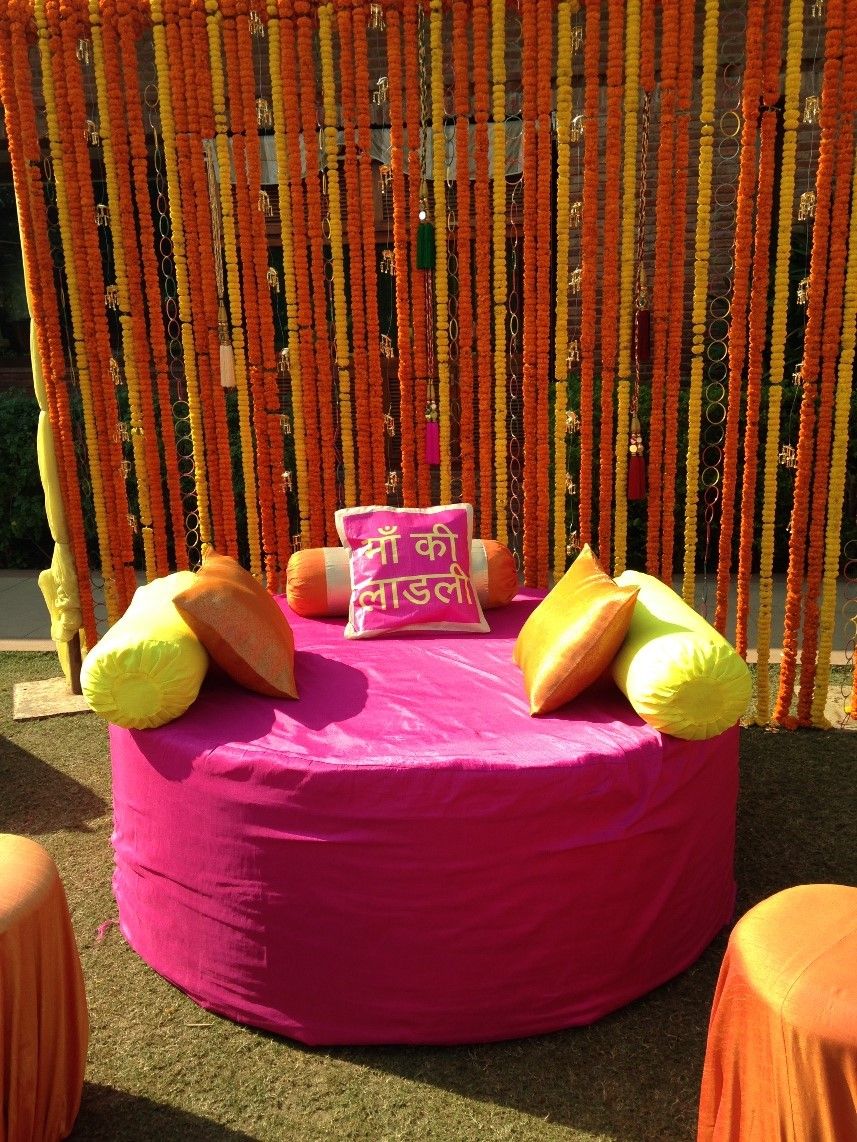 The "Maa Ki Laadli" cushion- or switch it up with "Daddys Little Princess"
SO CUTE. Both of the above have been executed by WMG Dream Teamer- Wedding Commitments
#3. The "Parandis and Jhoolas" to form a flea market decor trend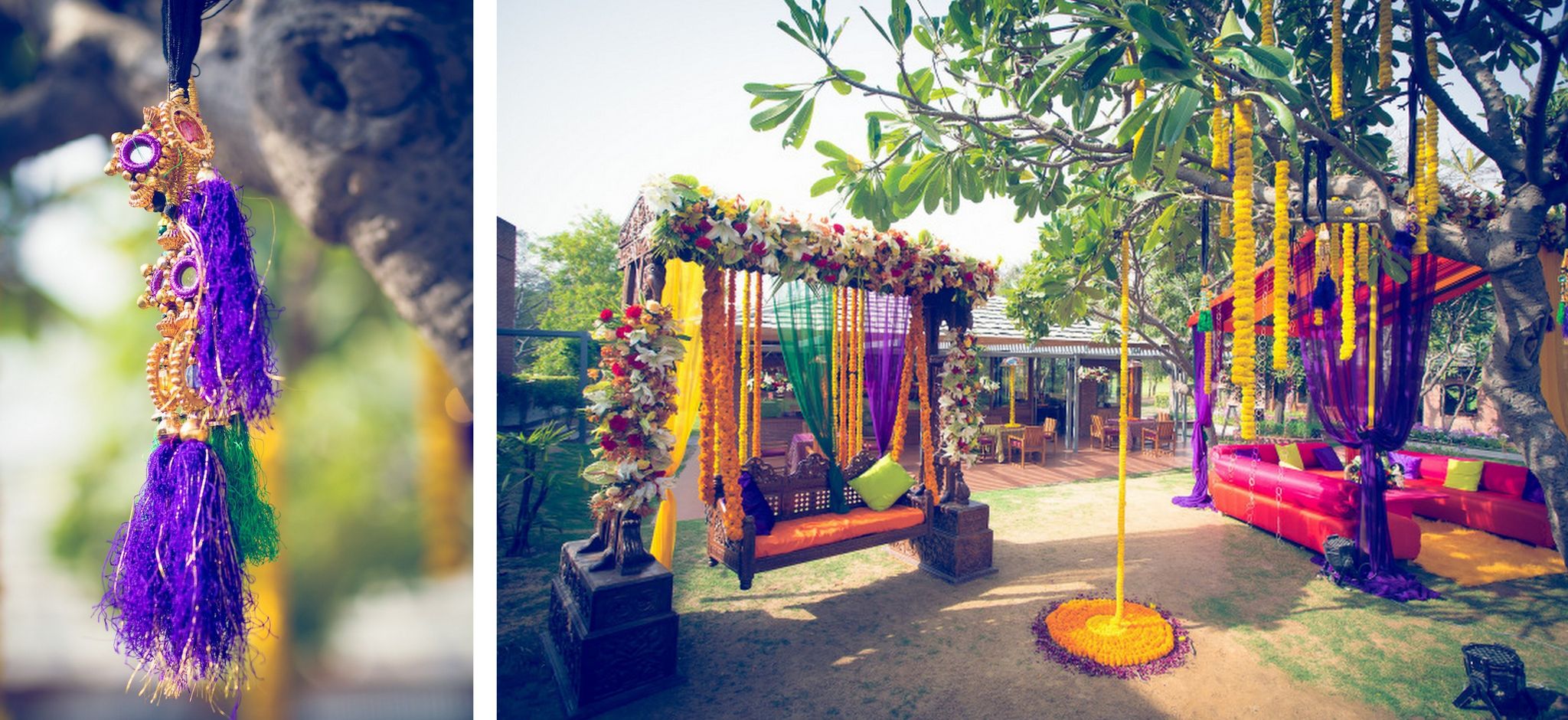 Turn your mehendi into a full on flea market with Parandis hanging from trees, a wooden jhoolars and  fun little games (a real wedding with the most fun mehendi ever is coming up). Photo by Phototantra
Decor Executed by: This is done by another WMG Dream Team Decor Member- Elements
#4. The "Upside Down Umbrellas" Decor Trend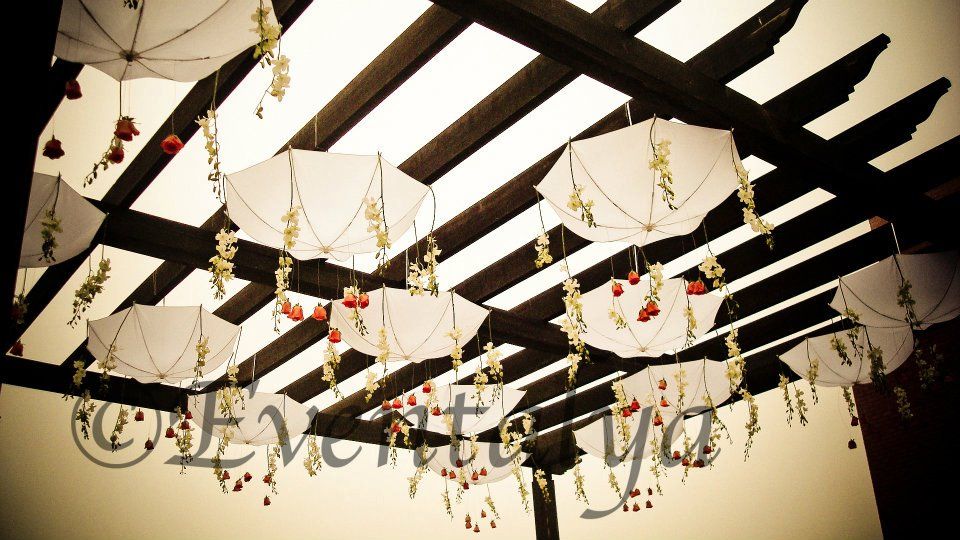 Who knew umbrellas could be a fun decor accessory? Change up the white with pops of neon and have them hung from your ceiling for an uber cute, fun , mehendi decor idea.
Executed by: WMG Dream Team member- Eventalya
Do it Yourself Mehendi Decor:
Get mirror work dupattas from Jaipur and have them strung across your space for a quick and effortless DIY
Silk sarees interspersed with fairy lights is not only a gorgeous DIY Decor idea for your mehendi but almost looks like a pro has done it !
Use Bangles and string them together as hangings descended from the ceiling- tell your friends to pick off whichever bunch they like
Get creative- use kalire (gold things Punjabi brides wear) and attach them to ribbons and have them descended from the ceiling
More props like pankhas, embroidered potlis and cushions can totally set the tone for your mehendi!