5 Wedding Budget Myths Debunked!
BY Sakshi | 06 Feb, 2019 | 666 views | 3 min read
When it comes to weddings, there is so much gyan out there, that it can get a little overwhelming-everyone will have suggestions and ideas, and experiences to share, and it can all become a little too much. And especially when it comes to budget weddings, then it gets even harder to manage everything within a budget and not go overboard. So to make it easier for you to separate the good advice from the fluff, we decided to tell you what you should not do! Yes, bust some wedding budget which might not actually cut costs in the long run despite the effort.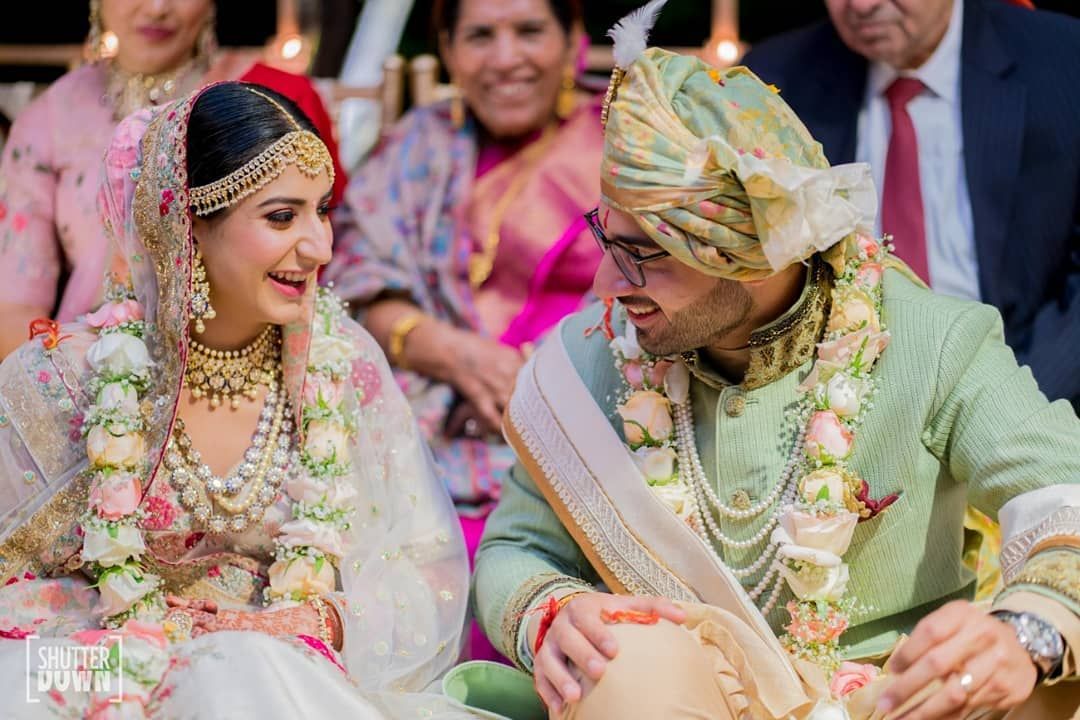 Image via Shutterdown - Lakshya Chawla★ 4.9
Myth 1: Weddings are expensive, and cannot be done on a budget.
Yes, they do cost money, but there are so many ways to cut costs and do things smartly that you can easily have a wedding in a budget of even INR 10 lacs! We've featured couples who've done it, and the weddings do not look as simple as you're imagining right now! You just have to plan smarter, be more informed and make smarter decisions!
Myth 2: Low-key destination weddings will almost always save you money
Not always. If the guest list is very very intimate (like around 50) then yes, it might just, but not always. Those savings are quickly nullified after you factor in the added costs of planning trips, airfare, hotels and importing decor and vendors for the functions. There are also some guests who expect the added courtesy of the wedding party pay for their travel expenses and sightseeing, which can pile it on and how!
Myth 3: Backyard functions are always cheaper.
Again, not always. This is something a lot of people assume is cheaper, but they forget that apart from the land you're walking on, everything else has to be brought in and fixed- right from tenting to lighting and tables and chairs and even linen- these are things that might already be there at another wedding-friendly venue, and apart from the hassle, renting out everything separately can really add on to the cost of a place that has everything included!
Myth 4: You can DIY all the decor to save costs.
For the smaller functions, yes, maybe when it is a mehendi or haldi at home, but not when it comes to bigger functions or events. Sourcing and buying things for DIY may not always be easy, and you might have to hire a carpenter to assemble it for you! Plus, not to mention the precious time taken! So while it is a good idea to DIY a few things, leave the rest to the experts!
Myth 5: You shouldn't hire a wedding planner.
While this might be true for very small scale weddings, it isn't always true for destination or even mid-range weddings. There are a lot of planners who quote their fees as per the scale of the wedding and not a standard rate for all, and they can really make things easier not just on you, but the budget as well by having a better understanding and relationship with vendors, which can eventually end up saving you a lot of running around and money.
ALSO READ: The Beginner's Guide To Budgeting Your Wedding: Two Big Wedding Planners Give You A Breakdown!
The Beginners Guide To Paying For Your Budget Wedding! *Tips To Help You Save & Splurge!