7 Hindi-English Mashups For Your Sangeet!
BY Sakshi | 10 Oct, 2018 | 23295 views | 2 min read
English Hindi mashups might sound odd, but sometimes, they really do bring the best of both worlds (or songs) together! Yes, some of them are amazing combinations, and are perfect to make a statement with on your wedding- whether it is by using it for the bride or groom entry or your couple dance!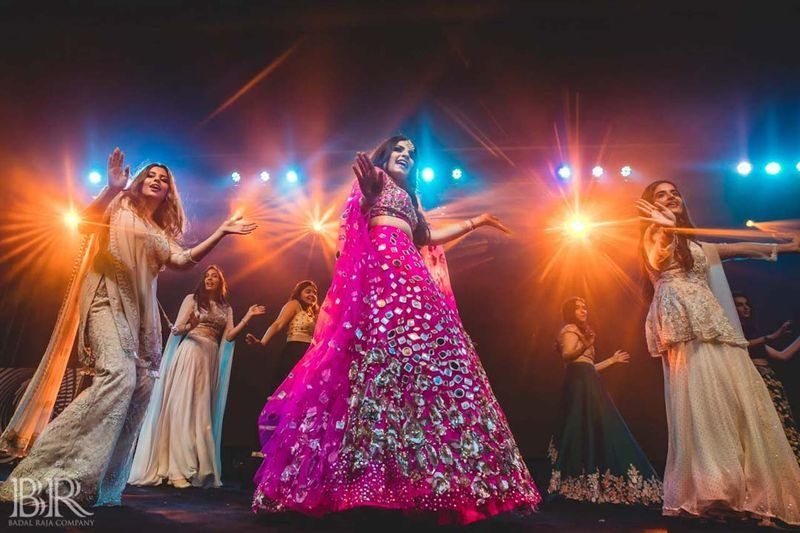 Image via Neha and Eshaan's Wedding
Here are some of the new ones we think you should know about!
Shape Of You X Kashni by Ed Sheeran ft Jasmine Sandlas
Video courtesy Krystal Group on Youtube
This is one of the most unique mash-ups we've heard of late, and we love how trippy it is! Perfect for the bride and bridesmaid dance!
Closer X Afreen Afreen by Samarth Swarup
Video courtesy SAMARTH SWARUP on Youtube
Two songs we absolutely love together- so pretty for the couple entry or their first dance!
Despacito X Bollywood Retro by Singh's Unplugged
Video courtesy Singh's Unplugged on Youtube
Now this one will get everyone grooving- the young and the old! It's nice for a sweet romantic dance too!
Something Just Like This X Channa Mereya by Vidya Vox
Video courtesy Vidya Vox on Youtube
This one is a good option for the bridal solo! So dreamy and pretty! You can really mix up Indian and western steps for this one!
Hold On We're Going Home X Tujhe Dekha Toh by Arjun
Video courtesy Arjun on Youtube
So cute for the groom to woo the bride with! Perfect for the groom entry!
Havana X Bom Diggy X Main Tera Boyfriend by Penn Masala
Video courtesy Penn Masala on Youtube
All your fave tracks mushed up together to make something happier!
Someone Like You X Yaariyan by Aakash Gandhi (feat Jonita Gandhi & Pratik Rao
Video courtesy 88KeysToEuphoria - Aakash Gandhi on Youtube
Oh this one is so perfect for the couple dance- beautiful and romantic!
ALSO READ: 8 Fusion Songs That Will Make Your Sangeet Playlist Pop! *Hinglish Songs #FTW