9 WMG Brides Who Decked Up Simple Offbeat Lehengas To Make Them Bridal! *& How They Did It!
BY Sakshi | 01 Nov, 2018 | 9389 views | 8 min read
We love a bride who has her own signature look, and one amazing way to do that is to deck up a simple offbeat lehenga to make it bridal, and all yours :) Yep, we've featured quite a few brides who have done that, and we thought it would be cool to ask them about their thought process and how exactly they went about pulling it off- be it with the accessories, the jewellery or adding a pop of something! Yep, so hear it from the brides themselves, and get inspired!
Real Bride Tejini says: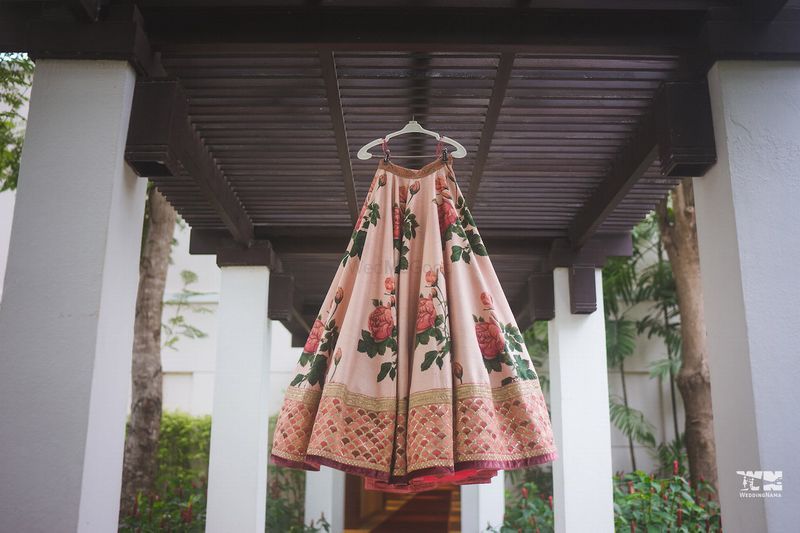 Being petite I wanted to wear something that wouldn't overpower me and most importantly I wanted it to be comfortable yet exude understated elegance. So I decided to go with a rose print sabyasachi lehenga with a classic cut blouse with two dupattas to add the bridal touch! The one draped as a veil was simple yet embellished; all the pieces put together bearing in mind I could wear them as separates later! To this I added a heavy ornate uncut diamond and emerald choker with a simple nose ring to avoid hiding my tiny face. I made sure to keep my makeup simple and clean with a matte finish and added the glamour quotient by just adding on some simple lily gilachi lashes! My husband only said one thing to me 'please look like you- don't look someone I can't recognise' so that was the start to my wedding day look!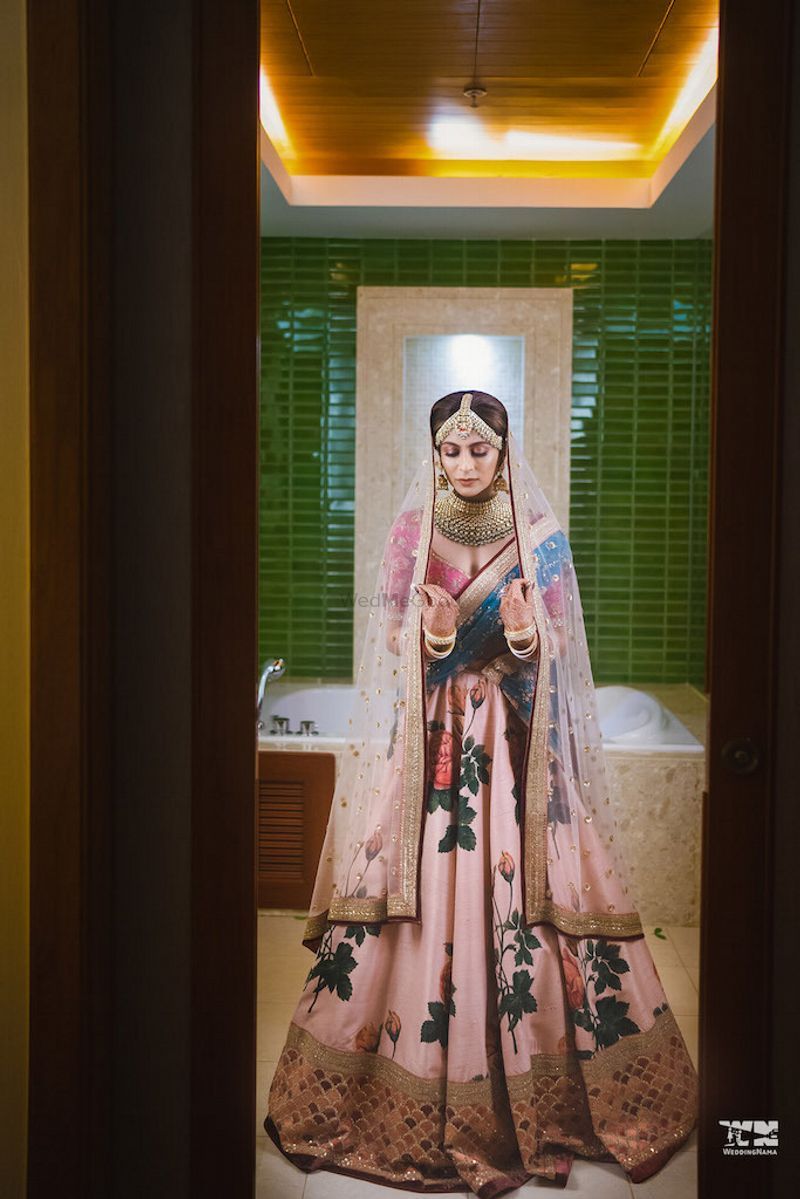 Images via Tejini and Aadit's Wedding; Lehenga by Sabyasachi Mukherjee★ 4.9
Real Bride Karishma says: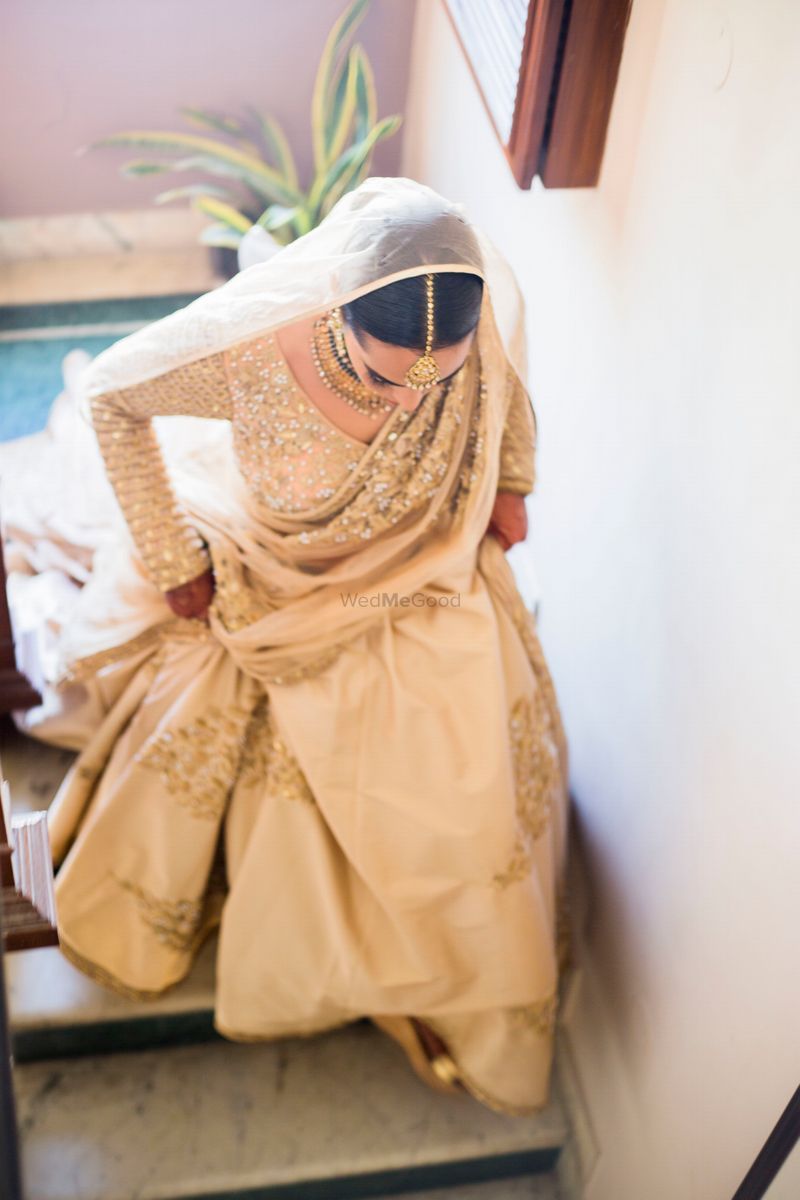 I have always been that girl who cringed each time I saw an over adorned bride and I knew I wanted to keep it simple! Especially since it was a day wedding, keeping it low key was essential. I carefully selected an outfit which was not too heavy in terms of the embroideries and work on it but added the drama by adding a whole lot of volume to my skirt. So while it looked the part, I was comfortable enough to dance till the next morning in it. Accessorising any garment is the make or break factor and so the choice of jewellery is probably as important as your dress. I got all my jewellery oxidised to give it the antique dull look and didn't go with something that was too heavy. On my big day, I wanted to be the one shining, not hidden behind many kilos and layers of stuff and I couldn't be happier with my choice. Comfort is pivotal on your wedding day!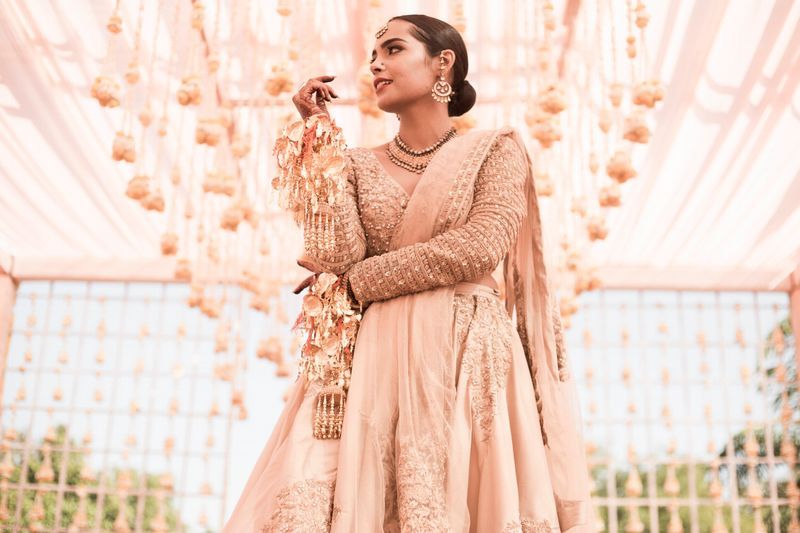 Real Bride Richa says: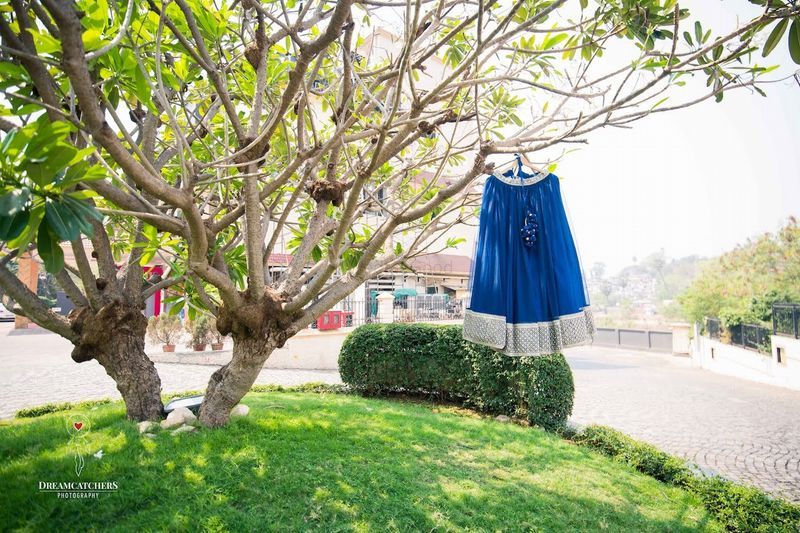 Ever since we got engaged, in my mind, I never wanted the conventional red lehenga and nor do I wear pink. Everyone who knows me, knew I don a royal blue one. Or at least had an inkling that it would have a little blue in it for sure. I always had the thought in the back of my mind that I wanted to be able to wear my wedding outfits again. So it had to be an off beat colour and design. I had shortlisted a few pieces to see at the Sabyasachi Hyderabad and Mumbai store since I was there for my friend's wedding. I picked my outfit in literally 10 minutes and it wasn't even one of the shortlisted pieces. The minute is saw it, my mom saw my face and said "it's yours". I got a separate red dupatta made to add the 'shagun ka Lal rang' and used it in contrast. As for the accessories, I paired it with a simple maangtika with a kundan set with emeralds for a pop of color.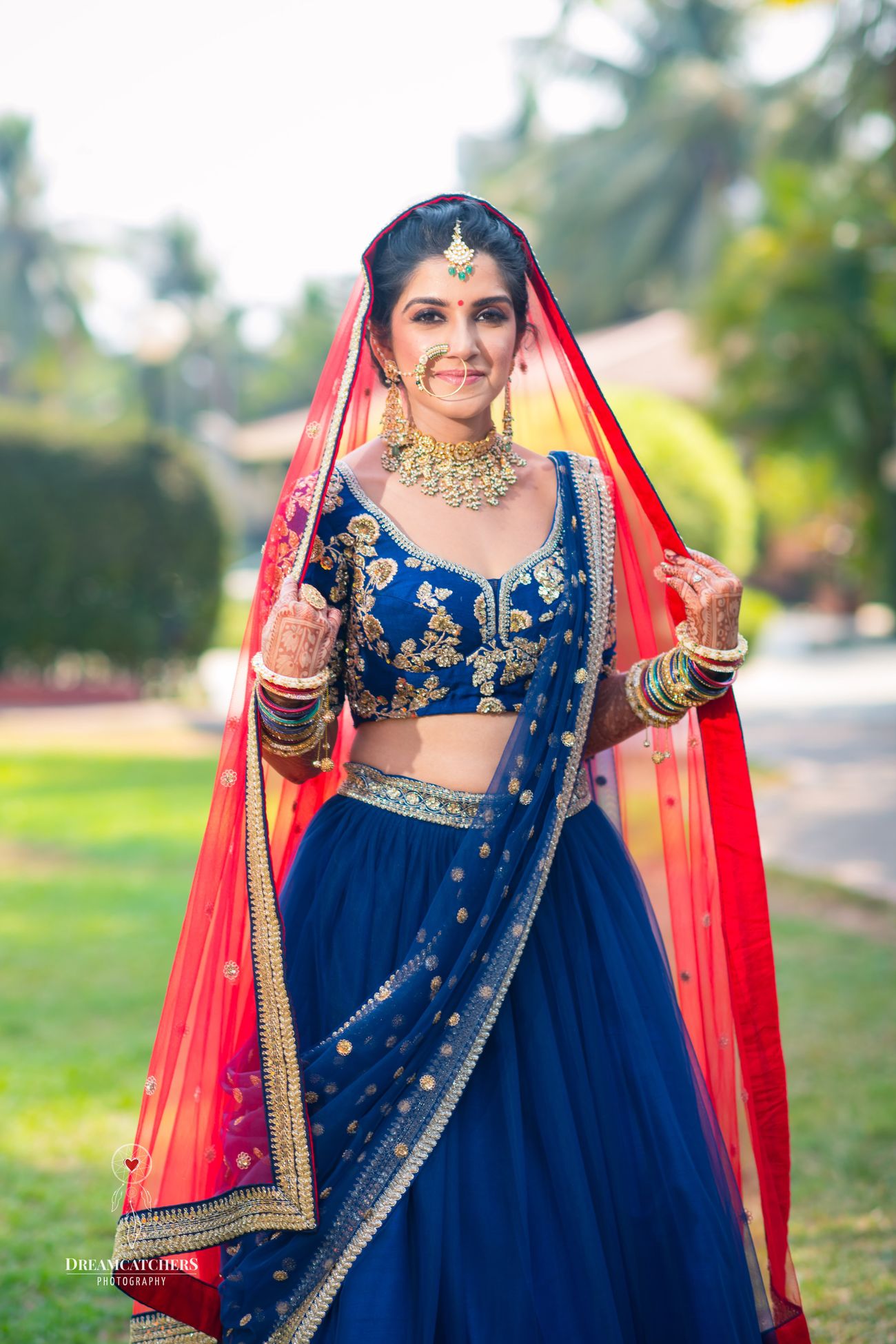 Images via Richa and Khushil's Wedding; Lehenga by Sabyasachi Mukherjee★ 4.9
Real Bride Pooja says: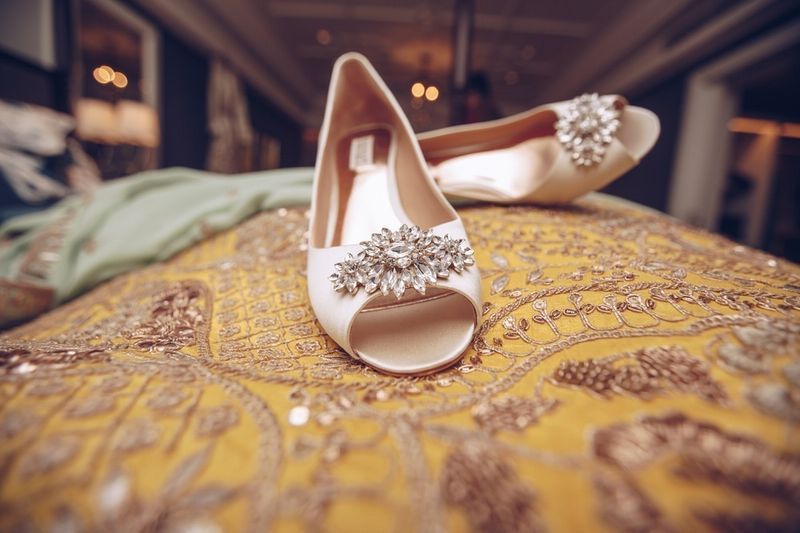 I always knew I wanted to get married in a color that was a bit off-beat from the rest. A simple yellow with gota patti work while highlighting that with a sea green/mint dupatta is something really unexpected for a bride to wear but once I visualized this combination, I knew this was exactly what I was looking for in my dream lehenga. A few ways I wanted to "enhance" my look and make it my own was choosing traditional polki jewelry with a touch of emerald green, as well as creating a bold makeup look by using shades of brown and black eyeshadow with a nudish pink lipstick. (When I told my makeup artist I wanted dark, sultry eyes for the wedding, she was shocked and said I was the first one to ever ask her of that!) I believe these choices really brought my whole look together and helped me feel so amazing on one of the best days of my life.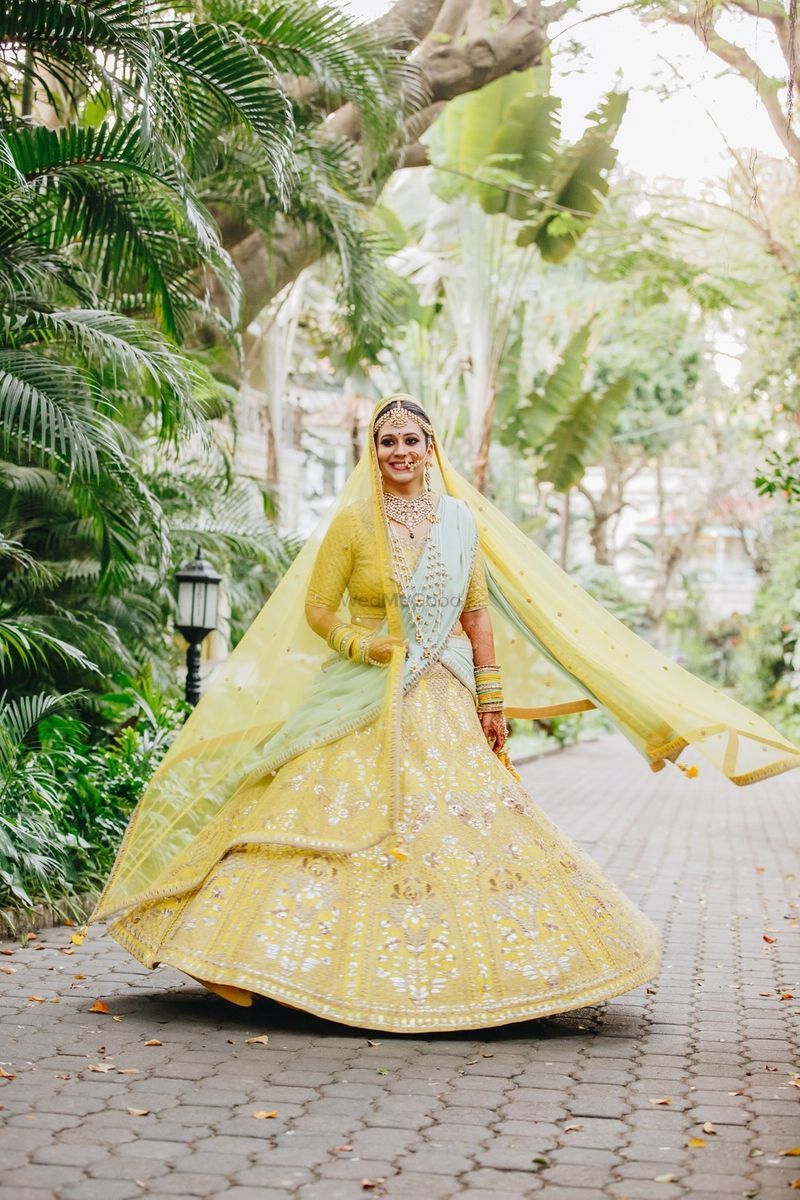 Images via Pooja and Siddharth's Wedding; Lehenga from Asiana Couture - Chandni Chowk 
Real Bride Paridhi says: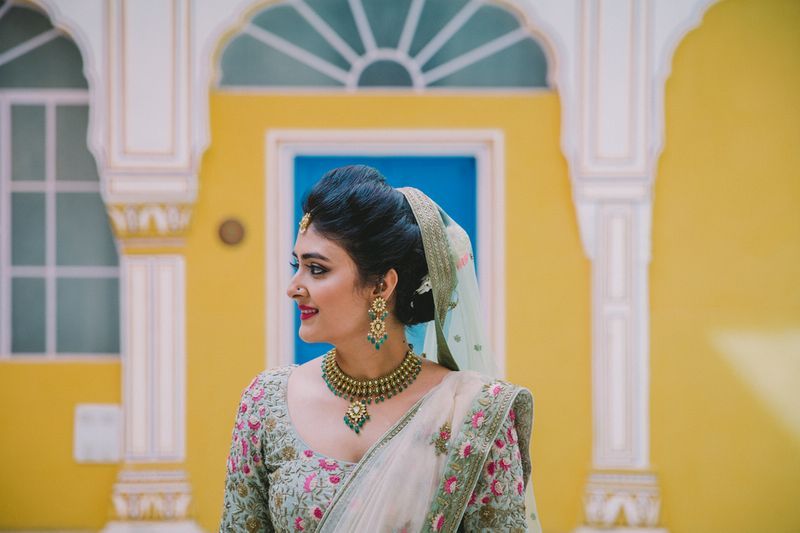 Vision was simple. I knew exactly what I didn't want. I didn't want a heavy, embroidered lehnga with tonnes of embellishments added on top. I wanted a morning wedding - so it meant pastel shades for the lehnga.. I chose my jewelery first.. Which was this beautiful green emerald polki set.. That narrowed my color choices even more and then when I saw this lehnga, I just fell in love with it.. It has this beautifully woven brocade fabric and that shines through... The blouse has beautiful (and the just right amount of) embroidery with a pop of pink.. That brings out the pastel green even more! Plus as it was a day wedding, I did not want anything heavy on my makeup. So decided that I want to go light on makeup, like no heavy lashes or contouring. And I matched my lip colour with the pink on my lehenga.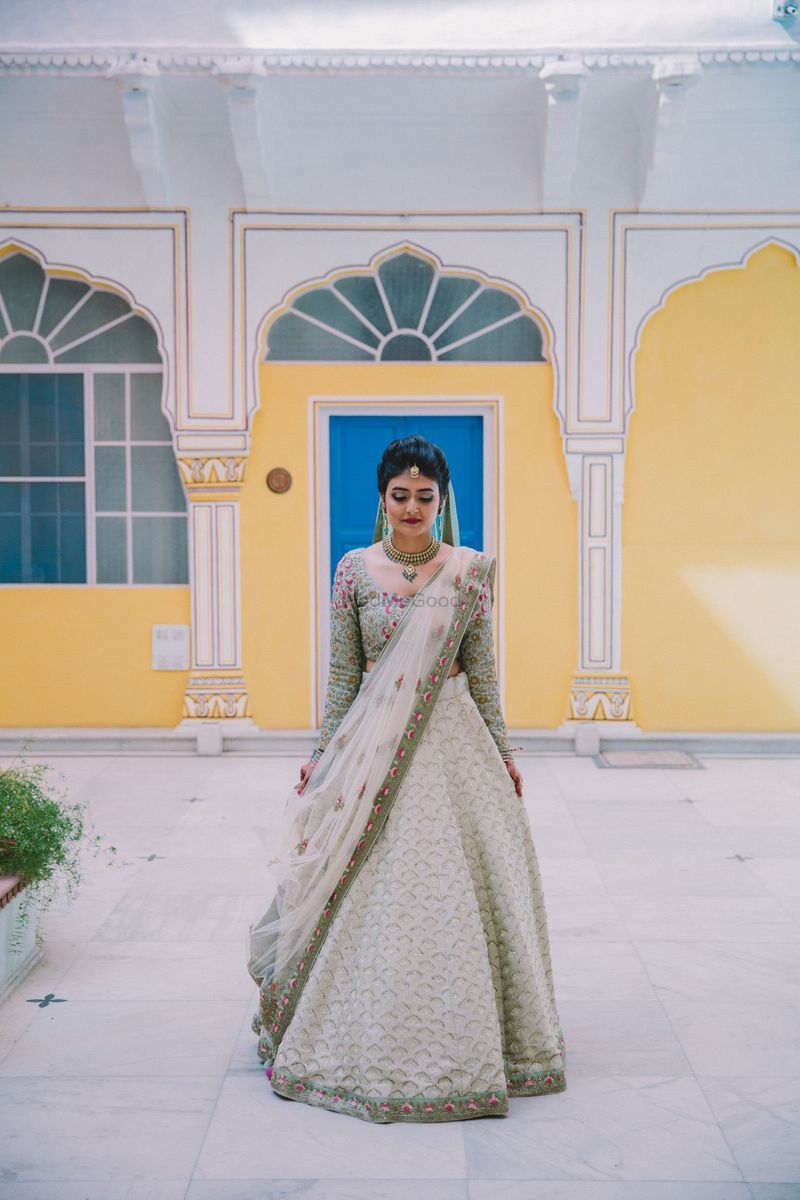 Images via Paridhi and Suparno's Wedding; Lehenga from Frontier Raas
Real Bride Aashna says: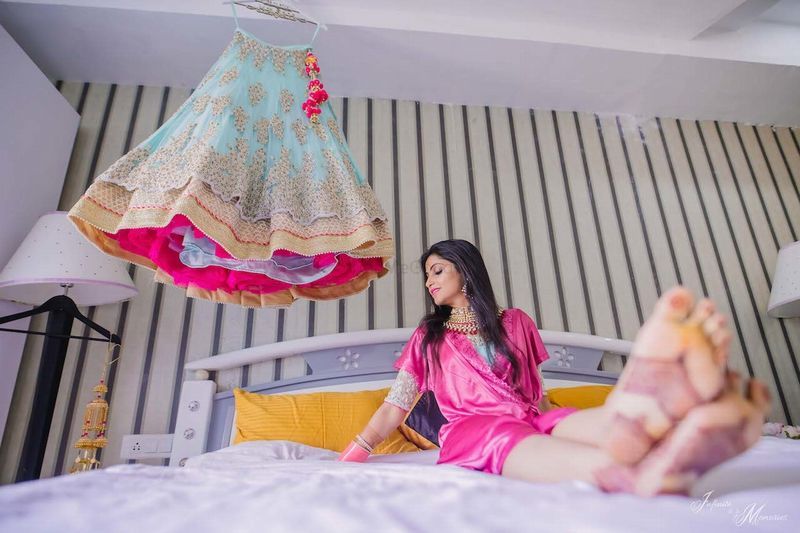 Ever since I stepped into my bridal lehenga shopping, I was always on the look out for a lehenga which was pastel and not a regular red or maroon. The moment I saw this pastel blue lehenga with the pearl work all over it, I fell in love with it. The only thing I wasn't satisfied with was the overall monotone look of the lehenga. I suggested my designers (Megha and Jigar) to add a pop of pink to it. We added a pink double dupatta, pink latkan, made the underside border of blue dupatta pink and I asked them to make the can can color similar to my pink dupatta to add a huge contrast to pastel blue. I accessorized the lehenga with pink chooda, a heavy kundan set which had a pop of pink and pink flowers on my juda which completed my bridal look.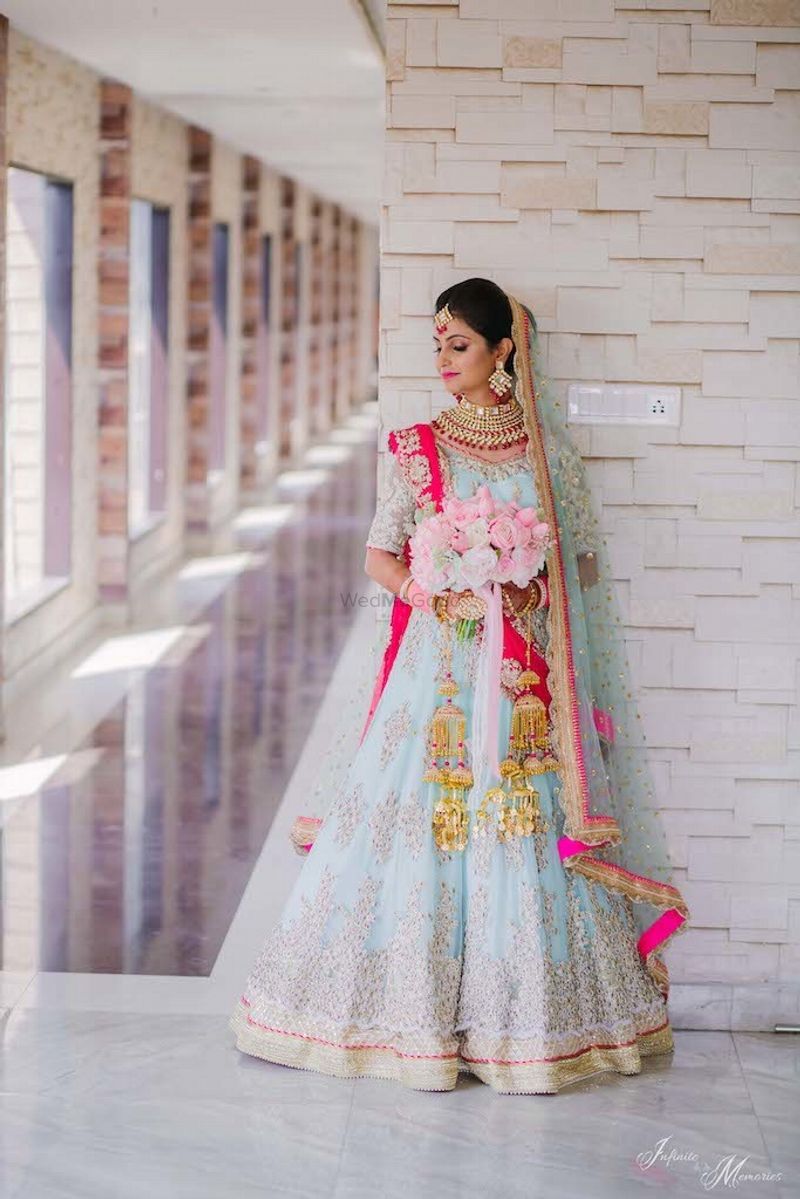 Images via Aashna and Sudhanshu's Wedding; Lehenga by Megha and Jigar
Real Bride Savnit says: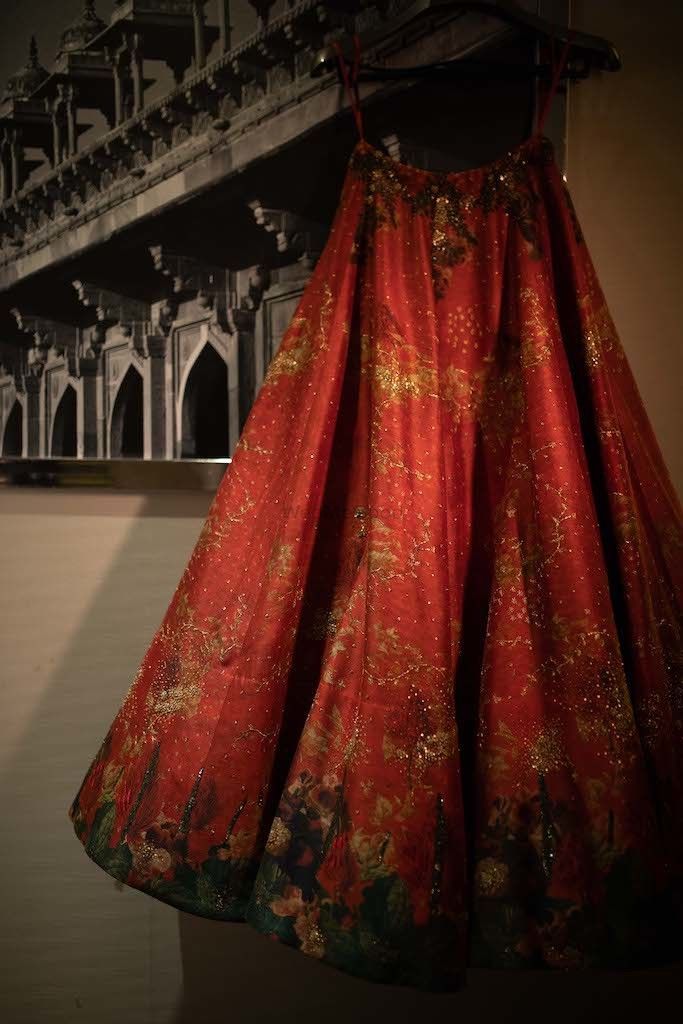 As a stylist I'd say every bridal lehenga should reflect the bride's personality. Mine was a comfortable and light, silk lehenga with floral print highlighted by hand embroidery. Everyone I showed a picture of my lehenga to, rejected it initially, including my mom. It was only after the first trial wherein I styled it with the clashing emeralds and Polki, the second veil dupatta and my passa that they could visualise how a simple outfit can be up styled to make it a balanced look instead of looking like Christmas tree with heavy outfit and  heavy jewels. My simple lehenga made sure I was the head turner, not just my outfit!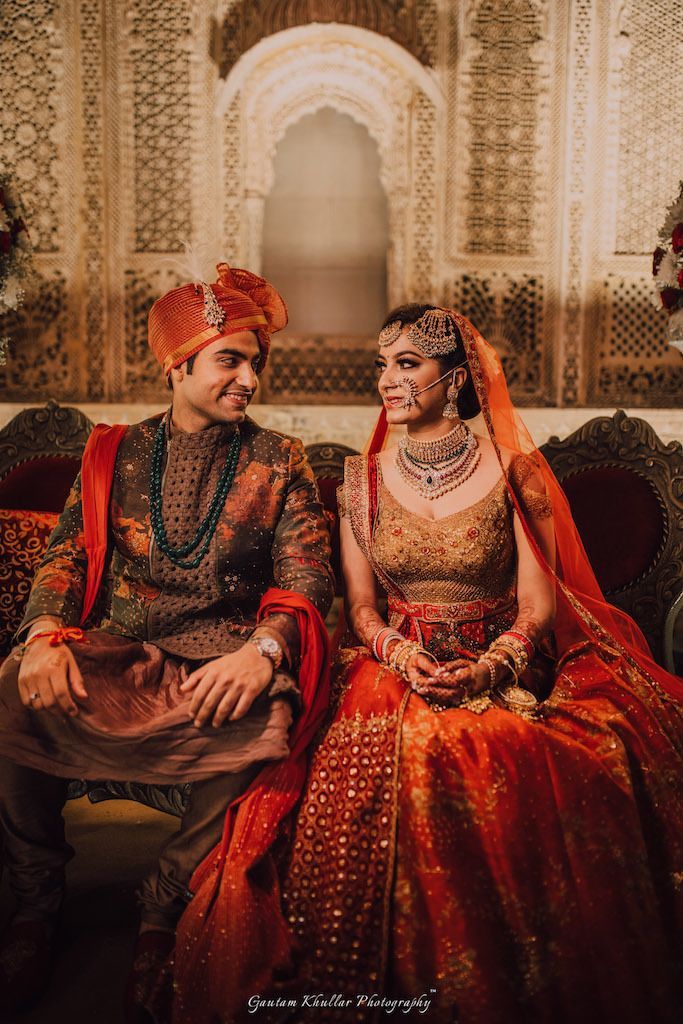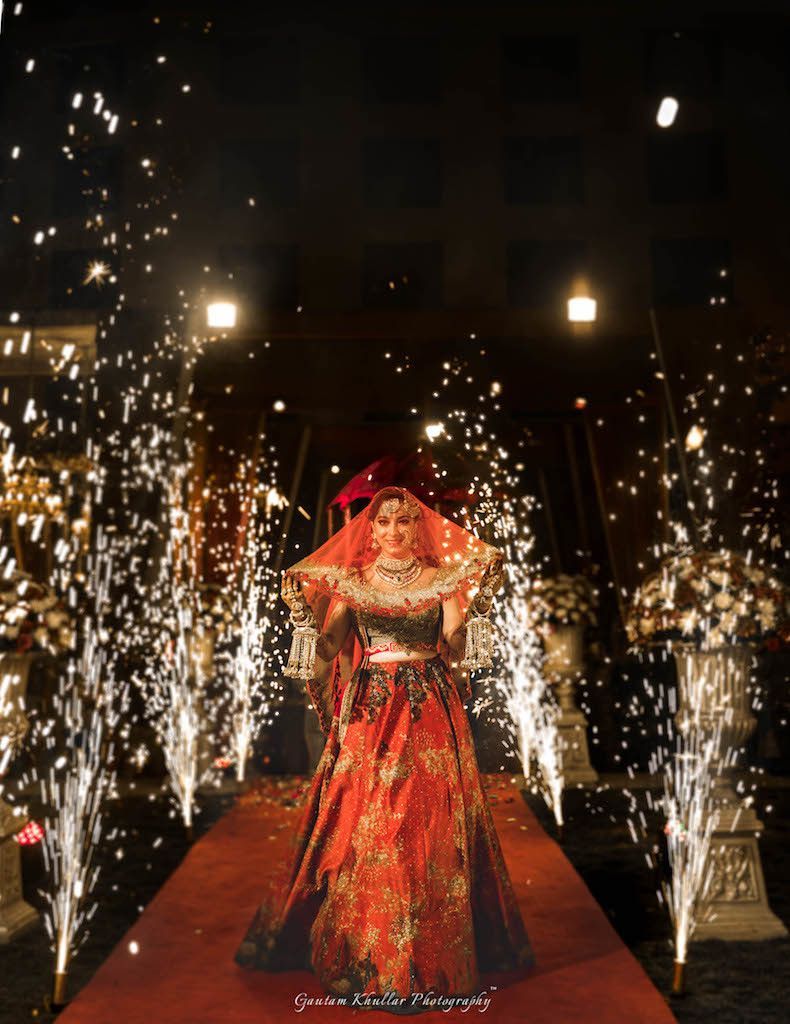 Images via Savnit and Rahul's Wedding; Lehenga by Sulakshana Monga
Real Bride Aakriti says: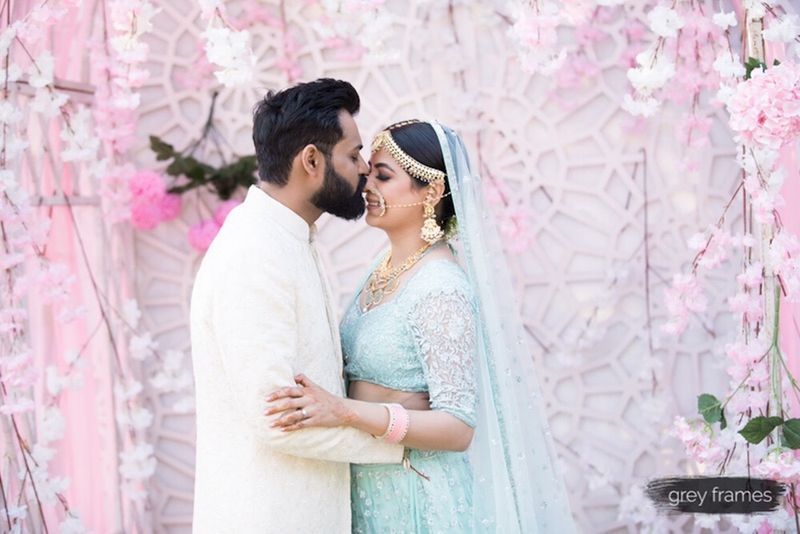 I was obsessed with day weddings specially because of being from the same trade, I knew my wedding day would have to be different from just another Red Lehenga. Thinking of day time and blue skies, I picked inspiration and chose my color "aqua blue" and wanted it to play subtle with white thread work and minimal bling for daytime. Accessorising was a challenge when I went for my jewellery shopping since most of the options had gold. I opted to choose my Polki with another neckline in Firoza Polki to team up with my aqua blue lehenga.  I wanted to keep it all pastels so I choose a baby pink choorha instead of a traditional red one, and played with white and pastel colors in my wedding day decor theme as well! All in all, it reflected my taste of subtle pastel colors where day light does its magic :)
Images via Aakriti and Aarohan's Wedding; Lehenga by Shobika Bhandari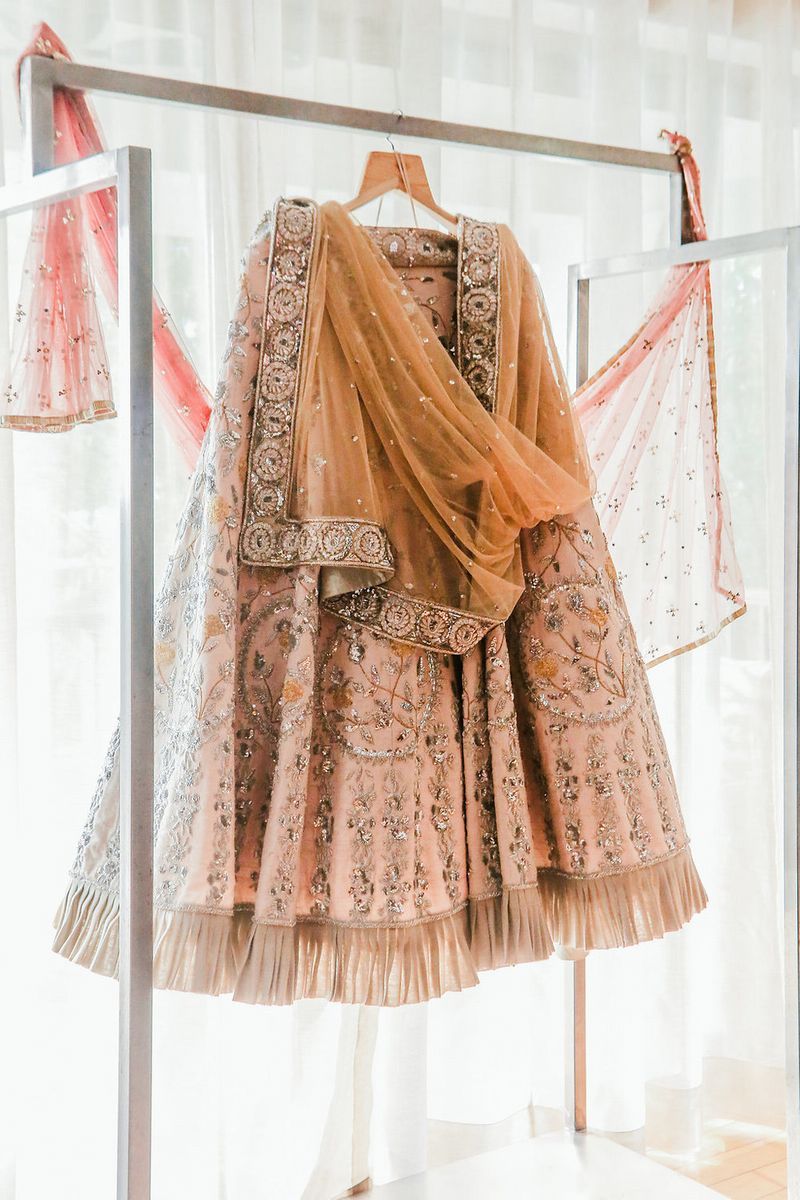 Well the goal was to combine: Traditional - Yet Beachy !! Punjabi - Yet Bengali !! Sundown Cool vibe - Yet Glamorous !! So that's the outcome.. ❤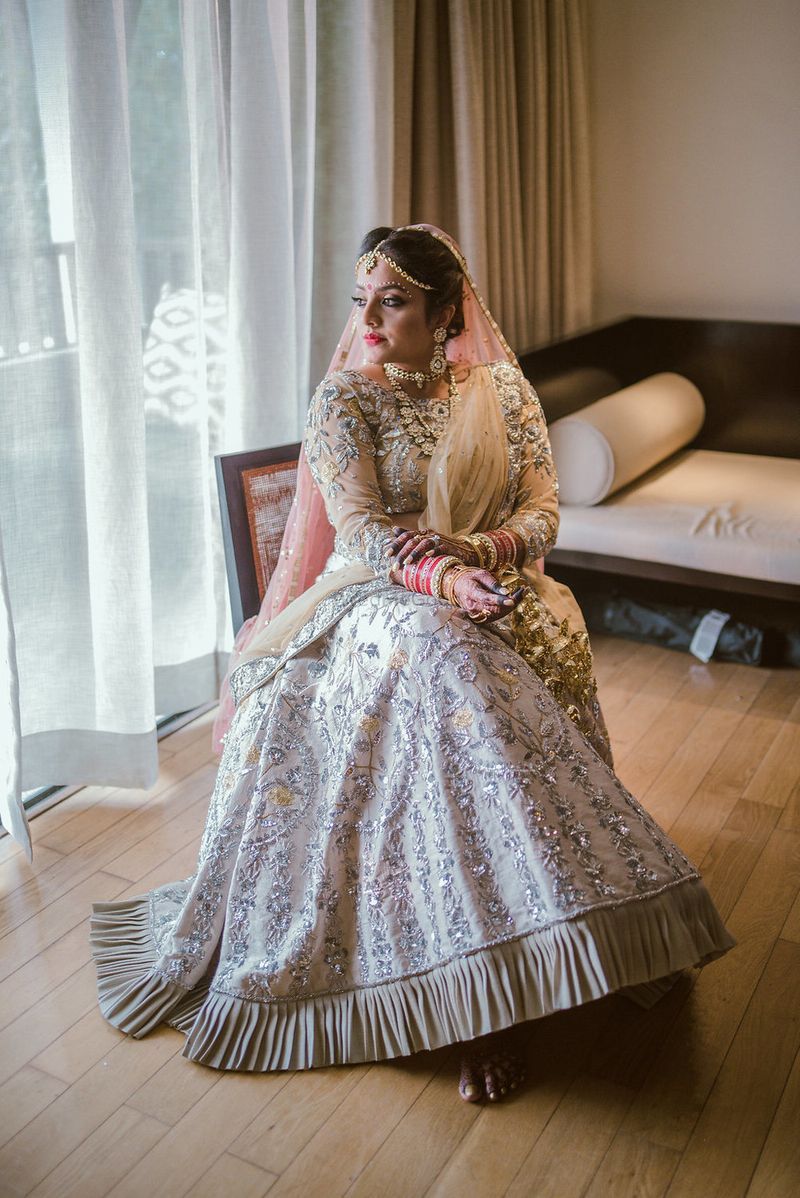 Images via Aanandita and Arjun's Wedding; Lehenga by Izumi Mehta
ALSO READ: 9 Lehenga Labels For The Minimalist Bride !