A Beautiful Goa Wedding With Elegant Decor & Offbeat Outfits
BY Aakanksha | 25 Jul, 2019 | 5682 views | 8 min read
A lehenga with shades of gold, orange and red, and a trail, now that's what you call an absolute winner when it comes to wedding lehengas! Girisha's wedding lehenga was just that, and not only her wedding lehenga but also her carnival outfit was truly unique with one of the most interesting necklines we've come across in a while! Also, how amazing is the decor by Abhinav Bhagat★ 5 ? The mandap of roses against the sunset, the hashtag in green at the carnival, even the pink theme of the mehendi, everything was a stunner! 
Meet Girisha & Dhruv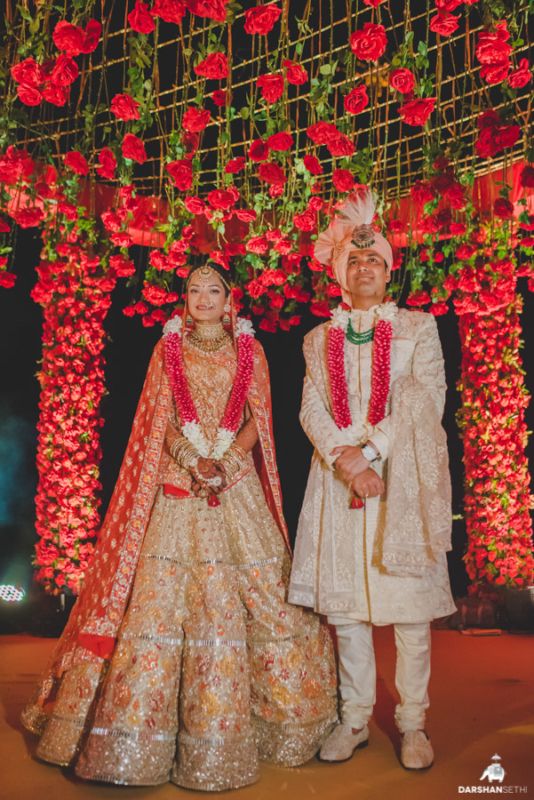 The Mehendi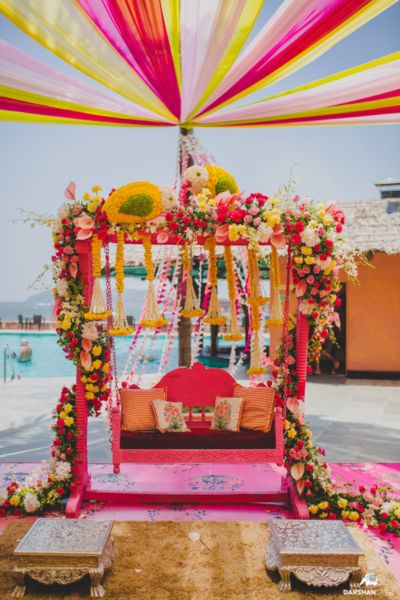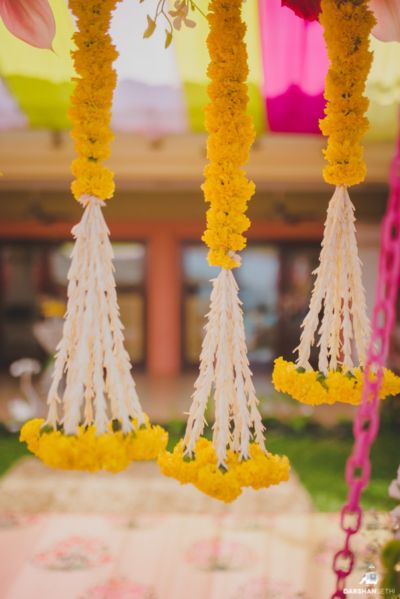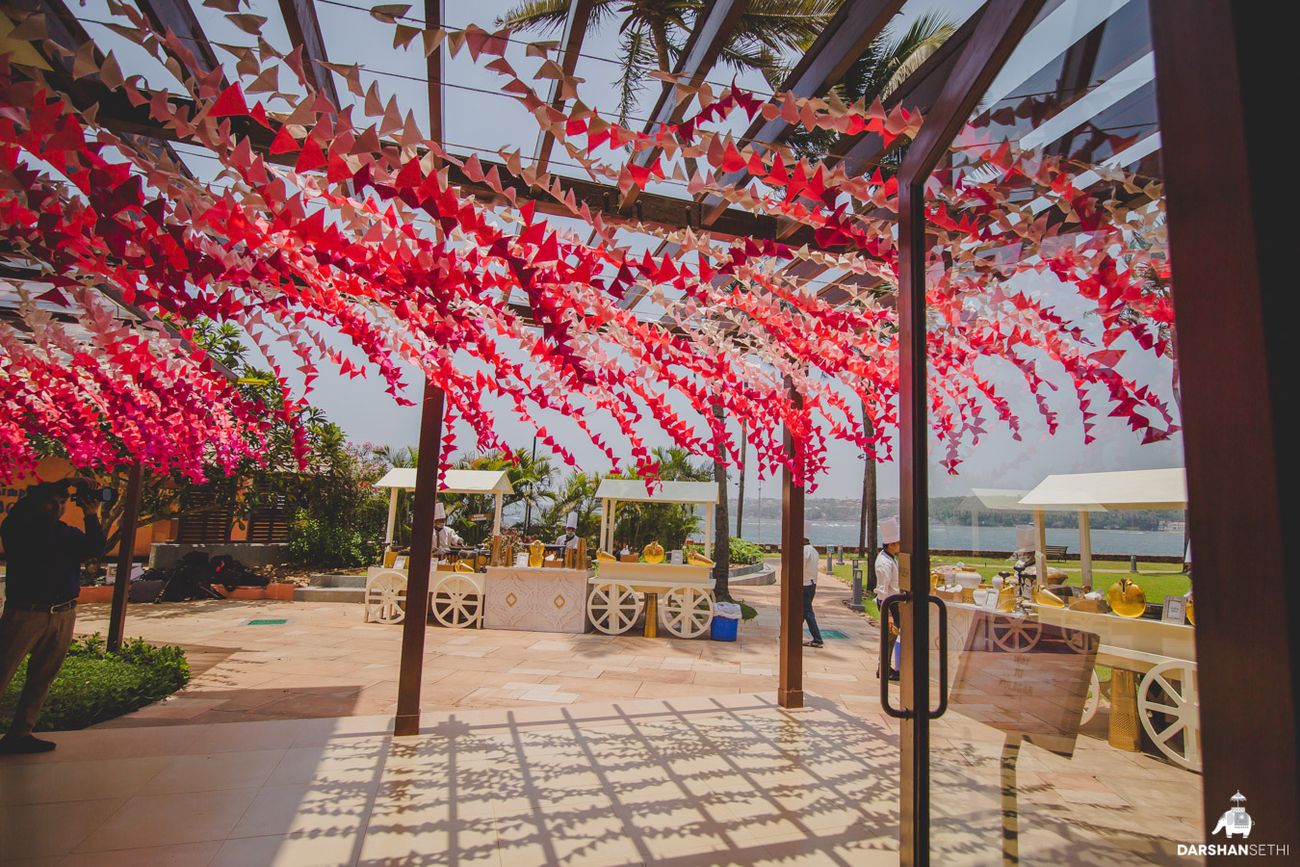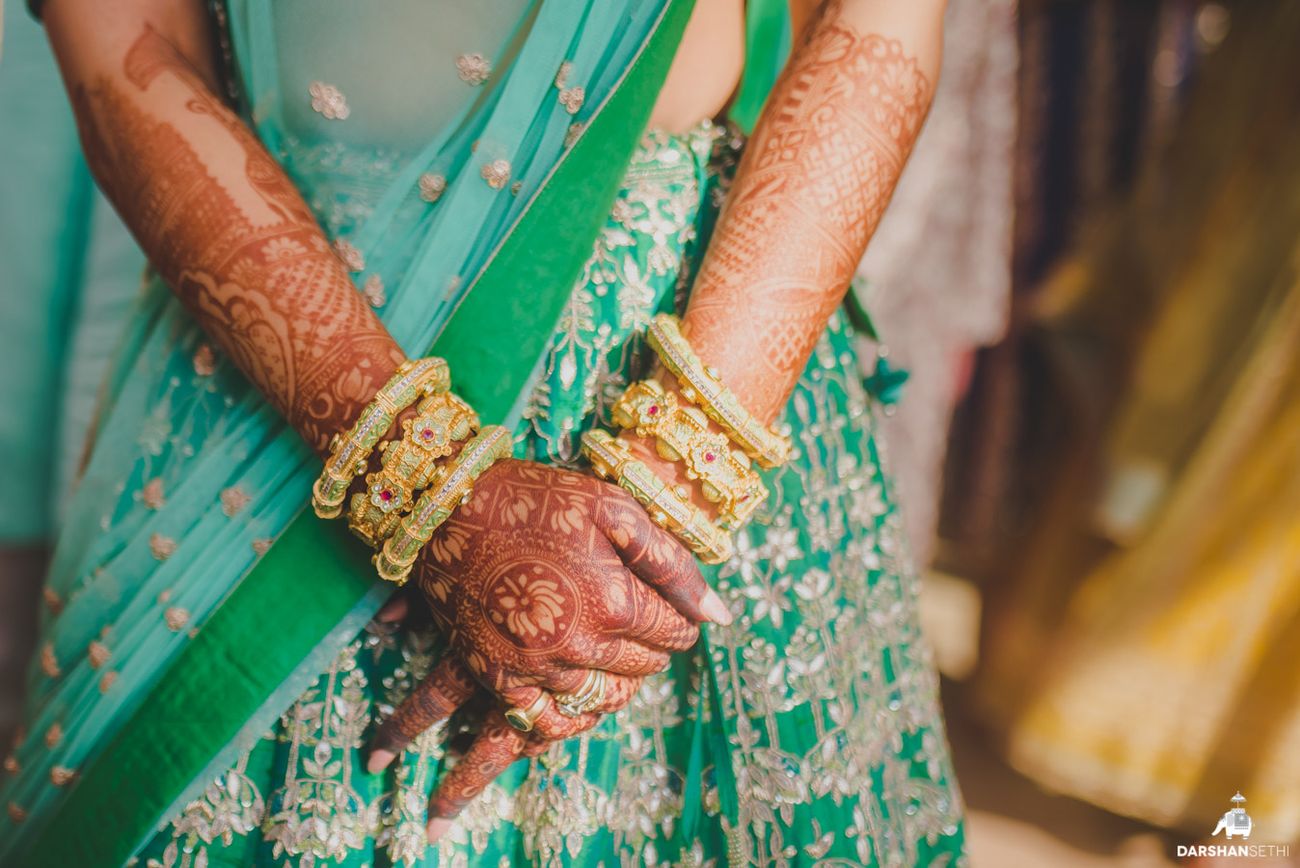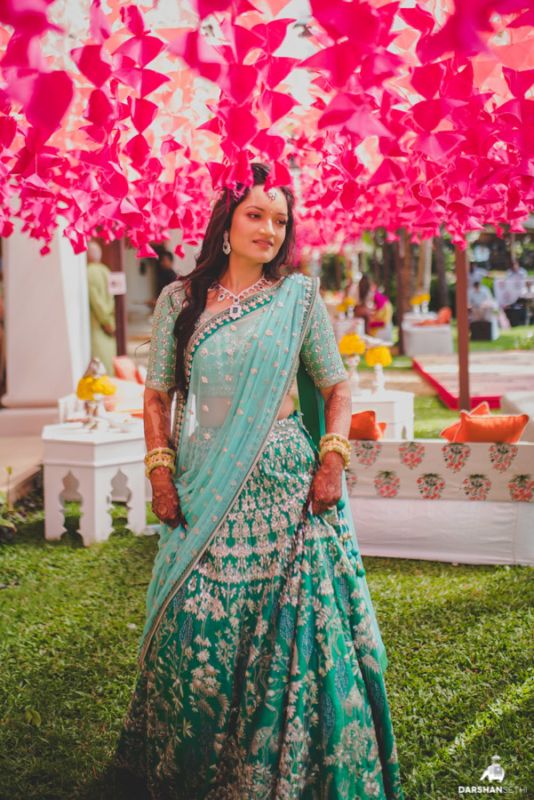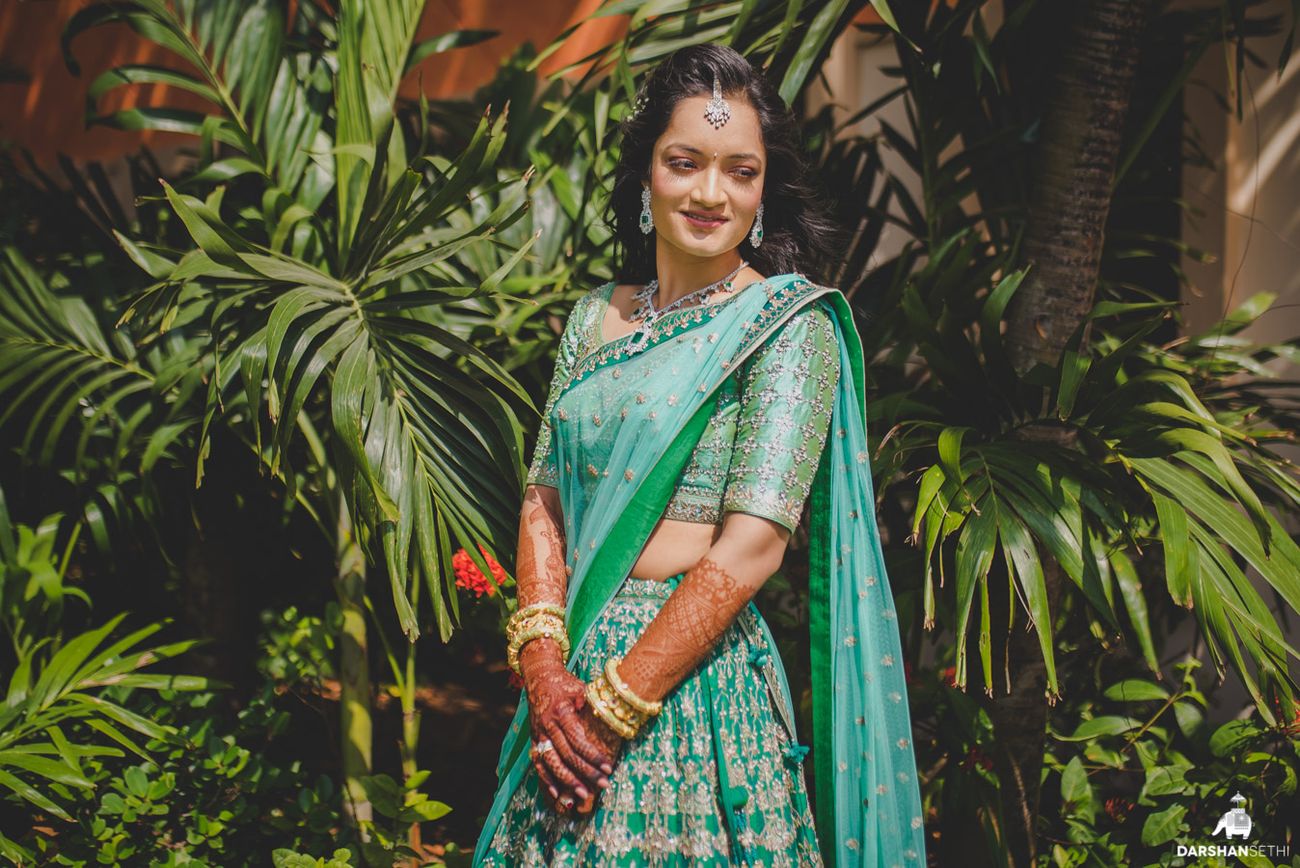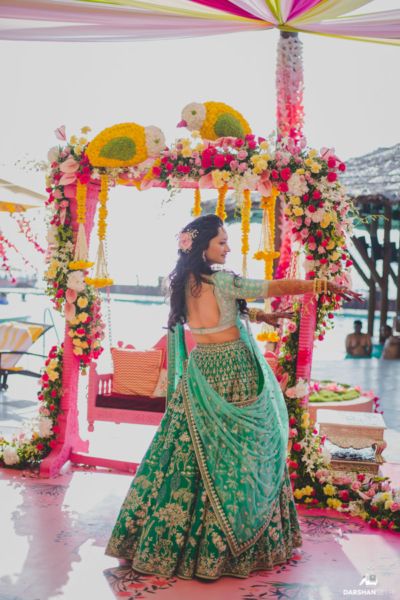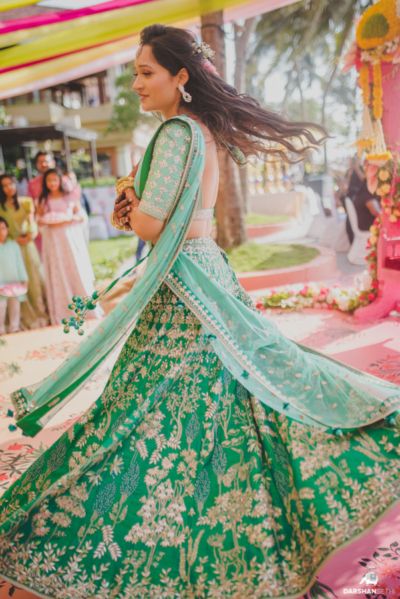 The Carnival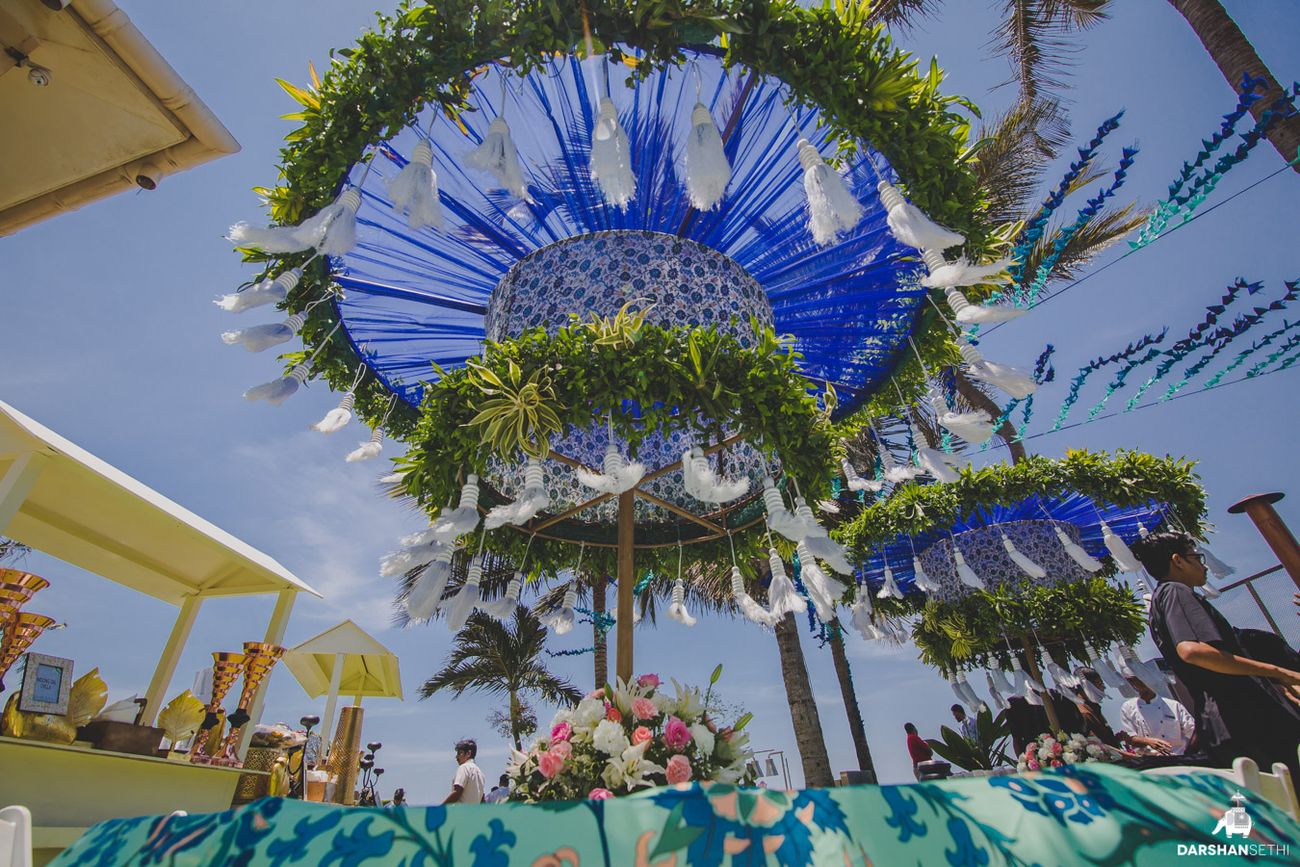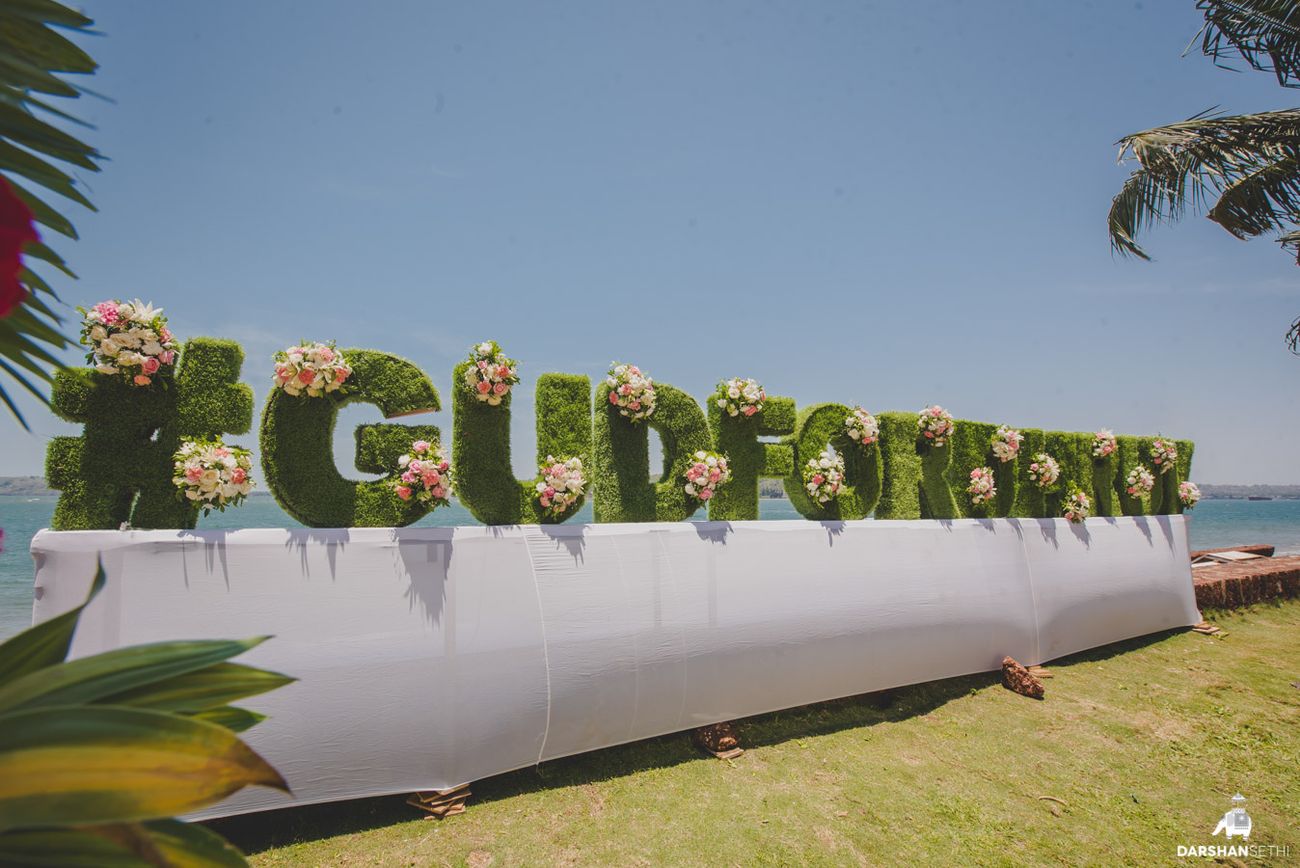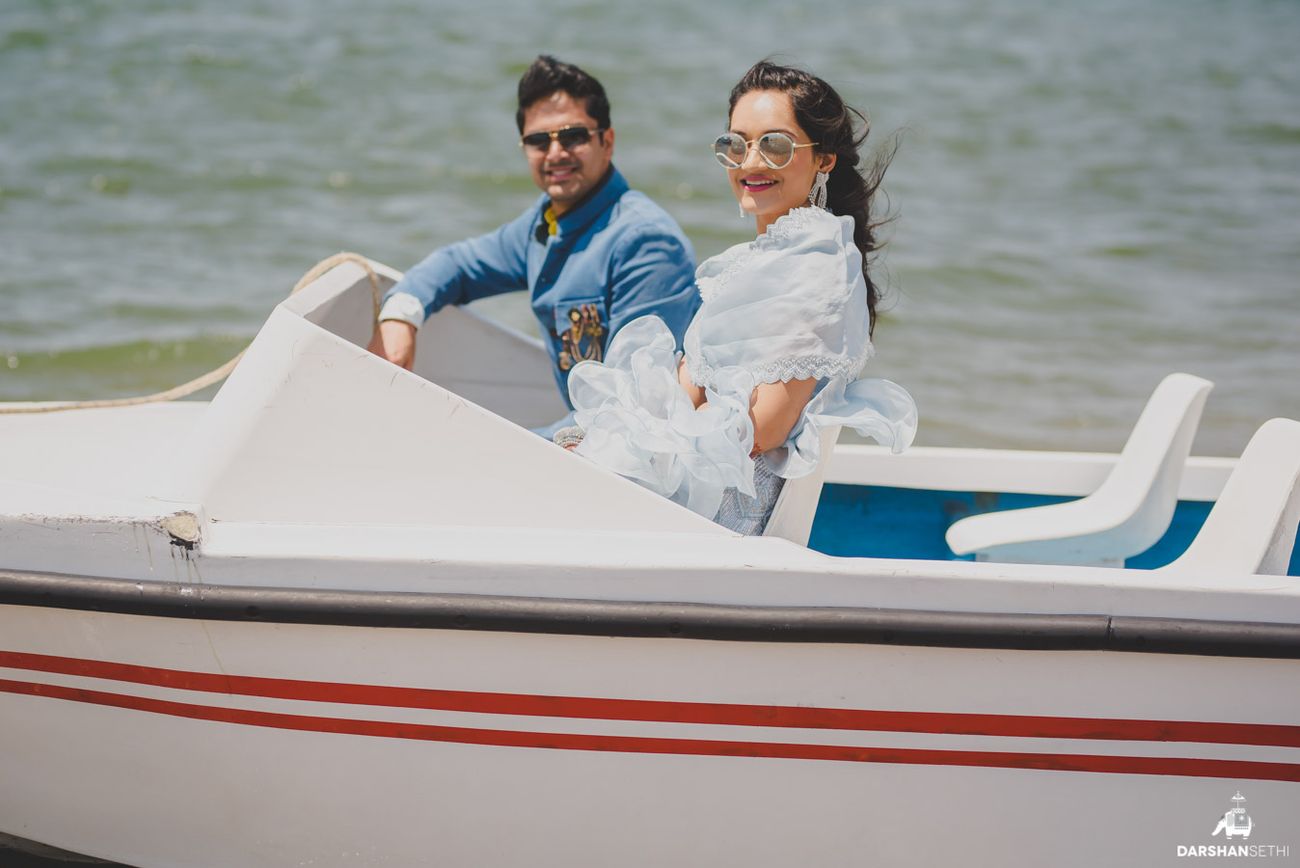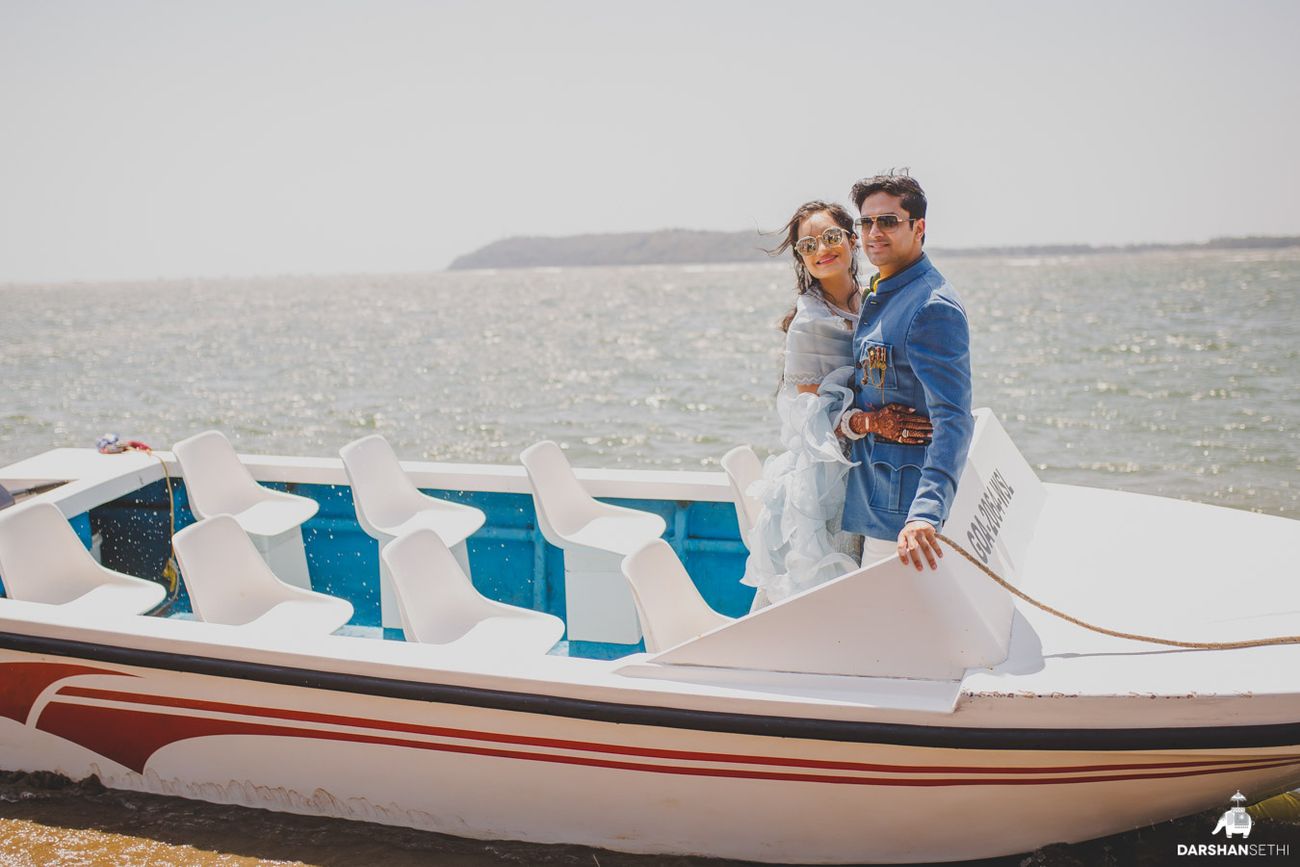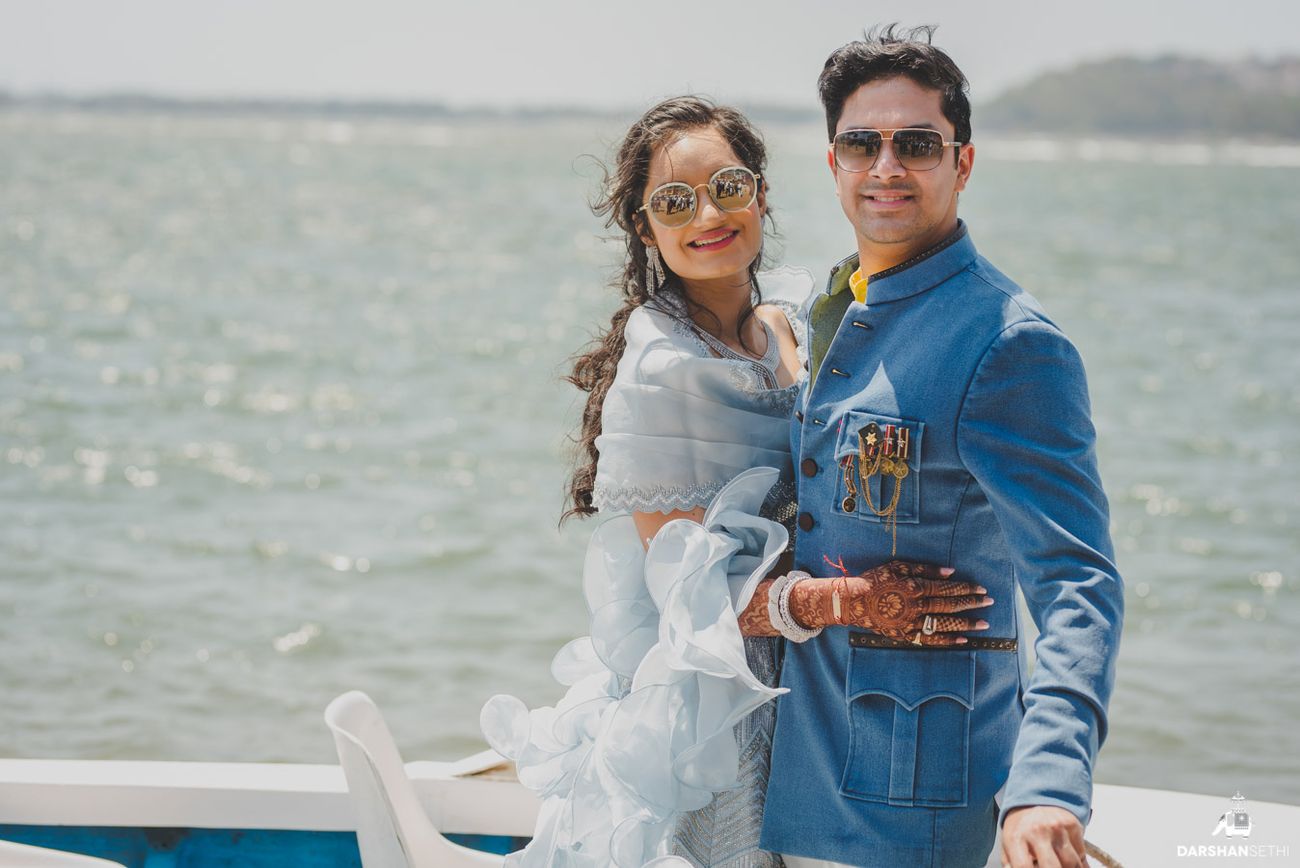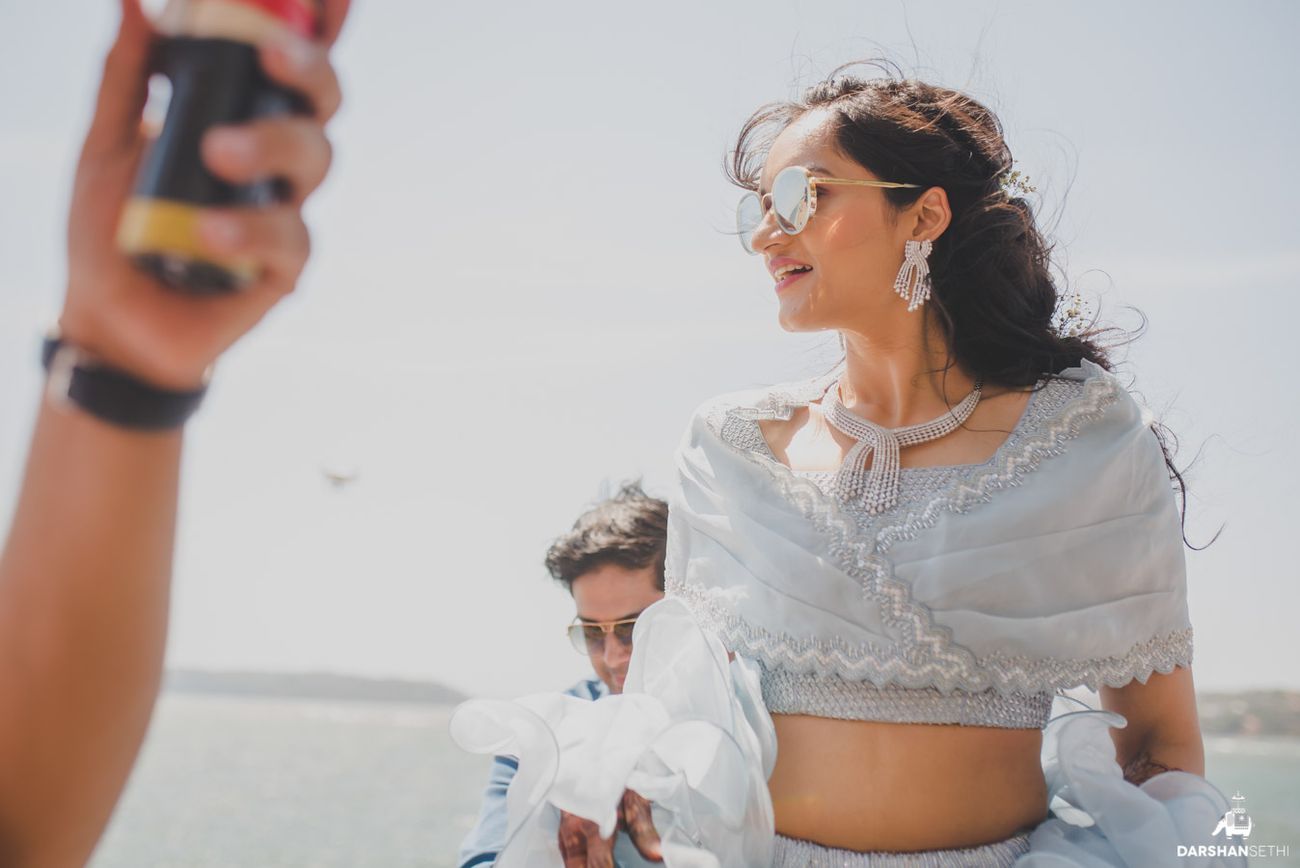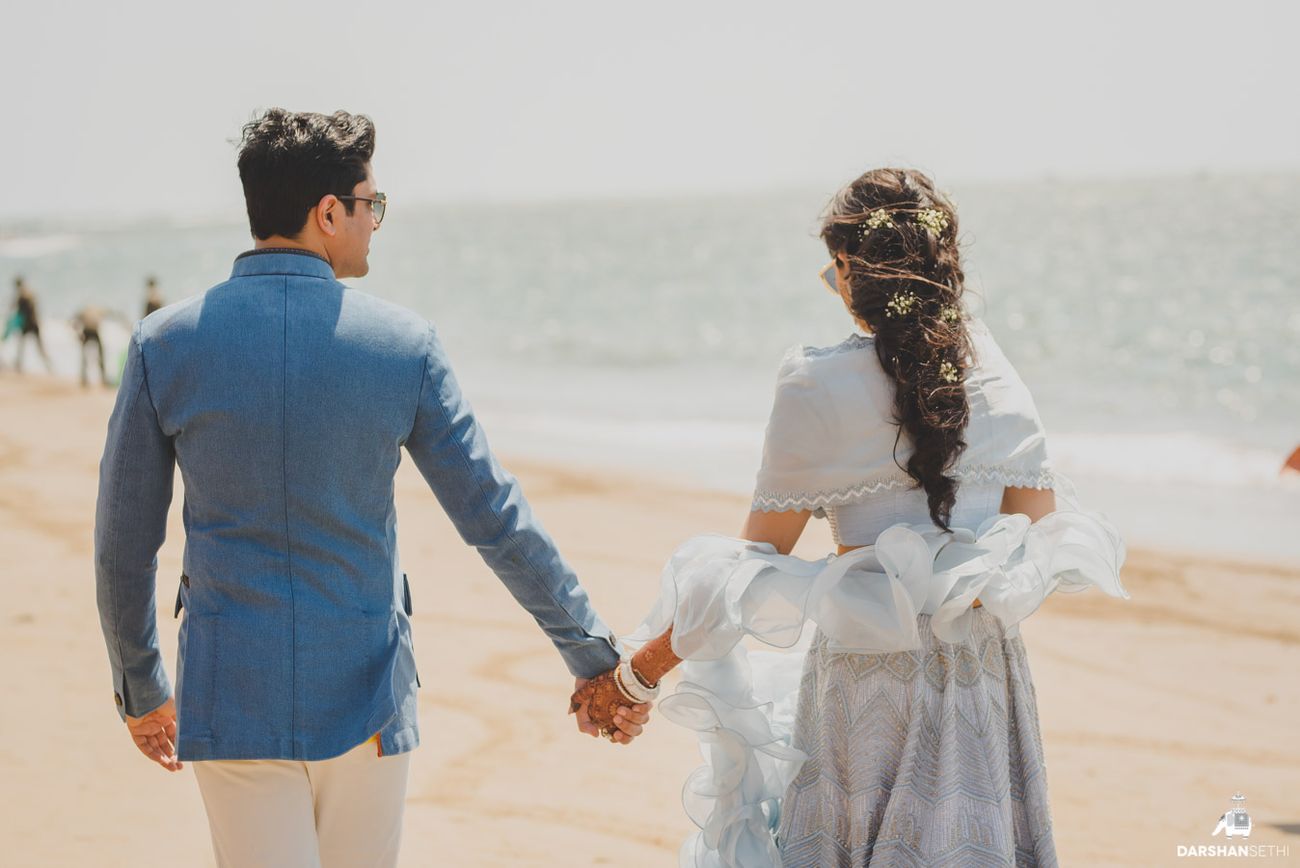 The Wedding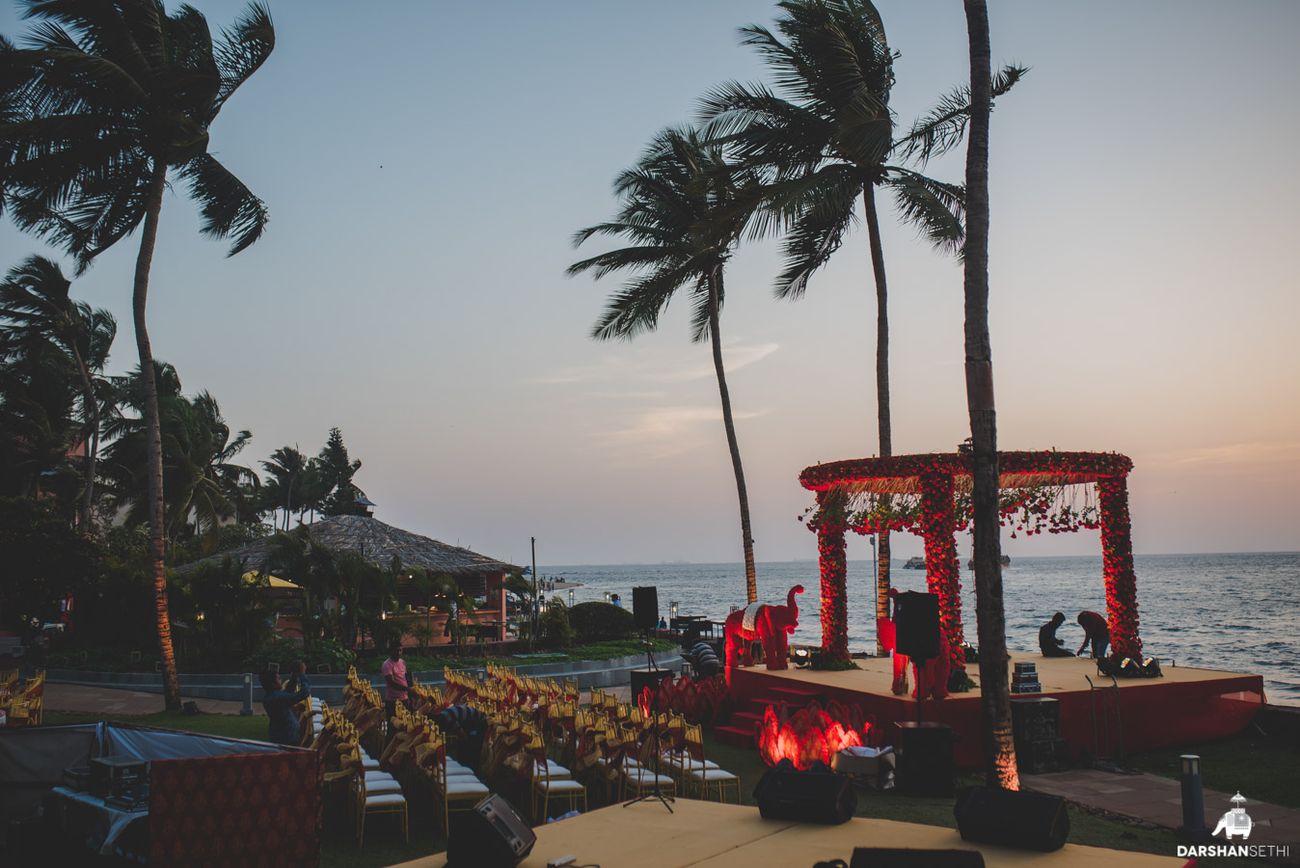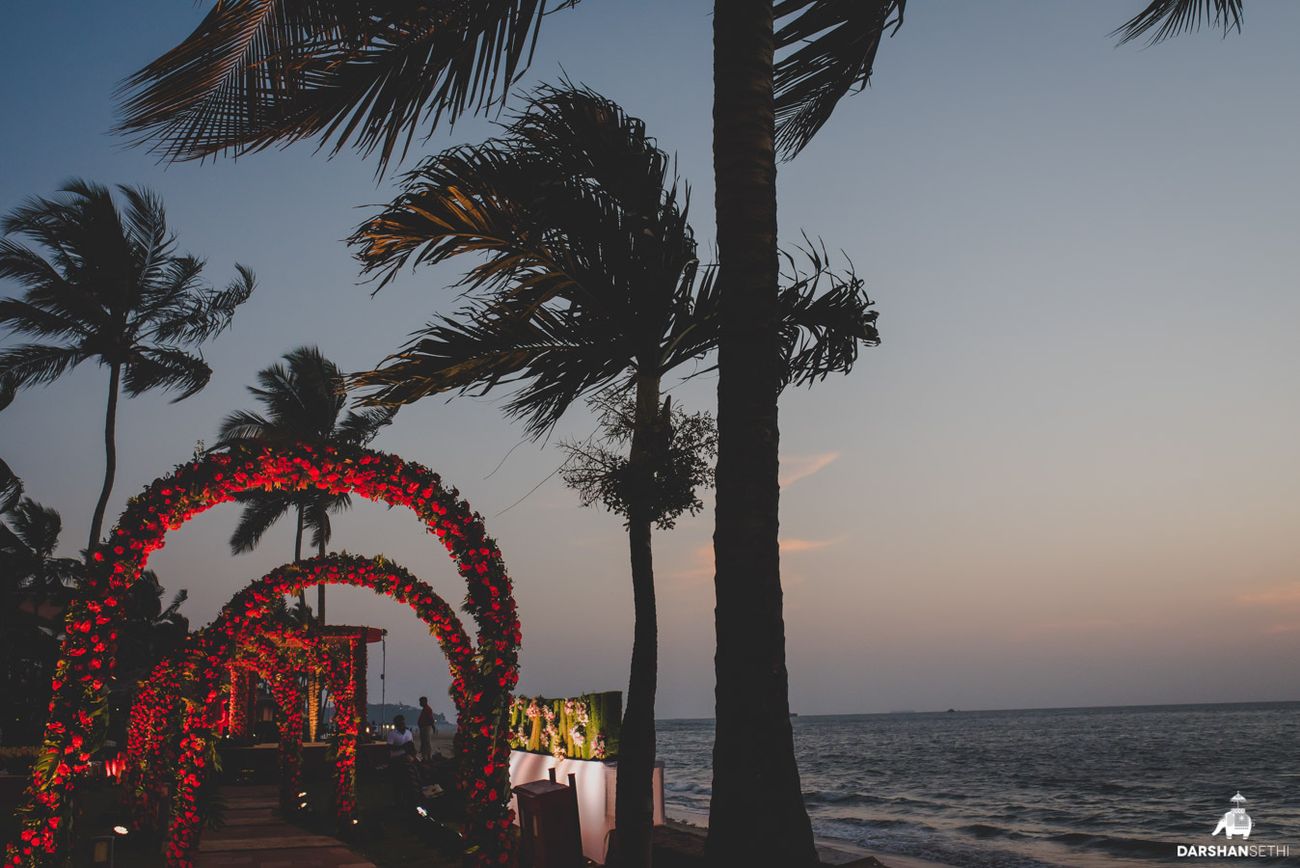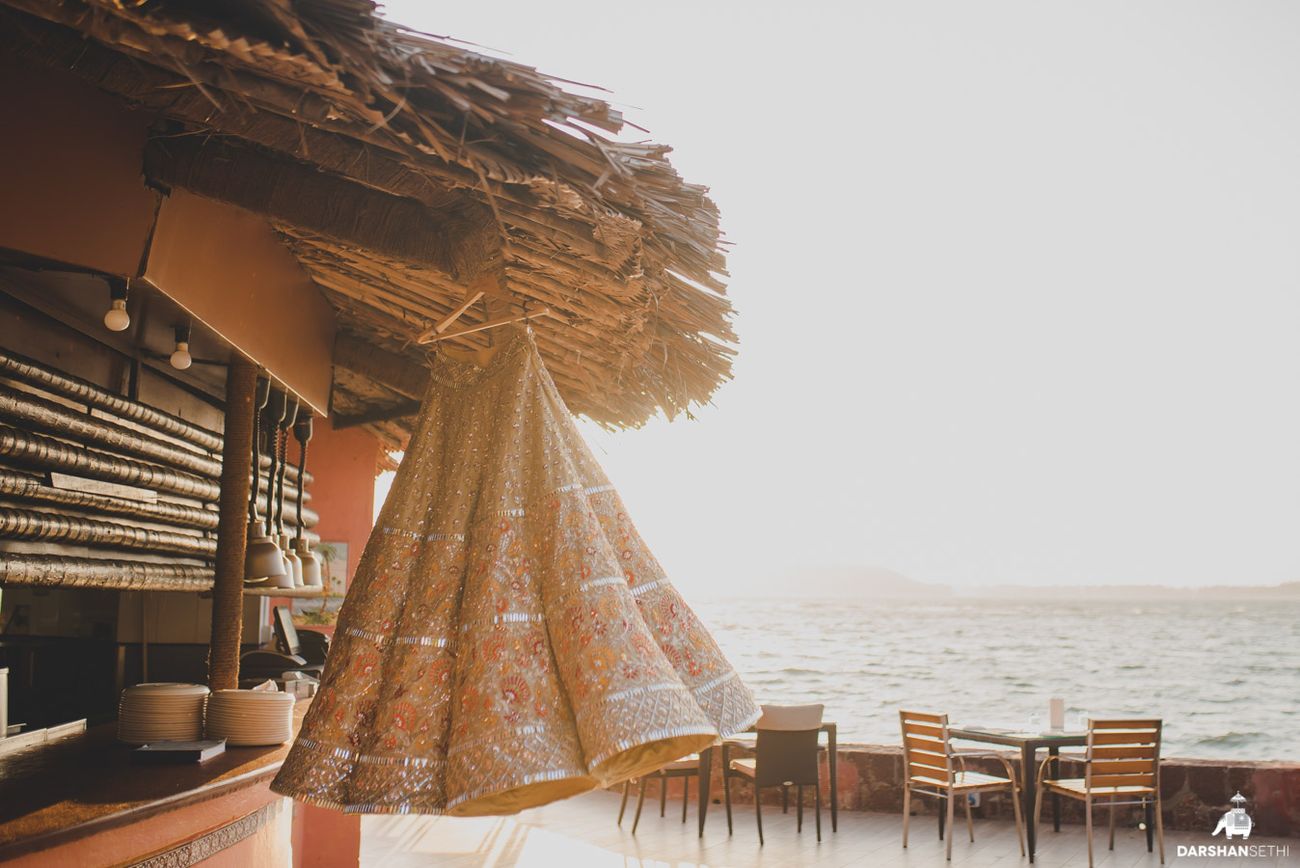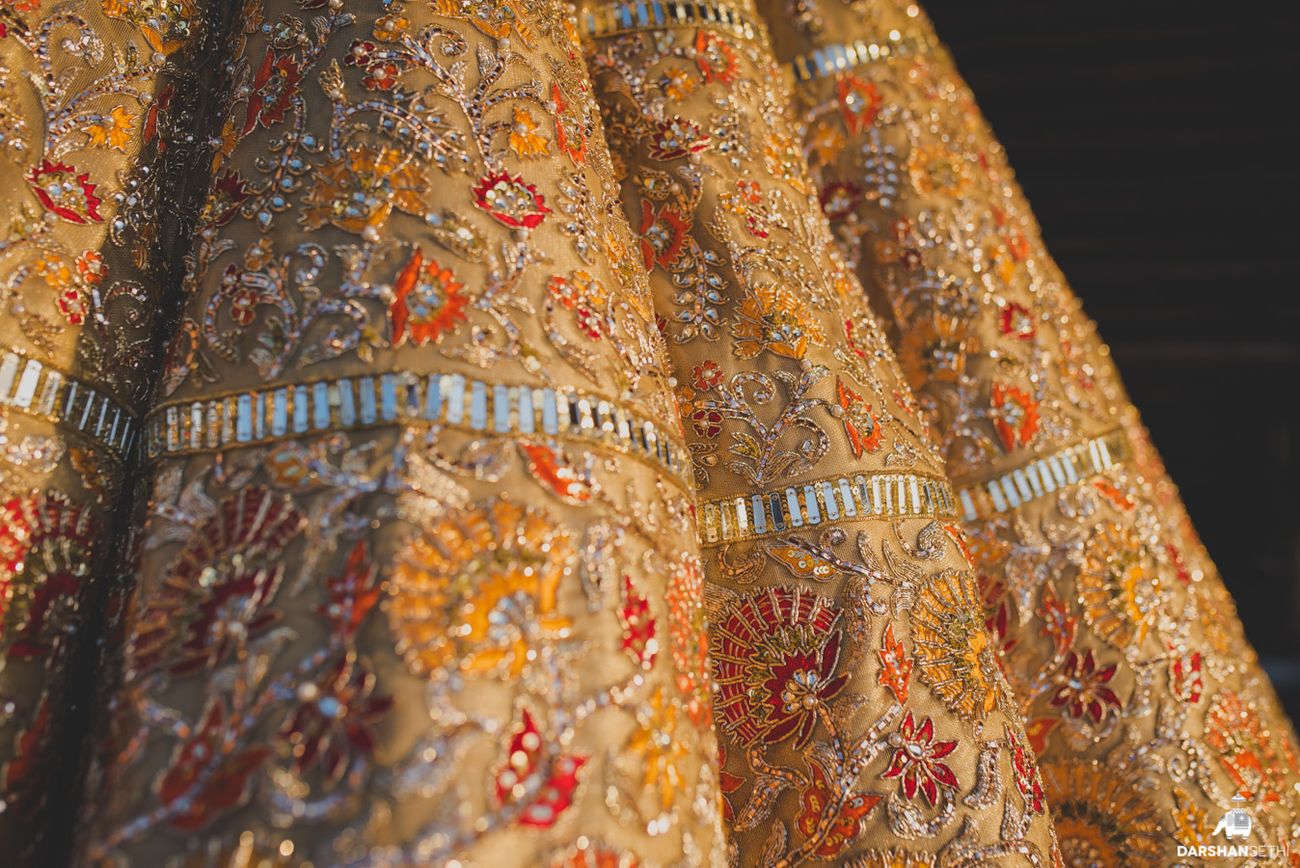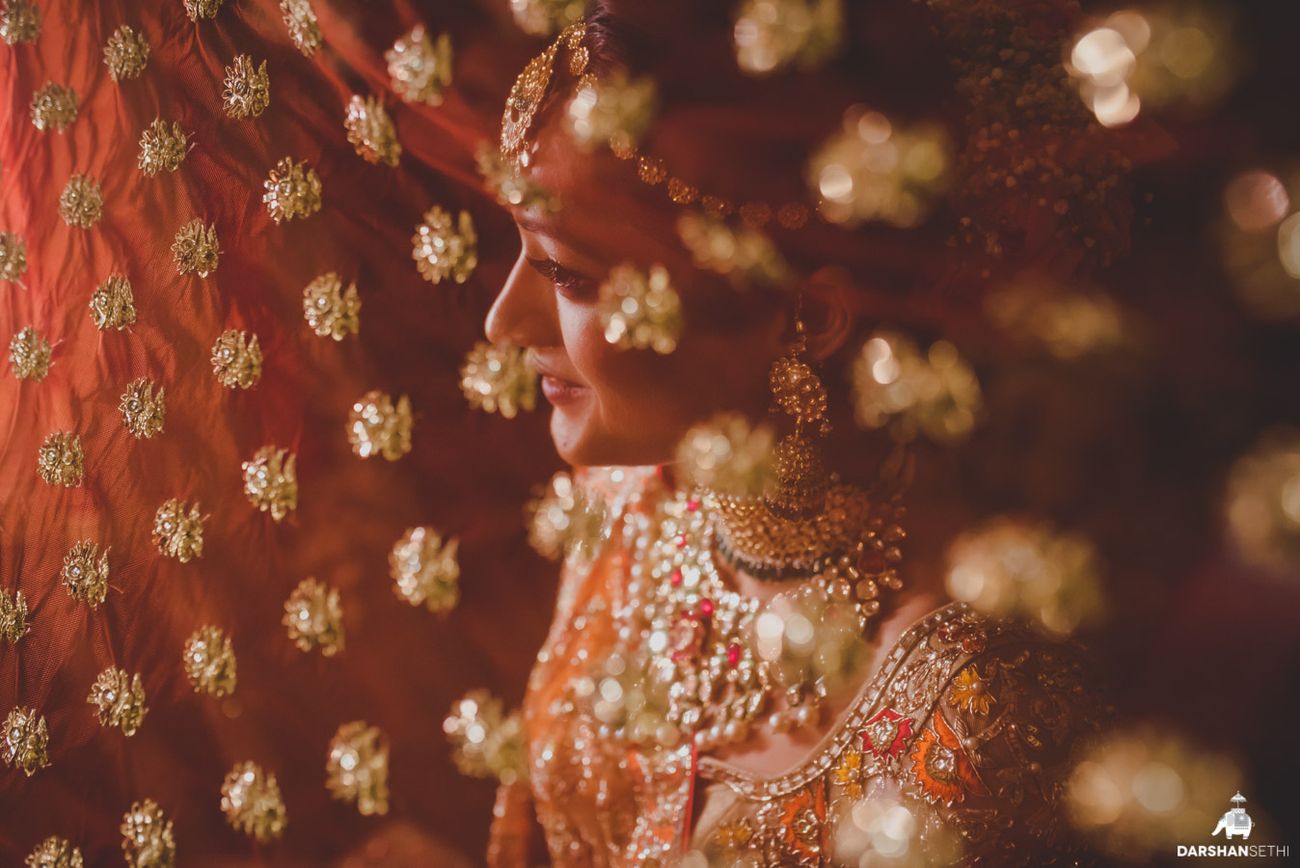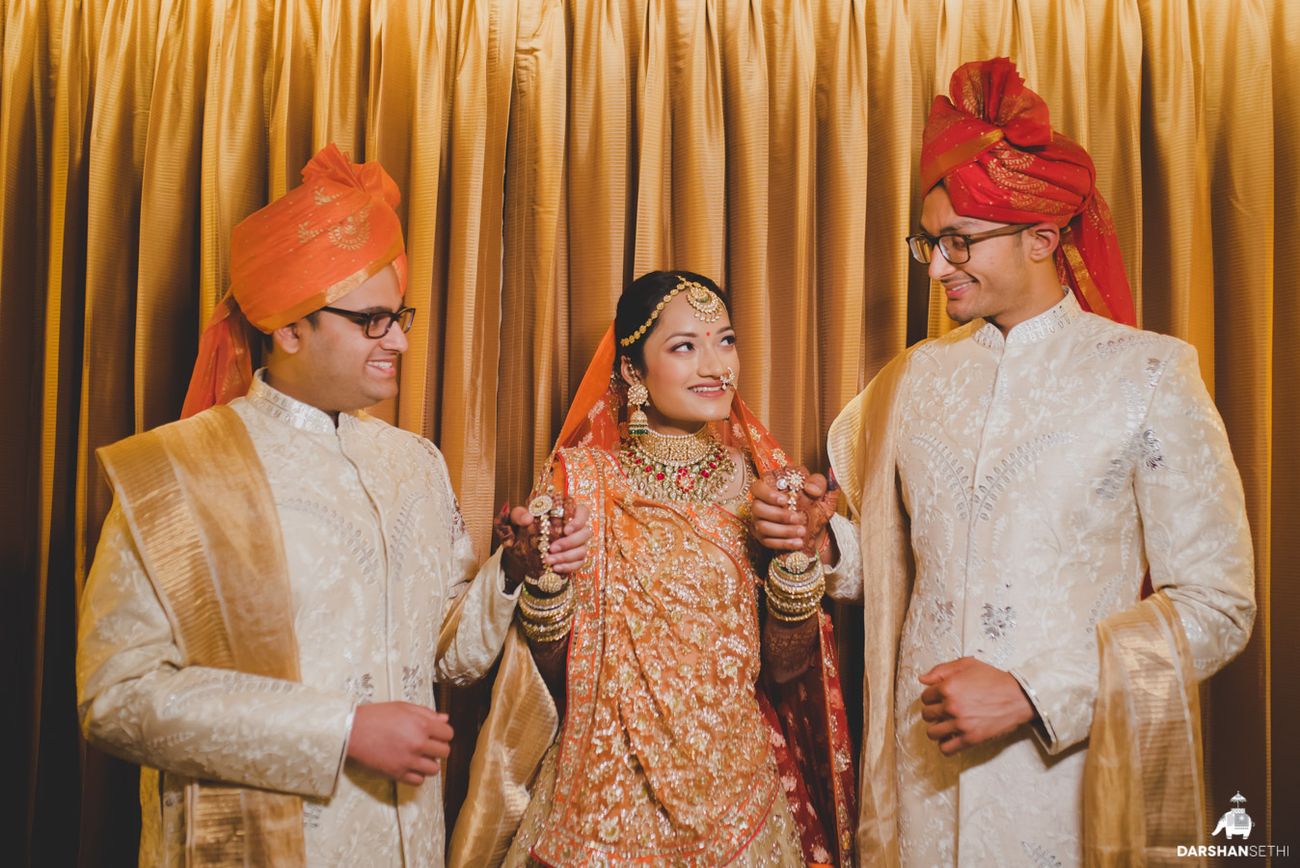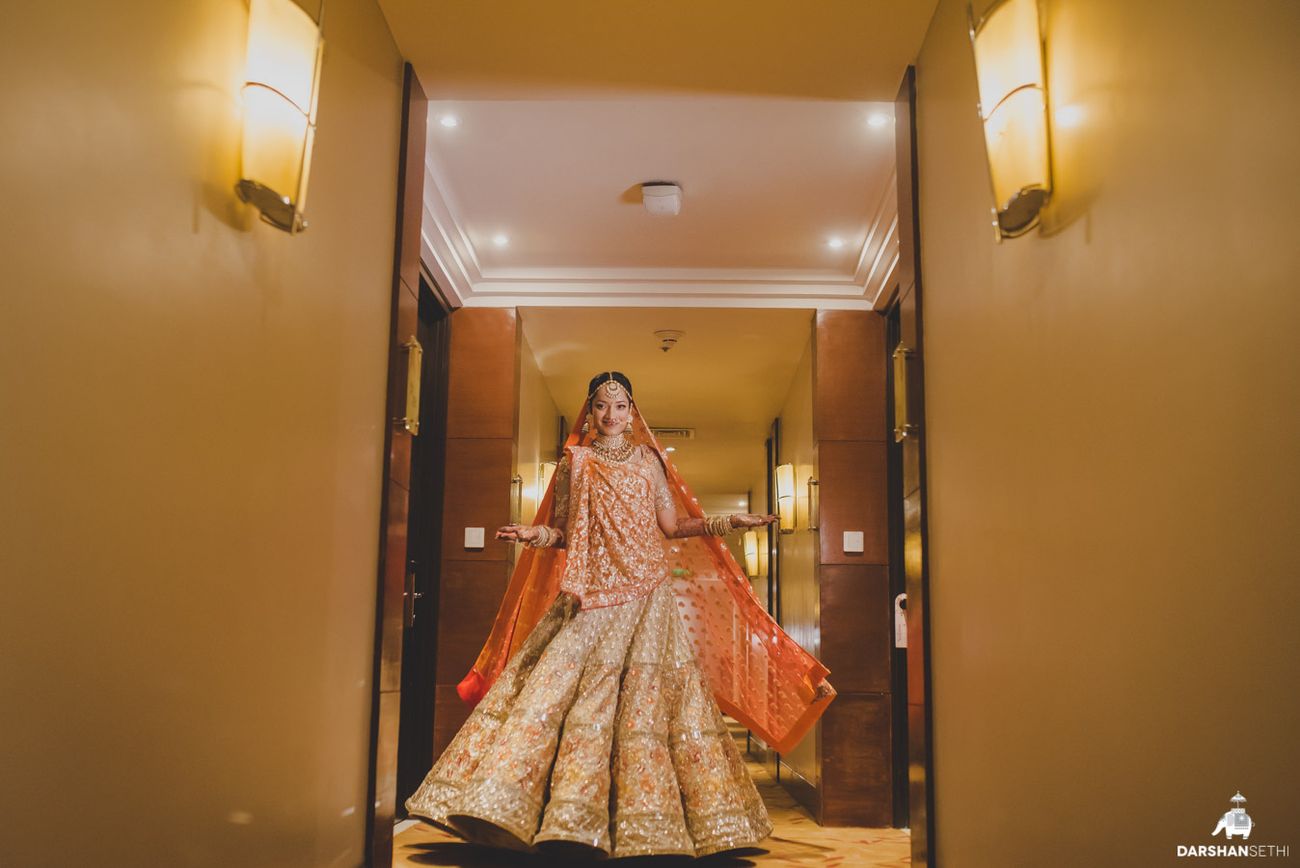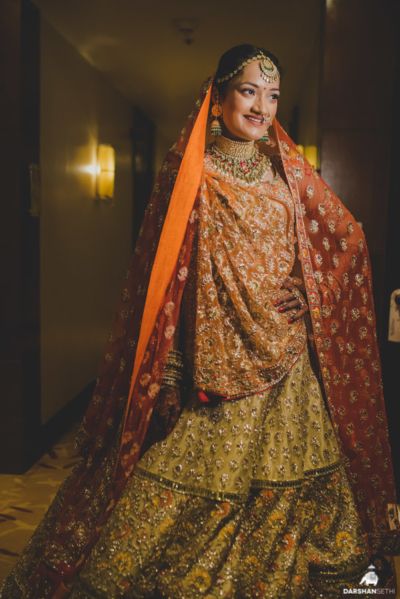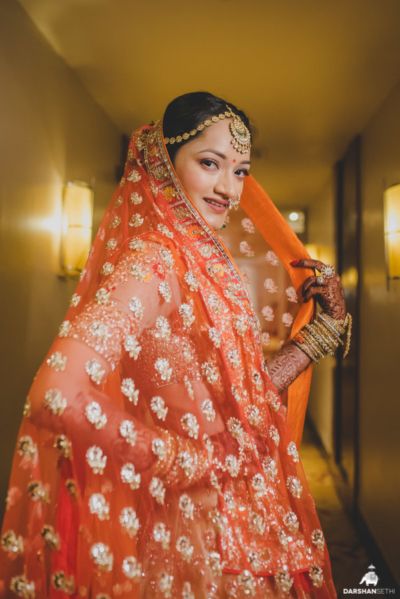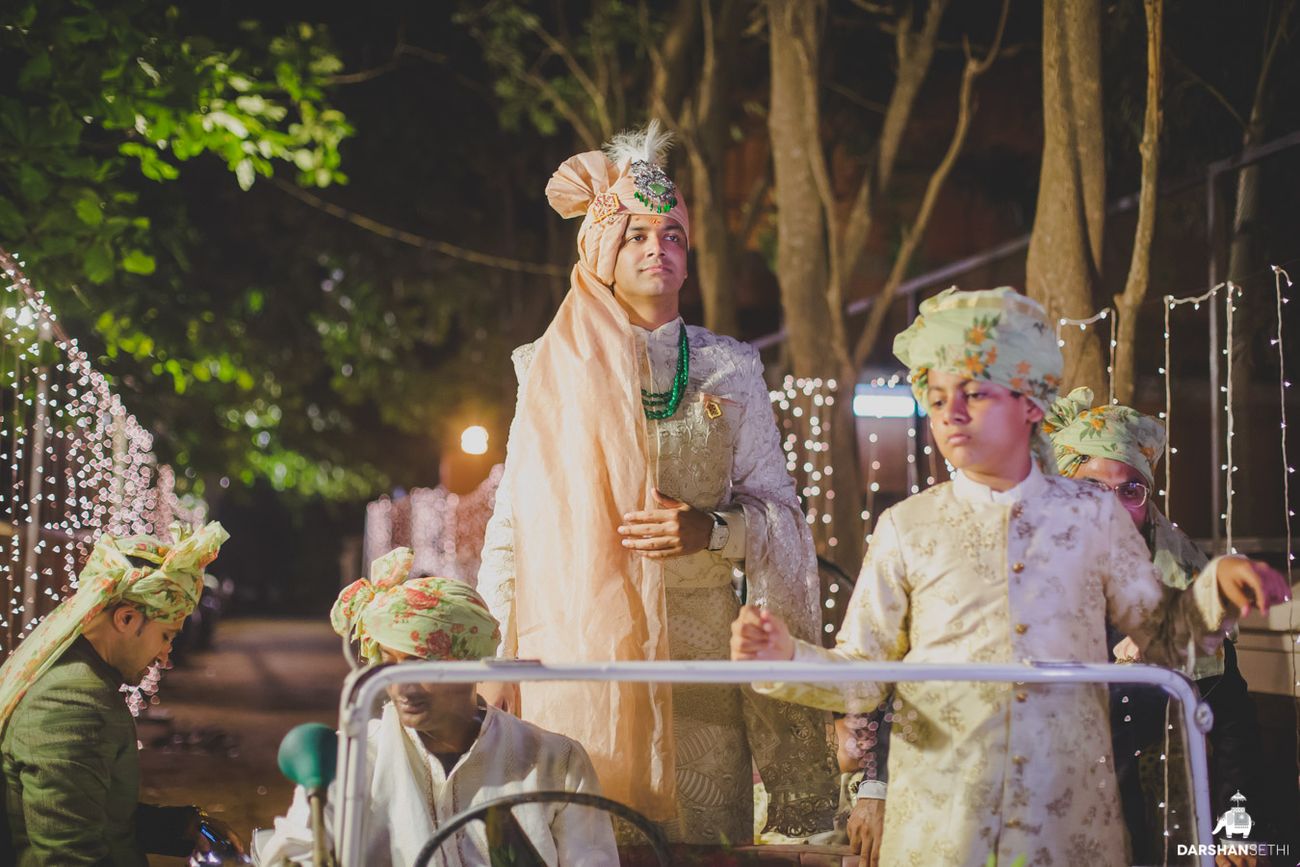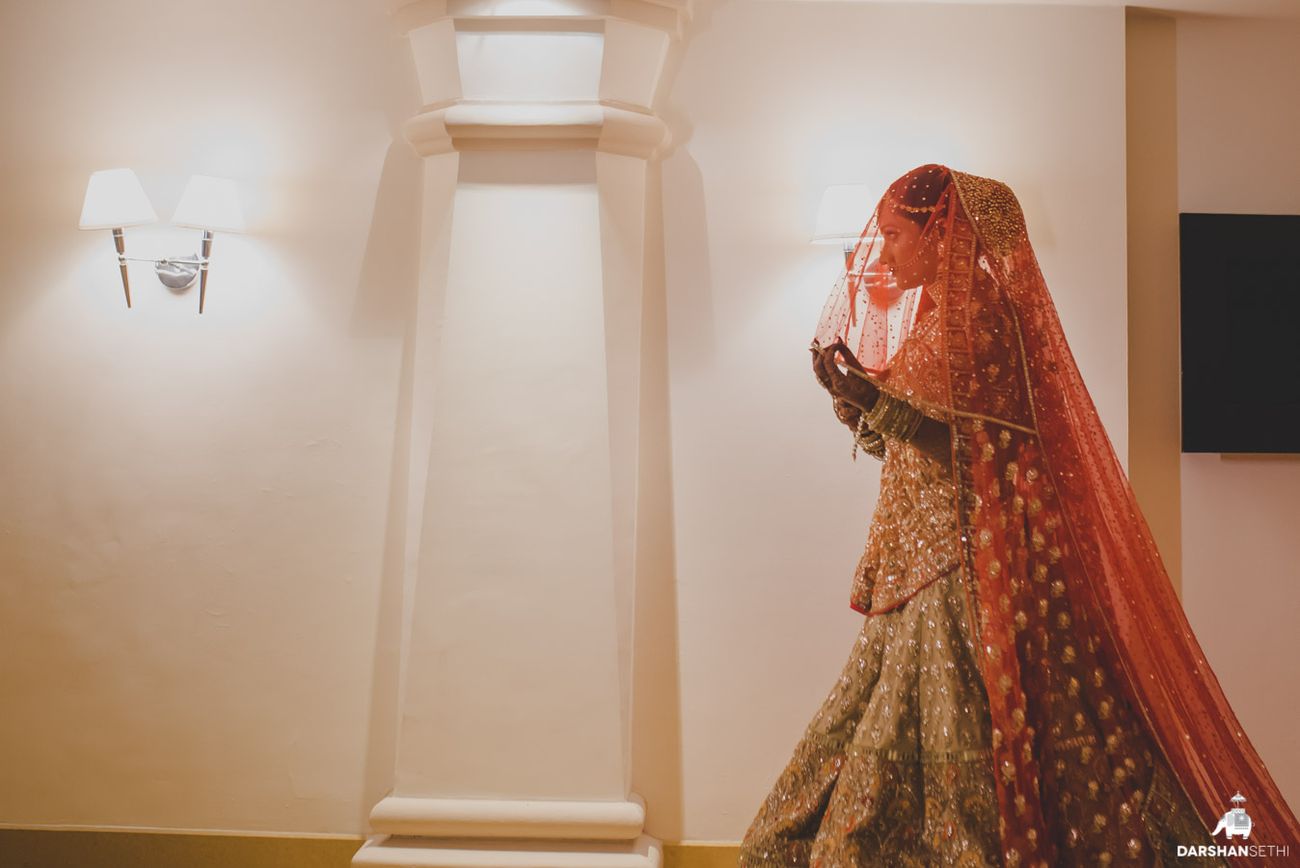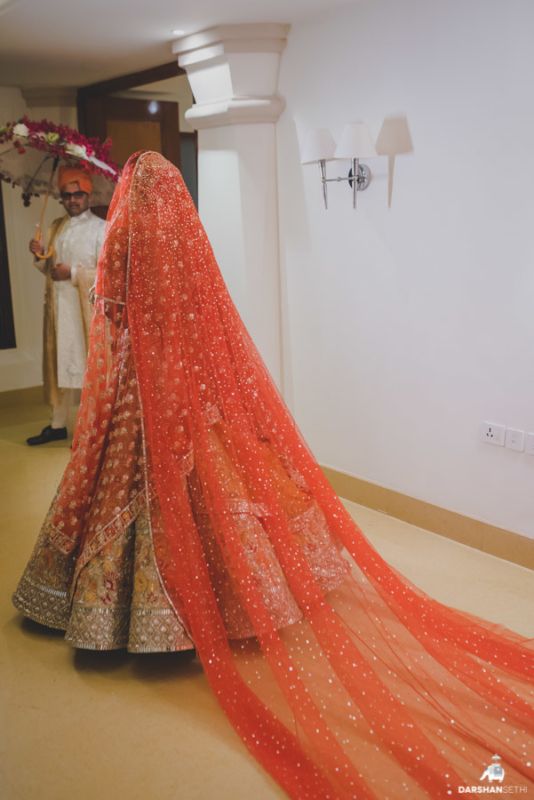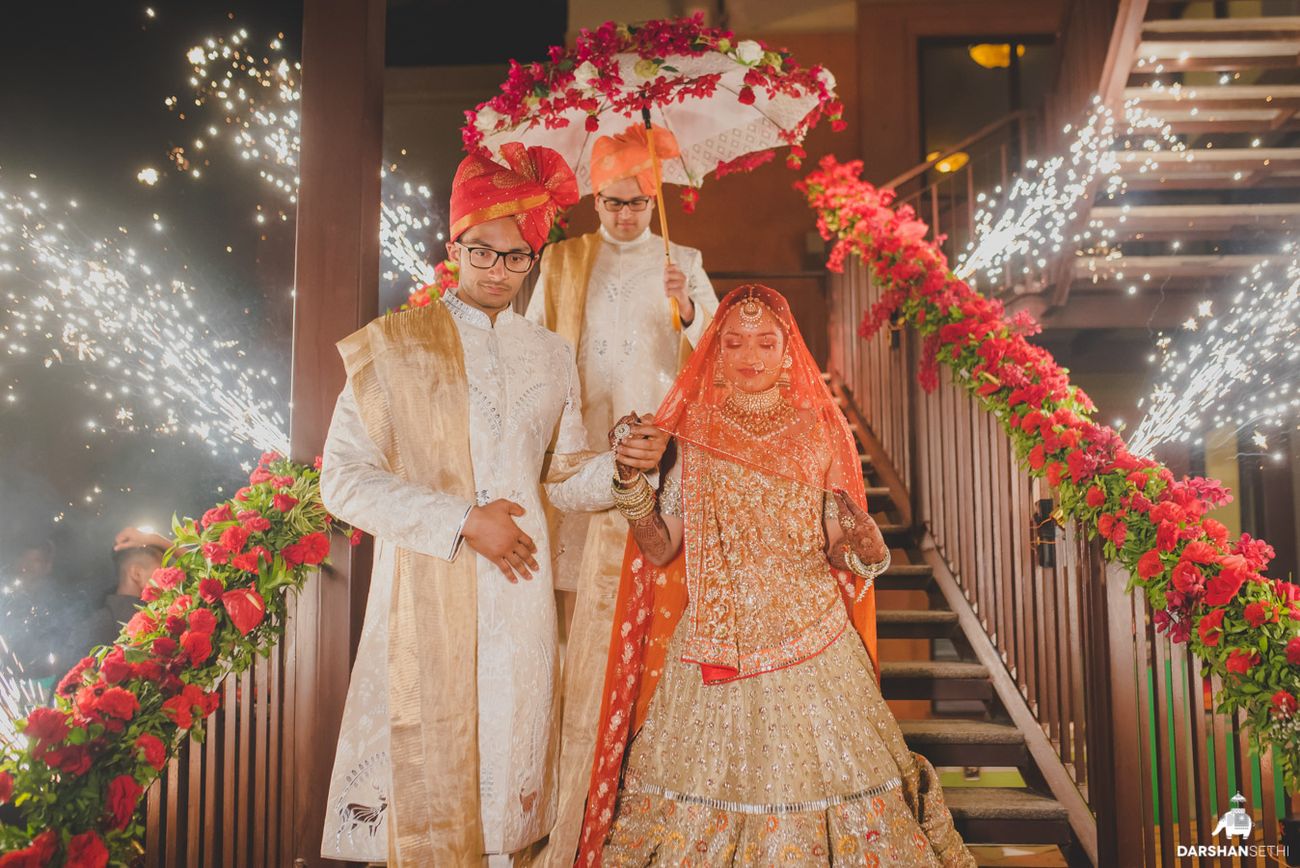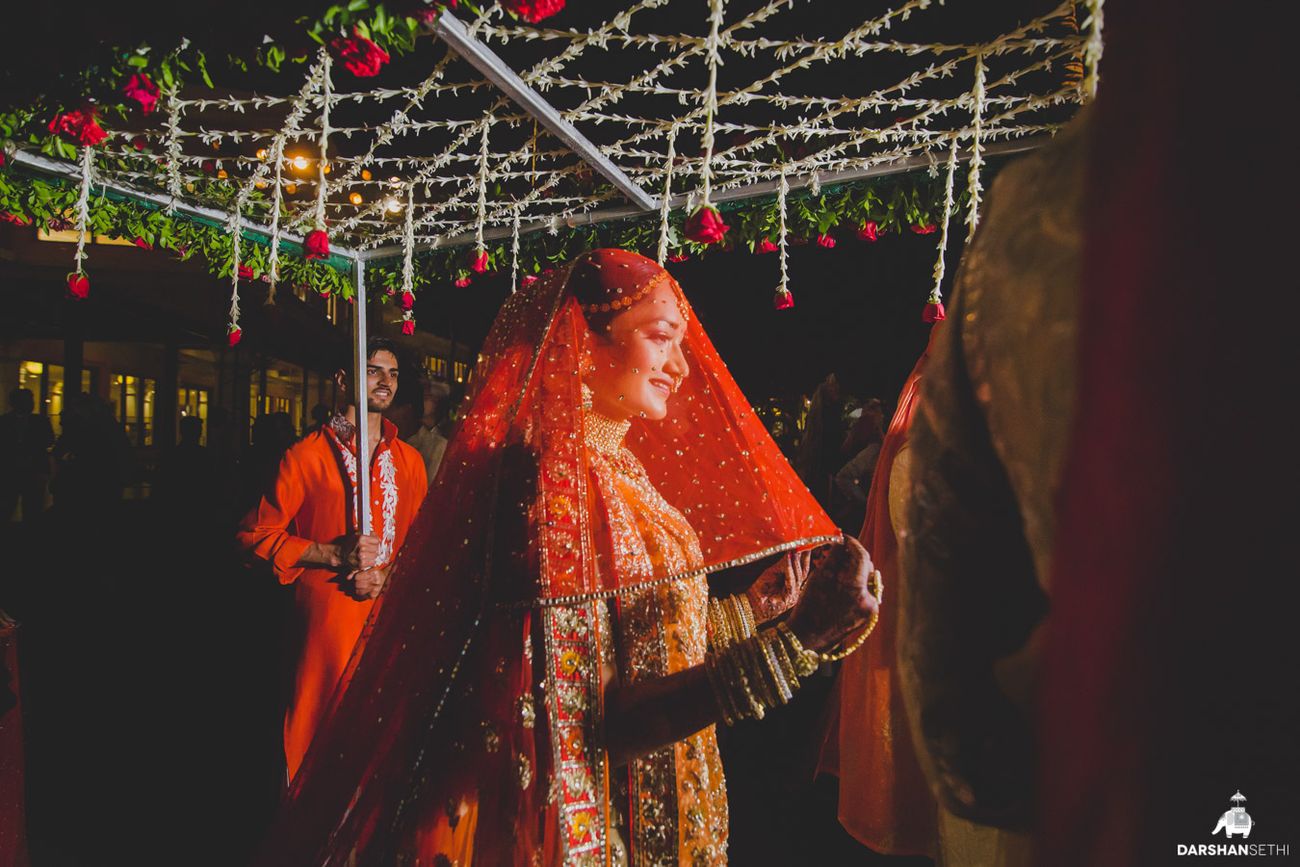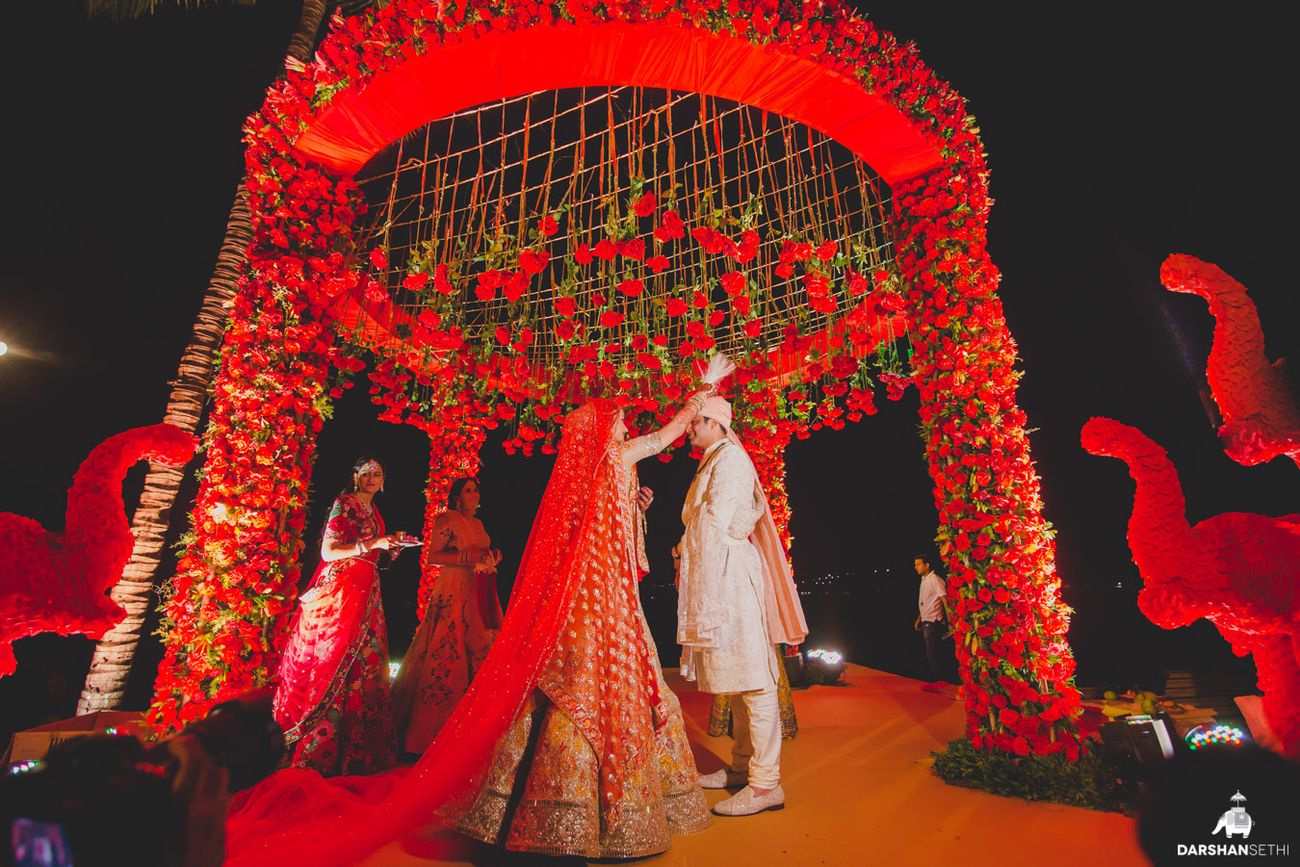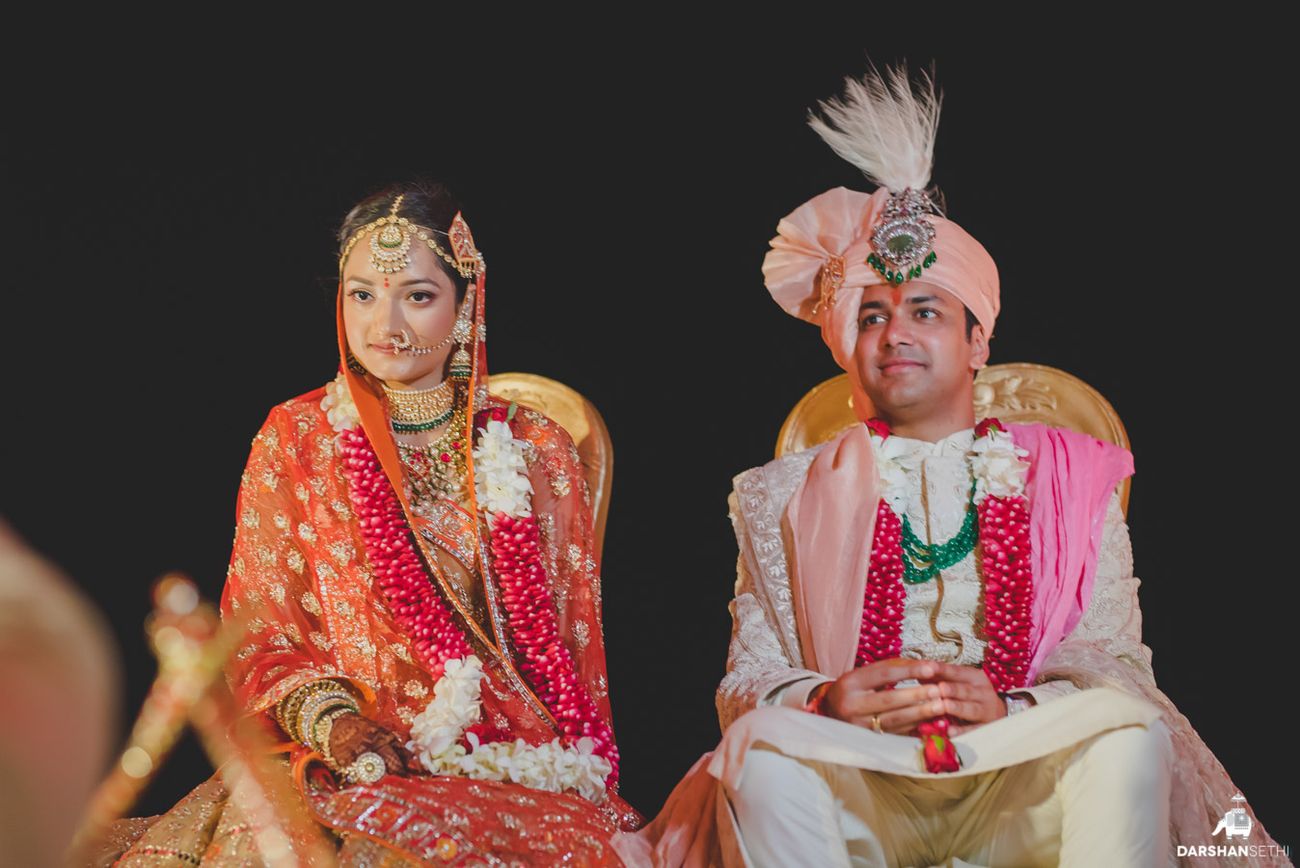 From The Bride: 
Dhruv and I wanted a glamorous, yet fun wedding. More than anything else, we cared about creating the right sort of vibe and having delicious food for our guests, at each of the functions. Goa was undoubtedly the most perfect destination for us, as even the thought of the city instils vibrancy and high spirit in one's mind. Since both the families stayed at the same resort for two days (Goa Marriott Resorts & Spa), we made sure that each out our functions stood out differently -- breaking monotony through of decor, additional elements, entertainment, food -- since we had various ceremonies at the same locations. Mehendi, Sangeet, Haldi and Pheras have been the traditional order of ceremonies at any wedding -- so we differentiated by including a 'Carnival' event on one of the afternoons -- an aqua themed party, with rain-dance and fun activities. We put more effort in planning the carnival, than any other event -- and thankfully it paid off, as even two months after the wedding, our guests particularly cherish memories from the event. After all the fun with people very close to us in Goa, we had a formal Reception ceremony in New Delhi for extended family and business partners -- as it was the only event we had in the city, we tried to make it grand and glamourous.
Vendor Reviews: 
Goa Marriott & Resorts -- Having visited the top 5 resorts in Goa, we chose Marriott as our perfect wedding venue. The two major reasons were: A. proximity to the airport, and B. proximity to the beach.
Marriott is located in North Goa, closer to the airport (just a 40 min drive), unlike other South Goa properties, which can even take over 2 hours to reach, and can become very tiring for guests.
Secondly, it was the only hotel with the beach at just a 20-feet walk. We had most of our ceremonies with a clear beach view.
Plus, we preferred having a property which is less spread out, and has easy access to the event areas (does not require golf carts to move from the room to events) -- in our opinion moving 250 people at the same hour for an event just creates unnecessary commotion and disappointment.
We were extremely happy with the hospitality and services of the hotel, they had been more accommodating to our requirements than other properties.
Misha Vig (make up) and REBA (hair) -- i always wanted to hire a make up artist who does subtle and minimalistic make up, who makes you feel natural. I heard about Misha from a friend, browsed though her instagram page and loved the work she did on every single bride. When I met her, I knew within a few minutes that shes the one -- I didnt even consult another make up artist. For any bride, it is so important to trust the make up artist and her work -- Misha built that trust. I would simply nap between my make up (as we had functions back to back), not worrying about the make up and opening my eyes to see the final look -- thats the sort of comfort. She is one of the most soft-spoken people I have ever met, and was really accommodating with regards to travel and stay during a destination wedding. I sent her pictures of each of my outfits in advance, and she had all the different looks planned. REBA is just the best hairstylist ever -- i think people really under-appreciate the role of a hairstylist in a look. I think the hairstylist is as important as the make up artist. I have fine hair, and REBA just helped me get comfort in all my looks. She made sure to give a different look for every function. I would totally recommend Misha and Reba for MUAH.
Darshan Sethi -- We hired Darshan for our engagement ceremony back in May 2018, and we loved his work. So we hired him again for our wedding, as well as our prewed shoot in Kerela. He is not only amazing with his work, but also very accommodating to the clients requirements. Unlike other photographers, he is not really fussy about hours, and would be there till when you require. Also, he's done a great job in delivering the wedding photographs in time. Darshan will surely be a part of all the weddings in my family in the future too. He has an amazing attitude towards his clients and work, and im sure this would do wonders for him.
Abhinav Bhagat -- I always wanted Abhinav to do my wedding decor. He does minimalistic, yet differentiated work -- it stands out. He made sure that every event looked different from the other and we worked along the minutest of details. He was always available and ready to tailor to our requirements -- which gave us a lot of comfort. Again, as with make up and photography -- I was not worried about the decor -- nor did anyone in my family have to worry about it during the wedding days -- everything was done to perfection and on time.
Sangeet/Tikka (coral outfit) -- ANAMIKA KHANNA (Despite having had a major surgery, Anamika was kind enough to sit and design a customised sangeet lehenga. It turned out to be much more beautiful than I expected)
Haldi (Yellow outfit) -- NEETA SARAF JAIPUR (I wanted a traditional look for my haldi, so I went for an all yellow lehenga along with floral jewellery, really enjoyed the minimalistic look)
Carnival (blue outfit) -- DISHA PATIL (Disha is simply amazing, she has very unique designs. Everyone wants that one princess look -- with all the glitter and ruffles, and shes the right one. She works on pretty pastels, and does delicate bead work. )
Wedding (golden orange red) -- NEETA LULLA (She made me feel like a princess as i walked down the isle, I didn't want to go all red -- so she blended golden with oranges and reds. Neeta aunty was there for all my four trials, making sure the outfit was perfect for all big day -- she carefully designed the entire look -- right from my jewellery to footwear. She gave me three dupattas, the one tucked, one for the head, and one with a veil plus trail -- which I entered with down the isle, my husband unveiled it on the stage right before the varmala -- it was the best moment)
Reception (silver) -- FALGUNI SHANE PEACOCK (Falguni helped me get the most glamorous look ever. She is one of the sweetest designers I have ever met, and had been available on call for all my concerns. She gave me the right length of trail in my lehenga; I had a trail, yet i could dance. She was not too fussy about customisation, unlike other designers -- I picked details from over 5 outfits from her collection -- and she created something completely new)

We got our reception invites made from Ravish Kapoor. He did a fabulous job, and everyone loved it. He understood what we wanted (something elegant and not over the top). We gave out 'attar' bottles as a part of the invite, and everyone around us loved the idea. It is of course something people will enjoy using.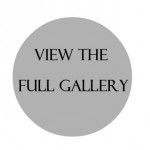 Vendors: Venue: Goa Marriott & Resorts; Makeup Artist & Hairstylist: Misha Vig Makeup Studio★ 4.9 (make up) and Reba (hair); Photographer: Darshan Sethi Photography★ 5 ; Wedding Decor: Abhinav Bhagat★ 5 ; Bridal Outfits: Mehendi- Anita Dongre★ 4.9 , Sangeet- Anamika Khanna★ 5 , Haldi- Neeta Saraf Jaipur, Wedding- Neeta Lulla★ 4.9 , Reception-Falguni Shane Peacock ★ 4.8 ; Bridal Jewellery: Ceres Jewels; Wedding Invites: Ravish Kapoor★ 5