A Bengali-Sindhi Beachside Sundowner Wedding In Goa
BY Smridhi Sablok | 17 May, 2022 | 842 views | 6 min read
To celebrate their love for beaches and sunsets, this couple hosted their Bengali-Sindhi sundowner wedding by the sea in Goa. With a multicultural union, an ocean-side property and a whole lot of love - this one's special. The bride kept it simple with minimal makeup and comfortable non-designer outfits for all the events and for the wedding, she picked a classic red Banarasi saree from Kolkata. While the venue was picturesque in itself, some interesting décor elements added all the more magic to it. 
Meet Swagata & Karan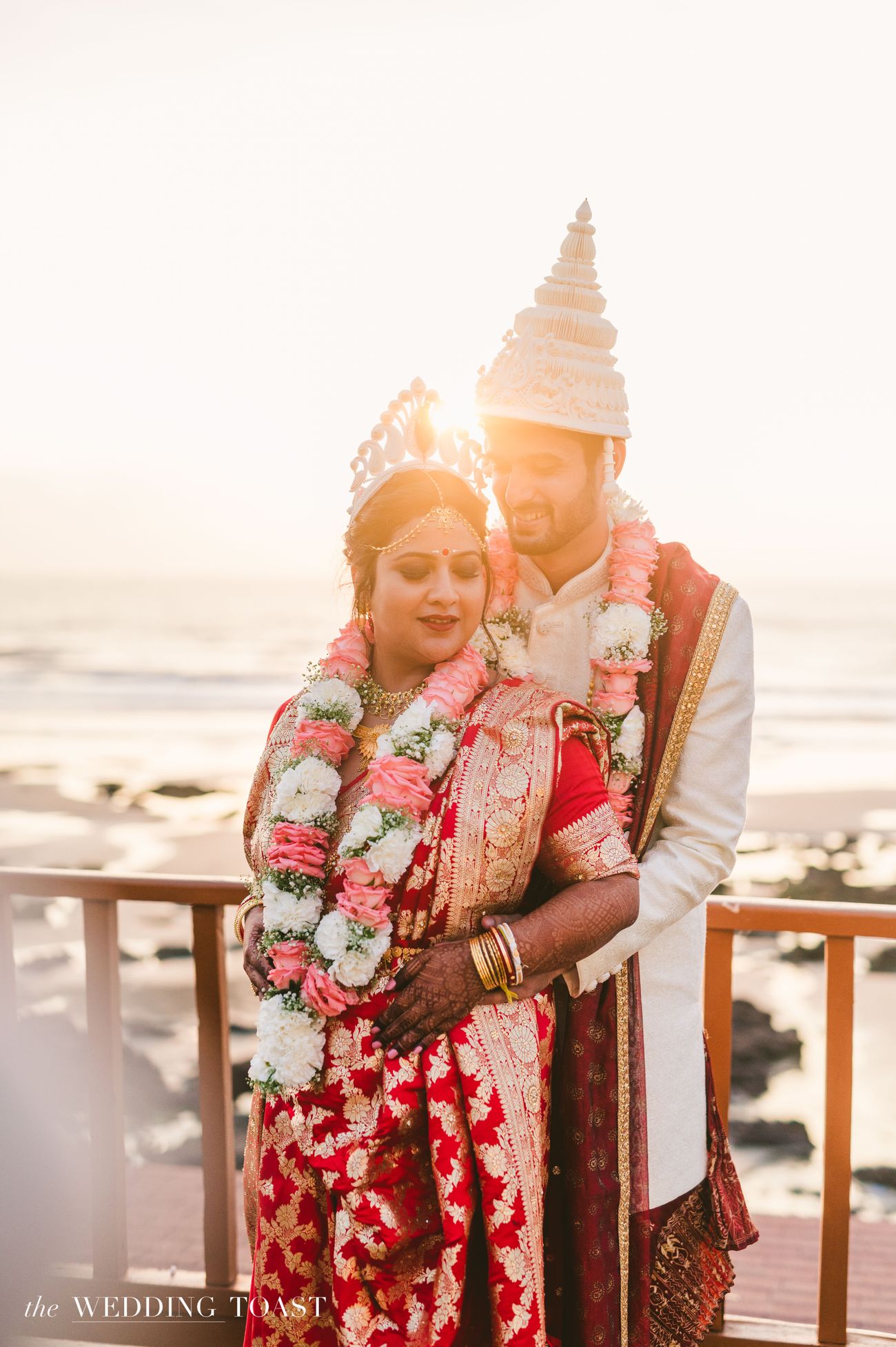 We had been following each other on social media for a while but it's only during the peak of the March lockdown in 2020, when the frequency of our interactions thickened. Even though he works in Mumbai (where I live), he had gone back to Jaipur to be with his parents around that time. It started with long chats that turned into endless phone calls, which later translated into video call dates. The world was collectively experiencing so much trauma back then. We found respite and happiness in each other's company, albeit virtually. But after a point, not being able to meet was getting too difficult. So, in August around my birthday, he decided to move back to Mumbai. The next few months were spent in clandestine meets, getting to know each other and taking short trips to spend all the quality time that we had missed out on because of the pandemic. Somehow, we always knew this was for keeps. On New Year's Eve, we decided to let our respective parents know and in February, we had our Roka at a quaint beachside Airbnb in the presence of our immediate family. Finally, we got married in Goa on 21st November, 2021. 
Mehendi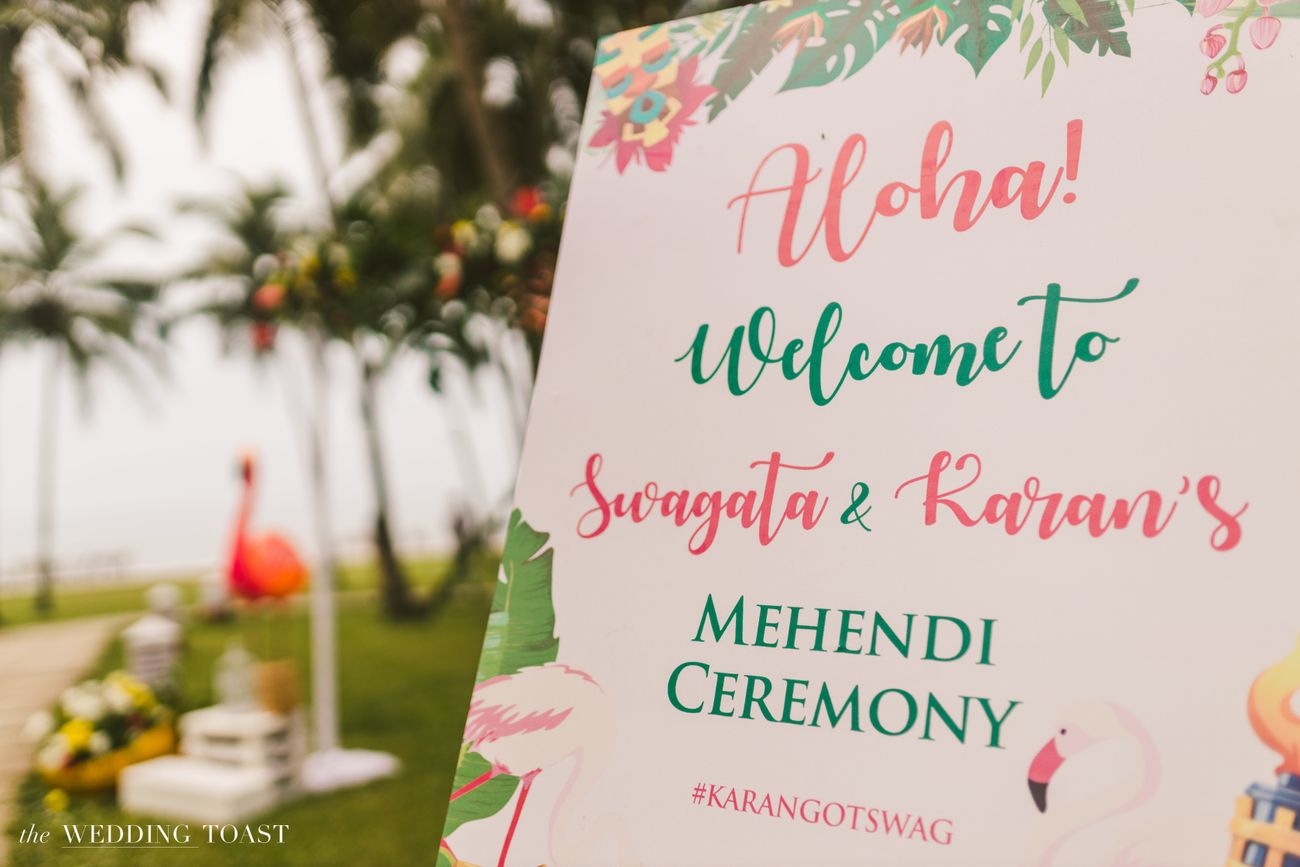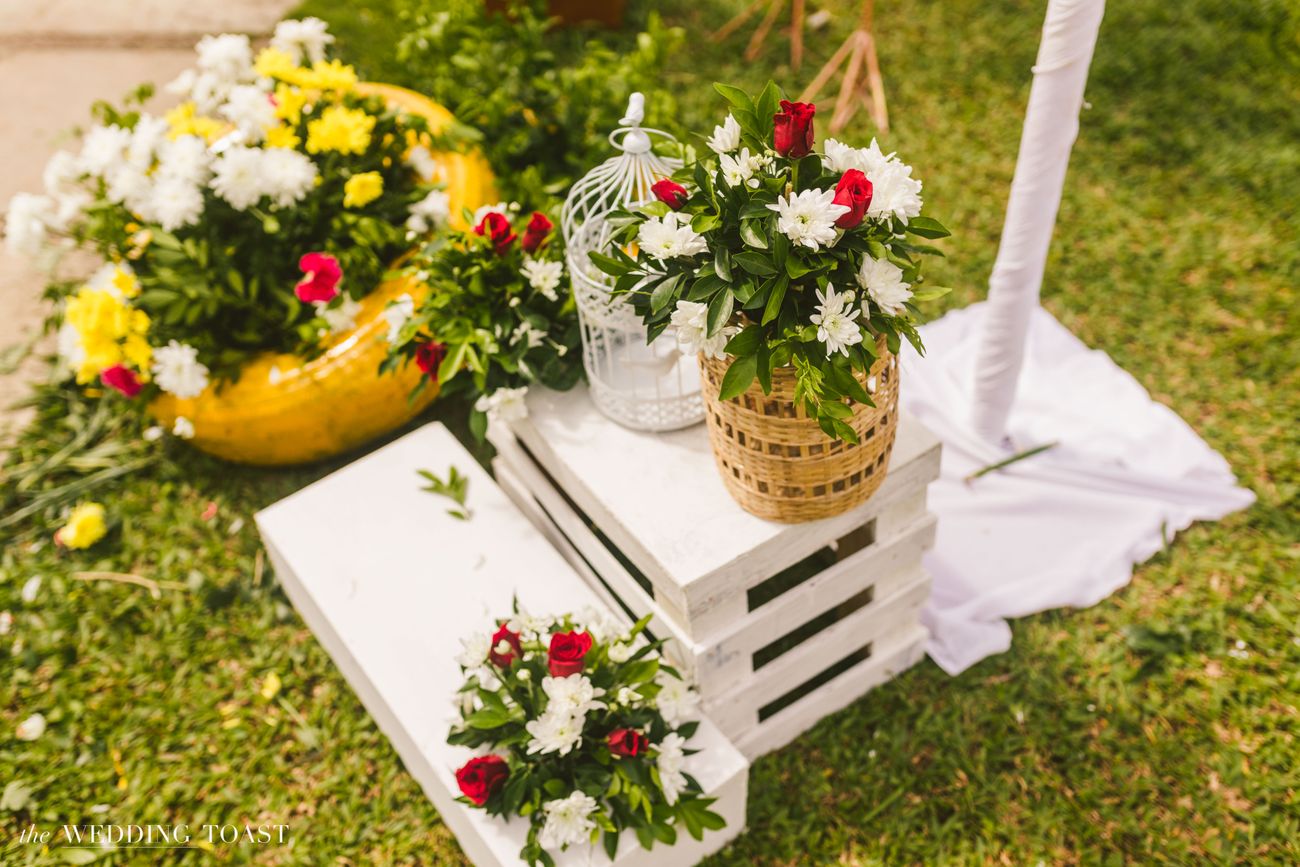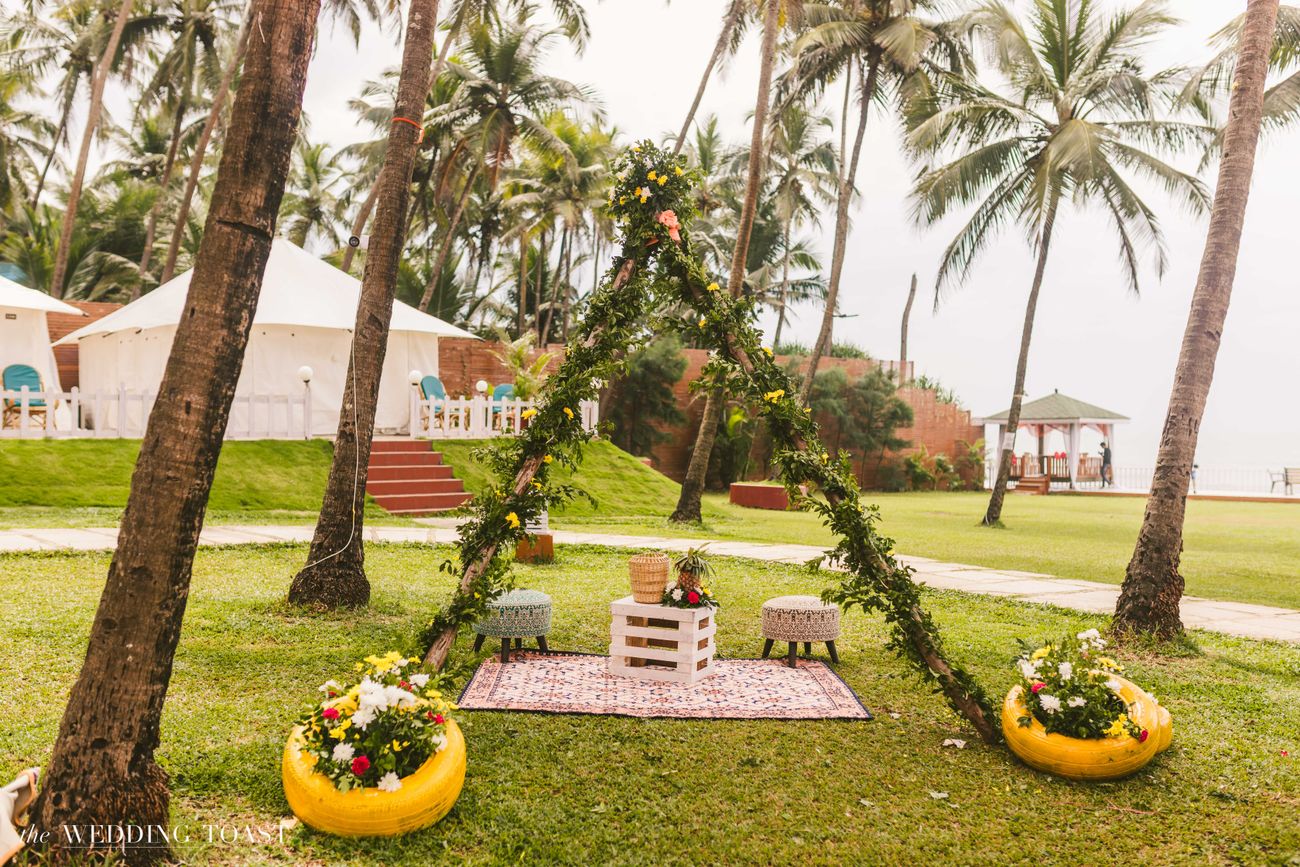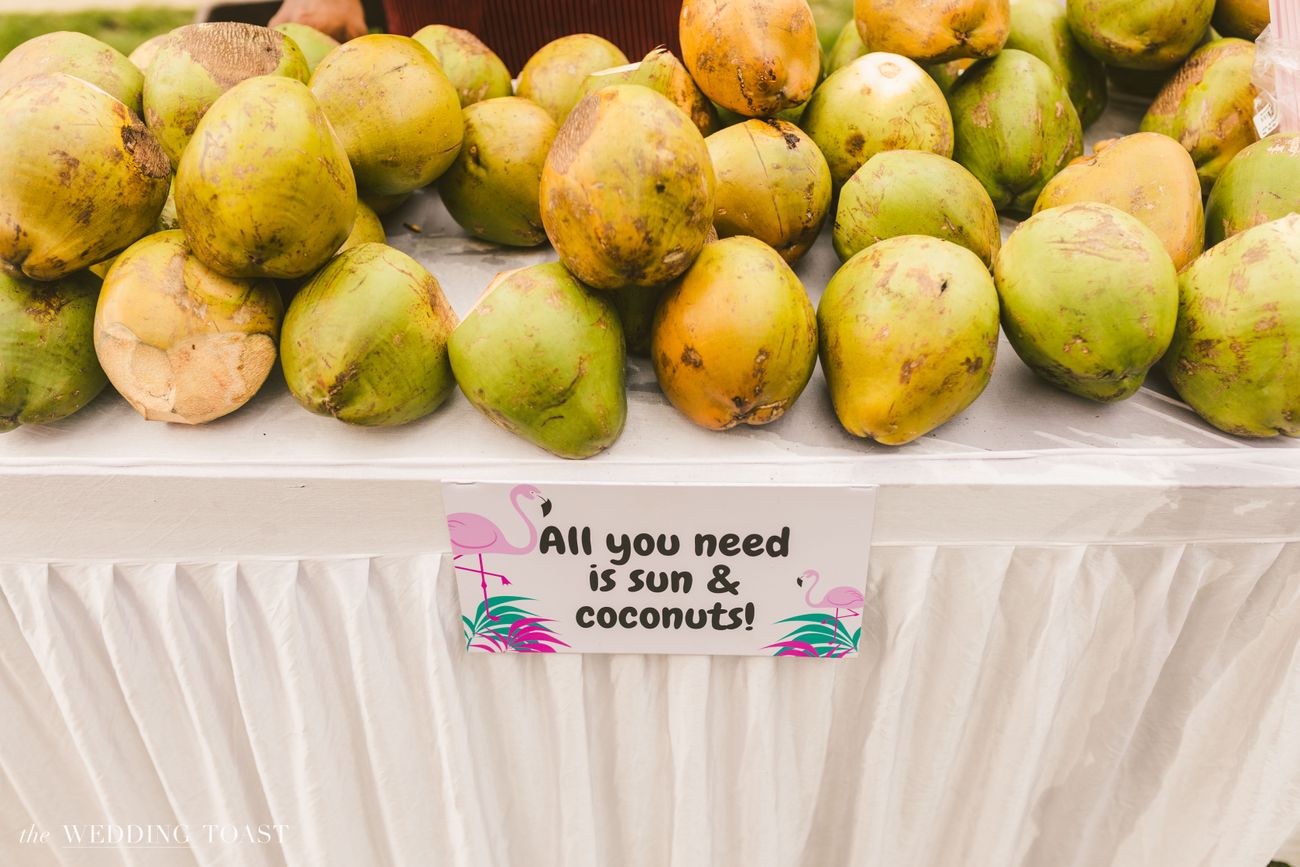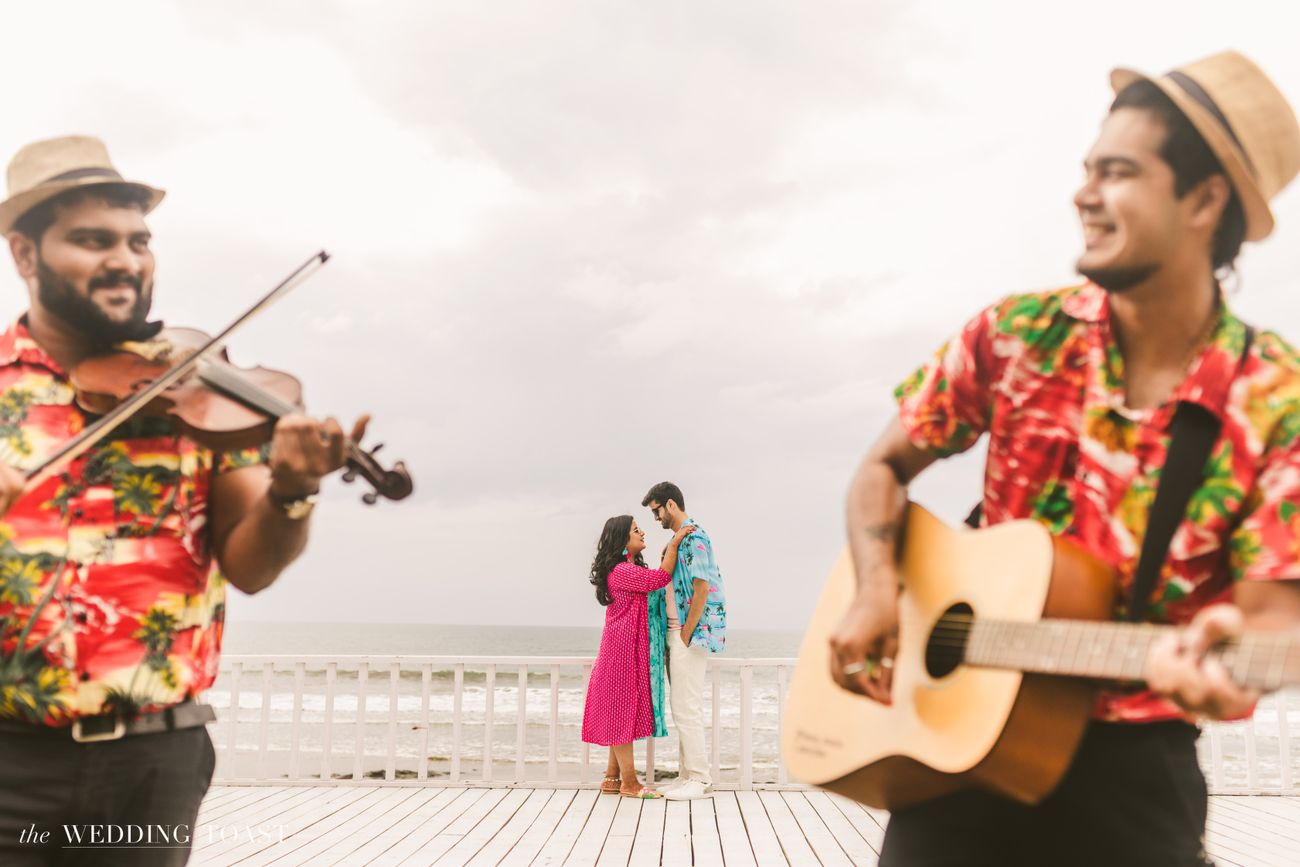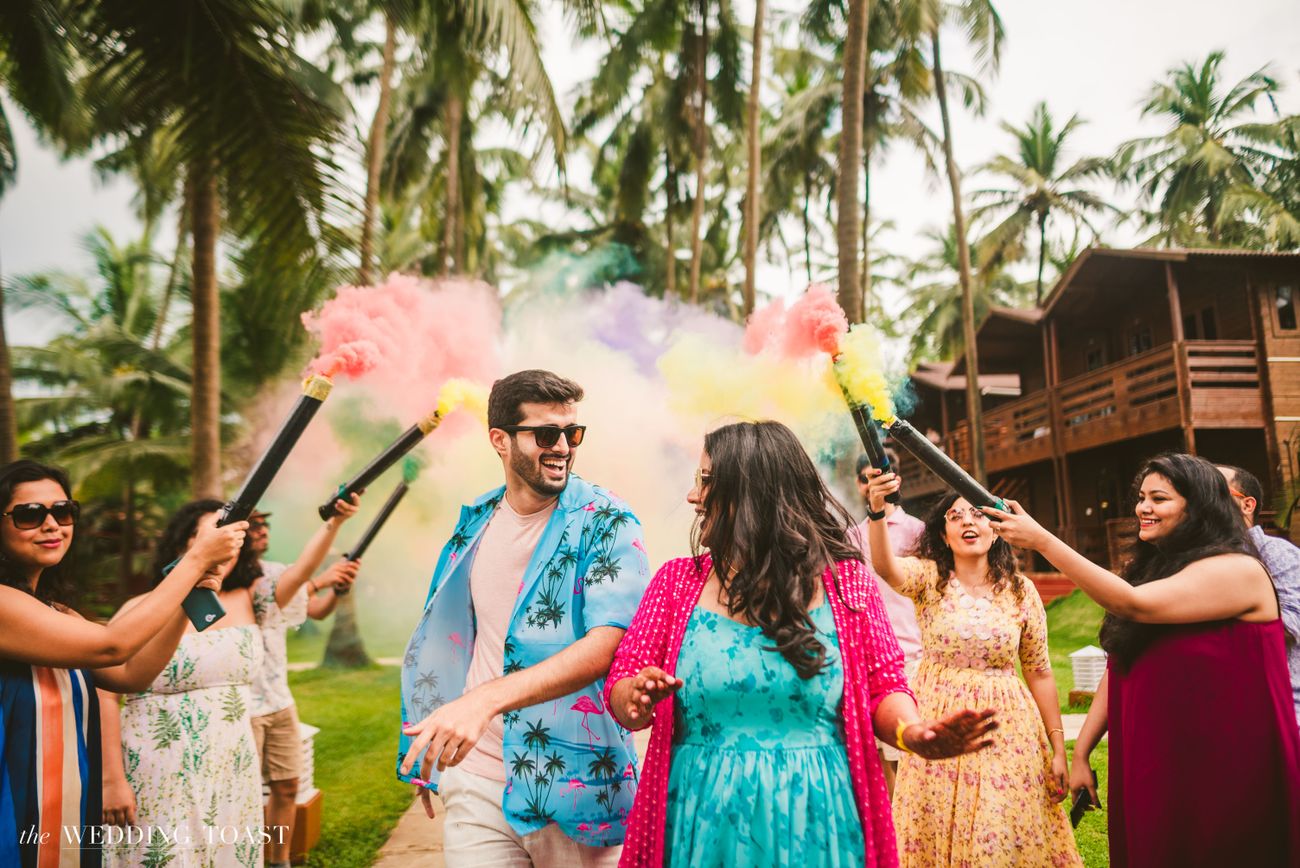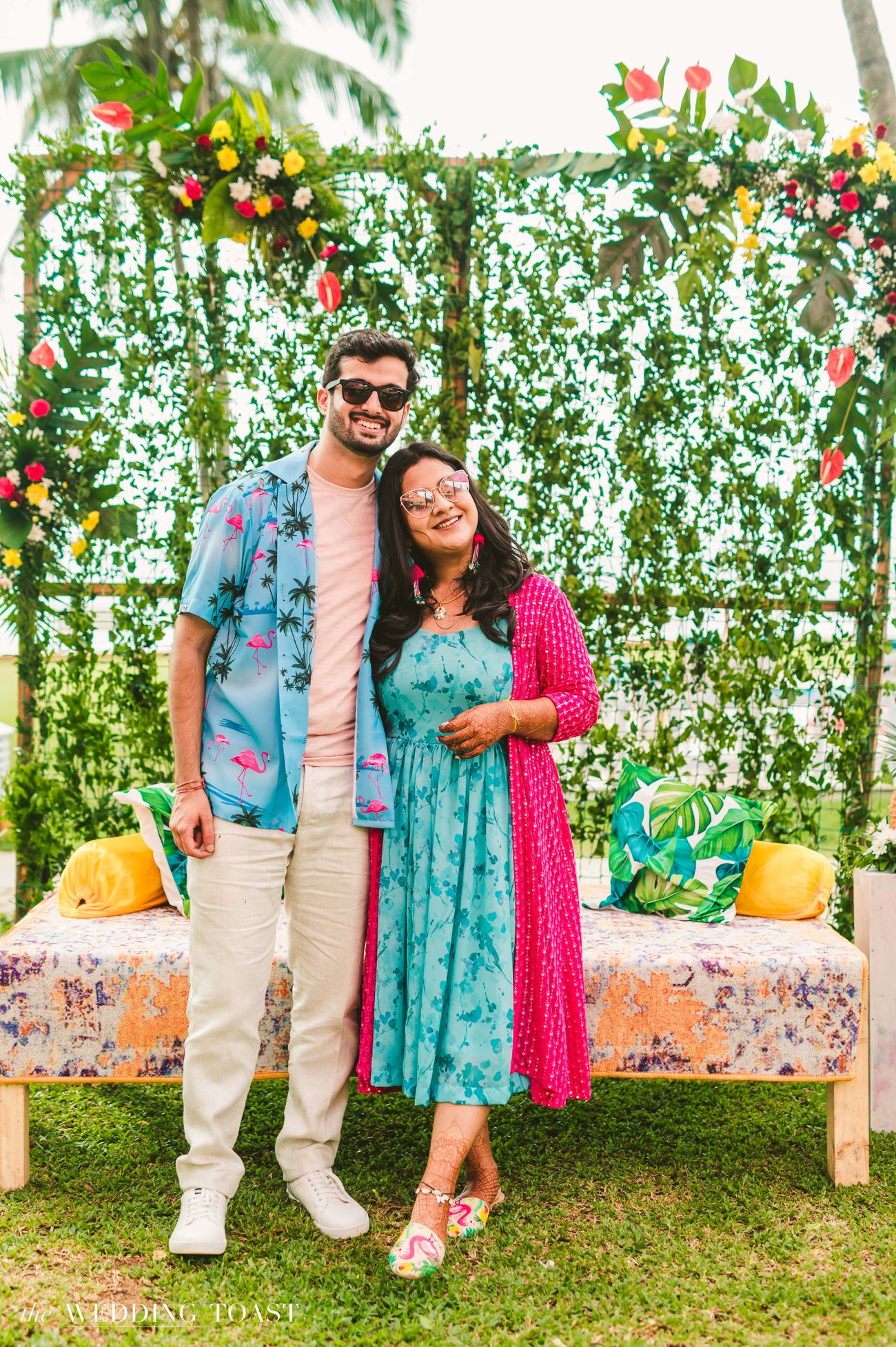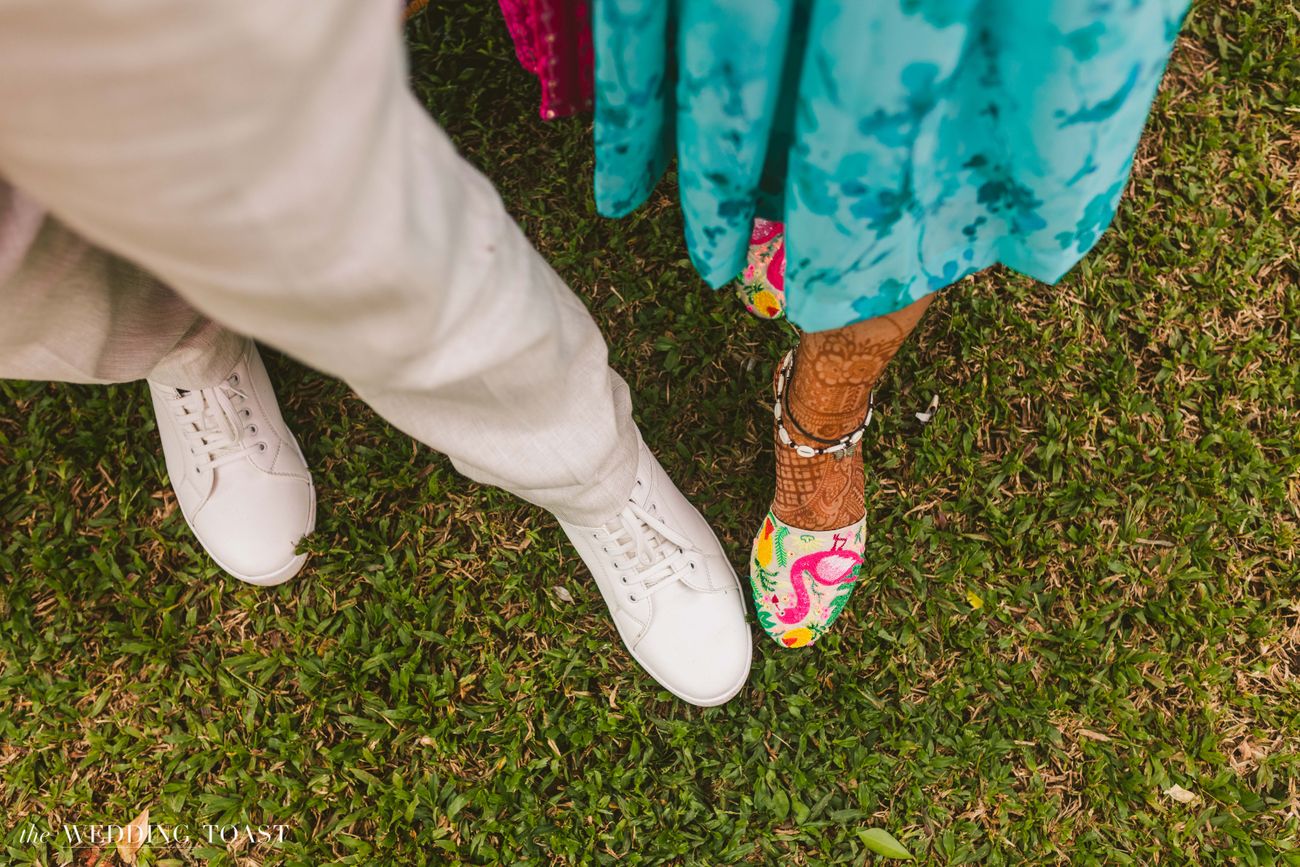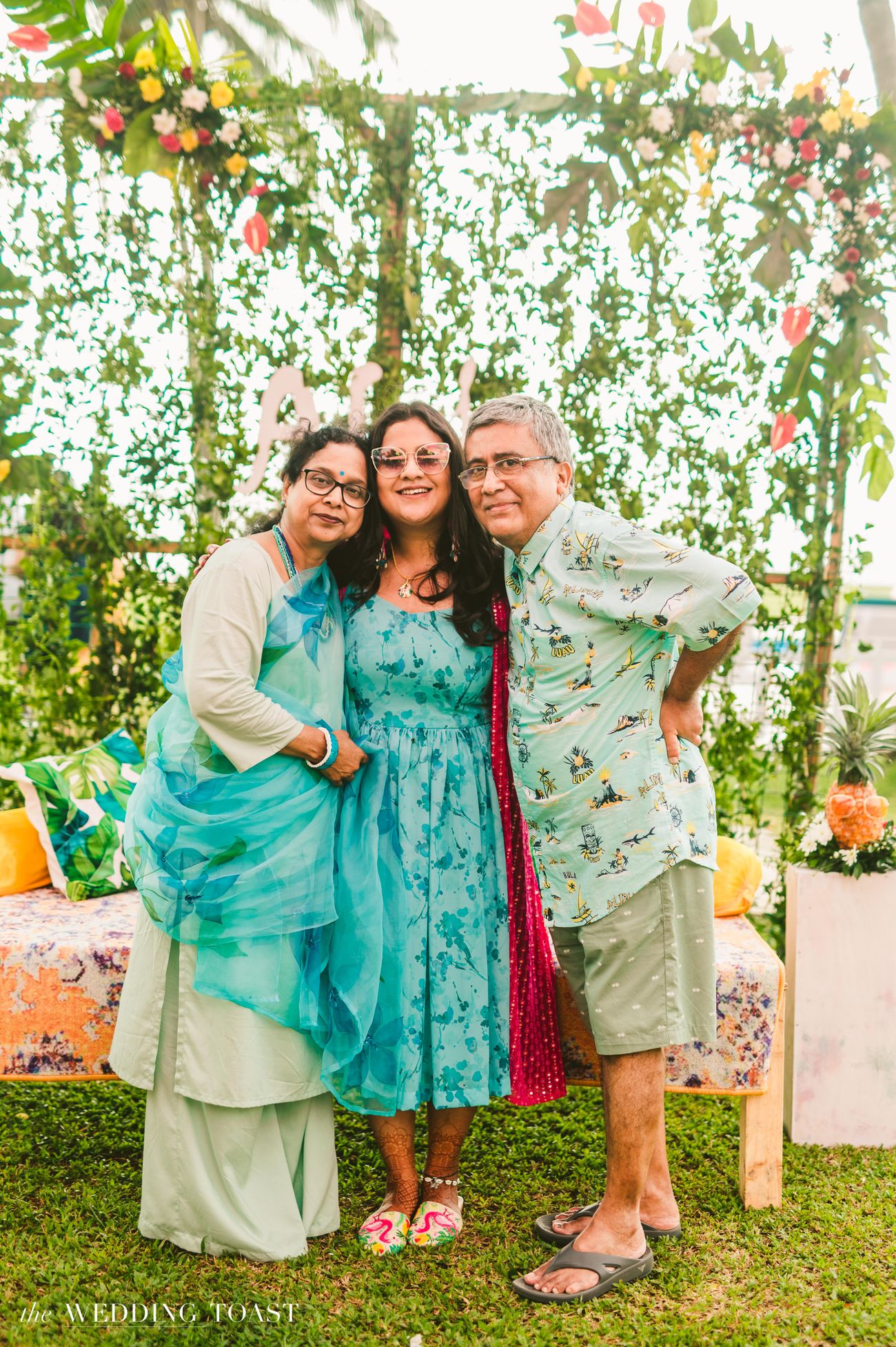 The celebratory weekend started with a tropical Mehendi function, where the bride and groom showed up in comfy color-coordinated printed numbers. With live singers, bright hued décor, teepee tents, coconut water and ice cream stations and more - this was a fun-filled afternoon for all. 
Haldi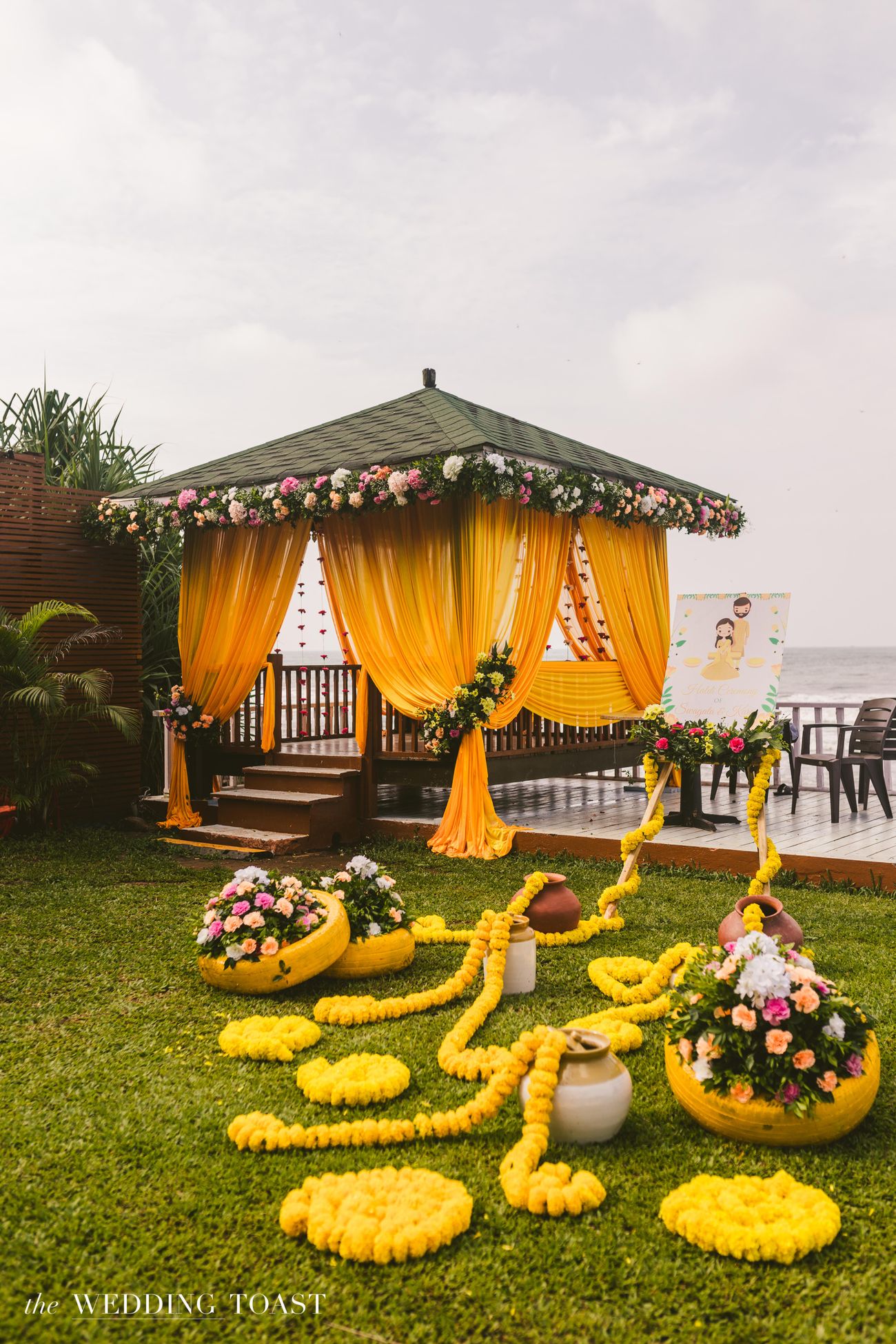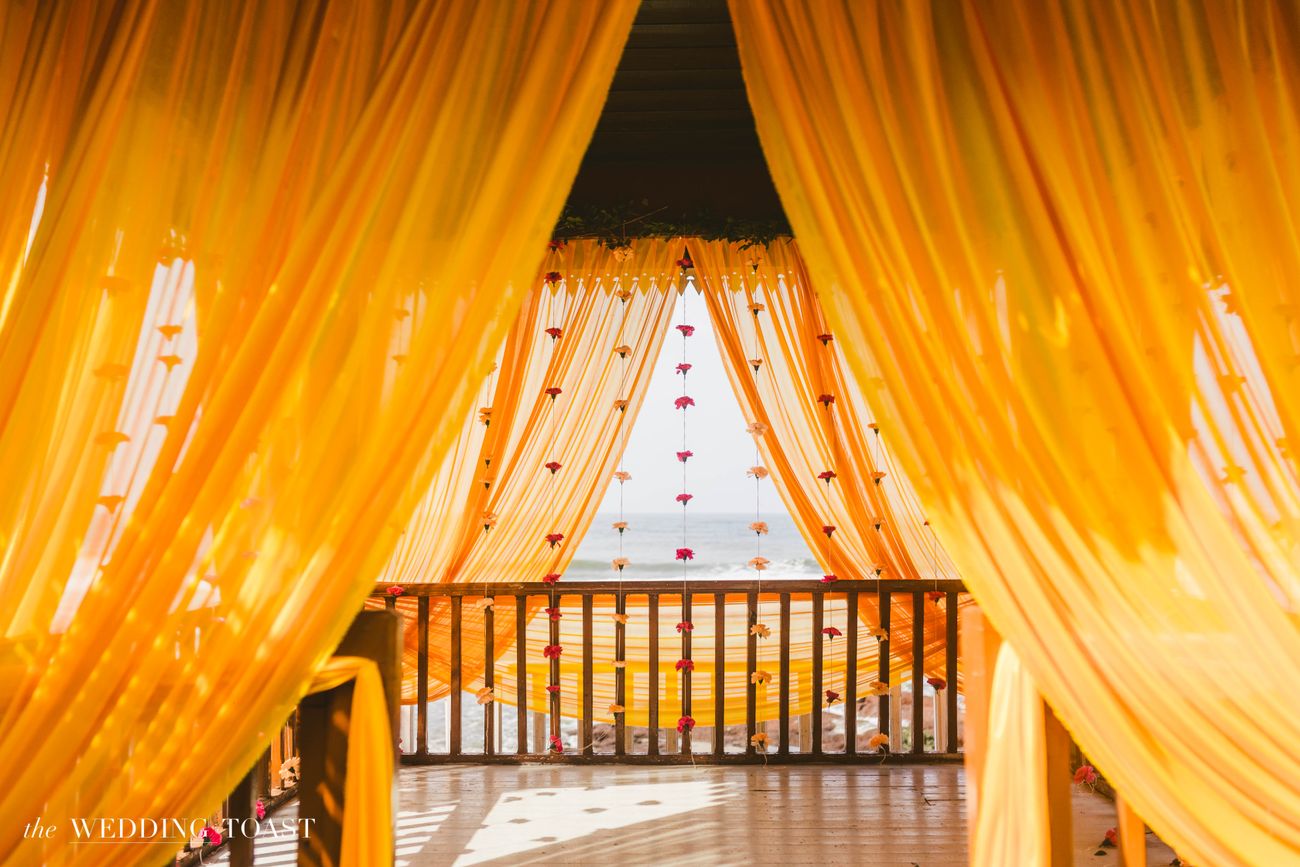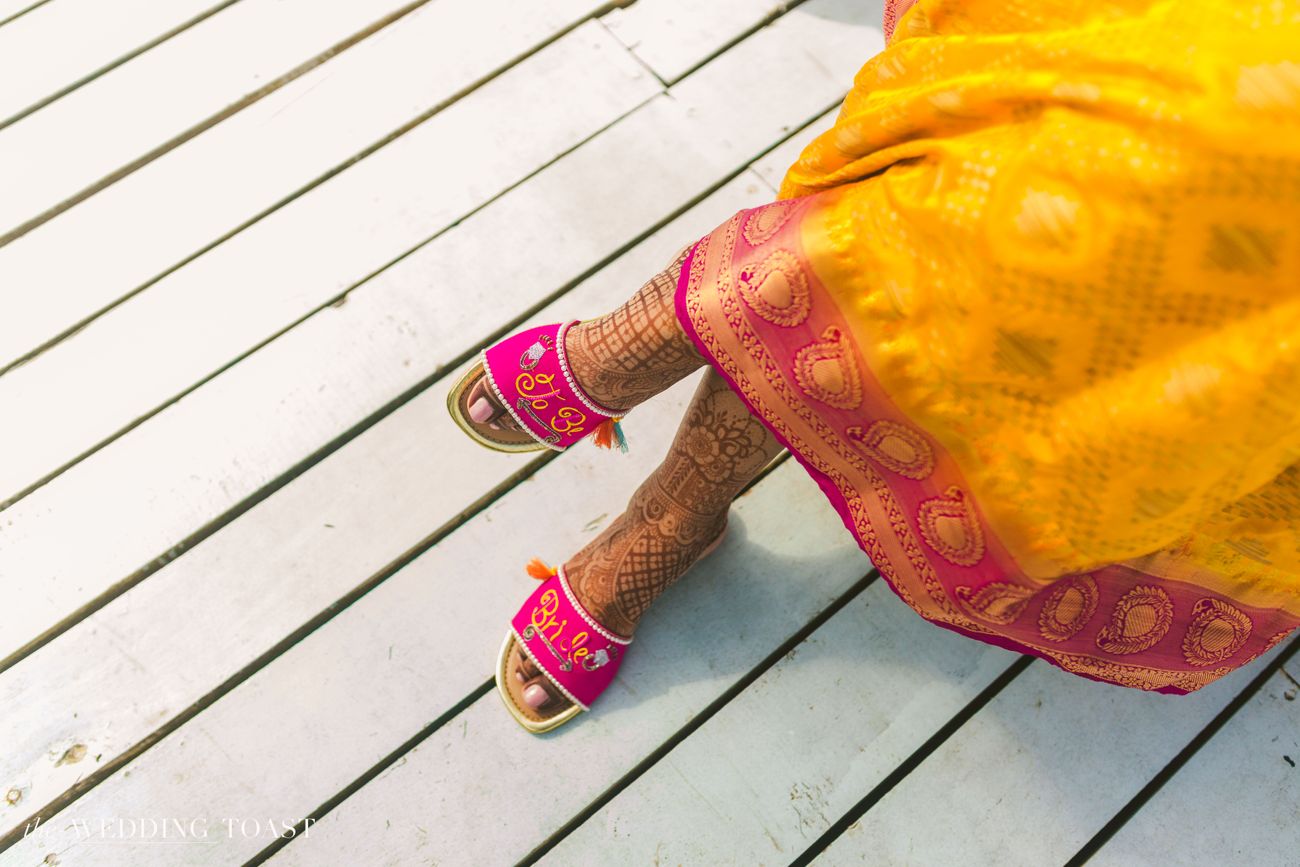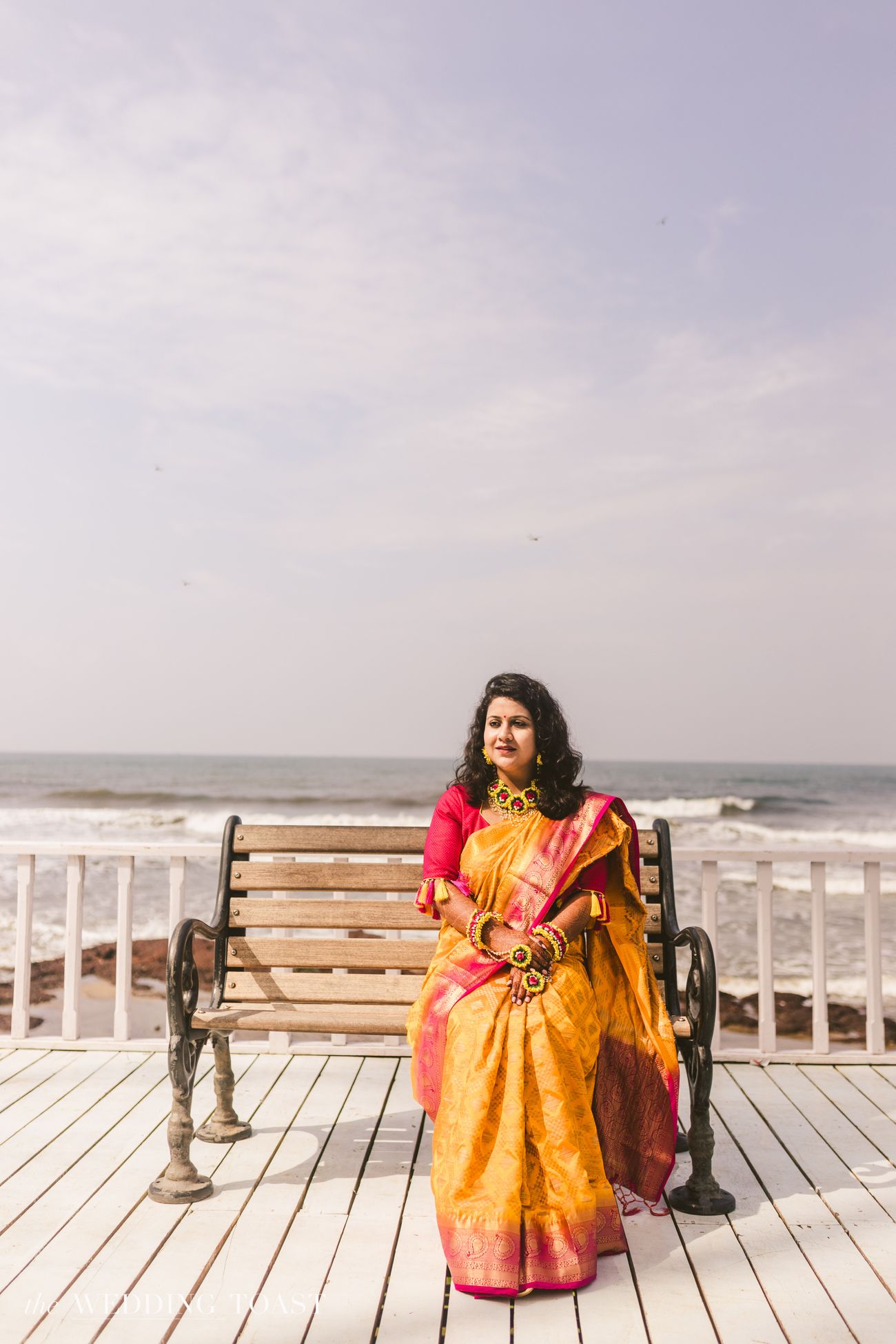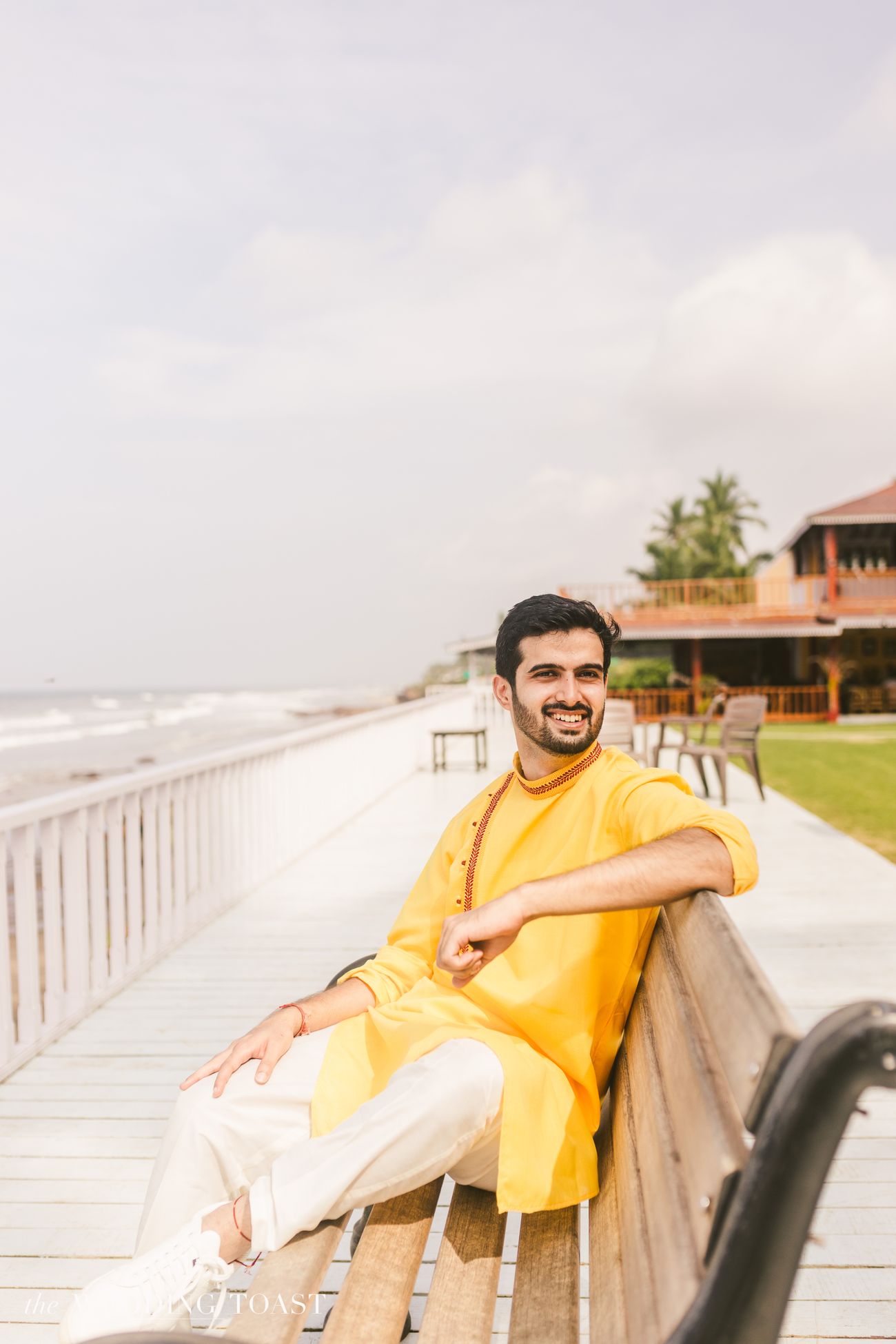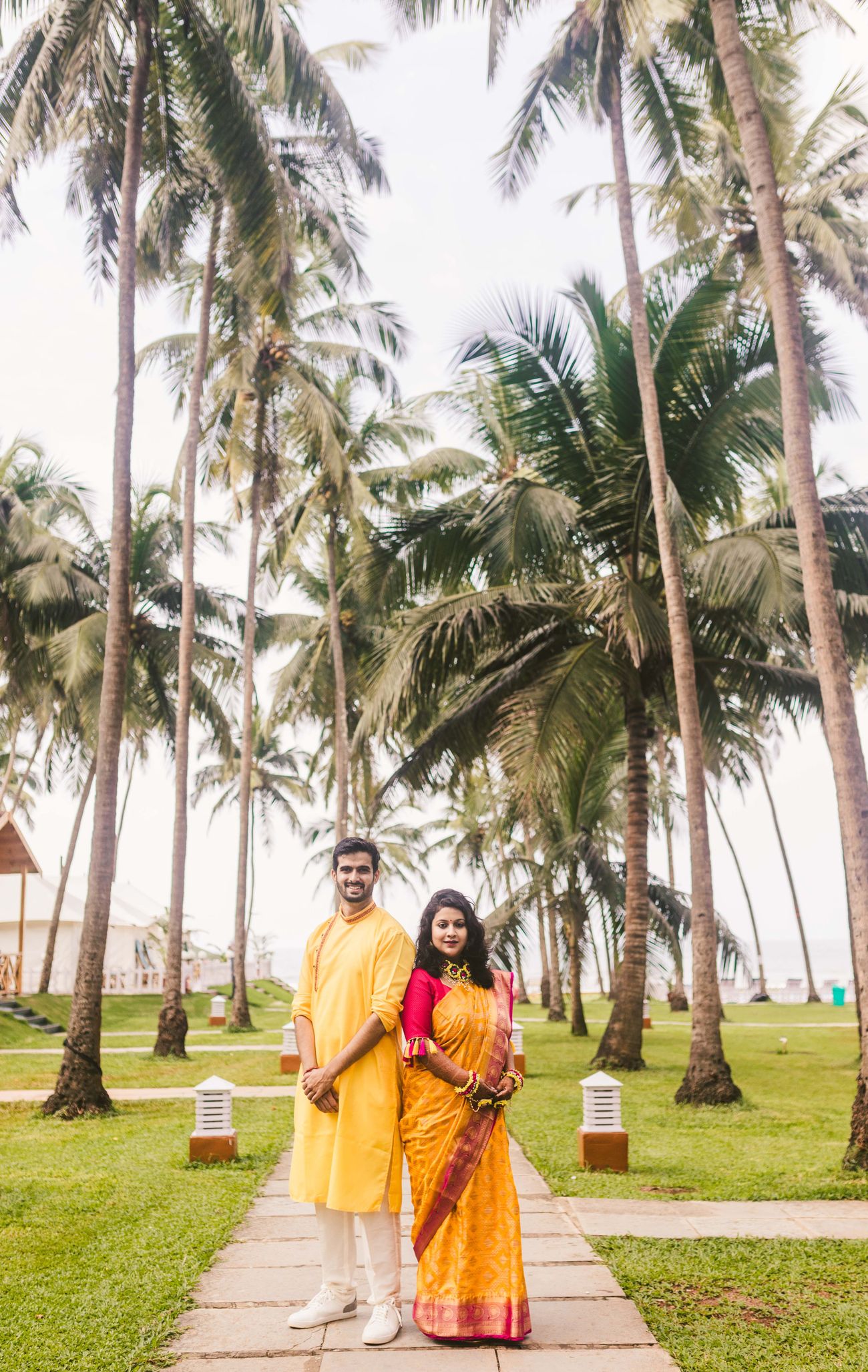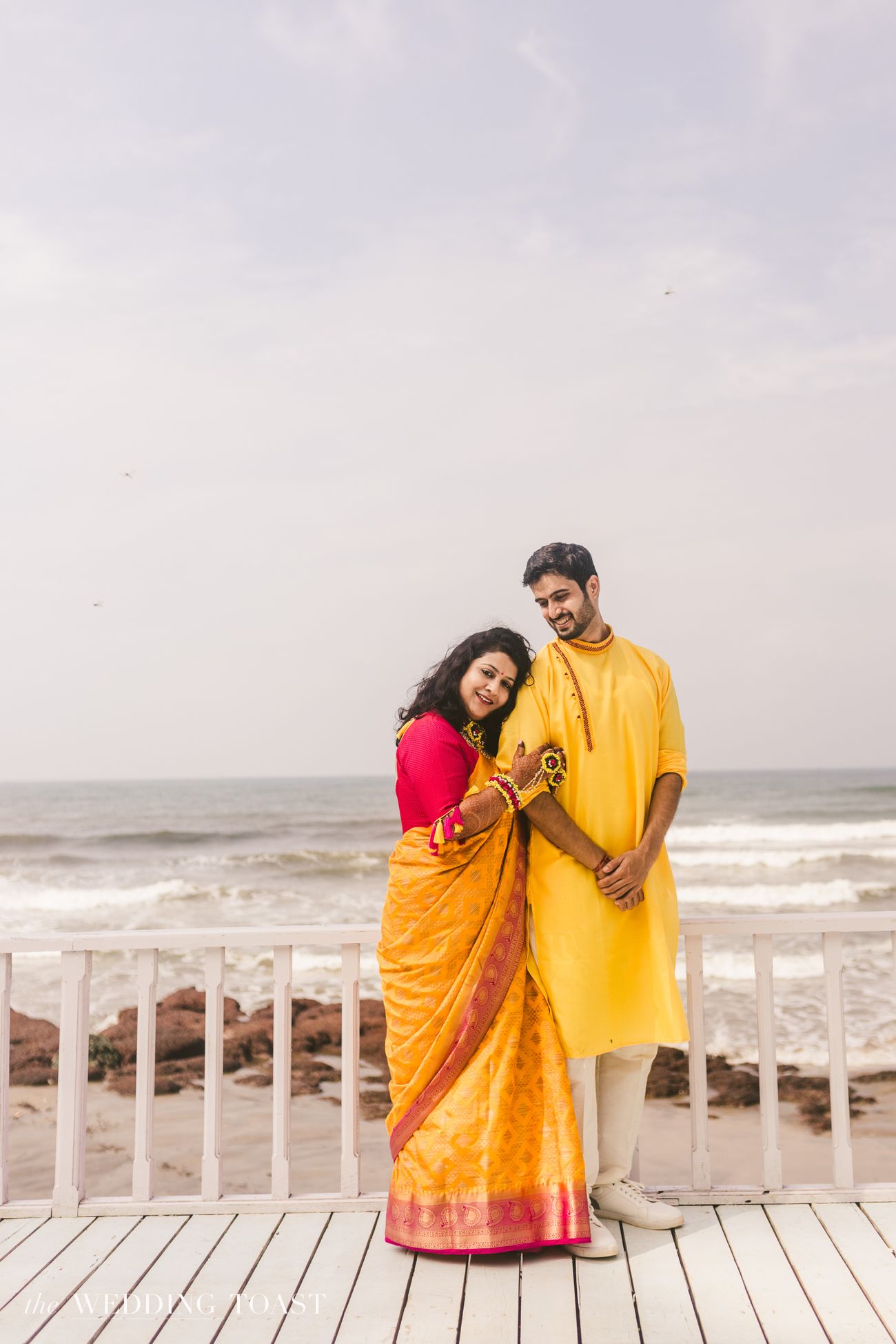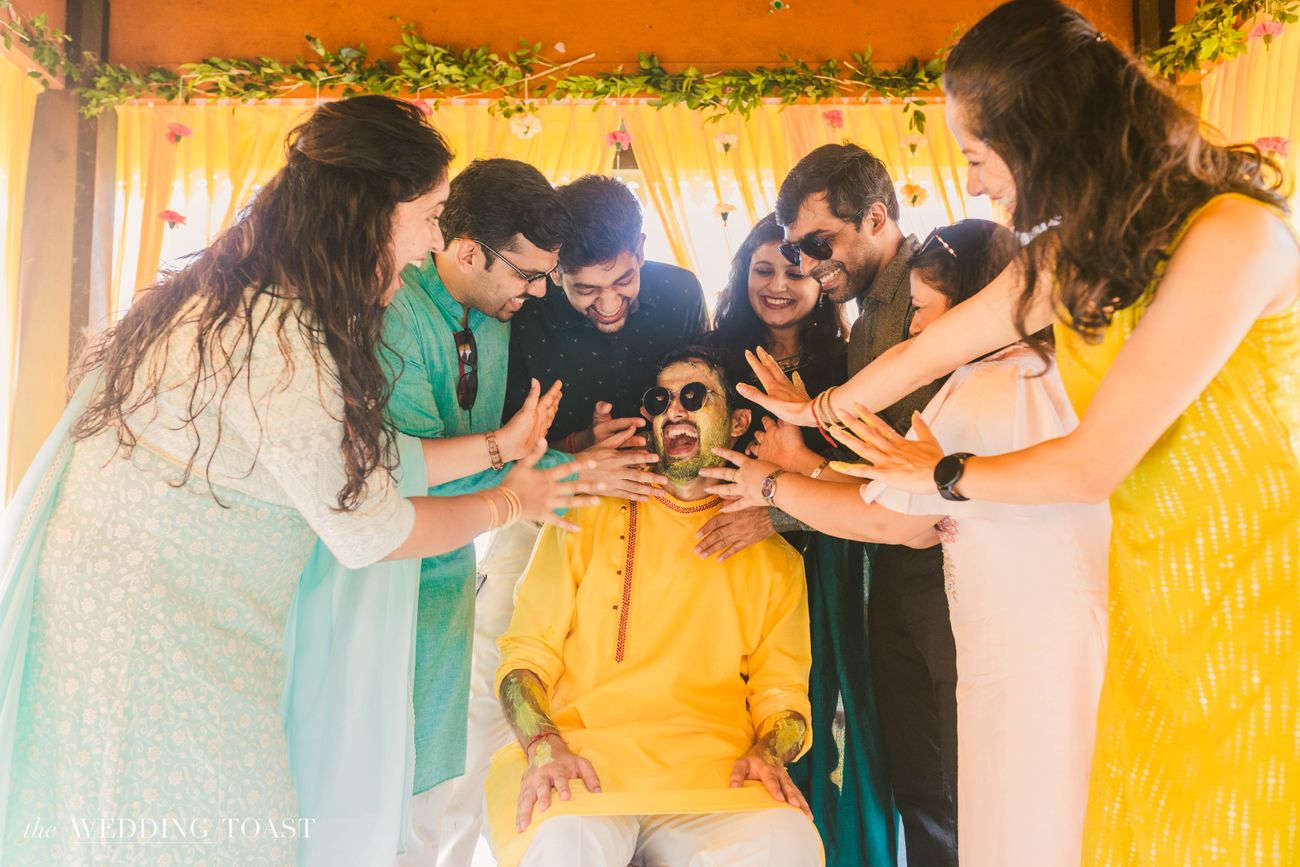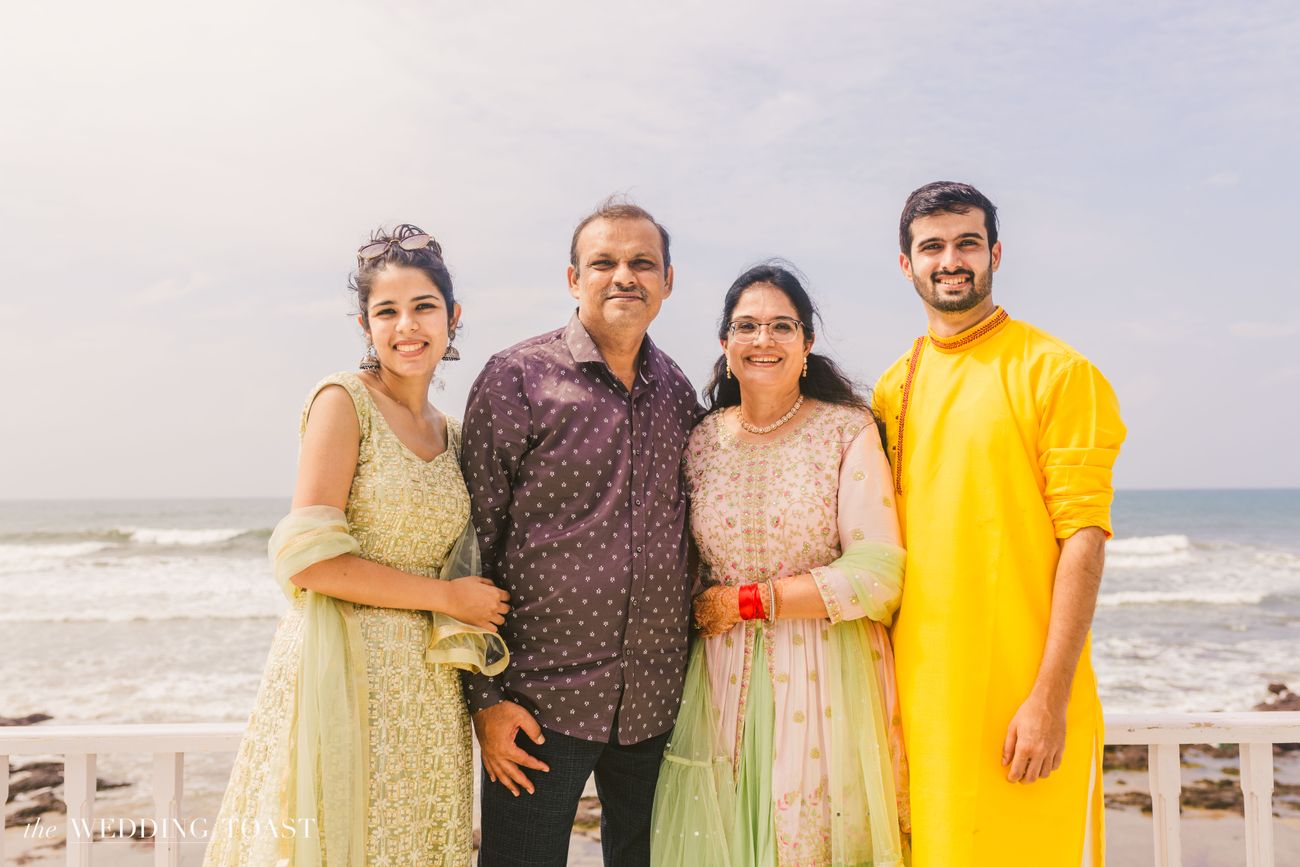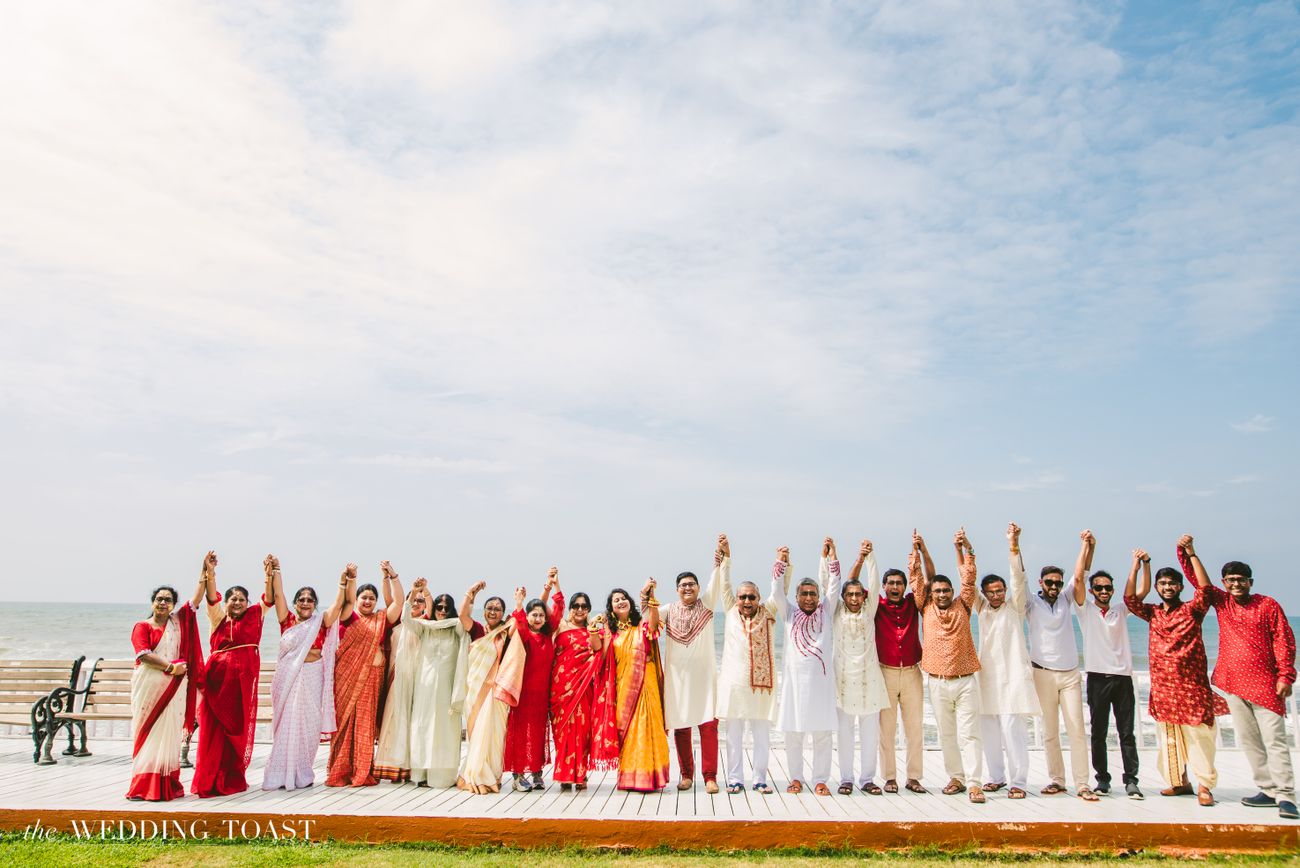 The morning of the wedding commenced with a Haldi ceremony. While the bride and groom wore yellow, the ladkiwale went the traditional Bengali route and donned whites and reds. 
Wedding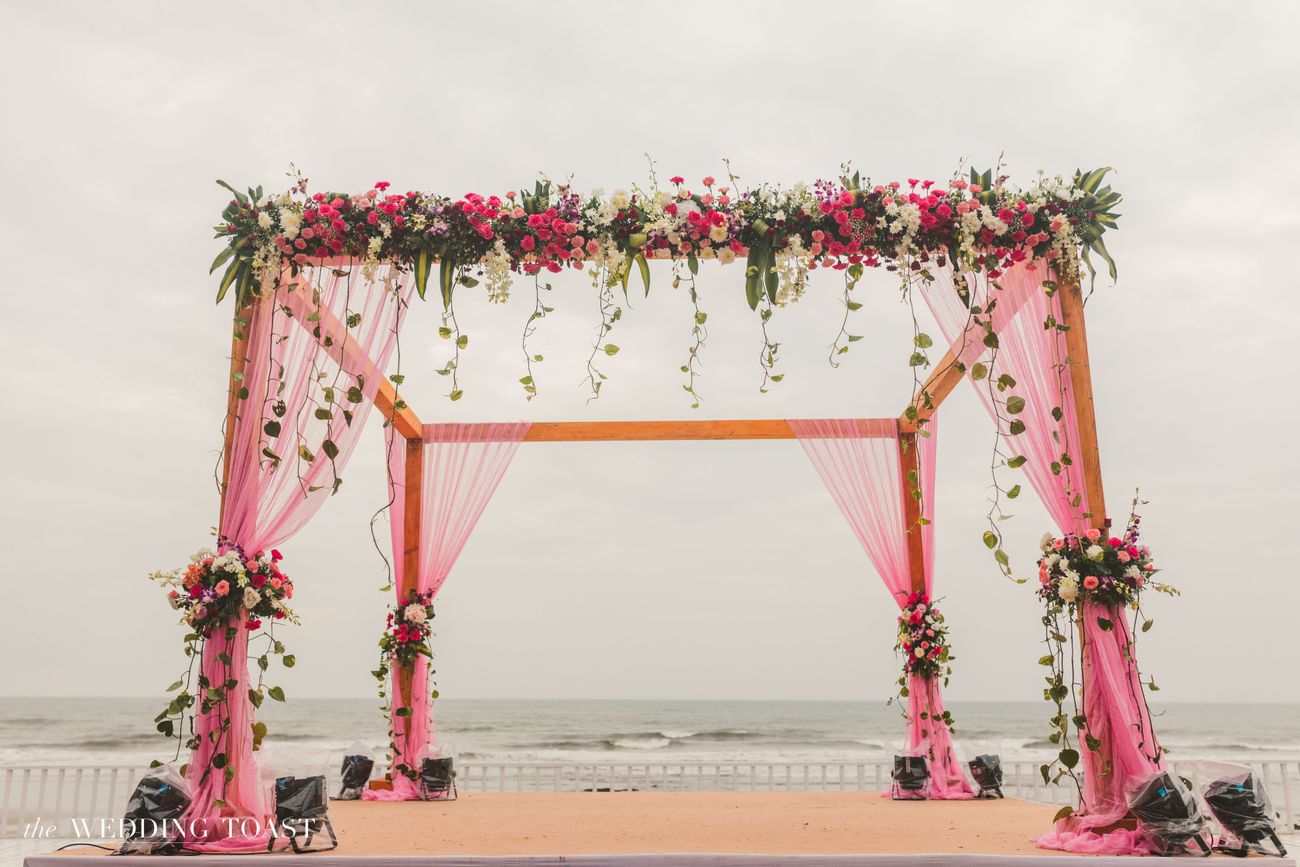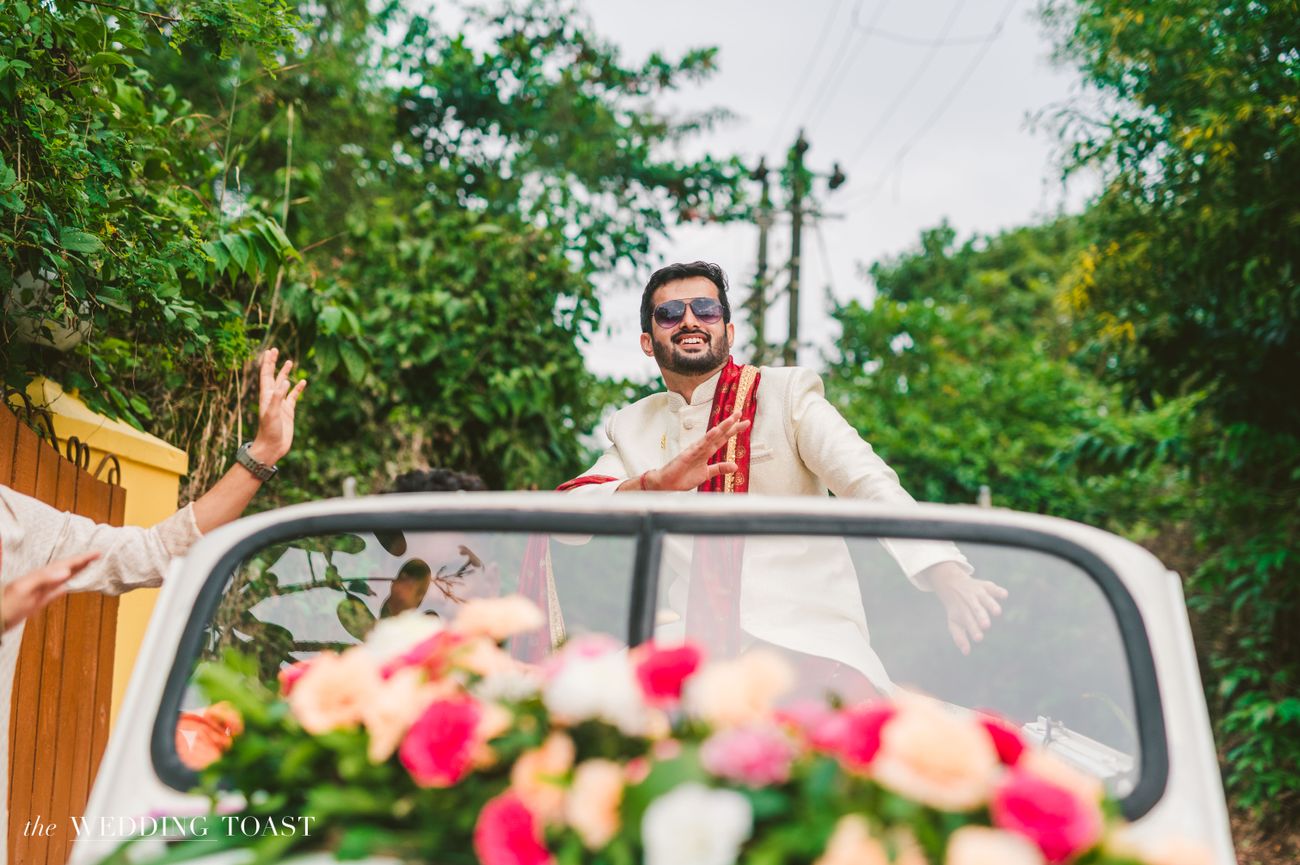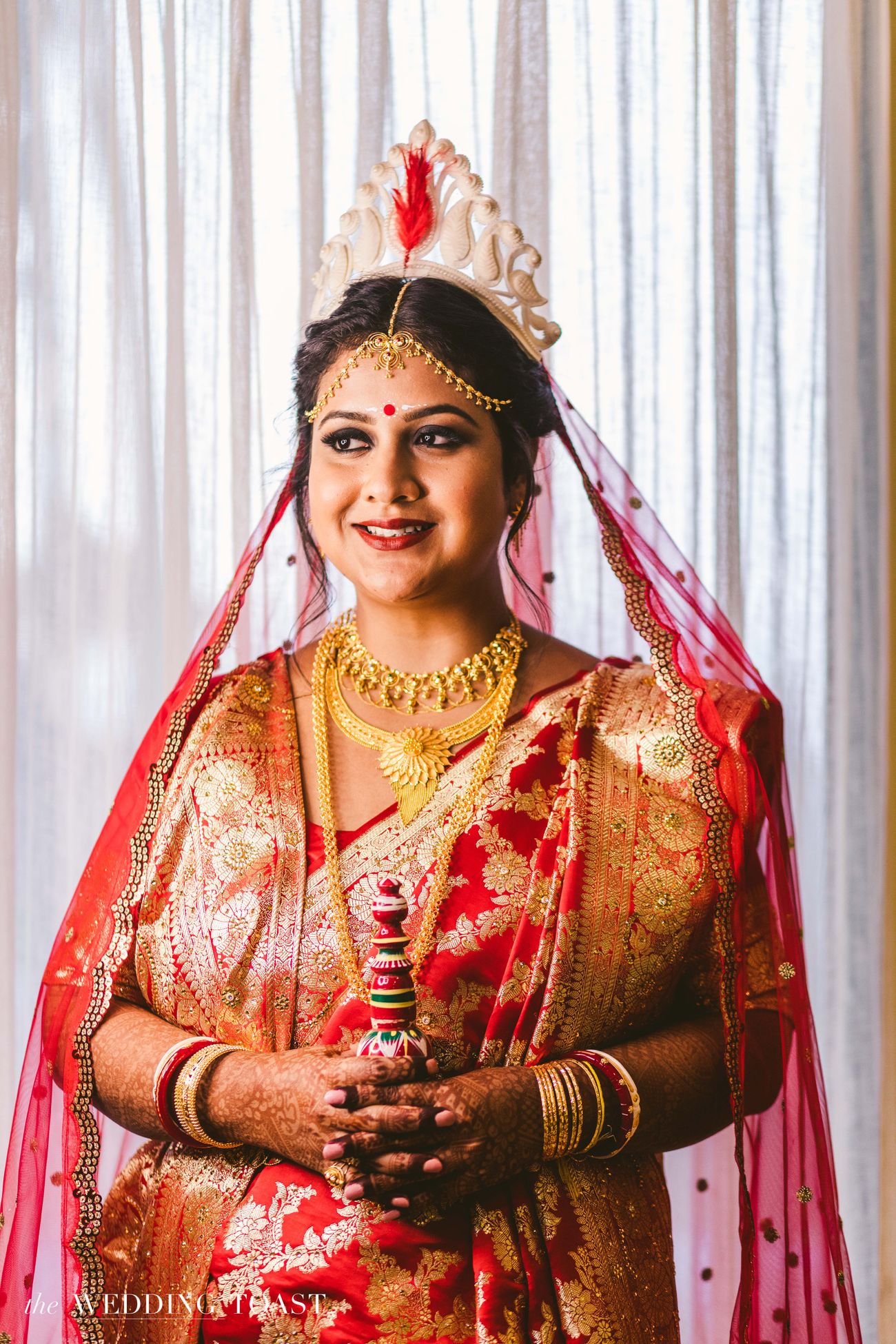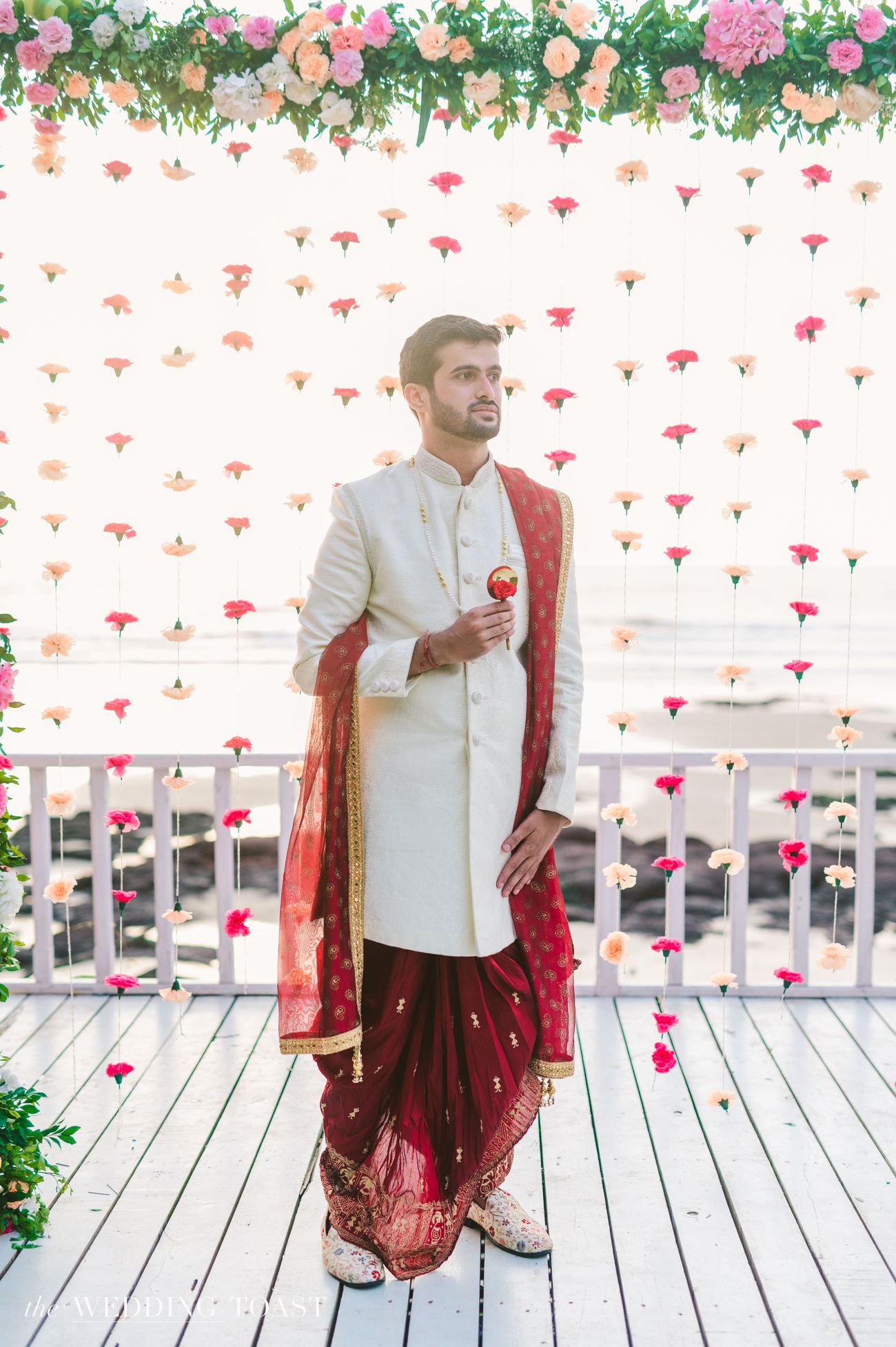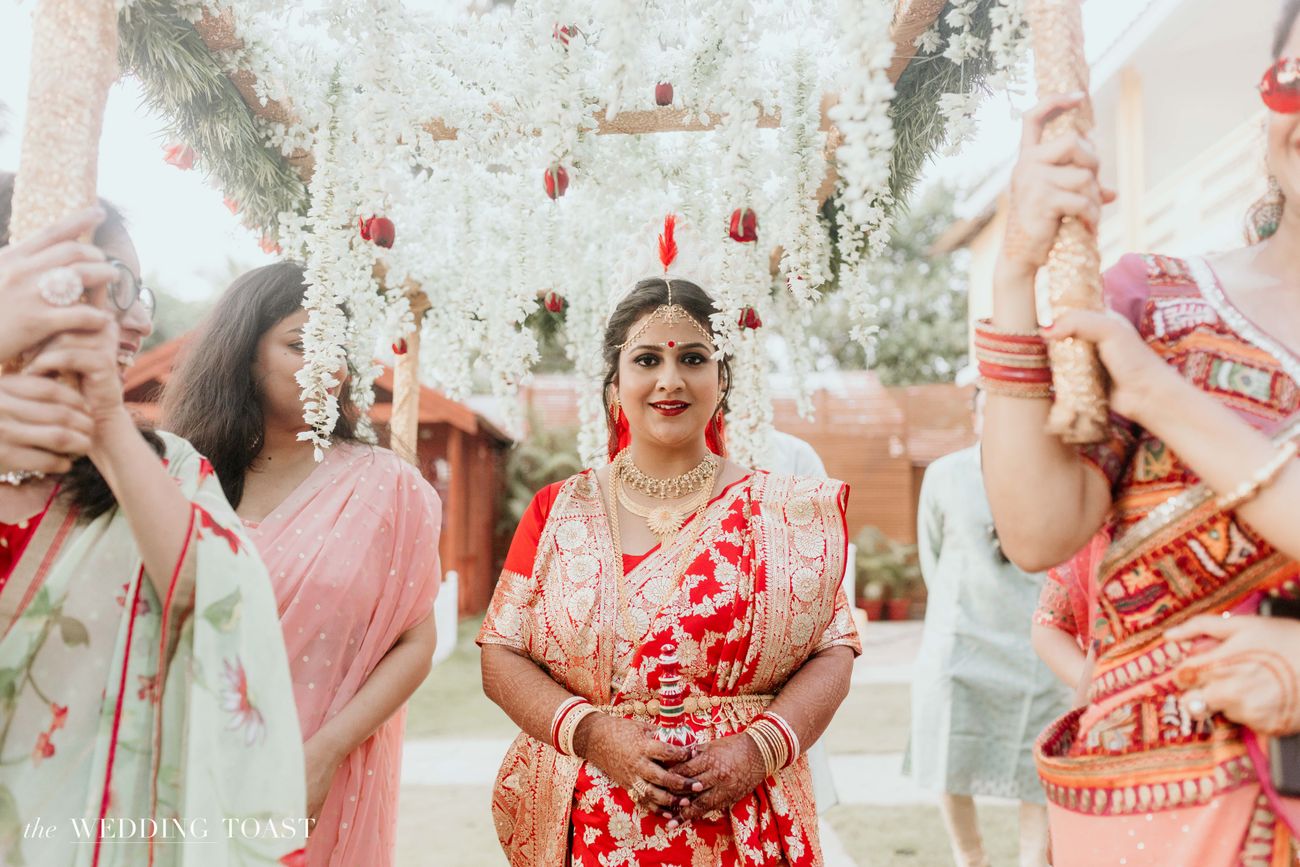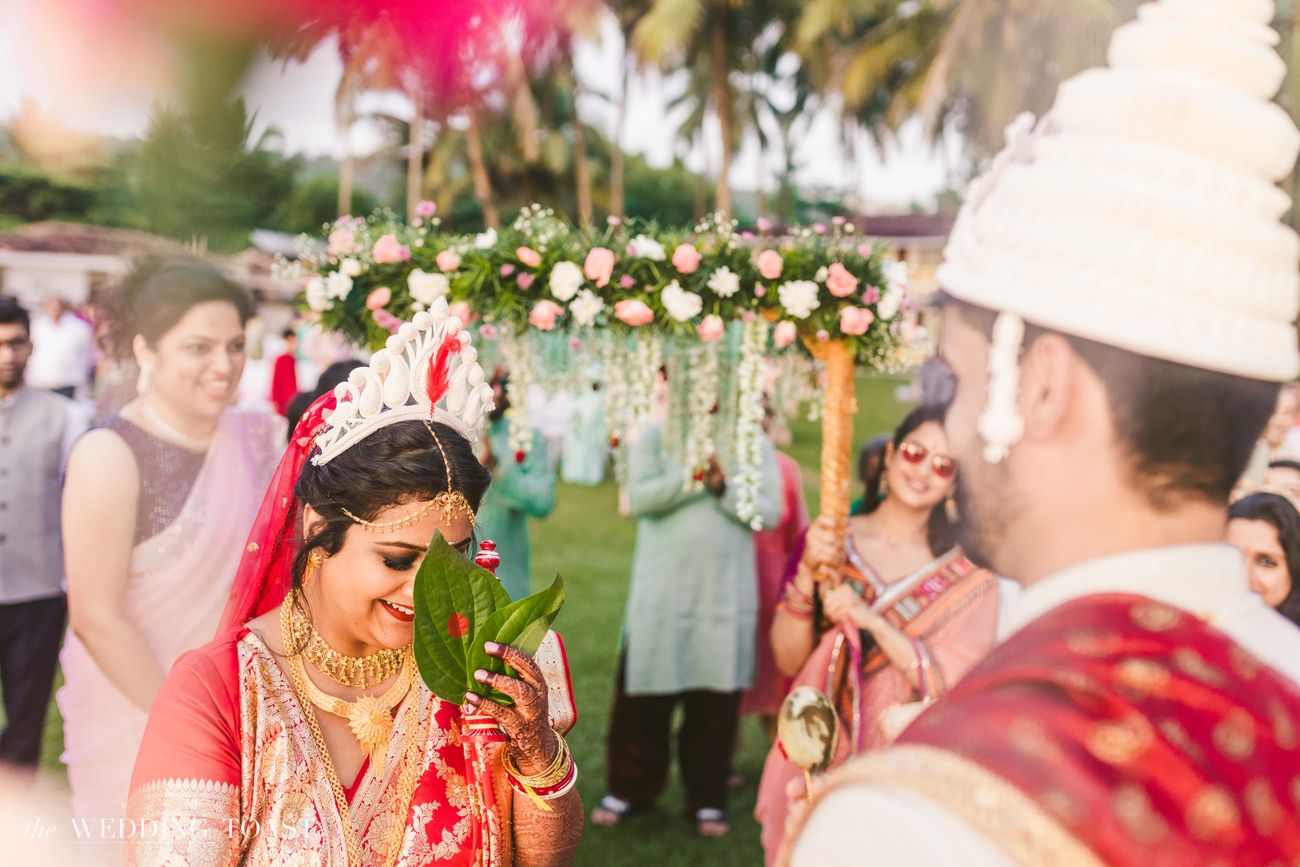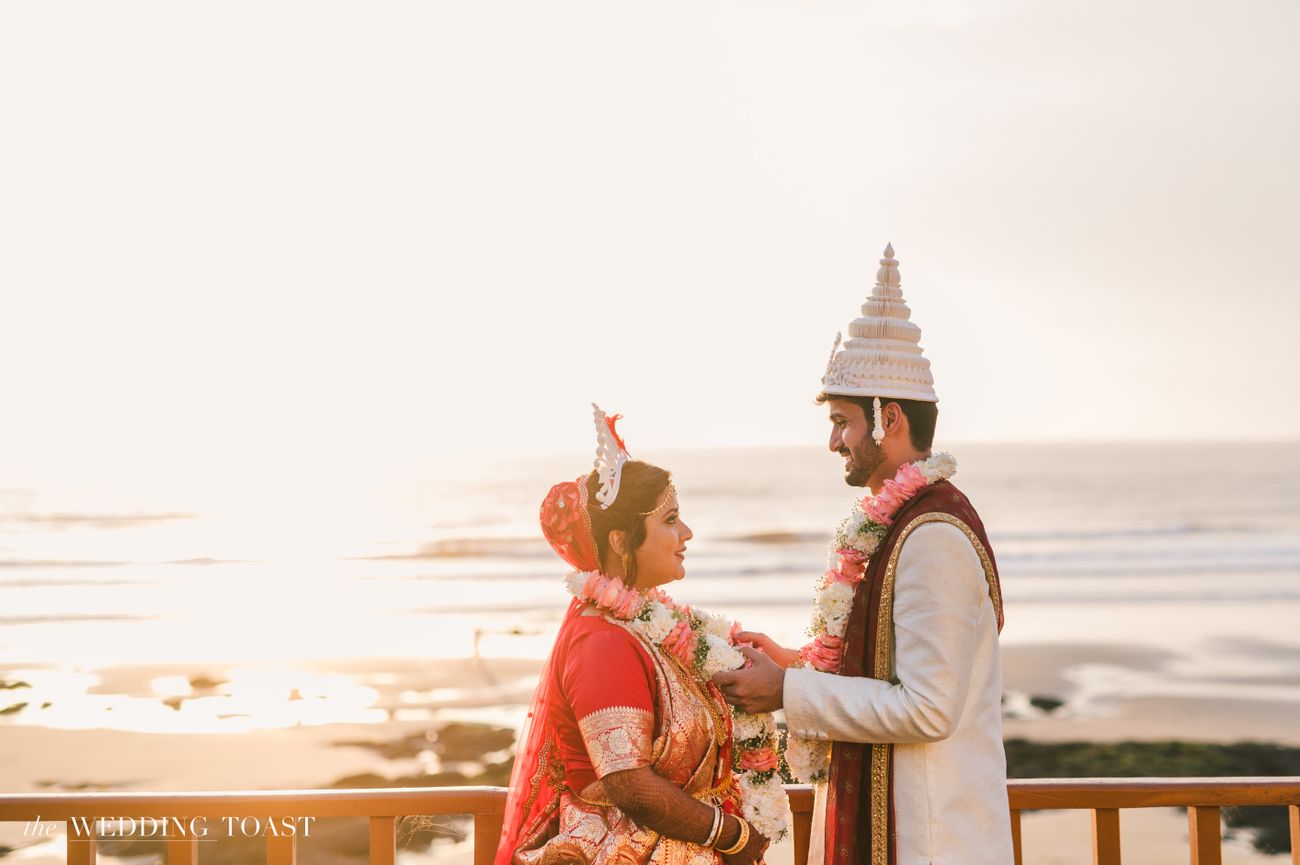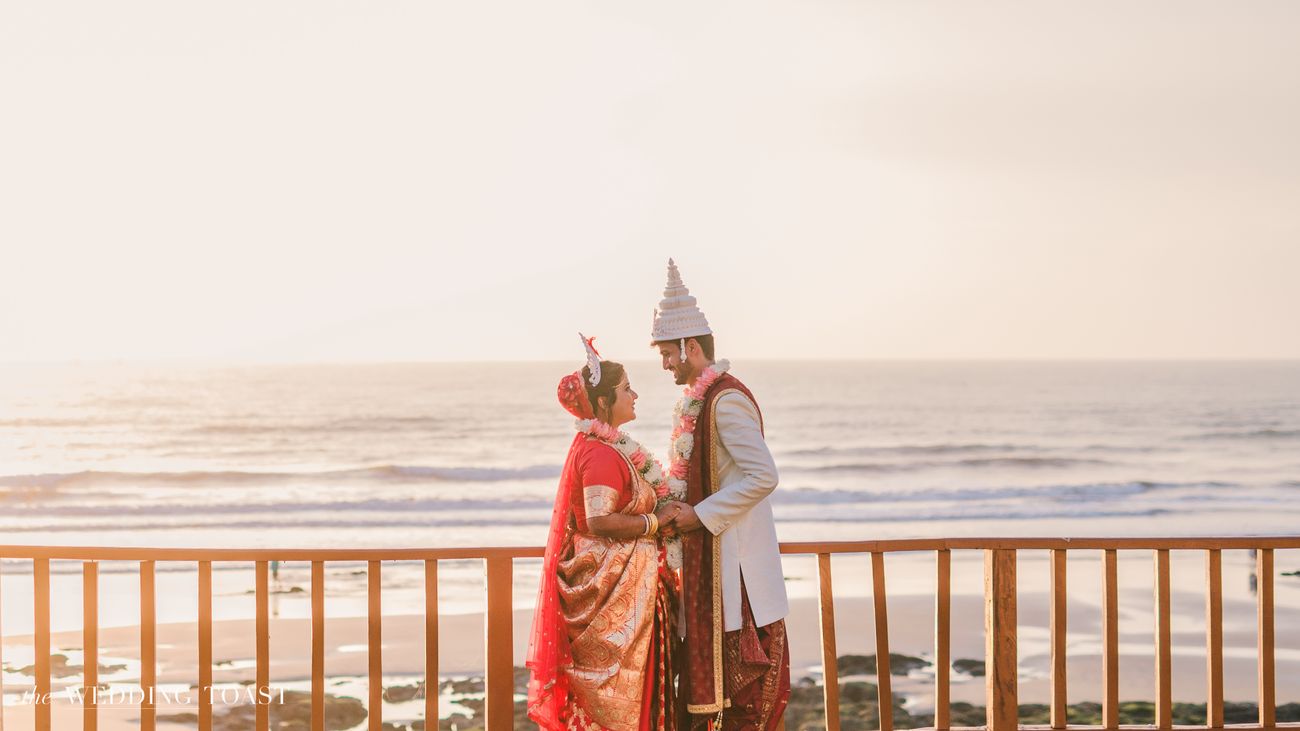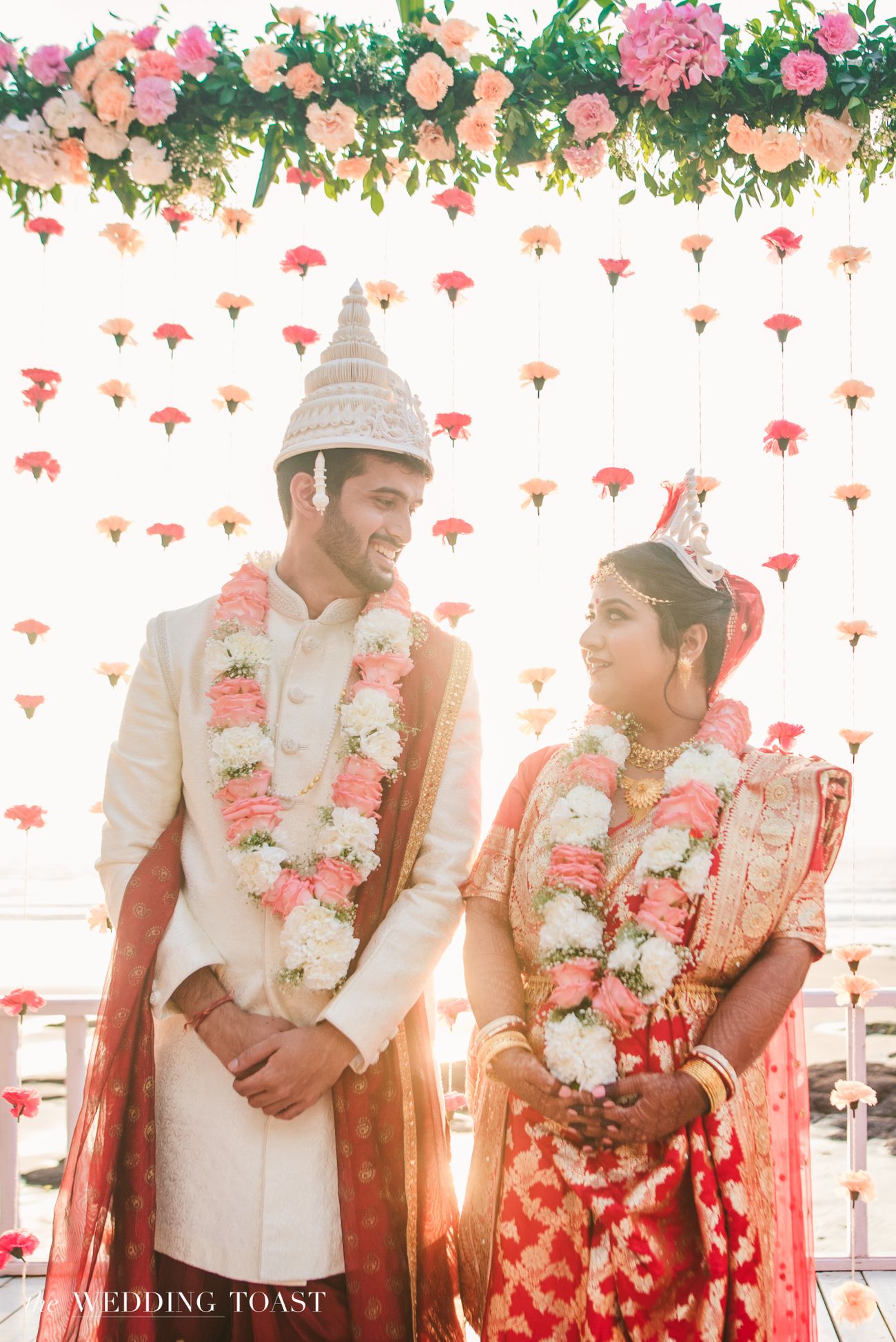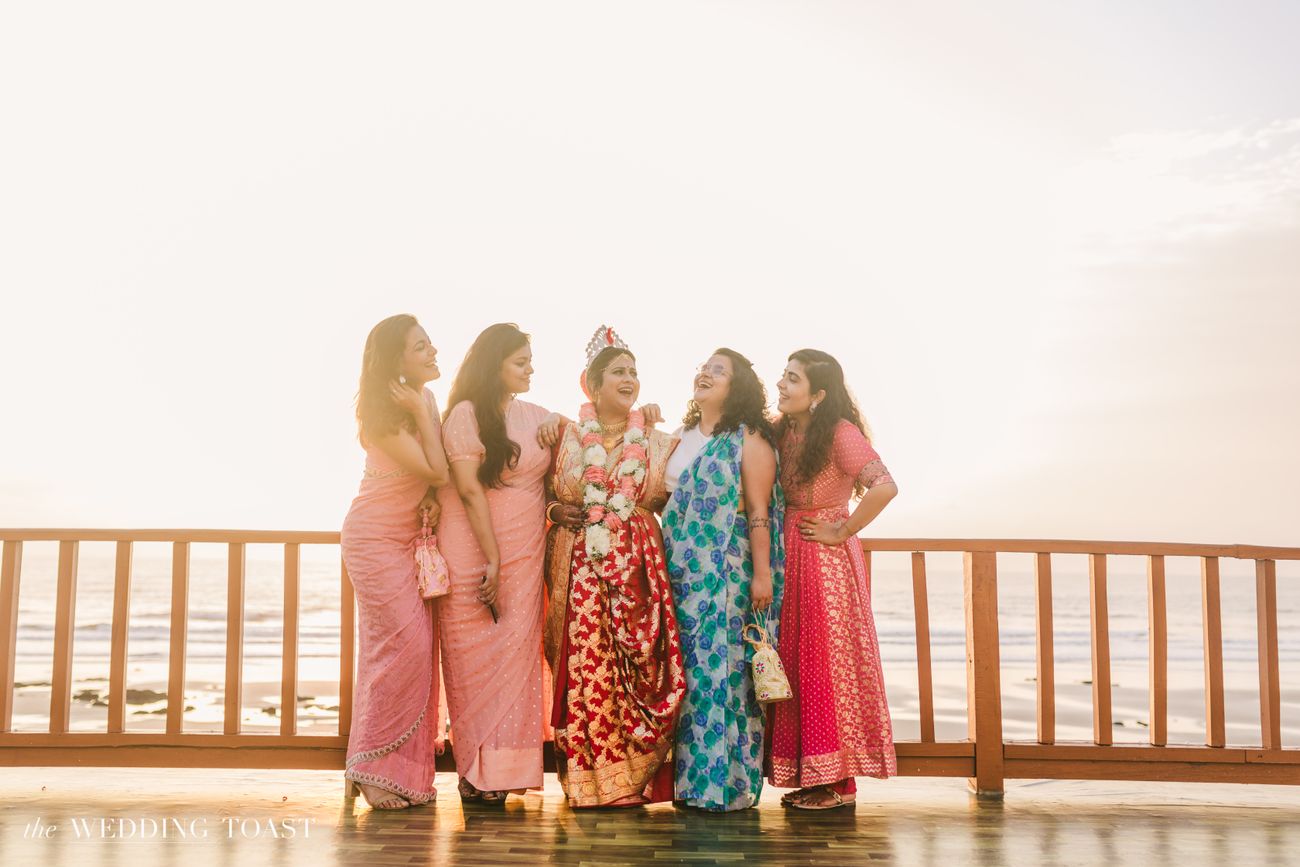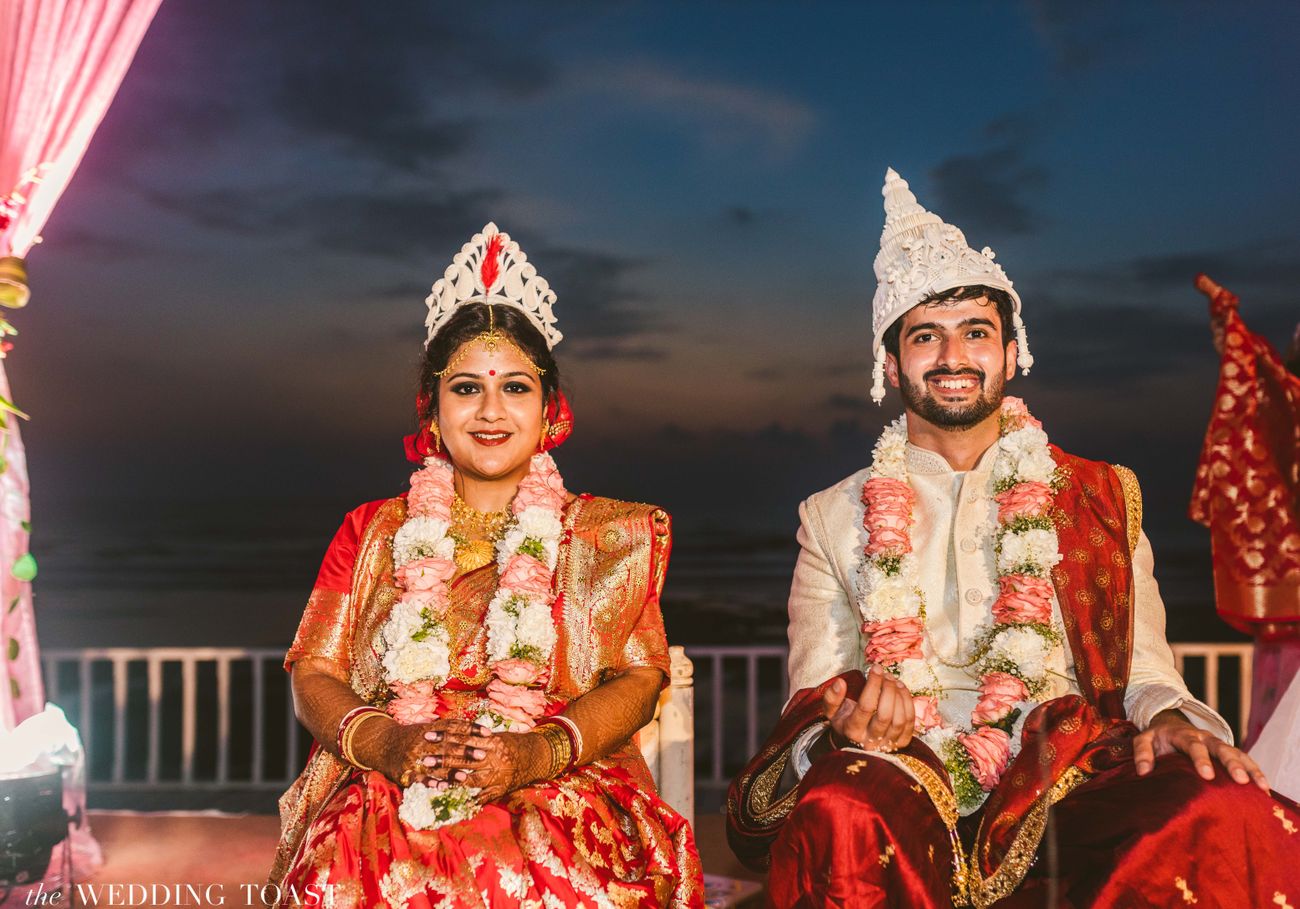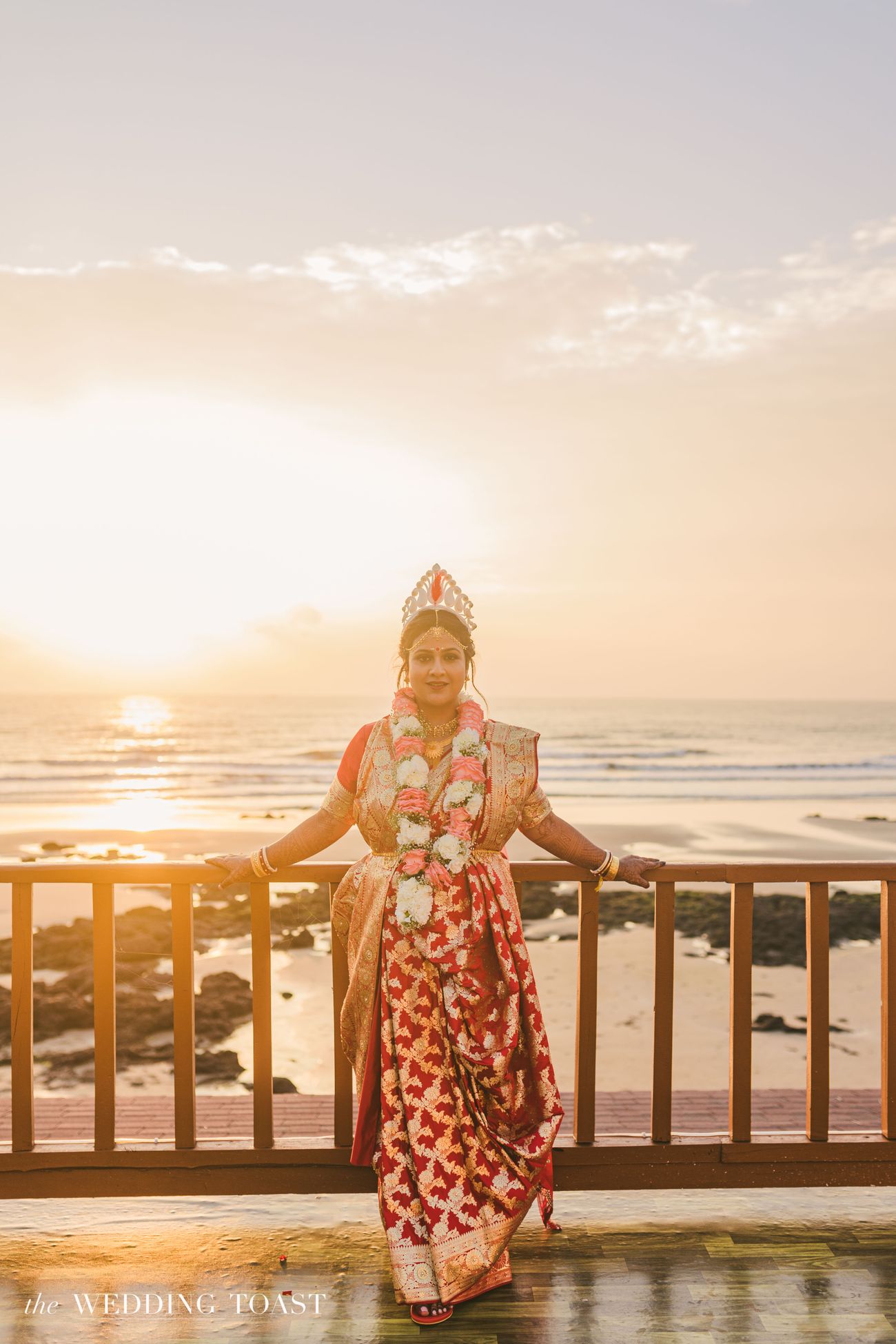 In a traditional Banarasi red saree, Swagata made for the quintessential Bengali bride and the groom wore dhoti-kurta to complement her. Jai mala exchange with the backdrop of the sea and the setting sun - now, that's super dreamy.
From The Bride:
I am a sucker for sky-gazing and sunsets. And I almost always tear up a little whenever I catch a sunset on the beach. Naturally, my heart always wished for a sundowner shaadi and thankfully, Karan also loved the idea. But mine is a family of Bengalis based out of Mumbai and Karan's is a big fat Sindhi family, who've been in Jaipur for decades. So we didn't think our parents would agree for Goa. But they not only took it well but also rooted for us wholeheartedly so that we could have the wedding of our dreams. After all the planning and madness, those two days turned out to be even better than how I had imagined. The untimely November rains on the night before my wedding totally dampened our Sangeet plans. Our friends and family still showed up for us and danced all night in a small spare banquet the resort had and that's all that mattered. Fortunately, the next day was a bright, beautiful sunshine-y day. There was no way I was having an indoor wedding in a beachside property all the way in Goa. I married the love of my life and got my perfect sundowner shaadi and I will forever be grateful for that. 
When it comes to my outfits, I got my Mehendi ensemble stitched from a friend's mom who owns a local boutique. I found my wedding saree and Sangeet lehenga at Bara Bazaar in Kolkata and bought my Haldi saree from a shop near Thane station. I ordered all my accessories and trousseau stuff online. I am super proud of how I managed all my shopping amidst a pandemic, without any fuss and in a budget. 
About WedMeGood:
Planning a wedding in another city and that too, remotely, is not a cakewalk. But thanks to WMG, I easily found my wedding vendors in Goa while sitting at the comfort of my home in Mumbai. The reviews and photo albums on each vendor profile make it so easy for us brides to evaluate and pick from. 
Vendor Reviews
Photography: The Wedding Toast
I already knew I wanted them to be my wedding photographers years ago even when I didn't have a groom in the picture. I've always been an admirer of their work and I totally made the right choice by going for them. Anurag and co are a dream team to work and spend time with. They've captured some beautiful candid moments that I'd have otherwise missed seeing. I love the magic they've created with all their photos. They've captured our love with love and it shows. 
Venue: La Cabana Beach Resort
I can never get enough of this place. The seaside lawn and the deck are straight out of a fairytale. Our guests were in for a pleasant surprise when they reached the venue. Major props to Royston and Sanjeev for making sure our experience was super smooth. The food, the staff, the service, the quality of stay and of course, that mind-boggling view - it was all top-notch. 
Wedding Planning & Décor: Eventrra Memories
Vidhisha brought my Pinterest mood boards to life, but in my budget. And I loved that. Despite the crazy rains on the Sangeet night and all the madness behind the scenes, she handled everything like a boss and gave us two memorable days. They wonderfully took care of everything from the décor, guest transport, favors, arrangement and more. 
Makeup: Bridals By Atika
For a bride like me, who's used to only kajal and lipstick as makeup, Atika was an absolute blessing. She kept all my looks simple and minimalistic and yet she made me look gorgeous and radiant. Most importantly, I felt like myself and had fun. On my wedding eve, when I saw myself as a bride, I was the happiest because that's exactly how I had always pictured myself. Atika ftw! 
Vendors: Photography:The Wedding Toast★ 5 ; Videography:The Picture Patch Photography ★ 4.8 ; Wedding Planning & Décor:Eventrra Memories★ 5 ; Venue: La Cabana Beach Resort; Makeup:Bridals by Atika★ 4.7 ; Bridal Mehendi:Misba Mehendi Artist★ 5