A Breathtaking Jungle Wedding With The Bride In Dil Guldasta Lehenga
BY Aakanksha | 03 Oct, 2019 | 21964 views | 5 min read
We've seen quite a few brides wear the Dil Guldasta lehenga, but Riya rocked the look unlike any other. She looked elegant, beautiful and carried the lehenga with such a confidence that it felt like it was made just for her. She completed the look with bottle green bangles, that matched the outfit worn by her husband, Ankur. She looked equally stunning in her reception outfit, a gorg Manish Malhotra lehenga with an off shoulder blouse. However, what was totally adorable about the wedding was how Mili Ghosh captured candid and stolen moments between Riya & Ankur and how she immortalized their most special moments. 
Meet Riya & Ankur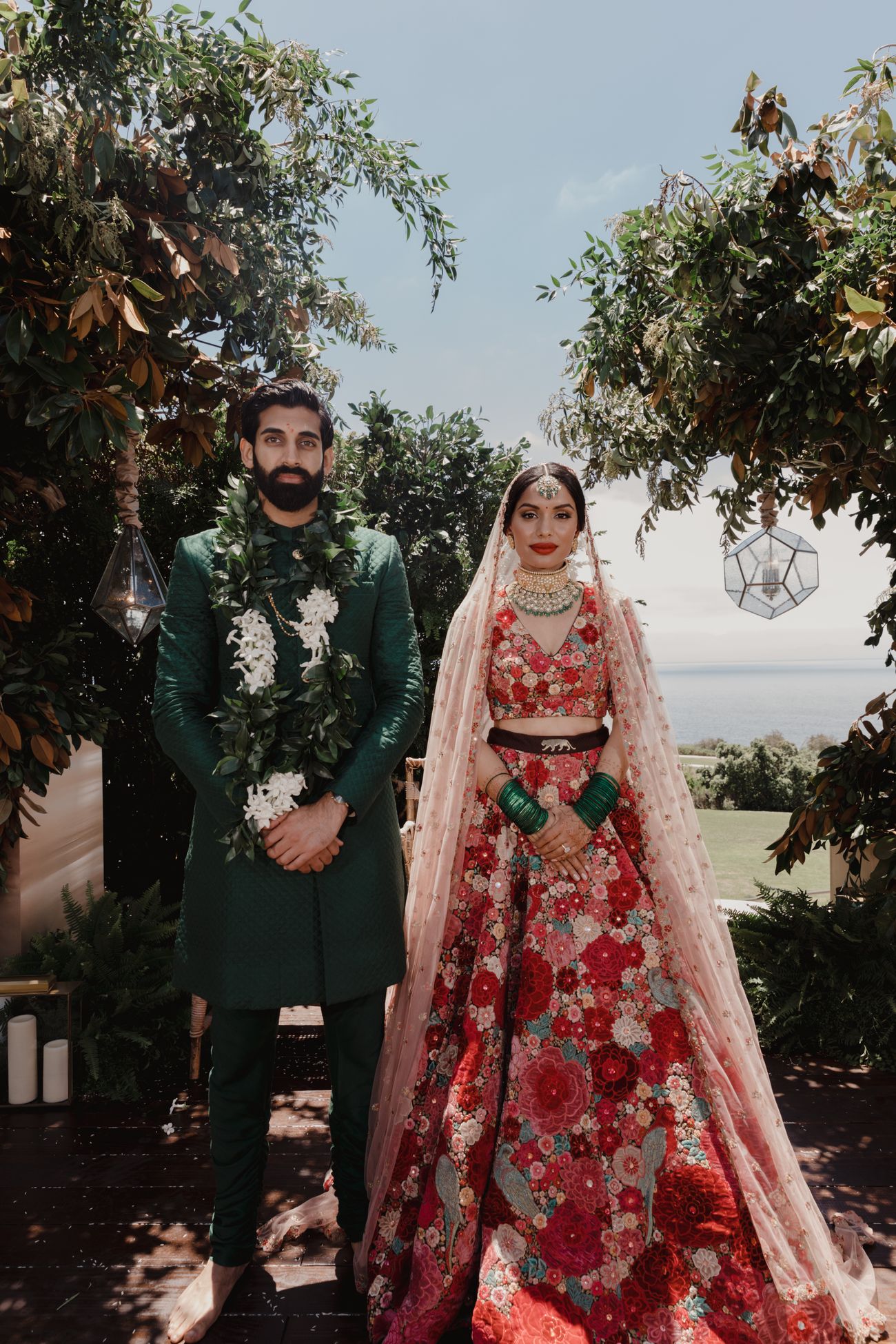 The Wedding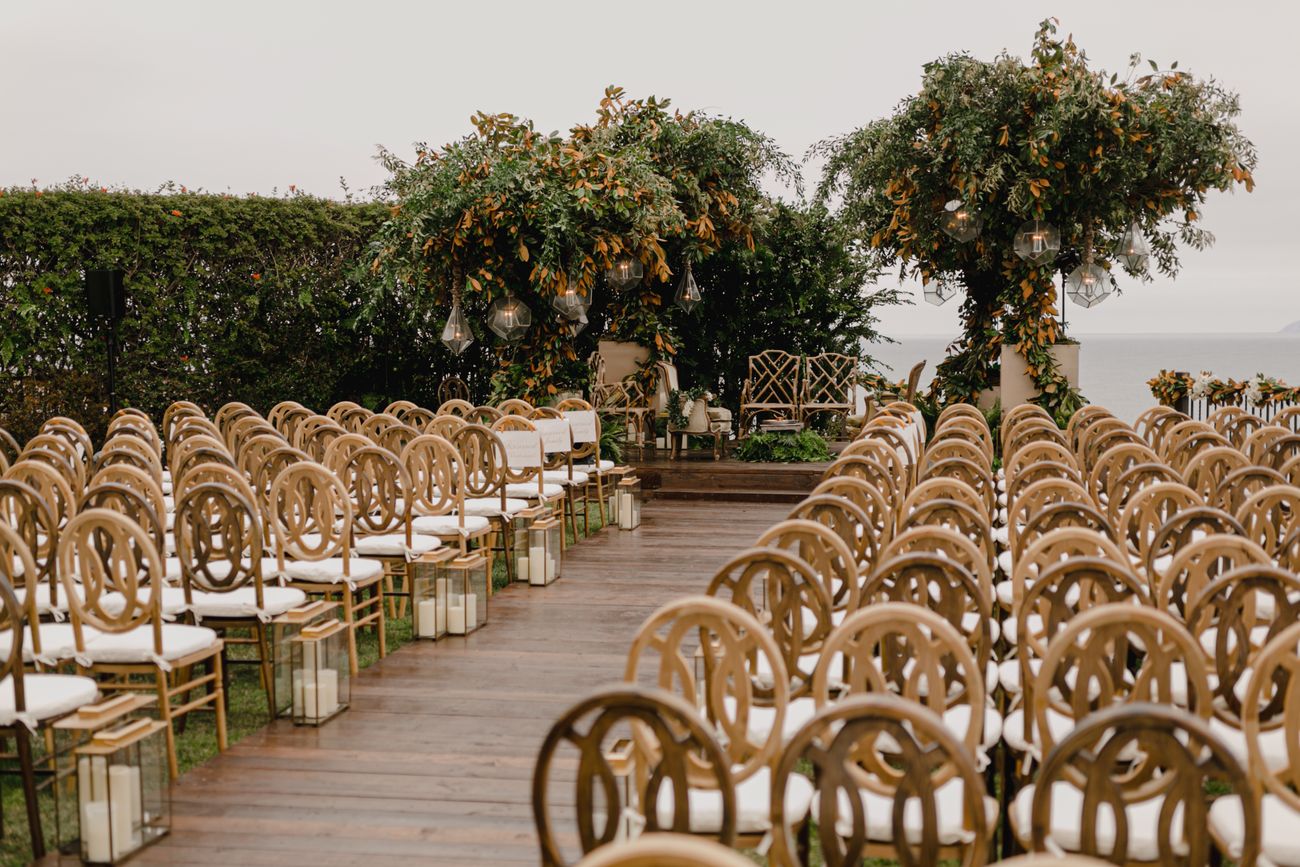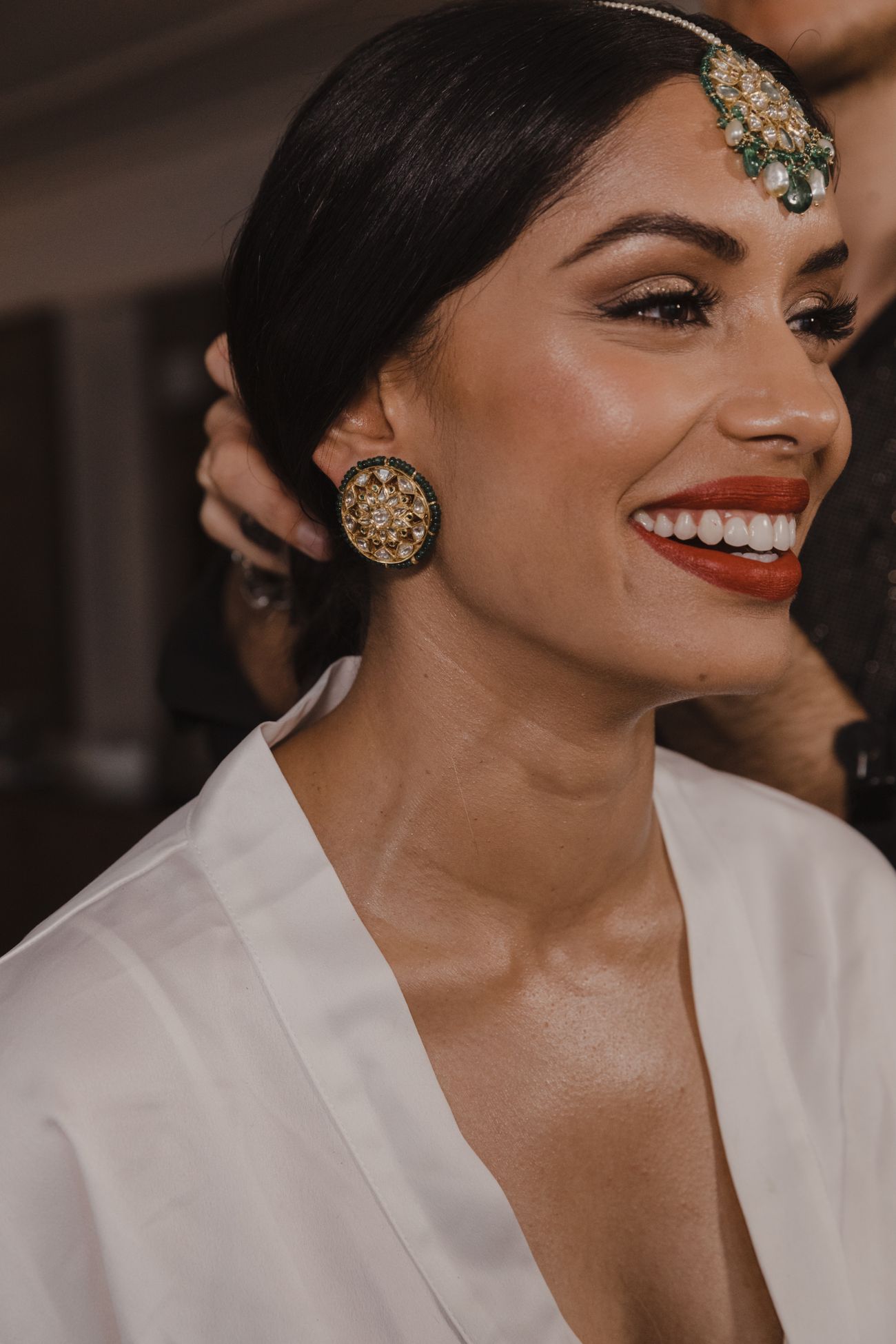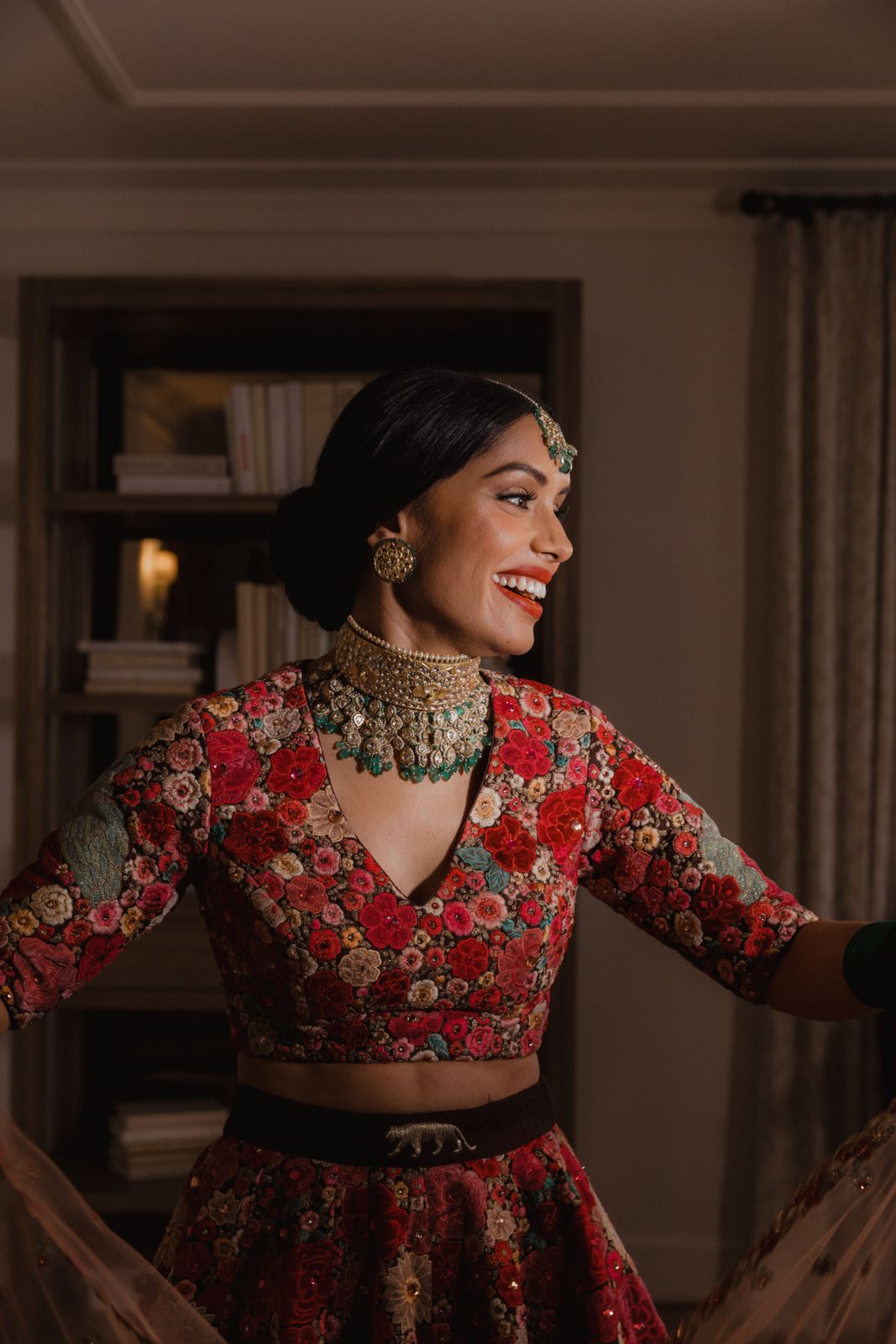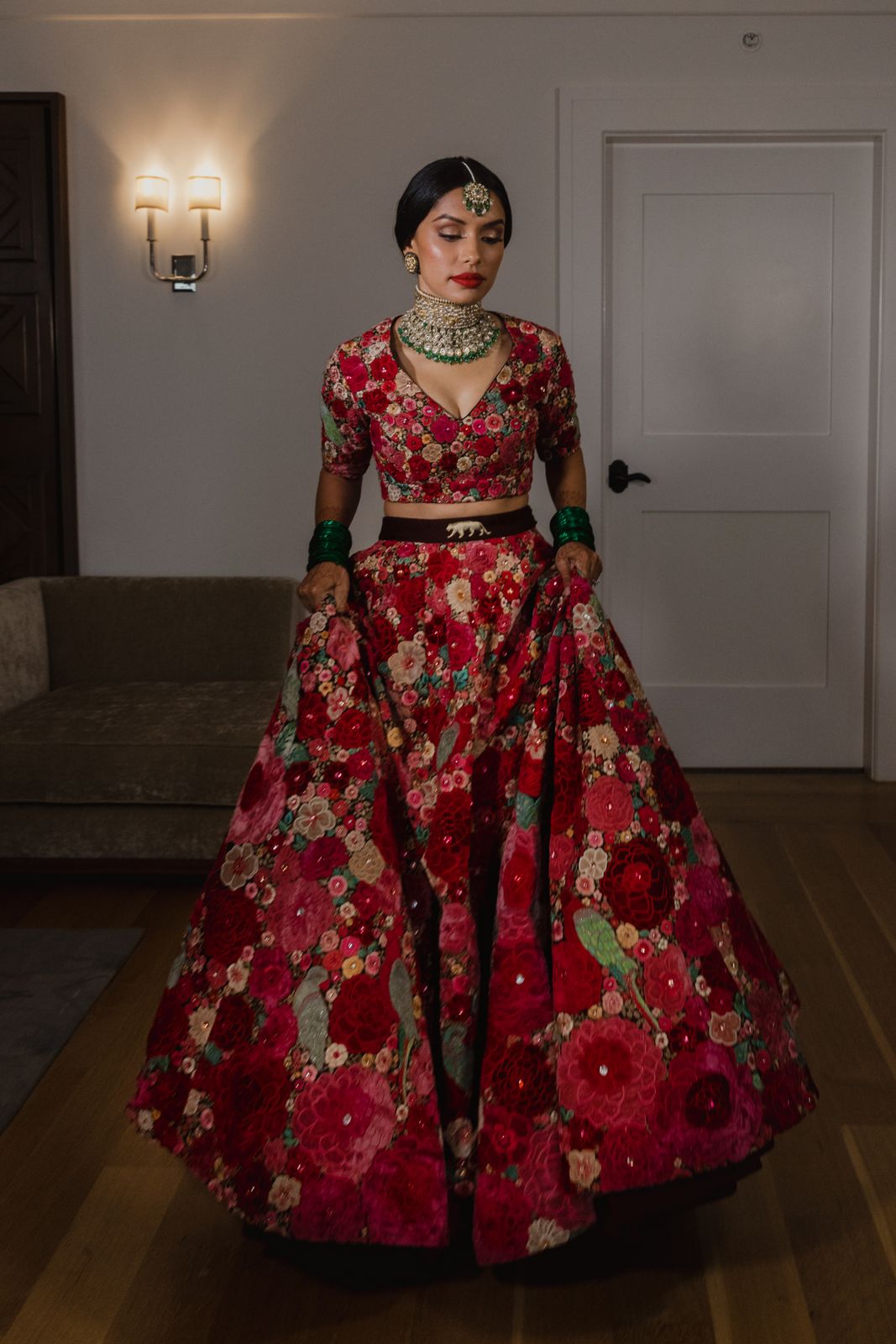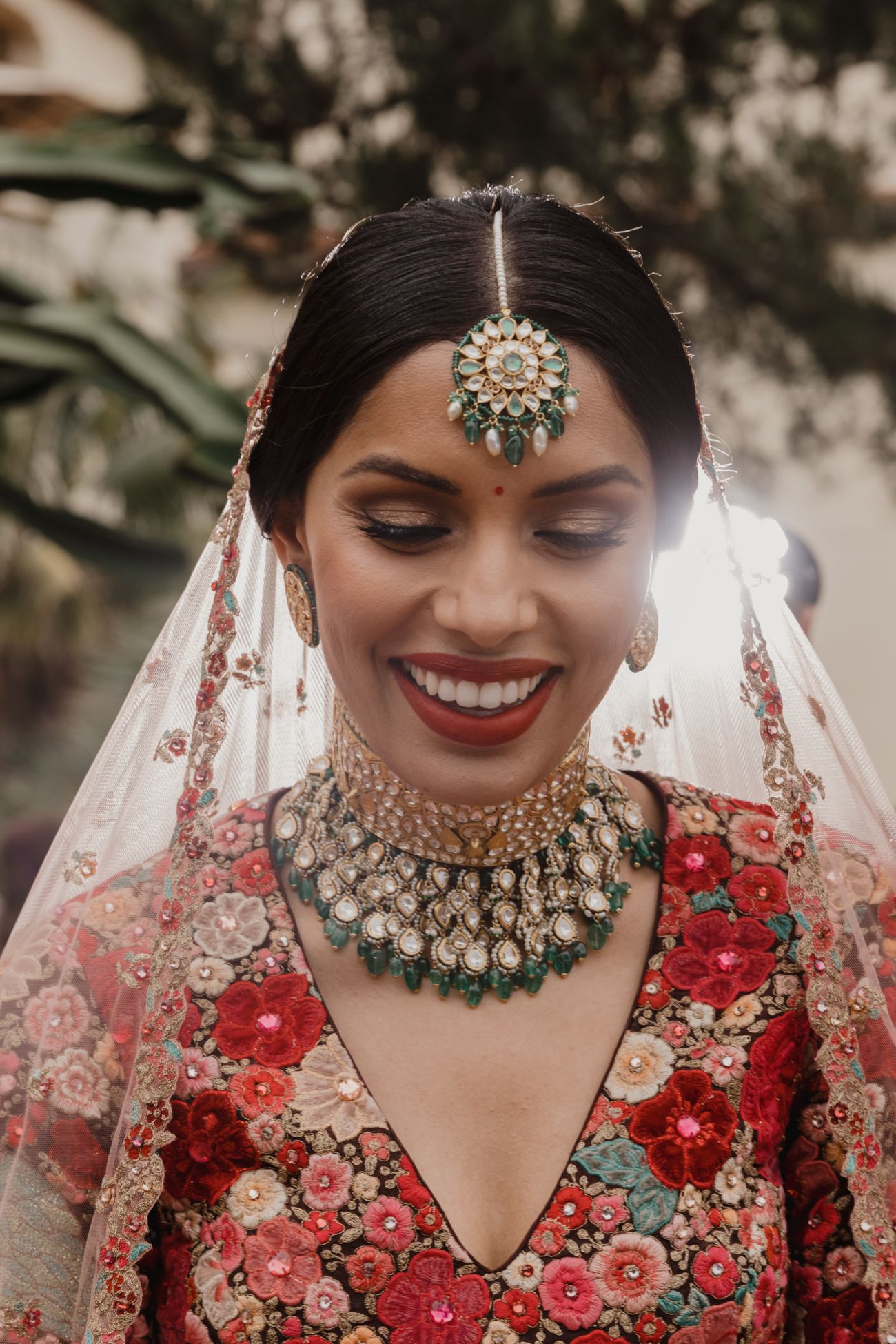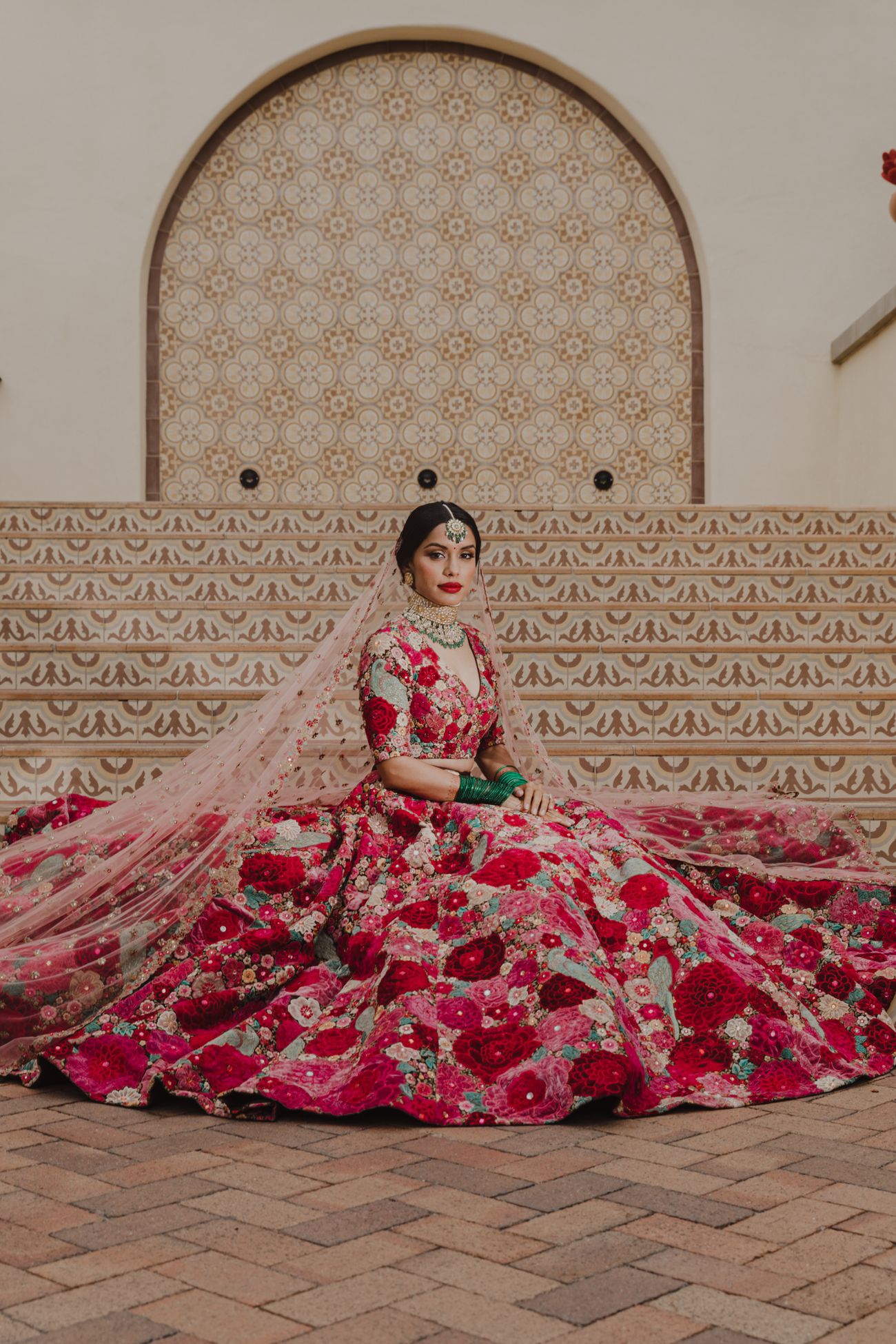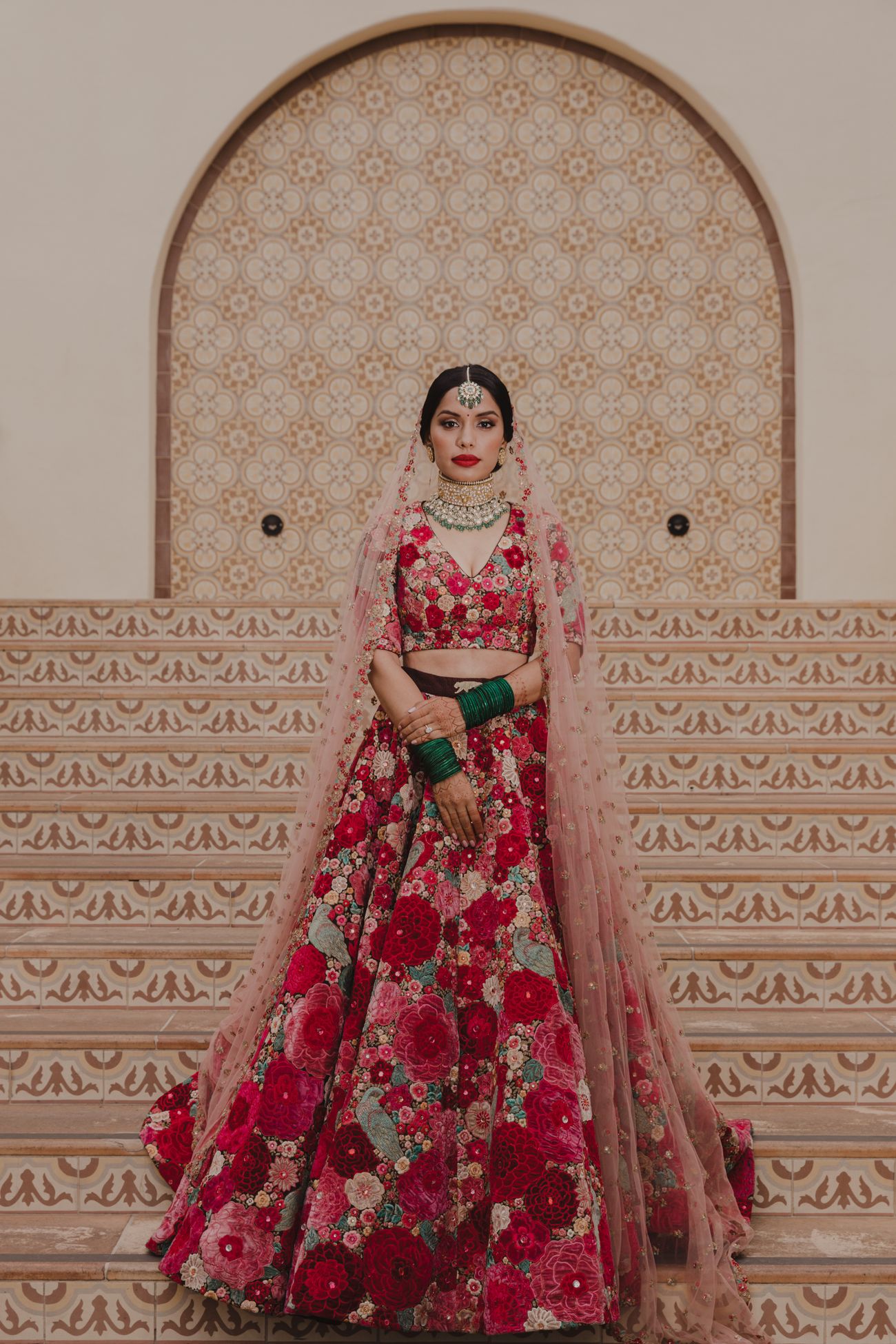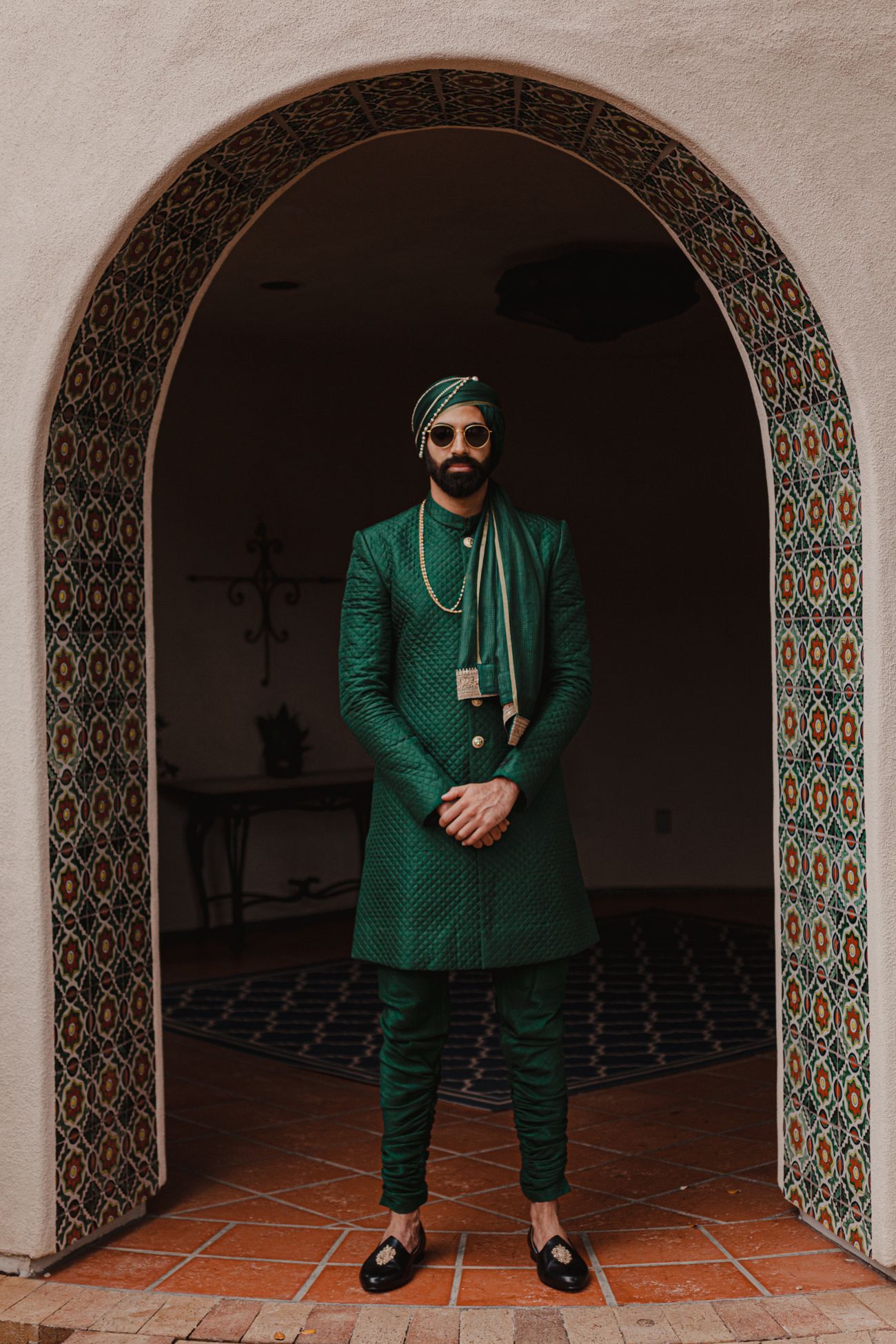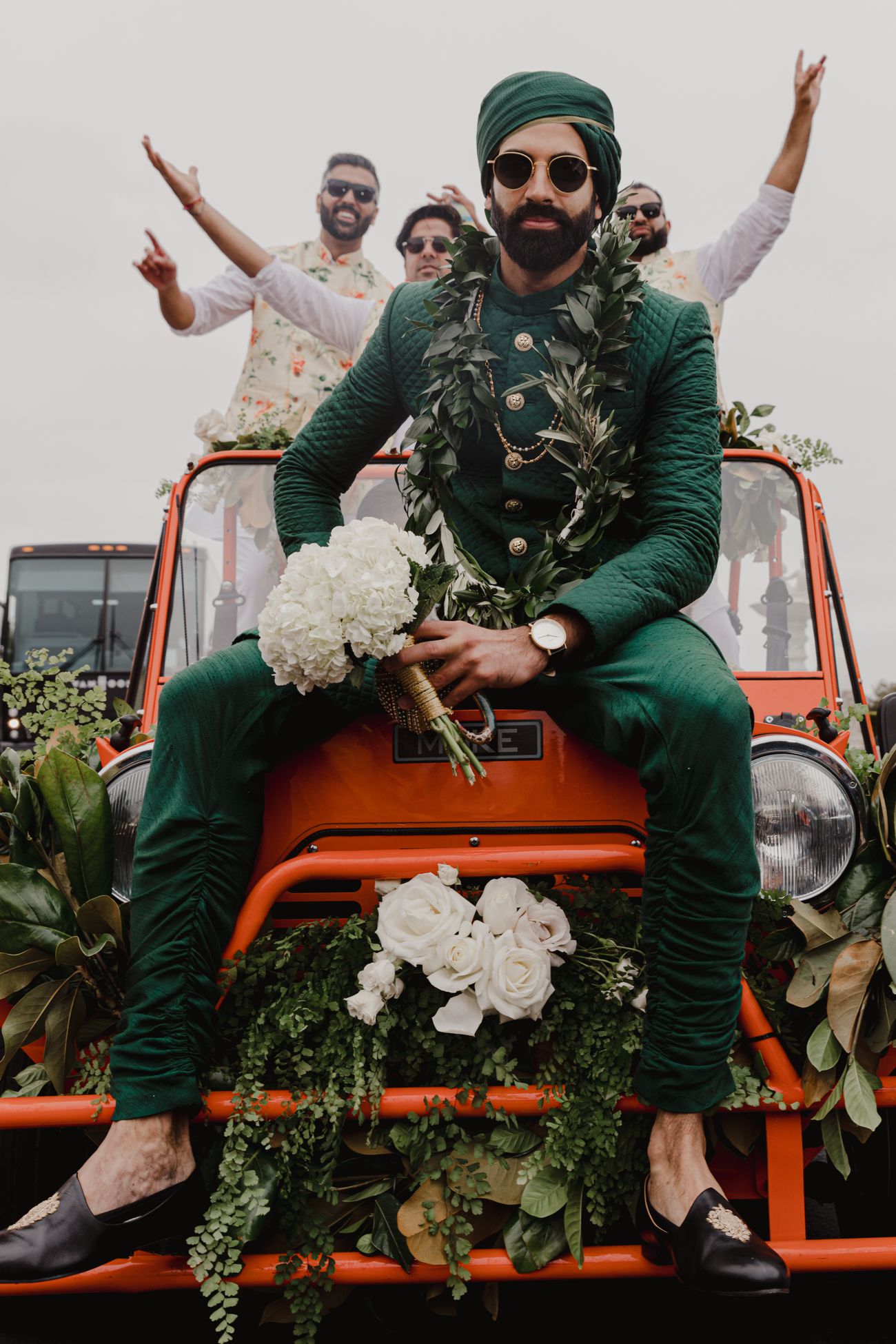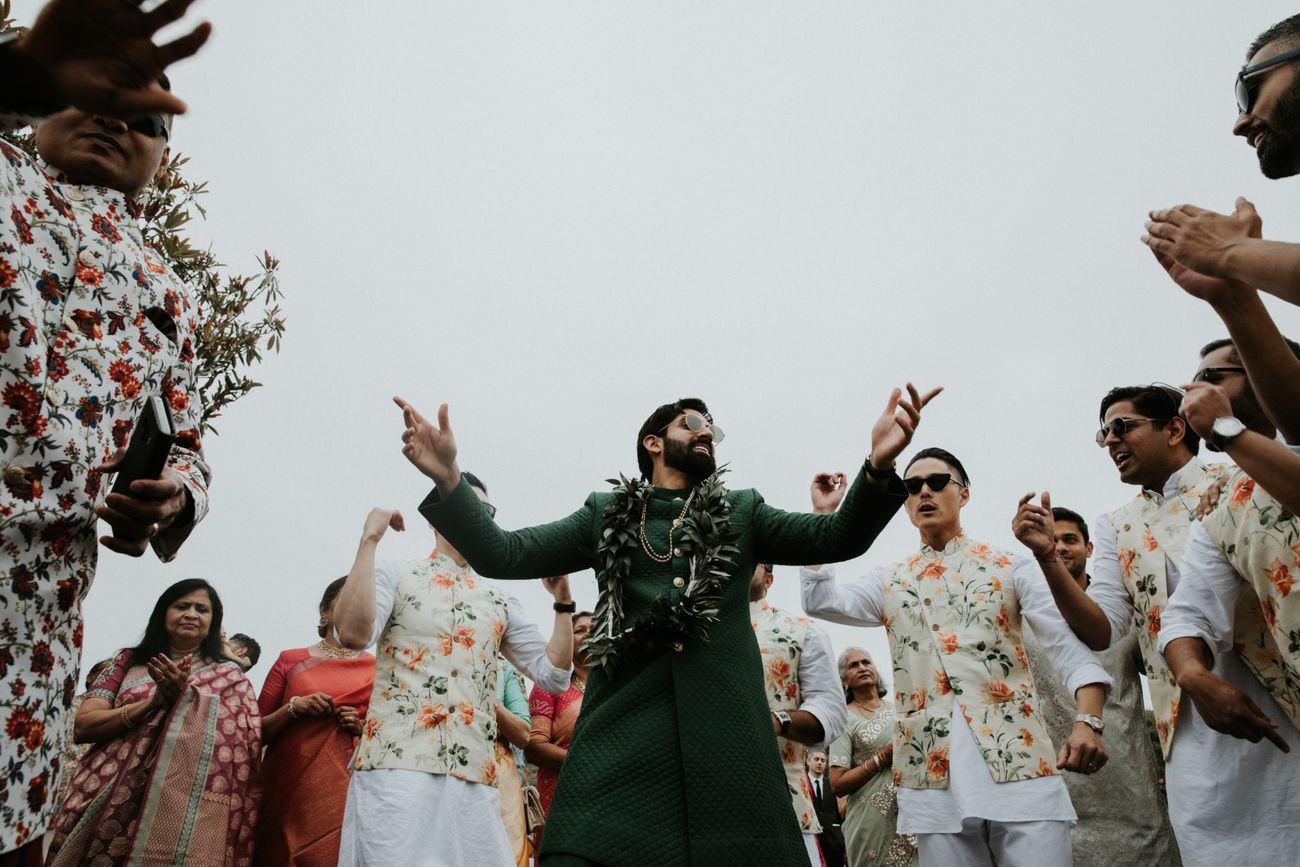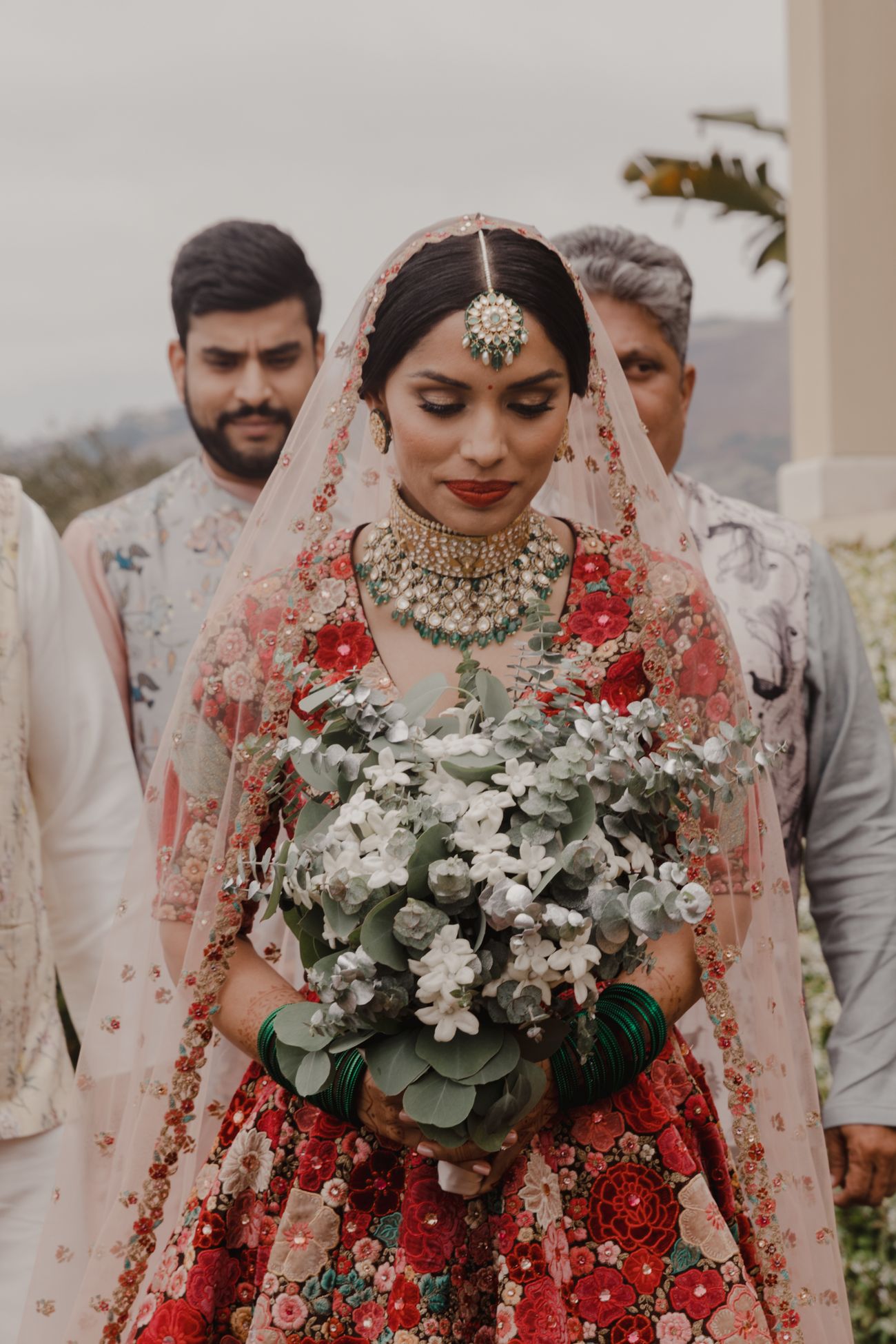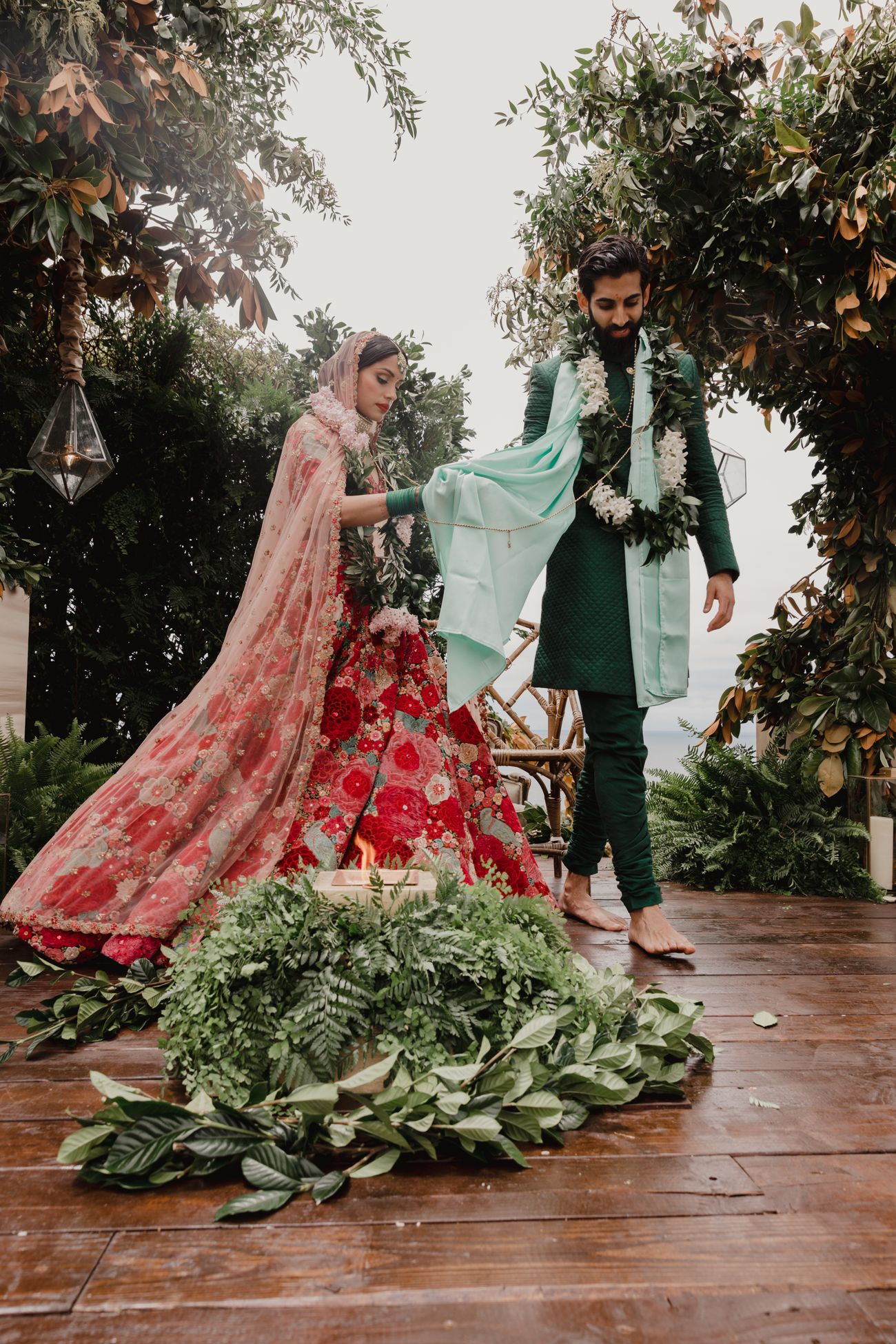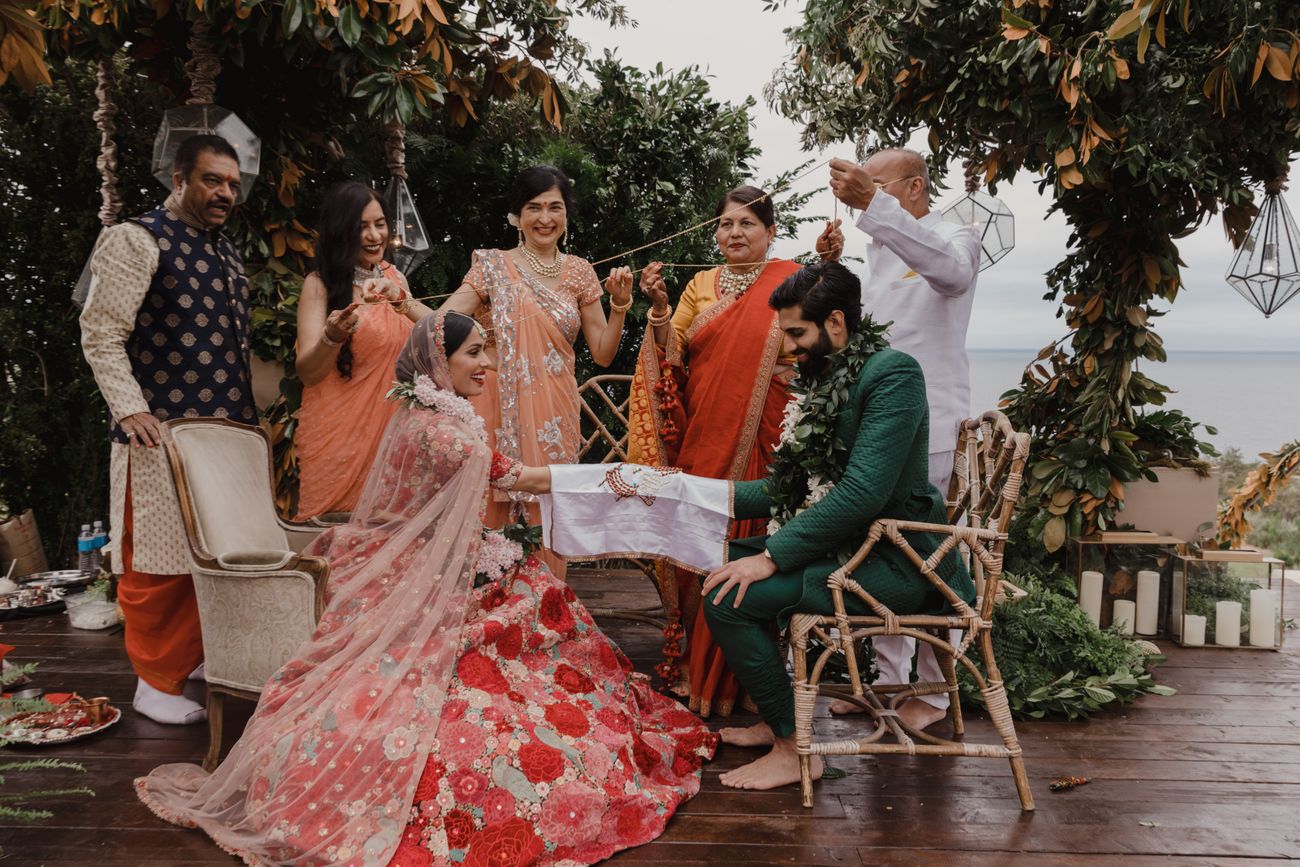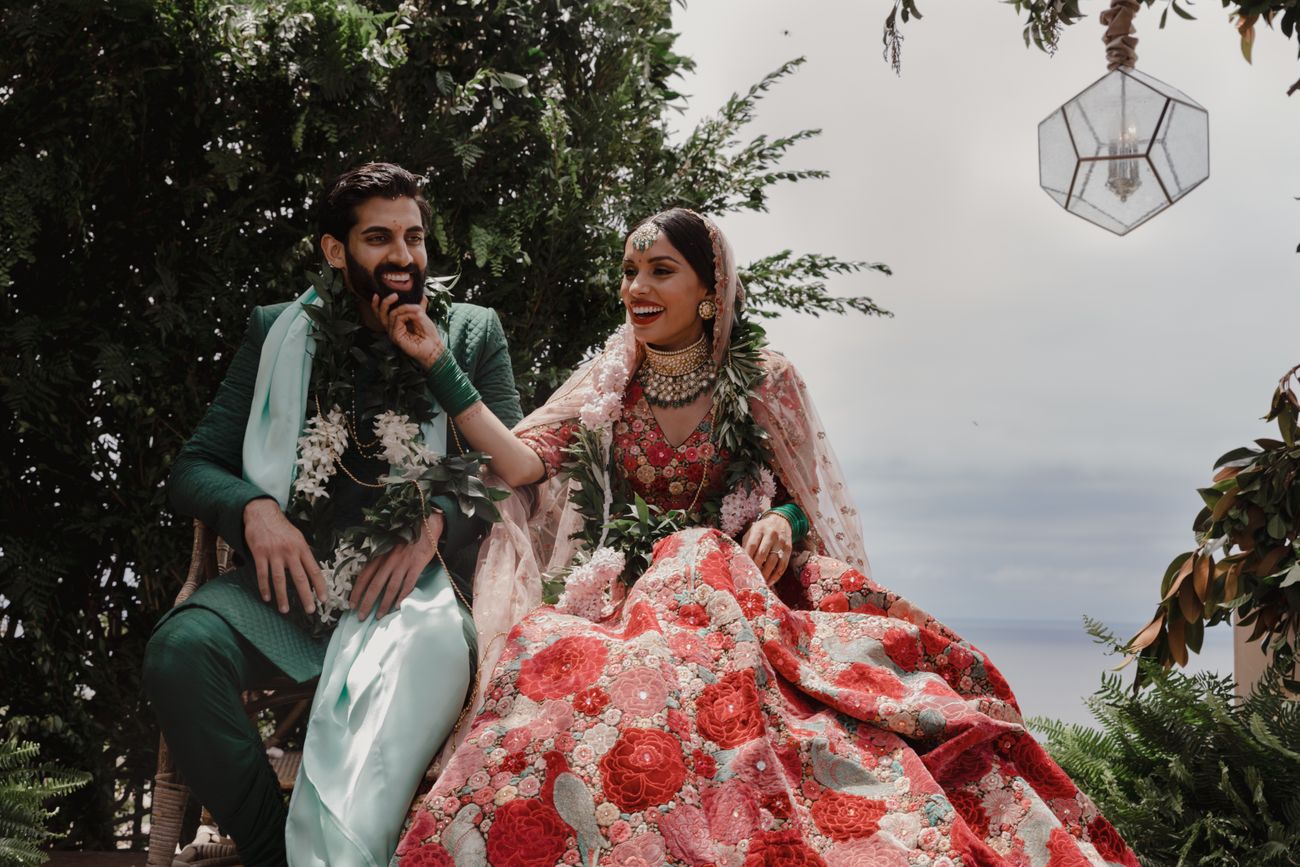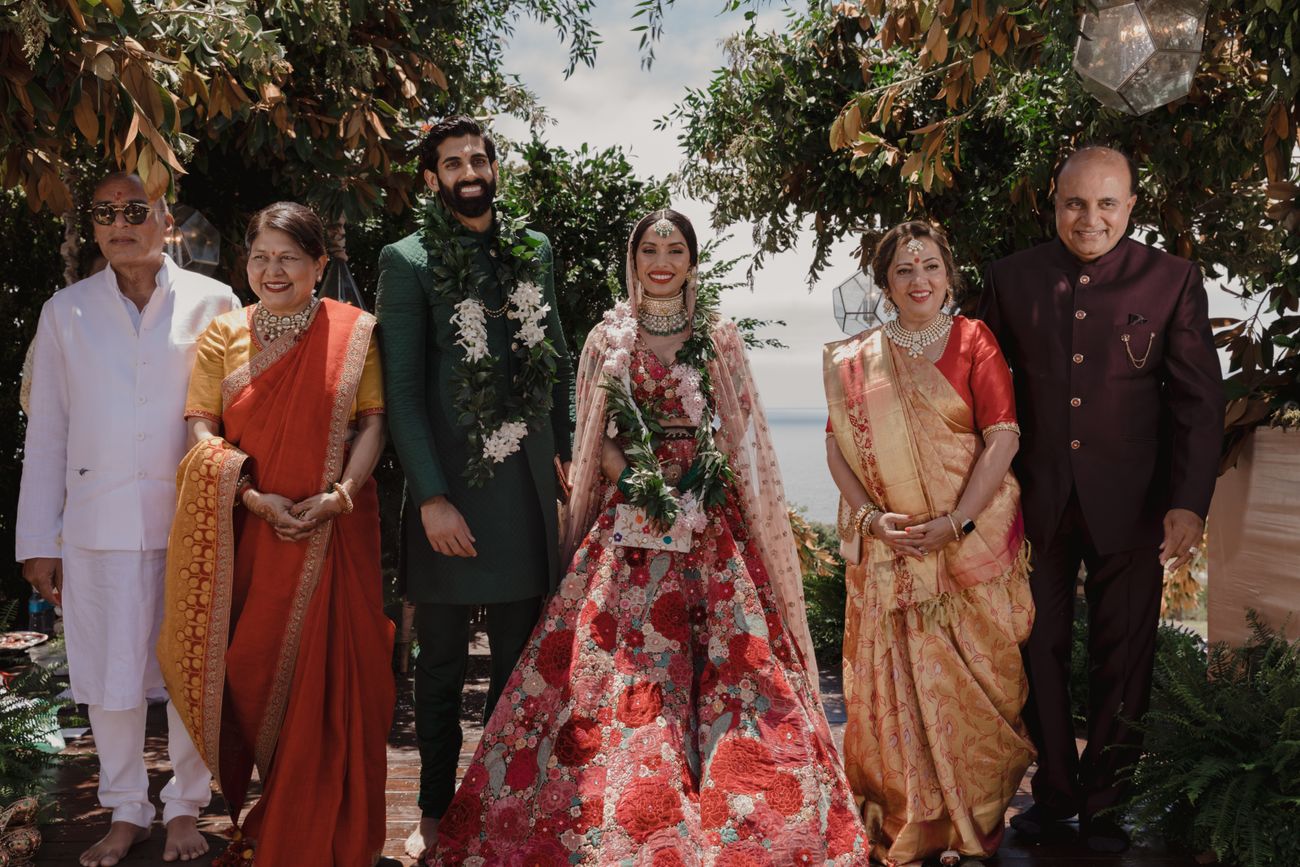 The Reception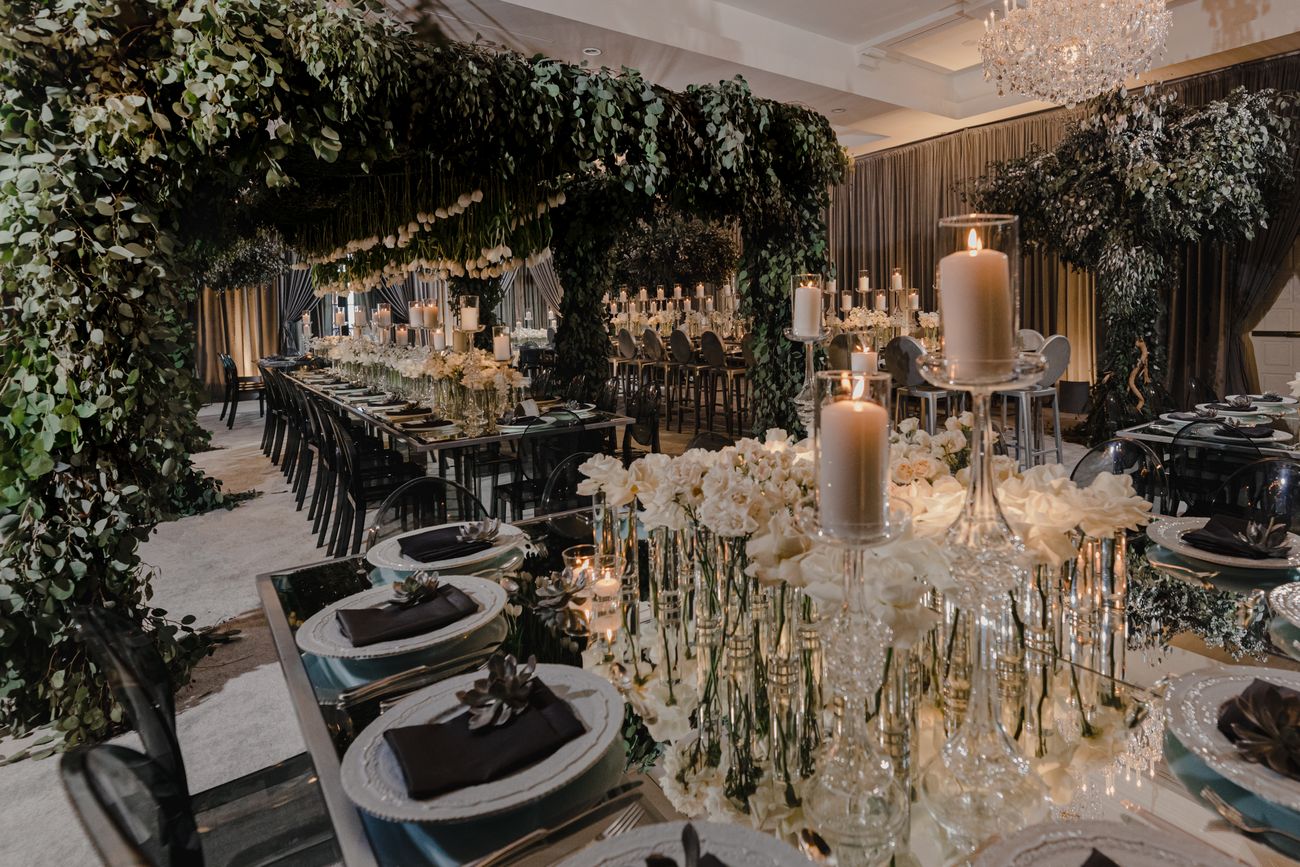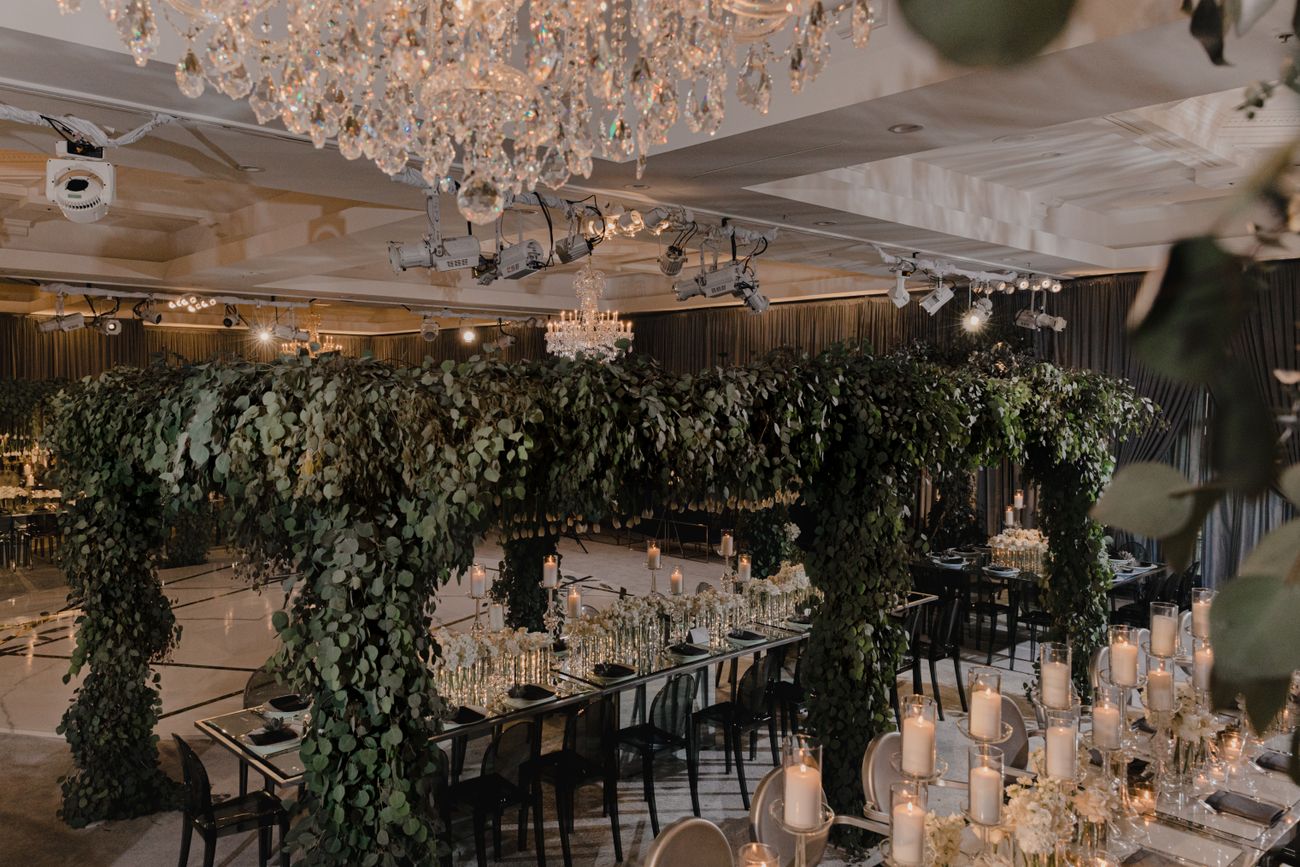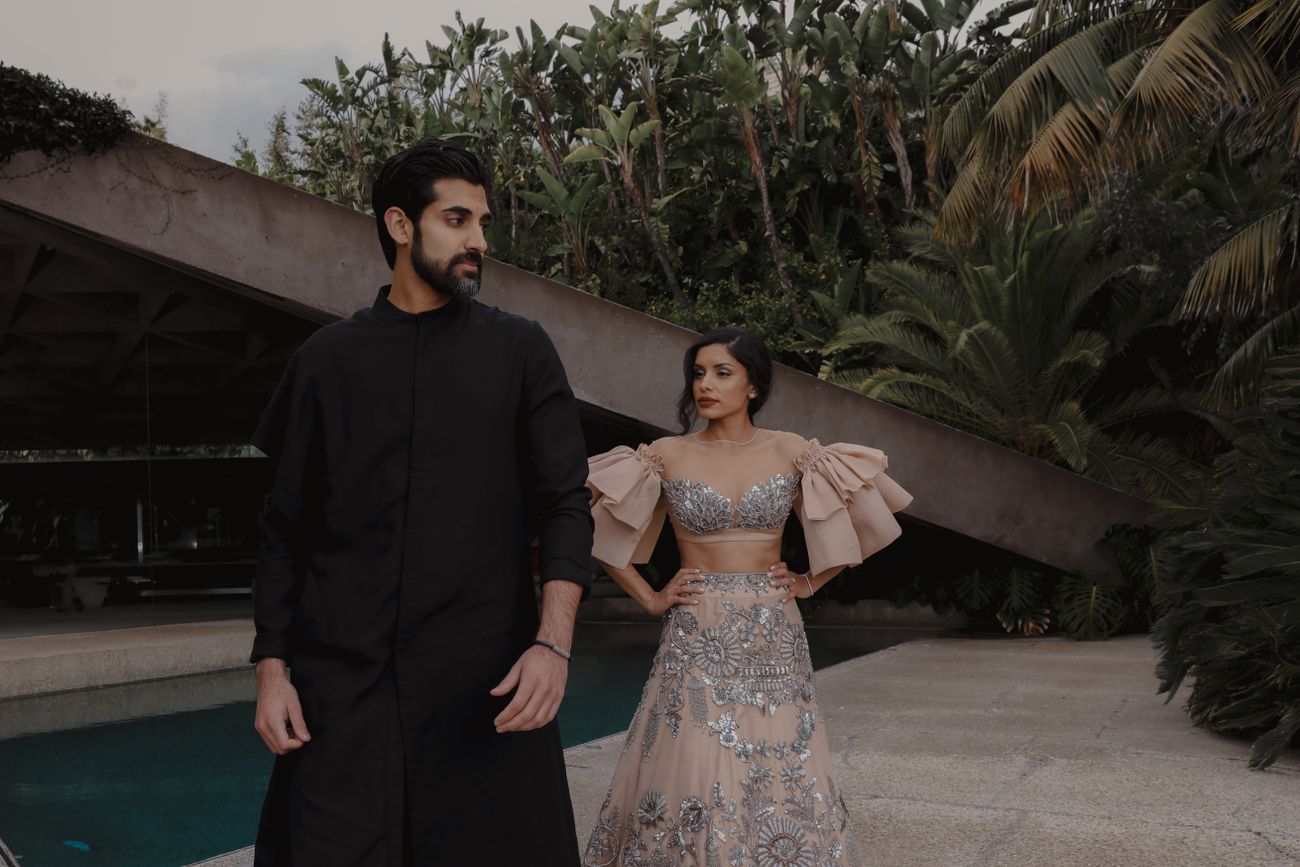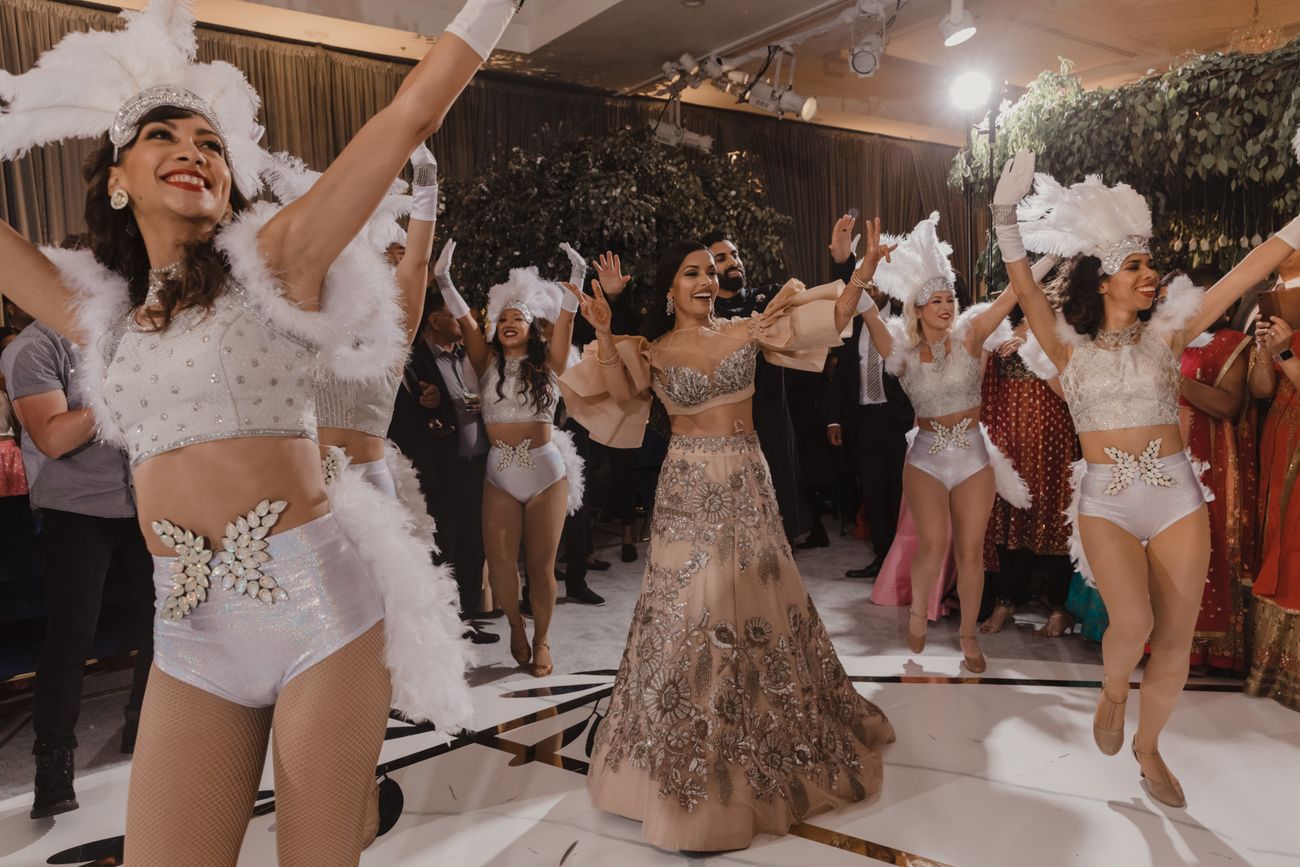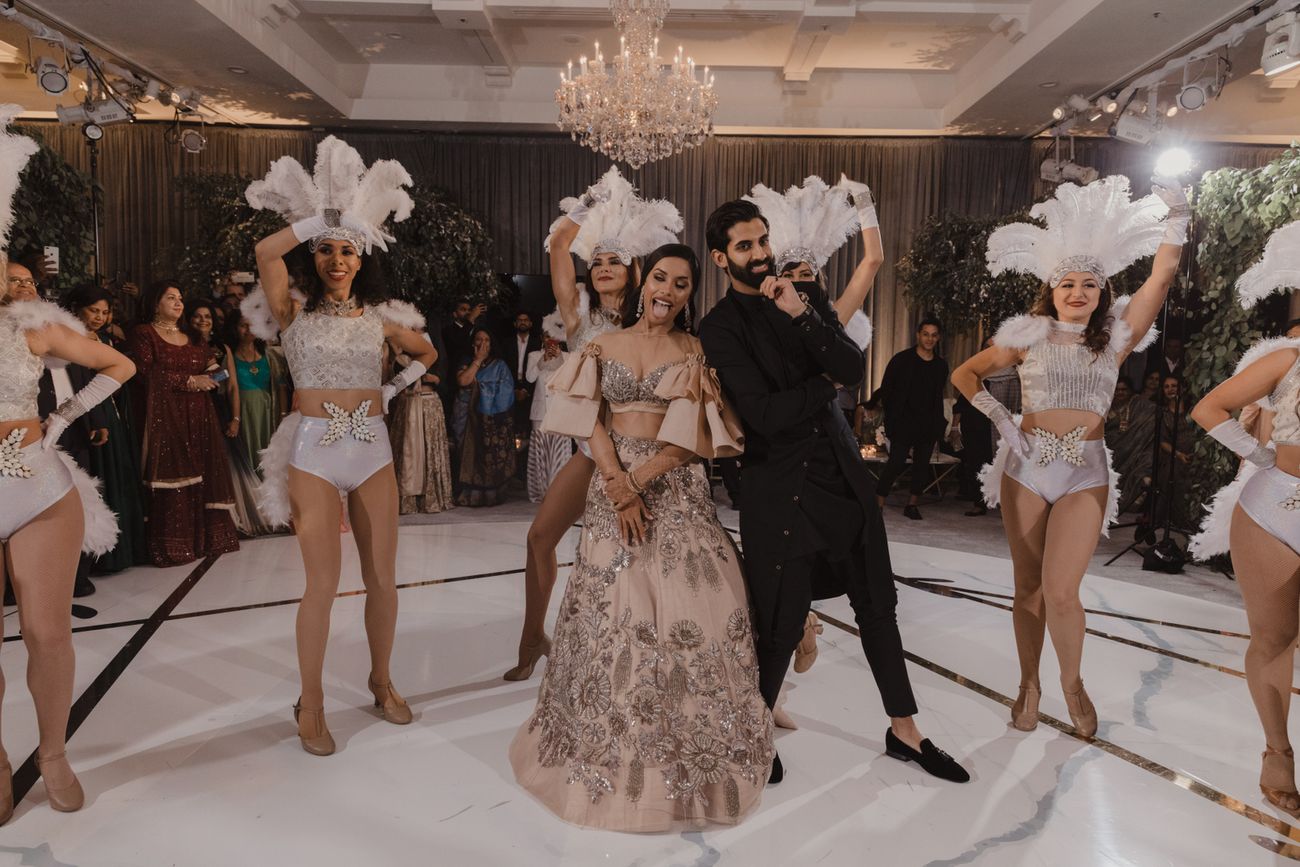 From The Bride: 
I envisioned my wedding to be in a natural setting, bringing out the beauty of our world, mixed with laughter and joy with family and friends. We love everything about nature; the sounds, the smells, and genuine feel. My ceremony and reception depicted exactly that. Our wedding had a vibe of tranquility. I know it sounds like the opposite of what a wedding should be described as, but it truly was. As you walk into the ceremony, you see lush green trees, wooden flooring, an ocean backdrop, and classical Indian live instruments (sitar, tabla, ect.) playing in the background. The air had a light breeze, and the overall setting was unique, magical, and exactly what I had envisioned. The whimsical idea of getting married in a lush forest was a dream I had once, and I wanted it to be a reality. The whole experience of getting married in that setting was memorable but our favourite moment would have to be seeing everyone laugh at our playful behaviour on the mandap. We were just being silly, taking selfies, and making expressions to the crowd. We truly wanted to have fun in this moment and interact with the people we love at the same time, making it a personal experience for them as well. Additionally, I could not stop laughing when my dad and husband had on their sunglasses during the beginning of the ceremony at first look when the antarpat came down. Truly hilarious! When I asked why they are wearing them? "Because we are cool." I lived for these moments. The laughter and joy that reflected throughout the ceremony was truly unforgettable. 

As every bride and groom knows, there just aren't enough moments to slow down and spend some leisurely time with friends and family. It's quite the catch 22. The weather was spectacular in Palos Verdes, and between events, most attendees were at the pools keeping the party going! We wish we had more time to enjoy those moments with them. Wedding planning is always stressful for any bride and groom, so remember to stay calm, compromise your viewpoints with your partner, have fun with the details, and do exactly what you guys want for your special day- not what you're supposed to do. You only get one of these days, so make it count!
Favorite moment from the wedding, is a candid moment of us on the mandap as we sat down after walking around the fire & the priest announced us husband and wife. I am looking at the priest and Ankur's head is down obediently. 
Vendor Reviews: 
We wanted to capture the essence of natural beauty with the mandap. Four natural trees substituted as pillars of the mandap. These were adorned with rustic lanterns. White Lilac Inc. spent several days, going above and beyond, to put this masterpiece together. The combination of this chic, lush staging, combined with the cliffs and ocean behind, made for a picturesque setting. It was my favorite aspect of the wedding. 
Sabyasachi is the quintessential designer I have learned to admire and love growing up. He continues to keep our culture preserved, and defines the true meaning of Indian beauty. I love that his outfits make every Indian woman look like a queen, no matter the body type, skin tone or waist size. This is what a true designer and artist represents. He continues to stay original to his brand, yet puts a unique edge to every collection. When the 'dil-guldasta' first release, I knew right away that that was my wedding dress. I came to Mumbai a few months after the release and it was the first dress I put on. Instantly, I knew nothing else would be as good. I am one of those people that know what suits me and what does not, so the intricate detail of patch work on the lehenga was more my style. It was love at first sight. 
Working with Mili was such a breeze. She truly has an art of not only taking exquisite photos, but also keeping us calm and making sure we enjoy ourselves on our special day. She takes time to get to know our comfort zones, as well as bring out a side of us that is a little outside of our comfort level at the same time. You may not understand some of the direction she gives you at the time, but when it shows on an image, it all makes sense. That's art. My favourite photos that Mili captures are the candid ones during our wedding ceremony. Mili has a true art of capturing moments, she knows exactly how to freeze a moment in time effortlessly. Her eye for being creative and unique in photography is unlike any other I've seen before. It tryly was an honour to work with her and her team. 
Vendors: Venue: Trump National Golf Course / Terrenea Resort; Makeup Artist: Brooke Hill; Photography & Videography: Mili Ghosh; Decor: White Lilac Inc; Planner: Elegant Events; Bridal Outfit: Sabyasachi Mukherjee★ 4.9 (Wedding), Manish Malhotra★ 4.9 (Reception)