A Glam Mumbai Wedding With A Bride Who Did The Decor Herself!
BY Aakanksha | 21 May, 2020 | 2992 views | 8 min read
Pooja & Anshul's wedding celebrations were a grand affair full of gorgeous outfits, stunning decor and crazy performances. Their love story is one for the Bollywood, because when they met, they instantly knew they were made for each other. The couple was involved throughout in the planning of their own wedding, which was expected from Pooja, as she was the owner of a decor company but was a welcome surprise from Anshul. His cooperative nature and involvement in everything small, or big, gave Pooja the confidence that he will stand by her, no matter what! 
With gorgeously themed decor at each function, and outfits that were goals, Pooja made sure that her wedding was exactly as she had envisioned - dreamy and perfect! And with the help of her team at Elusive Dreams by Pooja Doshi★ 4.8 , it was a smooth journey.  
Meet Pooja & Anshul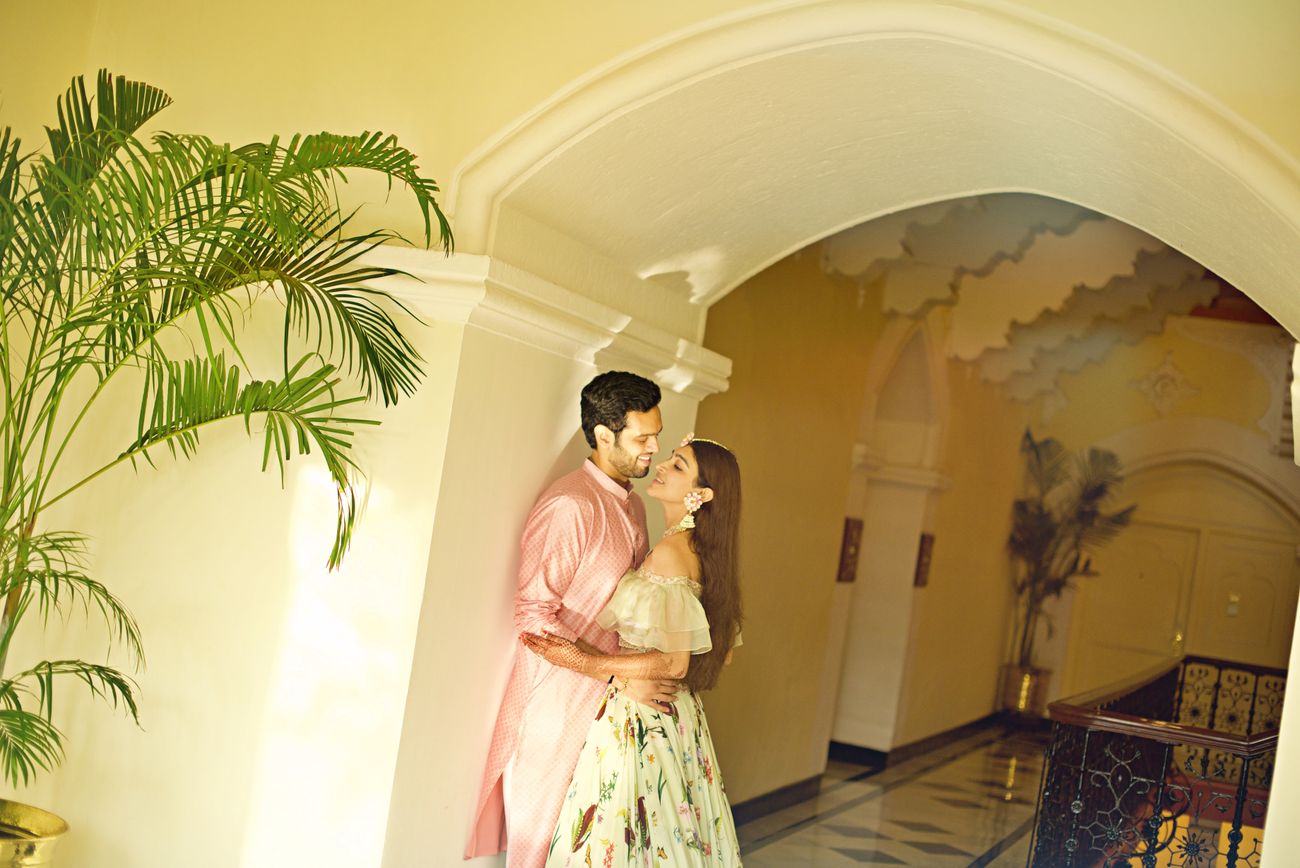 "The minute I heard my first love story, I started looking for you, not knowing how blind that was. Lovers don't finally meet somewhere. They are in each other all along."- Rumi This quote stands completely true when it comes to my love story. We met in an arranged set up but over the course of time it became a Love story I had always dreamt of and the hero of my story turns out to be the Prince Charming I was always looking for. My destiny played its beautiful role and made me find my soulmate who not just completes me in every aspect but also motivates and supports my work like no other. Our first date was at Olive, Bandra and I still remember him walking in, in his blue jeans black shirt and tan brown shoes. He was so handsome I couldn't get my eyes off him and our date which was supposed to be for an hour lasted 4 and a half hours. When he spoke I felt I was talking and his experiences seemed so similar to my life experiences. We met again the following week at Koko, Lower Parel and that day we laughed and shared more about ourselves. His laughter lit my world and I felt this strong connection towards him and I got the intuition that I wanted this to work. This meeting changed everything for both of us and luckily I got to know after, he felt the same. Now I believe in the saying that when you know, you just know ! I didn't think I would change my city for anyone, because Elusive Dreams my decor company was doing very well in Delhi and I had made a brand and created a niche for myself, but this man changed my life and my decision! Today when I look back it was the best decision I made. We met twice more after that and we were 100% sure that we wanted this and after that our families started meeting. 3 months later our proposal took place at Taj Lake Palace, Udaipur. It was dreamy romantic and all things beautiful. The proposal became a talk of the town and was featured on many social media websites as "goals". We didn't know we were actually becoming a couple other couples and our single friends would look upto because all we were doing was creating memories and making our world a beautiful place.
The Mehendi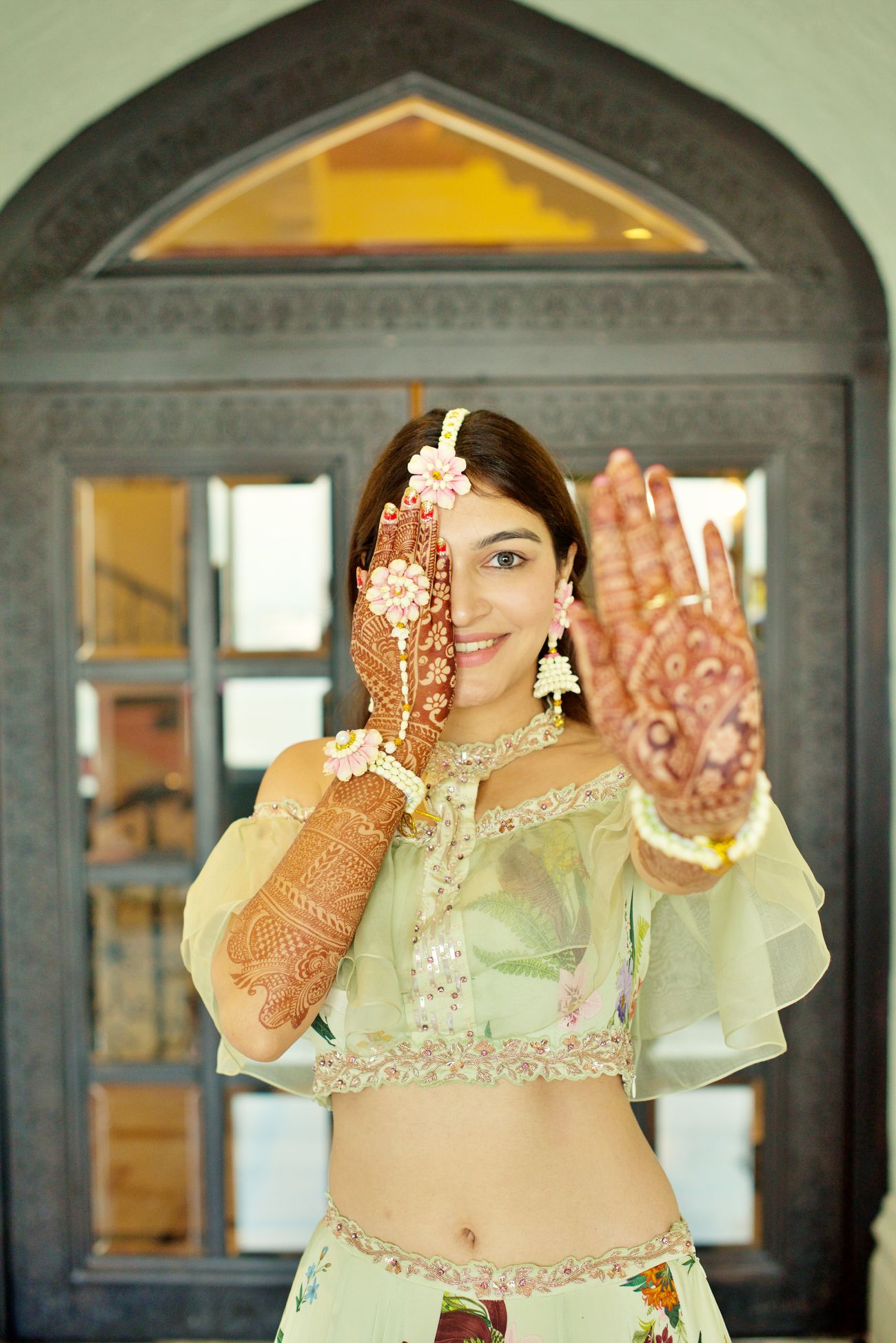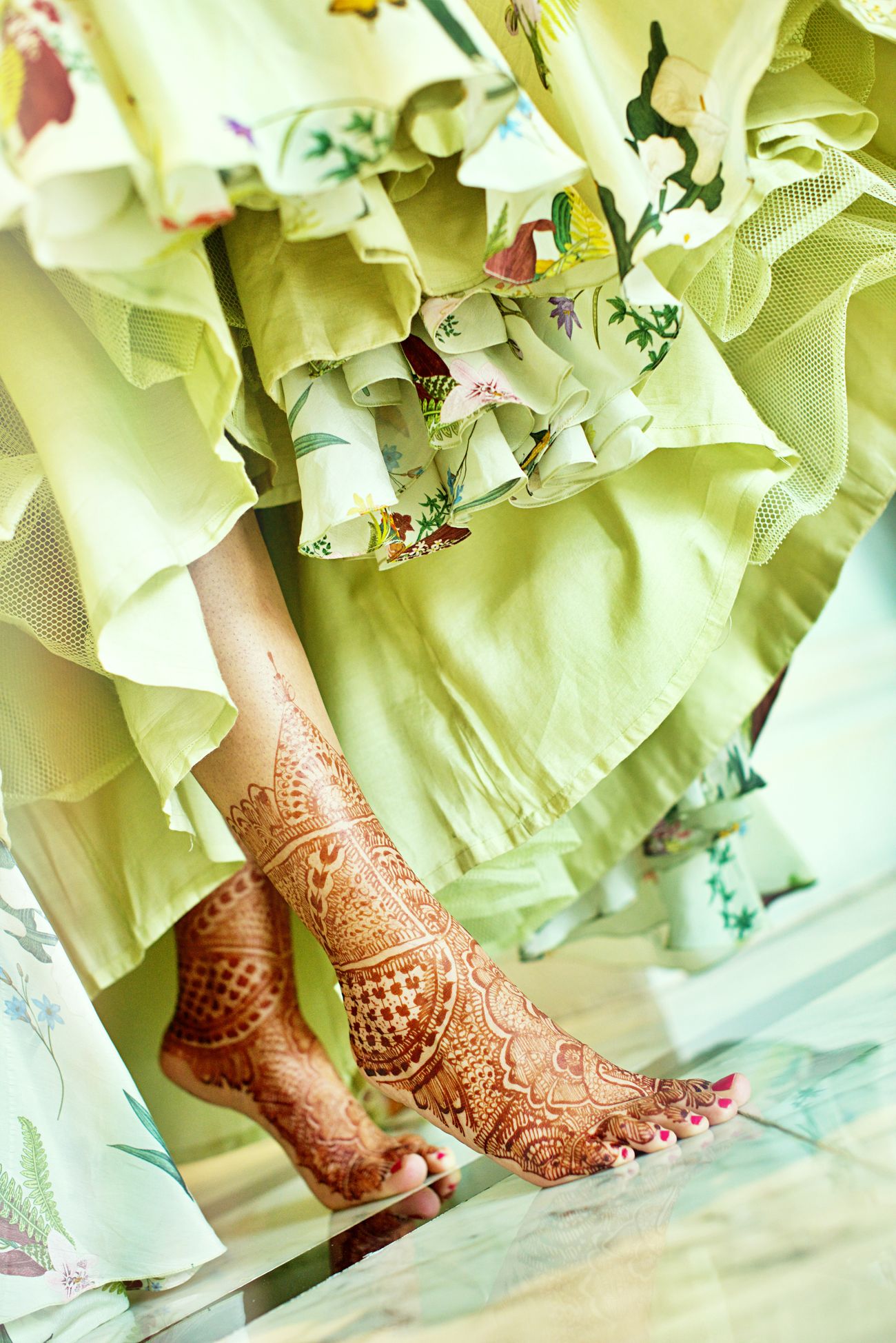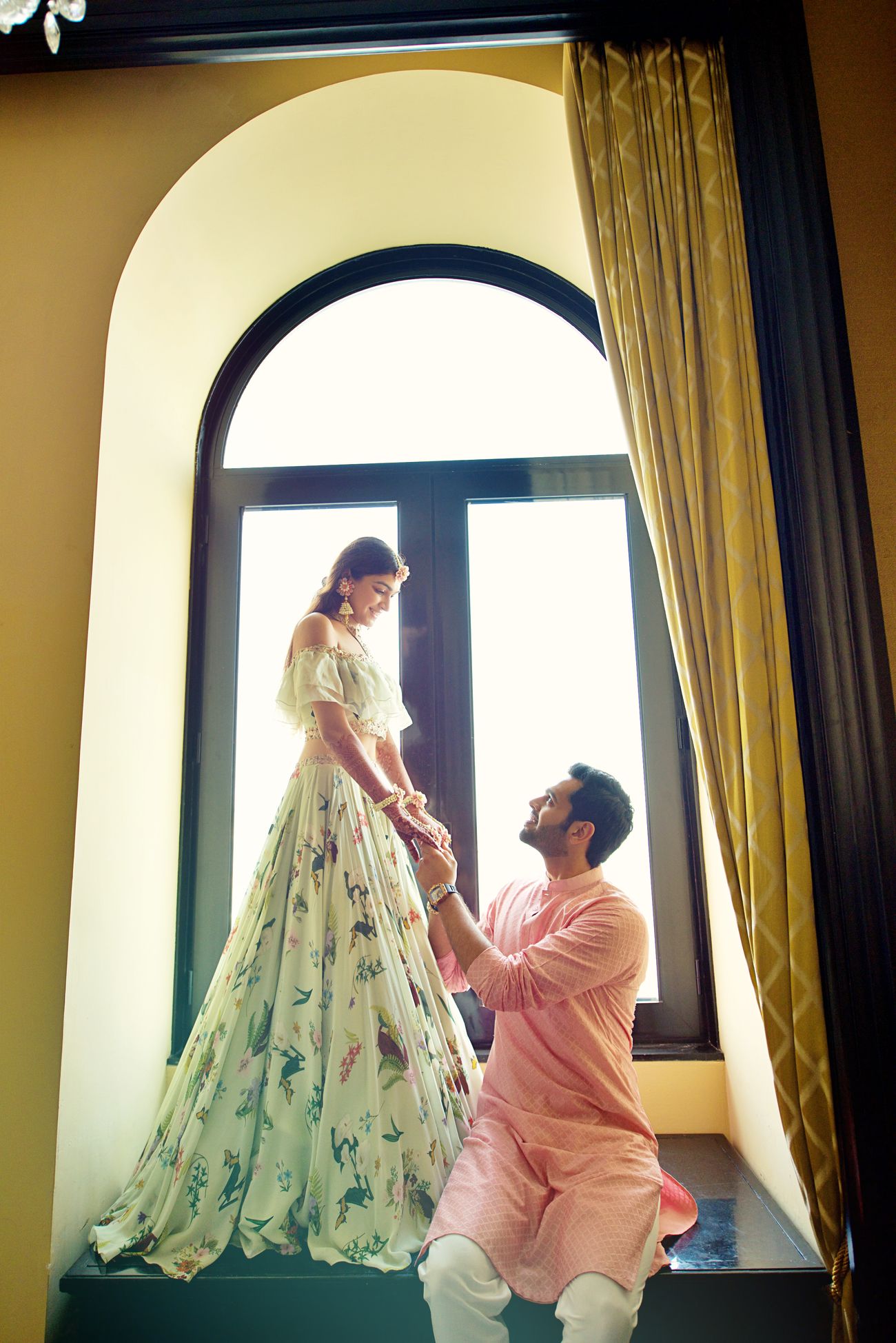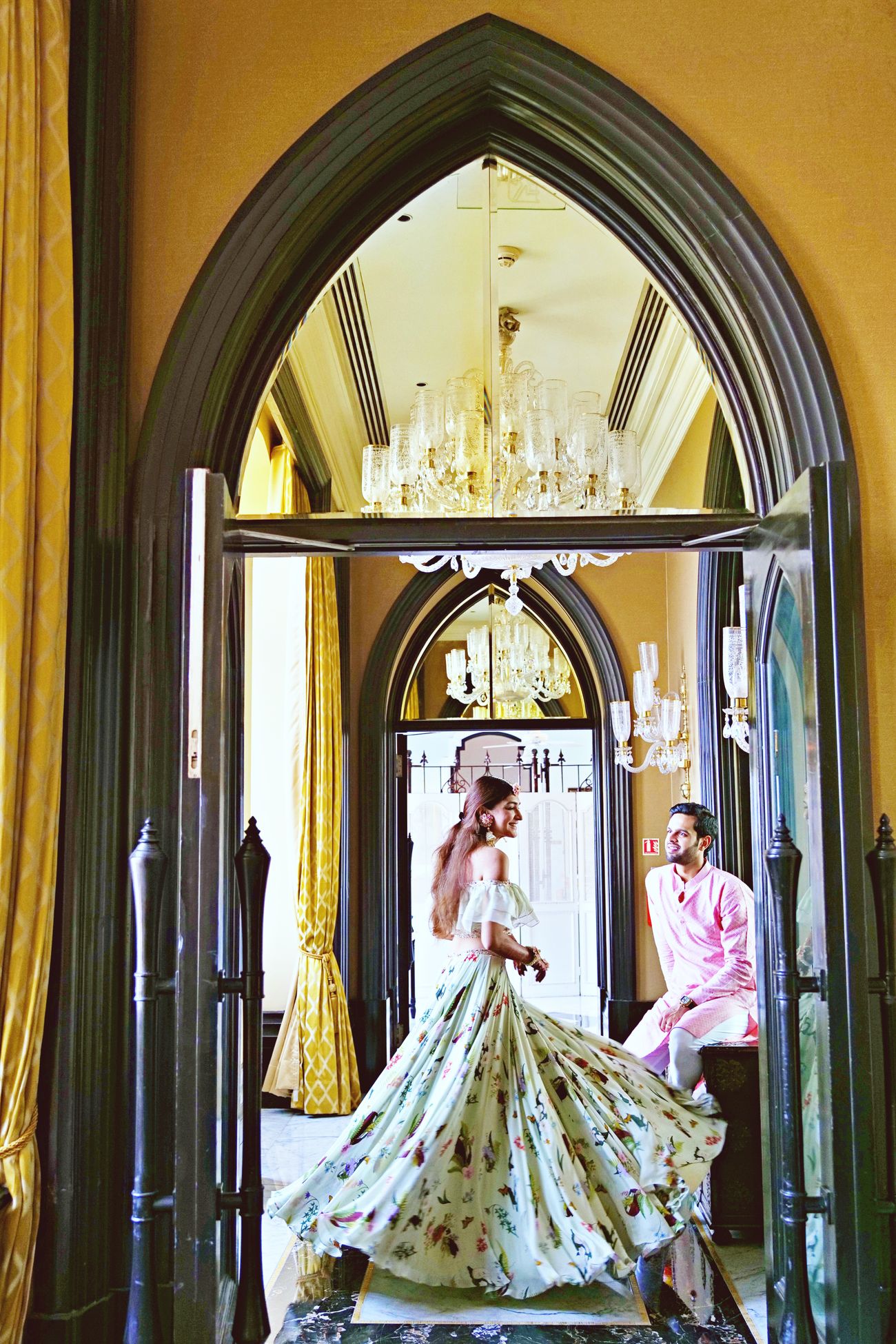 The Sangeet Cocktail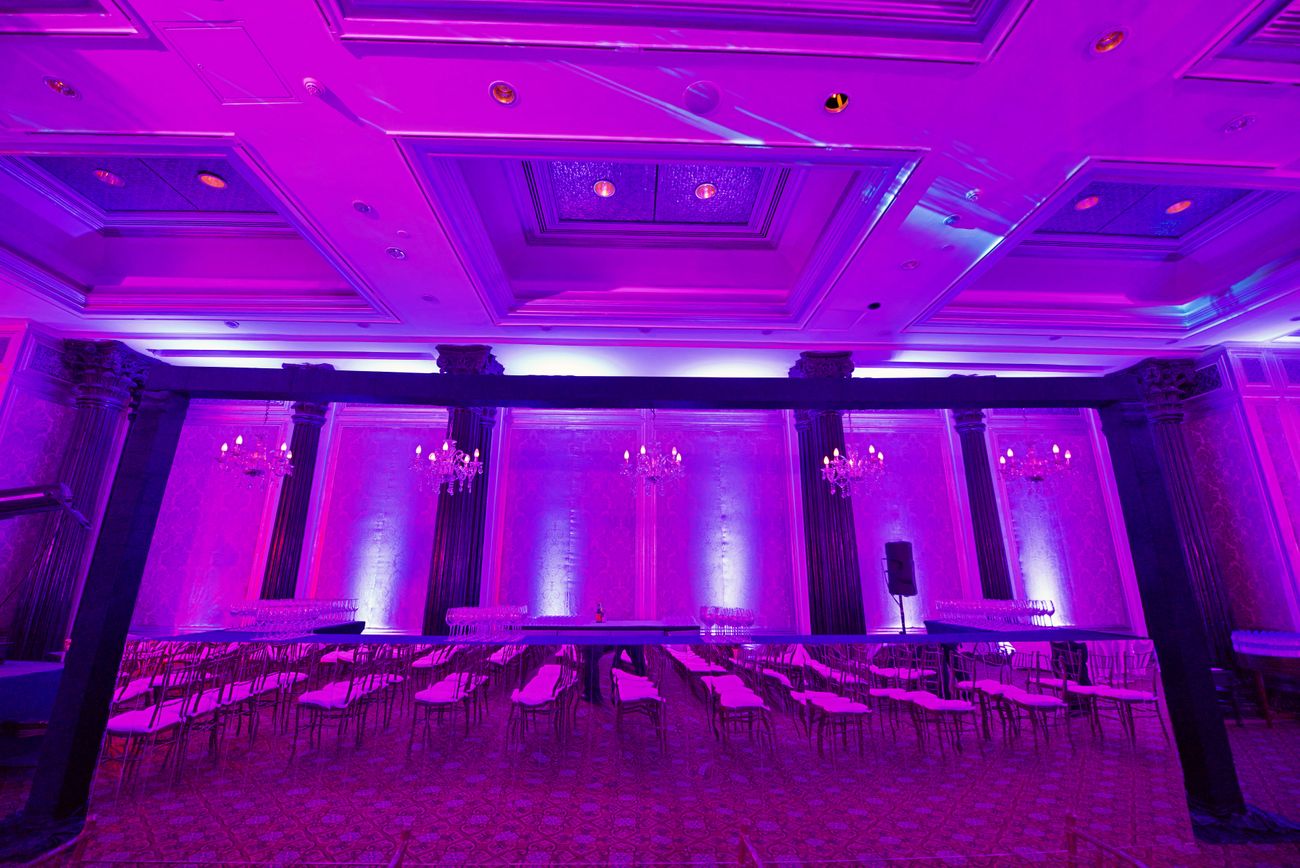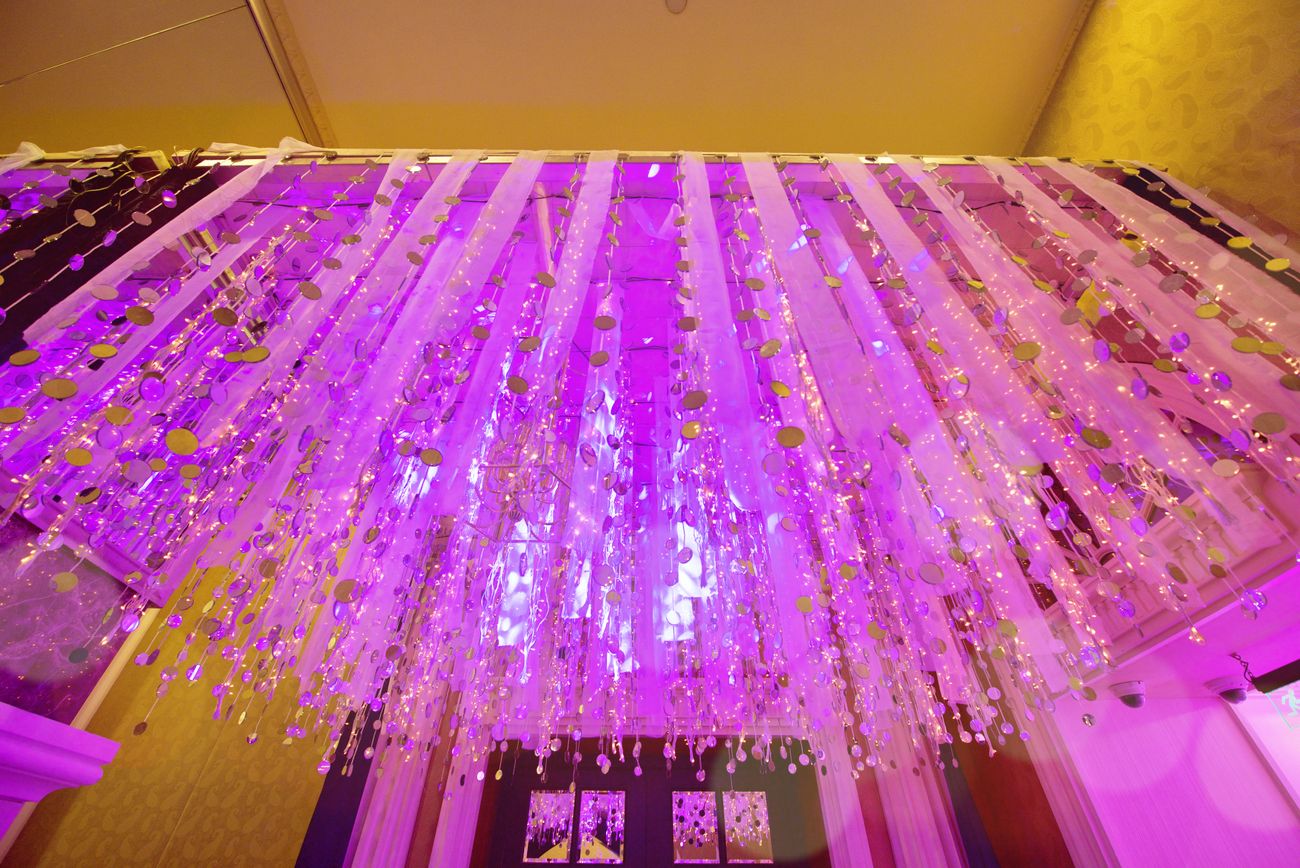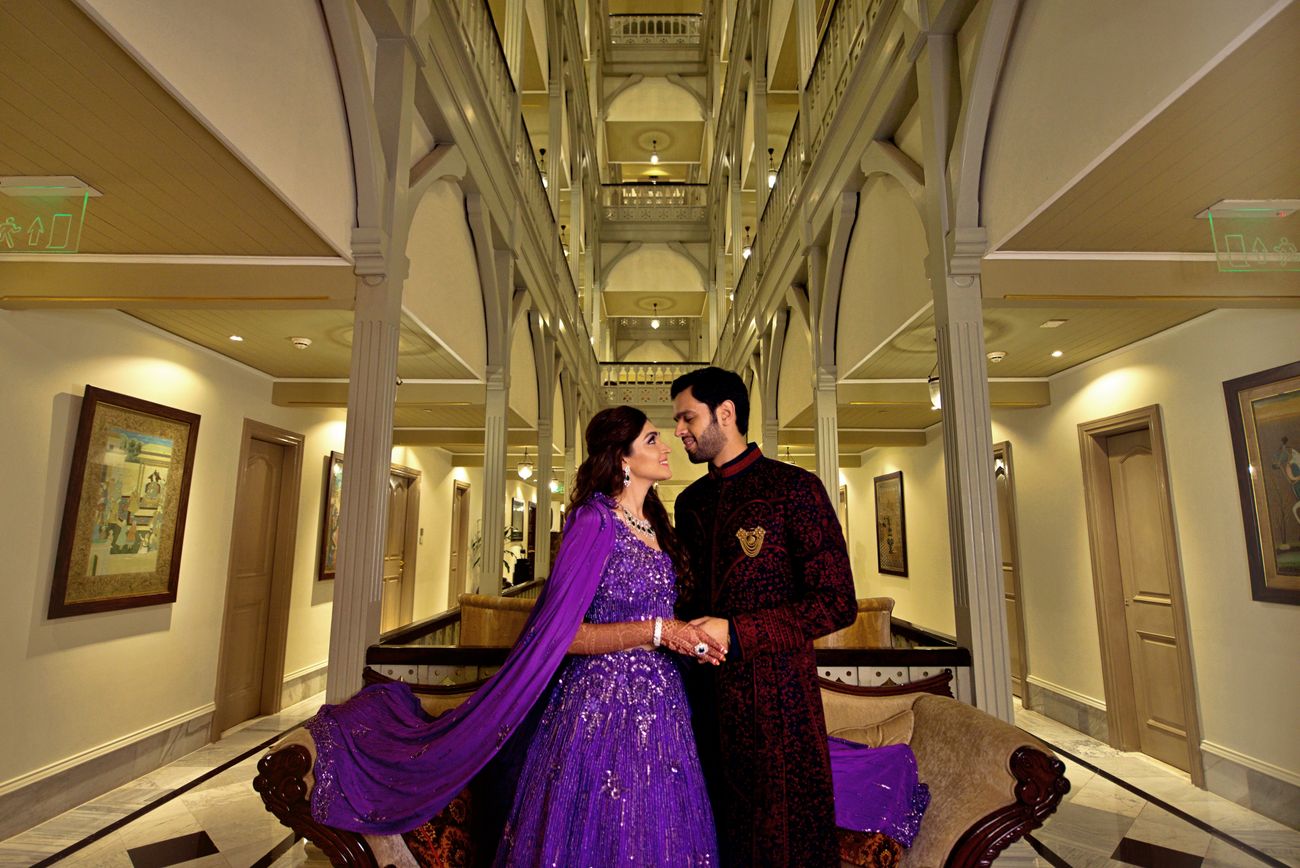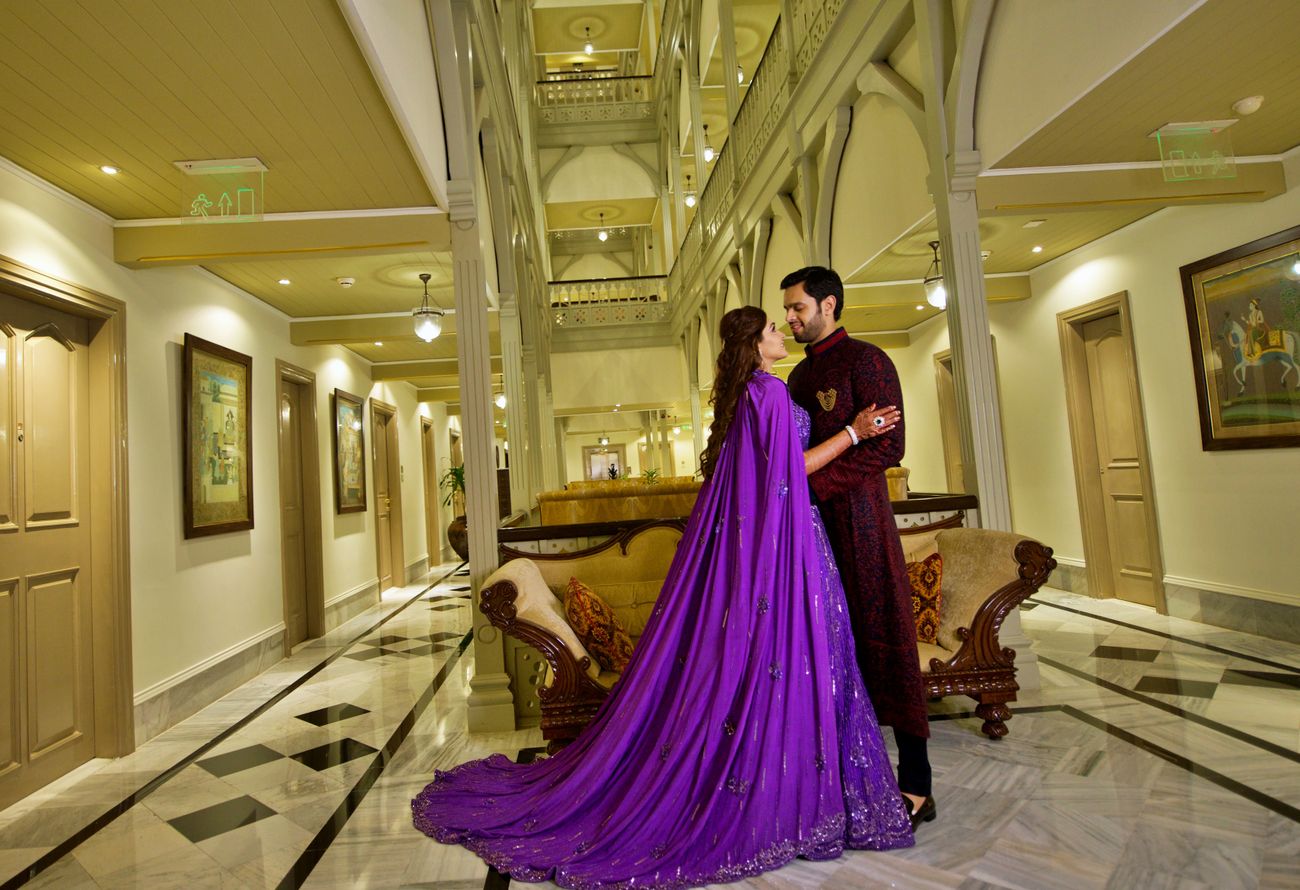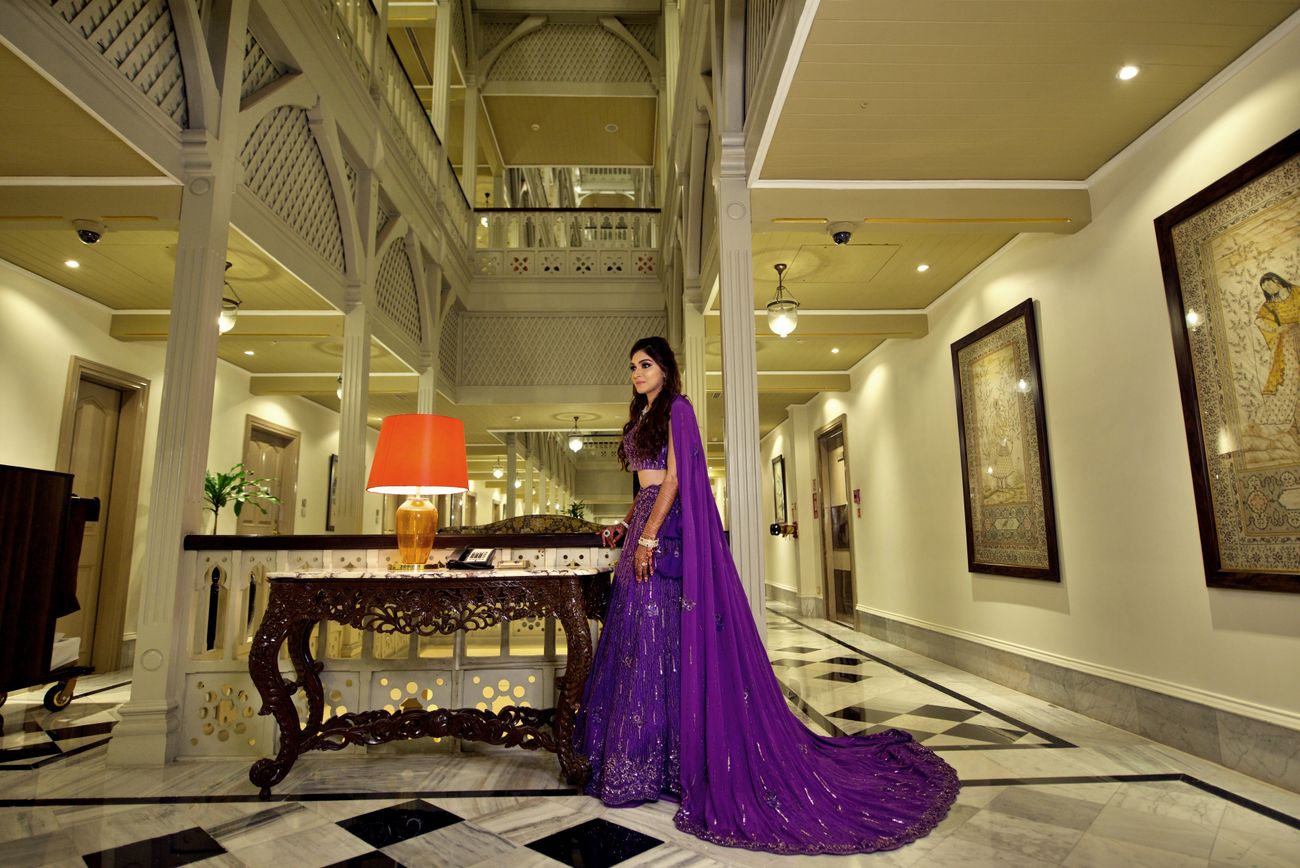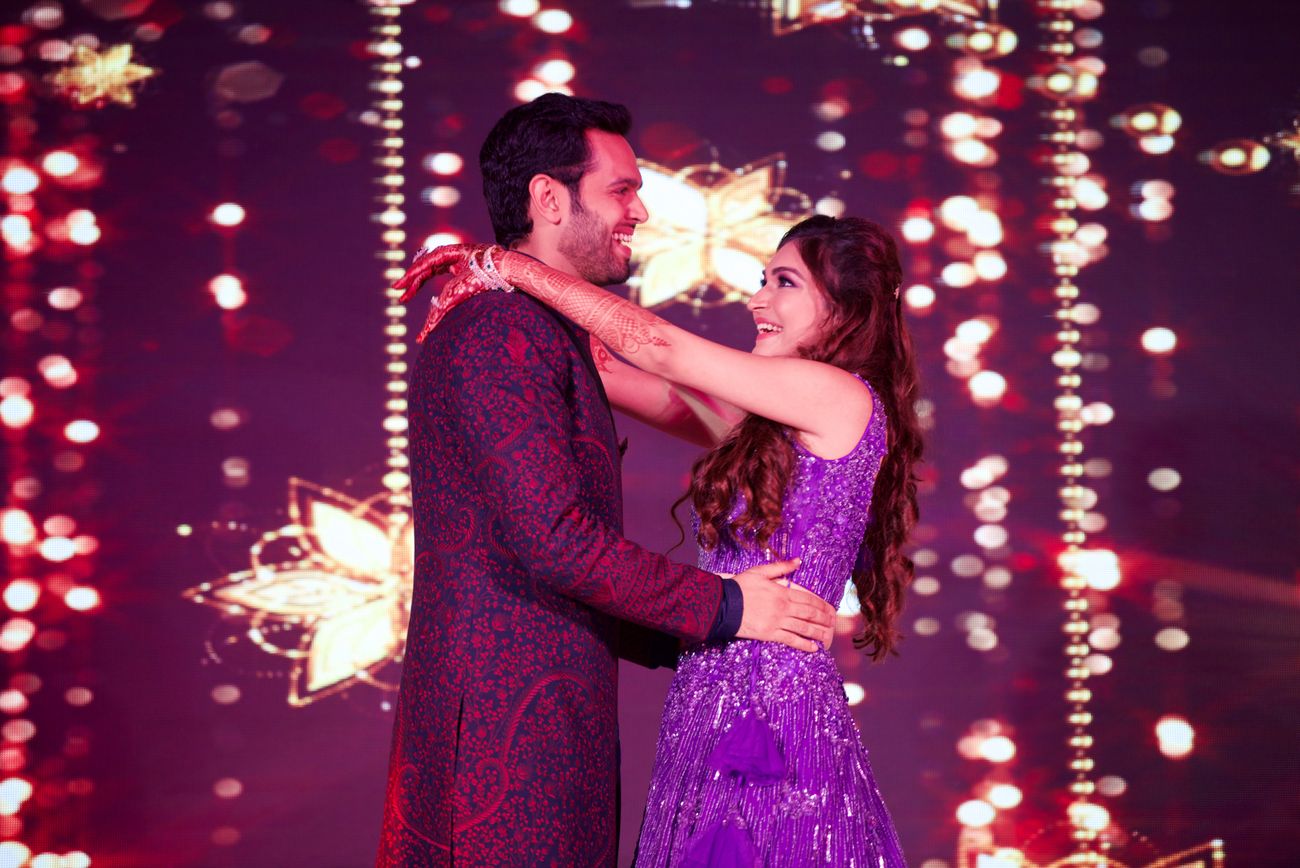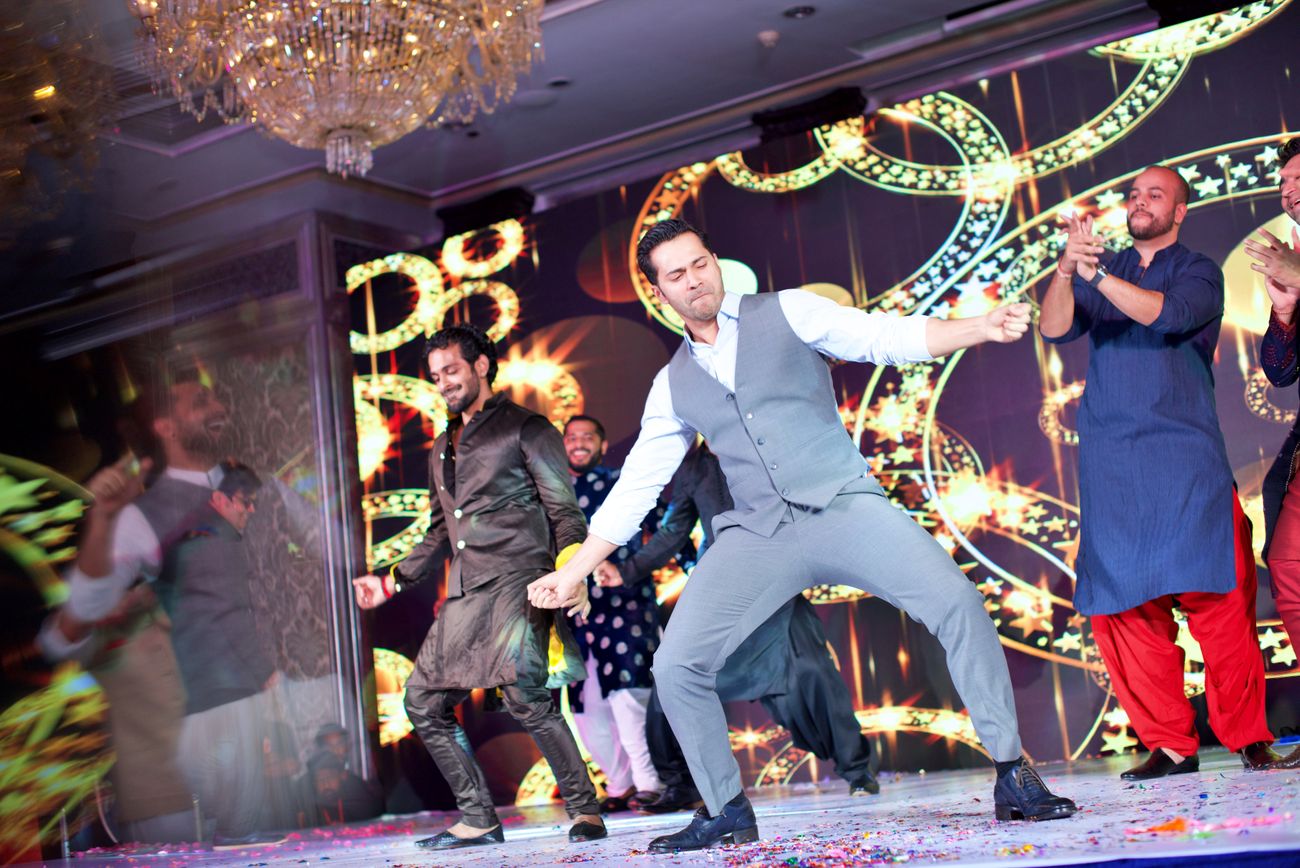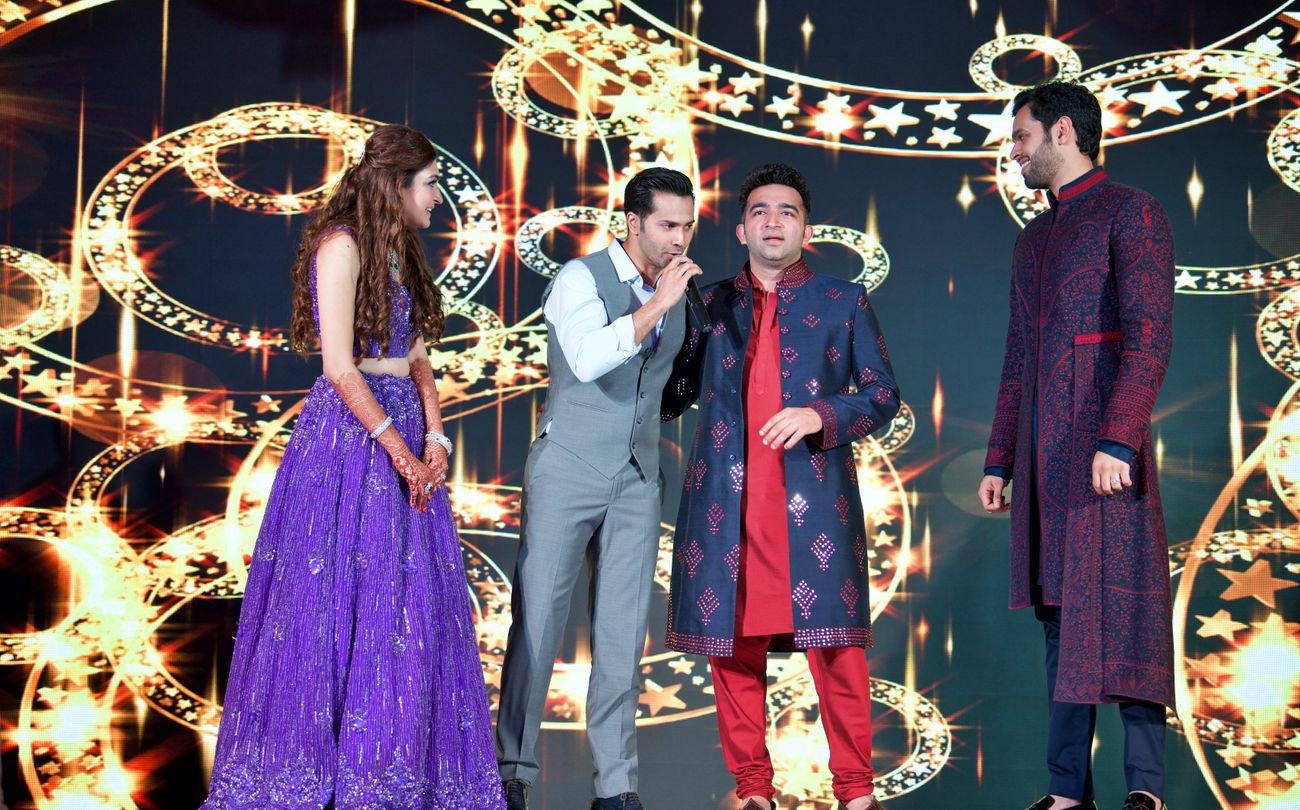 The Wedding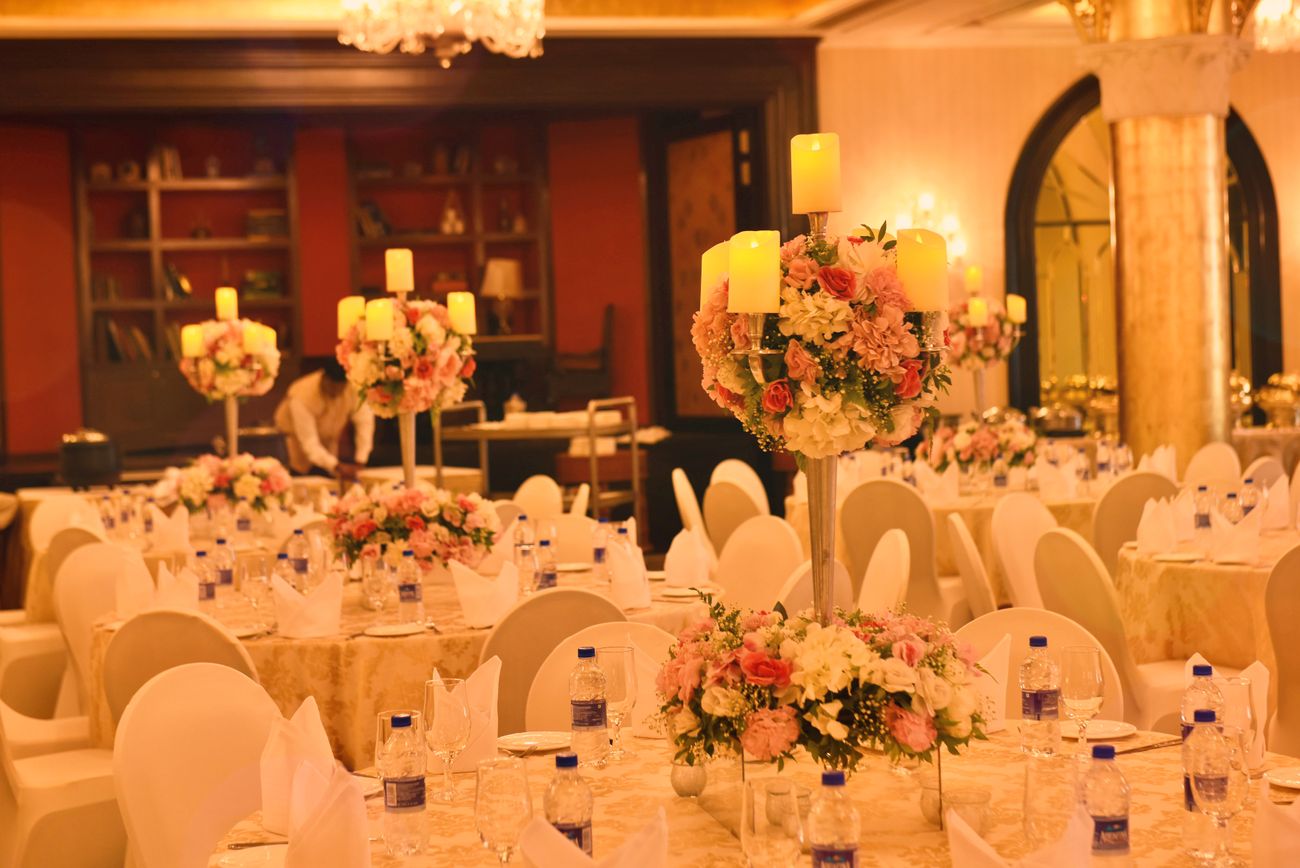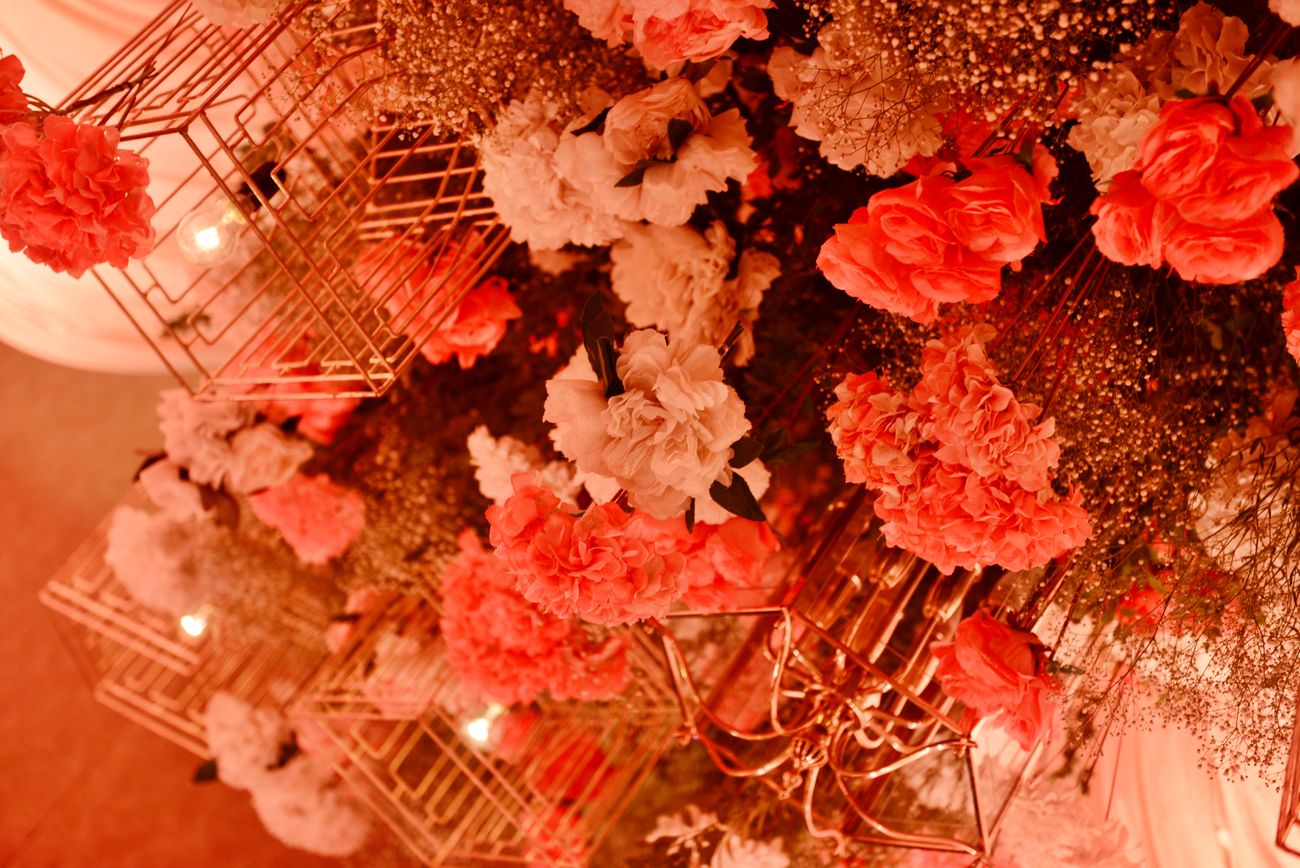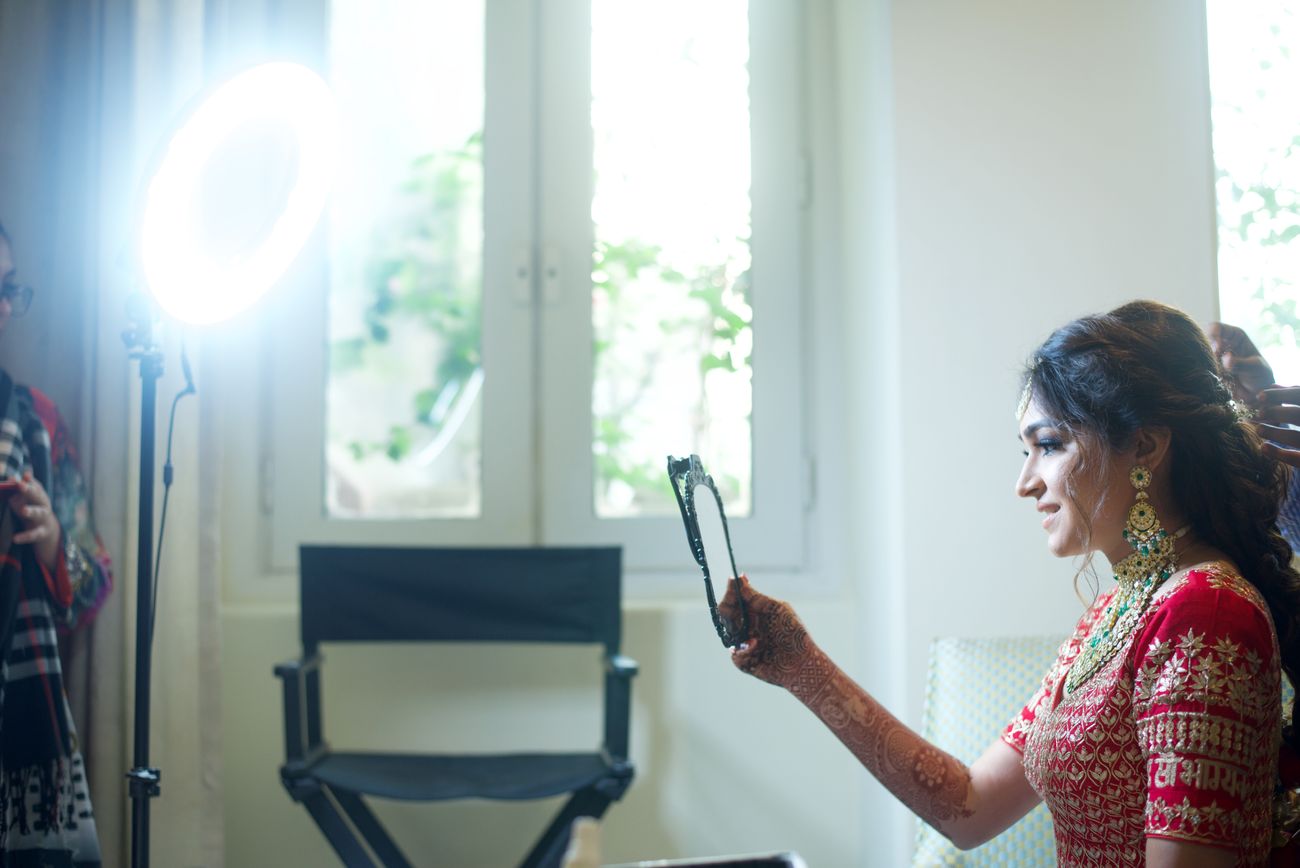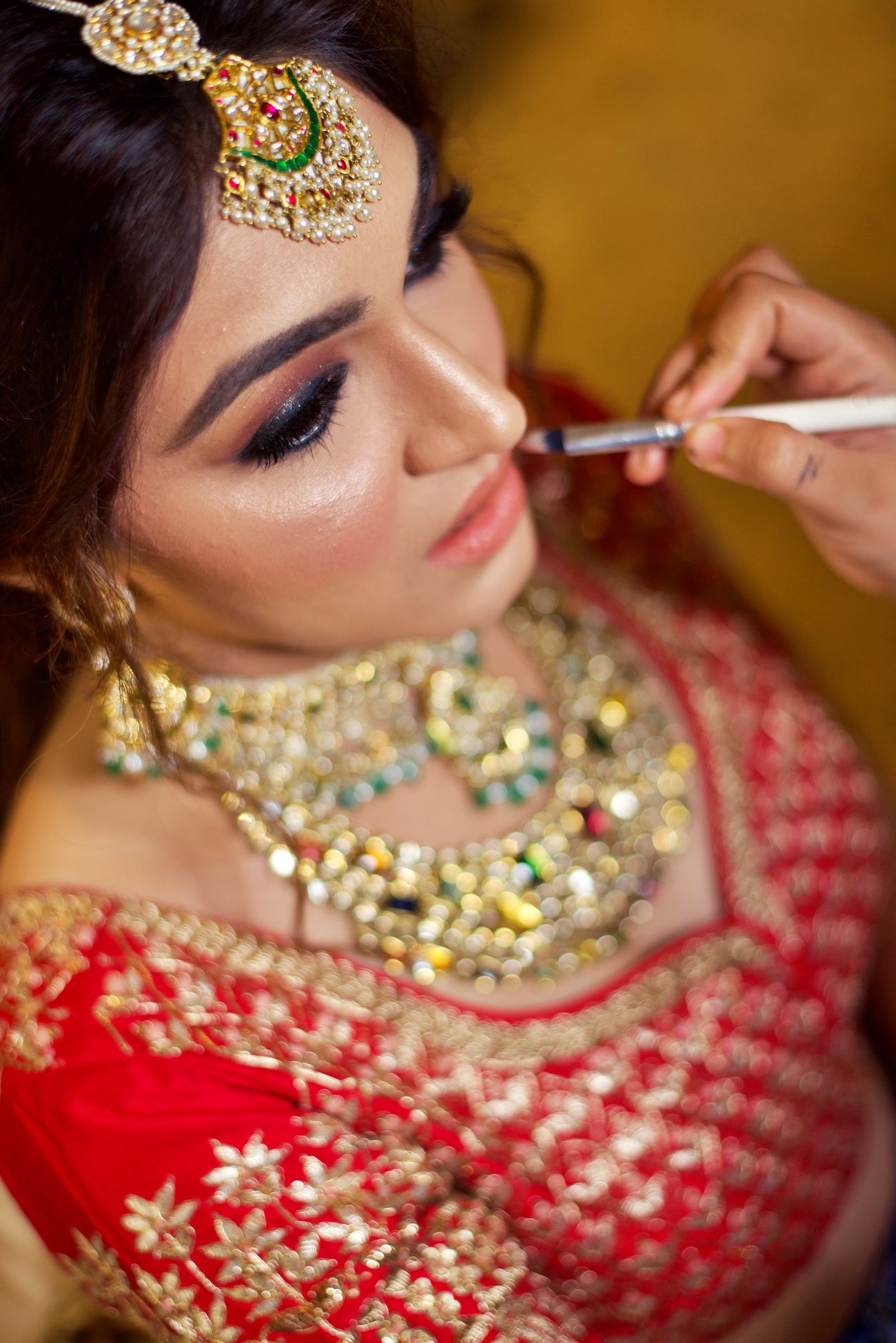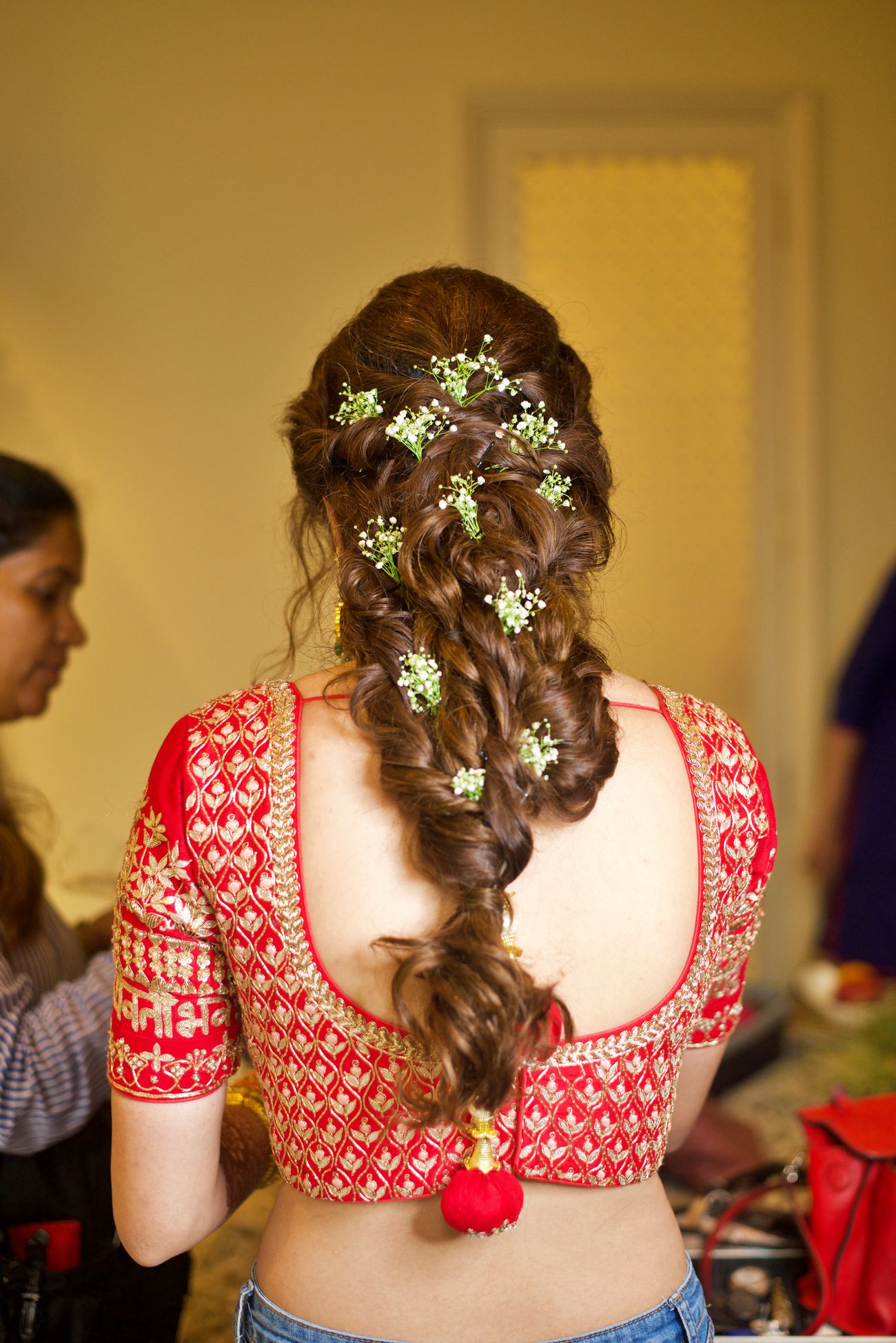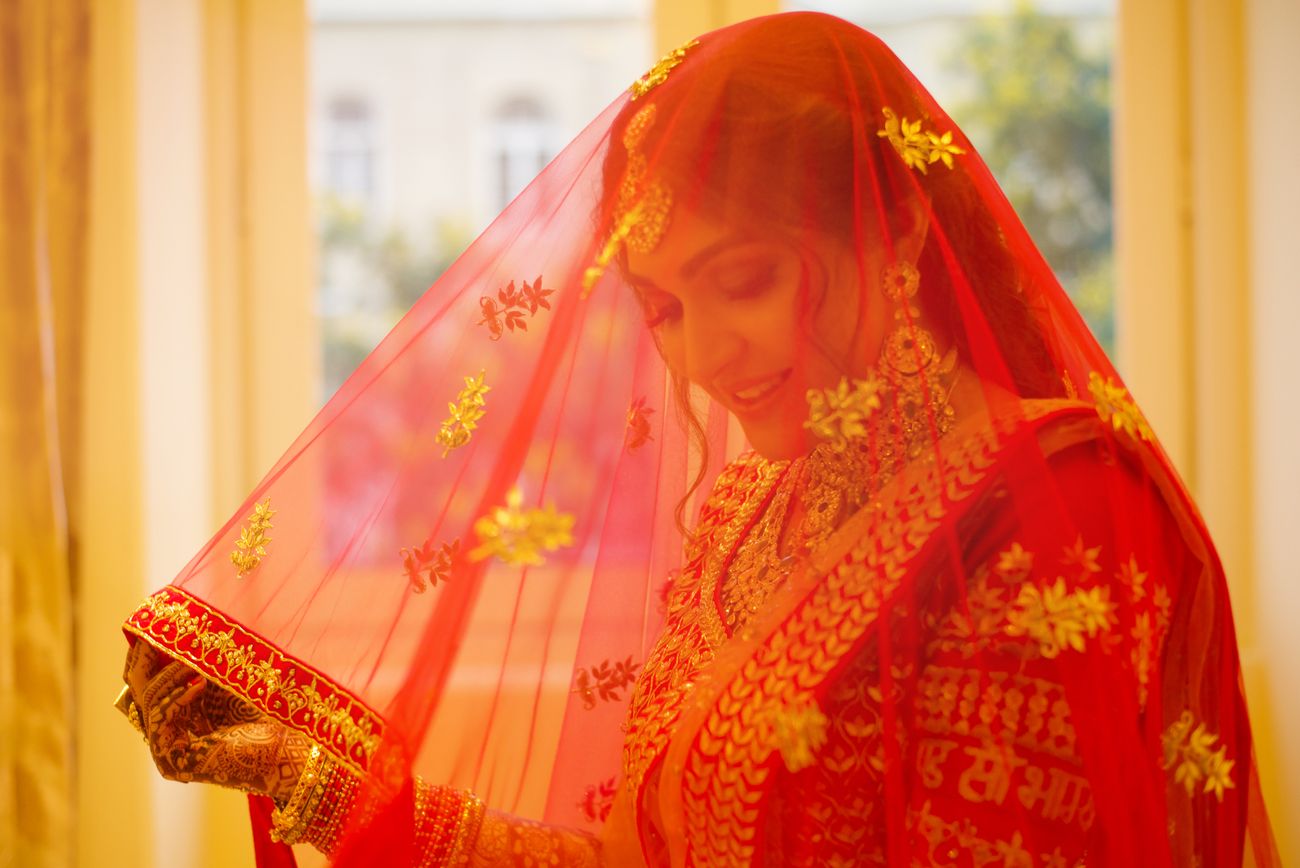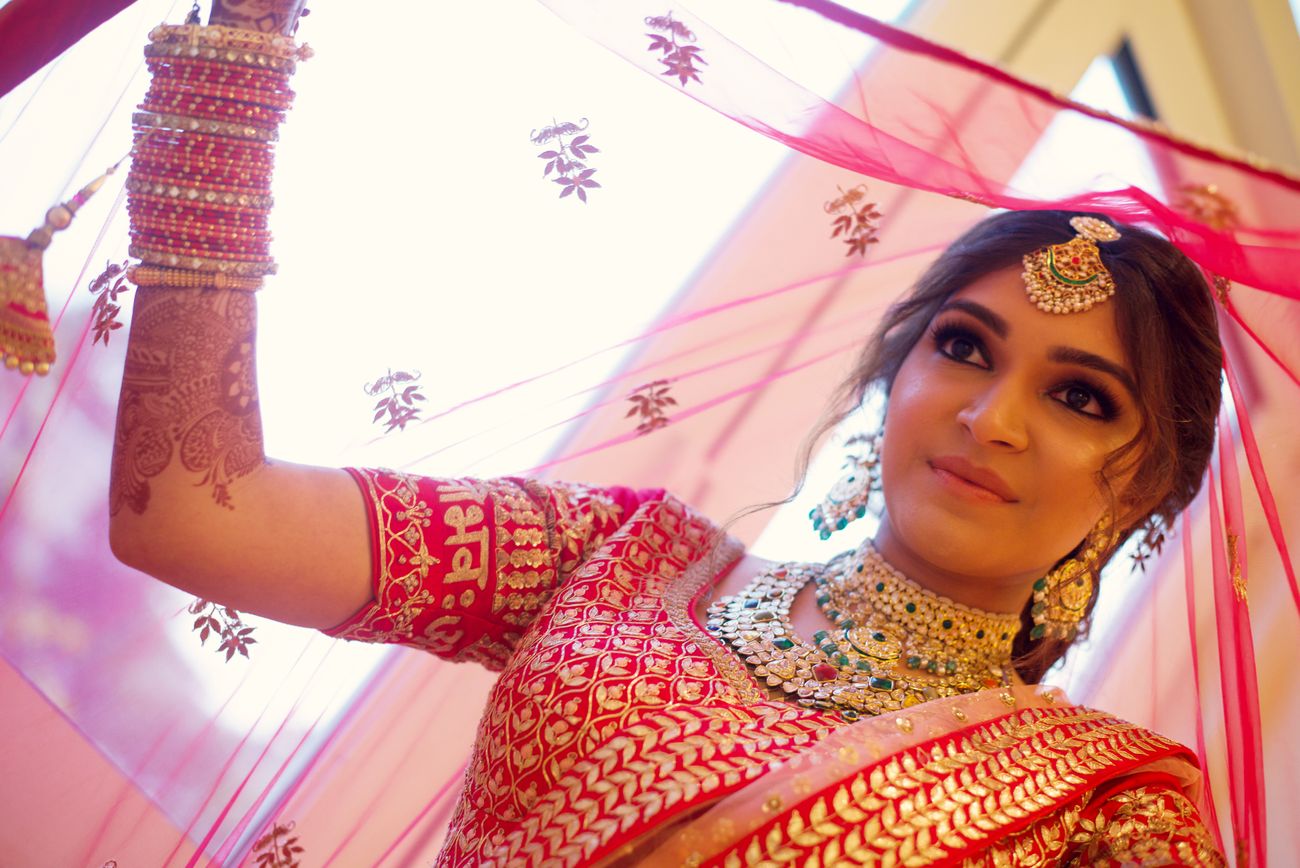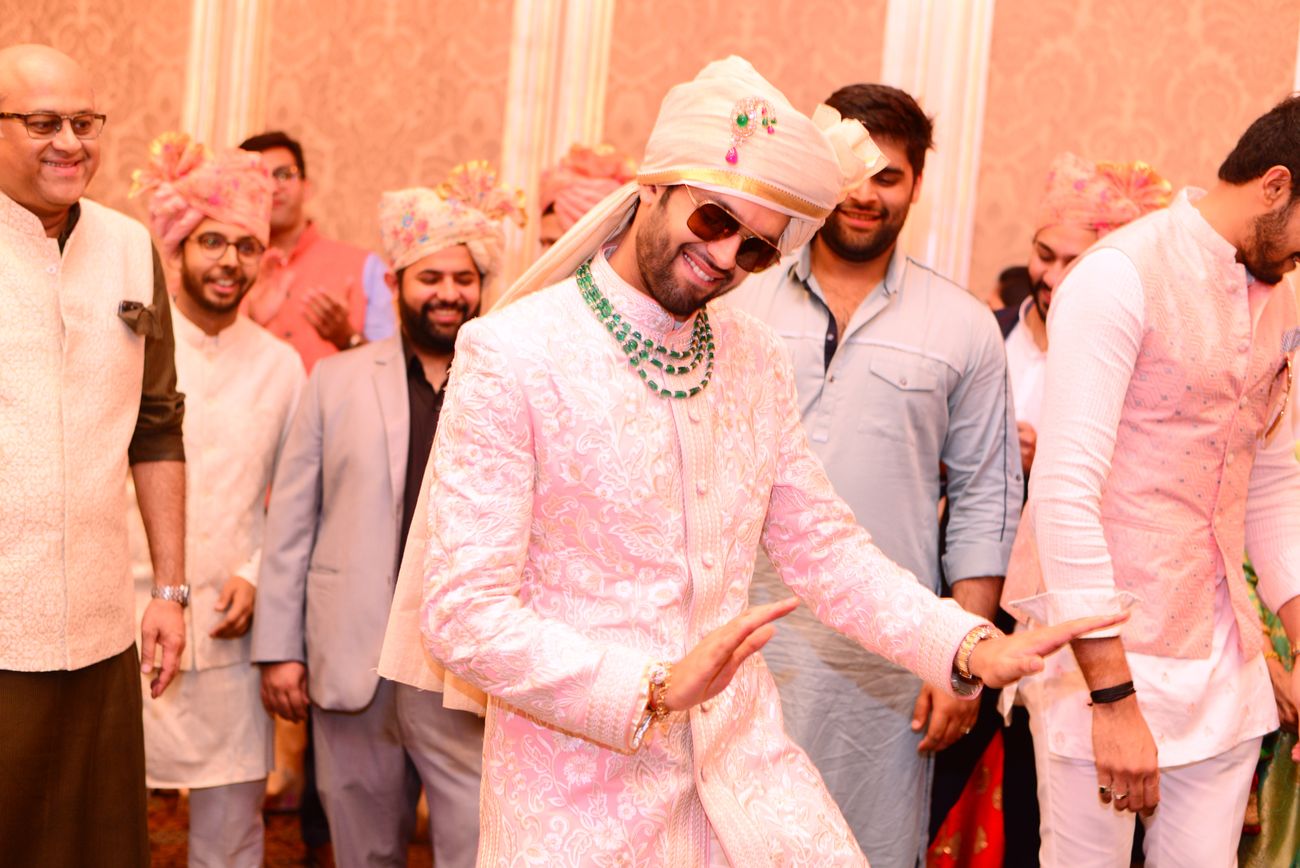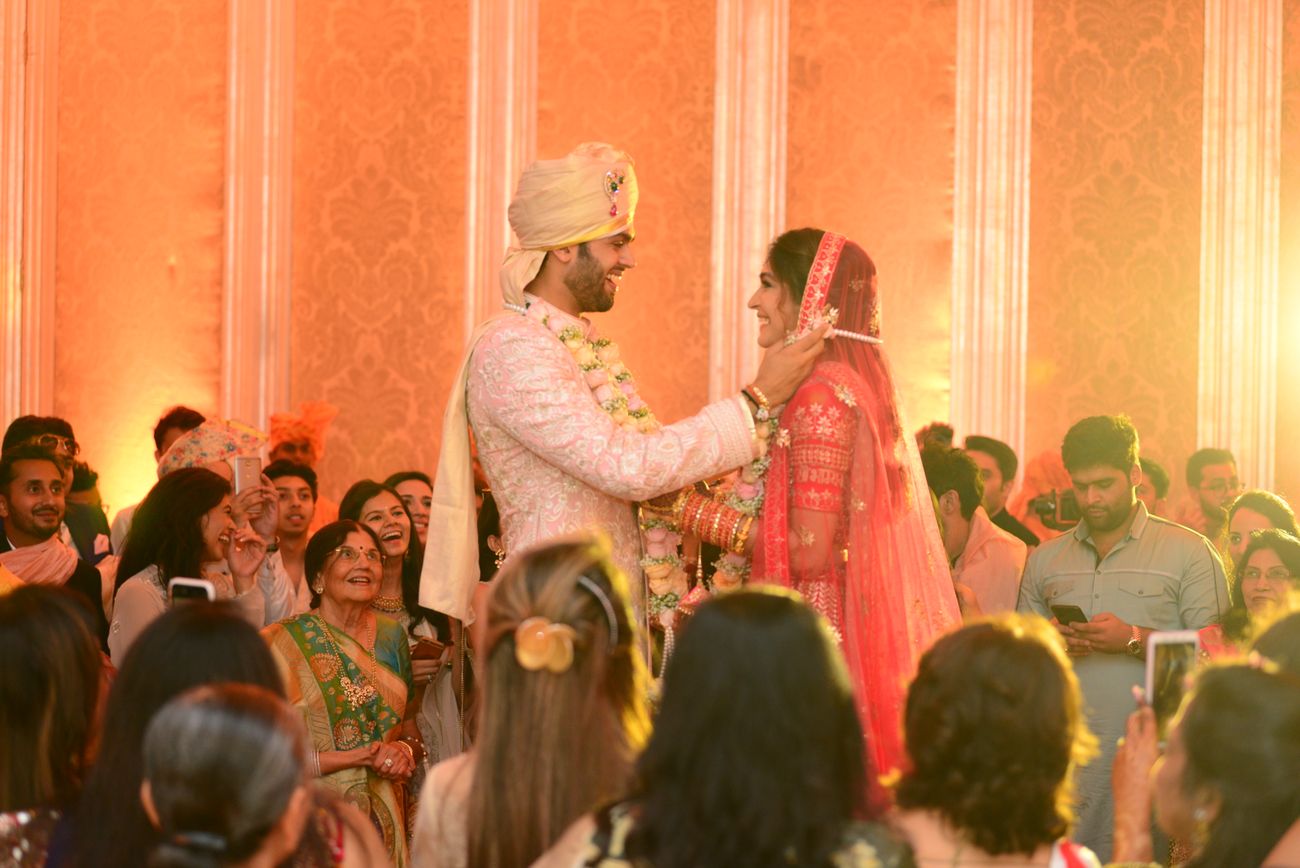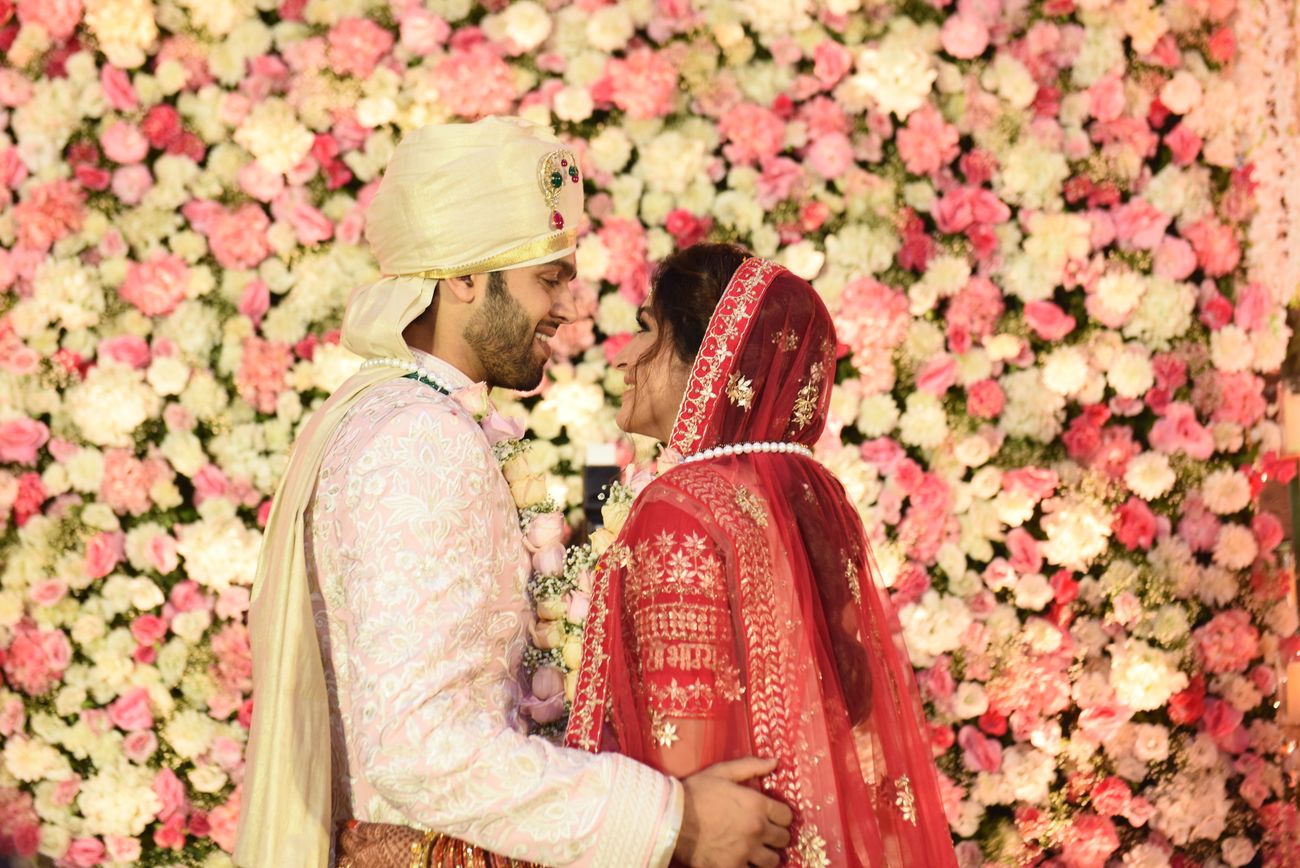 From The Bride:
As the days to the wedding got nearer, wedding planning started. We booked Taj Mahal Palace, Mumbai for all our functions which saw 800 attendees on each of the days. It was as royal and as grand as it could get and Varun Dhawan performed at our sangeet on "First class" from Kalank. I knew from the very beginning of the outfits I wanted to wear and the looks I wanted to create on myself for each function and my then fiancé, now husband, was also as sure as me of the looks he wanted on both the days. Mumbai was a very new city for me because being from Delhi I knew everything the wedding business entails. We had over 200 guests from the brides side who were staying at a hotel. Decor was designed by me with major inputs from my husband of the way he wanted his day to look like, and to my surprise he said he wanted purple flowers on the sangeet day and peach flowers on the wedding day !! He was the most involved groom I had ever met. From my outfit trials to his outfit trails to my make up trials, he was sooooo involved !! He wanted to know everything and I was so happy that he was taking charge of all the planning as much as me. I knew he was someone who would share responsibilities with me in the future. The purple and blue decor for our sangeet matched beautifully with our attire. I always wanted to wear a trail cape on my lehenga. Our couple dance had many lifts and romantic moves. For my bridal solo I had back dancers with different props. I wanted to add personalised touches which I did by adding a Photo Booth which made gifs with our hashtags and sent the attendees immediately to post on this social media along with personalised straws and stirrers with our couple hashtag. I wanted no flowers to be wasted at my wedding but at the same time I wanted to use flowers specially on my wedding day. We used ALL artificial imported flowers for both the days!! I wanted to spread awareness of zero wastage and doing our bit for the environment. Artificial flowers are reusable and therefore its more practical to use them, I wanted to create an impact. Our wedding day was as beautiful as it could get with all things peach with hints of gold. The Ballroom at Taj Mahal Palace is so stunning, it doesn't need too much decor, by enhancing the gold pillars there is so much royalty to it. Hanging Hydrangeas at the entrance ceiling to floral backdrop for our stage, a separate Jai Mala stage and tall table arrangements, we had done it all. I walked the aisle with my elder brother who has always been my guiding light in all my times and has stayed by my side as a pillar of strength through thick and thin. My vidai was as emotional as it could get for a bride who was leaving her parents home in Delhi and moving to a new city where she had no friends and had to start a new office, from scratch. My husband held my hand that time and whispered in my ears, that he will never let a tear drop from my eye ever again and that he will always be my best friend before being a husband. And that was the kind of relationship I always wanted !! My best friend first and everything else after. 
Vendor Reviews: 
Venue: Taj Mahal Palace, Mumbai
It was the most beautiful venue I could ask for in Mumbai. The service, the beautiful banquets, everything was just perfect. We had all our functions here and we had also taken up rooms for our close guests, it was all good !!
Makeup Artist: Make up my Mariam
She was amazing! She also did trials for me at no additional charge. Her work was great and I highly recommend her.
Photographer: PK Suri Worldwide Studios.
He and his team was were good. A special shout out to Subhash from his team who was like my shadow on the sangeet and he made sure I didn't miss a shot with the guests. A big thank you to Pk and his fab team. Highly recommend him.
Decor & Planning: Elusive Dreams By Pooja Doshi
The Decor was planned, conceptualised and designed by Elusive Dreams by Pooja Doshi herself. The decor production was handled by Tanaz Dawar who did a flawless job in bringing my designs and vision to life. Also for my wedding we did it in complete articulations flowers for all the functions because I wanted zero wastage of florals on my big day, being a decorator myself I understand the sensibilities that this entails.
Vendors: Venue: The Taj, Mumbai; Makeup Artist: Make up my Mariam;  Photographer: PK Suri Worldwide Studios★ 5 ; Planner & Decor: Elusive Dreams by Pooja Doshi★ 4.8