A Stunning Day Wedding With A Bride In A Ravishing Red Lehenga
BY Aakanksha | 30 Apr, 2019 | 9881 views | 9 min read
An international wedding with quintessential Indian elements, this was a perfect celebration! Simrun and Kevin knew what they wanted the day they decided to get married and their vision was executed almost perfectly for their wedding! Their wedding was truly a gathering of the world with guests from all over being invited and celebrations going on into the wee hours of night. Simrun looked absolutely gorgeous in her traditional red Sabyasachi Mukherjee★ 4.9 lehenga and Kevin complimented her perfectly in a sherwani from Sabyasachi. They cherry on the top of this grand cake was the stunning photography by Lin and Jirsa Photography★ 5 and Vinuthna Garidipuri, who made sure to capture their most precious moments in the best manner possible! 
Meet Simrun & Kevin 
The couple writes about how they met and the dreamy proposal Kevin planned for Simrun, "We both grew up just 10 miles away from each other and had many mutual friends. I had seen her several times when we were children and always remember thinking how beautiful she is. I went away to school for several years and shortly after arriving back home I saw her again, only this time she had grown into a woman and I into a man. It was at a friend's party, she was dressed in a pink sari with silver accents. When her big, beautiful eyes, filled with the glimmer of the party lights and looked my way, I was at a complete loss of words and expression. All I could think about even at this first encounter was how much I wanted to spend time with her and get to know her.
I always knew I wanted to plan the most romantic proposal for my Simrun. The morning of our engagement, our driver picked us up and took us to an open lot, filled with colorful hot air balloons. We were thousands of feet in the air surrounded by stunning views, but none more beautiful than my wife's happiness. When she turned around, I was down on one knee; I expressed how I can't live without her and asked her to marry me. She said yes, we hugged and kissed. She was teary eyed and I will never forget the feeling it gave me of wanting to take care for her and protect her forever. She is, both figuratively and literally, the woman of my dreams." 
The Mehendi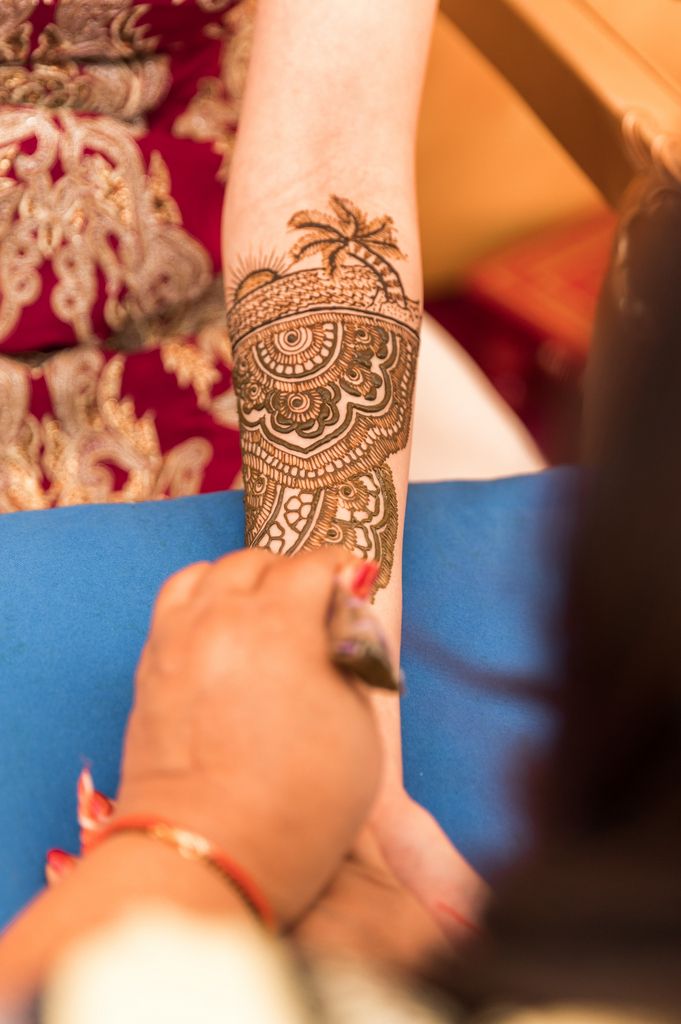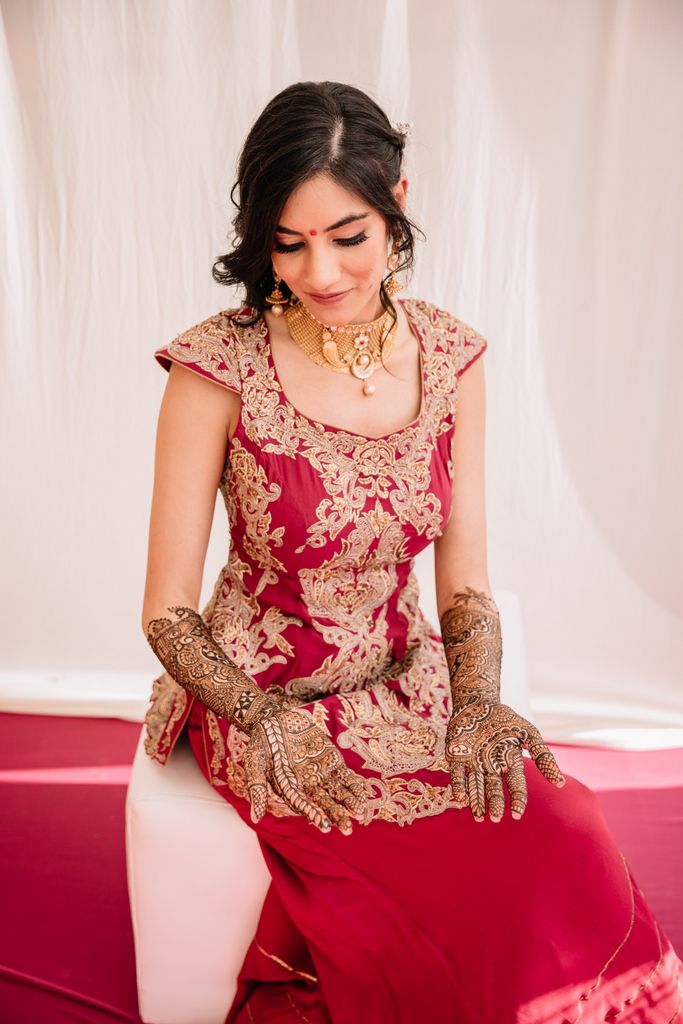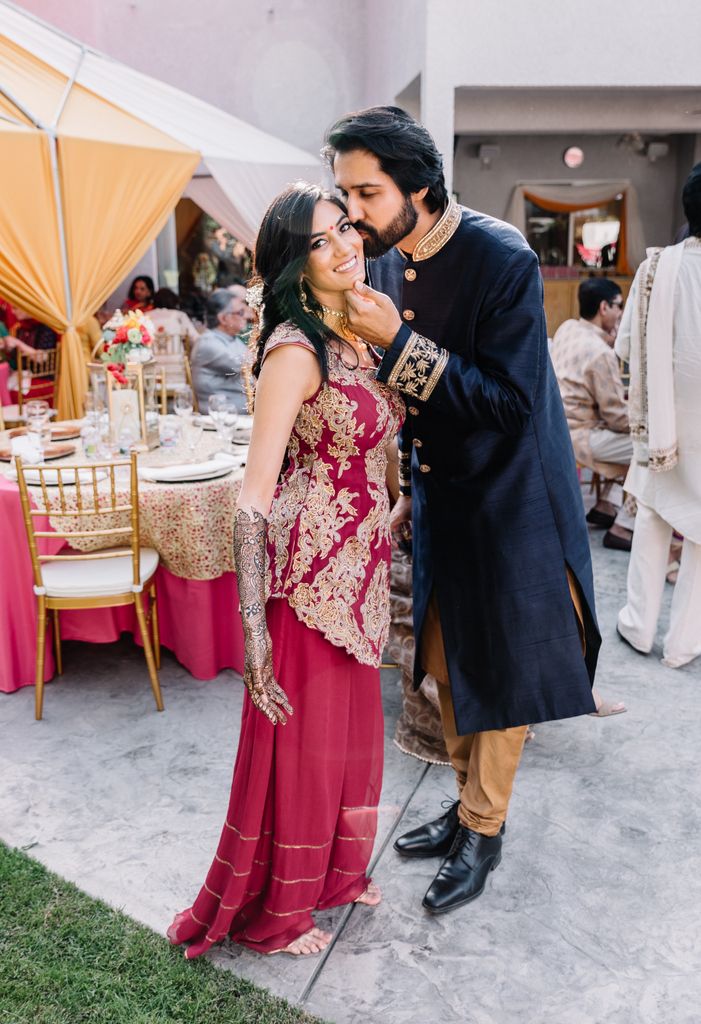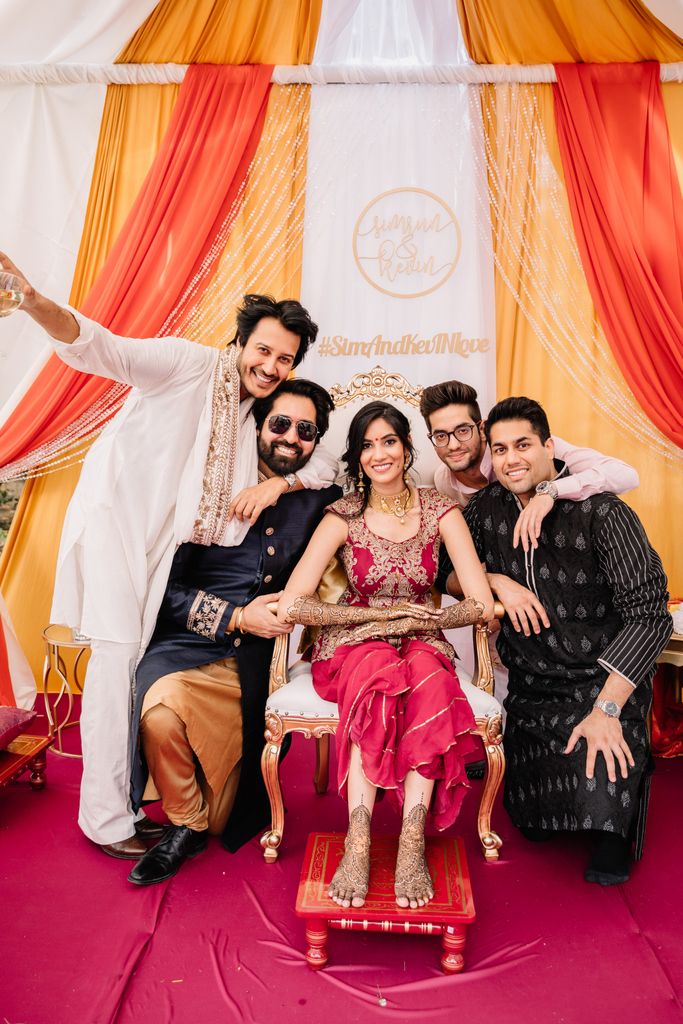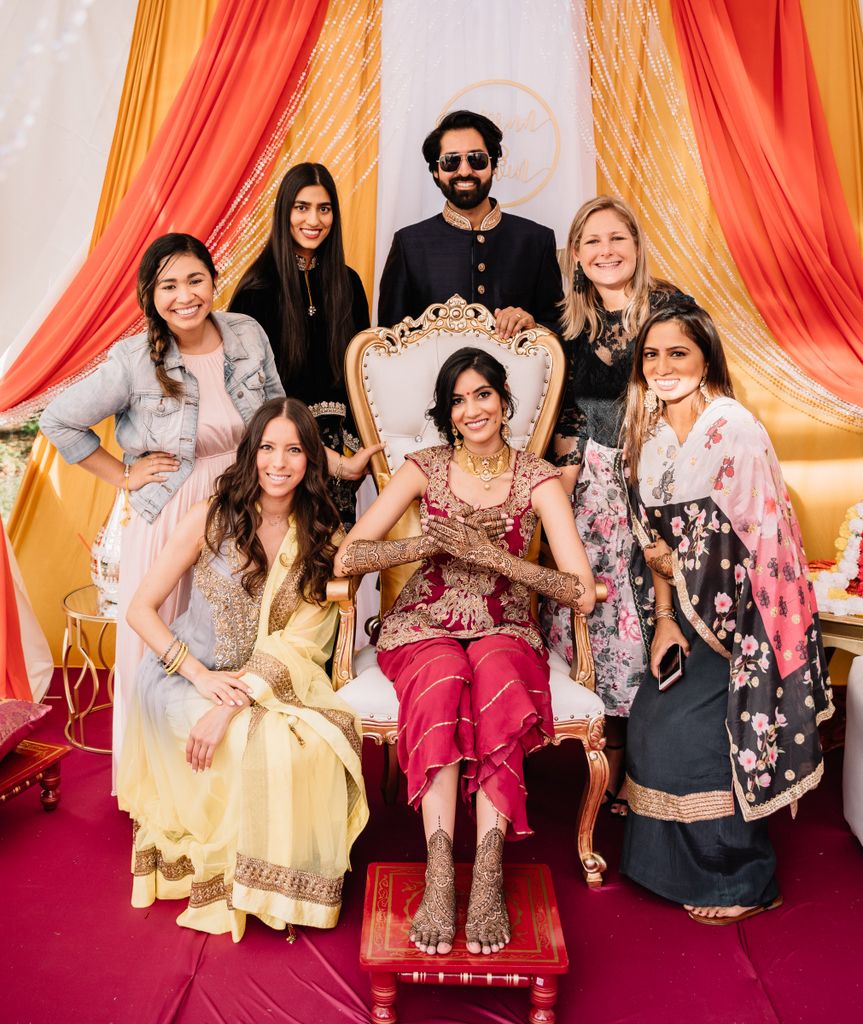 The Wedding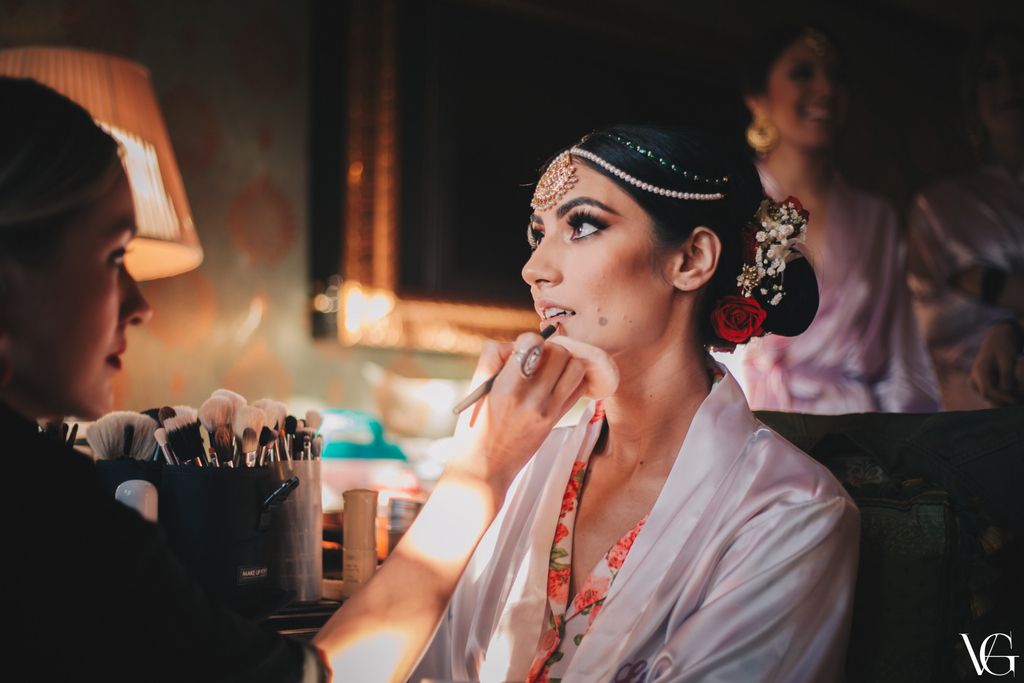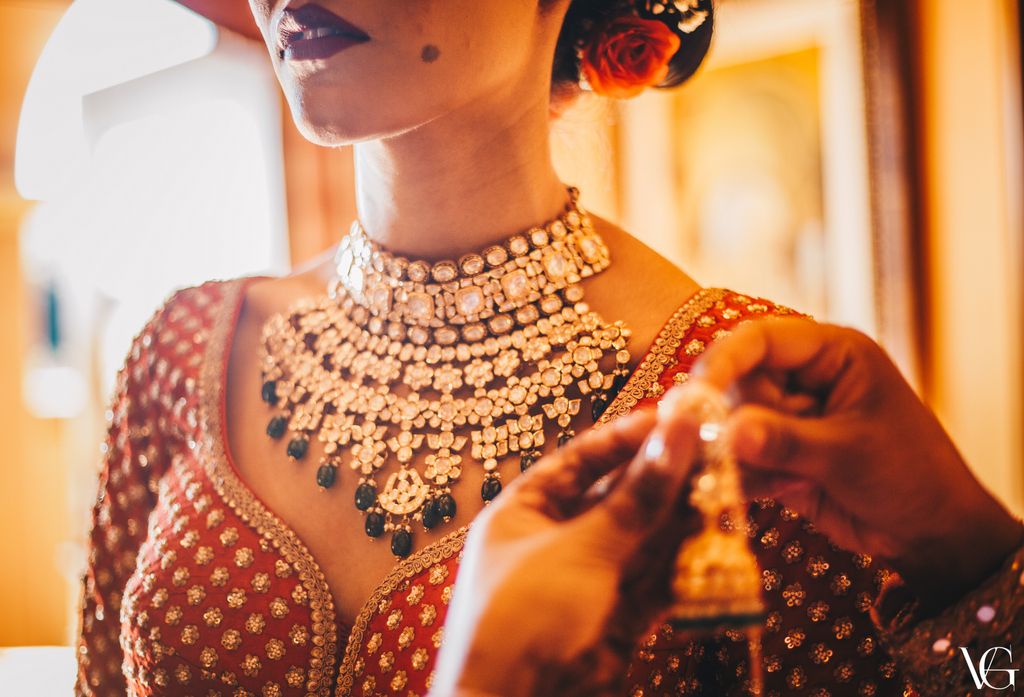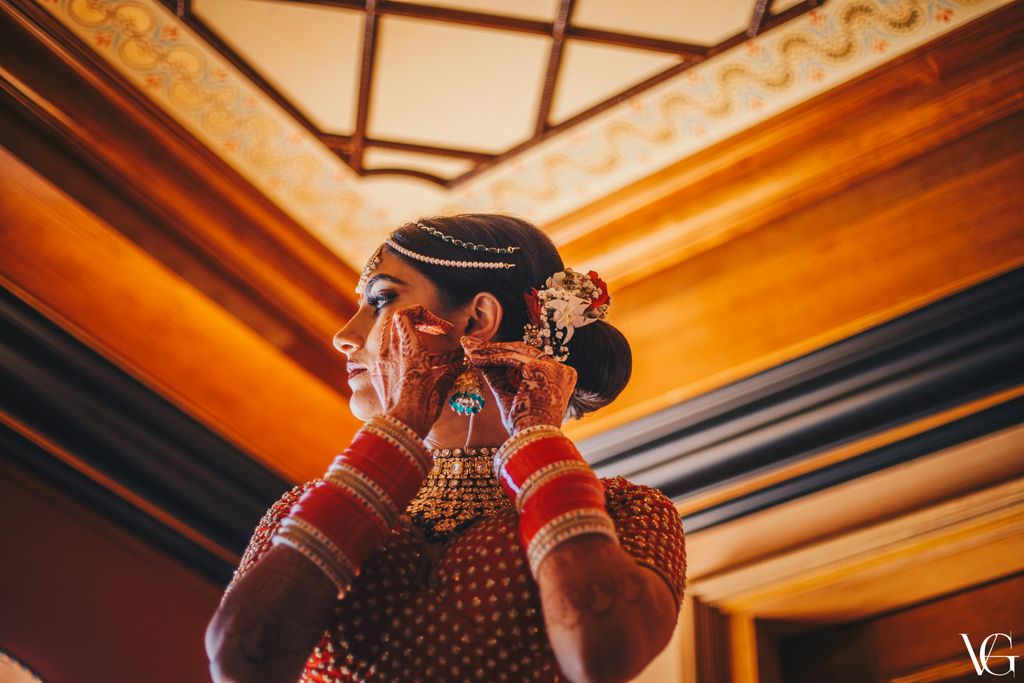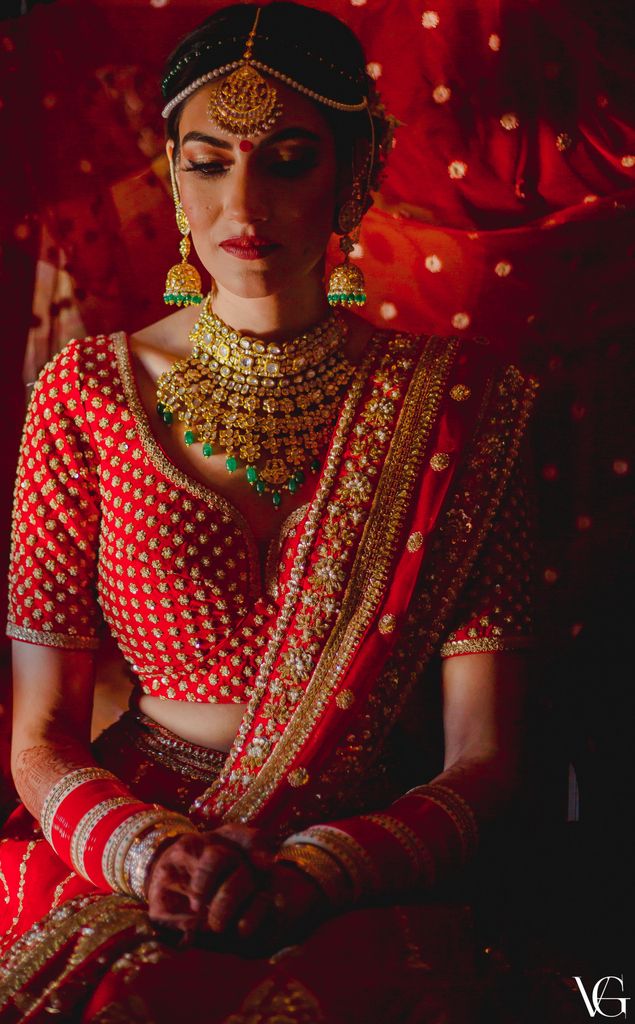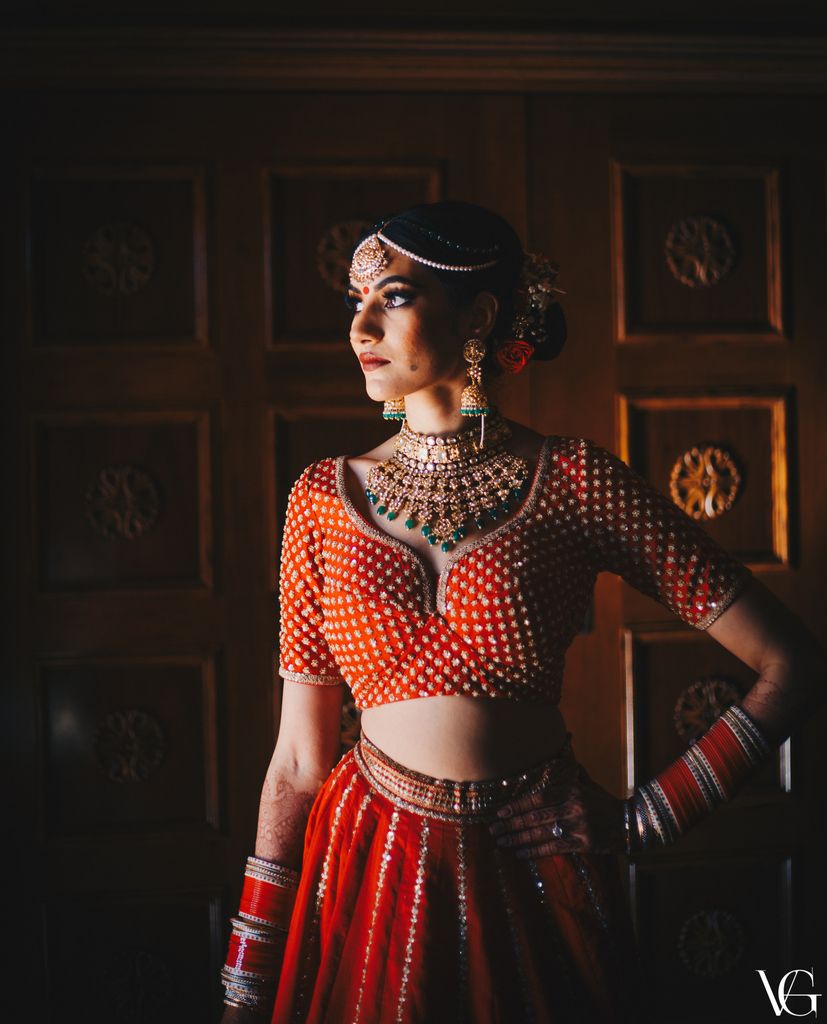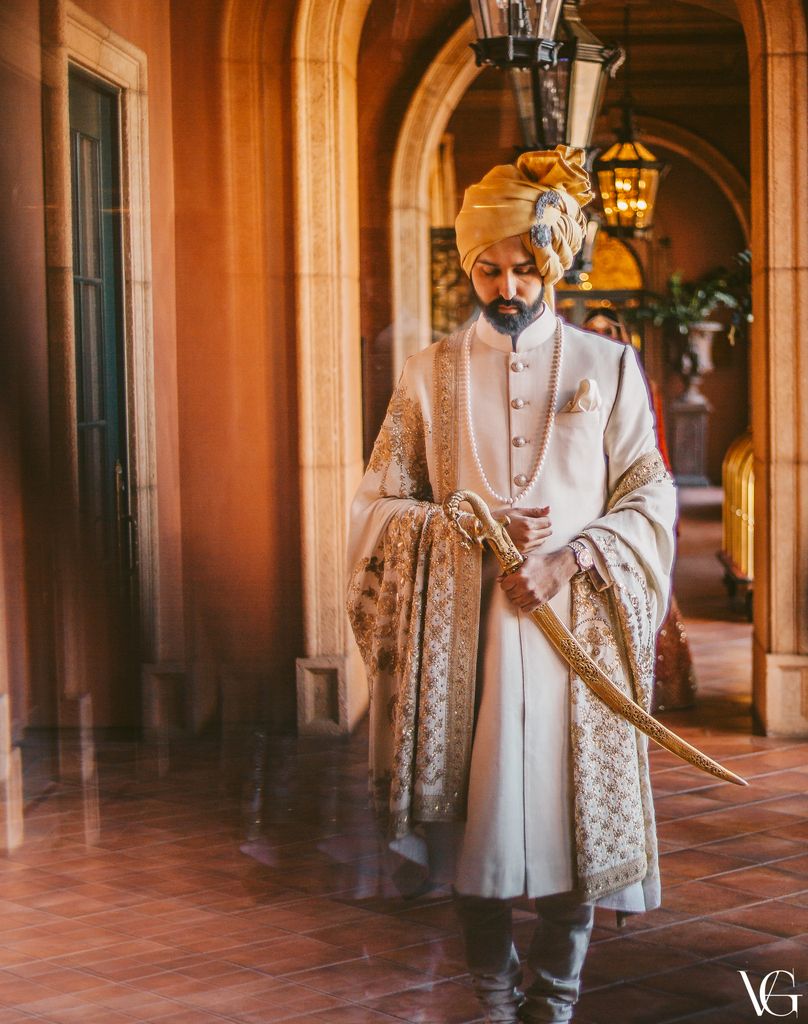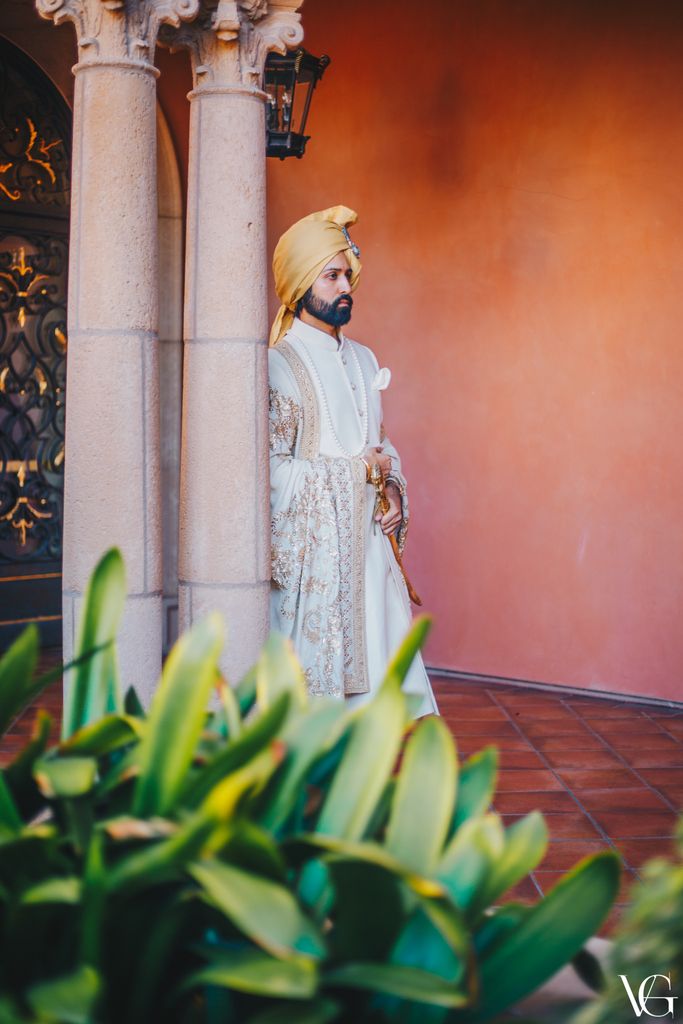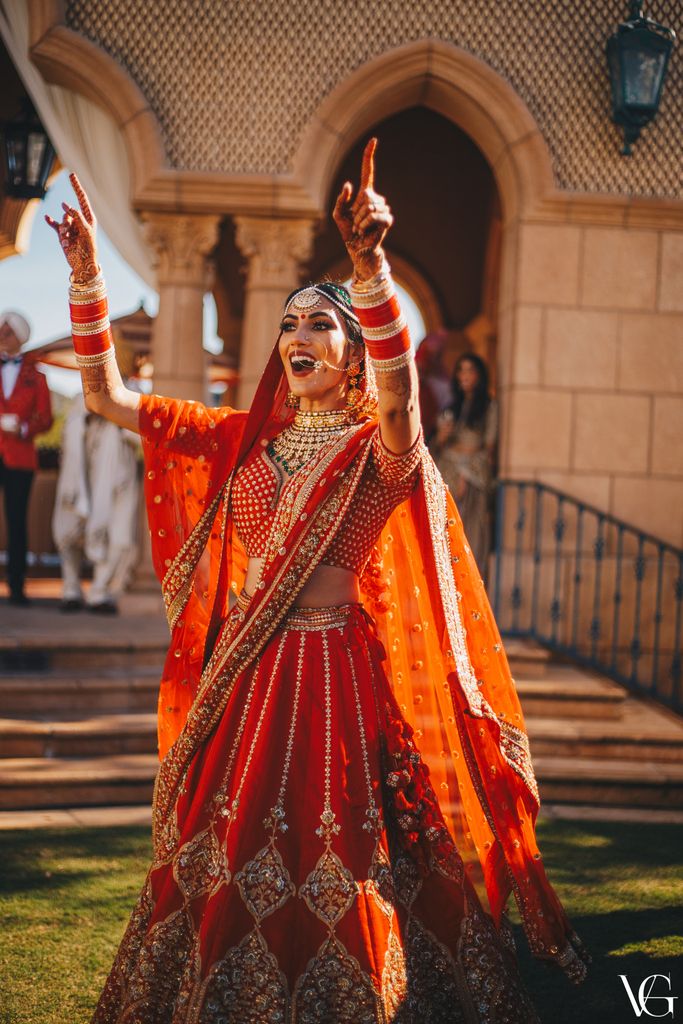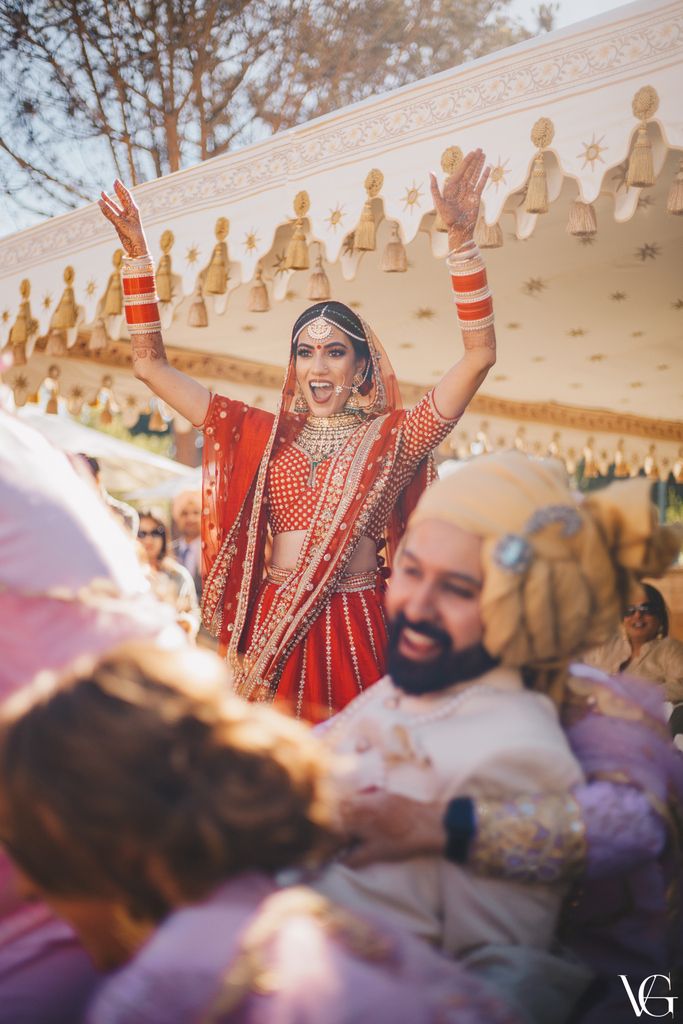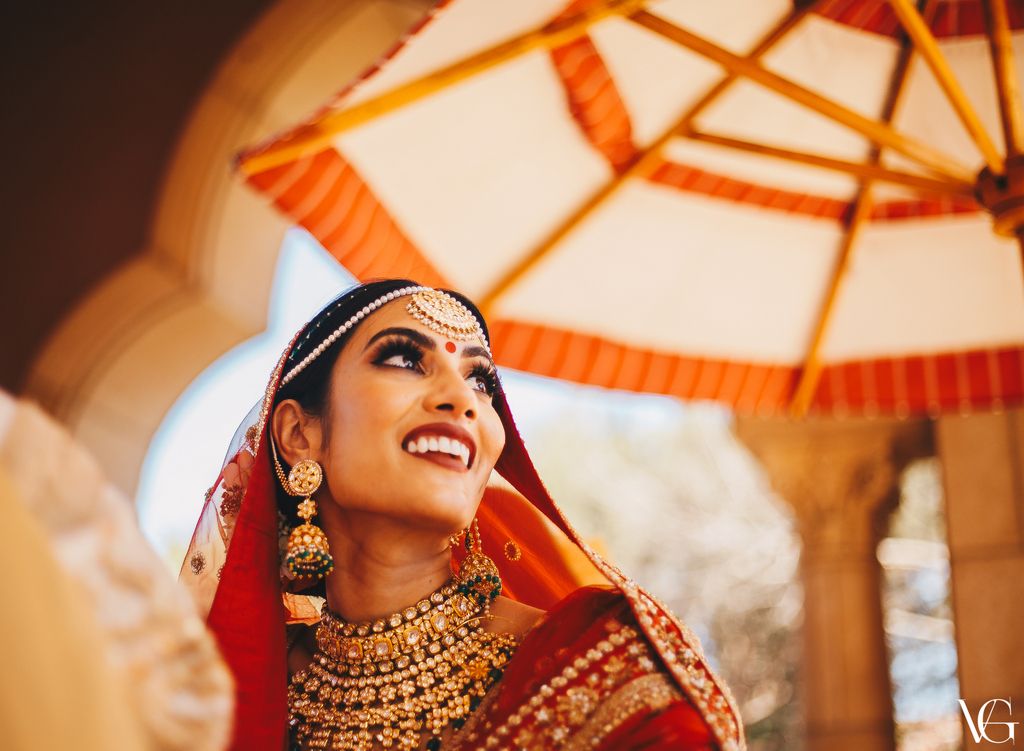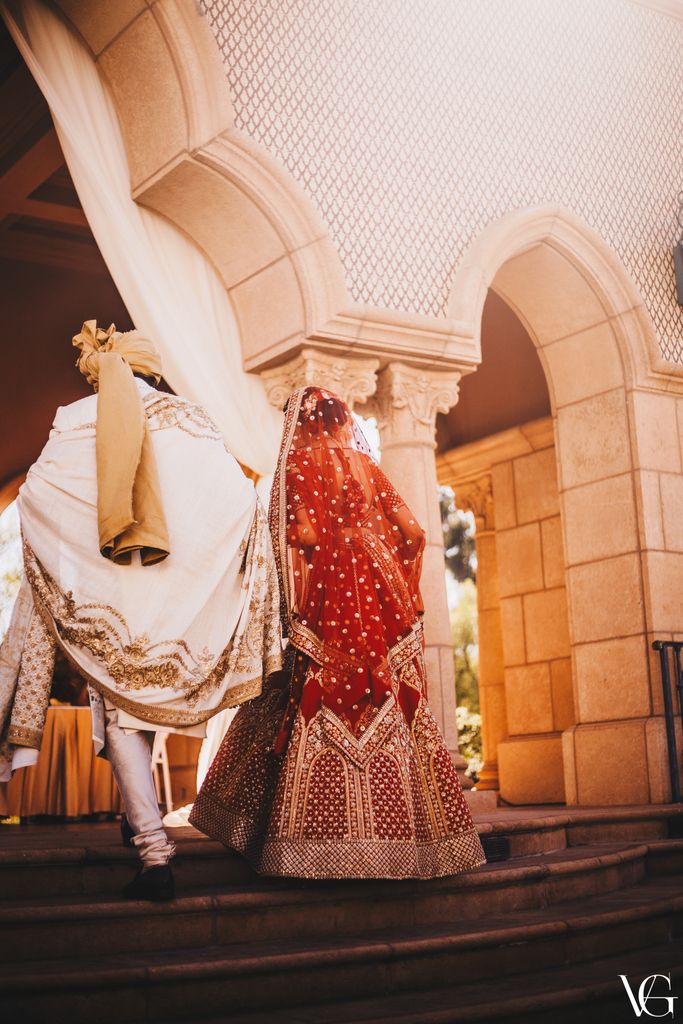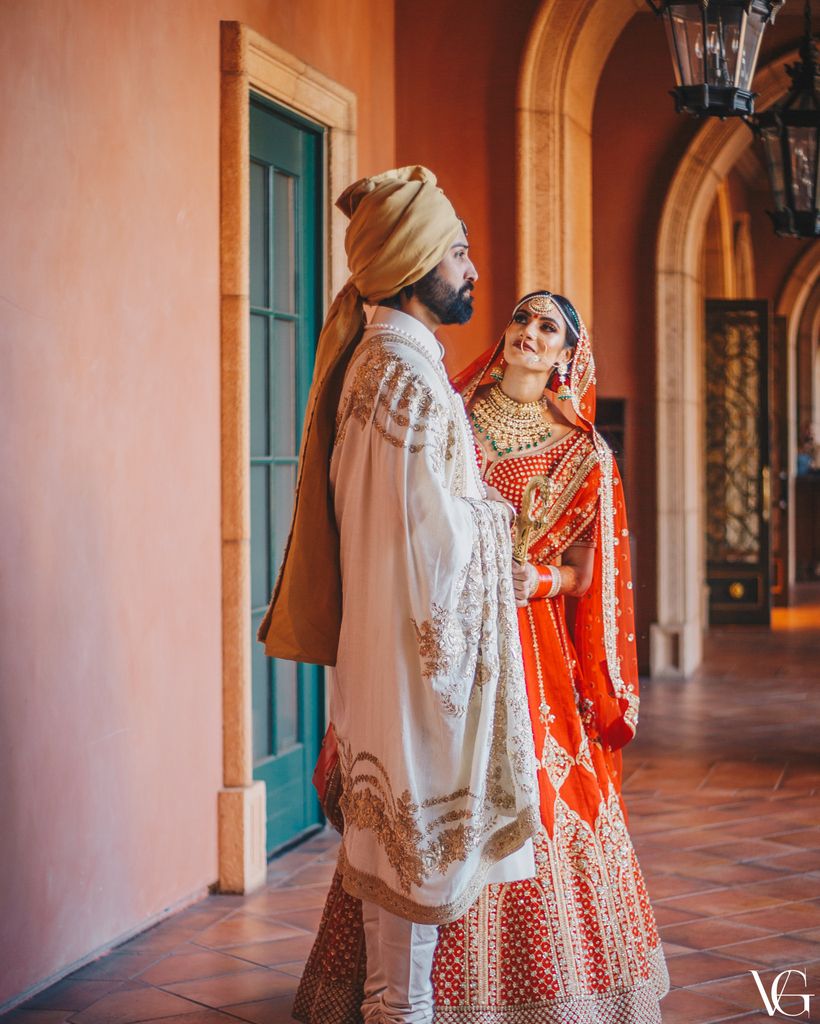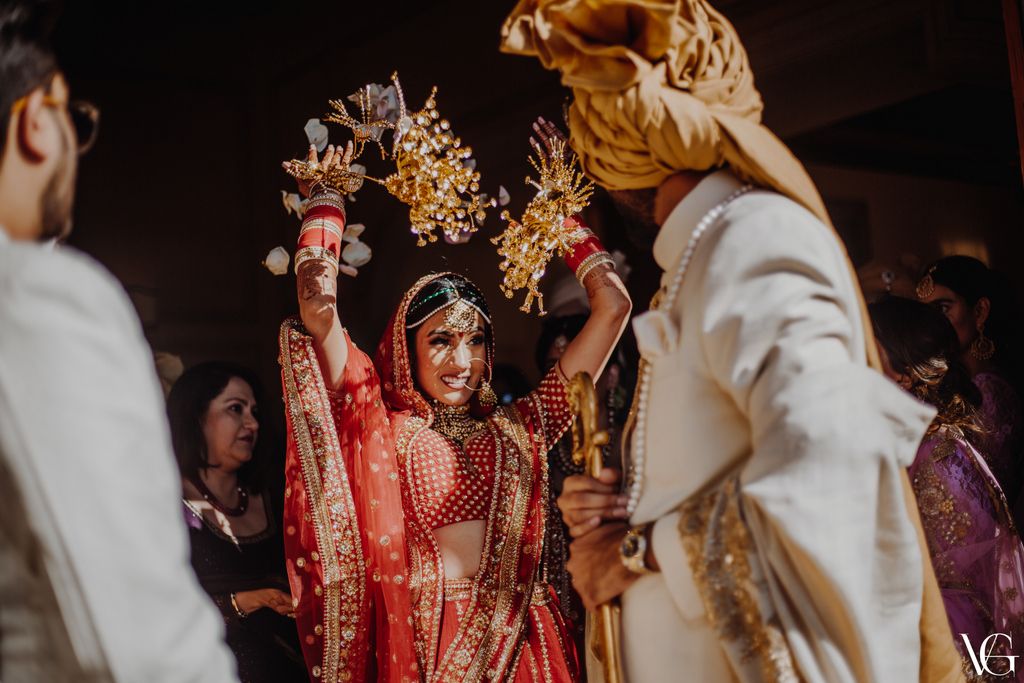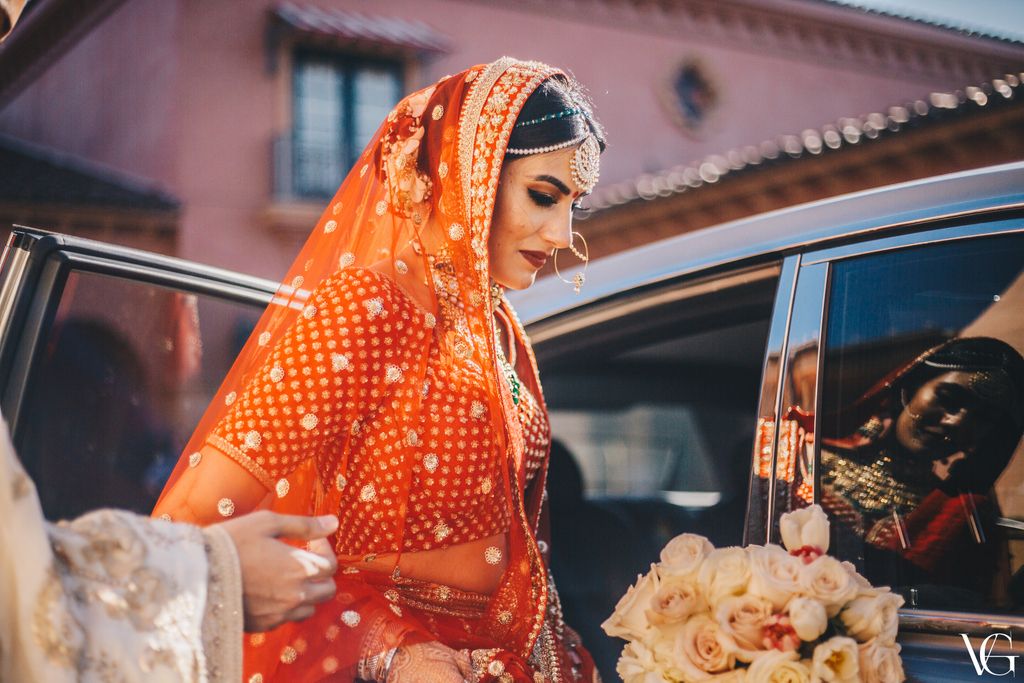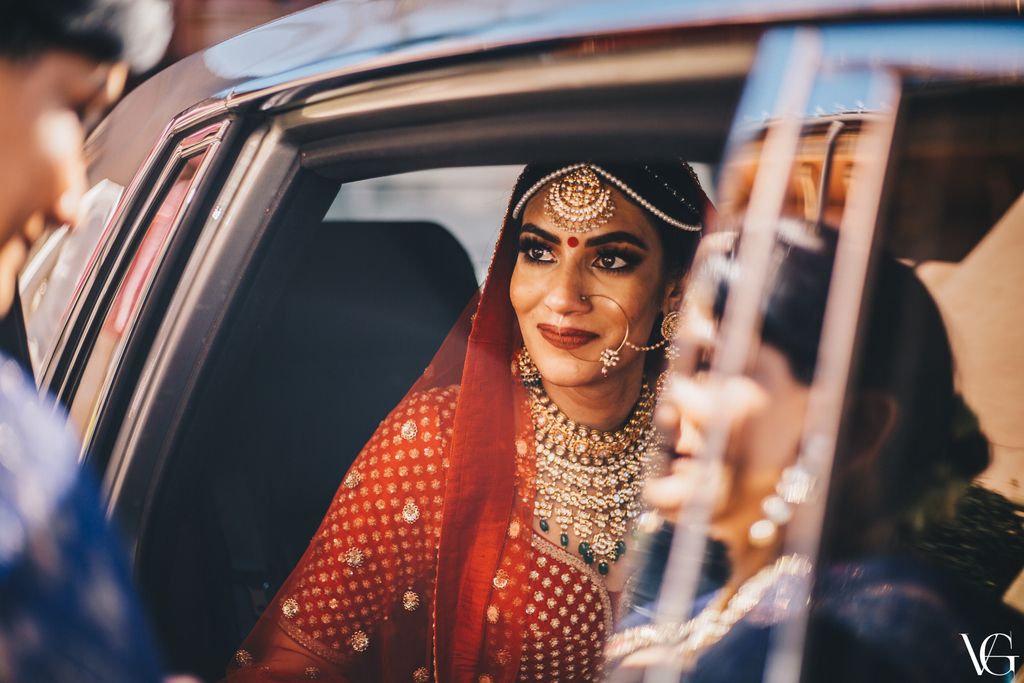 From The Couple: 
The strong love between us and both of our families was a beautiful highlight that made the weekend even more special. Our fairytale love and unforgettable wedding went beyond what either of us imagined. The decor, food, music, all had elements of us as a couple, while also highlighting the fusion of our American upbringing and Indian heritage.
Our Sangeet night began with Kevin's energetic baraat. He had two Rolls Royce cars for his grand entrance and live music playing- snare drums, trumpets, trombones- during his baraat. The centerpiece and focal point of our Sangeet room were four large life sized hot air balloons dressed in flowers- a symbol of our romantic proposal. The room was donned with colorful tents from Raj Tents, a custom Persian rug design created by Hire Elegance, and lounge furniture embellished with gold accents throughout the room. Our Sangeet was all about dancing the night away with two dhol players, beautiful dancers from Karmagraphy, a photo booth, hookah lounge and a fantastic DJ from Special Occasions that played music all night long.
For our Sikh ceremony, The Capella Room was completely carpeted, the aisle was lined with flower petals and candles which lead to a gorgeous mirrored backdrop of flowers and chandeliers created by Square Roots Designs. Both our families are Sikh, it was important to us to honor our religion's traditions, but also add a modern angle to it. The Guru Grandth Sahib was on a stage, with space in front for Kevin and I to sit; to represent that in front of God, we promise to uphold the values of our marriage and to each other as husband and wife.
For our reception, we envisioned an elegant event, complete with a sit down dinner, graceful ballroom dancers, white glove service and a live 10-piece band. Our wonderful vendors worked tirelessly to bring our vision to life. The room was carpeted with ivory carpet, and round tables on two different levels of elevation. We had large mirrors on the perimeter of the room, a custom dance floor with our favourite quote on it. The stage was now visible with over two dozen gigantic chandeliers and The Shrines band energizing the evening. With our family and friends, we danced our hearts out, enjoyed the great food, and celebrated as we started this exciting, new chapter in our life. 
The weekend was full of joy and love and those feelings were very contagious throughout, beautiful memories we will cherish throughout our marriage. Our wedding was a representation of the beauty and excitement that comes from marrying my best friend, soul mate, and partner. Kevin was always someone I dreamed I would spend forever with and I count my blessings that my dream became my reality.
Vendor Reviews: 
When deciding on our wedding planner, we wanted the best. We knew that no one could do a better job designing our wedding than Nikki Khan of Exquisite Events. They definitely went above and beyond to make our wedding spectacular. After months of planning with Nikki and her team, each event of our wedding had a unique theme and charm that incorporated our love story. 
We started planning our wedding a year in advance with our first decision being the venue. We knew early on in wedding planning that we wanted to get married at the Fairmont Grand Del Mar in San Diego, California. We had one of our earlier and very romantic dates at this beautiful hotel and spent a lot of time in San Diego where our love began to grow deep for one another. I took Simrun horseback riding on the resorts private property and the evening was followed by dinner at their elegant restaurant. It was an unforgettable day as many of our dates had been.
My hair and makeup team was Salt Spell Beauty from San Francisco, California. Both the ladies, Andrea and Mariana are nothing short of amazing. Andrea and Mariana started my wedding morning with a bridal ritual, which focused on skincare and creating the ultimate glow by easing the mind and nerves with aromatherapy and massage. This prepared me to look and feel the most beautiful for my most ceremonious day. I was more relaxed than ever before, as I had blind trust in my glam team to make me look and feel unbelievable. Each look varied from the others. They found a balance of making me, a normally natural makeup wearer, look and feel like a bride without clashing with my outfits. Their commitment to making a bride feel the most beautiful, both inside and out, is evident in their talent, passion and calm demeanor.
The team at Lin and Jirsa went above and beyond to capture the moments we will cherish forever. They are so talented and went the extra step to get the perfect photo for Kevin and I. The photos, style and elegance is incomparable and we are so happy to have Lin and Jirsa be part of our special weekend. Their attention to detail is evident in all the photos. We had such a fantastic team and are so thankful for all their hard work!
Vinu is so passionate about her art- and it shows in her photos. She is so talented and was not only able to capture the moment, but the emotions that occurred during that time. Her selflessness and focus on the couple is so admirable, and I am so thankful for all the photos and memories she created for us. Vinu is so sweet and humble, it was a true pleasure sharing our wonderful memories with her.
I knew I wanted full bridal Mehndi on my hands, arms, feet and for the stain to be as dark as possible. The very talented Neeta Sharma from Mehndi Designs in San Jose, California spent almost 8 hours applying the henna. My Mehndi design included elements that were unique to mine and Kevin's love story. Incorporated in the beautiful, intricate design was Major League Baseball's San Diego Padres logo -- an homage to our first date watching the Padres baseball team play. To honor Kevin's profession and dedication as a doctor, I included a stethoscope in my mehndi. Additionally, I had a sunset and palm trees in my mehndi, as a symbol of our honeymoon destination Turks and Caicos. Lastly, Neeta added detailed peacocks to represent Kevin's two beautiful pet peacocks. As an Indian tradition, Neeta also hid Kevin's name throughout my mehndi. It was a fun search on our flight to Turks and Caicos after our wedding.
Bridal Invitations- I had a specific look in mind for my invitation. I had the pleasure of working with Neha Singh Bhatia from New Delhi who designed, created and worked effortlessly to make vision come to life. I have nothing but praise for Neha and her team. Through email, she was able to create the perfect invitations for us. Each guest received an invitation box, which was light pink and gold with a gold plate engraved with "Simrun and Kevin". Each box had a sleeve, which was personalized for each guest, with different cards for each event- signifying the location, time and dress code. The invitations were beautiful and elegant and I am so thankful for Neha for all her efforts in making them perfect! Groom Invitations- Kevin had designed his invitations with Gina from RSVP Style in Fresno, California. The invitations exuded a type of elegance that complimented our wedding celebrations. The invitations were gold and ivory with gold encrusted and gold engraving. Gina and her team worked tirelessly to create these beautiful, one of a kind invitation.
Vendors: Venue: Fairmont Grand Del Mar in San Diego, California; Makeup Artist: Salt and Spell Beauty; Photographers: Lin and Jirsa Photography★ 5 & Vinuthna Garidipuri; Decor & Planning: Nikki Khan of Exquisite Events; Bridal Outfits: Sangeet - Rohit Bal★ 5 & Mayyur Girotra★ 4.5 , Wedding - Sabyasachi Mukherjee★ 4.9 Reception -Manish Malhotra★ 4.9 ; Bridal Jewellery: Wedding - Kashi Jewelers; Bridal Shoes: Sangeet - YSL Tribute; Wedding - Jimmy Choo, Reception - Christian Louboutin; Groom's Outfits: Wedding - Sabyasachi Groomwear★ 5 , Reception - Tom Ford ; Mehendi Artist: Neeta Sharma from Mehndi Designs; Wedding Invites: Bridal Invitations - Neha Singh Bhatia★ 4.9 , Groom's Invitations - Gina from RSVP Style in Fresno, California