An Insanely Beautiful Jaisalmer Wedding With Loads Of Unique Ideas
BY Aakanksha | 08 Jul, 2019 | 38155 views | 6 min read
We can't decide what we loved more in this wedding! The gorgeous setting of Jaisalmer? That insanely beautiful mandap? That yellow safa of the groom which added a perfect pop of colour to the pastel theme? Or the fact that they had a full fledged holi!!! Well, there were so many cute and interesting ideas we spotted in this celebration that we were bookmarking everything, and the fact that Palak, our bride, was super involved in every aspect of her wedding was like the cherry on top. She shined in each of her outfits, but looked like a princess on her wedding day in a pastel pink lehenga with one of the most unique raani haar we've seen this year! The Wedding Salad★ 4.9 captured it all in a spectacular manner and you've just gotta check out the awesome pictures of this truly beautiful wedding. 
Meet Palak & Pranal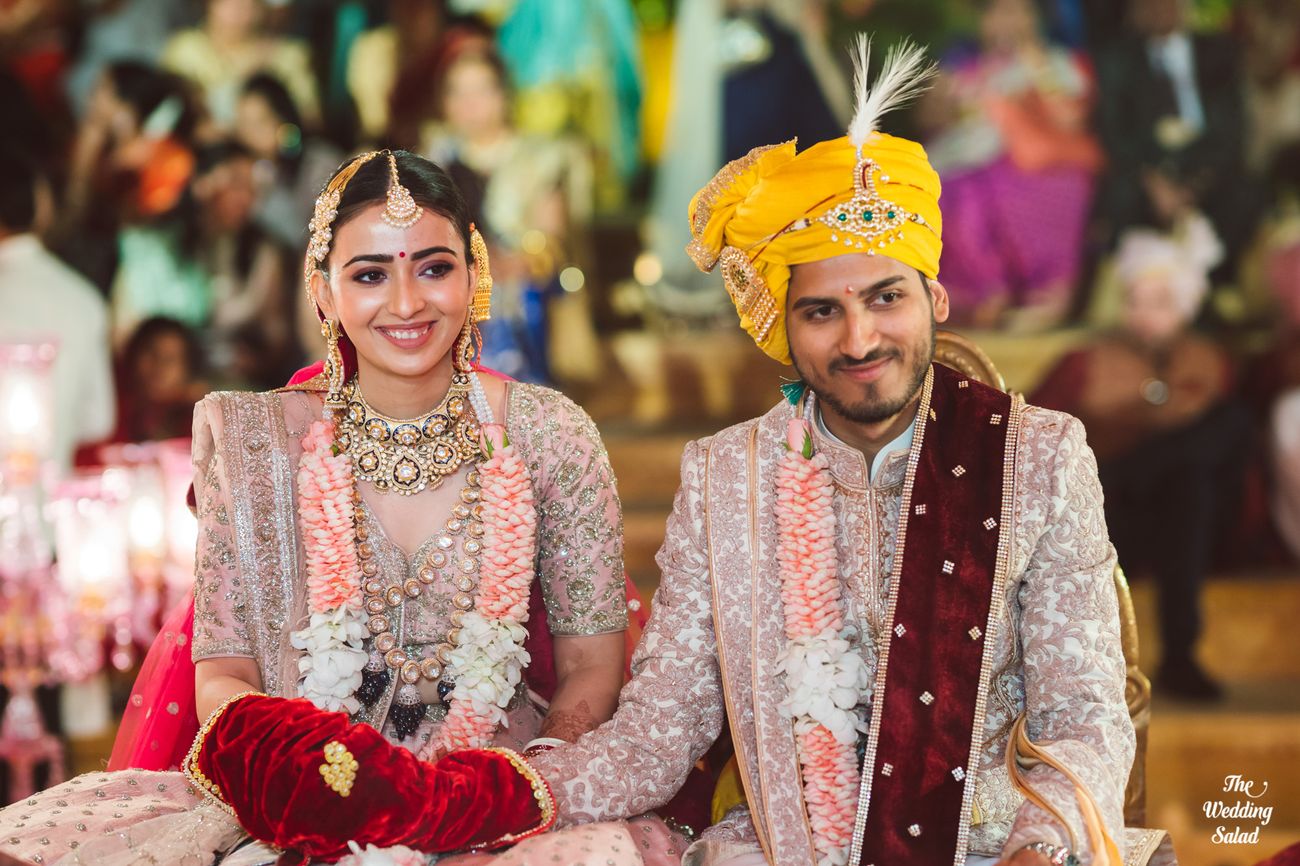 Palak tells us how a set-up encounter blossomed into mutual love and admiration, "We've actually been family friends but surprisingly never knew of each other. Pranal's masi lives in the same building as me, and it so happened that when he was visiting her, she introduced the two of us and that's how we got talking." 
The Holi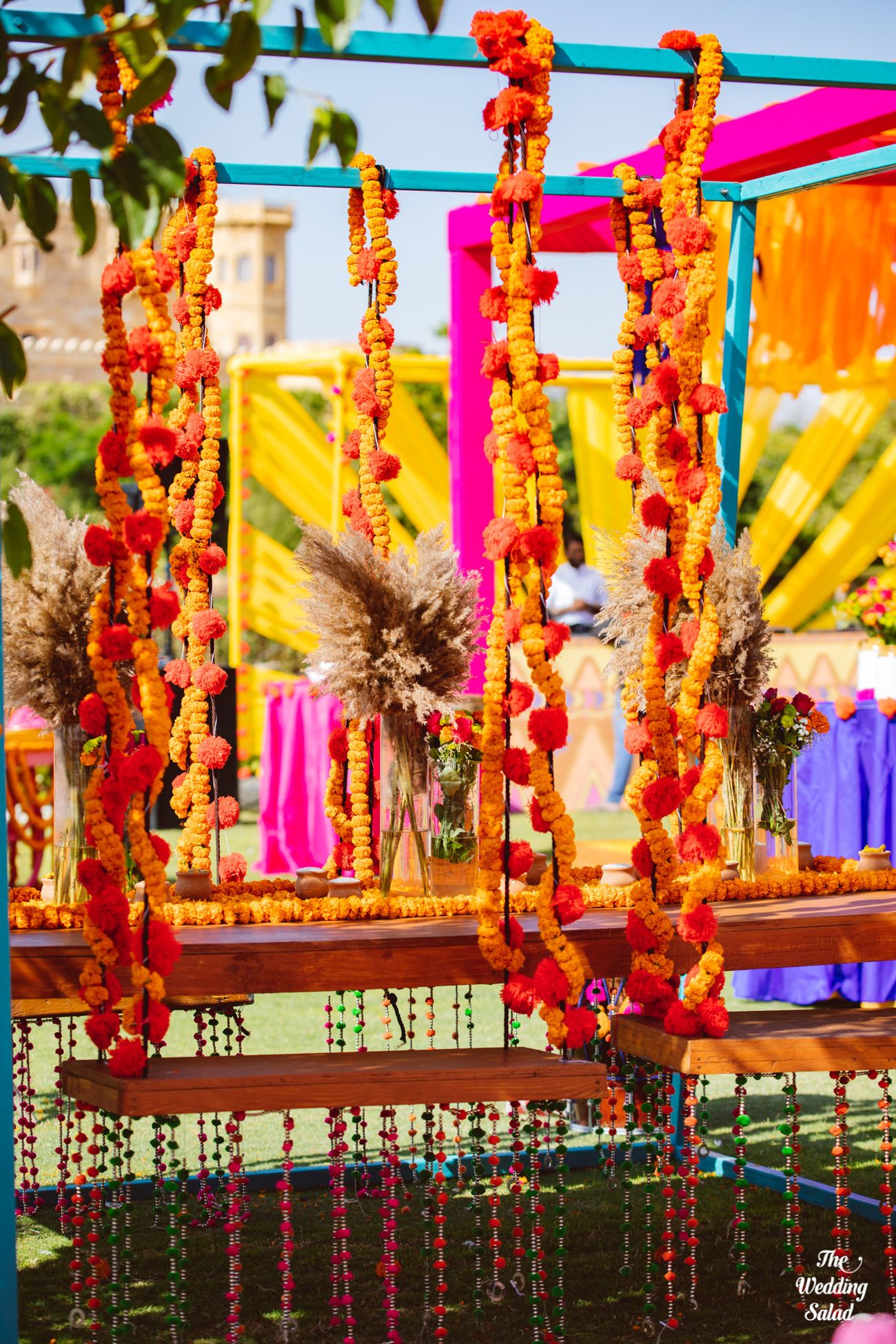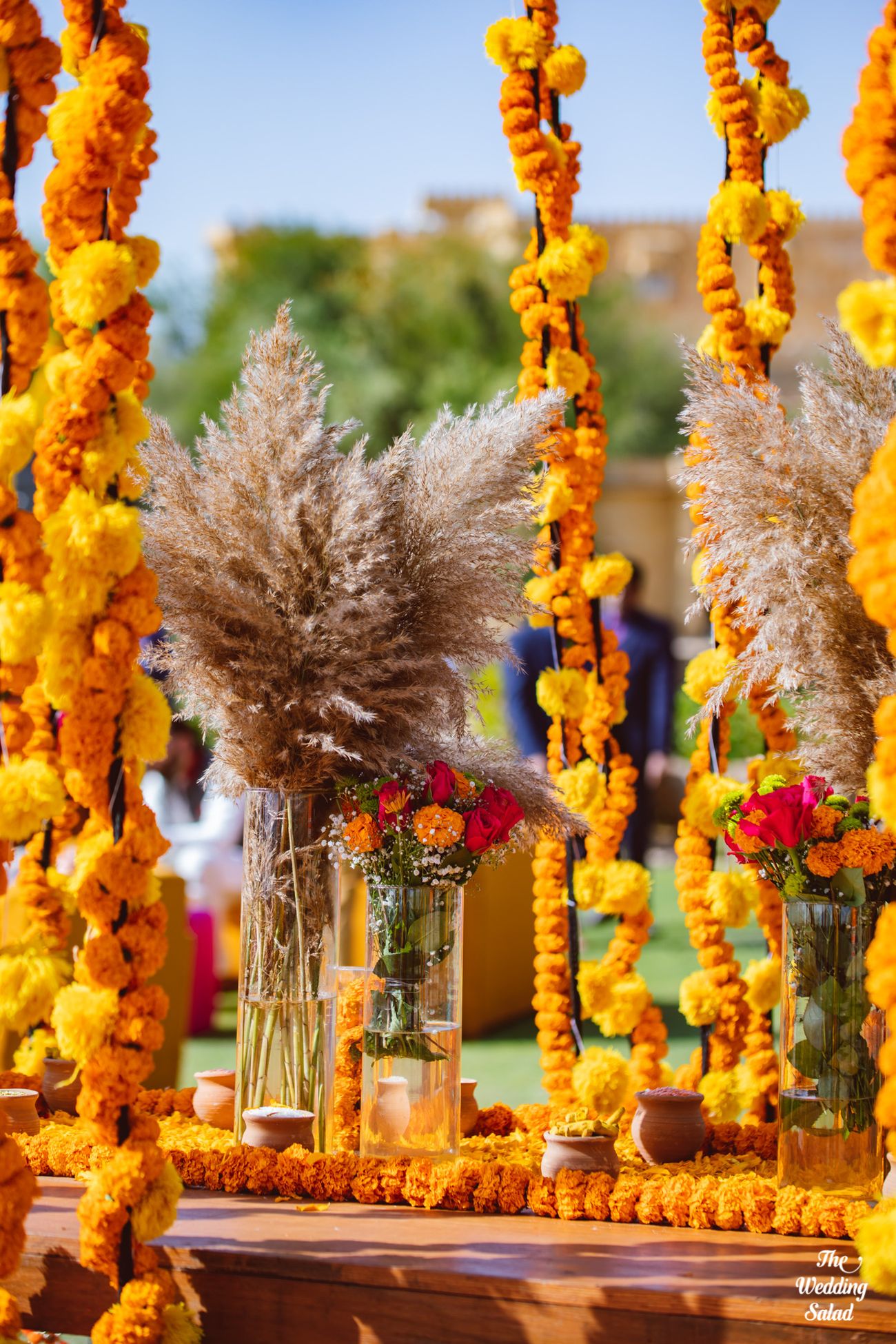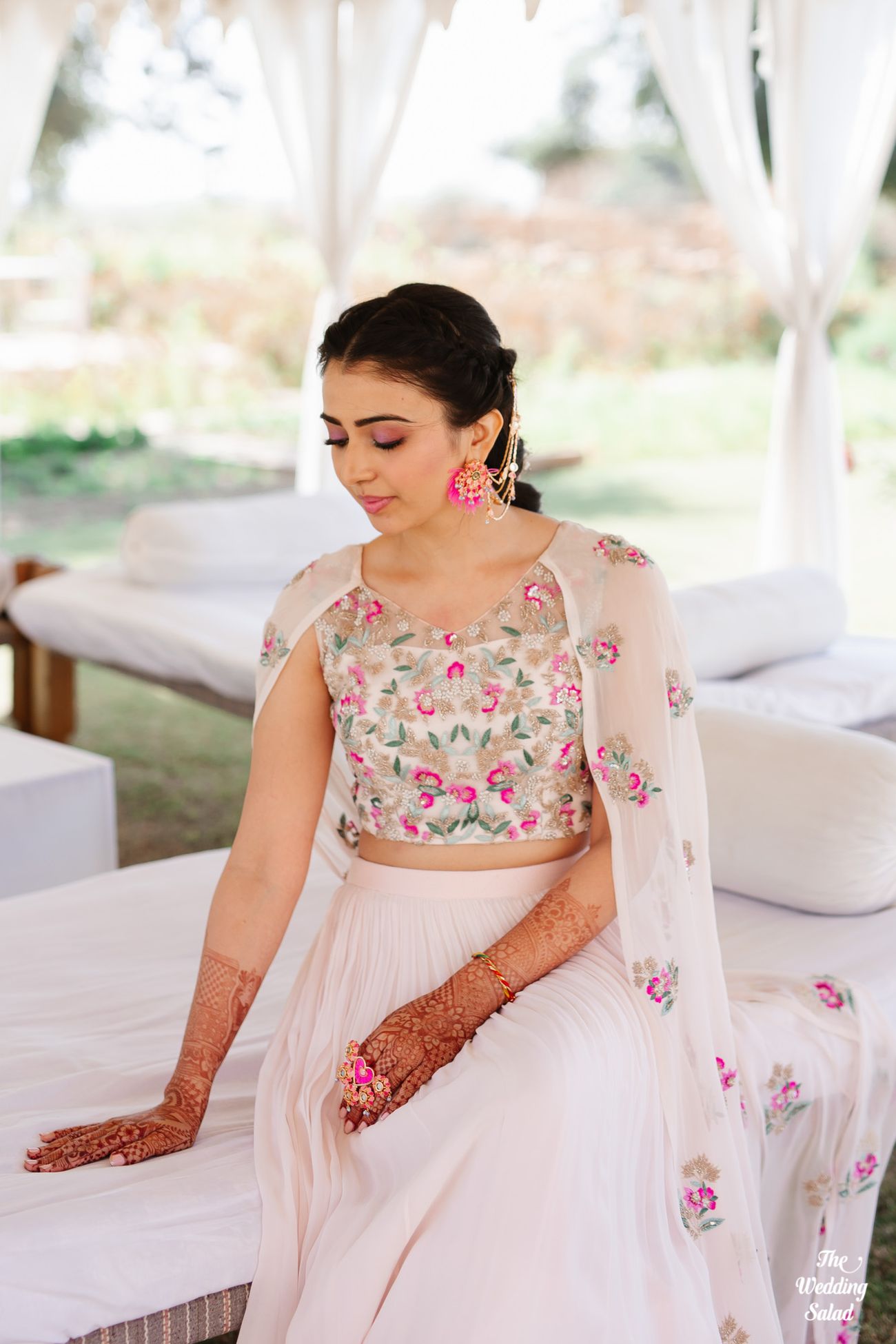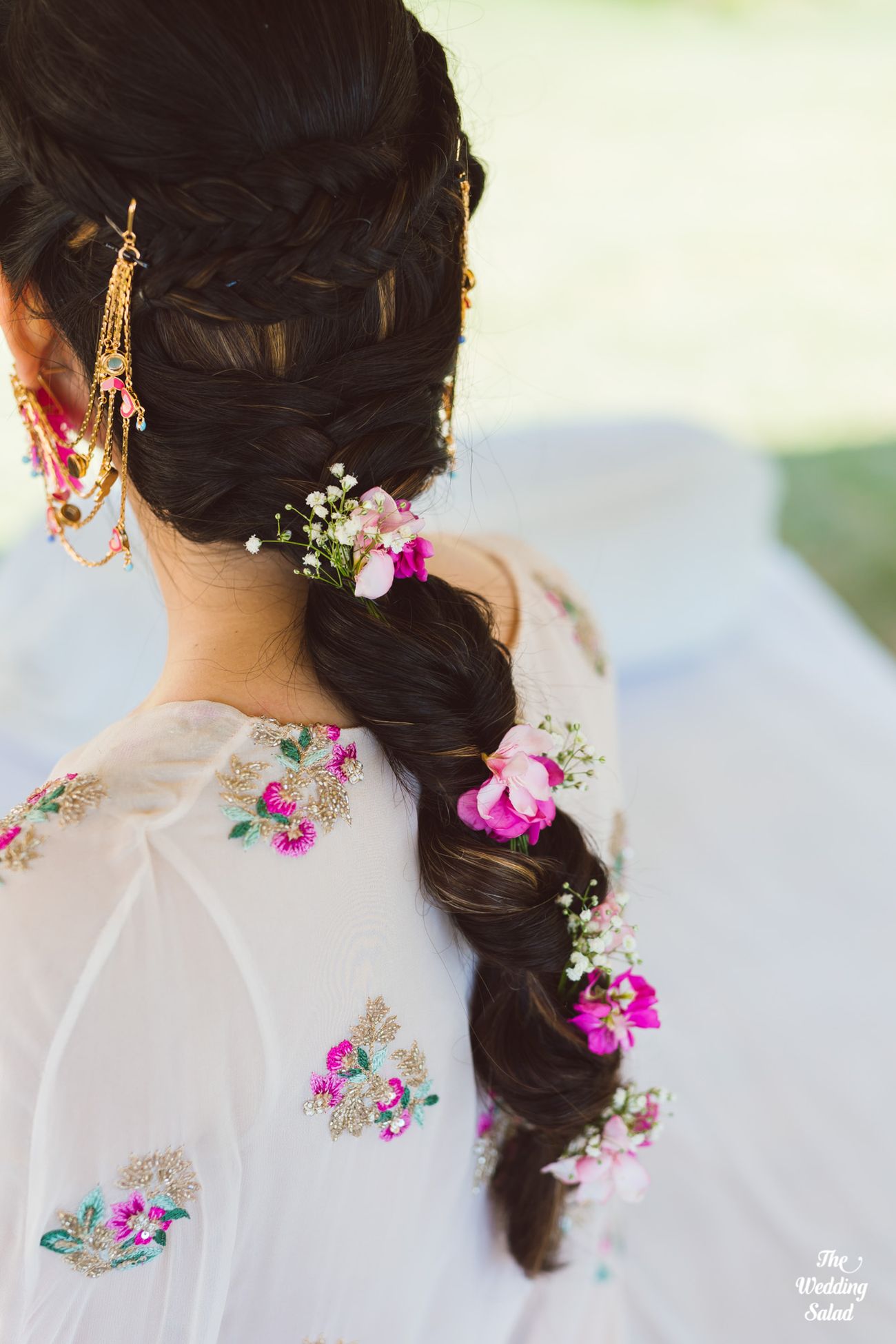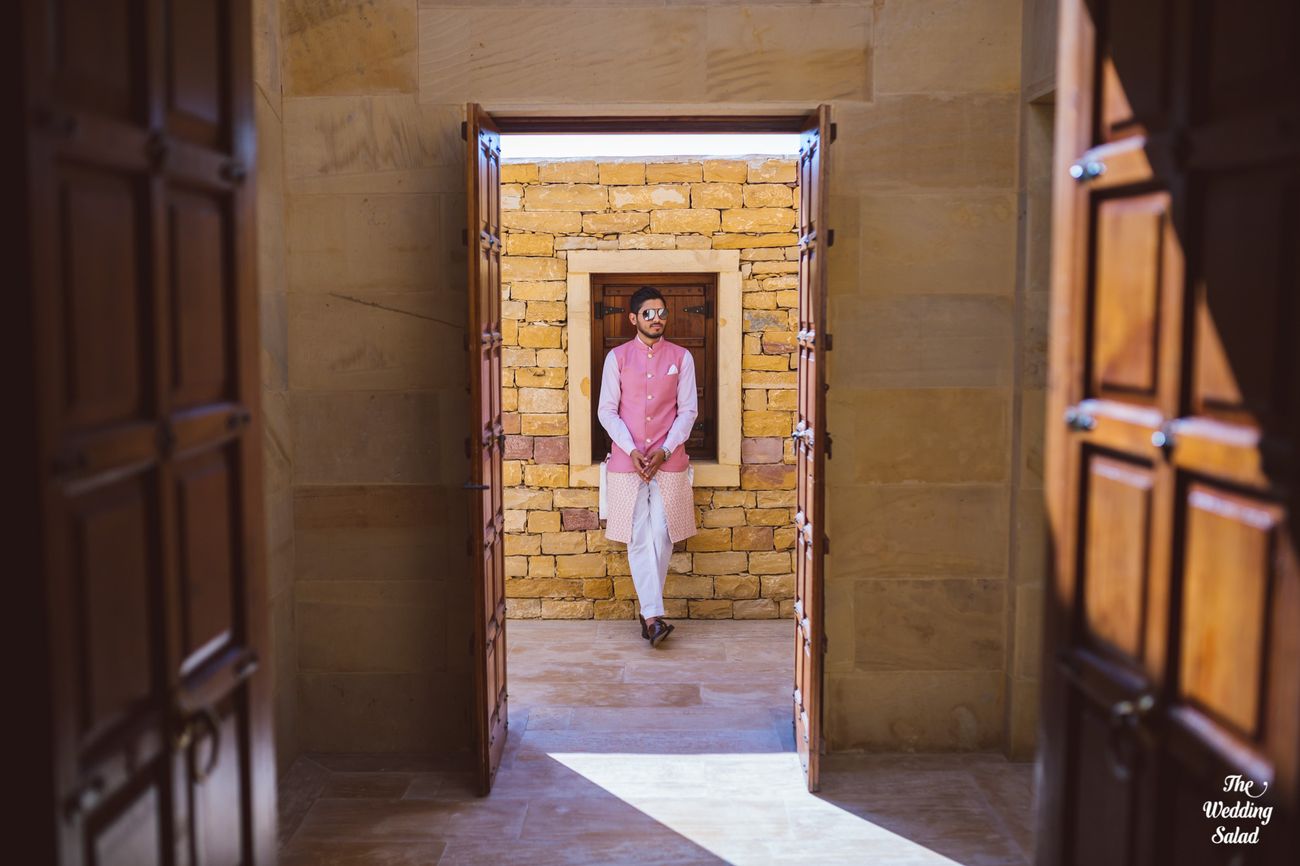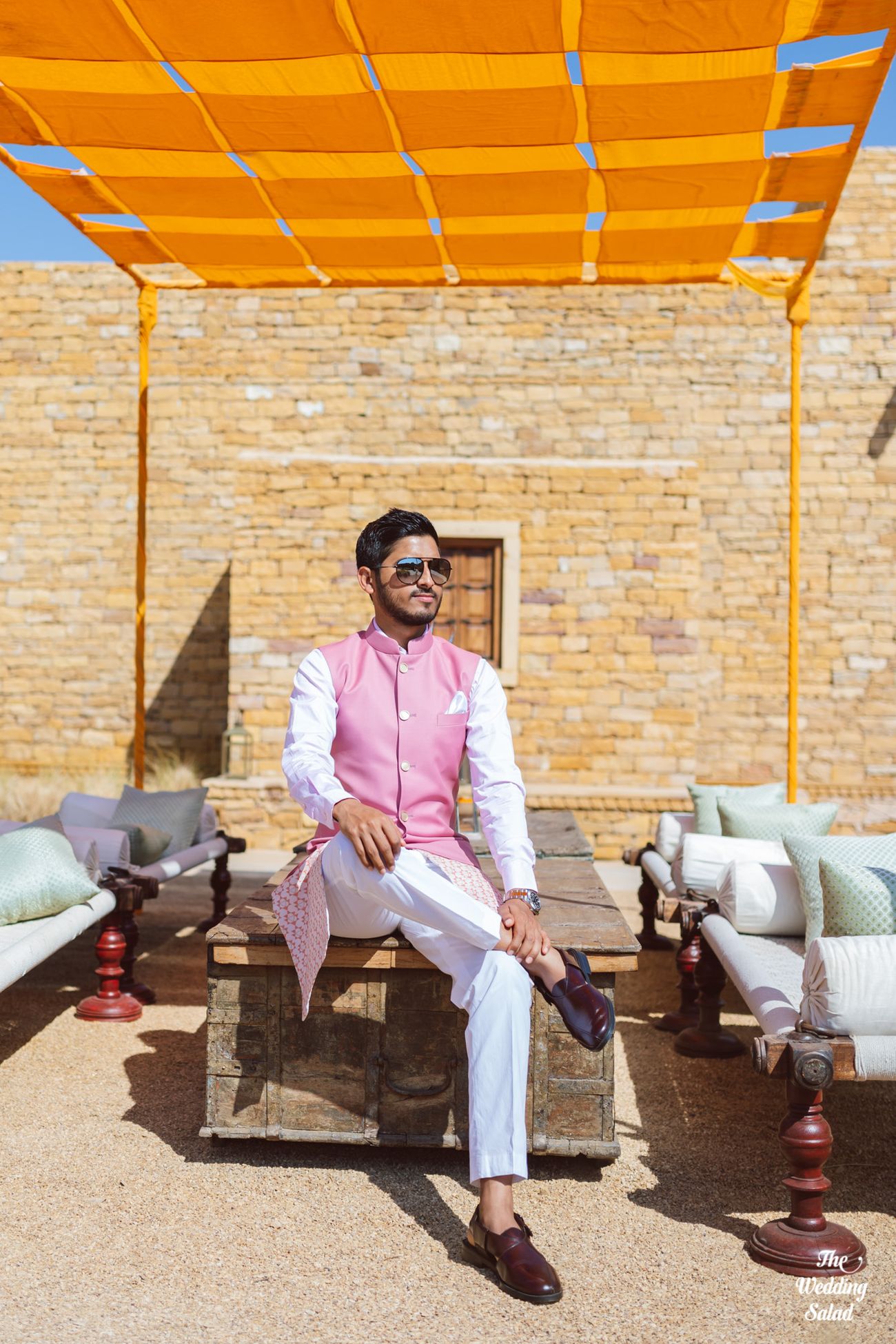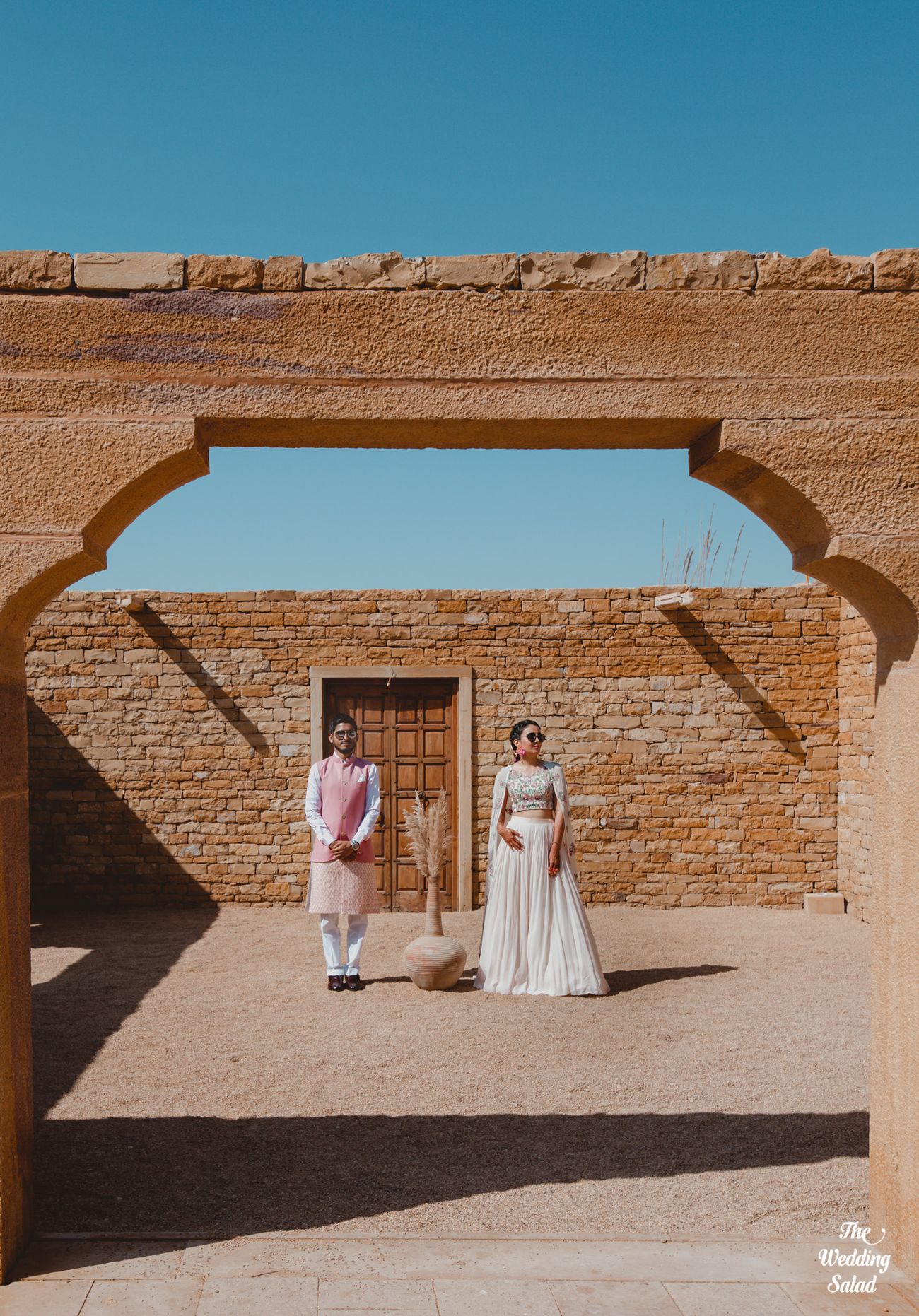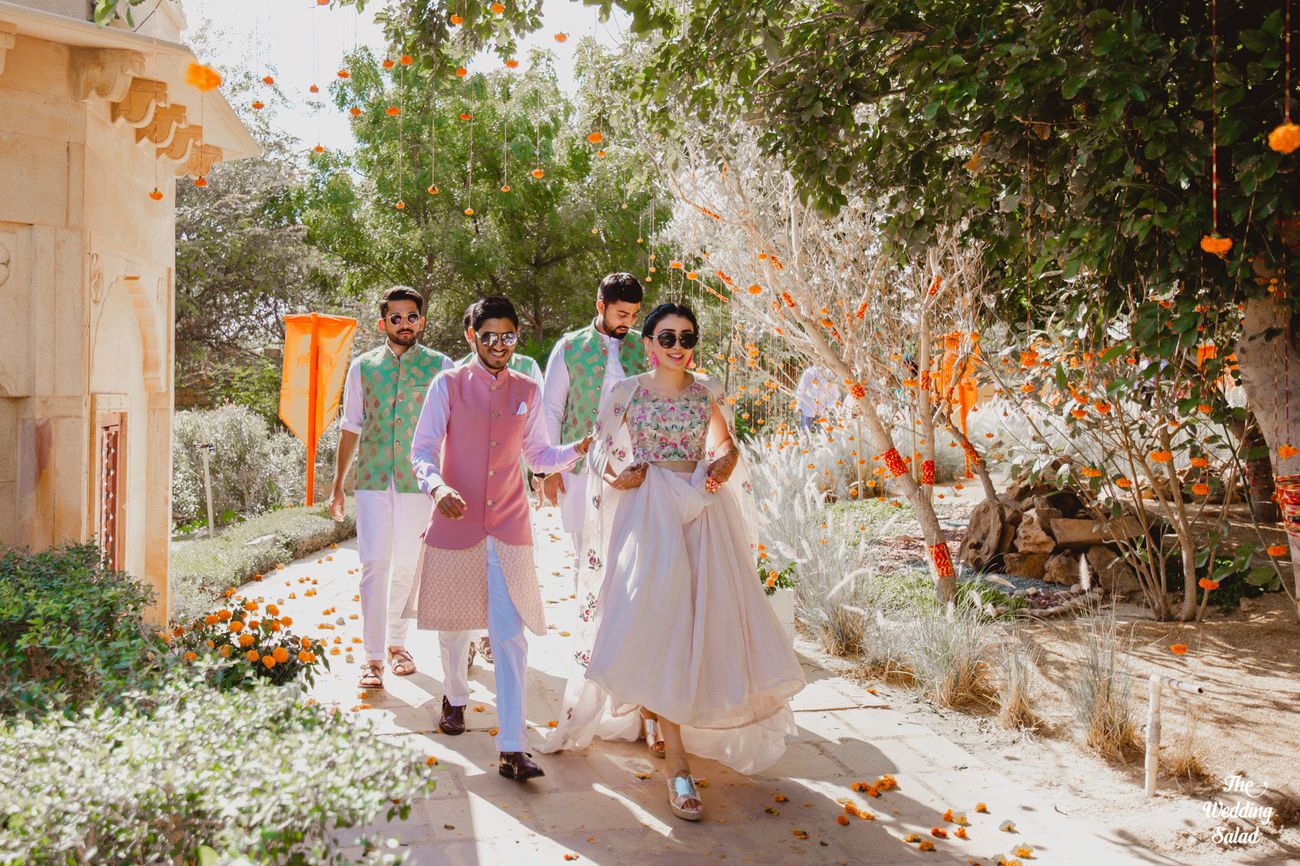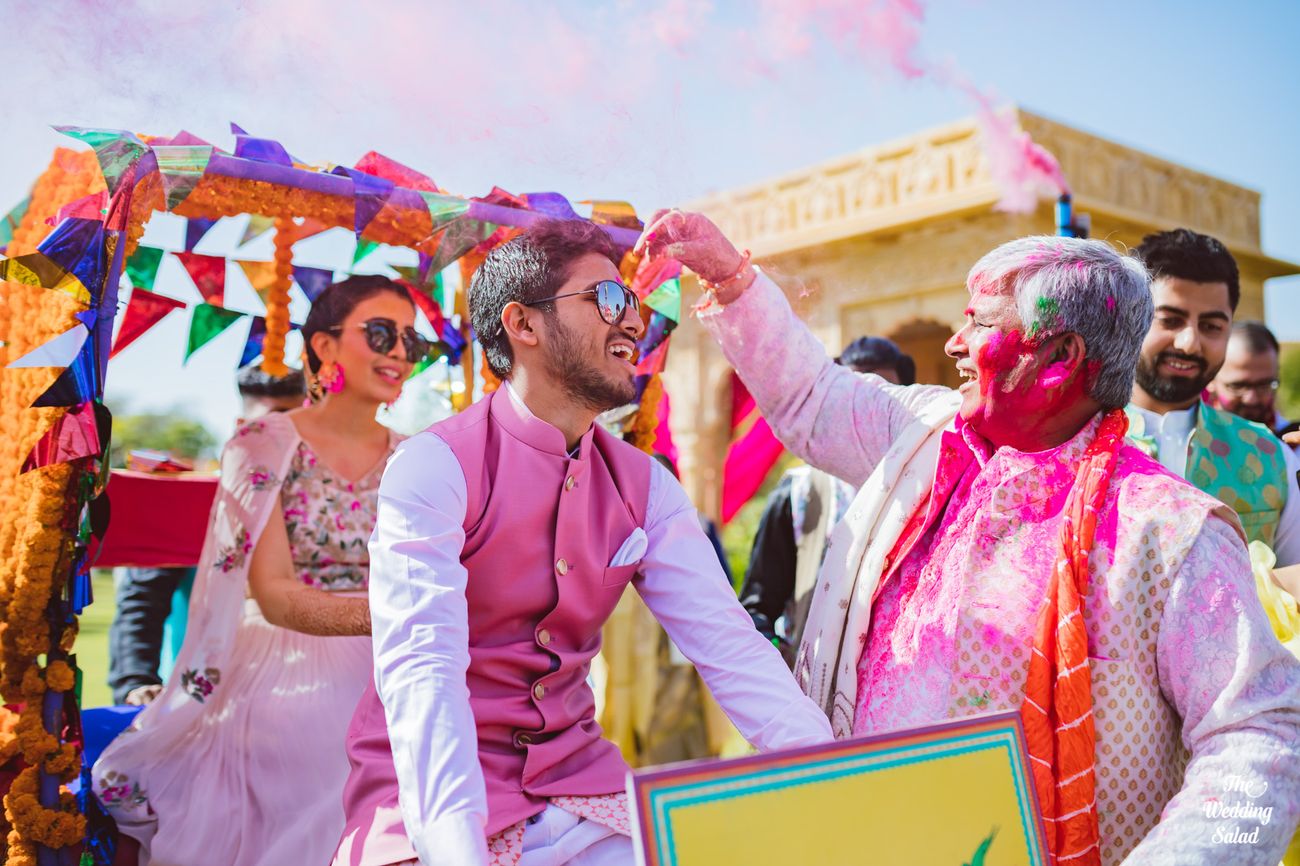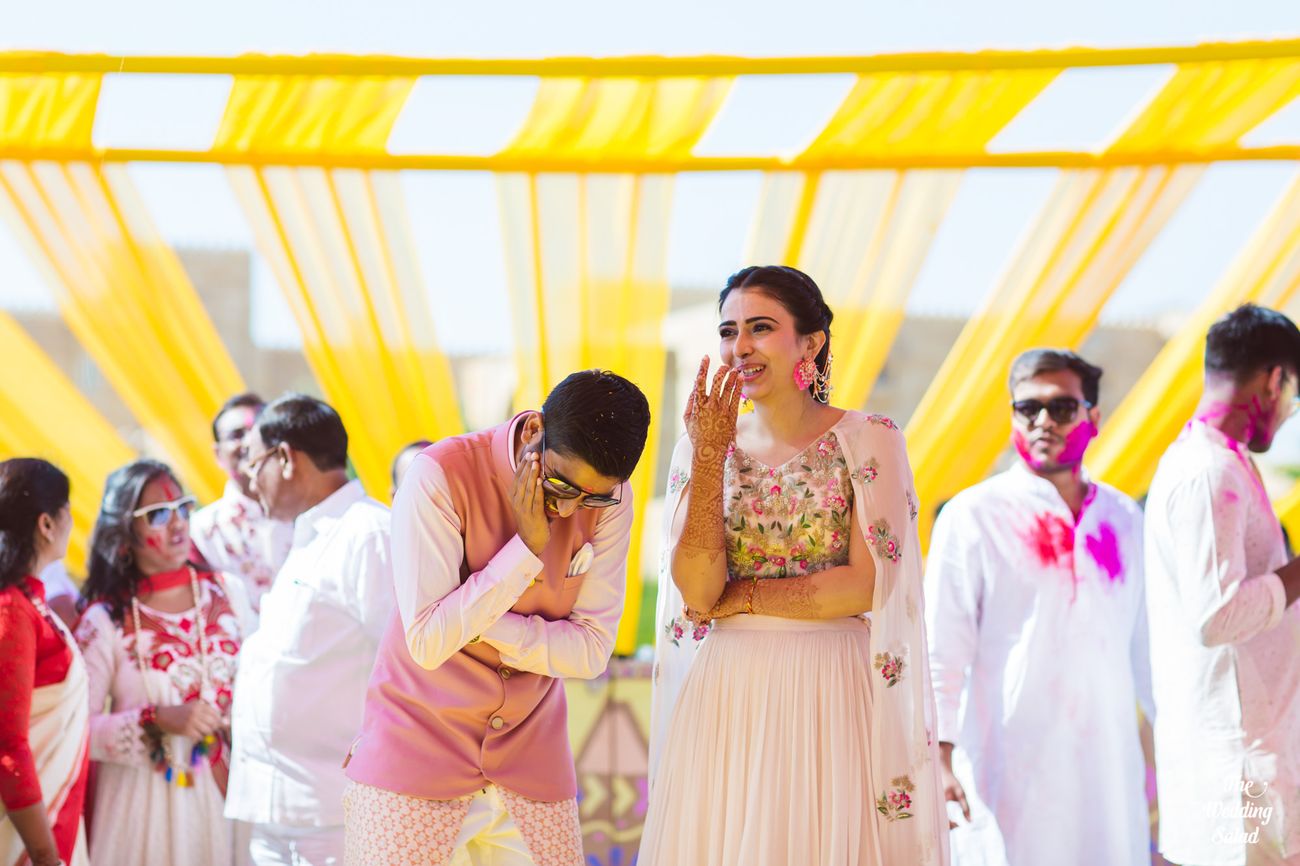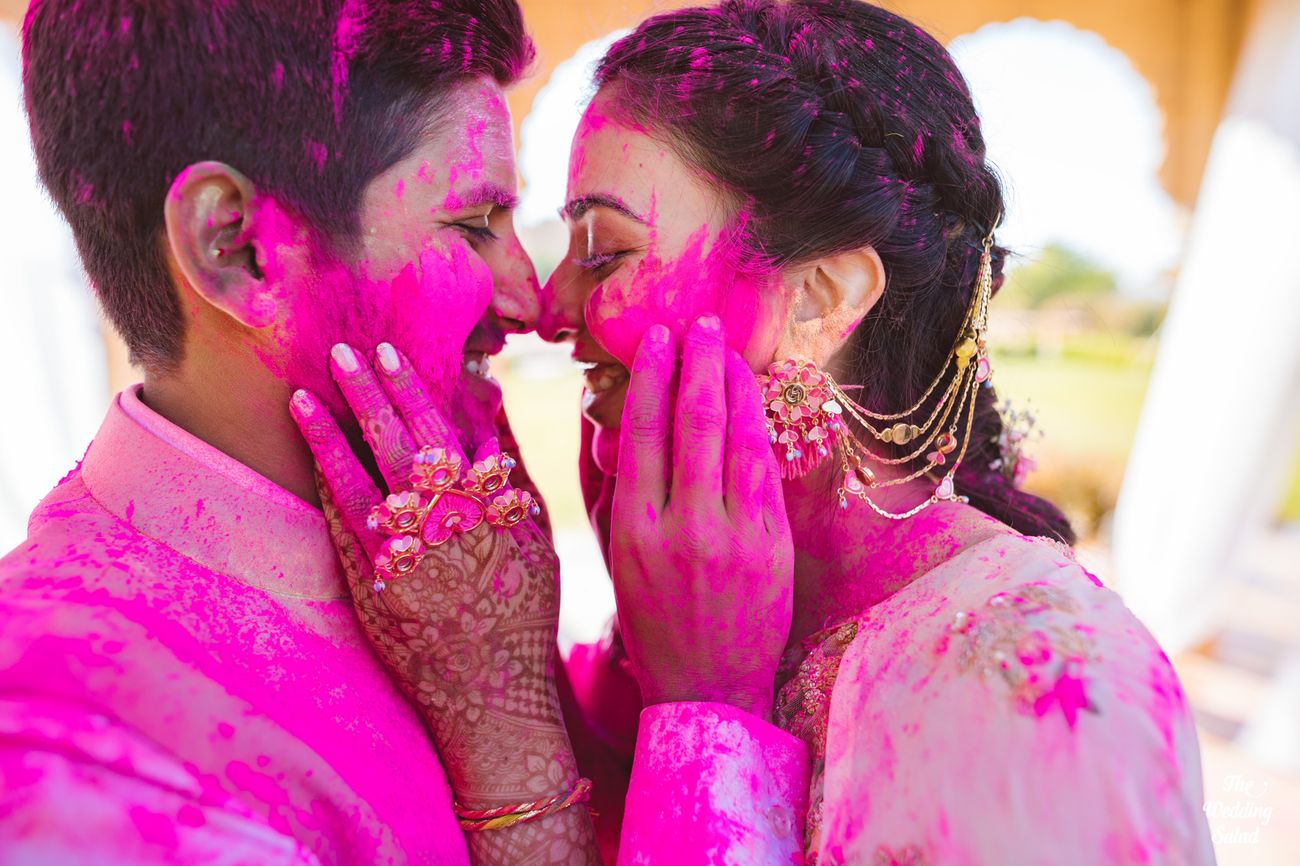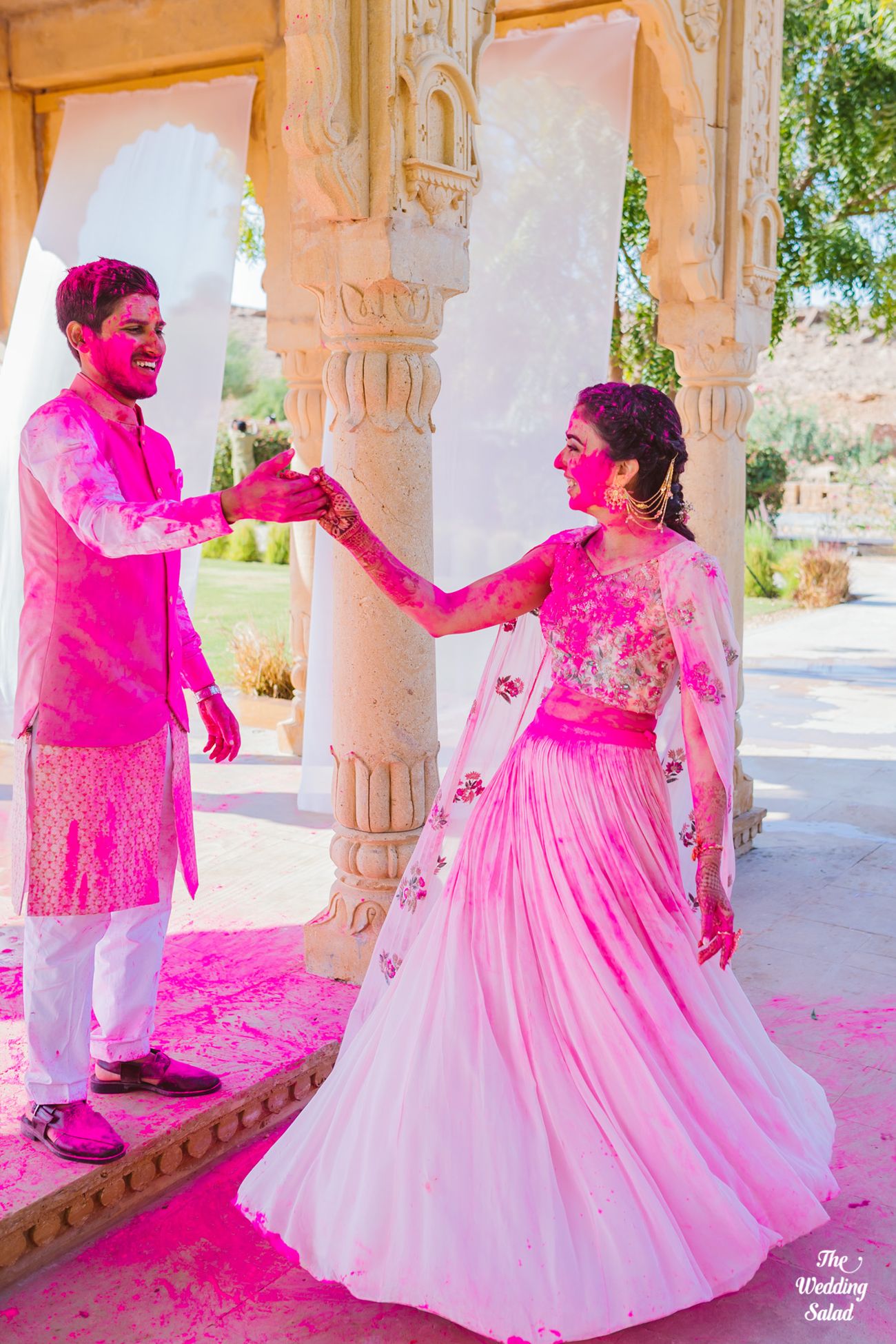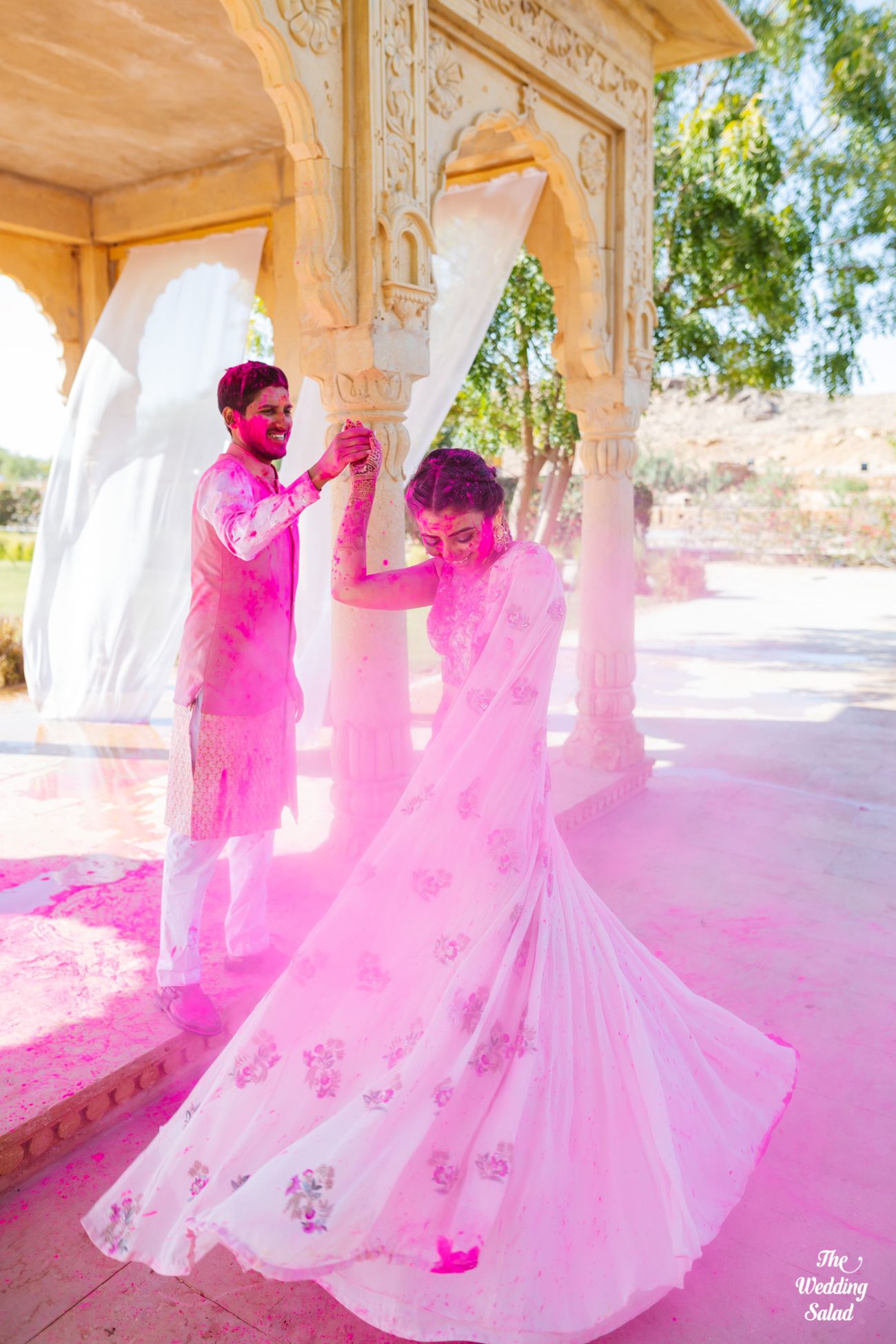 The Sangeet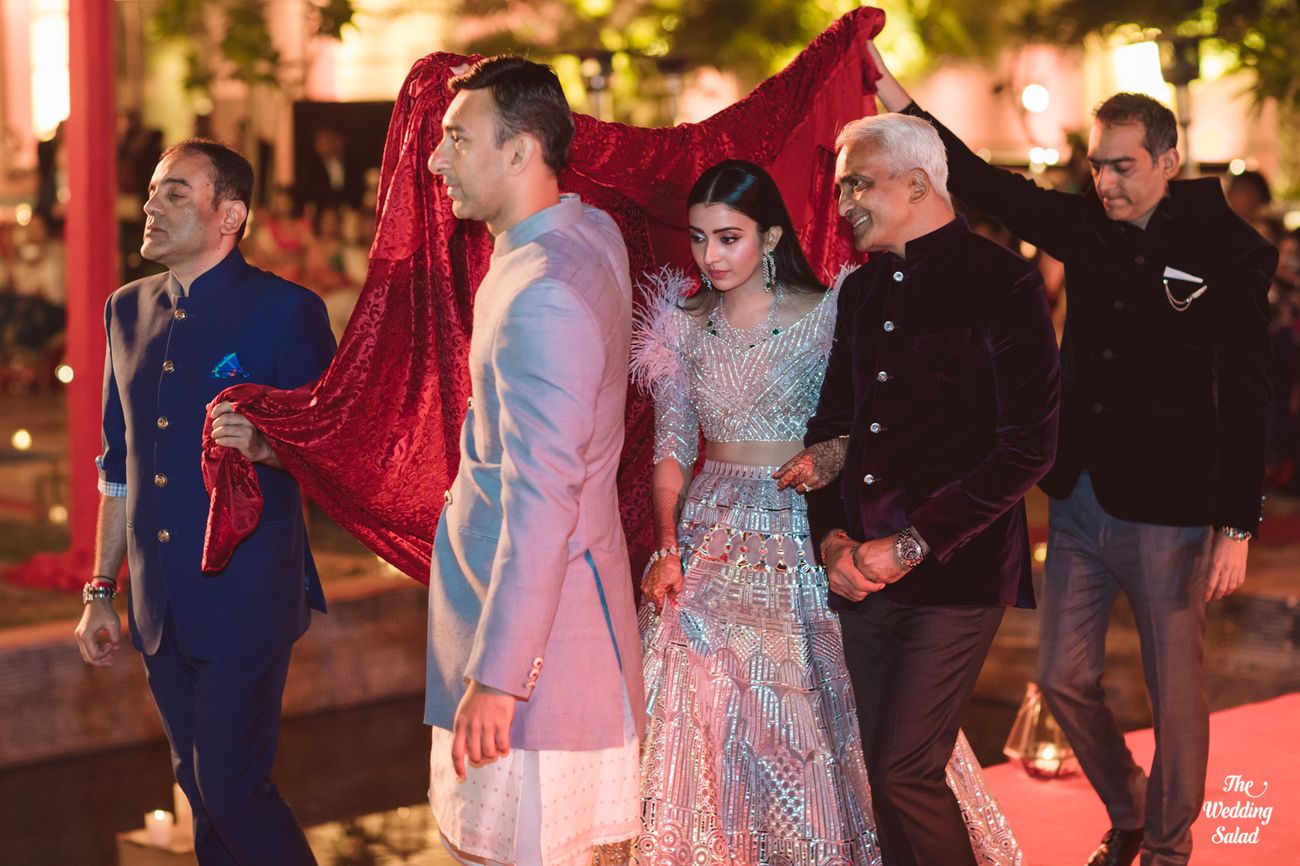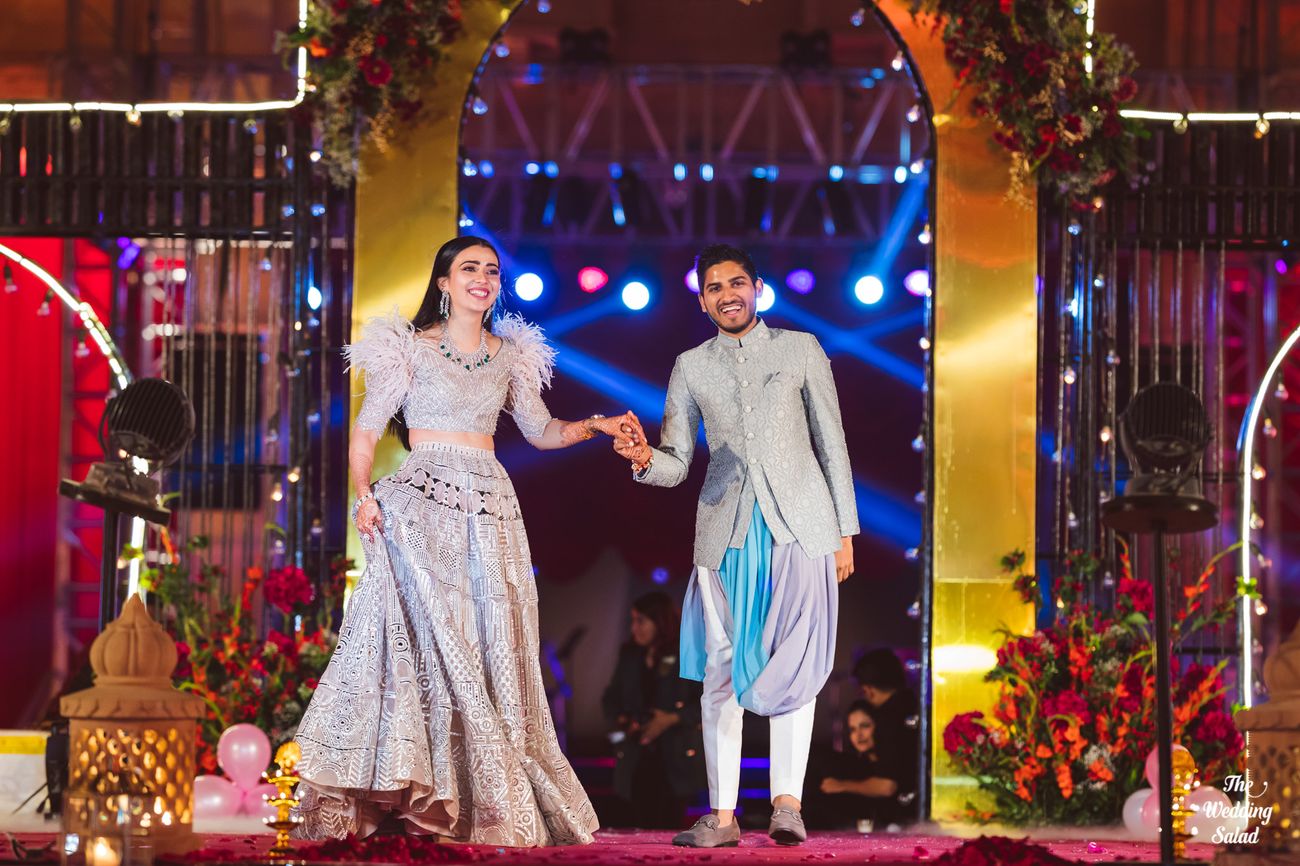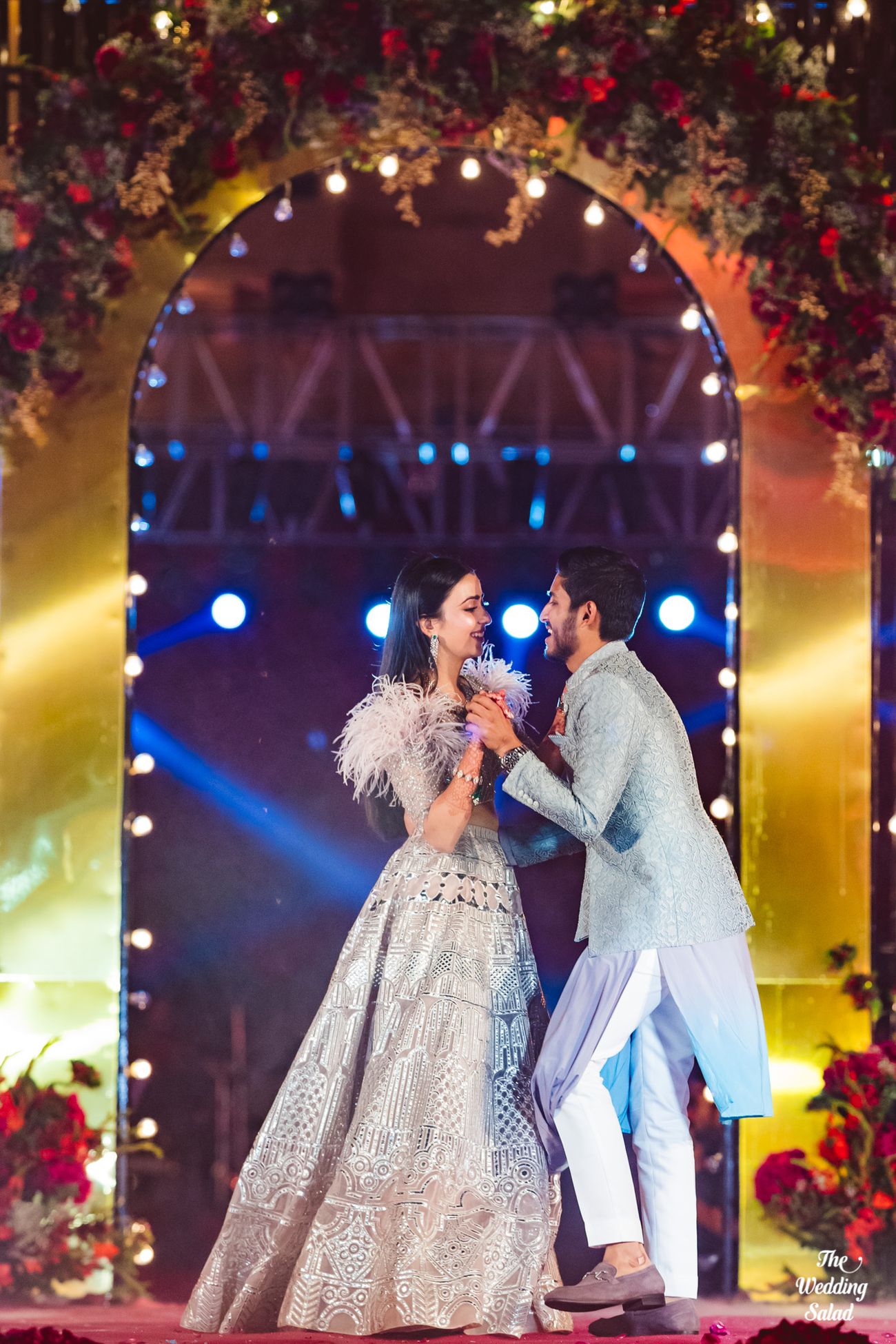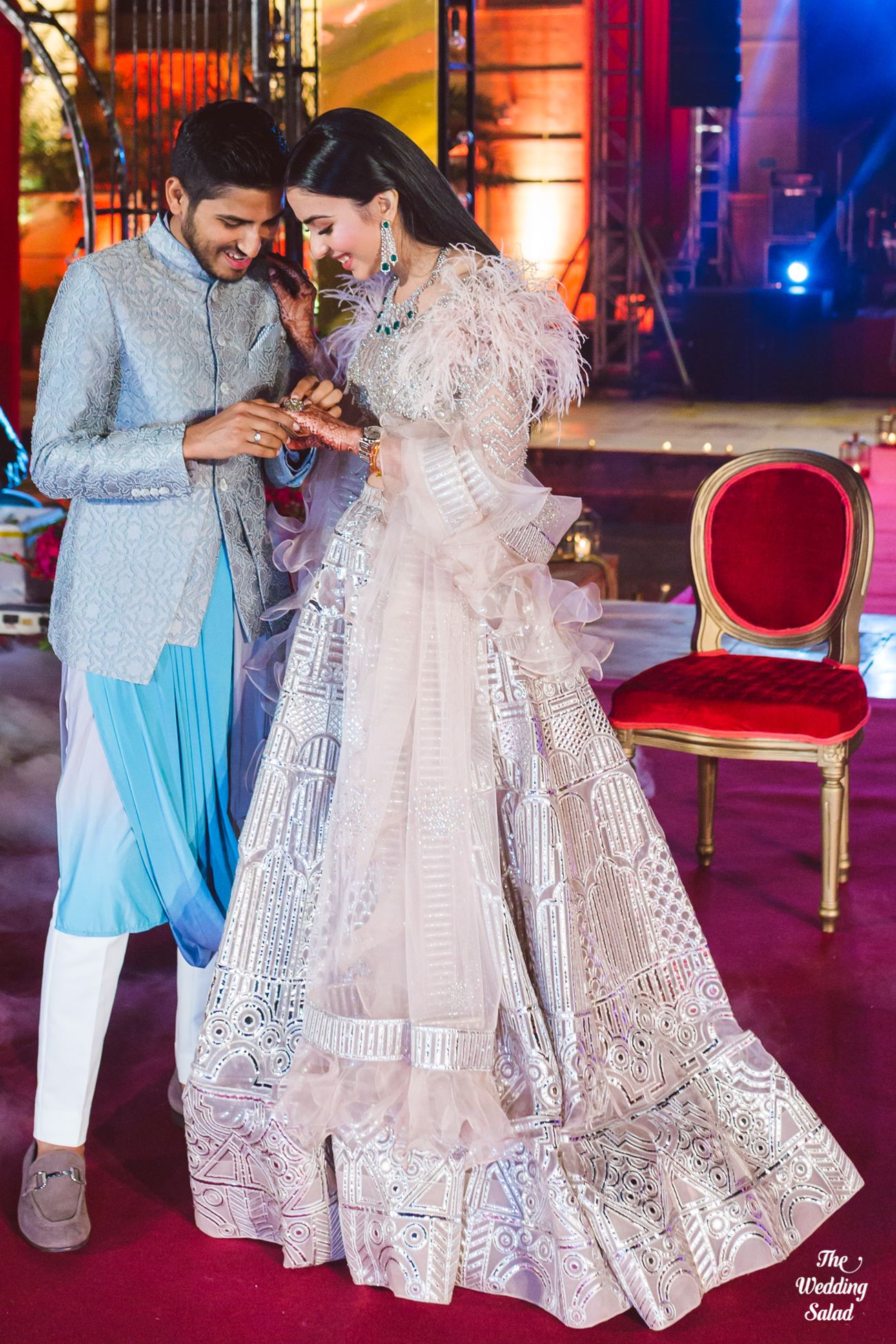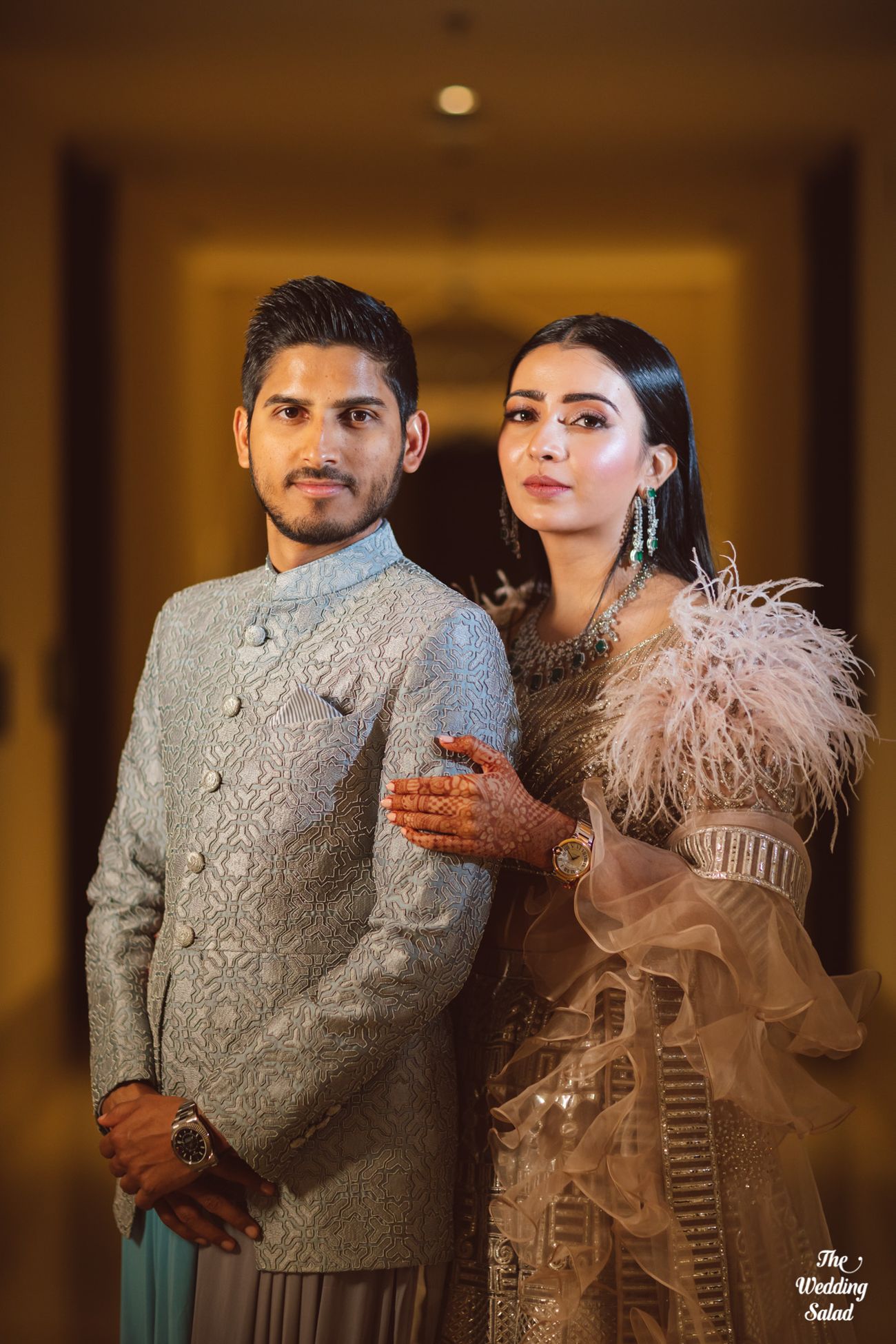 The Wedding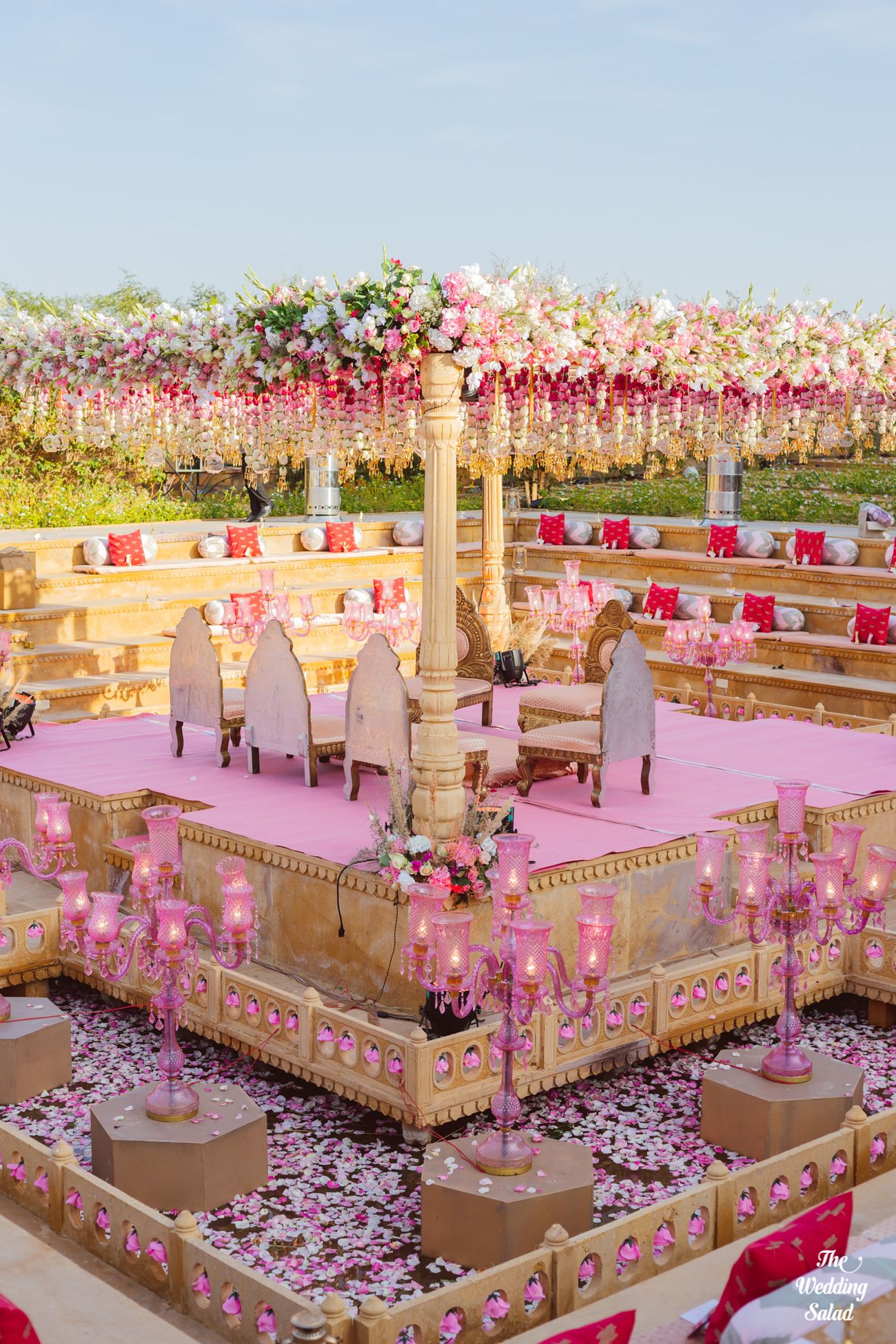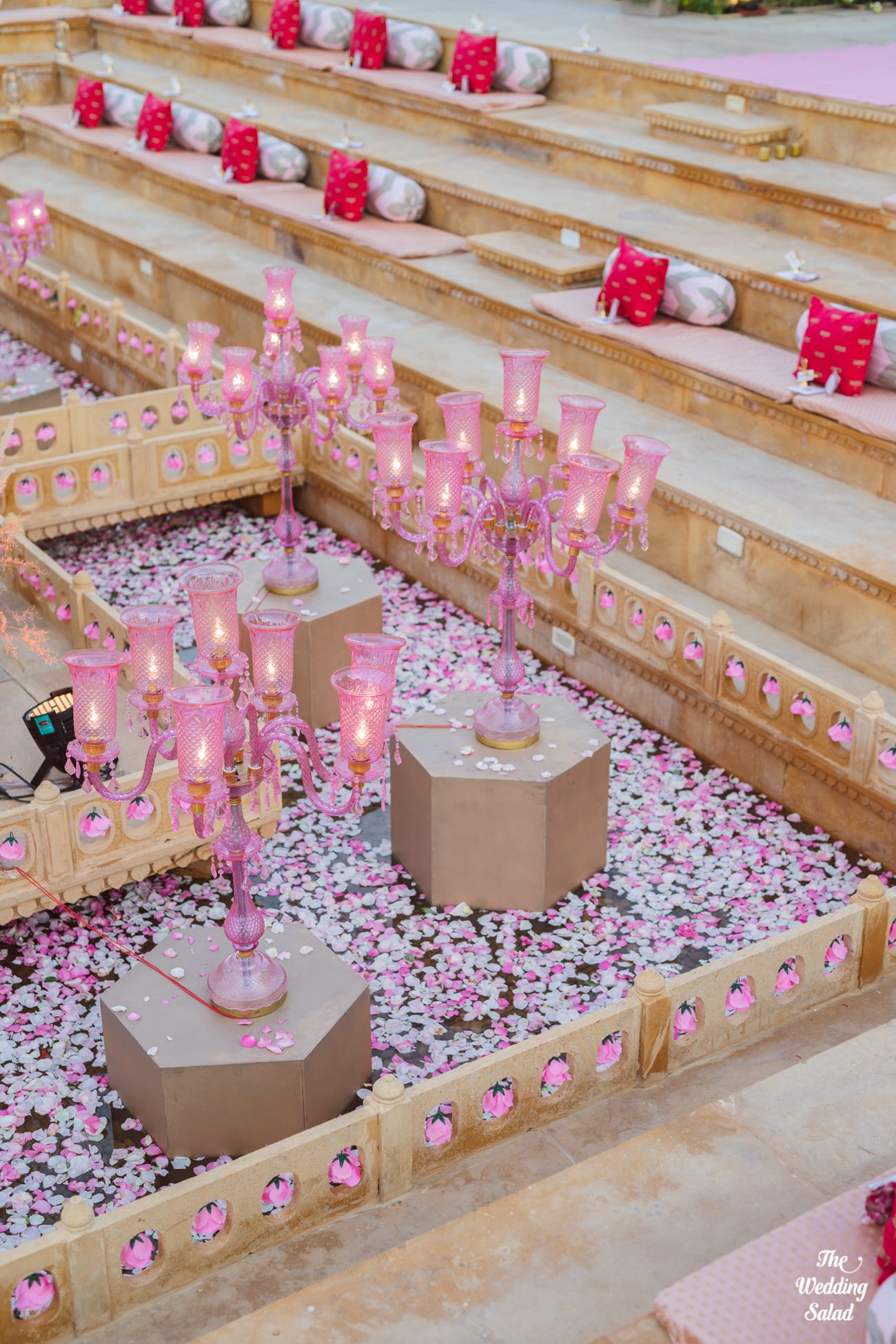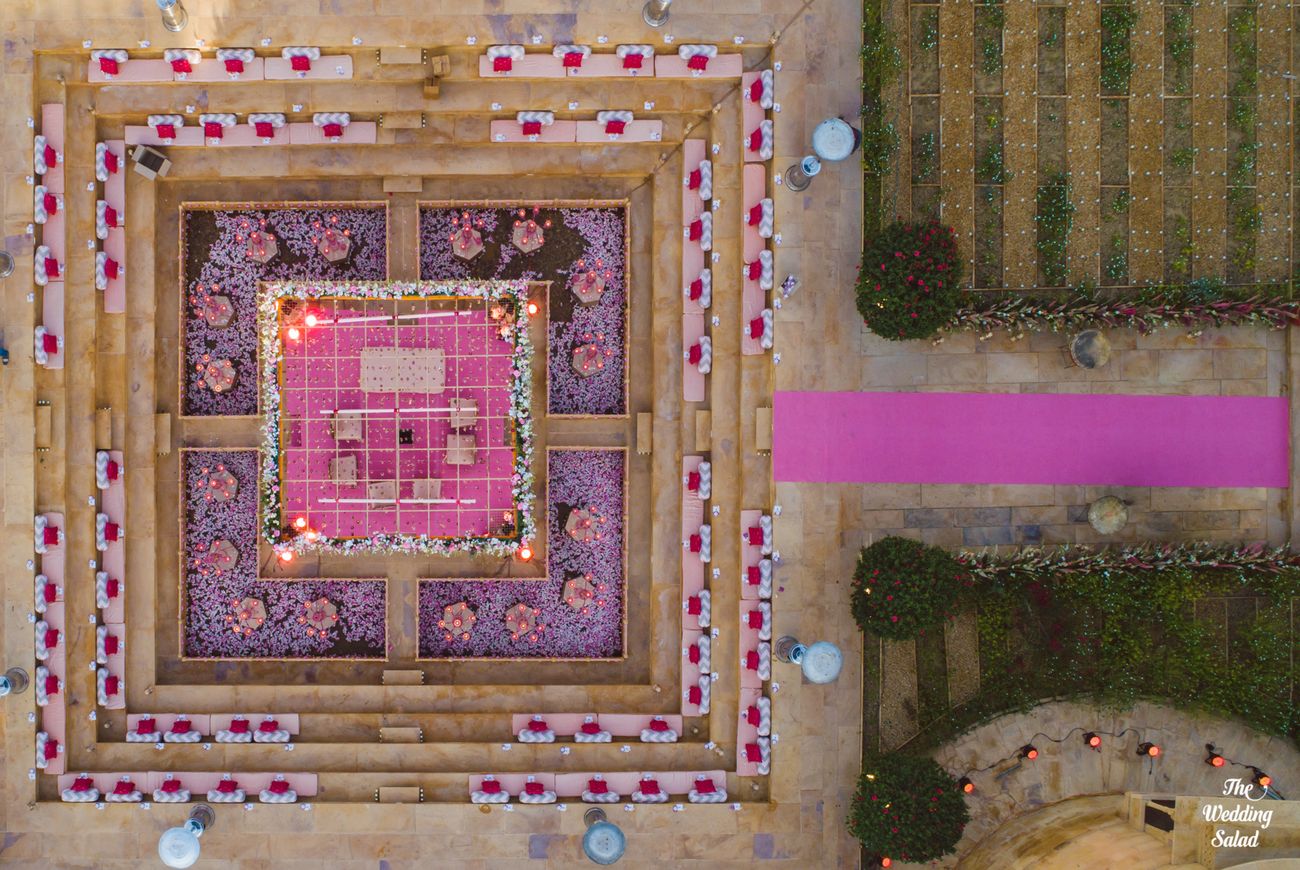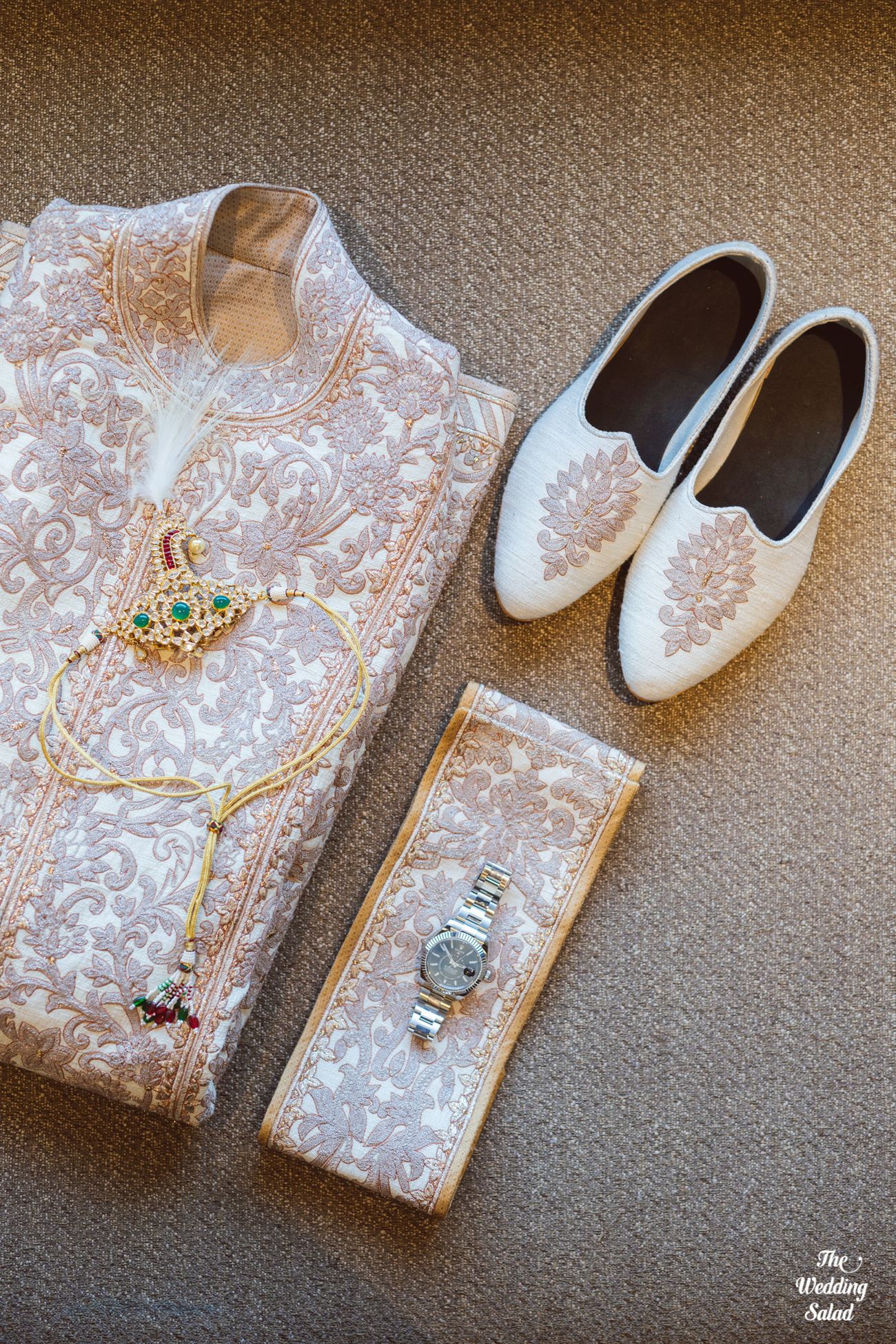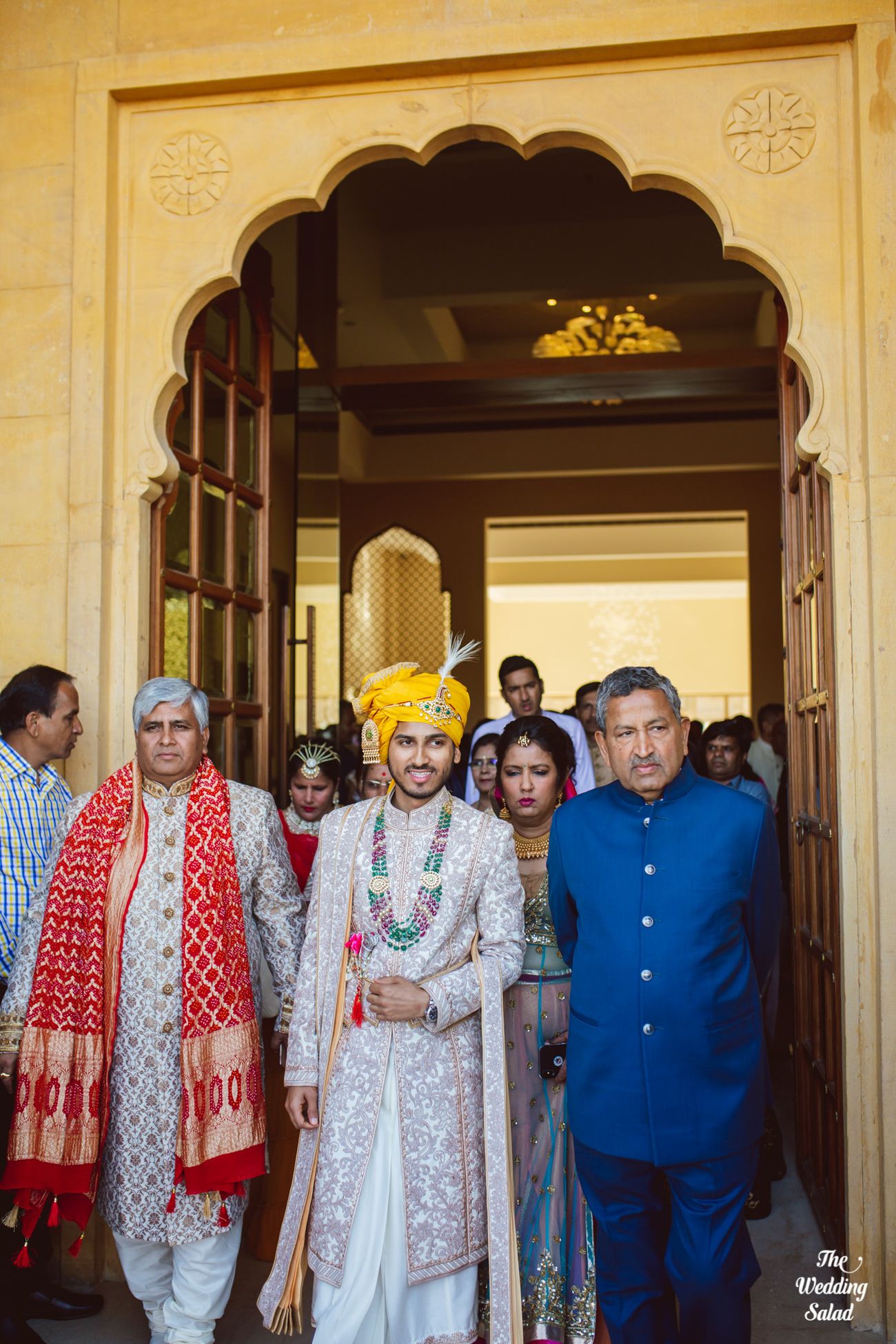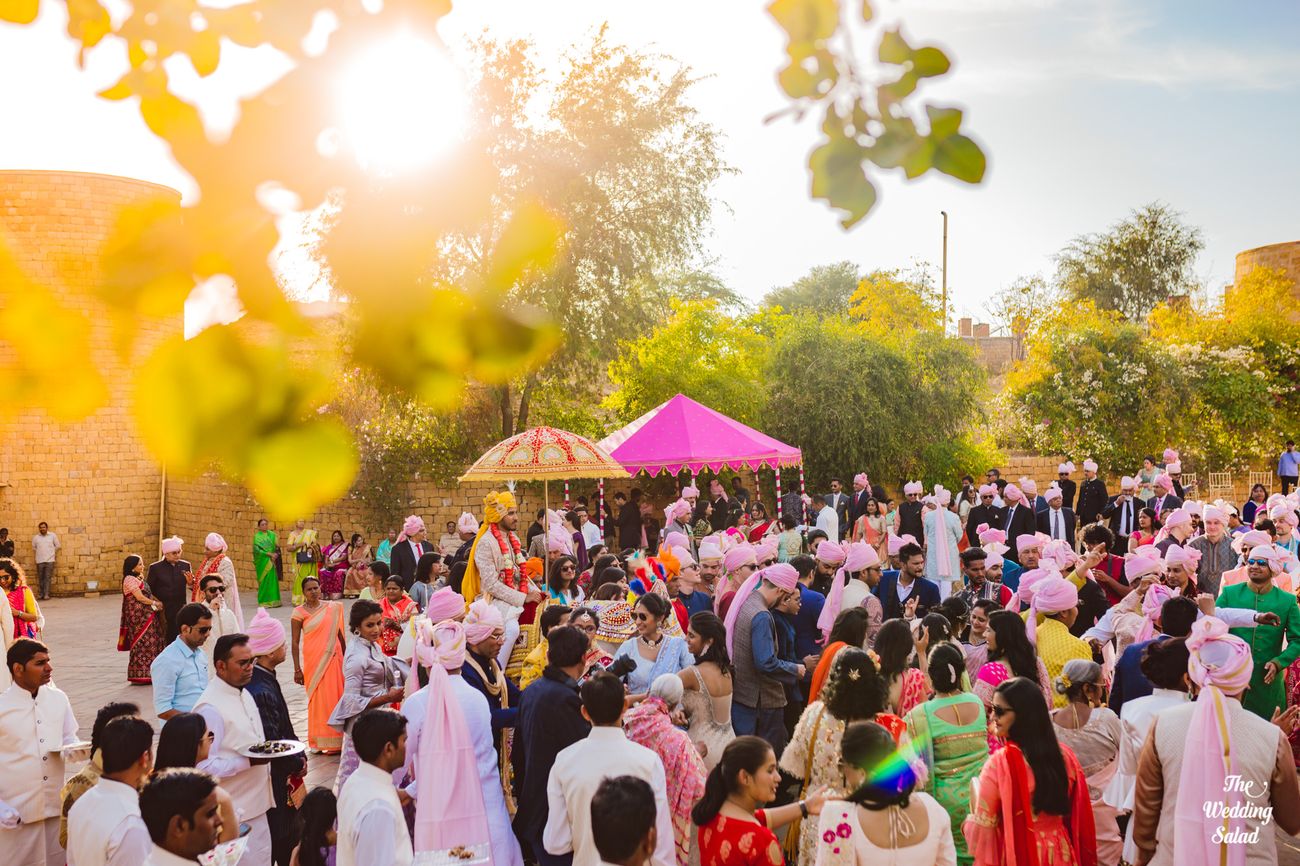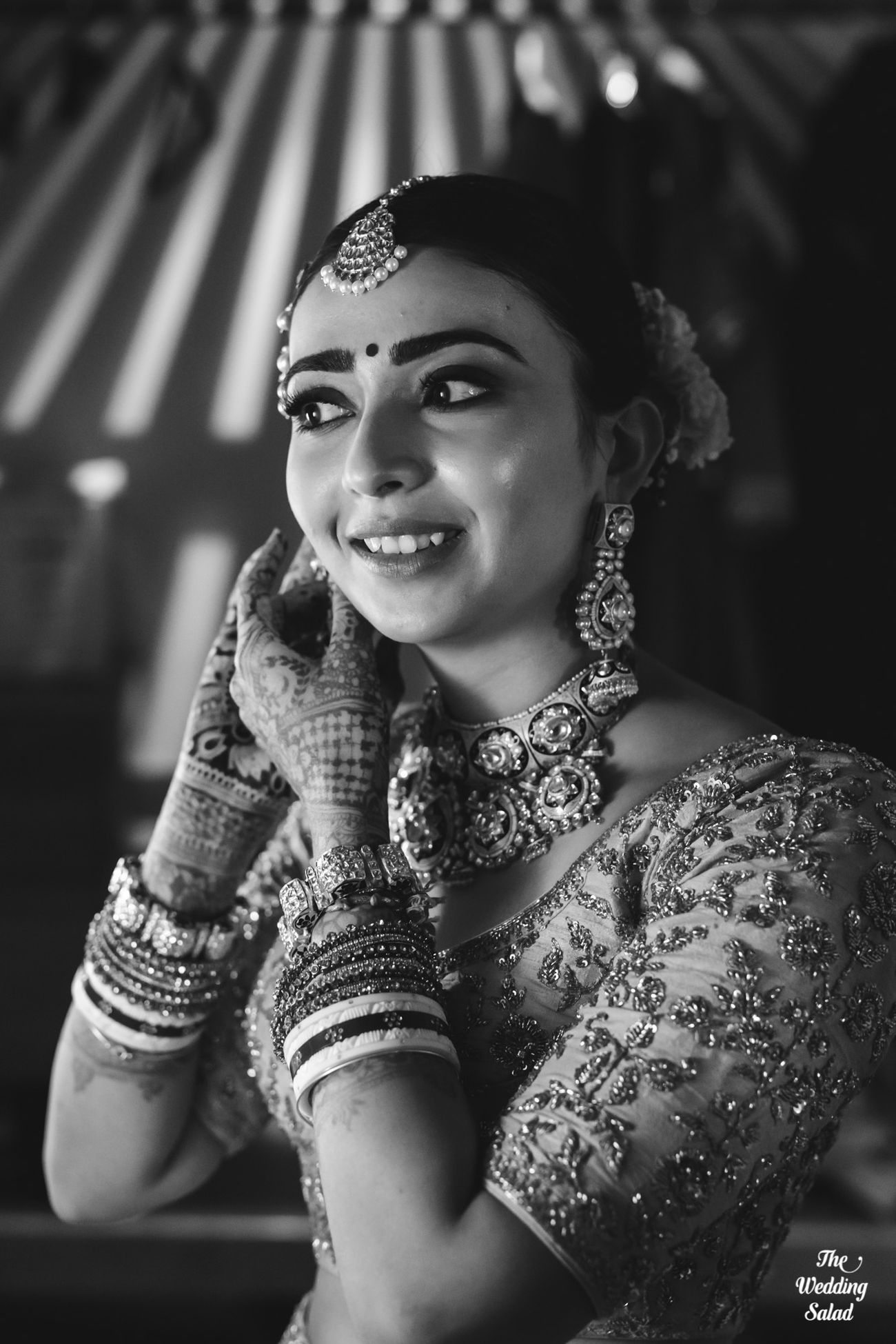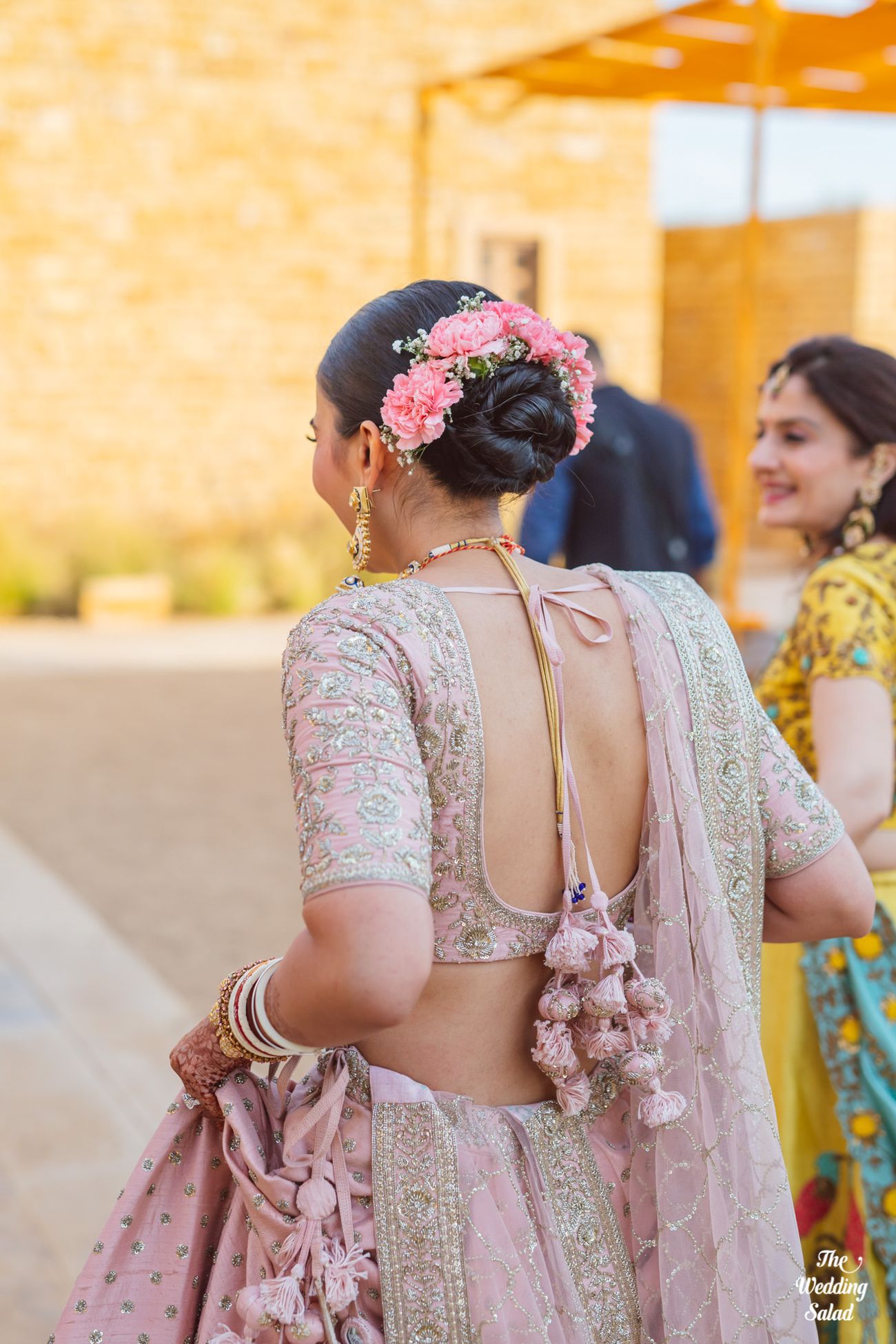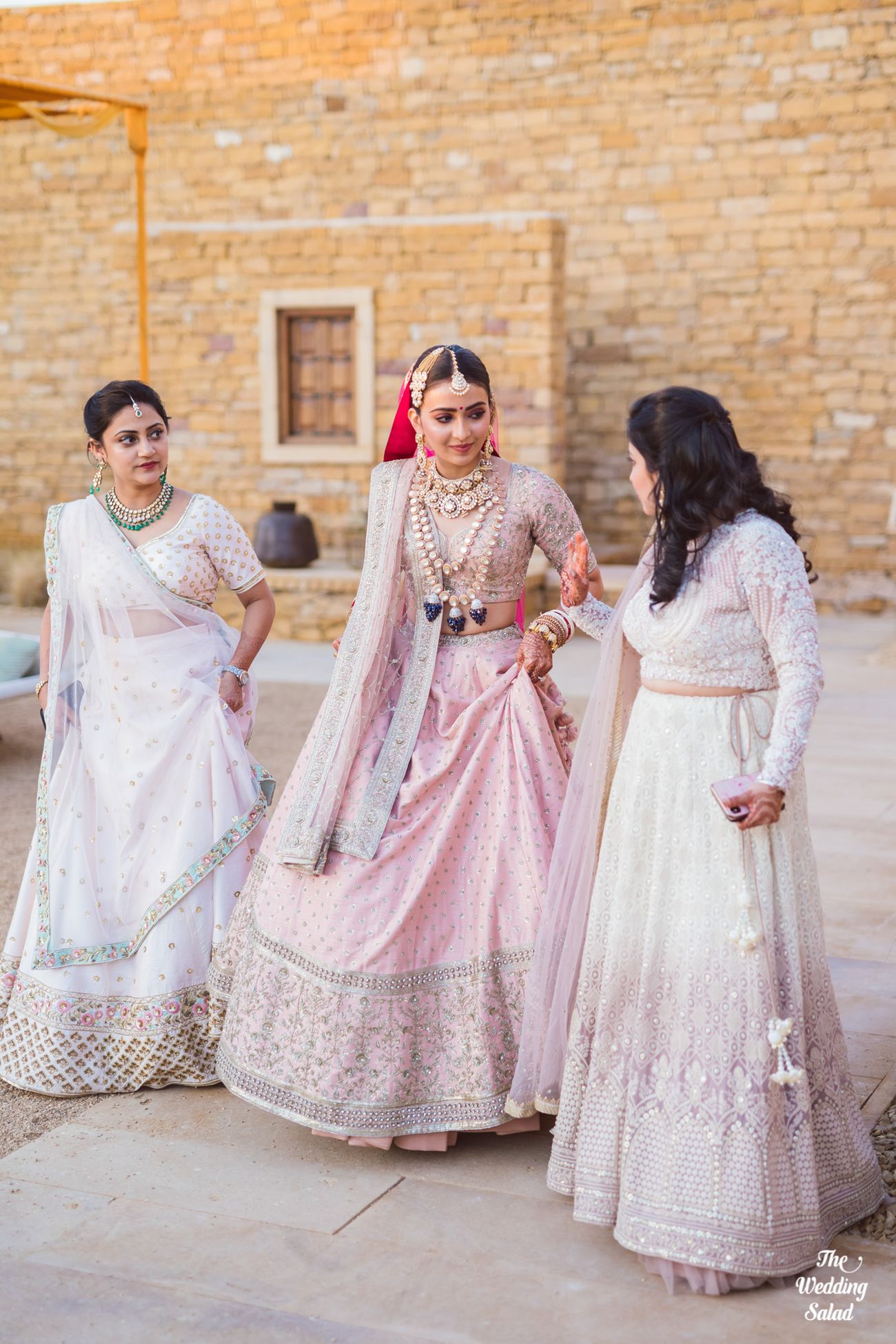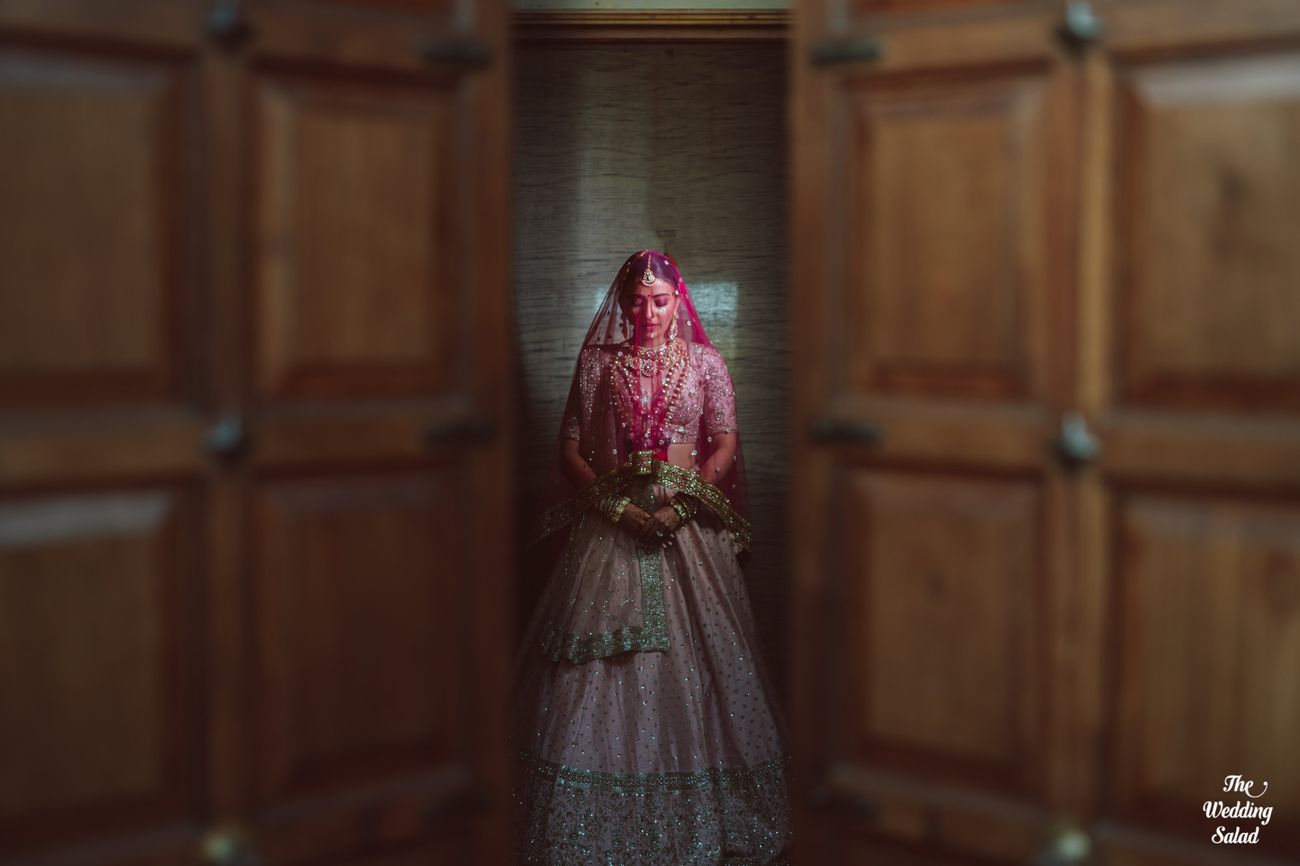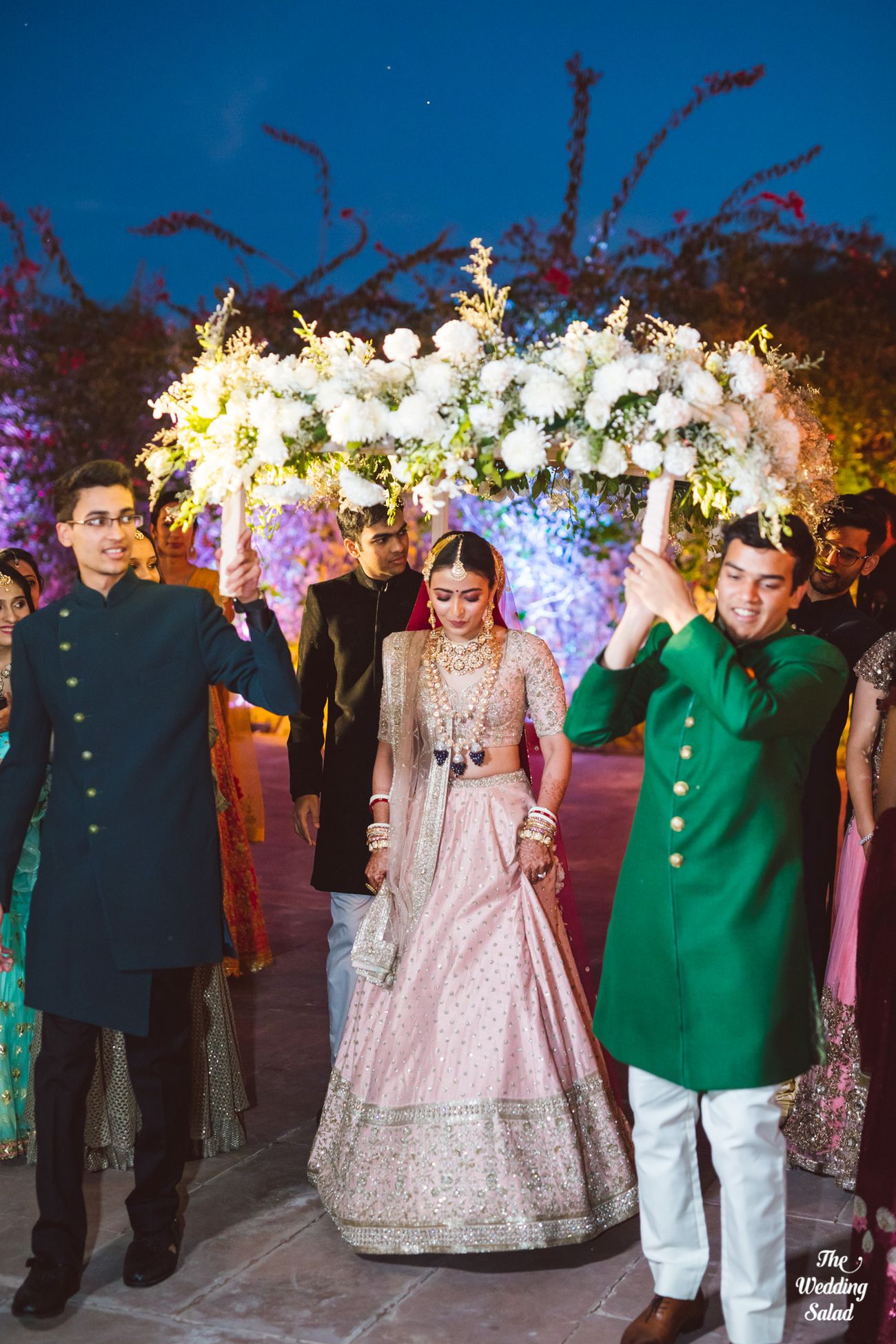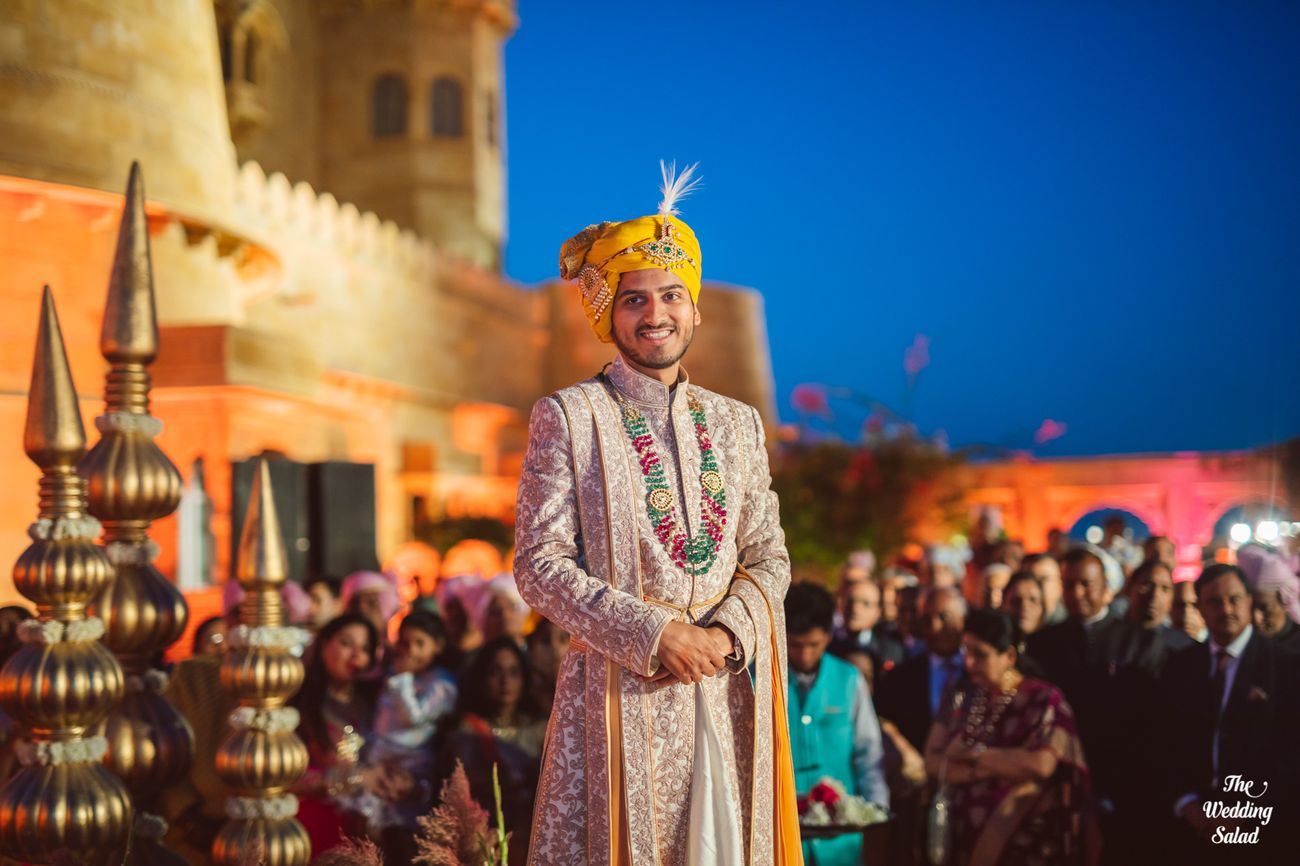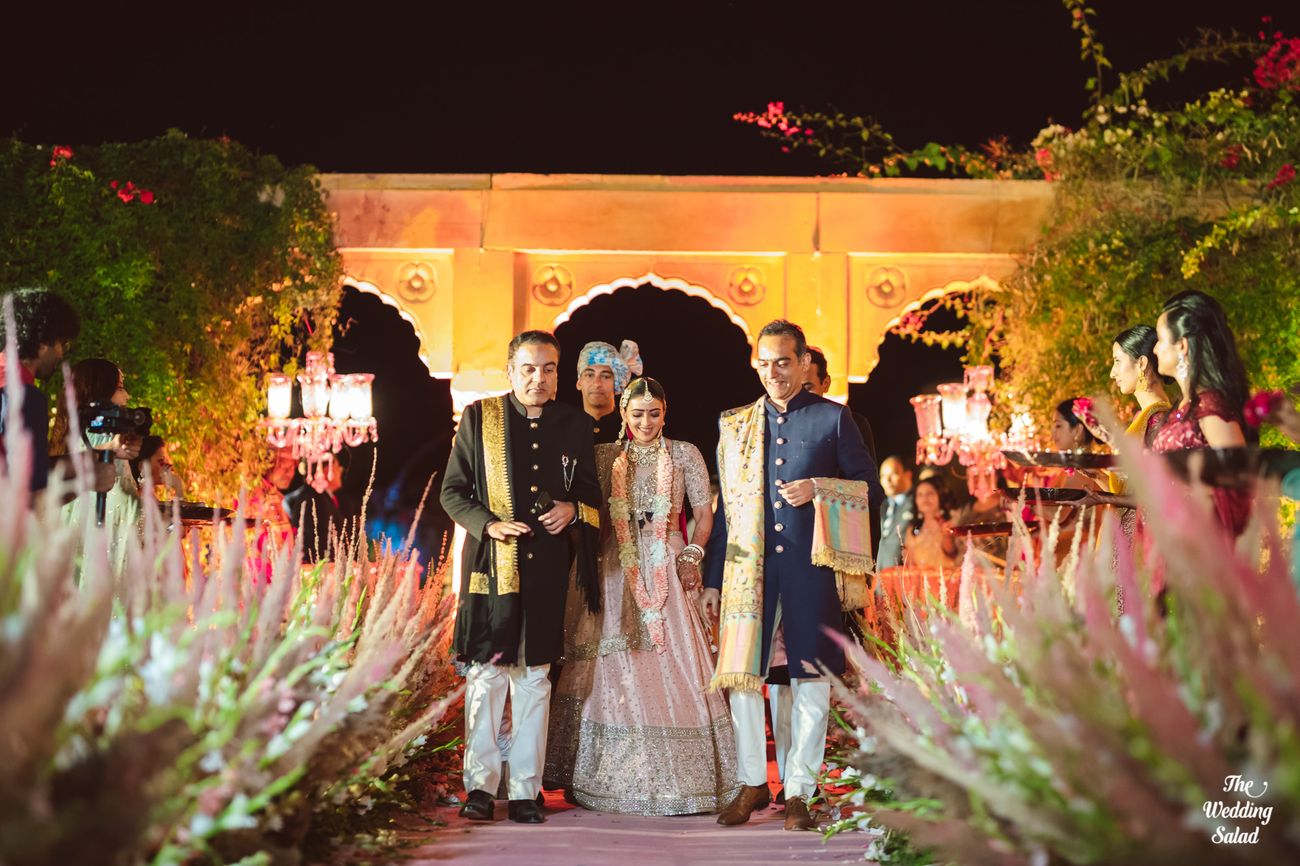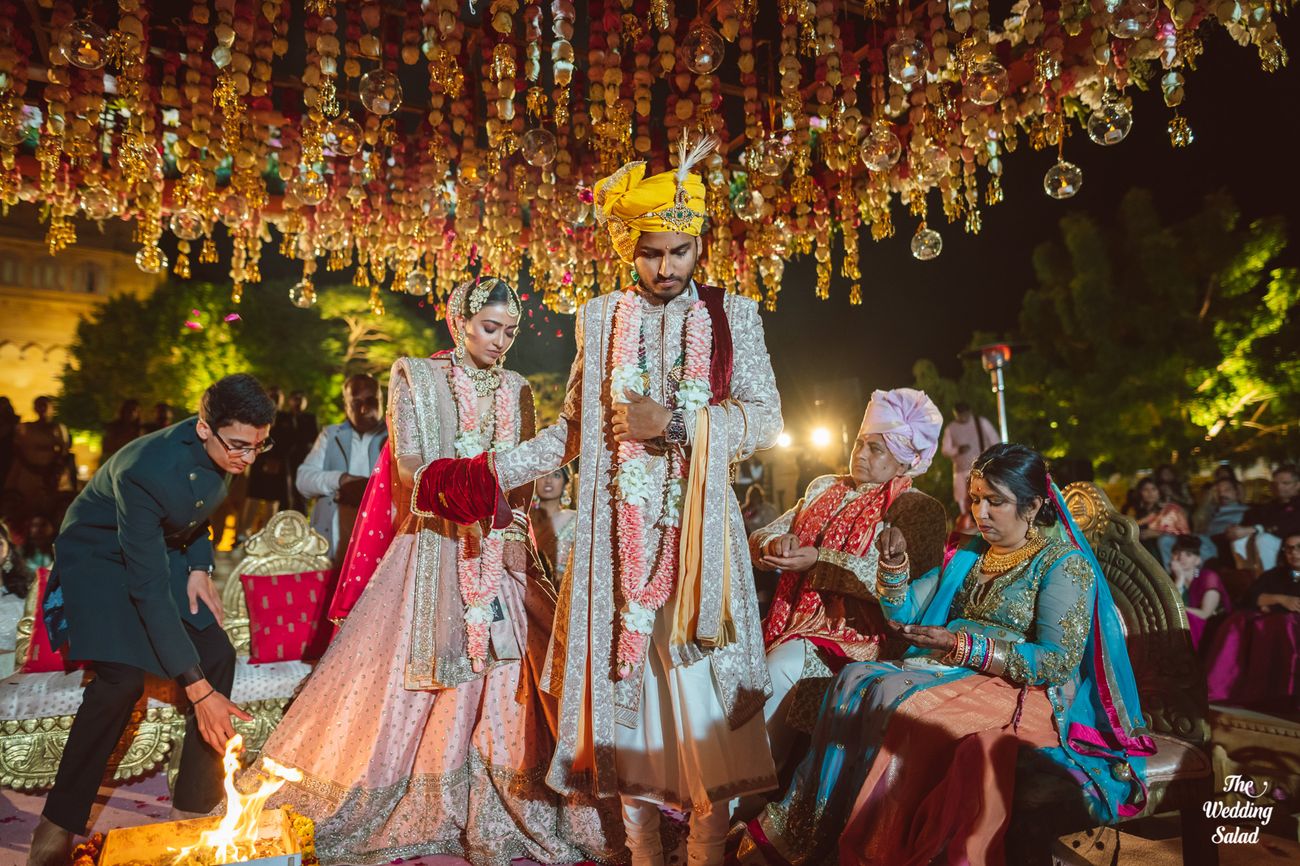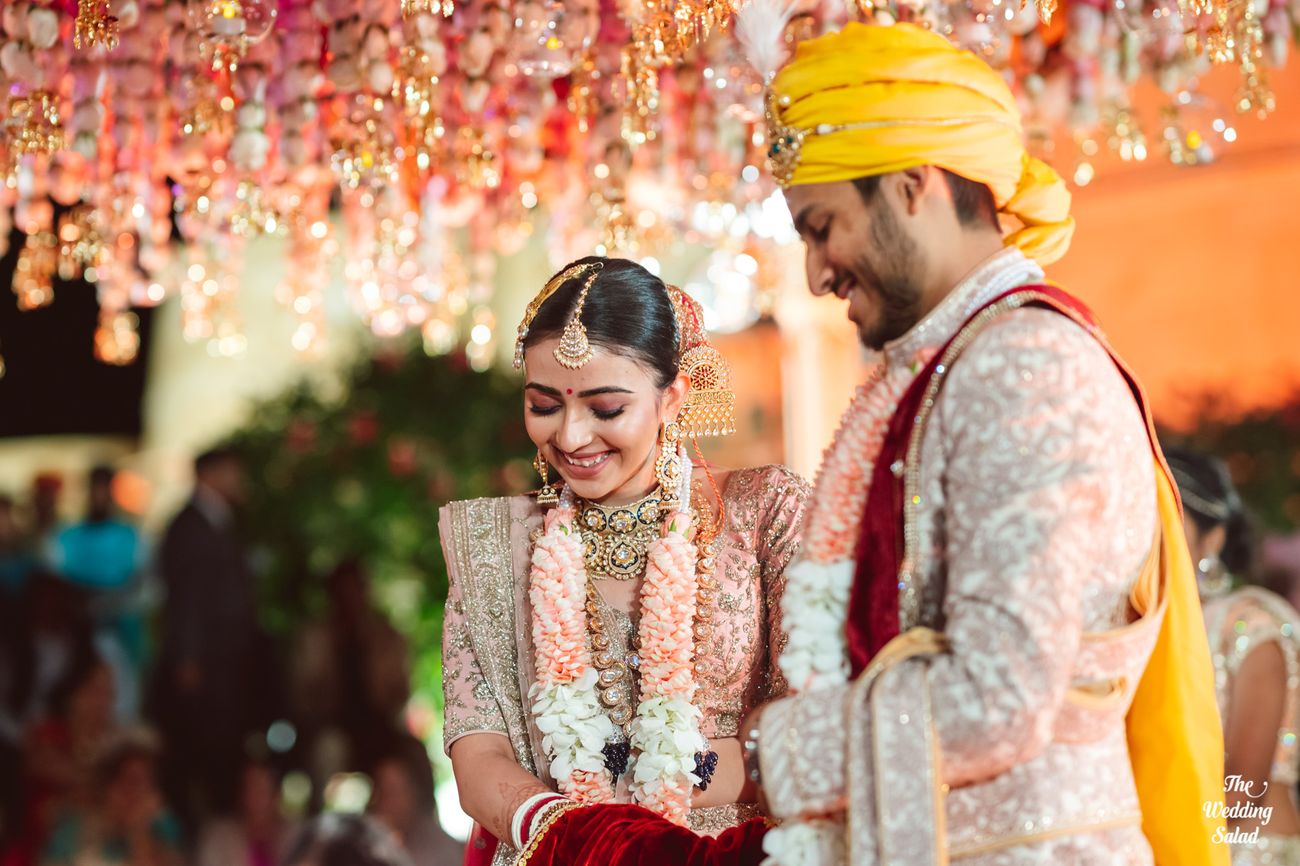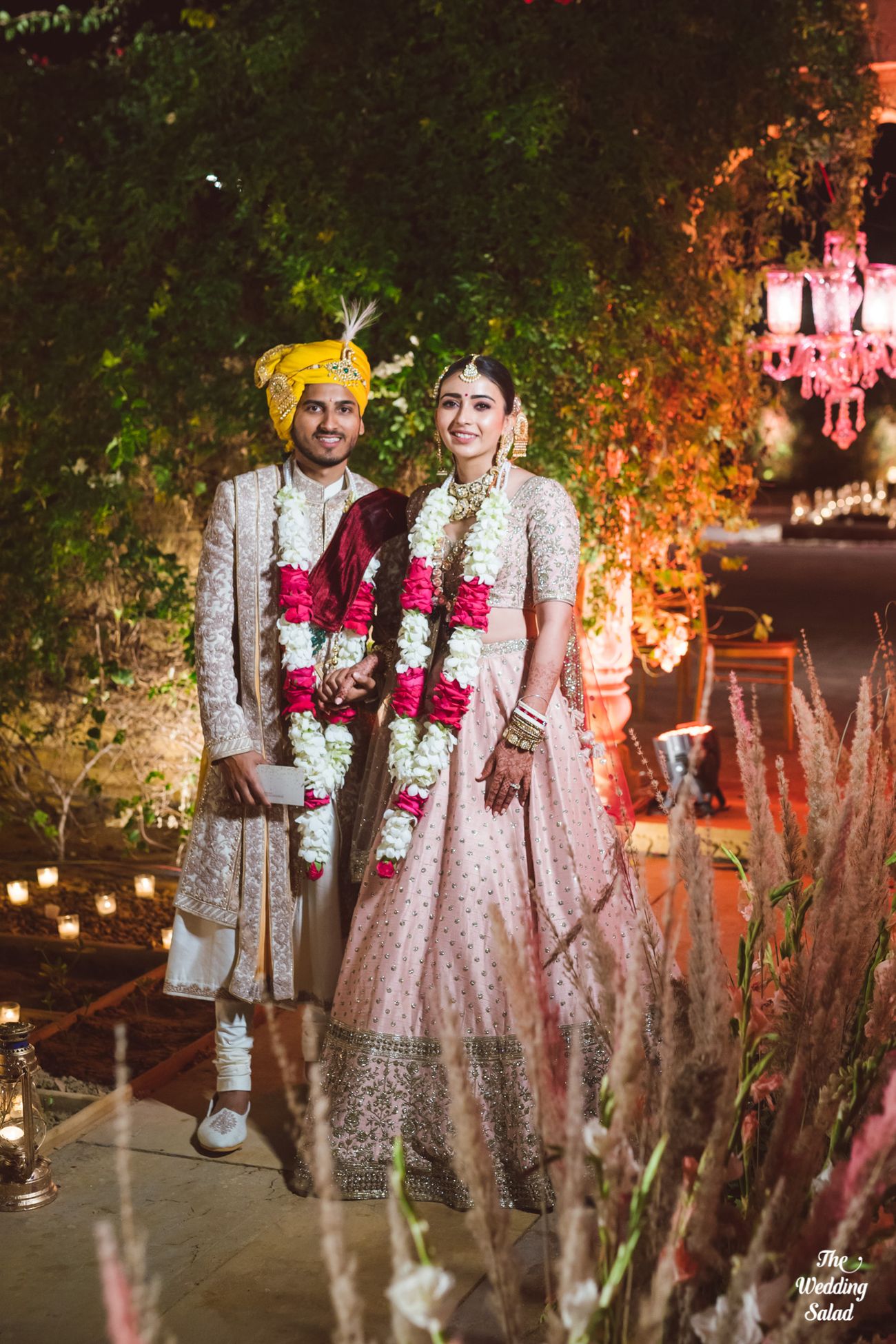 From The Bride: 
We had a mix of traditional and unconventional events, which struck a good balance and in the end led to crazy fun. None of our events took place in a banquet, everything was outdoors and with such a beautiful setting, we were glad we could encapsulate the beauty of Jaisalmer in it all. As for my involvement, I had dedicated my heart, body and soul to this. From being in the know of every event flow to choosing fonts, I had to know it all, and do it all. I wanted this once in a lifetime event to be as memorable and perfect that it could be. 
The Unique Functions At The Wedding
Dunes before the I do's: The youngsters' sun downers took place in the middle of the desert. There was a mix of low and high seating, lots of lanterns and of course sheesha. The vibe was amazing, super chill and as the night progressed, almost everyone was on the dance floor, dancing like there's no tomorrow and having a blast. It was a different high to see our loved ones celebrate with us in such a way, on our big day.
Rann Ki Holi: Playing holi (even though with just organic colours) at a
wedding, in Rajasthan in January. This idea didn't sit too well with everyone
but we wanted to do something different so we stuck to it and we were thrilled to see all our friends and family having the time of their lives being covered in gulal from head to toe! The event was a pure colour riot and turned out exactly as per my imagination.
Sangeet: Looking to do something different, we started with the venue. Our
stage was the centre courtyard of Marriott hotel, surrounded by a water body and giving the guests a 360-degree view of the entire place. We had a carousel bar, tents with buntings, funky seating and a deep colour palette that brought it all together. It was a glamorous carnival and I loved it!
Sparkling Brunch: A laid back, chill setting where people were grooving to
jazz tunes, sipping champagne and the entire courtyard was covered in pastel, sorbet hues. I had friends come up to me and say that they would never be able to go to any basic brunch because this was something they'd never seen before, especially at a wedding!
Wedding & Reception: The most unique thing about our pheras was the
mandap itself. It's called the 'Bawdi' and it's an amphitheatre style setting,
almost akin to the Benaras ghats. So while Pranal & I were busy getting
married, all eyes were literally on us as we were surrounded by guests from all sides and it felt so surreal at that time and moment. Pretty much everyone was present through the whole ceremony. The reception was a meet & greet style, the venue was completely lit with beautiful candles, there was a band playing as well and the atmosphere was superb. I couldn't have asked for anything more.
Palak's Favourite Moment
To pick a favourite moment from this entire celebration is honestly, too difficult. However, if I had to, it would definitely be my husband's surprise performance where he even got me on stage and we danced together. I was obviously clueless as to what was happening and seeing that look on my face he just asked me to follow his lead, and so I did. Before the performance all the lights dimmed and a video clipping was played for me, with Pranal's voice. The message from him was beautiful and touching.
The Personalised Elements In The Wedding
So, Pranal's close friend and my sister hosted the Sangeet. They both worked on the script and the way they delivered it was just fantastic. It was so detailed and so personal, I was literally cracking up with each statement made. It was extremely thoughtful and entertaining at the same time, super glad that they did this for us.
And for the pheras, we'd placed a pouch of rose petals, a 'vows-decoded'
placard and bells on each seat. As soon as the 7th phera was done, all the
guests started ringing the bell. That moment gave us goose bumps and it
felt very pure. 
Vendor Reviews: 
Photo and Video: The Wedding Salad team was super fun to work with. Even though I was camera conscious, they managed to get just the right shots. The end result was fantastic. The images were simply WOW and the video captured so many details and memories, leaving us with a wide smile on our faces.
Décor: Janki Desai and her team at Alt Air brought all the events together so
well. The execution was on point and everything turned out to be exactly the way I'd imagined it. Each setting felt like a dream and it just kept getting better.
Event management: Nidhi Jani and her team at Enjay Events ensured smooth coordination for all events. They were extremely patient throughout the whole process and did a great deal to make everything successful.
Vendors: Venue: Suryagarh, Jaisalmer  & Marriott Resort and Spa, Jaisalmer; Makeup Artist: Mitali Vakil ★ 5 ; Photography & Videography: The Wedding Salad★ 4.9 ; Wedding Decor: Altair★ 5 ; Wedding Management: Enjay Events and Entertainment★ 5 ; Bridal Outfit: Sabyasachi Mukherjee★ 4.9 (Wedding); Groom's Outfit: Tarun Tahiliani (Wedding); Wedding Invitations: Sketch The Design Studio★ 3.5