Beautiful Wedding in Hyderabad With a Touch of Glamour!
BY Latha Sunadh | 01 Oct, 2016 | 5771 views | 4 min read
A bride who knows how to rock a 6.7kg lehenga for her Sangeet? That's the stuff this wedding is made of. This telugu bride, Leelu really kept her sartorial style pretty with self-designed blouses and beautiful diamond jewellery and add, a Shriya Som flapper dress equivalent of a lehenga and ooh, perfect wedding to ogle at on our weekend! Plus, she was so resourceful that she painted 58 paintings to be used as a backdrop for her Mehendi - how cool is that!!! Photography by 1plus1 Studio★ 5 by Manvi Gandotra is on point and beautiful!!
Meet Pavan & Leelu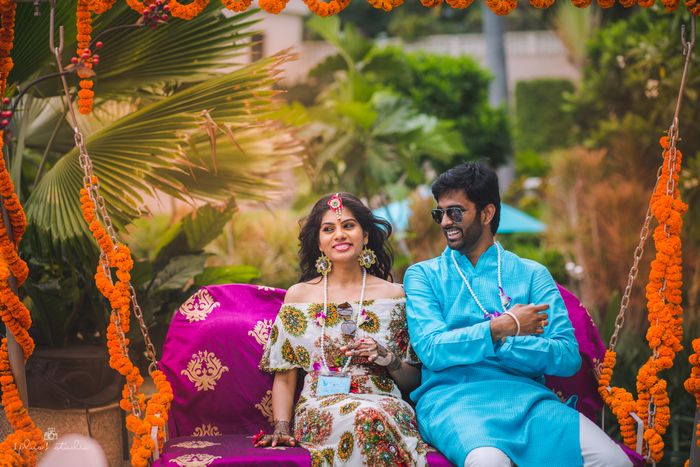 "I met Pavan when he came to India for his sisters wedding ( Jan 2015 ). We had good vibes from start and we had been in touch by texting after he left. Later in June we had a formal meeting at my aunts place when I went to do a course in New York. We liked each other, both the families also felt we would make a good pair and the dates were set immediately. We got engaged in Feb and tied the knot on Aug 7th 2016," explains Leelu. 
The Sangeet
The Wedding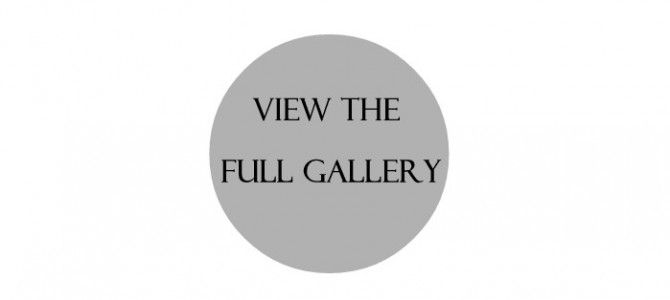 From The Bride:
"Pavan always said that 'just the bride is important to me' when it comes to the wedding. So he was not at all particular about any of the arrangements and left all the options open to me. Everything was well planned, Pavan got his ethnic wear custom made from Kadambini boutique ; he ordered when he was there in Hyderabad for the engagement. We kind-of tried to match our outfits and complement each other! One of my favourites is our sangeet attire, the black and white. I have got my outfits matched with my jewellery and vice versa. We just wanted our guests to enjoy the all events and ceremonies as much as we did !!  A cheerful, colourful and beautiful wedding with loads of fun :) I will any day thank parents and give them the credits for the way all the functions happened," adds Leelu.
"As for my wedding saris and blouses - they are all self-designed! Wedding blouse has the 'Suryavanka' (sun) and 'Chandravanka' (moon) motifs, work done with zardozi and stones. They matched the jewellery given by my grandmother. For the Sangeet, Kamini (of Angasutra) helped in choosing the outfit and I have got it completely customised. I call it a fairy tale dress. And Shriya Som team did a great job. (Dress weighs 6.7kgs :P). Our Mehendi was super fun. I had arranged for 58 paintings that I have made as one of the backgrounds. They made the place look colourful with all the props and décor. Orchid & pearl garlands were given to the guest to have a tag for themselves. As I was born during Sankranthi festival I wanted to have kites all over the venue. There was a live bangles counter, parrot reader, rajasthani dancers along with kachhi ghodi and Stilt walker.," adds Leelu.
Vendors: Venue: Mehendi & Sangeet at Taj Krishna; Wedding at Novotel Hyderabad★ 4.7 Decor: Sangeet by Aata Sandeep; Mehendi by Anjan Agarwal; Wedding by Sridhar of Ambica Flora Décor Mehendi Artist: Bhavna Parekh Bride's Outfits: Sangeet lehenga by Shriya Som - Angasutra; Mehendi outfit was Custom made- Self Design; Wedding sari by VRK Silks; All the blouses are self designed Groom's Outfits: Sangeet outfit by Hugo Boss; Mehendi  & Wedding outfit by Kadambini Boutique; Suit by Hugo Boss Groom's Accessories: Belt by Louis Vuitton and Mont Blanc; Shoes by Ruosh and Gucci Jewellery: Sangeet by Sri Mahalaxmi Jewellers & Pearls ; Mehendi jewellery is Earrings from Bali, Indonesia; Floral jewellery by Pellipoolajada★ 4.2 ; Wedding jewellery by TBZ, Malabar Jewellers★ 4.8 and GRT Jewellers★ 4.5 Makeup: Siro Make-up Studio - by Edward and Zing★ 4.9 Invitations: Utsav Cards Photographer: Candid  - 1plus1 Studio★ 5 by Manvi Gandotra; Cahaya★ 5