15 Brides Who Wore Sarees For Their Reception- 2019 Trends You Shouldn't Miss!
BY Soha | 22 Feb, 2019 | 74 views | 8 min read
I will accept- my Mom has such gorgeous sarees that I wouldn't mind stealing them the first chance I get!
As a child, I would often wrap my mother's dupattas around my waist and pretend to be a bride. And I would always ogle at her wardrobe and run my hands over her sarees, whenever she'd lay them out on the bed, soaking in all that gorgeousness. Oh how I would wish I could wear those stunning beauties in soft fabrics and pretty designs! Sarees are something that define the Indian culture and can literally be worn by anyone and anywhere. Brides outside this country have a sense of love for this outfit for them to add them in their wardrobe.
All that daydreaming has brought me to the present, old enough to be wearing a saree whenever I want. But here's the catch- where do I wear one? Unless it's a south Indian wedding, more and more brides these days are choosing to ditch the saree and opt for more offbeat options like gowns, or maybe even lehenga sarees. Are you one of those? If not, and if the timeless beauty of a saree appeals to you on an emotional level like it does to me (Hi-5 sister!),  then this article is all the inspiration you will need to take out those stunning sarees that your mom and grandmothers own and get them styled and ready to be worn at of your functions! Not necessarily a designer wear, but a few ideas for you to contemplate as to why not? So easy to wear, carry and look absolutely stunning on your special day.
Here's looking at 15 brides who stunned in sarees at their reception!
Meet The Bollywood Bride Who Got The Ball Rolling In A Signature Sabyasachi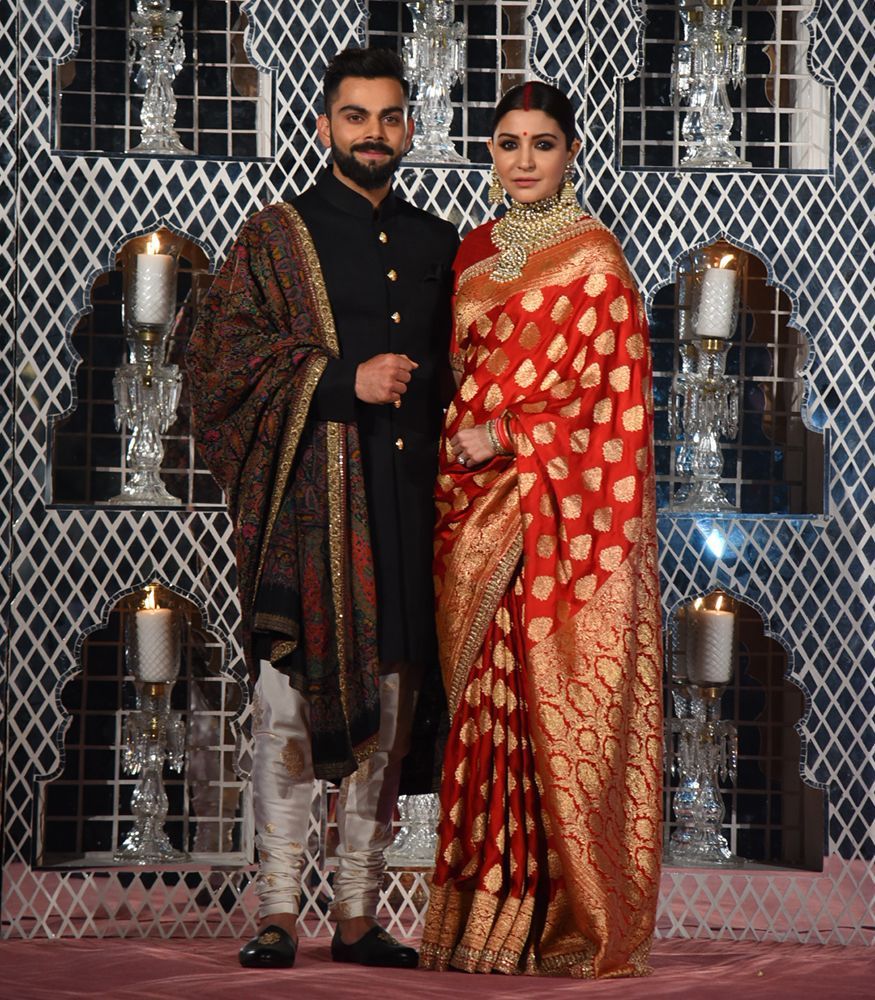 A fine Benarasi is the perfect choice for reception sarees. Agrees Anushka, who wore a traditional Benarasi Sabysachi saree with an OTT choker!  Being a celebrity she won many hearts by pulling of such a look that the former brides adapted the same in their very own way making it an apt reception saree look! She completed the look with a sleek bun and sindoor in her head.  Timeless, we say!
Deepika Padukone Also Stunned In A Gold Saree At One Of Her Receptions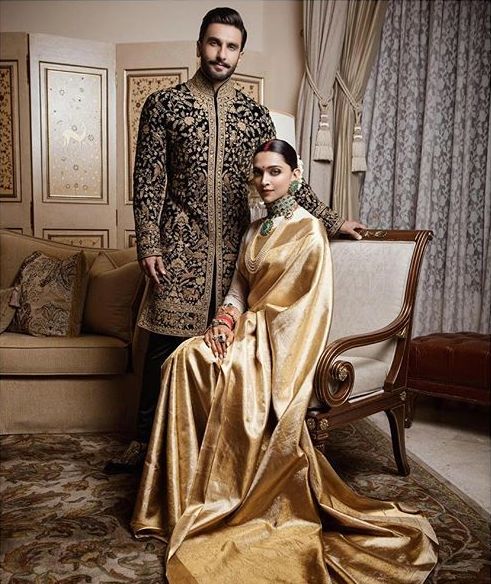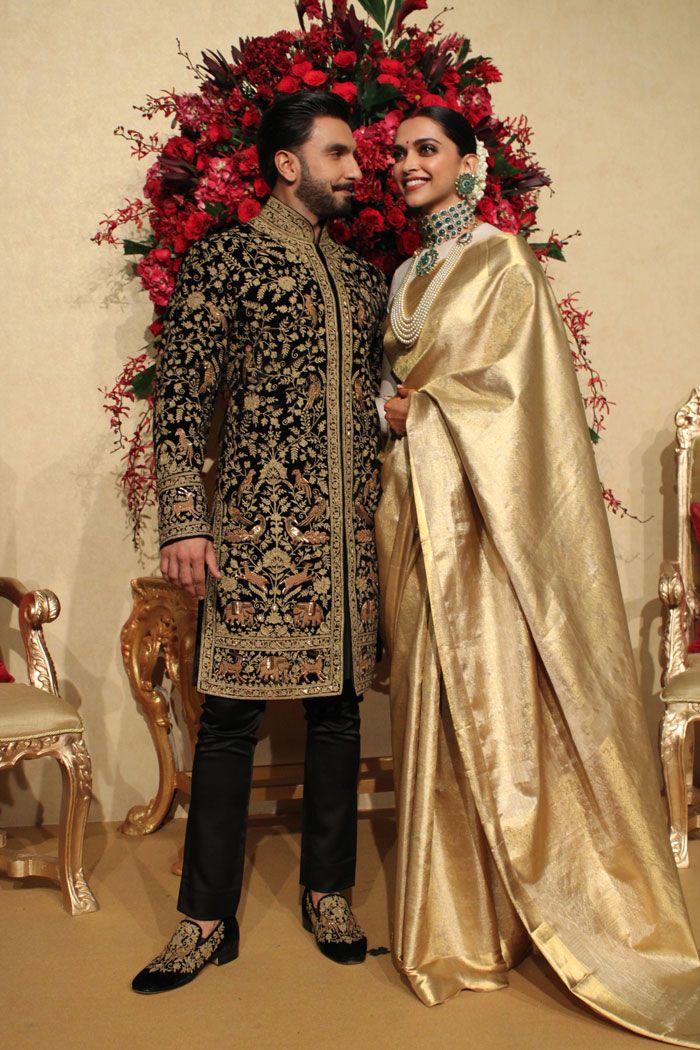 Diva Deepika Padukone wasn't far behind when she stepped out in a gorgeous gold saree for her Bangalore reception. She carried a similar sleek bun as Anushka's with a gajra and completed her look with a royal emerald-studded choker! Oh so stunning as she looked created major outfit goals for I'm sure every bride yet every girl existing!
We Do Not Need The Full Image To Agree That This Bride Looked Absolutely Ethereal In Her Dull Gold Reception Saree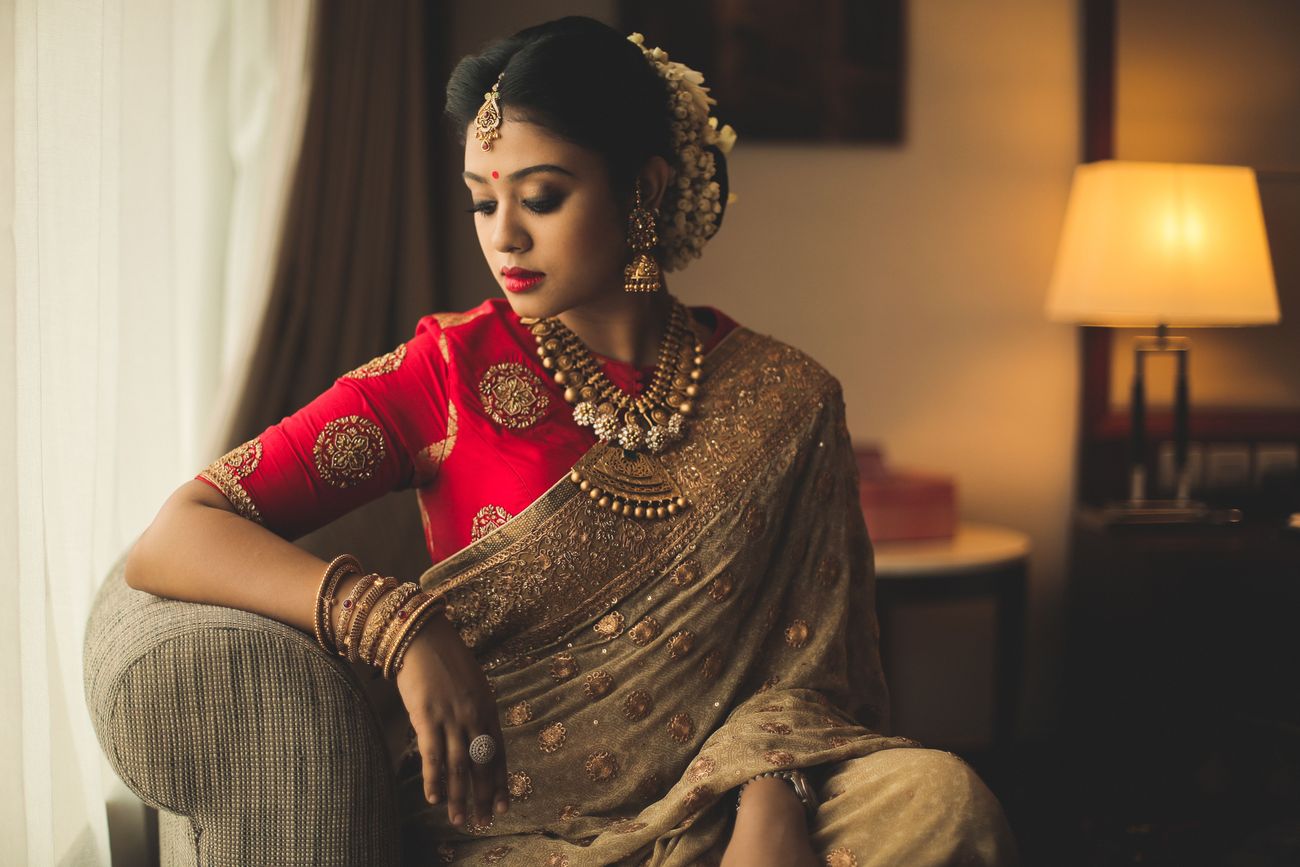 Contrasting reception sarees never seems to be a bad idea at all. We loved how this bride complimented her dull gold saree with a bright, popping red blouse! Her heavy, gold choker looks absolutely stunning with that outfit, don't you agree? A fine reception look.
And This One Who Looked Stunning In Cream Paired With A Satlada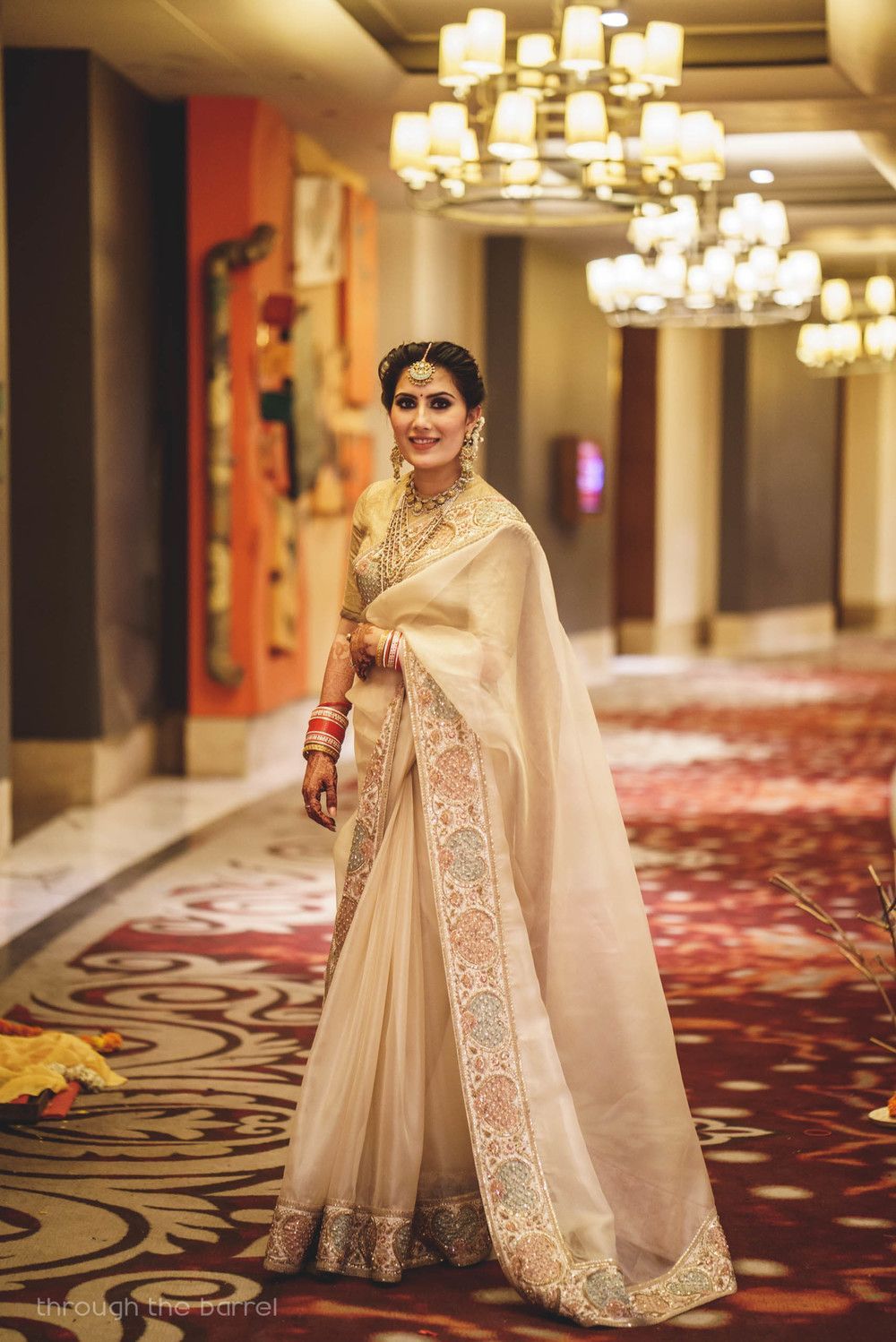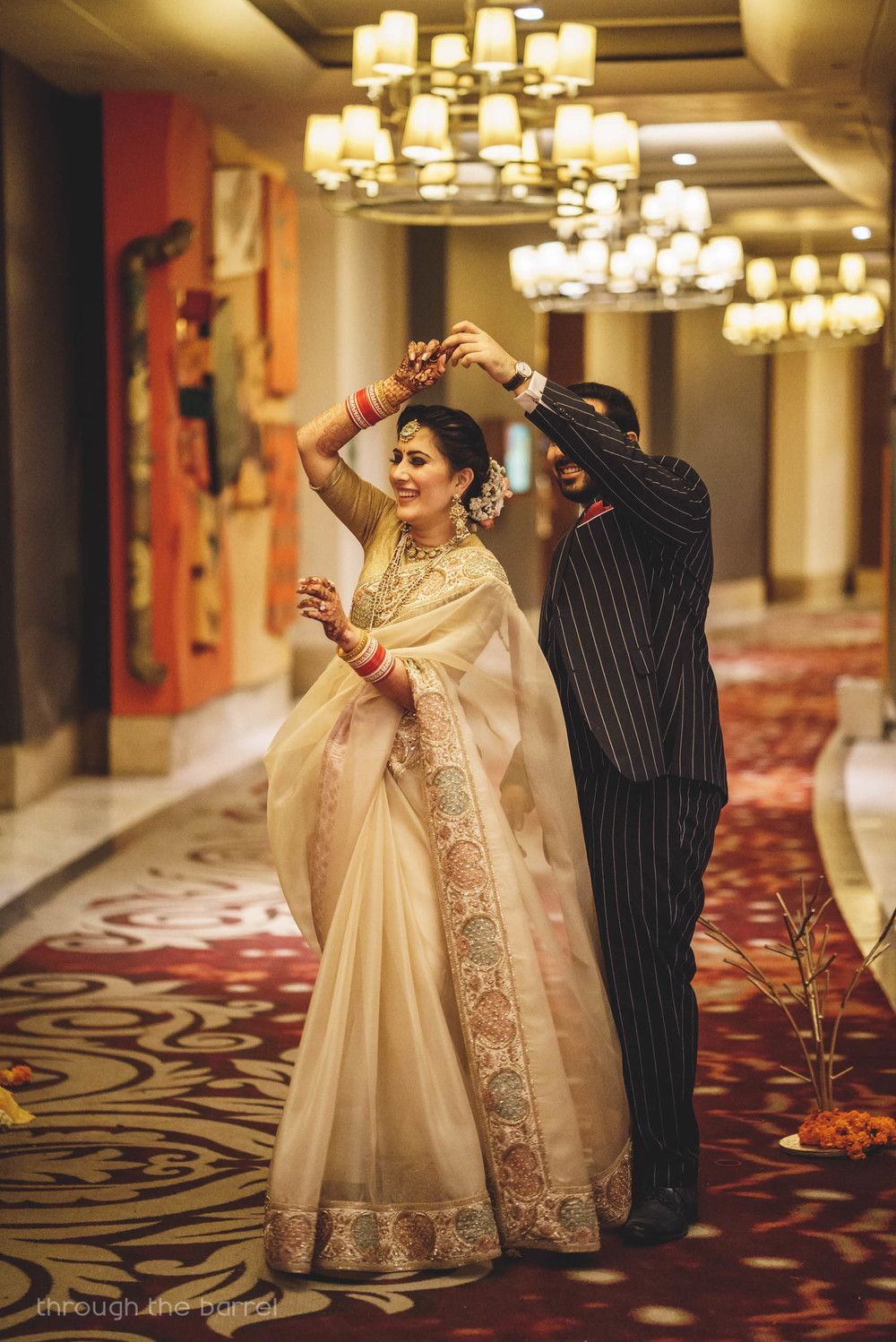 From Akansha & Hersh's Delhi wedding
Sarees for reception can never go wrong and this bride is proof! Soft and subtle makeup with a plain saree can be your go to look. A neat cream an light, embroidered border- nothing too fancy but stunning! This bride completed her look with a satlada and flowers in her hair.
This Bride Paired A Net Saree With Applique Work For Her After Party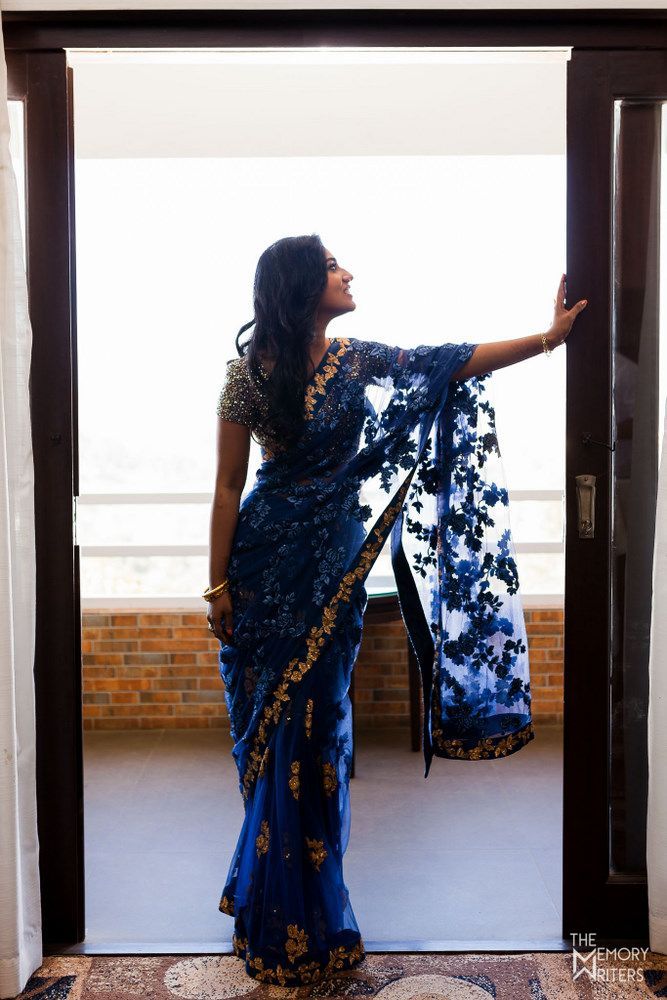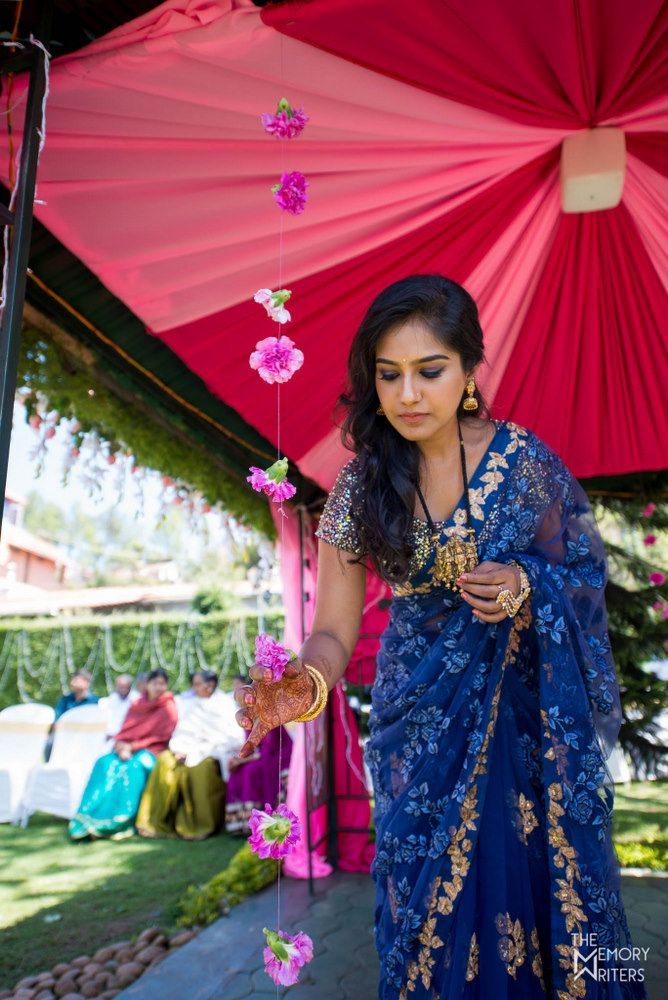 From Sowmi & Shiv's Ooty wedding
By now you must have figured we are absolutely in love with sarees for reception. We especially loved how this bride broke the monotony of blue with a golden statement temple jewellery necklace. She keeps it fancy yet elegant, all in one making it look like a bold and beautiful reception saree look. Don't you think the color contrast is making her outfit pop!
Something Soft, Something Pretty- That's What This Bride's Style Says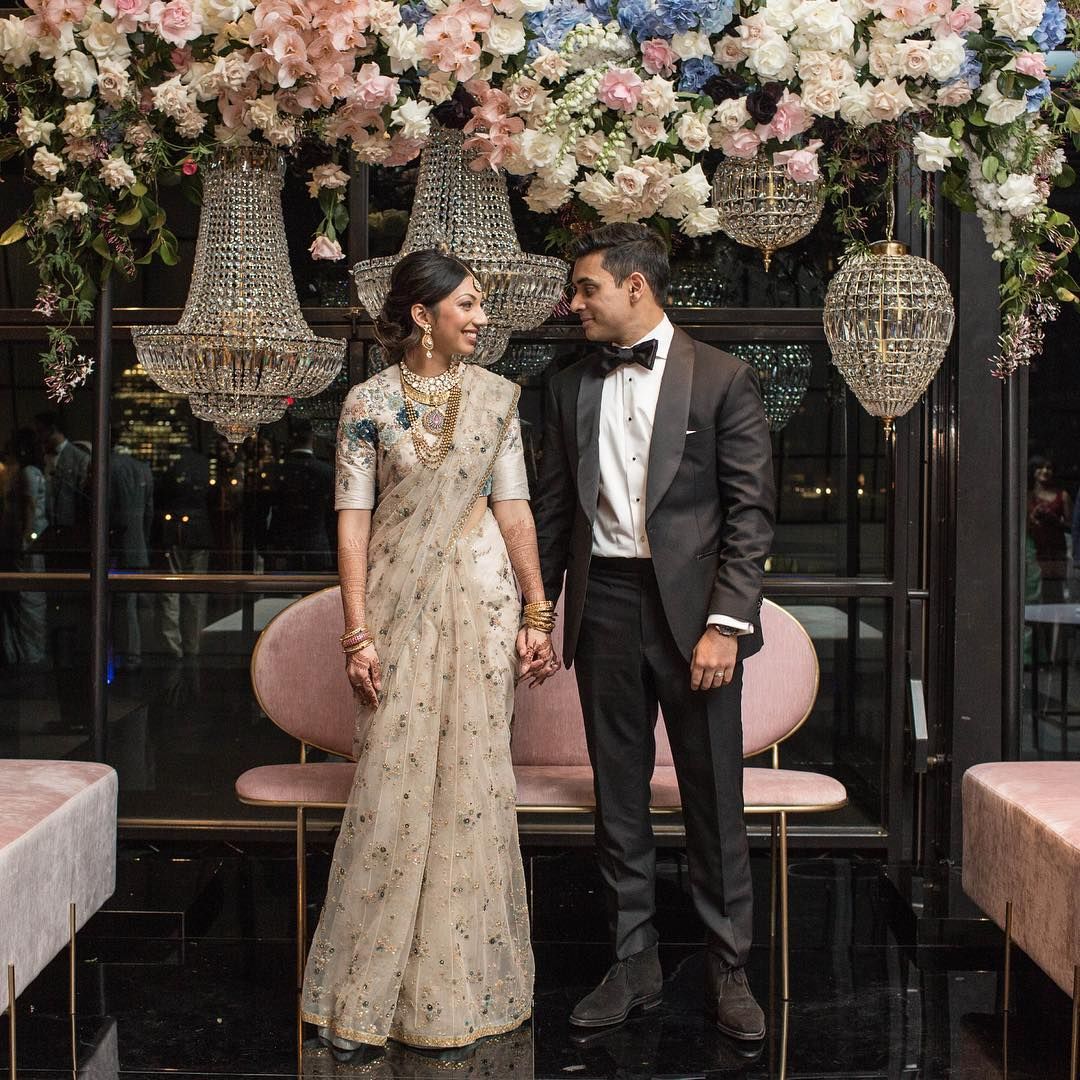 Image via Brides of Sabyasachi on Instagram
This bride, clad in a Sabyasachi ensemble was glowing and how! Who wouldn't love this excellent reception saree look. Something perfect for a day event. What we loved the most was her blouse with floral motifs  in complimentary colors! A light saree with a heavy blouse- the trick never gets old!
With Her Hair Tied In A Sleek Bun, This Bride Rocked The Desi-Bride Look With Complete Elan!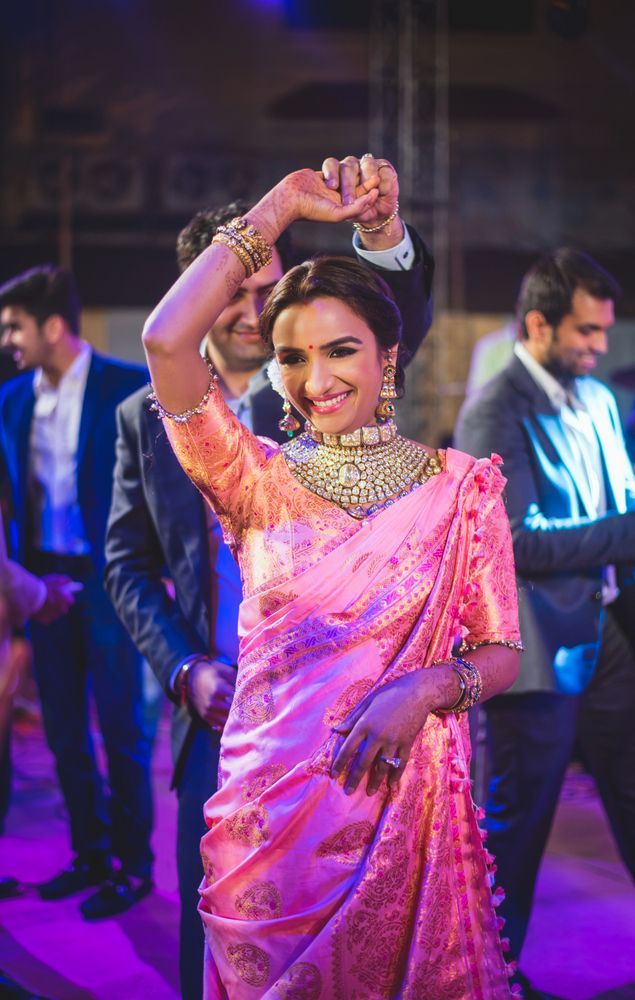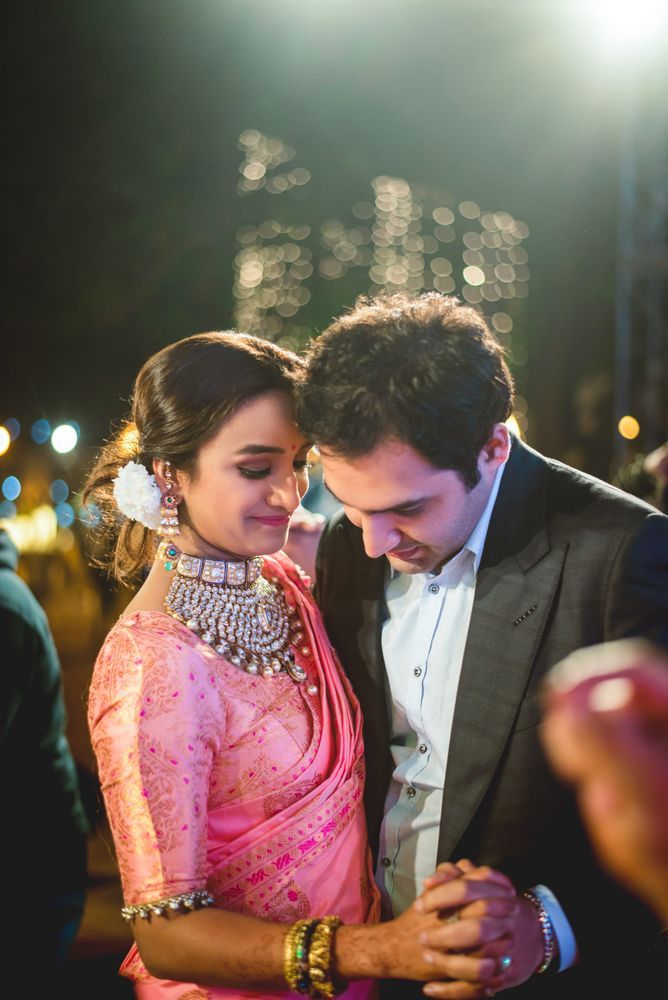 From Samaira & Dilkash's real wedding
We can't decide what do we love more? Her candy pink saree with those tasseled ends, or the stunning silver choker, or is it her sleek bun with a middle parting and that single flower. This bridal saree for a reception is nothing but to be loved, more so carrying it as gracefully as someone can. But the one thing we sure know is that sarees can never go wrong!
Or This One Who Stunned Us With A Simple Saree With A Gorgeous Long Train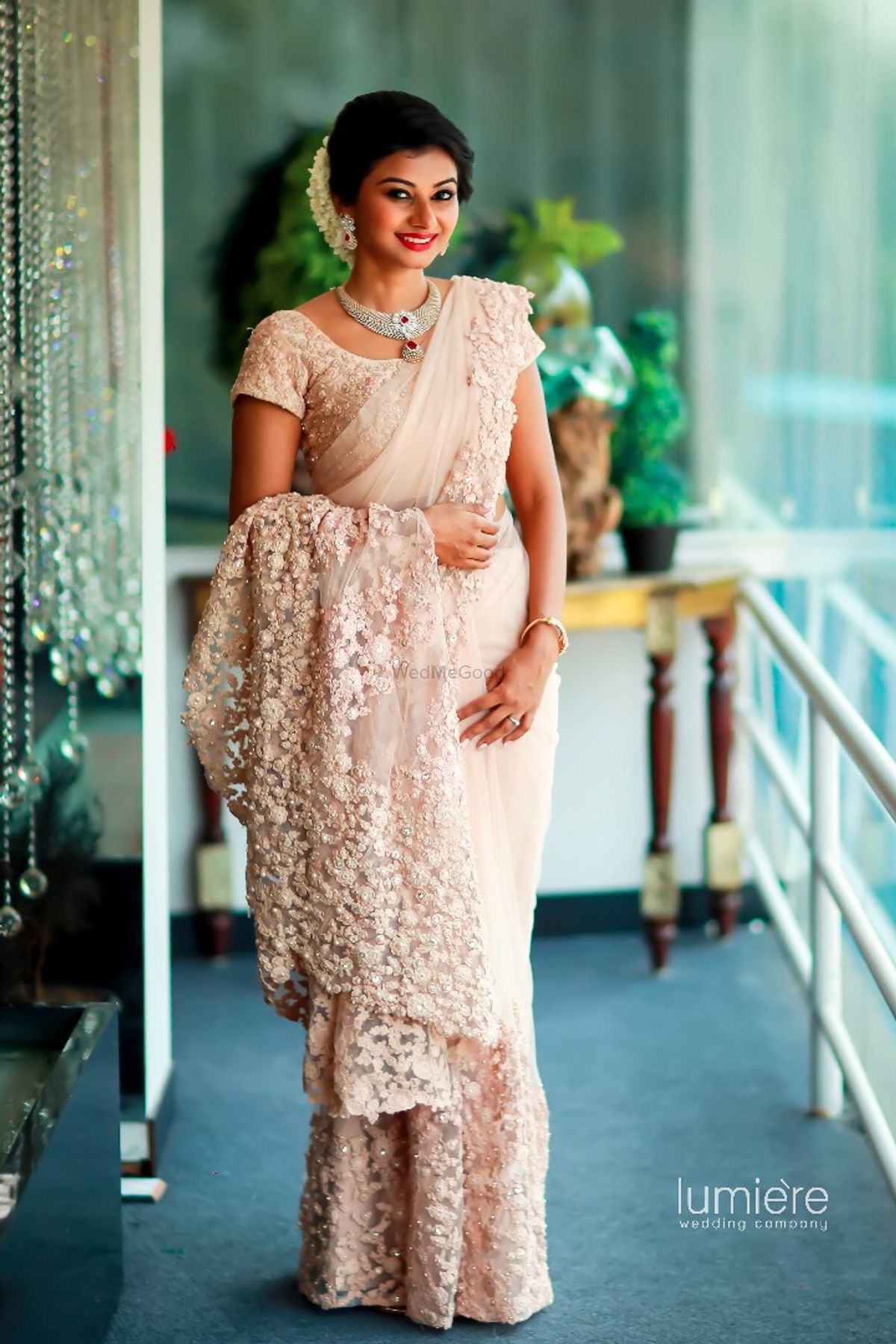 A simple, embroidered saree in shell pink with a long train- now that's sheer gorgeousness! And think of all the stunning pictures who you can get with that train- complete goddess-like look we say! This reception outfit as we say is simply draped saree which makes it different because of the train. Reception sarees for the win- hell yes!
Fashion Blogger Anam C Broke Away From The Cliche In A Saree With A Jacket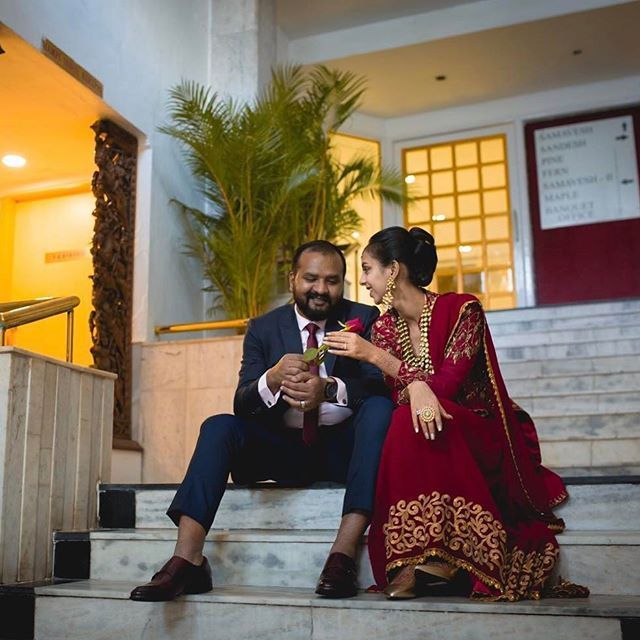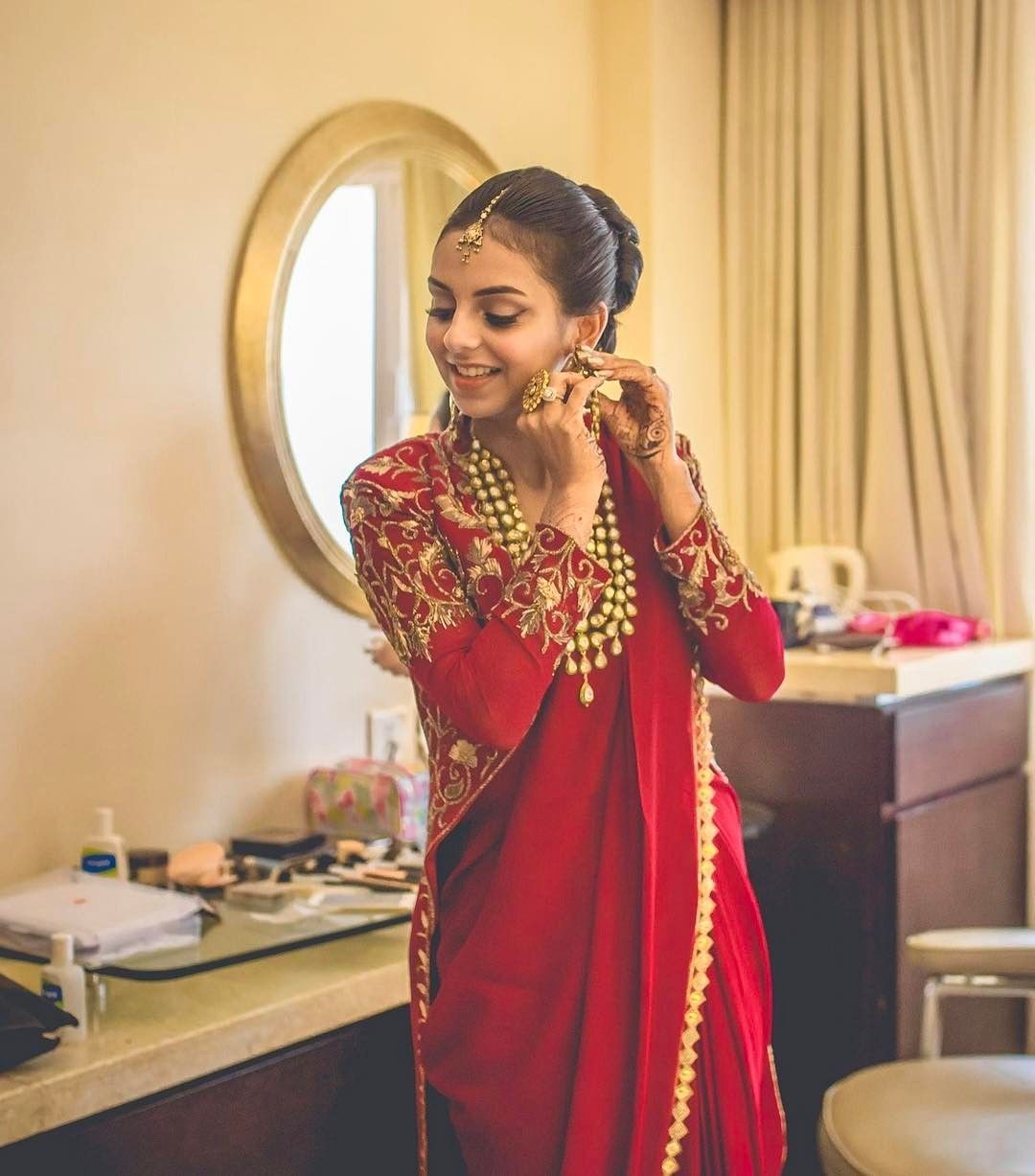 Image via Aanam C on Instagram
So now if you see brides wearing sarees for reception with a jacket, you know whom to credit! We cannot get over Anam's reception outfit - a deep red saree with a sleek golden border and an embroidered jacket. She surely knew how to pull off something Indian with a slight of western touch with it to make it look like one of the best reception saree ever. Here's how you can hold onto your tradition, and still be stylish and trendy, what say?
How About A Tissue Saree With Minimal Jewellery?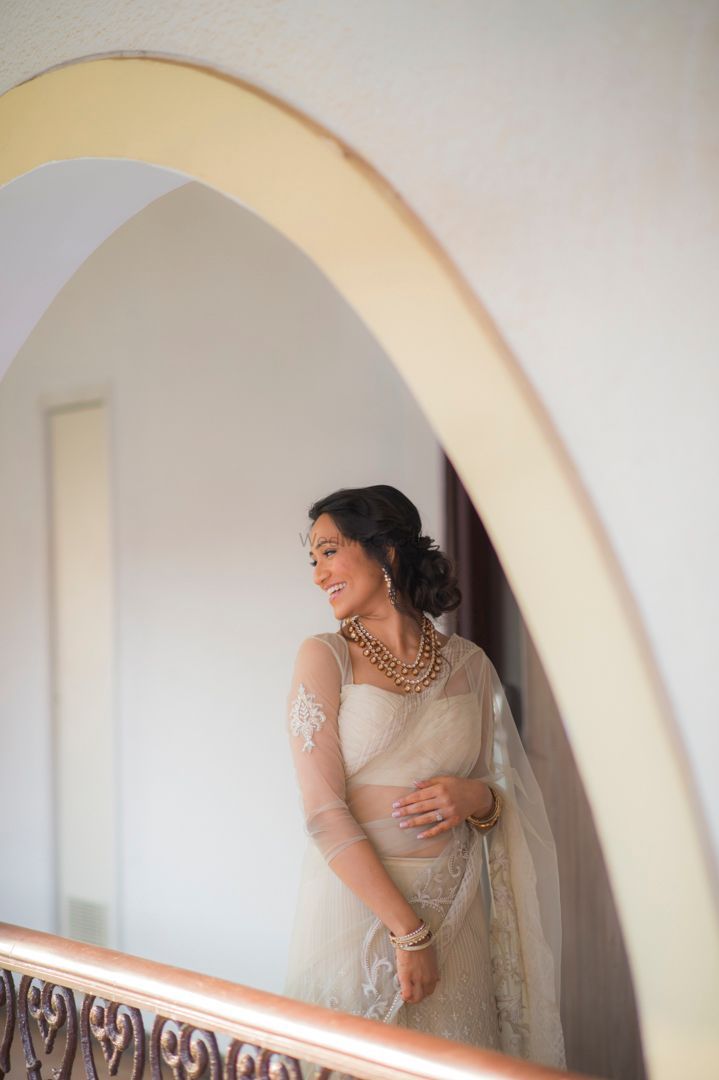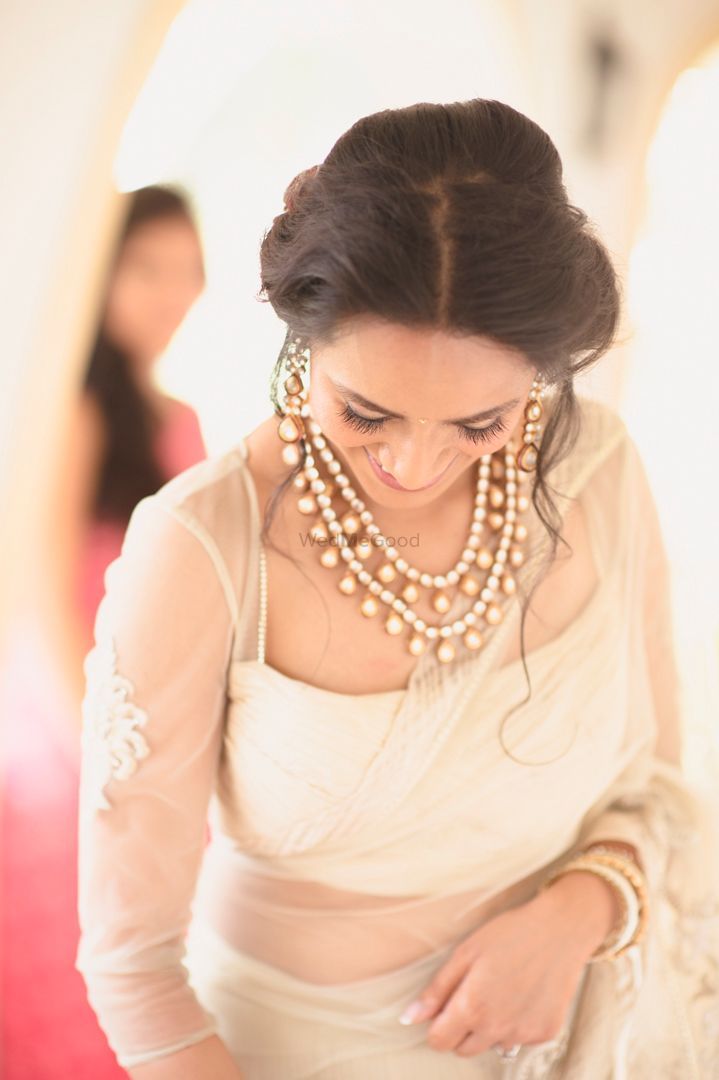 There's practically no drama in her outfit and yet she looks so pretty- that's the power of smart dressing! Her outfit gives out a happy vibe just as she looks in the picture. Paired with a polki set this reception saree look can be an outfit influencer for all. The soft, subtle details on her saree are what won our hearts.
This Bride Wore An Ivory And Beige Saree With Heavy Lace Embroidery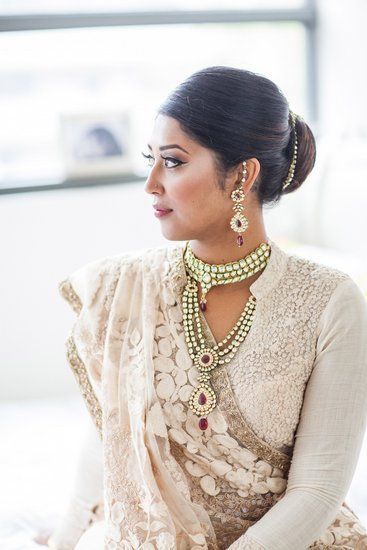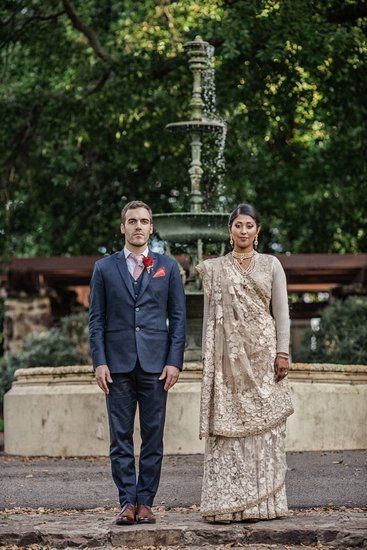 From Samantha & Heinz's Wedding ; Lahza Photography
This bride's heavily laced saree is truly #goals and must have won many hearts, including ours! A neat and complete attire is what this bride just pulled off. We loved how she draped it too- the Gujarati-saree style with her palloo on the front, completing her look with bare-minimum jewellery!
Or This NRI Bride Who Kept It Minimal & Chic For Her Wedding In The Woods, Followed By A Reception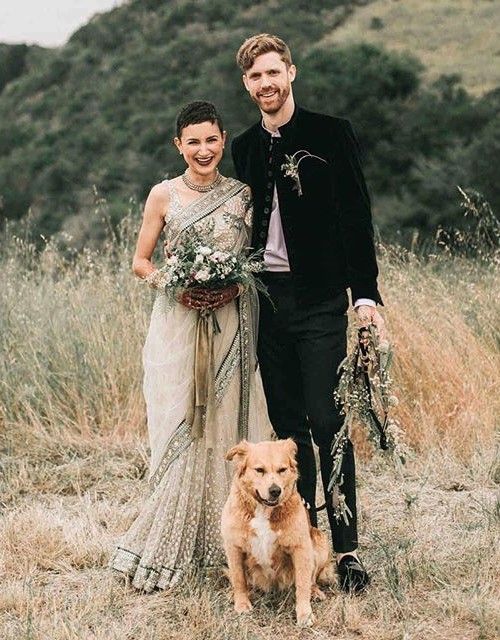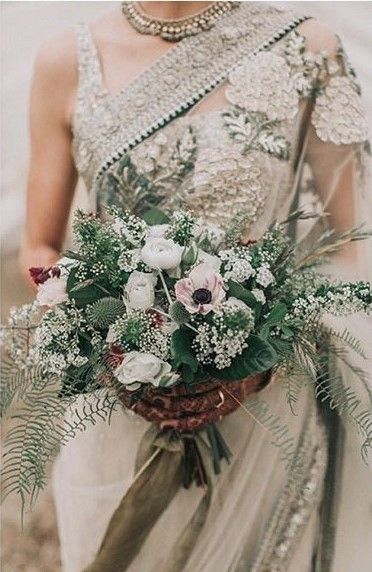 We can't get over this simple saree look for a day wedding. The outfit looks light and comfy, and uber breezy with just a minimalist border. Absolutely nature loving, completing her reception look with a bouquet of flowers. Total bride-chilla vibes!
Miss StyleDrive Who Took A Rather Interesting Take On Reception Sarees
View this post on Instagram
Pre-stitched reception sarees that let you to dance and sway all night without having to worry about where your palloo is going? And do the swirls of this video and saree make us drool over this bride's reception outfit? Of course yes!
This Saree With A Tasseled Cape That Blogger Masoom Minawala Wore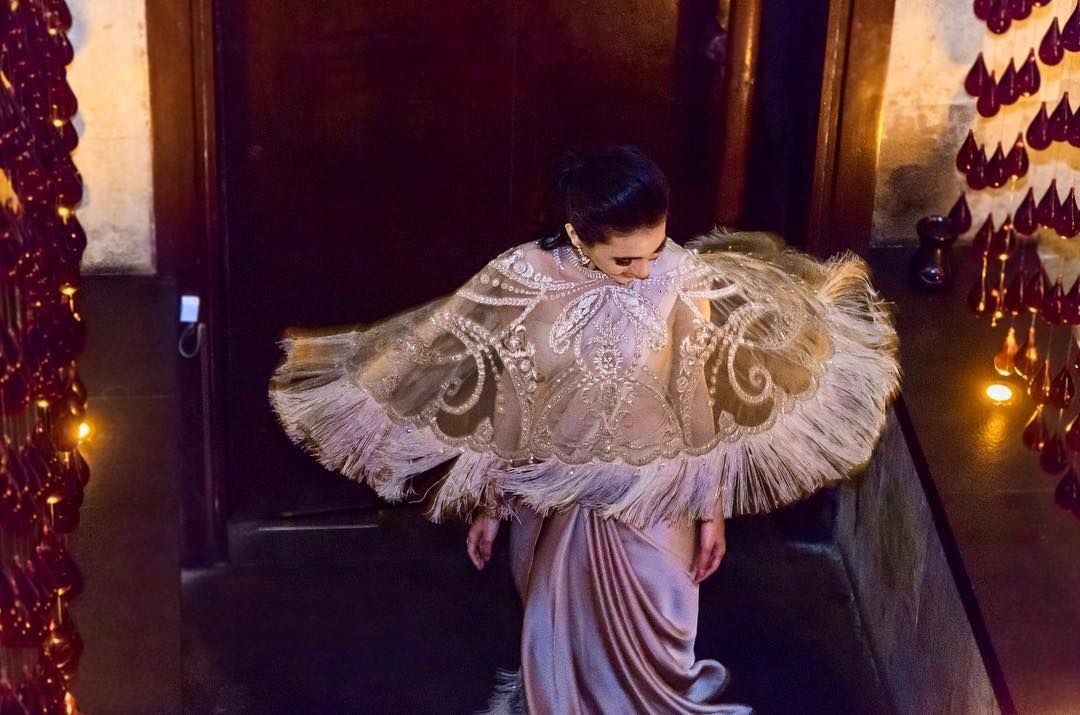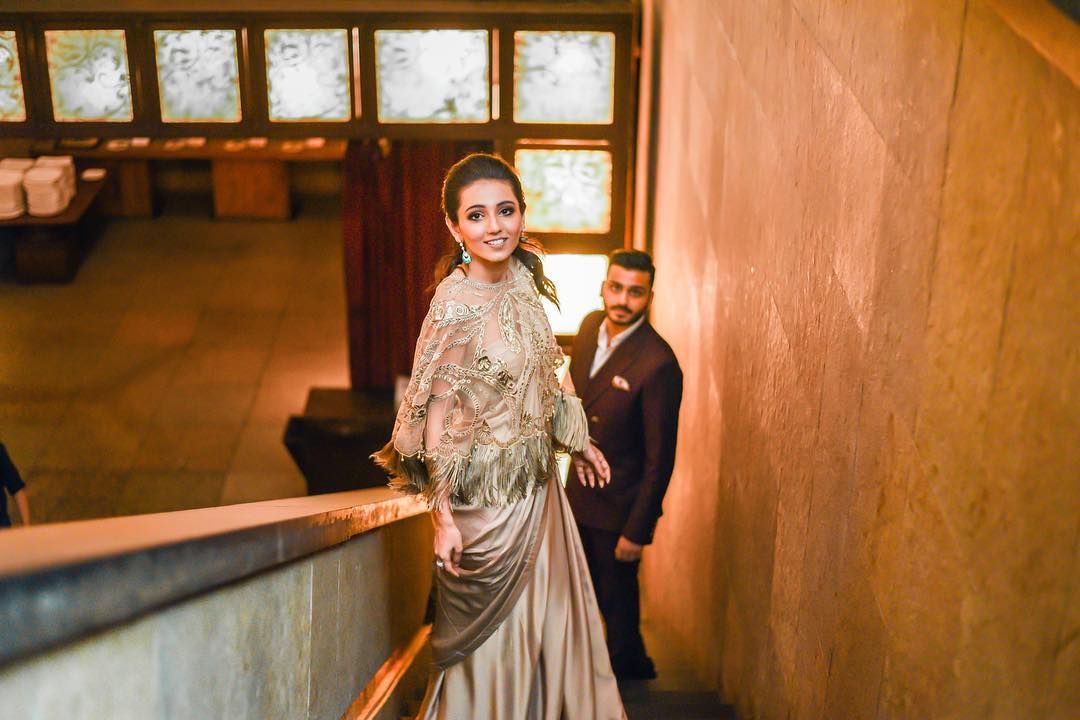 Image via Masoom Minawala on Instagram
A saree with a tasseled cape? We were sold at the sound  of it! Masoom wore a  bodycon saree in a metallic shade with a super-stylish cape with tassels and embroidery. She surely did influence a lot of girls with her veil. A different colour with a tinch of bling? Me loves!
Or This One In White And Gold With A Studded Border And Zero-Jewellery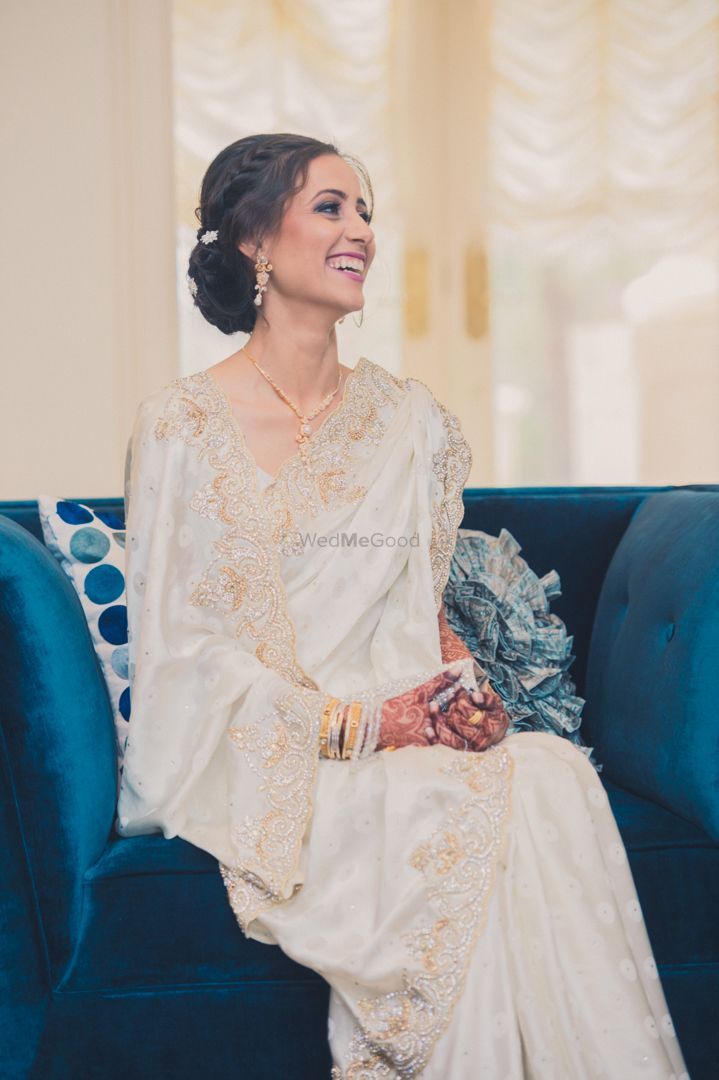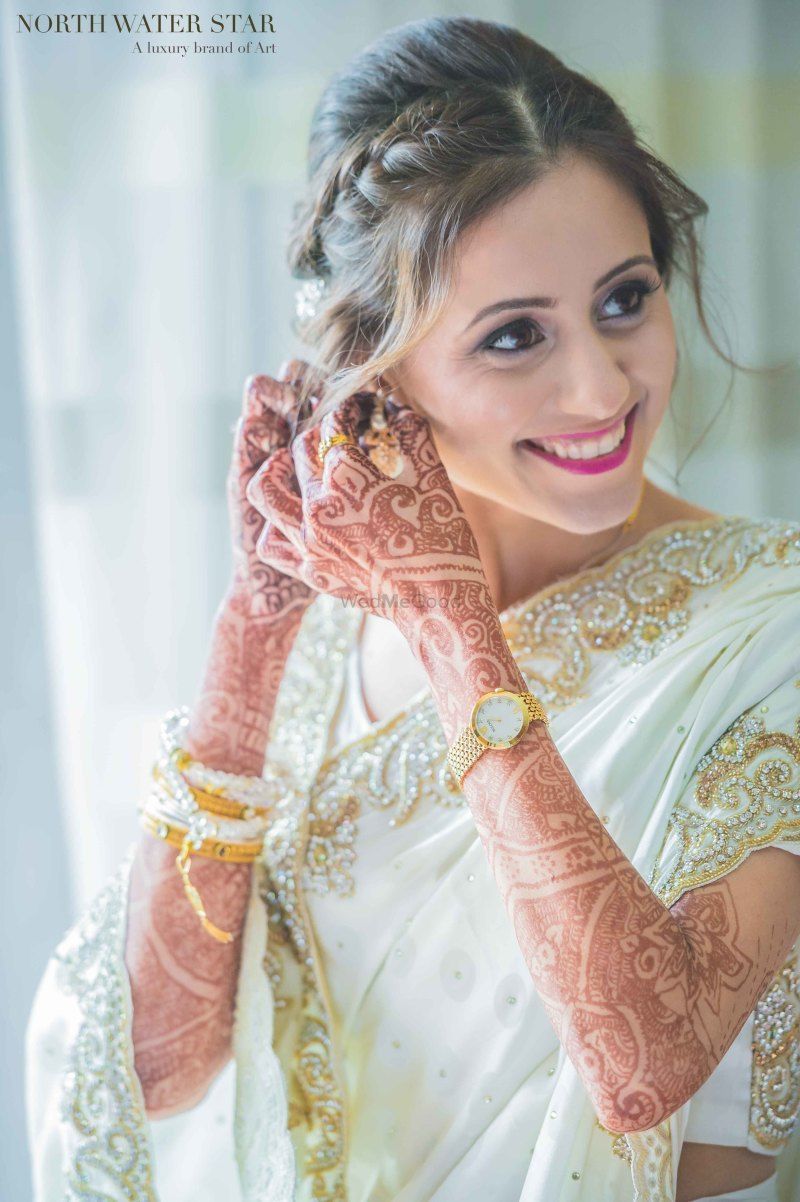 There's literally nothing in her saree other than a studded gold border. But doesn't it still look so trendy and elegant at the same time? Her hairdo and soft makeup covers it all for a day's wedding reception.
Sarees for reception are timeless, we know you're nodding your head now, aren't you! They look stunning and sensuous, all at the same time! Going back to your roots could have never been better, especially when you get the option of customizing it as per your preferences! The word saree expresses elegance and has to be added in your trousseau. With so many options these days, one can never look common wearing a saree. There can be some or the other difference be it your makeup, hairstyle, reception saree colour and what not. Something that can create a change yet keep the tradition alive as always. So we say you go get that saree you had your eyes on all this time, or maybe fling something out of your mom's wardrobe, and slay at your reception!