Can Can 101: Everything You Need To Know About That Fluffy Thing
BY The WMG Bride | 23 Oct, 2016 | 19809 views | 3 min read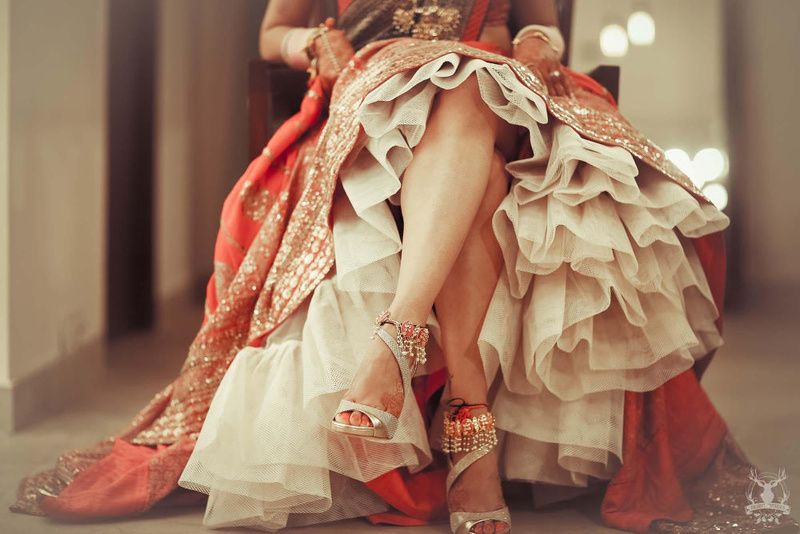 Photo: Morvi Images Photography★ 5 .
"Wider, Wider, Widerrrrrr "..said the bride, her eyes getting bigger and bigger as her lehenga ghera (flare)  increased. Sounds like you ? Well a slightly more dramatic version of you maybe ? If there is one thing all brides have in common- the two parts of their bridal outfit they are totally OBSESSED with is its color (yes I want that pantone shade of mint champagne gold please), and how much that lehenga flares out. Blame it on Disney princesses I say. But a lehenga doesn't flare out on its own, it needs a sidekick, like a Robin to its Batman who can accentuate it prowess. That Robin is the Can-Can my friend.
What Is it
Essentially its a stiff mesh that goes underneath the lehenga to keep it from flattening, thus giving that much needed flare to the lehenga
How Much Do You Need
Most lehengas come with a can can fitted into the lehenga already. Some brides ask for double the can can. Here are some things to keep in mind though:
If you are a curvy bride, trim down on the can-can and keep it A-line. If you are a petite bride however you can go full out flare with the can -can
The more can-can you add, the heavier your lehenga becomes so keep that in mind
The can can also depends on the type of fabric your lehenga is. If your lehenga is heavy, say velvet - you may need slightly more than usual can can to keep it flared out. But a fabric like raw silk, flares out on its own and can do with minimal can can
Different Types Out There
There are a few different types of can-can out there. One is a very very stiff  hard wire mesh. This one is lighter and even with one layer it can help in adding volume to the lehenga.  The other , more commonly used is a slightly hard net fabric. You need to add layers of it to get the flare which means it gets heavier. However, for heavy lehengas the stiff hard wire mesh may not hold up, so chances are, the one under your lehenga thats already attached is probably the best fit for it.
Shape Of Your Flare
Yknow one thing we learnt in our Facebook live with Madsam Tinzin ? Your can-can should be attached from below the knee. Specially if you are a curvy bride, having can-can higher than that can totally accentuate your hip. However having it attached from just at the knee area is perfect
Folding Your Lehenga
So you have bought that champagne mint gold beauty. But how in the world do you store it ? Well ideally, you let it hang straight on the hanger. However , in some cases that is not possible and you can fold your lehenga without breaking the can-can. Just make sure  you do one fold of the lehenga and fold comes just above the can-can area and not in the can-can itself.
Fluffing it
You know that moment right before you enter your wedding? What's the one thing you should be doing apart from clicking a selfie with your bridesmaids???? You should be fluffing up your can can. Get a friend who will go under your lehenga (umm... yes) . Take the bottom edge of the can can and pull it upwards.  Do this all around the circumference, then let your lehenga fall over it. Voila !