Cute Ideas To Renew Your Wedding Vows: From Your First Anniversary To Your 10th
BY Sakshi | 05 Aug, 2016 | 6156 views | 6 min read
Your marriage might me the best thing that's ever happened to the two of you, so how about you have a celebration of that celebration? Whether it is your first, 2nd, 5th, 10th, or even 25th anniversary, you can still make it special by renewing your vows! Here's all you guys need to know about how to go about it with some cute ideas... whether you're planning it together or surprise your better half! And the best part is, this gives you guys a chance to make up for something you've always wanted to do, but never could- whether it is something as having the wedding you never could have back then, or ticking things off your bucket list! Here are some cool ideas to renew your wedding vows!
Take the party to the beach!
Photo Courtesy: The Lightsmiths★ 5
A beach celebration is always fun, so how about you head to the beach with your loved ones and throw them an awesome party? You could even have a small ceremony or write vows and say them out loud to celebrate and reassure yourselves of your relationship and love!
Have a white wedding
Photo Courtesy: Dipak Studios★ 4.8
A lot of us girls dream of having a white wedding, which looks so pretty and dreamy, but cut to reality, and that's probably a far cry from how your wedding actually was. So how about you guys have a simple white wedding, but something in which you do get to wear a gorgeous dress just like you always dreamt of? Maybe with bridesmaids, flower girls and the works. Hollywood you've spoilt us!
Recreate your wedding day
Photo Courtesy: Stories by Joseph Radhik
If your wedding was pretty perfect already, then how about you guys recreate the same with the same venue and outfits on the same day a couple of years later? With a smaller crowd and limited number of ceremonies, this won't be as big an investment as the first one too!Or just your BFFs alone!
Celebrate your first date or proposal
Photo Courtesy: Devika Narain's Blog
So cricketer Robin Uthappa got married to his then-girlfriend Sheetal under the same tree under which he had proposed to her... how romantic is that? You can also celebrate a special occasion like the first date or a proposal by reliving it in the same spot, park or restaurant. You can choose to do it with a handful of people or surprise him or her with just the two of you.
Tick something off your bucket list
Photo Courtesy: Pinterest
Always wanted to see Northern Lights or go to the Eiffel Tower? If you both have certain things or places common on your bucket list, then you can make renewing your vows way more special by combining the two! Do it at a place which was always on your bucket list and make it memorable!
Have the wedding shoot you never could have!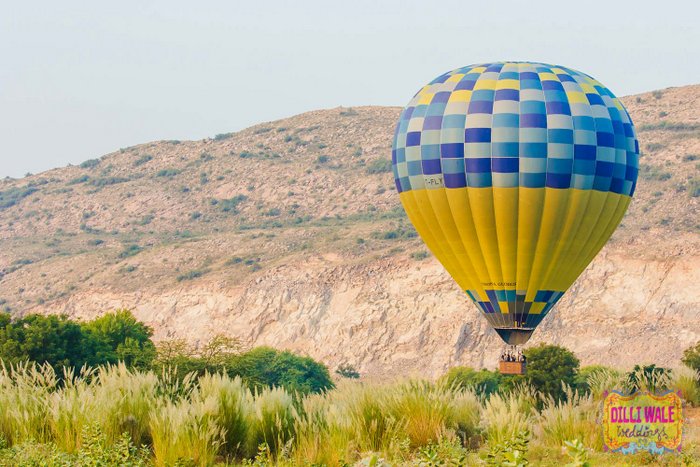 Photo Courtesy: Dilliwale Weddings
Maybe the concept of pre wedding shoot was not as common back in the day when you got married, or maybe you skipped or trimmed it because of finances, or simply just didn't get the photographer you wanted! Having a special shoot to commemorate your wedding is always a good idea! Do it in a hot air balloon, underwater or rent a drone... you can go crazy with this one like you couldn't before! This is also a good idea to celebrate your first wedding anniversary! Find the freshest ideas here.
Relive your favourite movie
Photo Courtesy: The Cheesecake Project
If both of you are Bollywood buffs, then you can plan a Bollywood-themed party to renew your wedding vows, which can even be a costume party! How fun with that be? DDLJ, Hum Dil De Chuke Sanam, Jab We Met........!
'Glamp' it up!
WedMeGood Founders Anand and Mehak gave it a shot after 4 years together, and the ceremony looked soooo adorable! Basically put, Glamping is glamorous camping, and the setting can be as luxurious or rustic as you want! And even better, they called their family for a dinner by the stars. Check out more details of their #IDoTakeTwo
here
.
Throw a surprise wedding party!
Photo Courtesy: www.eatdrinkchic.com
Call the special people in your life over for a fun garden brunch or dinner, and surprise them by renewing your vows, like this blogger did, (although they threw an engagement party and got married!). You can have an anniversary party and take it a notch higher by renewing your vows, but it will be a sweet surprise!
Make it special for your kids
Photo Courtesy: www.ananyatales.com
Your son, daughter or kids never got to attend your wedding, and there's a solid chance they've pestered you about why they weren't there as well! So you can renew your vows by making it special for them by involving them in the ceremony... make them the flower boy or girl, walk down the aisle with them.. or even cuter... dress up in matching clothes! So once you have the basic idea in mind, here are some other cute elements which can help in making the occasion even more special!
Design Special Theme Invitations
Photo Courtesy: www.greenvelope.com
Have a cute vow renewal theme invite designed specially for the event, which will let your guests know exactly what they're in for!
Make a Love Story Timeline Board!
Photo Courtesy: www.brit.co
You're gonna probably be inviting some people who didn't even know you before you were a couple, so add some personal touches like this love story timeline board to make it super special!
Personalise it with photos from every phase in life!
This works really well, especially if you've spent a lot of years into your marriage and celebrated special landmark events like the birth of a child! For more inspiration on how to do this, check out
this
article! Renewing your wedding vows is something that can be a fun, relaxed affair... after all, who doesn't like a reason to get together and party? Whether you choose to have an intimate affair or a lavish one, just make sure to not get awkward or conscious about it, especially if you're planning to do this a decade or more after your wedding! It's a celebration of your love, and that's something everyone invited will understand!