Want to Display Pretty Photos at the Wedding? Here Are Some Cute Ideas We Spotted!
BY Sakshi | 30 Jul, 2016 | 1532 views | 3 min read
One easy way to add that dash of personalisation  is to display your photos at the wedding.  After all, what's the point of  clicking all of them selfies if you cant flaunt em right? It  looks adorable and also makes a lot of sense especially if you've been dating for ages and have gone through a lot of 'looks' and 'phases' together! Here are some amazing photo display ideas we spotted at Real Weddings off late, so if you're planning to personalise your wedding with photos, then get some inspiration here! The best part is, you can use these photos in your home afterwards!
A tree display!
Photo Courtesy: Plush Affairs★ 4.7
How cool is this idea? Most people use trees in outdoor weddings to hang lights, but a photo tree looks so amazing! Such a smart use of space!
On your own wishing tree!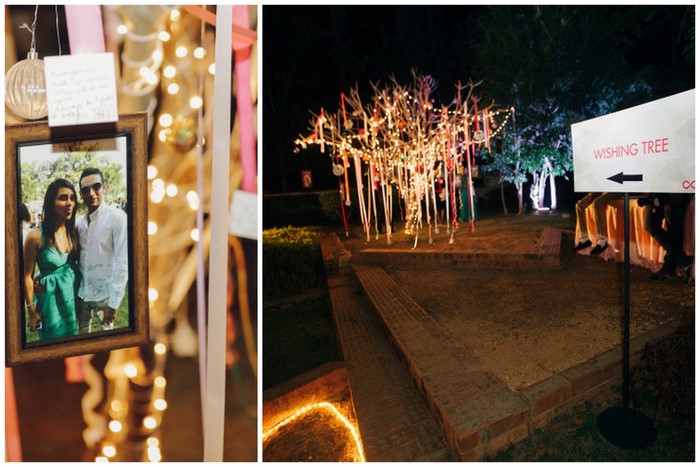 Photo Courtesy: Anup J Kat Photography★ 3
Instead of hanging photos from a huge real tree, you can also place and deck up a dry one on your own using ribbons, lights, hanging floral arrangements and Christmas tree decorations! This couple from Bangalore made this wishing tree for the guests to leave messages for them on post-it notes! How cute is that?
A refreshing corner display
Photo Courtesy: With Love Nilma★ 5
This one has just one picture as a part of a corner display, but it still looks so pretty! The white furniture adds a vintage look, and the oranges and herbs just add the right pop of colour! Simple, yet so effective!
As an elaborate display piece
Photo Courtesy: Shahza and Nasif's Real Wedding
If you're looking for something a bit elaborate, then this is a good idea! Set up an eye-catching display with lots of pictures on a stand, and add some elements like fairy lights, cute little planters and bird cages for added awesomeness!
With hanging photo frames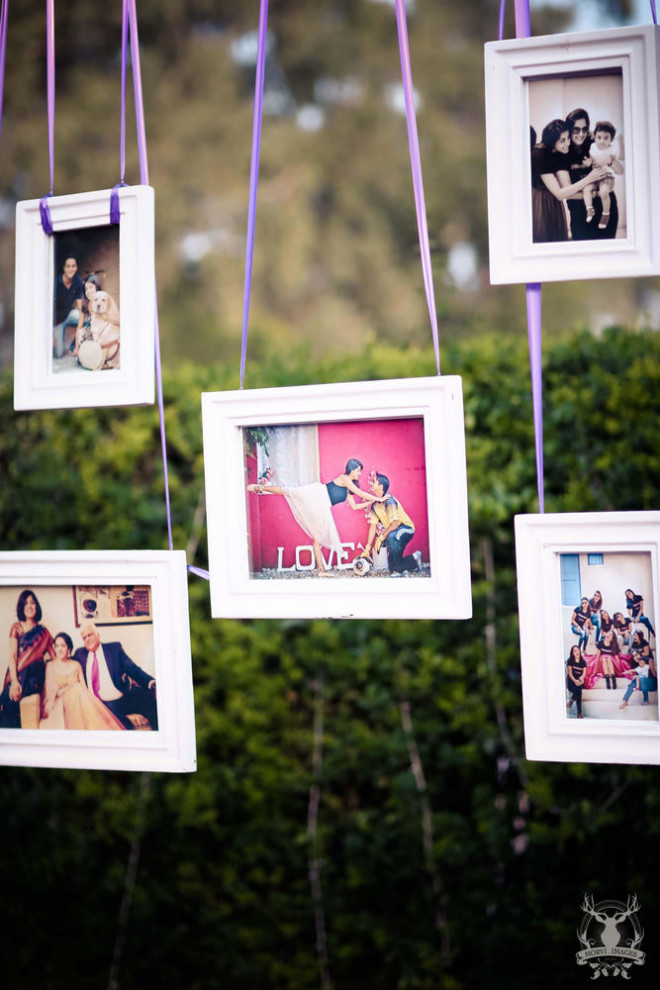 Photo Courtesy: Morvi Images Photography★ 5
Just suspend some cute little framed photos with coloured string and you have a hanging photo wall, which is just as easy to do outdoors as well!
With a string and wooden cloth pegs
Photo Courtesy: Studio Zeppic★ 5
Probably the easiest way to put them, which involves hanging ropes or strings and attaching the printed photos with cloth pegs. Super easy to DIY, but looks cute at the same time! You can choose to have just a few strings or an entire wall like this one!
A table display
Photo Courtesy: Mahima Bhatia Photography★ 4.9
This is also a simple idea, which still looks pretty classy and timeless! Use some cute frames and place them on a table. Decorate around it with some vases, vintage pieces and a cute monogram like this one to make it attractive!
As a part of the centrepiece
Photo Courtesy: Pinterest
If you have a round table set up, then this is another idea you guys can consider. Have them placed in frames or just place little polaroid photos, looks cute either way!
Add flowers to make them pop 
Put them up and embed them nicely between your flower curtains - sweet and a nice surprise for your guests. Plus, they look super pretty!
You could even complement your photos with a DIY Love Story Board! Wondering what that is? Click here to find out! If you're looking for more tips to personalise your wedding, click here!