15 Decor Elements At This Wedding That We Fell In Love With
BY Garvita | 07 May, 2020 | 14376 views | 5 min read
Whimsical decor always fill our hearts with joy and love! But experiencing so many unique elements at one wedding is as fresh as daisies. The A-Cube Project did a splendid job with ideas and inspiration, by transforming the couple's vision into a breath-taking reality. Trust us, it won't fail to make your jaws drop!
We've been going gaga over it since the time we caught a glimpse of it on our WMG gallery, and we thought this quarantine period would be the right time to share it with you, for you to save it for your future wedding. So gear up, for a dose of magical creativity!
Mehendi & Sangeet (Bohemian Rhapsody)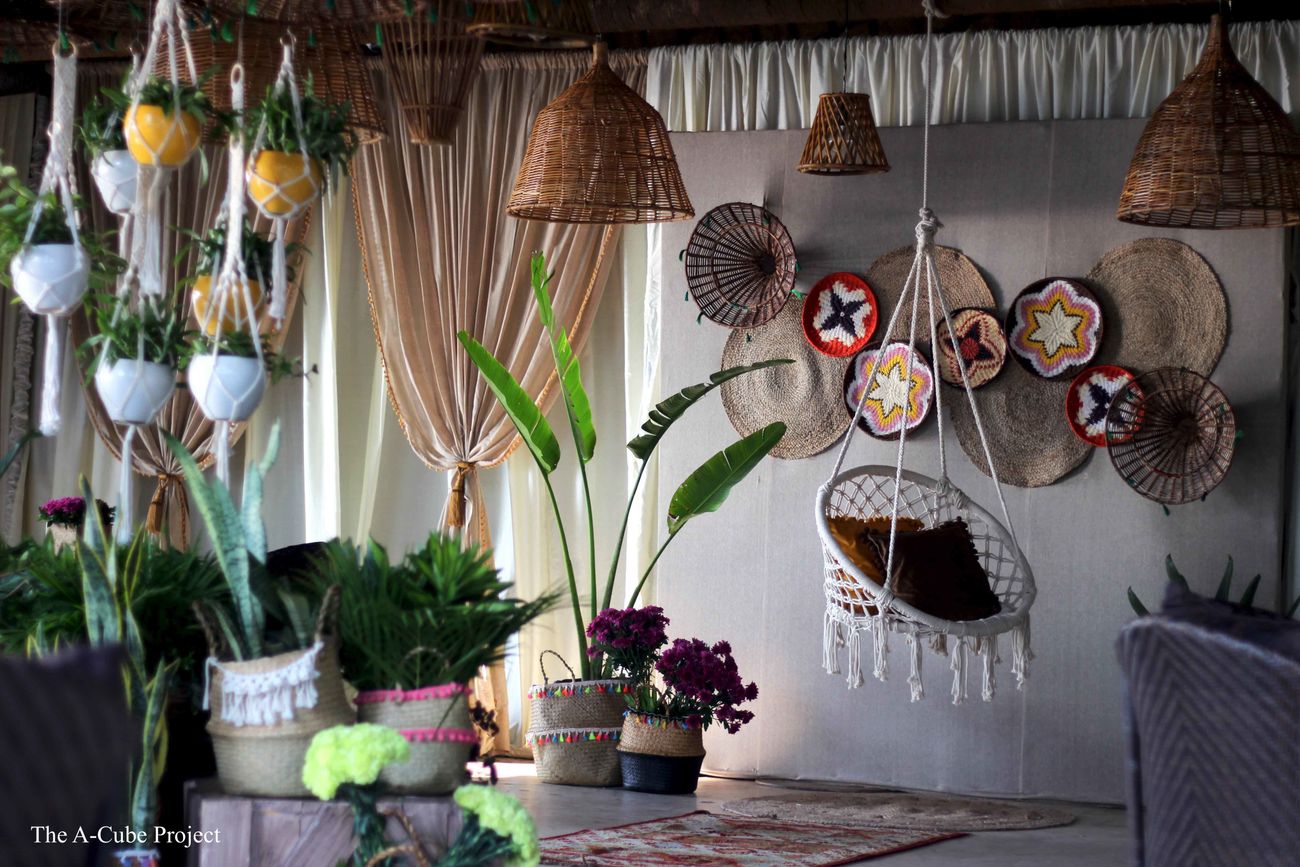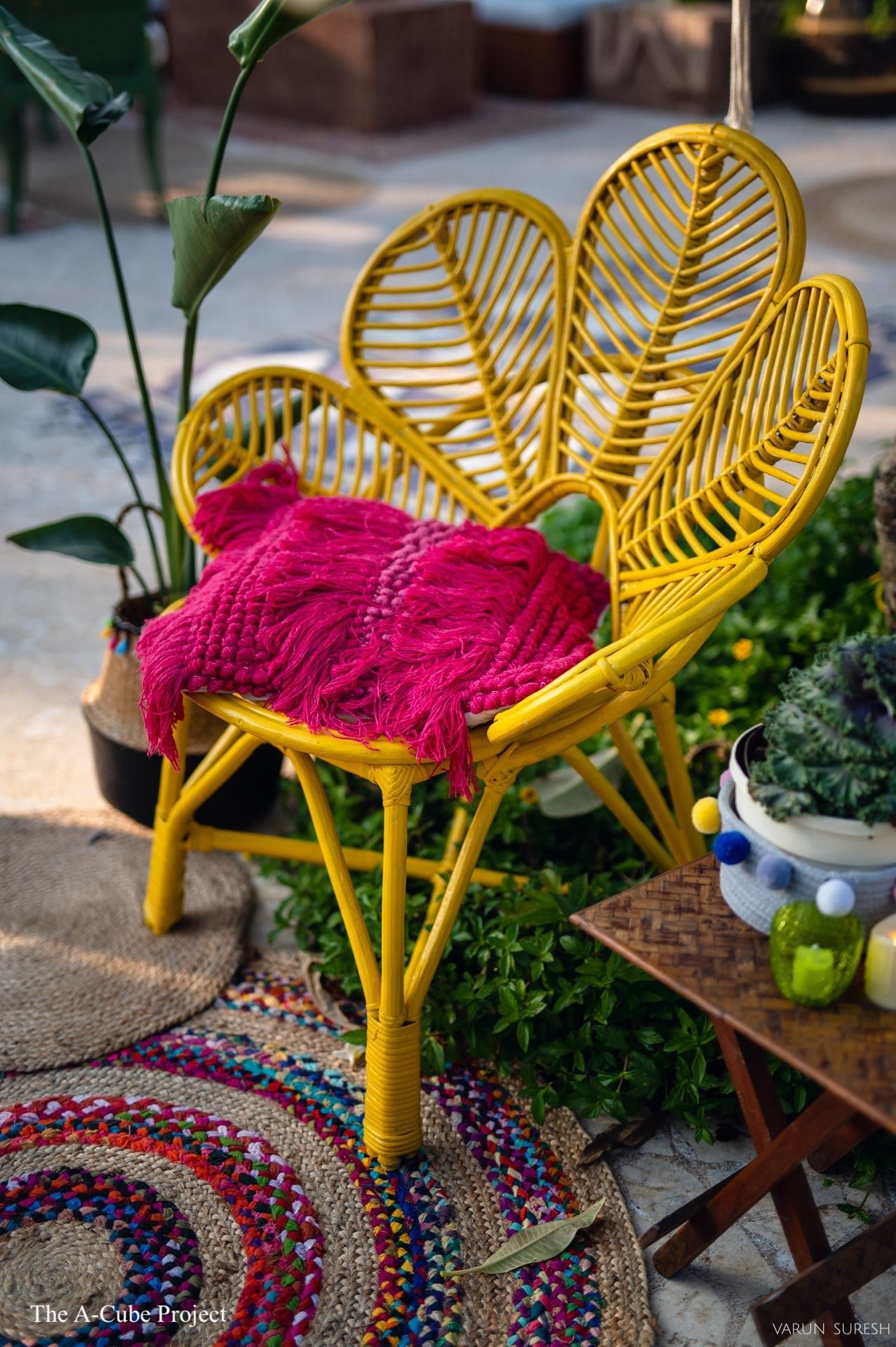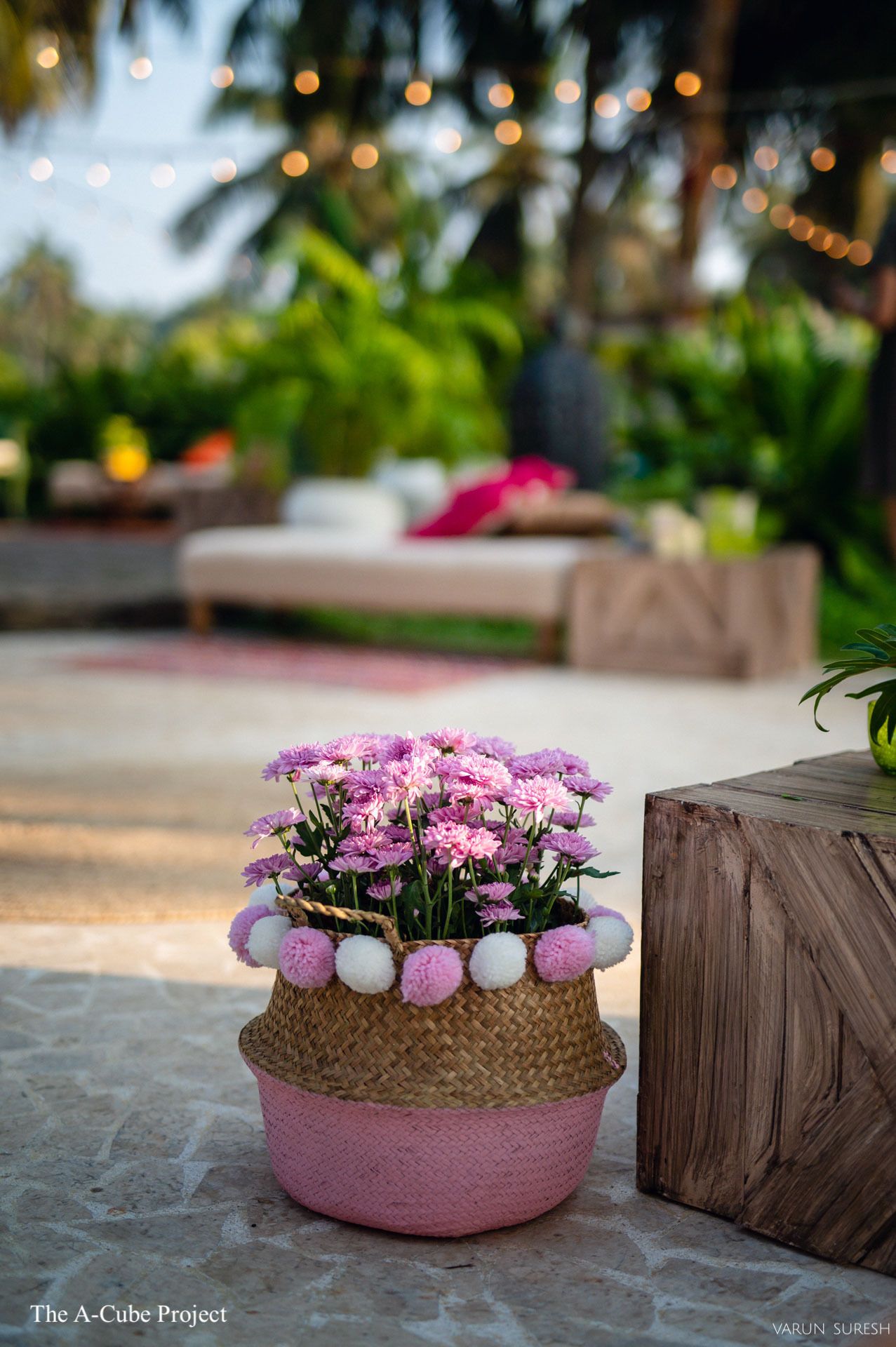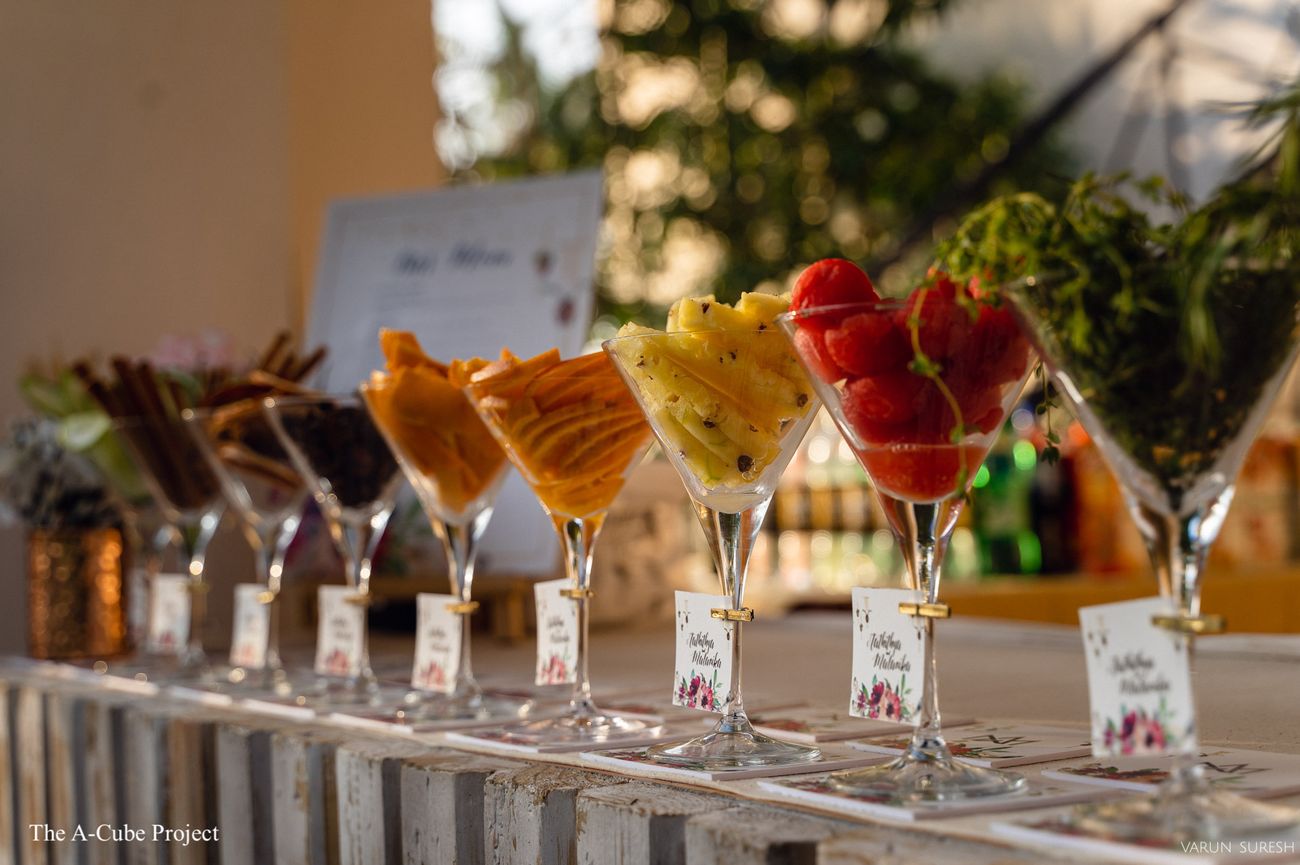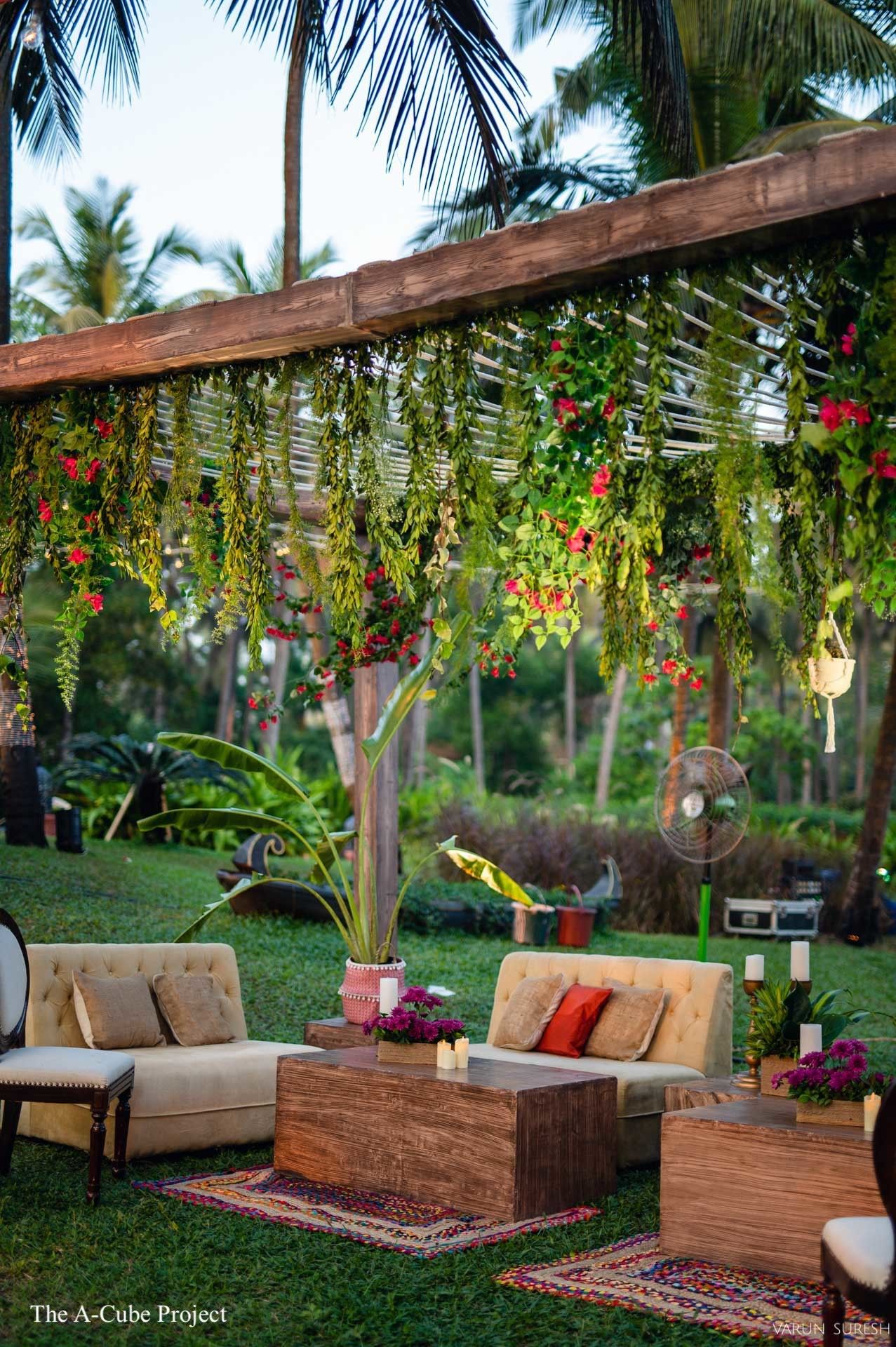 If you're a Frida Kahlo admirer, then you'll notice a glimpse of her personality in this decor! This fun & quirky Bohemian Rhapsody themed Mehendi & Sangeet can easily get your spirits high. We couldn't stop gushing about
The brightly colored rugs and lounge seating scattered throughout the venue
A myriad of Mexican influences, right from the cocktails to the decor in the form of succulents, cactus accents, pom-pom baskets
The eclectic use of foliage
Haldi Brunch (Kesari Kutch)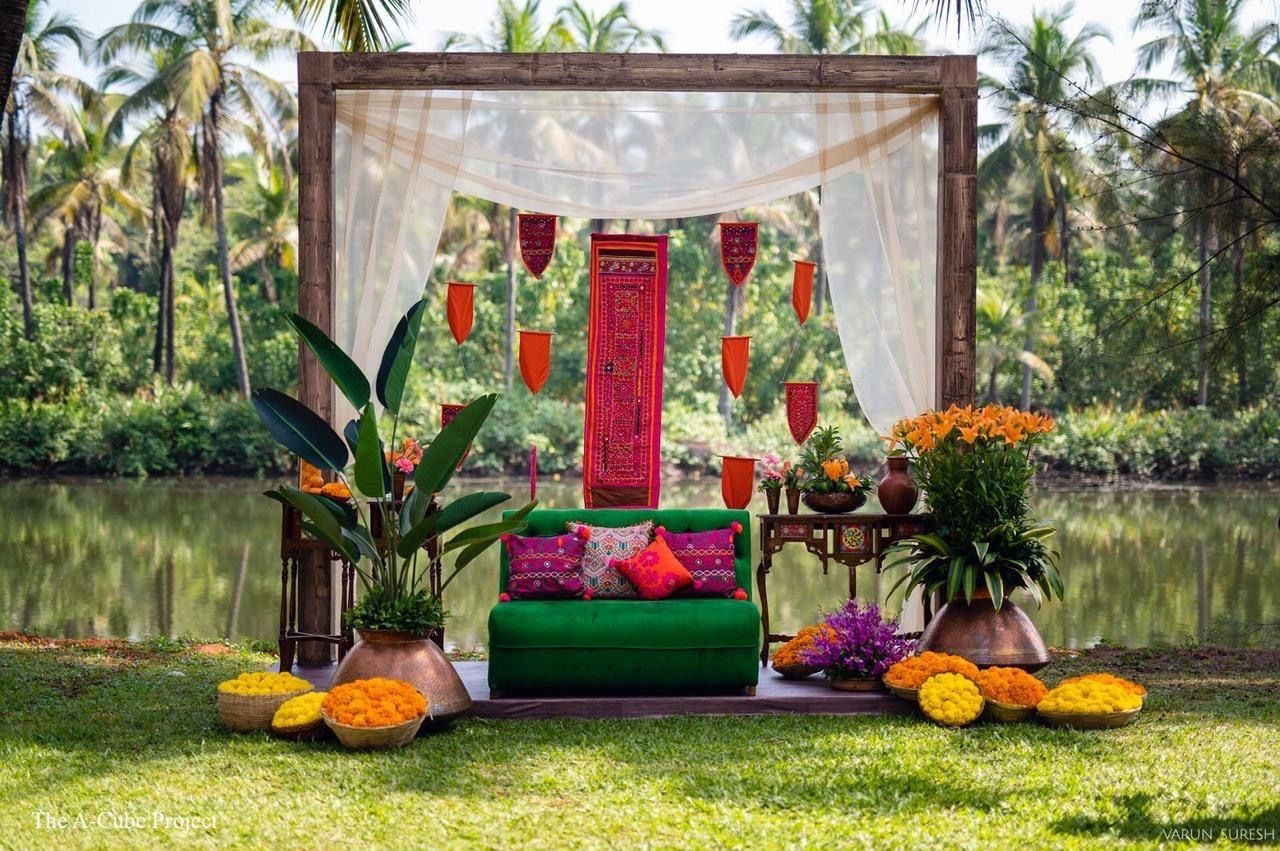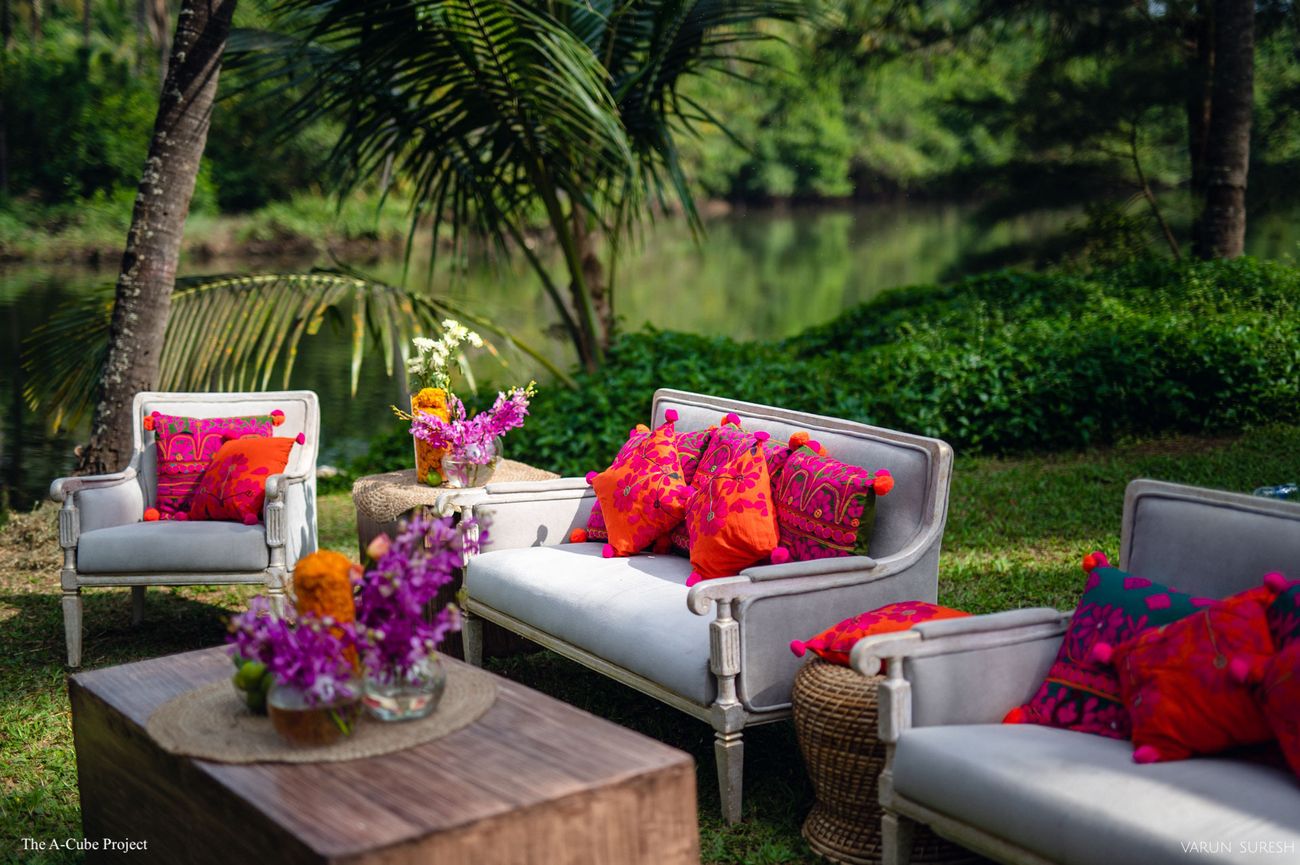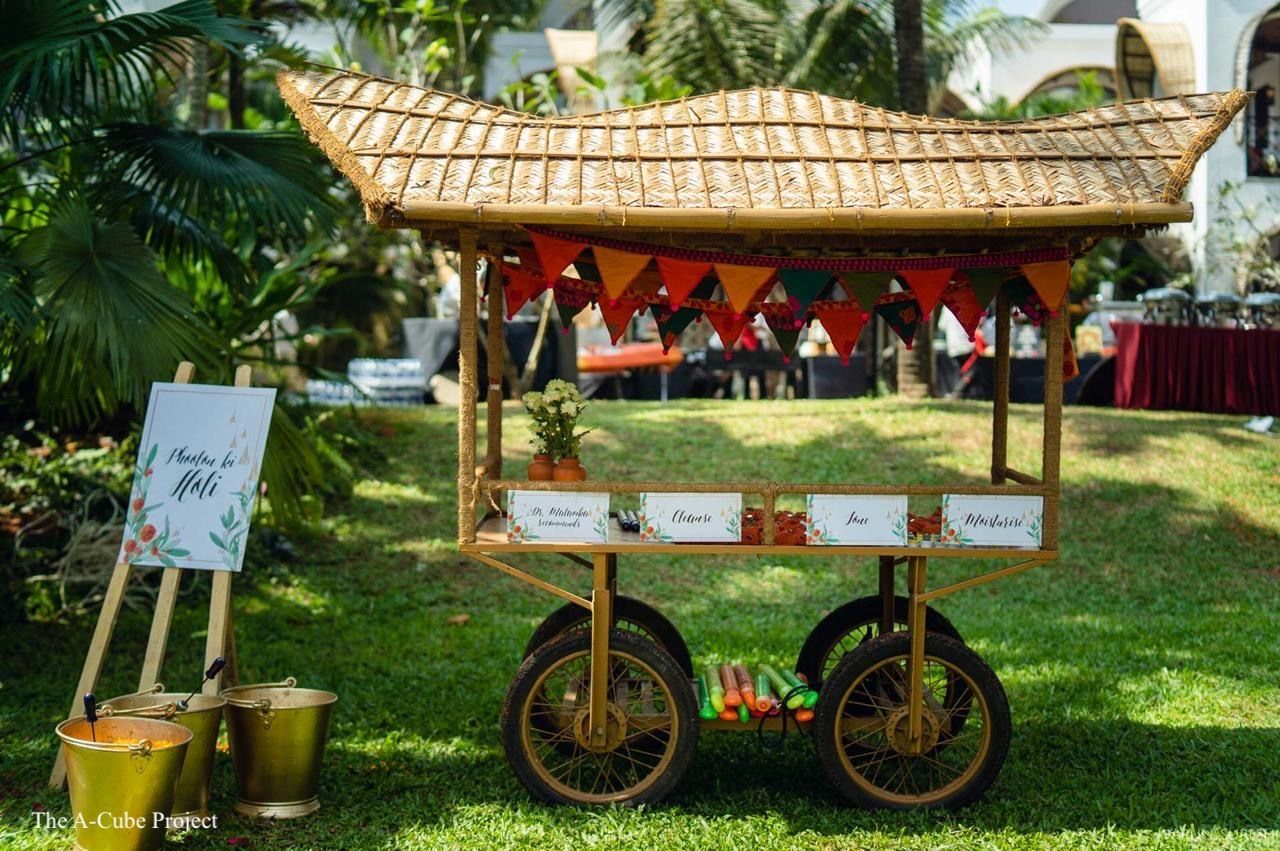 We're always on a lookout for out-of-the-box Haldi decor inspiration, and this ceremony was all about it. Would you imagine a Haldi ceremony inspired by the intricate beauty of Indian textiles? Woah, the textile lover in me, have already taken screenshots. You, too, take cues from it already!
Gorgeous use of handmade kutch fabric which was transformed into panels, discs, cushion covers, table runners and more
Brass buckets filled with water and fresh petals, with metal pichkaris
The riot of colors left us spellbound
Engagement (Malgudi Days)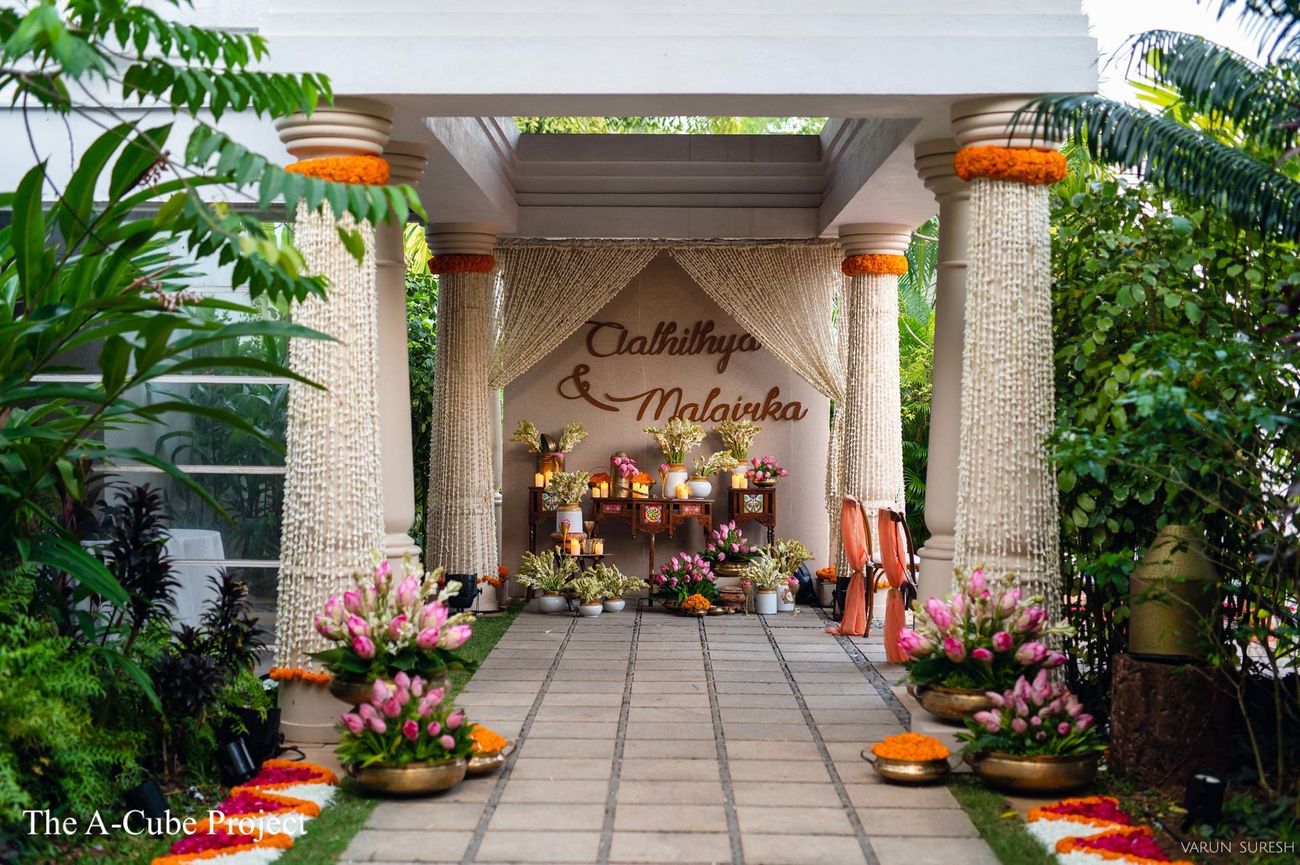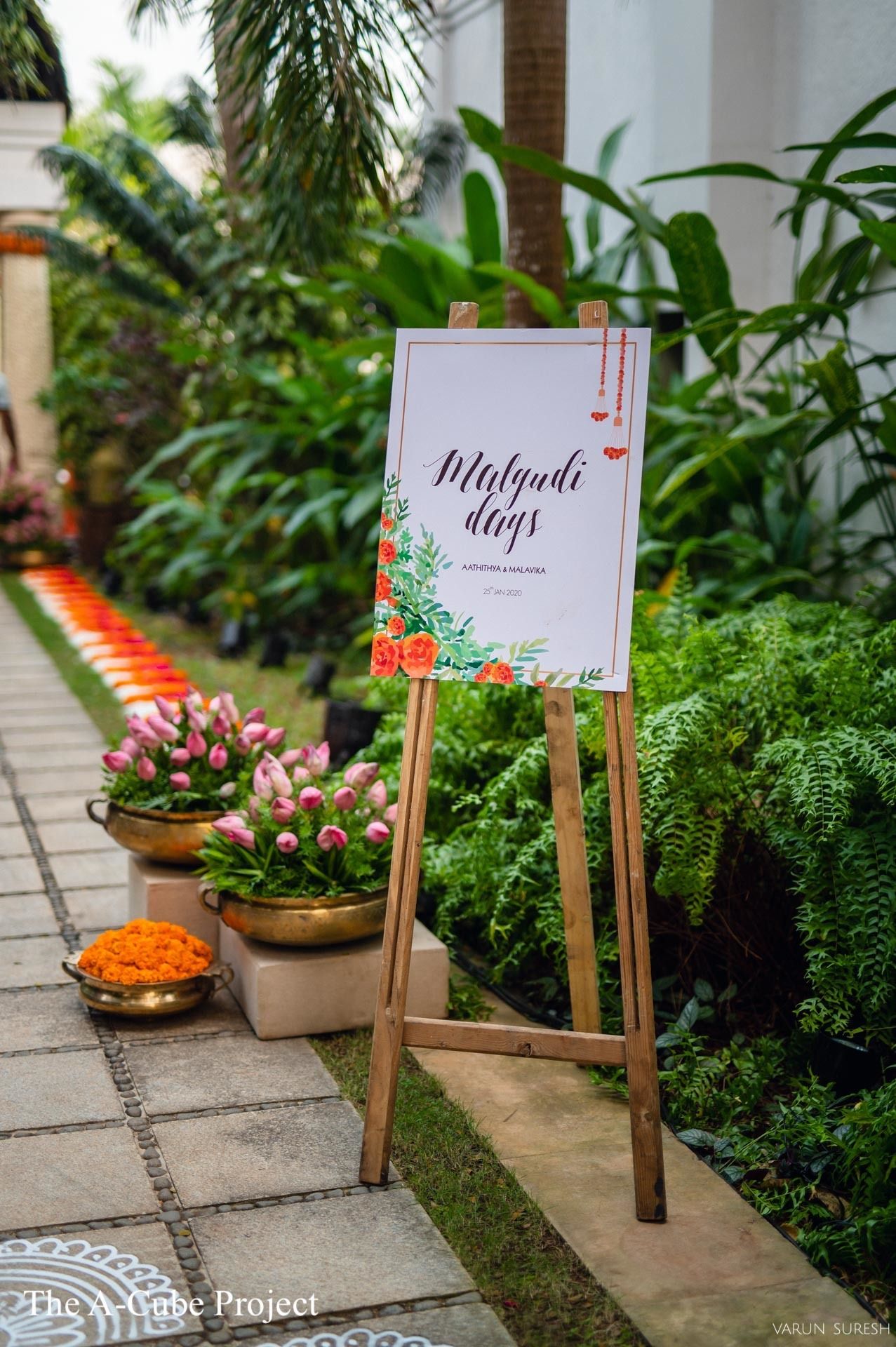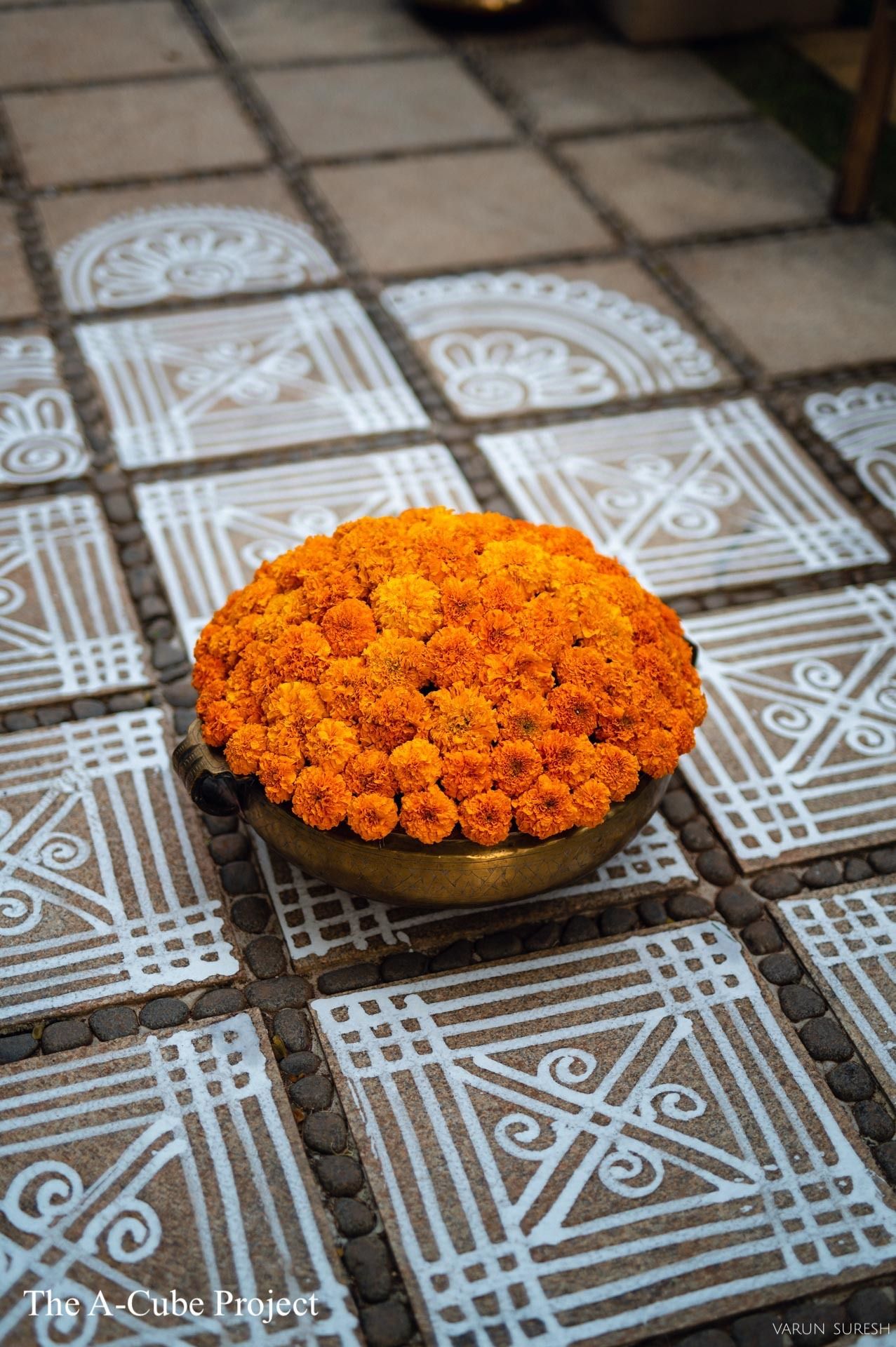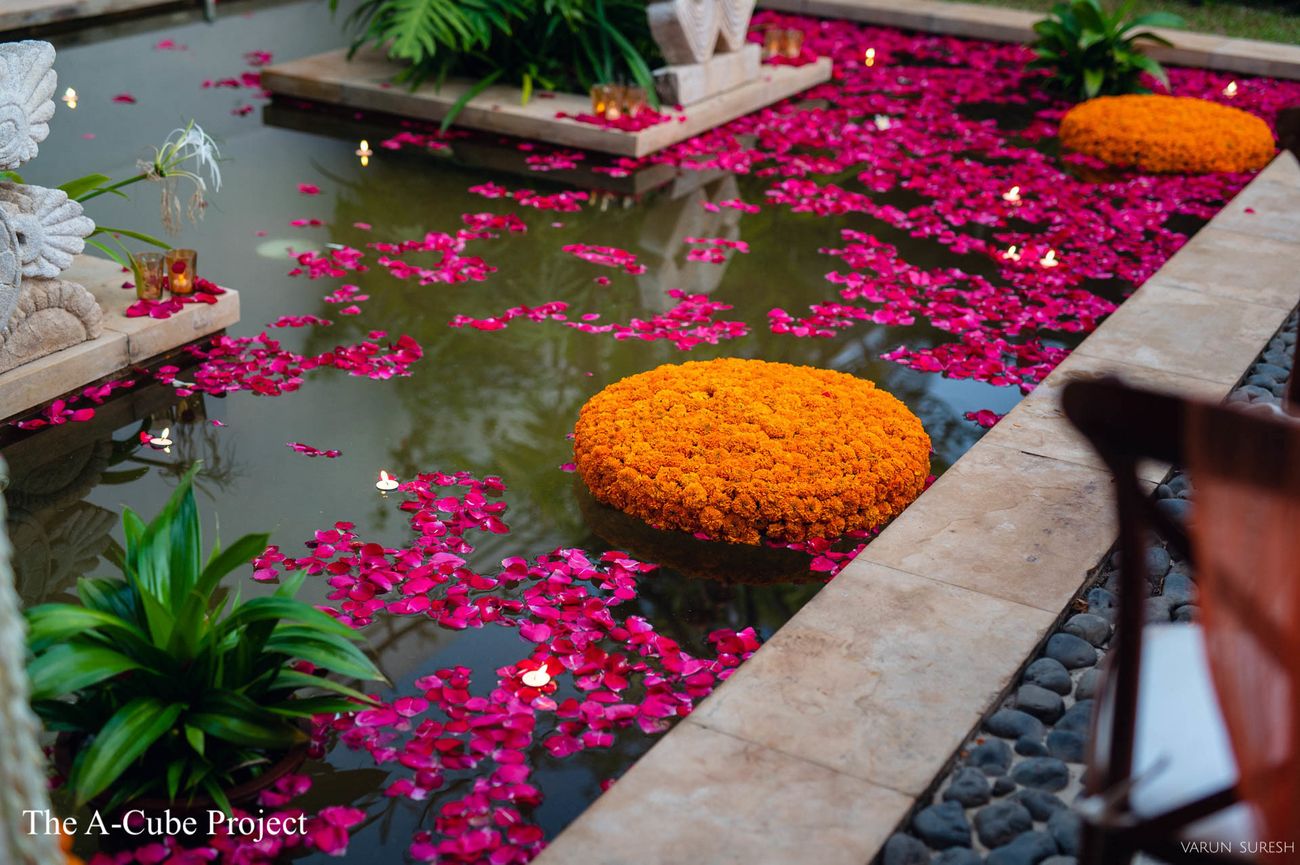 The Engagement decor exuded romance filled with old-world, antique charm! The vividness of traditional flowers blended with earthy hues and metallic undertones resulted in a beautiful setup with minimal essence. Oh, by the way, did we tell you that this was a spa that they transformed so amazingly for the ceremony? Totally impressed. Here are a few elements you should definitely bookmark.
Minimalistic decor like floral rangoli & hangings
Wall amped up with bride-groom names! (Psstt.. could be used an offbeat photobooth)
Creative use of terracotta and brass
Wedding (Silk Route)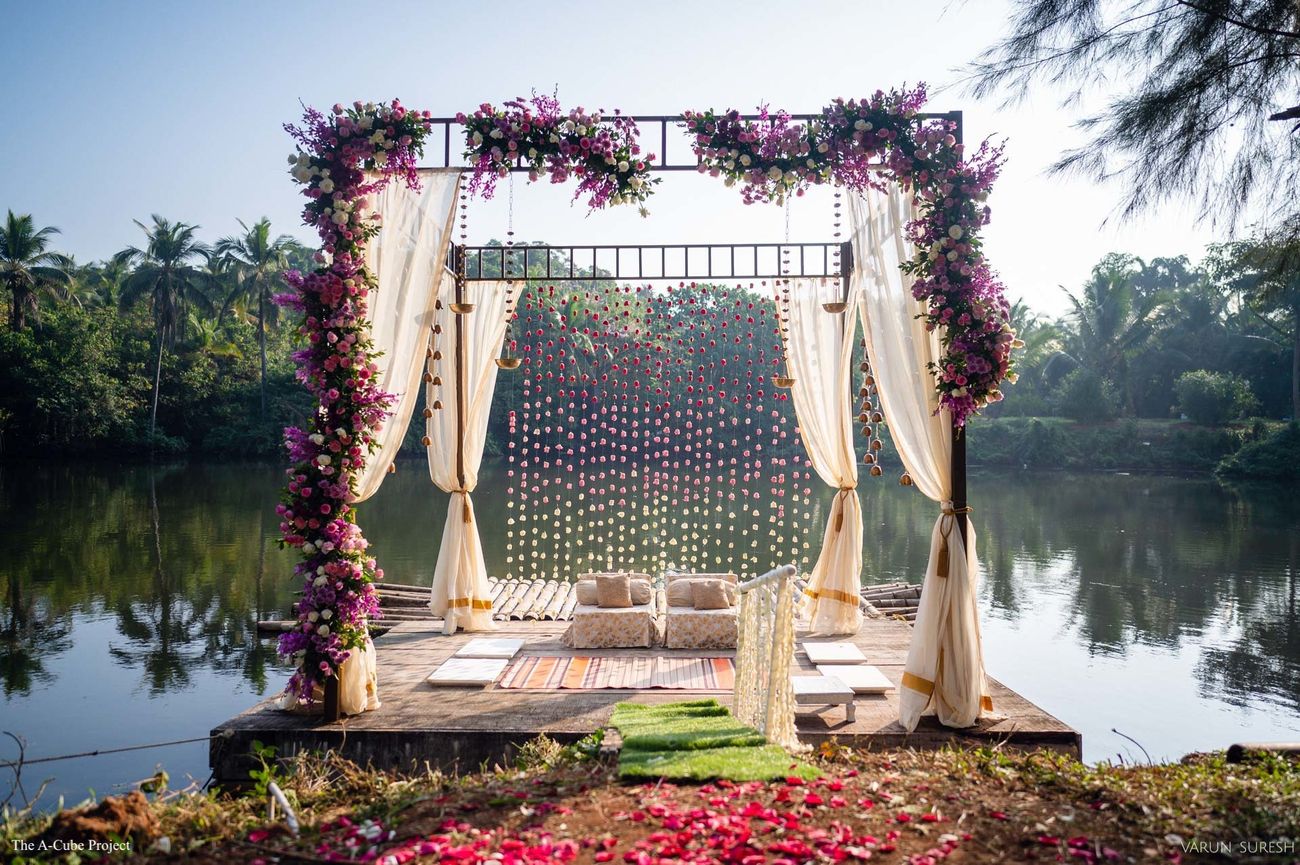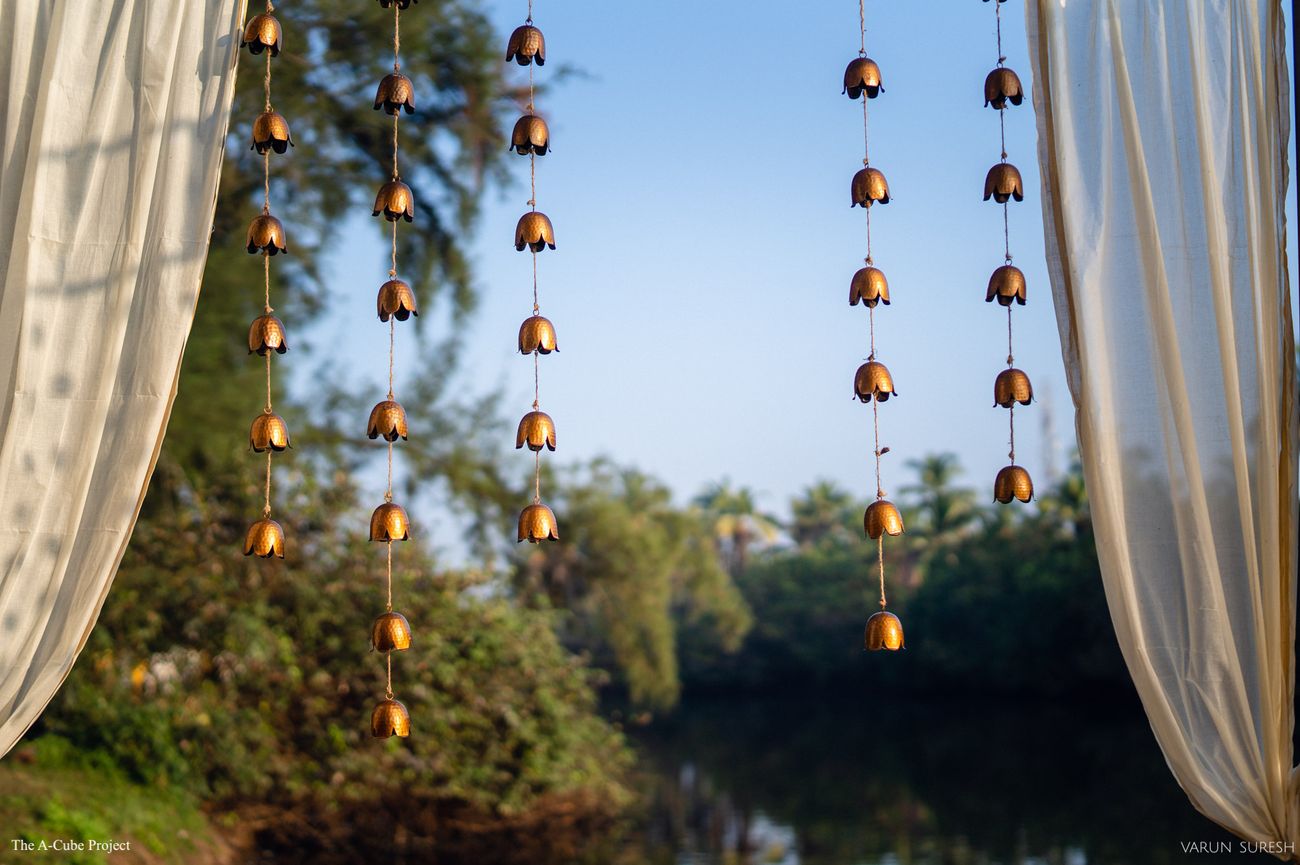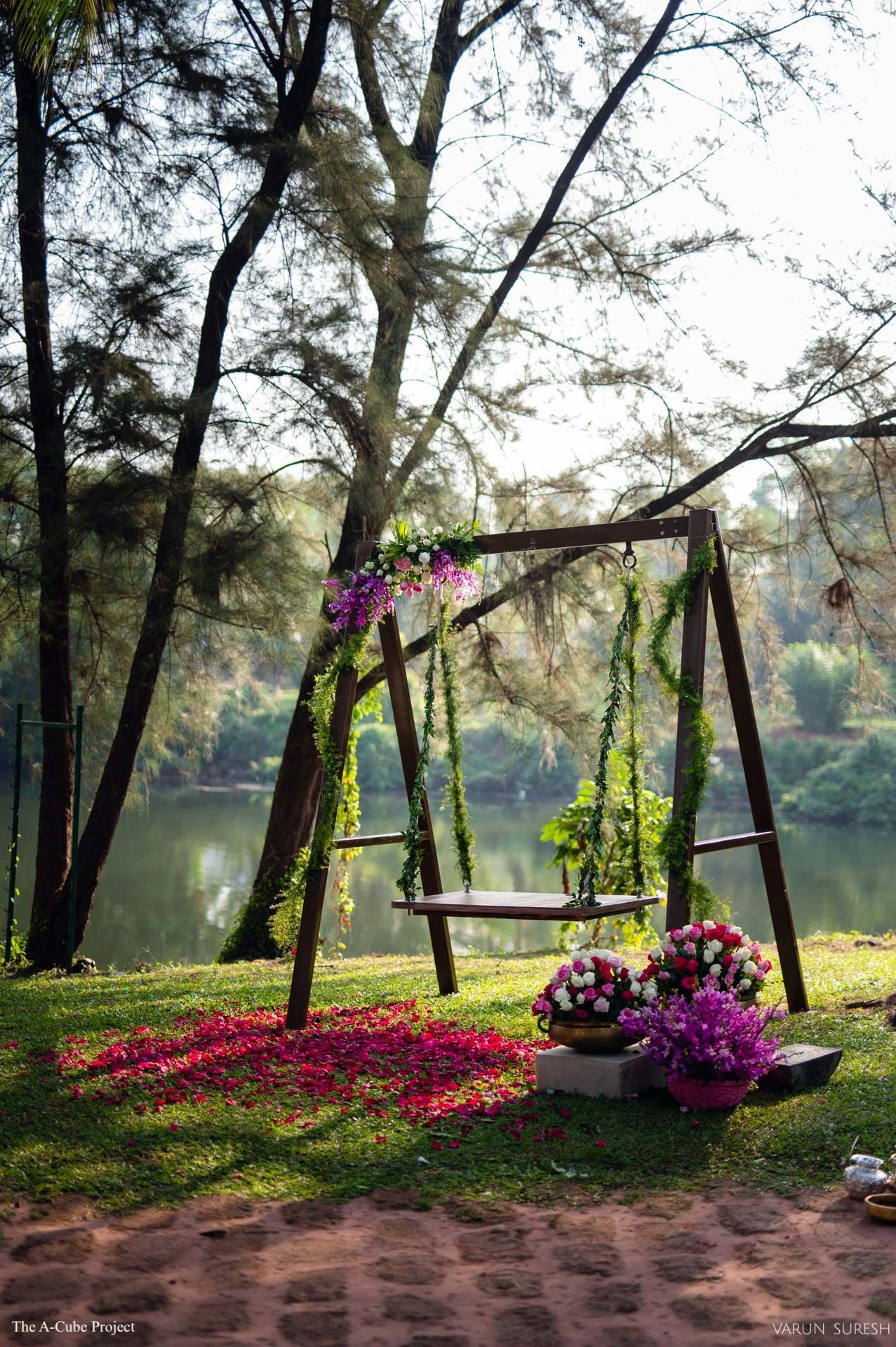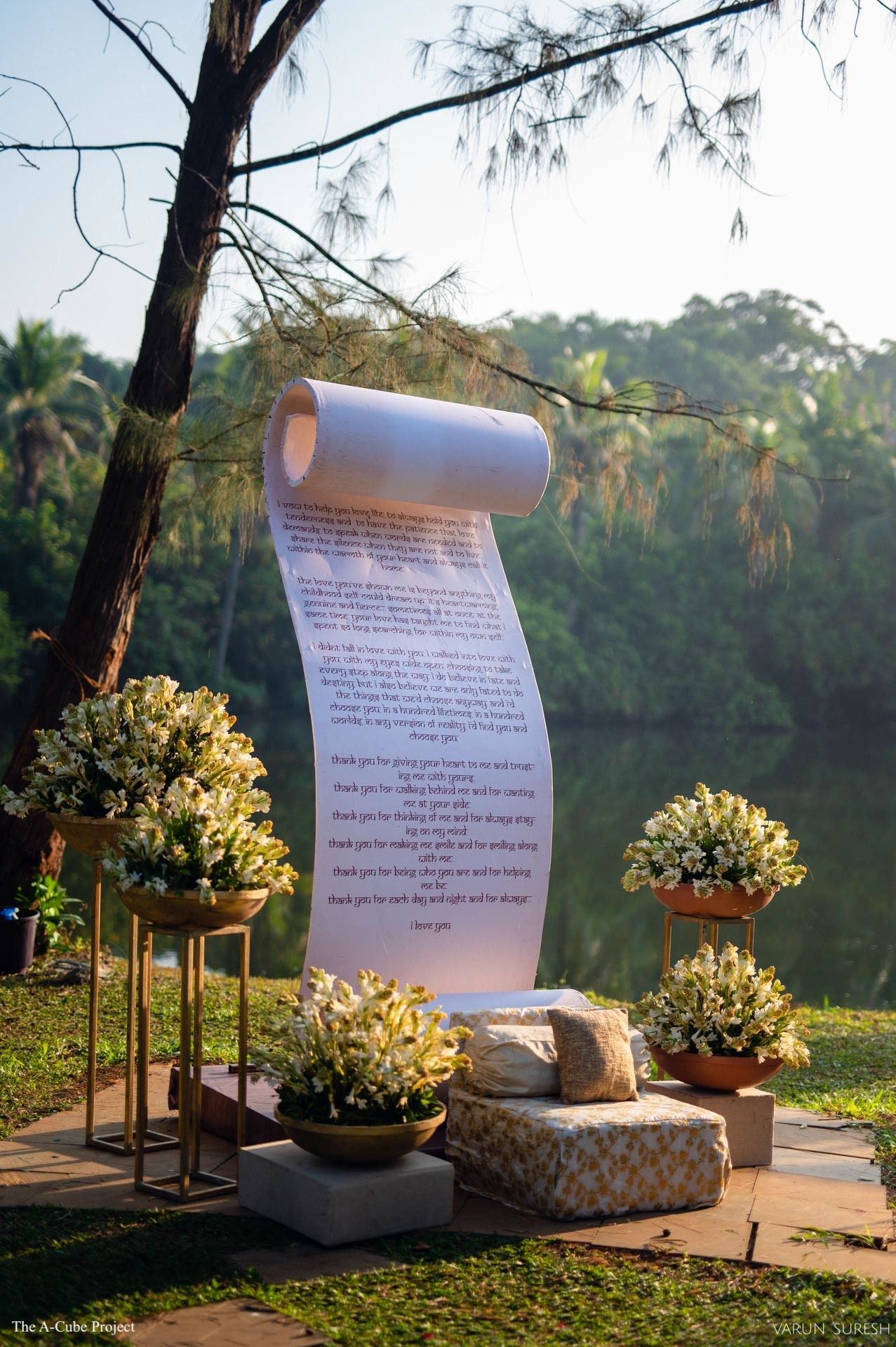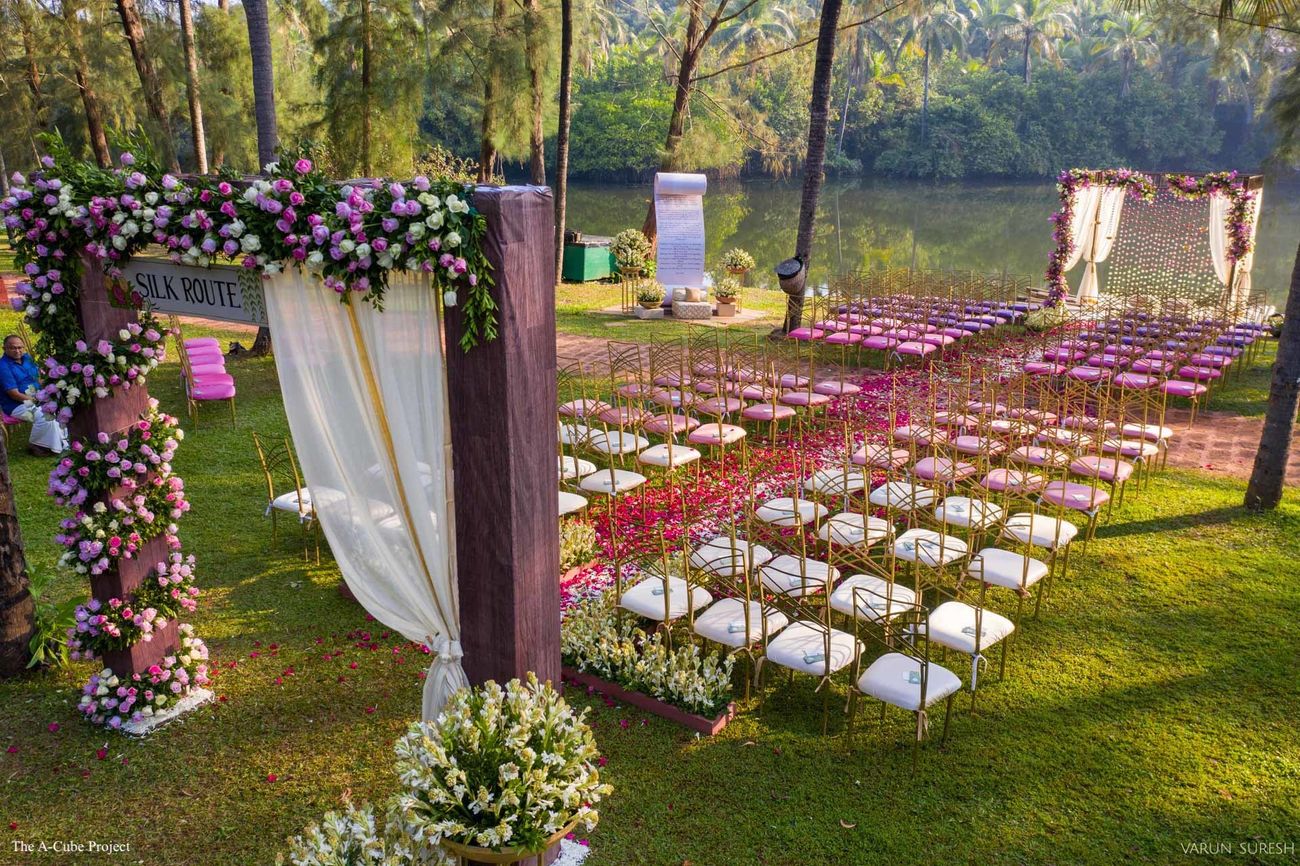 The wedding was designed around the bride, Malavika's love for Kanjivarams while playing with the natural beauty of the venue. To sum it up, it was traditional, ethereal, and oozed simplicity. Here's the eye candy you'll want to add to your wedding wishlist.
Magical use of gold diya hangings & brass urlis
An ombre color palette, kasavu silk drapes for the Mandapam
The scroll backdrop for the smaller rituals literally made our hearts flutter
Brunch (Malabar Brunch)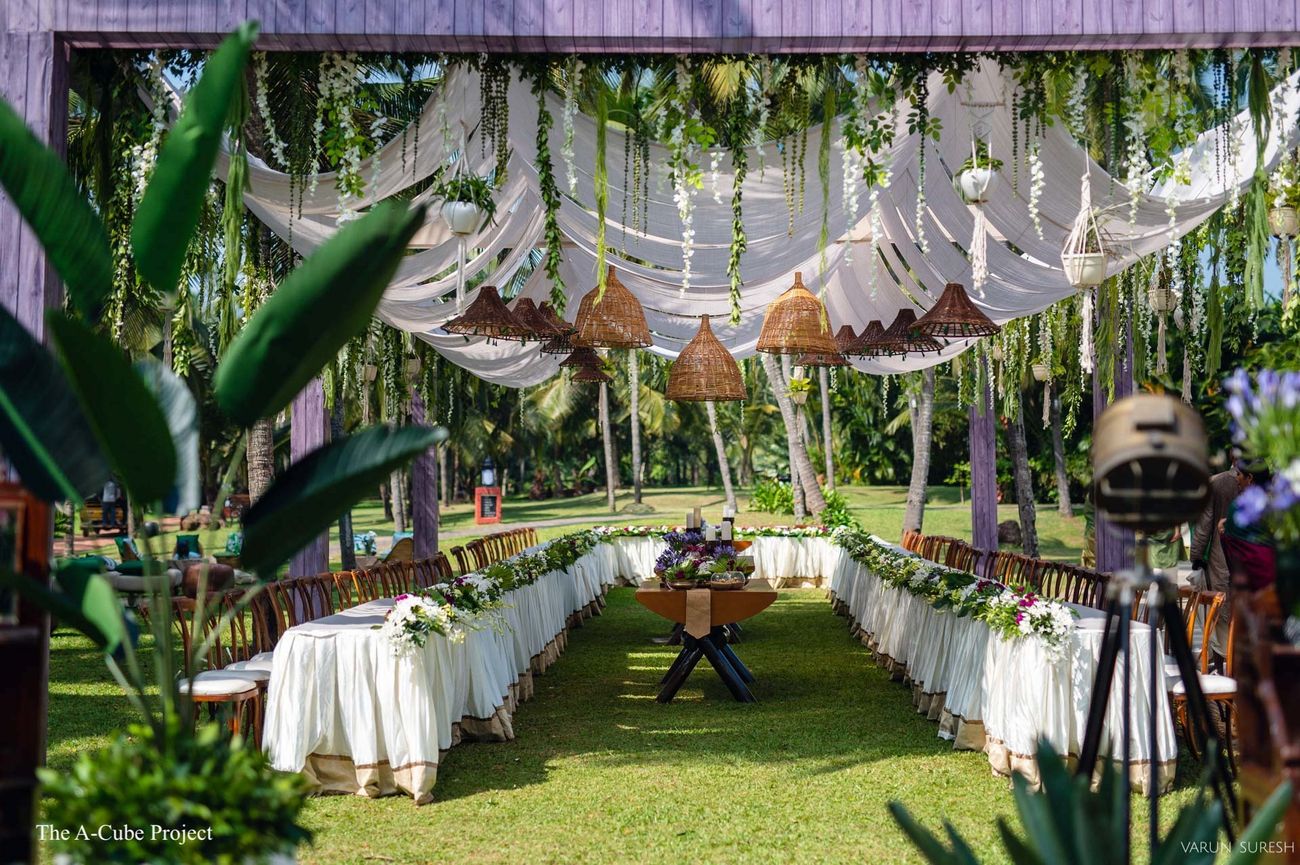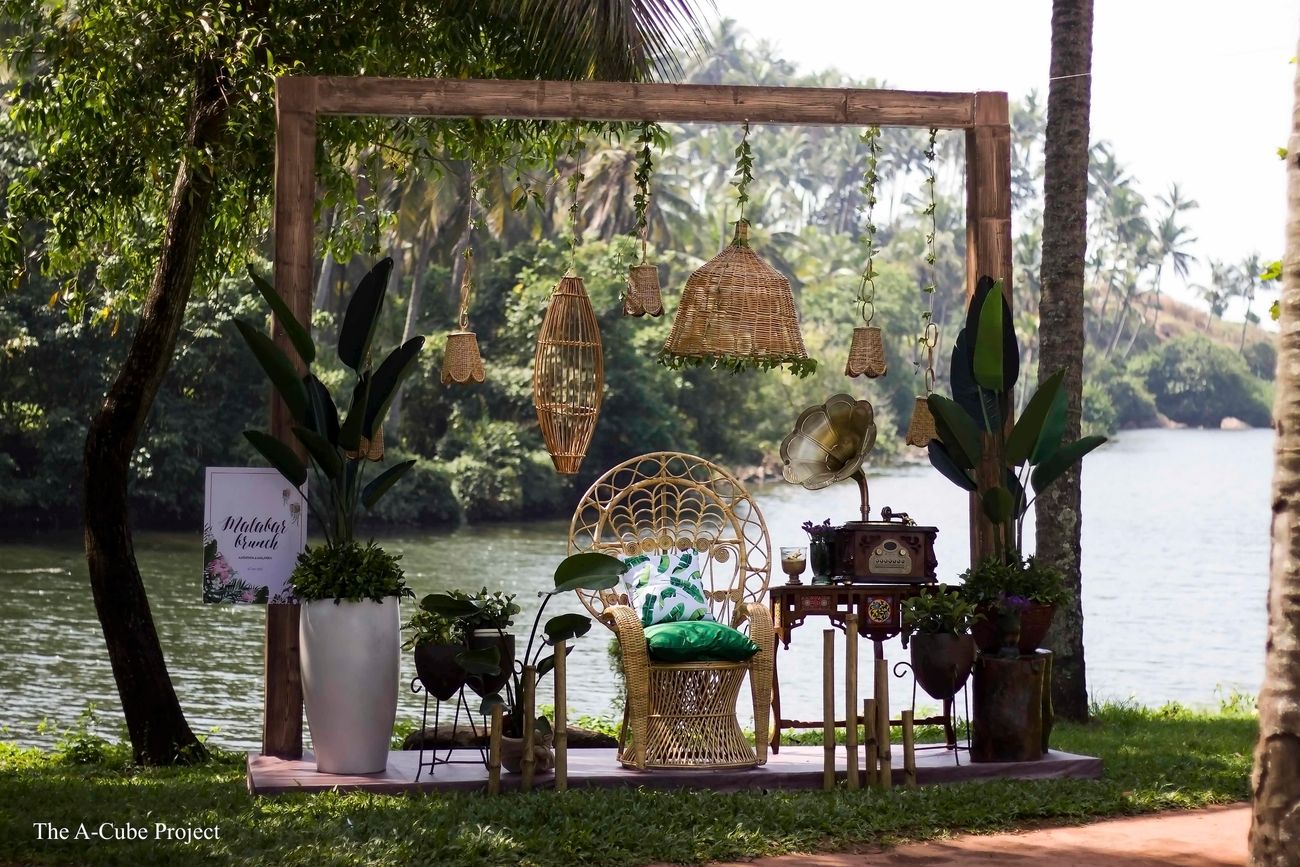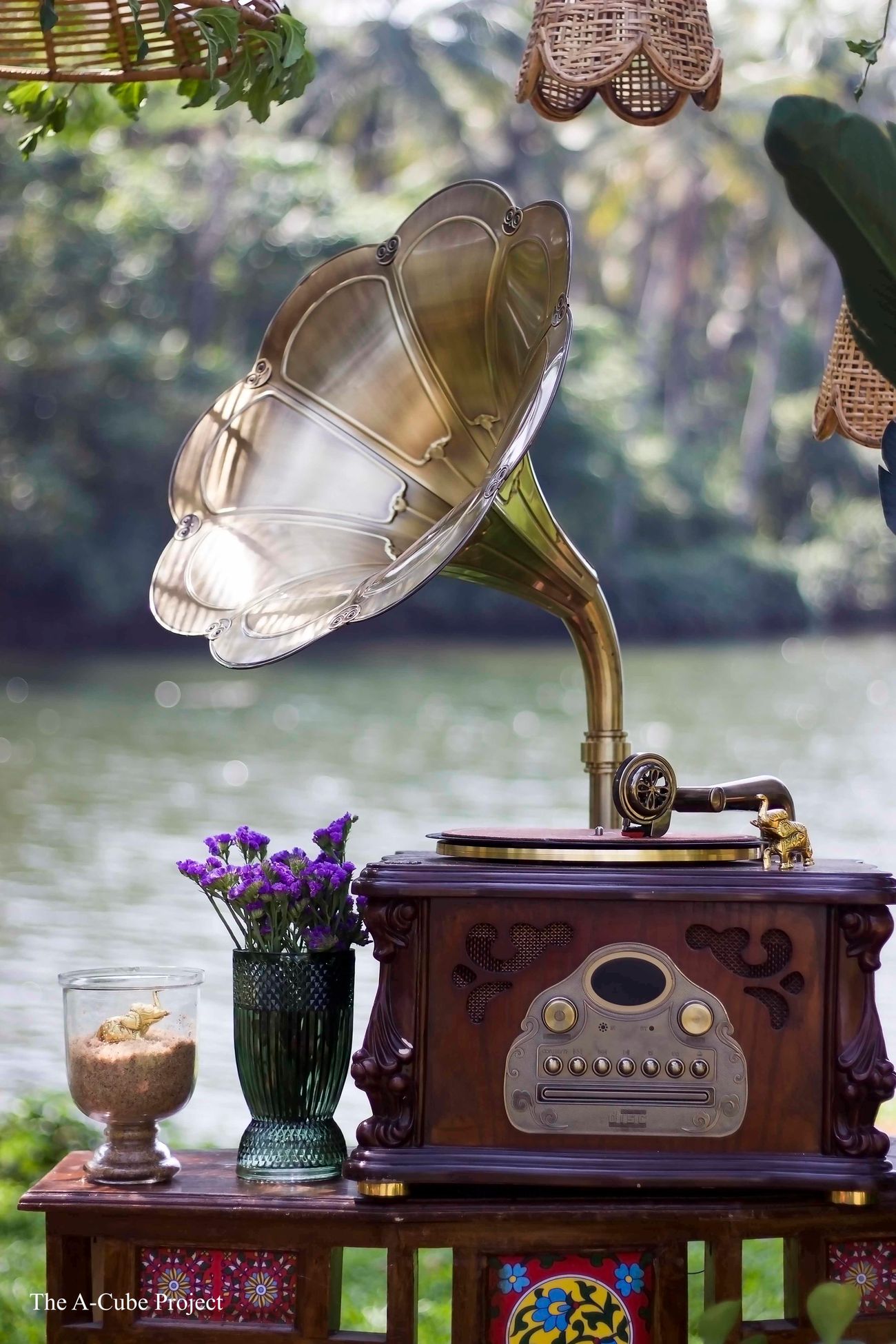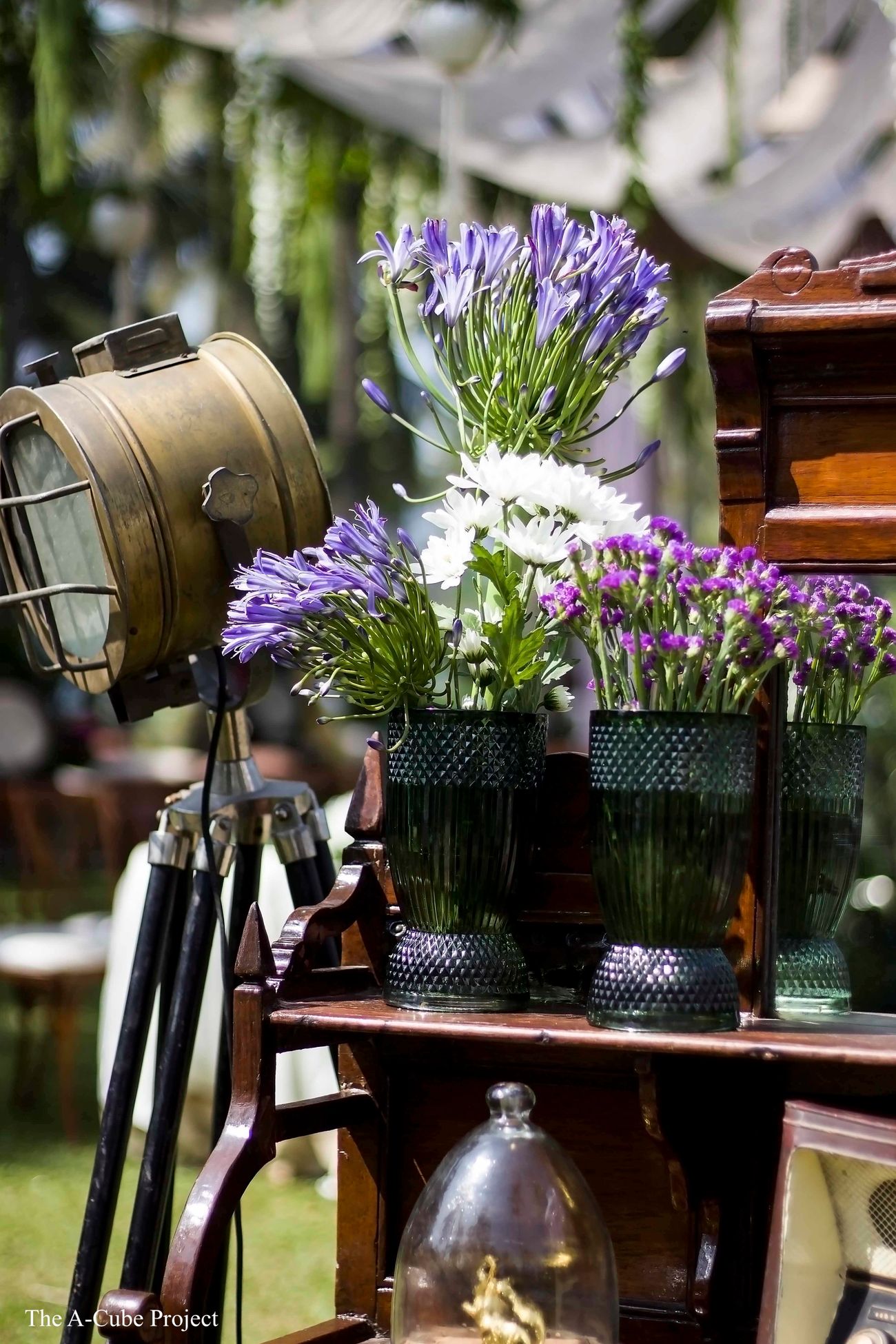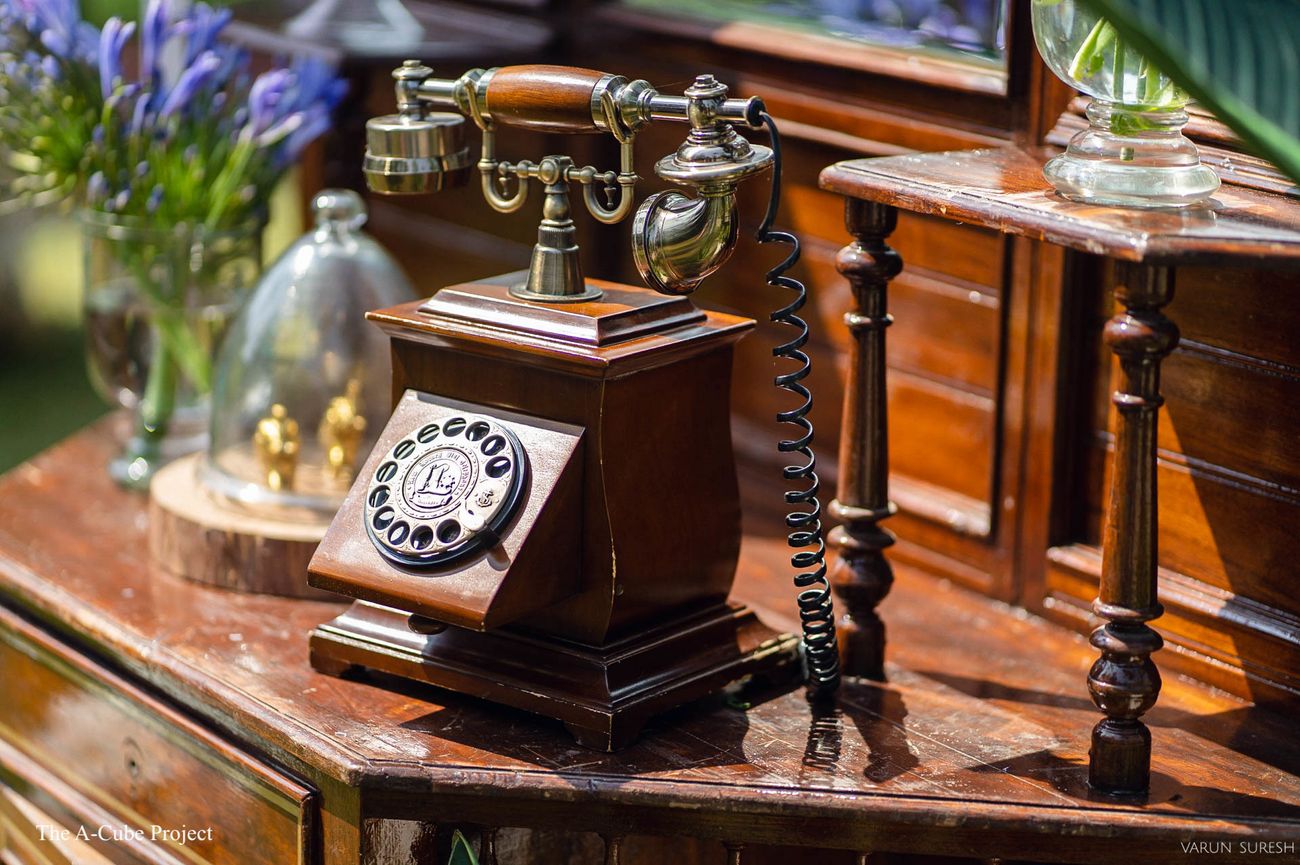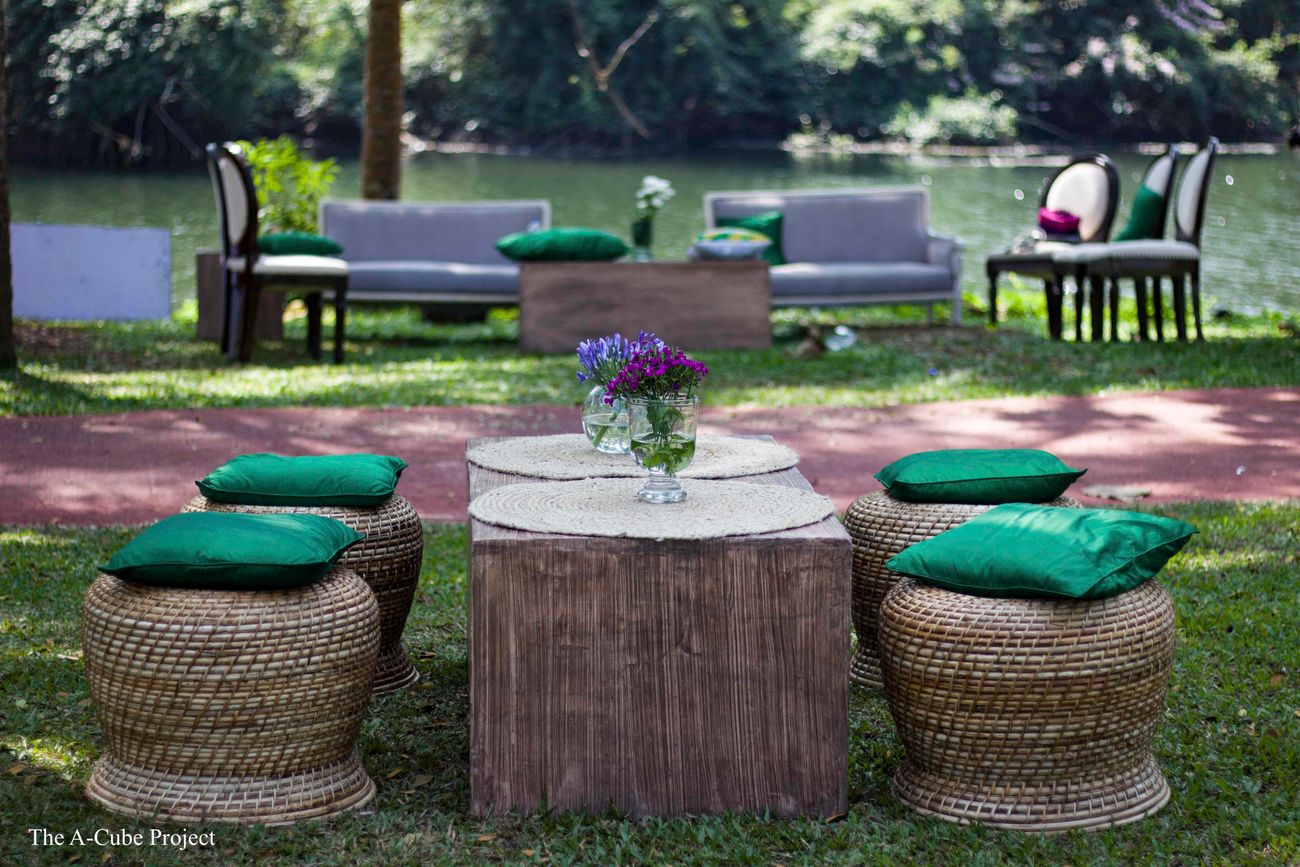 The decor for this ceremony was inspired by the Malabar region of Kerala, which is popular for its forests dense with bamboo, orchids & elephants! We couldn't take our eyes off
The unique cane basket hangings
Console table styled with jute runners
Vintage accents in form of miniature brass elephants & antique telephone, gramophone & lamp
Here's what the A-Cube Project have to say about this wedding
"At A-Cube Project, our design theory is that we build on personal stories and believe that no two people can have the same story. Hence, a lot of it is from their own personal stories and their lives and things that they do and things that they love! So, we do build all the decor boards on personal stories and personal journeys."
So, we took a lot of months to plan Malavika's wedding. And at A-Cube Project we have a policy where we do a lot of questionnaires, and ask the couples a few queries, which are design related, and personally spend a lot of time with the bride, specially when it's a destination wedding because it is spread out over months of planning. And the more and more, I got to meet Aathithya and Malavika, and their family, what came out were 3-4 very distinctive points - they were warm people, extremely loving and simple and their vibe was very minimalistic! 
I remember when I asked Malavika, "I feel you're Audrey Hepburn outside but Frida Kahlo inside', and she agreed to it. Hence we decided to plan an event inspired by Frida Kahlo, and called it 'Bohemian Rhapsody' - with Mexican essence & Portugese influences, full of kitsch & quirk. 
She wanted two functions to be traditional (Malgudi Days & Silk Route). Both these events literally broke the internet with virality! And we could achieve the traditional vibe with the help of flowers, hues and elements that we chose. For the Wedding (Silk Route) we kept everything minimal, so that we don't tamper the beauty of Taj Bekal. And that's why the place looked so serene. 
Kesari Kutch was all about Malavika's personality, for her love for textiles, her inclination towards Kutch fabric. We used pure, original fabric specially handpicked for the decor. Muted hues with pop accents! 
Malabar Brunch, being an extension of the wedding day, was all about a decor with White, Green & Brown tones intact. The idea was to end the celebrations on the right note! 
We had a vision to make this wedding look simple, down to earth, which is a reflection of Aathithya & Malavika's personalities, while exuding a warm & cozy vibe!
Jaw-dropping, ain't it?
Planning a wedding? Check out venues, makeup artists, photographers and more that can help you plan your perfect dream wedding! Also, download the WedMeGood app today for a seamless wedding planning experience and tons of inspiration!