DIY decor ideas for your Mehendi! (Three cheap, chic & effortless themes!)
BY The WMG Bride | 20 Sep, 2014 | 28715 views | 4 min read
So for most of you, Mehendi isn't the most elaborate affair, right?  It involves two people drawing beautiful black art on your hand as your closest family and friends gather around in your home, play the CD your brother downloaded the night before of 'mehendi songs' (Seriously, there is SO much we need to thank DDLJ for!) and in general gorge on yummy chaat. So if you aren't thinking about hiring a full-fledged decorator from our awesome decorator list here,  these cool little ideas should have you covered!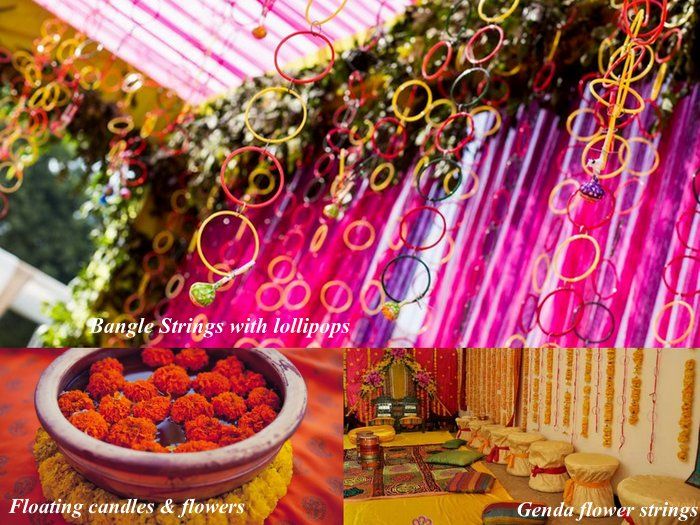 Bangle strings with lollipops photo from Anandna's Mehendi shot by Going Bananas.; Floating candles and flowers picture from Radhikas wedding shot by Mahima Bhatia
Theme: Bangle Bazaar
Budget: 4,000 Rs
What you need:
200 Plain Colored Glass Bangles from your nearest bangle store  (1200-1500 Rs )
Lollipops from your local super market ( 2o for Rs 200)
Genda Flower Strings from your florist ( 500 Rs for a lot of strings),
Tea lights (270 Rs for a pack of fifty from Fab Furnish),
Colorful Ribbons and Gota from craft supply store ( 300 Rs for 6 ribbons) ,
Neighborhood Flower Pots (free)
Do it yourself:
String the glass bangles one below the other with colored ribbons so they become long strings of 10 bangles each. Hang these from the wall, or any raised surfaces
Hang the lollipops at the end of the bangle string for a unique surprise
Intersperse these with Genda flower strings alternatively
Use clay pots, or the potted pots you have and fill them with water, add a few natural flowers and tealights to float in them.
Use remnants of colored ribbons to create short strings you can attach on to armrests of your sofa, chairbacks etc.
Extras:
Get a few really old modas or cane chairs and drape them with old saris borrowed from mom.
Add a few floor cushions in brightly-coloured covers on straw mats to add some drama.
Hang a gendha phool with string on some bangles and make it fun. Or better yet, make a DIY Bangle candle. Just stack all coloured bangles and stick them up with fevicol into temporary bangle tumblers without a bottom. Just add a tealight inside.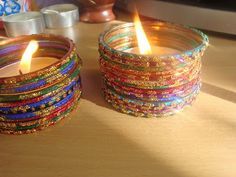 Pic courtesy: foodbetterbegood.blogspot.com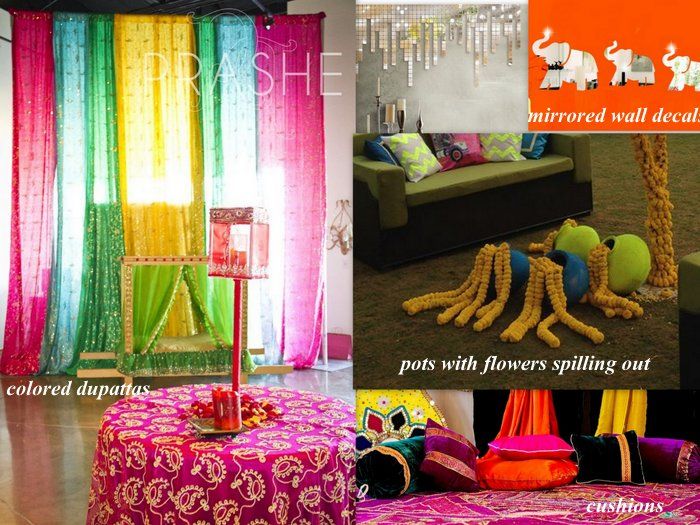 Theme: Modern Rajasthani
Budget : 7,000 Rs
What you need:  
Flowy coloured dupattas with sequins/ mirror work  (Rs 500 each - get 10 from Jabong or your nearest fabric store )
Multicolored cushion covers (Rs 300 for a set of 5  (get 2 sets from Amazon India)  and stick colored bangles on them) ,
Mirrored wall decals (650 for pack of 1, get 3 packs in different Mehendi type of themes from  Amazon India)
Do it yourself
Loosely hang the flowy dupattas against the windows and at the back of your sofa against the wall. Also drape these as 'throws' over your sofa
Strew cushion covers about on the floor in various colors
Use mirrored wall decals from Amazon in the shape of  wall mirrors and elephants -to be stuck on the wall to go with your Rajasthani theme
Extras:
Borrow a few umbrellas from your BFFs and stick flowers on the rims for some fun.
A few ribbons and there you go....you have a ribbon backdrop that will cost you nothing! Plus, it's colourful.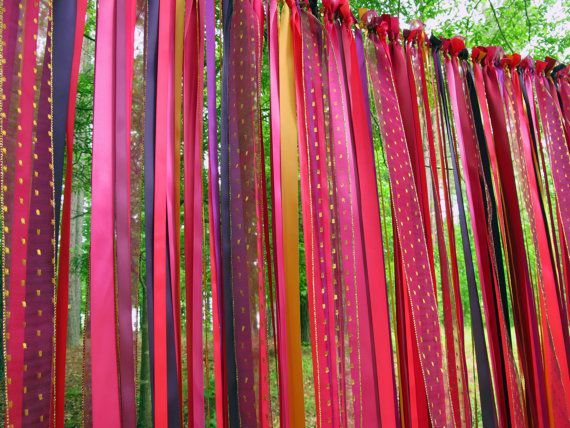 Picture Courtesy: Etsy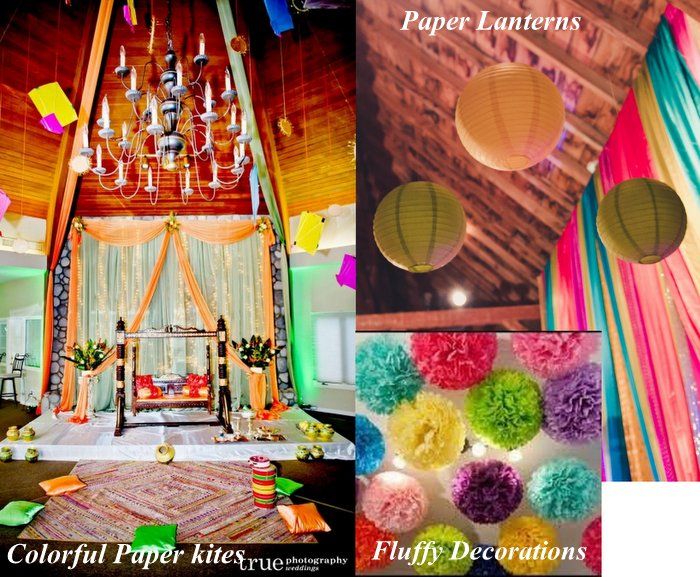 Theme: Kites and Lamps
Budget: 5000 Rs
What you need:
Kites in a ton of different colors (2400 Rs for a pack of 30 kites here)
Round Paper Lanterns in different colors (150 Rs for 1 Lantern- get 10 from Fab Furnish)
Fluffy Decorations (Buy 9 for Rs 1200) from Amazon India Party shop
Do it yourself
String multiple kites on a manja (Tough String) and strew it around your drawing room or garden area .Make sure the kites look like they are suspended in the air
Hang round paper lanterns (you could hang 3 on each side of the bride's seat for a very pretty photo op!)
Use fluffy decorations to create a feature wall (stick all of them to a large chart paper and use that as a backdrop for a photo booth!
Extras:
Use kite paper to make DIY buntings with strings and hang them everywhere!
Take a few printed butter paper rolls and wrap them around tealights to give a festive look.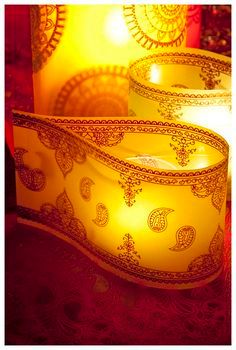 Picture Courtesy: Pinterest 
Hope these help !!!!! In case you do end up using any of these, do send us few pics :)
Also check out: Mehendi Favor Ideas your guests will love!