Don't Be A Stressed Bride! Here Are Some Easy Ways To Stay Relaxed On Your Wedding Day!
BY Sakshi | 03 Oct, 2019 | 1930 views | 4 min read
It's but natural to be a bundle of nerves on your wedding day- especially the wedding morning! But calming down those nerves is half the battle one to ensure everything goes smoothly and you get to enjoy your special day. So here are some WMG recommended tips and ideas for brides to keep in mind, so that they can go ahead and have a blast at their own wedding instead of sweating the small stuff.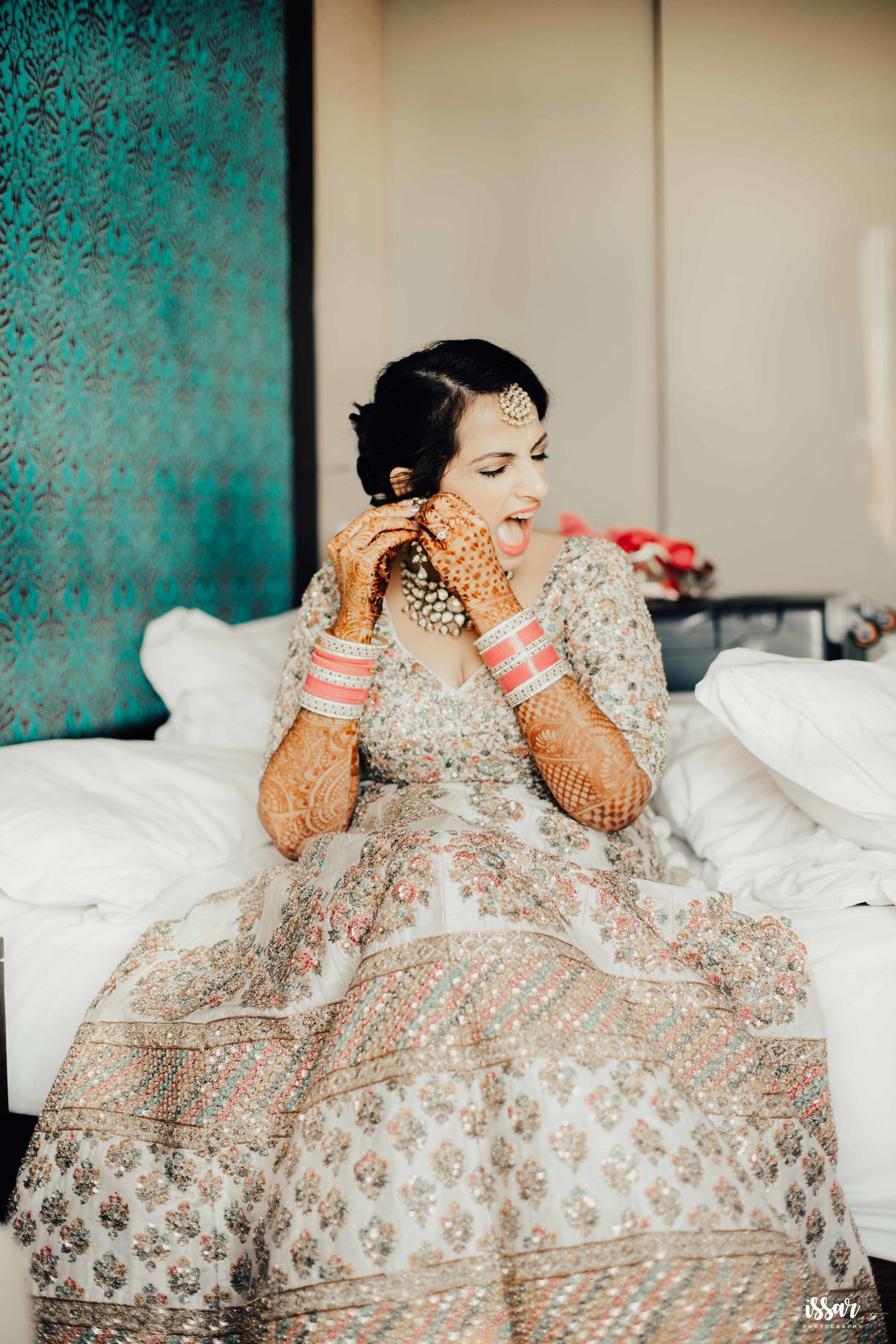 Image via Shashank Issar Photography★ 4.5
Switch your brain from the 'control' setting to 'enjoy' 
This one is very important. We know you're at the top of things and have worked hard to make this a memorable day for yourself and everyone else, but you're not doing anyone any favours by being in the 'control' mode on your wedding day. Leave the control in someone else's hands and just focus on enjoying and cherishing your big day!
Plan your day in advance
Small things done a day or two prior to your big day can really help in making the wedding day extremely smooth. While you cannot really control everything like the weather, there are still a lot of things you can do to make sure things go smoothly. Cross-check timings with your MUA and photog a day prior, make a list of the bridal or couple poses you want, keep cash handy for payments- small little things like the ones mentioned in the post here which can really help in making the day easier on you!
Delegate!
We cannot stress on the importance of this enough. If you have a wedding planner or event co-ordinator, then good, even if not, then we recommend keeping someone like your sister or your trusted bestie in the loop right from the start who knows as much as you do about all the planning and the vendors, so that on the D-day, she can handle stuff instead of you leaving your makeup and hair to go deal with a situation!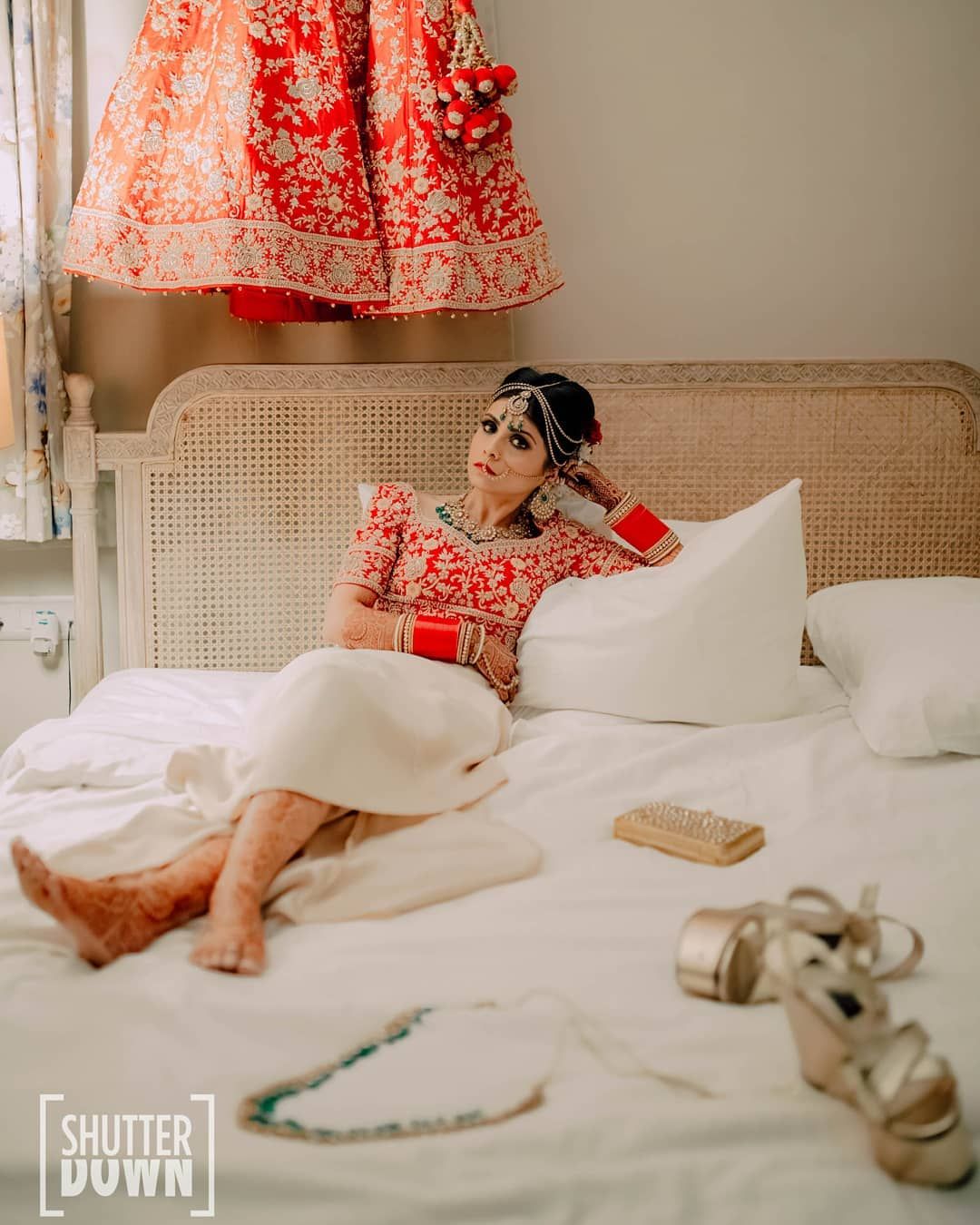 Image via Shutterdown - Lakshya Chawla★ 4.9
Channelise your stress into something better instead of hyperventilating!
So we had a bride who made a whole dance video with her girls when her baraat got delayed, or another one who went shopping for Jimmy Choos! When there's nothing better to do, then try distracting yourself with something better so you don't end up getting stressed!
Keep a bridal emergency kit handy
This one is to avert disasters and keep your calm on! Keep this bridal emergency kit handy, and we are sure you'll be thanking us later! Might sound unbelievable, but sometimes, this can literally save the day! Plus, just knowing you have in case something crops up it is gonna make you feel better.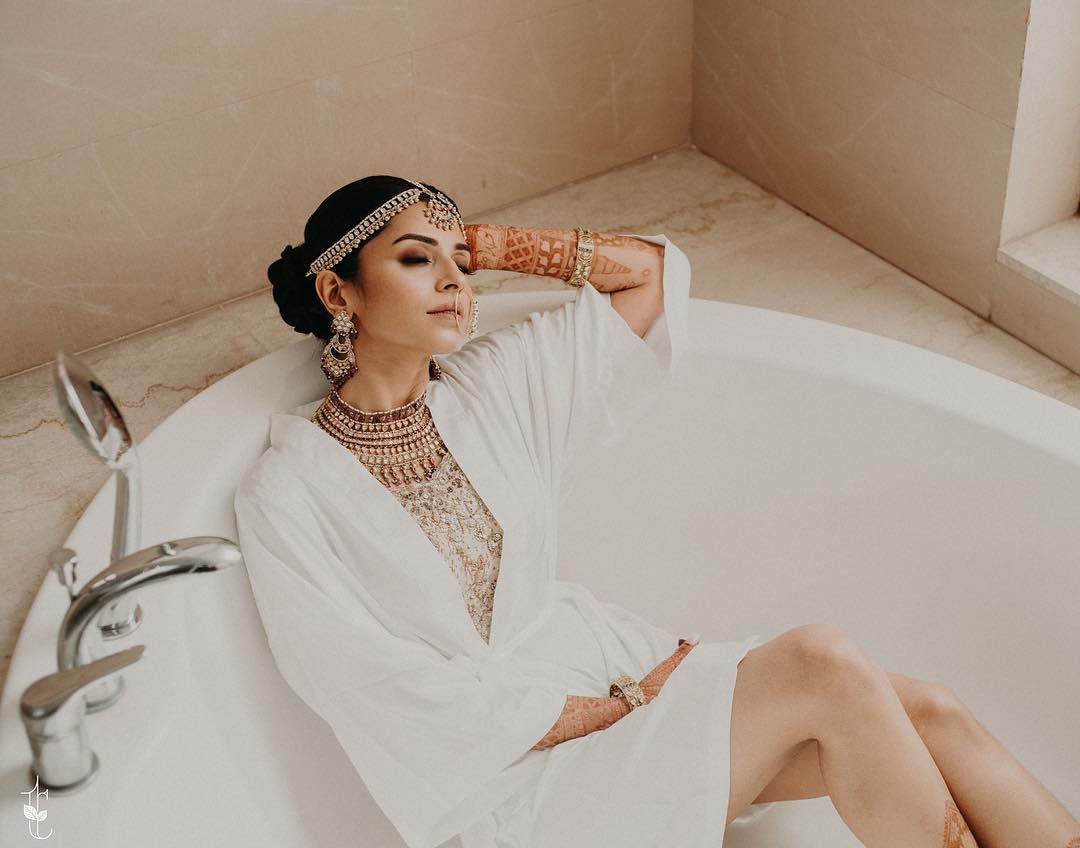 Image via Tuhina Chopra Photoworks★ 4.9
Draw a nice bath or get a massage!
If you can't help be distracted by the chaos around you- then get a nice shoulder or foot massage in your bridal room, or draw a nice long bath in the morning before the day starts. 
Music & Aromatherapy helps
This one might not seem like much, but it does really help, trust us! Light a nice candle in the room with your fave scent that calms you down or put some peppy music that can lift your spirits! 
Lower your expectations 
Now this is something we recommend for your own personal happiness. Of course everyone wants the wedding of their dreams, but if things do not go as smoothly as planned, is it really the end of the world? And if everything goes perfectly as per plan, then you can be over the moon about it!
Don't sweat the small things
There are so many small things that are bound to frustrate a bride, and especially stuff that can crop up on the last day. If something isn't the right shade you wanted or the bridesmaids aren't matching enough, it doesn't really matter in the grand scheme of things. The wedding should be a celebration of your love at the end of the day, and do not let anything else lessen the focus from that. Lower your expectations so that when it all goes well, it is happier!
ALSO READ: Sureshot Ways To Destress Your Wedding Morning!