Every Bride Needs a 1-Month Bridal Checklist. Here's Yours!
BY Sakshi | 20 Nov, 2017 | 2568 views | 4 min read
It's true! Brides need to get a lot more done than the grooms before AND during the wedding. For most of us, the planning and the wedding madness starts as soon as the date (or the groom :P) is finalised, and with so much to do in such less time, we have to learn how to multi-task and get things done! So we decided to make it a lot easier for you with this 1-month bridal checklist that has everything you can possibly imagine! Stick to this and we assure you you'll be all set!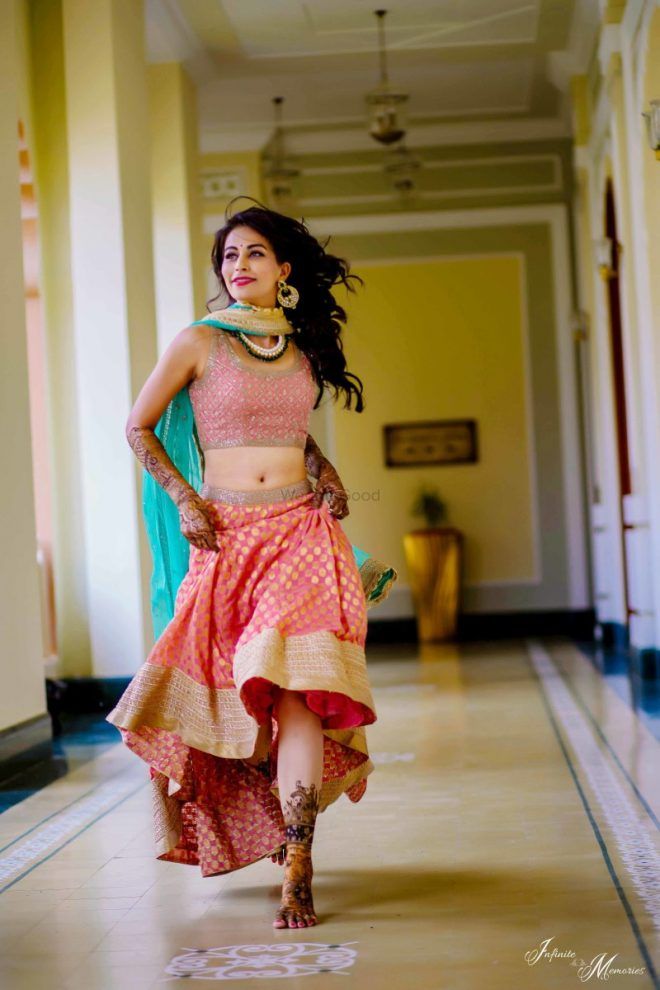 Image via Infinite Memories
With 1 Month To Go
Start your pre-bridal skin care packages or treatments.
Start dance practices if you haven't already. Finalise all the songs too.
Book your Engagement/Wedding/Reception cake. 
Get your bridal trousseau packed and ready.
Buy all your bridal accessories and add-ons; check if something has been missed.
Organise all the logistics and transport for out-of-town guests.
If it is a destination wedding, cross-check all bookings with the vendors/ wedding planner. 
With 2 Weeks To Go
Give all your outfits for steam ironing.
Get your hair treated- trim, colour, gloss, deep conditioning, hair spa- whatever you need!
Get your bridal facial now, with enough time in hand for some rashes/zits to disappear.
Get a body scrub for exfoliation.
Want to get your face, back or arms bleached? This is the time!
Start packing for your new home.
Arrange the vehicle for your vidaai.
Organise or attend your Bachelorette party!
Finish packing your honeymoon bags if you leave immediately after the wedding.
With 1 Week To Go
Separate every outfit with accessories and shoes as per the event and see if all sets are complete.
Get your brows and upper lip waxed or threaded.
Get waxed at least five days before the big day so your skin has time to heal. 
Destination wedding? Pack everything well as per this checklist. 
Pamper yourself with a spa day before all the wedding madness descends.
Ask your best buddy to arrange for all the alcohol that will be secretly needed!
With 3 Days To Go
Pack your overnight bag if you head straight to a hotel to spend your first night. This checklist has all you need to put in it!
Reconfirm time with all your vendors. 
Pack an emergency bridal kit, which can come very very handy! Here is a checklist for what all to put in it!
Get a manicure so your hands and nails are amazing before the Mehendi!
The Night Before the Wedding
Try and catch a good night's sleep- trust us, you'll need it!
Avoid eating anything that can make you bloated or gassy.
Avoid too much of salt and sugar to avoid water retention. Drink enough water to stay hydrated.
Confirm time and venue with the MUA if she's coming to your house/ hotel. Reconfirm things like washing your hair or not and if you need her to bring anything- lashes/ hair extensions/ accessories.
Confirm the timing with your photographer for the 'getting ready' shots.
Pack your lehenga and accessories as well as shoes if you are going to a salon to get ready.
Allocate someone else to do the running around the vendors for you, like say your brother or sister. Make sure they have a good idea of who's who and all the important numbers.
Wedding Day
Wake up calm, take a moment for yourself and have a cup of green tea or warm lemon water.
Put spoons or an eye mask on your eyes to get rid of any puffiness.
Exfoliate your lips with a lip scrub or good old sugar and vaseline!
Carry a front-open top to the makeup salon. 
Ready? Go through this checklist BEFORE you leave the salon!
Get a nice bridal photoshoot done before you go to the wedding. Fix details of this before-hand with your photog. 
Send a message to your groom telling him how you can't wait to be married for brownie points!
Get married to the love of your life!
ALSO READ: The 12 Month Wedding Checklist Every Indian Bride Needs