Experts Reveal: Things To Tick When Booking A Candid Photographer For Intimate Weddings!
BY Apoorva | 25 Feb, 2021 | 1011 views | 8 min read
Getting married amidst a pandemic is a completely different ballgame as compared to a pre-Covid wedding. While weddings are still fun and happy, there are certain things that one must plan for while planning a wedding, especially an intimate one. Booking vendors is one of the key tasks that happens while planning any wedding. Your candid wedding photographer is one of these vendors. So what should you know before booking a candid wedding photographer for an intimate wedding?
Why not take you to the experts and let them tell you the top things you should know before signing on the dotted line!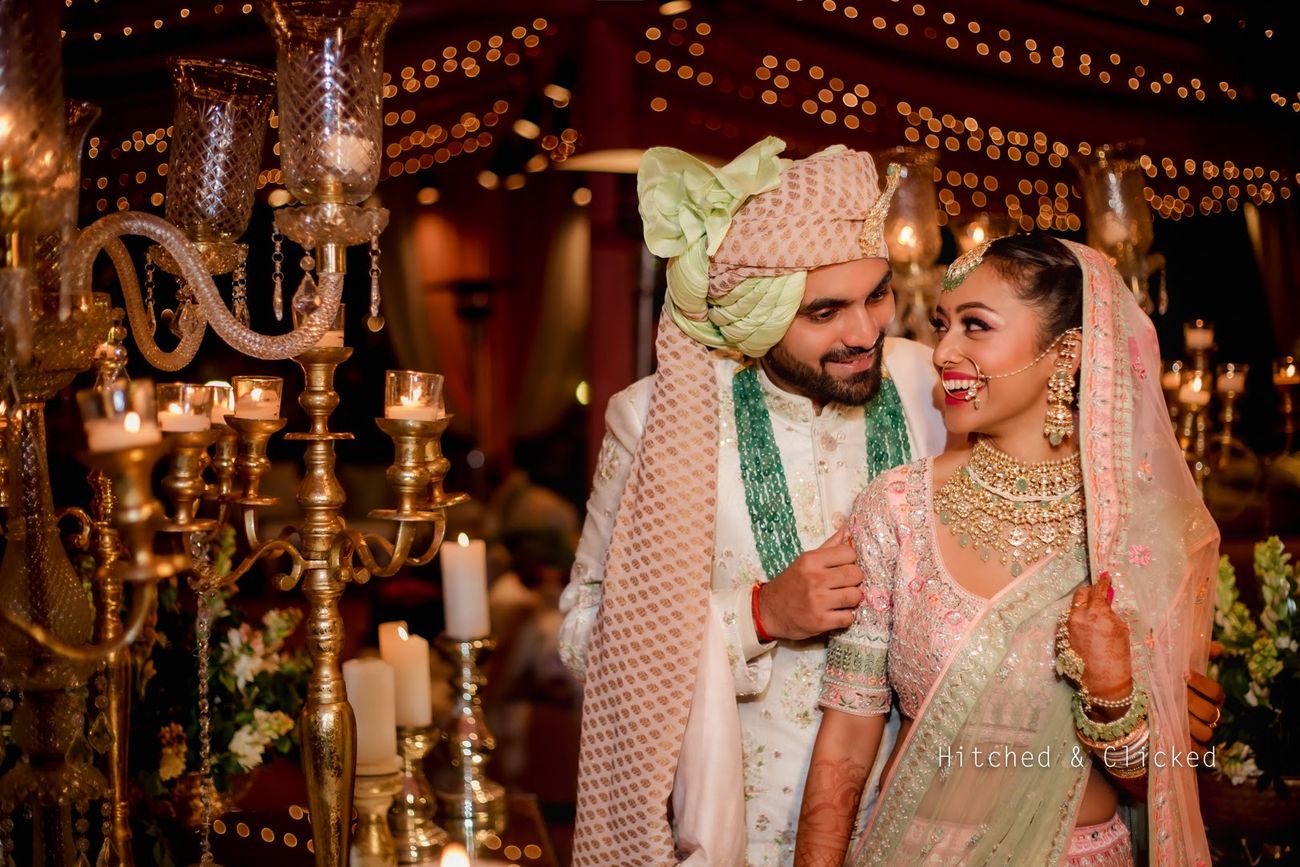 Image via Sakshi and Anchal
The most important thing that couples should know even before trying to look for their wedding photographers is that they should be able to tell a story - both the photographers and the couple. They should know that it's okay if things go south. Because it's okay if it will and it's normal if they do. The many things that couples worry about are usually visible on their faces and it's difficult for them to loosen up later. Weddings are not just events, they are a celebration of togetherness and little moments of happiness. It's the love expressed as joy, tears and excitement. We can witness and capture magical moments when there is a connection between the couple, where emotions become more important than the place or its decor. All we would ask them is to think about each other, not on the setting, or the plans, or the execution, or the crowd.
Another important criterion for couples must be communication. Just tell us what expectation you have in mind and leave it up to us to fulfil. Trust us, we are as nervous as you might be, given each wedding is a new venture with even newer stories, but the freedom to experiment combined with our expertise will create wonders for you, of which we are sure.
Do not truly trust online images wholly and finalize your photographing team based on what you see online only, social media images are just the tip of the iceberg, go into the detailing, meet the photographing team and not just the owner, understand the team that will be working with you on that day, as they will be with you 24/7 on those dates, speak with other couples and their experience with them, it`s not an uncommon sight to see ones images being used into someone else`s profile without their knowledge. Secondly, half the job of your photographers is done when you enjoy your own events, be expressive and have fun, and let the team do their job of capturing the expressions.
Most importantly you need to understand that your photographer is not a magician, and that he can create magical images only if you give him time to create the images. Your wants of particular images need to be equivalent to the time that the photographer would require of you and your family and friends to create it.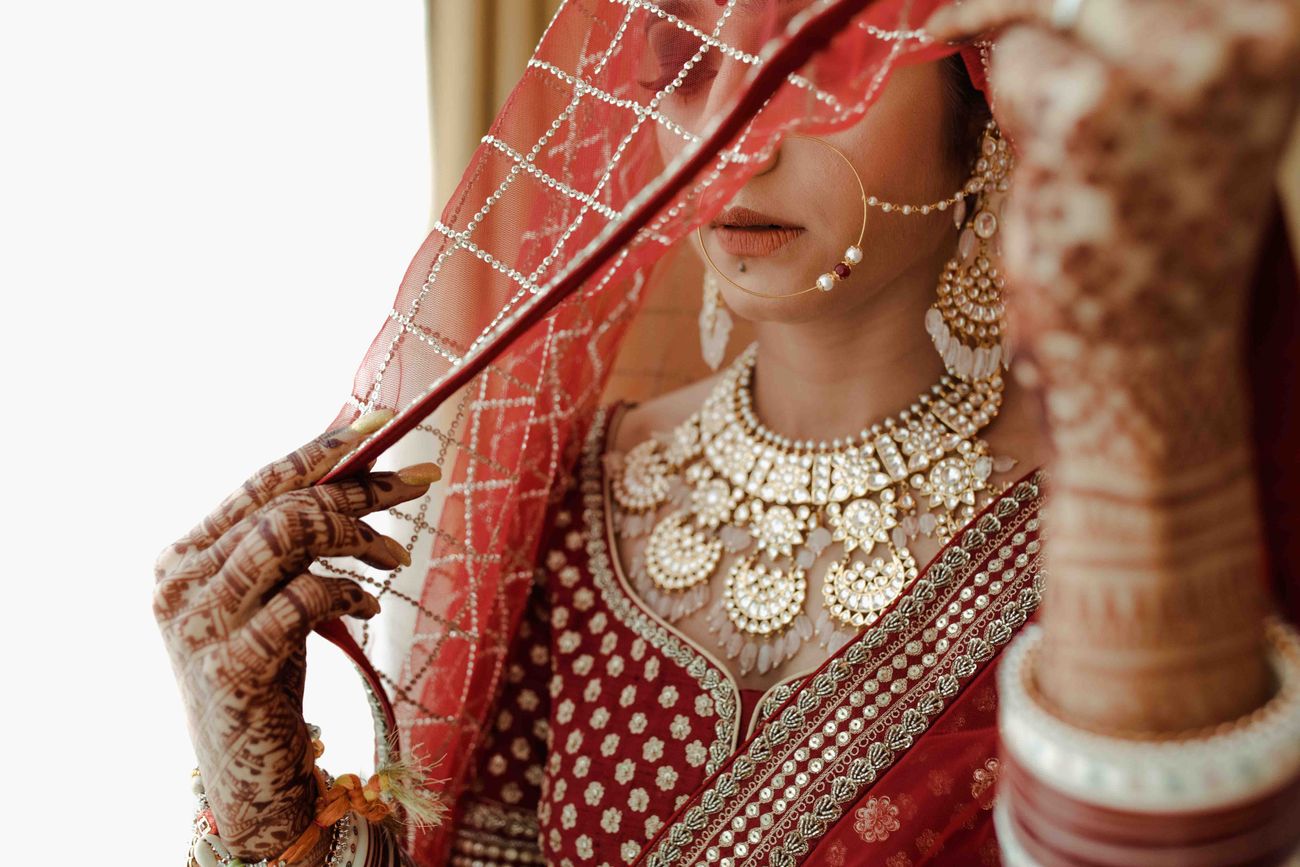 Image via Ashyin and Anubhav
Here's what we suggest at Vivek Krishnan Photography. First, decide on a style. Spend some time researching and familiarising yourself with the different styles of photography that are out there. Find out which one appeals to you the most, and based on that, seek out professional wedding photographers matching your personality and style. Second, fix a budget - If photography is one of the most important aspects of your wedding day, then we suggest you sit down and narrow down a budget first. Most photographers have different prices for intimate weddings, make sure you ask for the special rates.
And lastly, be clear about the output. If you want photos to help you remember your wedding day perfectly with every detail captured, look for a photographer who demonstrates photographing everything from portraits to candid to detail shots of the décor and wedding venue. If you want pictures showcasing you and your loved ones more, consider a photographer who works with a second shooter or a bigger team. You certainly want your photographer capturing authentic and fun moments that you may have missed. Reliving your wedding day through photographs has its own charm, awakening feel good thoughts and emotions.
Ask, ask and ask. Ask who'll be the lead shooter (this question is however for any kind of wedding). Ask how many team members would be shooting (how many candid photographers and how many candid cinematographers). Work with the vendor on the team size and work distribution (in other words, who'll take care of candid shots, who'll take care of traditional photos/group photos). With less number of team members, sometimes the candid shooters also take care of traditional photography.
Couples should understand that photographers and cinematographers need time with them to ensure they get you your best portraits. Please keep at least 45 minutes for the team to take good photos and videos. Poojas will happen, wedding will happen, let it be a bit late. Giving enough time to your team will be the best thing you'd for yourself.
Couple should check the portfolio and see if their style of work, suits their taste. Since it's intimate wedding what's their plan to make it content driven and interesting. Also, they should know what precautions they take during Covid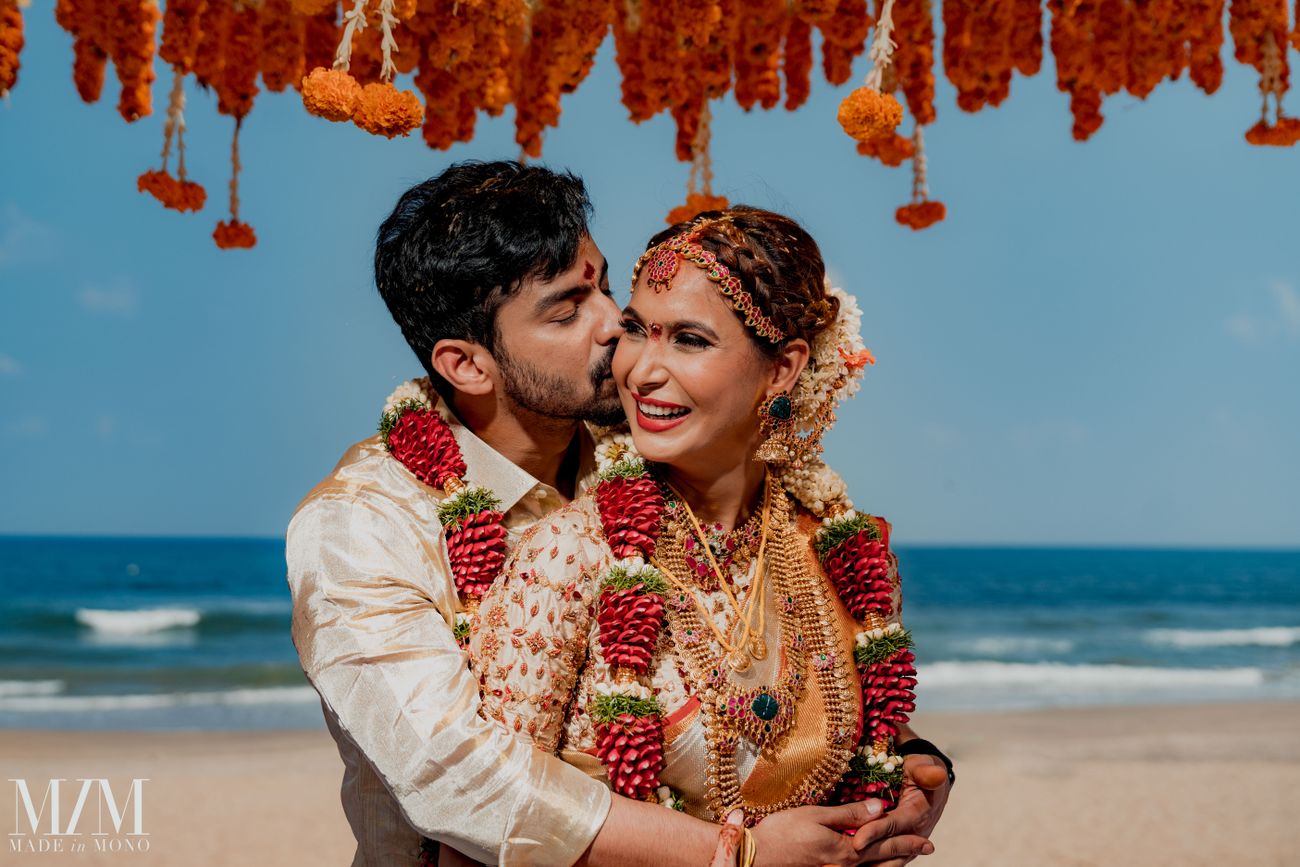 Image via Prachi and Mahat
Communicate with your photographer. Talk to us about your story, your event flow and the kind of pictures you would want. The more involved we are the better we can capture the details. Be friends with your photographer and invite them to your world as it's not just the bigger events, weddings are all about two families coming together, it's about the smaller moments that they share and everything in between. Making your photographer a part of this will help to blur out the awkwardness due the presence of an unknown person with a camera to a point where people don't have to control their emotions. Talk about the cancellation policy. Considering the current situation of the global pandemic, it's always best to get the terms cleared early on so it doesn't affect any party. Have an agreement that protects the interest of everyone in case of any unforeseen circumstances.
An Indian marriage is kaleidoscope of magical moments of rituals, family & friends.  Thus to capture every action & emotion is essential; so couples can expect rare skill set from a candid photographer, who should an eye for minute details and perspective to think out of the box. They should have a full confidence that a candid photographer will create canvas of colourful eternal memories from every ritual to complete the festivities in most creative way.
This is what every couple should ask the wedding photographer according to us - The aesthetics/style of the photographer - Look at websites and check out their work profile as every photographer has a different shooting style and you need to find one that has the style you prefer? Secondly, what are the deliverables included since it's an intimate wedding and whether a photographer can provide the RAW stills and video both? And lastly, if a Photographer has an option to customize the packages as per the requirement of the couple and what is the cancellation policy?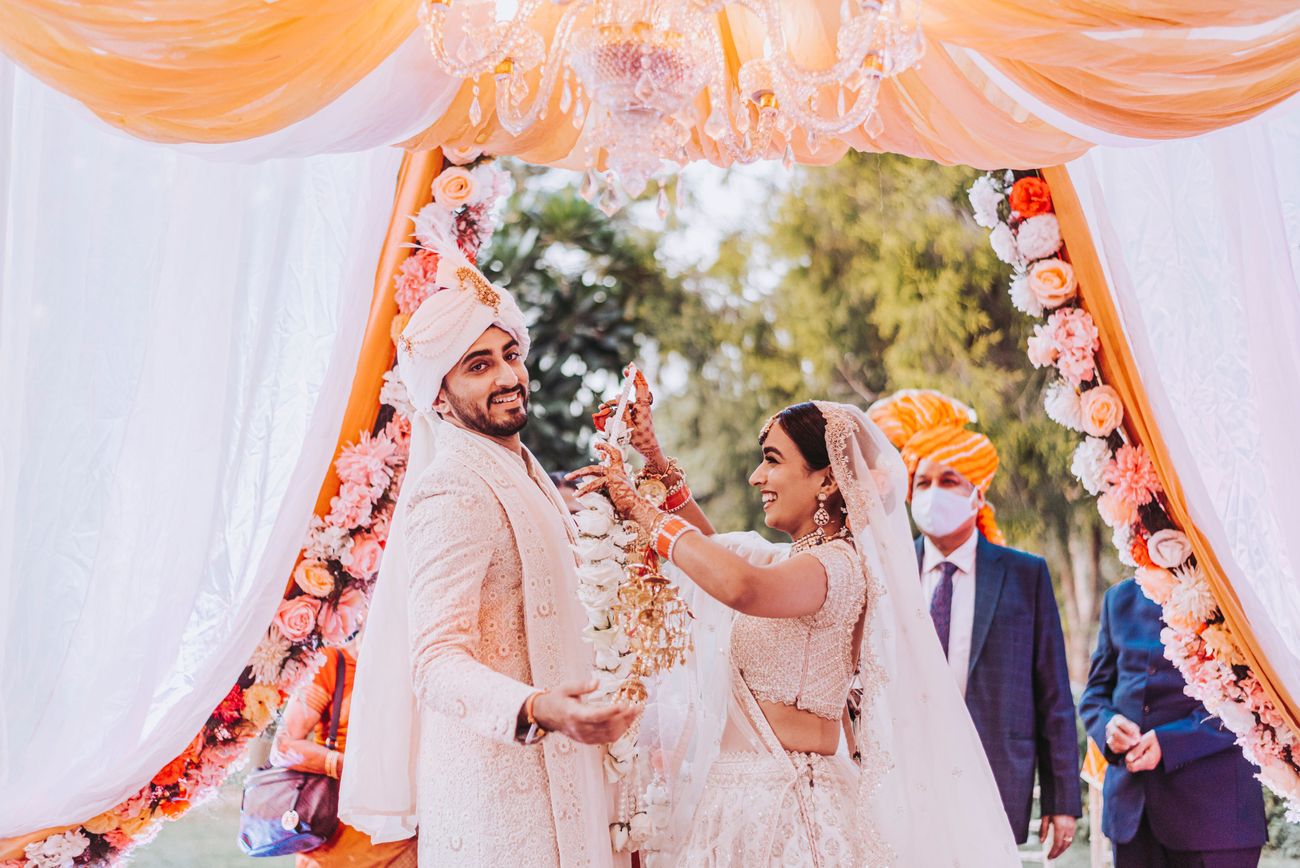 Image via Mitali and Archit
You get what you pay for! Hiring a photographer who charge less might necessarily not result in a good overall experience.
I think the essential thing that most couples ought to consider getting done is researching before connecting with photographers - to see the work, comprehend the style because each artist has a different style some lean towards raw emotions and unfiltered pictures some prefer editorial pictures some lean toward pictures that portray a story so I believe it's vital to discover a photographer that one could relate with and think they'd be the best fit to make your special day much more exceptional. There must be an understanding between the photographer and you, you must ensure they know you, they know your story and they ought to have the skill to portray precisely that in their images. The photographer will be a part of your family for those 3 days and to ensure they are an ideal choice makes researching extremely vital.
Wondering why you need candid wedding photography? Find out Candid Wedding Photography: Why You Need it !
Check the Cutest Candid Bride & Groom Moments Captured On Camera!
Don't forget to Ask These 10 Questions To Your Wedding Photographer, Before You Make That Final Call!