#FirstPerson: "Im The Bride Behind The Viral Cheap Thrills Video Which Everyone Has An Opinion On"
BY Sakshi | 24 May, 2017 | 2407 views | 3 min read
Remember the bride who danced to 'Cheap Thrills' while getting ready and everyone had an opinion on it ? Our facebook feed was full of comments- right from nasty ones who called it lame and tacky to others who loved her spunk and her vibe . Some even threatened to unfollow WMG for it - But like we always say , our job is to simply show you what's out there - you decide to love it or not . But what we really wanted to know is the bride behind the video- Amisha Bhardwaj- how she reacted to all the people who commented on her video.
How it all began...
I didn't plan this, and I guess good stuff happens when you don't plan anything! This started when I was waiting for Pranav (now my husband) and his baraat.. He was late as usual and I was 80 per cent ready with 'my make up on'..  Short tempered by nature, I started freaking out, but my videographers asked me to chill. My videographers Surpreet & Pawan fromCoolBluez Photography★ 4.8  had thought of this idea and song before and asked me if I had time to execute it. . And that's when we all started dancing and flirting with the camera, and the team kept improvising – 'Get your dresses', 'Let's do a shot poolside' , "Call your friends" etc etc.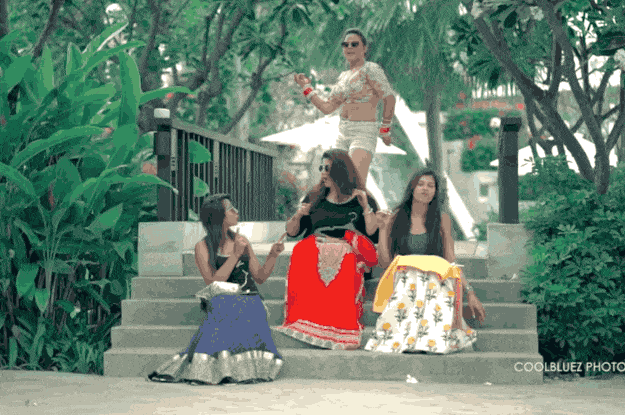 What happened 
We had no idea that our masti while dancing as we killed time would become this ! This video went viral breaking the stereotype of how brides should be on their wedding day. I have always done what makes me happy rather than thinking 'what will people think'. Not for a second did I think that about what people would say.  Not only the wedding, but during all my functions Pranav and I entered dancing first and left last with the DJ. We, from the very first day were clear that its our day and we are going to enjoy it rather than just being showpieces!
So as far as the reaction to the video is concerned, my husband and all the other people (family and friends) who know me got really happy and excited and they enjoyed watching it! My in-laws are very supportive and luckily, they don't belong to the 'Oh a bride should do this' category either.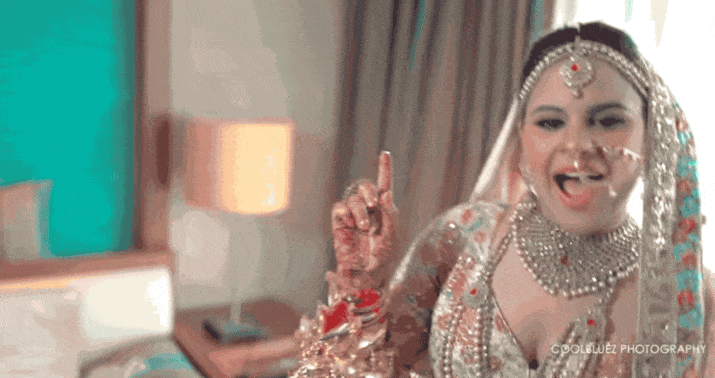 All the Haters....
Who cares if other people think its lame or have an opinion on your shorts or the fact that they think you are 'wannabe' . #hatersgonnahate and I personally feel marriages are overhyped. There should be no pressure as it is one day which will never come back again in your life. So, do whatever makes you happy- enjoy your day and make memories! Because if you enjoy, the vibe of the whole wedding will be be happier. A lot of our guests told us that they had been to many weddings before, but not one like ours. It wasn't because of the location or arrangements but because of the vibe. When the bride and groom enjoy like it's a party and without caring about judgement – that's the mantra! As someone said – You can't keep people happy, if you aren't happy within.. Similarly, you can't keep your guests happy and expect them to enjoy when you aren't enjoying your heart out!
My Message
My message to brides-to-be is- It is your day- literally the one day you will remember for the rest of your life. Stop worrying about judgements, and go out there and do what makes you happy. Be goofy, be stupid, be carefree, be fun. As long as you are happy thats all that counts.
All GIFs courtesy Buzzfeed.