Golden Hour Sundowner Wedding By The Beach At The Sheraton Grand Chennai Resort & Spa
BY Sakshi | 21 Jan, 2022 | 2854 views | 7 min read
Rarely do we see a wedding that's captured in the time that's supposedly the most gorgeous for photography. The 'Golden Hour' as it is called is when the sun's rays are just right and cast this beautiful natural golden filter. Here is a wedding that was captured in the right time, and with the most picturesque setting of a gorgeous beach. The Sheraton Grand Chennai Resort & Spa is a splendid destination wedding venue, with a view that looks as gorgeous as that!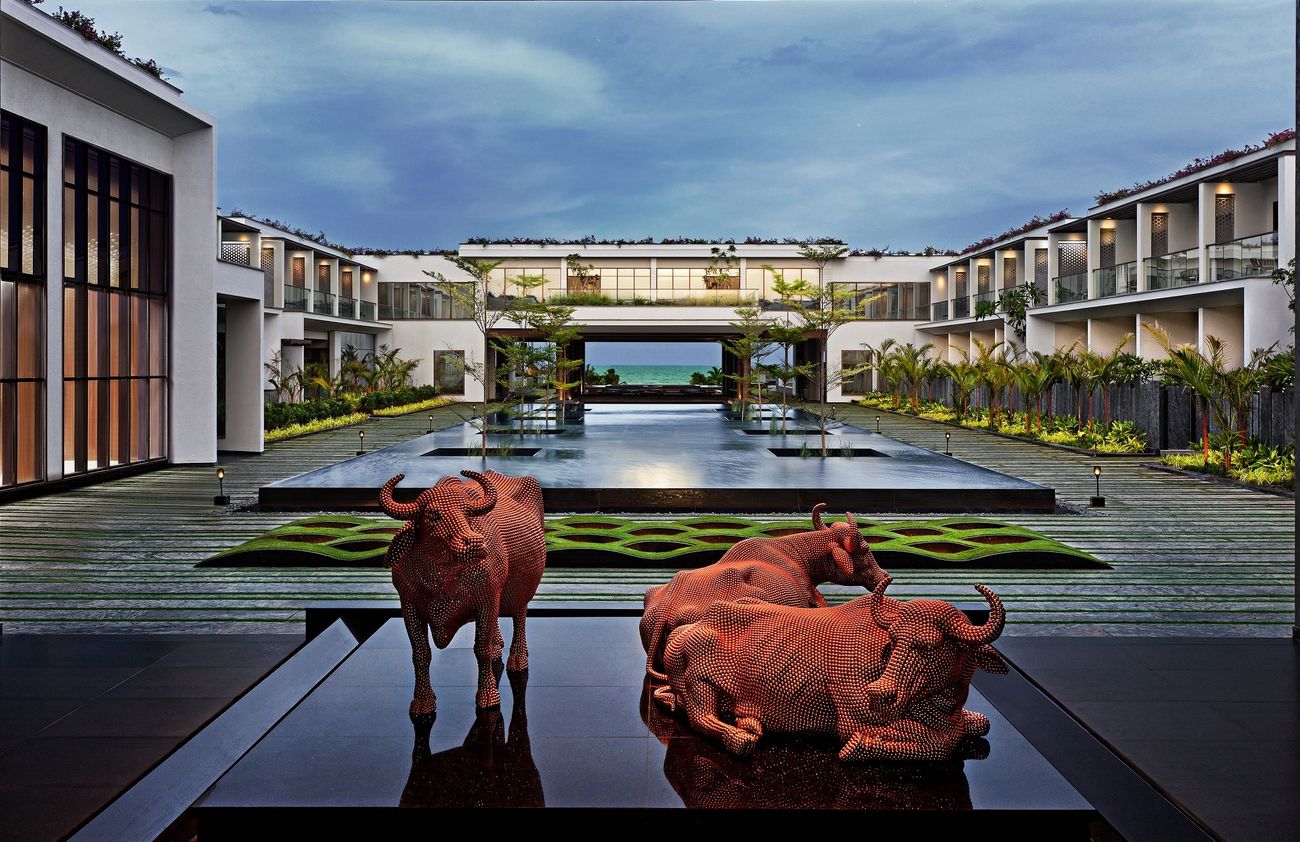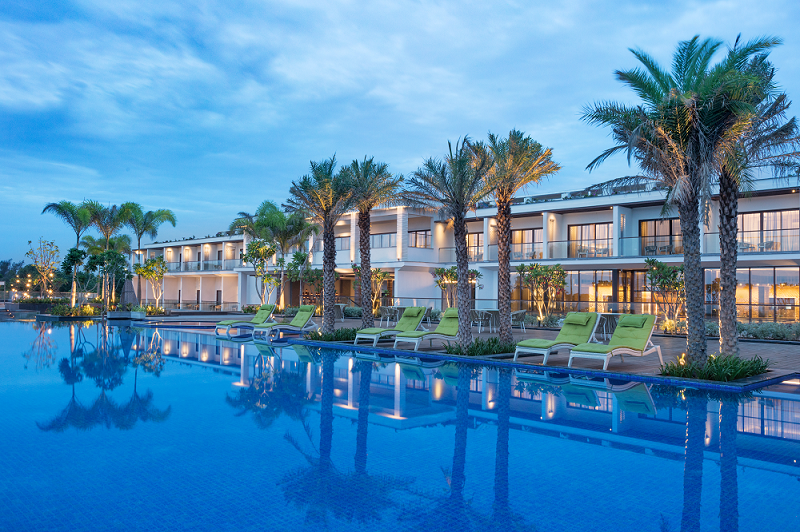 Beautiful, right? The property allows you to have your nuptials right at the beach, in addition to so many pretty venues within the resort. Simran and Aditya picked this over Goa thanks to better connectivity with flights, and made the absolute most out of the property! From a poolside mehendi and haldi to a glam Sangeet night indoors and pheras by the beachside, their wedding was definitely inspirational.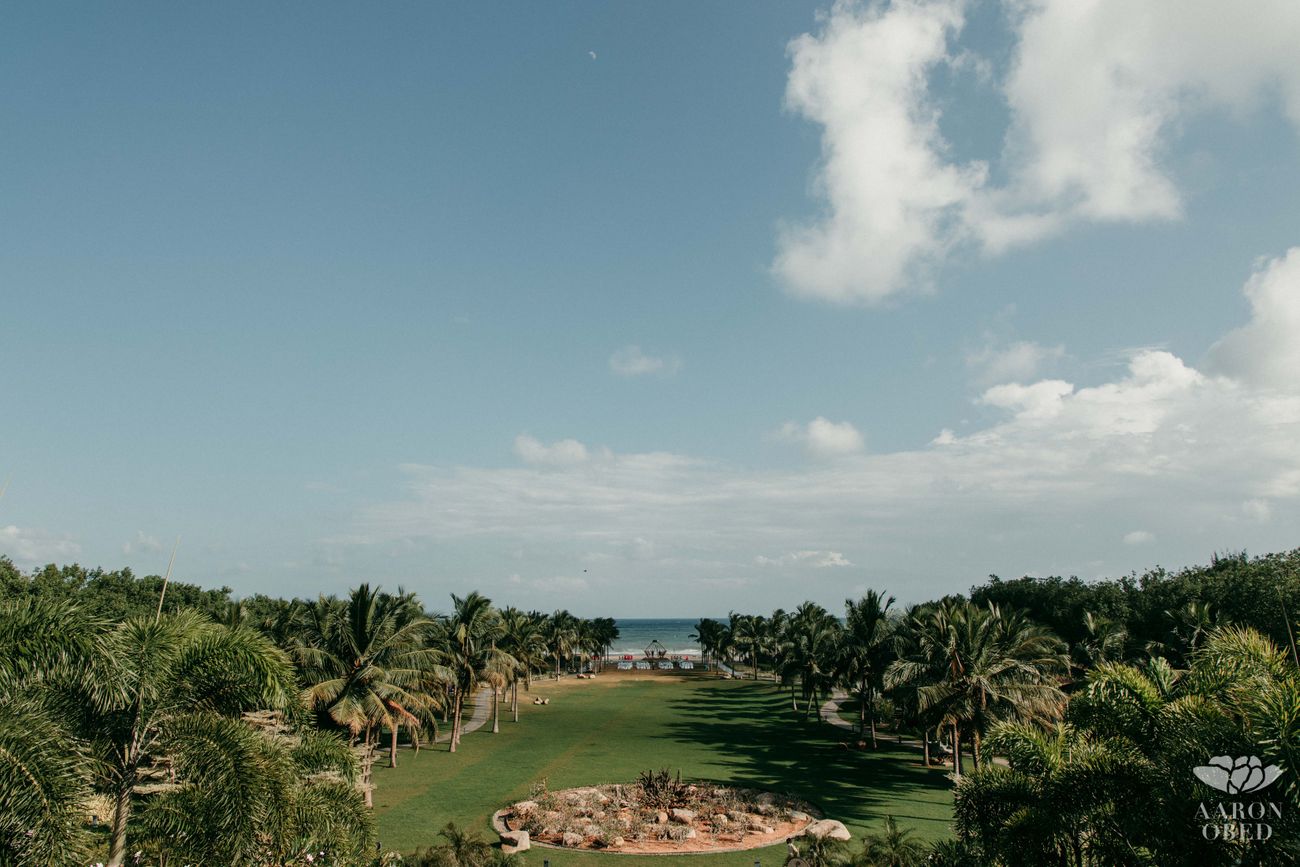 The photography by Aaron Obed Photography★ 5 captured the essence and the beauty of this glam wedding.
Meet Simran and Aditya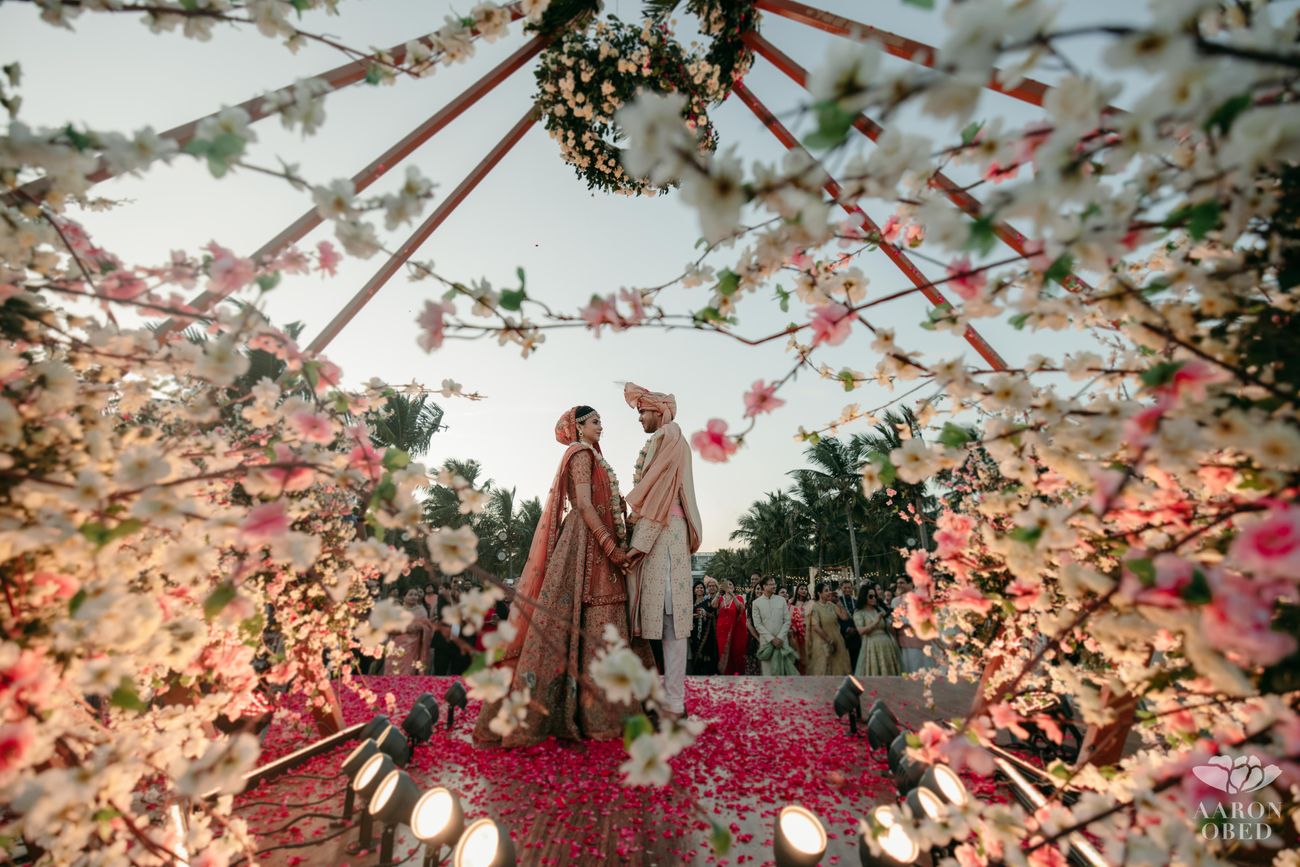 Aditya & I met in the freshmen year of our undergrad in Bangalore. Funnily, we both are from Bombay (our houses are about 5 kilometers apart) but our paths never crossed.
Mehendi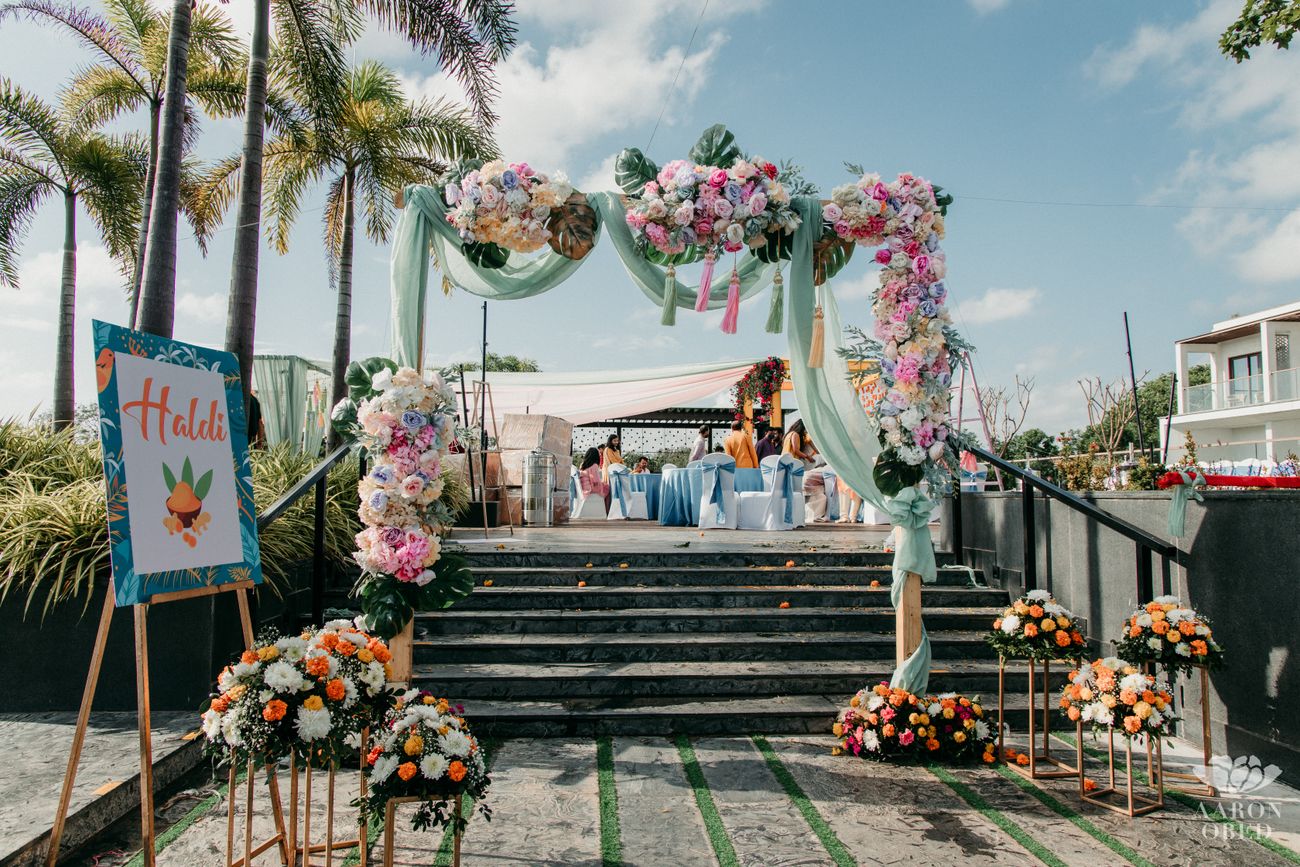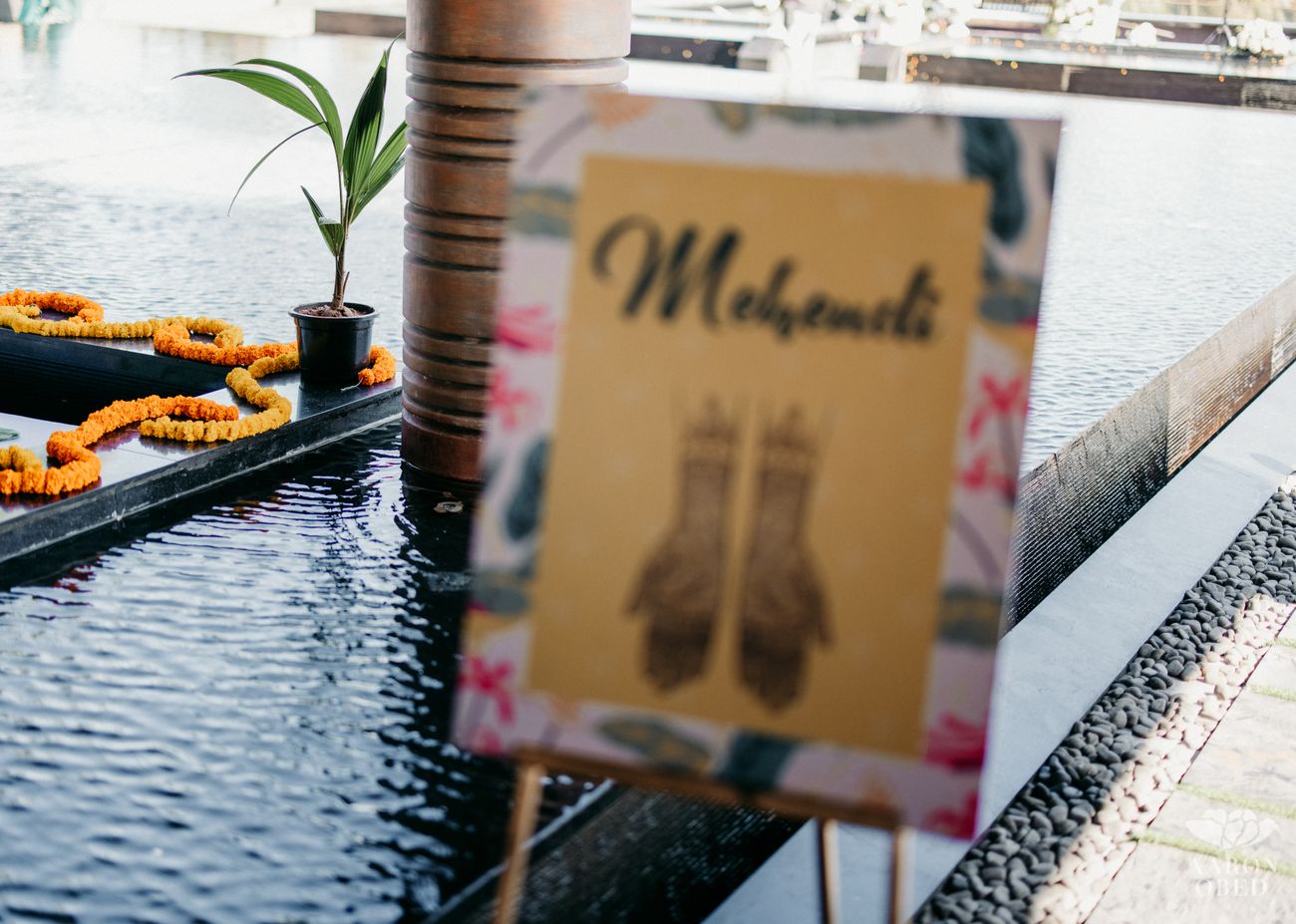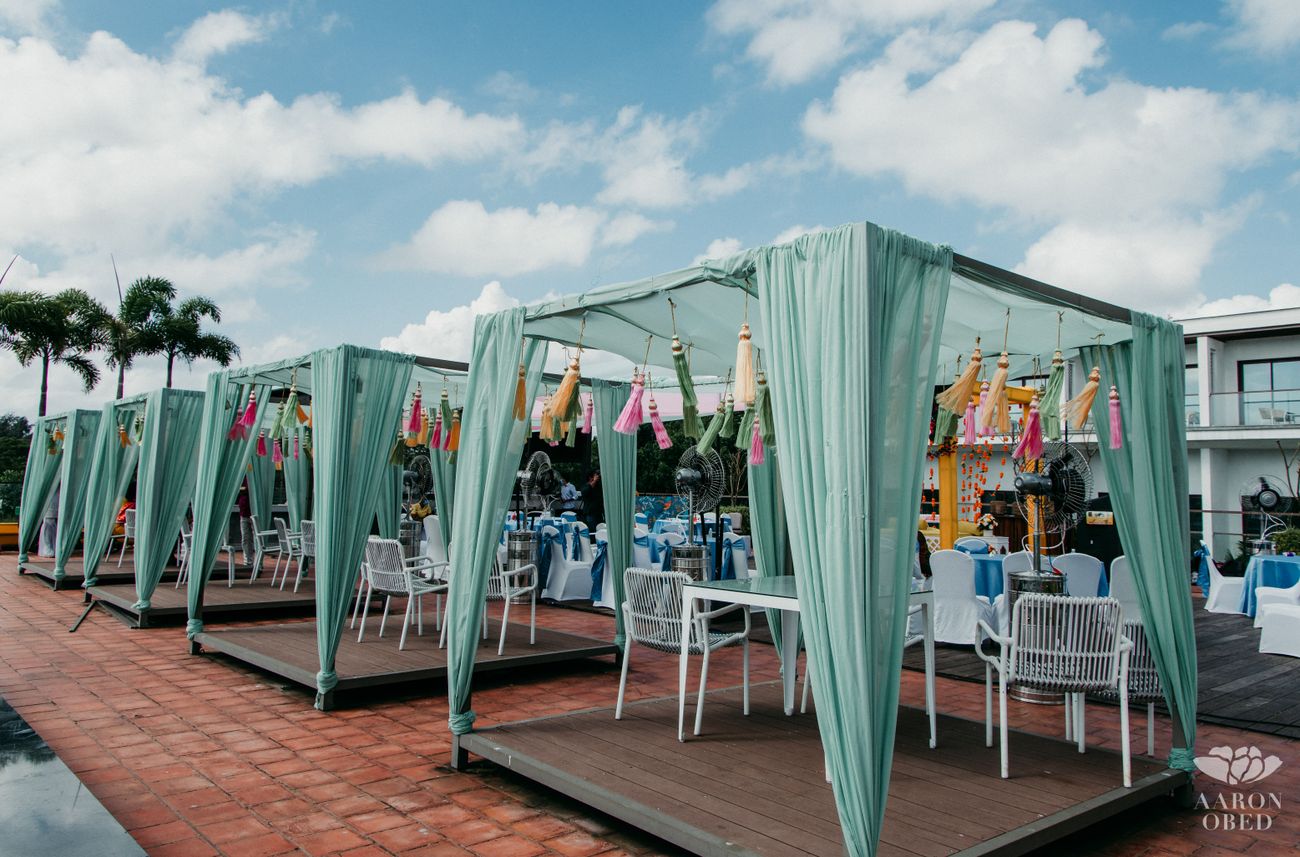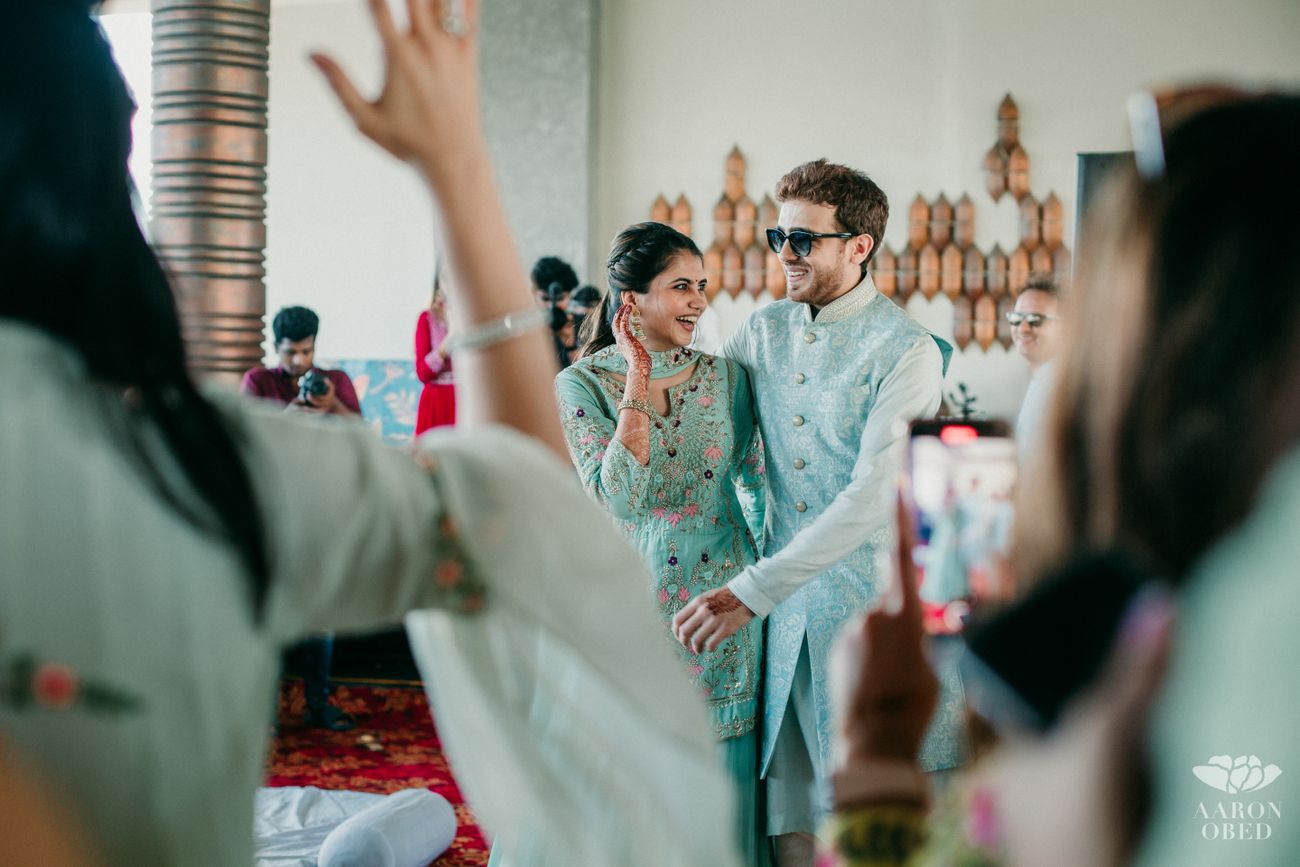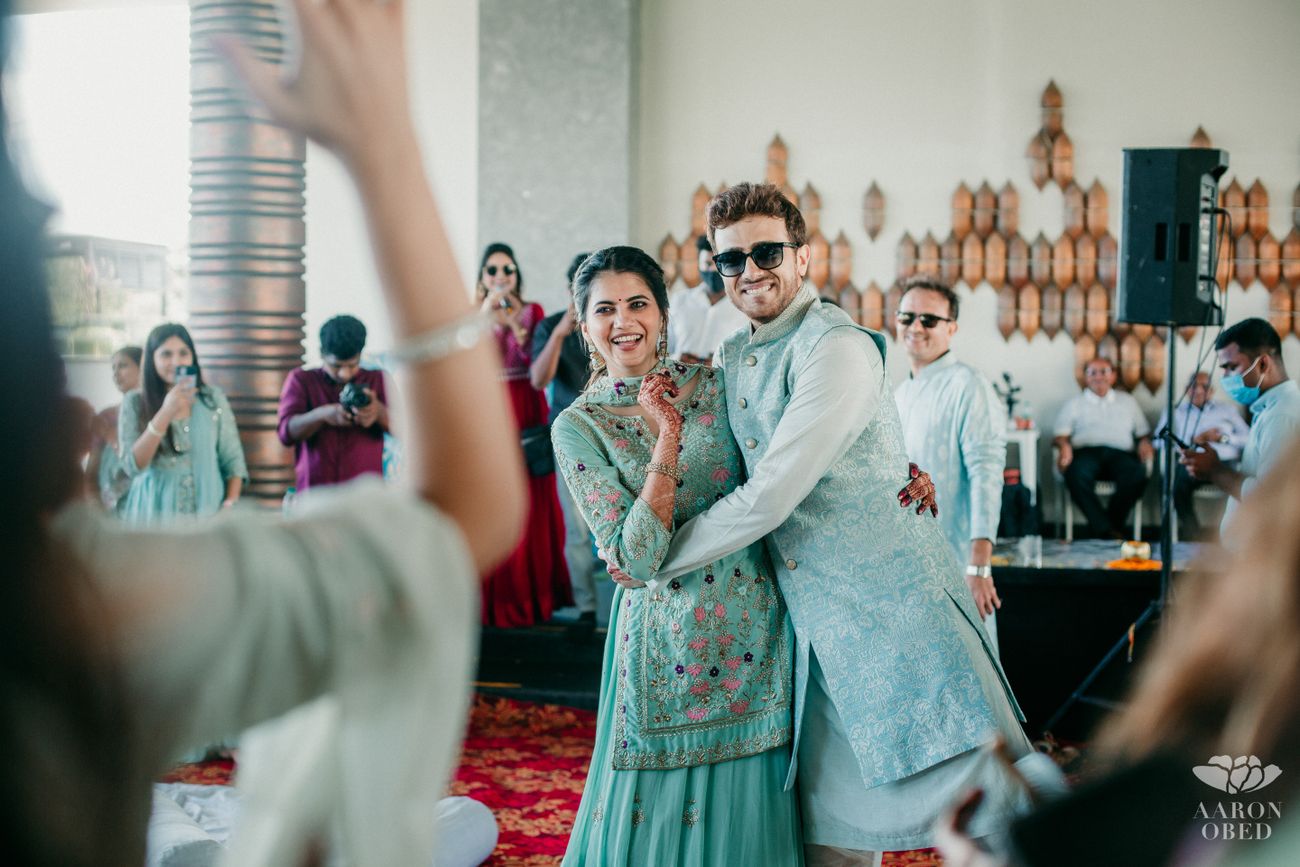 Haldi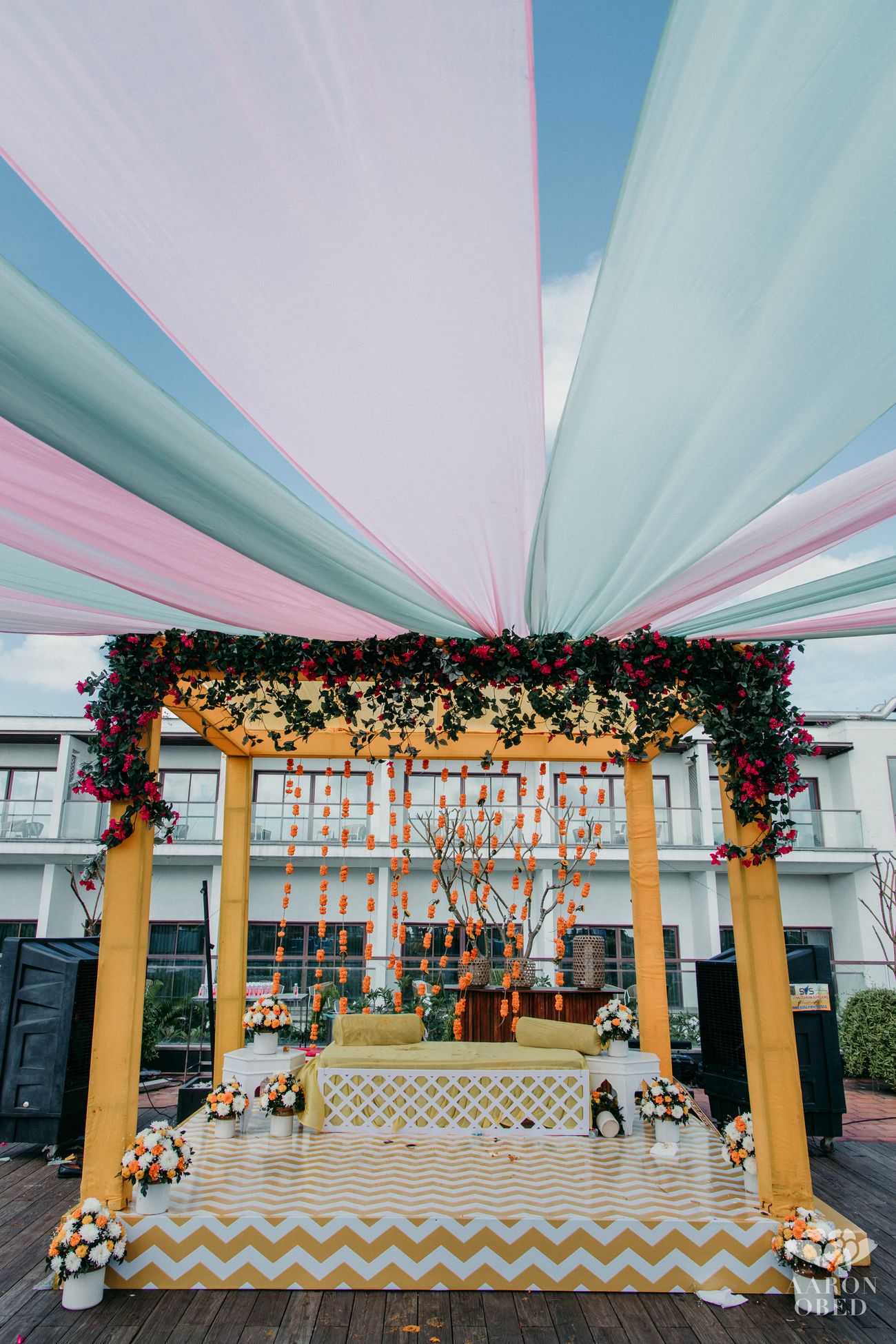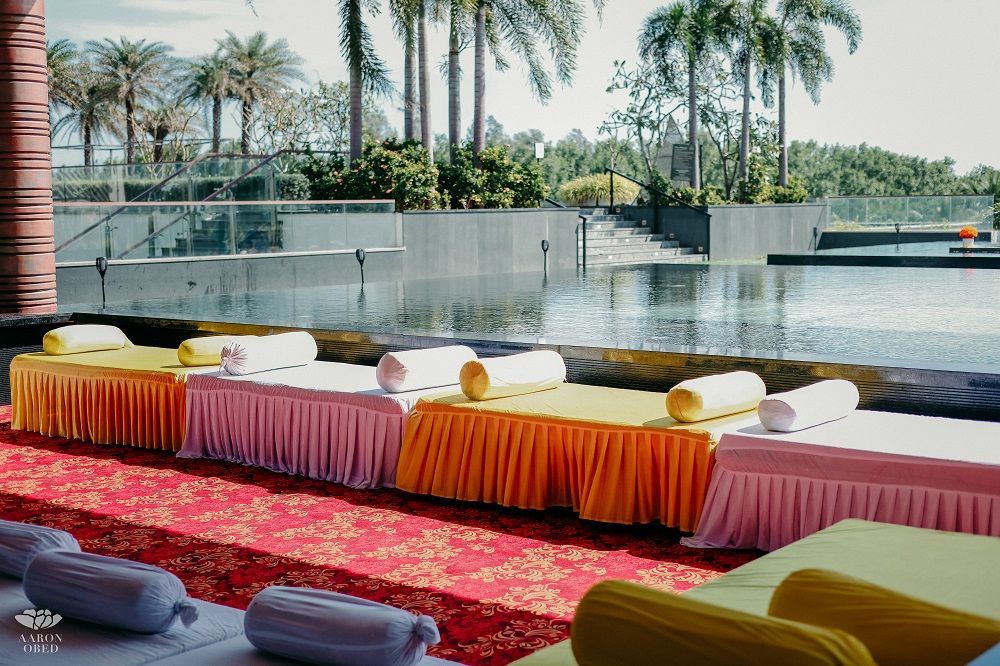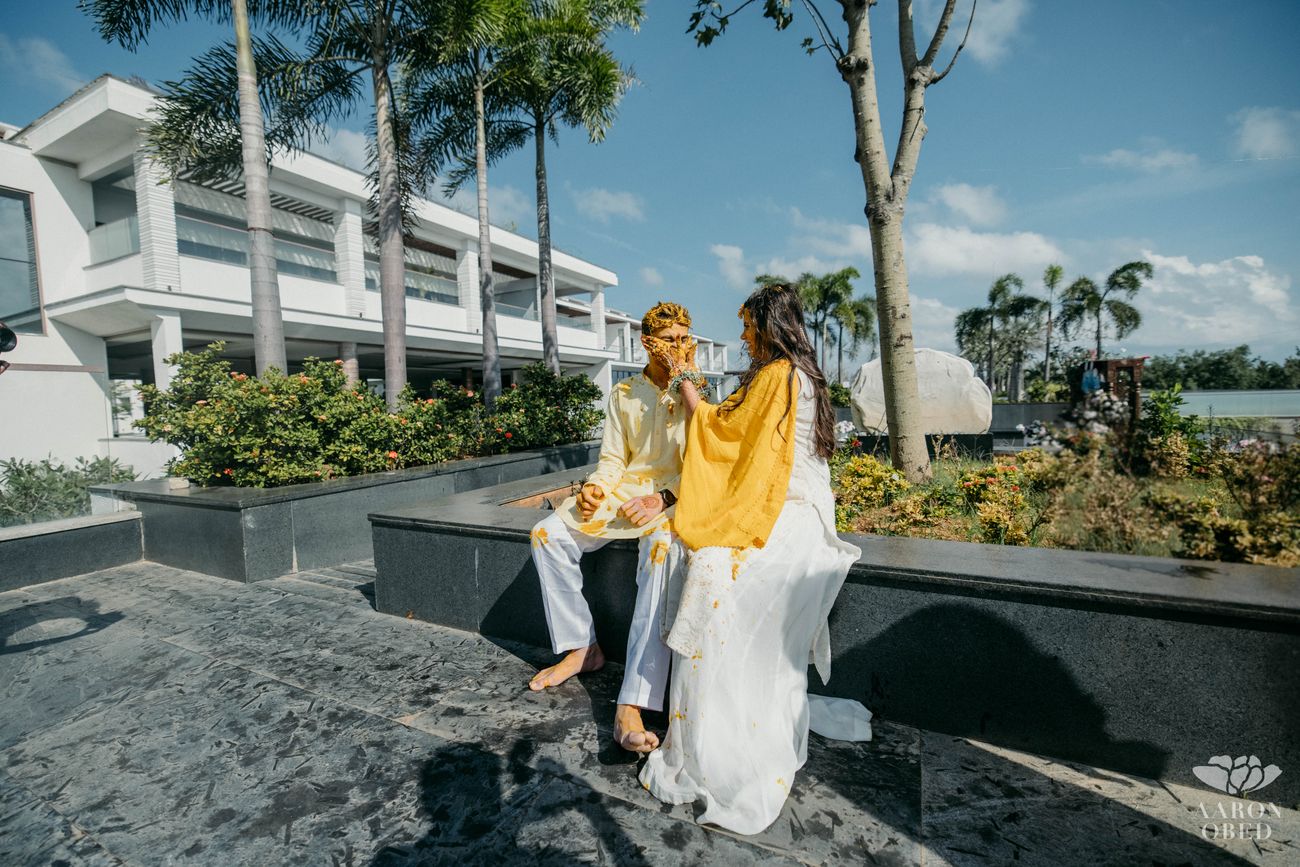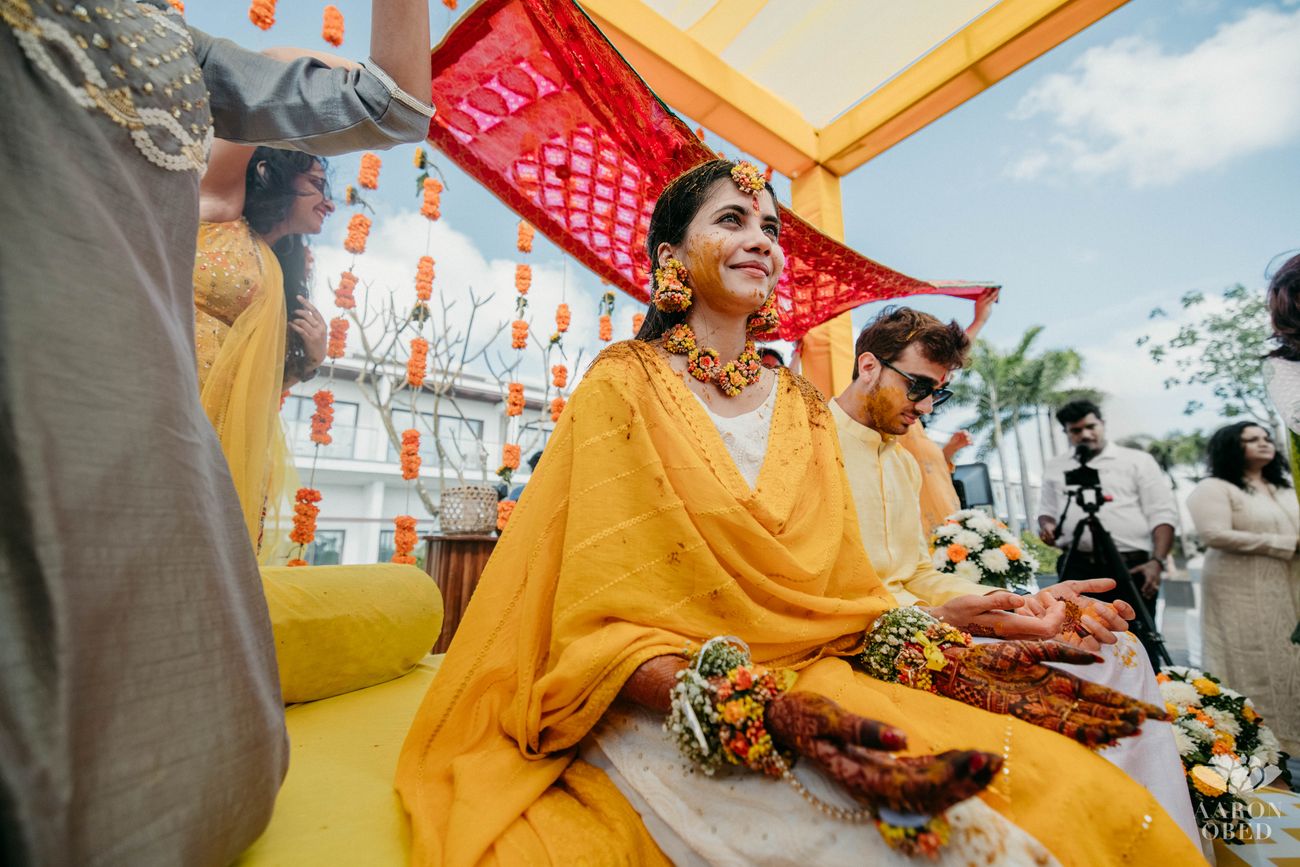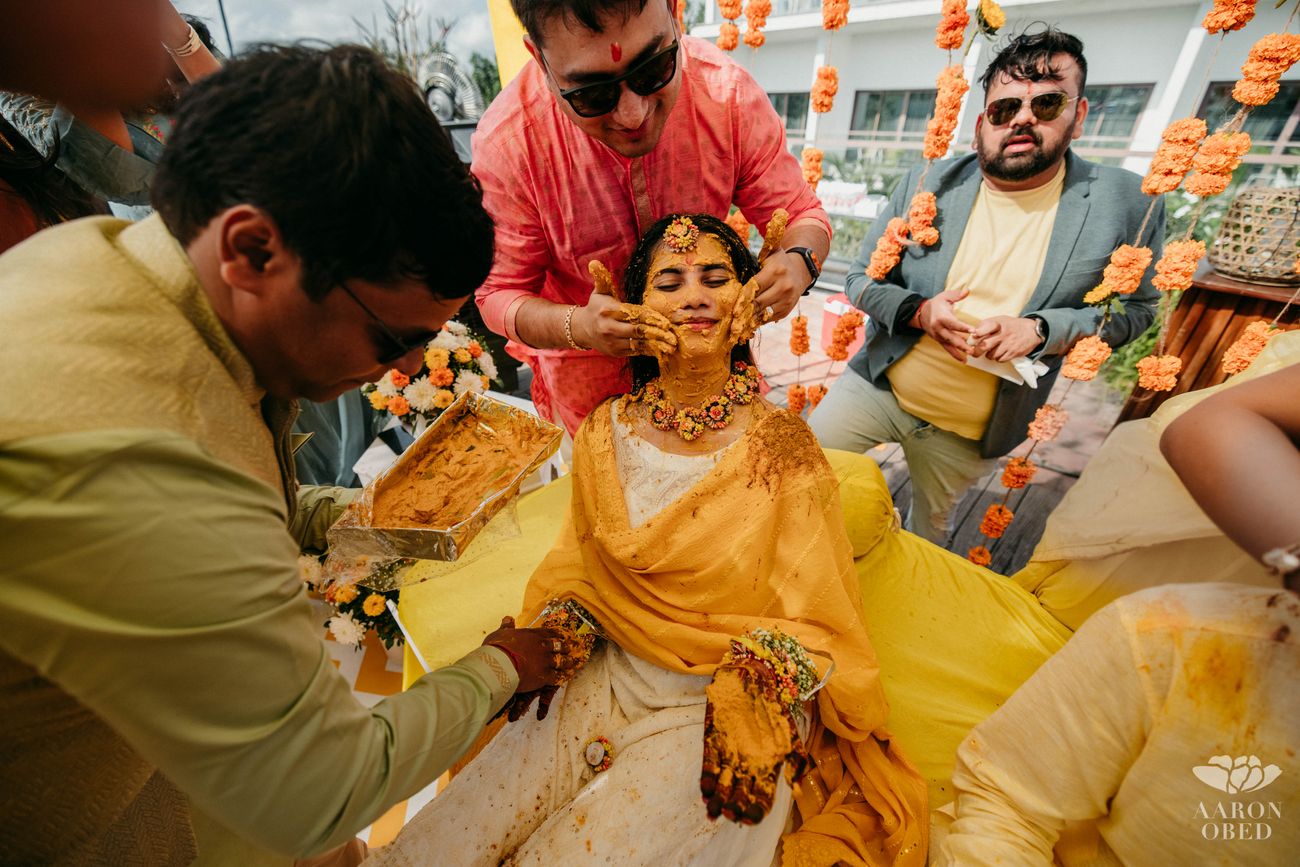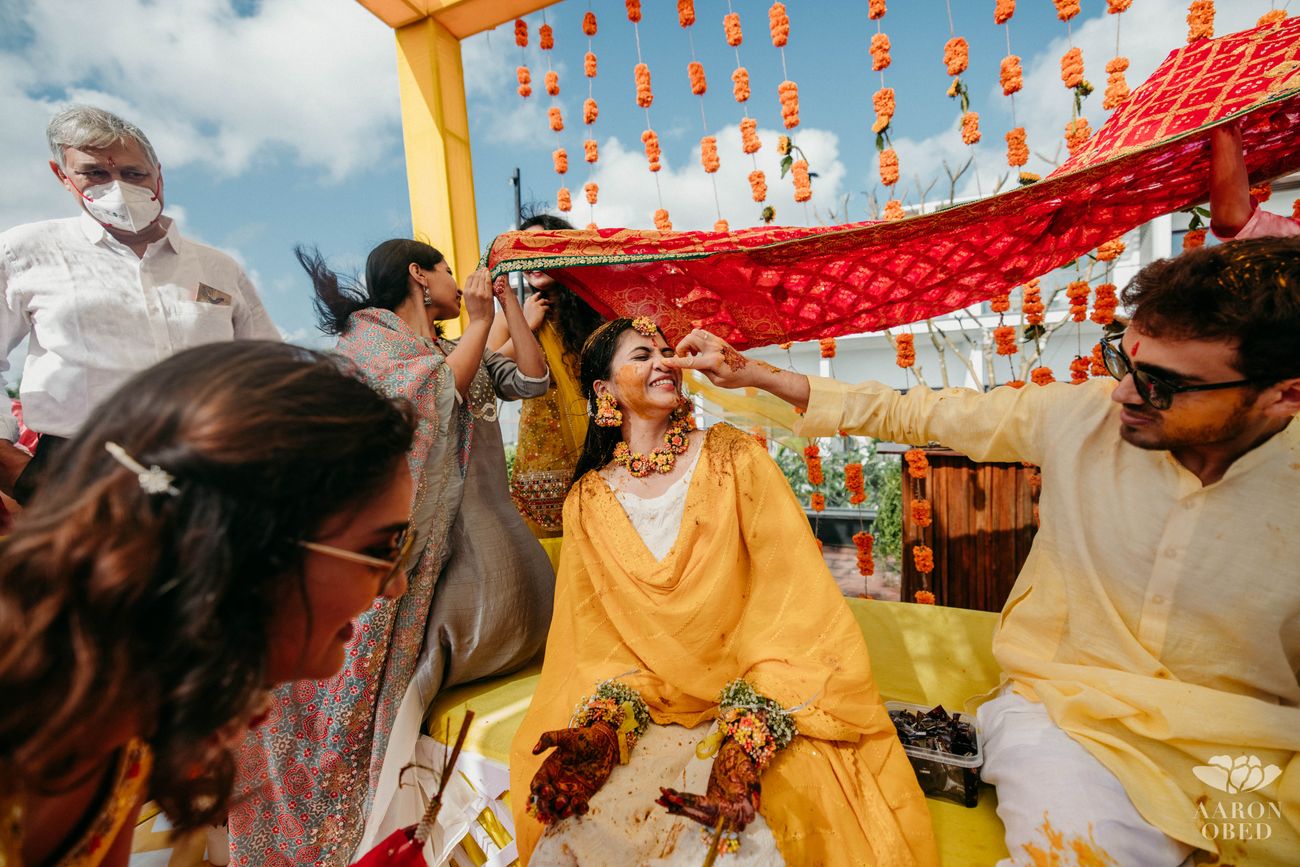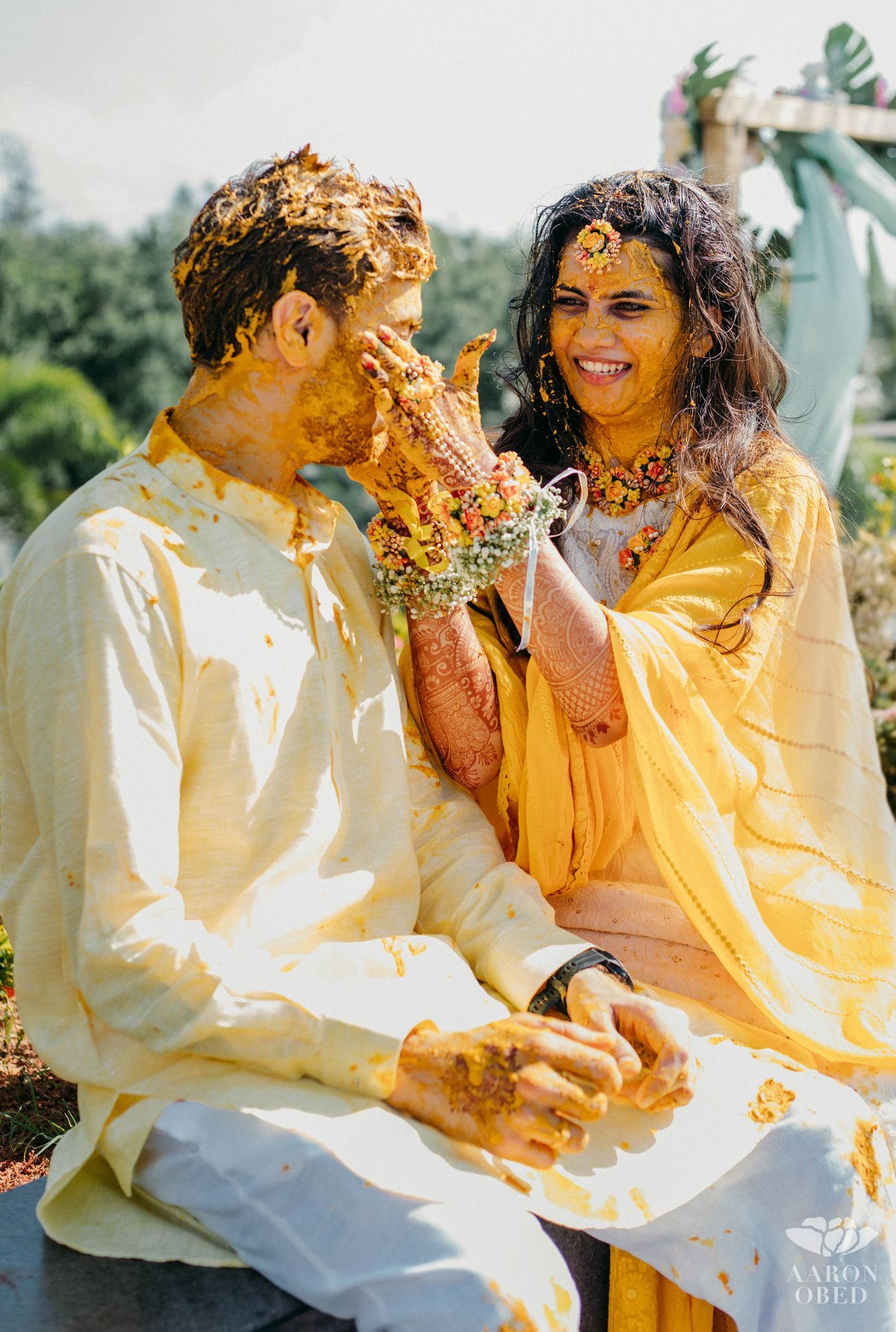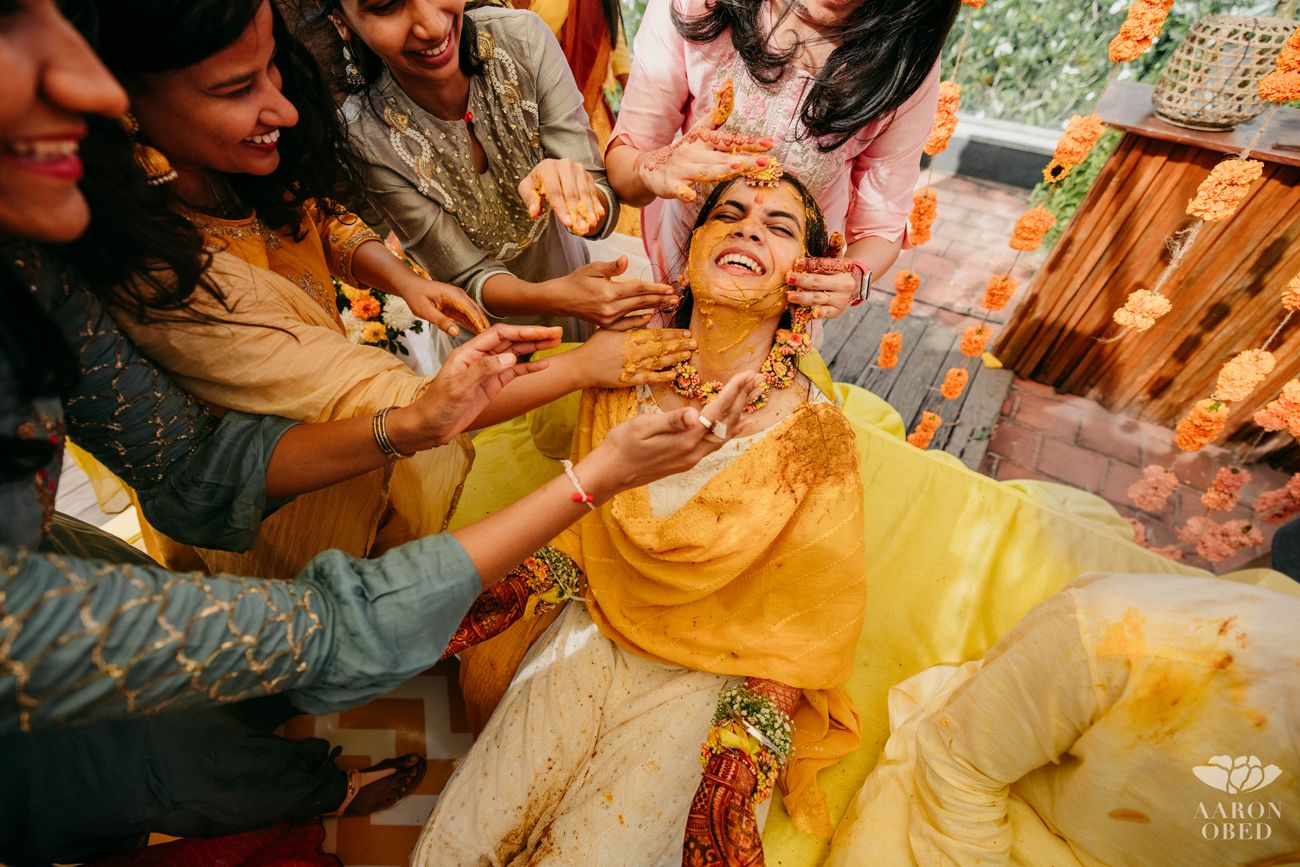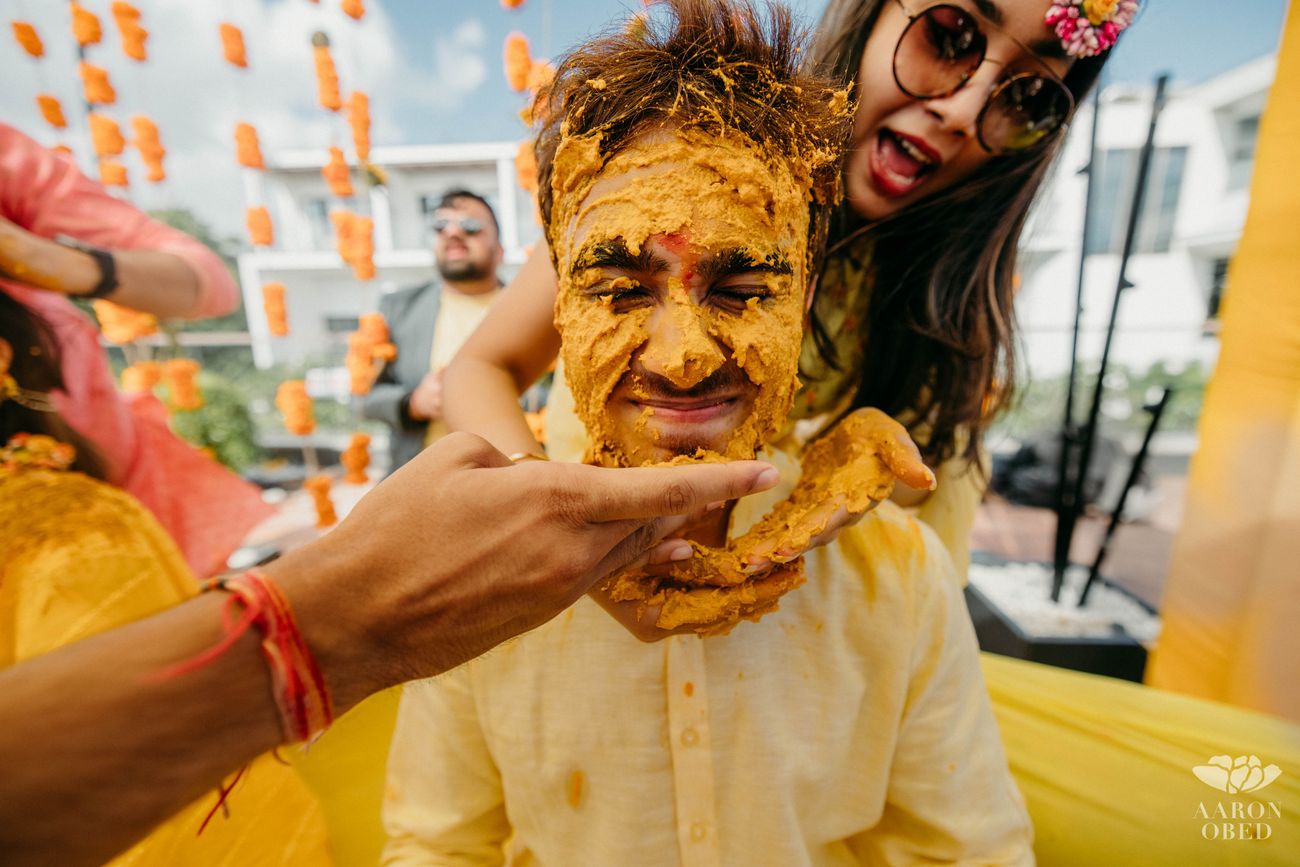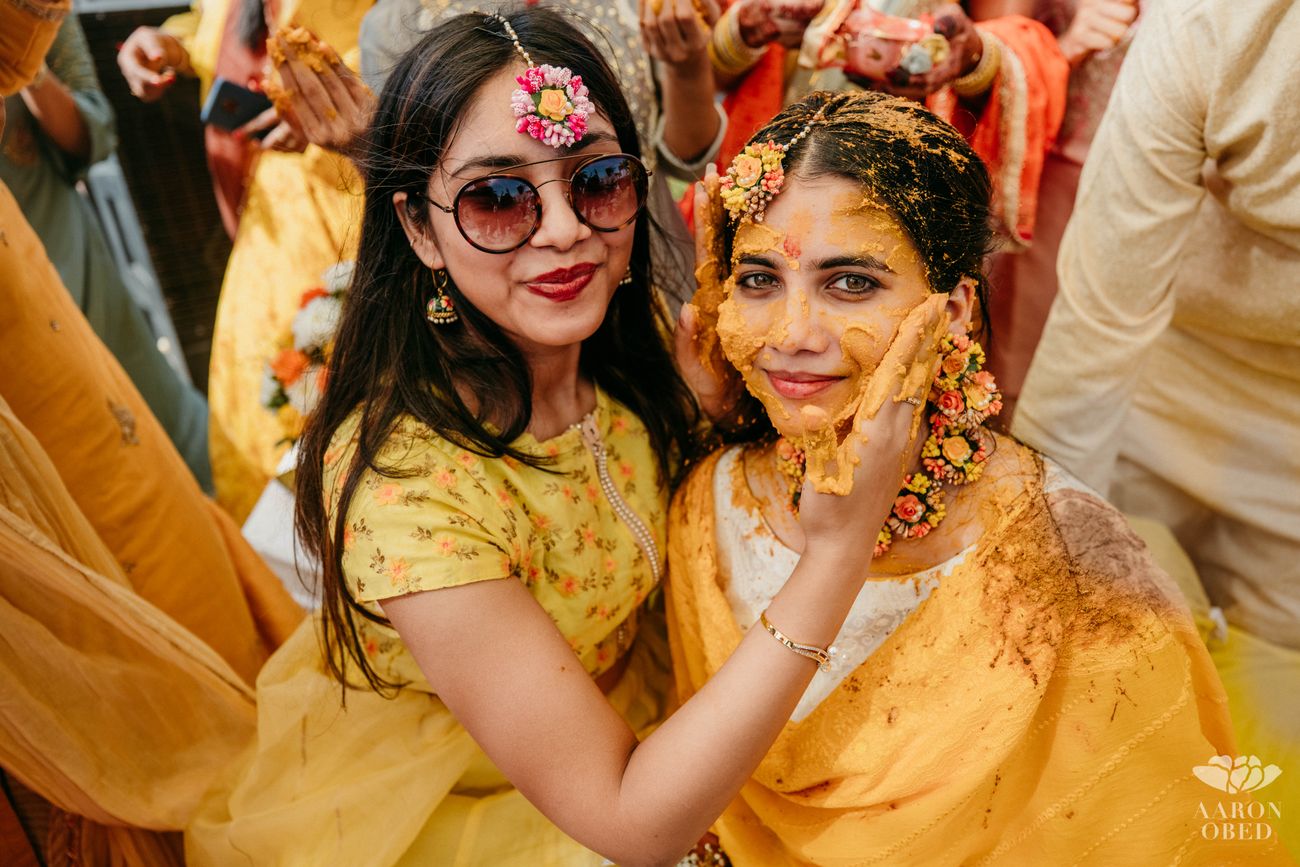 Wedding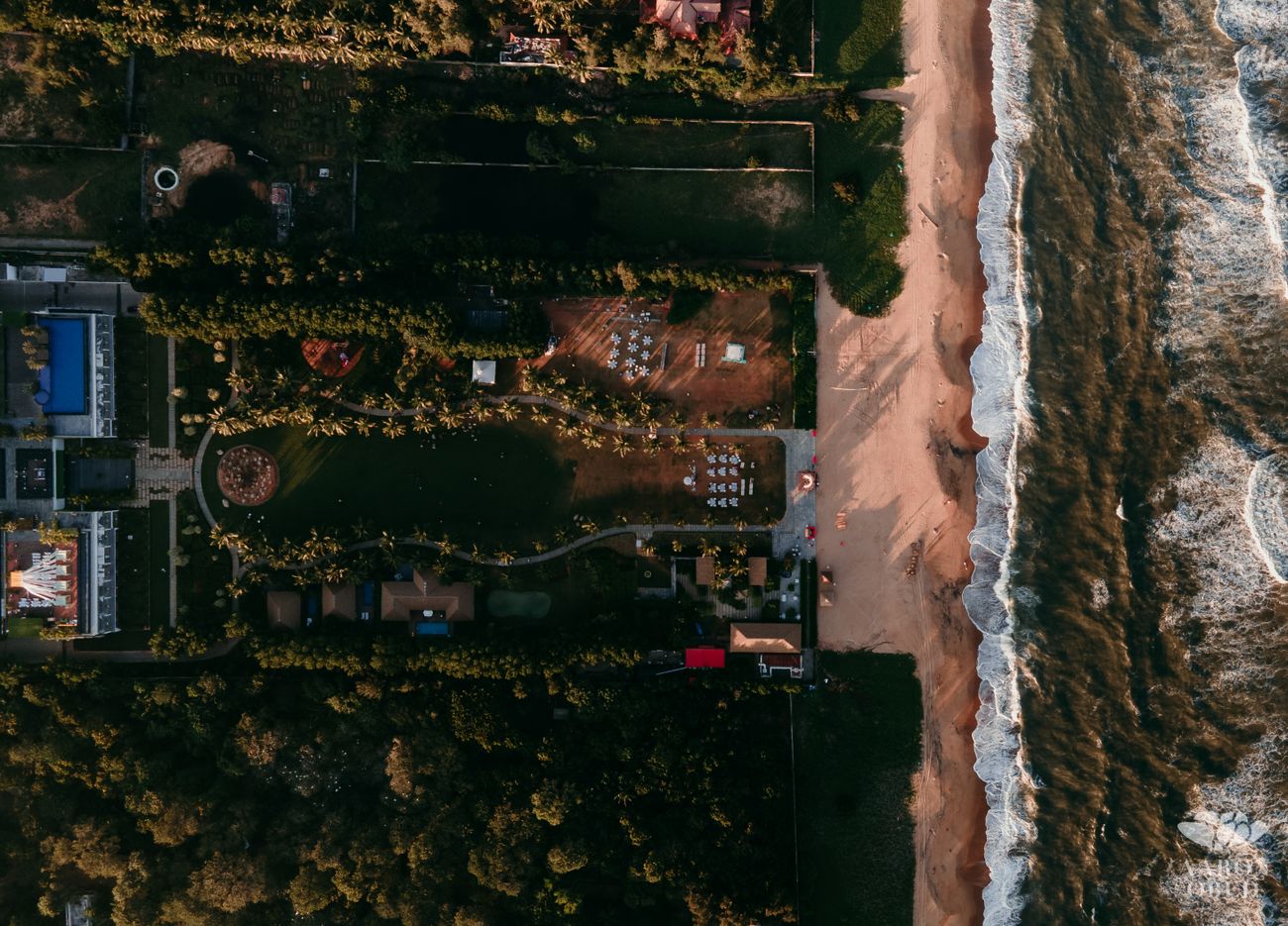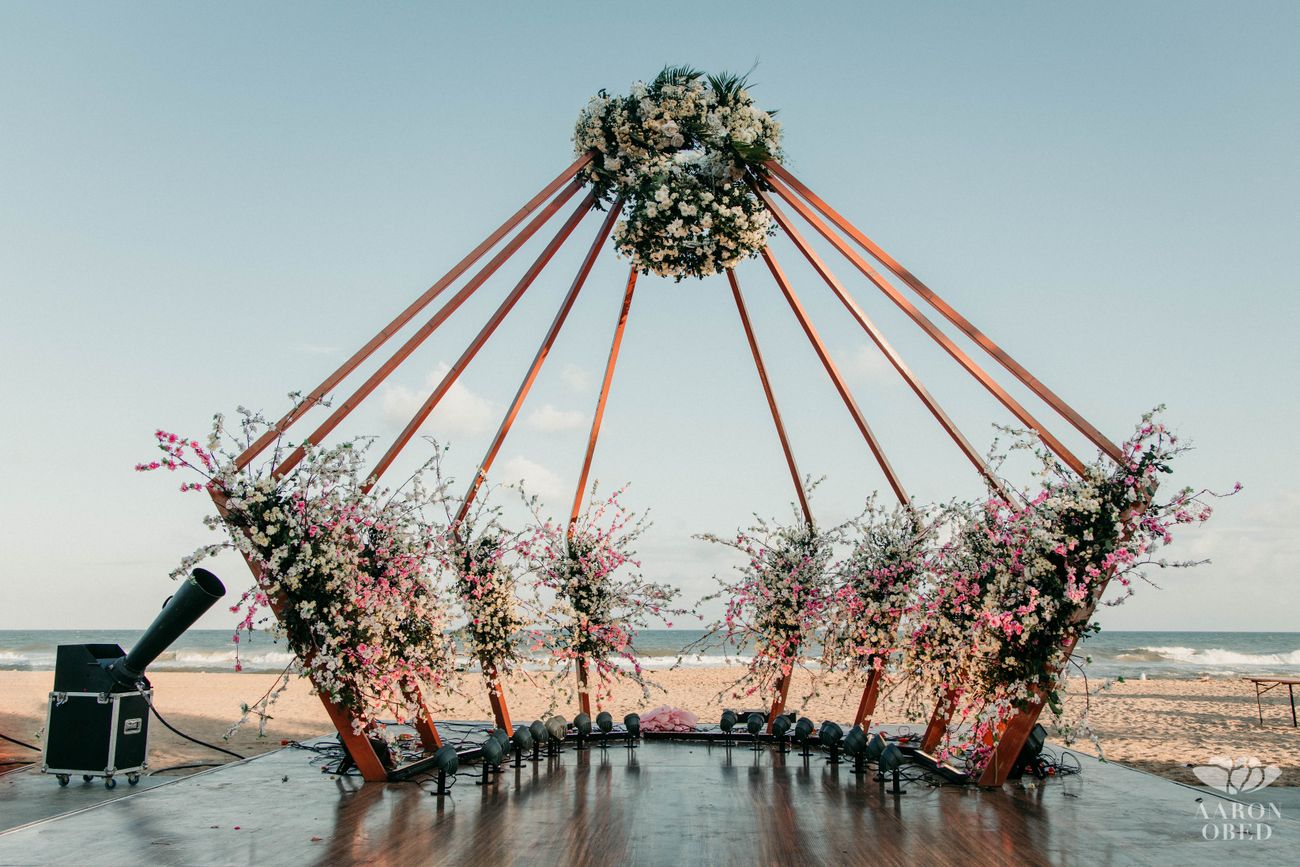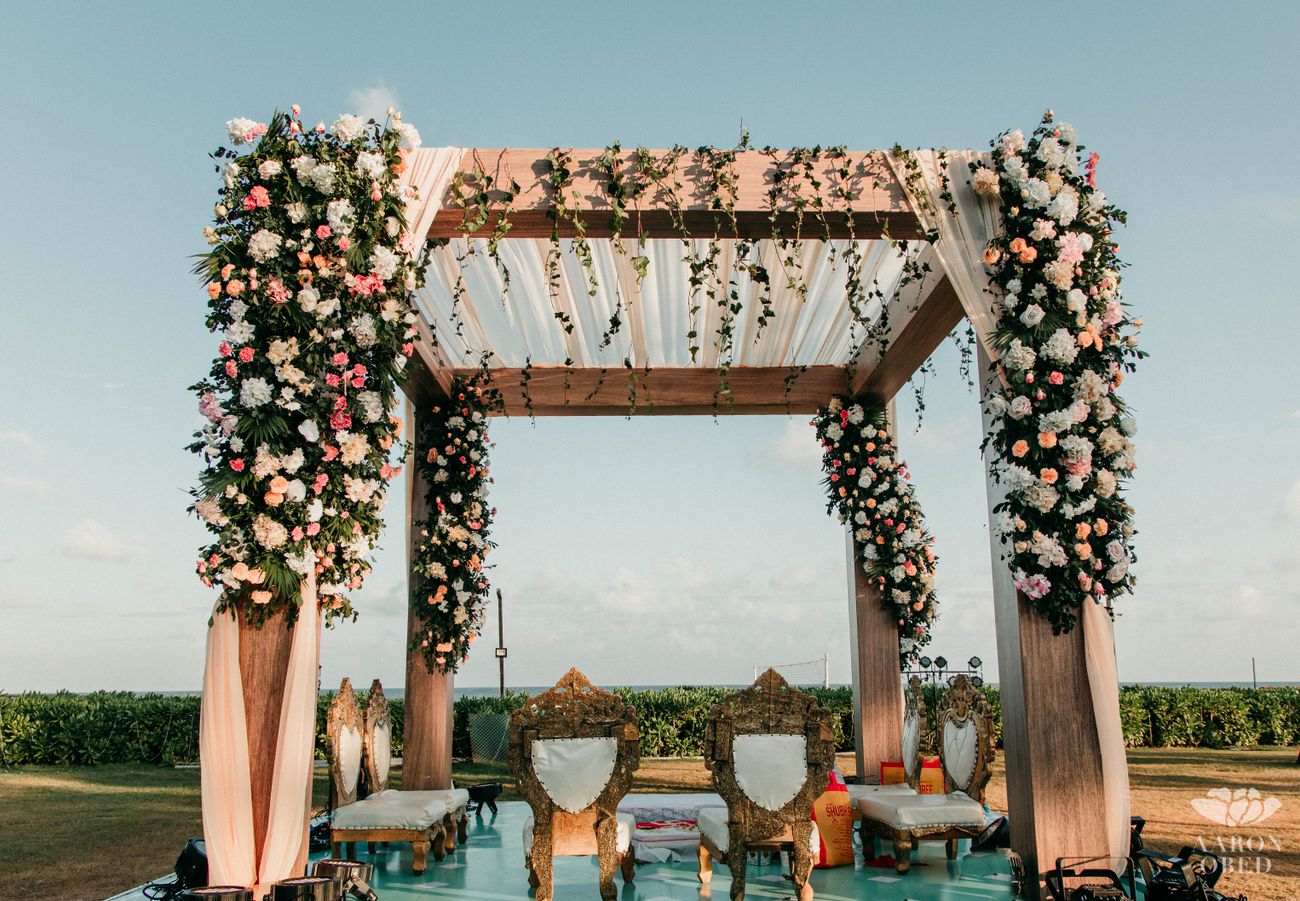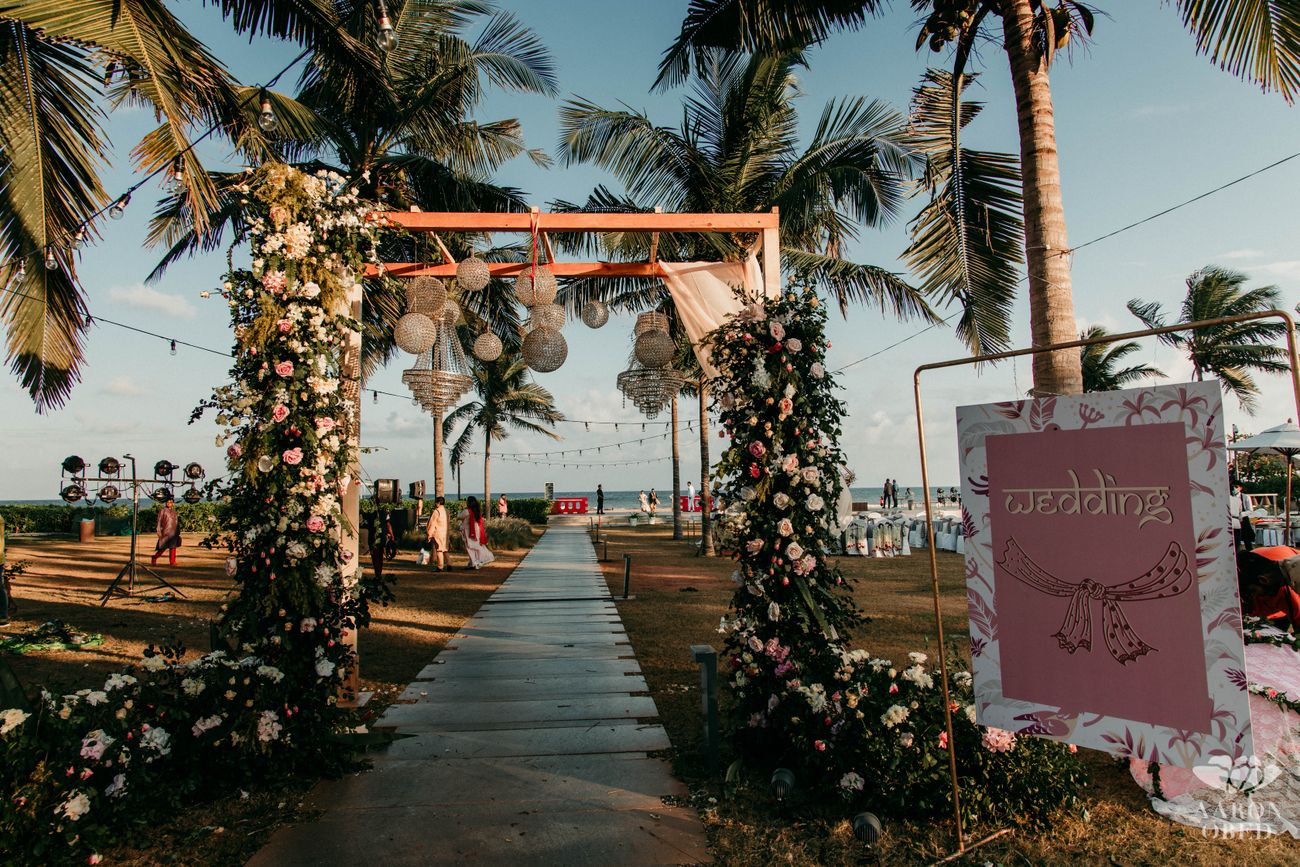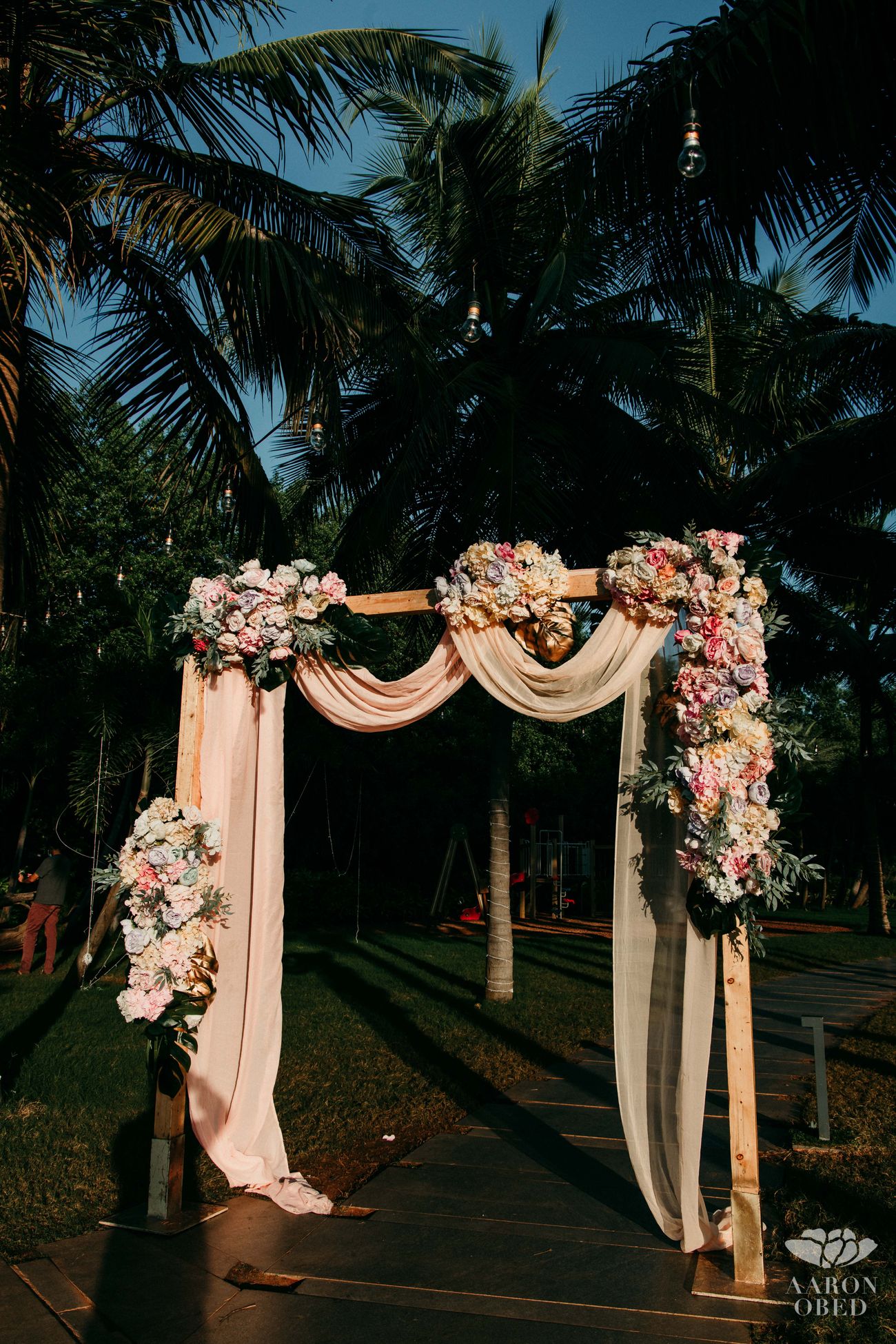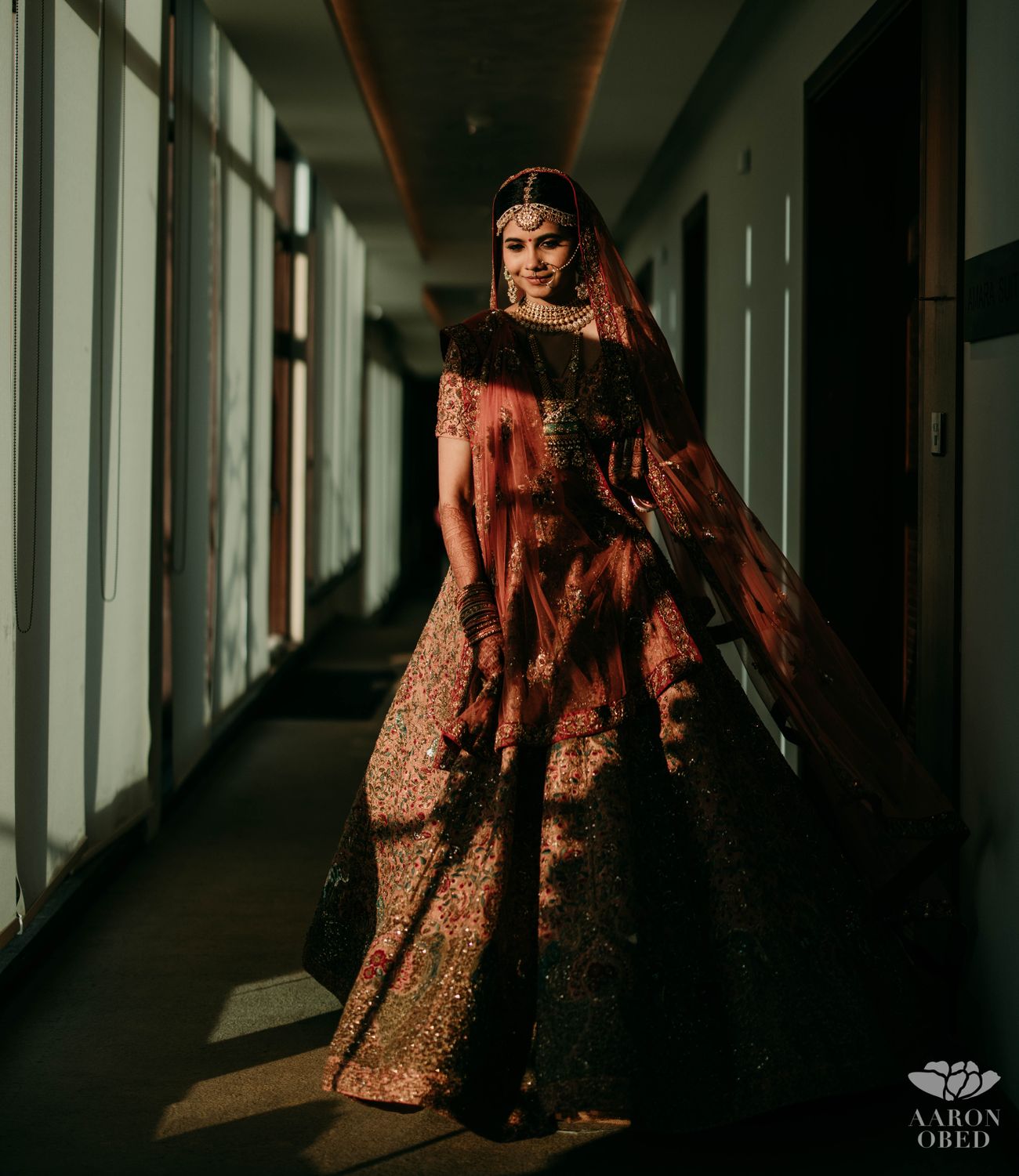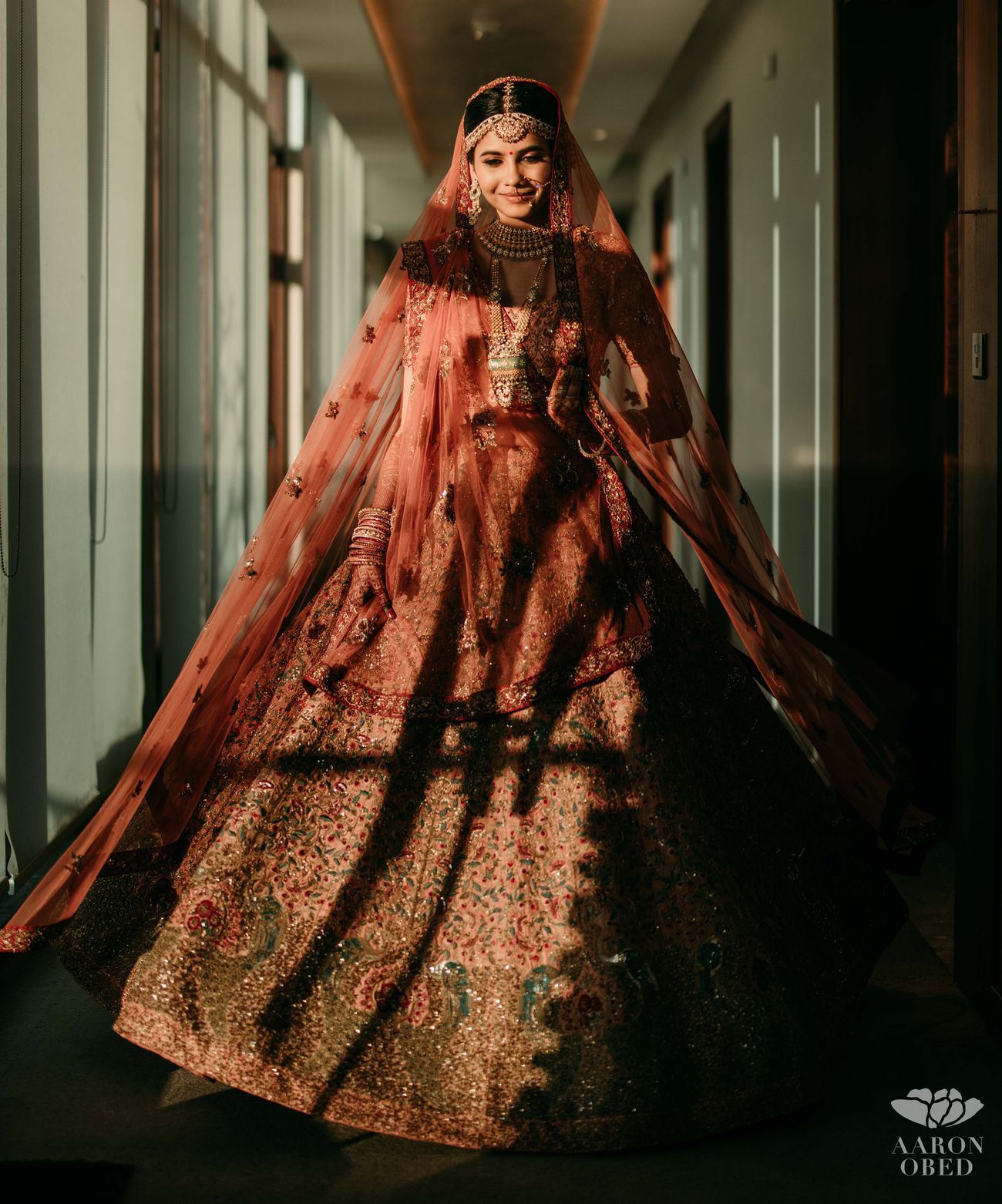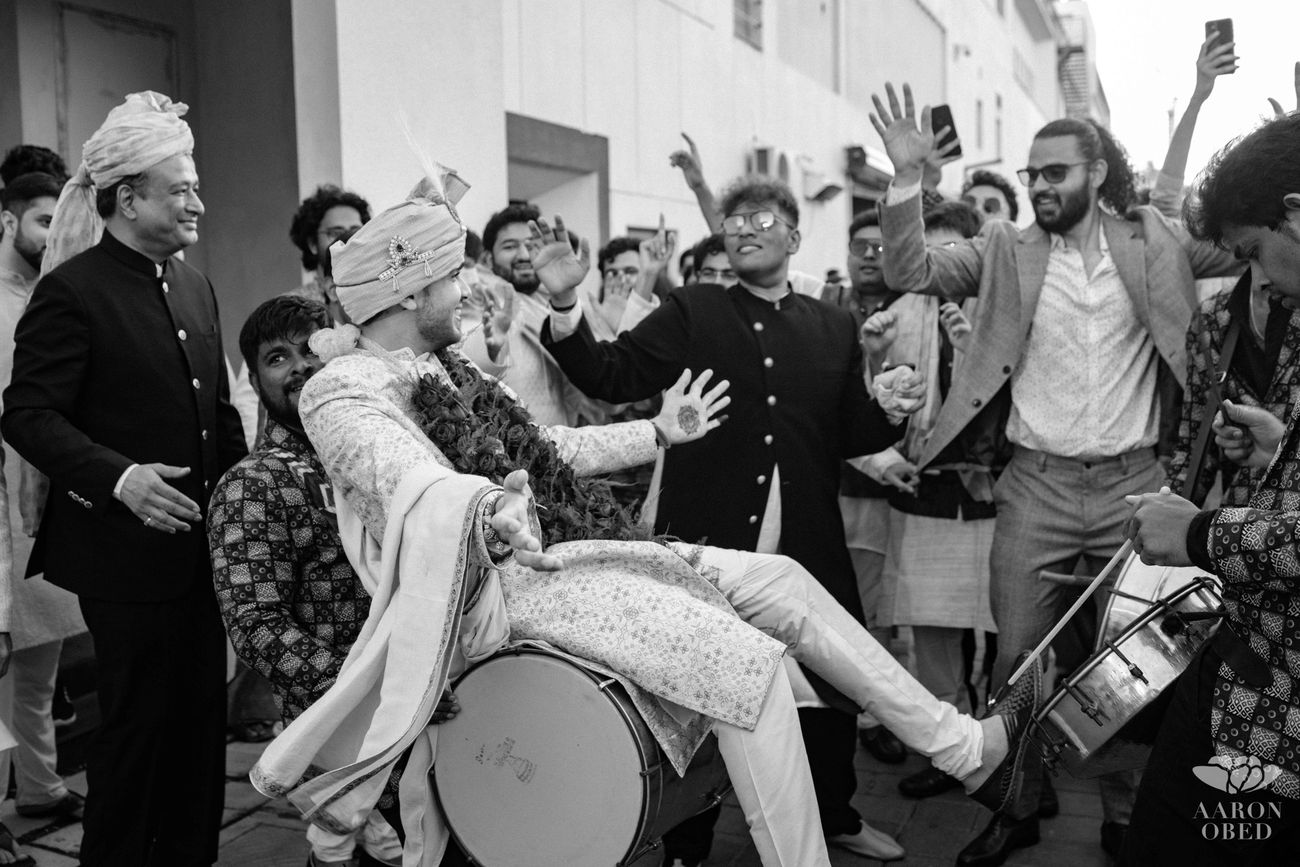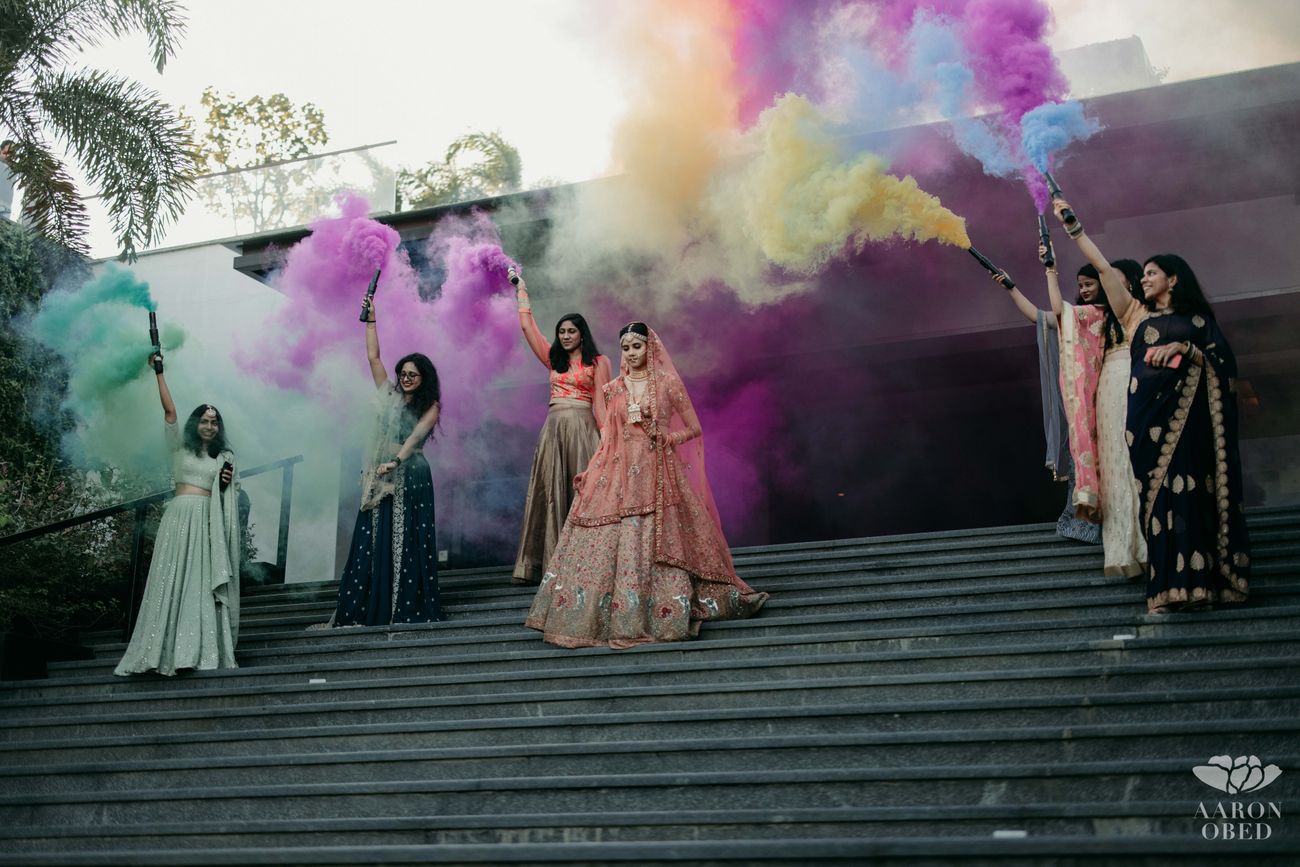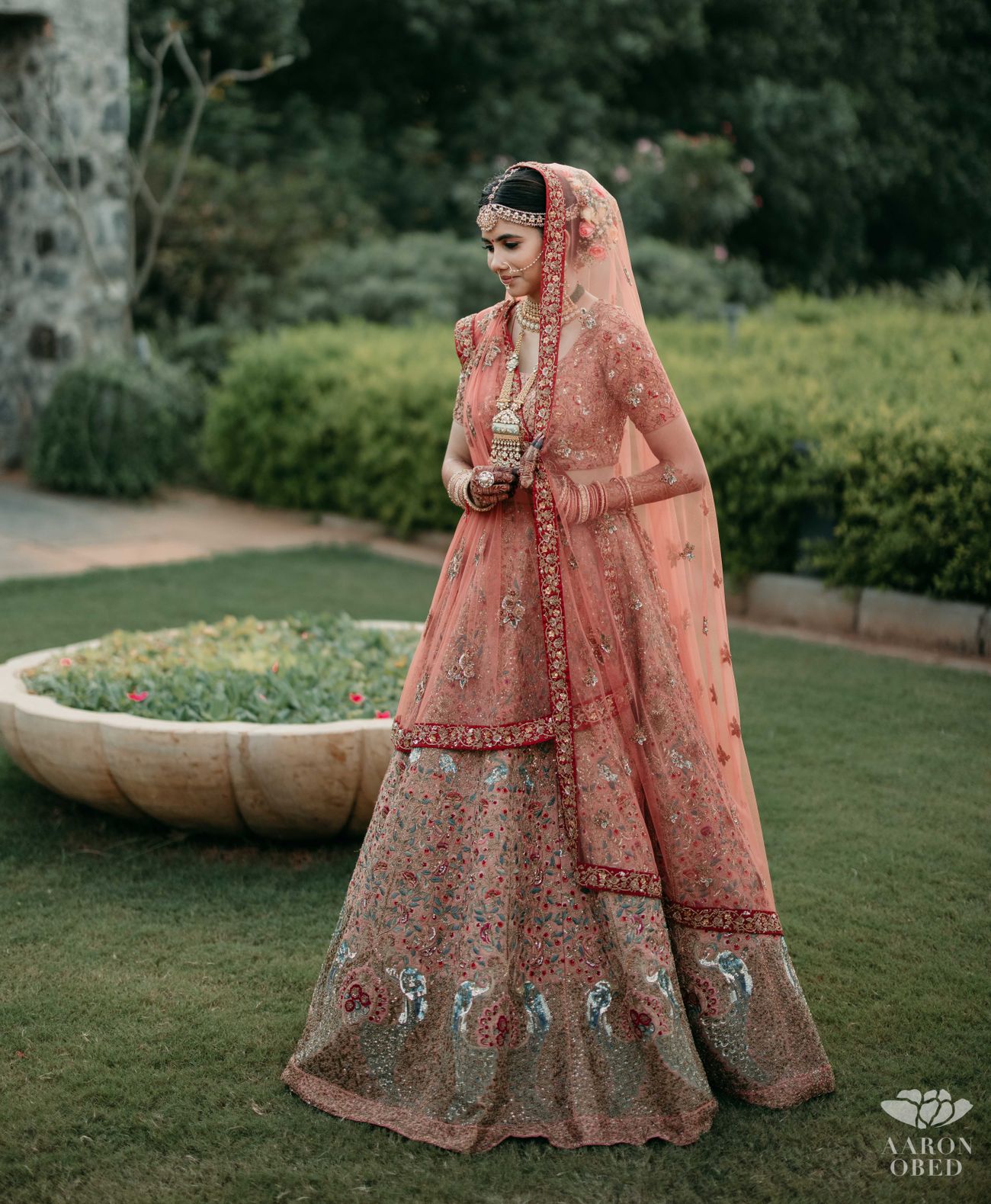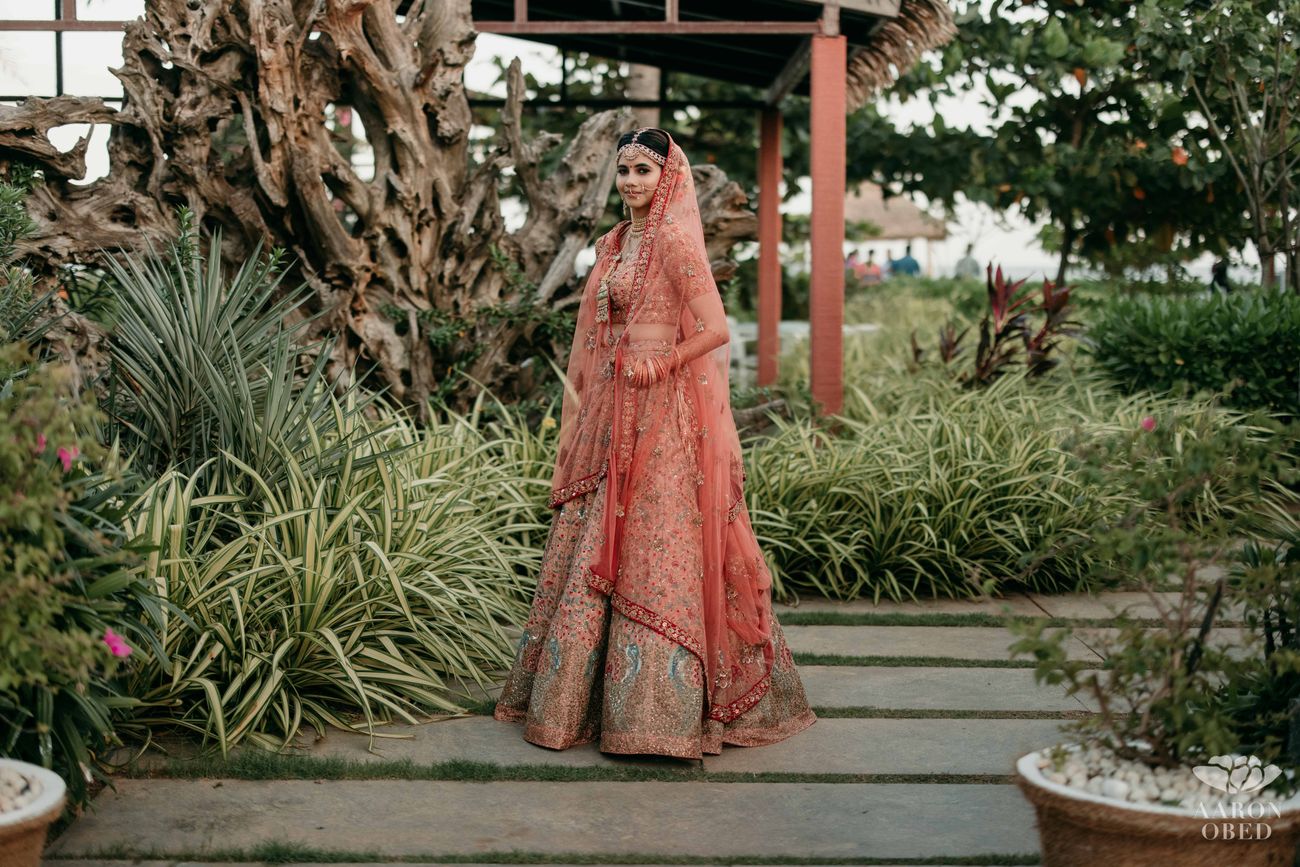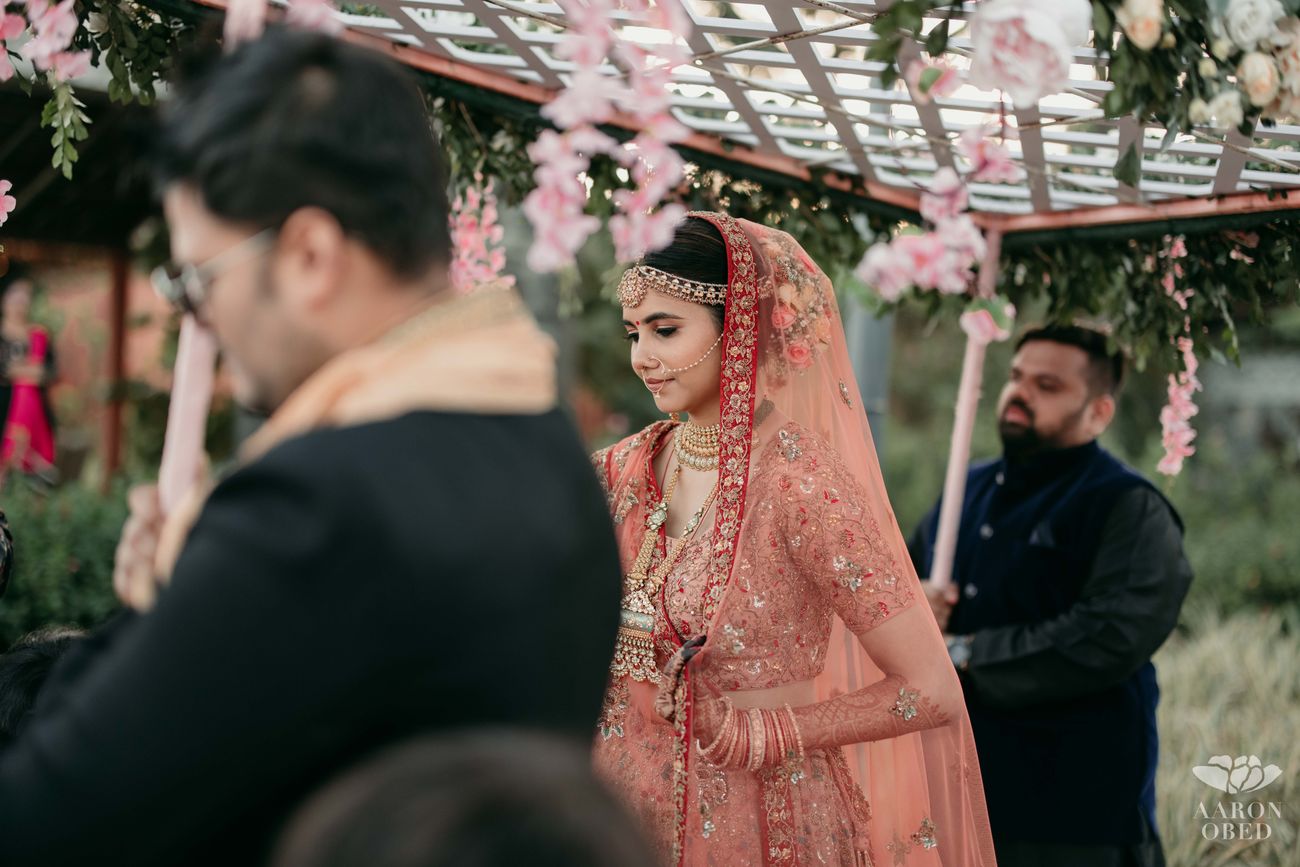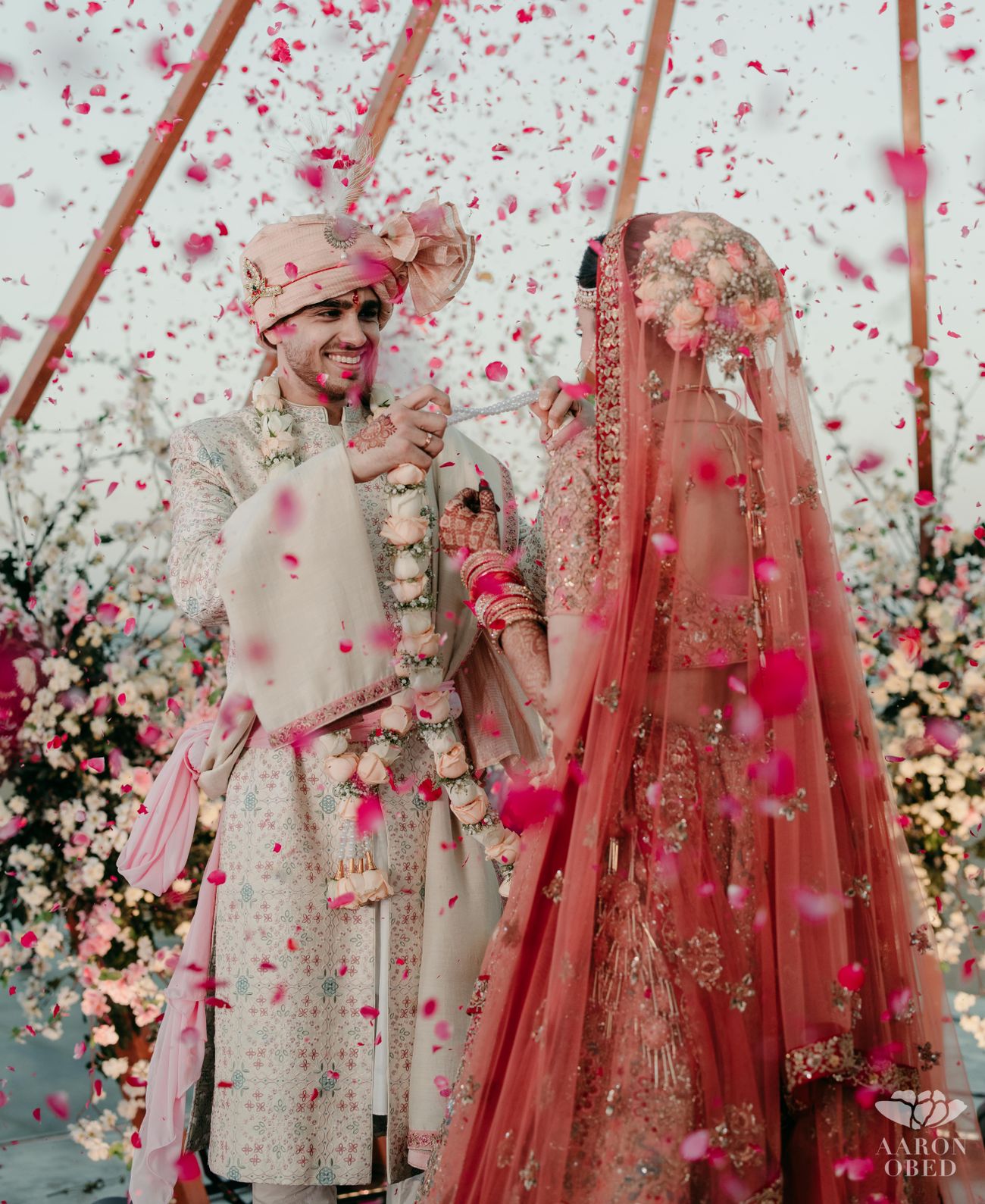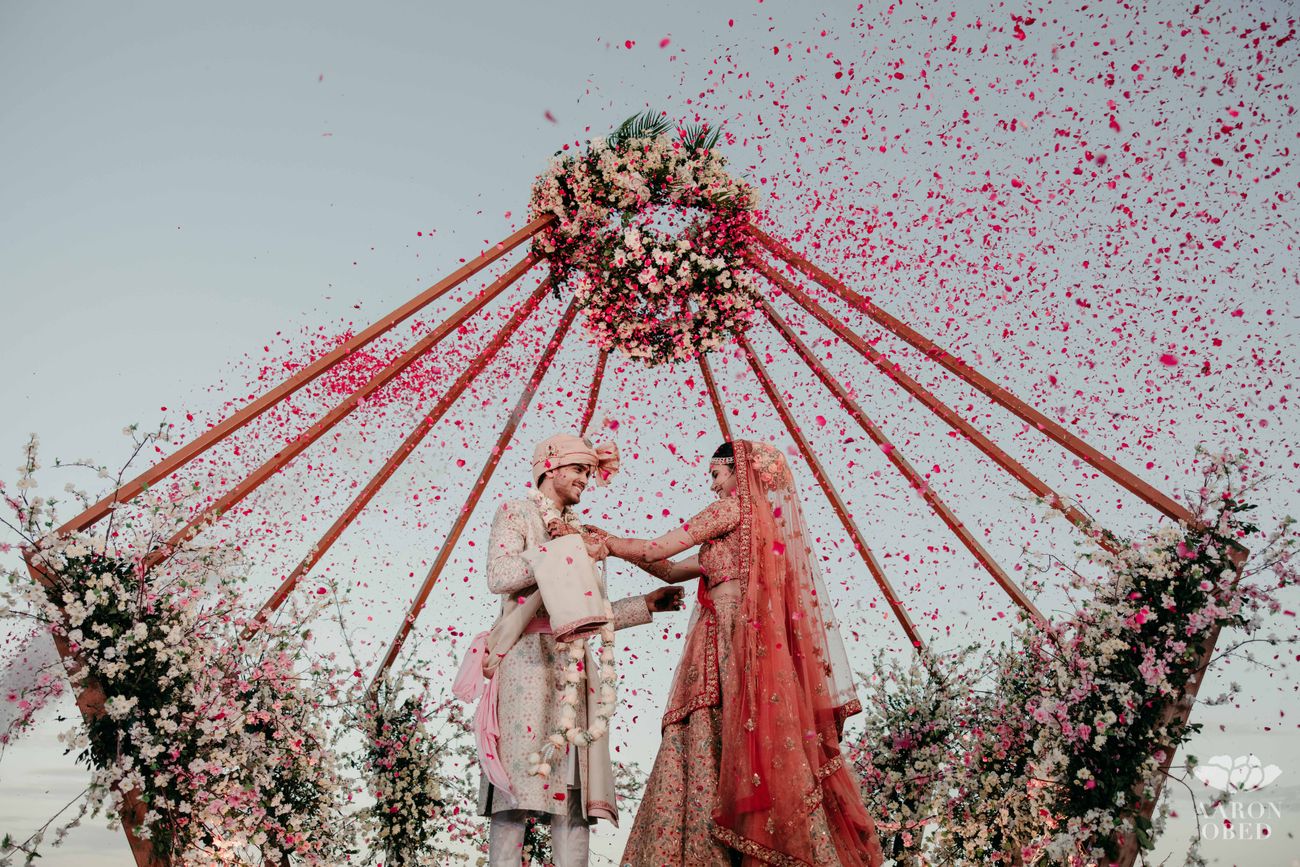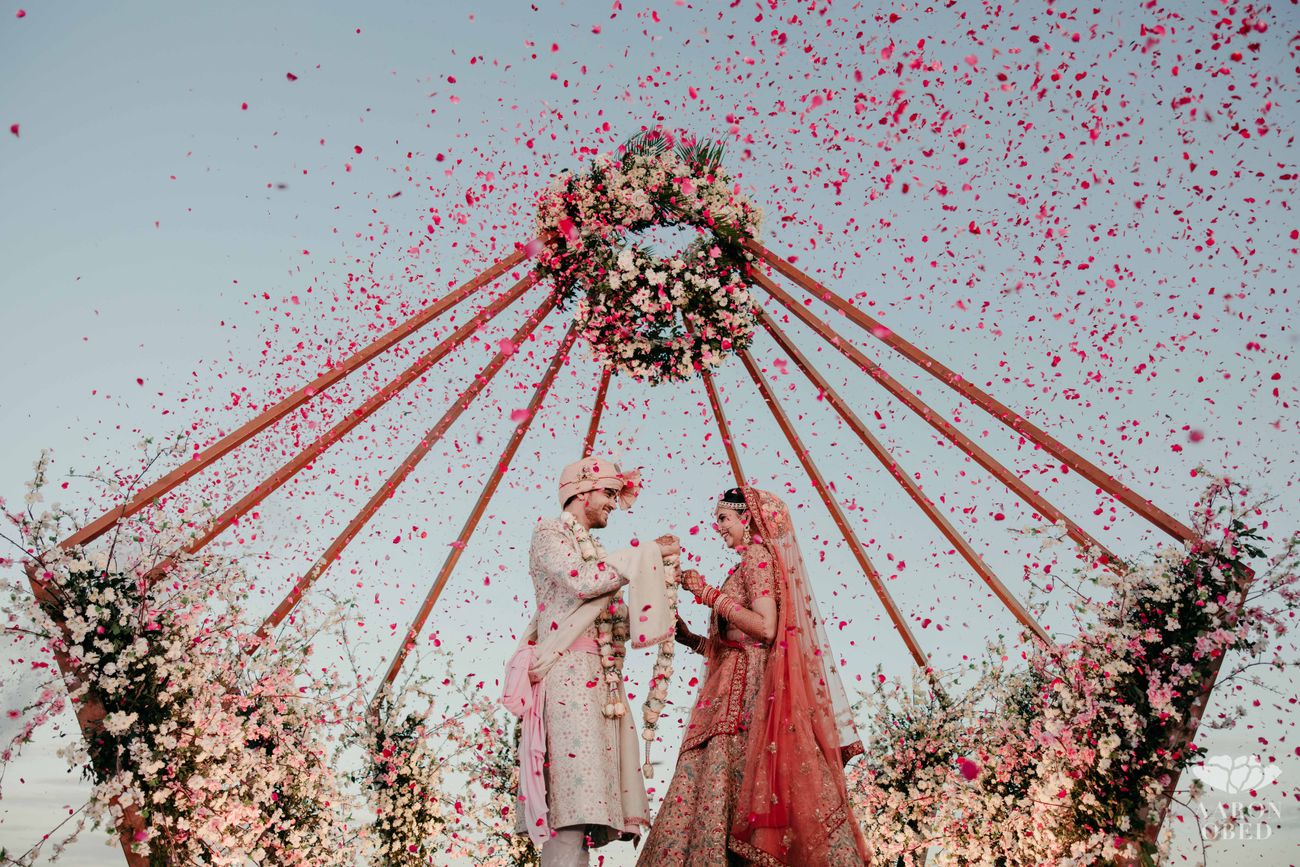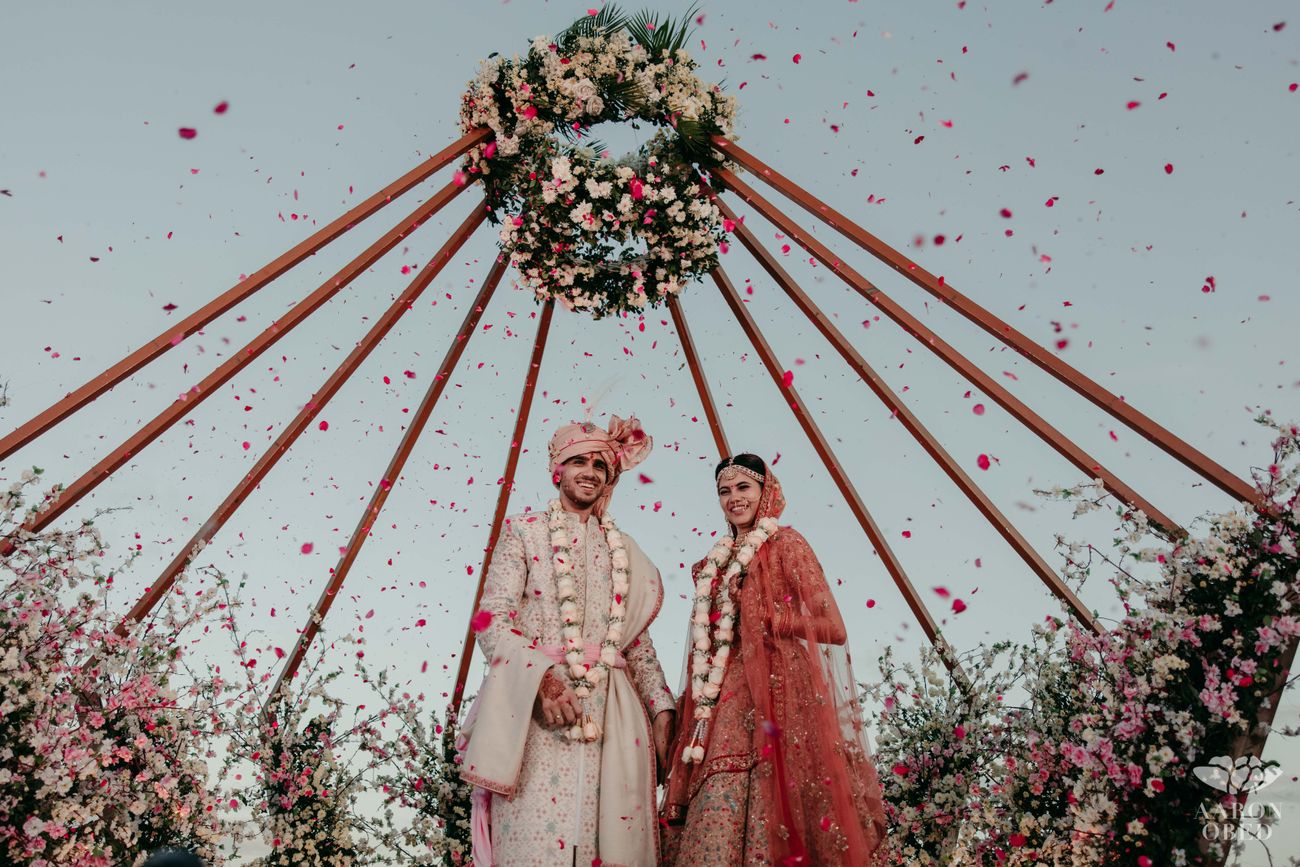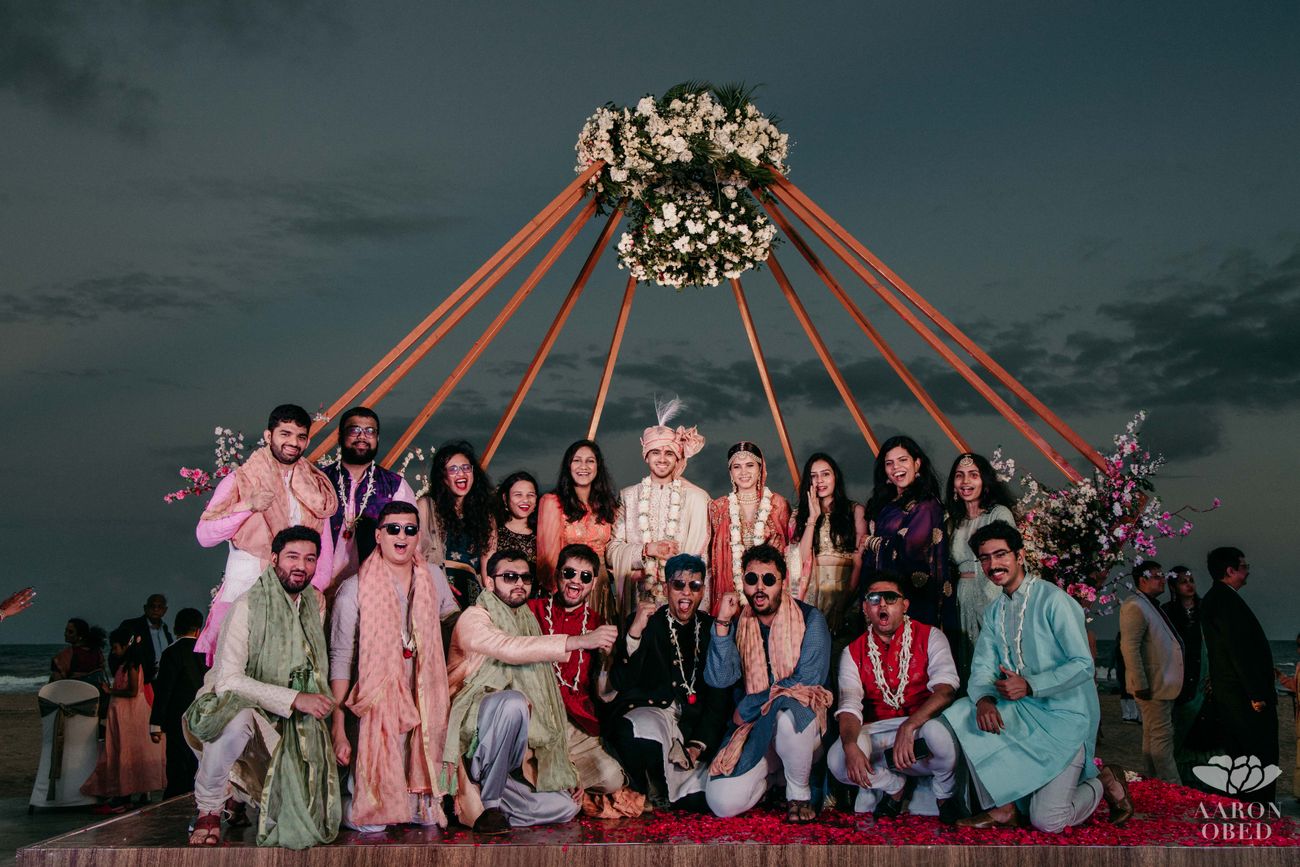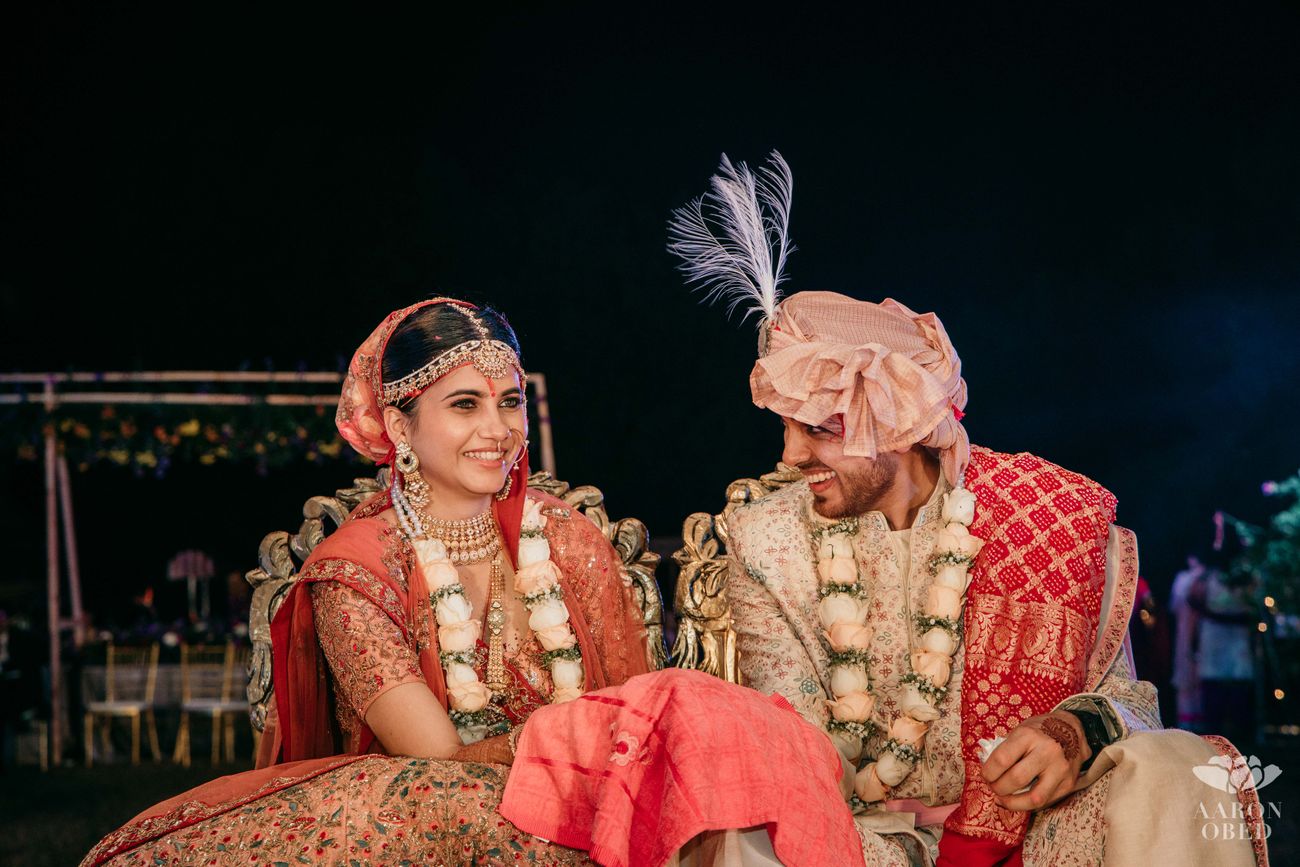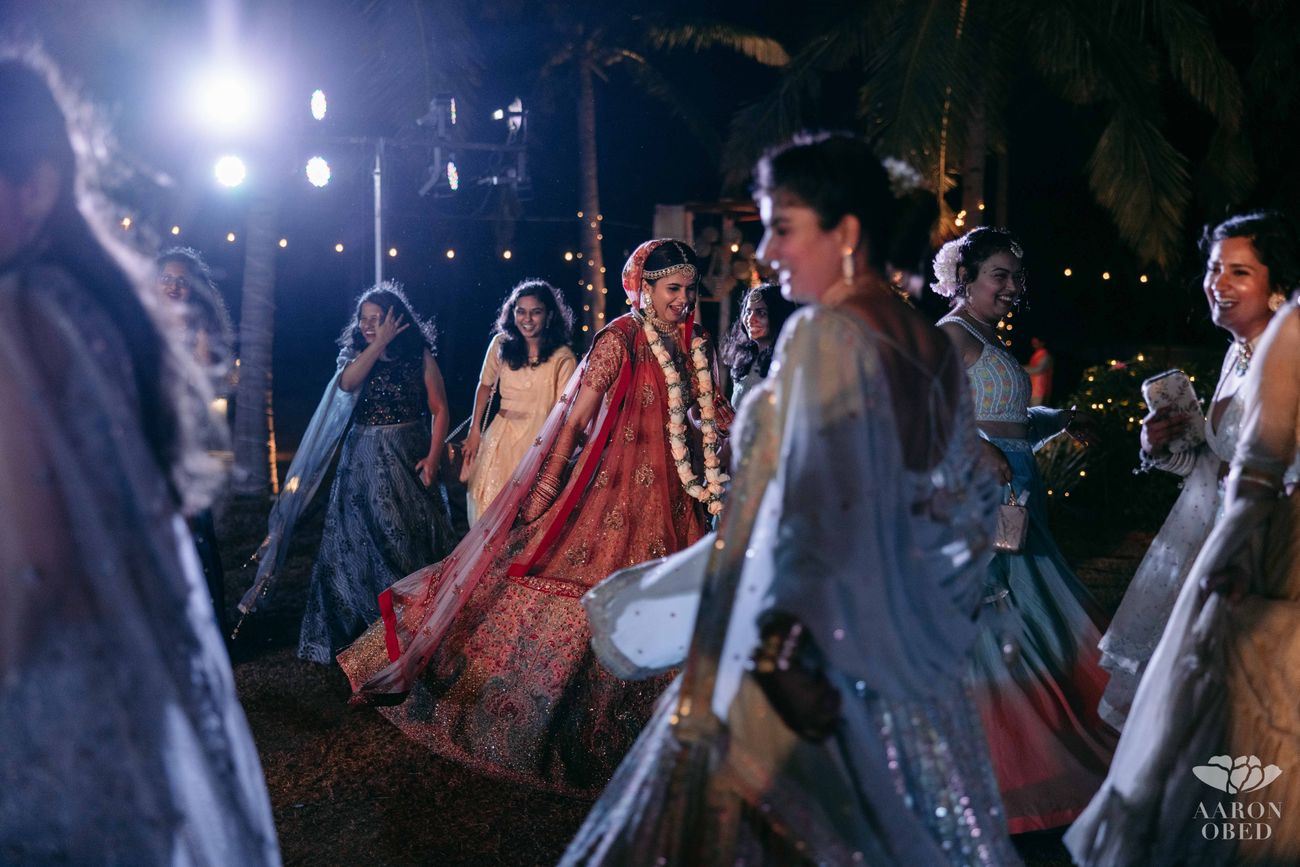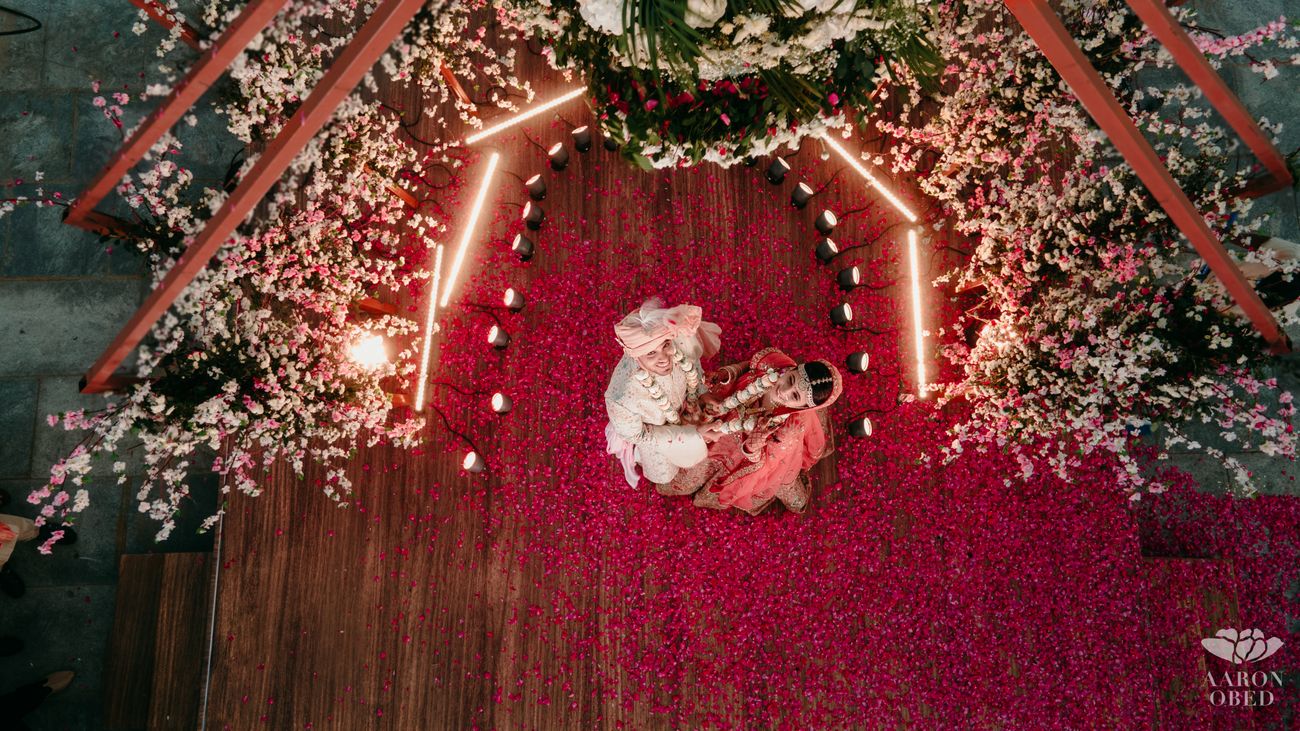 Sangeet & Ring Ceremony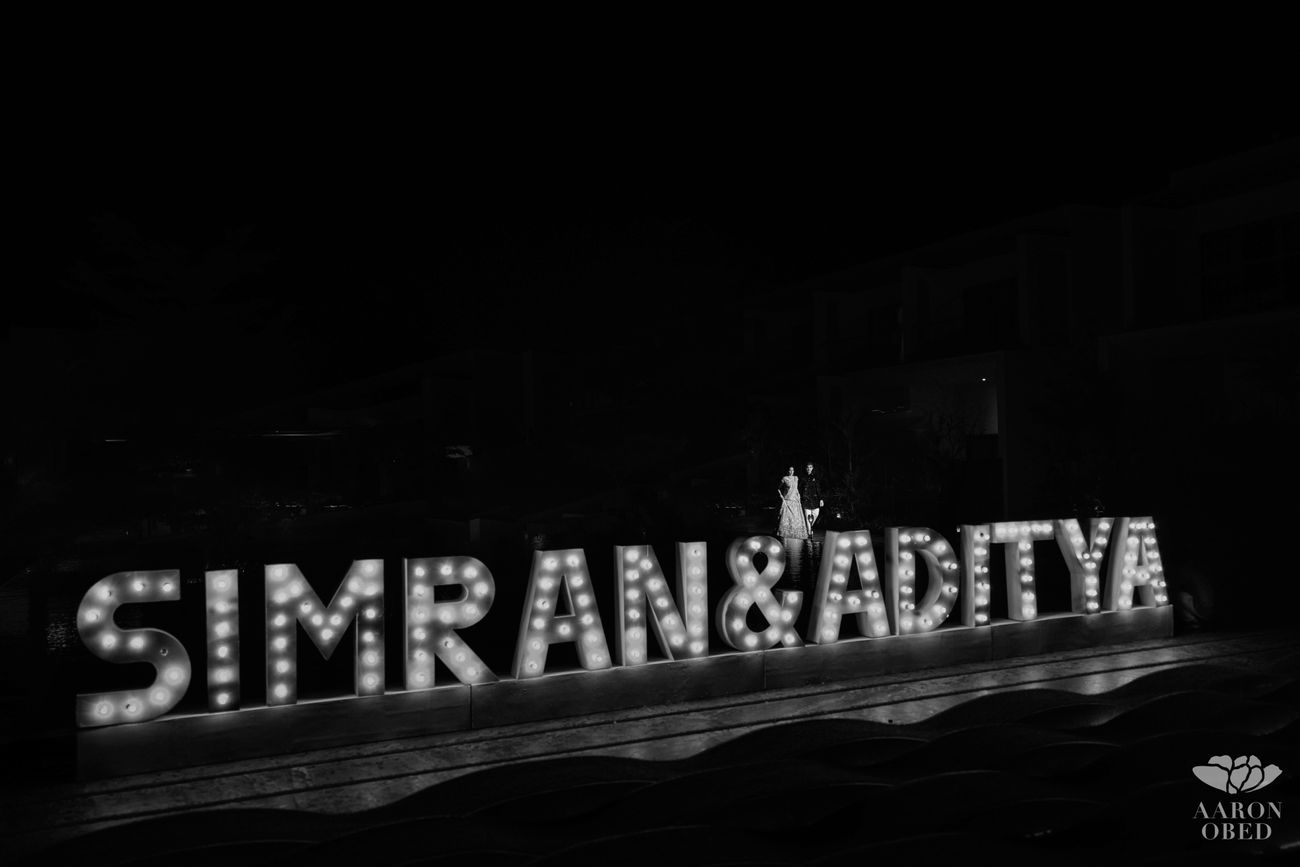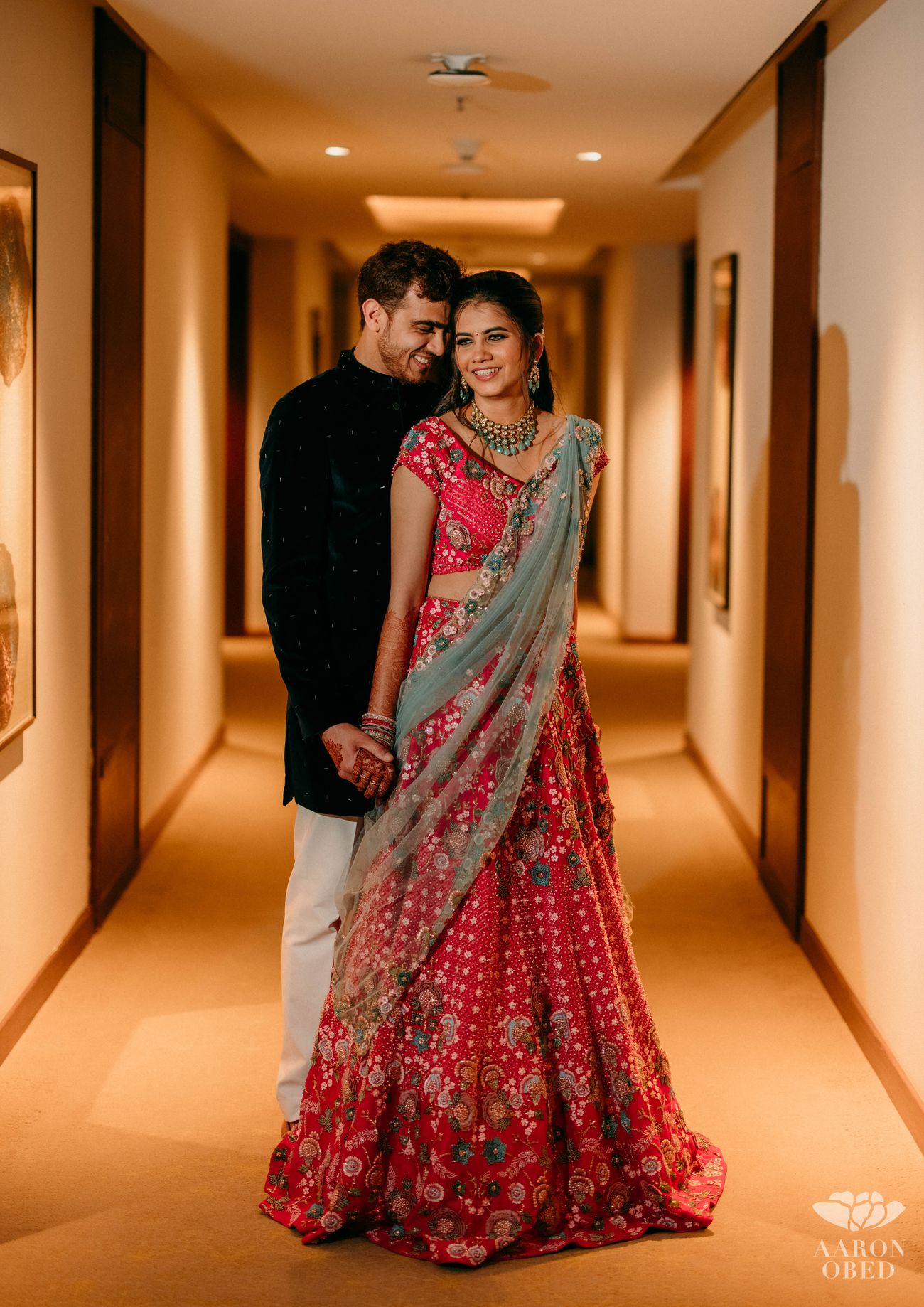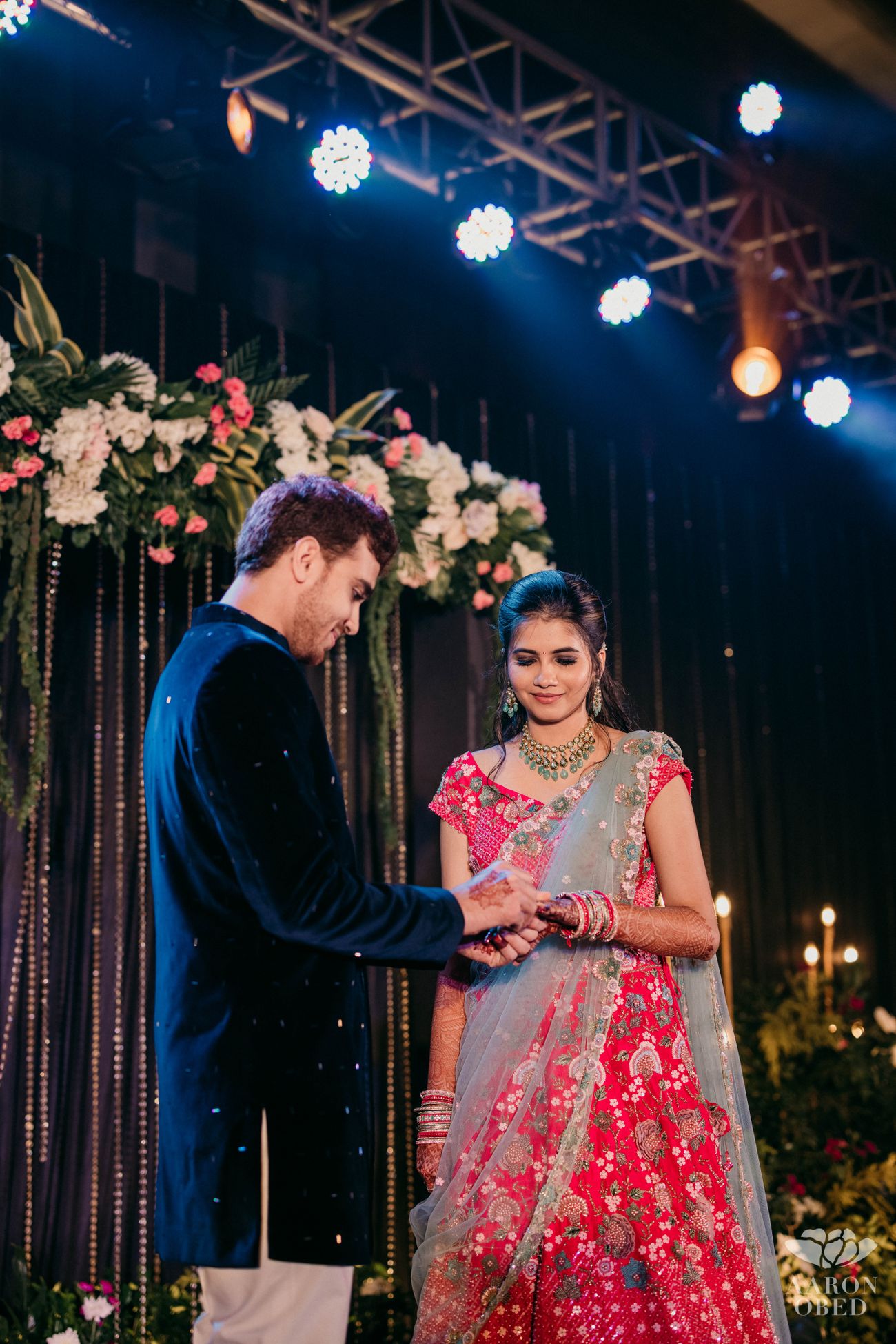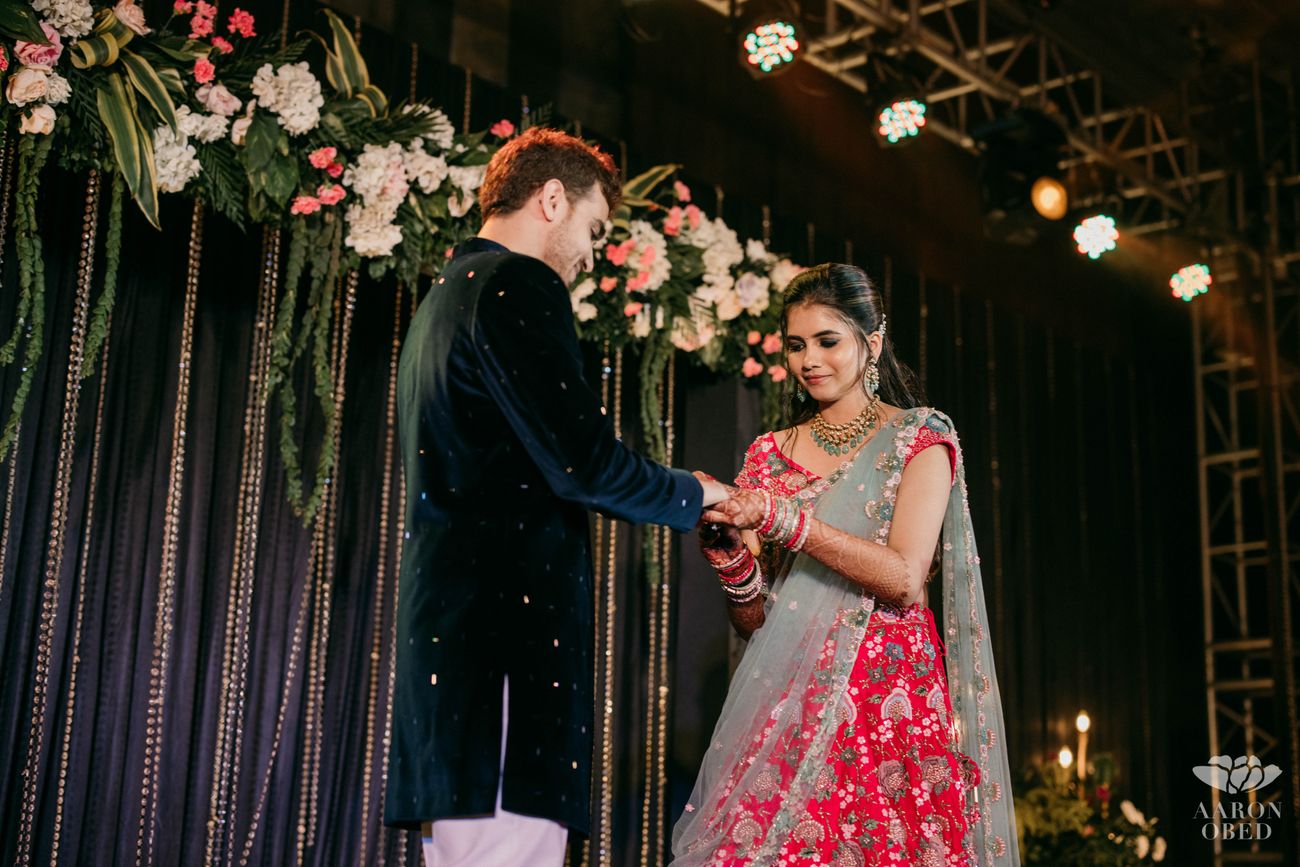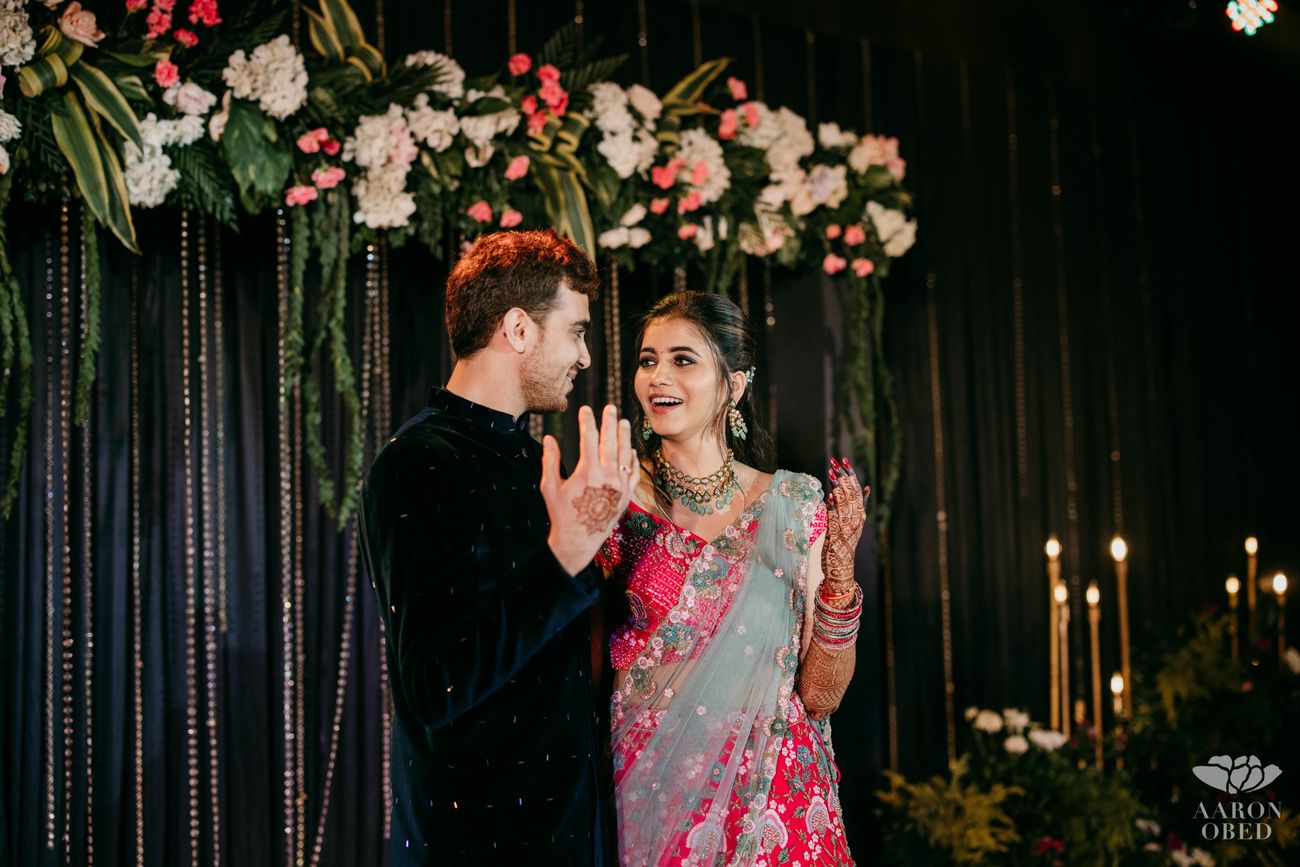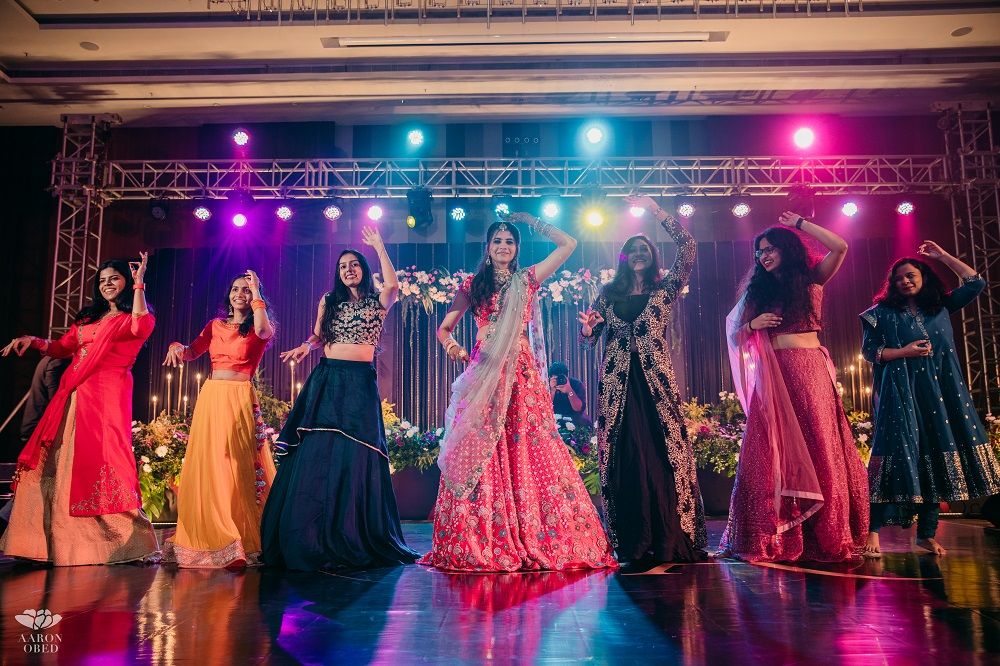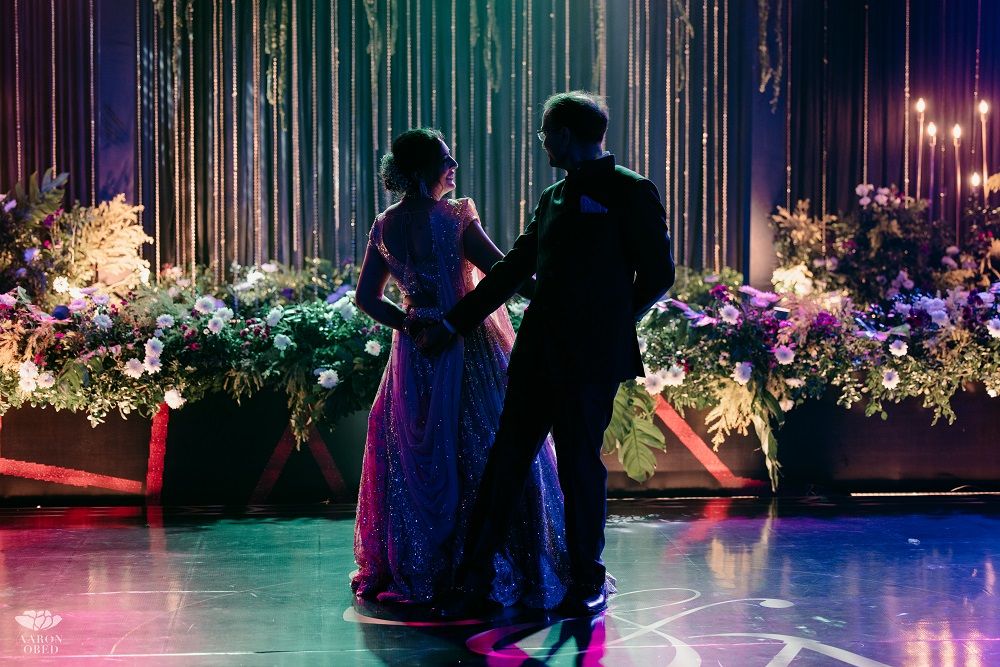 From The Couple:
We got married on 11th December 2021. We both imagined tying the knot under a picturesque sunset and what is better than a magical sundowner by the beach. With the surreal Bay of Bengal in the background and the russet hues of a sunset brightening your cheeks, the view was breathtaking! We went for a boho rustic theme for the wedding to match the beach location, to create an ambiance that's breezy, comfy, and sets a rather lighter and heartier mood. The event was planned like a weekend long celebration. 
The journey so far - The days leading up to the wedding were extremely chaotic! Two weeks before the wedding, I injured my ankle while practicing for Sangeet and it was looking like I won't be able to walk on my own wedding. At the same time, we were closely following the news about the Omicron variant and our guests were canceling their travel plans. To top it all off, a freaking typhoon was on the forecast on both days of the wedding! Despite all these omens, the wedding couldn't have gone better - my leg healed enough that I was able to dance for Sangeet, the typhoon never came and nobody fell ill.
Our decor was supposed to be a heavy boho rustic theme consisting of dreamcatchers, tassels, pastel colored pieces, multi-hued real florals along with wooden furniture and pretty lights to match the laid-back beach vibe. It was all about curating rejuvenating vibes that are a breath of fresh air.  The pheras and vermala ceremonies took place right by the beach at sunset, with the baraat starting at the hotel entrance and leading all the way to the beach. Mehend, haldi and mayra were organized on the hotel's deck, overlooking the sea. The Sangeet night and the cocktail after party was in the hotel's ballroom. We were fortunate to get beautiful weather throughout the weekend, dodging Chennai's infamous returning monsoons.
Vendor Reviews
Venue: Sheraton Grand Chennai Resort & Spa
We got married at Sheraton Grand Chennai Resort & Spa, Mahabalipuram. The resort was scenic with a laid-back vibe, steps away from the beach. Sheraton's talented culinary team crafted a custom menu for our special day, taking all our dietary restrictions into account. Needless to say, the hotel staff were extremely accommodating!

We chose the east coast over the west coast for a beach wedding because it provides better lighting during sunset. Furthermore, Chennai had more flights (including some direct international flights) landing in the morning compared to Goa, therefore suitable for all the guests flying from different parts of the world.
Photography: Aaron Obed Photography
Photographs are extremely important to me and I was extremely particular about what I wanted. Aaron Obed Photography hit all the marks in my checklist. He understood our vision, he had the patience to answer my endless questions about equipment, lighting, lens flare, etc., and never made me feel like I am being overbearing even though I am sure I was! Aaron was personally invested in the event, and used his experience to get the best shots. We hit it off very quickly with the entire crew including Aaron and every photo session seemed like a breeze. He knew where to be to get the best shots of the key events without being intrusive. His team also includes a drone operator, which allows him to capture candid moments which are hard to get. We have only received the first hundred photos so far and can't wait to see the rest!!
Not to mention, Akshata from his team has always been at our beck and call.
Makeup : Crownstone by Revathi
We found Crownstone by Revathi on WedMeGood. Her makeup approach was minimalistic - very natural, subtle and jaw-dropping. She is a perfectionist, and will not settle for anything less. Everyone just loved my wedding look! I am glad I chose her and definitely recommend her and her team to anyone wanting to look amazing on their big day.
Wedding Planning and Decor: Wedding Chakra
Planning a wedding is a logistical challenge and it is almost impossible to get everything perfect. Unfortunately for us, our wedding planner Wedding Chakra was the weakest link. They made elaborate promises for the wedding and swindled us by under delivering on everything. They used artificial flowers, deviated from the contract for the dance floor and the mandap, poor stage lighting, and the list goes on. Worst of all, they did not take responsibility for their mistakes. We were left on our own and were heart broken. This is a harsh reality of the wedding planning industry and I want to make others aware of these risks. Fortunately for us, the venue and food covered up for their shortcomings. If you are considering getting a wedding planner, it's a hard pass on Wedding Chakra.
Mehendi: Ranjeeth Mehendi Artist
We chose Ranjeeth Mehendi Artist from WedMeGood. His team was professional, punctual and precise, with both contemporary and classic designs.
Gota and Floral Jewellery by Sana
The floral jewellery for Haldi was absolutely gorgeous. I was initially confused and skeptical but after meeting Sana, I was impressed with her neat and quick work!
Sangeet Choreography by Impal 
She is one of the best wedding choreographers in town. Super fun, super talented and super energetic. She did a phenomenal job choreographing bridal solo performance, mother-daughter dance, mother-in-law daughter dance, couple performances, group performances, flash mob, virtual dance classes for my sister, and the list goes on. She adjusted the steps based on the difficulty level of our family members making it easy for them to learn. She also provided excellent song recommendations based on current trends, and is very friendly to work with. Highly highly recommend her!
DJ: Sunny Deepak
Our sangeet & cocktail was a night to remember, such an electric performance by Sunny and his team. People just couldn't stay off the floor. A never ending night and a total blast! A hard 10/10!
Vendors: Venue: Sheraton Grand Chennai Resort & Spa; Photography: Aaron Obed Photography★ 5 ; Makeup: Crown Stone★ 4.9 ; Wedding Planning and Decor: Wedding Chakra★ 3.5 ; Bridal Outfits: Mehendi - Toxic, Kolkata, Sangeet - Kalki Fashion★ 4.4 , Haldi - Radhika Creations , Jaipur, Wedding - Shyamal Bhumika★ 4.7 ; Bridal Jewellery: Haldi - Gota Floral Jewellery by Sana★ 4.9 , Sangeet - Maya Sanghavi and Rambhajos, Wedding - Manubhai Jewellers★ 4.6 ; Mehendi Artist: Ranjeeth Mehandi Artist★ 5 ; Groomwear: Mehendi - Kora★ 4.5 , Sangeet - Bellanis Bespoke, Haldi - Telon Men , Wedding - Anita Dongre★ 4.9 ; Sangeet Choreographer: Impal; DJ: DJ Sunny Deepak★ 5
Wish to host your dream destination wedding at Sheraton Grand Chennai Resort & Spa? Then contact their in-house wedding specialist Anju Bhandari Singh Bhati on +91 9384832952 or at anju.bhandari@sheraton.com
You can also reach out to Marriott here to plan your dream destination wedding at any of their properties pan India!