How To Really Know That You Can Afford A Destination Wedding!
BY Apoorva | 03 Jun, 2018 | 505 views | 5 min read
When you hear the words destination wedding, you think expensive! But that's not always the case. You can have great destination weddings with a few smart tips and tricks that will allow you to save costs. Yes yes, that's what we are giving you!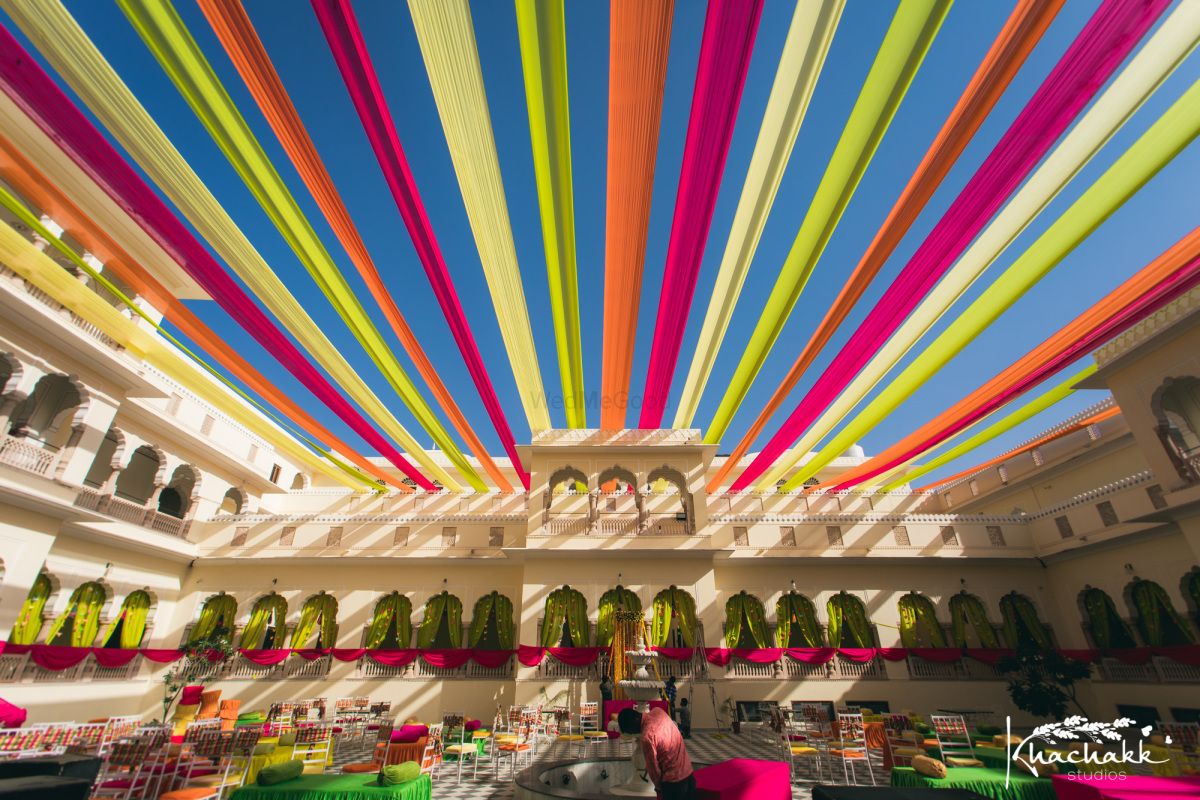 Image via Show Mania Events & Entertainment★ 4.9
How Much Does A Destination Wedding Cost?
Before we cut down on the costs, it's important to understand that how much does a destination wedding cost. Though the exact budget depends on various factors such as locations, grandeur of the wedding, guestlist and so on, there is a range where destination weddings start from. If you are planning to have one in India, it will cost you around 25 lakhs for a two-day stay at non-five-star property with a guestlist of around 250 guests. If you are planning to do it abroad, the minimum dent would be 50 lakhs given flight tickets are usually sponsored.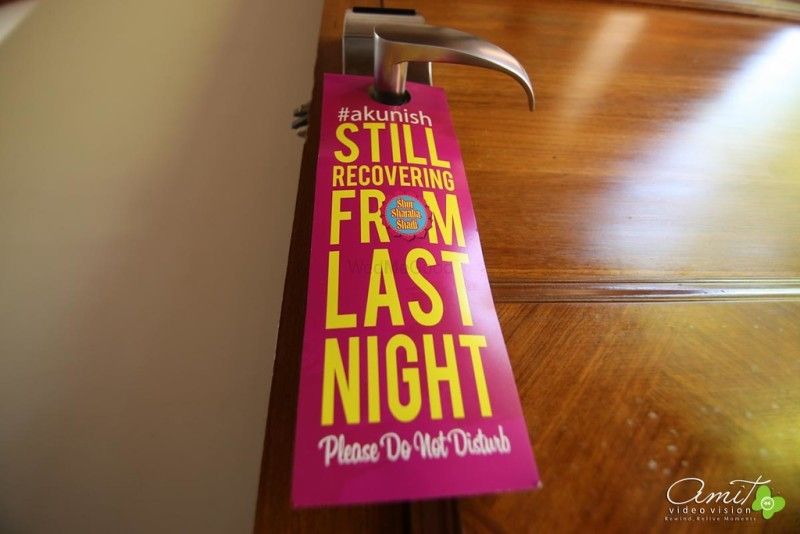 Image via Anyonya★ 4.6
So how to reduce the cost without upsetting the applecart?
Here are a few factors where you can cut costs and also have a pretty great wedding at the same time.
Location
Location plays an important role in India. If you are looking to cut costs, opt for non-wedding destinations like Shimla, Alibaug, Karjat and so on. They have great properties which don't cost anything like Udaipur and Jaipur, so you can still have your functions with the same grandeur that you are planning.
Travel
Drive instead of fly! Opt for destinations that will allow you to travel by road instead of flying. That will cut your travel costs to almost half as road travel is much much cheaper. Also, a lot of guests may opt to drive down themselves if it's close enough so that ways, again you save costs. Like Karjat is ideal to drive down to from Mumbai or Pune.
Wedding Dates
No one does muhurats like Indians! But those will cost you a bomb because everyone wants them. The smart way out is, to opt for muhurats in non-wedding months. Don't worry, you don't have to get drenched in the monsoon, just plan smart. Look for locations where you don't expect a lot of rain in the June-September months. If you still want wedding season, opt for weekday weddings vs weekends. What's more, you have more negotiation power with vendors who are free during these months.
Vendors
And since we are talking about vendors, opt for vendors smartly. We all know that your dream MUA is the one you want, but remember, MUAs charge double at a destination wedding so pick smartly. Opt for 10% of your vendors that you REALLY REALLY want and compromise on the rest. Like your wedding photographer can be the one you want but then opt for a video team locally. Opt for local décor guys instead of flying out your city's decorators. Save, save, save!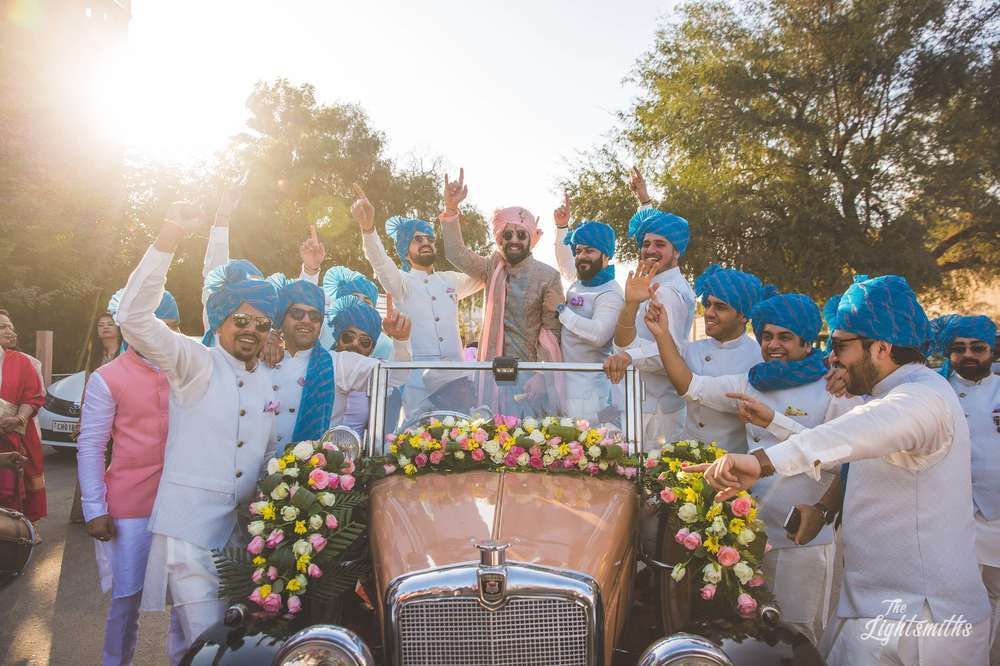 Image via Malvika and Siddhant's Real Wedding 
Guestlist
Now this one is a big elephant in the room that no one wants to compromise on. But destination weddings are not meant for big lists. What you can do is, get an extremely intimate guest list on the destination wedding and then have a smaller reception in your home town later for the rest of the guests. It will still cut a lot of your costs!
Local Favors
Opt for organic honey, green tea when you are in the mountains or pretty lac bangles when in Rajasthan as favors instead of flying down boxes of gifts. This will not only be cheaper but it'll also allow your guests to enjoy the local arts and produce. Also, promoting local brands is always helpful!
Package Deals
If you plan to have the wedding functions in a lavish property, it's not necessary to accommodate your guests in the same hotel. Book hotels which are cheaper but nearer to the wedding venue, which can help you save costs. Also while booking your venues, ask for offers. Some hotels give complimentary usage of the lawn if you book a certain number of rooms, where you can have a smaller function like a mehendi or haldi. You can also ask for meal plan offers that will be adjusted according to your functions.
Group Savings
 You may think that an agent maybe costly but they can give you bulk discounts while booking flight tickets, cars or even hotels. Since you will have a sizable number of people, use that to your advantage at every point.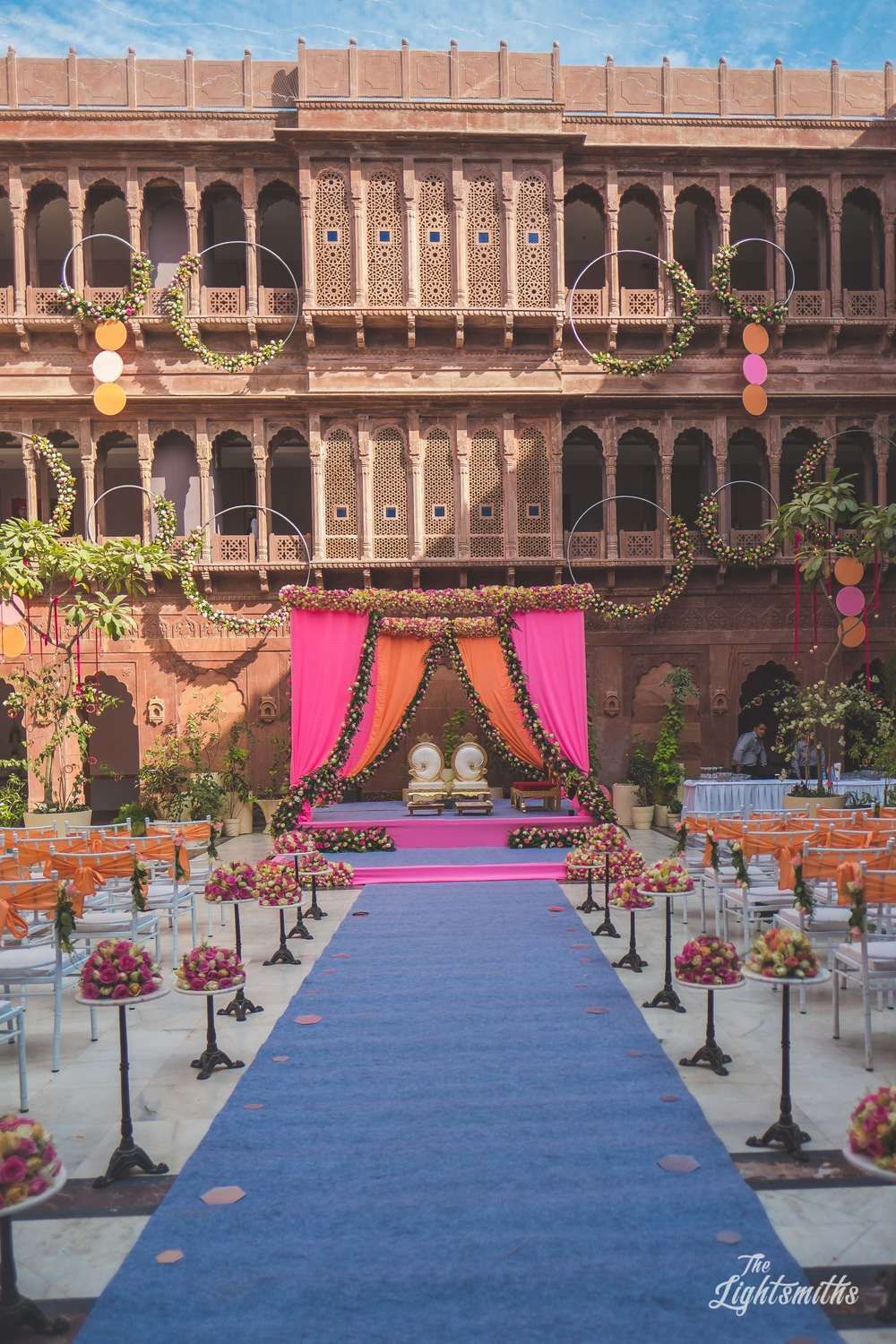 Image via Malvika and Siddhant's Real Wedding 
Pick venues smartly 
Apart from the economical point of view, opt for venues which are naturally pretty. That way you will save on massive décor costs. If you have a beach wedding, sunset pheras, then you can just play around with basic mandap décor and fairy lights that will give you a wow feeling as well as save massive floral costs.
Cut The Trimmings
You can let go of the smaller details and still save tons of money. Dont give out welcome bags, they are anyways not compulsory. Opt for one wedding favor instead of separate favors for haldi, mehendi and wedding. Don't opt for fancy personalised items like napkins or monogrammed chair decors and all. Simple bows on the back chairs will suffice. 
Time your functions
 Since everything will be on the house, you don't need to go all out to impress your guests with lavish food spreads. A high tea mehendi is just fine followed by a sangeet night. This will help you save meal costs as well as omit food wastage.
Plan Early 
The early bird gets the worm! For all of these above things to happen, you need to plan early. Start a year in advance with all your research and bookings, this will leave you more options and buffer to plan. Most hotels take bookings now so you don't have to worry about the timeline!