How To Save Costs While Buying Your Wedding Jewellery! *Budget Tips Inside!
BY Apoorva | 16 Aug, 2017 | 1475 views | 6 min read
Jon Snow might know nothing, but when it comes to jewellery, knowing your way through gold, kundan and the design process might reap big benefits for you. It's not as easy as getting your favourite jewellery on board, it's about refining your sets, planning your trousseau and co-ordinating your outfits. We found a few ways you could work to get your jewellery box on point.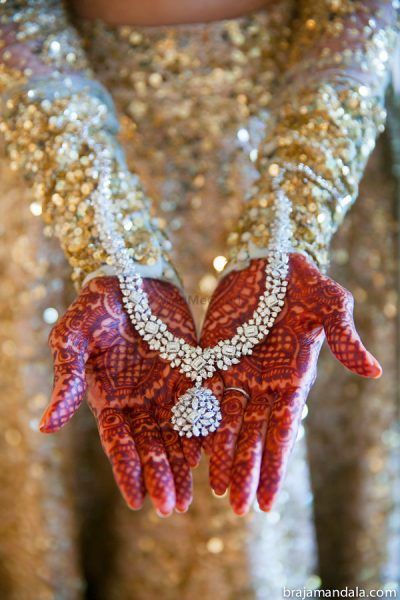 Image via Braja Mandala
Take stock of existing gold
You know we live in India and that means our parents have been buying jewellery forever. From the time we were 3, we have witnessed some ugly gold chains, big fat rings on our tubby fingers and more. Now is the chance to review the stuff you already have. That means, the big fat chains and gifted gold can be melted/ sold to make/buy new stuff. Because, if you're a smart bride, you'll know that having a tasteful jewellery box is better than a hundred unwanted necklaces. 
Don't buy everything together
Stagger your buys. That way, you'll have more cash every month to spend on one item. Mix and match with the jewellery you already have to make your wedding jewellery appear bigger and better. 
Mix and Match 
Silver with gold. Pearls and precious stones. Rubies with diamonds. Anything you can replace with a more budget stone is welcome. And the design stays the same.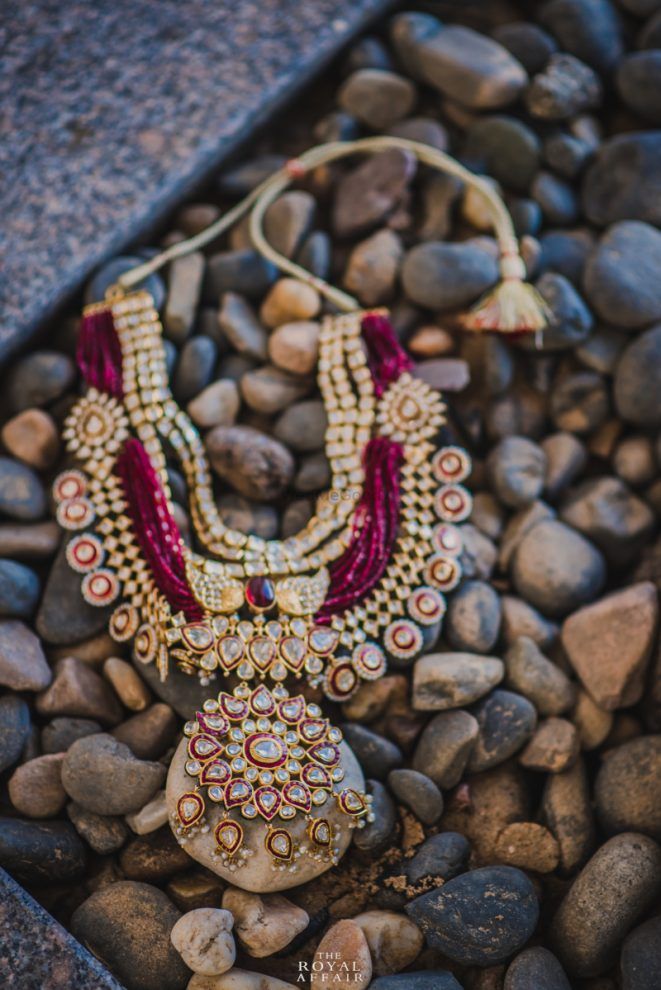 Image via The Royal Affair★ 5
Don't be shy to wear non-gold pieces
With so many brands coming up with stunning jewellery, don't feel shy to sport jewellery which isn't real. These brands do amazing  jewellery on a budget while labels like Outhouse do amazing statement pieces without ripping a hole in your pocket!
If you like a design that's costing a bomb, take a picture and find out in which ways you can make it yours without spending a bomb. Get it made in silver. Or 14-18 K gold. 
Chokers win 
Because they allow for lesser gold to be used. The fact that they are like smaller necklaces will cost you less. 
Look for tie-ups
Look for necklaces that have tie-ups so you don't have to add more gold to your chain and increase your costs.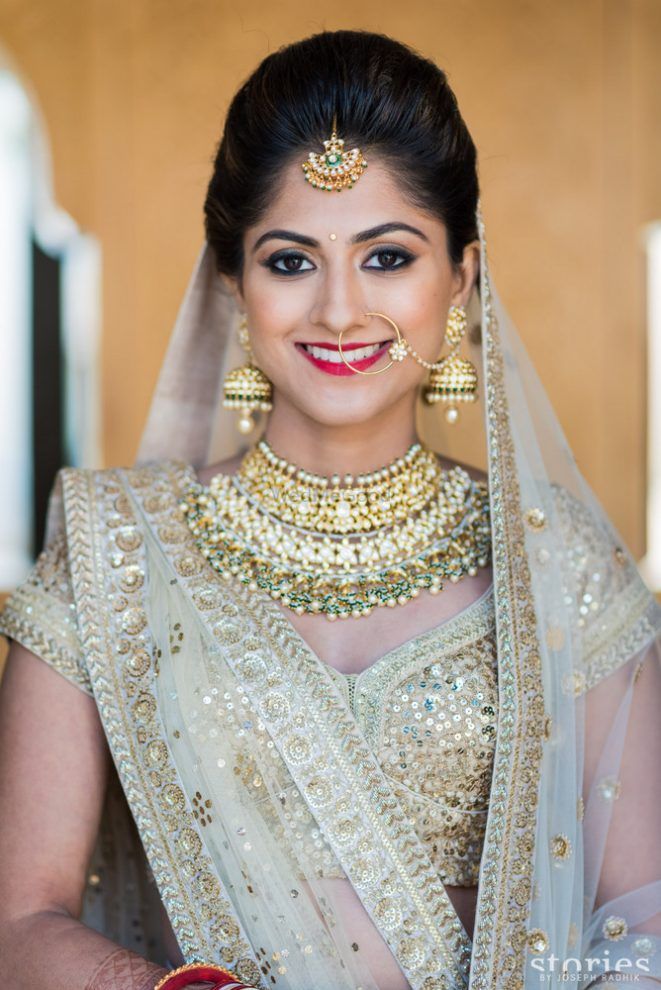 Image via Stories By Joseph Radhik
Look at pearls or beads
Perhaps you want a beautiful pendant but you don't want a chain. Coz it might cost you more. Then, add a Mala with pearls or beads to overshadow it. 
Lehenga or jewellery
The eternal question brides have, should I buy the lehenga or jewellery first? We would say jewellery as that is something that you are going to wear time and again. Also, the money invested is way more than your outfit (even if you are wearing a Sabyasachi!) and yes, you should buy your jewellery first and then match your lehengas to it. 
Blouse Neckline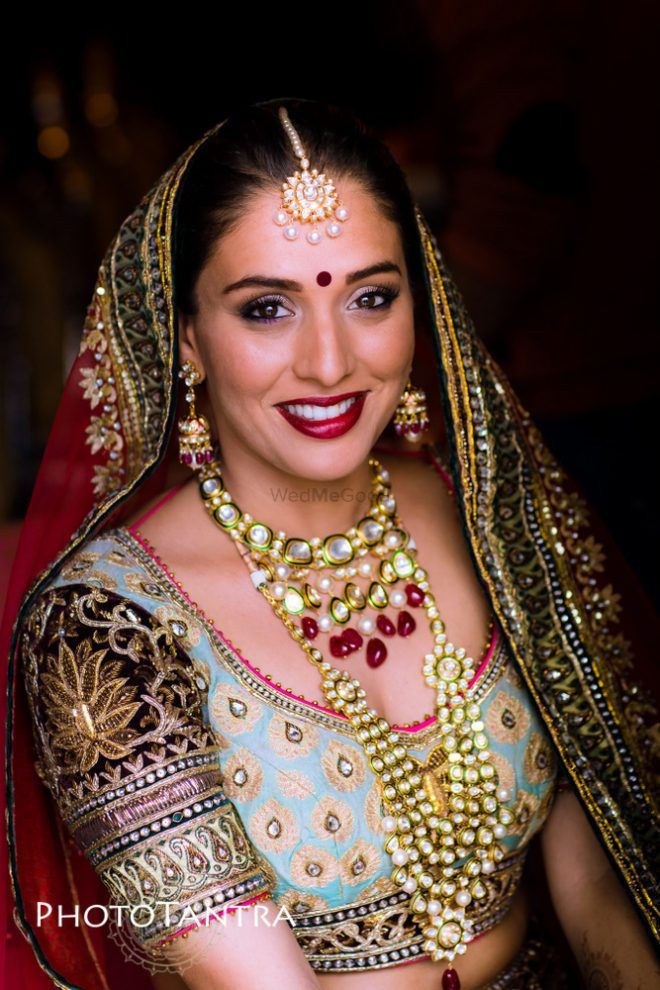 Image via Photo Tantra★ 5
It is one of the important points to be considered while planning one's jewellery - the necklace. If the necklace silhouette is not in accordance with the neckline, the beauty of the outfit as well as the exquisiteness of the necklace both will be marred! Here is our WMG rule book for the same. 
Improvise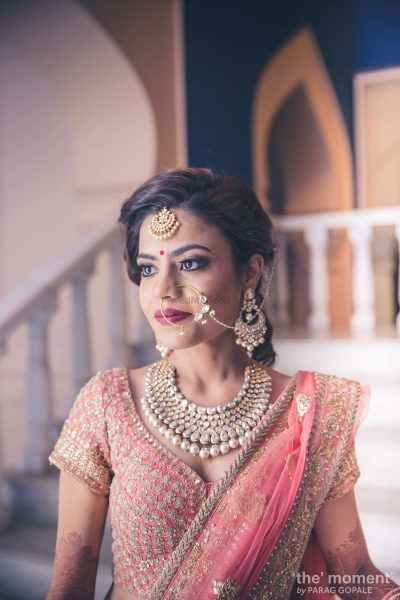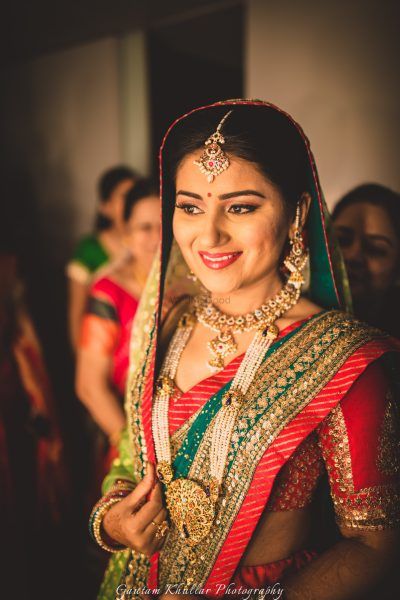 Image via The Moment by Parag Gopale  & Gautam Khullar Photography★ 4.8
Have a kundan set but you think that you want something new for the wedding? Improvise! Ask your jeweller to add pearls or even coloured beads (the real deal) to it and voila! You have a new piece that most people won't even recognize. Or if you have a pendant, then you can get a 5-layered pearl string done for it! But really, revamp your old jewellery. Earrings that are no longer worn can be made into pendants. I had a cousin who cut her necklace into two pieces and attached chains to them and wore them as a rani haar of sorts. 
One outfit with no neck jewellery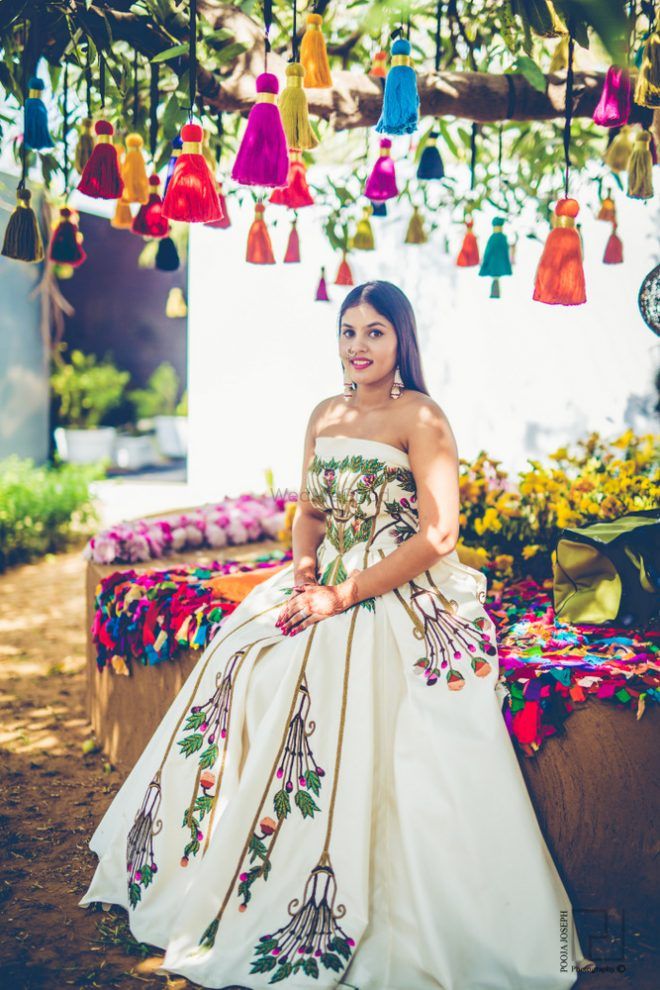 Image via Pooja Joseph Photography★ 4.9
Picked a one shoulder or off shoulder piece for your sangeet night? A lot of brides are confused as to wear a neckpiece or no. We would suggest a spectacular pair of earrings and a bold cuff but if you think that's not you, opt for a dainty or a small choker set that would not take away the line of your gown! What we mean, opt for one outfit without a set or a heavy neckpiece - keep it simple with stellar ear cuffs or earrings. 
Mix & Match With Heirloom Pieces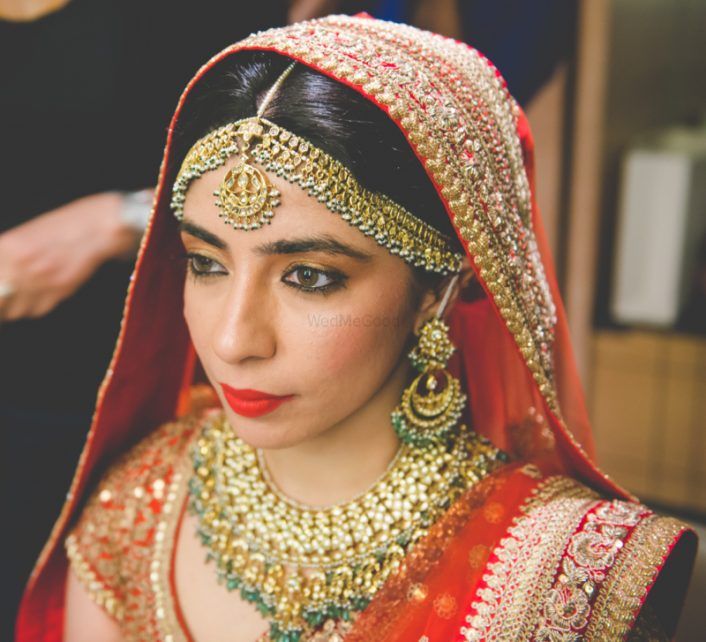 Image via Sumiran and Abhimanyu's Wedding
Old is gold so don't be afraid to mix old pieces with new. They have an old world charm giving a classic touch to one's personality. Real Bride Sumiran wore a mix of her mother's heirloom pieces and some jewellery from Kishandas and Co. Who would guess it's not all a set?
Jewellery Metal
Rose Gold is trending but will it suit you? Check if the metal of the jewellery suits your skin tone. You might dismiss yellow gold for being too bright but maybe that's the one that makes you glow! 
Do your research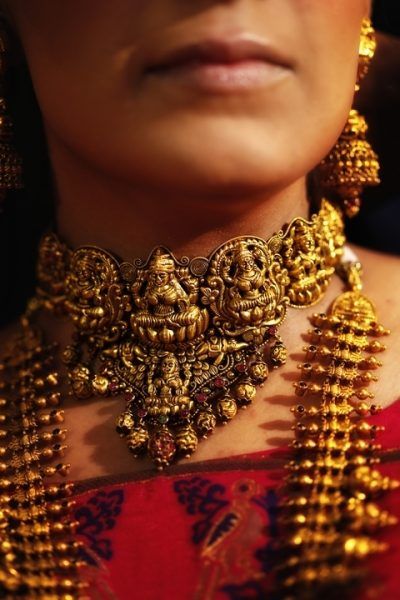 Image via Rajesh Digital★ 4.6
A lot of jewellery stores have no or low making charges during festivals, take advantage of it! Imagine if you are going for a big kundan set or even a 7-8T gold set, it can save you a huge amount in making charges only.
Maang Tika Size
Maang tikkas are trending but every bride can't wear the same mang tika. It must be chosen keeping in view the size of one's forehead. A heavier and bigger maang tika suits brides with larger foreheads and a small and delicate one goes well with brides having smaller foreheads. You can save up on a maangtika by doing two things. 
Wear an earring as a maang tika
Wear a pendant as a jhoomar
Opt for a slim waist band
A slim waist band gives a heavenly touch to the bride's look. It not only helps in covering the bare torso, but also makes the waist look slimmer(yayy!)
Pick Statement Pieces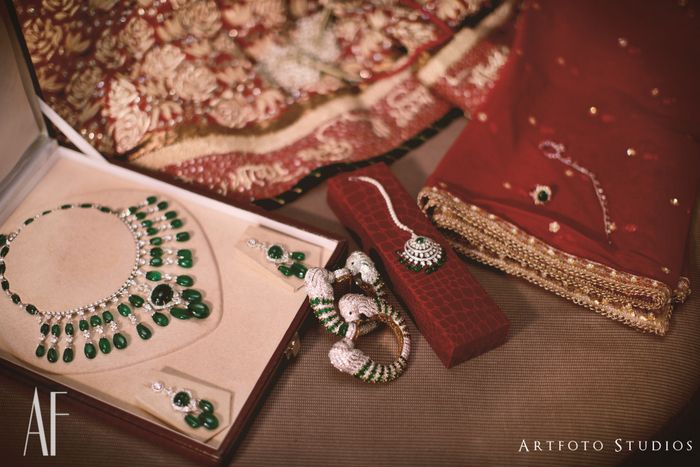 Image via Artfoto Studios
That doesn't mean that they have to be loud or big. Statement pieces can also include delicate tassel earrings which are trending or even a classic pearl choker. You can also opt for a trendy cuff instead of usual bangles. This will not only let that one piece of jewellery shine but you'll also build your collection
Naths
Like all brides, we love that the nath is coming back in fashion. Pick your nath according to your personality and your facial features. If you are a big nath girl, then rock a vintage one or a dainty one looks pretty too!
Be Comfortable
Just because bib necklaces are in trend that doesn't mean you should get one. See what suits you and what you are comfortable in. Nothing ruins wedding pictures than a uncomfortable bride!