Inside the Vogue Wedding Show Part 2: Follow us around !
BY The WMG Bride | 14 Aug, 2015 | 367 views | 3 min read
So now that you saw what the Vogue Wedding show had to offer in
part 1 of this series
, lets take you to the rest of the stalls we spotted with our good friends, the photography team of
Camera Waale Baraati
 who captured all the glitz and the glamour of this special event!
First stop : Varun bahl
The Varun Bahl stall had a sea of white on a rack- and those whites were our favourite pieces. Exquisite beading, white on white , roses, and shells made this a gorgeous , ethereal showcase. There was also an entire rack of outfits with red floral detailing which a few customers were trying out.
Manish Malhotra
There was one particular stall which was so crowded we had to crane our necks to see what was going on inside. As we tiptoed and tried to see inside, all we could see was Manish Malhotra standing tall amidst the crowd, meeting and greeting everyone who entered the stall. One fact about Manish- he is the sweetest, most down to earth designer we have ever met. He  is always ready to have a quick chat, to click a selfie and just interact with his clients.
Tarun Tahiliani
Then, as we strolled about the area, with a cookie in our hand we spotted this gorgeous model making heads turn.
In an ice blue and white floor length anarkali with sparkly swarovski crystals, we could tell she was in a Tarun Tahiliani creation, and she pointed us right to where his showcase was...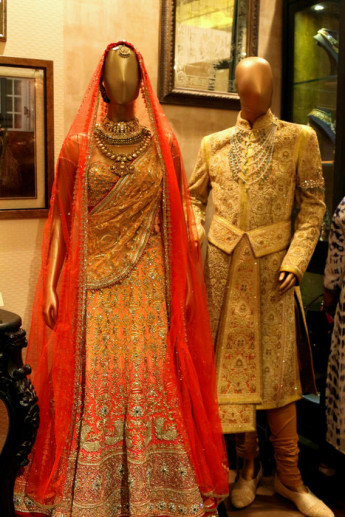 That digital print lehenga on the left- it was so unique. If you are the sister of the bride, or even the bride looking to wear something on the mehendi- this lehenga is perfect!
Anju Modi
We were really looking forward to the Anju Modi presentation because her show at India Couture Week was absolutely breathtaking. Couldn't wait to see the prettiness upclose.
Neddless to say we weren't disappointed. LOVED how she used prints together with rich silks, and combined different colors into one lehenga effortlessly. Also - the detailing and the motifs on her lehenga are so unique.
Jade 
You don't see Monica and Karishma from Jade often enough in Delhi so we paid a little visit to their stall, where the most popular item was definitely their floor length anarkali gowns with threadwork
Vineet Bahl
Vineet Bahl had some lovely, wearable pieces
Wedding Design Company
After all the pretty outfits, sipping on our coffee, catching up with fellow wedding professionals, we finally headed to the WDC stall where Vandana Mohan was taking prospective clients through what WDC does
The stall was simple and effective done in gold and red, but we definitely missed last years installation which had a 3D baraat on the walls !