Invitation Designers Reveal – One Invite Trend They Believe Will Rule 2022-2023 Wedding Invites!
BY Apoorva | 05 May, 2022 | 1942 views | 6 min read
Gone are the days when wedding invites used to be a pre-made design with only names and venues that change. Wedding invitations are looked on now as the first step of your wedding celebrations that your guests have a visual to. From animated video invites to elaborate gift invites with the most delish gifts. So what is that one design trend that we believe will rule all things wedding invites this year? We thought why not ask the experts and this is what they dished!
P.S. Have you checked out our new evite section yet? 
A trend that we truly believe would be big this year and have already started seeing a lot of, is personalisation in the wedding invites. Brides and grooms today want to incorporate important details of their love story, (how they met and how it all began) into their wedding invites rather than going with set predesigned and impersonal templates. We've created this unique wedding card, which depicts the couple's intimate proposal at a love lock bridge, in the most wonderful way. We carefully incorporated tiny details from the wedding in the invite to make it that much more special to the lovely couple. For instance, the background colour Teal was chosen keeping the bride's favourite shades in mind and to match her wedding outfit as well and the design on the inserts was inspired by the venue of the wedding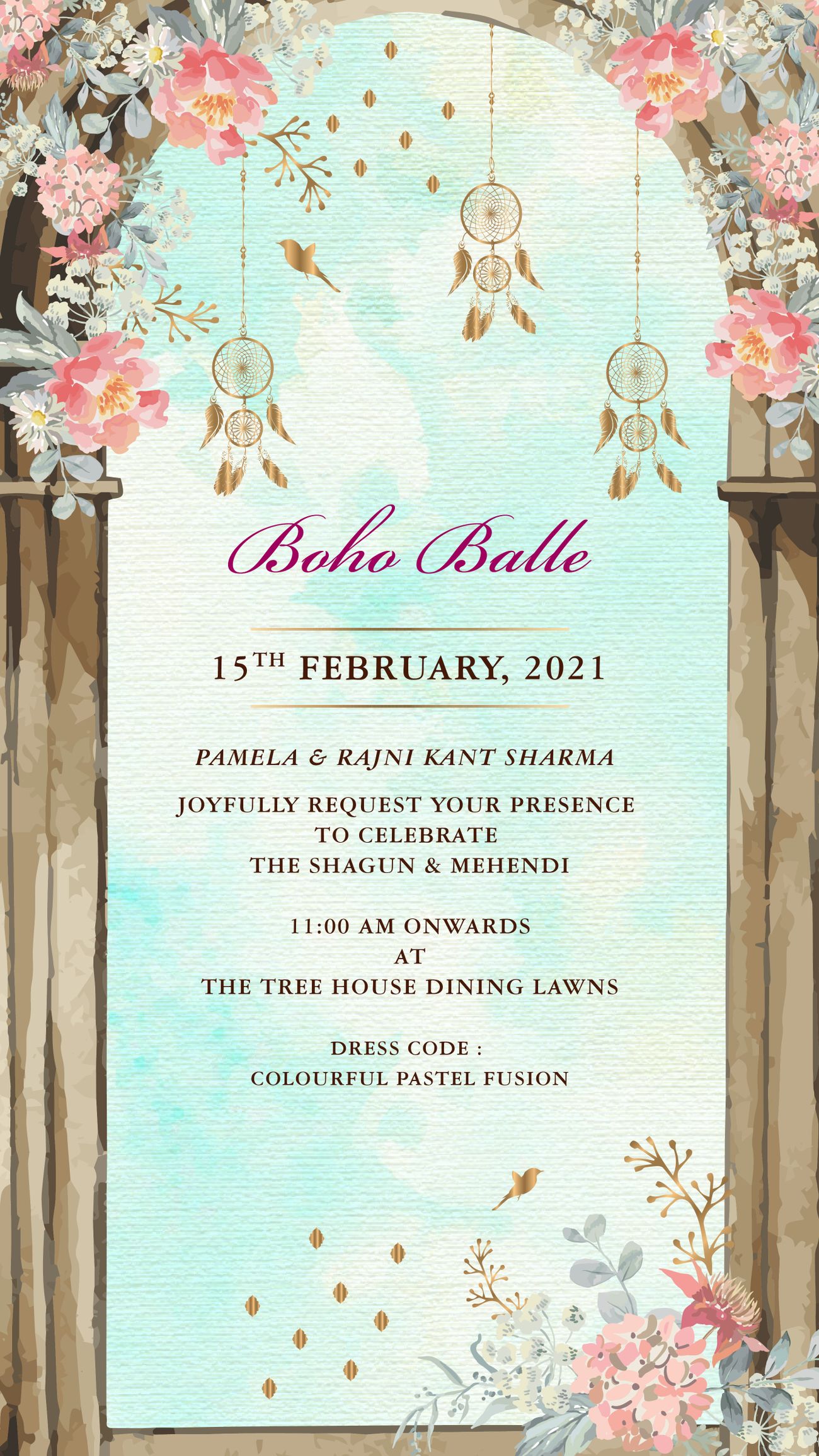 A big trend we see emerging is, trying to incorporate the theme of the decor into your invite! Taking inspiration from the decor mood board & using elements from it in your invitations.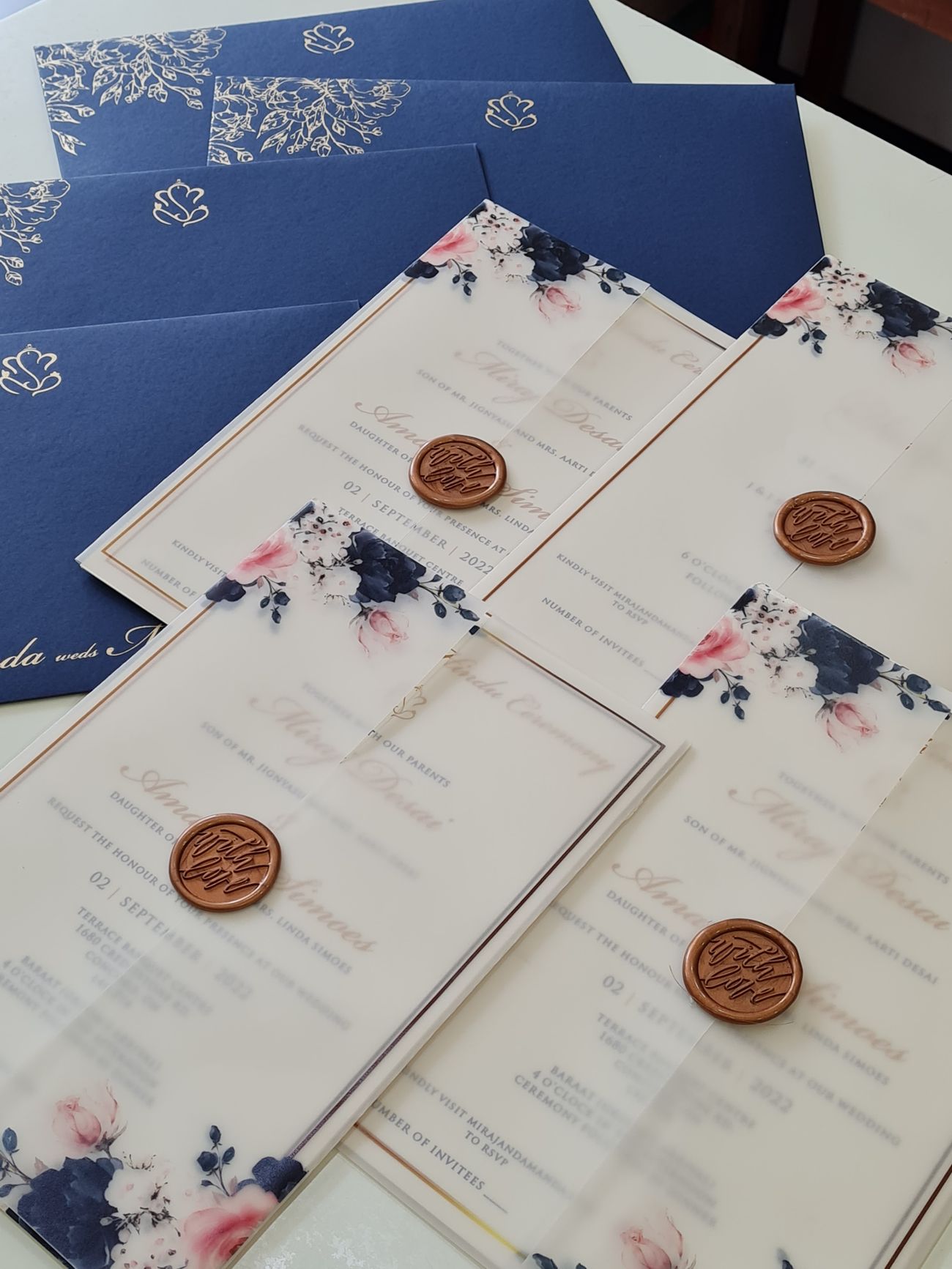 The vellum paper invites are the best and modern invites the couple are going for accompanied with the wax seal or an acrylic insert. It's the minimal, modern and very classy invites trending.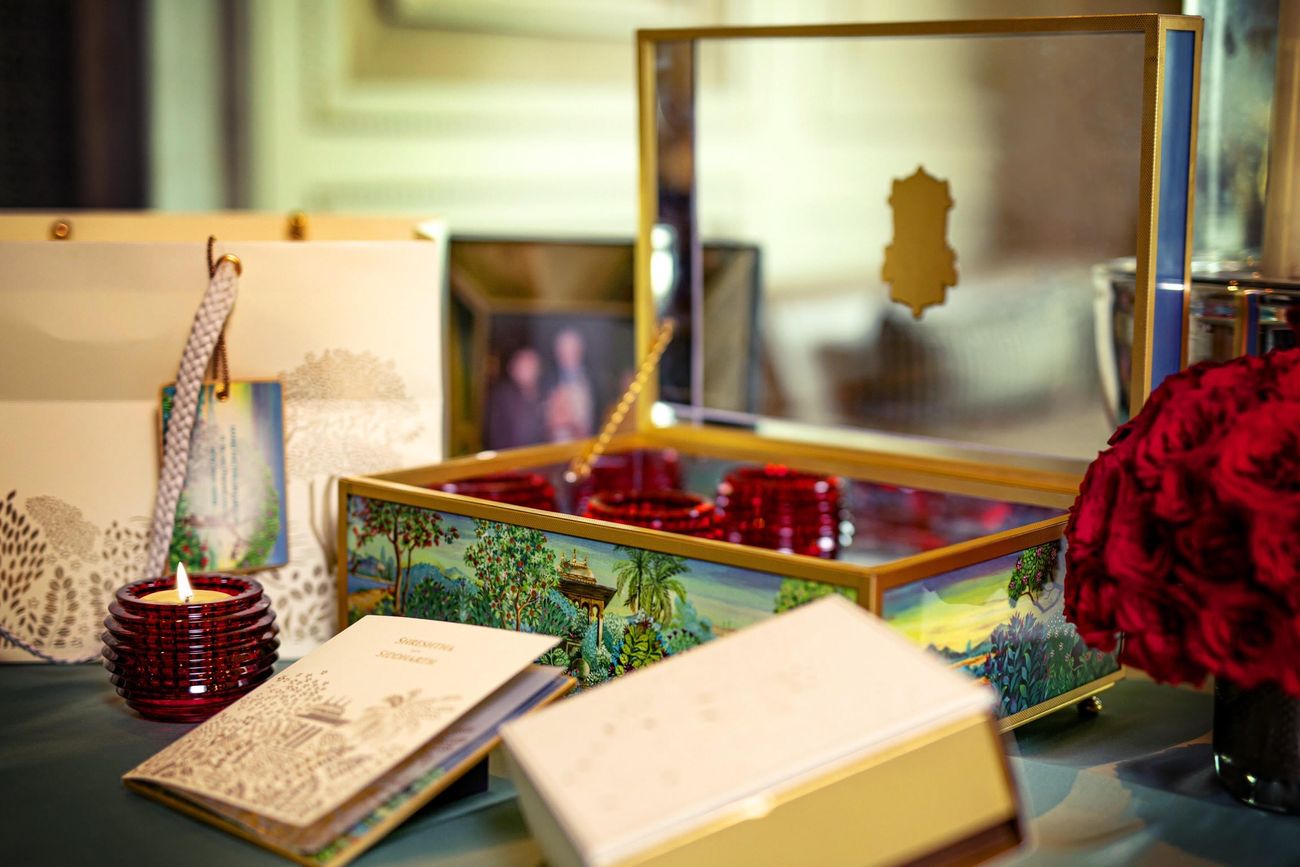 In the year 2022-2023, wedding invitation trends will be influenced by hand paintings from all over the world. Like this ornate wedding invitation that finds inspiration in De Gournay's scenic Paradise Lost. It's reimagined as an Indian scene and hand-painted on the sides of the sleek glass box. Gold leafing textured gold rims, and gold plating on top add a striking look to the keepsake box. It also holds gifts, laid out on the painting and elevated to infinity with a clever mirror effect. The inserter, magnetically attached to the box, carries event details on translucent butter paper with exquisite laser-cut motifs that round off the magnetic charm of this invitation.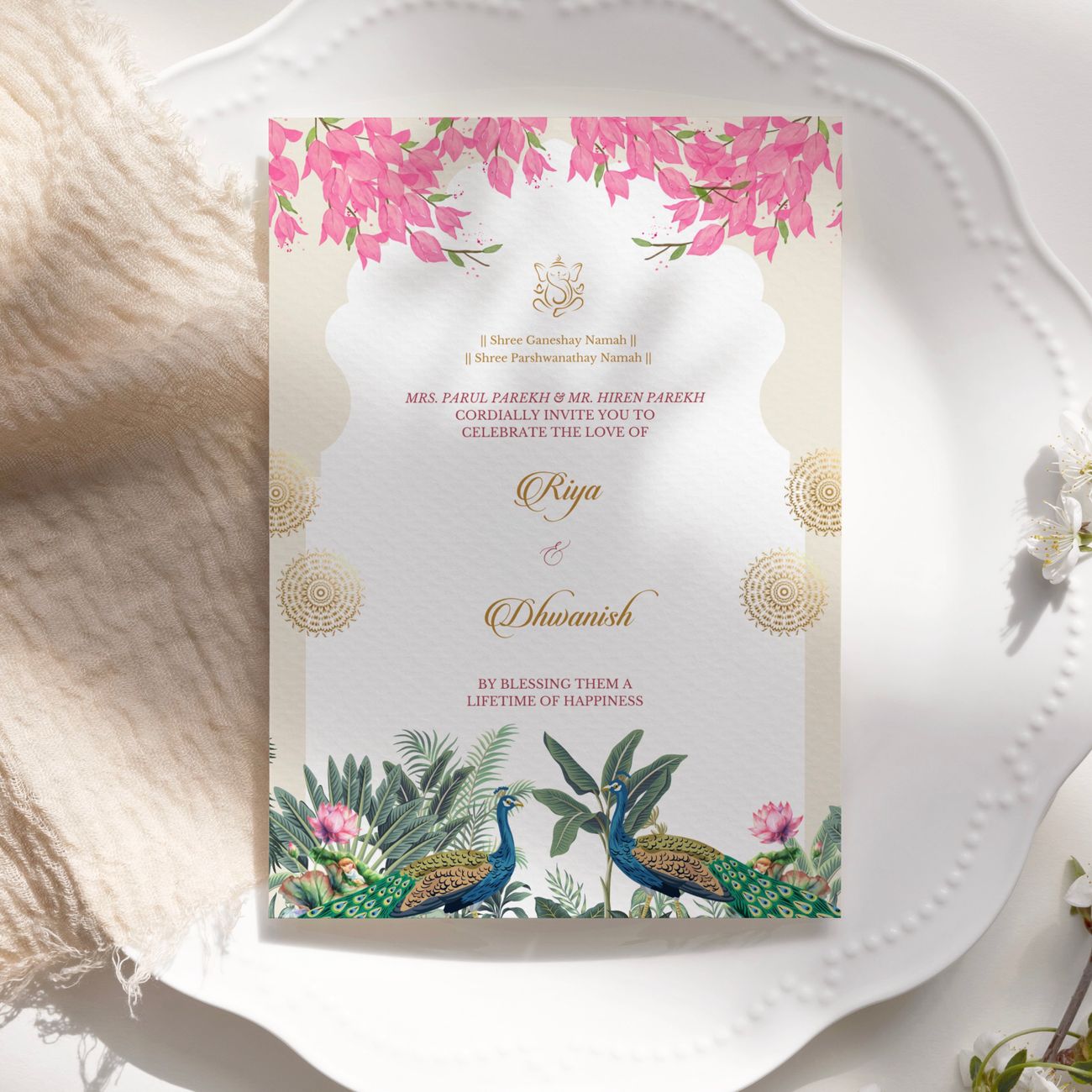 When it comes to Indian wedding invitations, they aren't just a piece of decorated paper, but they represent the Indian culture, values and heritage. Keeping the same in mind, one of the invitation trend that is going to rule 2022-23 is the 'Indian Botanicals'. Take a more elegant and classic feel for the invitations with exotic botanical prints. The best part is that you can make the invitations elaborate or minimal as you wish by using botanics. Greens, blush pinks, creams, are the dominant colours playing their charm.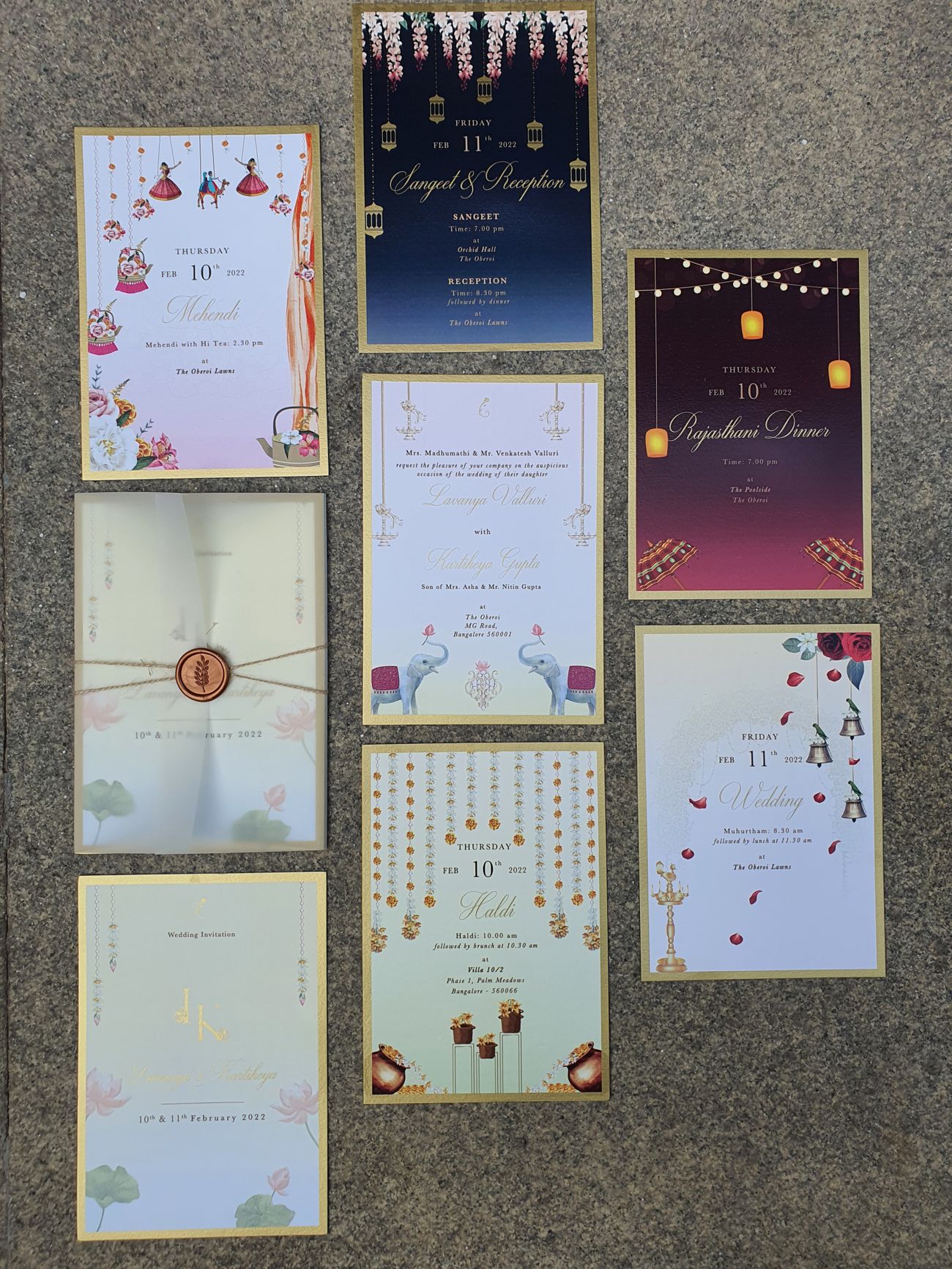 We are seeing a lot of couples leaning towards designs inspired by their wedding decor. Therefore, it's customised to a large extent. Animated video invites with illustrations of the couple included combined with decor inspired designs are a huge hit! There's another set of people who like to keep things minimal and contemporary and that's been a constant over the last few years. Timeless invitations are what they're looking for.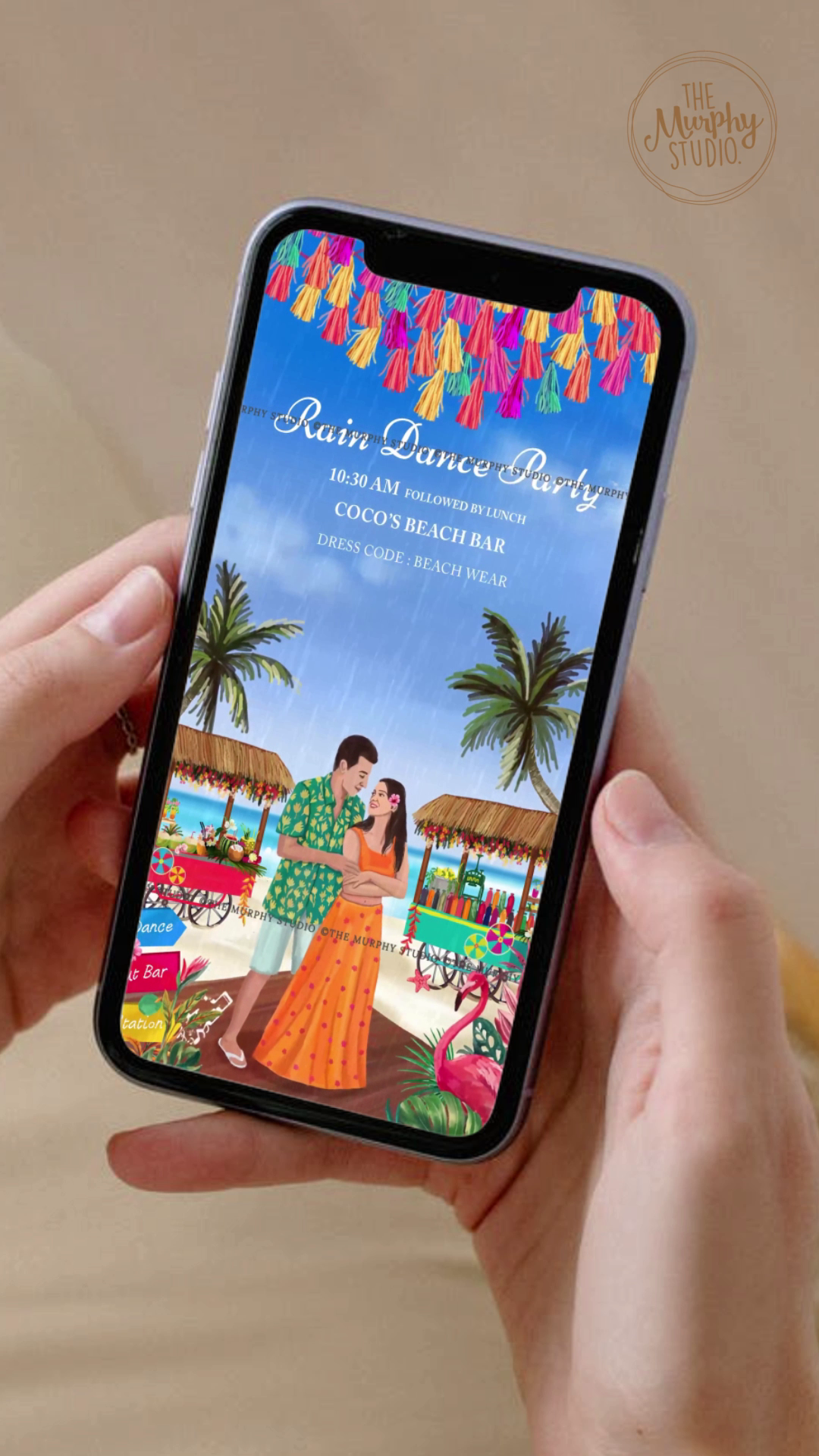 I would say the trend is all vibrant hand illustration video invites. People are loving customizing the invite to the smallest detail so that their guest can get an idea a look and feel of what their events are going to be like for example if you're having a phoolon ki haldi they want the flowers; colour scheme all the detailing to be brought out in their invites. No more just pictures copy-pasted and all are working.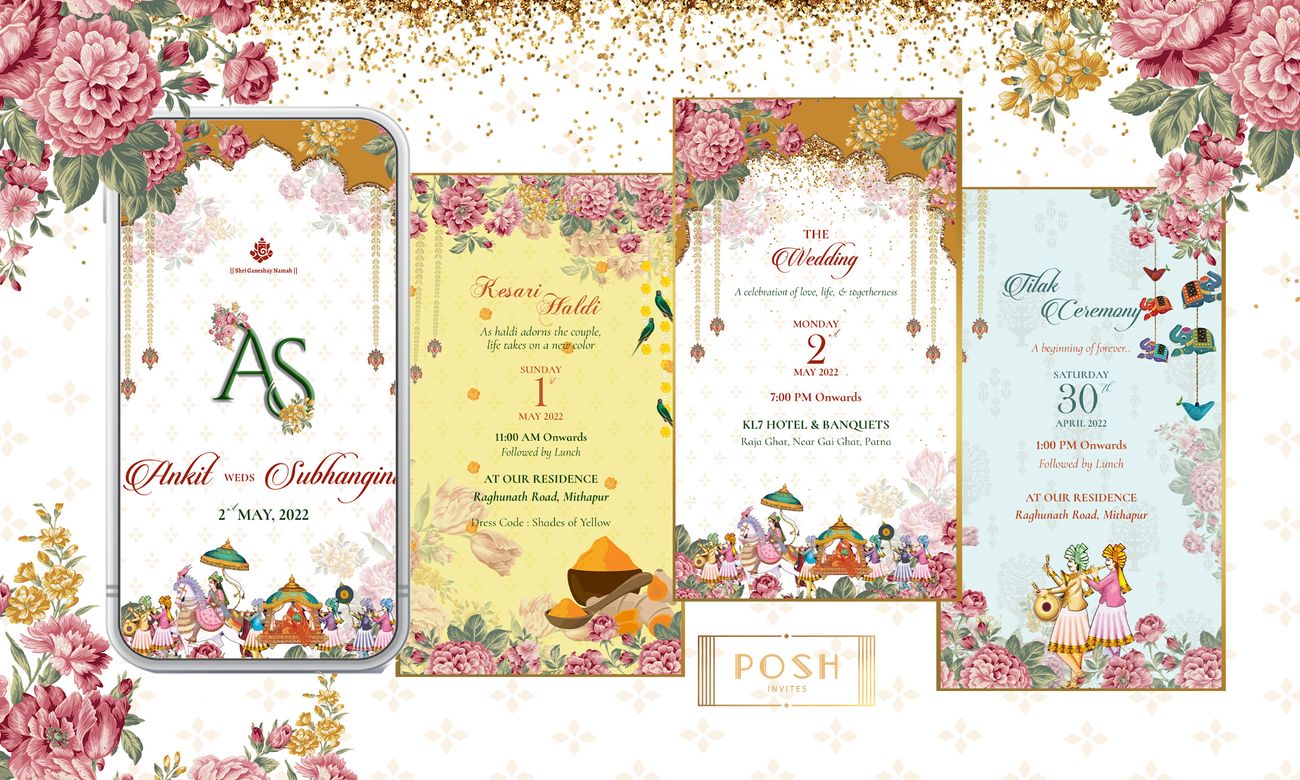 Wedding Invitations in 2022 - 2023 will be all about Customised Wedding Video Invites. People want to their wedding invites with a tad bit of personalisation. Be it their wedding venue or their caricature! Whether they are getting married in Rajasthan or Birmingham, they want their guests to have the experience right from the beginning. Or if they are planning to have a theme to the wedding, they want to incorporate that theme so that their guests get to have a glimpse of the wedding.
 

 

View this post on Instagram

 
Caricature based and digital wedding invites have a much bigger scope to trend and be loved in 2022-2023.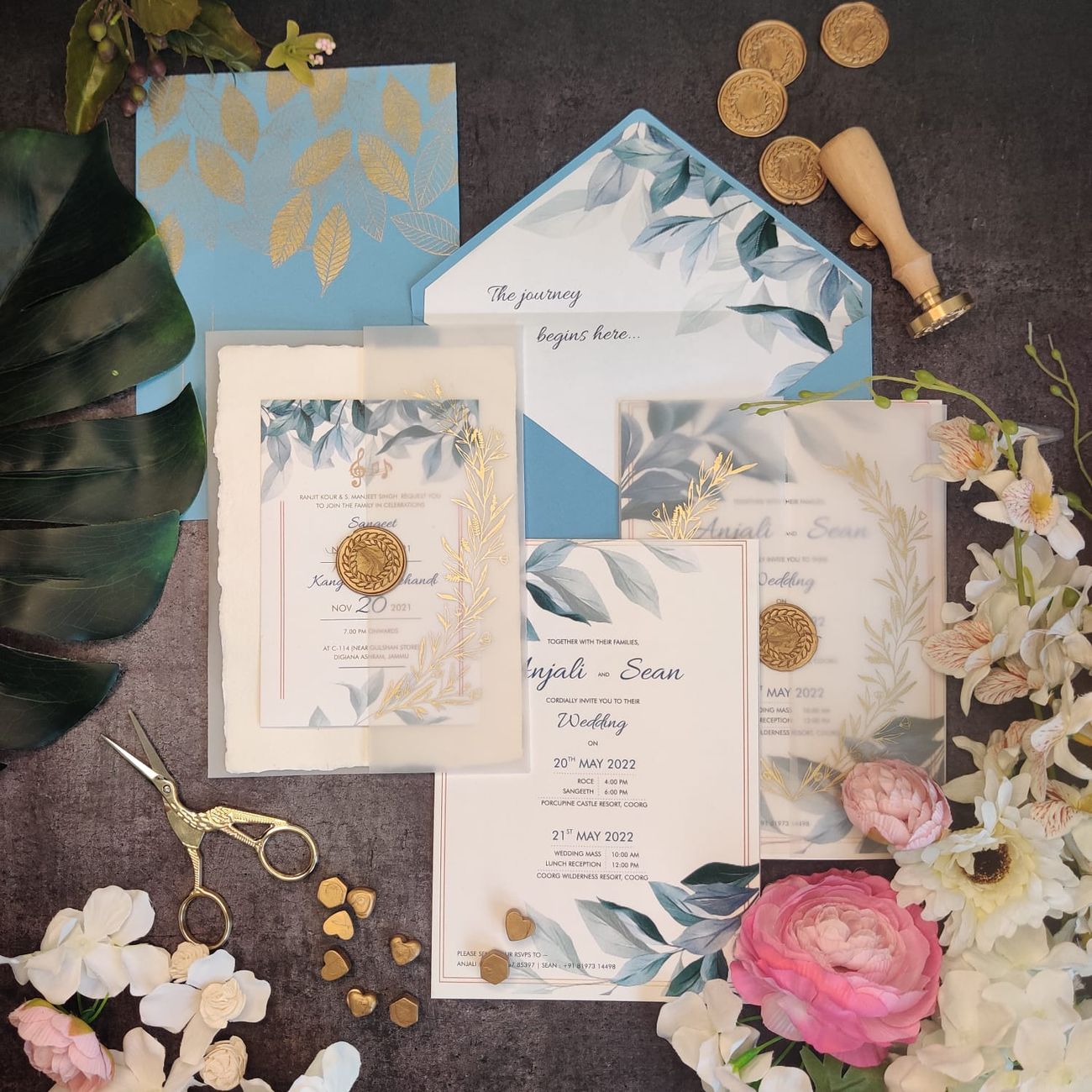 While elaborate boxes and multi-tiered card sets have been traditional favourites, the post-pandemic world is looking at things with fresh eyes. Simply being eco-friendly or bedecked in gold is not enough. This year, we spotted a new trend - a new duality – the breaking of all rules – now we can see cards with hand-torn edges juxtaposed with delicate layers, a hint of gold and overall simplicity. The recent nuptials of Alia Bhat and Ranbir Kapoor reflected that very sentiment – a return to innocence, to natural soft looks, but with every detail perfected in contemporary hues and forms. Gone are the days of over-the-top gaudy styles. Today's bride seeks mindful design that tells a story – like these invitations, hand-pressed by devotees at Auroville, Pondicherry and lovingly printed at Studio Mostly Handmade, Bangalore. Mostly Handmade Studio celebrates this renewed desire for micro-design in 2022 and '23 – a revert to earth-conscious techniques, re-invented with a modern twist.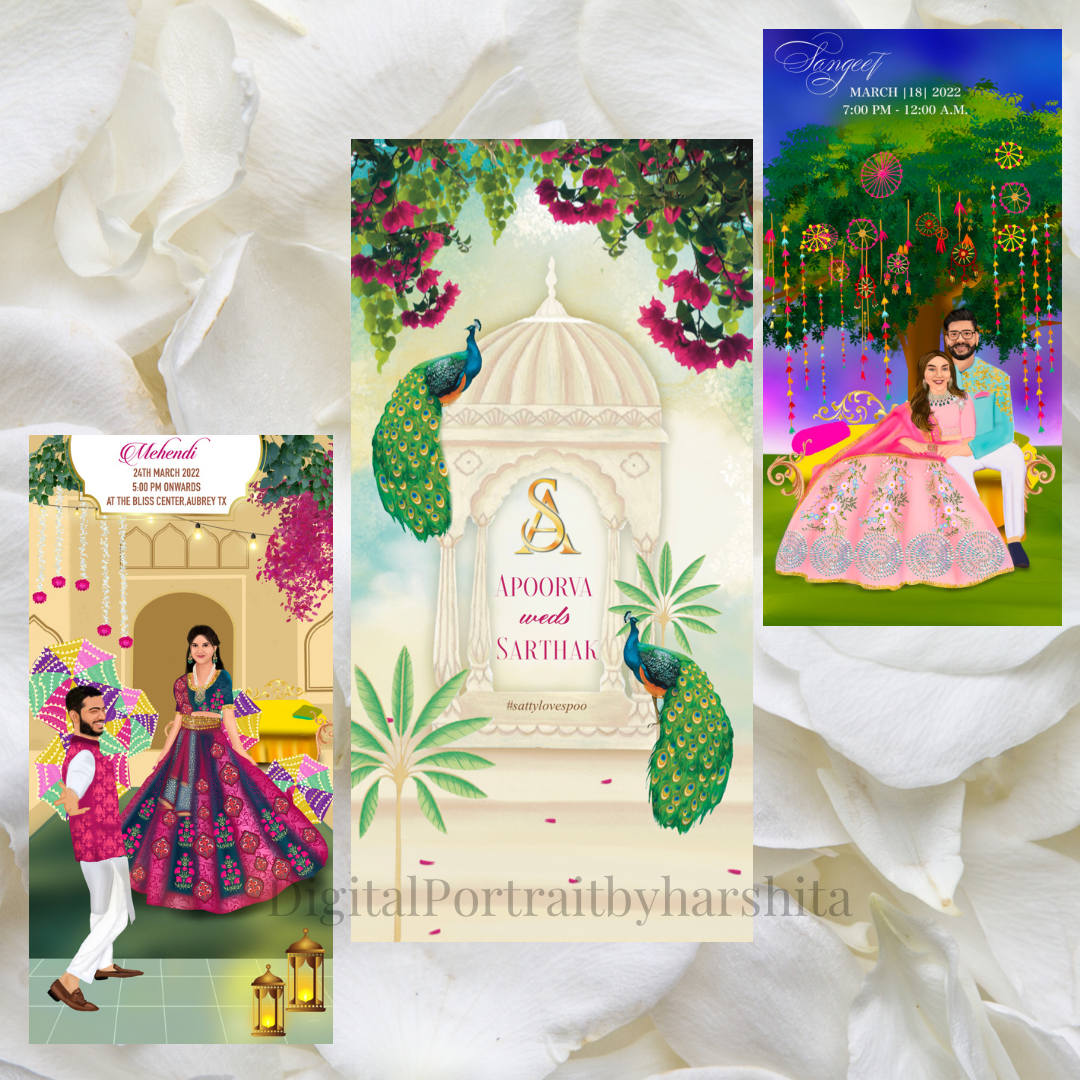 Digital portraits will be the next big trend in 2022-2023 weddings. Customized and exclusively sketched Couple Portrait for your wedding should be a fun expression of your personal style — and it should help guests get a feel for what's to come. You can also opt for save the date cards that have a matching wedding invitation, which keeps your look cohesive and intentional. Or animated styles with a quintessential background designed and exquisite attire of bride and groom to create an elevated effect and a more simplistic digital invite with text might be a great route for a more casual affair. Couple portrait illustrations have now become monotonous so far as we have experienced, clients are now looking forward to theme-based or concept based invites that shall be ideal for them to depict their ceremonies vibe and how the guests shall dress for it.
Want to create your own wedding invitation? Head to our gorgeous E-Invite Gallery and browse through gorgeous wedding card designs that you can simple click and create your wedding invitations online!