Marathi Brides Who Wore The Prettiest Plum Sarees!
BY Apoorva | 14 Jan, 2021 | 4578 views | 3 min read
In most weddings the Maharashtrian wedding saree for bride is traditionally yellow or green. While these are lovely hues, many Maharashtrian brides are opting for different colours while picking their bridal sarees. The one hue we saw recently trending in Maharashtrian bride look is plum! This gives the Maharashtrian bride look an opulent and royal feel. So we decided to share our favourite plum Maharashtrian wedding saree for brides that we spotted recently!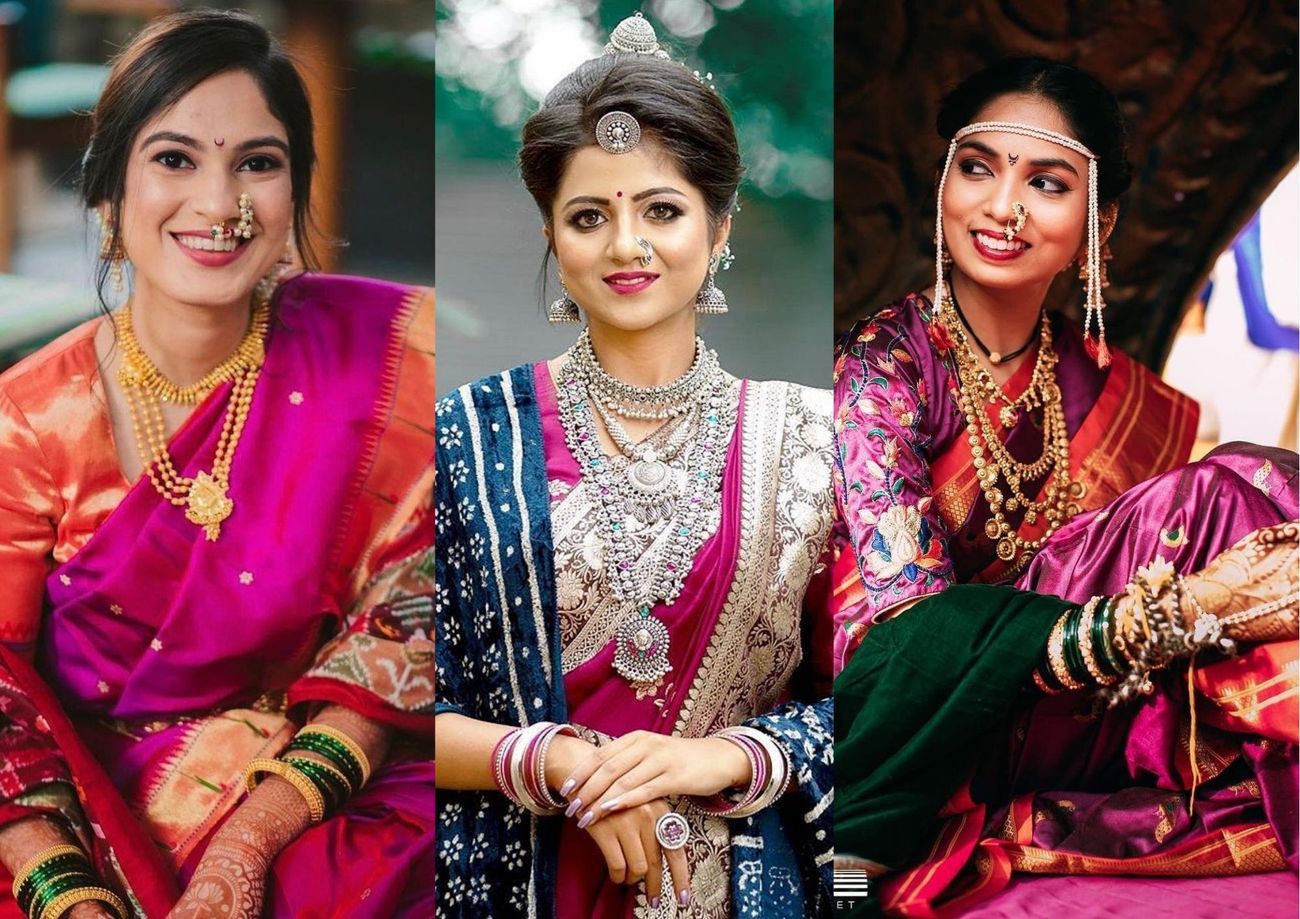 This lovely khun saree with a gorgeous velvet blouse!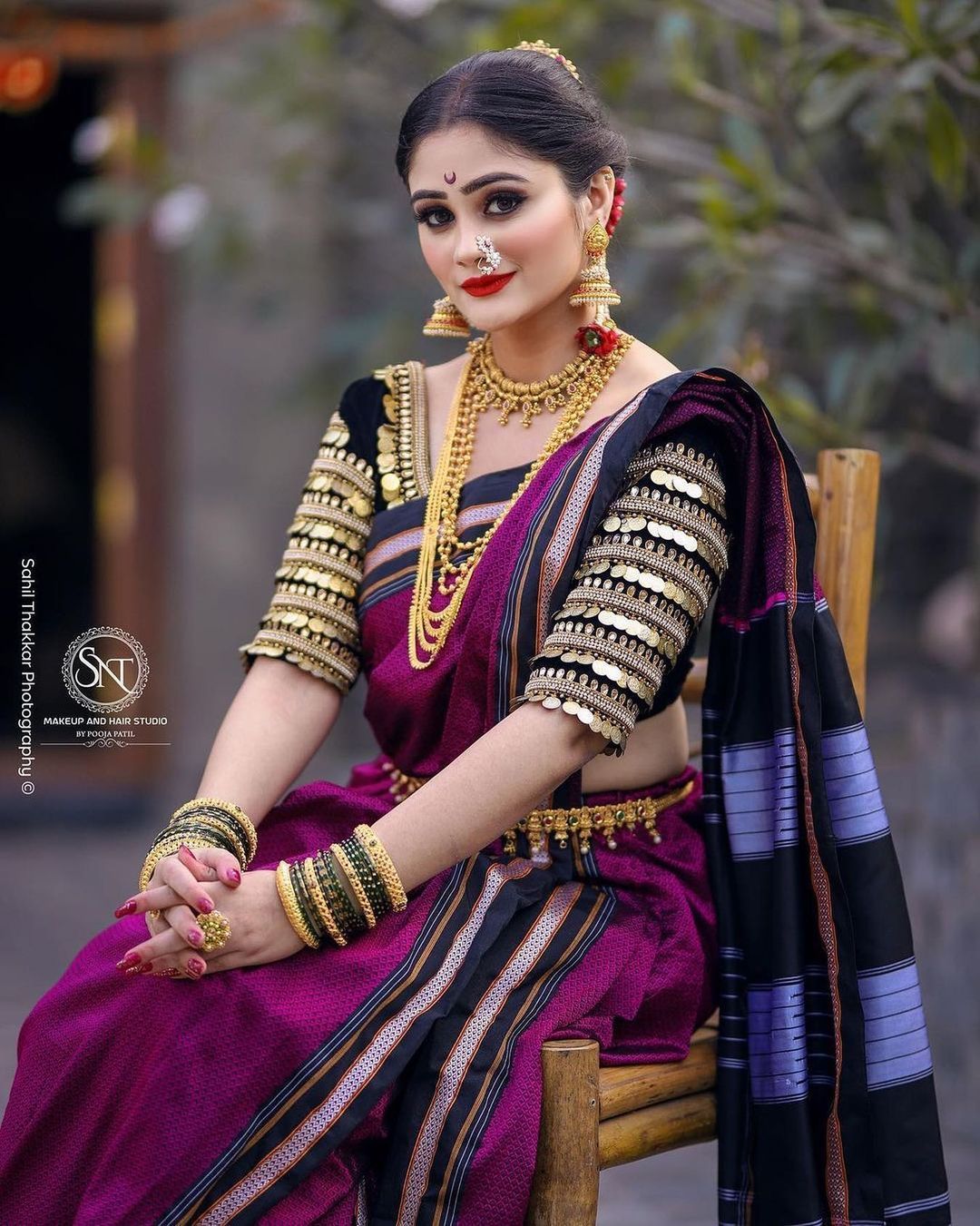 Image via Instagram
Khun sarees are currently popular among Maharashtrian brides and this plum saree is perfect for a winter wedding with its velvet blouses!
Loving this stunning plum saree with a thick red border and traditional motifs!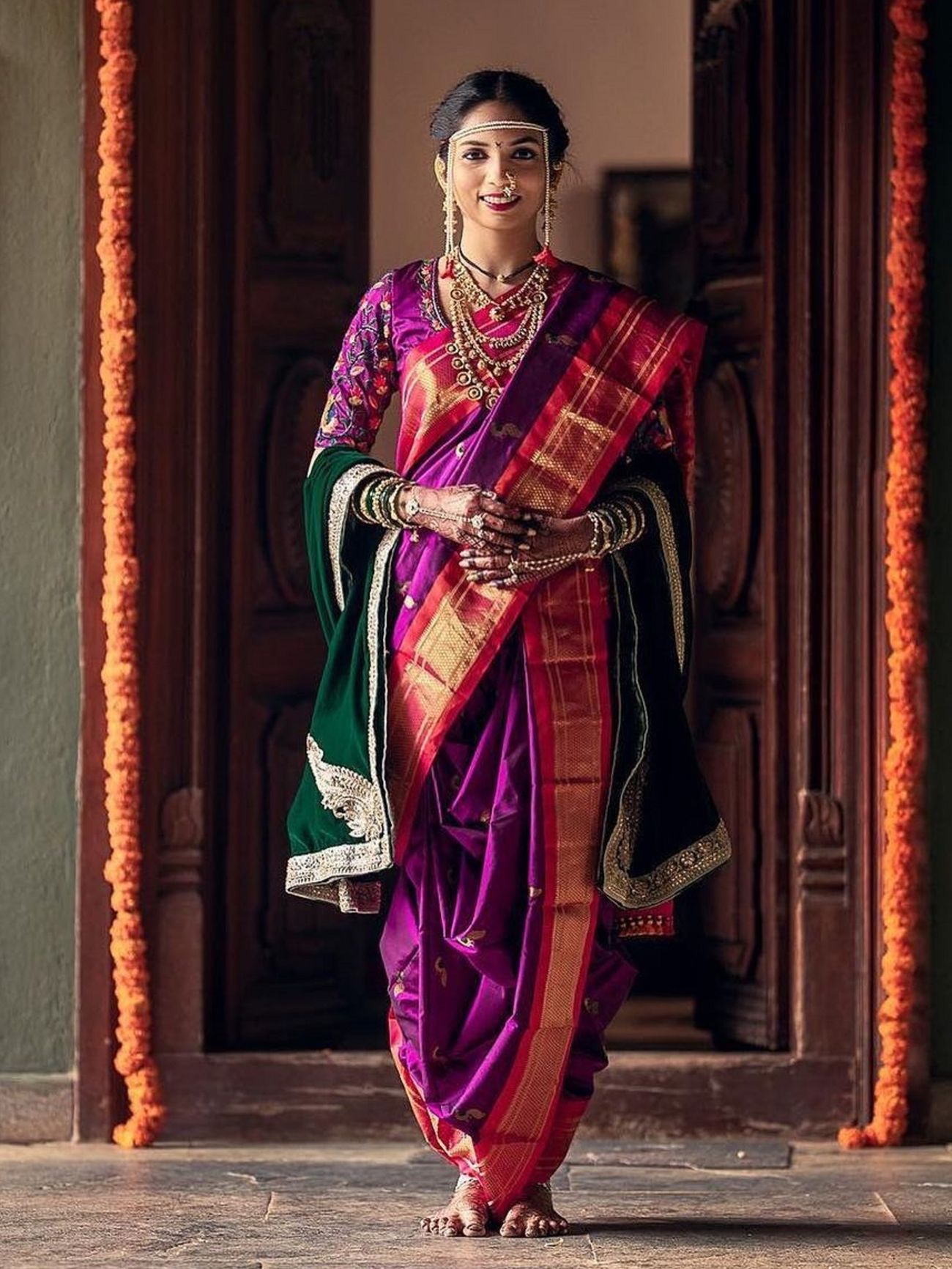 Image via Aditi and Kartik
This bride opted for a full traditional Maharashtrian wedding look with marathi bride jewellery!
This refreshing duo of plum and tangerine in a paithani saree is so lovely and bridal!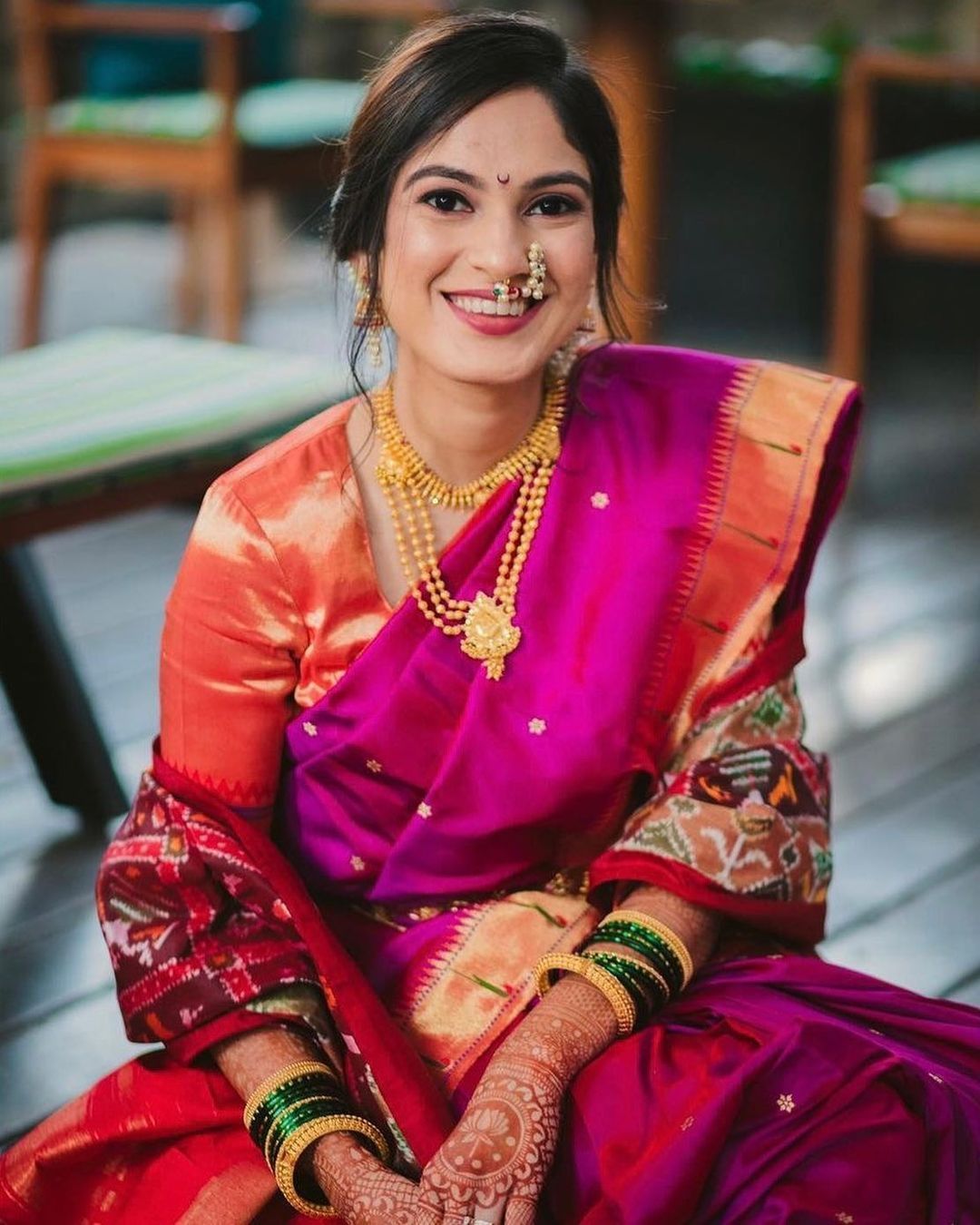 Image via Instagram
Totally loving this fresh combo of tangerine and plum hues with a nath!
This bride went in with an indigo shela and silver marathi bride jewellery with her plum saree!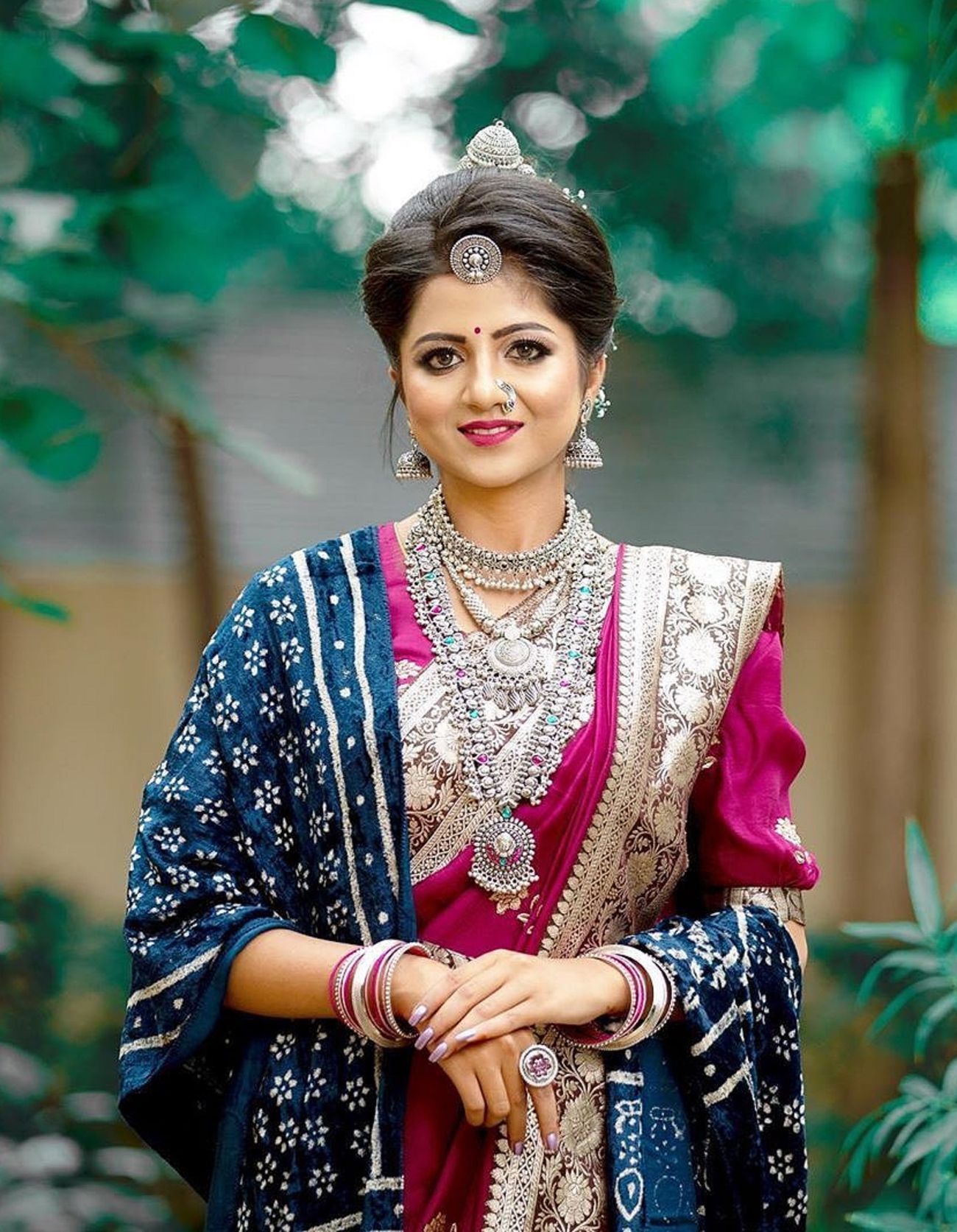 Image via Instagram
If you are looking to colour block your plum wedding saree, the indigo shela is a gorgeous add on!
Love the plum hue? Take a cue from this bride's all-plum bridal style!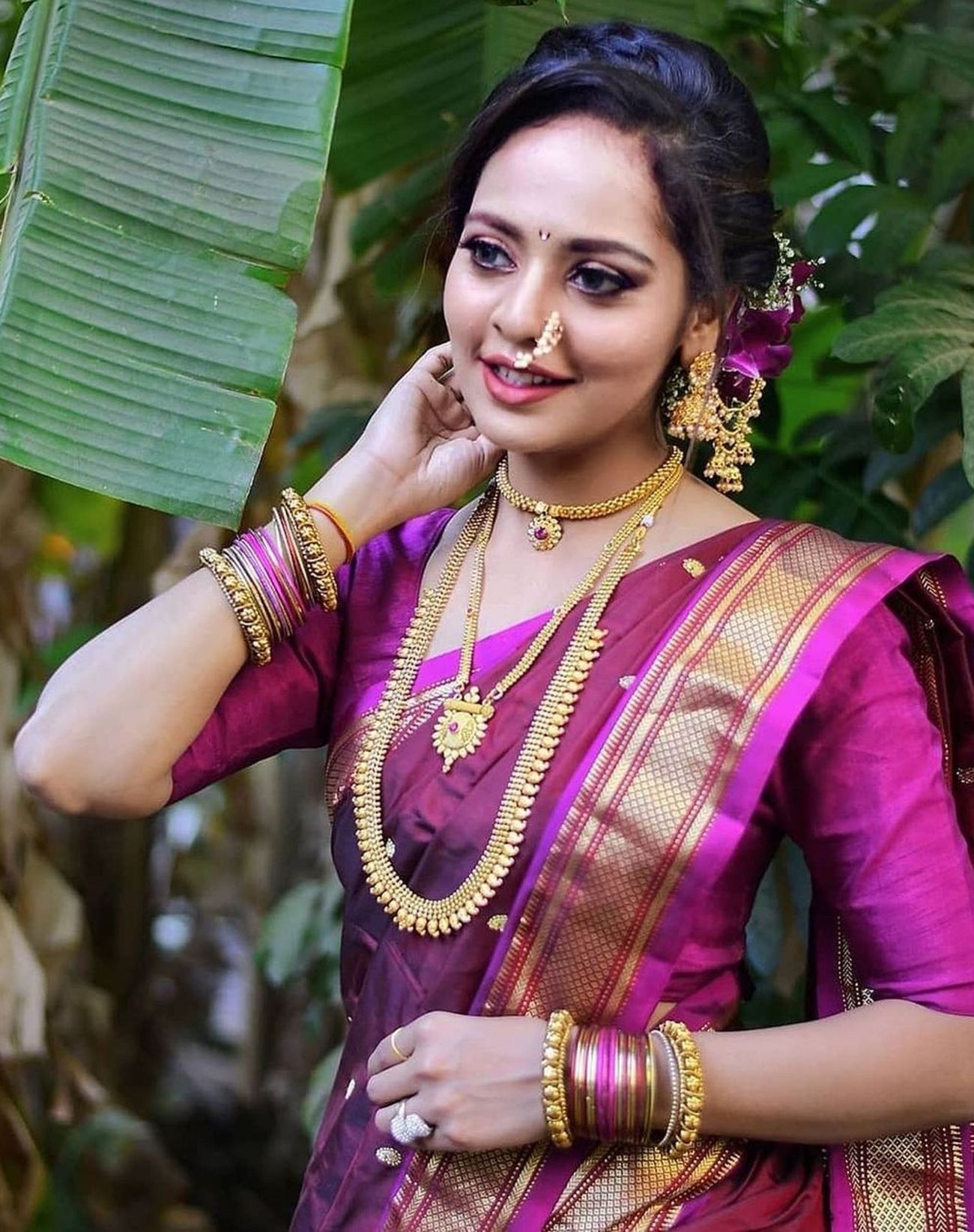 Image via Instagram
Slightly lighter than the usual plum shade, this all-plum bridal look is the one for keeps!
Happy and bright, this pink and plum combination is a real winner!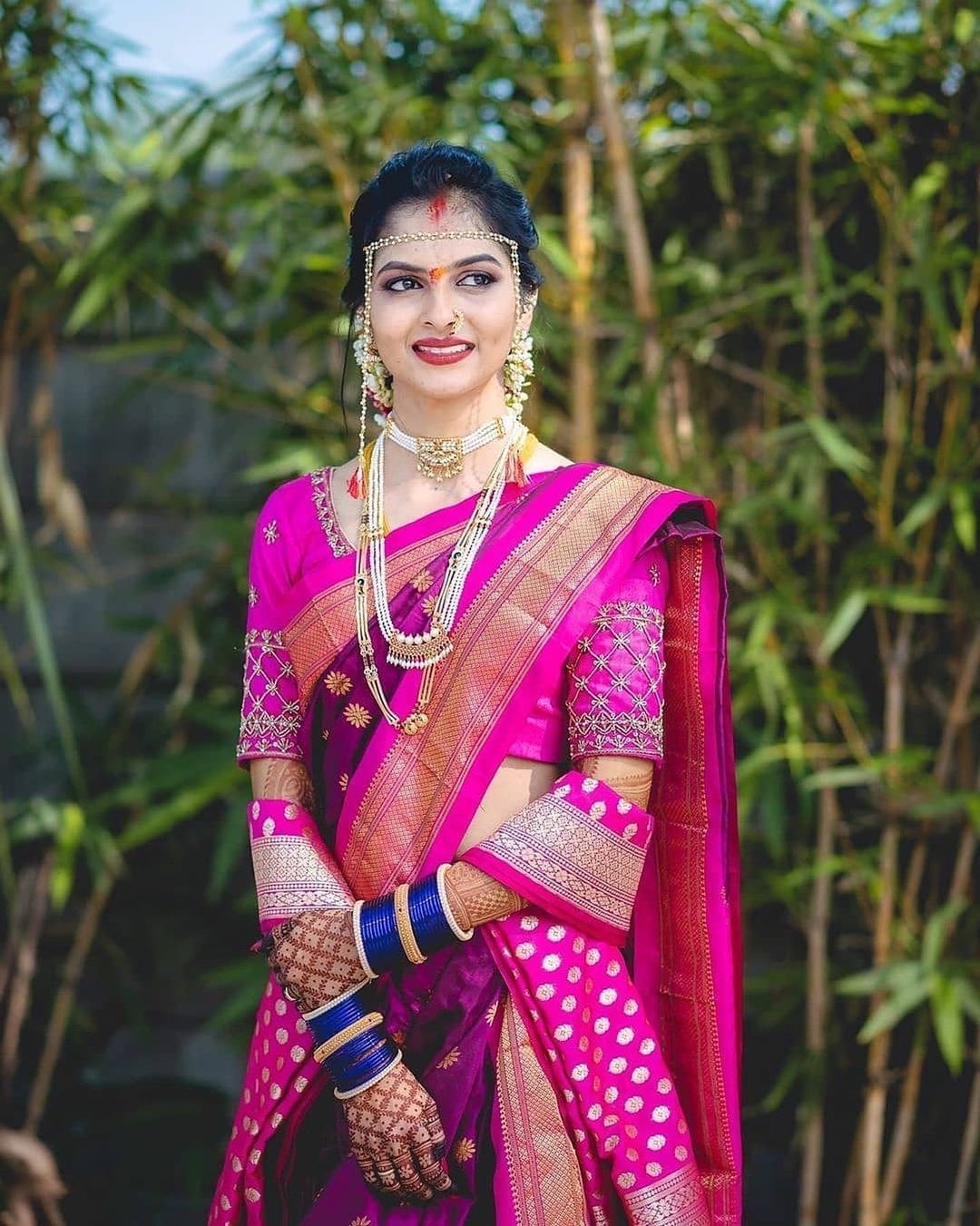 Image via Instagram
This lovely combination is perfect for brides who love bright and poppy bridal looks!
Looking for something unique with your plum marathi wedding sarees? This bride went for a floral benarasi blouse and a nauvari drape!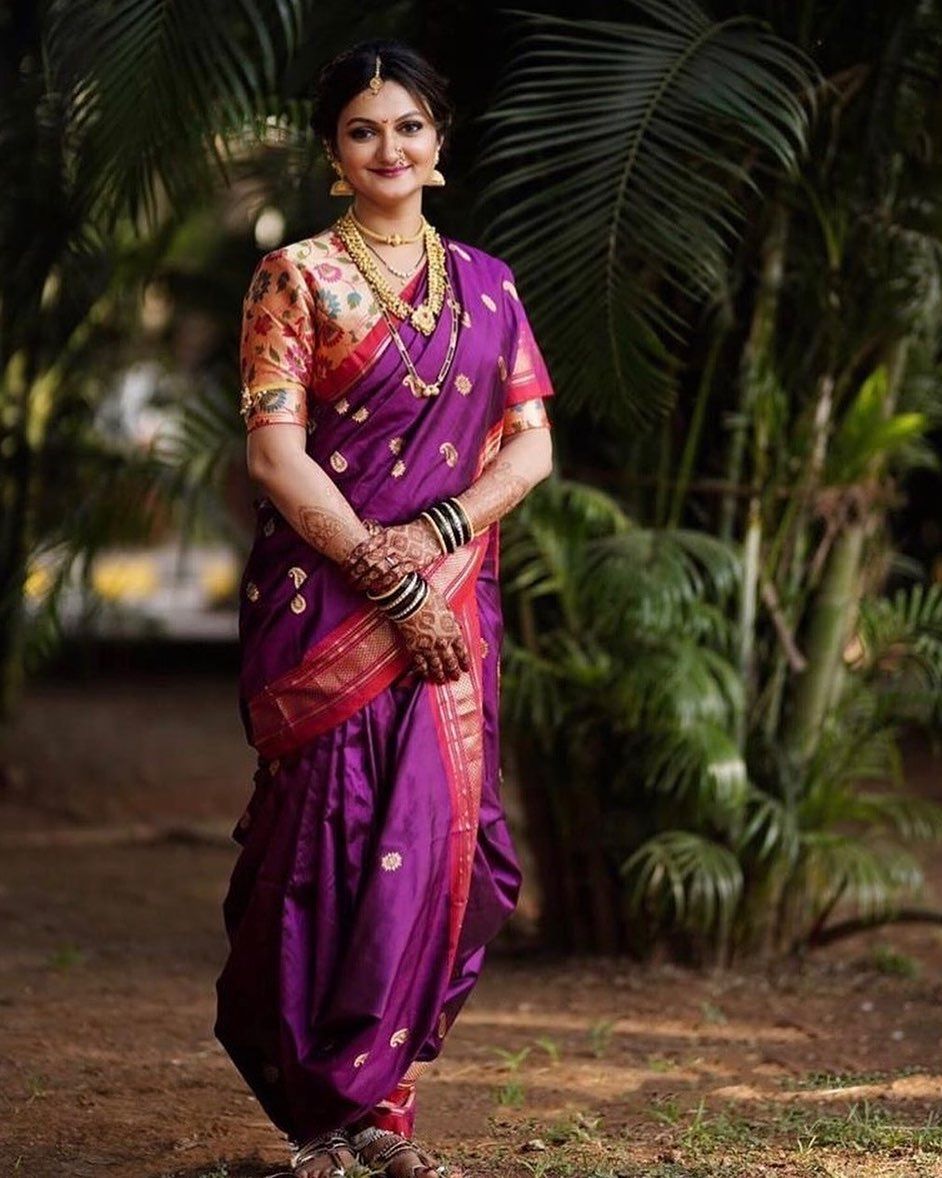 Image via Instagram
The floral blouse nicely breaks the solid plum hue giving your Maharashtrian bridal look a unique style!
Totally crushing on this out of the box combination of a plum saree with an ochre shela!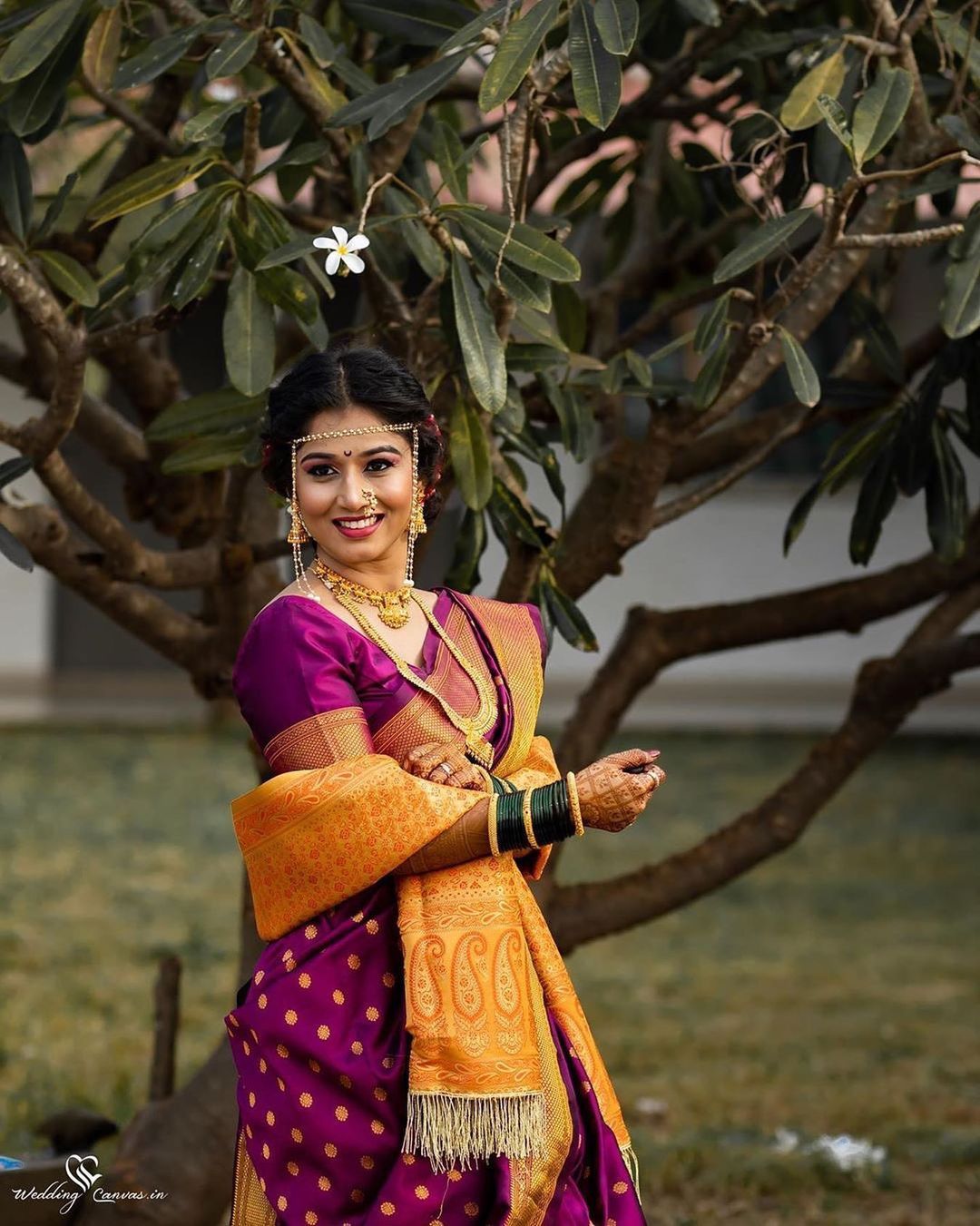 Image via Instagram
We loved this unique combination of plum with ochre yellow, giving a refreshing add-on to the bridal look!
Like darker hues? Say yes to this deep-plum nauvari saree look with jewellery!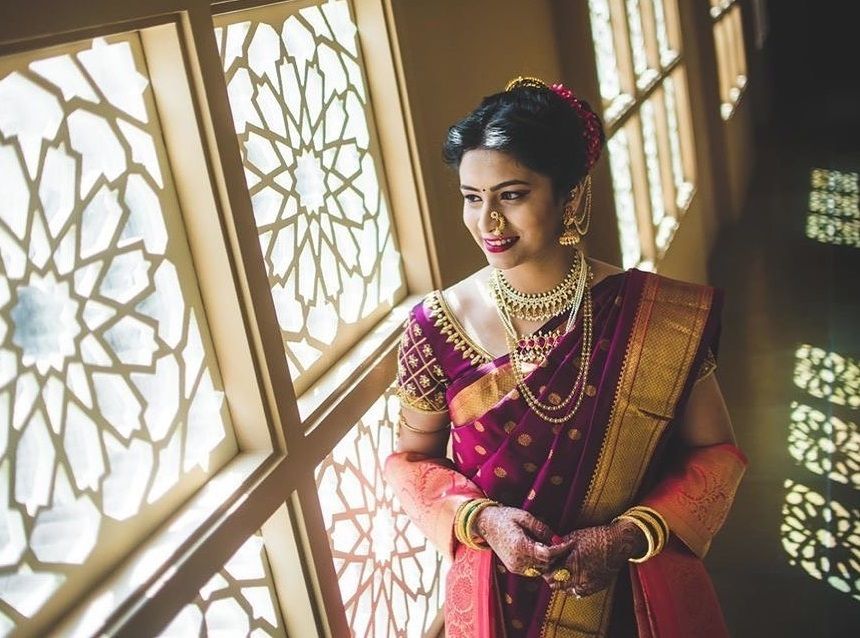 Image via Instagram
This bride opted for an all-plum look with marathi bride jewellery.
Another lovely pink and plum blend for this Maharashtrian bridal look!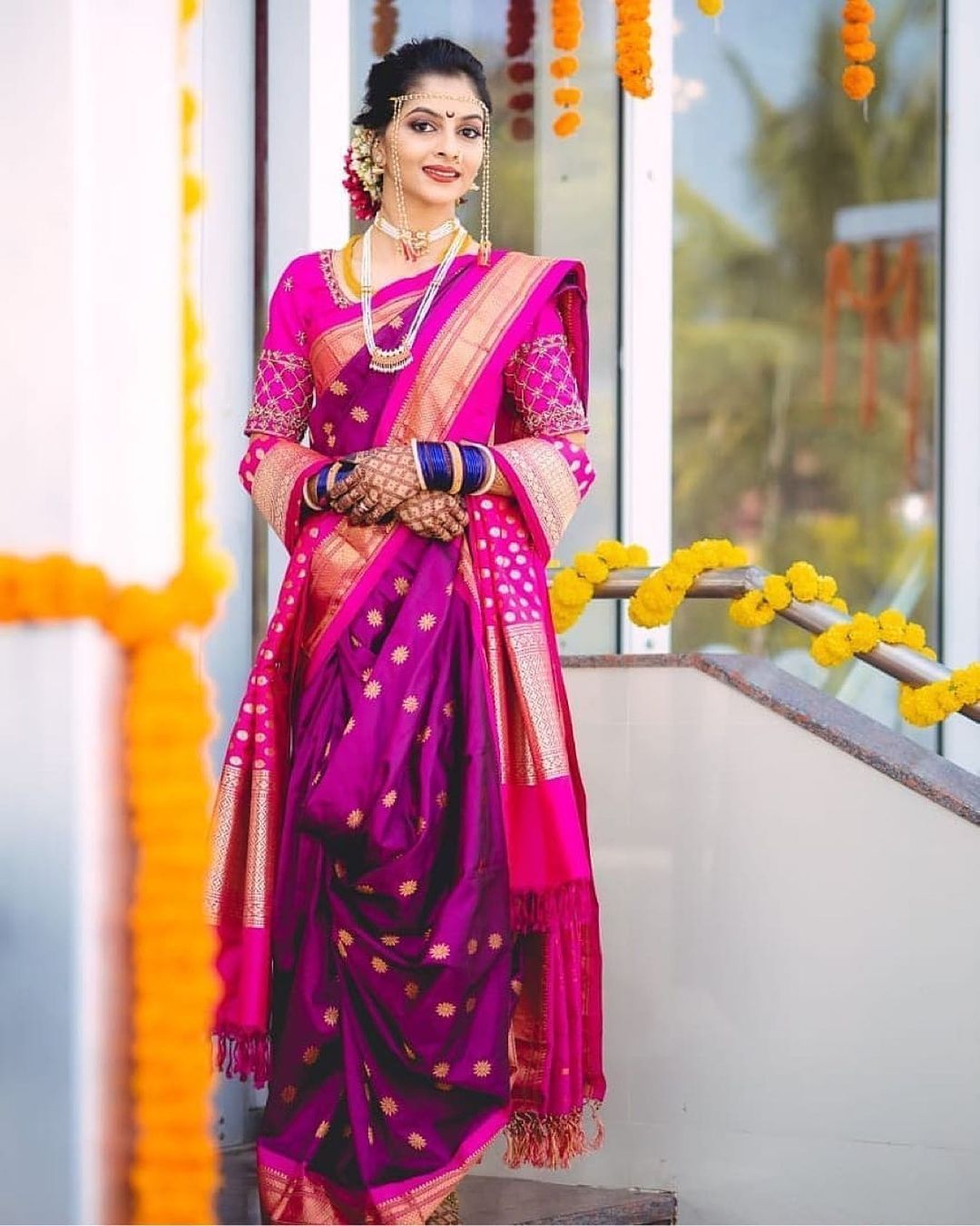 Image via Instagram
Loving this traditional Marathi bridal look in plum and pink!
Hunting for that perfect Maharashtrian bridal look? Check these Maharashtrian Bridal Looks That We Absolutely Loved!
Also, Stunning Maharashtrian Brides Who Wore A Different Colour Than Yellow & Green For Their D-Day!