MUAs Reveal: Do's and Don'ts, The Red Lipstick Edition!
BY Sakshi | 05 Sep, 2019 | 5152 views | 8 min read
The red lip is something that's associated with the quintessential Indian bride. And it's not just with a red lehenga or outfit, it can be paired with so many colours and sometimes, even pastels! But it can be tricky to not look tacky with the red lip, so we asked some leading MUAs in the wedding business to share their two cents on the topic with us- what are the makeup do's and don'ts to keep in mind when going for a red lip?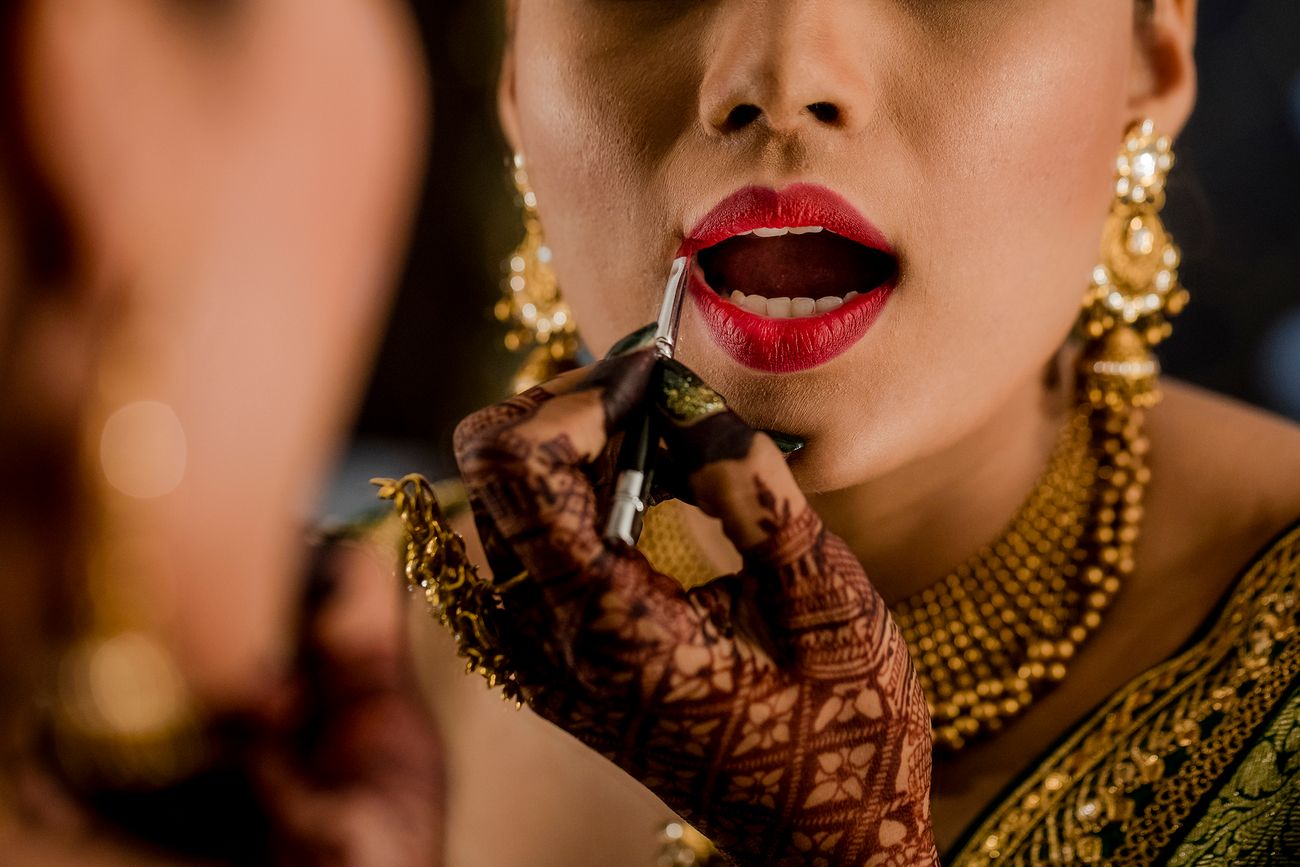 Image via Taj Studio★ 4.9
So here is what some of them had to say to nail the red lip look with a full face of makeup!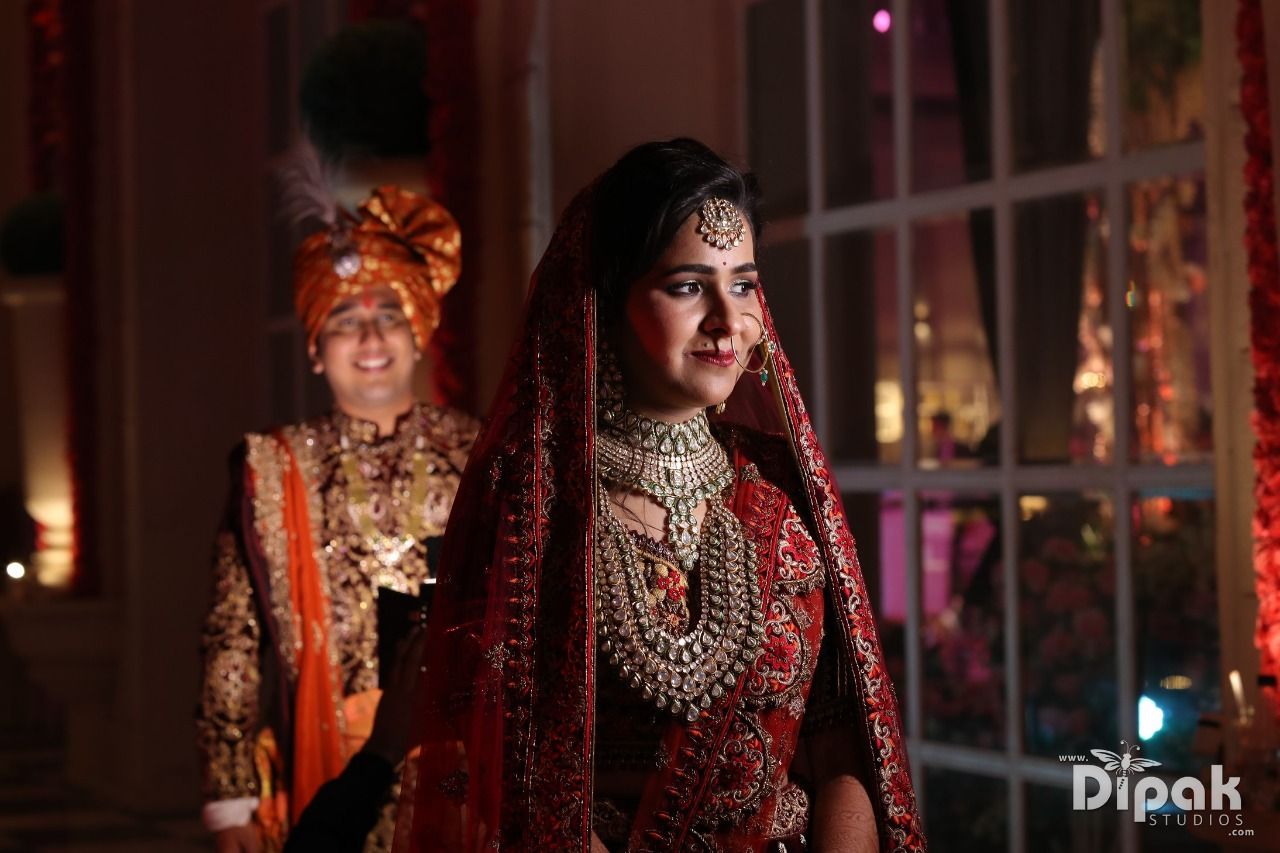 Do's:
Soft eyes with a red lip is the classic formula look so you know for a fact that you won't go wrong. Keeping the eyes neutral on colour with soft tones of golds and browns (maybe some glitter to add more drama, glitz and glam), which could be lash-heavy with mascara, or pretty doll like lashes makes for a classic look with a red lip. However, having said that, if you know the rules so well you know how to break them too!
Don'ts: 
It's safe to not do a coloured smokey eye with saturated red lips, but when done right, bold yet soft smokey eyes with some blue and green and a smouldering pouty red lip can look amazing.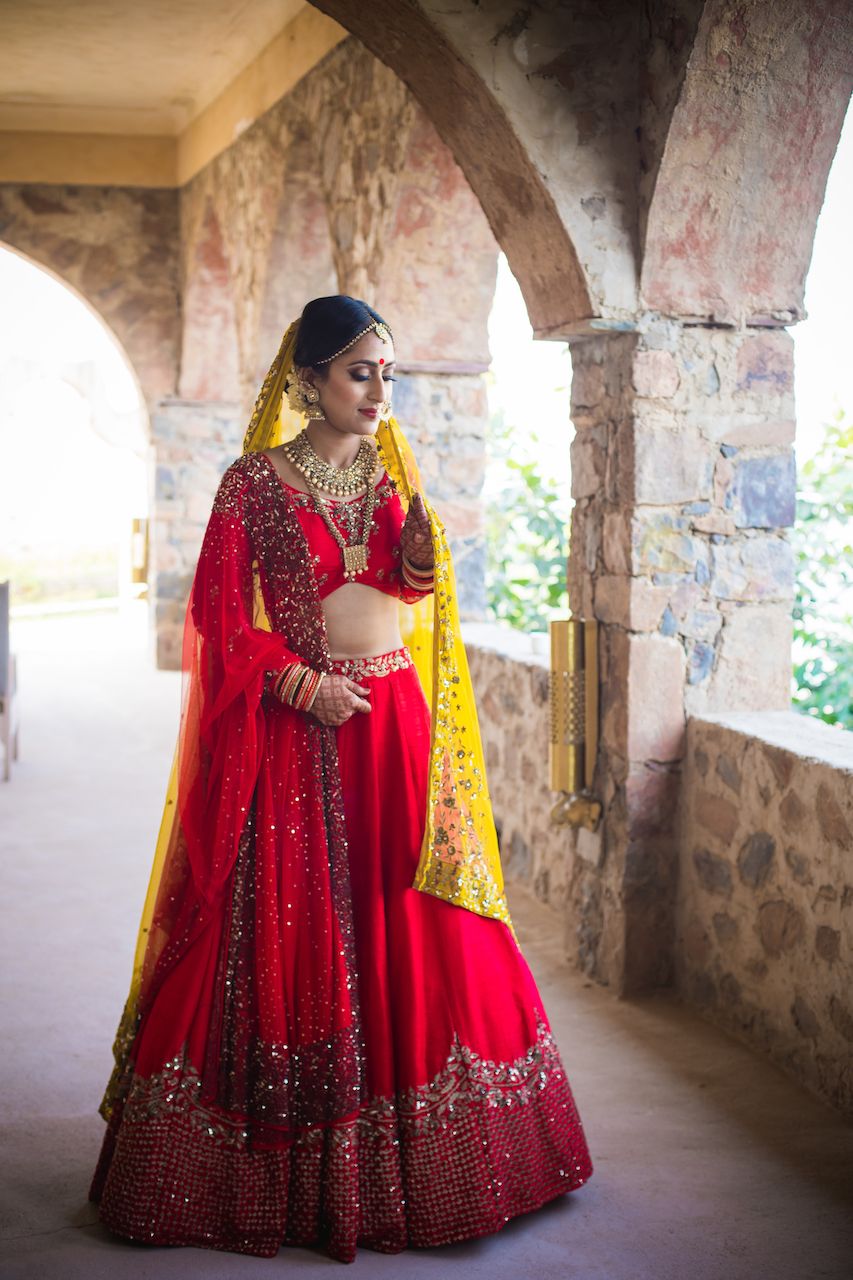 Do's: 
In my opinion, if we are keeping the lips red, subtle eyes look great. Like a sharp winged liner with soft champagne colour lids and a crimson lip looks stunning. Always wear a lip liner with a red lip to prevent it from bleeding. A deep wine colour lip is also a great alternative to a red lip in winters.
Don'ts:
Smokey eyes and a red lip is a big no no for me. My favorite red lip is the Mac Ruby woo and Fenty Beauty Stunna Lip Paint in the colour Uncensored.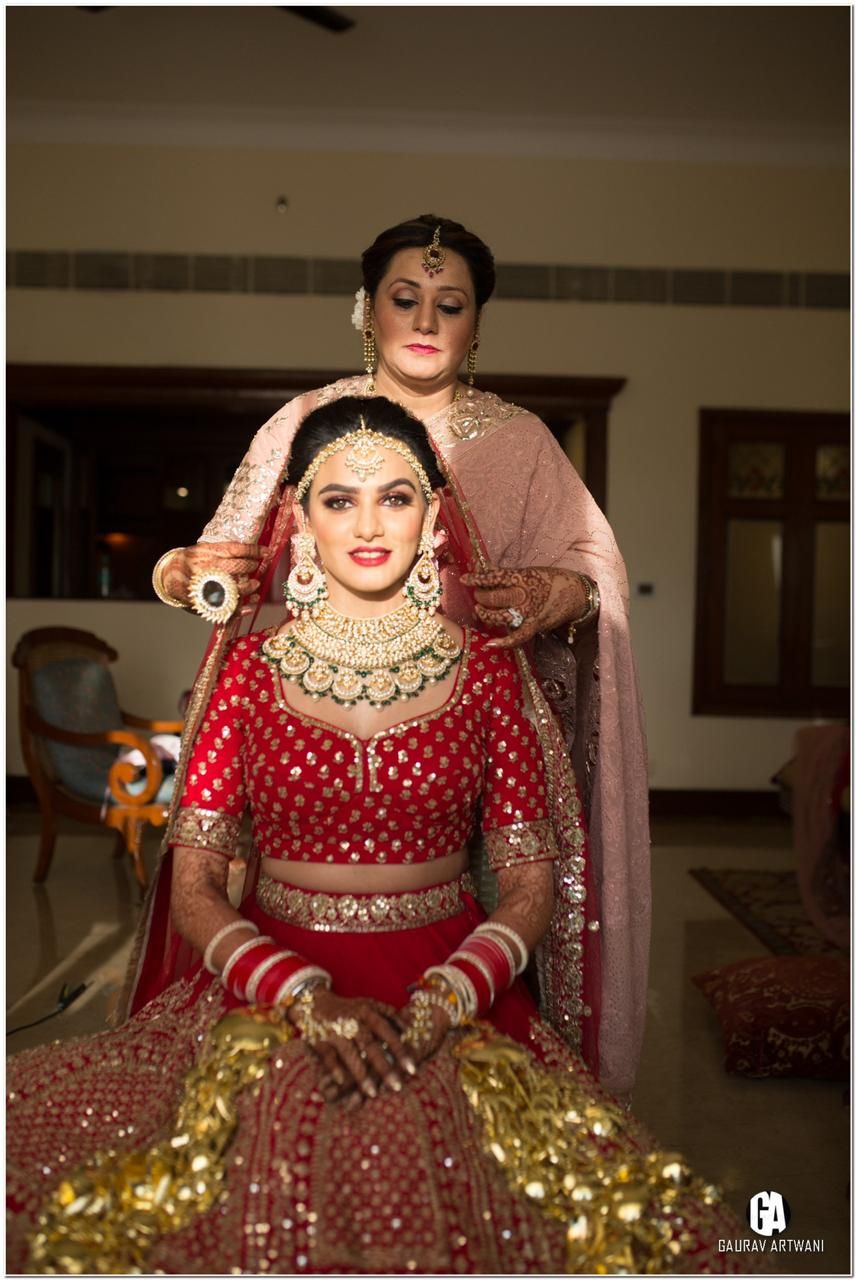 Do's:Wearing red can be tricky because it attracts all the attention to your face. Hence, it has been popular amongst brides in olden times. Though today's 21st-century brides want more than just the pop of color to enhance their faces. They need red to look subtle, natural and most importantly, the color that represents their mood. I love red but I don't use it for my brides anymore. Why? Because it has to go with their colour tone, face cut, and the attire they are wearing. What do you think? Whether you can carry those cherry lips or not? Well try it without makeup and you'd know. Without makeup, if you look good in this attention-seeking color, this is something you can effortlessly carry. Don'ts:Not every skin tone can carry this color gracefully, so stick to the safer collection of jewellery. I would always recommend using Kundan or diamond jewelry with red lipstick than gold. A red color lipstick with orange undertone may look better on a fair brown skin tone than brown olive skin color. Yet I feel orange attire may not be great to carry red lips. Red lipstick with blue undertone can be yet another colour that can be beautiful.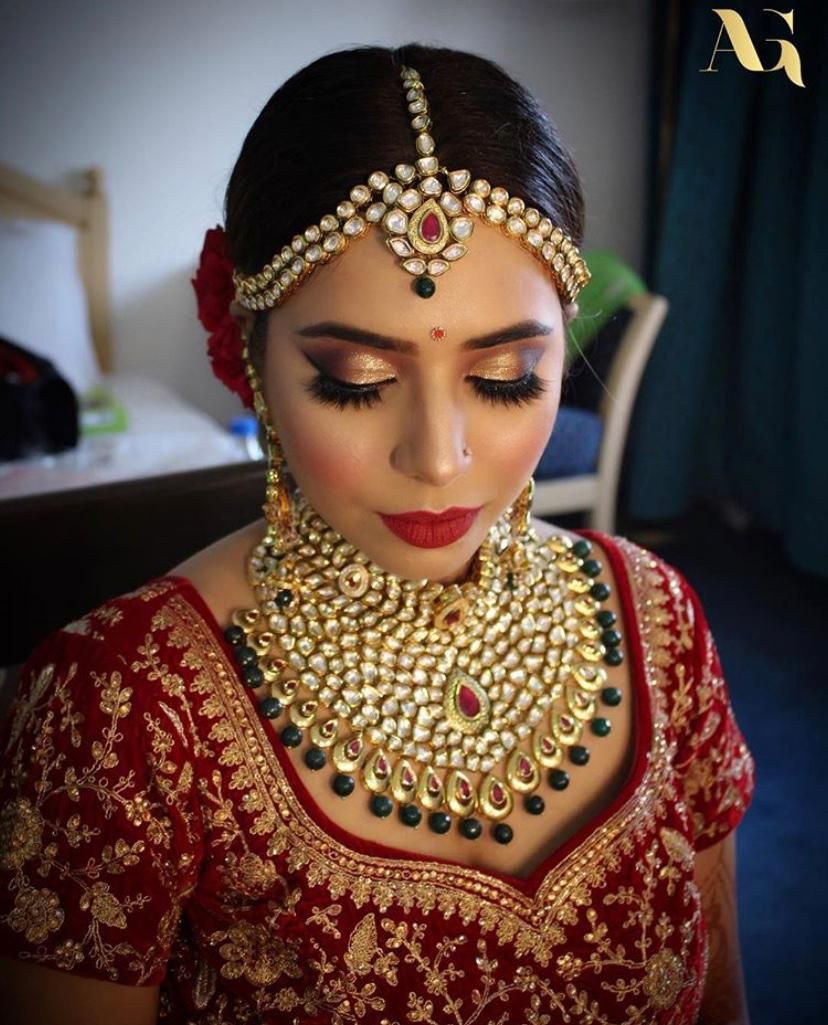 Do's:
Bright gold eyes smoked out on outer corners with bold red lips look amazing. Pairing Emerald Green with red to make a statement is also something I love!
Don'ts:
Don't pair blue tone garments with red lipstick, does not compliment much.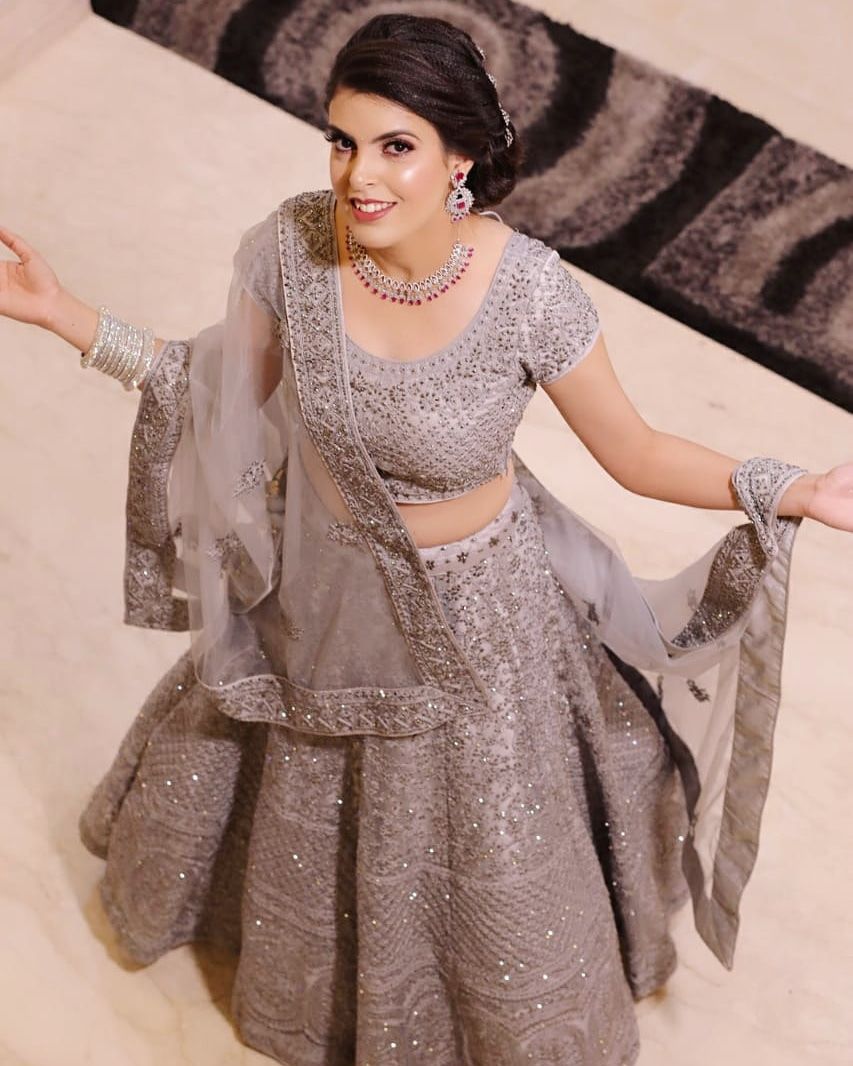 Do's: 
Time of the wedding is an important factor. This is a very important factor to keep in mind when it comes to Indian wedding bridal makeup. If you have the ceremonies during the day, then keep the makeup minimal and opt for a more natural look. If you are going for a night-time wedding, keep the makeup heavy (use glitter) and add more colours. If you have a morning wedding, choose pastel shades for the eye makeup.
Don'ts:
Go go too dark on the eyes during the day. Define your eyes by applying colour in the crease, but avoid using a shade that's too dense with red lips.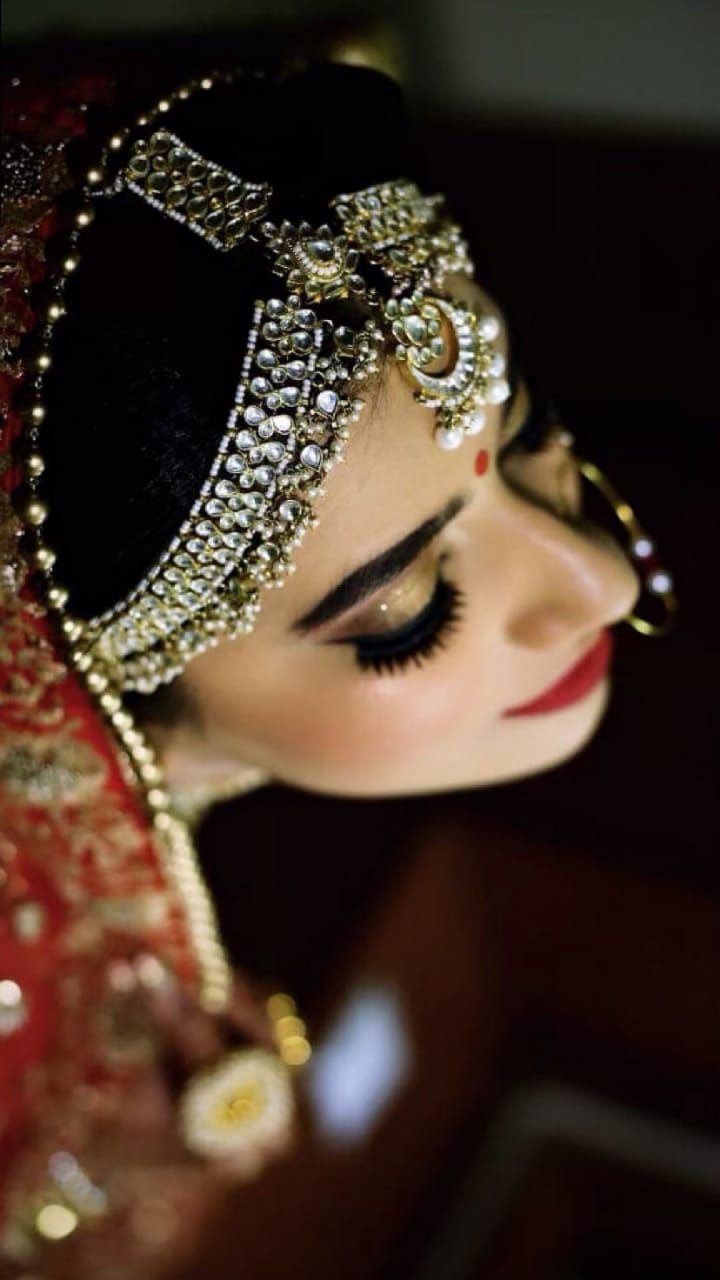 Do's:
Don't forget to apply a lip balm before the lipstick! Subtle eye makeup can never go wrong with red lips and looks more elegant though or you can play with browns or gold with halo techniques. 
Dont's:
Try n avoid black smokey eye makeup with red lips. Colours like yellow or dark tones of pink should be a big no with red lips.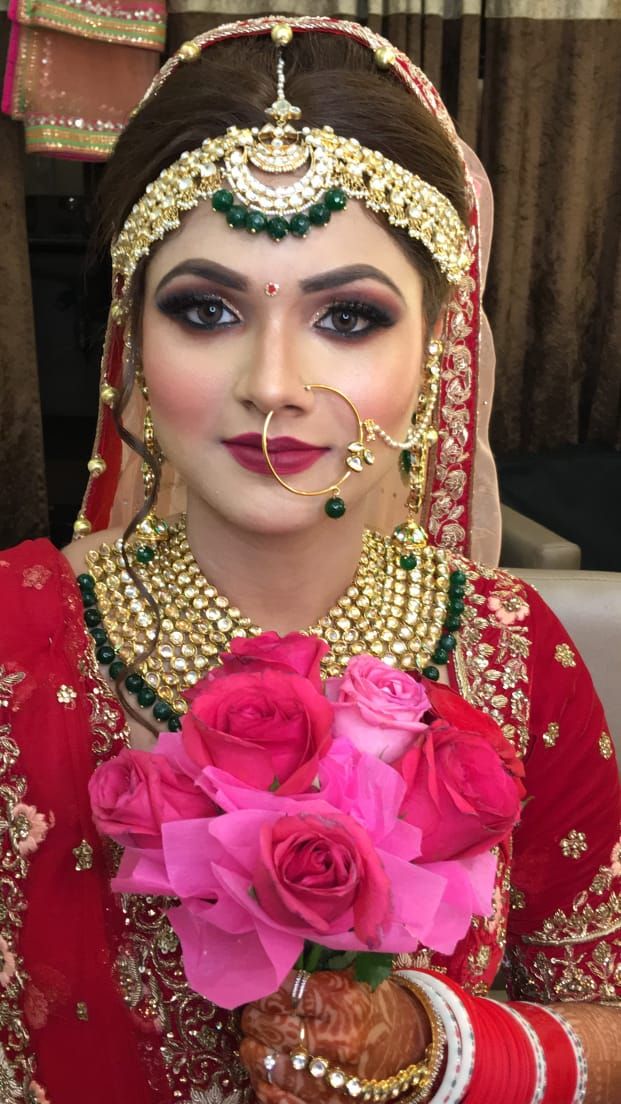 Red lipstick is your one stop solution for the optimum glam look. But it's a slippery slope as things can go down really wrong really quick. So here's some do's n don't 's for how to slay in red lips each time.
Do's:
Wear a lipstick with minimal eye makeup look. If you are opting for a bold red lip then skip too much glitter or drama on the eyelids. This way you will rock the red lip in a chic way.
Don'ts:
Don't ever ever apply a red lipstick in a hurry. Meaning never take application of a red lip casually. Make sure you apply it in a clean stroke, always use a lip liner first to avoid haphazard application and make sure that the colour stays within the lip and not bleed outside. To achieve this you can use a little bit of concealer on a small brush and clean the edges once you finish and clean the mess if any.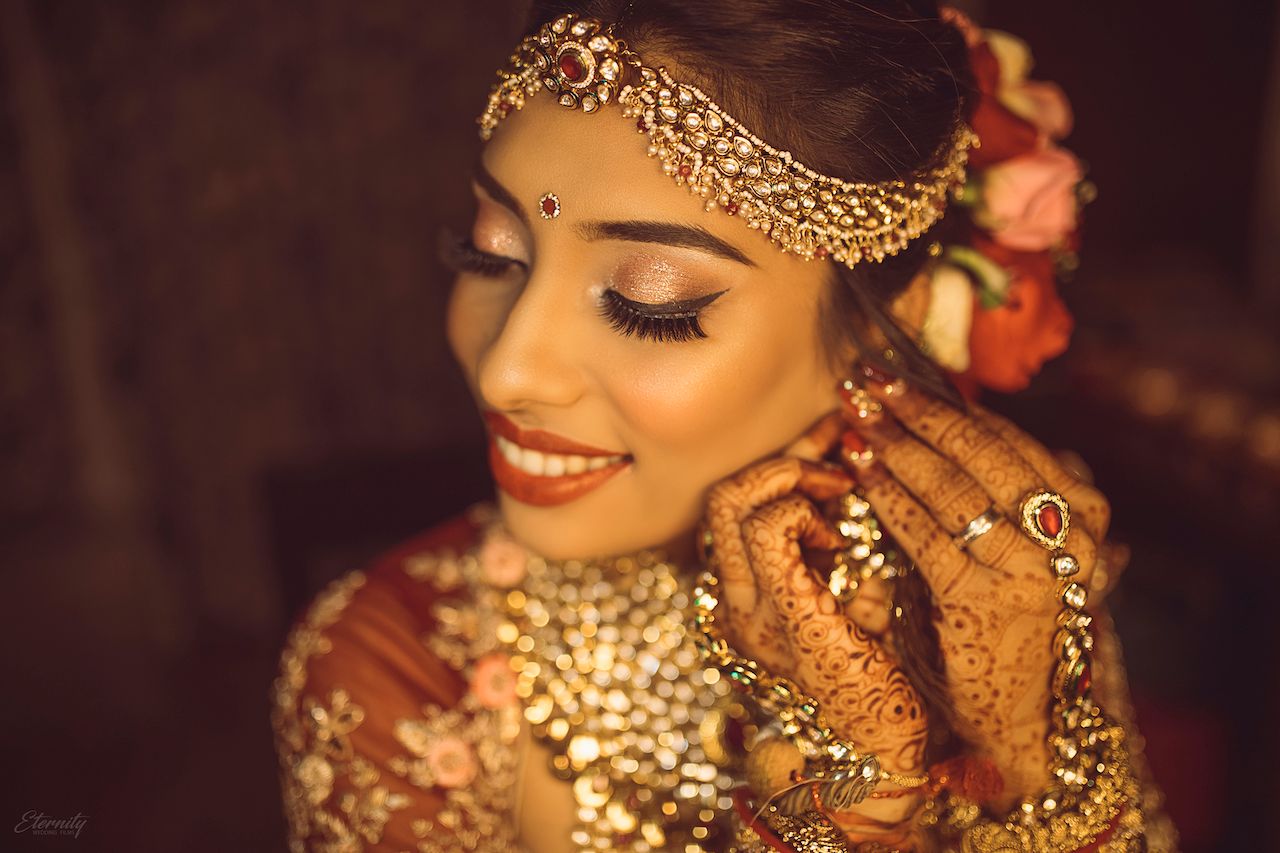 Do's:
When it comes to red for the brides, it's my absolute favourite. I believe a bride completely stands out when she opts for soft smokey shimmery eyes with red lipstick enhancing her features. My fave is the Mac Ruby woo for brides. 
Don'ts:
I avoid putting red lipstick if the bride is opting for something in fuschia or hot pink outfit.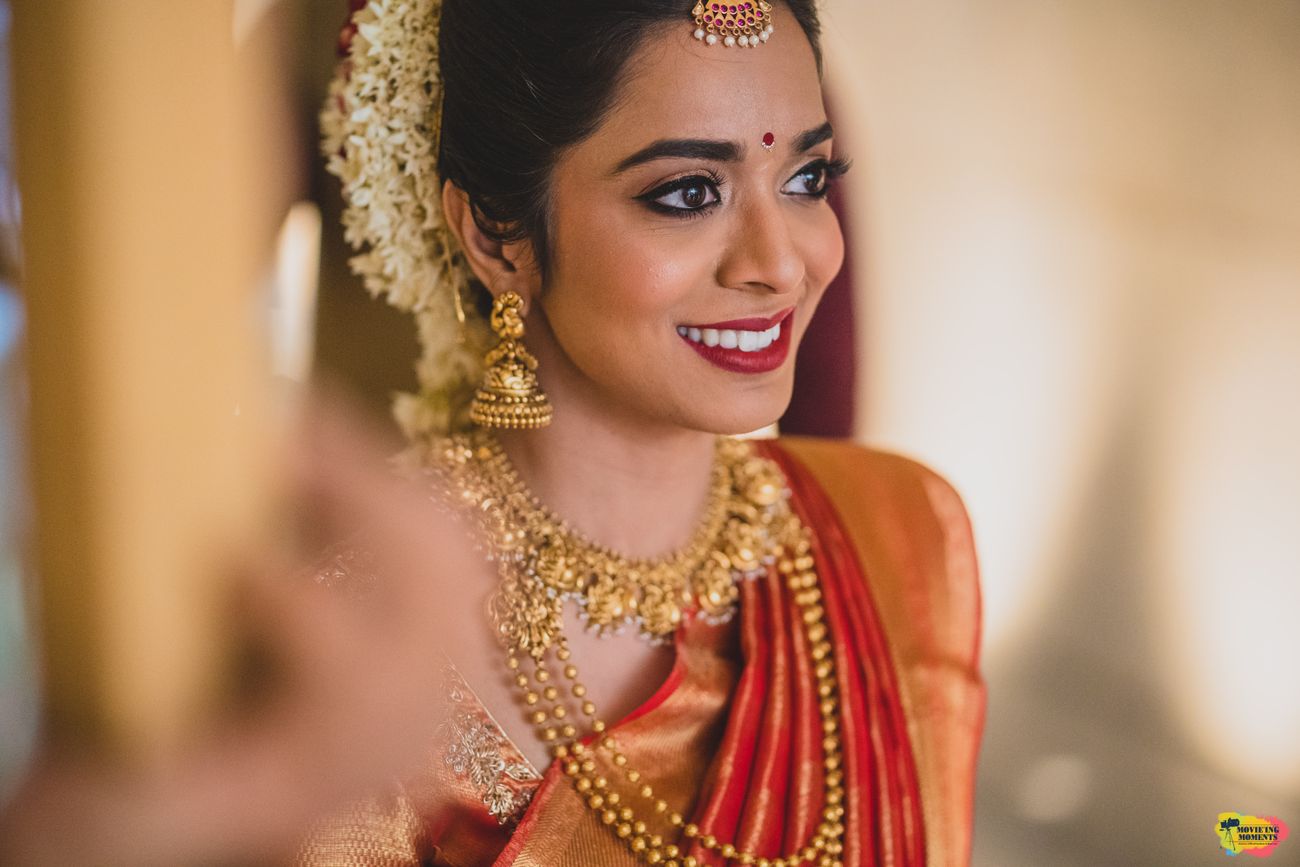 Do's:
Muted eyes-use neutral tones
Wear minimalist jewellery 
Don'ts:
If you have thin lips dont go for darker red shade.
Solid coloured outfits look great..animal prints is a big no no.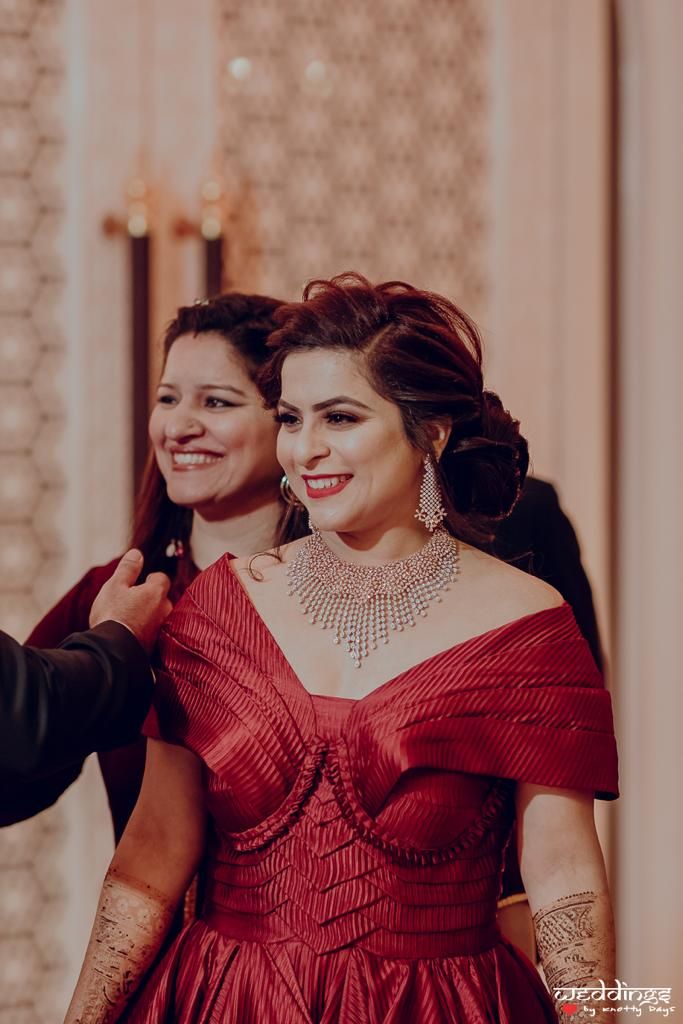 Do's:
As we all know red is a color of love and serenity. And as the wedding trends are changing, and brides have started for opting muted tones and subtle hues! So the makeup has become more crucial. And someone wearing a red outfit and wants to opts for a perfect red lips, all we need to focus on her inner glow through her eyes. So we can go for browns, pinks, golds and ivory. Always apply a lip liner to avoid the smudging and streaking when you want the perfect red lips.

Don'ts:

Black or silver smokey eyes for red lips and dark definite crease on eyes.
Is a complete NO NO for me on any bride. A bride should look like a bride, not a clown walking the aisle of her wedding. Lipgloss on a red lipstick is a mess. Again a NO- NO from my end. And don't go for red if you have thin lips, it will make it appear smaller.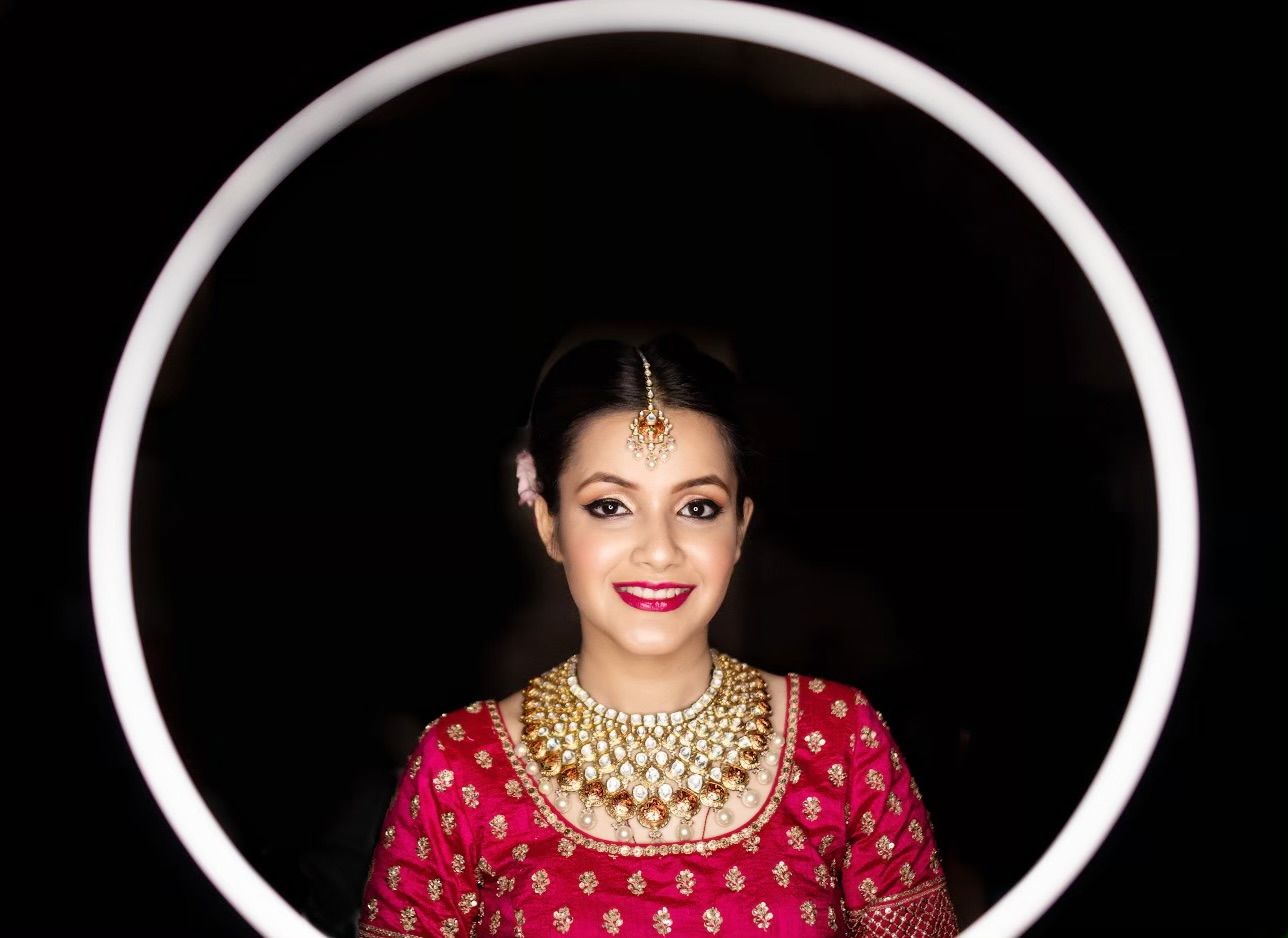 Do's:
Red lipstick always feels powerful and creates the edginess. Creating a look where the eyes are kept beautifully bright into lighter shades is when I love to do red lips. This is my personal choice for brides. Red lips makes all my brides stand out in any event especially when they choose to  wear outfits in these colours : Beige , Royal Blue, Reds etc.
Don'ts:
I don't prefer doing heavy dark eyes with red lips as it looks over the top e.g. black smoked out eyes would not go too well with red lips. The balance is very important to achieve the Indian bridal look. Never match the red lip colour exactly to the shade of the lehanga colour, you could think of choosing one shade deeper or lighter. Its a big NO NO...!!!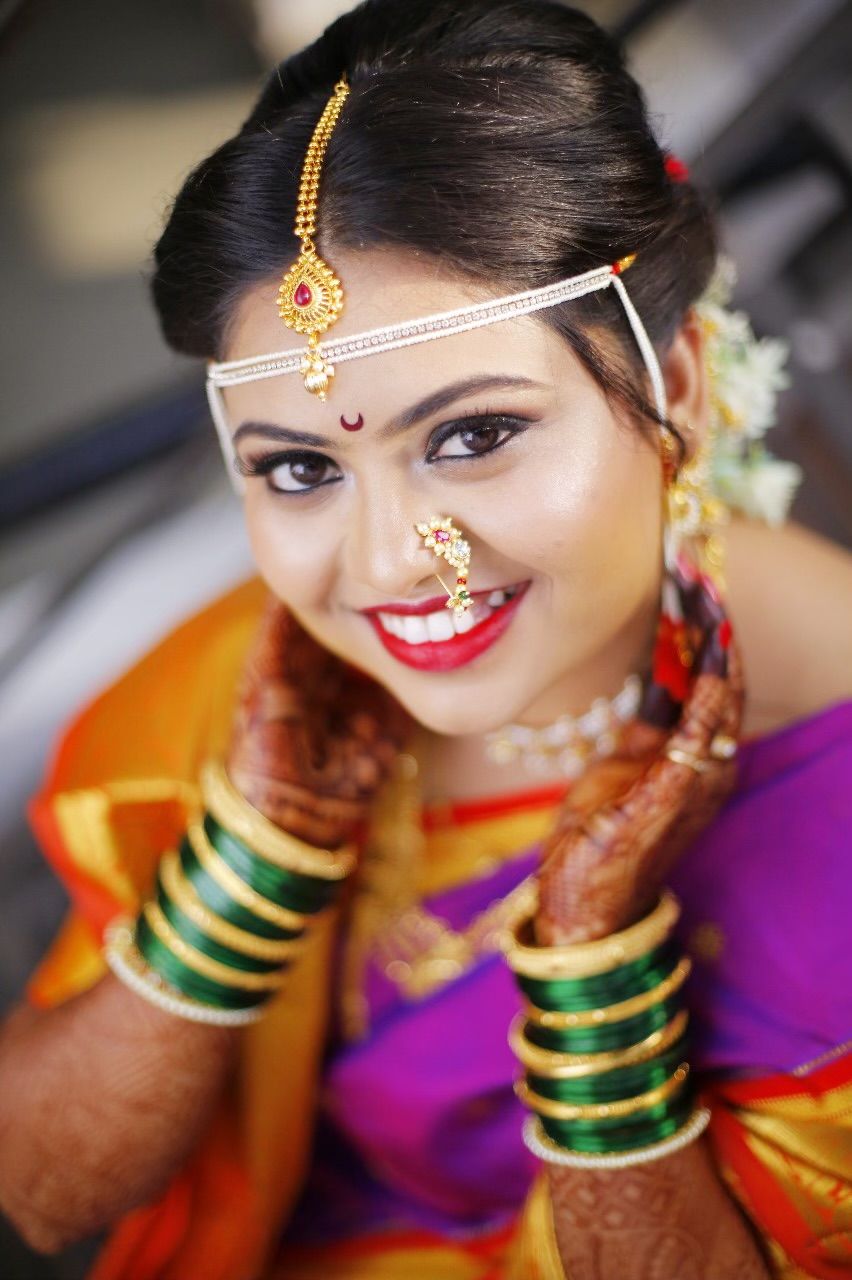 Red lips make the big statement. it is very bold and bright. But before wearing a red lipstick we should always be careful about our eye makeup and outfit. So there are few things we should always keep in mind:
Do's:
Red is already a striking colour. It is the best to go for neutral or bronze eye makeup to look elegant instead of overdone. And pair with gray, black, white or red outfit.
Don'ts:
Never go for dark eye makeup with red lipstick. This makes the eyes less intense. And never pair a Pink outfit with red lipstick.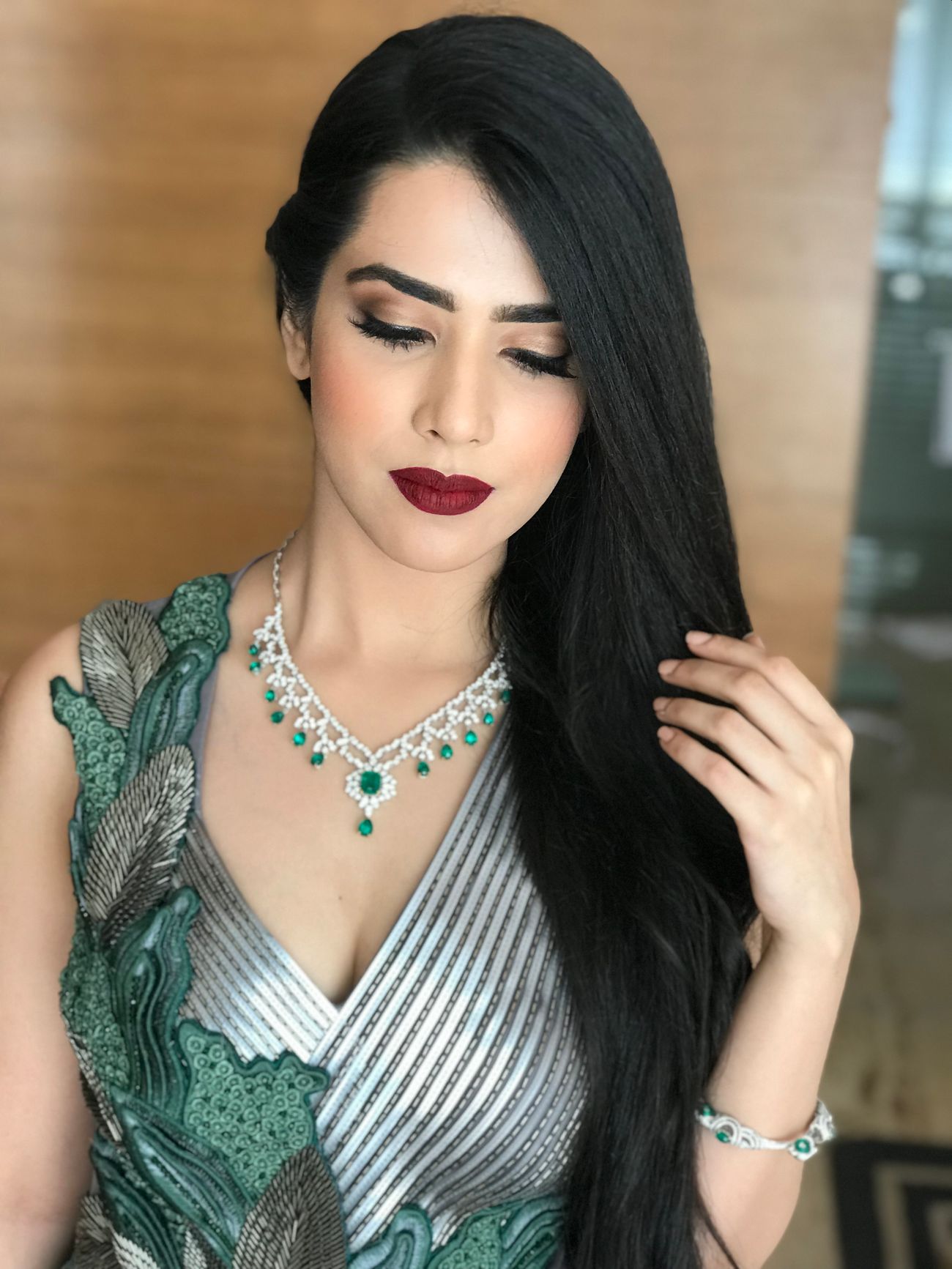 Do's:
Choose your shade wisely, keeping your skin tone in mind. When in doubt, a scarlet would be safer than a tomato red. Line your lips well and neatly. Keep the rest of the makeup subtle and very well blended. 
Don'ts:
Pair it with a Red eyeshadow. Or orange. Or any other bright eyeshadow. Forget to exfoliate your lips & prime them with lip balm before wearing your lipstick. Let it get onto your teeth. Keep a watch on that.