Photographers Reveal: The One Photo Brides Shouldn't Miss Which They Often Do!
BY Sakshi | 04 Oct, 2017 | 4110 views | 3 min read
This one is super important girls! It sucks to go through your album and realise that you've missed an important photo- especially when it means so much to you, like say with just your parents and without the additional family! So we decided to ask some leading Indian photographers on the wedding scene for their two cents on photos they feel a bride should not miss out on at all, but can easily be in the hustle-bustle of the wedding!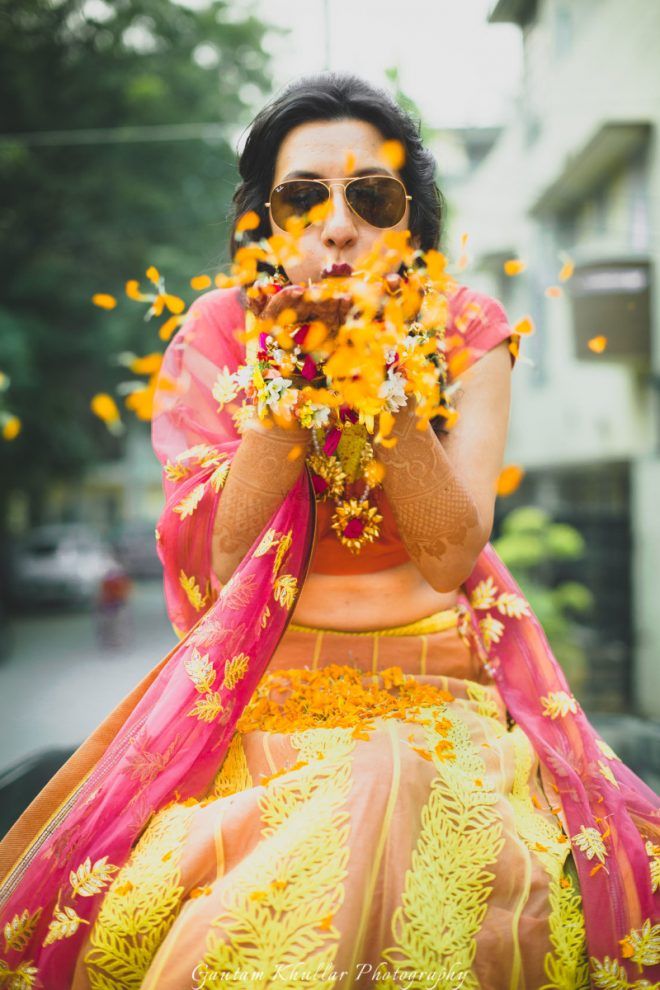 Image via Gautam Khullar Photography★ 4.8
The 'Under the Dupatta' Shot
Shutterdown - Lakshya Chawla
: "Usually the head chunni is attached to the head bun as soon as the head bun is made. After the Head dupatta is attached to the head bun, you cannot remove it, so please ensure it's done before it's attached to the bun."
Creative Bridal Portraits
Burn Pixels Photography★ 4.7 : "Although, it has been said many times before, I can't emphasise enough regarding the importance of Bridal portraits. Although, we repeatedly tell the brides in advance that they need to start their make up early so we have enough time set aside for the portraits, mostly it doesn't work out that way. Finally on the wedding day, there are too many factors and too many people taking the bride's time and by the time they are ready, the Baraat would be at the doorstep. This gives us very little or no time at all to do creative portraits. I personally believe a lot gets invested into the making of a bride because she goes through the process of preparing for several months. It's only fair that she gives herself a moment to pause and make good portraits before revealing herself to the world." 
Lone photos with your mom, dad, sister or brother individually
Rish Photography★ 5 : "In my opinion, however, cliché it might seem, the most important ones would be pictures with your mom, your dad & your brother/sister alone. No friends, no relatives, just them and you. In making sure your day is perfect, these people never get time to be with you in the whole wedding and few seconds with them for those timeless photos always make for a special memory in your heart and in your wedding album."
The First Look with the Parents
ShutterInk Photography★ 4.9 : "The first look with their parents. Most of the times parents are busy with event related work when the bride is ready. It doesn't take much to call them and spend few minutes with them."
The couple shots after the wedding
Knotty Affair by Namit & Vipul★ 4.9 : ""Bride shouldn't miss the couple portraits and shots! The couple gets dressed beautifully and they don't give time for clicking some creative shots after the wedding- just the two of them without the hustle bustle!"
A Classic Family Portrait
Kishor Krishnamoorthi Photography★ 4.9 : "One important photo which every bride should make time for is a wonderful family portrait with all the generations together. This is the image that will be framed on walls and will be treasured for generations to come."
Some more photos we feel brides might miss out on!
The Lehenga and you- You've spent so much time, effort and money picking it after all!
The wedding cards- you'll want to remember them right?
Pre wedding getting ready shots with the groom and your BFF/sister. 
The first look of the groom as he sees you as a bride.
Photos with your pet- they make for the cutest photos!
For more ideas, read Super Important Photos Brides Often Forget To Click! (Yep, We Have A List!)