Real Brides Who Wore (& Rocked) Minimalist Lehengas On Their Big Day!
BY Sakshi | 30 Jan, 2019 | 74894 views | 6 min read
2019 brides-to-be! As weddings head more towards the minimal and comfortable side of things (with everything!), the trend has been to opt for more comfortable and danceable (not to mention breathable) bridal outfits, which are not jazzy and OTT, but subtle and beautiful in their own way! If you thought a bride cannot rock a minimal lehenga on their wedding, then these stylish brides will prove you wrong! It's all about making it work in the final bridal look!
This bride who wore this pretty white ensemble!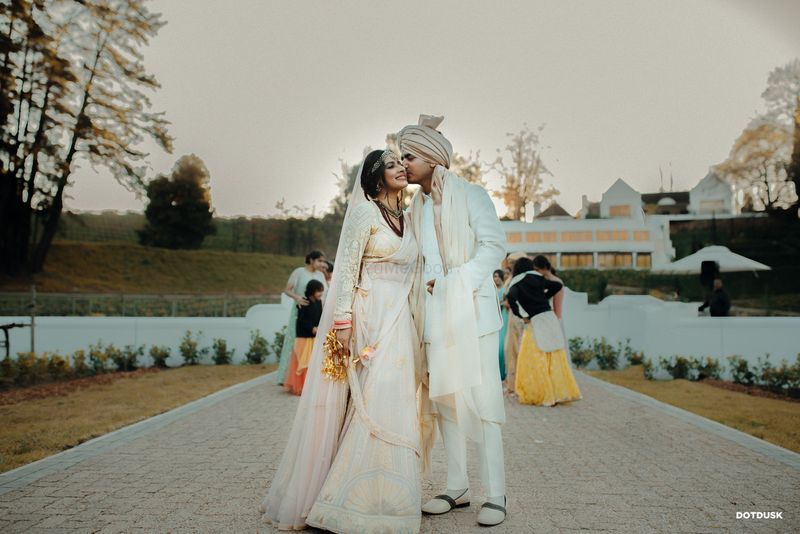 Image via DotDusk Studios★ 4.9 ; Lehenga by Abhishek Sharma Studio
So so lovely- it's offwhite, but with the right hint of peach on it! So lovely!
This bride who wore this unique cape with a simple outfit!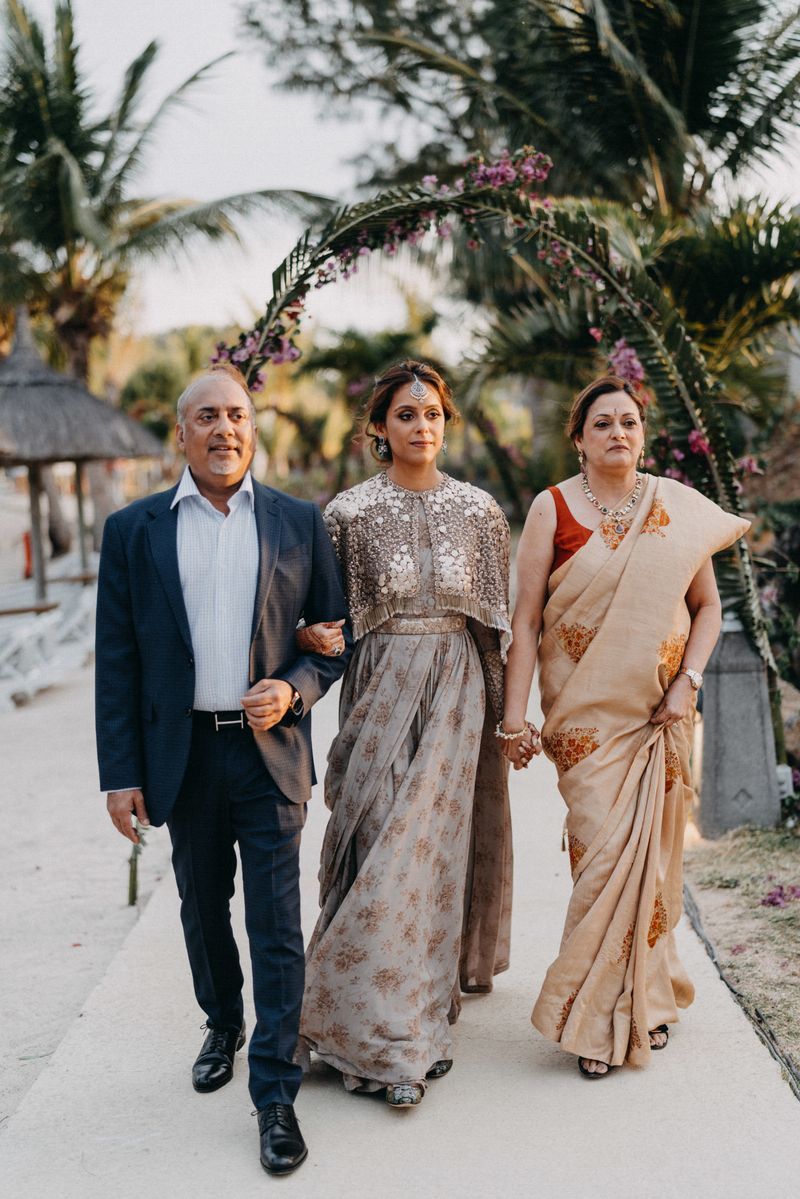 Image via Minal & Shaz (Mauritius); Outfit by Sabyasachi Mukherjee★ 4.9
Now that's one simple and stylish bride! Loving that hue of grey and that cape is pure love!
This happy bride's pretty red lehenga with the buti print!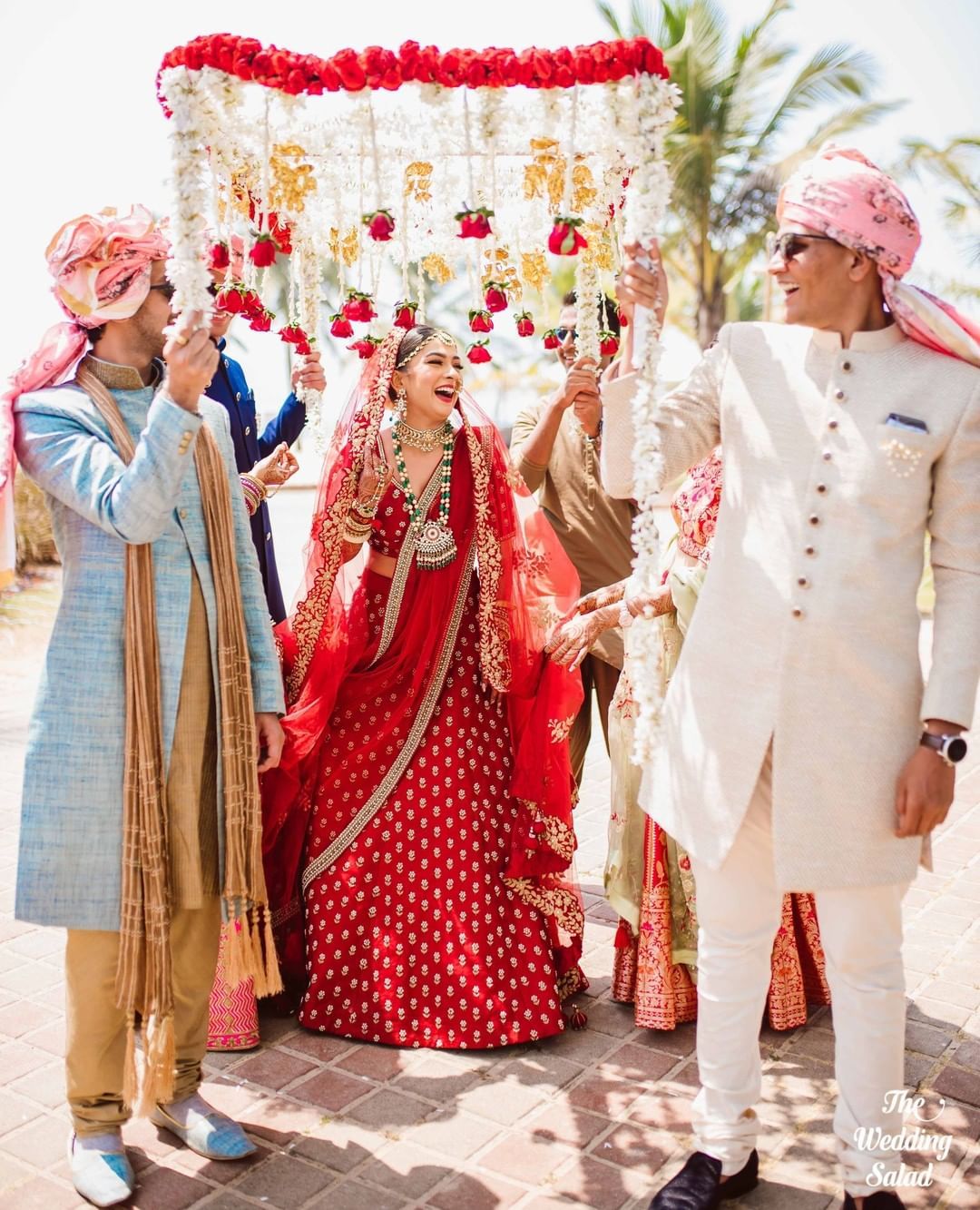 Image via The Wedding Salad★ 4.9 ; Lehenga by Rabiya S
A very simple lehenga but rocked so well by this bride who paired it with interesting jewellery!
This one in blue which is stunning?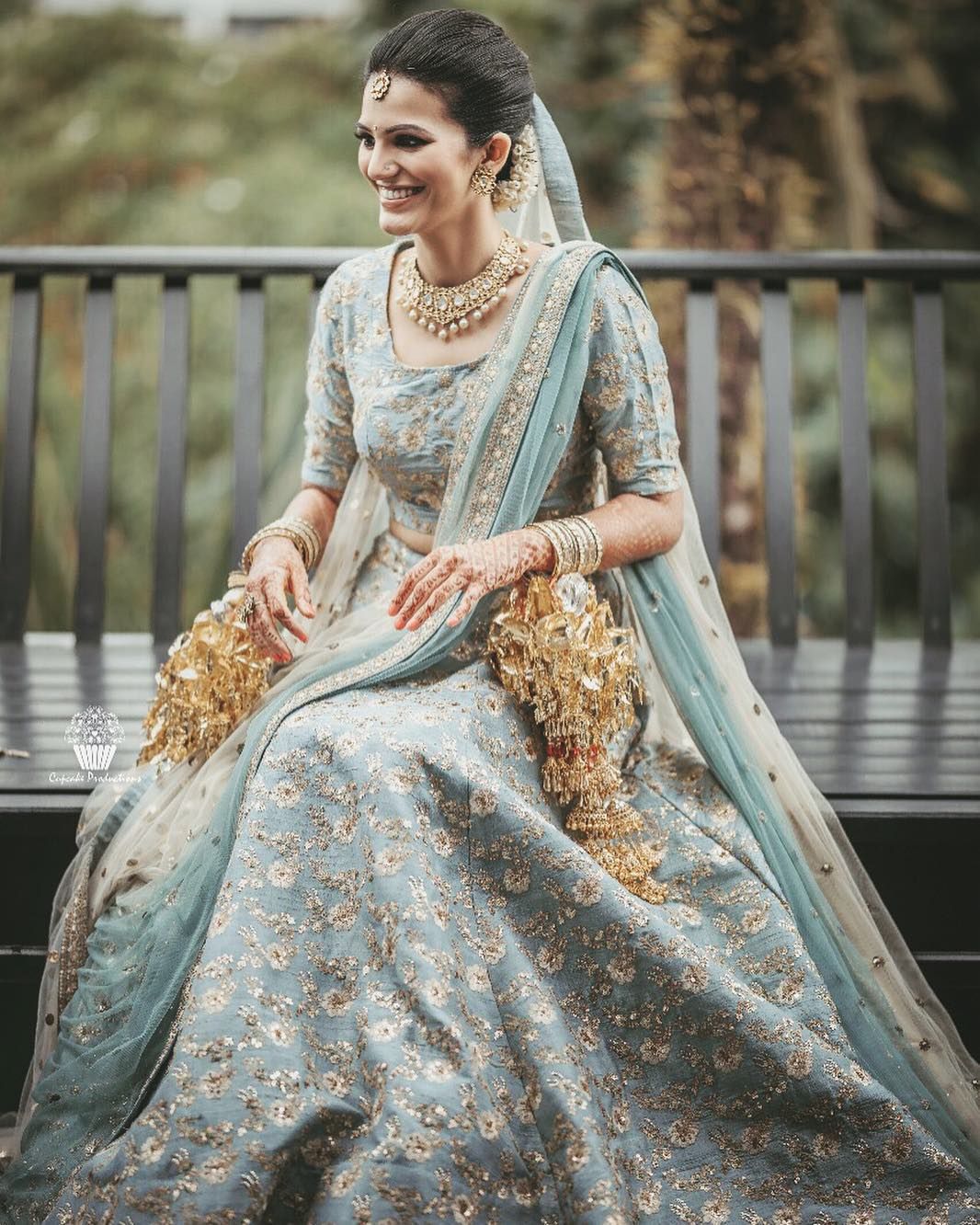 Image via Cupcake Productions★ 4.8
Now just how gorgeous is that hue and the simple work on it?
This bride's lehenga which has a plainish skirt- but a heavy blouse and dupatta!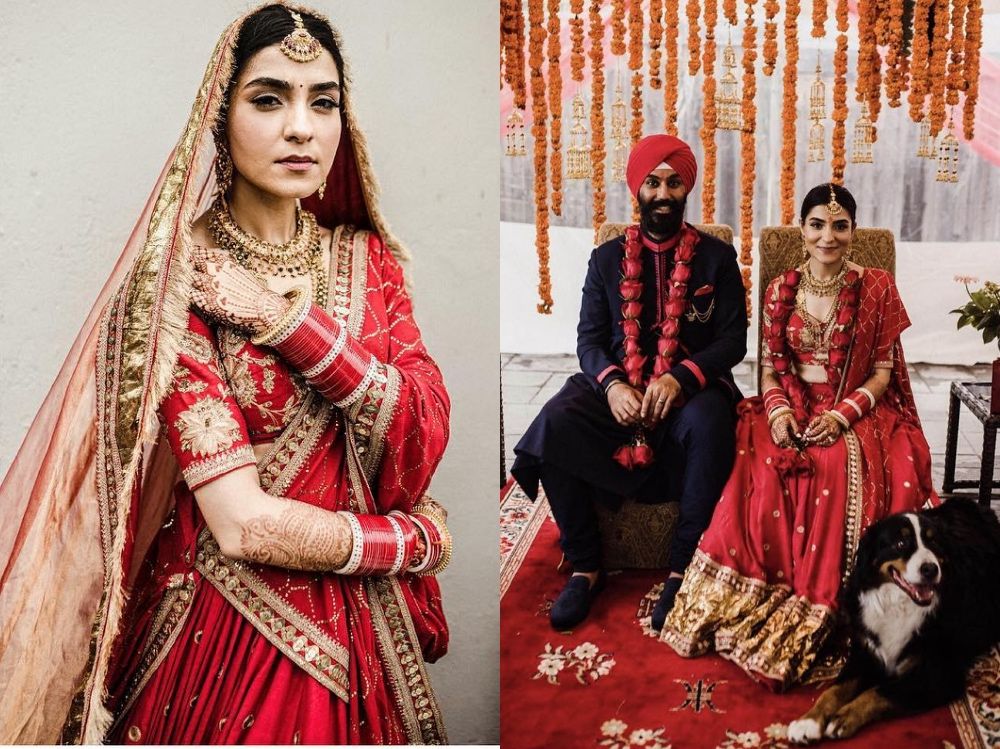 Image via @liat.a; Lehenga by Sabyasachi Mukherjee★ 4.9
Not so simple- but notice how the skirt is downplayed to overplay the blouse and the dupatta!Or this silver lehenga full of sequin work?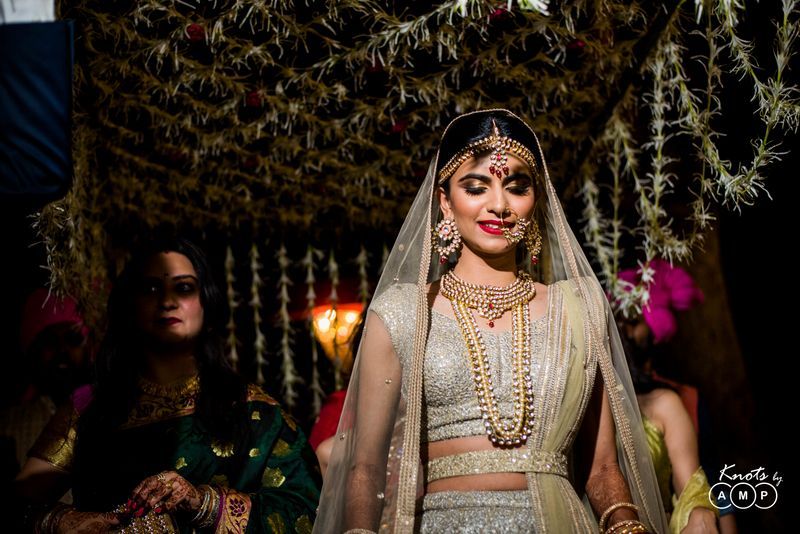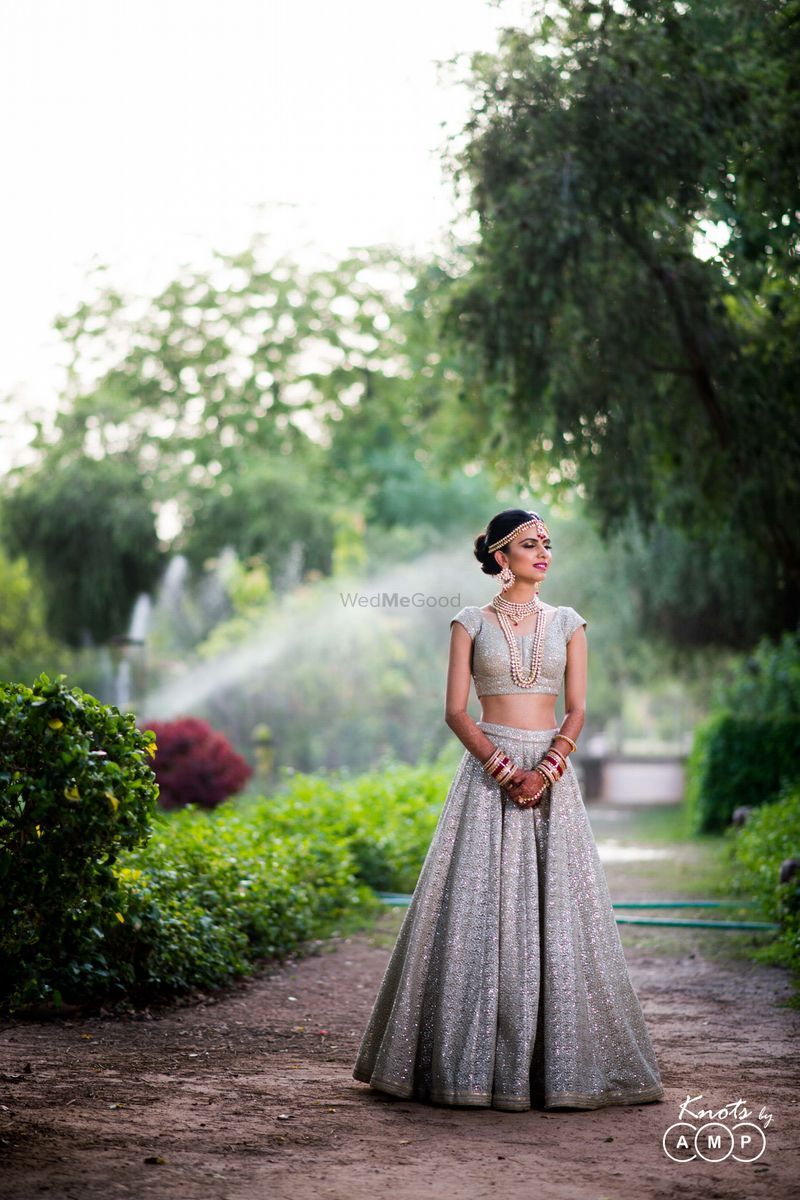 Image via KnotsbyAMP
Sequin work is majorly trending for brides, and it looks lovely even when its all monotone!
This bride who let the pretty Benarasi fabric do all the talking!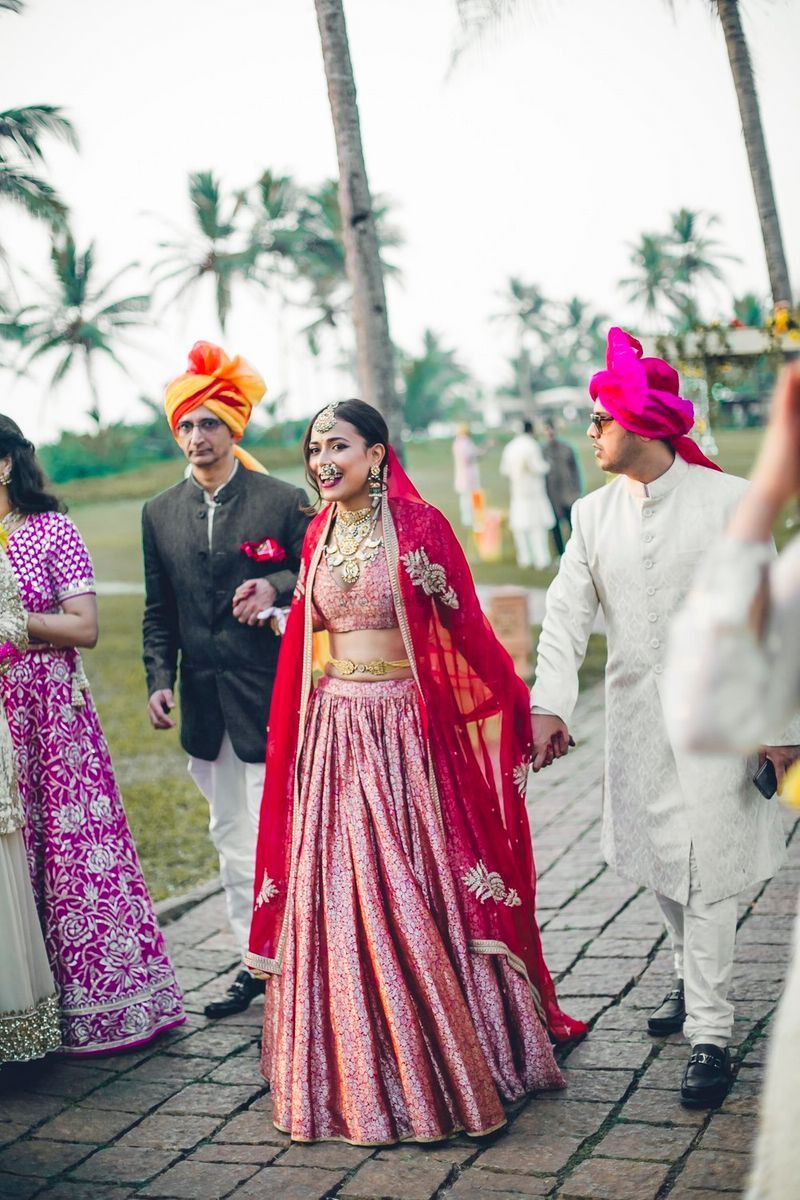 Image via Sanaa and Parth (Goa); Lehenga by Raw Mango★ 5
Benarasi doesn't need too much extra on it to look fancy, and this bride shows just that!
This bride who rocked beige and how!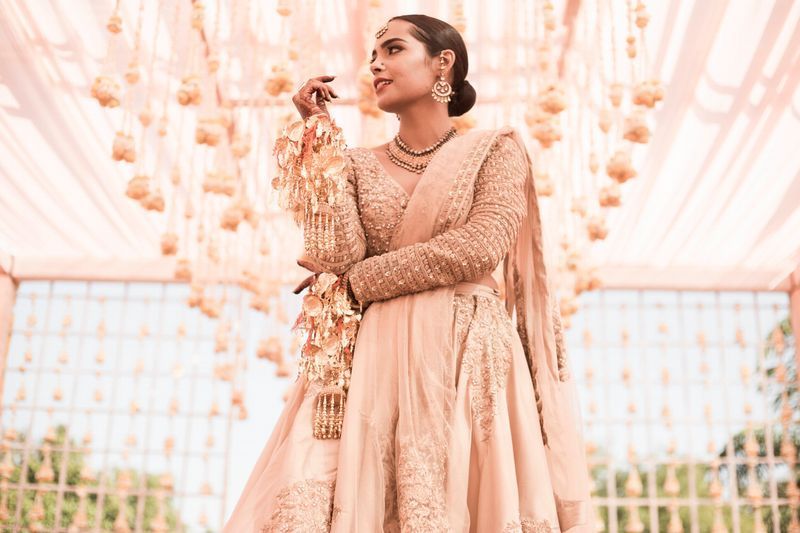 Images via Karishma and Sean's Wedding; Lehenga by Siddharth Tytler
So gorgeous, right?
This designer bride who wore her own creation!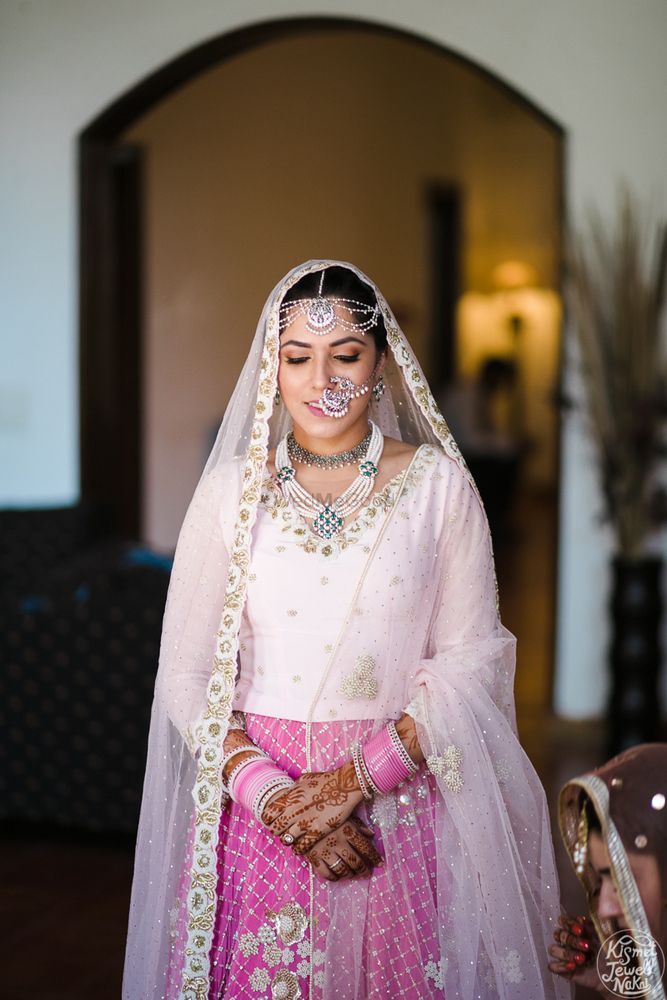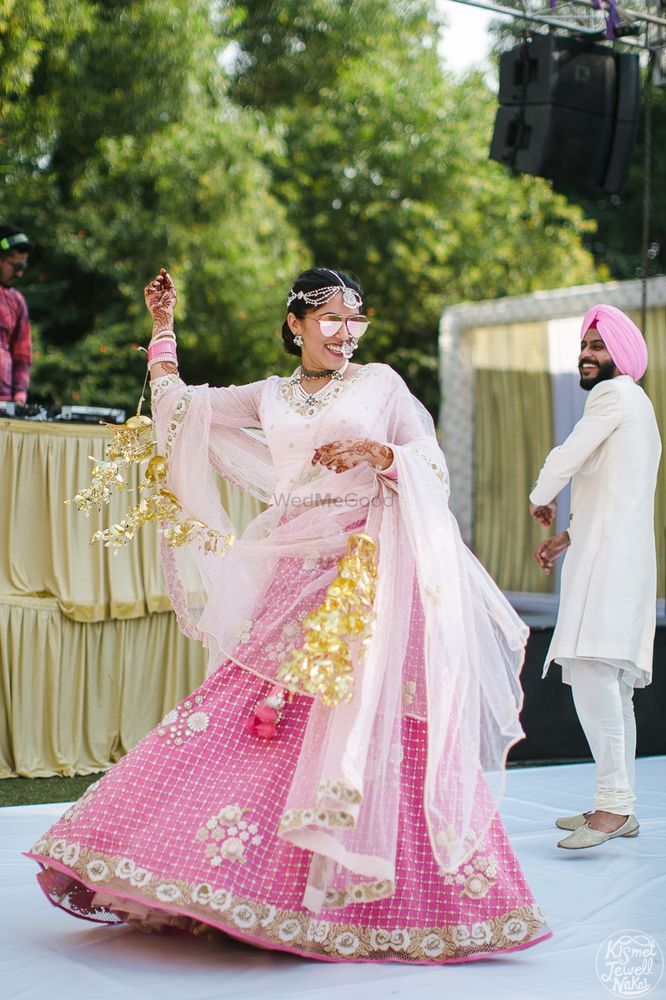 Image via Nina & Avi (Chandigarh); Lehenga by Nina B
Not OTT, and happy and light to dance in!
This blogger bride's simple pastel colour-blocked lehenga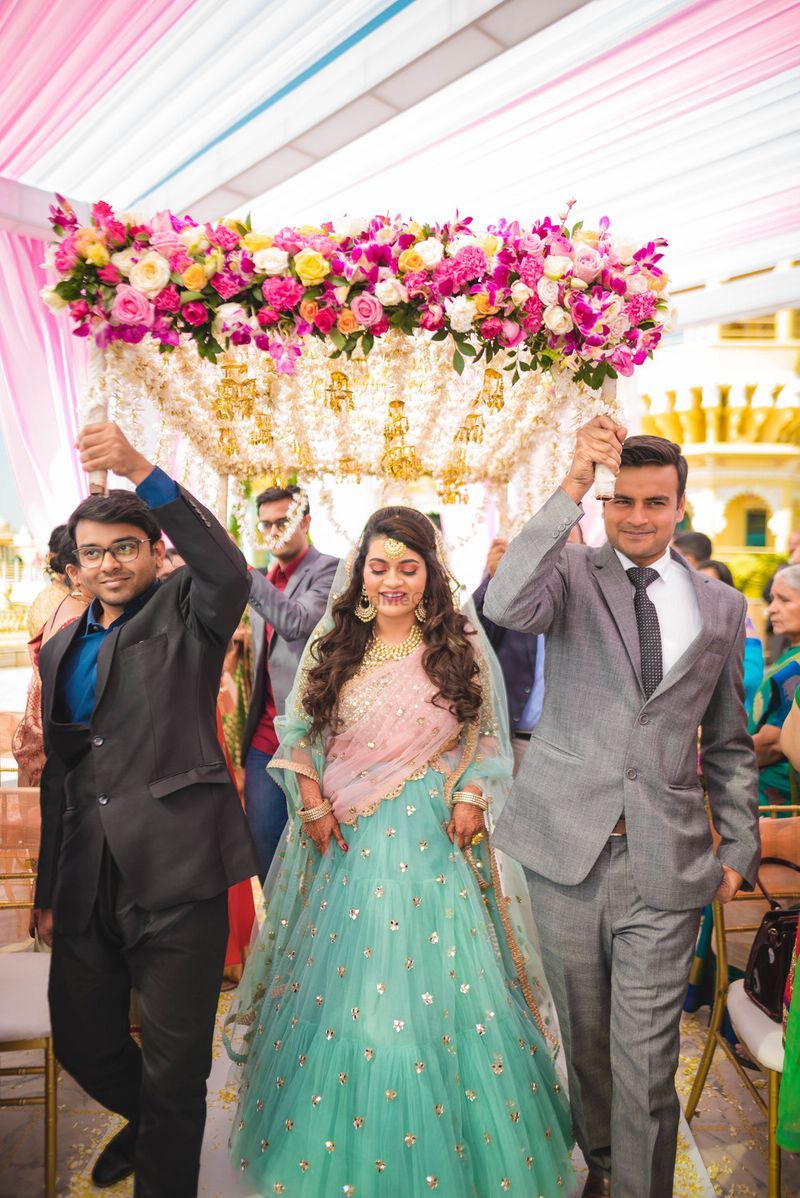 Image via Gia & Vishal (Udaipur)
She chose an offbeat hue, and rocked it with a colour blocked dupatta!
Or this one that's elegant?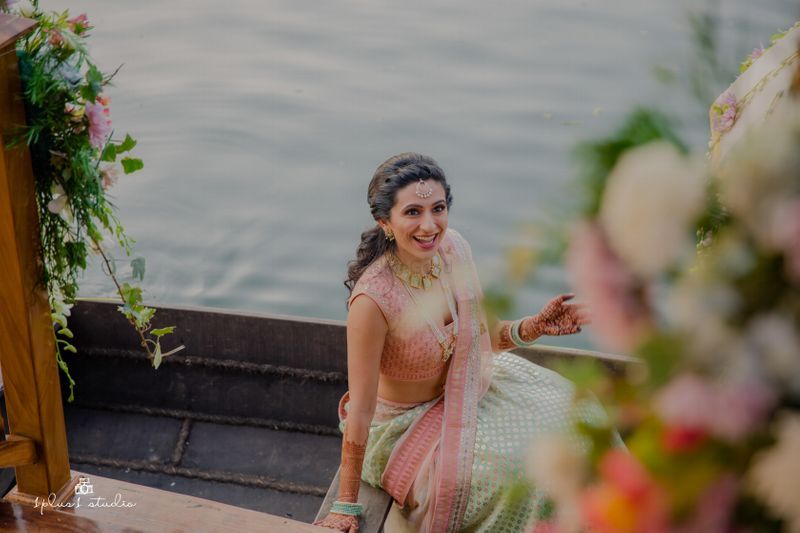 Image via Mahima and Reinier (Kerala); Lehenga by Anita Dongre
This bride had a no-frills wedding which was super pretty, and she kept her outfit that way too!
This bride's blush pink lehenga that's admirable!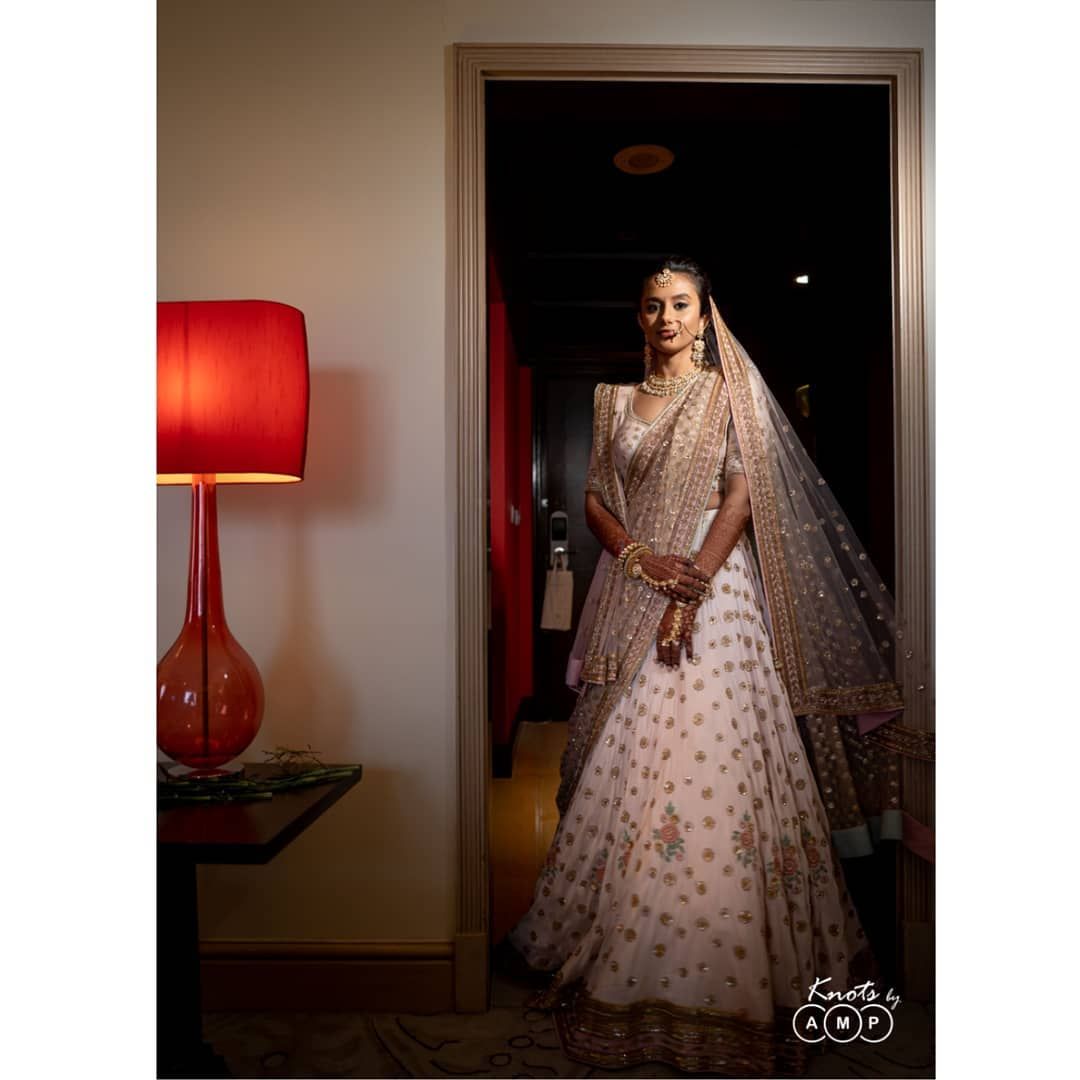 Image via KnotsbyAMP★ 4.9
Nice and simple! And love how the dupatta is the heavy thing in the ensemble here!
Or this blue one which is so sweet?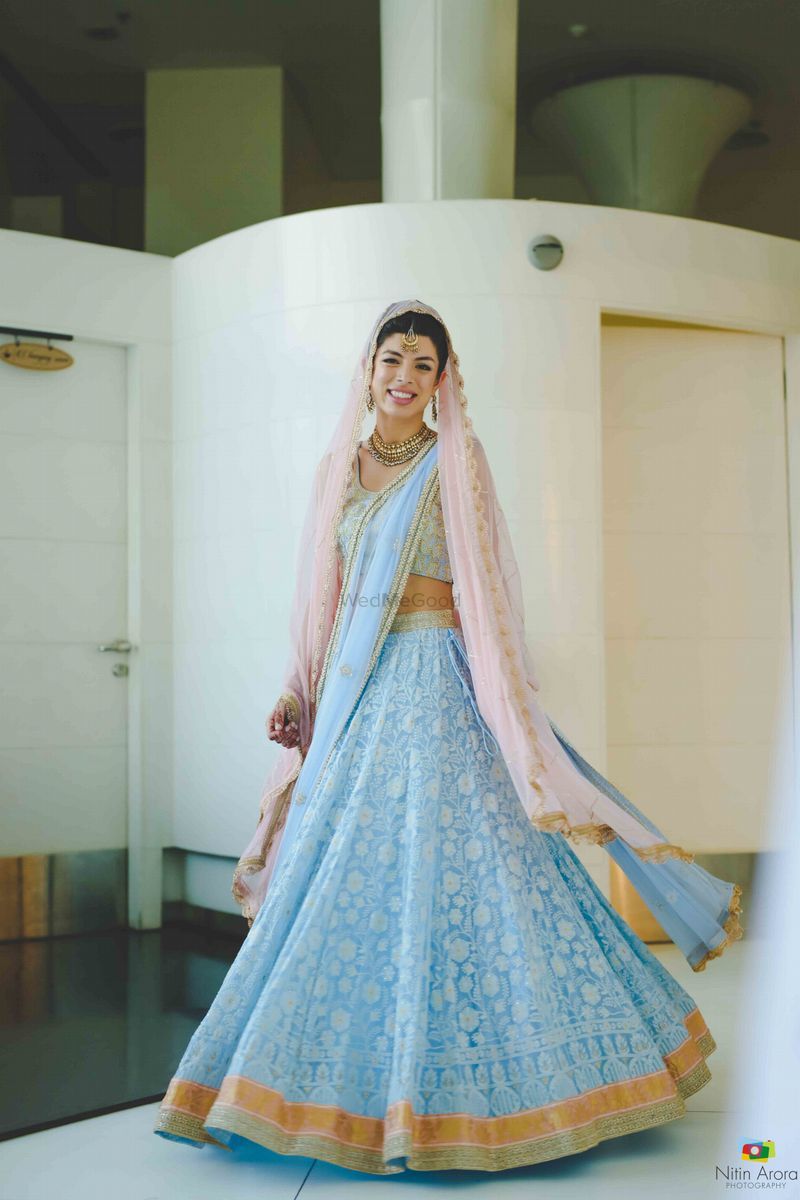 Image via Nitin Arora Photography
Making baby blue and baby pink work so well!
Brides who wore minimalistic red lehengas
Don't you all love these easy-breezy yet stunning bridal lehengas? Well, we are sure you do. And while you're free to pick one that goes with your vibe, we're now gonna lay down for you some more minimalistic lehengas but in the shade of red. Why only Red, you ask? That's because red lehengas are considered to be the most preferred choice amongst our brides even today. Irrespective of how many pastel hues we introduce every other season, there are still some of those loyalist brides who prefer the traditional red colour lehenga over the brand new ones. Are you one of them too? Then you're in luck because we've got some latest designs listed below. Dive in to check out these brides who picked minimalistic lehengas in red for their wedding, and get spoilt for choices!
This bride who  had let those borders pop out!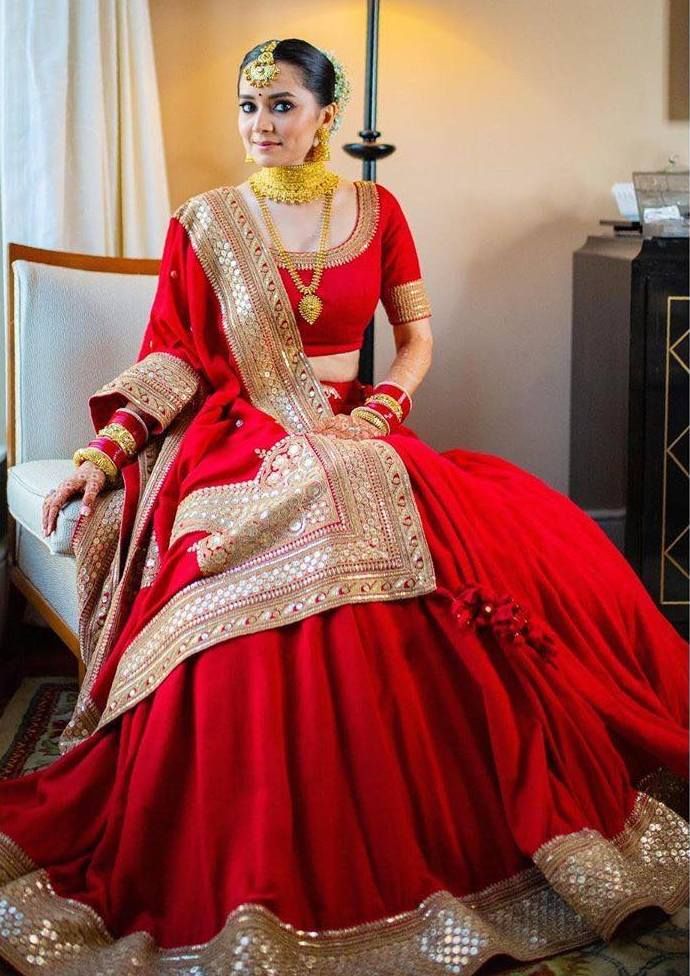 Image via Sabyasachi Mukherjee★ 4.9
Yes, you can wear a plain-jane red bridal lehenga and make a statement! Just outline it with some broad laces and you're good to go! This bride rocked her red lehenga so well, and we can't stop crushing.
This bride who picked a tasseled dupatta along!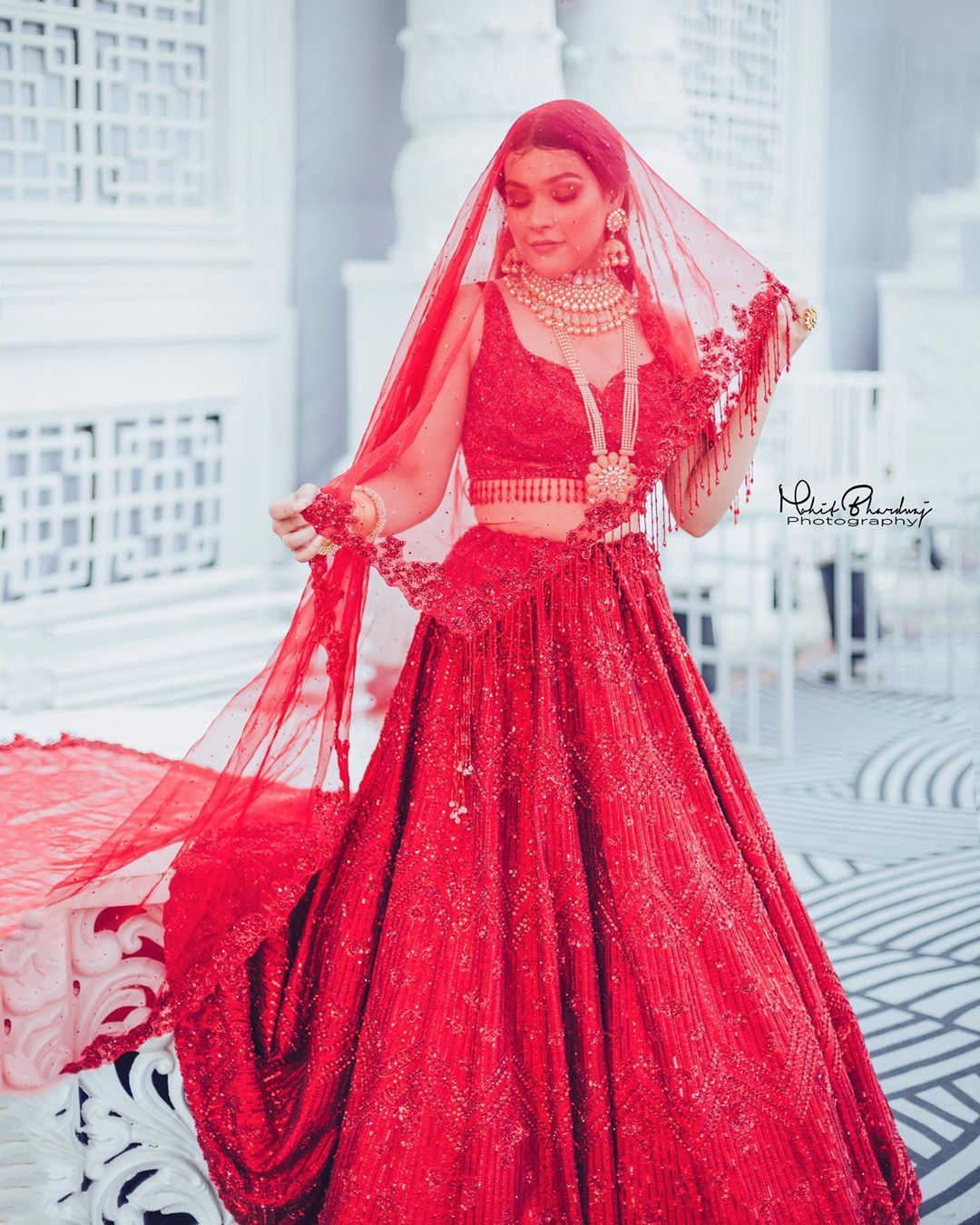 Image via Red Veds★ 5
What's not to love about this bride's all red lehenga which is minimalistic yet so stylish!
This printed beauty has us smitten!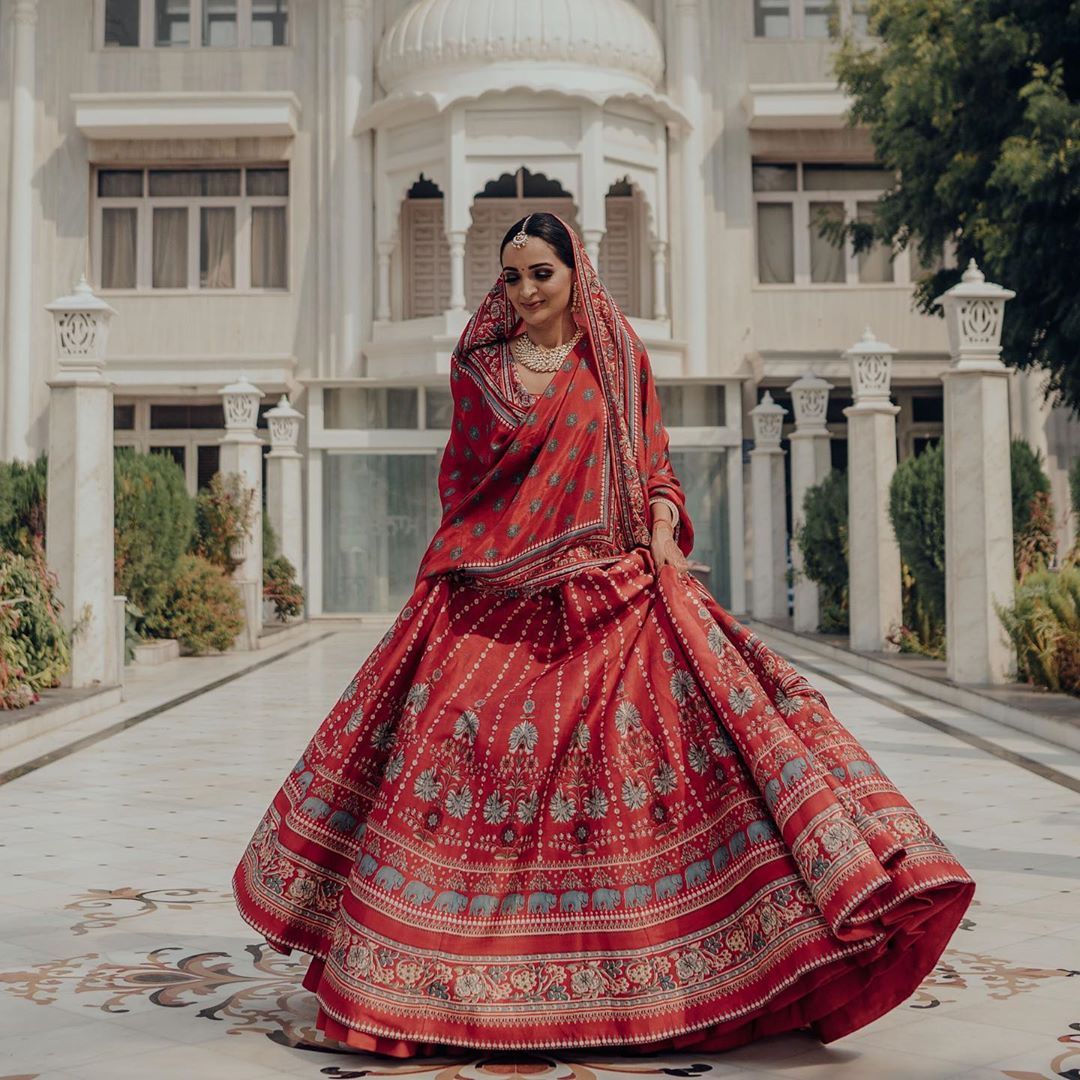 Image via Anita Dongre★ 4.9
Printed lehengas for your big day? Hell, yes! Especially if you're planning for an intimate day wedding.
This red bridal lehenga that looks like PeeCee's!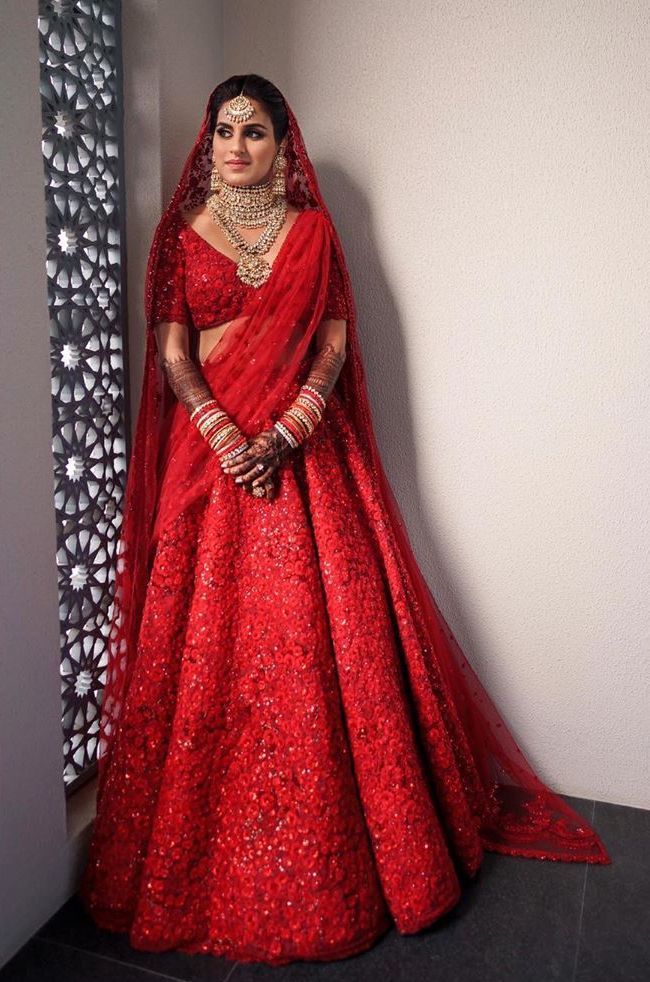 Image via Sabyasachi Mukherjee★ 4.9
Remember Pee Cee's red bridal lehenga? This bride wore a similar red lehenga from Sabyasachi on her wedding day and it is pure goals!
This bride's red lehenga which looks ultra-glam!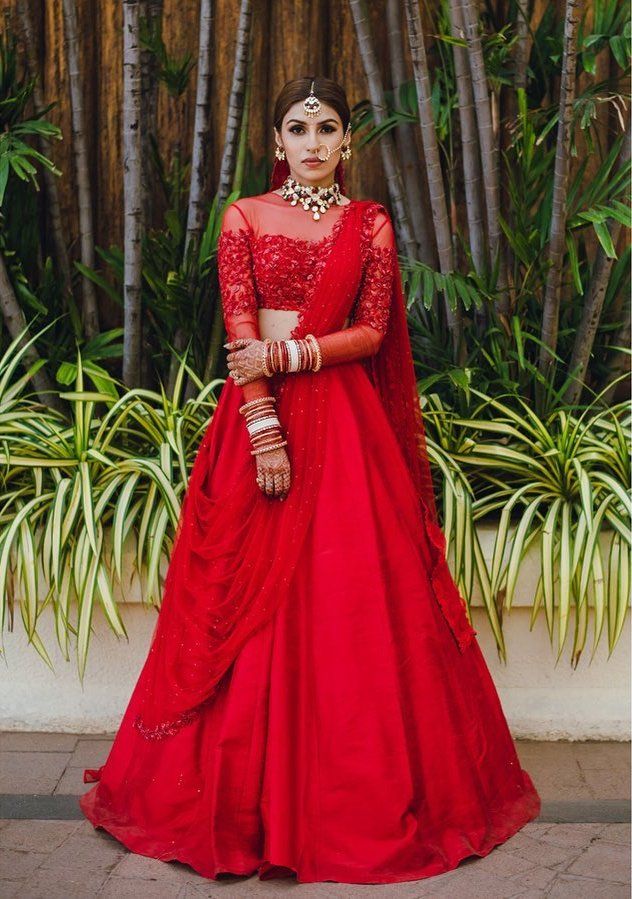 Image via Shloka Khialani★ 5
A sheer blouse paired up with a simple lehenga skirt never looked this pretty before! PS. We love that attached drape that ties the look together.
This bride who picked an offbeat combo of red & white!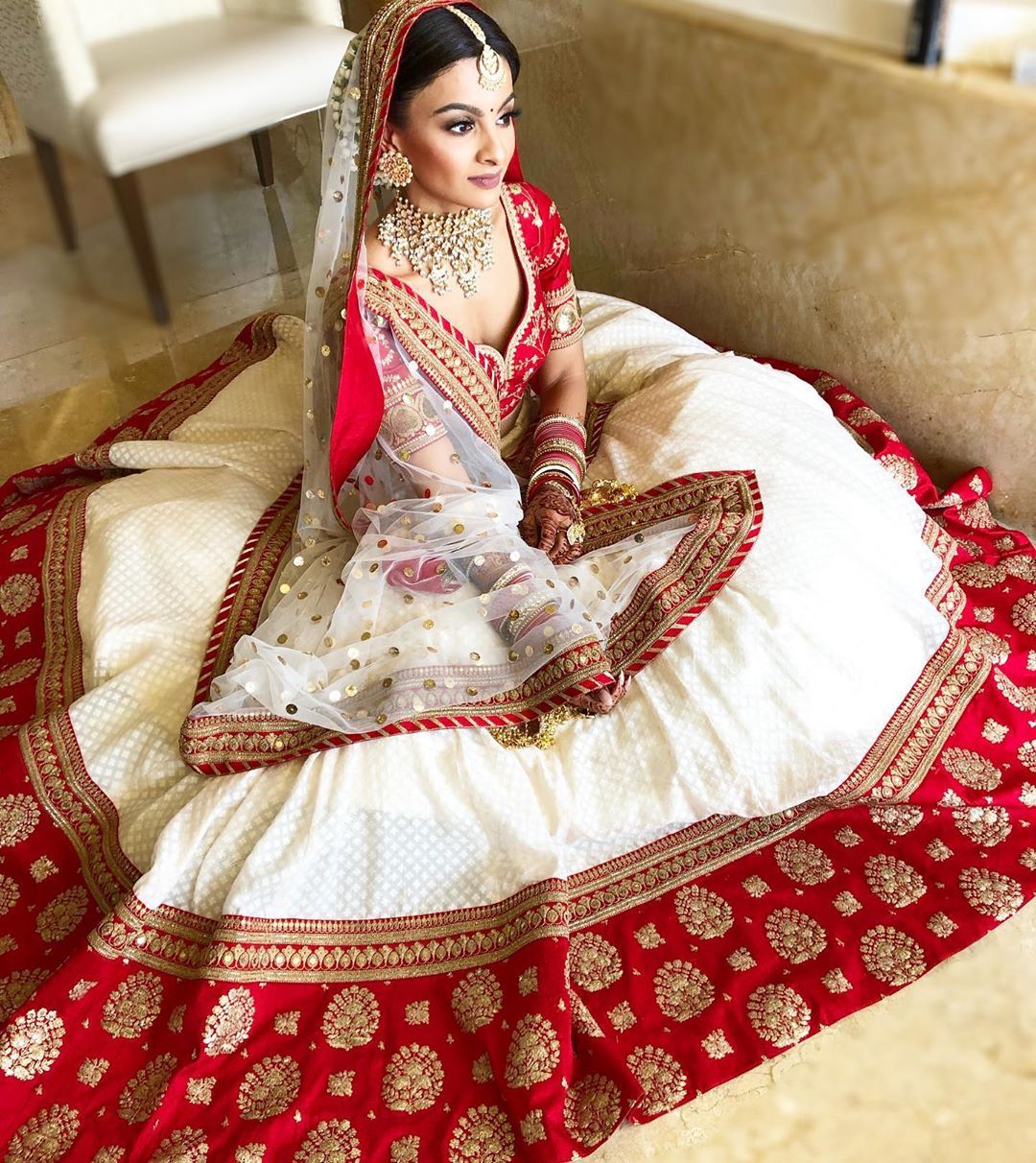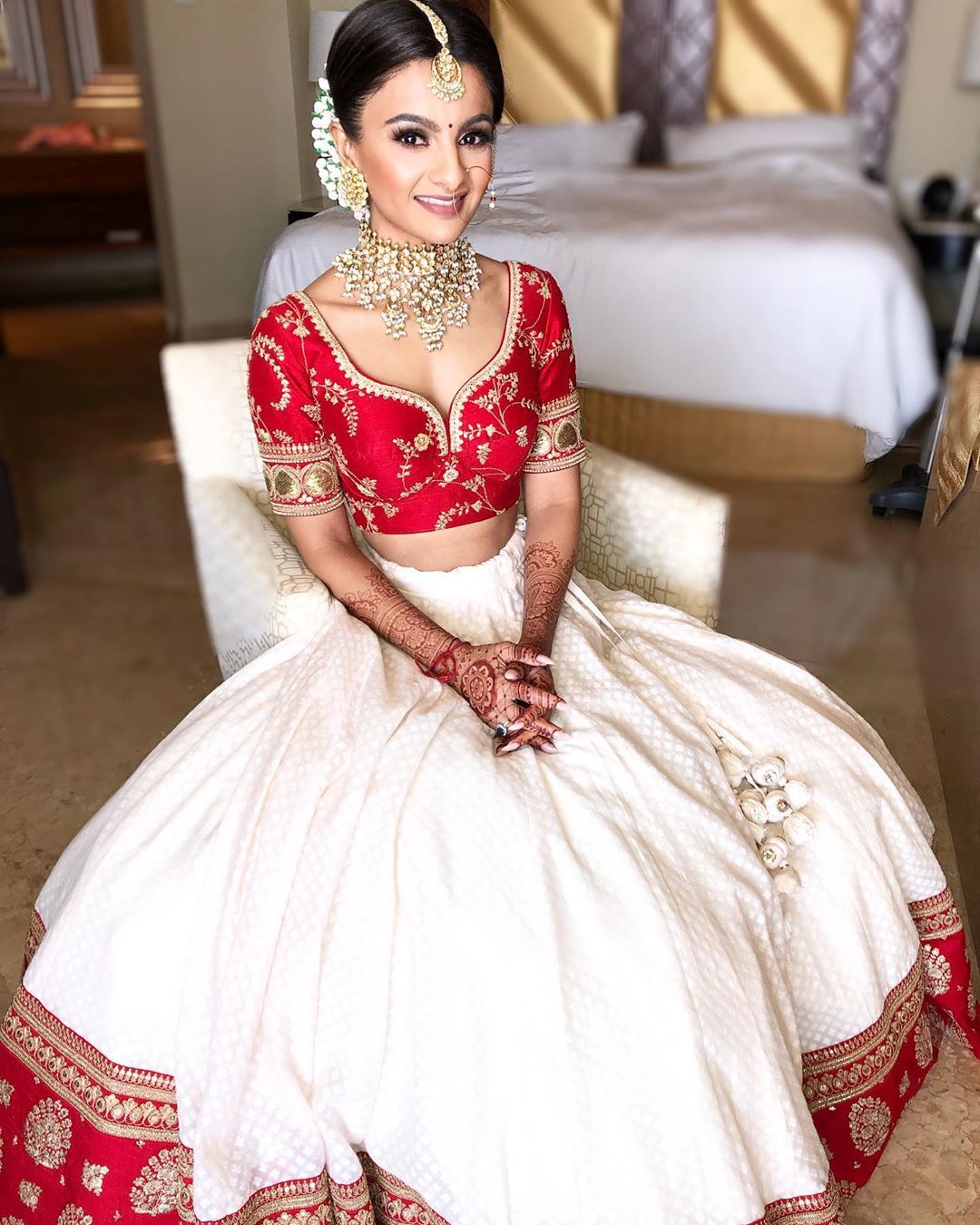 Image via House of Glow Studio
Don't want to go all red on your big day? Take some cues from this bride who pulled off this minimalistic red and white lehenga with sheer elan!
This one with fine threadwork!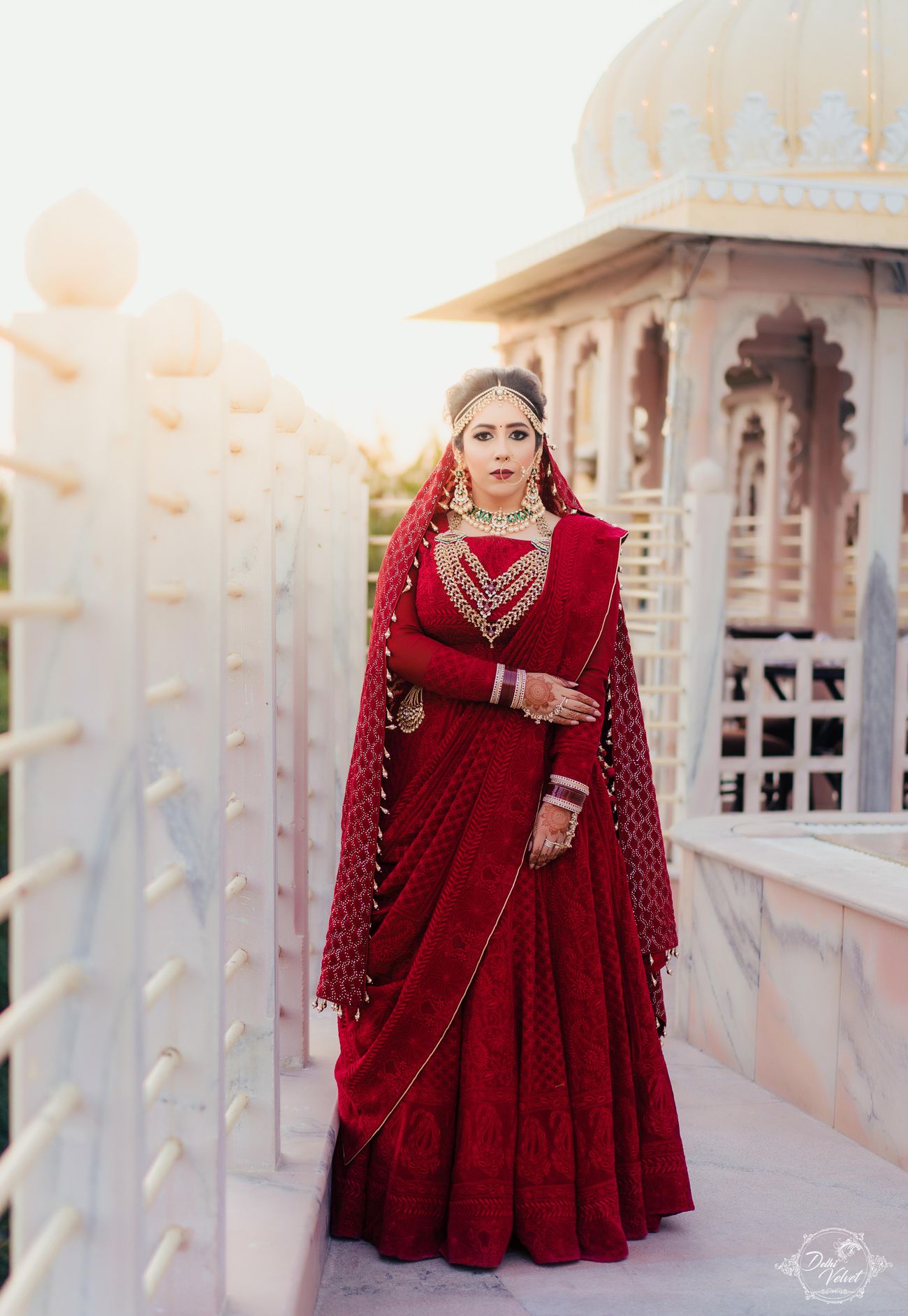 Image via DelhiVelvet - By Divishth Kakkar★ 4.3
Ditching the usual zari work and gold motifs, this bride picked a red Chikankari lehenga instead, and we couldn't ignore it! It is a perfect choice for brides who wish to pick something light-weight for their wedding day.
This Band Baja bride too swore by a minimal red lehenga!
Image via Recall Pictures Photography★ 5
Even though Priyanka wore a simple bridal lehenga for her wedding day, she did add elaborate touches to it with her statement jewellery. Isn't it such a great fashion hack?
This one with an understated lehenga skirt!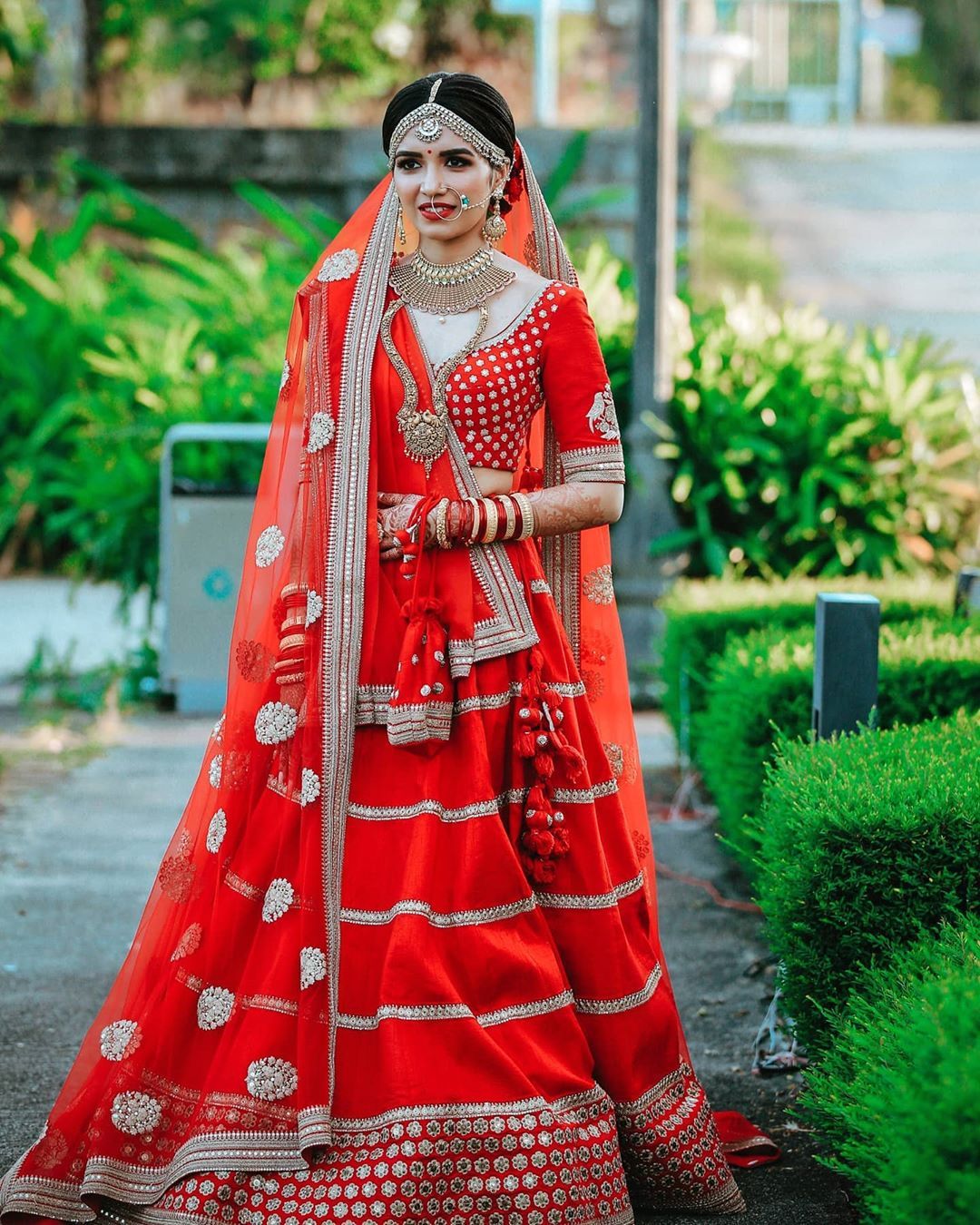 Image via Picture Studio Productions★ 5
We love how she turned out to be a total charmer in that unique red lehenga!
This red bridal lehenga with a dash of modernity!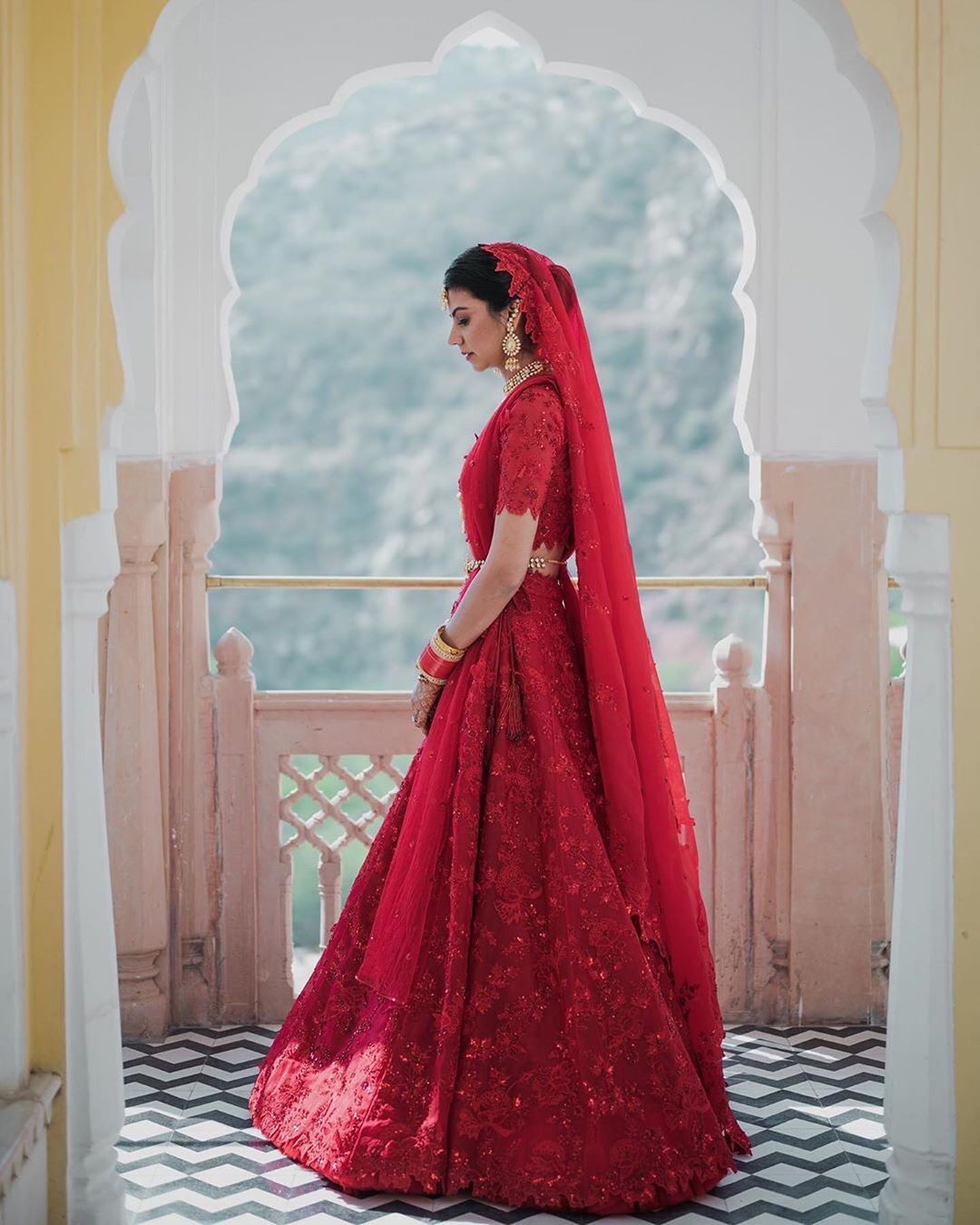 Image via Infinite Memories★ 4.7 , Outfit by Anushree Reddy★ 4.8
We are majorly rooting for this red stunner featuring rich detailings.
This red lehenga comes with a sleek fabric belt!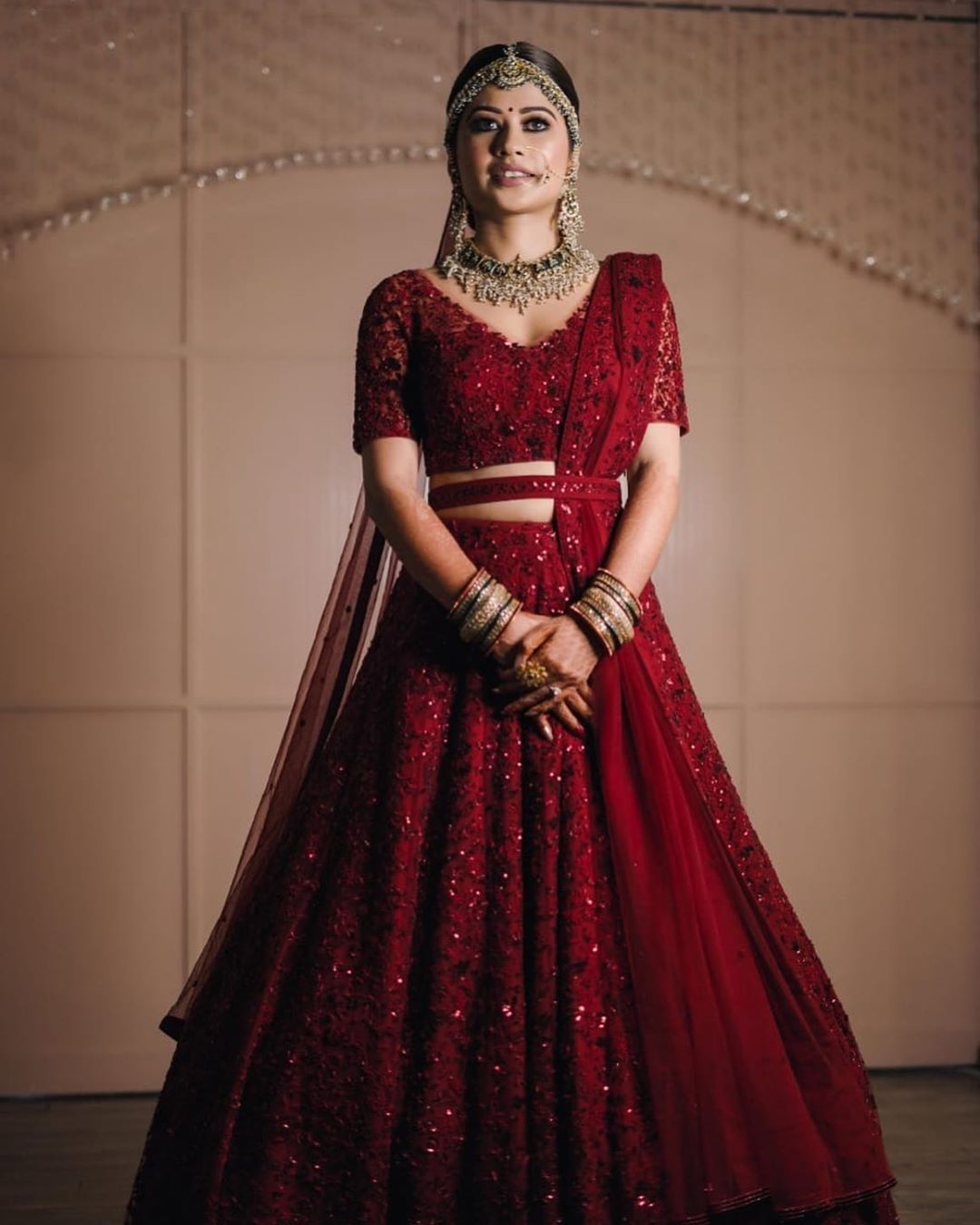 Image via DelhiVelvet - By Divishth Kakkar★ 4.3
Got a thing for belted lehengas? Then this one in red colour might satisfy your tastebuds.
This bride who kept it all simple yet divine!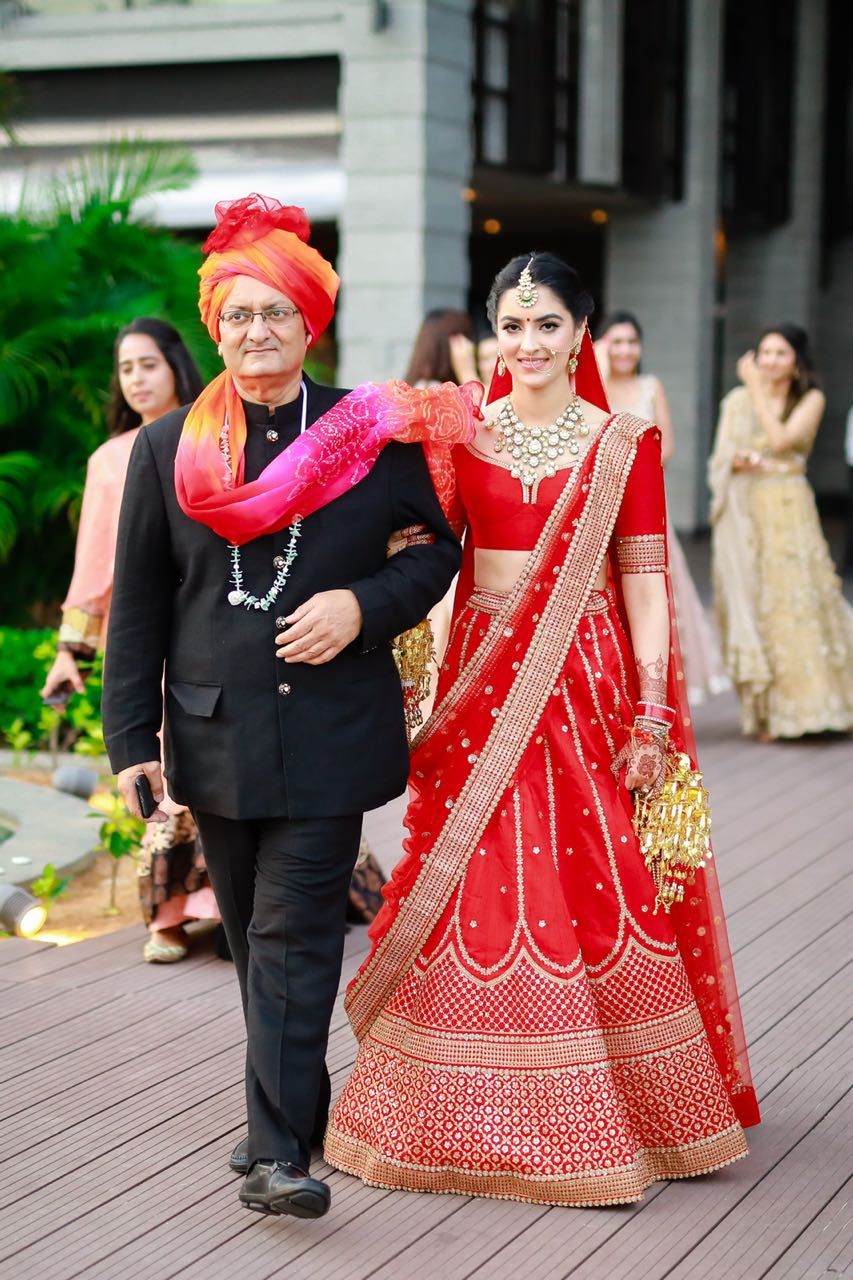 Image via Shanqh Luxury Event Planners and Decorators★ 4.8
A stunning red lehenga with little detailing here and there is a sure-shot win!
A red Anarkali for someone who wants to ditch those regular lehengas!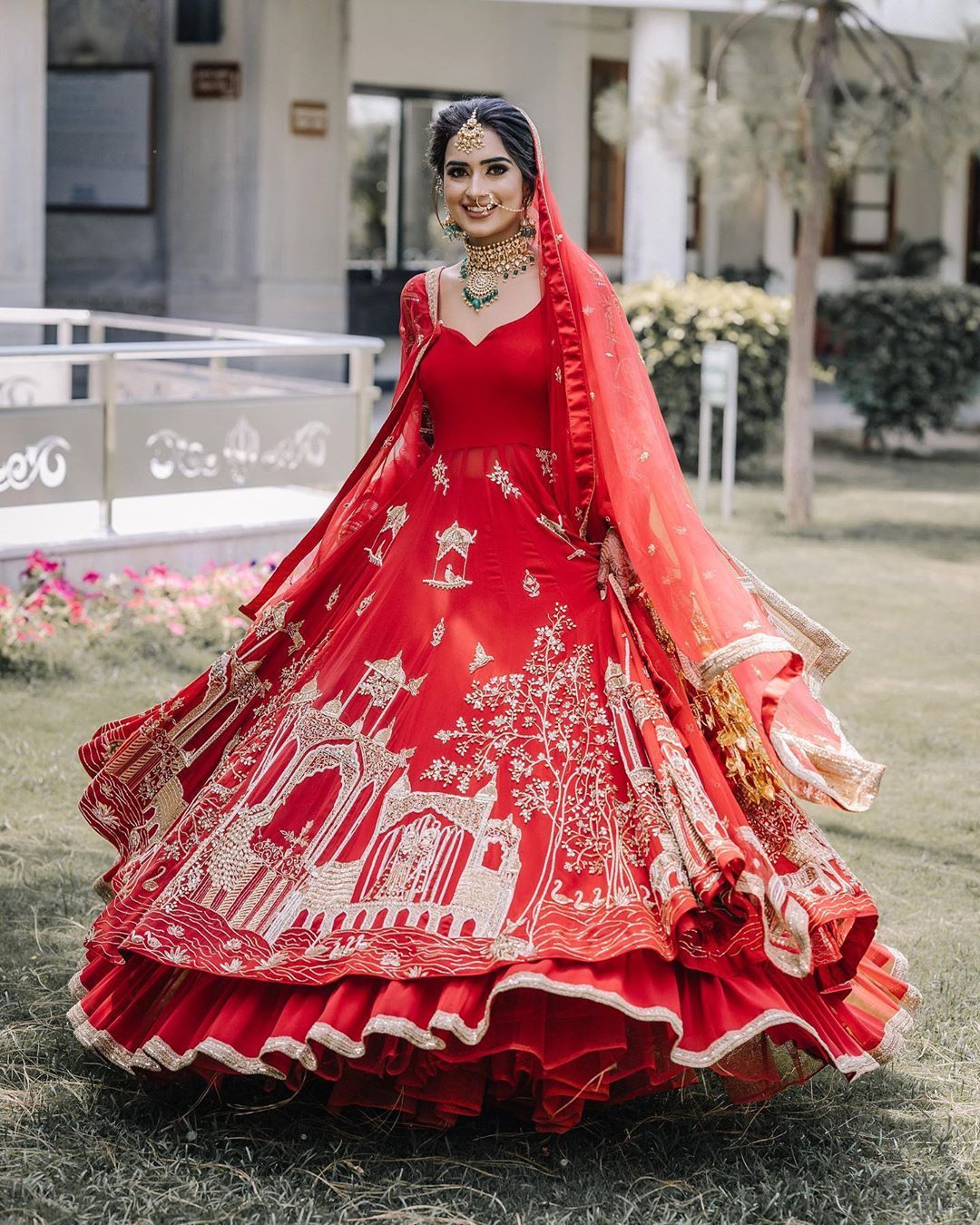 Image via Paran Singh Photography★ 4.8
If you don't wish to wear a lehenga on your wedding day but pick something in red, let this bride's red anarkali be your inspiration.
ALSO READ: 9 WMG Brides Who Decked Up Simple Offbeat Lehengas To Make Them Bridal! *& How They Did It!