Rooftop Coronial Wedding With A Bride In A Deepika-Inspired Lehenga
BY Anupriya | 28 Apr, 2021 | 3985 views | 8 min read
If there's one wedding that instantly ticked off our checkboxes lately, it has to be Urjita & Joi's. It had all the makings of a blockbuster wedding. From a high school love-tale (like those you see in a KJo movie), a rooftop wedding venue overlooking the Mumbai skyline, a bride dressed in a Deepika-inspired lehenga to a one-of-a-kind display of multiple cultures, there was everything. And as much as we're in awe of all these unique details, we're equally surprised by the fact that the couple pulled it off amidst strict COVID-19 restrictions. All the safety measures were kept in place and only closest family members and friends were invited to witness the happiest day of their lives. 
What acted as a cherry on top were the combined efforts of Urjita's sister who planned it all with utmost finesse, FireFlies Decor★ 5 for the ombre-themed decorations and The Cheesecake Project★ 4.9 for the oh-so-beautiful snapshots!
Meet Urjita & Joi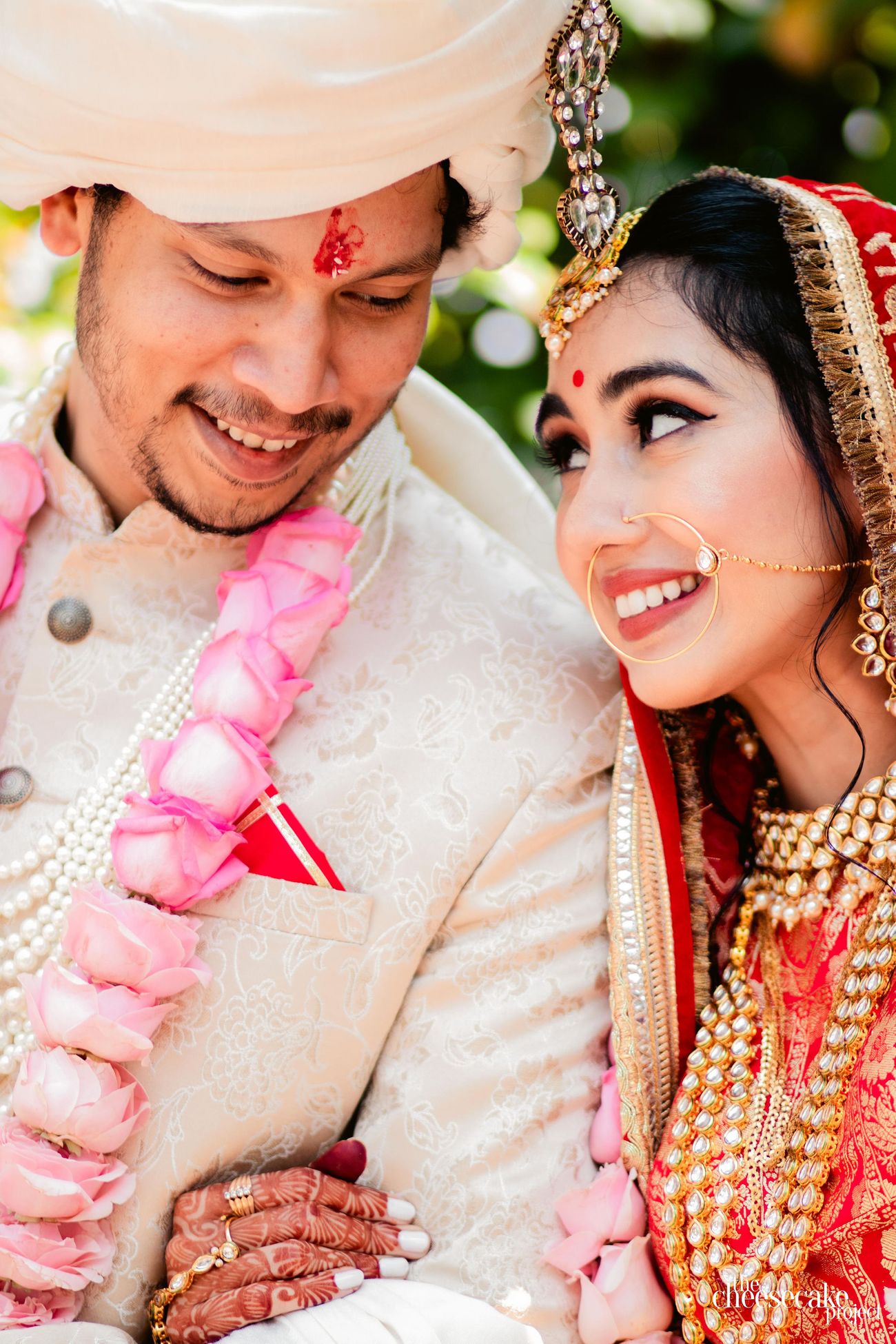 We had a crush on each other in High School and went on to start dating when I was 16 and he was 17. We have been through it all - secret midnight phonecalls, dropping in on sleepovers with my friends to say hi, getting me flowers after tuitions, many first-times and many more fights, long distance for 6 years, doubting whether we would work out in the future. But when he travels half way around the world to see me just to cheer me up I know this is a forever thing. Because he was and will always be my best friend over everything. It has been 13 years since then and we are still as in love as we were on the first day we met.
The Wedding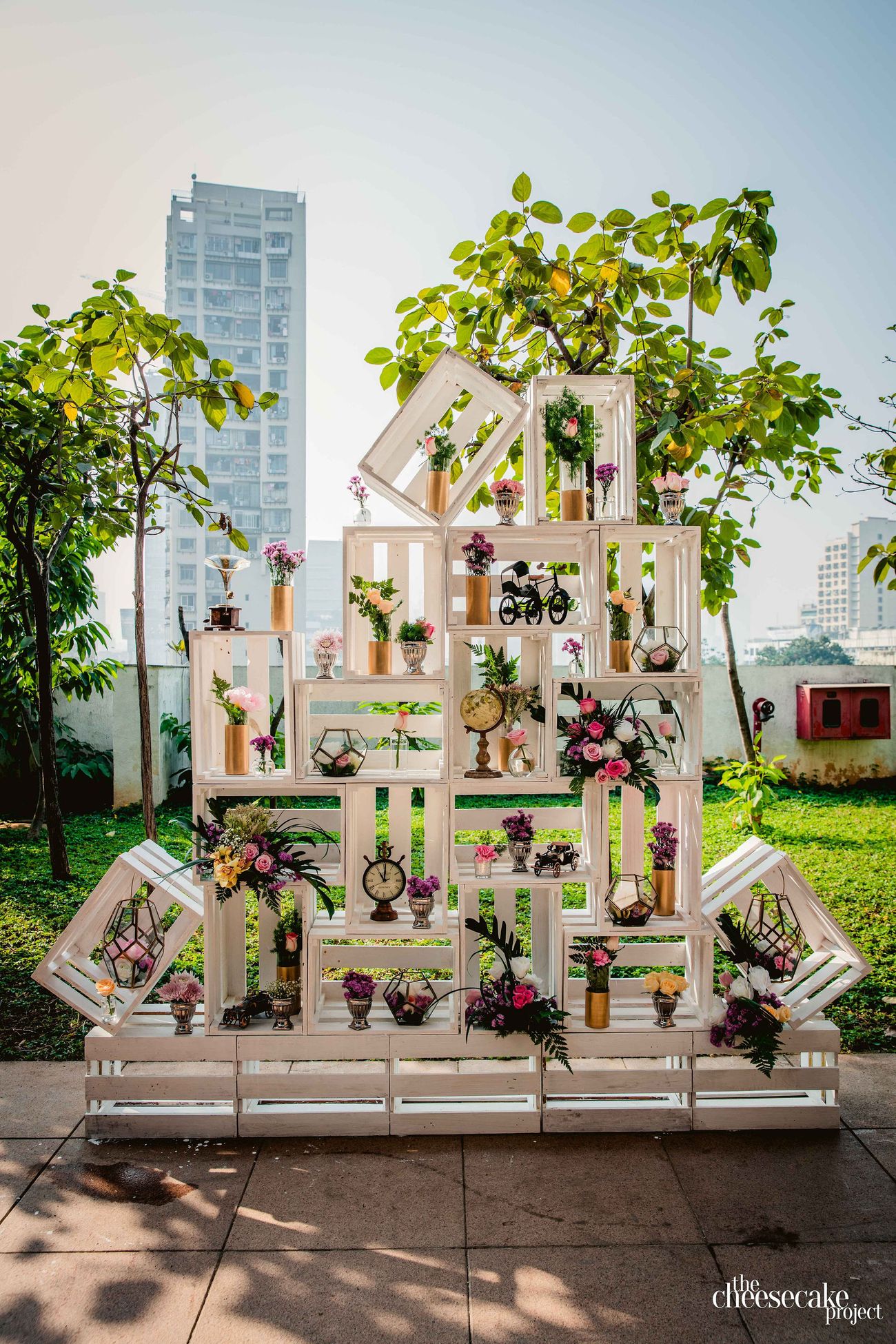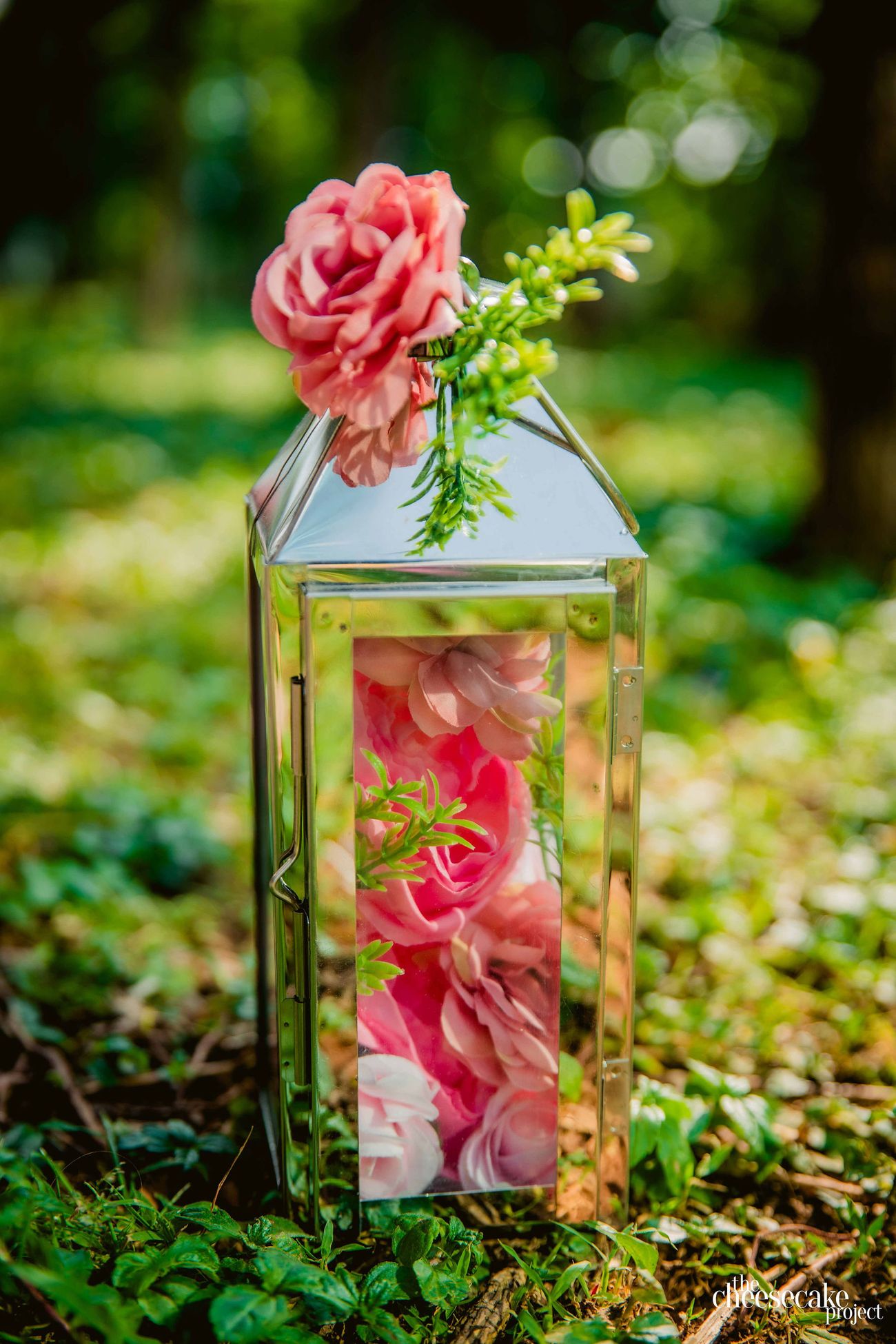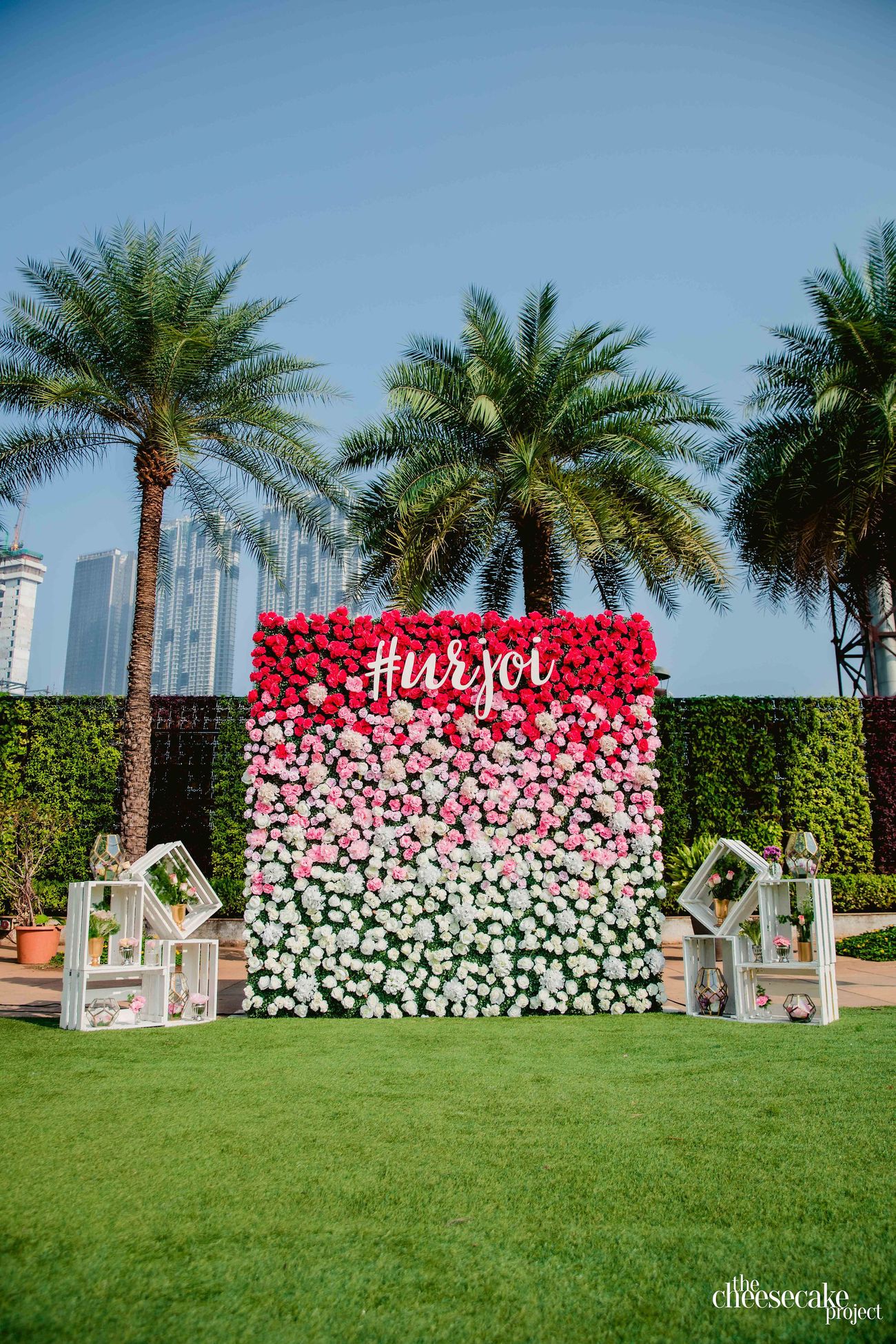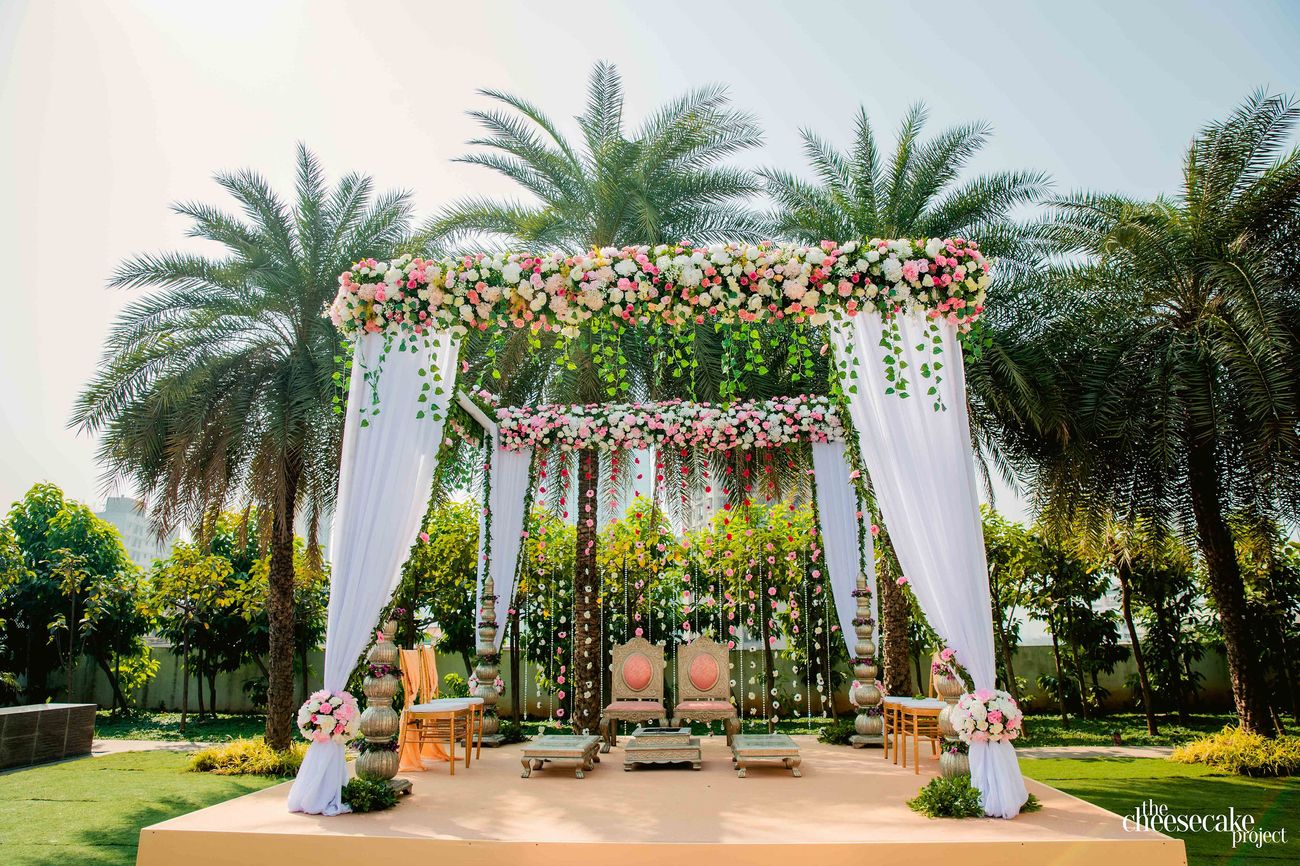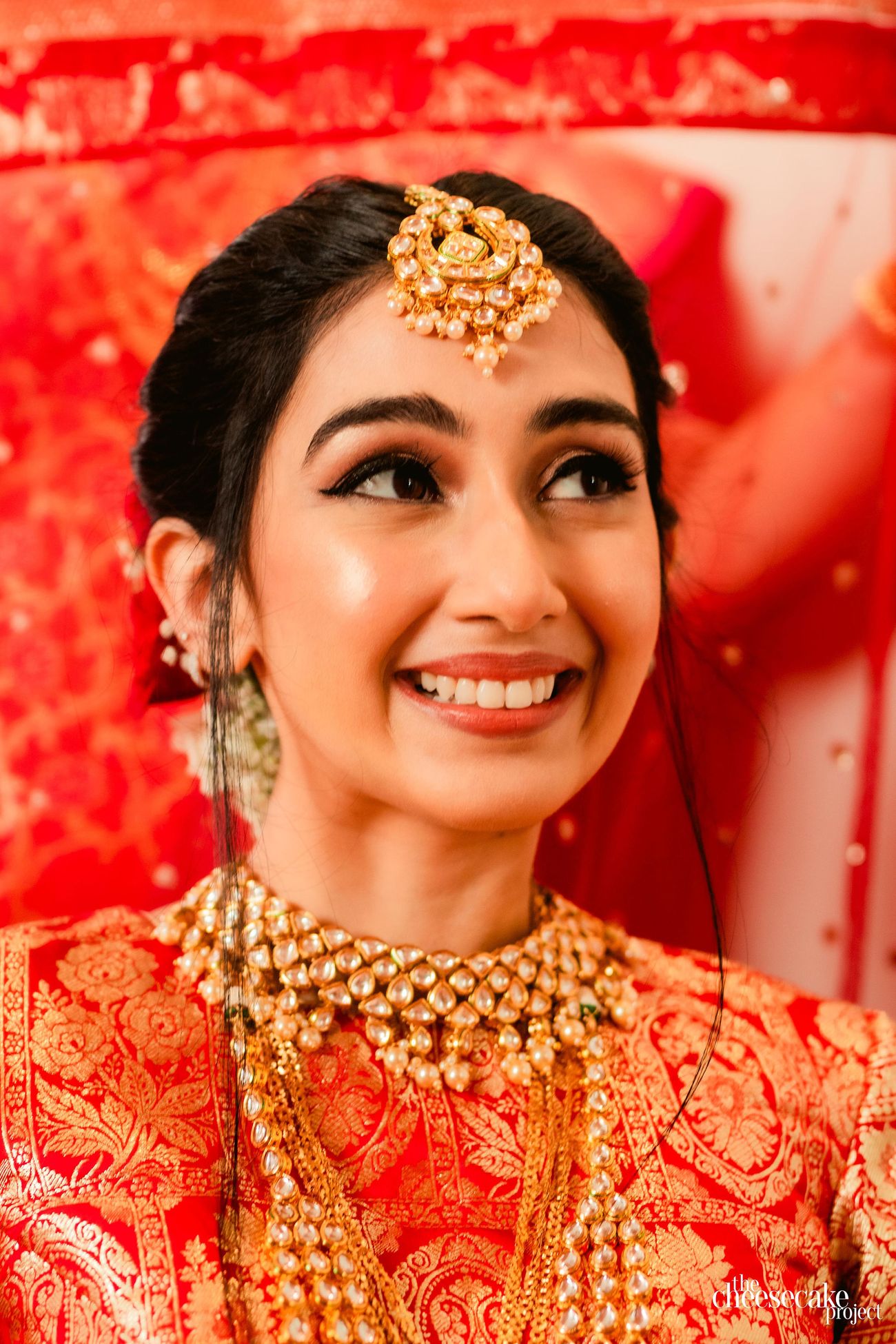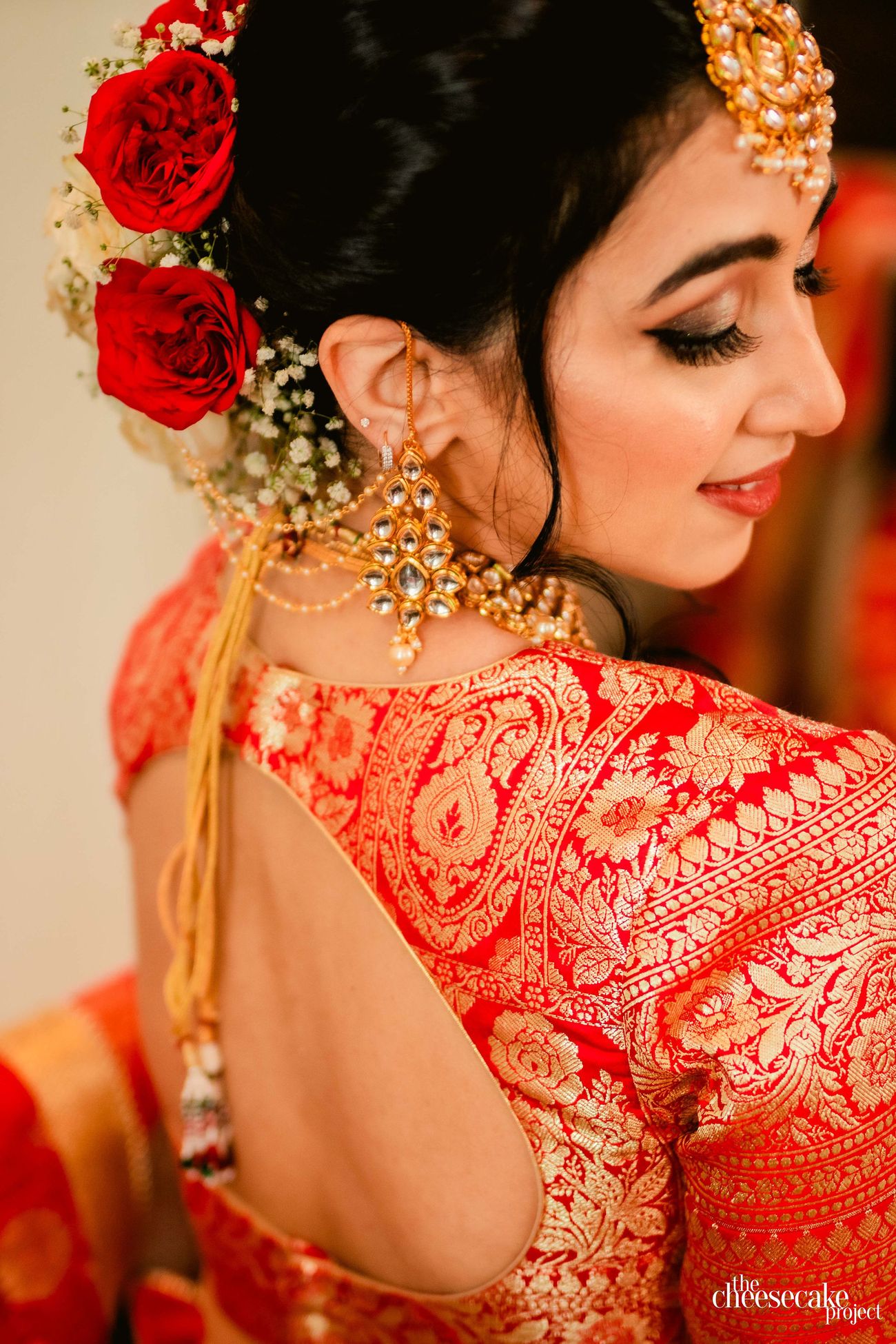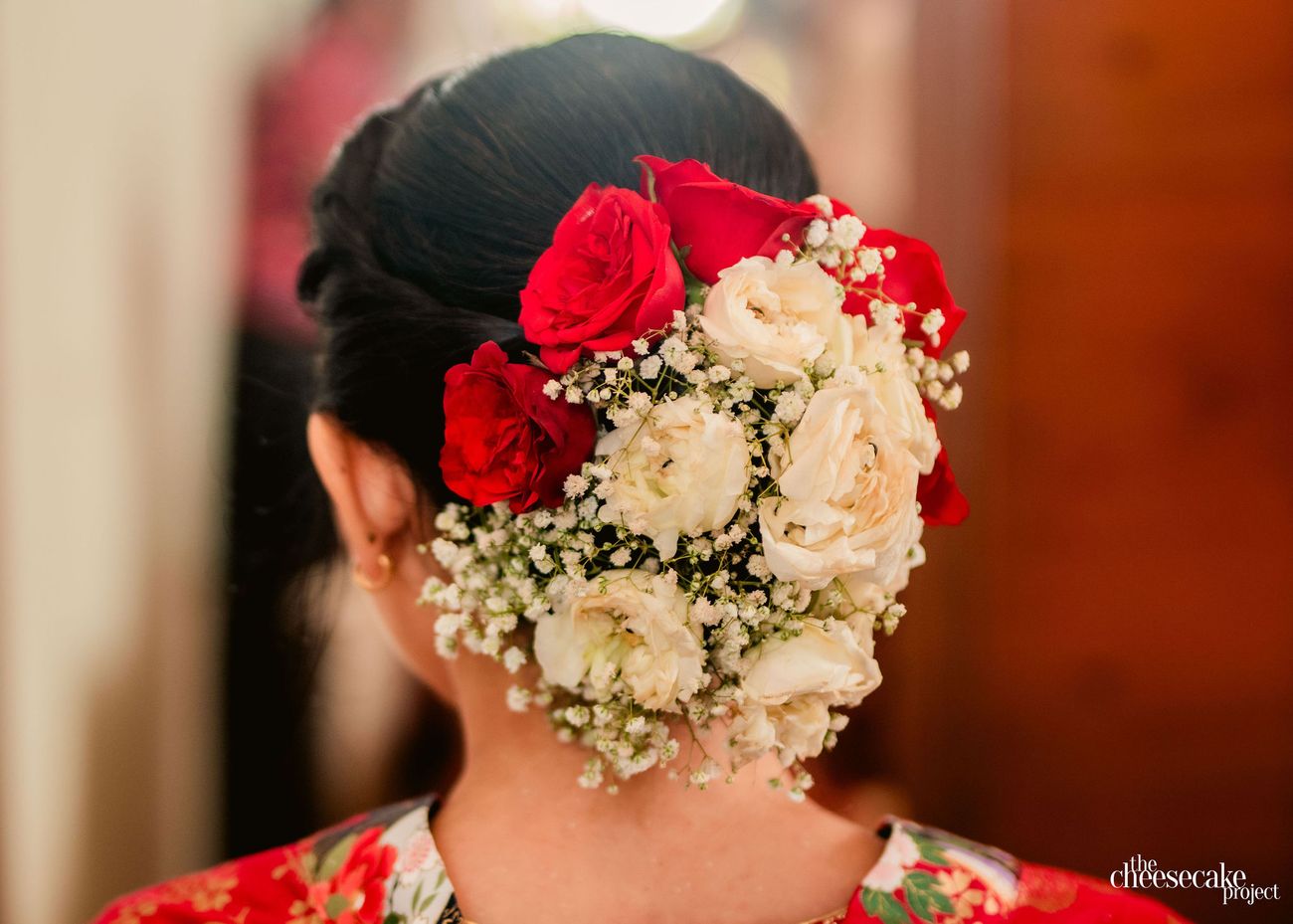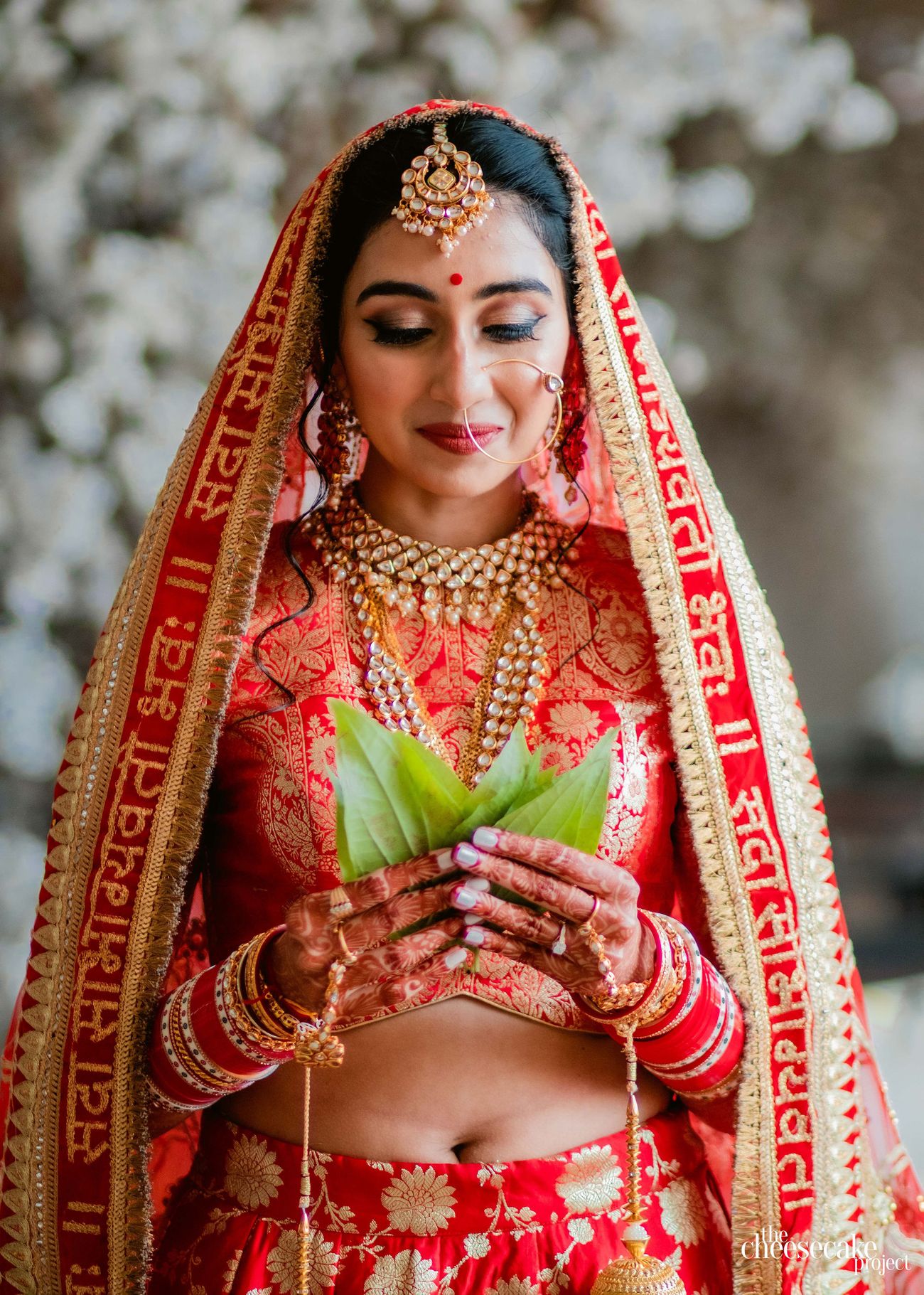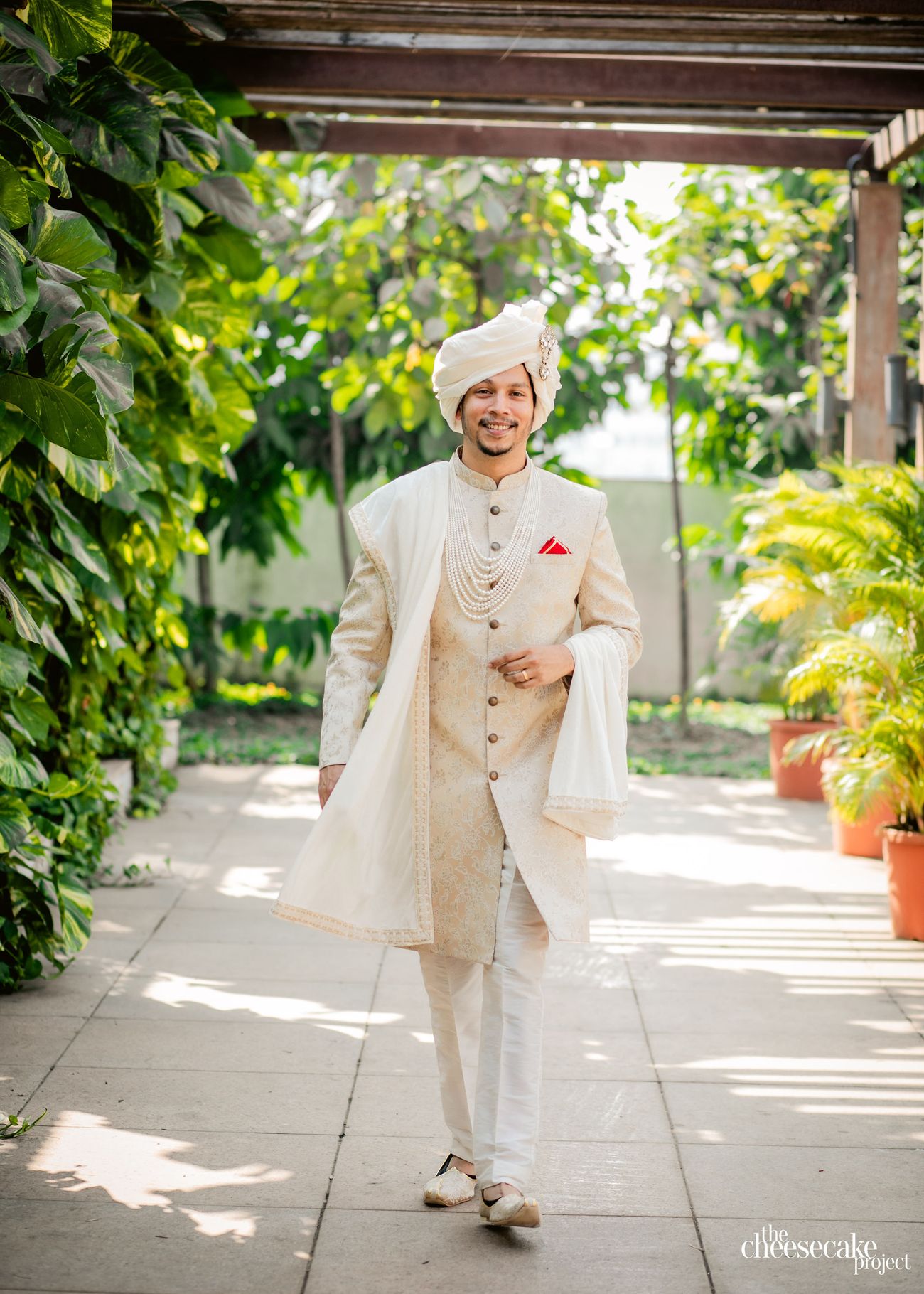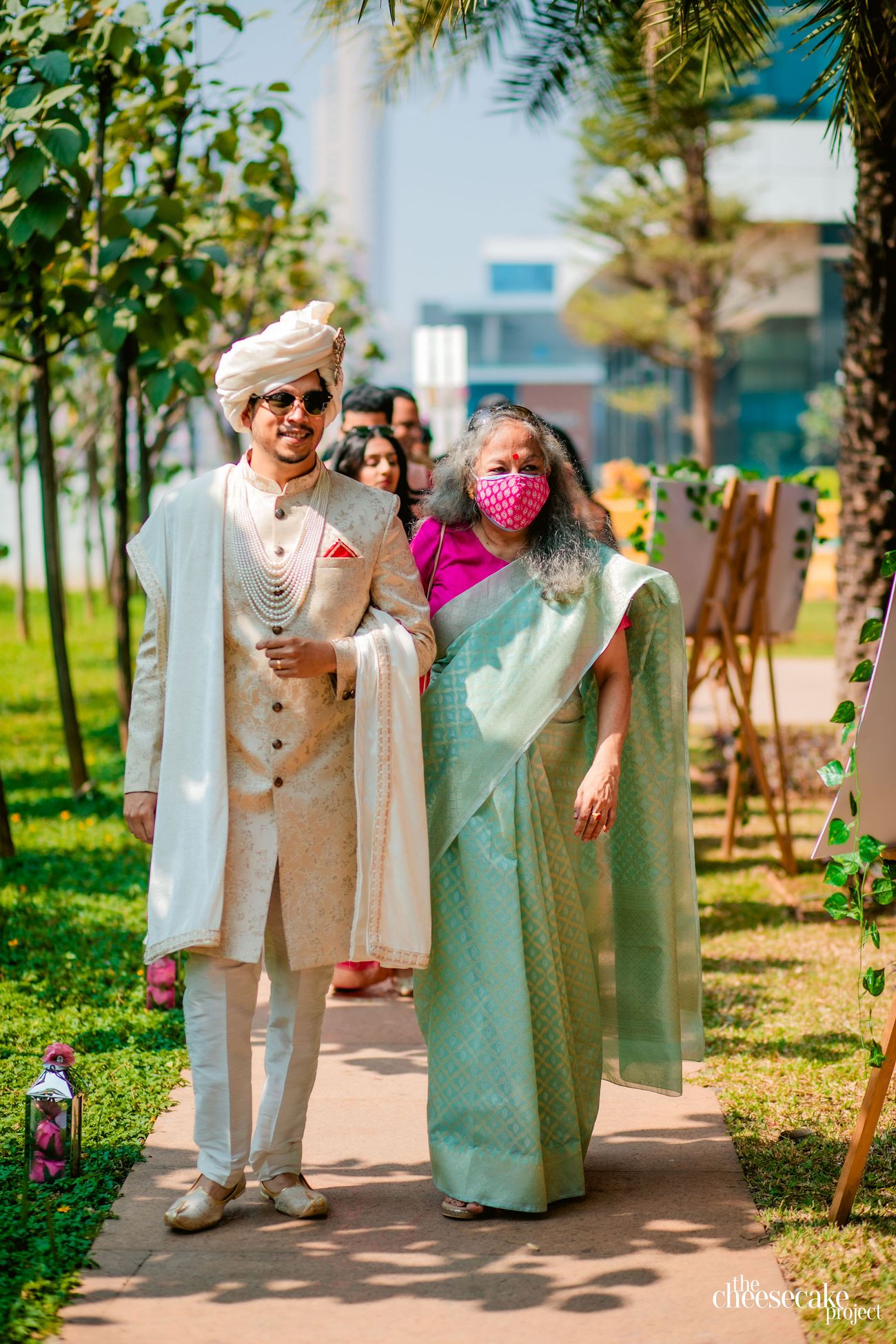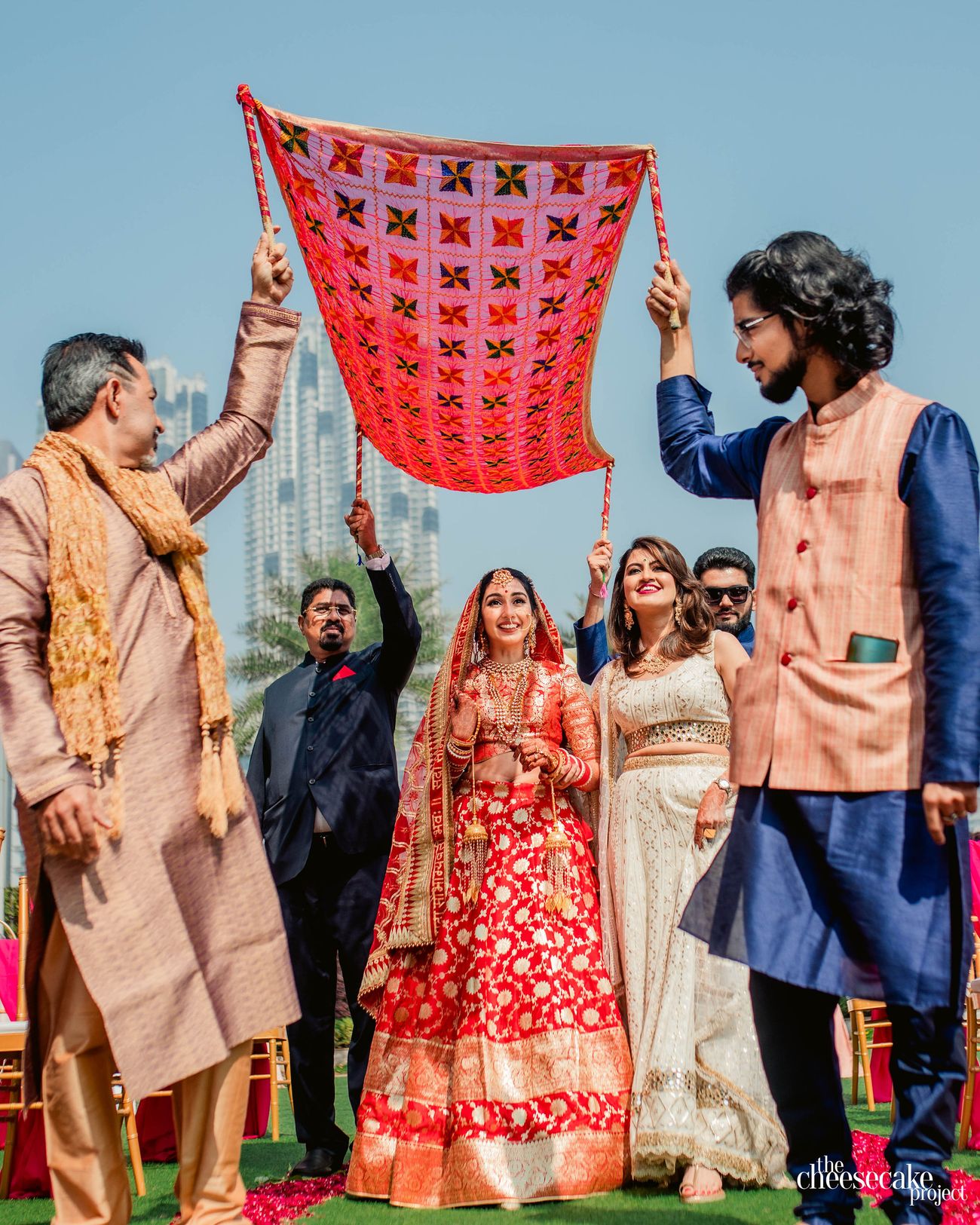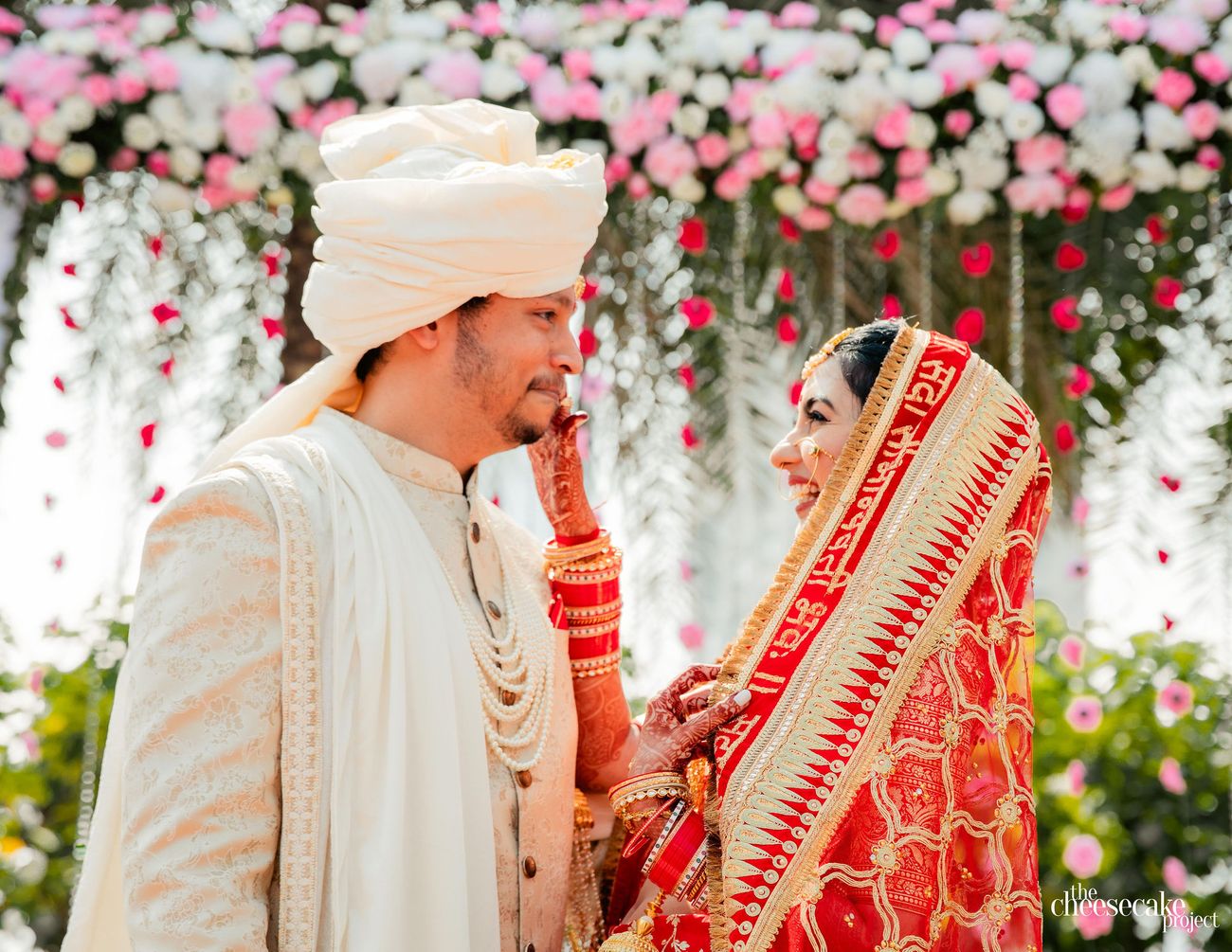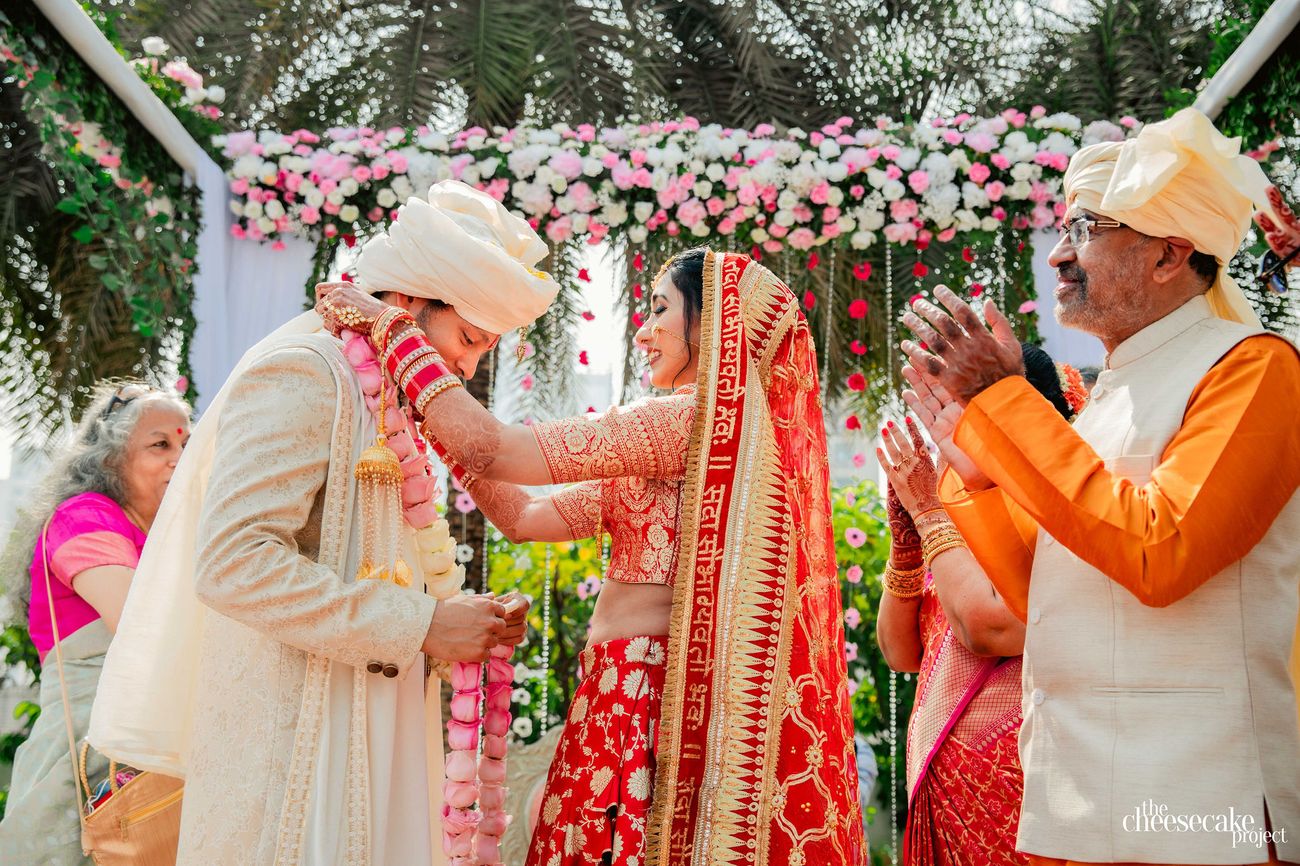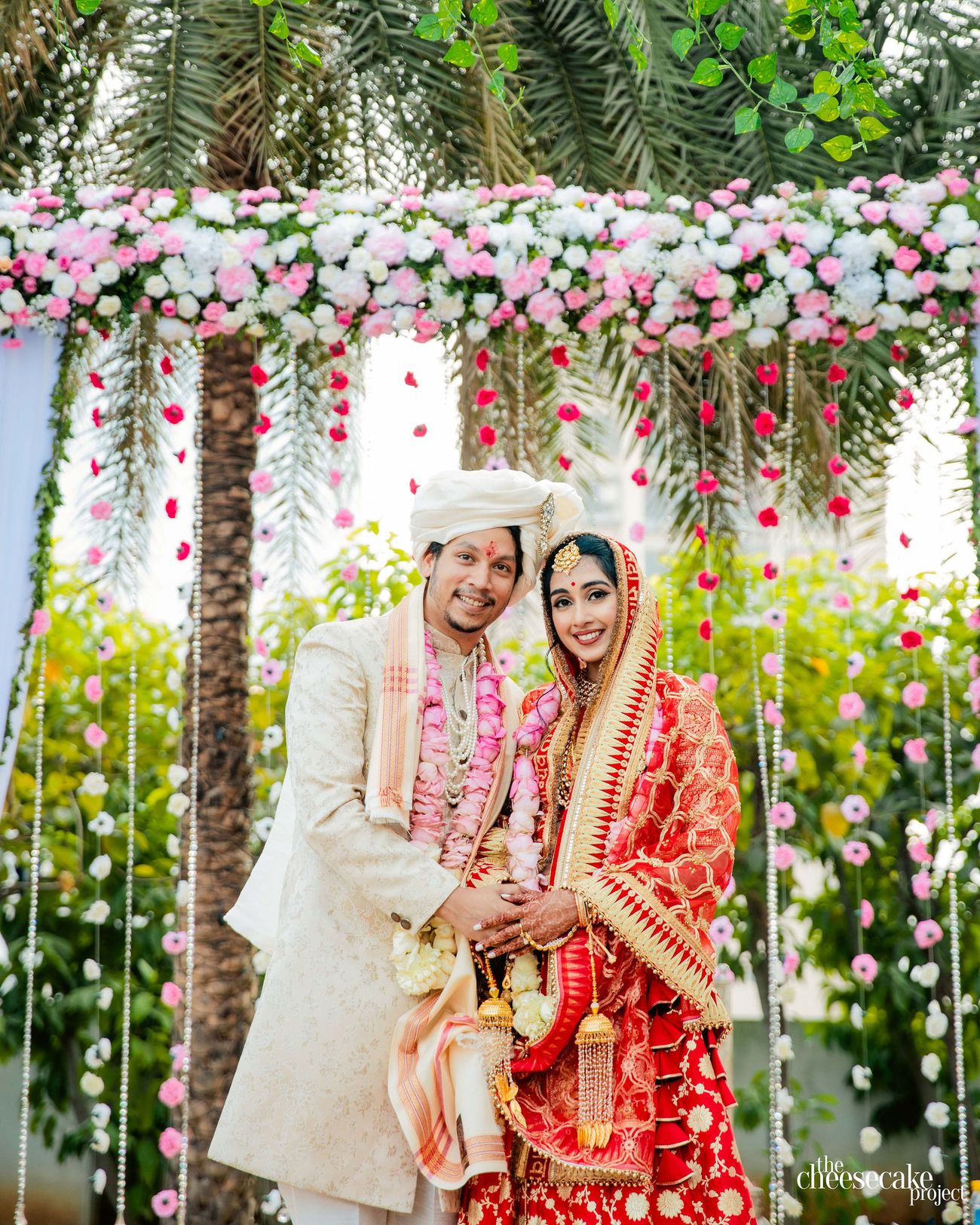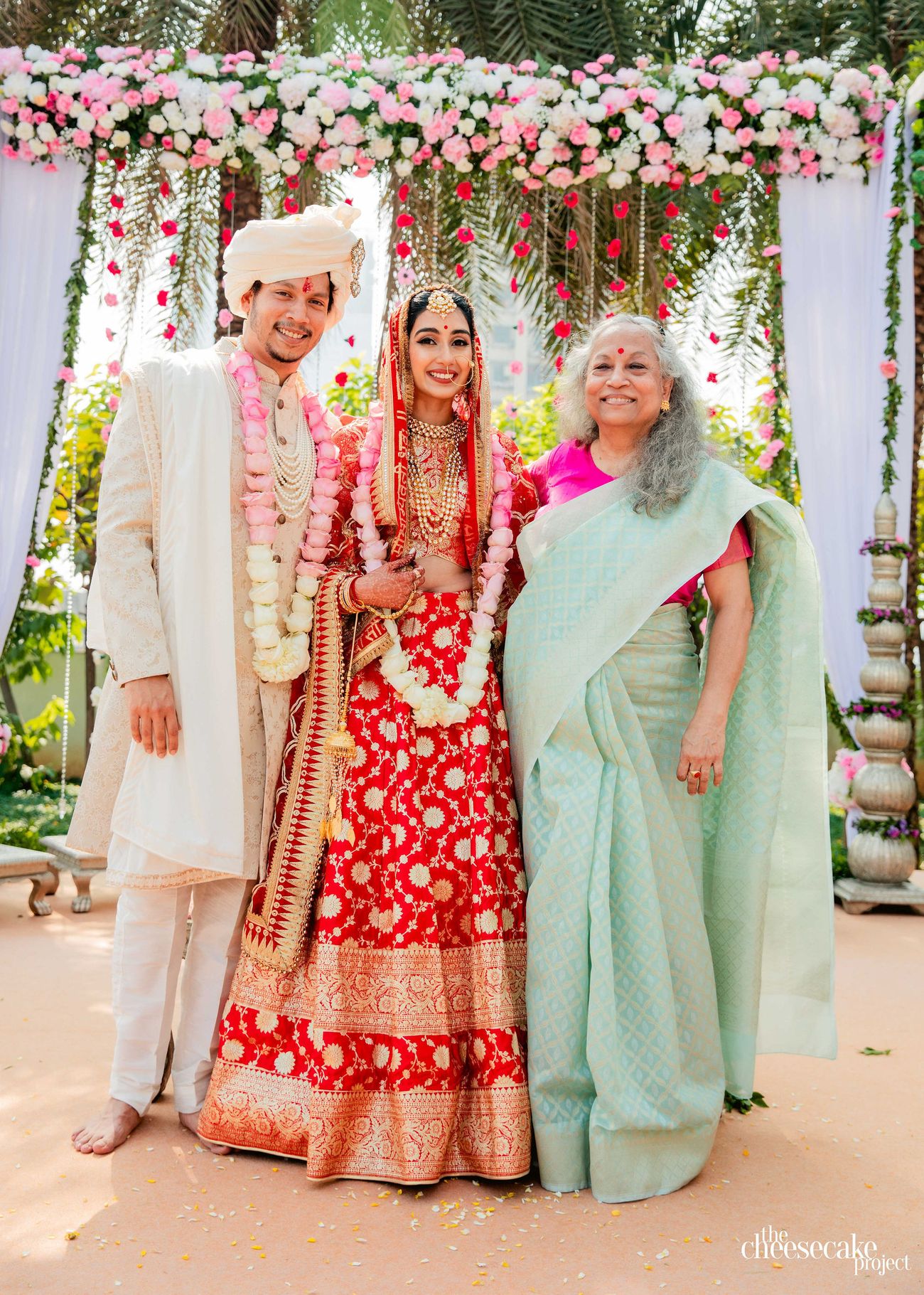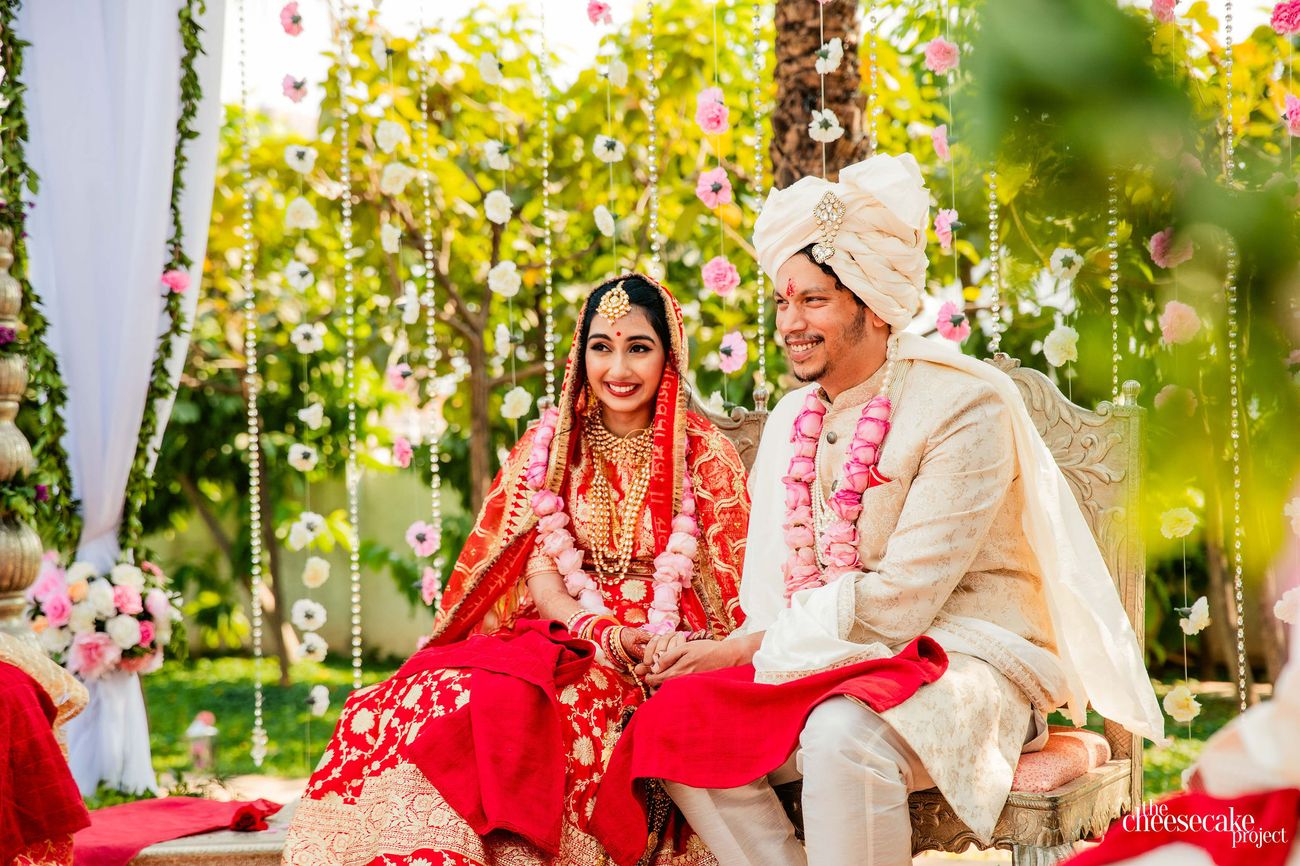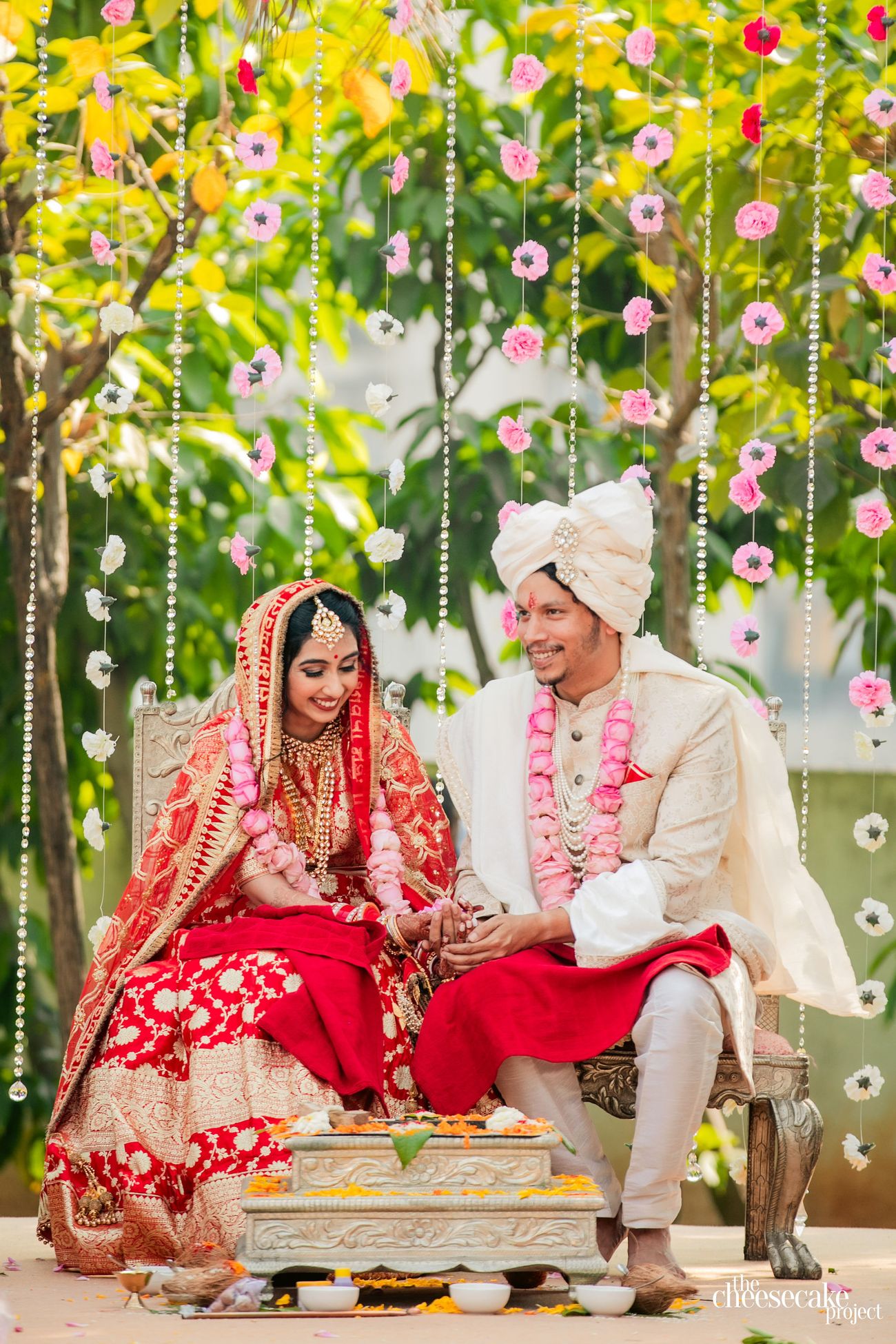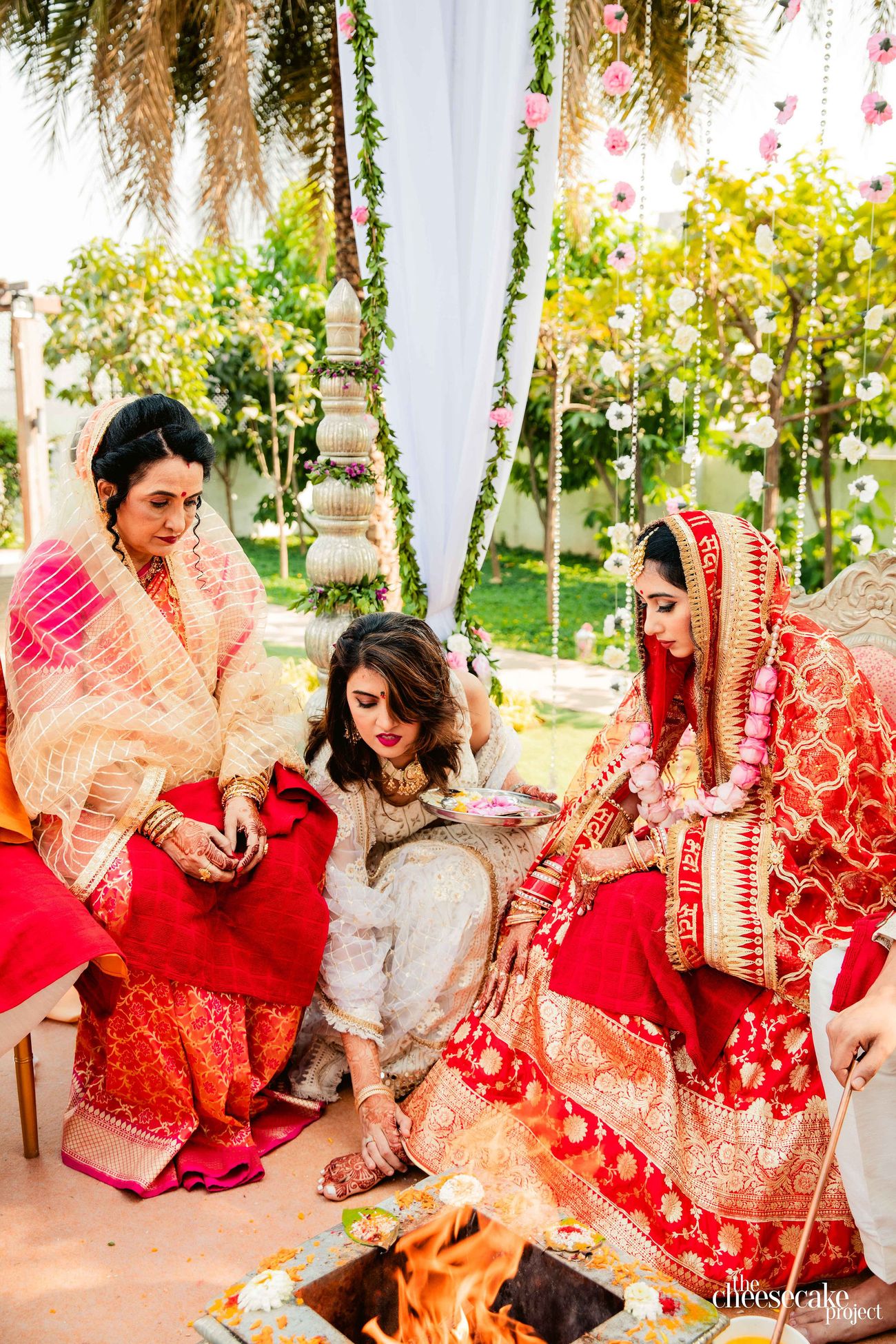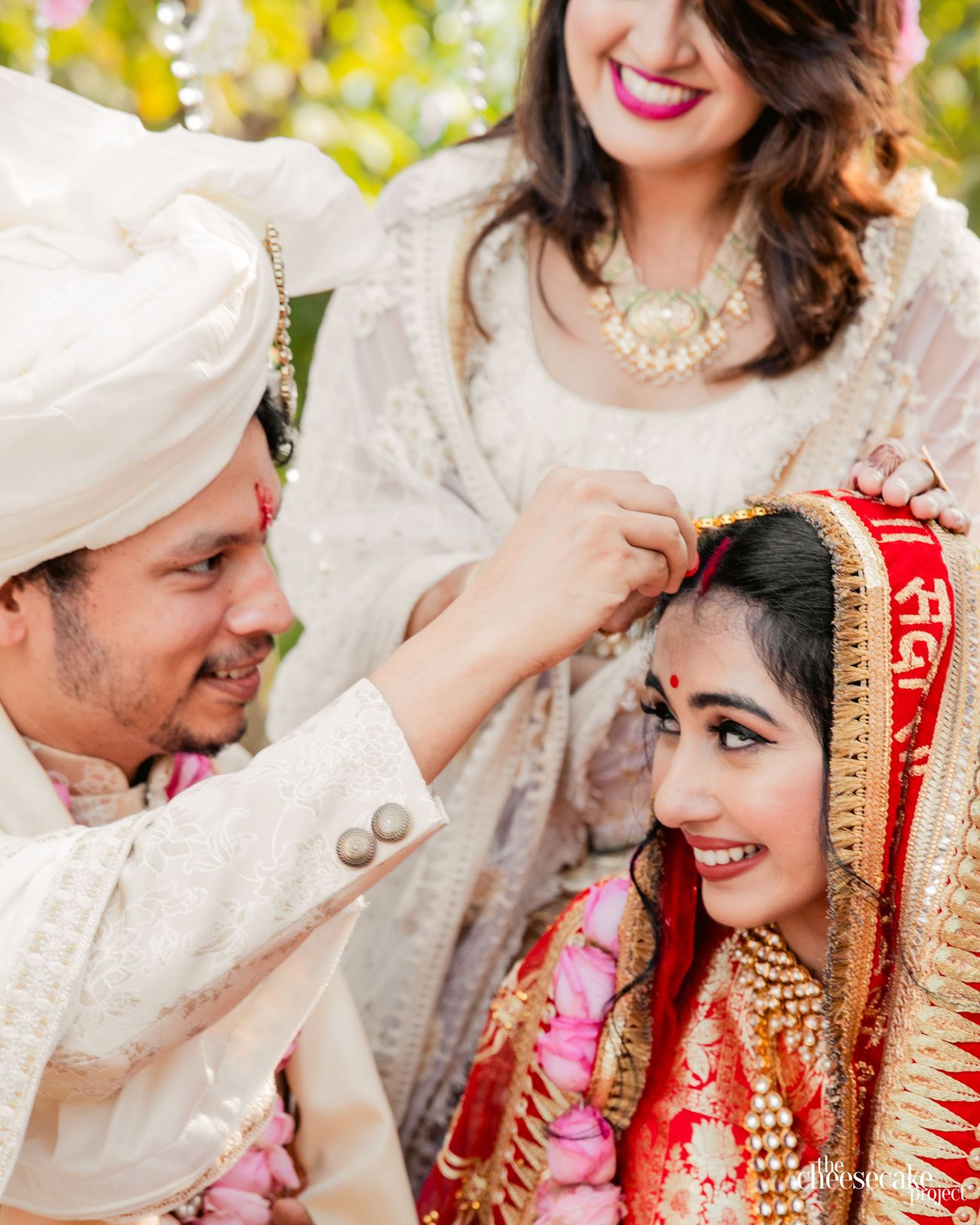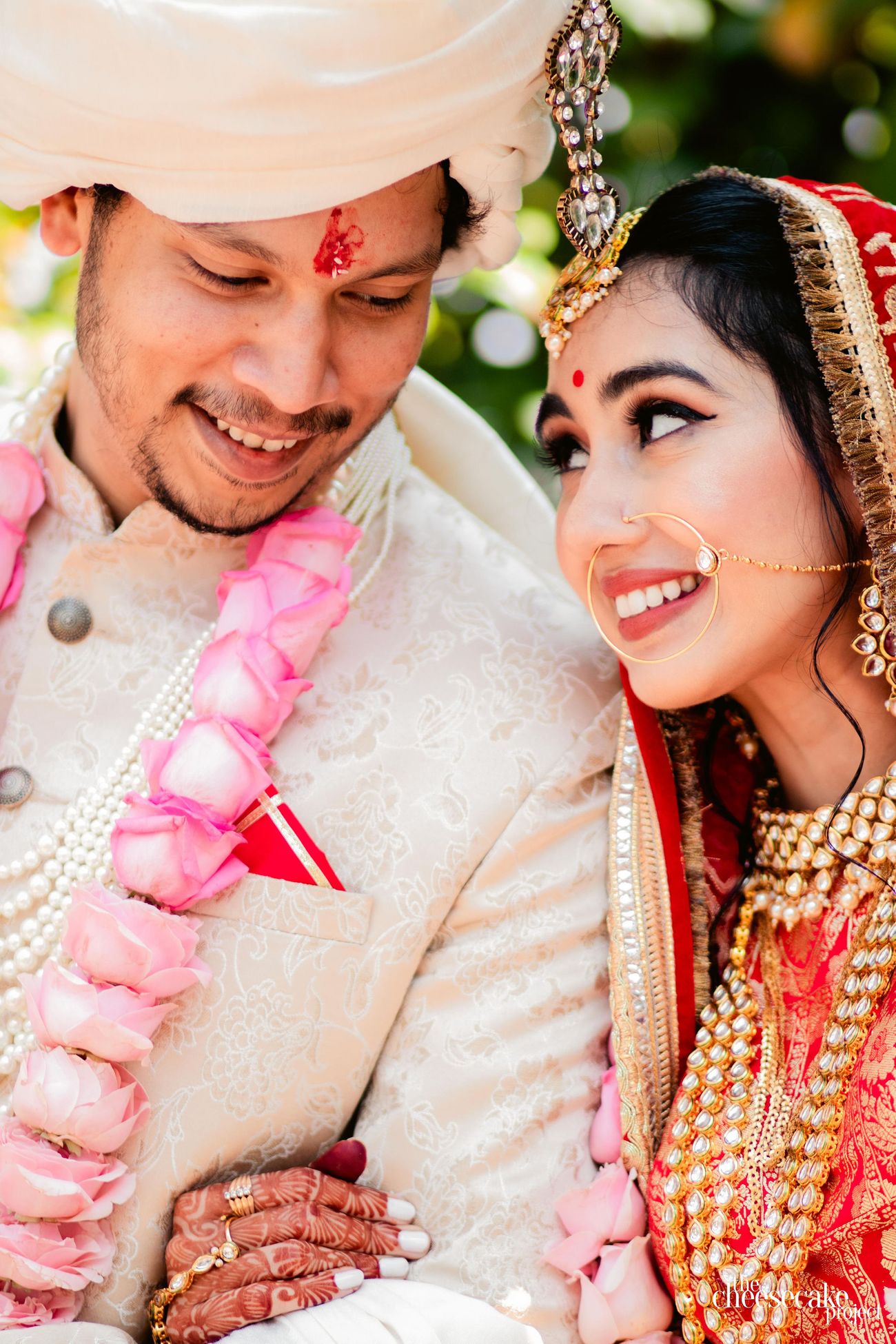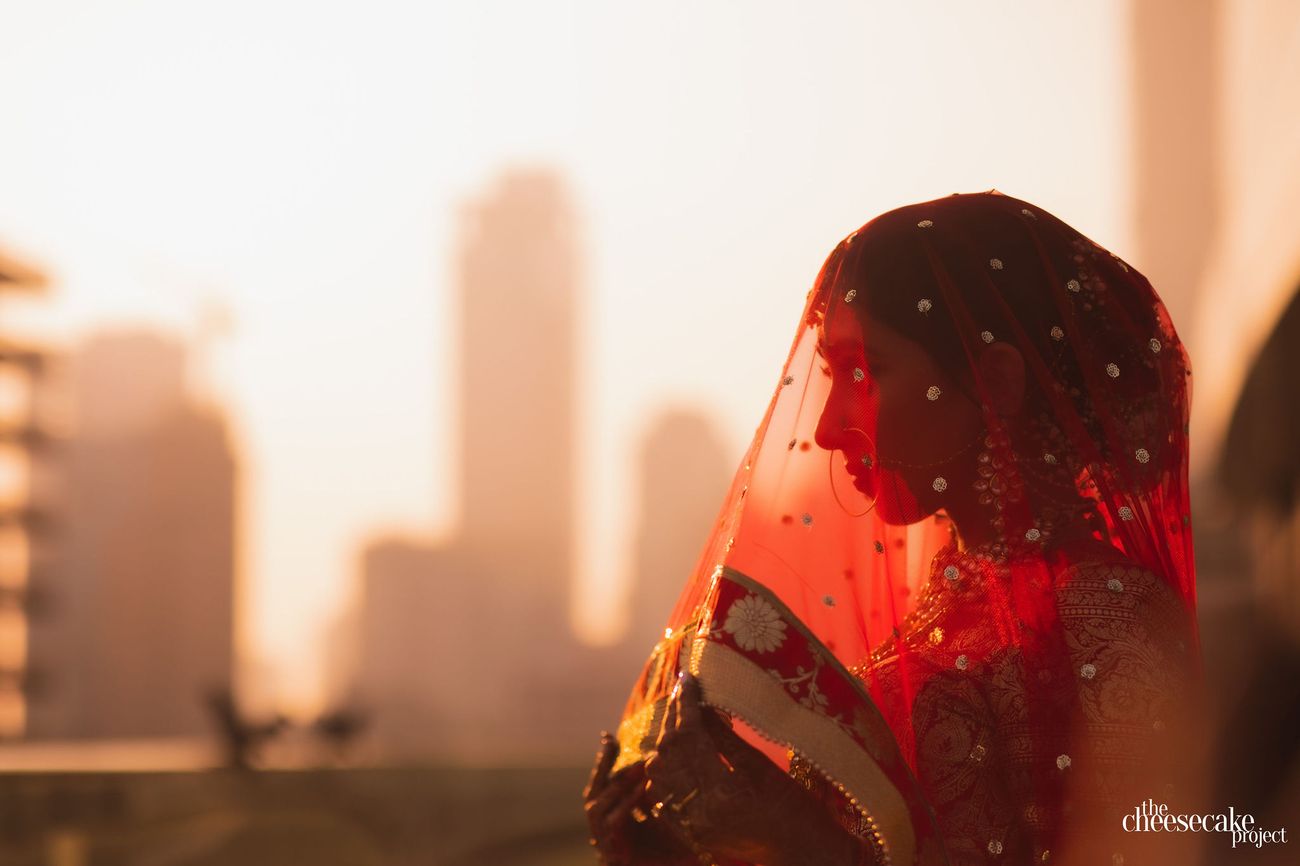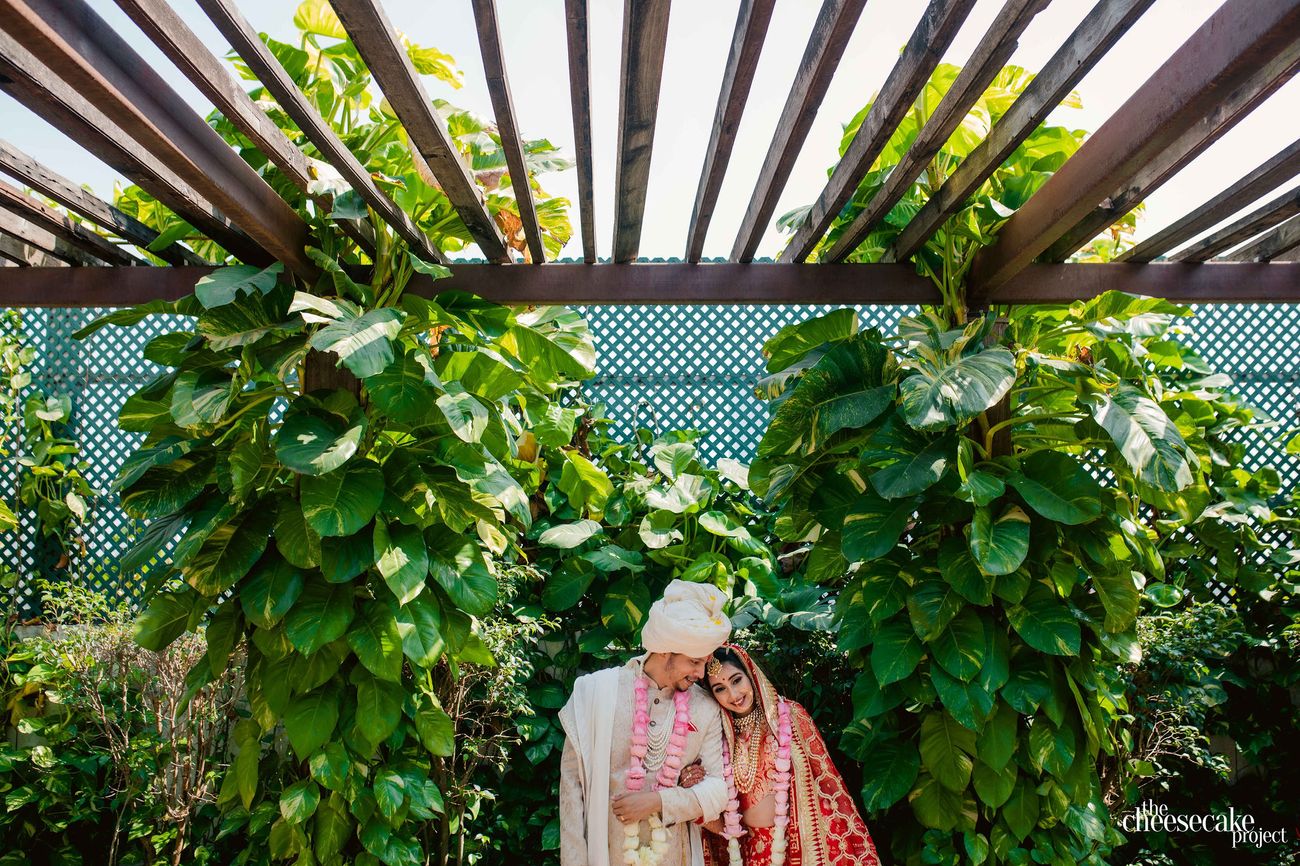 From The Bride
Joi proposed to me when he travelled back from Australia in 2019 over a romantic candlelight dinner over looking the Mumbai skyline. We always knew we wanted to marry each other but this was a very emotional surprise. We had decided I would move to Australia with him in 2020 and start our new life there together and have an intimate backyard 'destination wedding'. As a couple we have a very chill vibe and love keeping things light and natural, and we wanted our wedding to reflect that. However 2020 had other plans for us and the world. We were distraught for months as the situation didn't seem to improve and we could not see each other for almost a year. We eventually decided we could not let covid scares and travel restrictions take away our life plans. Like a true knight in shining armour, Joi travelled to India amidst forever changing govt regulations, rescheduled flights in PPE and quarantine. Our families were determined to give us the intimate 'backyard' fairytale wedding of our dreams and it was everything and more! My sister scouted the venue - a rooftop garden overlooking the Mumbai skyline for nostalgia, decorated in natural blush and rose - our favourite colors, natural flowers everywhere synonymous with the flowers he would always bring me, our couple hashtag #urjoi on a flower wall too, and our closest family and friends gathered together to witness the happiest day of our lives. All in the middle of a pandemic, truly turning a bad situation into our dream life.
Vendor Reviews
Venue: Canto, Lower Parel, Mumbai
Since our original plan was to have a small intimate backyard wedding in Australia, my sister Vijayshree made sure we got a similar experience and left no stone unturned. We picked Canto in Lower Parel, a rooftop garden and restaurant overlooking the city. The manager and staff were extremely helpful and seemed very enthusiastic about making our dreams a reality. They maintained all necessary precautions such as social distancing and masks, while still allowing people to enjoy themselves. The food menu is extensive as well and there was something for everyone to love. No one could stop talking about how perfect the day was.
Bridal Makeup: Nida Thakur
For my make up I knew exactly the look that I wanted. It had to be classic glam but not overdone. It was really important for me to be comfortable in my skin and for it to last through the sunny day outdoors. My classmate from Dental school Nida Thakur also specialises as a make up artist. After a few sessions talking to her I knew she was the one. On that day I was quite nervous but she just asked me to close my eyes, breathe and take a little nap and by the time I looked in the mirror my make up was flawless just as I had briefed her about , my hair was done up in the most beautiful floral bun, and even though she stayed all day for touch ups (and moral support) I looked fresh through the day with just a few dabs of powder.
Wedding Planner: Vijayshree Patil (Bride's Sister)
My sister Vijayshree Patil swooped in to my rescue as my wedding planner. She has always been creative and a natural star at managing events. She is my big sister and best friend so she has seen both Joi and me since we were kids and knows exactly what we love. The entire wedding was planned in only 3 weeks. And it was flawless. She got everything right from the venue to decor to food to handling all the little disagreements that naturally happen during weddings to organizing family meet ups and little surprises throughout the day including a video montage from the people who could not be there. It was a smooth flow of events from start to finish without us stressing about a single thing. All this while still maintaining all her sisterly and bridesmaid duties throughout the wedding. I would not have wanted it any other way and I will forever be indebted to her. We are joking about starting a wedding planning agency now :)
Wedding Photographer: TheCheescakeProject
A major bump happened the day before the wedding when we were already really stressed - the lead photographer we had booked was diagnosed with Covid and could not make it. You can imagine how distraught we were. We had to change things up at the last minute while also trying to stay calm and have faith in the profiles we were going through and hoping they would be free the next day. That was when we came across Stuti from TheCheesecakeProject. Her Instagram handle screamed cute and colorful with a chill vibe - exactly what described our style. We spoke to her and our wavelengths matched more than anyone else I had met. My entire family felt like she was the sweetest person ever and helped out so much with non photographer duties as well. We looked for a photographer but definitely earned a friend for life. She made us so comfortable through the day and captured every single moment emotional and funny. She and her team did some wonderful editorial shots and cute shots we had seen on Pinterest to the T too and we could not believe they could make us look that good :) As for videography and cinematography we decided to go with Pooja, Aditya and their team from 42fps who were around since the very beginning to take candid and traditional shots of us and our families. We had a great time working with them and they made us feel extremely relaxed, made the shoots easy breezy and cheered us on as we did all of our silly awkward movements :)
Wedding Decorator: Fireflies Decor
We decided to go with Aditi at Fireflies decor and I cannot thank her enough for giving us the wedding that we have always dreamed of. She went through every detail with our wedding planner and made sure we were all in sync. From natural fresh flowers and our favourite blush colors in an ombre color scheme, a video montage and the most beautiful floral mandap I have ever seen. Color coordinated to the T including our varmalas and flower wall. Aditi is a class act and such a fun and delightful person to work with. Another great friend earned along the way! I cannot recommend her enough.
Bridal Outfits
Since Joi and I are both 'cocktails' a.k.a my dad is marathi and my mom is punjabi, while his dad is marathi and mom is bengali, I wanted my bridal outfit to reflect that. I decided to design my own lehenga with the base of a traditional Bengali Banarsi wedding saree from KalaNiketan. I used the pallu to create a high neck gold blouse with heritage kundan jewellery and left the skirt red and full. My dupatta was inspired by Deepika Padukone's wedding dupatta and the laces were individually bought and hand sewn together. My chuda was the cherry on top, it was a traditional Punjabi chuda interspersed with Marathi tode bangles and Bengali shakha pola and kaleere. The end product turned out to be a masterpiece that I am so proud of because it had a little bit of everything and everyone I loved.
Vendors: Venue: Canto, Lower Parel, Mumbai; Bridal Makeup: Nida Thakur; Wedding Planner: Vijayshree Patil (Bride's Sister); Wedding Photographer: The Cheesecake Project★ 4.9 ; Wedding Decorator: FireFlies Decor★ 5 ; Bridal Outfit: Self-designed