Seaside Mumbai Wedding With A Bunch Of Cool Ideas!
BY Latha Sunadh | 30 May, 2017 | 9808 views | 5 min read
If you're a Mumbaiite, there are two things that stand out for you - the beach and the laidback attitude of Mumbaikars. That's exactly what this wedding gave us - Nami and Eham's wedding is all giggles, oodles of cool decor ideas and lots of candids. Plus we loved the striking blue of the brides lehenga with hints of pink - so gorgeous. (. Novotel Juhu★ 4.3  acted as the perfect backdrop to this gorgeousness and WhatKnot Photography★ 4.7  Photography really took it up a notch.
Meet Eham & Nami
 "Eham & I met at college almost 13 years ago. While we became friends first, we didn't hit it off instantly as anything else. I once even tried to set him up with a friend! Thank God that didn't work out!! Soon after we started dating, taking it one day at a time. Before we knew it time had moved past us in a blur and we couldn't look beyond spending the rest of our lives together," says Nami.
 The Wedding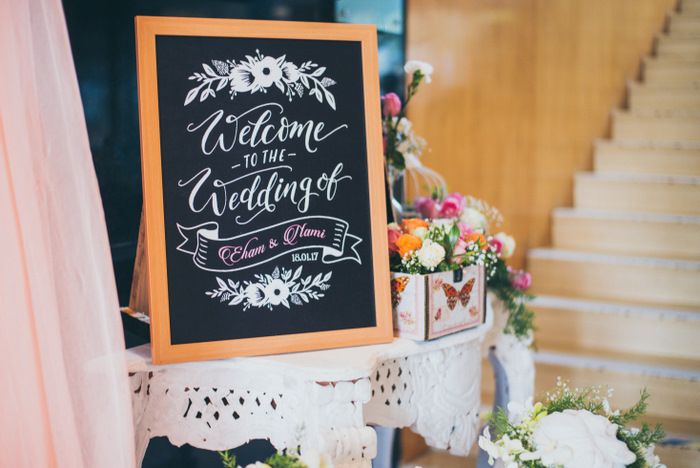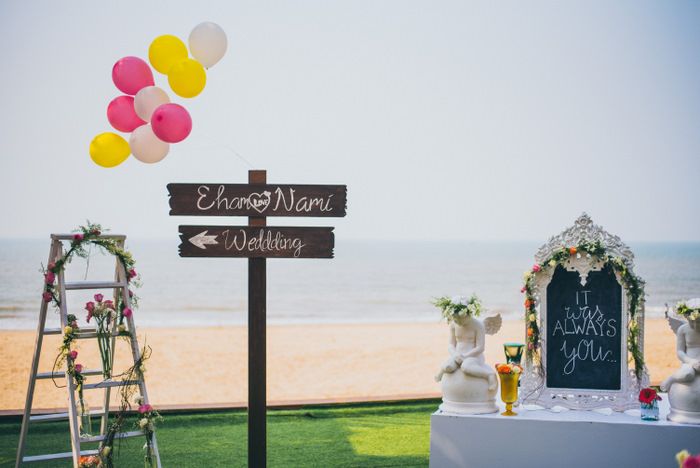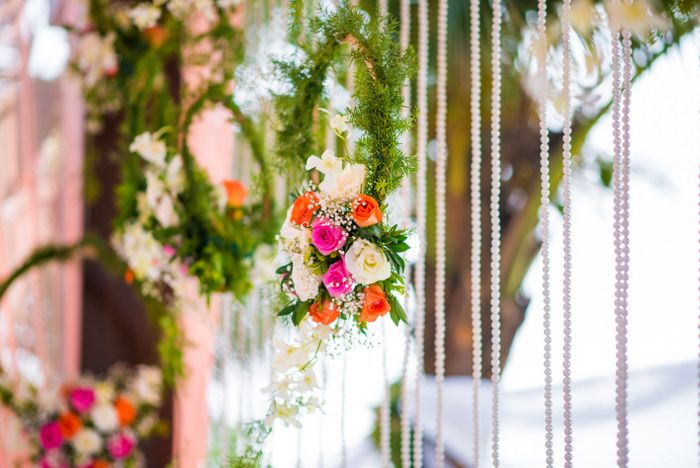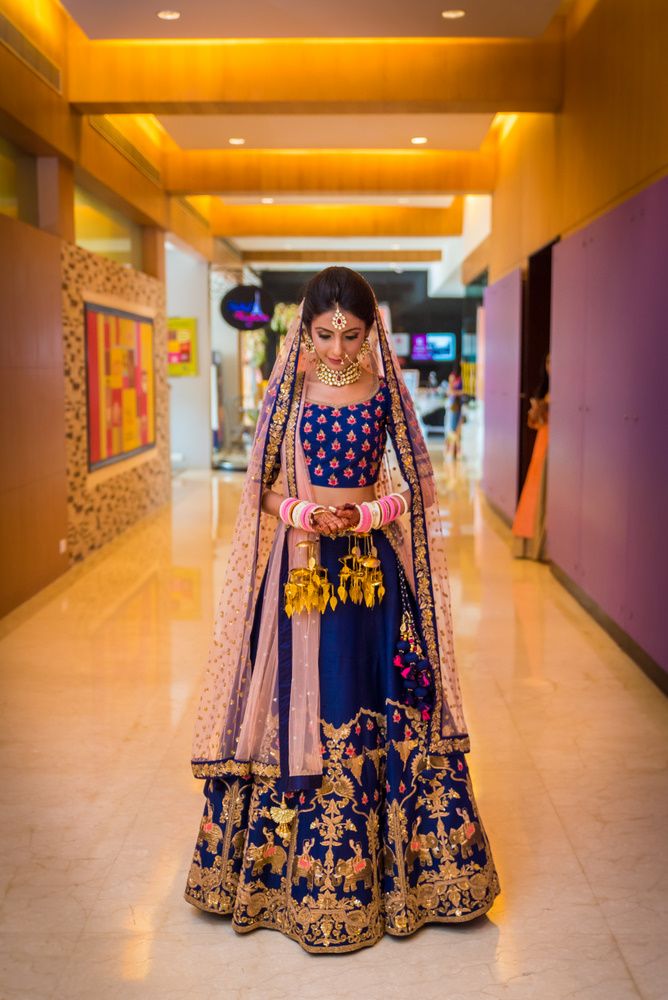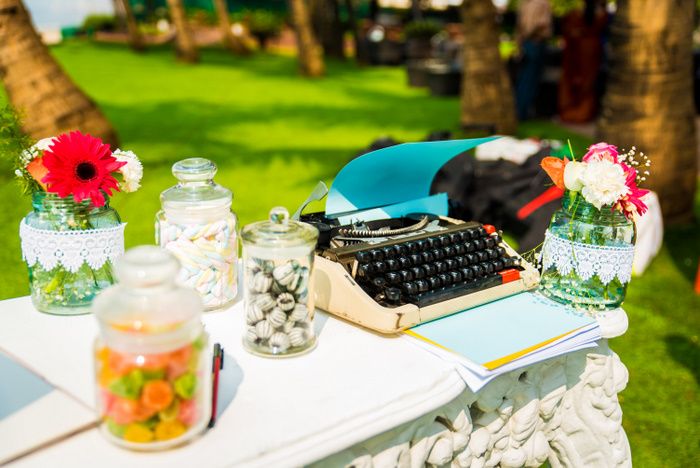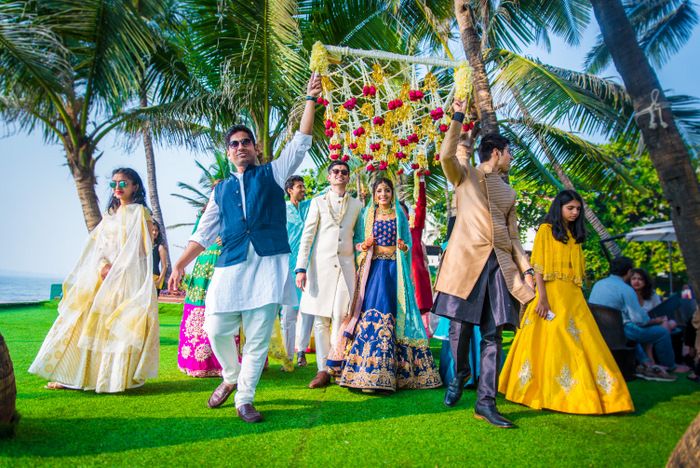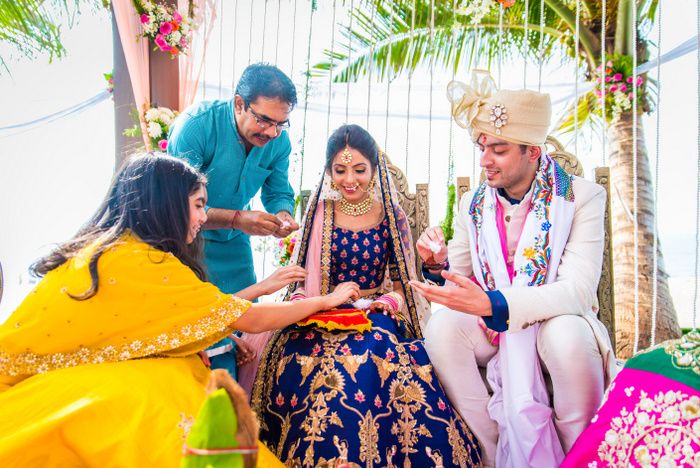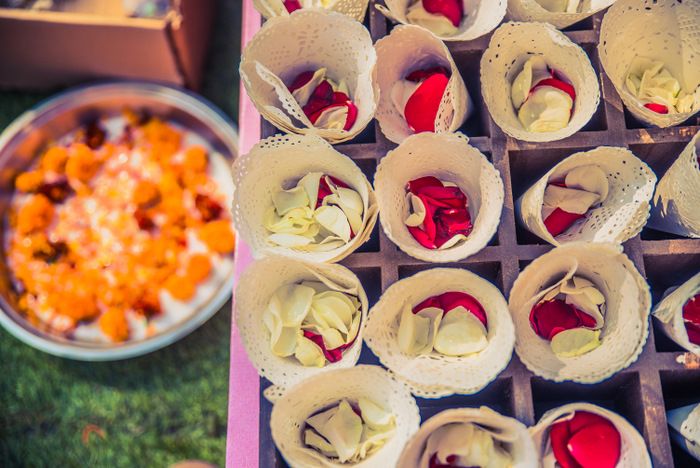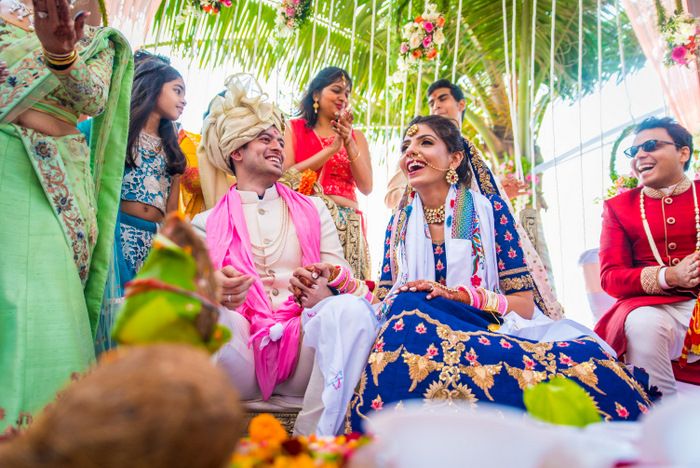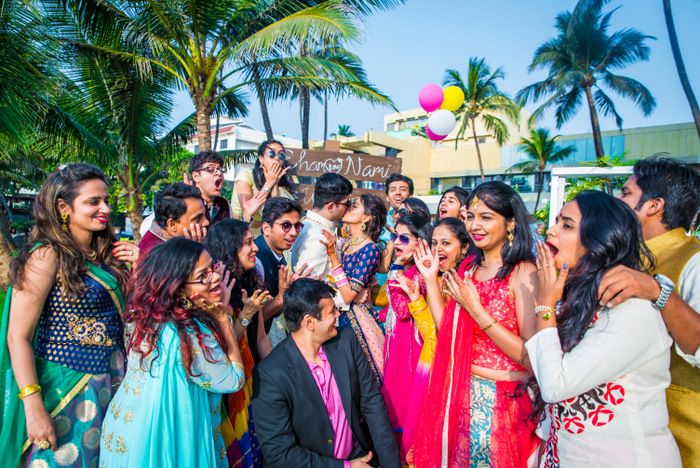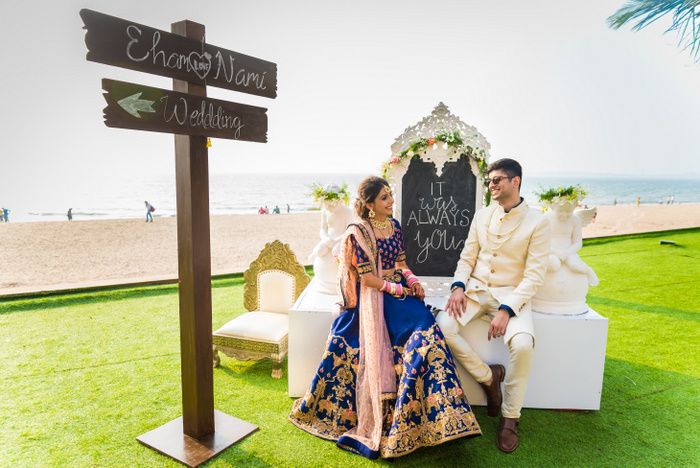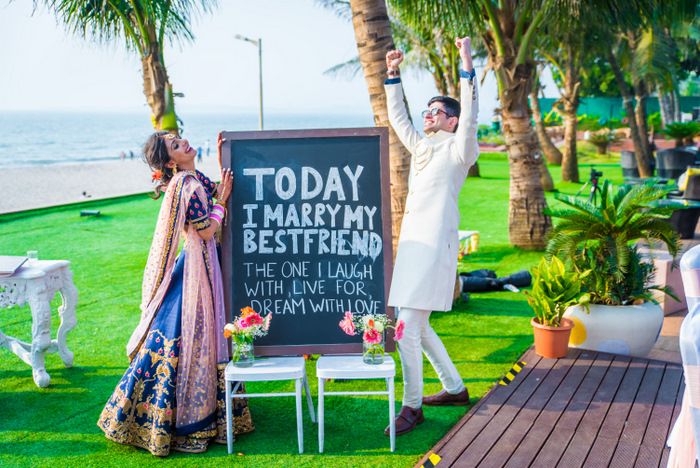 The Reception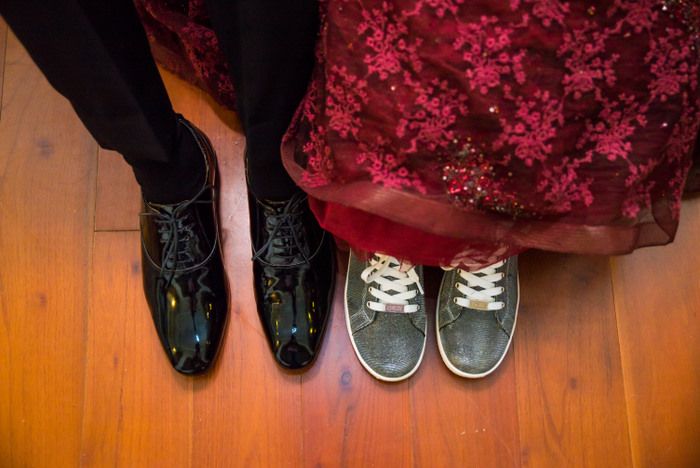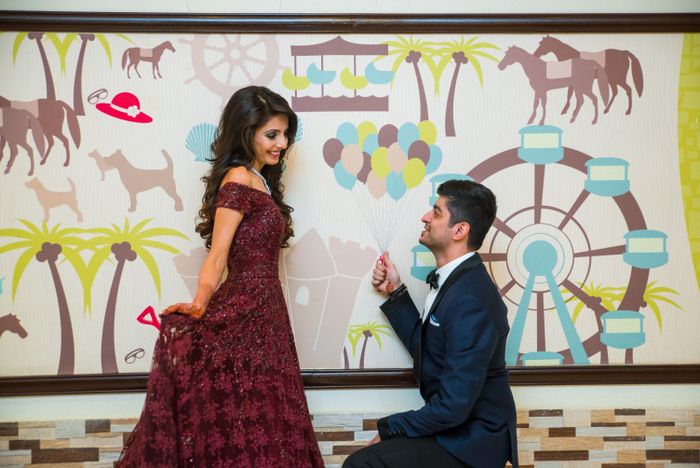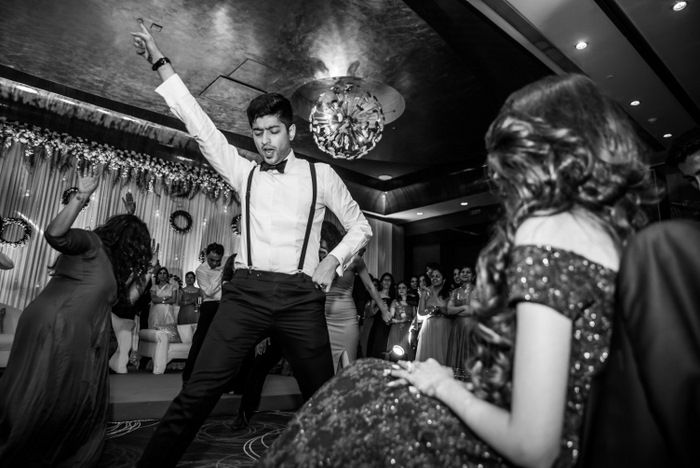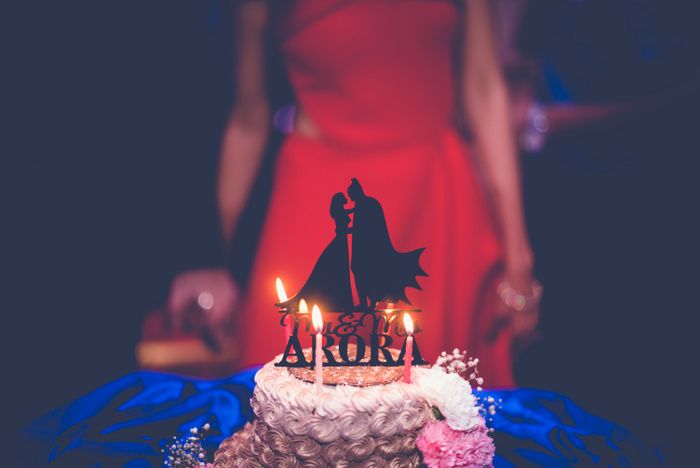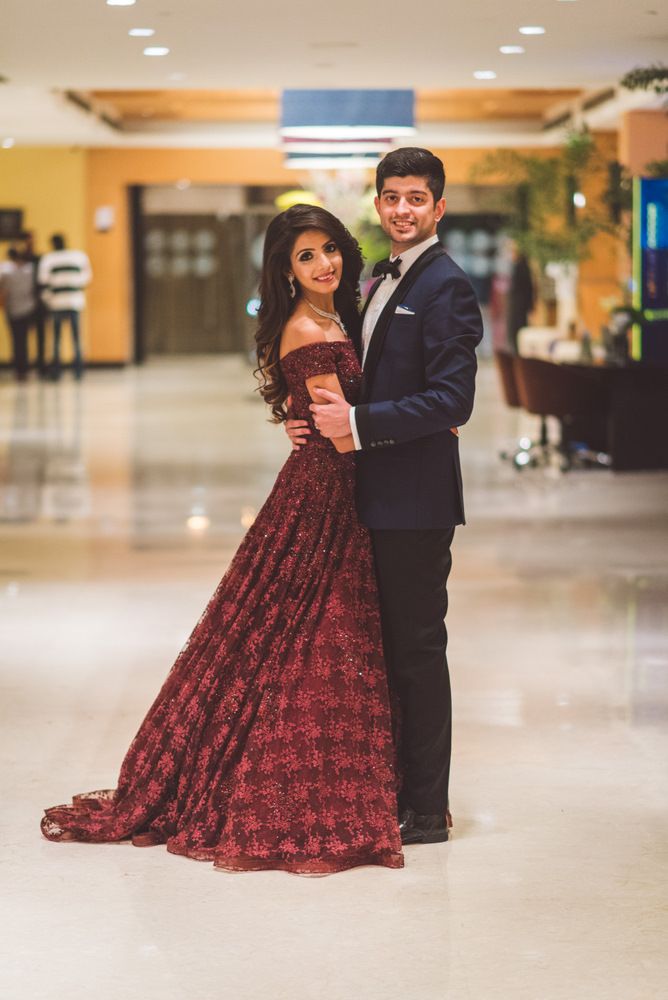 From The Bride:
 "We had a cozy and beautiful January wedding in Mumbai this year. It was three entire days filled to the brim with moments I can't ever forget. We took our time planning the wedding, but we were clear in our vision that the wedding was about more than us, it was coming together of our families. Their involvement and enjoyment was paramount.
I feel like I was the quintessential Instagram bride, because I'd amassed reference images for all the minute details and had luckily found great vendors who humoured our eccentricities and gave life to our ideas.
 We kicked off the festivities with a colourful Mehendi at Kino Cottage. The venue is stunning with its rustic, earthy indoor vibe along with a plush green lawn and even a splash pool overlooking the beach. The decor involved yellow and orange gendas, parrots, gota, bangles and parandis. We had a cute floral photo booth of gendas with the beach as a backdrop. This was followed by the pre wedding pooja for both our families that evening," says Nami.
 "I had always dreamed of having a wedding outdoors with the sun shining. Gada La Vida at Novotel checked all the boxes on my list and suited us perfectly with its lush green grass, palm trees and another great view of the beach. You must've guessed by now that I love beaches! The setting transported us some place far away from the hustle and bustle of Bombay! With the decor in hues of peach and white, a mandap in rustic wood with bird cages, pearl strings & floral wreaths. Walking out to the mandap right before the ceremony felt magical. Everything had come together just as I had hoped. The vintage feel was amped up with a typewriter for the guests to leave us notes, a candy station, chalkboard, signage, an old bicycle, a stunning floral chaadar! The setting was a visual treat. For the pheras, I always knew I didn't want to be a bride in red; and when I came across the blue lehenga, I was hooked! The detailing is subtle, intricate & beautiful.
We celebrated the same evening at Aqaba with a Sufi night. It was an intimate affair with close family & friends, giving everyone a chance to let them hair down & dance to some great music by Buddha & Pragya from Happydemic events. We raised a toast to our families coming together & enjoyed a sumptuous cake by Sabina of Not Just Desserts with a custom Batman & The Bride cake topper as a surprise for Eham. We went for a dutch truffle with roses in ombre ganache for the icing which was finger licking good.
 At the pheras we got outside vendors for flavoured popcorn, candy floss, the most delicious Popsicles from FUGRPOP and fresh coconut water! The team at Novotel helped set it up really well making our pheras a gastronomical treat for all!
 We held the reception the following night at Novotel. We decided to forego the traditional "stage" and chose to circulate in the crowd instead. The decision was among the smartest we made as it meant we weren't restricted to posing for pictures all night long & we had enough room for a swinging dancefloor instead! The highlight of the reception was the flashmob, which caught everyone off guard. We closed off the night with Rituraj, our percussionist & DJ Ab. Overall, we had a total blast!!" adds Nami.
Vendors: Venue: Mehendi at Kino Cottage★ 4.9 ; Sangeet at Aqaba; Pheras & Reception at Novotel, Juhu Decor: Pheras by Var Vadhu★ 4.8 , Event 77; Mehendi by Jinal Decorators; Sangeet by Namrata Mehendi: Sankalp Mehendi Bride's Outfits: Bridal outfit from Shrangar Chandni Chowk★ 4.3 , Mehendi outfit by Riddhi Majithia; Reception gown by Dolly J Bridal Collection★ 4.7 ; Sangeet outfit by Ritika Poddar Groom's Outfits: Customised from Hibana, Mumbai Jewellery: Wedding & Sangeet jewellery by Kriss jewellery; Floral jewellery from Matunga flower market Cake: Not just Desserts by Sabina Makeup: All Events by Ojas Rajani Bridal Makeup Artist★ 4.9 ; Sangeet by Prerna Sainani Patil Photography & Videography: WhatKnot Photography★ 4.7
If you have such cool ideas isn't it better to execute them with the help of a wedding planner. Checkout the WMG app to find the best wedding planners in Mumbai. You can also check out wedding venues and photographers in Mumbai with just a click.