Some Pink Muhurtham Kanjeevarams We Swear By
BY Meenu | 15 Jul, 2020 | 40869 views | 3 min read
Shades of red and maroon have always been the choice for brides down south for their weddings if they are wearing a Kanjeevaram saree, and 2020 weddings have also seen a lot of it. Now that we have intimate weddings happening this season the trend shift we are spotting is brides opting for Kanjeevarams in offbeat colors, trying something different to bring in cheer. If you are one of those brides who feels that cannot carry off a completely different color  how about a gorgeous pink Kanjeevaram saree for your Muhurtham?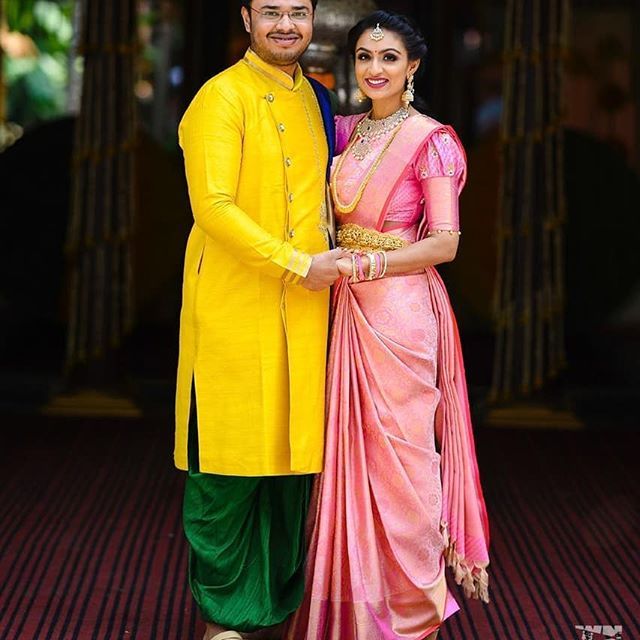 Image Via: Afsharangila_ MakeupArtist
It does not stray away much from traditional colors. Also pink is such a versatile color that the options you can come up with are endless and yet each would be unique to you. Let us get some inspo from real brides who rocked the pink Kanjeeavarm saree for their Muhurtham.
The pink pattu that comes to one's mind is mostly this color. Single color with heavy gold zari and works wonders with heavy bridal antique jewelry.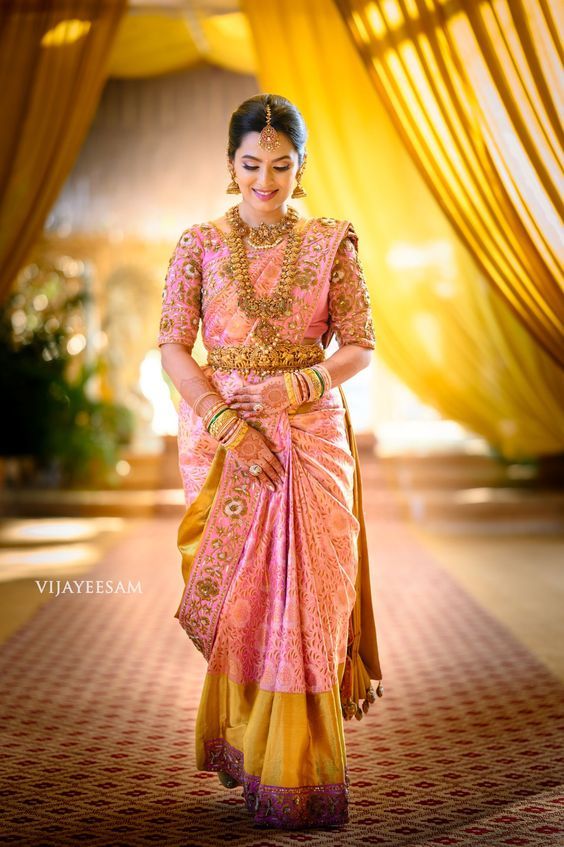 Image Via:; Vijayeesam
If you think how you work your pink Kanjeevaram with cascading diamond jewelry, then this bride with a blush pink Muhrtham pattu is all goals.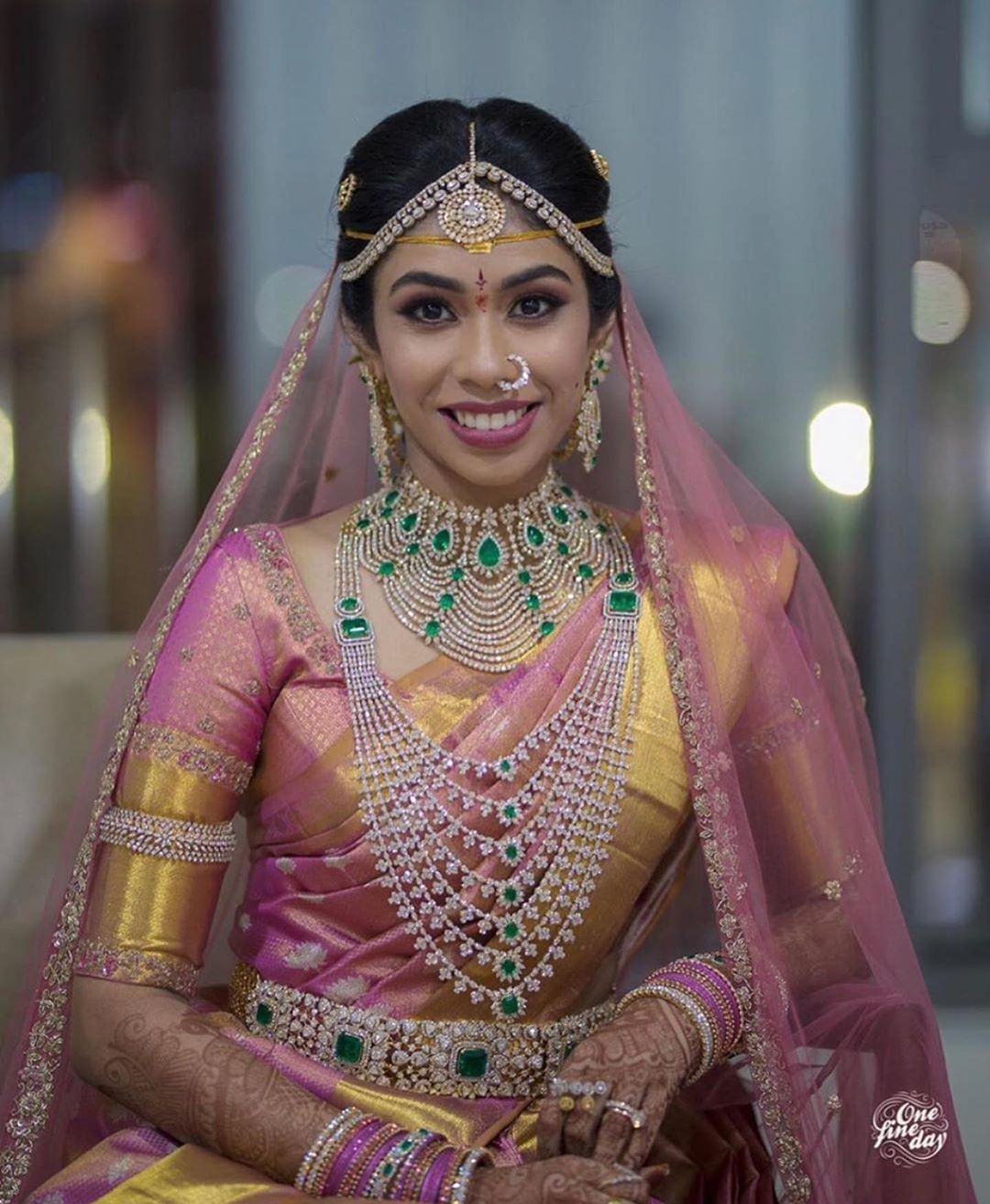 Image Via: One Fine Day
Can you see why we say pink is such a versatile color?
Next let us see if we can have a contrast border for the pink base saree.  Be it a darker, brighter pink or a subtle more light pink the contrast site perfectly with the pink saree. Also it is not mandate for all Muhurtham sarees to have the gold zari border. Instead the zari can also have contrast tones.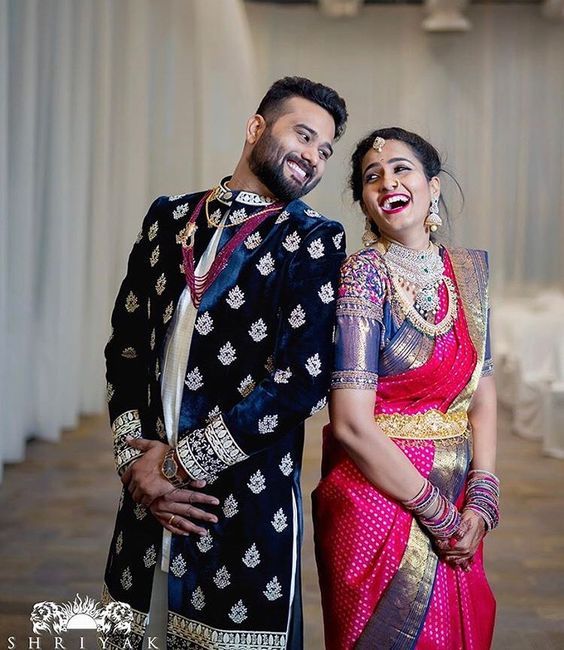 Image via: Shriyak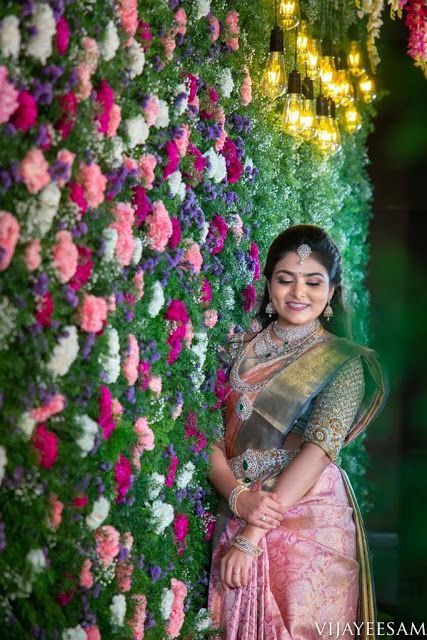 Image Via:; Vijayeesam
Not just contrast borders, wearing a contrast blouse can also add a "pop" to your overall bridal look. This bride has totally nailed it!! Don't you think so?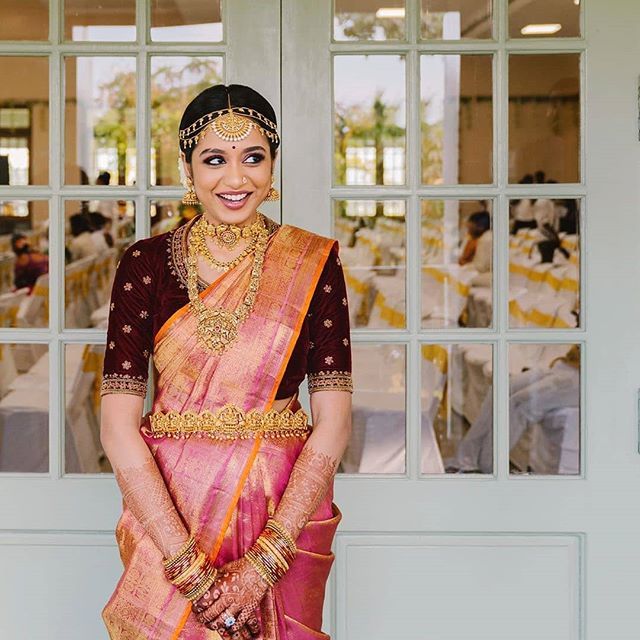 Image Via: Kabooki_MUA
You want to make your Muhurtham saree totally stand out? Try a double shade pink Kanjeevaram like this bride. The thin green line, the entire look and feel of the saree is nothing but gorgeous!!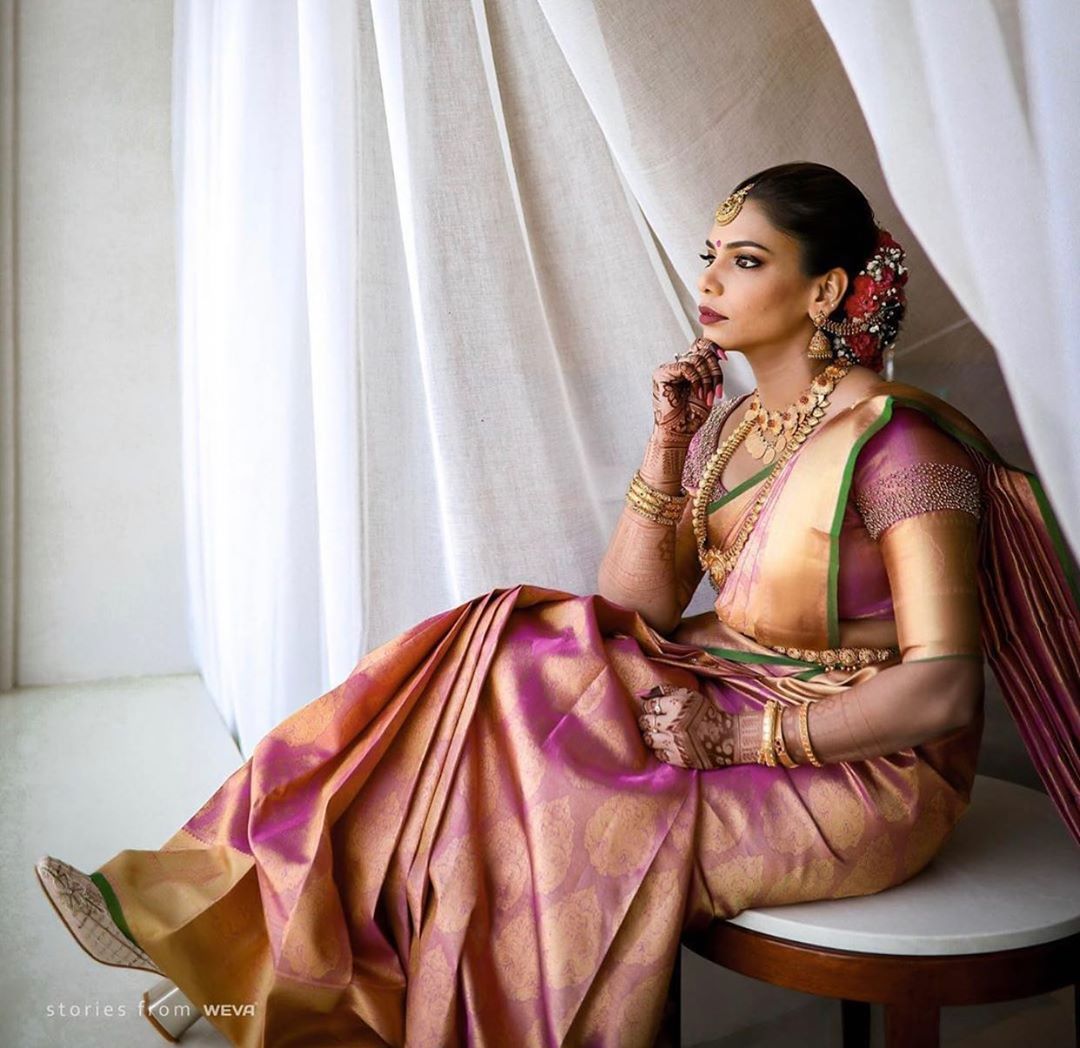 Image Via: Weva Photography
This shade of pink is like super special you guys. This color works for all kind of sarees be it a Kanjeevaram or a Banarasi. The bride has opted for a subtle blouse and paired it with some extraordinary jewelry to complete the pink Kanjeevaram Muhurtham look.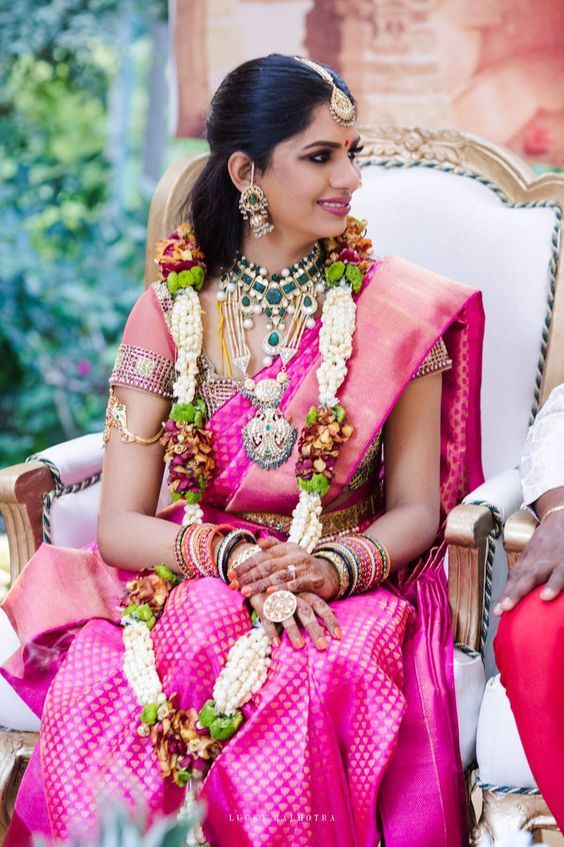 Image Via: Lucky Malhotra
A slightly lighter shade than the usual bright pink, this one nonetheless is perfect if you want a mix of offbeat yet traditional!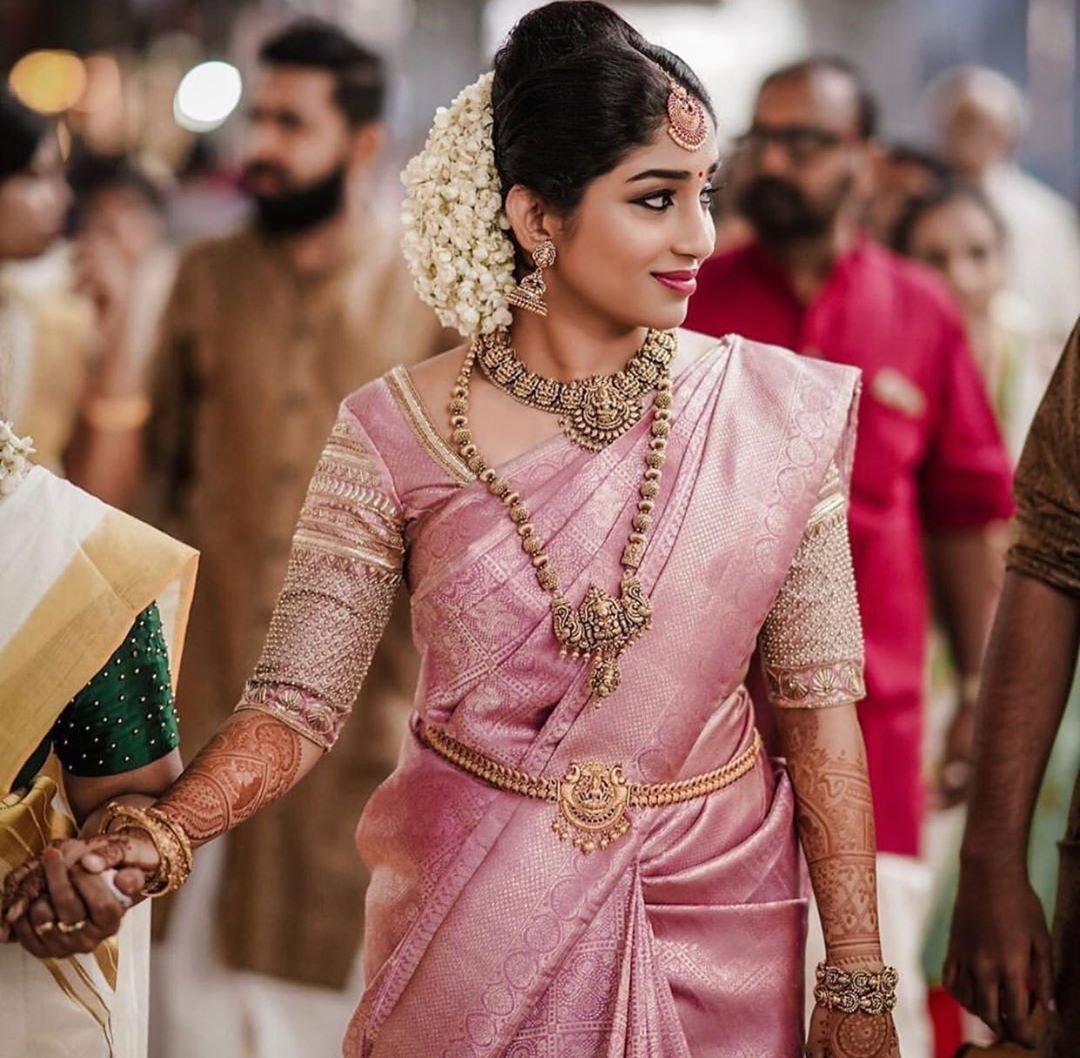 Hope you like the pink trend that our brides have slayed in!! Also check out WMG South Indian brides whose looks were spot on!!