Stunning Tamil Wedding With A Shimmery Sangeet Outfit
BY Aakanksha | 31 Mar, 2020 | 4754 views | 4 min read
When we first saw the fun wedding video of Twaritha & Varun, we were smitten. It was so full of love and a video of a couple who had loads of fun at their wedding! Twaritha and Varun celebrated their relationship in an intimate affair with the closest of their friends and family. Pixelstory.in★ 5 did a great job in capturing this wedding and we loved every picture. 
Meet Twaritha & Varun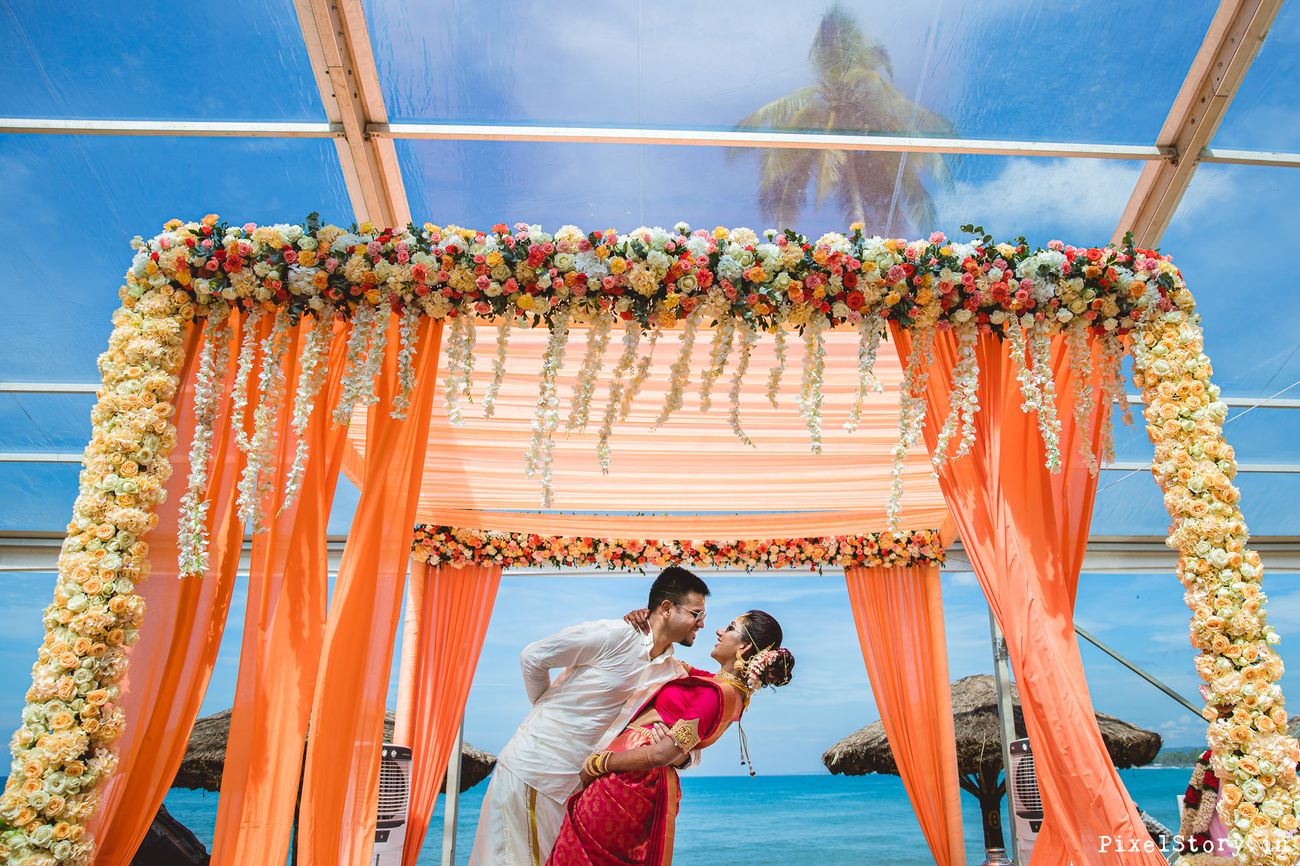 Varun and I went to Texas to pursue our Masters and we started talking to each other on Facebook in 2013 before we left from India. We were a part of a facebook group for students who go to that university and as cliche as it is he messaged me asking me if I was joining the university and that's where it all started. Ironically, he proposed to me at a beach in Hawaii and we got married at a beach in Kerala. (we did not plan this) 
The Sangeet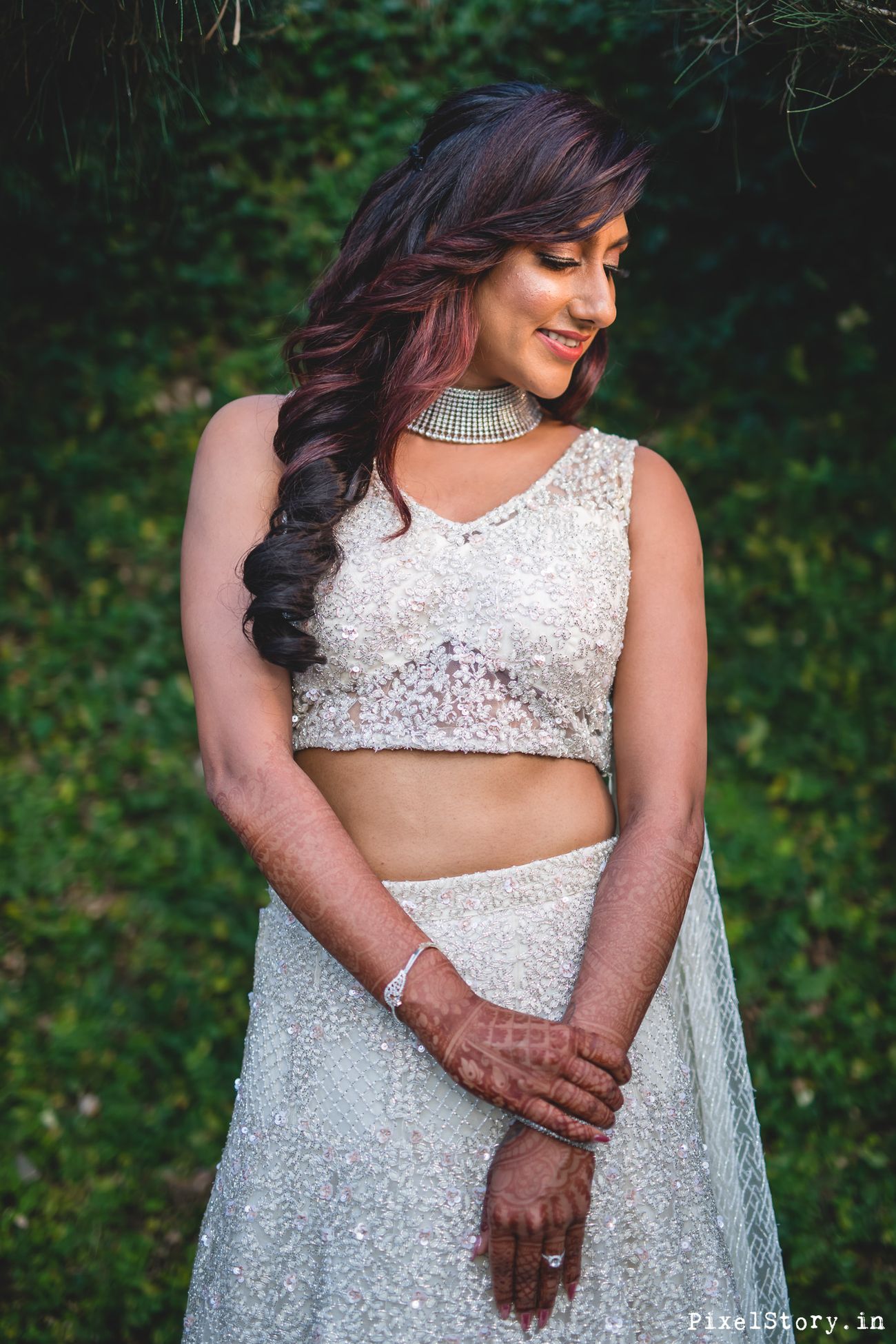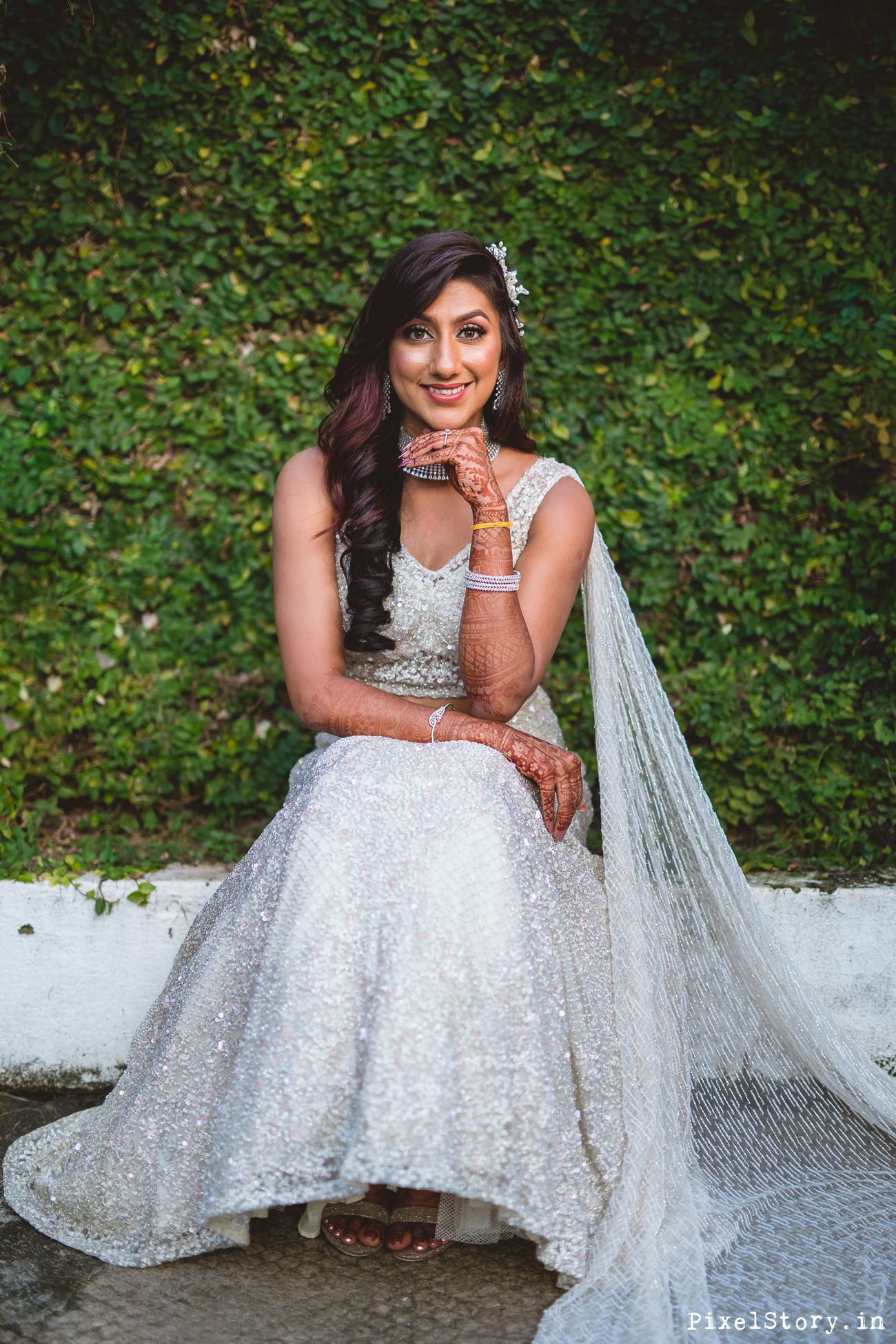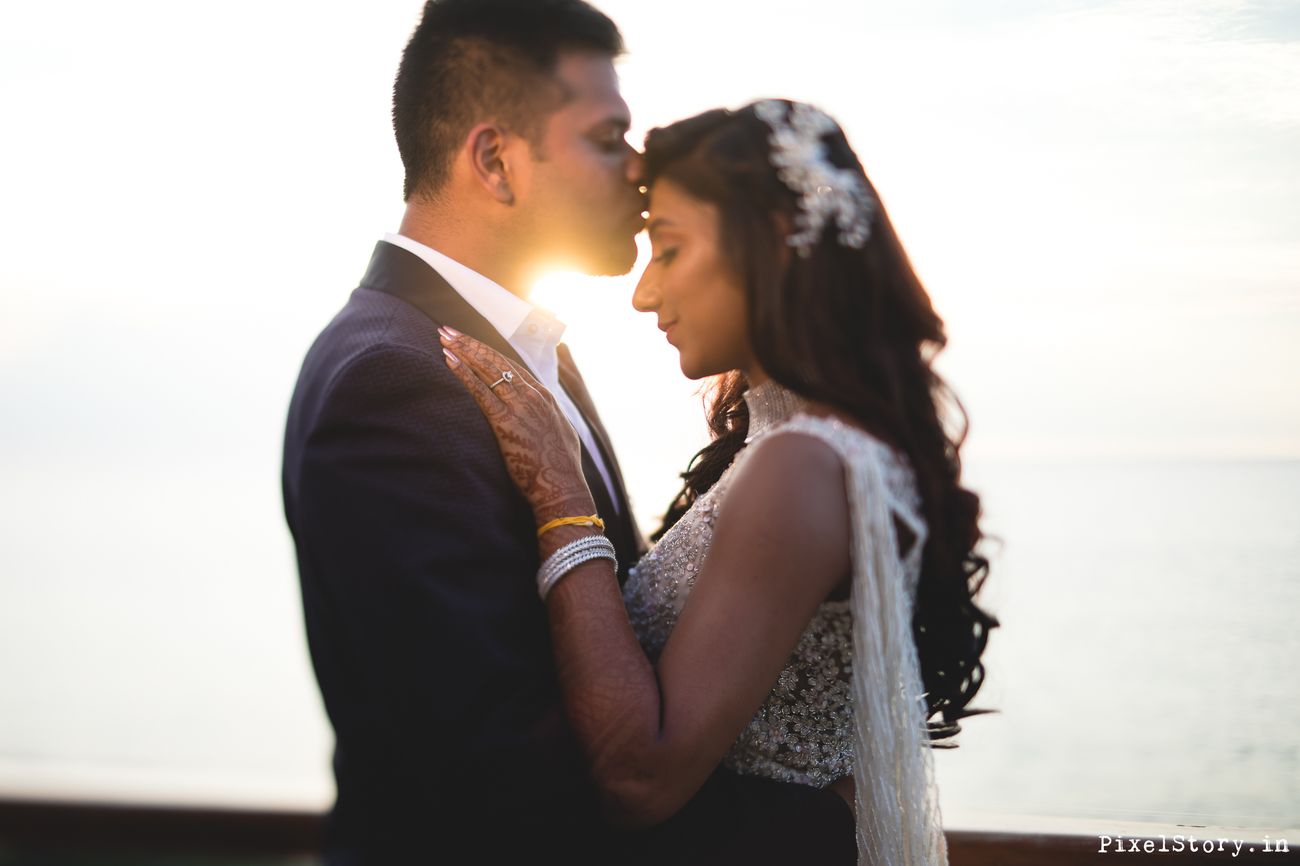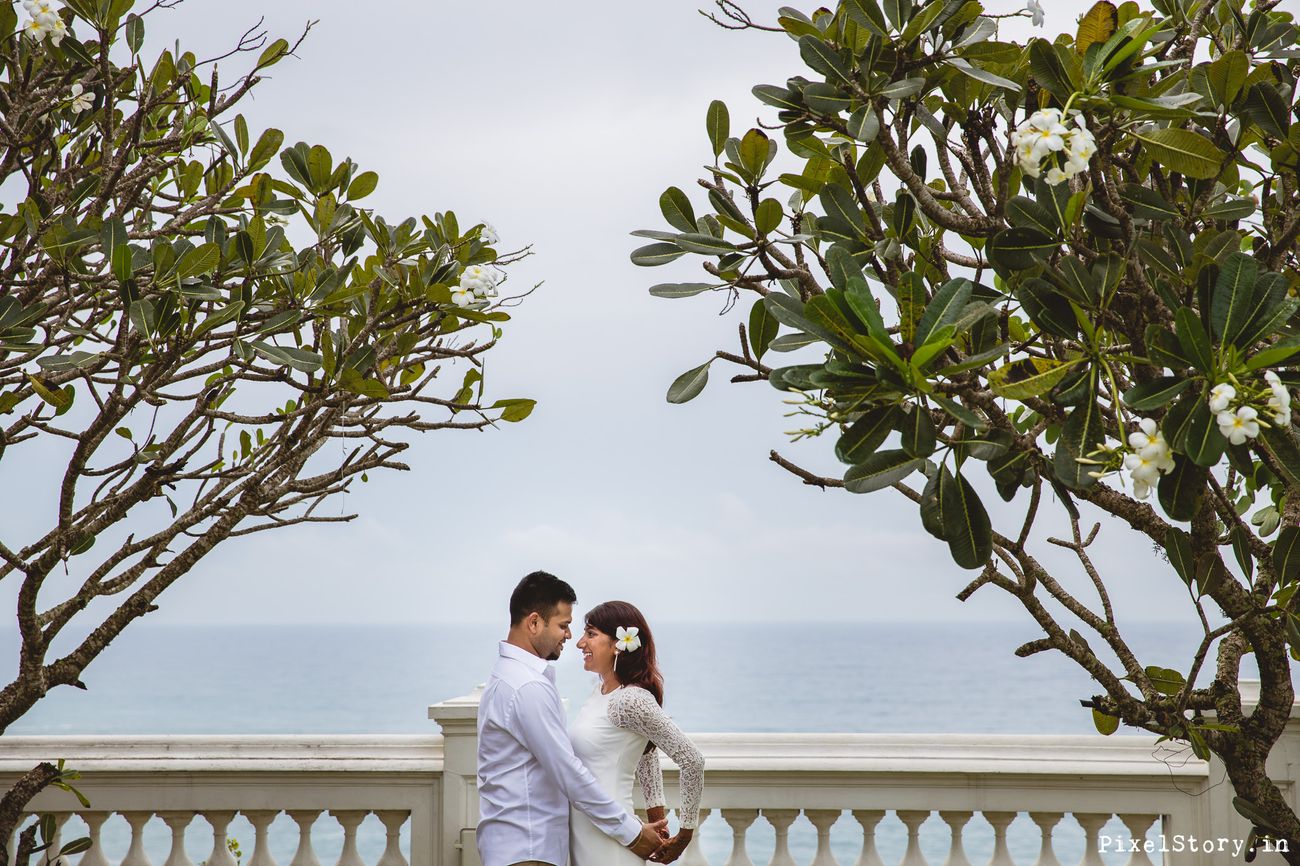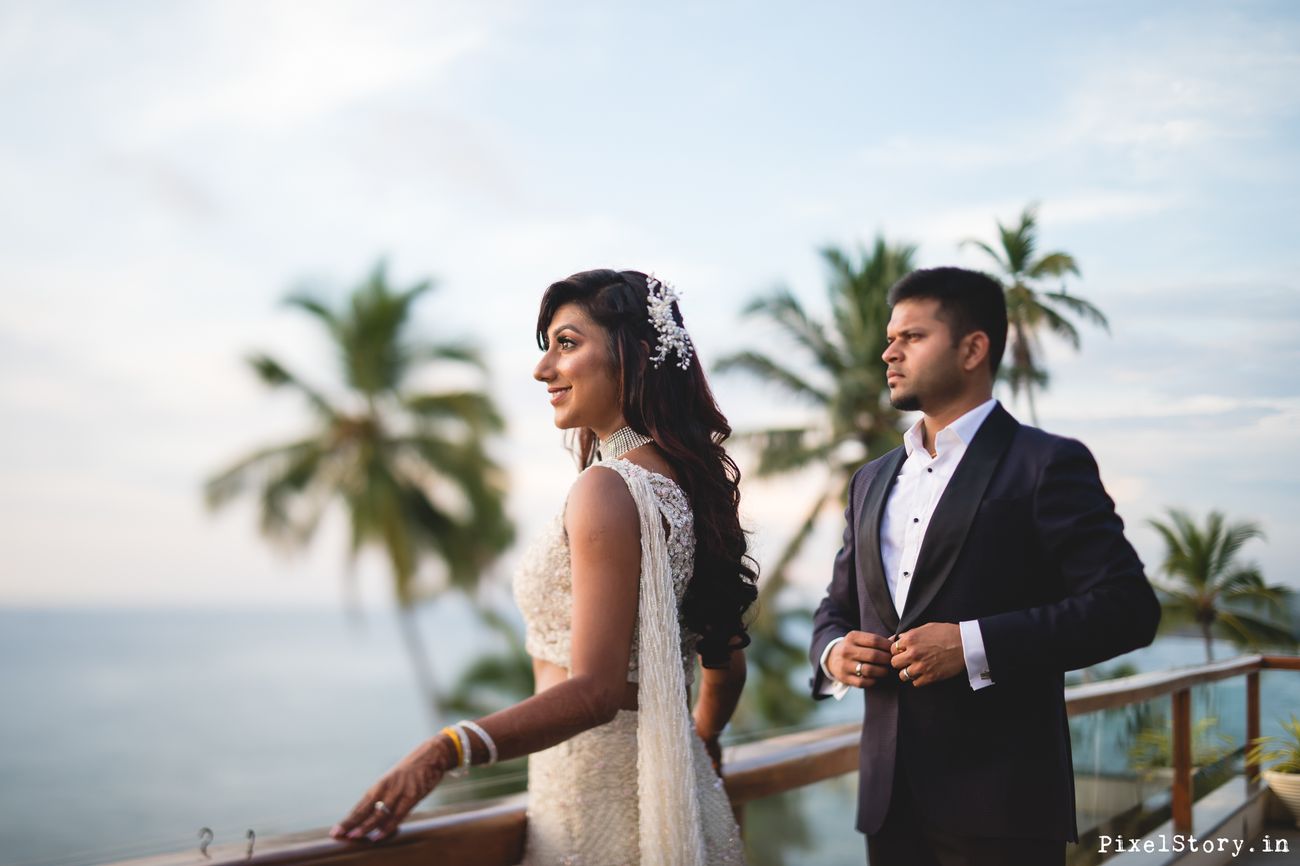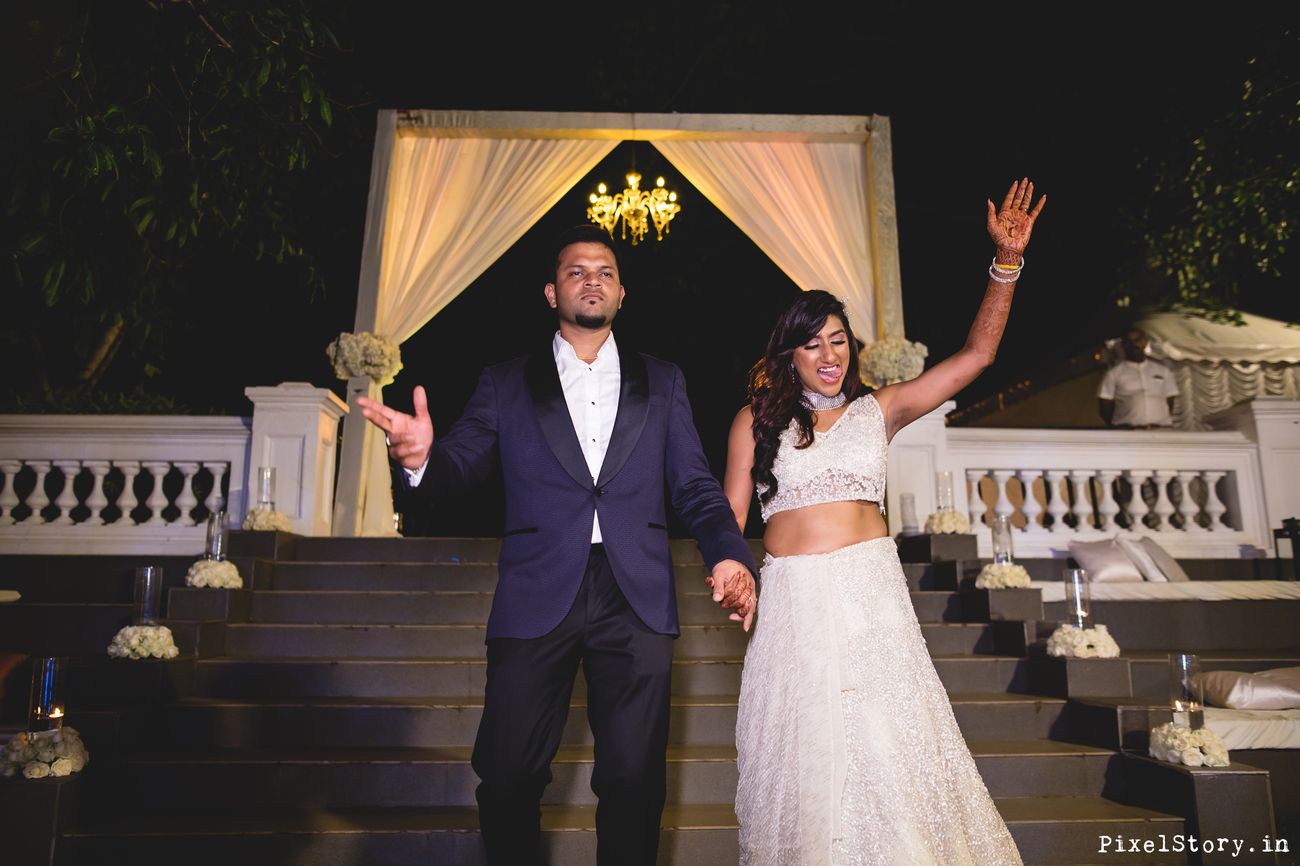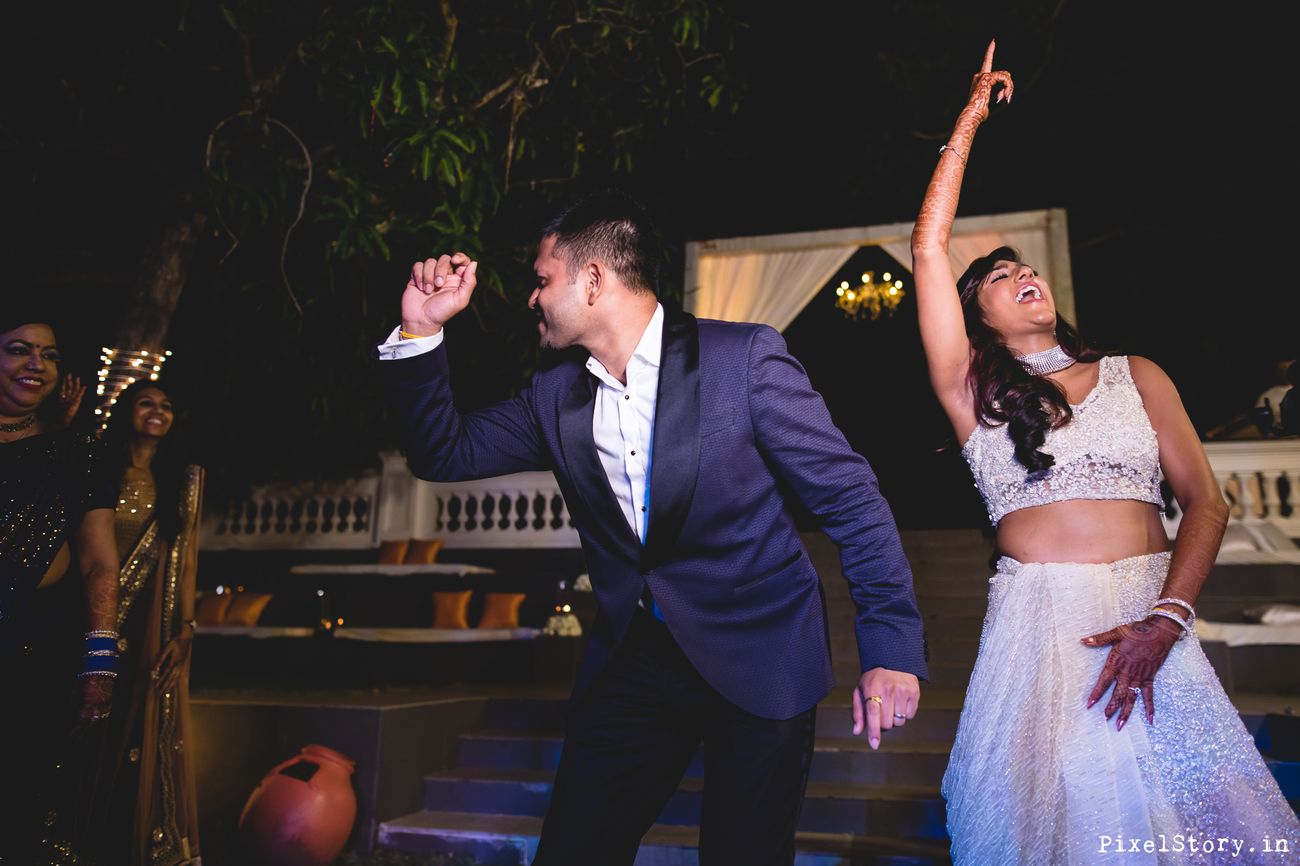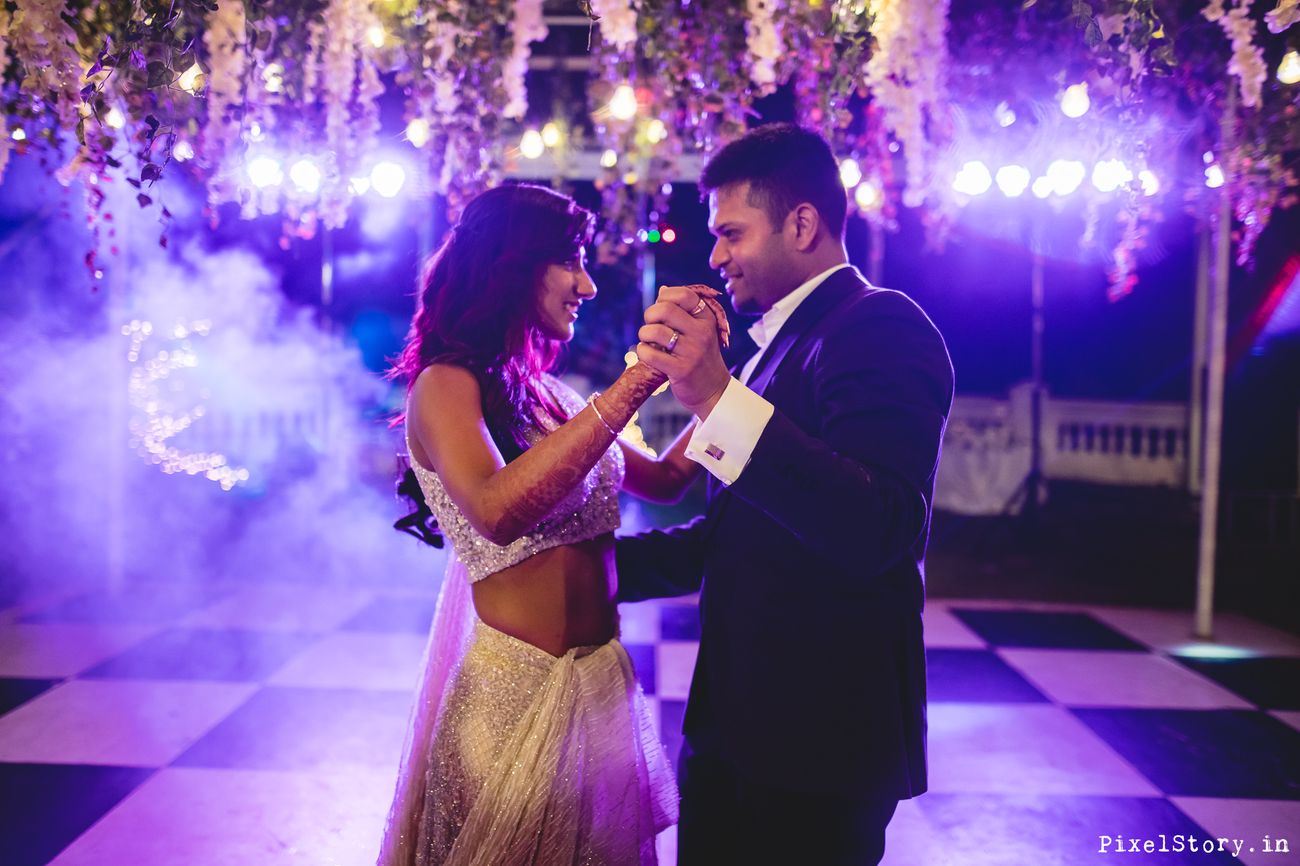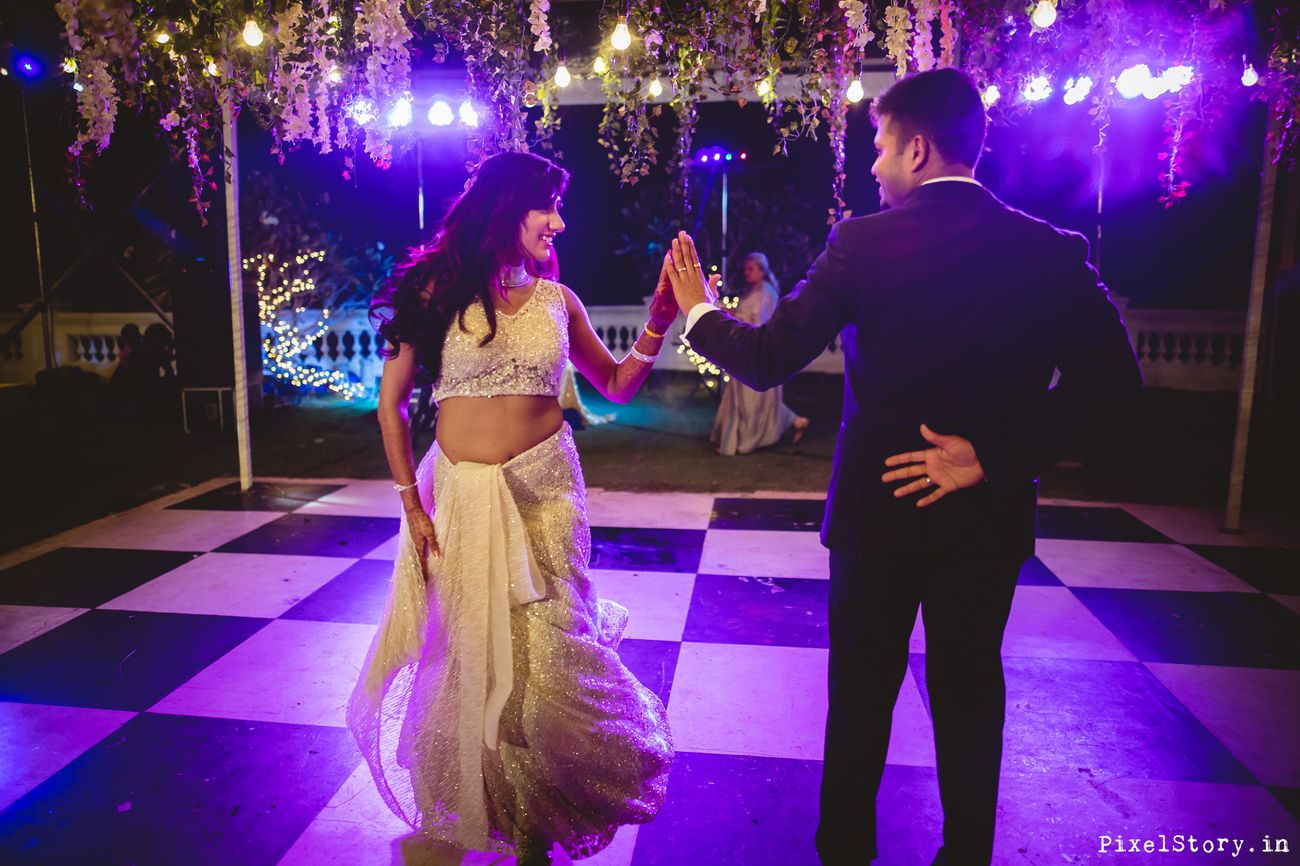 The Wedding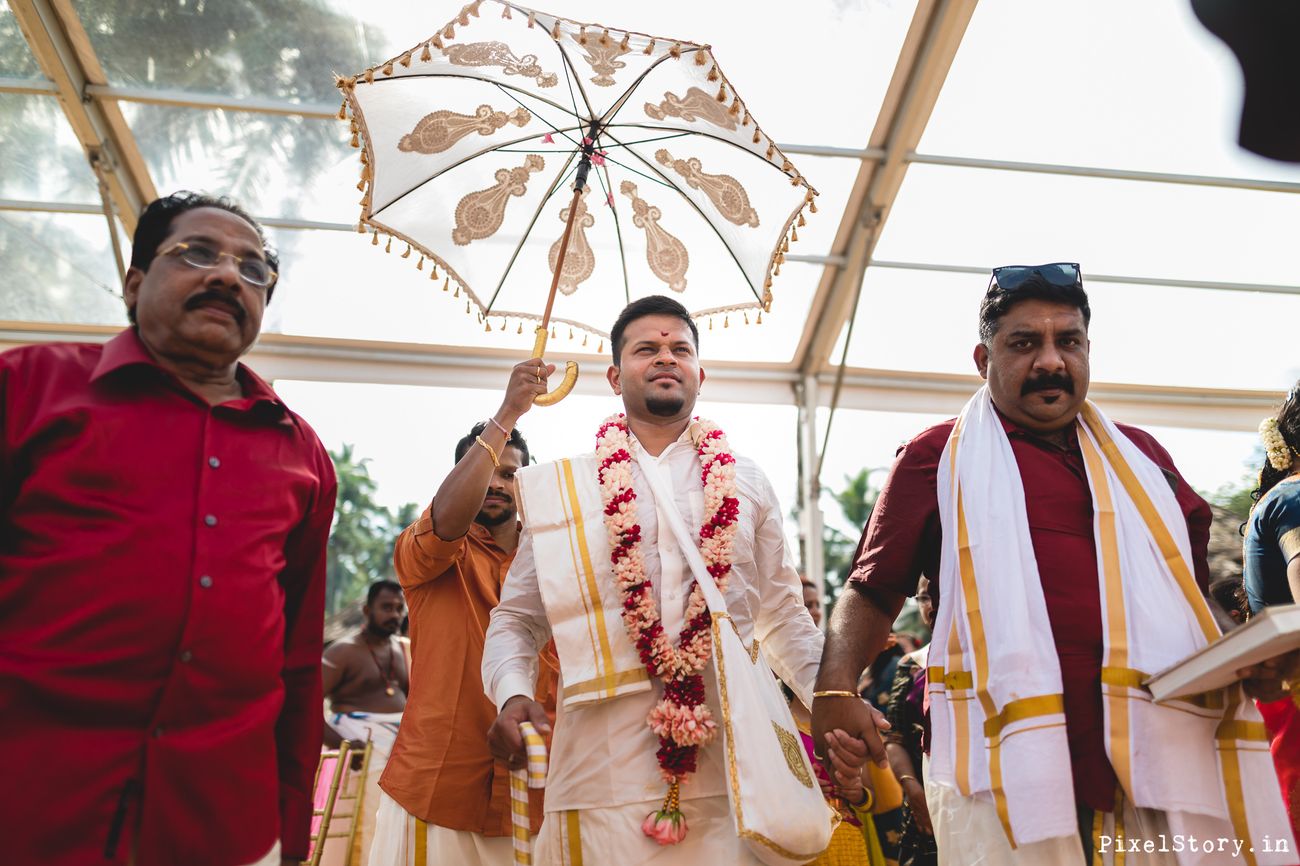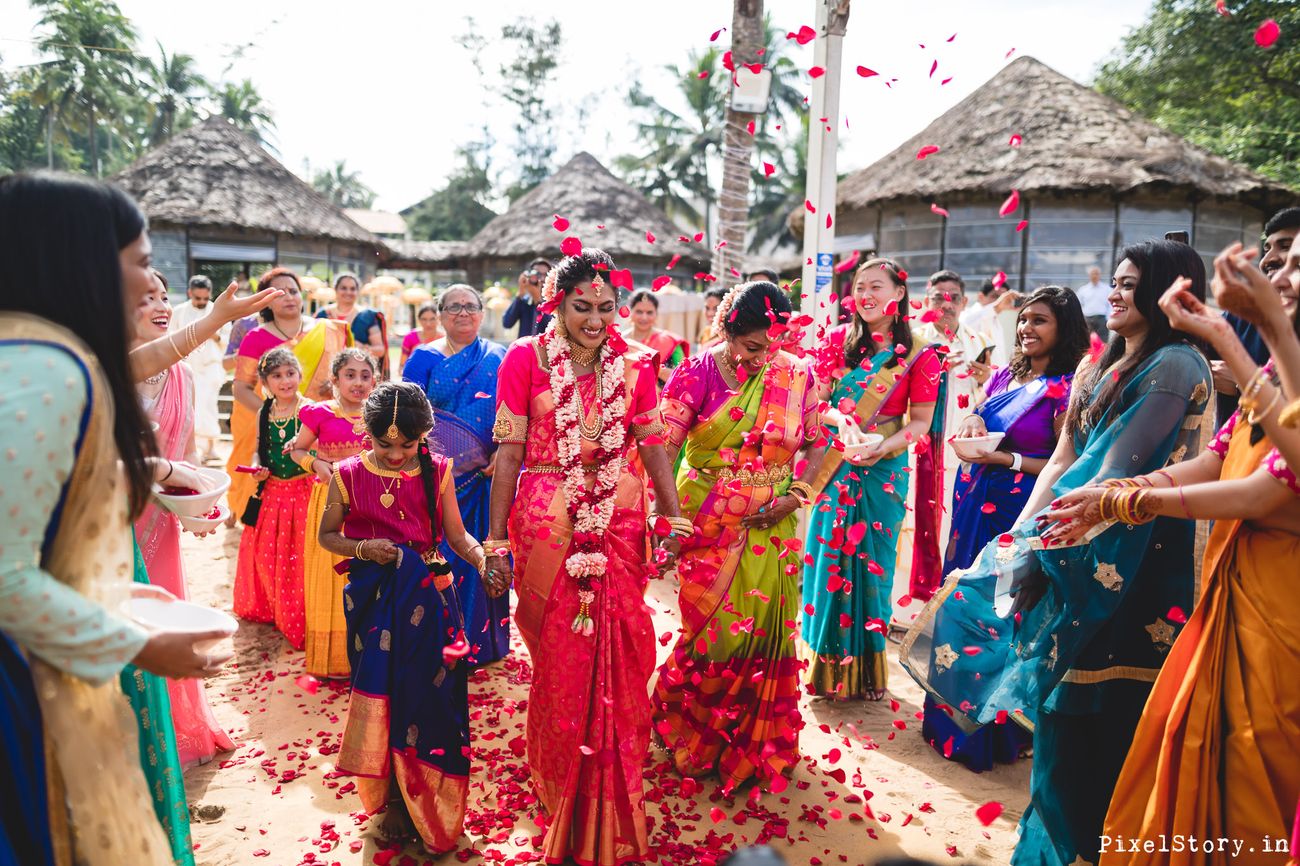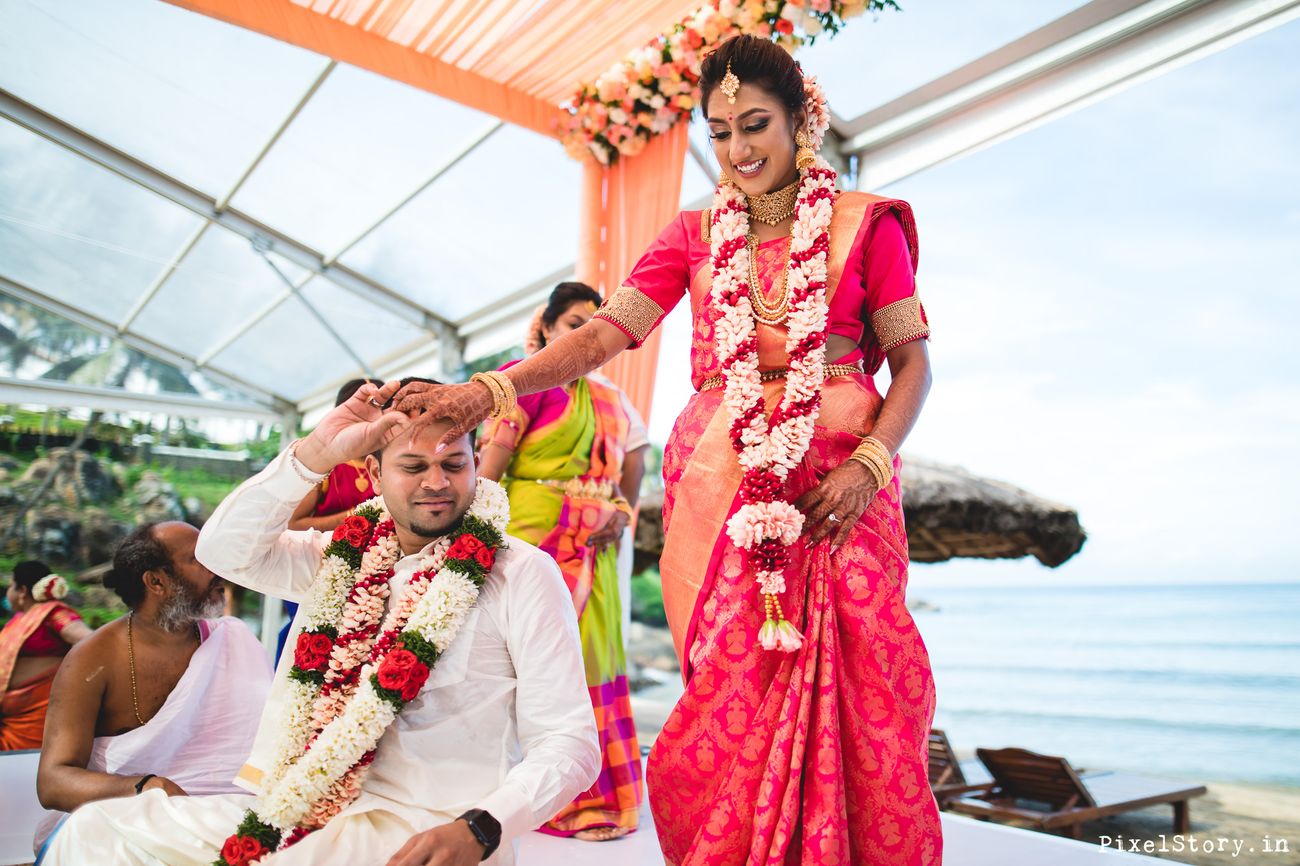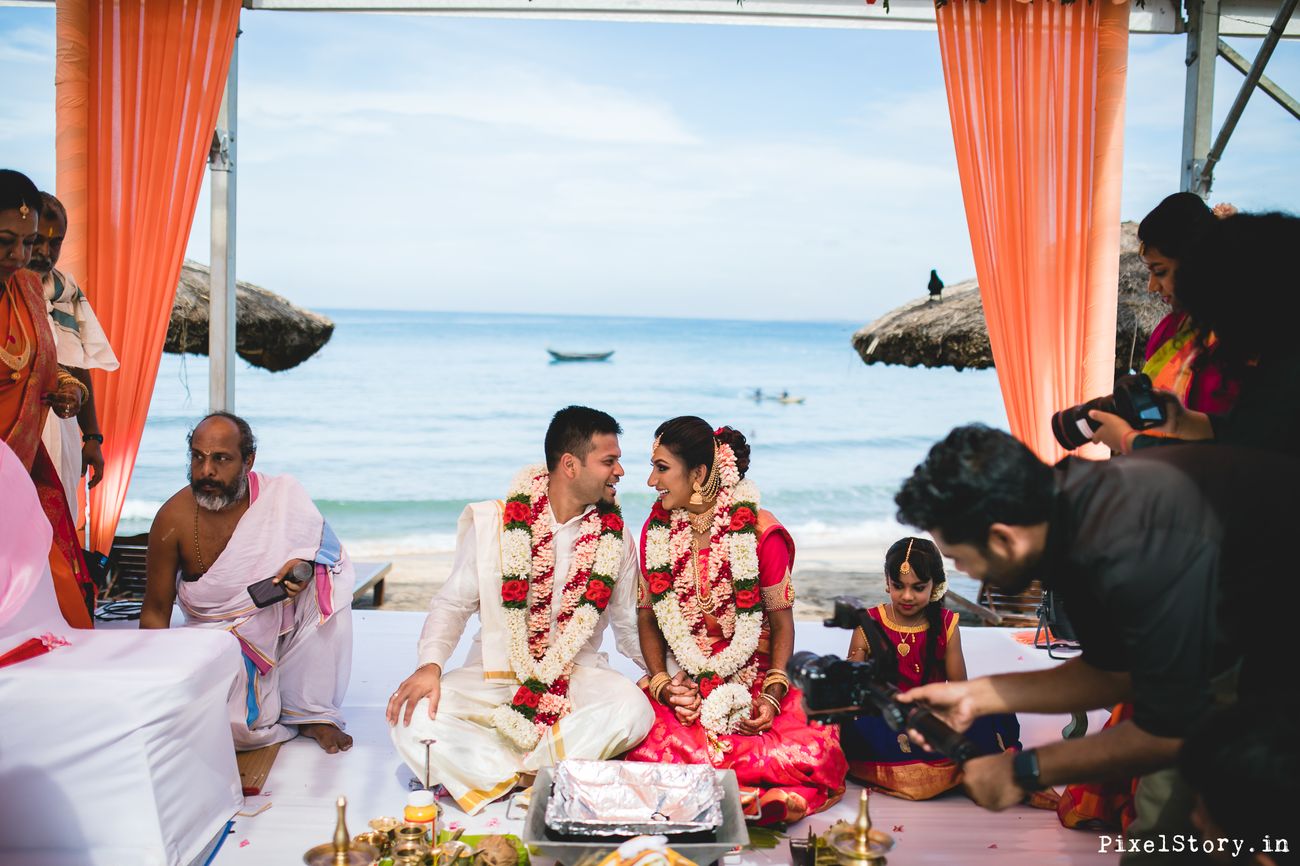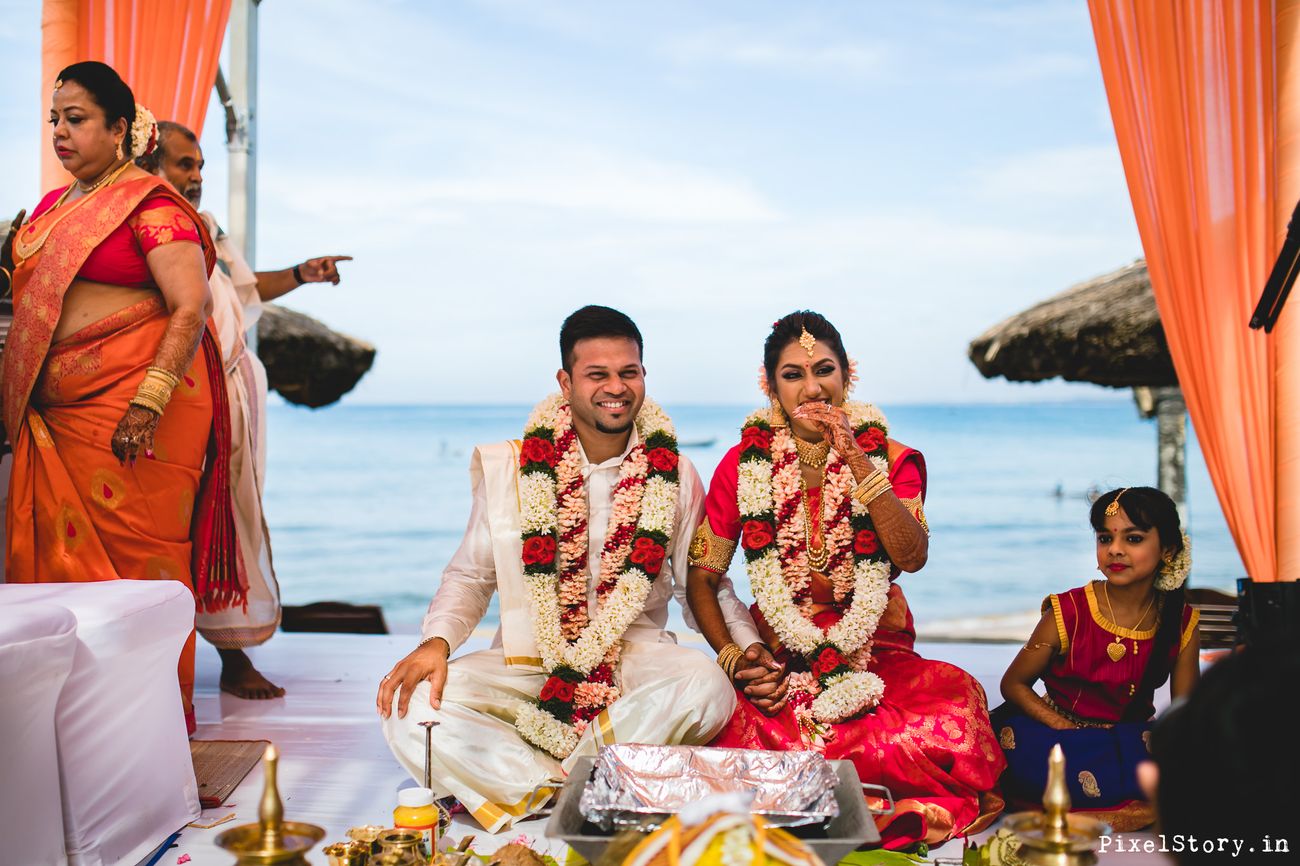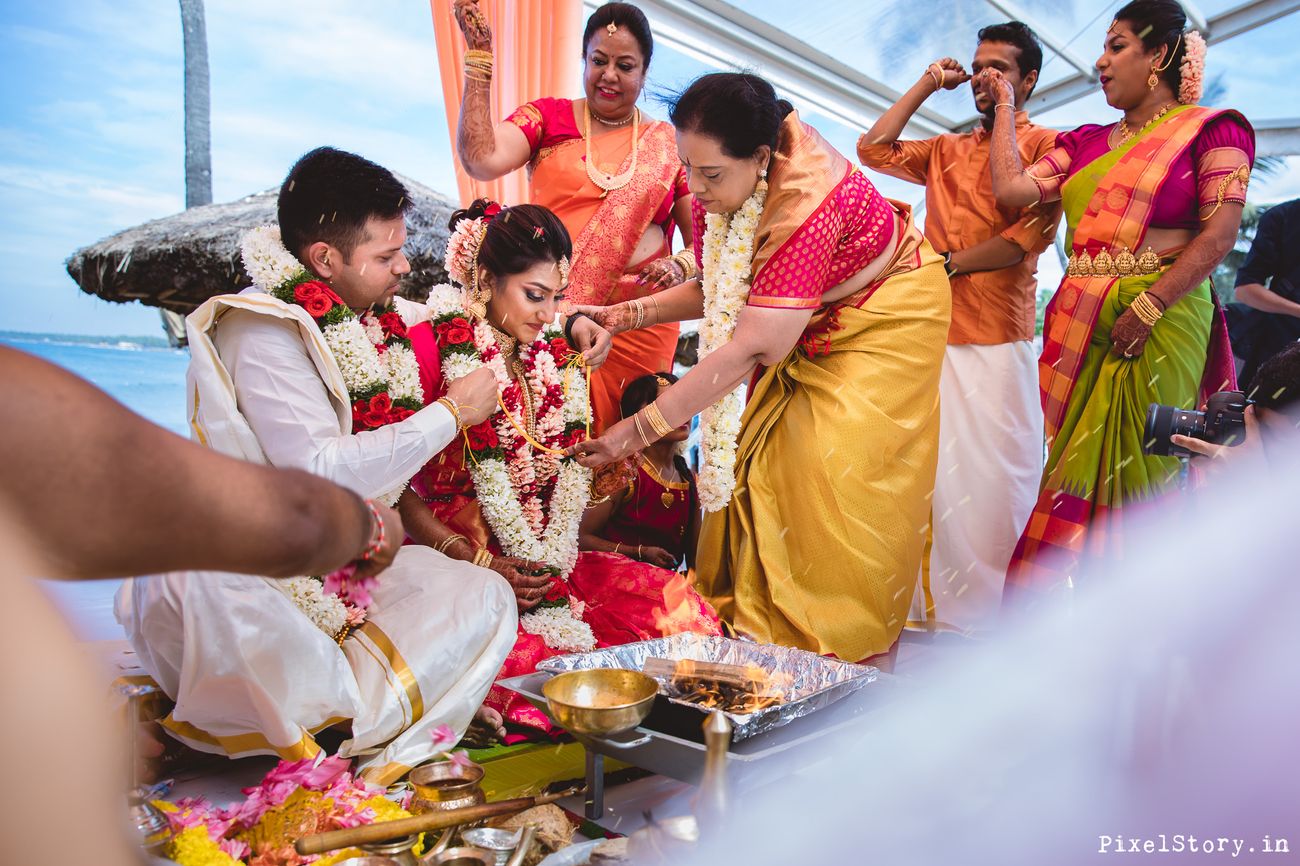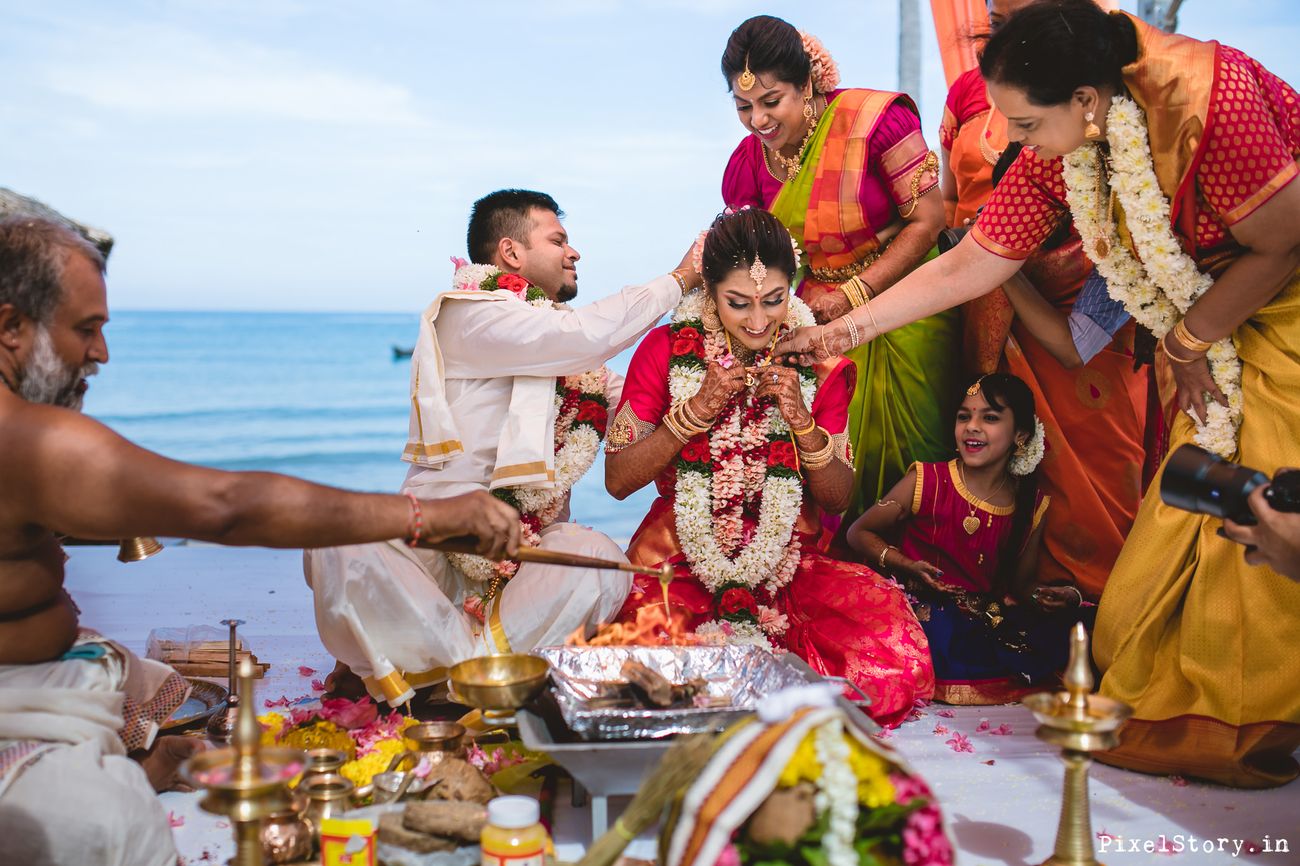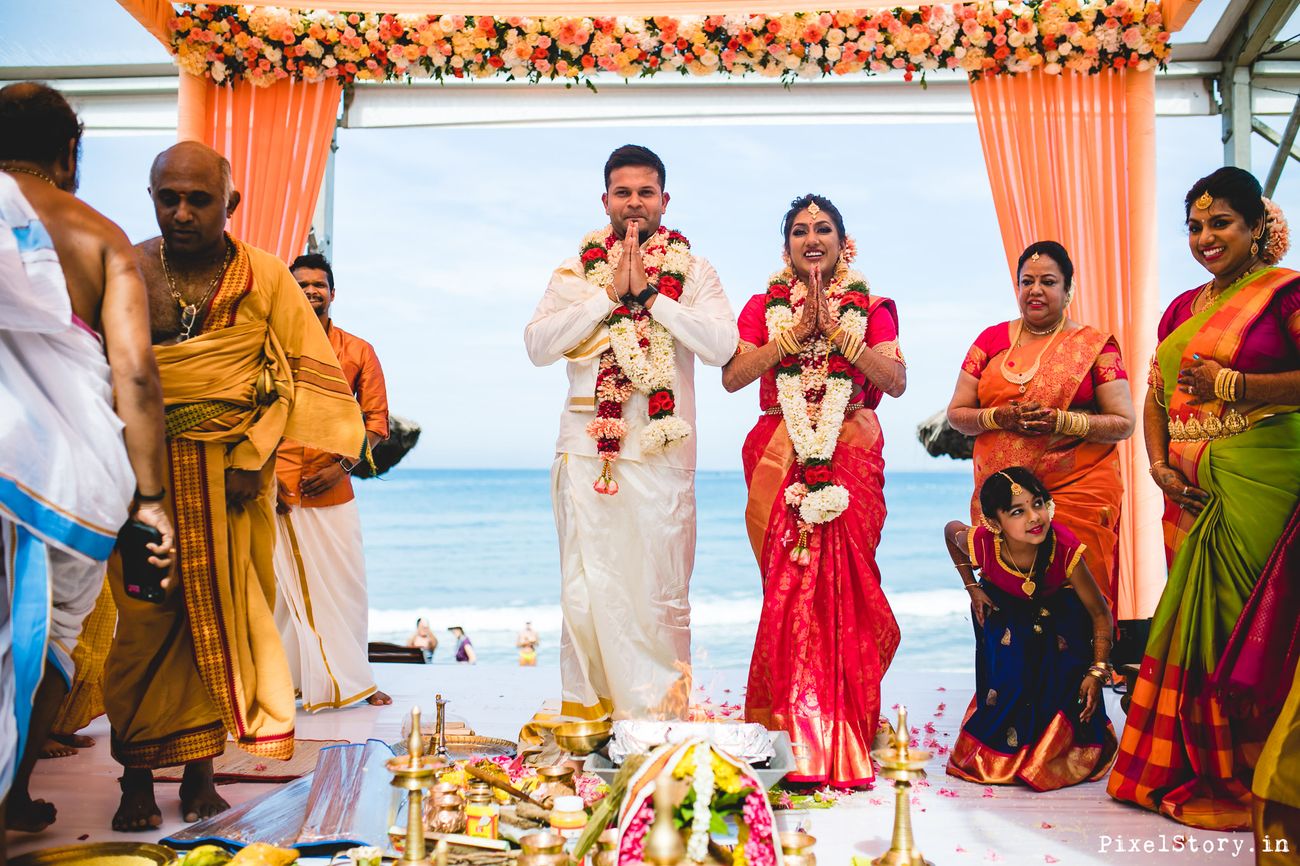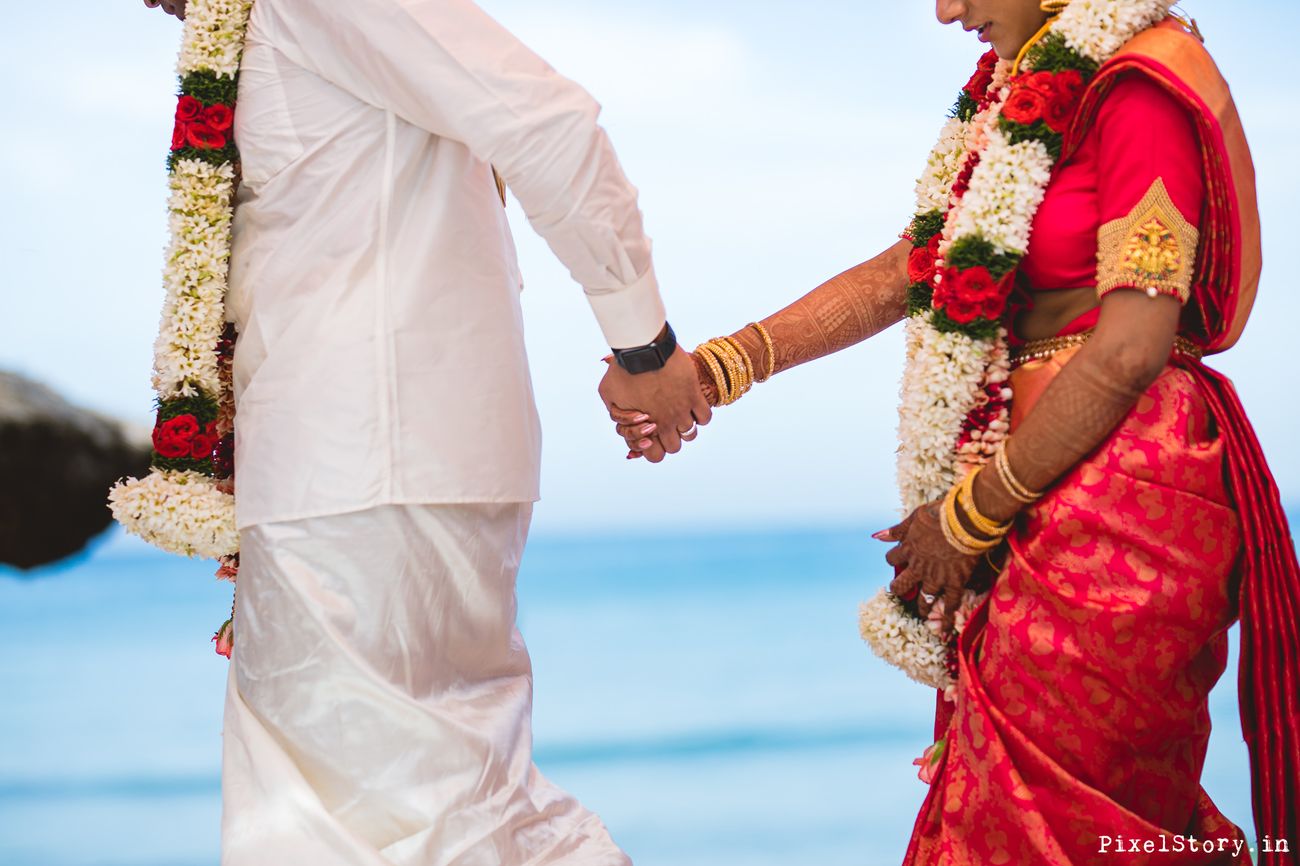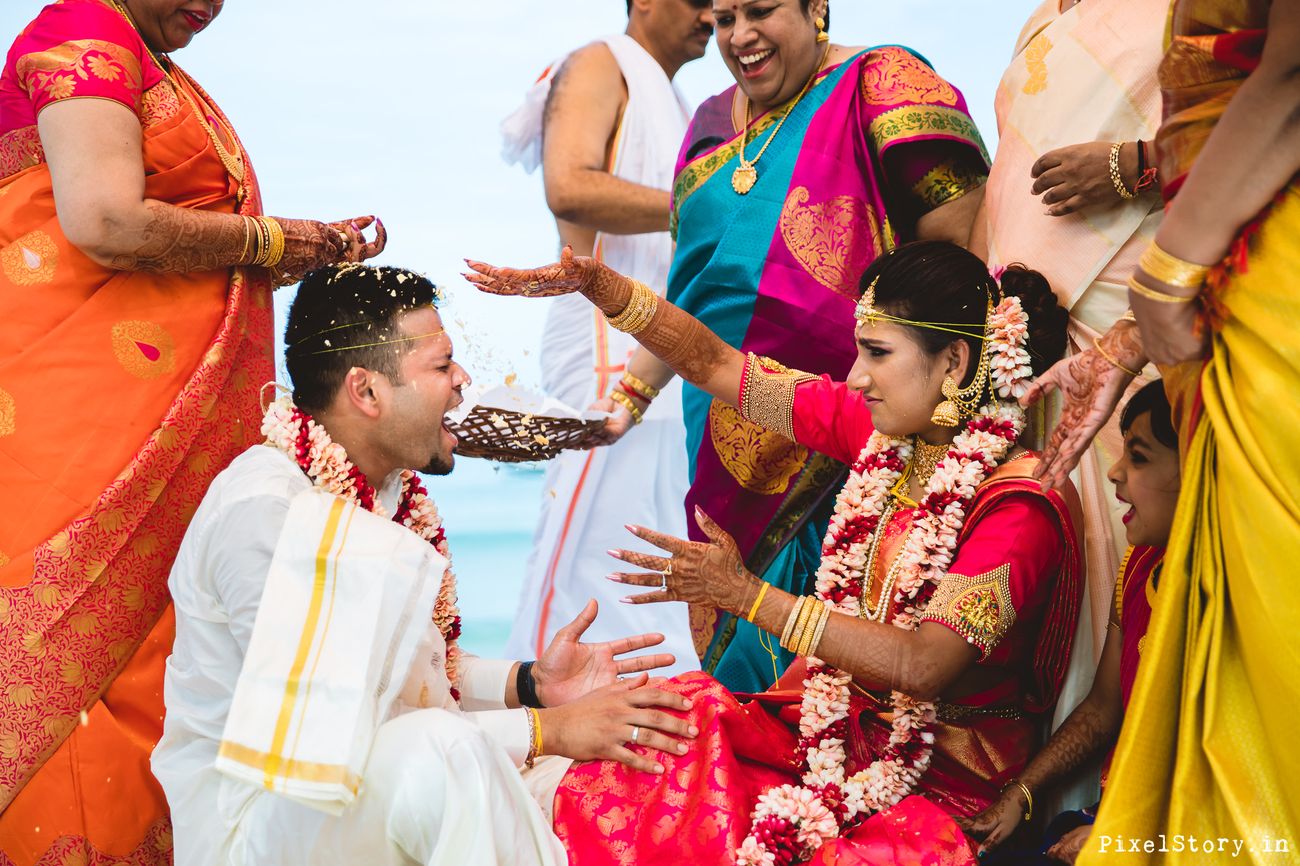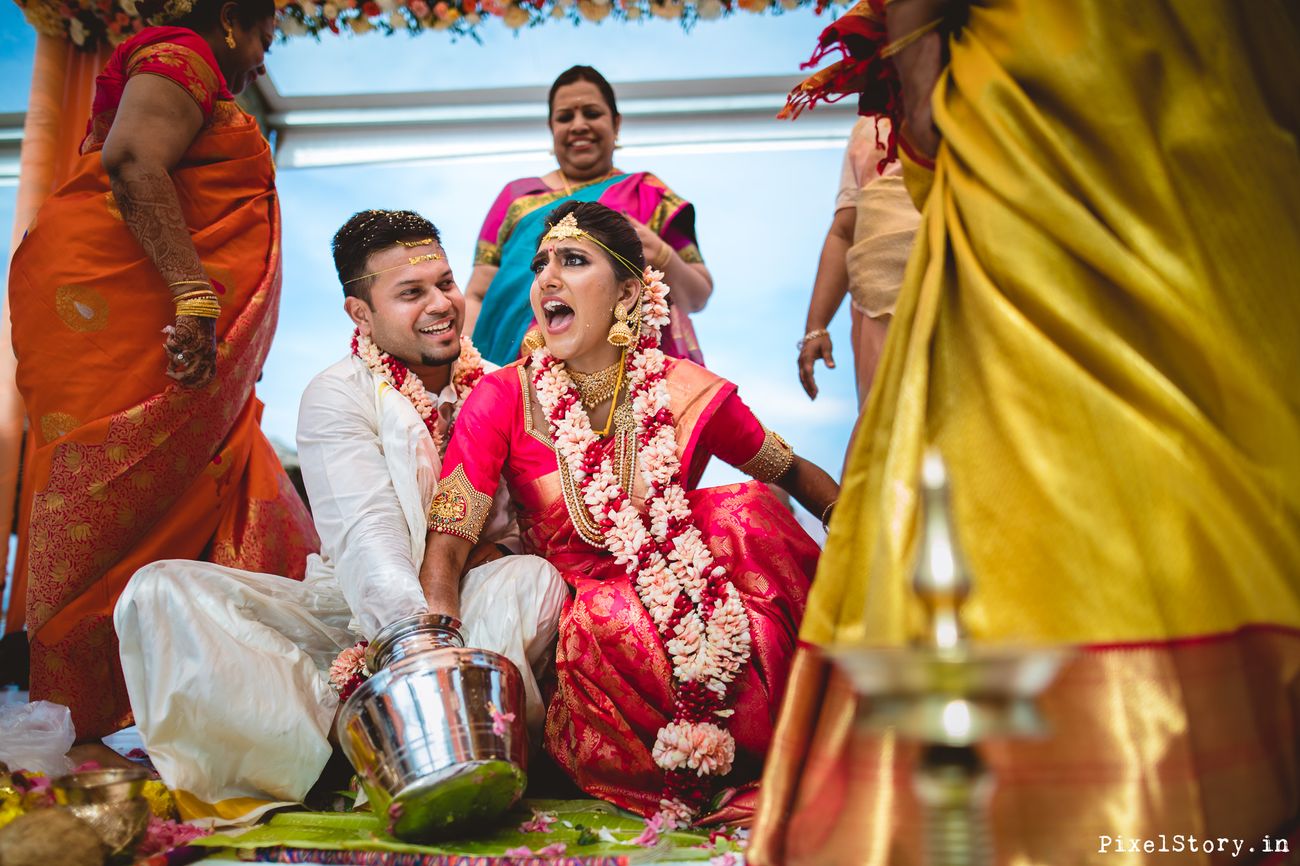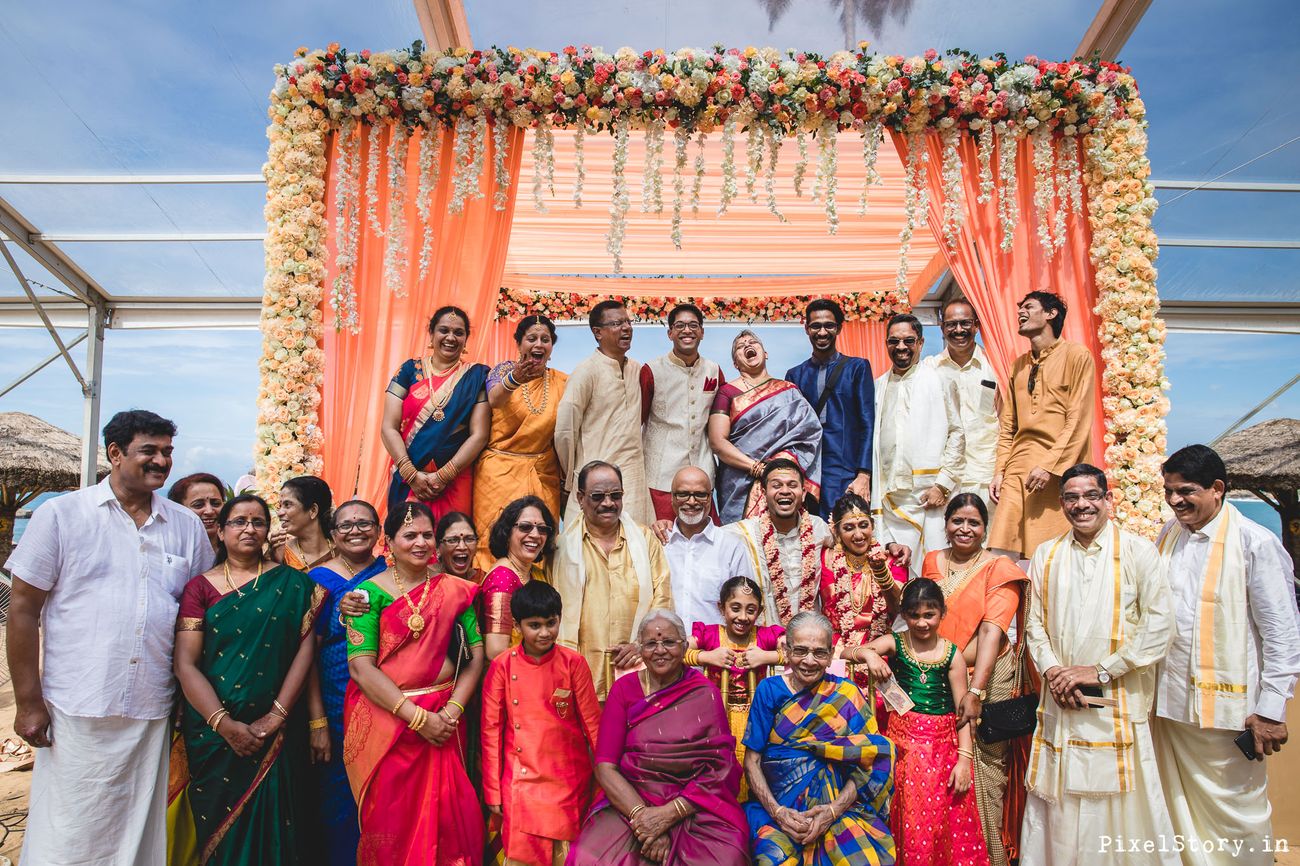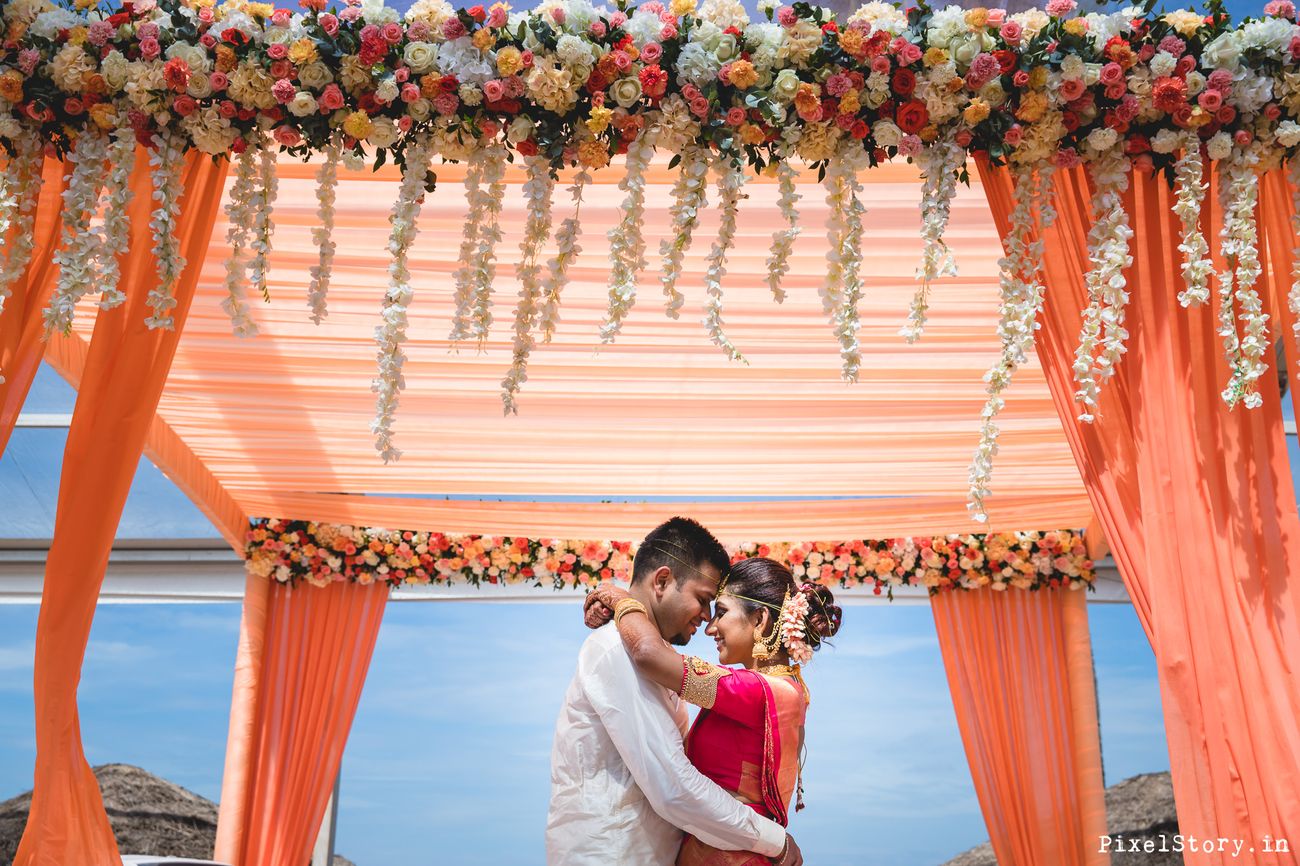 From The Bride: 
We were very particular about having an intimate wedding with close family. It took a little bit of convincing our parents but it eventually happened. We knew the only way we could do this was to not have it at Bangalore or Chennai (our hometowns) so that's when we started looking at different destinations. We had about 6 different cities that we filtered it down to and finally after a lot of thought we decided on the Leela Raviz at Kovalam. I lost that battle, my favorite city was Jaipur but I wouldn't change how my dream wedding was at Kerala. 
Vendor Reviews: 
Being in the US and trying to plan a destination wedding in India was hard. But we knew one thing for sure we wanted some of the best in the business and a group that was easy to work with. Our entire team (even though we had different groups from different cities) was such a breeze to work with. 
We had to make calls with all the time difference between India and US and all of them were very cooperative and accommodating. 
Photographers: Pixelstory
After we had our venue selected, this was one of the first things we ventured into. Pixelstory was an absolutely pleasure to work with. They were very detail oriented and made us feel comfortable from the very start. They spoke to us about our vision and expectations and it was a wonderful collaboration of their magic with our dream wedding. They made sure our day was about us and our happiness which is the best thing you can want from a team. 
Videographer: Oaks Wedding
We were a little late on this band wagon but were so lucky to find Oaks. Rahul and his team were very easy going and a great bunch of guys to work with. Even his post production team is so precise and organized and they value our opinions so deeply. When I found them first on Wedmegood I was skeptical because their style of videography was a little different from what we wanted but after we spoke to him about how we were envisioning it was only smooth sailing from there. I just received my trailer and it was magic come alive! 
MakeupArtist: Chisellemakeup
Believe me when I say this, she is a dream to work with. I went into my wedding and cocktail look without a trial and I trusted her completely. I do not wear make up a lot and I am so finicky about my hair but Nowshiba and Illa made me look like a dream. (I got so many compliments). They were on time, very well prepared and most of all made me feel special.
Vendors: Venue: The Leela Raviz, Kovalam; Photographer: Pixelstory.in★ 5 , Sudha and Mukesh, Bangalore; Videographer: Oaks Wedding★ 4.9 , Rahul and Team, Kerala; Make up Artist: Chiselle MakeupandHair★ 5 , Nowshibha, Chennai; Decor: The Magical Weddings, Manju, Kerala; Bridal Outfits: Sarees - Hayagrivas, Chennai, Cocktail - Kalki Fashion★ 4.4