The Most Popular Games for Your Destination Wedding! *Giant Jenga Yougaiz
BY Sakshi | 08 Aug, 2016 | 4623 views | 7 min read
So you asked your parents and they think having a simple antakshari game is a great activity for your wedding because it is an Indian traditional wedding game! Um, maybe not. New wedding games are important because chances are that the party is an intimate one, and a lot of the people don't really know each other, especially from the two sides. Since there's a lot of mingling involved within the guests at a destination wedding, we thought we'd come up with a list of quirky destination wedding games to make the job of breaking the ice easier.
Of course, there are always pool parties and karaoke, but how about you up the game with these super fun outdoor activities as well? If you've roped in a wedding planner, it's going to be super easy to organize these, otherwise, a lot of these are not tough to do it yourself!
1. Giant Jenga - Fun wedding game for couples
Photo Courtesy: Reelsandframes★ 5
We spotted this at a pool party at a recent South Indian wedding in Goa, and it's such an awesome idea! Giant Jenga blocks which can be played while sober or drunk, and make it a wedding game involving truth or dare or funny confessions one to make it even more exciting!
2. Team Bride vs Team Groom Cricket
Photos Courtesy: The Wedding Soul★ 4.9 , Monica Moghe and WeddingNama★ 5
Wanna top the list of wedding games for the bride and groom?
Remember Hum Aapke Hain Kaun? Of course, these weddings did not have a dog for an umpire, but there's nothing like a game of cricket to involve everyone! Split the teams as Team Bride and Groom and you've got yourselves a competition that's gonna be so much fun! Cricket is definitely one of the best wedding games. And yes, don't forget customized tees and caps!
3. Unique game idea - How about some Polo?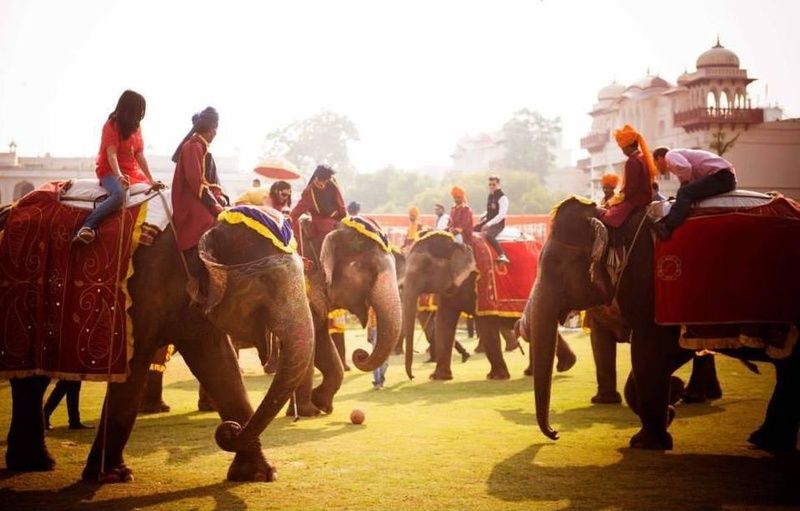 Photo Courtesy: Bhumi and Simran Photography★ 5
Yes, we know that looks very grand and royal for a wedding game! I mean, there are people playing polo atop elephants! But if you can afford to pull it off, why not have a polo match to go with the theme of a palace wedding? You can also involve horses for another grand polo game for a wedding game for the couple and their families. And if you think that is too out of the budget, give the traditional polo a twist and change it into a fun and budget friendly wedding game!
4. Beer Pong - Fun game for destination weddings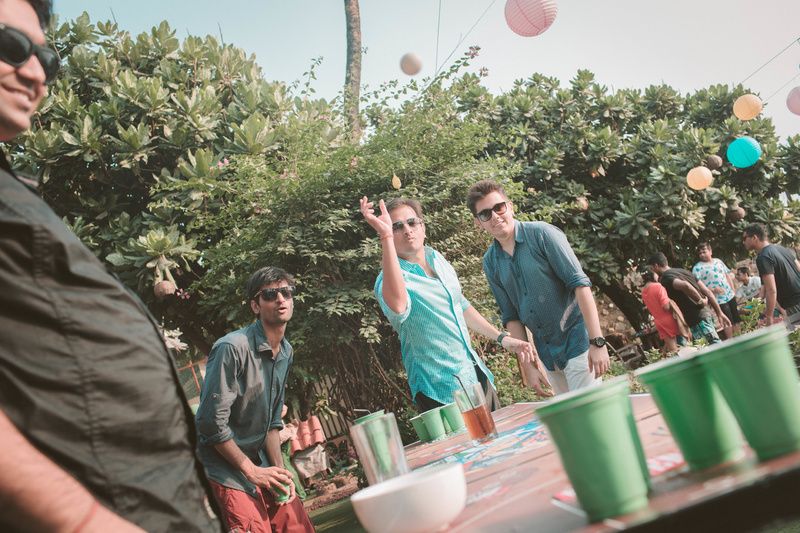 Photo Courtesy: Sam & Ekta - Sonder Frames
A pool party relevant wedding game which is going to make sure everyone gets happy high! Works awesomely well if you have a lot of youngsters, friends or family in your wedding party! Beer Pong is still one of the most fun and new games for couples and family at your wedding!
5. Pop the Balloon - Outdoor wedding game
Photo Courtesy: Neha Brackstone Photography★ 5
You know how fascinating this was when we were kids, and trust us, it's still a crowd-puller! We spotted this oldie Goldie Indian Wedding game at a Mehndi function in a Jaipur Wedding, and looks too much fun for a wedding games!
6. Tug of War - Best game for family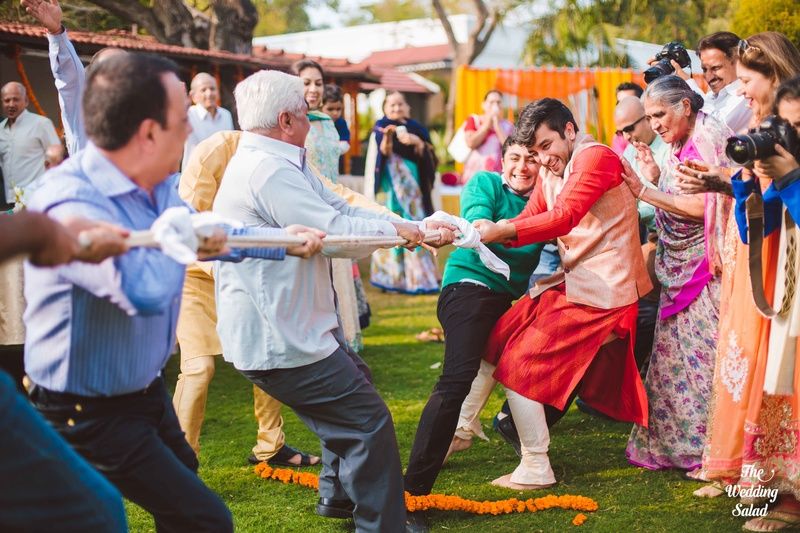 Photo Courtesy: The Wedding Salad★ 4.9
A perfect game for a wedding ceremony to get everyone involved during the Mehendi! Again, have a bride vs groom game, and see everyone, from the young to the old having a blast! Can definitely be counted as one of the coolest Indian traditional wedding games!
7. Gunny Bag Race - So much fun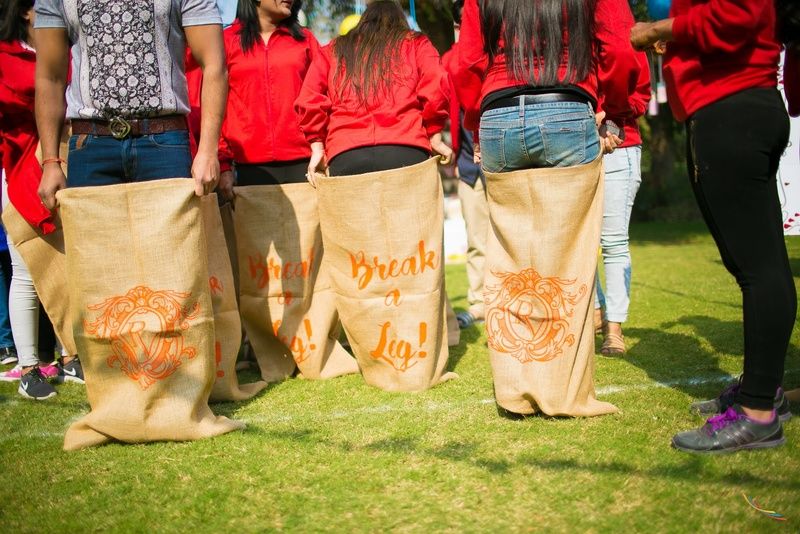 Photo Courtesy: Vintage Nutters★ 5
Another childhood favorite, which is so much fun! You can arrange individual gunny sack races or couple ones in which both the partners have to put one leg each in the sack and run! This can be segregated as a fun Indian traditional wedding game for girls versus boys for a happy and casual competition.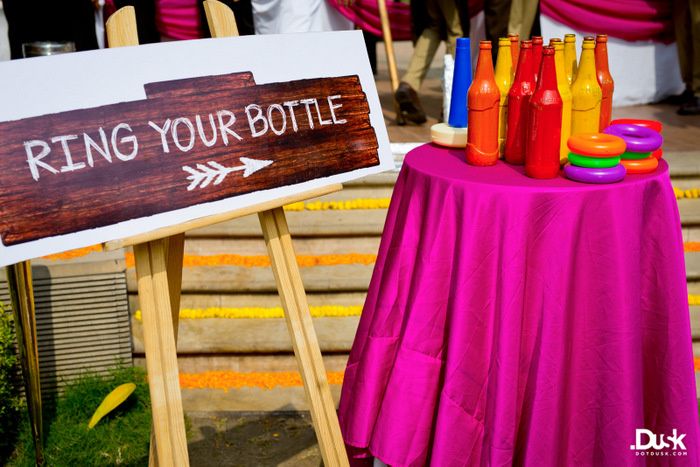 Photo Courtesy: DotDusk Studios★ 4.9
Another childhood carnival favorite, this one involves throwing a ring and aiming it to go around the bottle.A Super easy DIY wedding game, and you can get as creative with the bottles as you want! You can even line some imported liquor bottles and let the winner keep 'em! One of the best games for Indian weddings if you ask us!
8. Kite Flying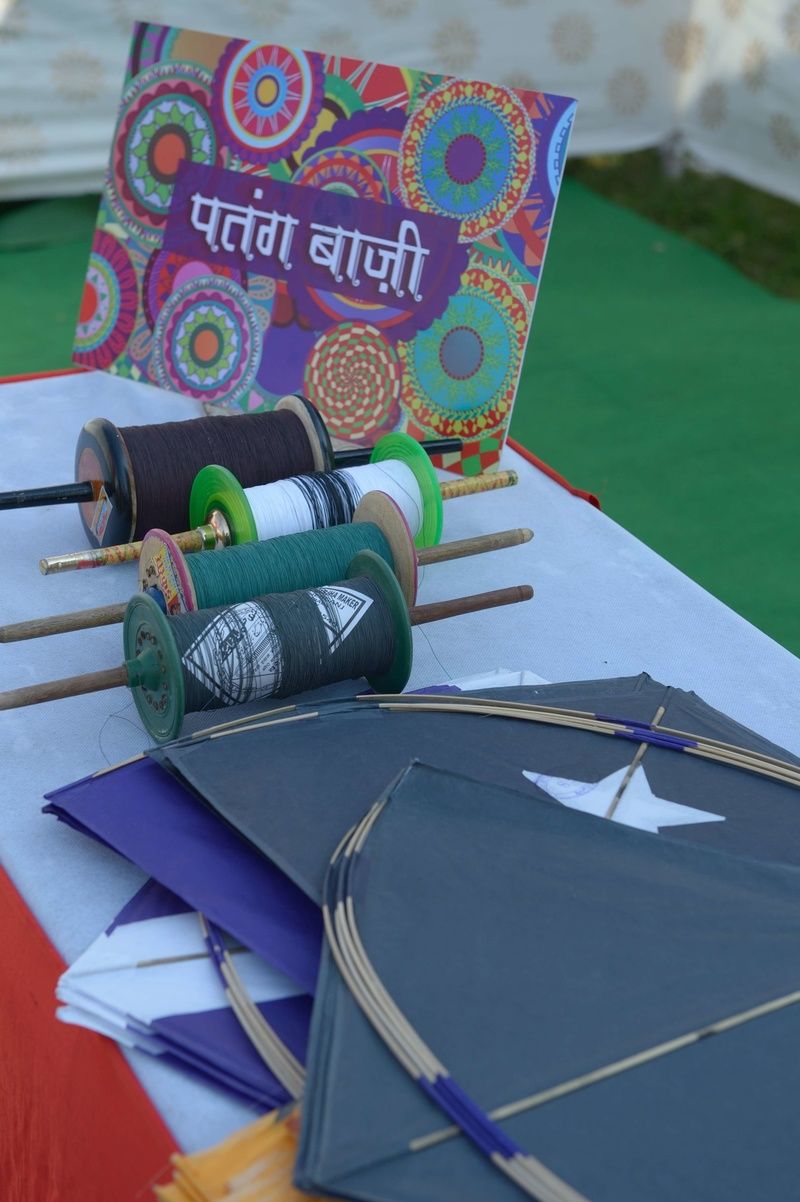 Photo Courtesy: Waamos Events★ 4.5
Wanna relive your childhood this wedding season? Fly kites!
This is going to be such a hit idea, especially if you are looking for Indian wedding games. Imagine flying a kite on the beach... with strong winds and a lot of space to run around, even those who've never done it would love to give it a shot! It can also be a wedding game for girls if you have a cool gang of kite-flying girls! 
9. Limbo - a dance wedding game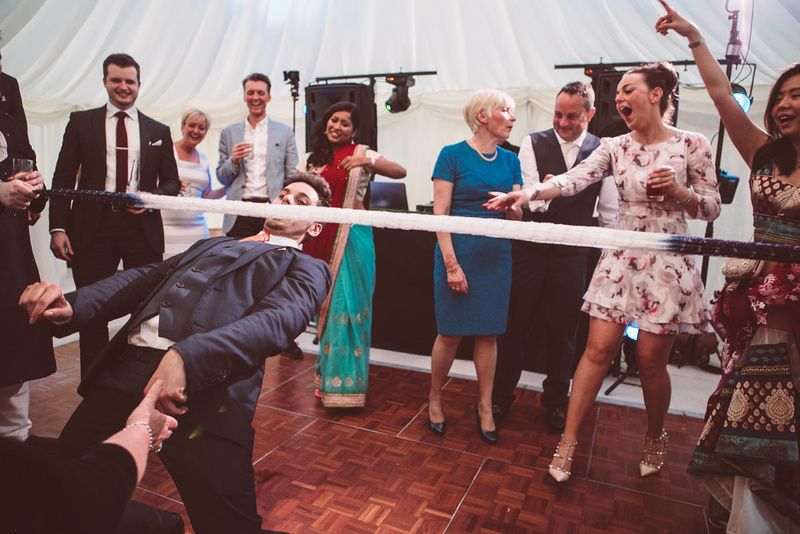 Photo Courtesy: Nilofer and Jacques' Real Wedding
Limbo is a dance game in which you take a rope and keep lowering it with every song.. people have to bend as much as they can to get under it! Perfect wedding game to get the party started! You can also call it a cool wedding game for girls because pstt pstt! Who is the better dancer here?!
This can be an ideal game for your sangeet function. We have got you more such fun ideas for sangeet games here. Do check out!
10. Pinata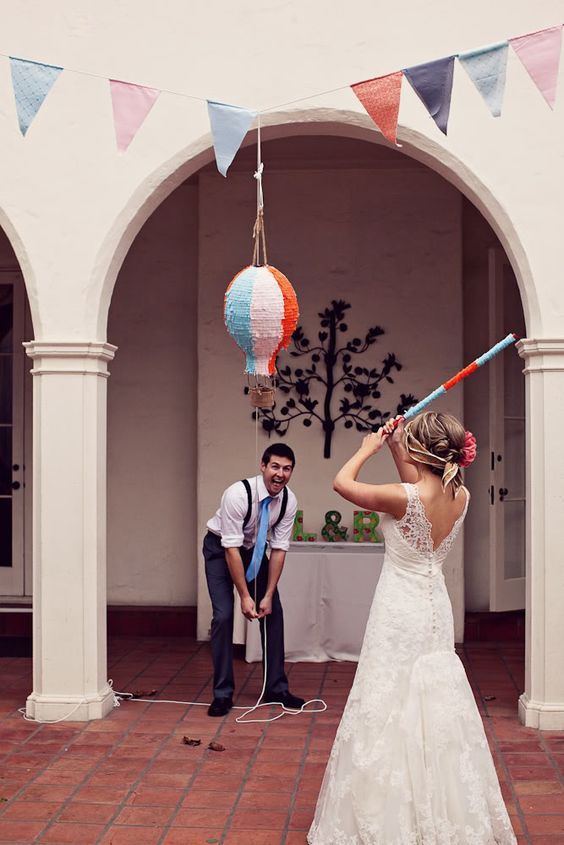 Photo Courtesy: Pinterest
For you people if you are not aware, a pinata is a decorated figure, kind of a box containing confetti or candy that is suspended from a height and to be broken open by blindfolded people as part of any celebration, including weddings now. A fun game for birthday parties, this has found it's way into our lives as one of the many Indian wedding games as well!
11. Twister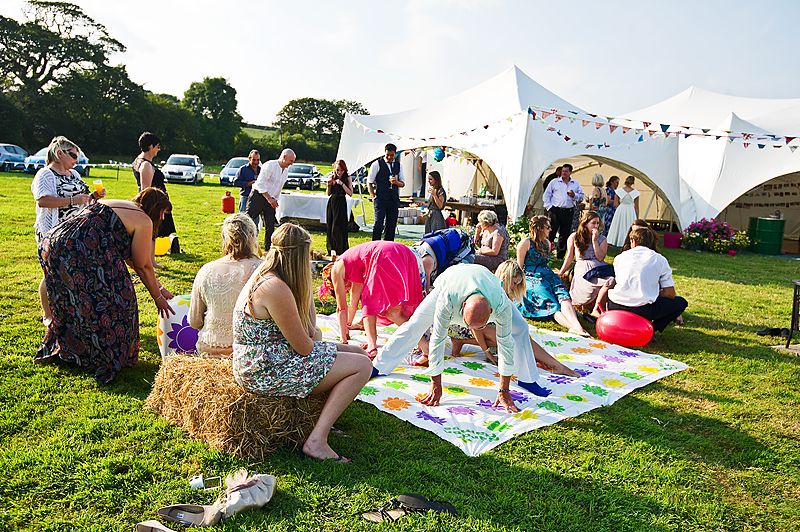 Photo Courtesy: www.29gallery.co.uk
An all-time favorite with the youngsters, the fun wedding game twister can also be played outdoors for a great family time during wedding! You have to dance while the music plays, and when it stops, everyone has to put their hands and feet on the colours called out, and thanks to the shortage of colored circles, people have to bend and touch in awkward positions! A good game to play cupid between couples and people who like each other *winks-winks*! 
Do not miss these cool mehendi games ideas :)
12. Treasure hunt - Super fun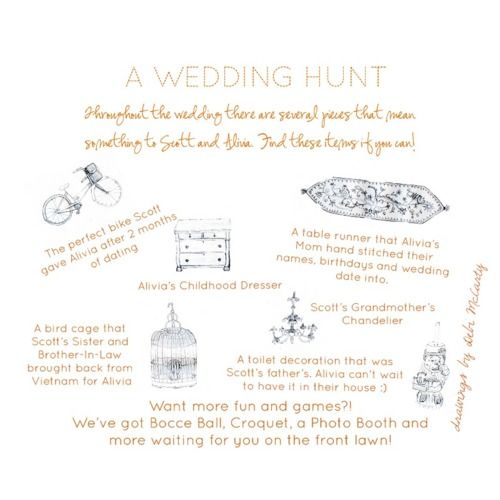 Photo Courtesy: www.bride2be.tumblr.com
Who doesn't like a competition? And especially if it is as exciting as a treasure hunt! A cool wedding game for the bride and groom, their families and friends! You can plan this game anywhere! Whether within the resort or probably all over the town, if you can manage to get that arranged! For a quirky style scavenger hunt, choose some exclusive and naughty things or body paint to point to the clues to make it fun to play to make it a wedding appropriate game!
13. Photo I Spy - Most trending wedding game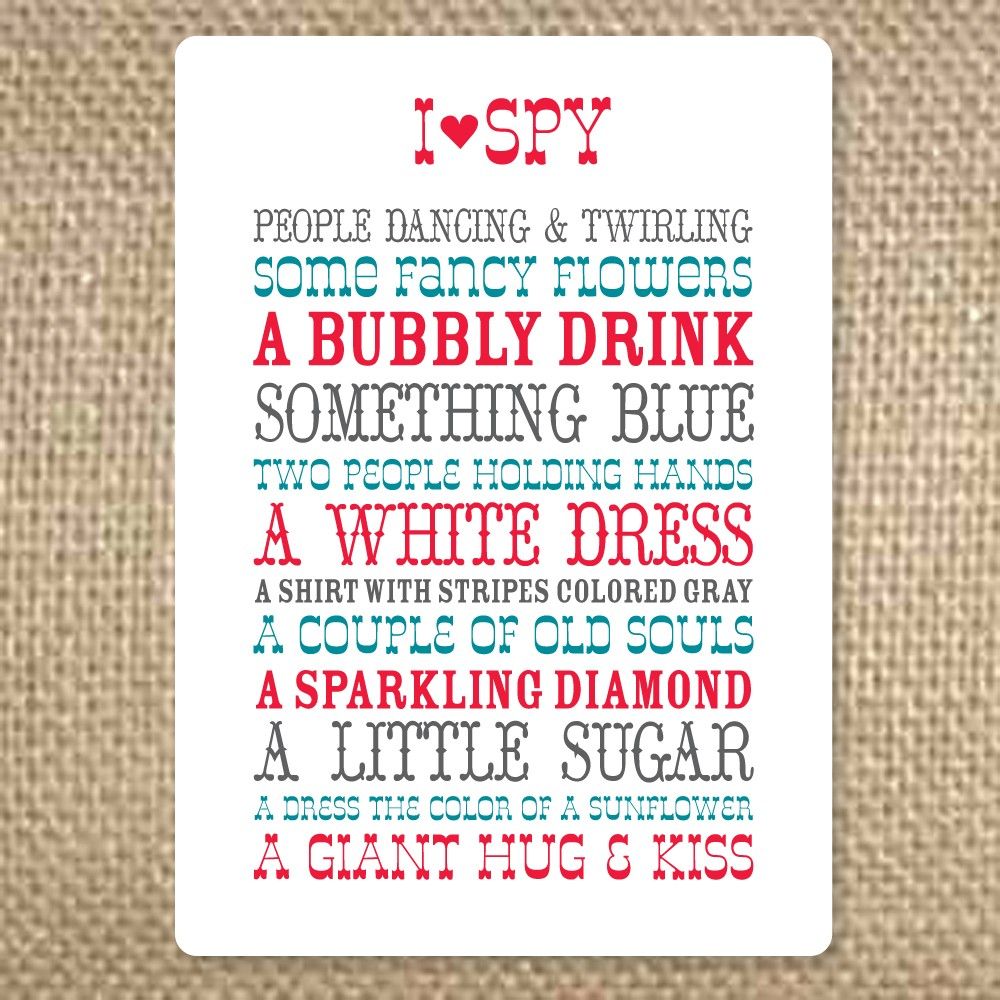 Photo Courtesy: www.weddingvibe.com
Remember playing 'I Spy' as a game when we were young? Well, the photo scavenger hunt version of this is pretty hit abroad, and this involves handing your guests disposable or polaroid cameras to find photos of whatever is on the list that has been given to them... one who finishes all first or has the best photos, wins! This wedding game is unique, fun and peppy and also counts in the list of new wedding games!
So, have any more fun ideas for indian wedding games?