The Most Stunning Makeup Looks We Loved On WMG Brides!
BY Sakshi | 07 Aug, 2017 | 1617 views | 3 min read
Gold or brown eyes and red or pink lips- that's the makeup look that most brides stick with, after all it's a safe bet! But here are some brides who experimented with their makeup look, and we sure loved it!
Brown eyes with bold brows, thick lashes and red lips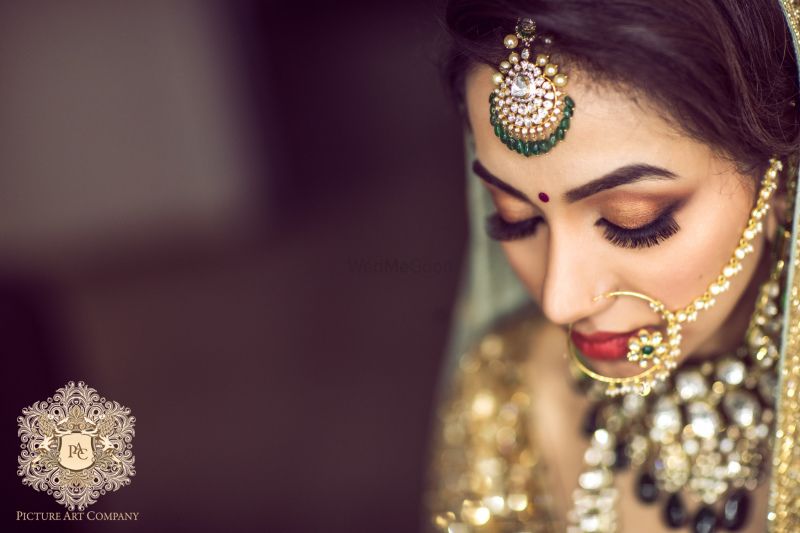 Image via Nayana and Jai's Wedding
Love the lashes! So fluttery and pretty- and the brows are pretty bold too. The red on the lips is subdued and not so bright!
Complete Nude Palette: Lips / Eyes / Face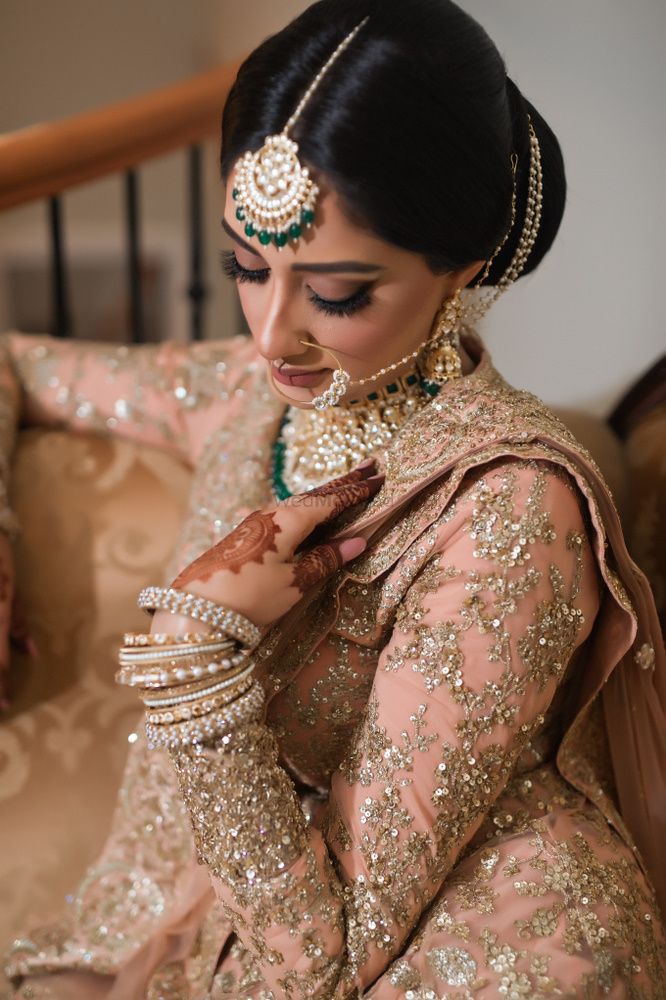 Image via Vick and Rimple's Wedding
Matte makeup is super in these days, and Real Bride Rimple went with matte brown eyes and lips with her peach lehenga, which looks pretty amazing!
Winged liner with bright lips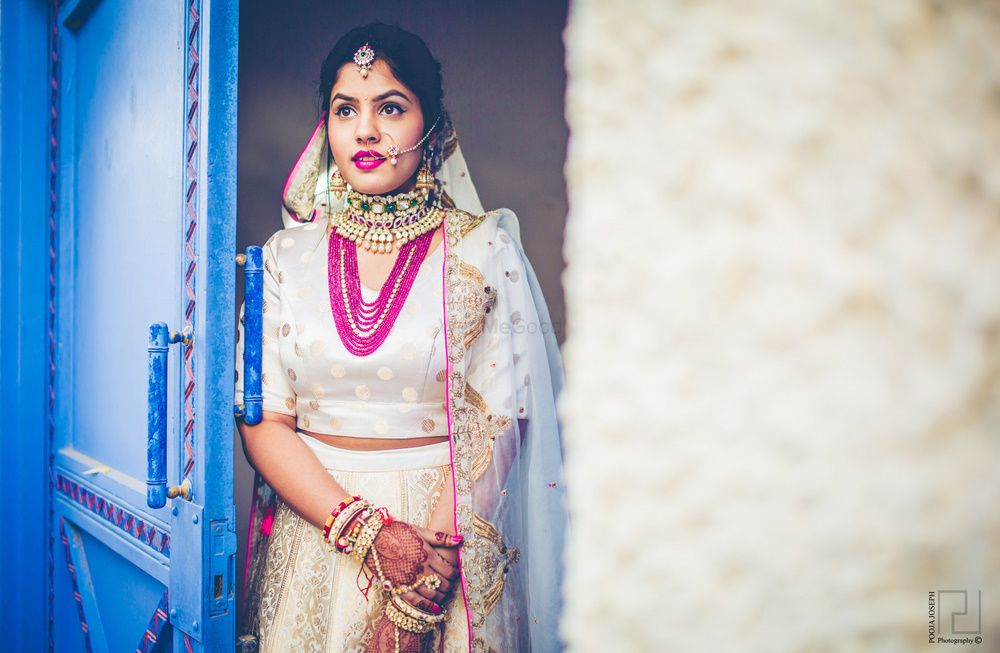 Image via Aashna and Uneesh's Wedding
Not a very 'bridal' look, but Real Bride Aashna killed it with her bold lips and a cat eye paired with her white lehenga!
Metallic eyes with MLBB lips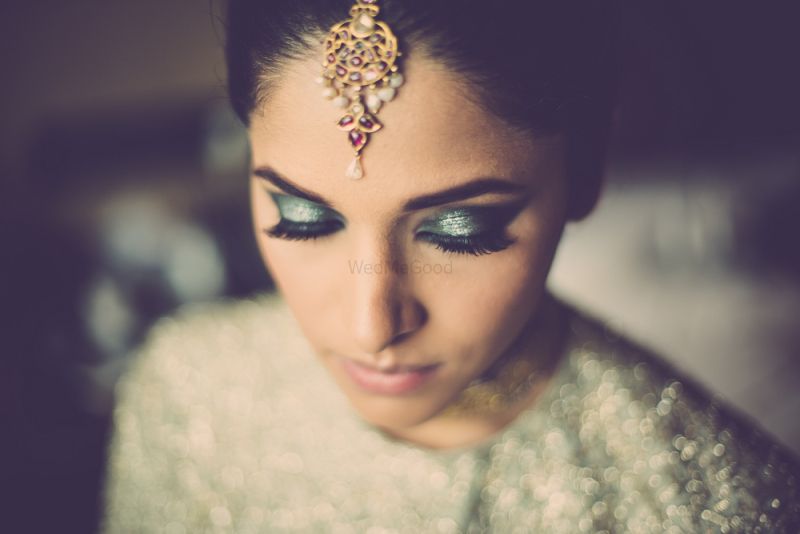 Image via Mitali and Anuj's Wedding
Real Bride Mitali let her eyes do the talking, and her lips were kept natural-looking! Metallic eyes with a shimmery lehenga, might sound OTT, but she kept it super classy!
Smokey eye with nude lips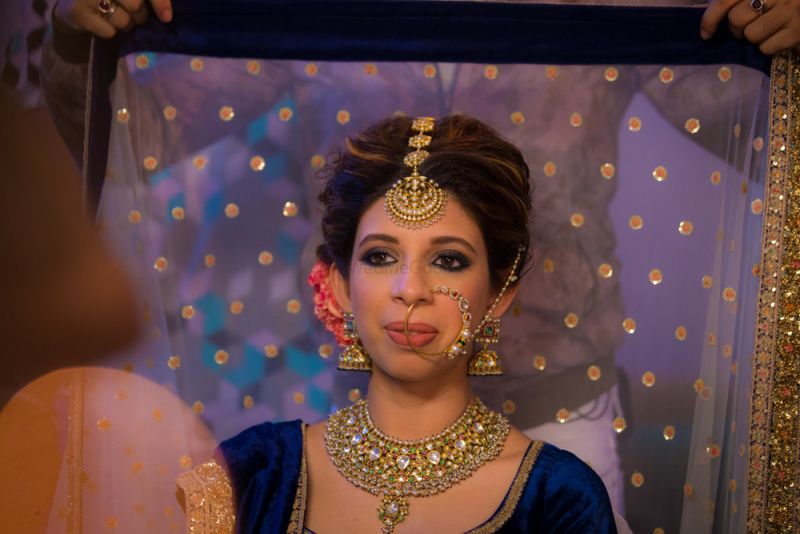 Image via Shreya and Vivaan's Wedding
Nothing something you'd imagine with an already dark blue lehenga, but Real Bride Shreya really pulled off this bold look to the T!
Complete winged liner = Retro Love

So pretty and elegant! Lends this old world charm to the bride!
Nude lips and heavy contouring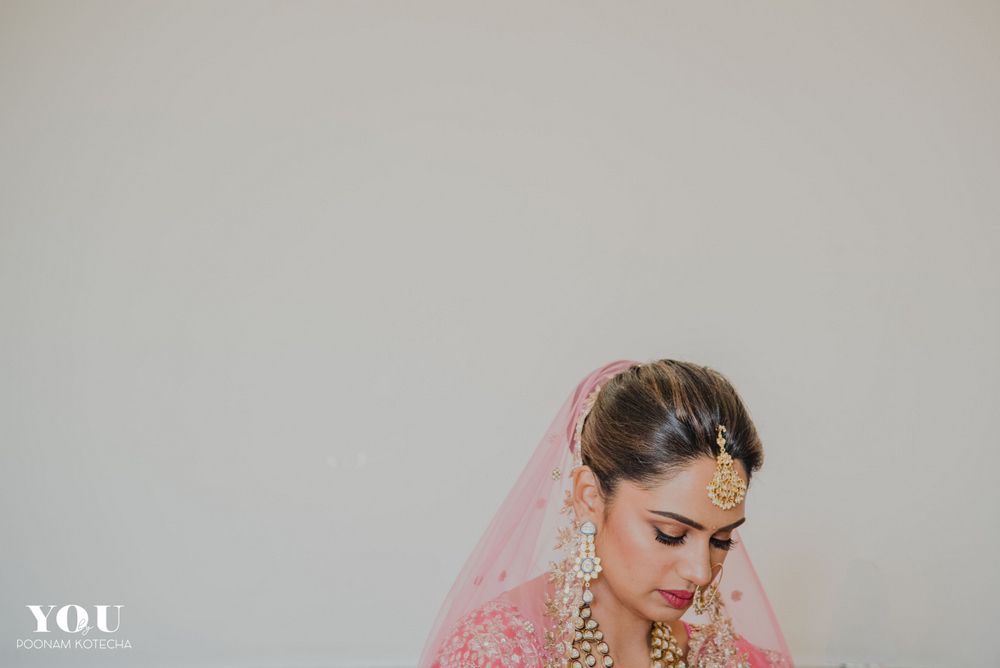 Image via Urshila & Varun's Wedding
Heavy contouring to make those cheekbones pop! Real Bride Sheekha pulled it off like a supermodel!
Gold and Glam look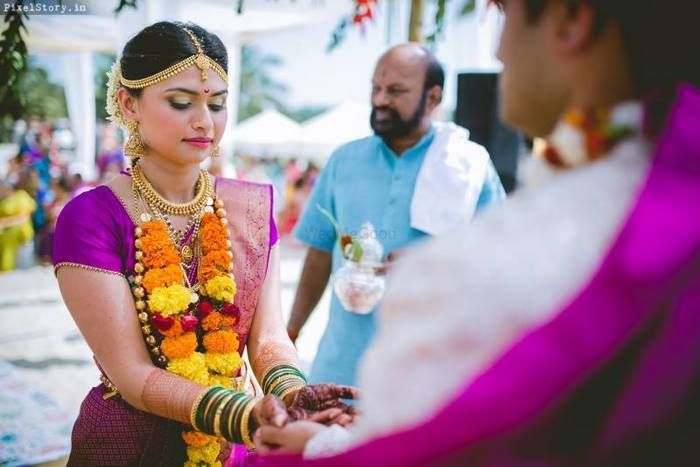 Image via Anant & Tanisha's Wedding 
Gold is gold. This South-Indian bride used the hue beautifully and made sure that her pink lips sealed her look to the T. 
The stunning plum smokey eye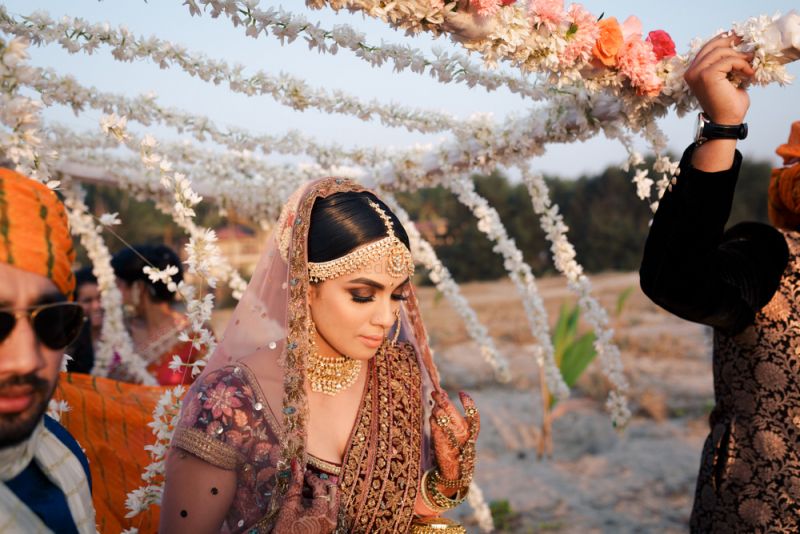 Image via Nikita and Sahil's Wedding; Neha & Pranav's Wedding
Plum smokey eyes also look great, especially if you're rocking a hue of pink in your outfit! Real Bride Nitika rocked this with her pomegranate-coloured lehenga and it looked great!
Peach makeup look with highlighting and bold brows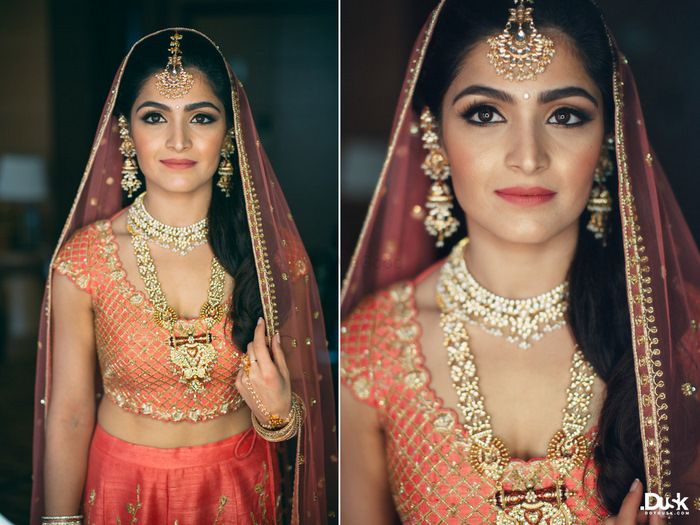 Image via Neha and Pawan's Wedding
So pretty and fresh! A look with orange/peach lips and loads of highlighter in the right places can look so glowy and fresh!
Pink All Over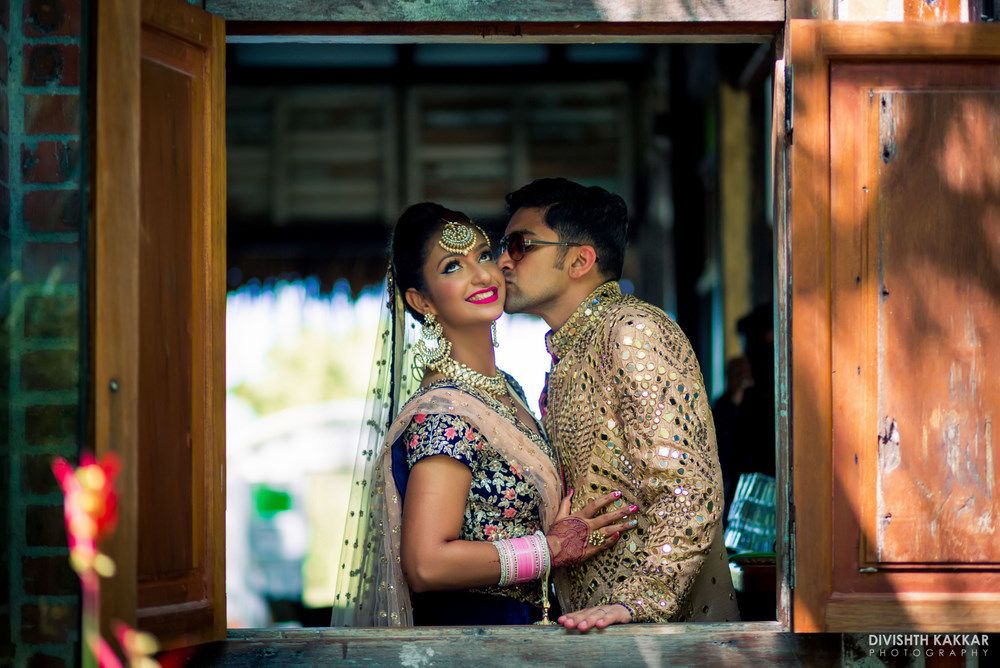 Pic via Sonam & Vidush's Wedding 
Pink lips, pink eyeshadow and pink cheeks - now only a confident bride can pull that off! 
The half-smokey eye look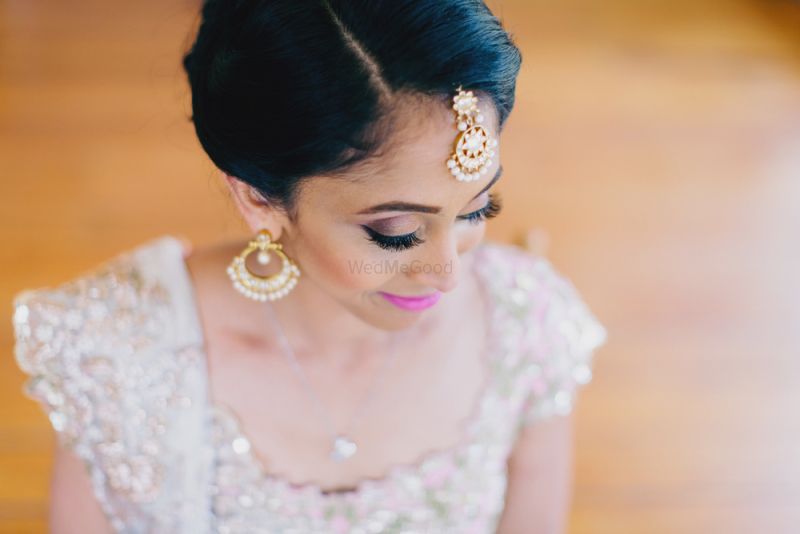 Pic via Manasa & Will's Wedding
The half smokey eyeshadow? It's not right until someone breaks the mould. And Manasa along with her bright lips just made it work! 
Which one do you love?