The Most Unique Food Display Ideas For Your Wedding!
BY Sakshi | 30 Oct, 2016 | 8762 views | 3 min read
So looking for some fresh new ideas for your food display at the wedding? Don't worry, we got your back! If you don't wanna go the boring old caterer-counter-boring serving way, then there are some other brilliant ideas you can try out as well! Here are some of the ones we fell in love with!
Food on a stick
Photo Courtesy: Feeding Concepts★ 4.9
There is something so cool about food on a stick! It's easy, it doesn't dirty your hands and also, looks super amazing! And the best part is, these days you can put anything on it-right from western to Indian dishes!
Yummies in cocktail glasses
Photo Courtesy: Pinterest and Fork'n'Spoon★ 4.6
Serving food- not just drinks in cocktail glasses is big these days, and you can literally serve anything in them! Right from starters with shrimps and wings or even dessert like gulab jamun- it looks so sophisticated!
Tiny baguettes with veggies
Photo Courtesy: Pinterest
Isn't this like the cutest and cleverest way to serve veggies and spinach dip? Just serve the veggies and dip INSIDE the bread! Looks amazing and is so easy to eat!
Drink along with finger food
Photo Courtesy: Pinterest
Who doesn't like having beer with a burger? This way you can have both- with bite and sip size amounts of both without even getting your hands dirty!
Popsickle and a drink
Image Courtesy: Pinterest
Looks so refreshing doesn't it? And think of all the clothes this'll save from stains!
In soup spoons
Photo Courtesy: Moets Club Class Catering★ 4.6
It was all over Masterchef! Just pick eat and discard! Easy peasy! Talking about displaying the food, here are some good ideas if you don't want regular counters!
On a rustic ladder
Photo Courtesy: Devasyah Studios★ 4.4
Doesn't this look super cool? If rustic is the theme you're going for in the decor, then this one is a killer idea! Looks pretty, and does the job! You can get as many ladders as you want, and this is especially a good option for starters/snacks counters. This one on top has a vineyard thing going on, but you can display a lot of hand food for guests to come pick like this!
On a vendor cart
Photo Courtesy: Happyframes★ 4.9
This is another idea that totally goes with the whole rustic vibe! You can get wooden vendor carts with wheels and place food on it. Here these guys have chosen to put up some fresh produce like fruits on display, along with wooden crates, which looks so amazing!
On wooden bookshelves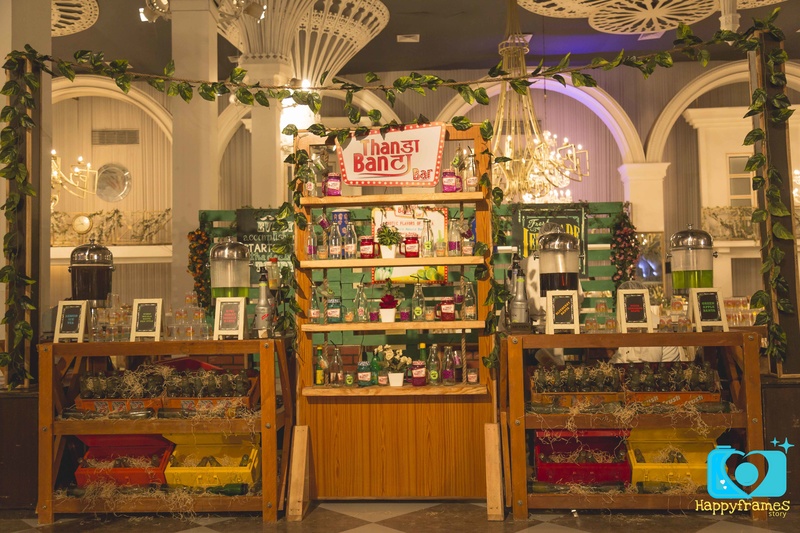 Photo Courtesy: Happyframes★ 4.9
Who can resist this 'Thanda Banta Bar', which has been put up on wooden bookshelves? You can have all your flavoured mocktails or cocktails with a cool bar like this one with beverage cans and chalkboards!
Super cool, right?