Ruffles To Metallic Charms, Quirky Elements You Can Perk Up Your Bridal Footwear With!
BY Sakshi | 28 May, 2019 | 77041 views | 4 min read
Your ethereal wedding outfit is absolutely incomplete without a pair of unique bridal footwear. And honestly, we've been spotting brides absolutely nailing their wedding footwear game. Ethereal would be an understatement! They are not afraid to go all out quirky, and we love it.
With intimate weddings rolling back, we decided to wear our research hats and began hunting quirky elements you can perk up your bridal footwear with. Found some gorgeous gems that'll take things up a notch with the bridal footwear. *wait till you scroll down, ladies*
So, if you're looking for any kind of inspiration, then it has to be here! Plus, we have suggested a few labels which might customize the bridal shoes of your dreams, even your name or the wedding hashtag! So get, set, and read on!
1. Aren't these ruffled bridal shoes super gorgeous?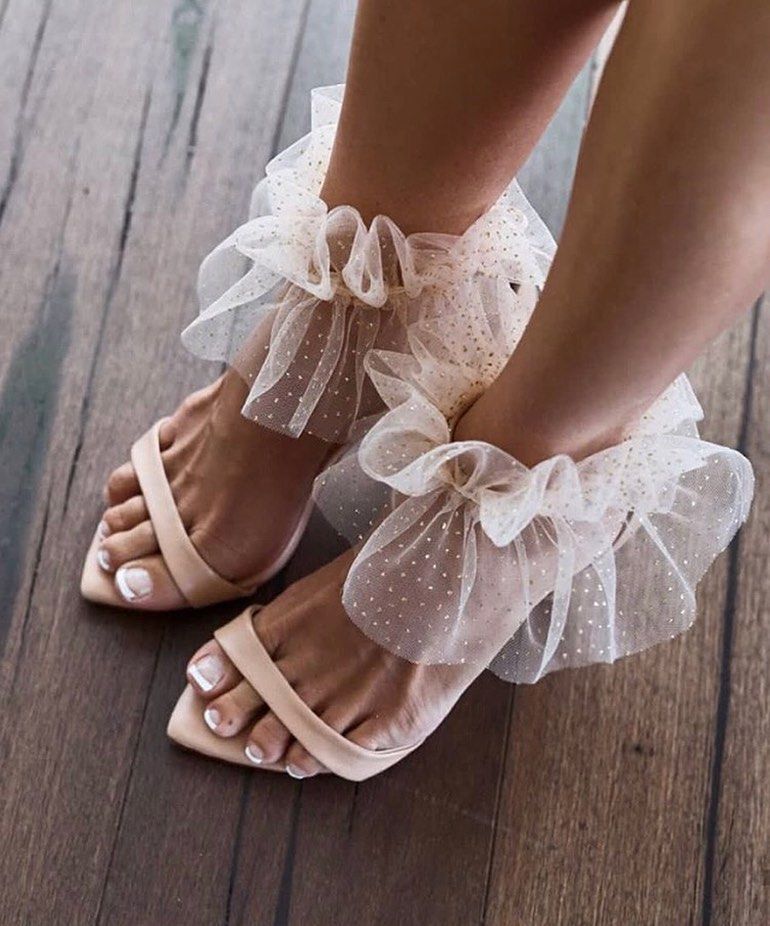 Image via @grace_loves_lace
Screenshot and share it with a bride-to-be who is planning her wedding look right now!
2. This metallic bridal footwear exudes a fresh vibe!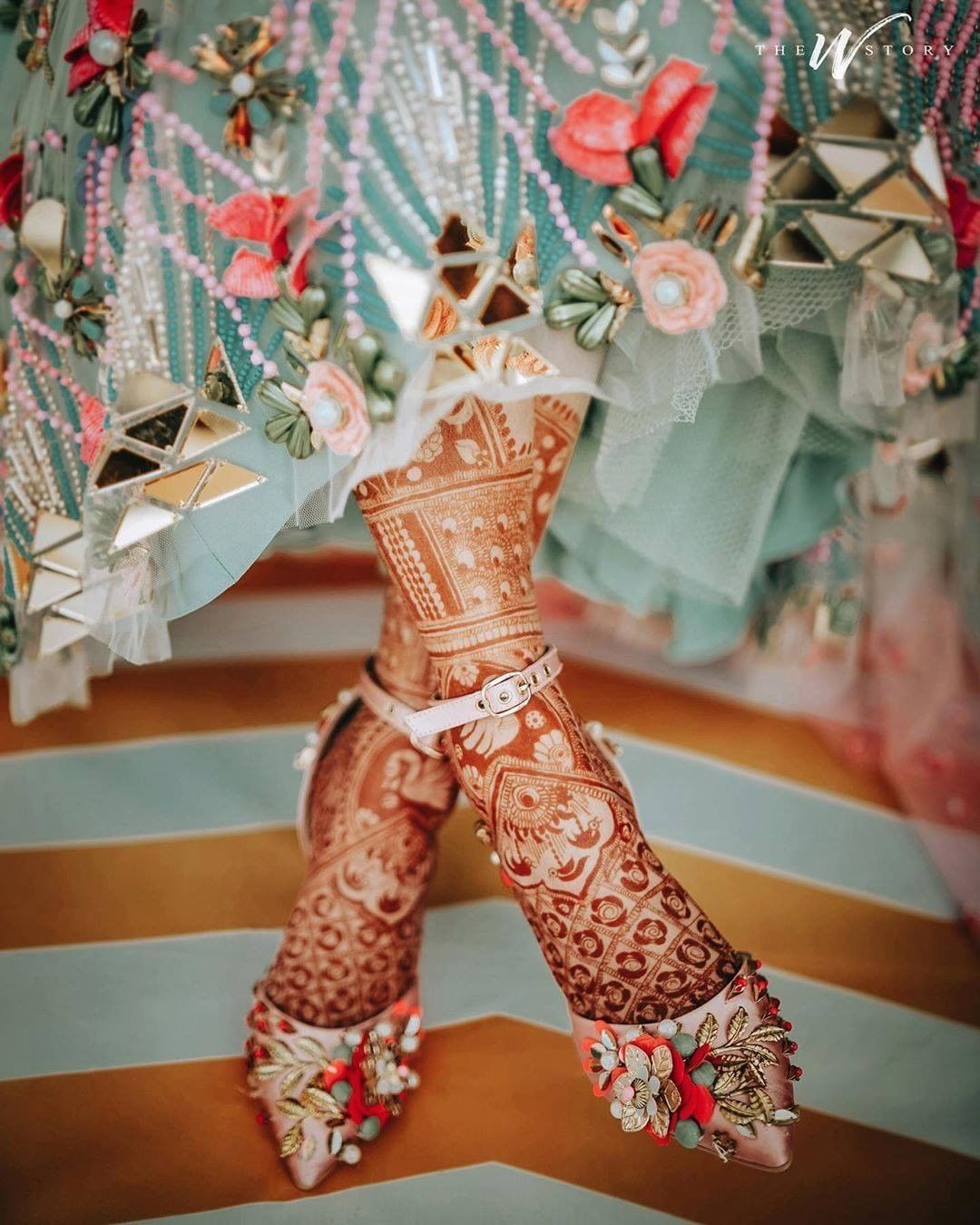 Image via @papadontpreachbyshubhika
When the outfit and the footwear are in perfect sync, you ought to take some inspiration!
3. When sparkle does make everything much better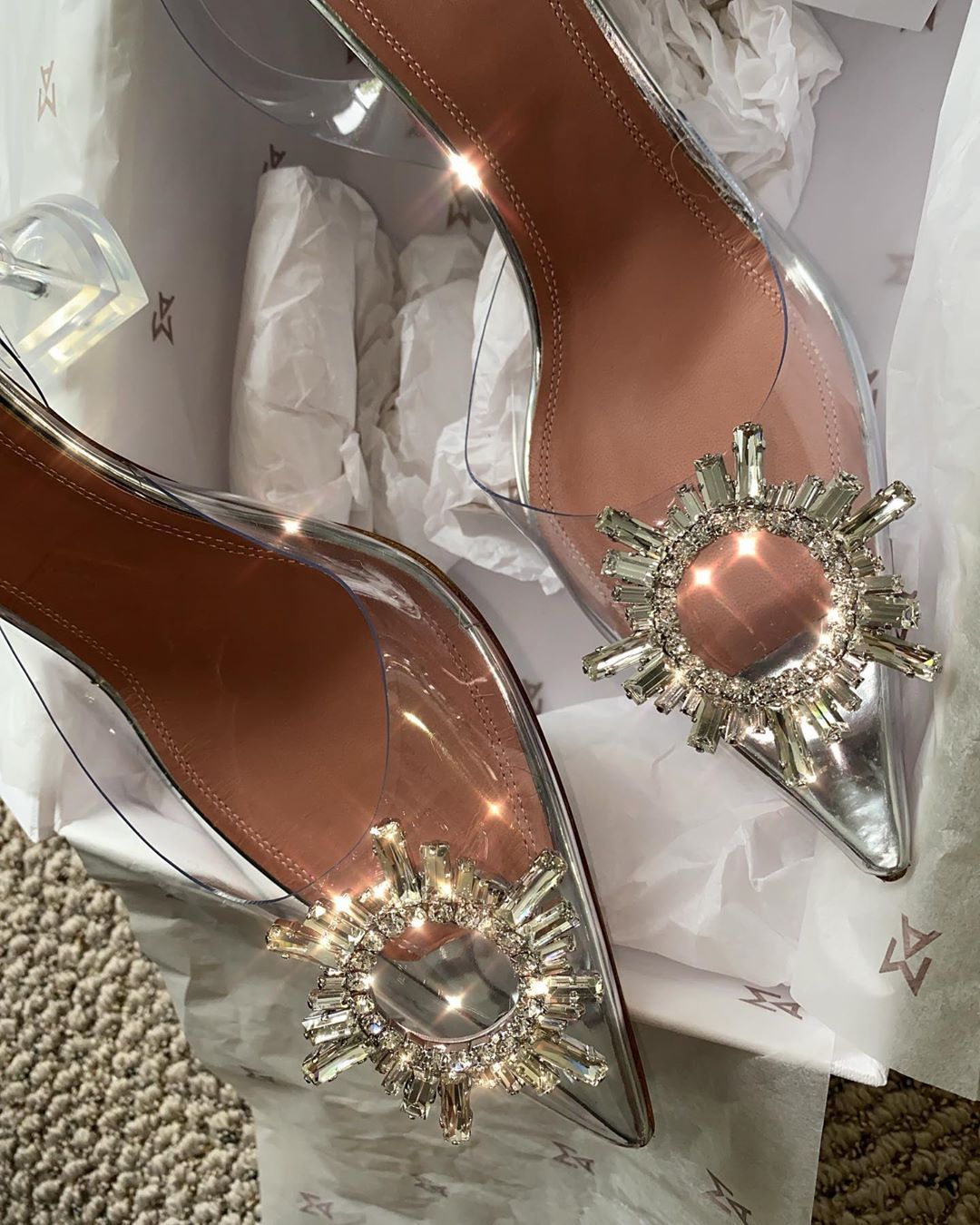 Image via @aminamuaddiofficial
Honestly, these quirky bridal shoes remind us of Cinderella! And if you've always dreamed of a fairytale wedding, then you must dress up like one. (but this footwear demands utmost care, and here's how you can do the same)
4. Or how about a pair dipped in gold?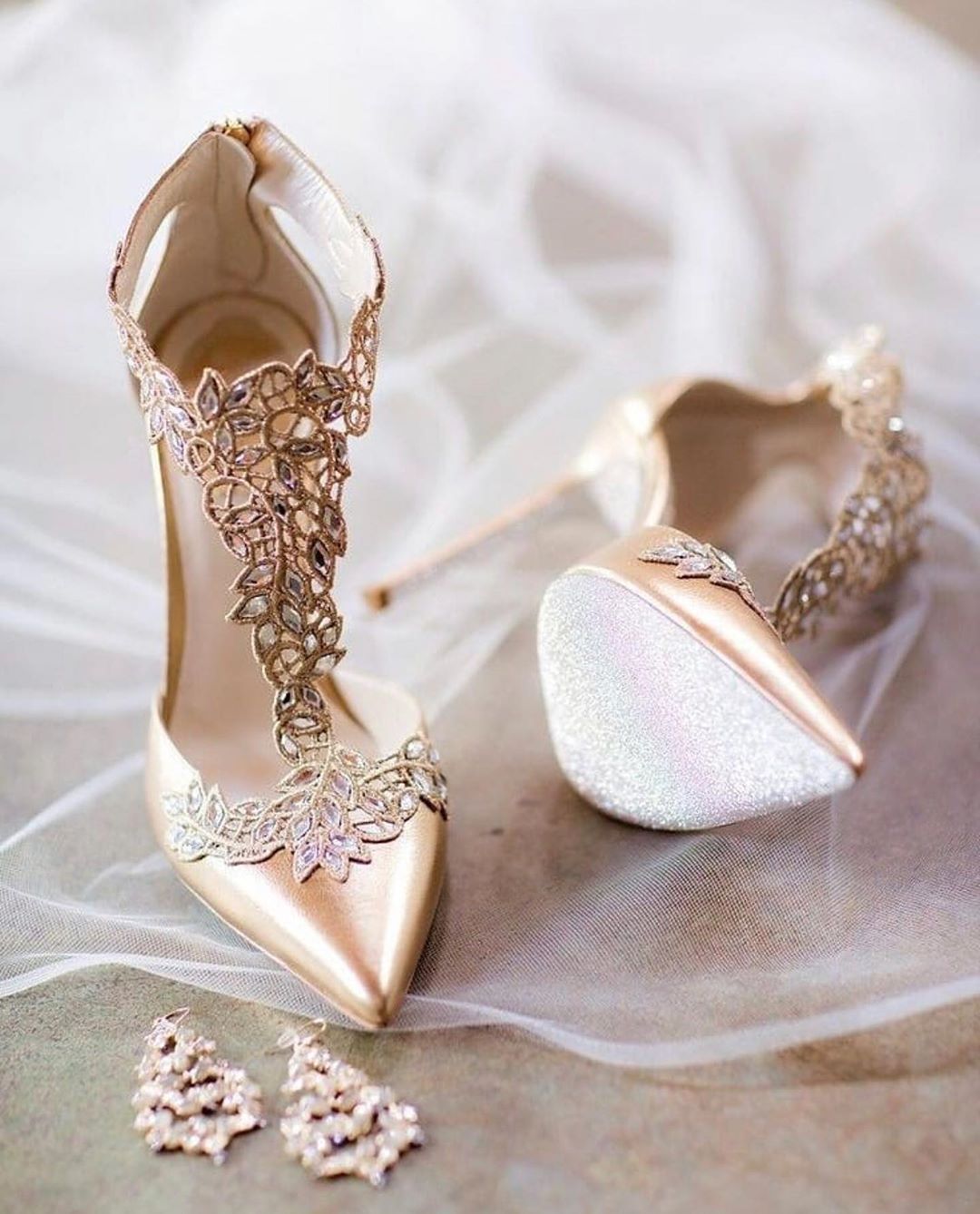 Image via weddingpeace
We're sure metallic wedding footwear will be a big trend amongst 2020-21 brides and a pair like this will surely elevate your modern bridal look.
5. The intricate, ornate details around the heels scream #BridalShoesGoals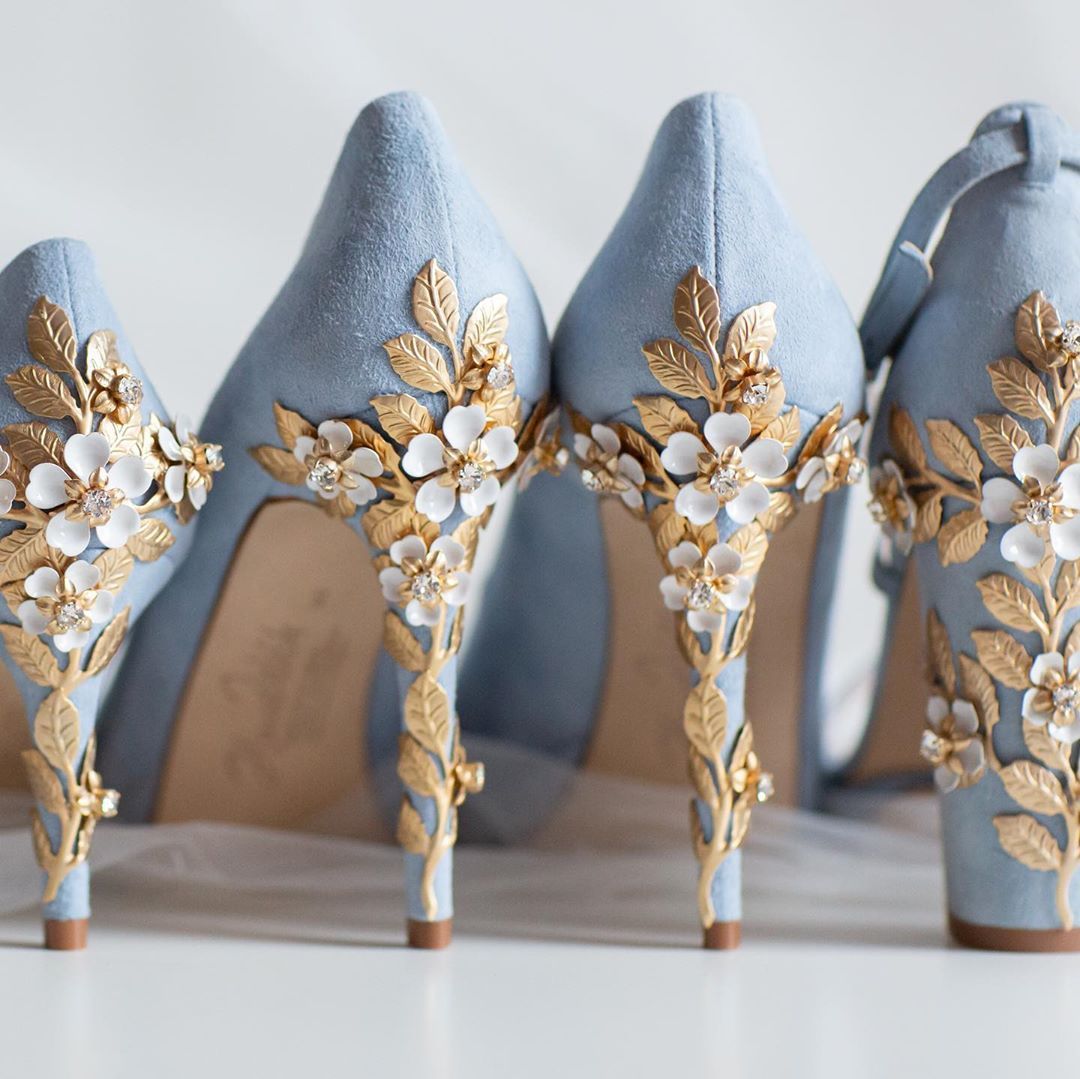 Image via harrietwildeshoes
Pastel hues, minimal details; what else does a bride planning an intimate wedding look even need? Such a pair of not-so-quirky bridal shoes is apt if you're on a hunt for something classic.
6. If you're a fan of pearls, you'll fall in love with these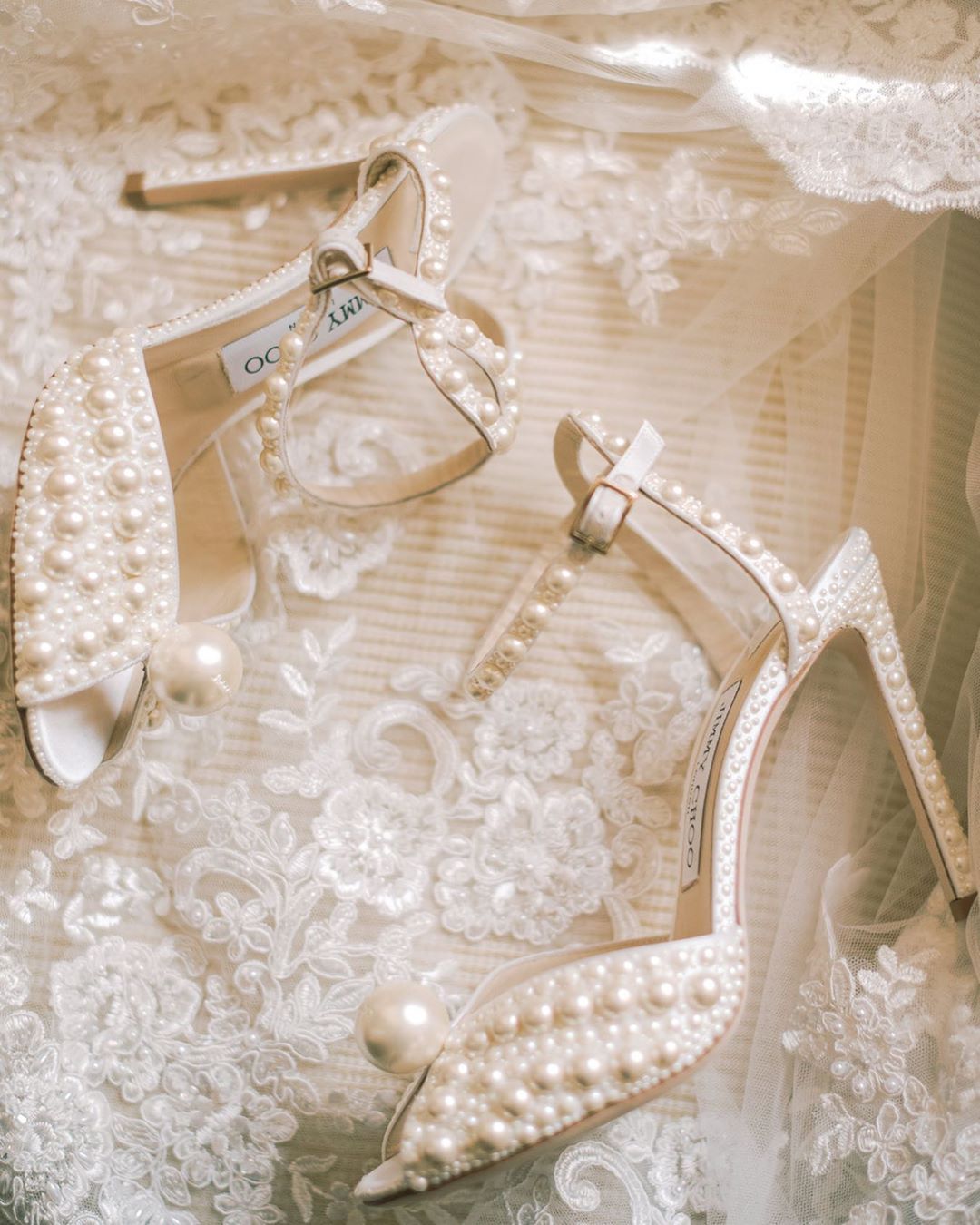 Image via lesanagnou
We've not seen a lot of brides wearing wedding shoes with pearls on it, so if you wish to create a trend, hunt for something like these.
7. These red ones which are amazing!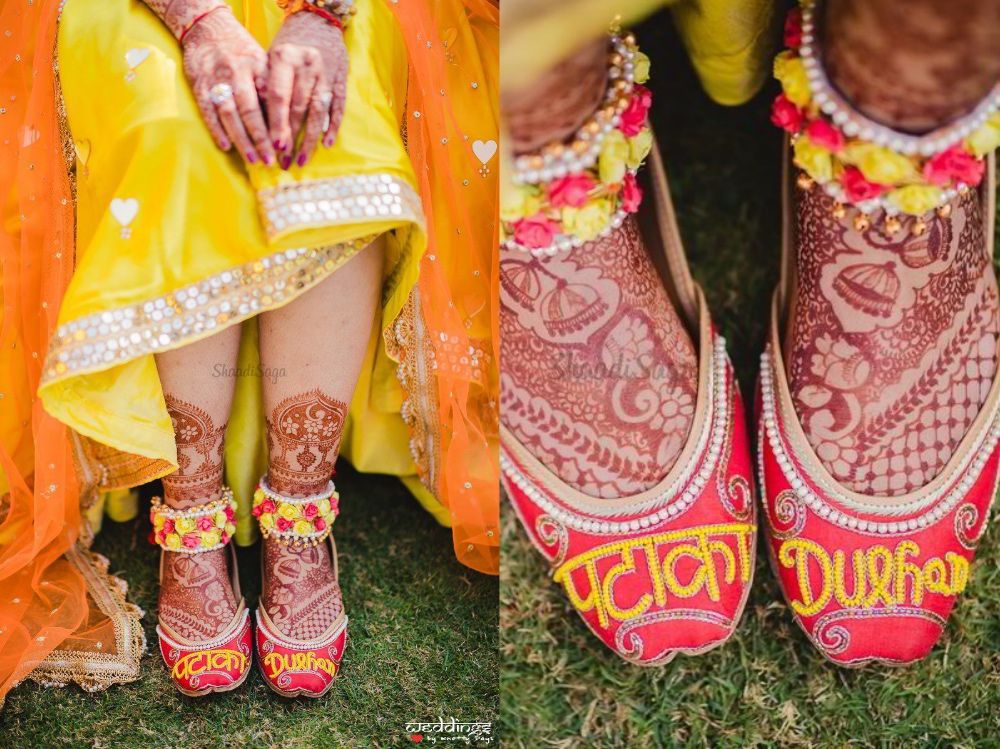 Image via Weddings by Knotty Days★ 4.8
Red and yellow- does a combination get happier than that? So pretty and happy!
8. These heels which are bright and happy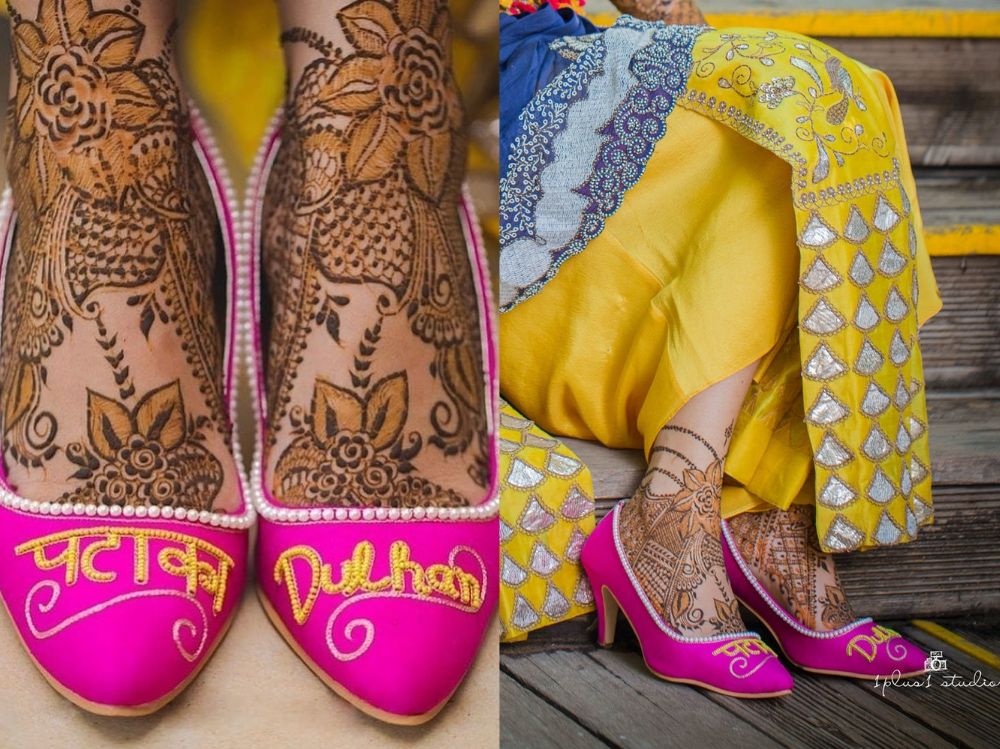 Image via 1plus1 Studio★ 5
Who said bridal footwear has to be only flats and juttis? These look amazing!
9. These sliders which are easy breezy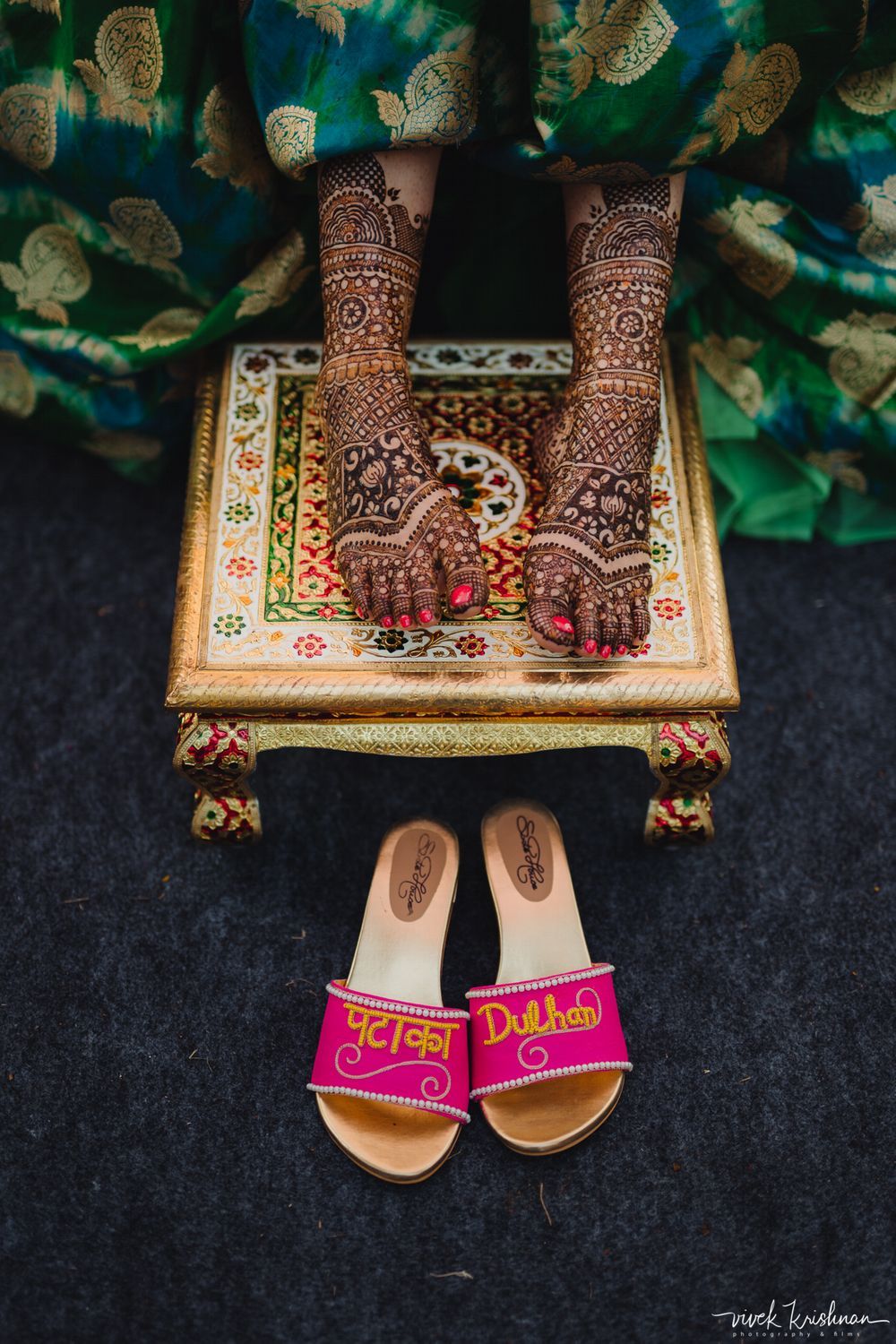 Image via Vivek Krishnan photography★ 4.9
Sliders are trending for mehendi too, and these look dope!
10. These pretty half-sneaker ones we wish more brides would try!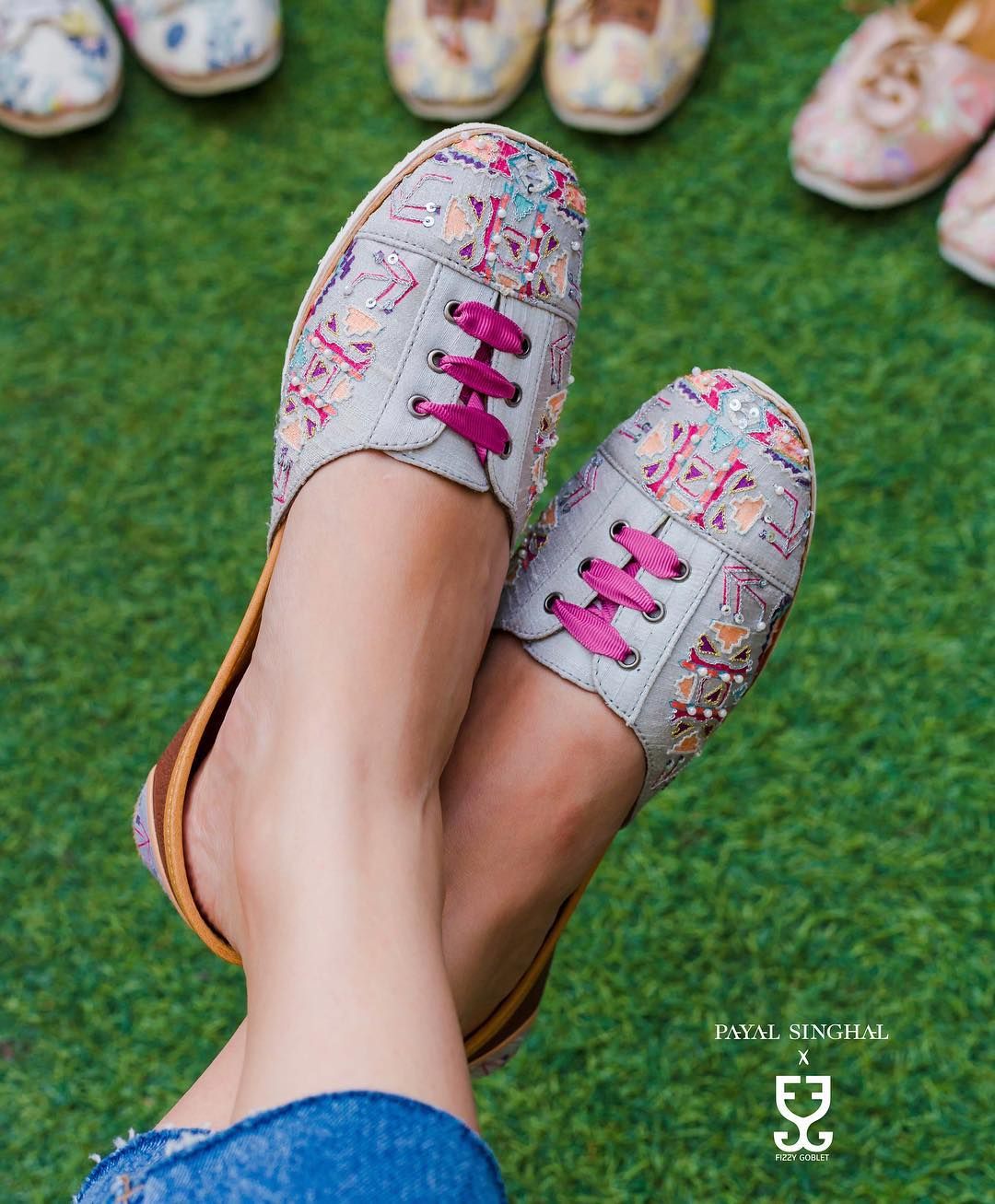 Image via Fizzy Goblet★ 4.6
This new half sneaker design we spotted in the Payal Singhal x Fizzy Goblet collection is perfect for brides who are looking for quirky wedding shoes!
11. These matching wedges for the bride and her sister!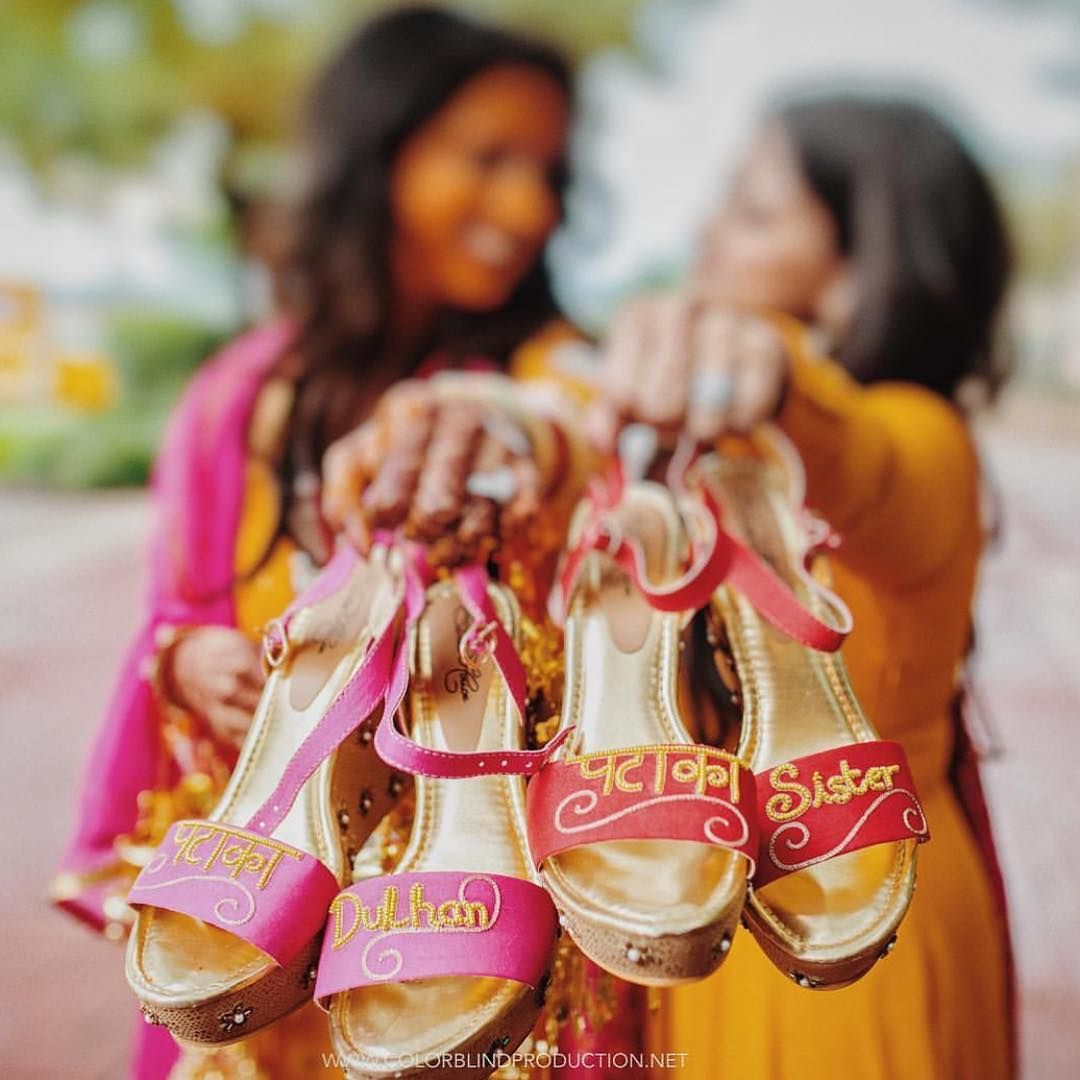 Image via Colorblind Production★ 4.6
Wedges can be customised to look cool too, and this bride got hers along with a pair for her sister!
12. Or these ones that take quirky to a whole new level!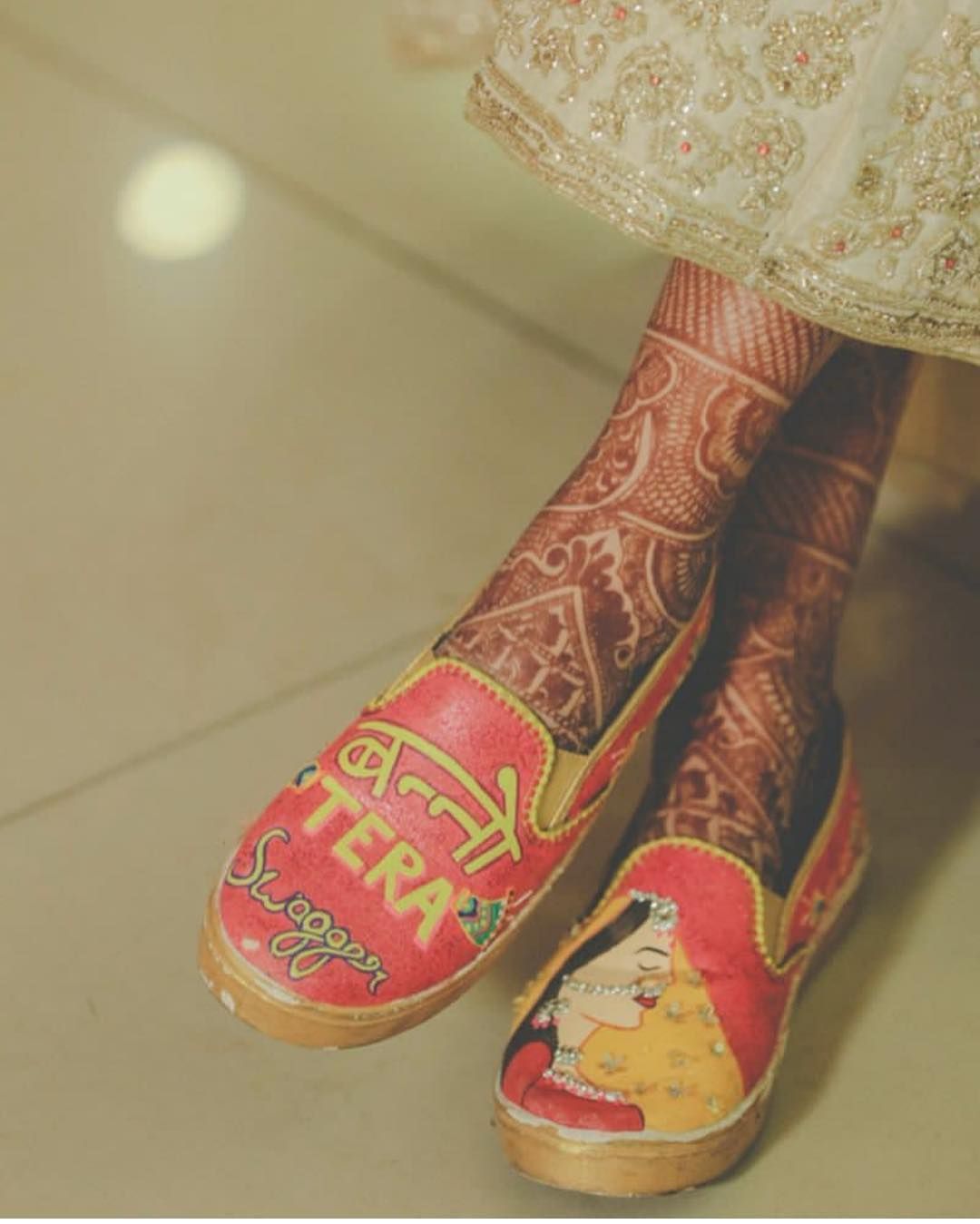 Image via Rv Photography ; Shoes by Poshampa
Now those are some unique bridal shoes which can be customised and handprinted to whatever you want.
13. Or this version that's way more subtle!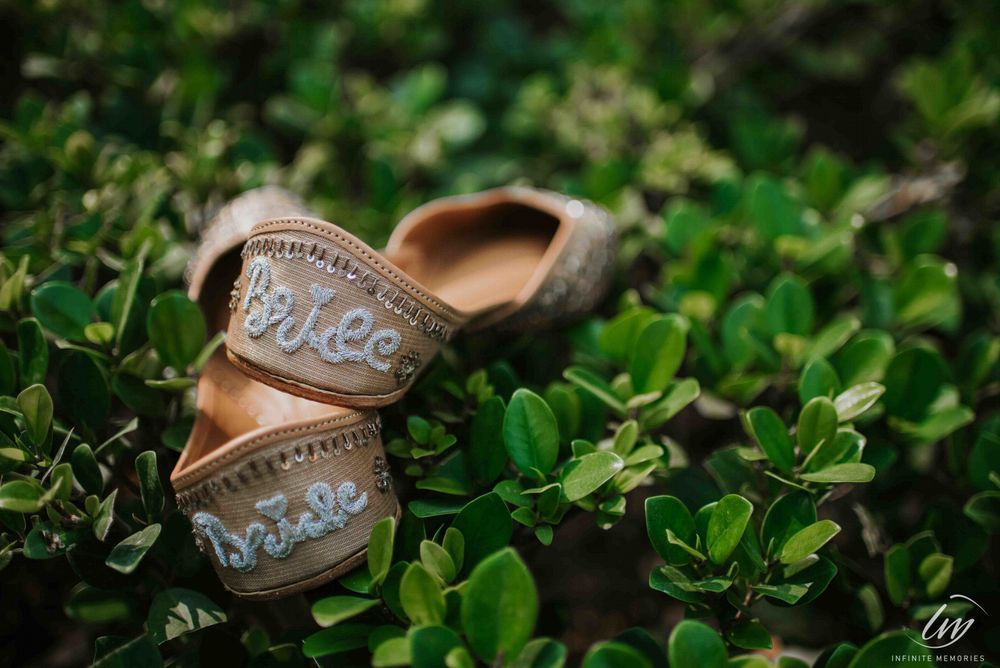 Image via Infinite Memories★ 4.8
Subtle and pretty- not so high on the quirk quotient, but nice for brides!
14. These embroidered sneakers which look so amazing in pastel!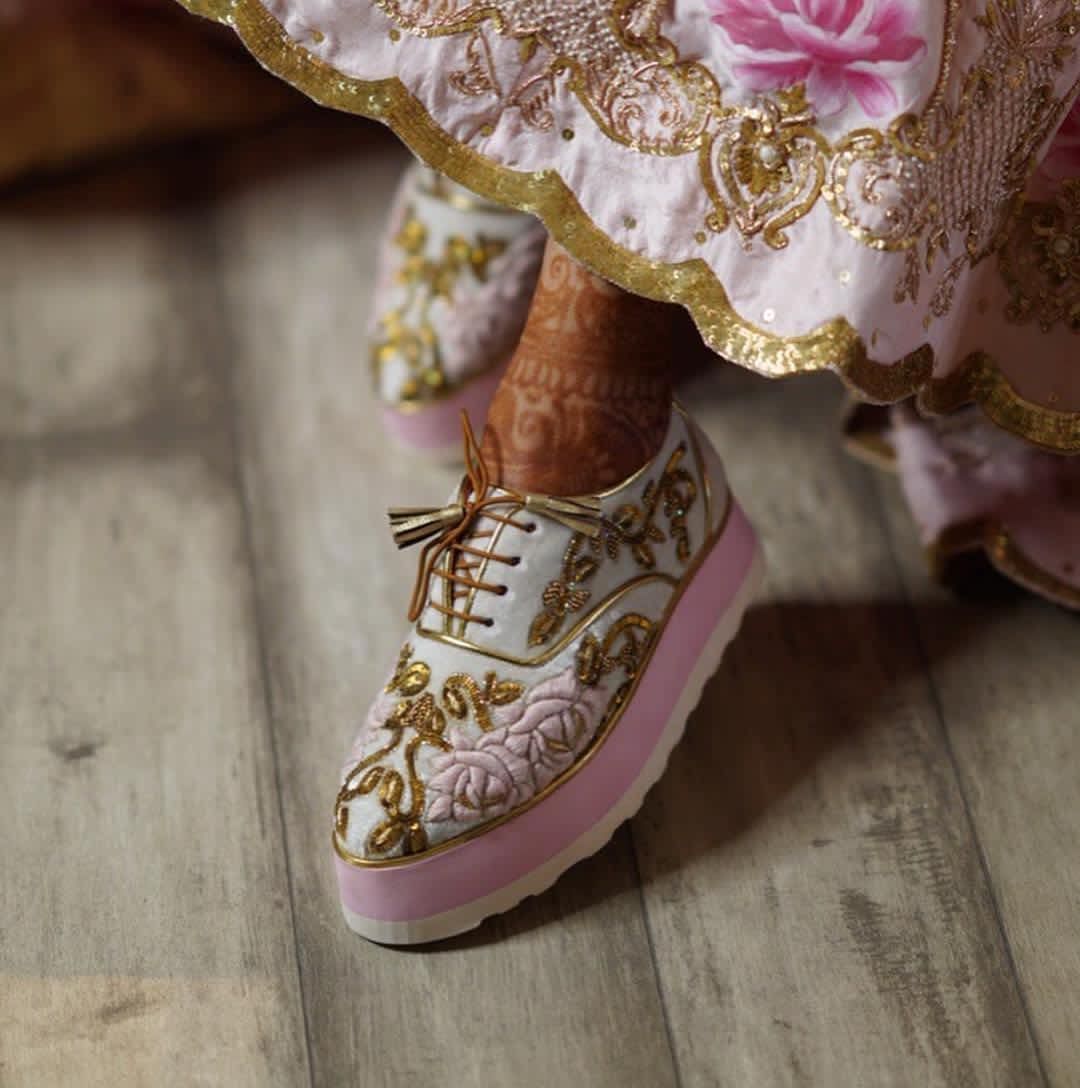 Image via feminaweddingtimes
Love love love these! Plus, love how they match with the lehenga.
15. Customised sliders which are unique to you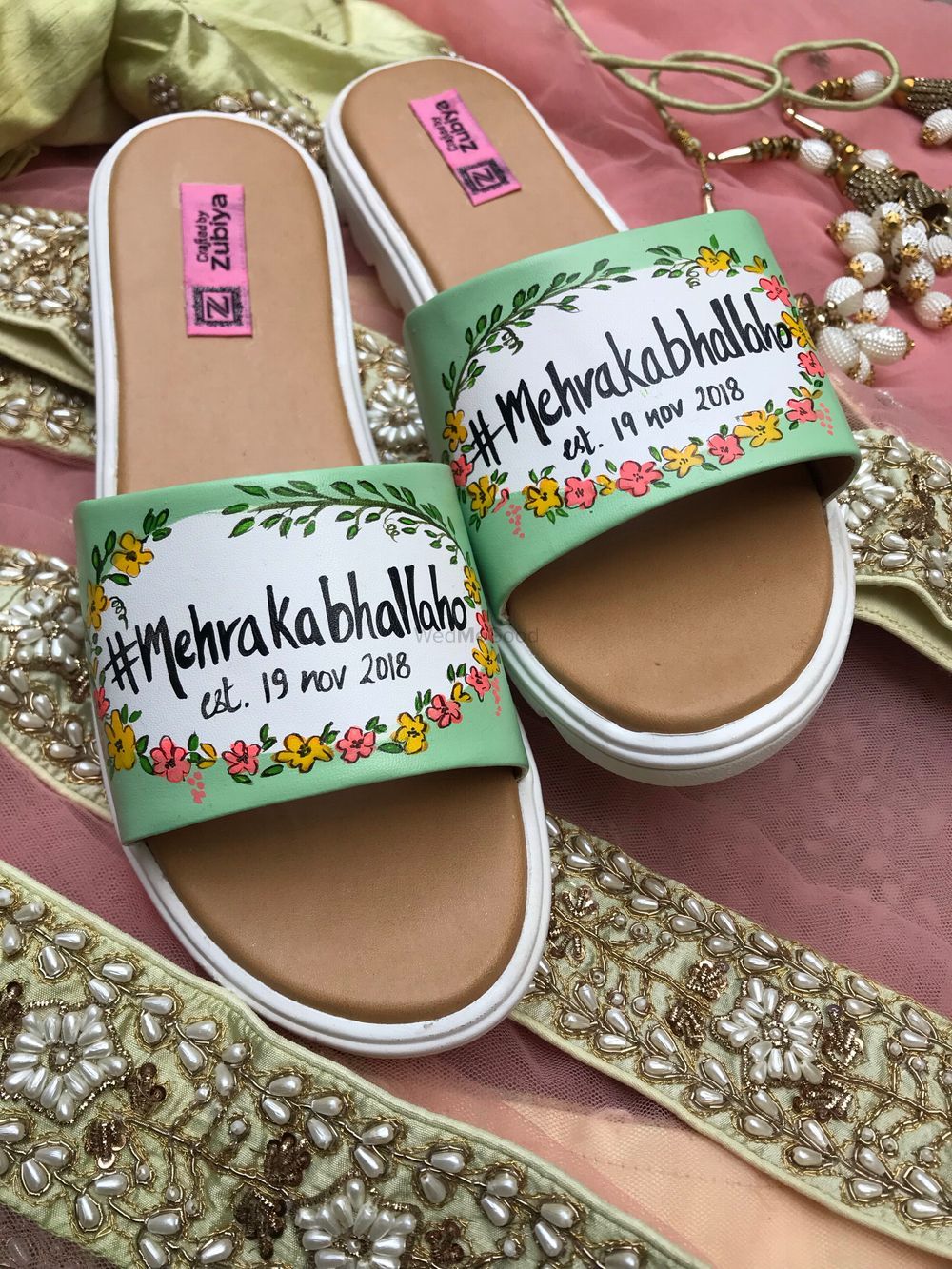 Image via Zubiya★ 4.9
This label customises bridal sliders and shoes to whatever you want, and we think its fab!
16. These bright on pastel flats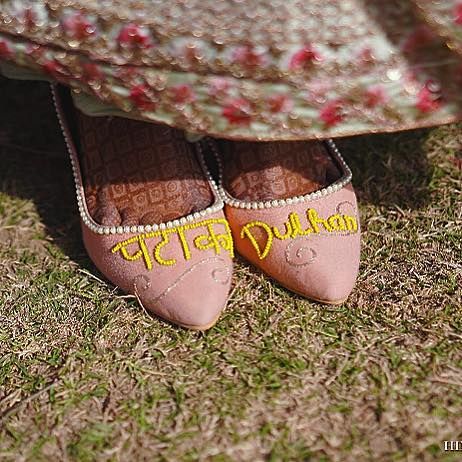 Image via iheartsolehouse
The yellow pops so well on the pastel pink!
17. These fun ones with the bow!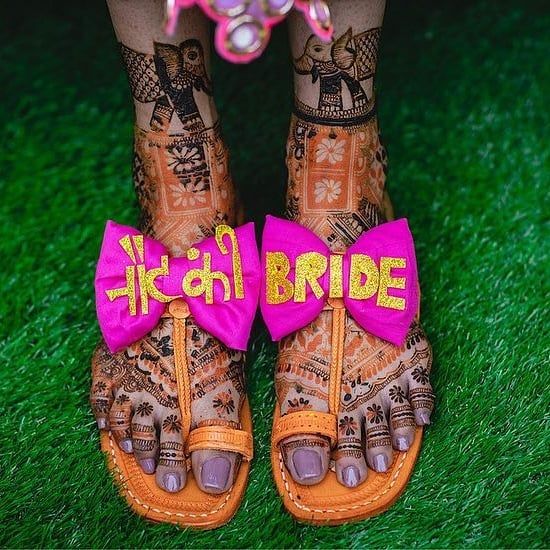 Image via Talking Toe
How pretty are these with the bow and the funky design.. we love Kolhapuris as it is, but these are next level and so fun!
Here are some brands and labels which might customise your bridal shoes for you!
ALSO READ: From Pearl Beads To 3D Bird Motifs: Flat Juttis To Buy Under Rs. 5k For Your Smaller Functions!