The Smart Bride Bulletin: 9 Things Every Bride Should Know This Week
BY The WMG Bride | 21 Sep, 2015
It's all good here at the WMG headquarters - life's going on and we're working hard to get up to speed to launch
our app
that we have been raving about all week.  But the life of a bride-to-be must be even more hectic - so many things to know, so many to-do lists and ideas to bounce with. That's why this week, this bridal bulletin keeps you updated with all the goings-on.
1. Sabyasachi X Christian Louboutin Photos are now out
Yes yes, we heard about, we even wrote about it but apart from the runway pictures, we did not see the absolute delightful pictures that really made this collaboration hot. For the collection Christian, looked at the iconic Devibroda, which pays homage to Sita Devi of Baroda. There were acid-dyed burnt sequins and tea-dyed cotton threads. Each sequin is hand placed and embellished with French knots to create an organic fringe. The sky-high Victoria heels came with burnt zardozi and vintage Parsi gara. Men's collection had a Royalty-meets- European feel to it.
Look at the pics
for all the love!
2. Apple Hermes Watch
Picture Courtesy: vtvox.com
When two iconic brands come together - it's super magic. And that's why this year's biggest gifting idea is the Apple Hermes Watch - guaranteed to change your married life for the better! Apart from that technical jazz and the beauty that is the craftsmanship of the band / cuff, we also realised this: Every Apple Watch Hermès includes an exclusive watch face you can customize with three typefaces, three numeral displays, and three complications — stopwatch, date, and world clock.
So customize baby
!
3. Payal Singhal x Macmerise
Often I've noticed that when we attend weddings, it's the bags and footwear and the outfit we match - but never the phone cover. When in fact, it's the phone cover that's really the biggest accessory and constantly on display at the wedding. That's why we are super delighted that someone did something about it - Payal Singhal, our favourite designer worked with Macmerise to get you a collection of phone covers that are so cute. Perfect for weddings!
Go to Macmerise.com or visit Payalsinghal.com for more details. 
4. Shantanu & Nikhil Brides: The Lookbook is OUT!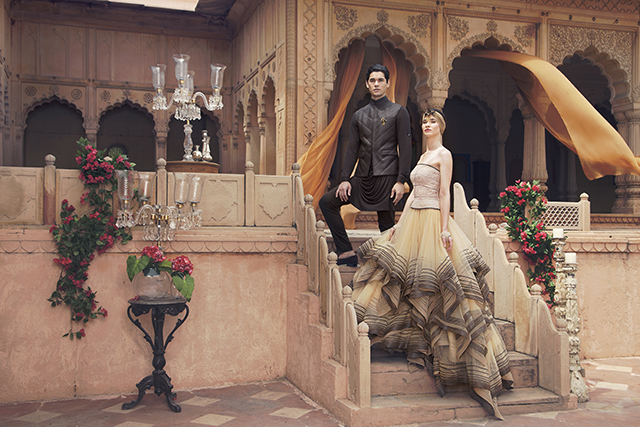 Shantanu Nikhil Mahal Collection, 2015. Photographs by Anshika Varma Shantanu & Nikhil's Autumn/Winter'15 collection 'The Mahal' is inspired their journey to Jodhpur is here. This one collection is a delight - the Jharoka architecture and colour palette of the desert is reflected in the new line and it's full of colour. The collection is full of sari-gowns - so it's perfect for the contemporary bride. For more on the collection, go
here
.
5. Royal Fables Exhibition Delhi
It's the one place where royalty meets great design - that's why we at WMG love the much-awaited Royal Fables Exhibition. Royal Fables has it's own fan following because it is a rare exhibition that show-cases the creations of designers, artists and craft patrons who belong to the land's leading royal families. It's happening at the Oval Room, The Mansion, Hyatt New Delhi on the 26th and 27th of September. Go
here for more details
.
6. Medusa by Sonal Jindal in Mumbai
A well-known fashion and lifestyle exhibition, Medusaby Sonal Jindal is an exhibition with haute couture
salon like ambience where the most talented, next generation designers will display their fun-nest creations for select, appreciative fashion cognoscenti from the crème de la crème of Delhi. It's happening at St.Regis Palladium Hotel, Mumbai on the 26th of September. Go here for more details. 
7. Monisha Jaising Kurtis
So what does a guest wear to a mehendi or even a tiny get-together at a bride's house? A nice simple kurti, right? But where does one get those? Because we are so tired of those flowy anarkalis and we are also saving up the saris for the wedding. So we peeked into the ones that Monisha Jaising sweetly proposed and oh, we are in love. Simple colourful kurtis can be worn for any occasion. Go
here
to see more! 8.
Tusker Collection From Gehna Jewellers
The newest trend in jewellery - The Elephants. Animals have always made for great designs - so this time, as royal as it can get - it's the humble elephant's turn. We are totally loving the bangles with the motifs, the cute rings and the sweet pendants. They also make for great gifting options. Know more about them
here
!
9. Design One India: Mumbai Edition
When you think of Design One - you think of crafts and arts. And above all, all things original and indie also in many ways. That's why we are excited about this year's quota of awesome things lined up at the exhibition. From handloom saris to interesting knick-knacks to even cute wedding favours and honeymoon outfits - there is just so so much! Know more about the exhibition
here
. Dates: 22nd and 23rd Sept.
Think there are events and bridal ideas that we need to know? Tell us in the comments section!