20 Beauty Things Every Bride Should Do 3-Months before Her Wedding! (Checklists and To-dos)
BY The WMG Bride | 20 Sep, 2015 | 110718 views | 9 min read
When it comes to planning a wedding, picking a date and outfit can be the least of your worries. After all, looking radiant and picture-perfect on your special day takes some work and planning—okay, many many months of work and planning. To help you avoid any last minute beauty fiascos, we've put together the ultimate timeline of bridal care before 3 months of marriage that every bride must follow. From when to get waxed to when to schedule your hair appointments, our guide will ensure you look every bit the blushing, glowing, beautiful bride when the big day arrives.
Before Three Months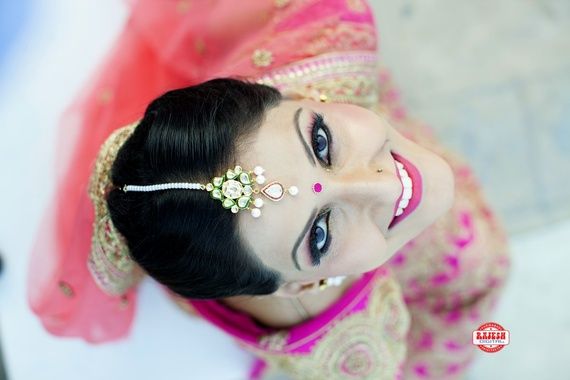 Makeup and Hair by Monika Chopra★ 4.9
1. Beauty vitamins: Start taking beauty vitamins for longer, shinier hair and glowing skin. Don't know where to start? Consult a doctor today. The basic ones to be on: Biotin, found in foods like peanut butter and bananas. It helps reduce hair loss and encourages nail growth.The recommended daily intake of biotin is 35 micrograms a day which you can get through your food too. Without iron, your hair can become dull, thin, and dry. Iron is found in foods including spinach, oysters, and cashews but you could take supplements too. Don't forget Vitamin C - especially for skin.
Our Recco: Himalaya Dermacare range is perfect for this. 
2. Test a new hair colour: Thinking about a dramatic change for your wedding? Now is the time to try it out—if you hate it, there's still plenty of time for you to grow it out or change the colour without frying your locks. Try: Red like Katrina Kaif @ Cannes or a nice brown like Aishwarya Rai. If something, god forbid, goes wrong, then you have time to make a chnage or grow that out.
Our Recco: L'Oreal Paris Casting Creme Hair Colour in Dark Chocolate is an all-time winner! 
3. Revive your skincare regimen: If you've been slacking on your skin routine, now is the time to start incorporating a more strict system. Cleanse, tone, target, and moisturize every morning and night—and don't forget to exfoliate two or three times a week!
Our Recco: The safest is always the dermatologically-tested ones: Clinique or Neutrogena. Even Kiehls which gives out samples. Consult with them and try out samples - every one of them. 
4. Fitness and nutrition plan: Avoid crash dieting before your wedding by starting a fitness and nutrition plan as a part of your bridal care 3 months before your marriage. You'll look healthy and glowing on the big day, instead of exhausted and weak.  First things first, track your food intake via My Fitness Pal and add in the new Nike Training App.
Our Recco: Our real brides can give you good advice on how to stay healthy. Try Fiticket where you can actually choose your own workout and get in without any hassles. 
5. Hair and makeup trials: Start experimenting with different hair and makeup styles, as well as different artists. Then, book them right after you've made up your mind—you don't want run the risk of conflicting schedules or last-minute changes. Every one of WMG vendors will do a run-through with you.
Our Recco: Our Gallery does provide some great inspiration from real brides on hair + makeup.
6. Go for laser hair removal: This isn't a compulsion but if fuzz-free is what you want to be, laser hair removal is the way to go. You will need atleast 3-4 sittings before it shows results and gives you freedom from the regular waxing and adds to your glow.
Our Recco: Krasa Aesthetic and Enhance Clinic are some of the best in the filed. 
Before Two Months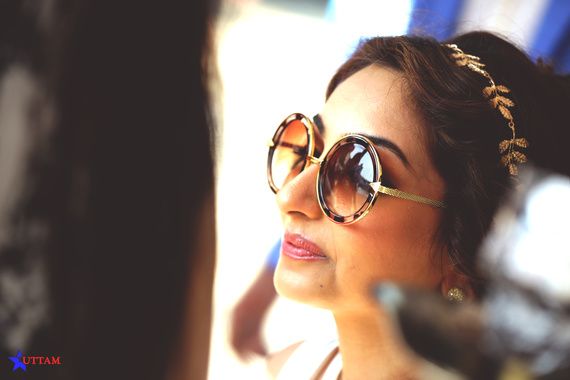 Picture Courtesy: Uttam Wedding Photography★ 5
1. Beauty accessories: Select any beauty accessories, like hair accessories or customized lipstick colours, now. Make sure you make-up kit is ready with the products you need for touch-ups - that is after your consultation with the makeup artist and hair person.
Our Recco: These nice hair accessories we spotted last year are still rocking! Apart from that, Koovs really specialises in cool hair jewellery and accessories so check that out! 
2. Teeth whitening: Most professional teeth whitening sessions take more than one appointment. Book your first appointment now, and use an at-home whitening kit after your last session to maintain your pearly whites. The last thing you want to worry about on your wedding day is sensitive teeth.
Our Recco: Try these cute teeth whitening at home DIY ideas. We like them!
3. Identifying a Facialist + Dermatologist for more: Botox takes a few days to kick in and usually lasts a few months. If you're considering it, do it now to make sure you can correct any potential issues. Find a facialist and start your regime, go once every month for chemical peels, photo facials and lasers for face and hair removal. Also finish up with hair removal lasers as soon as possible. Our founder Mehak got you the deets on this.
Our Recco: The latest in lasers is the AFFIRM, it is a revolutionary fractional laser technology to tighten your skin and tackle blemishes, pigmentation and dull skin. You need to lay low once you get it done at least for 2 weeks so take your time. 
4. Kick fitness regimen into full gear: Take your fitness regimen to the next level at the two-month mark—add an extra thirty minutes of gym time each day, or start a weekend yoga class.
Our Recco: Aerial yoga is seen to give better results ( slimming in 2 weeks flat) so check that out. Make your workout fun - instead of boring so look for anything that interests you - dance, Zumba or even Kalaripayattu. On top of it, Leena Mogre has started these Bridal bootcamps - 6 weeks of crazy regimes that really help you tone up.
5. Body Polishing: Body polishing is a must-have in the wedding prep for brides list. Start 2 months in advance to know how your skin reacts to body polishing and follow up a week before the wedding, too. It will remove all the dead skin and make your skin supple and beautiful.
Our Recco: Go to professional salons like Lakme who have dedicated bridal services. 
6. Eyelash extension: Go to your dermat or a trusted salon and get a non-invasive lash extension done. Wondering why? It will save you  from the trouble of the fake lashes (which honestly look quite done up) and not go even when you remove your makeup.
Our Recco: Novalash, Delhi is one of the top recommended places for an eyelash extension. Also, read up reviews of the place you intend to book before you go to them. Understand the process and go ahead only if you feel comfortable enough. 
Before Two Weeks: Follow-ups and Maintenance!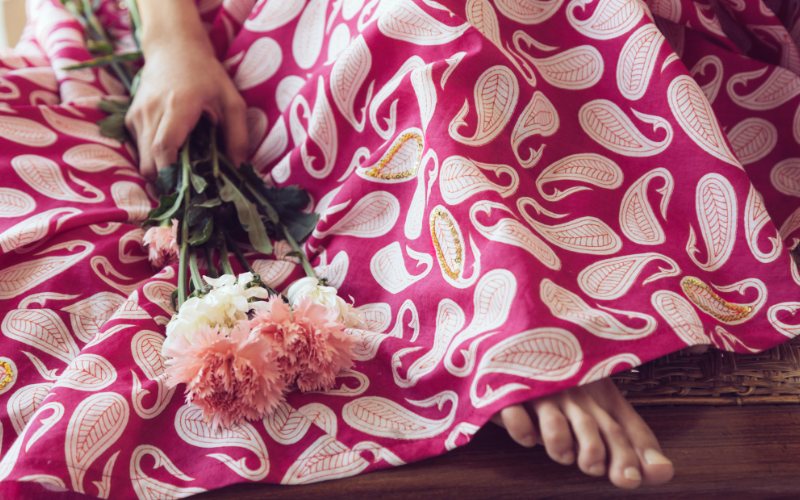 Picture Courtesy: Mogra Designs 
1. Hair gloss, trim, and subtle colour: Get a colour-enhancing gloss treatment at your salon for shiny locks on your wedding day, and trim any split ends while you're there. Get a hair cut and make sure you grow into the length you want.
Our Recco: Go for professional deep-conditioning treatments, they are supposed to keep your hair in check. 
2. Exfoliate: If you haven't already, start exfoliating your body at least two to three times a week. Try a gentle body scrub that sloughs off dead skin cells without stripping your skin of moisture. Keep your face in check with exfoliation - once a week. Also, shrink your pores so try Microdermabrasion.
Our Recco: The Clarisonic is a great tool to exfoliate your face and it really goes inside to work it's magic!
3. Nail care: Keep your nails without colour for 2 weeks because they will recover from all the fatigue. It's always good to then get a manicure and put them together two days before the wedding.
Our Recco: We gave you our personal nail guide this week - plus, 10 awesome colours to choose from! 
Before One Week 
Pooja Sonik Hair and Makeup★ 4.9
1. Gentle facial: A week before your wedding, go in for a soothing, hydrating facial at a dermatologist. Test for allergies before-hand.
2. Brows: Get your brows waxed, threaded, or shaped at the one week mark—tweeze any stray hairs at least one day before your wedding to avoid redness. Bold brows are in - Cara Delevingne showed us what big brows can do.
3. Waxing: Get waxed at least five days before the big day so your skin has time to heal. Apply coconut oil on your legs, even Baby oil works wonders to soothe irritation.
Before Three Days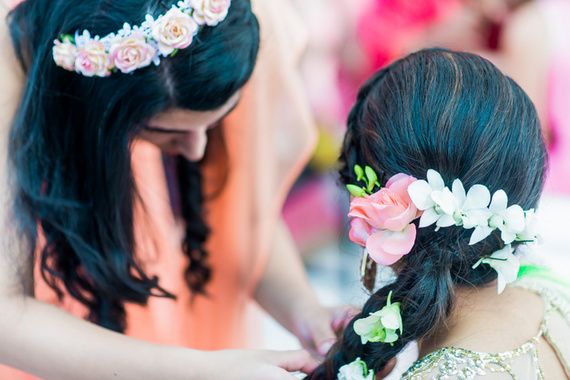 Picture Courtesy: Yuvna and Sudanshu's Wedding 
1. At-home skin treatment: Do a mild at-home peel to boost brightness a few days before. Note: A professional chemical peel is too harsh to do only a few days before your wedding, so make sure to go in at least two weeks earlier if you plan on going to the dermatologist. Just do a touch-up now.
2. Mask It Up: If you have oily skin, try a purifying clay mask. If your skin is dry, use a hydrating mask to moisturize and plump. We love the GlamnGlow Mud Packs that are supposed to work wonders.
3. Hot Oil: Go for a hot oil massage for your hair so it keeps your hair healthy and add a frizz-free treatment before-hand.
4. Manicure/Pedicure: Request a gel polish to avoid any chips and cracks on your big day. Set it up to a day before your mehendi.
The Day Before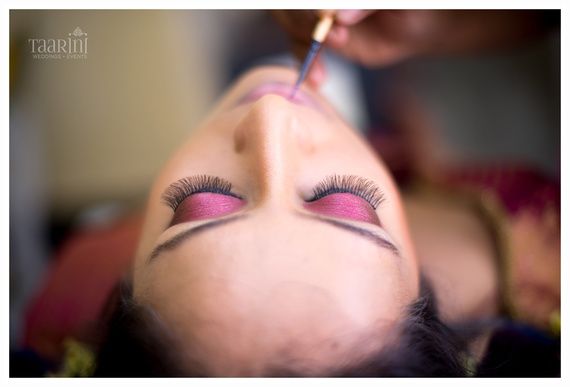 1. Beauty sleep: The best thing you can do at this point is to get some shut-eye—you've done your work, now take some time to relax (or at least try to). So you can avoid dark circles.
2. Hydrate: Drink lots of water the day before to ensure you and your skin are hydrated.
3. Exfoliate your lips: Keep them scrubbed with a sugar scrub and liverally use lip balm as a pre-lipstick ritual.
4. Hair Prep: Wash your hair before-hand and sleep it out. Yeah, you don't do it on the d-day.
The Big Day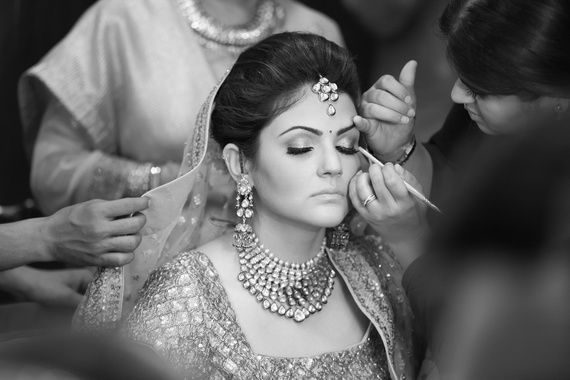 1. Keep blotting papers handy so you can blot excess makeup and oil throughout!
2. Don't keep touching your face. Go through the usual cleansing-toning-moisturising routine.
3. A salt scrub can soften elbows so do it on the day of the wedding. This prepping is perfect for d-day.
4. Use SPF on your lips + face + body but especially on your lips.
Congratulations—you've made it to the big day! Now all you have to do is smile and try not to cry (and if you do, your waterproof mascara's got you covered).
- Apoorva Pagar
Find vendors in your budget for all your wedding needs, Download the WedMeGood app now.